Preparing for a trip to the El Tatio Geysers? Discover everything you need to know about the largest geothermal field in the Southern Hemisphere – from top tips for visiting to the geology of this magnificent spectacle.
Welcome to the stunning El Tatio Geysers, a geothermal wonder nestled high in the Andean Mountains of Northern Chile.
I'll be blunt: whether you're spending a short or longer time in the country,El Tatio needs to find its way into your Chilean itinerary.
I mean, come on – it's not every day that you get to visit the largest geothermal field in the Southern Hemisphere right up in the towering Andes Mountains.
Having recently returned from my second trip to the Atacama Desert and, with it, El Tatio, I'm sharing everything you need to know for a successful trip, so stick around.
Why Visit El Tatio Geysers, Chile?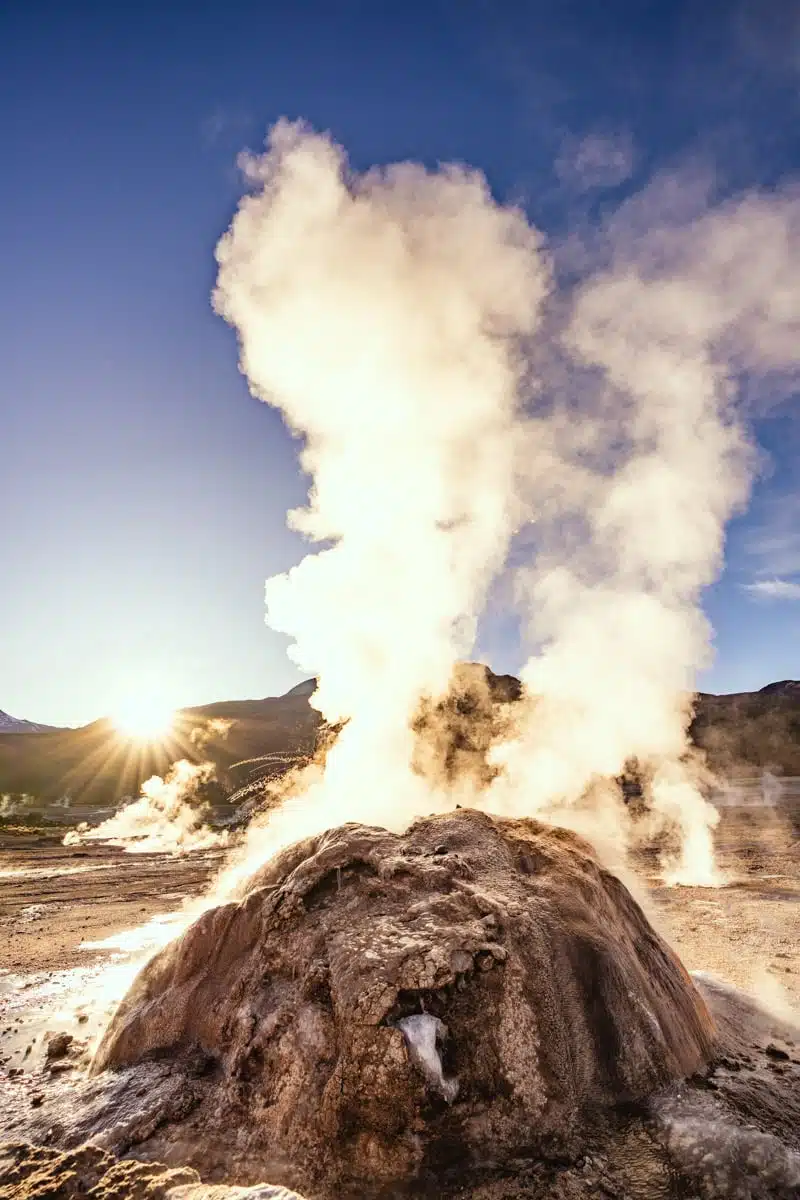 Let me rephrase that question. Why not visit the El Tatio Geysers?
This one-of-a-kind attraction is largely unknown outside of those who venture to the Atacama. Besides the fact that it sits in the impressive Andes Mountains, the geothermal field is a treasure trove of natural wonders.
El Tatio is home to many geysers, hot springs, and sinter deposits, so there's a lot to see and do here – which I'll talk about now.
What You Need to Know Before You Go to El Tatio: Top Tips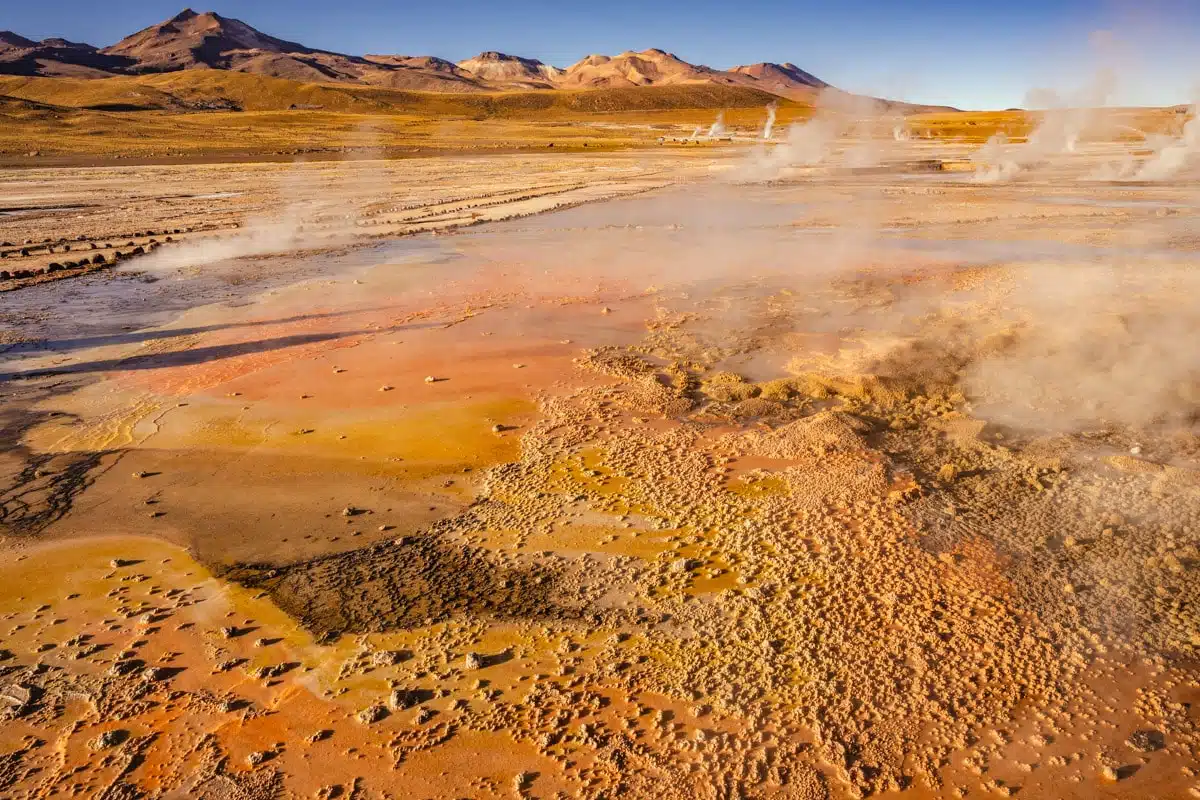 I've got a whole section on practical tips towards the end of this guide, but I'm going to run through some of the most important tips, as well as what you should expect from your visit in this section.
Top Tip
As the geysers are located at over 4,300 metres, you need to spend time acclimatising at gradually increasing elevations before you visit.
Go Early
Most people (including myself) visit just before sunrise to see the geyser field at its best. The change in temperature first thing in the morning means the geysers are at their most active.
The run-up to sunrise is just as magical. The sky turns a deep purple before gradually transforming to the warmth of the dawn colours, and you see the last of the stars fade into the light.
Be Sure to See "Nature's Firework"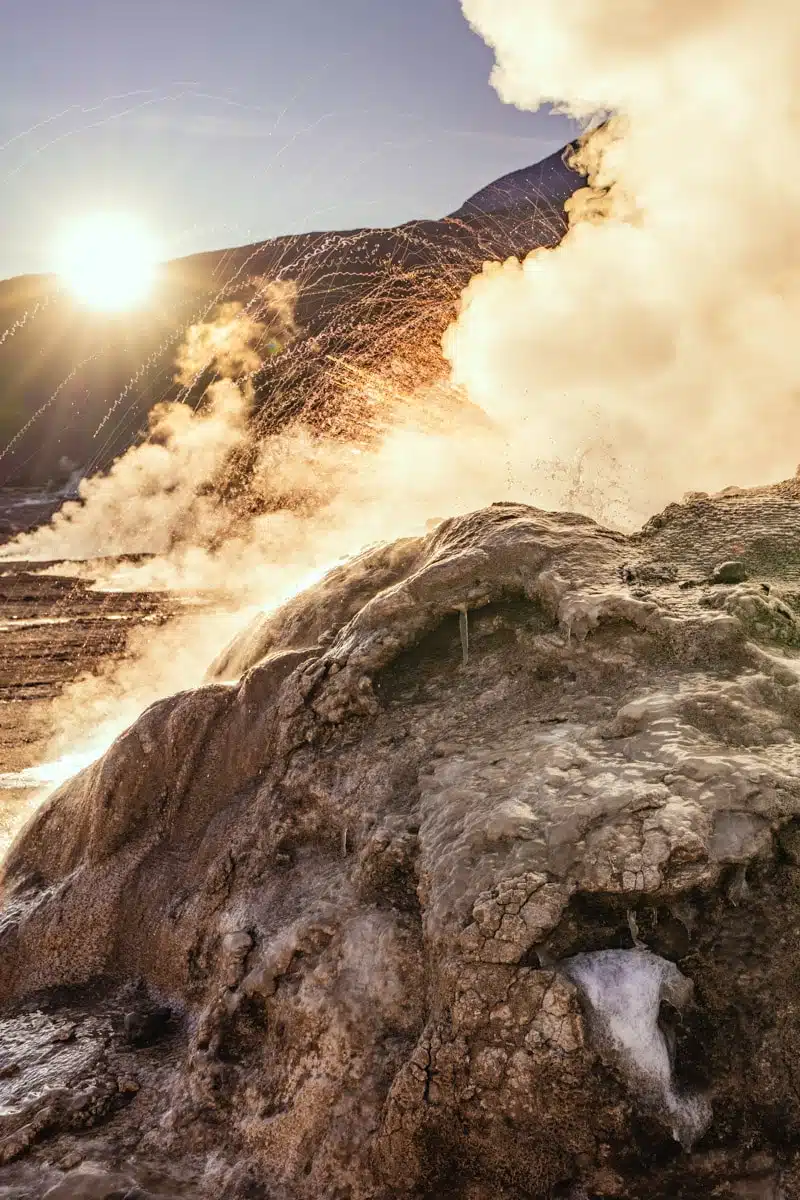 Head to the southern geyser field just as the sunrises and go to the geyser in the far left corner.
As the sun catches the steam from the fumarole at sunrise you can see the colours of the different minerals – my guide Rodolfo called it "natures fireworks" and I can't think of a better way of describing it
Wrap Up Warm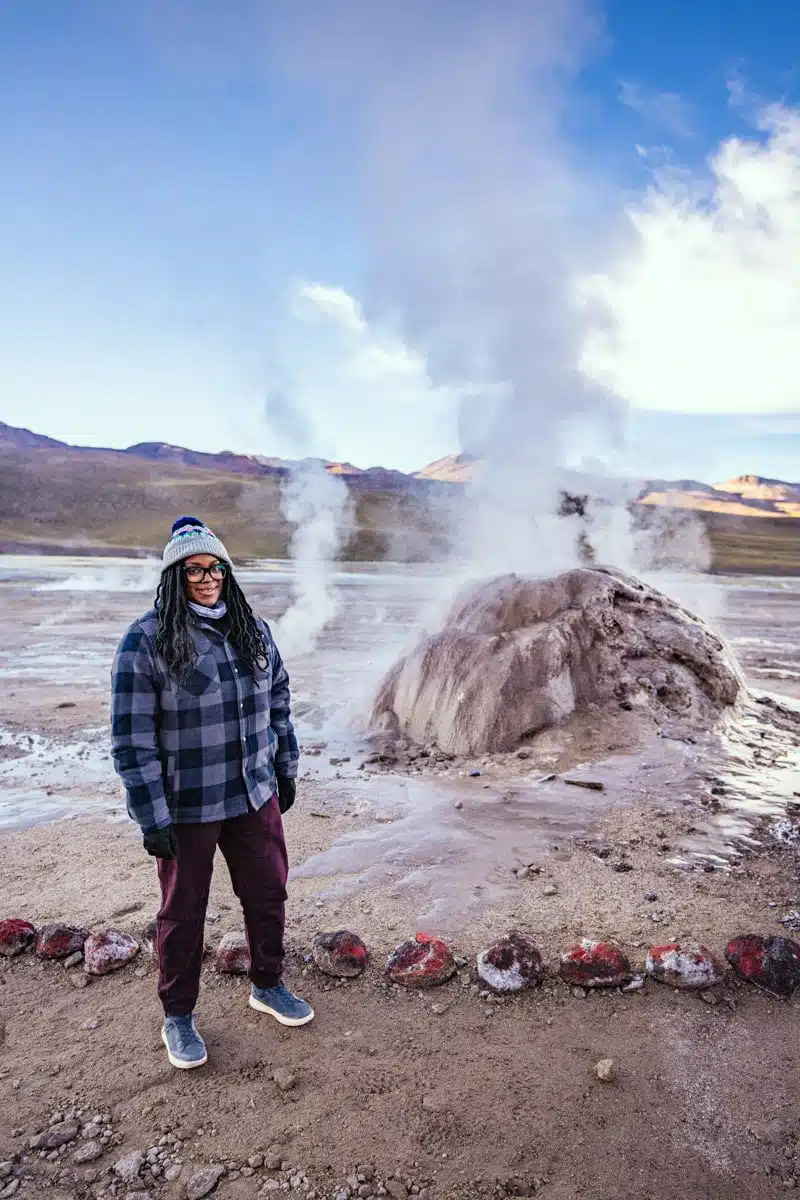 Wrap up warm. I cannot stress this enough. On the morning of my last visit to El Tatio, it was -15 Celsius. Yes, really!
Wear layers: including a hat, thick jacket, buff / scarf and gloves, plus thick soled shoes as the ground is very cold.
Geysers and Fumaroles are Different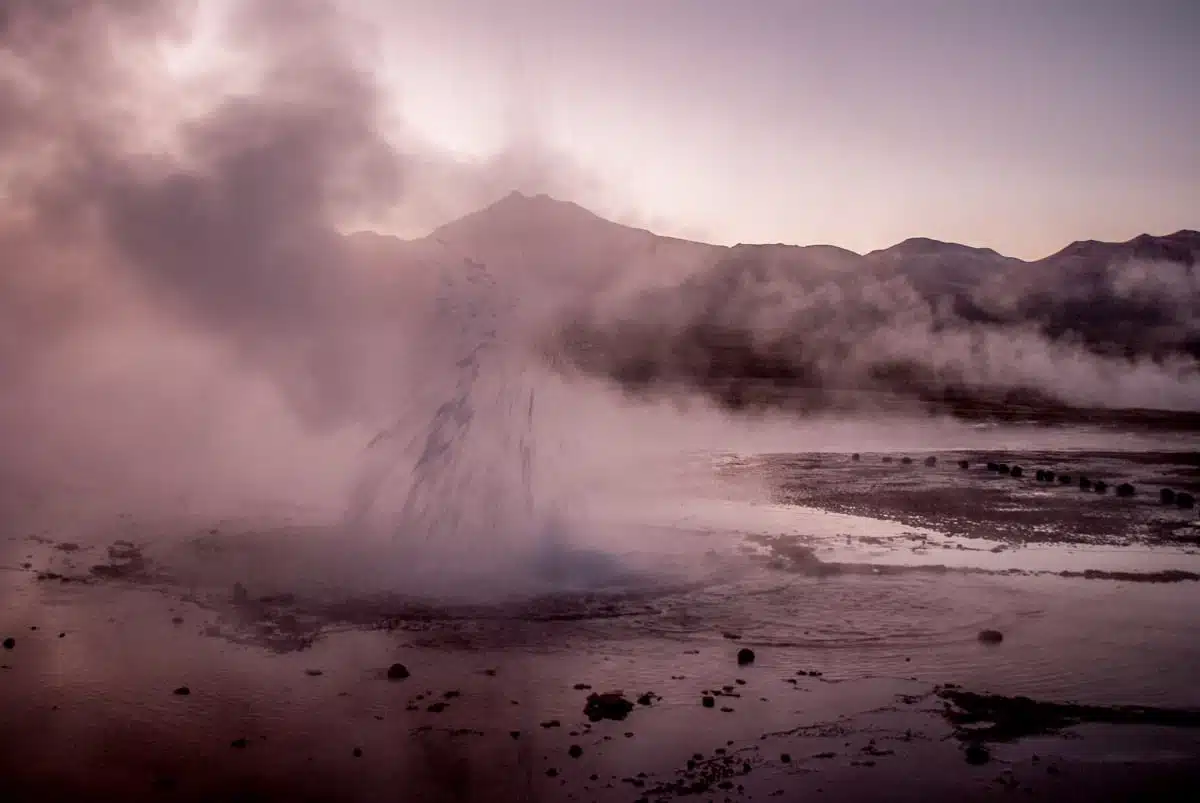 Although the geothermal field is commonly referred to as El Tatio Geysers, it would be more accurate to call it El Tatio Geysers and Fumaroles – I guess that doesn't have quite the same ring to it.
What's the difference between a geyser and a fumarole? Geysers are where water erupts out of the earth, whereas fumaroles emit smoke. Both are spectacular. And on that note…
Visit Both the Northern and Southern Geyser Fields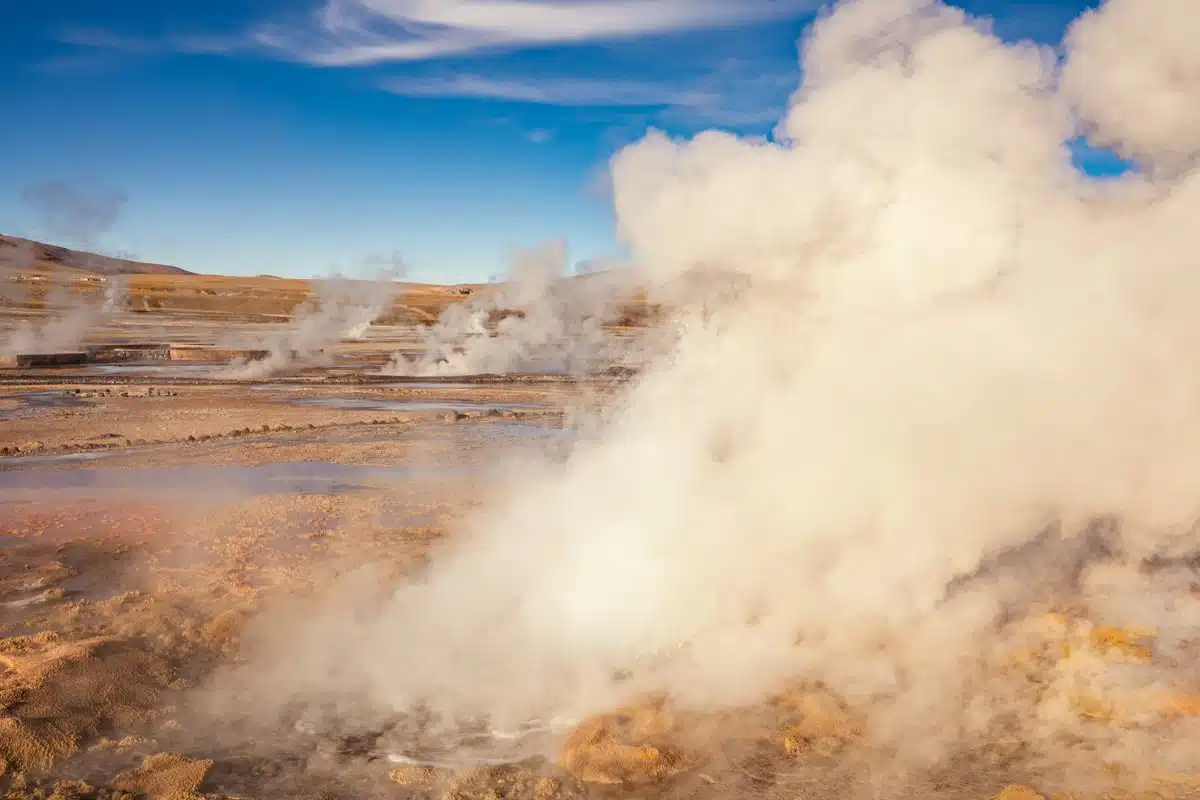 El Tatio Geysers' geothermal field is split into two geyser fields, the northern and southern. Though many visitors only explore one of the two, I'd advise you to take the time to see them both.
Northern geyser field has the biggest fumaroles, but the southern geyser field has the most geysers. I recommend splitting your time between both.
What Makes The Geysers del Tatio So Special? The Geology Behind the Spectacle
Before we get into the nitty gritty details of what you need to know to plan your trip to El Tatio, let's take a step back and find out a little more about the geysers themselves because, when you think about it, they're rather fascinating things.
Why exactly is there a geothermal field belching out steam and hot water at dizzyingly high elevations in the Andes? Let's take a deep dive.
Location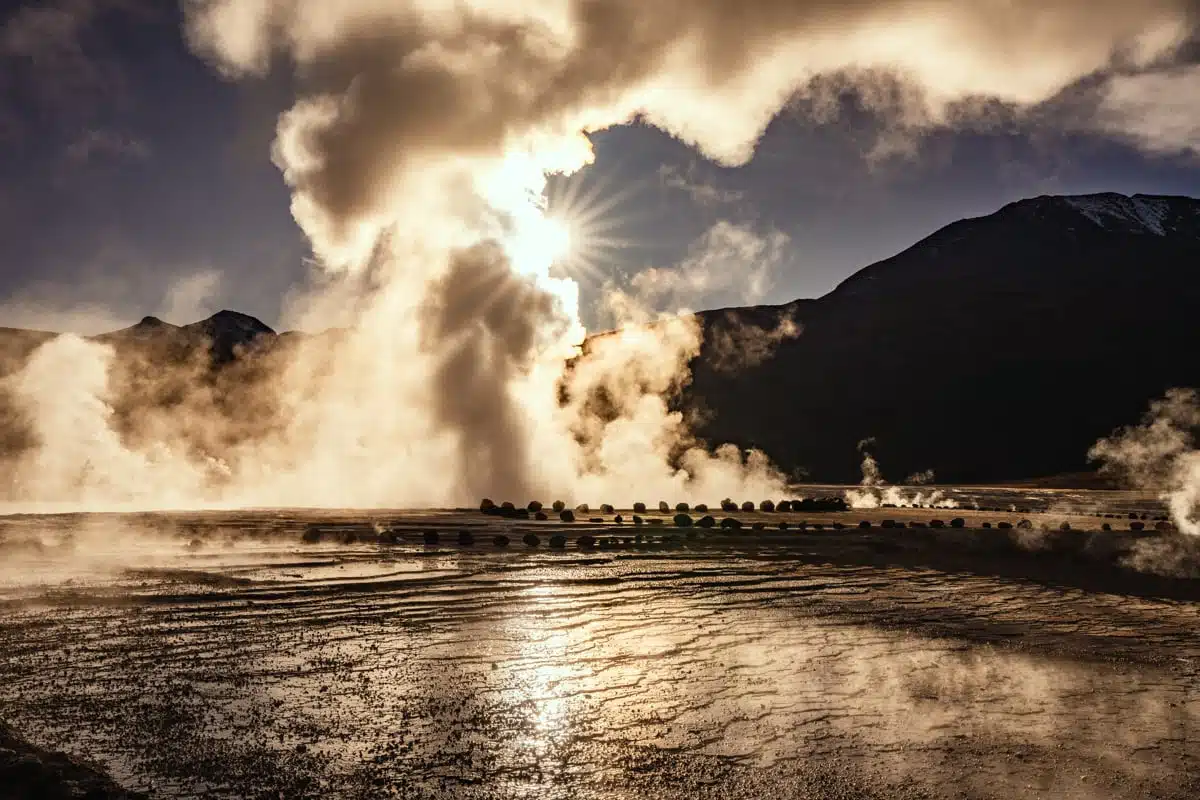 El Tatio sits at a staggering 4,320 metres (14,170 feet) above sea level in northern Chile. This geothermal field covers about 12 square miles (30 square km) across the Andes Mountains.
The El Tatio Geysers' altitude and land coverage make it the highest and third largest geothermal field in the Southern Hemisphere.
It sits at the base of a series of stratovolcanoes in the Central Volcanic Zone along the border between Chile and Bolivia. It also lies 50 miles (80km) from San Pedro de Atacama, a town in the famous Atacama Desert.
What Exactly Are The El Tatio Geysers? How Were They Formed?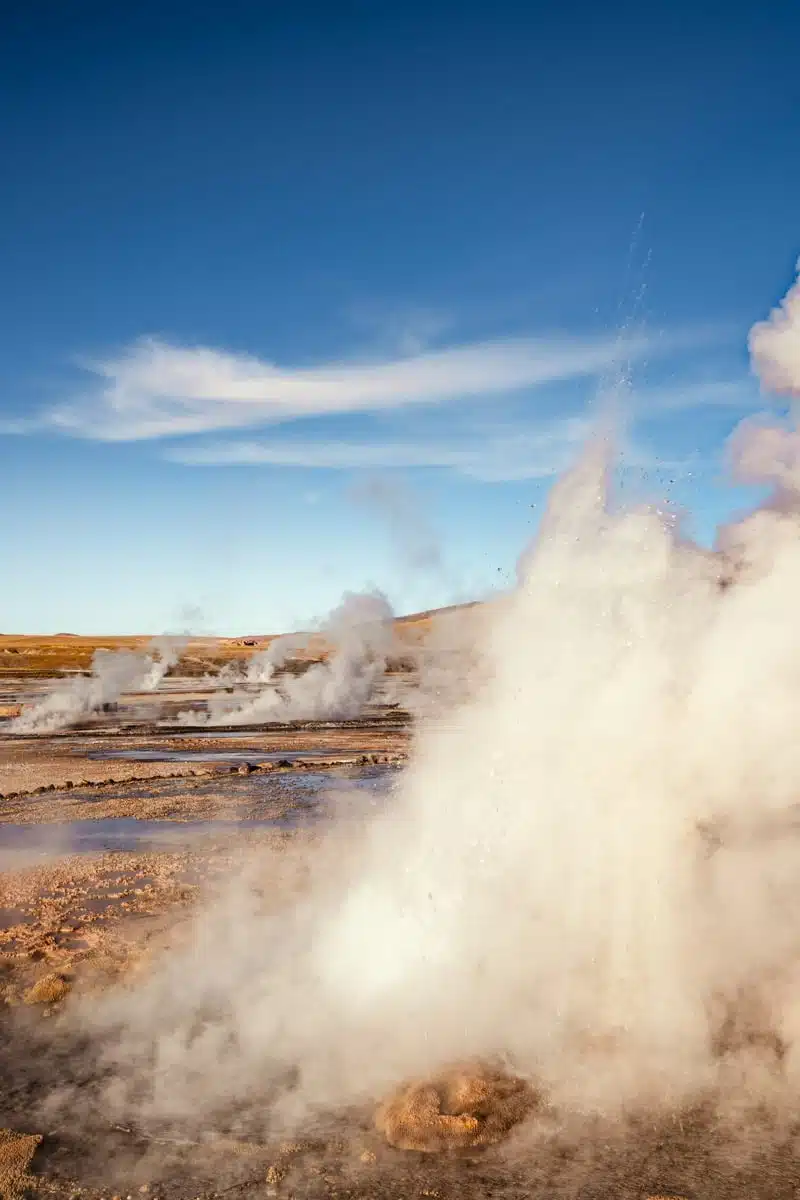 El Tatio is a large and intricate system of calderas ignimbrites, geysers, hot springs, and fumarole vents formed over millions of years. Around 80 geysers and hot springs are spread across this vast area and are divided into the northern and southern fields.
The hot springs temperatures around the field reach anywhere between 30 – 80°C (86 – 176°F), while the geysers reach heights of three metres (nine feet).
What about how they were formed? El Tatio sits in the Andean Mountains, an area well-known for its volcanic and tectonic activity thanks to the movements of the Nazca Plate and the South American Plate. Great to know – but it also has significant implications for the formation of the geothermal field.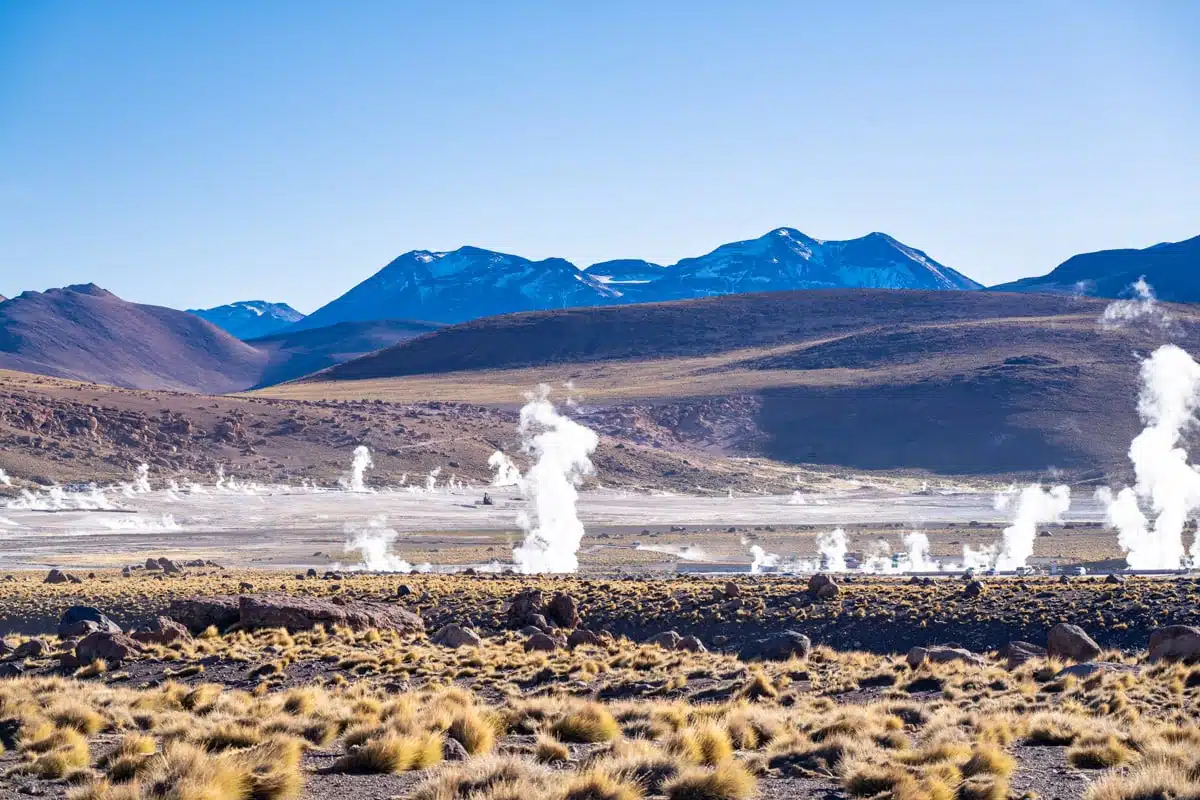 Water from rainfall and melting snow penetrates the ground and moves towards a heat source – whether that's magma or extremely hot rocks. The water heats up, which in turn builds pressure as it's enclosed by layers of impermeable rock.
Once the pressure exceeds a certain threshold, the hot water and steam are forced up through fractures in the Earth's crust, resulting in the spectacular geysers, hot springs and fumaroles you see at El Tatio today.
Think of them as mini volcanos, but instead of spouting rock and ash, they erupt with steam and water – they do so more frequently than volcanoes too.
Life in the Geysers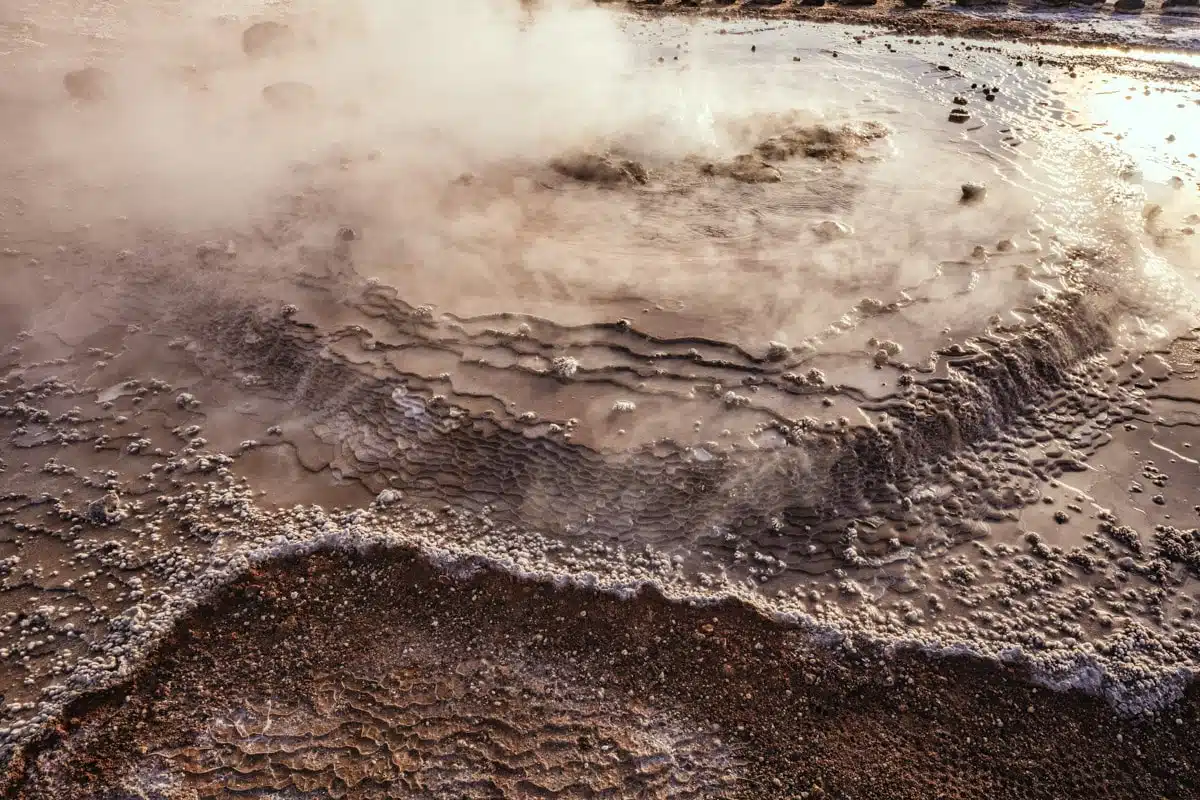 El Tatio's vents teem with life and contain forms of micro-organisms that include extremophiles (a tiny organism that lives in extreme environments) and hyperthermophiles (another microorganism that thrives in temperatures of 80°C or above).
In fact, this area is so unique that in the past scientists have studied it as a blueprint for past life on Mars, and to understand Earth's beginnings.
What's in a Name? The Meaning of "El Tatio"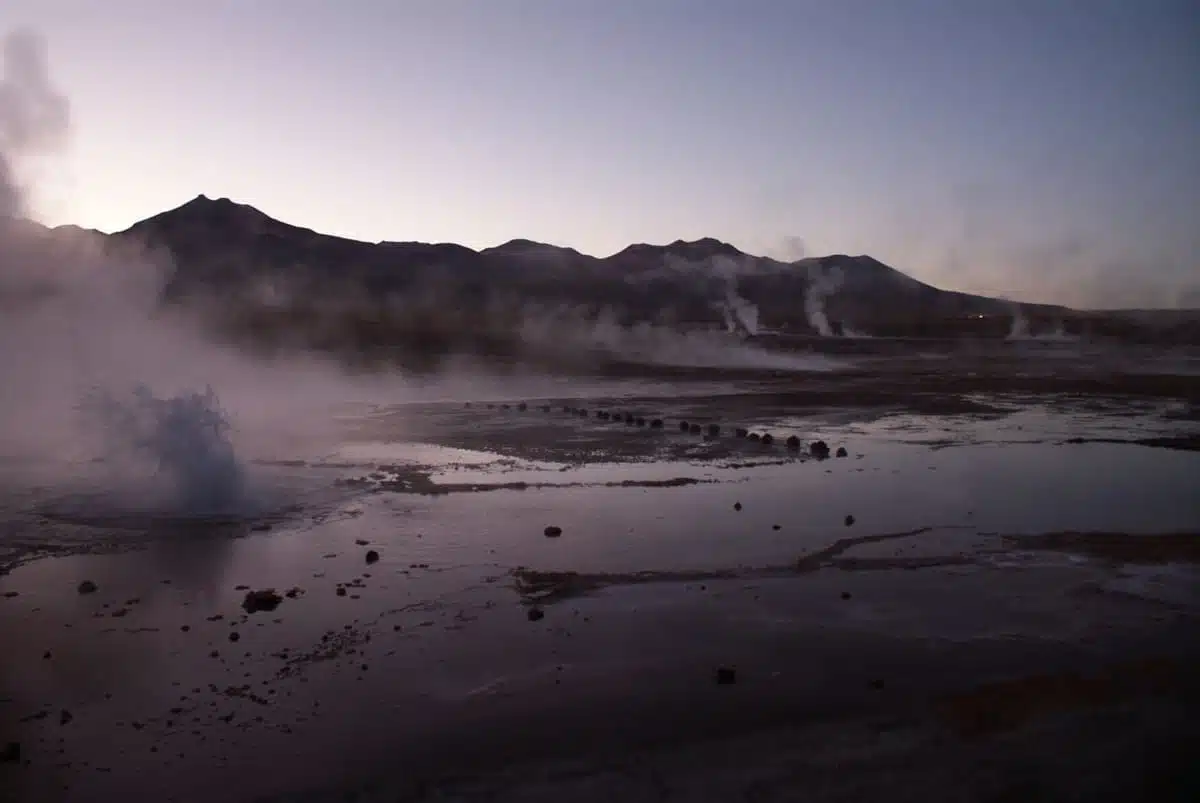 The word "Tatio" comes from the now-extinct Kunza Language. Tatio has numerous meanings, including "oven," "the crying grandfather," "burnt," and "to appear."
"Oven" and "to appear" are probably the most accurate descriptions of El Tatio because the geysers are boiling and appear suddenly.
The first mentions of the geysers appear in records from the late 19th century, but it's also believed that the Kunza people discovered them long before then.
Planning Your Visit to El Tatio
El Tatio Geysers Address
Antofagasta Región, Calama, Chile
El Tatio Geysers Opening Times
Monday – Sunday: 06:00 am to 4:30 pm
Visiting El Tatio Geysers Independently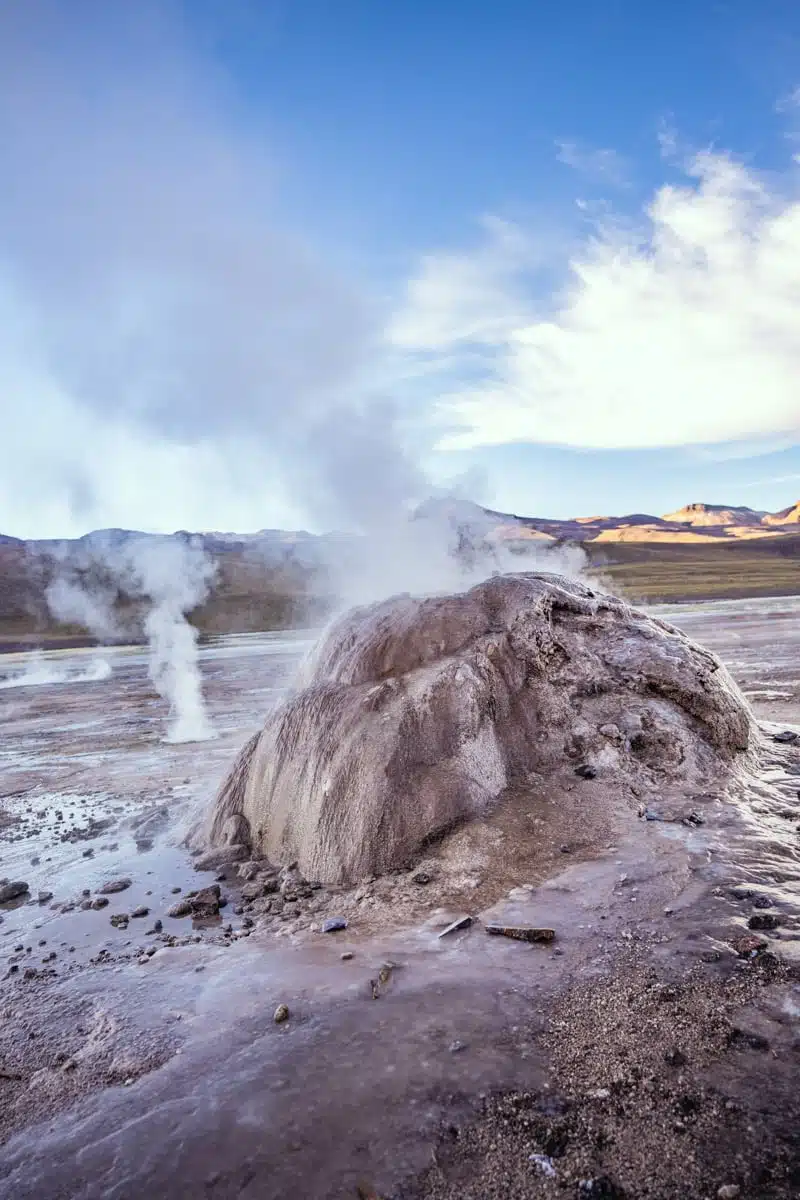 Basing yourself in northern Chile's largest town, San Pedro de Atacama, is a great way to explore the El Tatio Geysers. You can explore the El Tatio Geysers on your own if you rent a car, since it's a short distance away.
There is an entrance fee of 15,000 Chilean Pesos ($18) (£14). I recommend arriving early as the place fills up quickly with tour buses.
Be careful as you walk around; there are clear demarcations as to where you can walk – there have been some fatalities in the past (although not since 2016, when the restricted areas were significantly expanded).
El Tatio Geysers Tour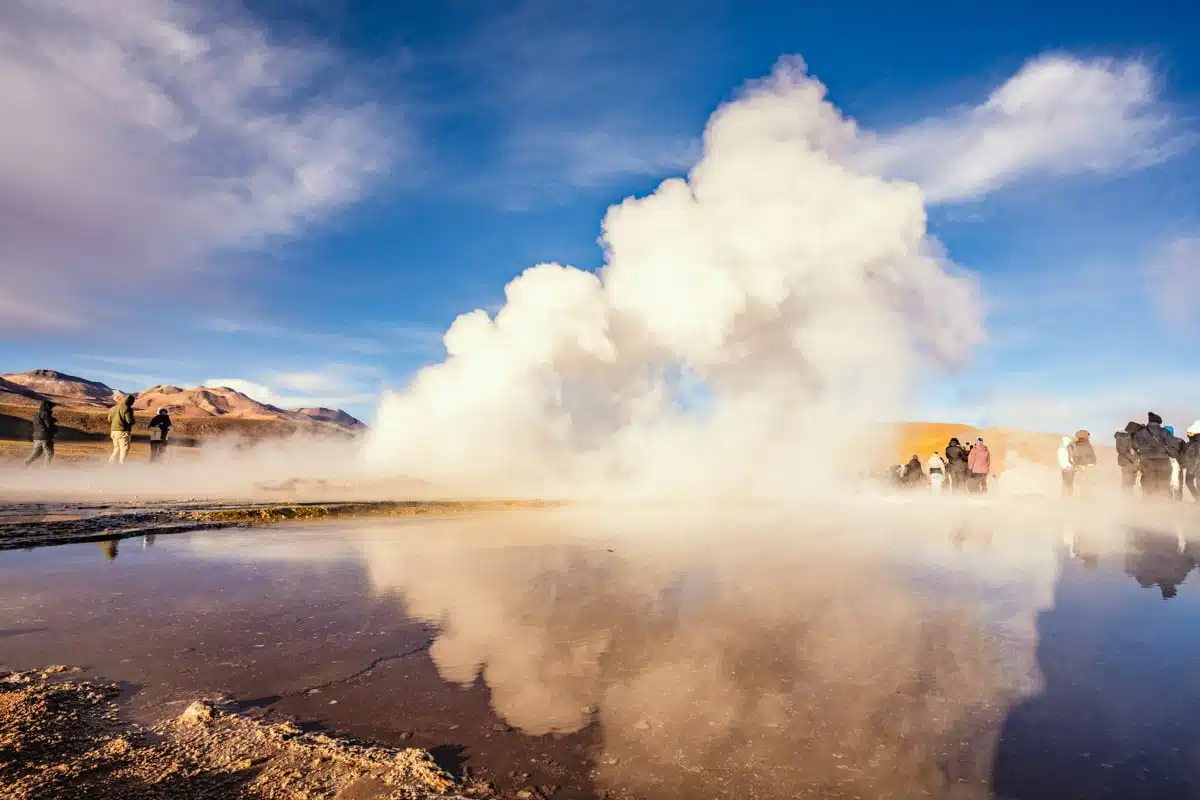 Visiting the El Tatio Geysers on a tour has its benefits, too, mainly that it takes the hassle out of planning everything yourself.
This San Pedro de Atacama El Tatio Geysers Tour includes a hotel pick-up and drop-off and a delicious meal to power you through the day. It also includes a knowledgeable guide pointing out great places in and around the area. The tour ends with a ride through the Putana Valley.
Where to Stay Near El Tatio Geysers
Hotel Desertica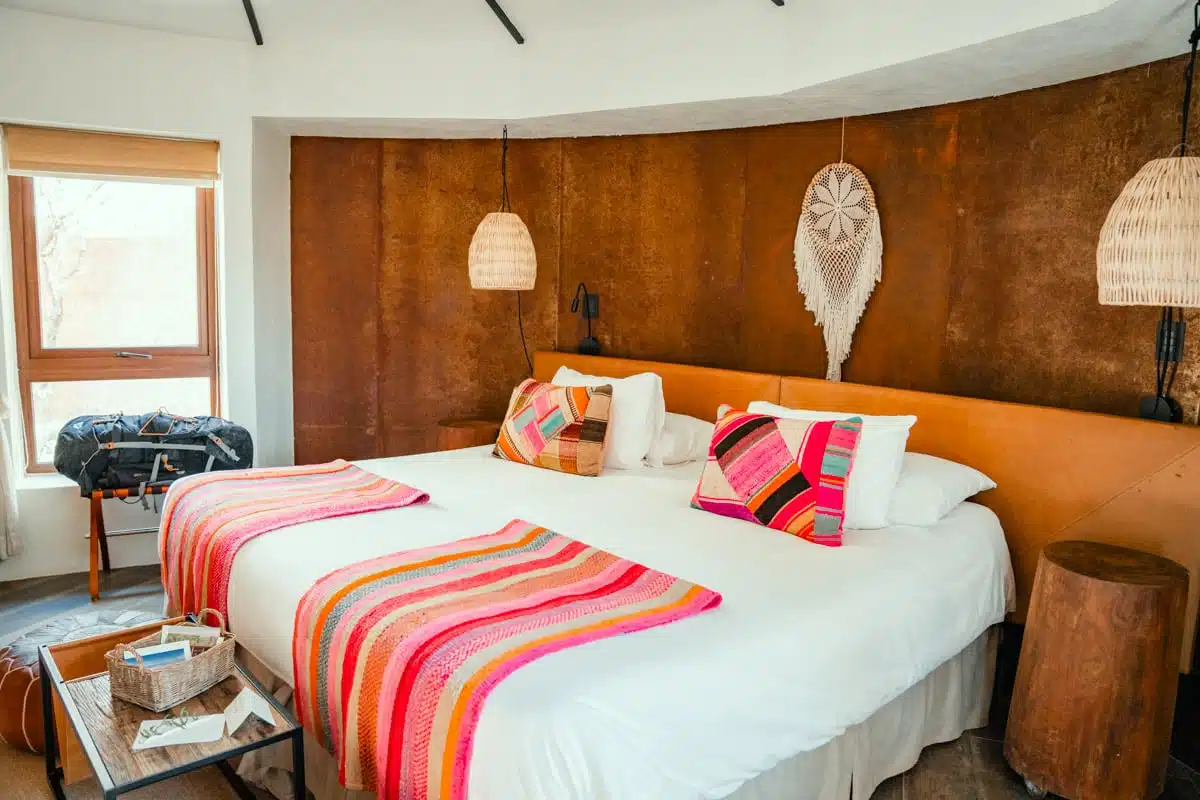 San Pedro de Atacama is the best place to base yourself if you plan on doing things in the Atacama and surrounding areas, like visiting the El Tatio Geysers.
One of my top hotel picks here is Hotel Desertica, a small boutique hotel in an old family orchard. This chic retreat offers peace from the busy centre of San Pedro de Atacama.
The hotel's rooms are large and spacious and have a stunning blend of contemporary touches mixed with local woven textiles and spots of colour. Perfect for relaxing after a long day of exploring.
What to Pack for a Visit to El Tatio Geysers
While it gets rather hot later in the day, the mornings are incredibly freezing. On my last trip to El Tatio, it was -15°C (5°F), so here's what I recommend packing:
El Tatio Geysers Map
Love This? Save and Share on Pinterest