Ready to plan the perfect Chile itinerary? From the stunning Torres del Paine to the Atacama – plan an epic Chile trip with this guide.
There are a lot of amazing locations in South America, but Chile ranks right up at the top as my favourite. Why? Oh, just the combination of dramatic natural landscapes giving way to some of the best stargazing, hiking and wine-tasting anywhere in the world.

Then there's the capital city of Santiago, with its rich history and culture that makes it a perfect city break. Colonial architecture and a thriving arts scene make a nice contrast when you're preparing for an epic trek or trip to the desert.
I've just come back from my fourth trip to Chile and – as ever – it blew my mind. I spent nights slack jawed as the Milky Way lit up the night sky, freezing mornings as geysers erupted into life right before my eyes, feasted on delicious food and even better wine – it was nothing short of incredible.
So with everything that Chile offers, how can you plan an itinerary that puts together the best things to do and places to stay in a tidy 10-day package? Not to worry.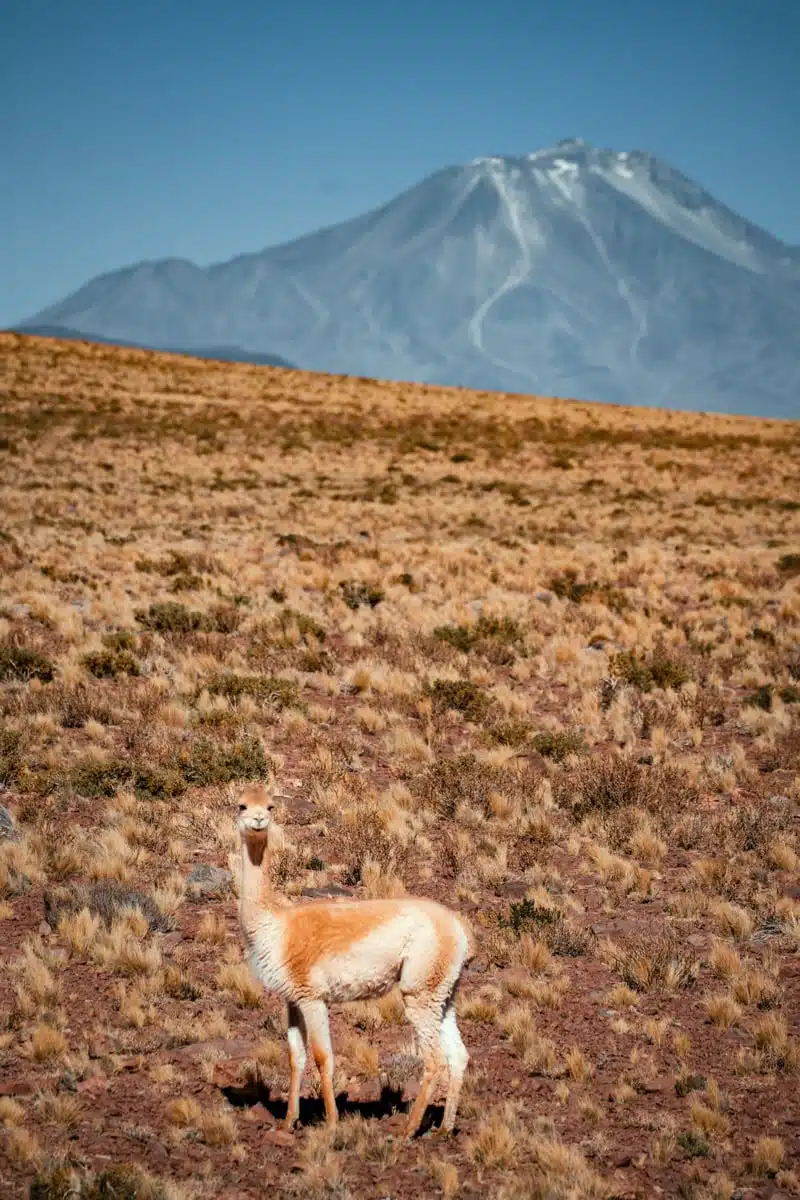 I got you covered with the ultimate Chile itinerary. So sit back, relax, and start making your travel plans to this incredible country.
Handy Tips for Planning Your Chile Itinerary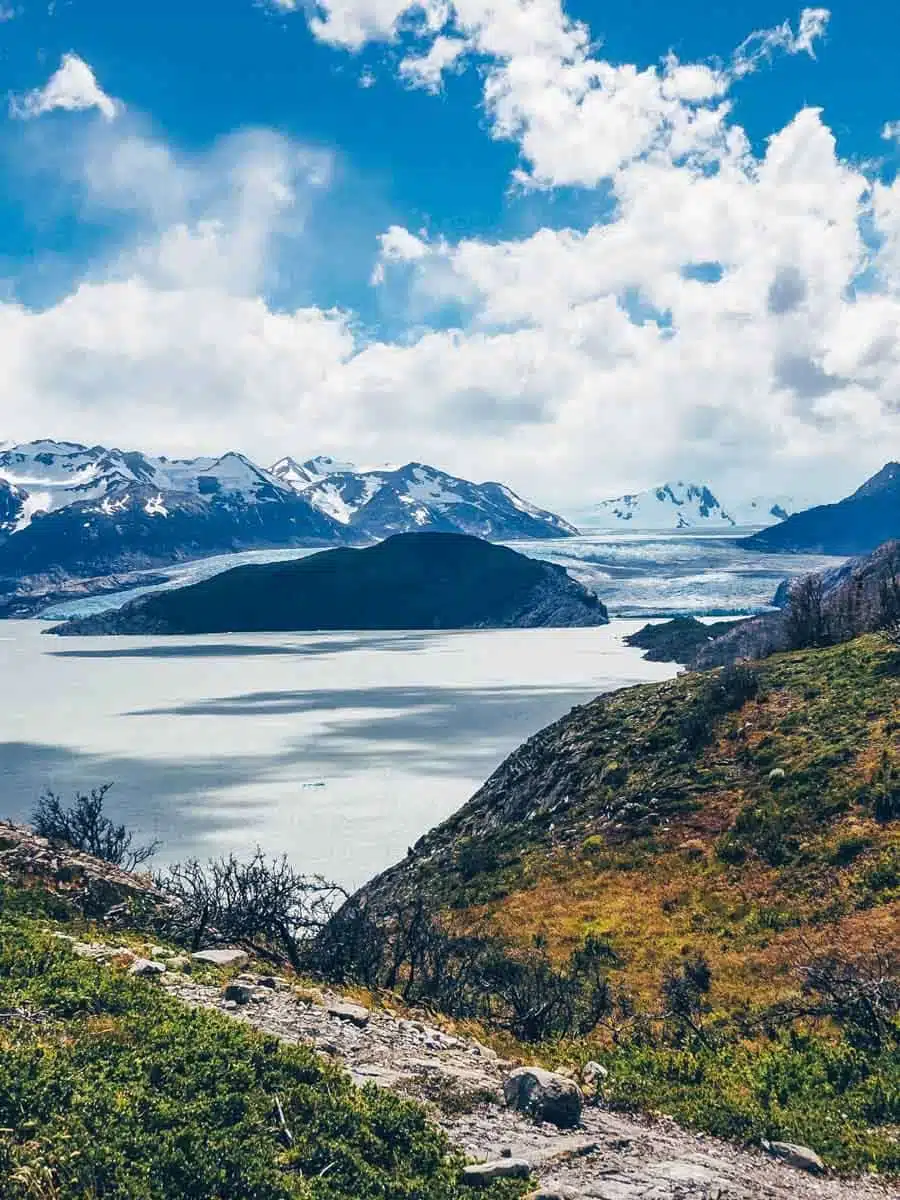 Group Tour or Independent Travel?
You can absolutely do everything on this Chile 10-day itinerary while travelling solo. Going by yourself allows you to enjoy stargazing, hiking, and sightseeing at your own leisure.

But if you don't want to handle the logistics, a group tour may be more your speed. G Adventures offers some excellent Chile itineraries, including one to Patagonia on The W Trek.
What to Pack for Your Chile Itinerary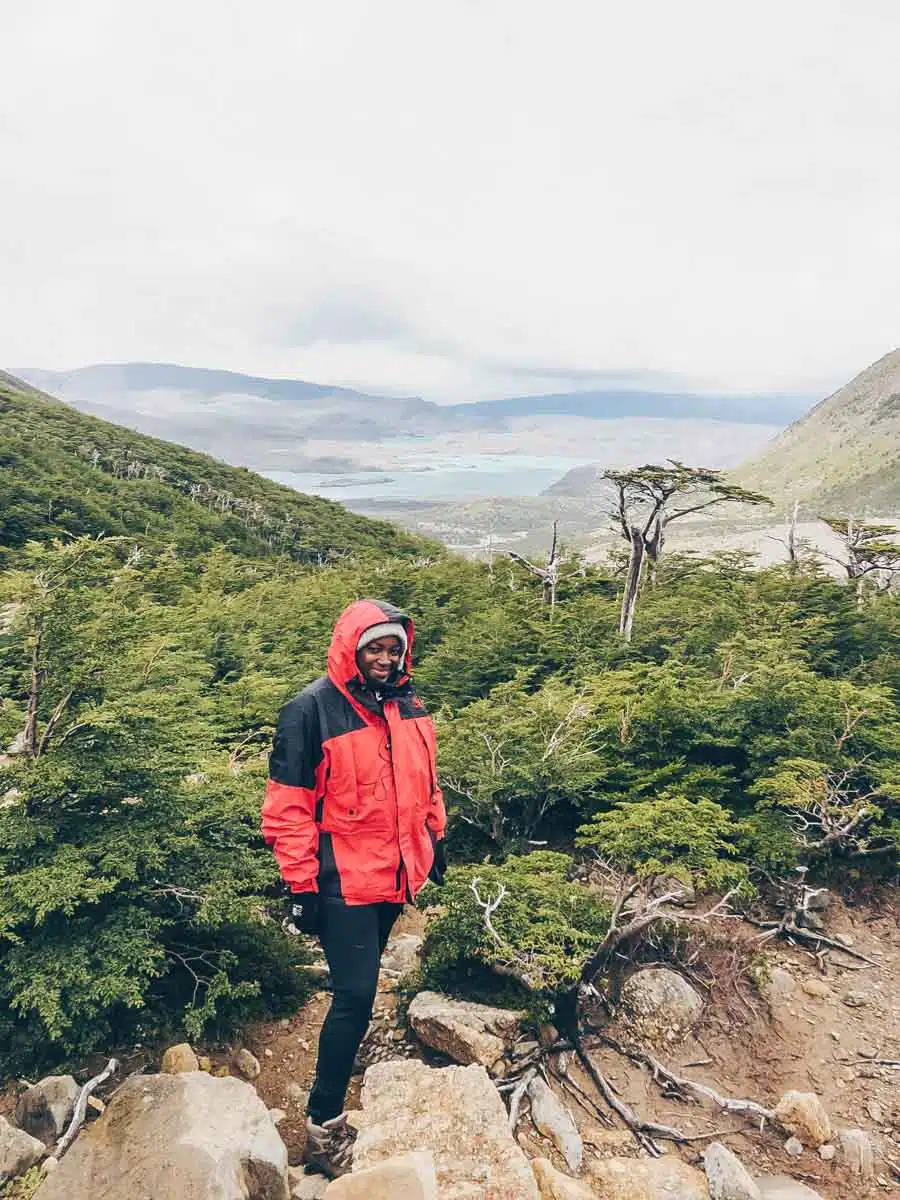 Your 10 days in Chile will involve hiking and sightseeing across the sprawling South American country, so you'll need to pack for any type of weather.

Going to the Atacama Desert? You'll need to bring your sunglasses, lightweight trainers, and plenty of suntan lotion. A travel backpack with a water bottle, first aid kit, and power bank for your tech gadgets is always a good call.

Patagonia can be a bit less predictable, especially in the Spring and Autumn, but carrying warm layers (and a windbreaker or heavy coat) is a great start.

No matter when I plan a trip to Torres del Paine, I bring a lightweight daypack, a refillable water bottle, and high-quality hiking boots like these. For a full list of what to pack for Torres del Painne in Patagonia, read this.
Useful Resources
Skyscanner – The top flight search site. It makes booking flights from anywhere in the world more convenient and affordable.
Booking.com – A reliable website for finding the best rates on hotels in Chile.
Guide to Camping in Torres del Paine – If you decide to do the W Trek (you should), this guide breaks down everything you'll need to know.
Viator – Excellent resource for scheduling tours for your Chile travel itinerary.
Getting Around
Believe it or not, if you measure Chile from top to bottom, it's nearly as long as the USA is from coast to coast.

So if you're planning a holiday in more than one region (like this 10-day Chile itinerary), you'll want to fly to one of the airports near your destination, and then hire a car or book a tour.

If you're staying in Santiago, use Uber. Petty crime is currently rife in Chile, especially in the Centro district, and taxis may ask you to negotiate fares or straight up rip you off, which can get awkward and expensive.
Chile Itinerary
Chile Itinerary Days 1-2: Santiago /i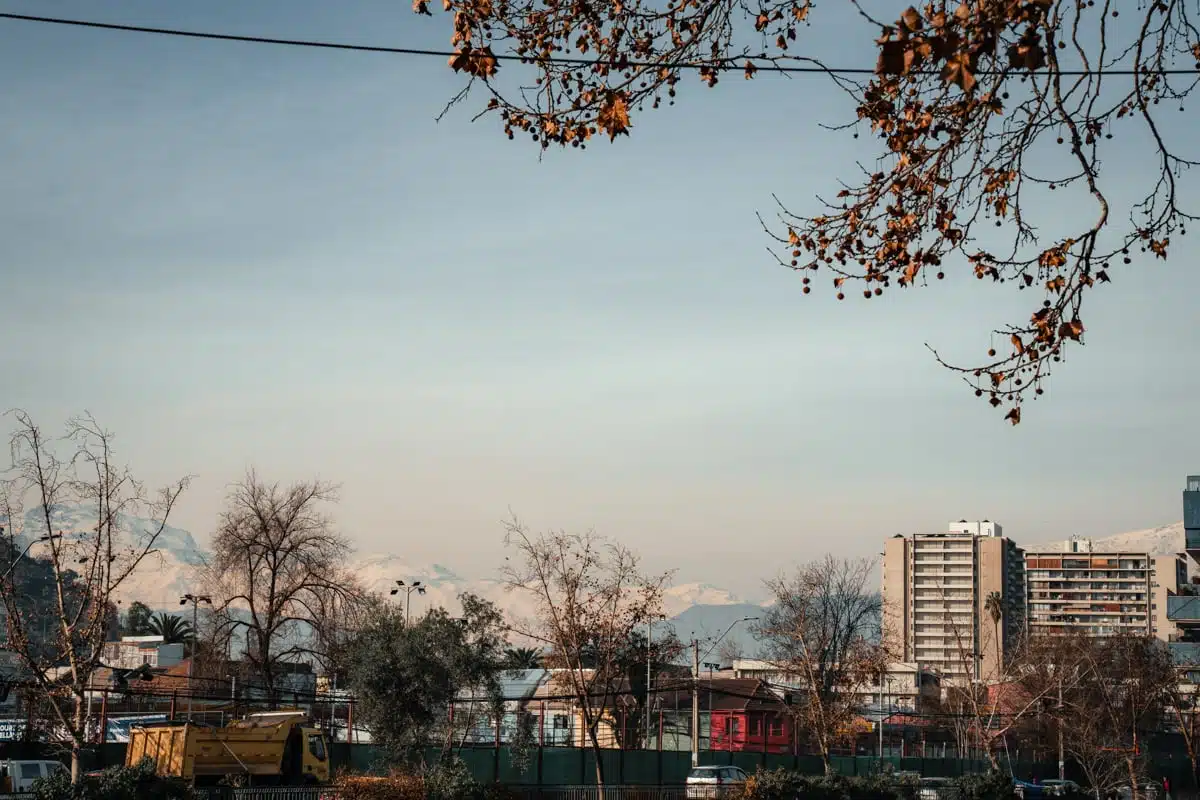 Santiago is a fascinating place to visit (I've been there several times), and every time I return, I discover new things to see and do.

There's a slight edge to the city, but most locals are friendly and willing to talk to you about the complex history and thriving art scene. Street art is most prominent in the neighbourhoods of Bellavista and Barrie Yungay.

You'll also have plenty of historic sites to visit, like Museum Arte Precolombino and the truly stunning Gothic and Baroque architecture at the Metropolitan Cathedral of Santiago de Chile.
Remember; you're in Chile. Arrive hungry and thirsty. Restaurants like Liguria and Bocanáriz offer hearty Chilean fare and house Carmenere that puts the best bottle back home in London to shame.
Things to do in Santiago
Spend an Afternoon in Barrio Lastarria (and Visit Santa Lucia Hill)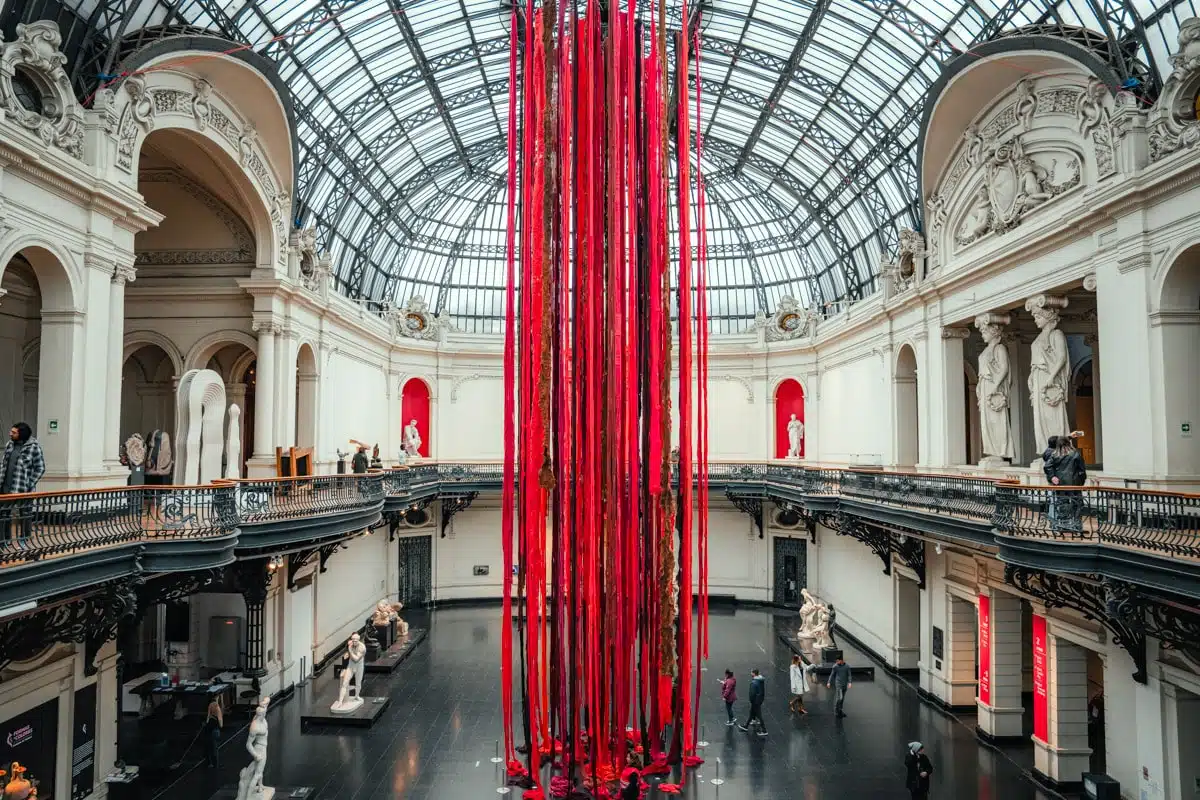 Start your 10-day trip to Chile in Barrio Lastarria at the 19th-century Hidalgo Castle. It's perched high up near the beautiful gardens and fountains of Santa Lucia Hill.

After you enjoy the city views, walk down to Museo Nacional de Bellas Artes for the largest (and free) collection of South American and international artwork.
Tour La Chascona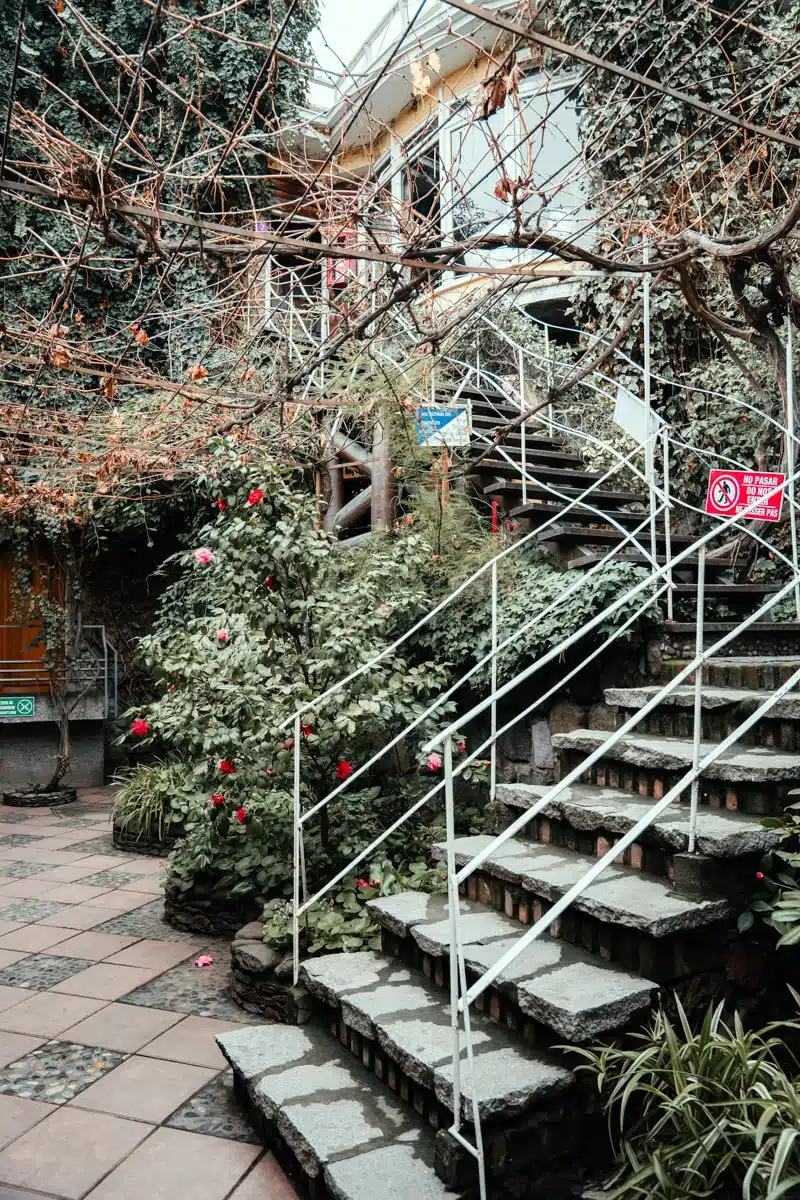 Another area you'll want to explore on your Chile trip itinerary is Bellavista. Stop by La Chascona, where you'll see the home of celebrated poet and politician Pablo Neruda.

Tickets are CLP $8,000 (around £7) and include a guided audio tour to explore the unique art and architecture of the home Neruda built for his lover (and eventually 3rd wife) Matilde Urrutia.
Lunch at Galindo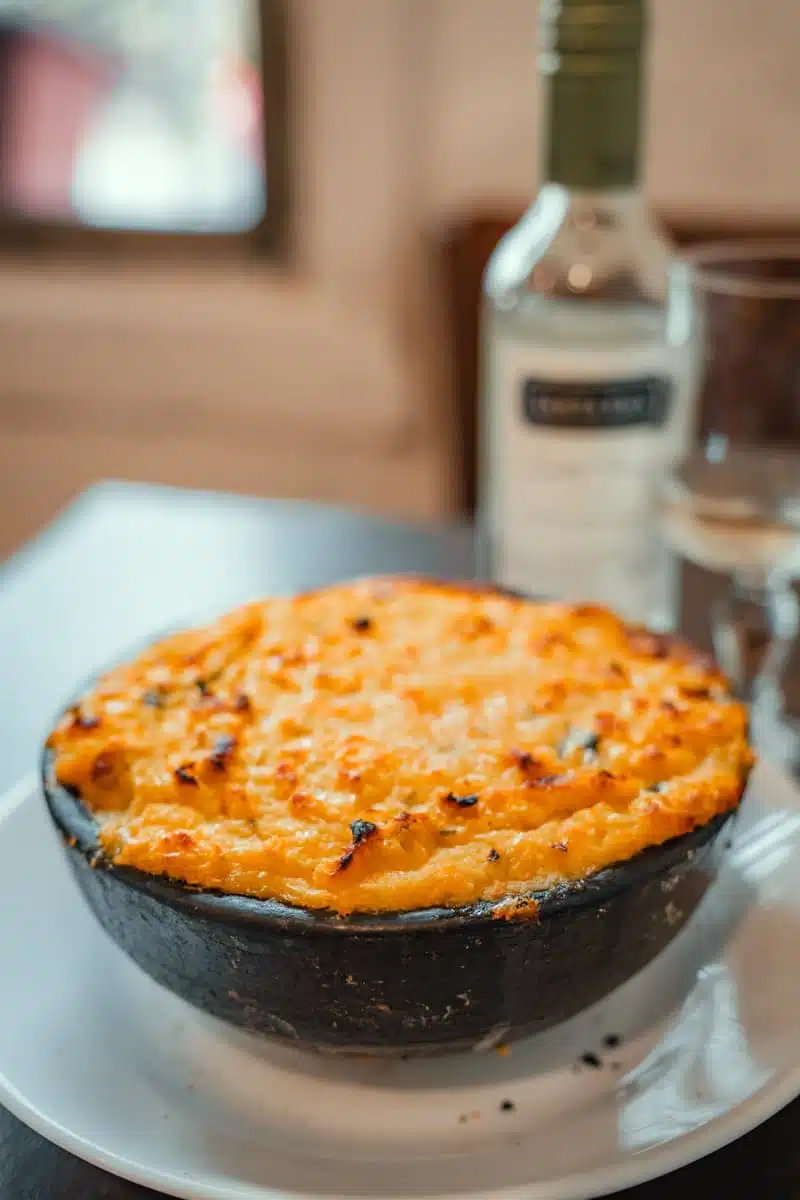 This no-frills bar and grill offers delicious and filling traditional Chilean cooking to help soak up a couple of local beers.
Arrive with a voracious appetite for the Pichanga (two cuts of pork with goat cheese and olives) and Pastel de Choclo (a rich combo of creamed corn, meat, veggies, and olives).
San Cristóbal Hill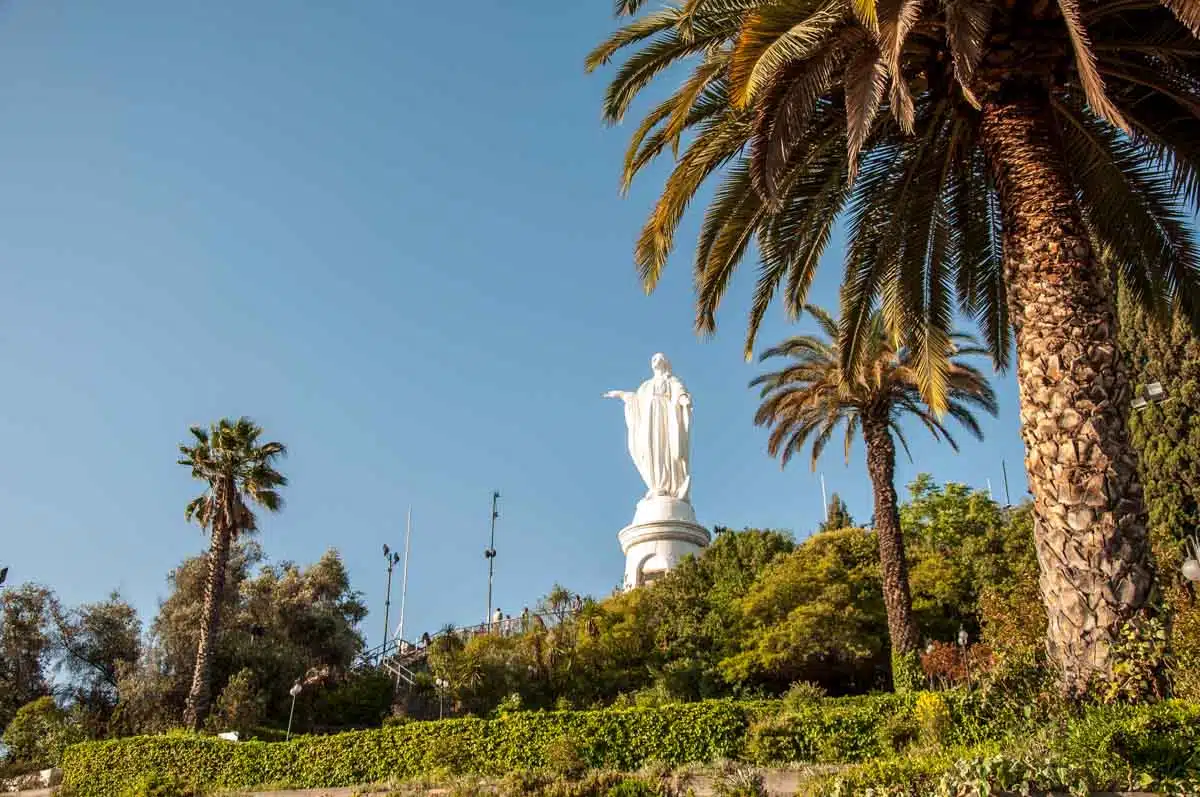 Want the best views on your Chile itinerary idea in Santiago? Head to the base of San Cristóbal Hill (near Estacionamiento Pedro De Valdivia Norte) and ride the nearly 100-year-old Funicular de Santiago Up to enjoy unmatched vistas from about 3,000 metres high.

Grab a refreshing mote con huesillo (a non-alcoholic drink with barley and peaches) before taking a ride on the cable car to admire the views from above.
Head to Centro for Sightseeing Opportunities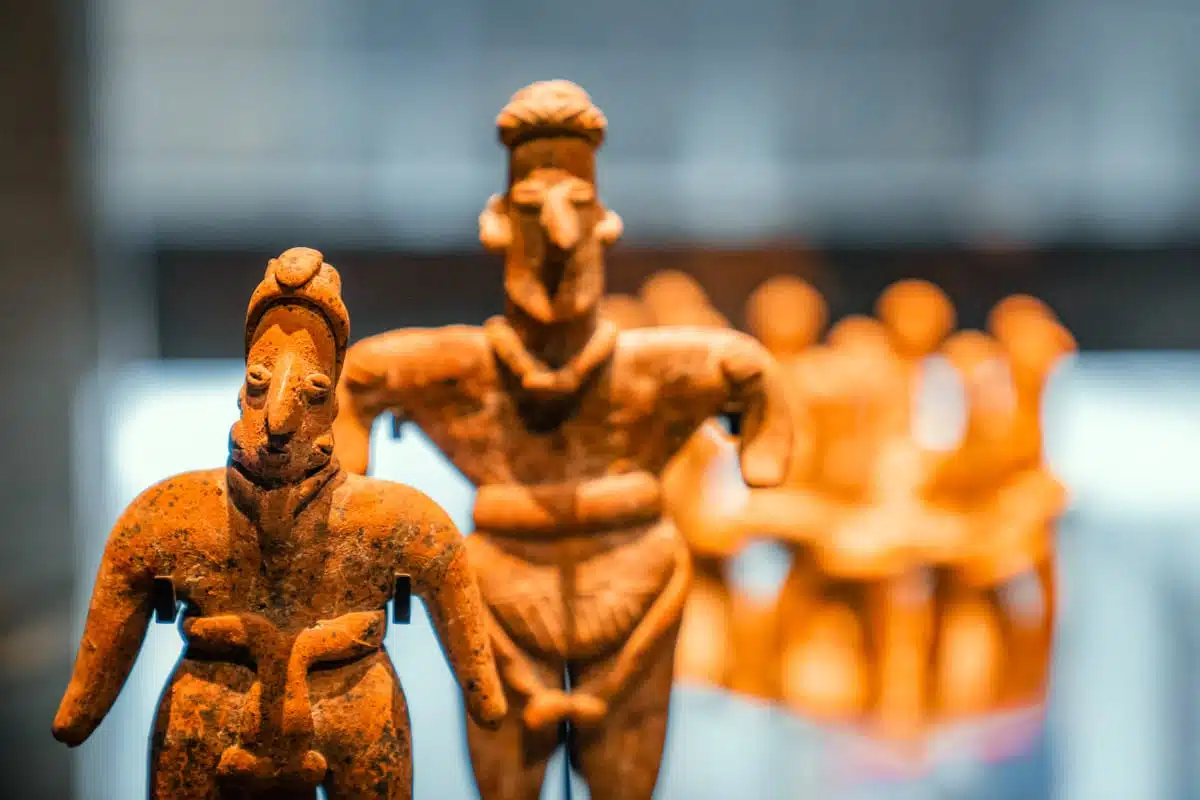 Santiago's Centro neighbourhood might not have the hipster chic of areas like Lastarria, but it is home to some of the city's most important sights.
Be sure to head to the Plaza de Armas and into Santiago's glorious Cathedral. It might not look like much from the outside, but inside it's a Gothic meets Baroque extravaganza.
After, make a beeline for the nearby Chile Museum of Pre-Columbian Art, which is hands-down my favourite museum in the city. Spread out over several levels, the museum takes you on a journey through the Pre-Columbian peoples of South America.
Getting to Santiago
Starting your Chile itinerary of 10 days in Santiago is easy. Fly into Santiago International Airport (SCL) and take a rideshare to your hotel.
Suggested Stay for Santiago on your 10 Days in Chile Itinerary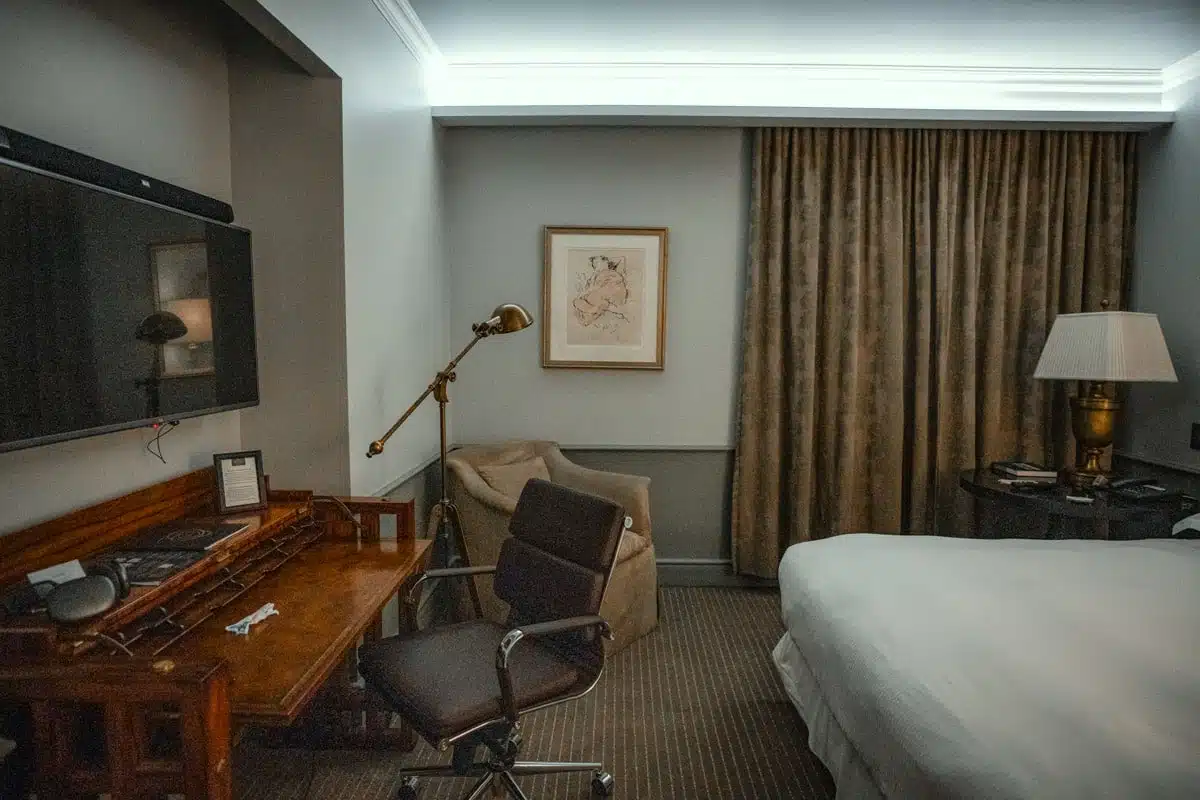 The Singular Santiago is a luxury five-star property with reasonable hotel rates in the heart of my favourite neighbourhood to stay in Santiago – Lastarria.
Super comfy rooms, a nice spa, and outdoor patio that's perfect for chilling outside in the warmer summer months are a few reasons I love choosing this as my landing spot in Santiago.
Check prices and availability for The Singular Santiago on Booking.com
Alternatively, check all accommodations in Chile on Booking.com
Chile Itinerary Days 3-6: Torres del Paine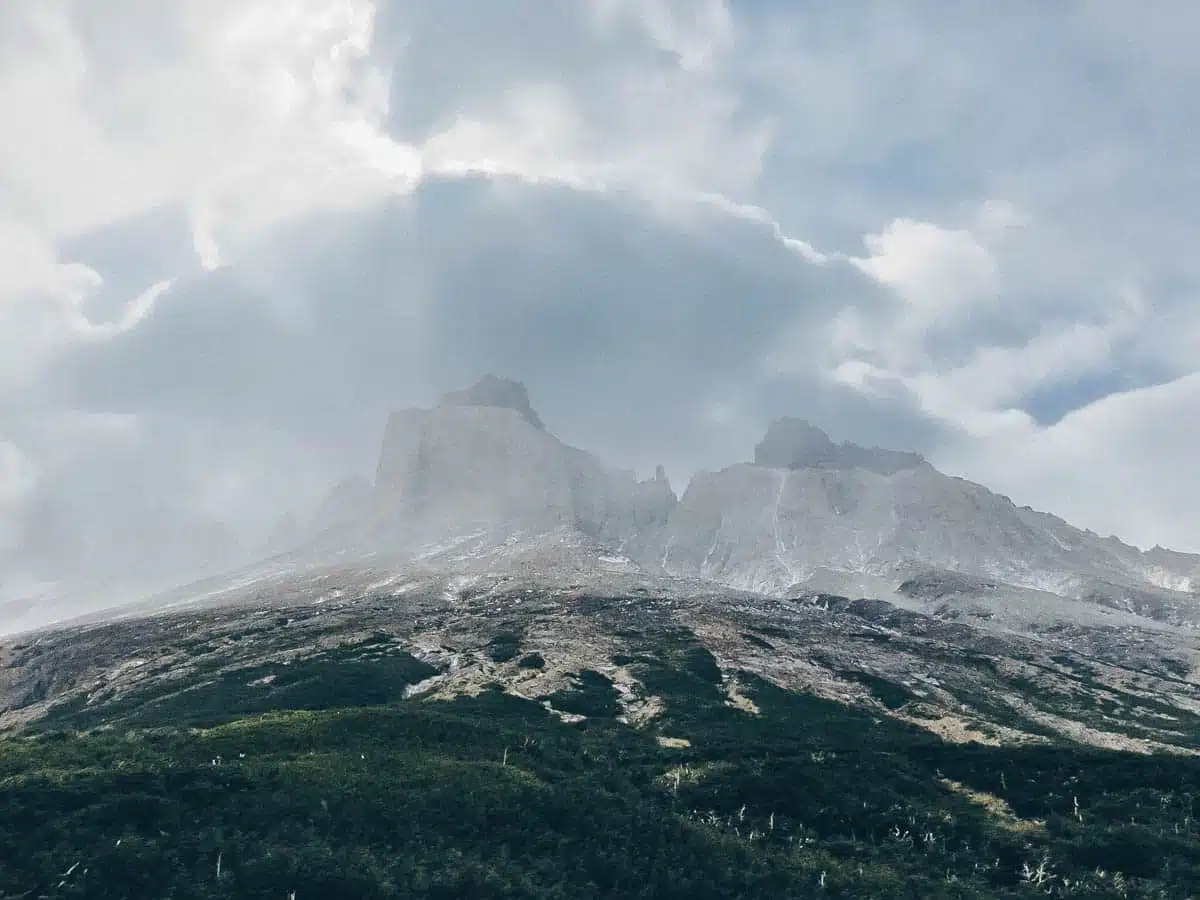 The rich green plains and hills moving slowly from the rivers and lakes to the dramatic Paine Massif mountains makes Torres del Paine a memorable stop on your Chile itinerary.
If you want to experience Patagonia on your trip to Chile, spend a few days hiking the glaciers, mountains, and valleys below and have chances to see wildlife like Andean condors, guanaco, pumas, and rheas.
You can rest up at a luxury hotel between sightseeing or take on the W Trek if you're up for the challenge of hiking 100 km over several days.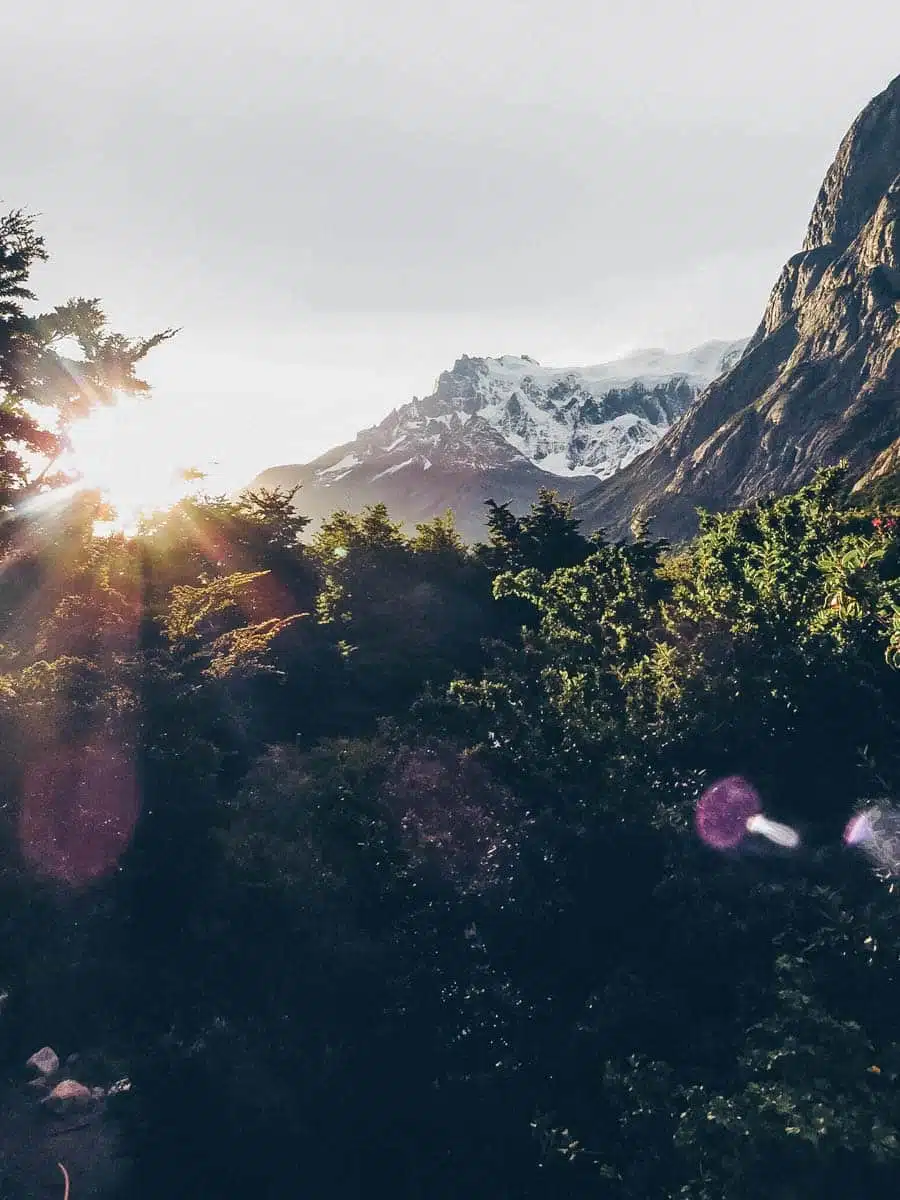 If you choose to do the W Trek, make sure you pack the right gear. I learned quickly that the weather can change from pleasant to downright terrifying in a matter of hours.
If that all sounds a bit too epic, don't worry. You can choose from many great tour guides to show you around on a day hike.
Things to do in Torres del Paine
W Trek Hike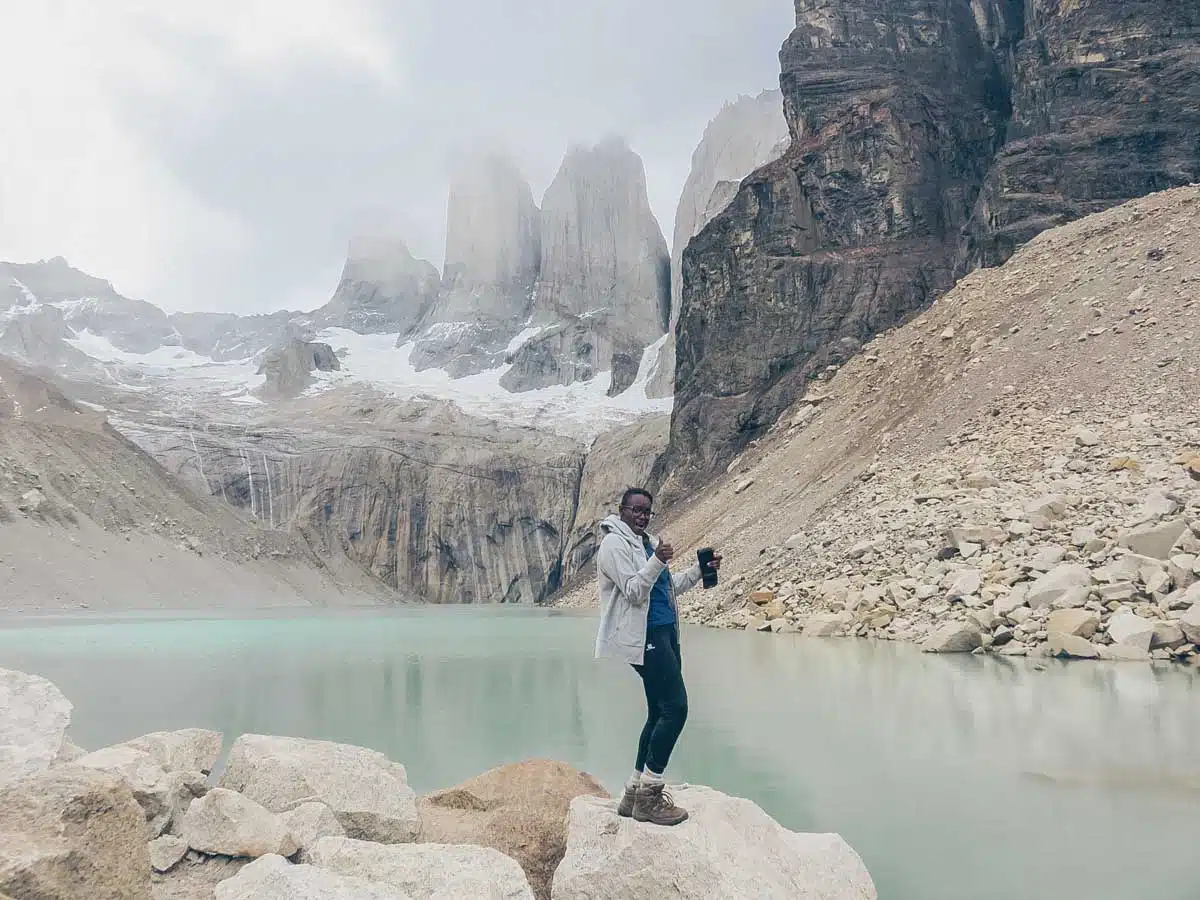 Hike some of the most iconic landmarks in Torres del Paine, including Lake Pehoé, Paine Grande, and the towering cliffs at Los Cuernos.

I recommend booking a guided group tour like this one if you want to do the W Trek in four days, as it includes lodging for three nights.
Lake Pehoé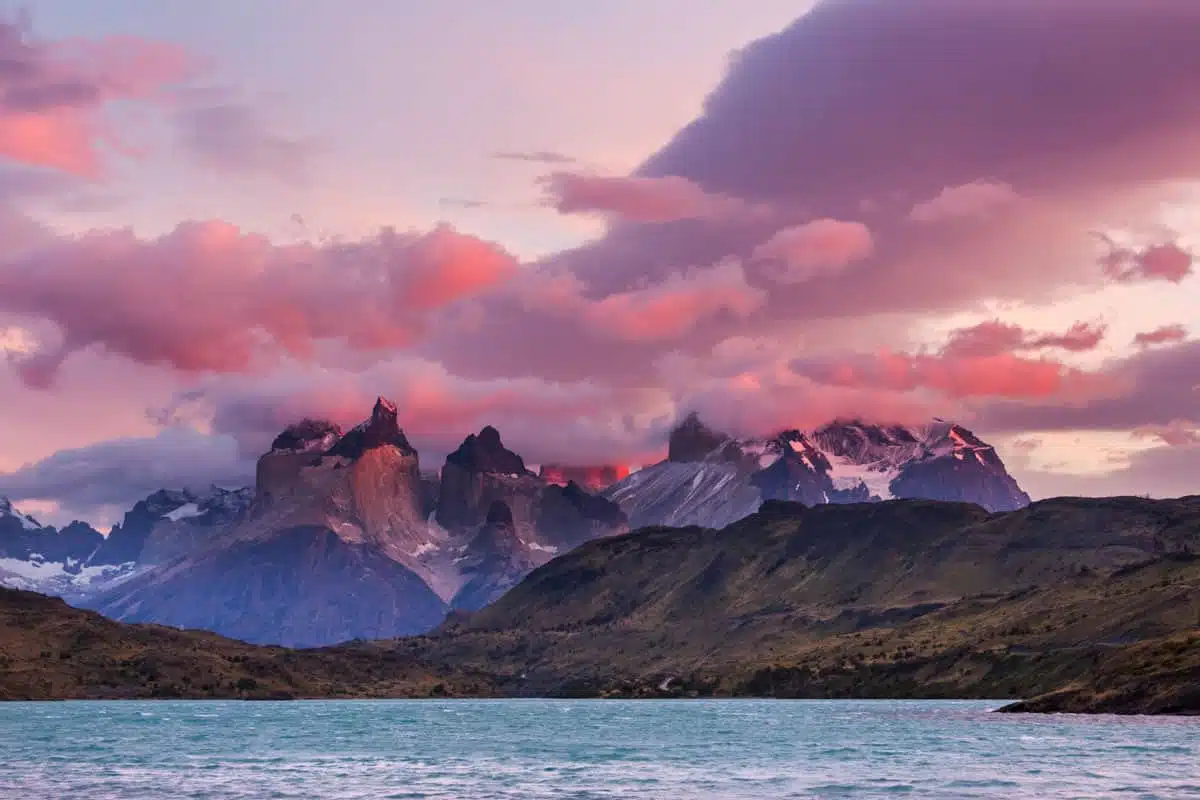 For one of the most dramatic scenes anywhere in Chile, head to Lake Pehoé. You'll see the deep blue waters projecting an image of the Cuernos del Paine so unique, you'd better hope you brought a backup memory card.
Grey Glacier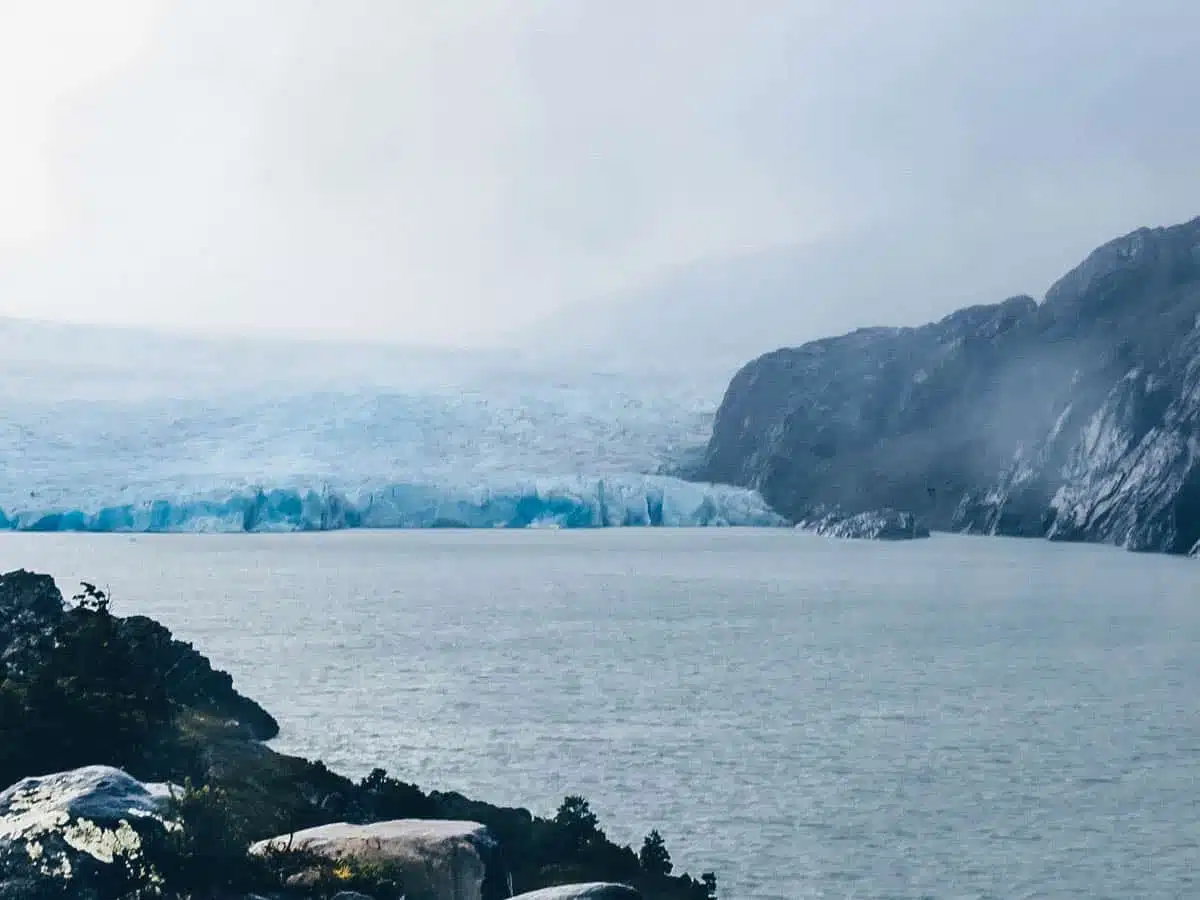 Grey Glacier is the most famous glacier in Torres del Paine. You'll know why when you catch glimpses of it around the national park.

I recommend walking on the east side of Lago Grey, which allows you to get an up-close look to really take in the enormity of it all.
Frances Valley Viewpoint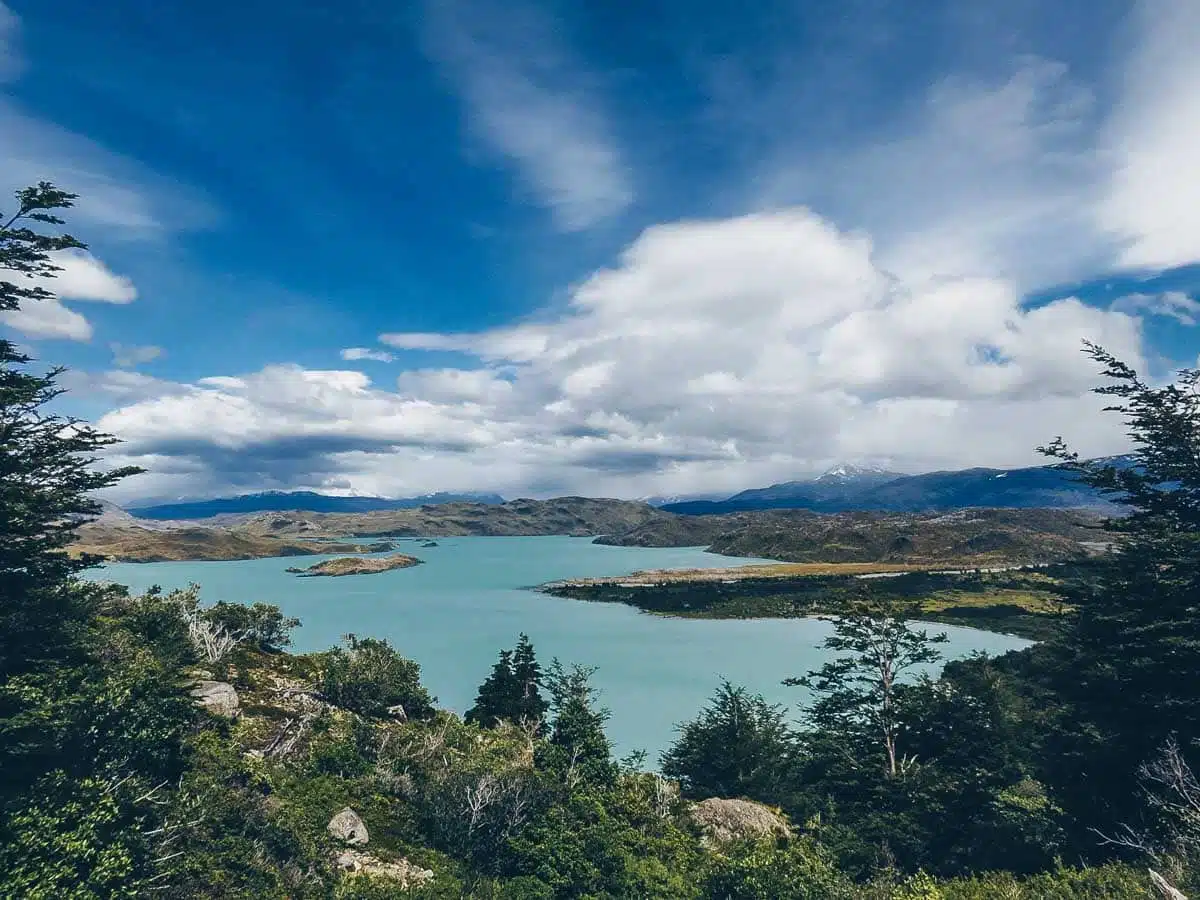 The tallest of the mountains in this national park, Paine Grande, towers over you at more than 3,000 metres high. Frances Valley is the best place to see it.

I like this vantage point because you can also see Lago Nordenskjöld, which looks magnificent near the base of the massive mountains.
Getting to Torres del Paine
You'll fly from Santiago to Punta Arenas Airport (PUQ), where you will then make your way to Torres del Paine.

I'm not going to lie; it's kind of a small nightmare. You'll need to buy a bus ticket for the 7 am bus and show up around 6:30 am so you're not late to the park. Once there, be prepared for some long lines.
Suggested Stay for Torres del Paine on your 10 Days in Chile Itinerary
This beautiful five-star resort allows you to have some much-deserved R&R after a day of hiking, horseback riding, or photographing the Chilean Patagonia.

You'll have first-rate views of the mountains, lakes, and rivers nearby. A heated outdoor pool, hot tubs, and luxury accommodations make this a perfect choice to bed down after a day full of adventure.
Check prices and availability for Explora en Torres del Paine – All Inclusive on Booking.com
Alternatively, check all accommodations in Chile on Booking.com
Chile Itinerary Days 7-10: Atacama Desert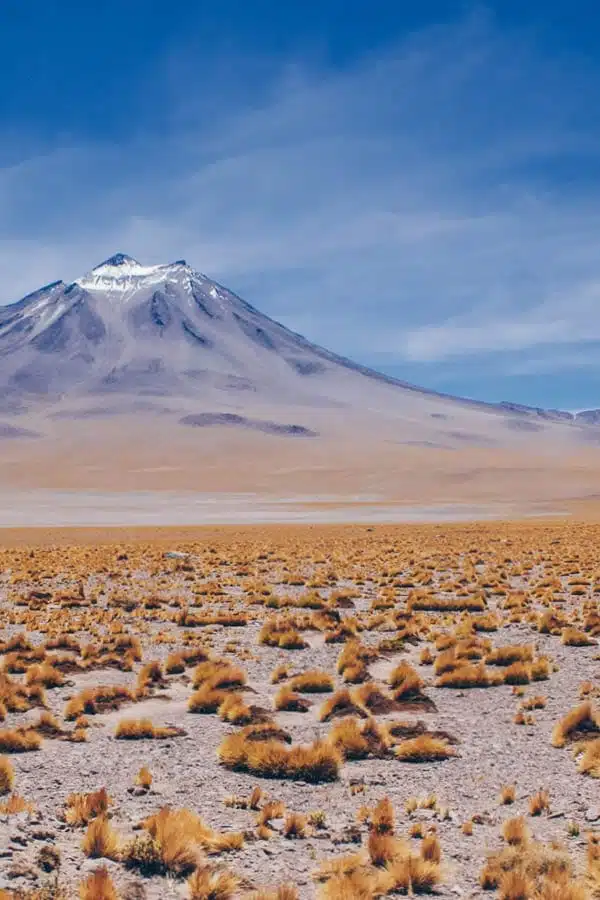 The Atacama Desert is home to over 10,000 years of human history in the expansive open space in Northern Chile. The Incas and indigenous cultures before them called what's now the driest place in the world home.

Visiting the entire region is impossible over a few days, but adding the Atacama during your 10-day Chile itinerary is a must for some of the most incredible scenery and stargazing you'll see anywhere.

I'll paint you a quick picture. As you climb up from the basin, the landscapes change. Lava rivers, impossibly smooth from far away, are punctuated by rocks and occasional tufts of grass. As you get closer the colours reveal themselves as a kaleidoscopic world you'd bounce off if you fell from the sky.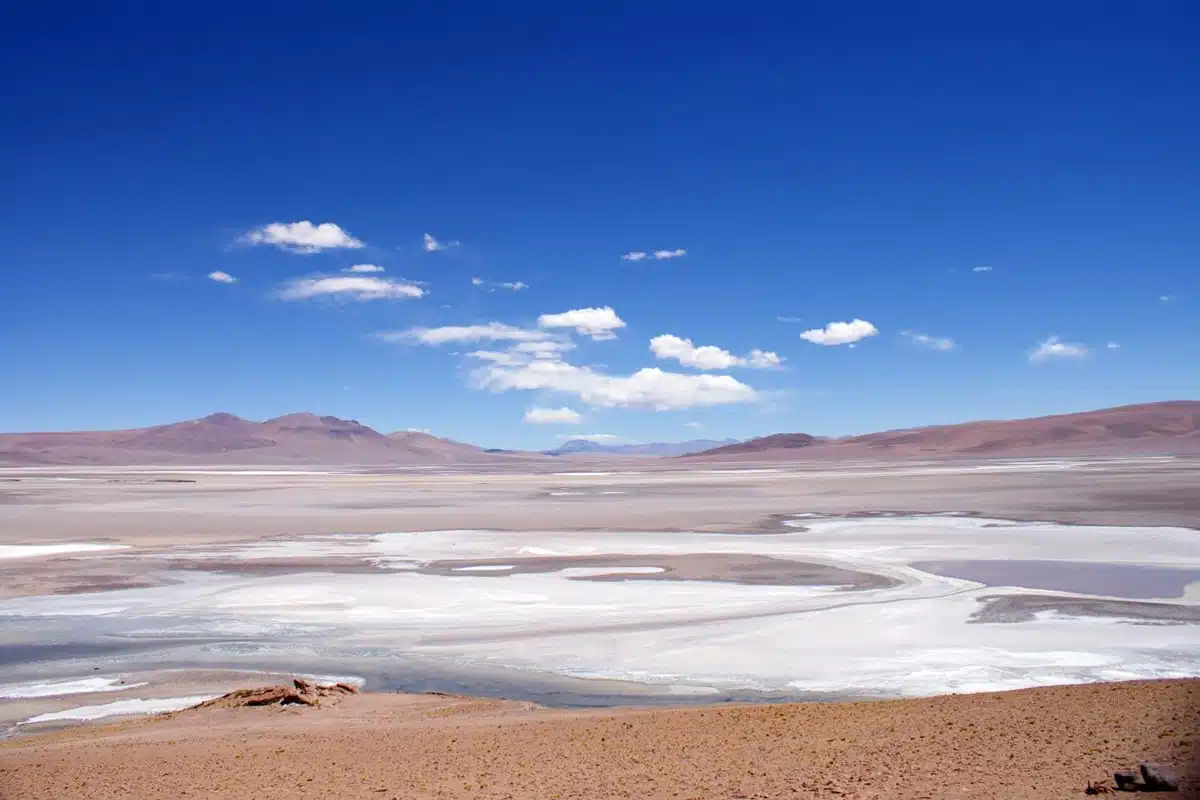 Then as you continue to make your way up, you'll see the Socaire village, with fields of rich agriculture (mainly quinoa and potatoes) watered through centuries-old irrigation channels that date back to the Incas.

Welcome to the Atacama Desert.
Things to do in the Atacama Desert
Atacama Basin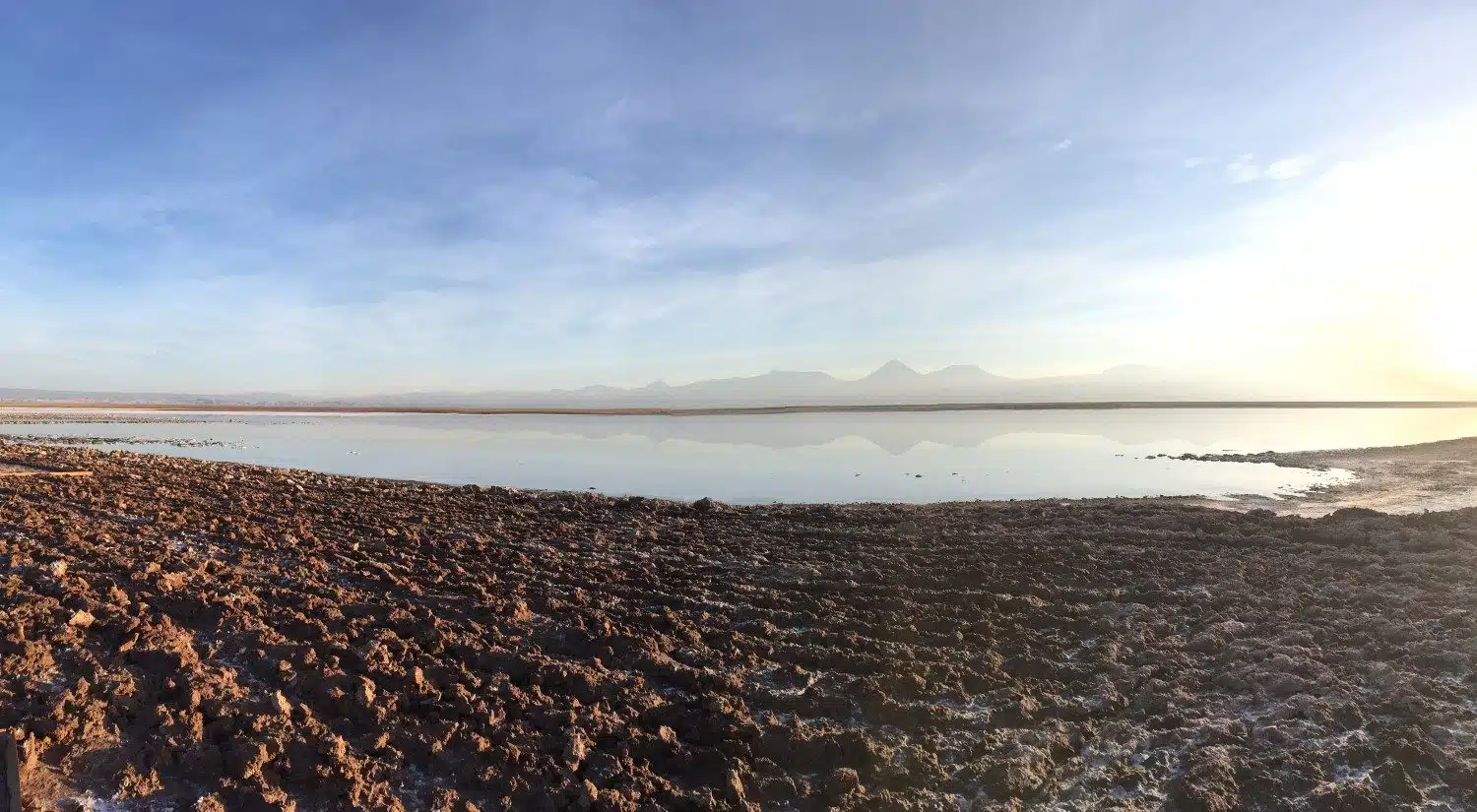 The driest place in the world, the basin is full of surprisingly varied landscapes, especially where the forests of cacti, trees, foxes, and owls separate the desert from the salt flats and their blue lakes and pink flamingos.
El Tatio Geysers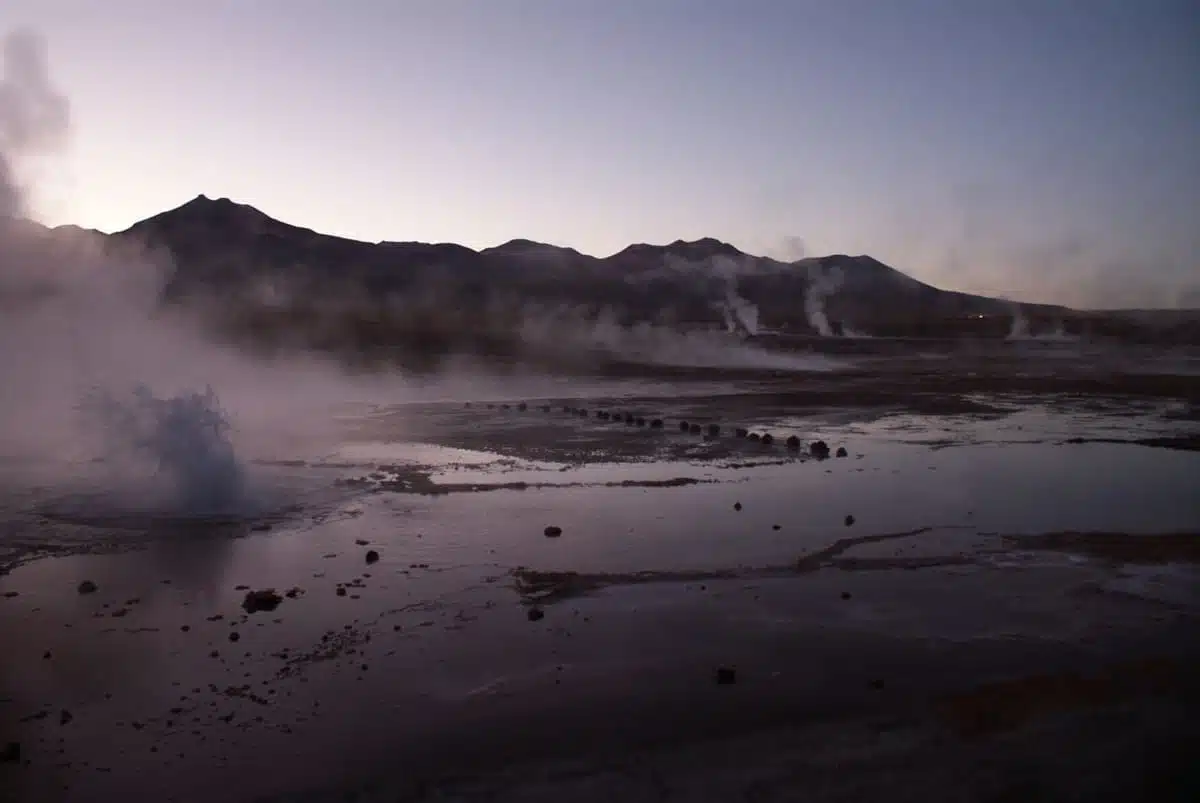 Be warned, your morning at El Tatio Geysers is going to be both early and cold.
The geysers are most active at sunrise thanks to the rapidly changing temperatures – and it's a 1.5 hour drive from San Pedro – all that translates to a very early start. It's worth it though.
Seeing the smoke belching from the fumaroles in the biggest geyser field in South America is an unforgettable experience you cannot miss during your trip to the Atacama.
Valle de la Luna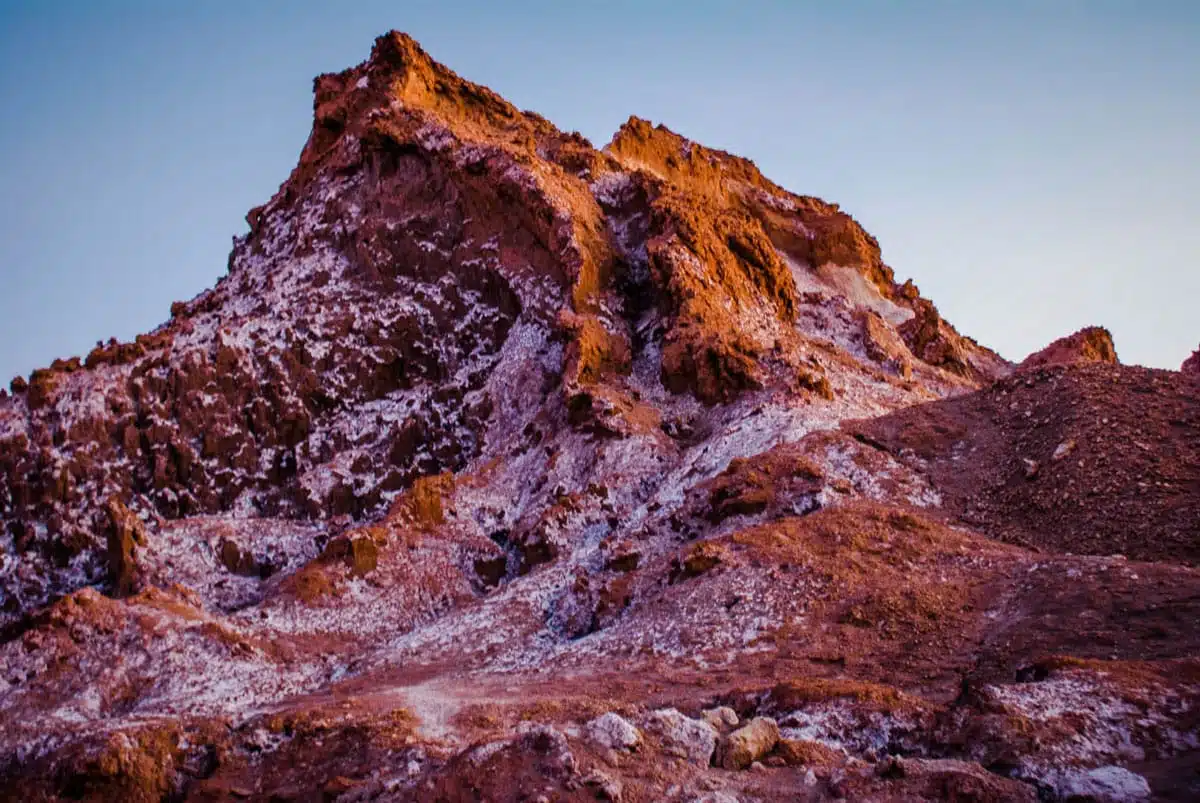 Visit the famous landscape known for magnificent natural works of art like the towering Amphitheater and the Grand Dunes. Both are most brilliant when the sun sets, and paints the beige and off-white earth varying shades of pink, red, and purple.

You'll need to buy tickets in advance here. The secret is out on this one.
Piedras Rojas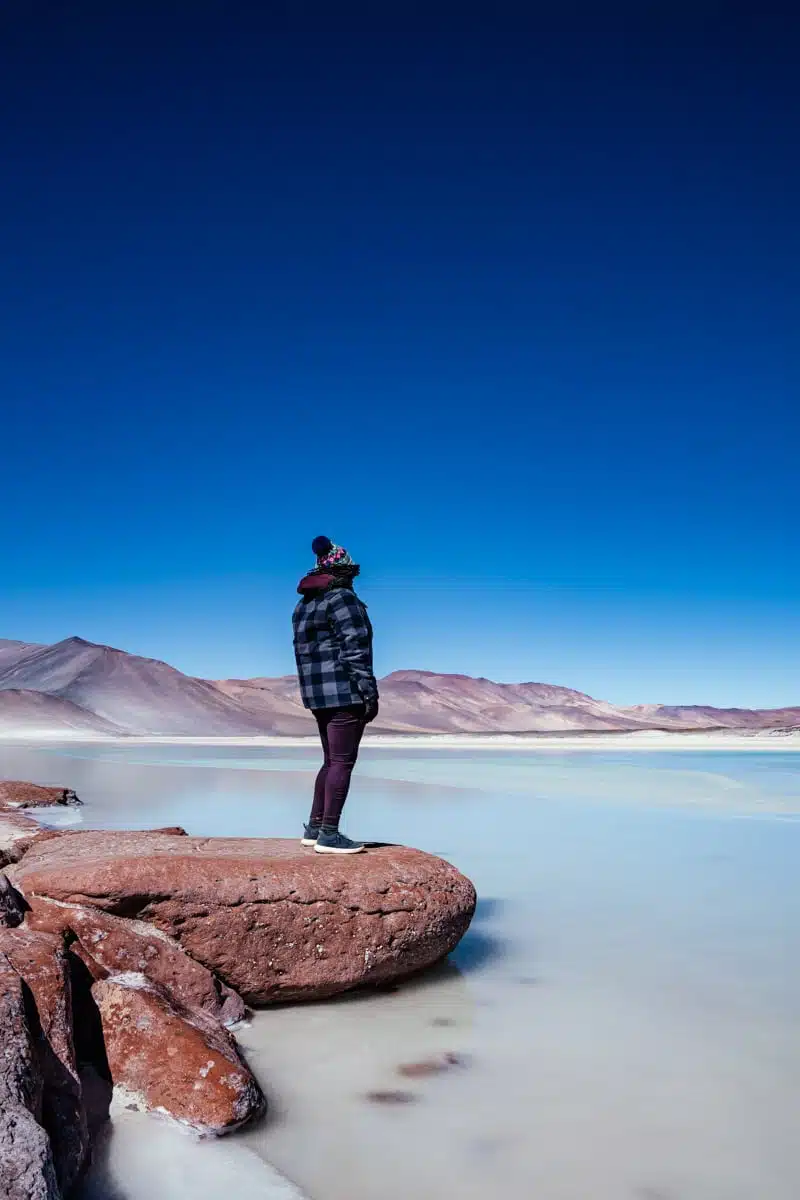 The mineral-rich lake, where the red rocks play off the blue-green waters, snow-capped mountains, and billowing white clouds in the deep blue skies, is Piedras Rojas.

Go in the winter when the water levels are low (or if you're lucky, the water is frozen) for the most visually stunning contrast of colours between the lake, rocks, and Volcano Capur nearby.
Float in Cejar Lagoon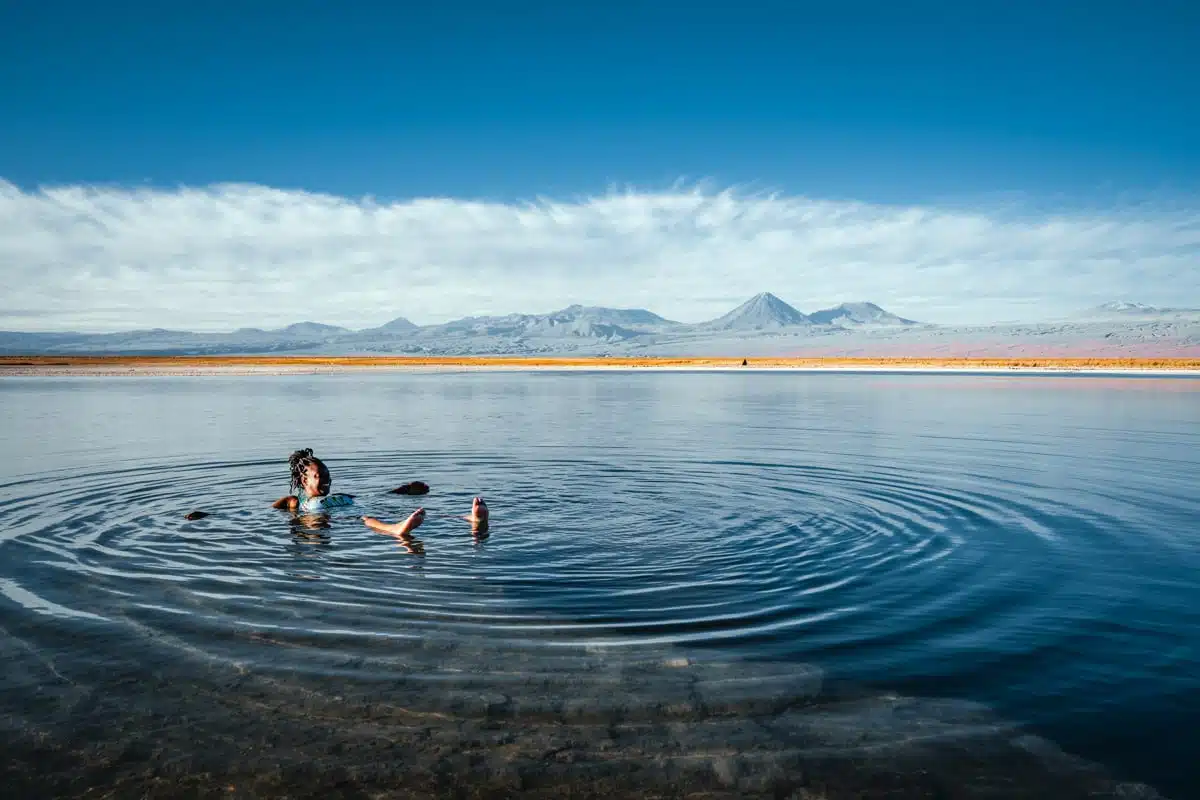 Floating in the salty environs of Cejar Lagoon is a one-off experience you shouldn't miss. While most of the salt lagoons in the Atacama are strictly on a look but don't touch basis, Cejar Lagoon is the exception.
Strip down to your swimmers and hop in to experience the lagoon's surreal buoyancy as you bob on its surface. Don't get your face wet though, it stings if it gets in your eyes.
Toconao Village
The most ancient village in the Atacama region, you'll want to stop before or after your trip to the desert to visit the mountain town known for having some of the highest elevation wineries in all of Chile, like Bodega Ayllu and Viña Santa Romina.
Ckamur
If you're looking for a bit of a hidden gem, Ckamur is a relatively recent attraction in the mostly desolate Valle de la Muerte.

If you recognize the stark rock formations casting shadows and blankets of colour over the dry desert landscape, you may remember them from The Mandalorian.
Getting to the Atacama Desert
Fly into El Loa Airport (CJC) in Calama before driving about 1 hour to San Pedro de Atacama.
Suggested Stay for the Atacama Desert on your 10 Days in Chile Itinerary
Nayara Alto Atacama is the perfect choice for your 10 days in Chile itinerary. Why? You'll enjoy low-key luxury accommodations in San Pedro, where you can book all-inclusive packages.

I chose a package that included all meals, tours, and transportation, which was costly but a great value for convenience and quality.

Check prices and availability for Nayara Alto Atacama on Booking.com
Alternatively, check all accommodations in Chile on Booking.com
Other Chile Travel Itineraries
2-Week Chile Itinerary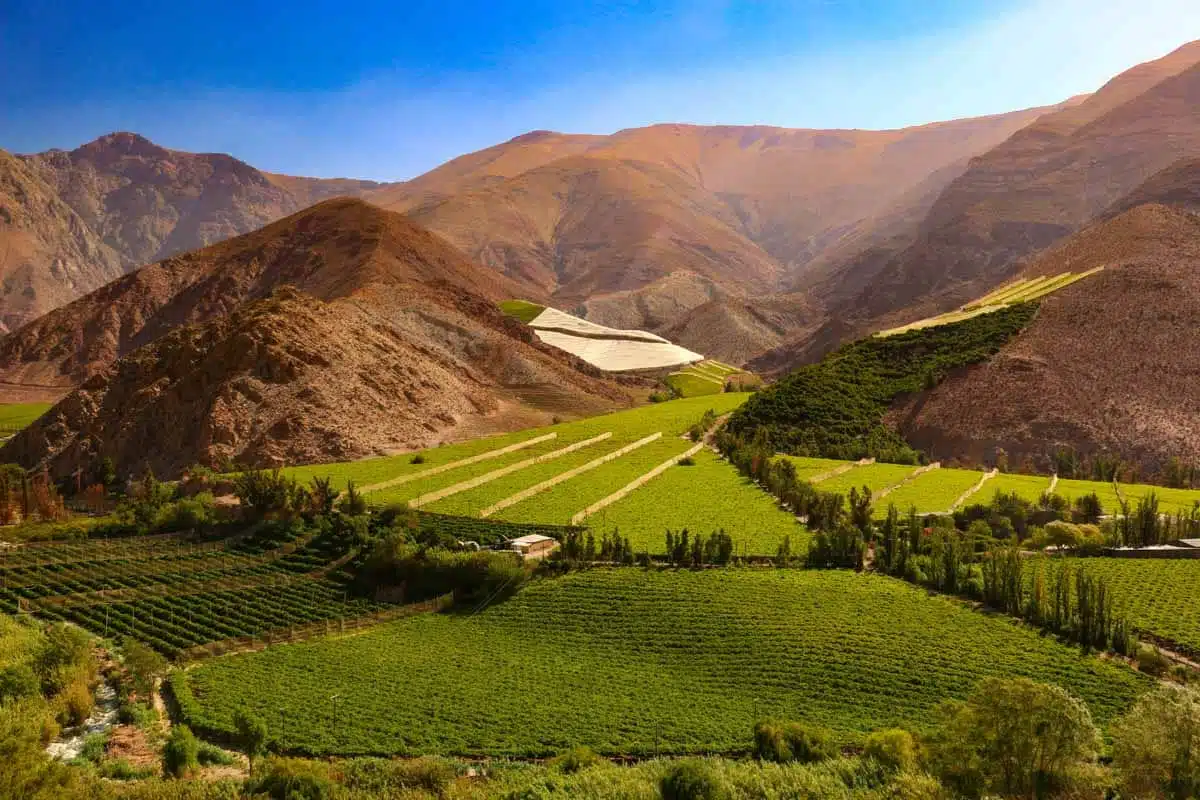 Adding a trip to wine country on your Chile itinerary is never a bad idea, especially when you have two weeks in Chile. The Elqui Valley offers incredible wineries alongside some of the best stargazing in Chile.
Visit Cavas Del Valle, a family-owned winery offering award-winning wine and special releases like a late harvest syrah. You can also hike to see beaches and wildlife at Punta Choros or go stargazing in a vineyard at Centro Astronomico Alfa Aldea.
Day 1: Santiago
Day 2 – 6: Elqui Valley
Day 7-10: Atacama
Day 11 – 14: Torres del Paine
7-Day Itinerary Chile
If you have less time, you can still plan a week in Chile while still seeing many of my favourite locations over seven days.
Day 1: Santiago
Day 2-4: Torres del Paine
Day 5-7: Atacama
Chile Itinerary – Map
Love This? Save and Share on Pinterest