Hotel Desertica offers boutique luxury in San Pedro de Atacama. Discover the beauty of this design-led hotel for your stay.
How does a trip to a secluded desert oasis surrounded by the most incredible landscapes sound? If you can picture yourself in a peaceful haven amidst windblown dunes, teal-coloured lakes, salt lagoons and tall cacti, you're in for a treat.
Welcome to Hotel Desertica, an oasis of luxury set amidst the surreal landscapes surrounding San Pedro de Atacama. With the vast Atacama Desert on your doorstep, the hotel embodies a blend of natural beauty and refined hospitality that makes its mark.
Here's what you need to know.
Hotel Desertica: At a Glance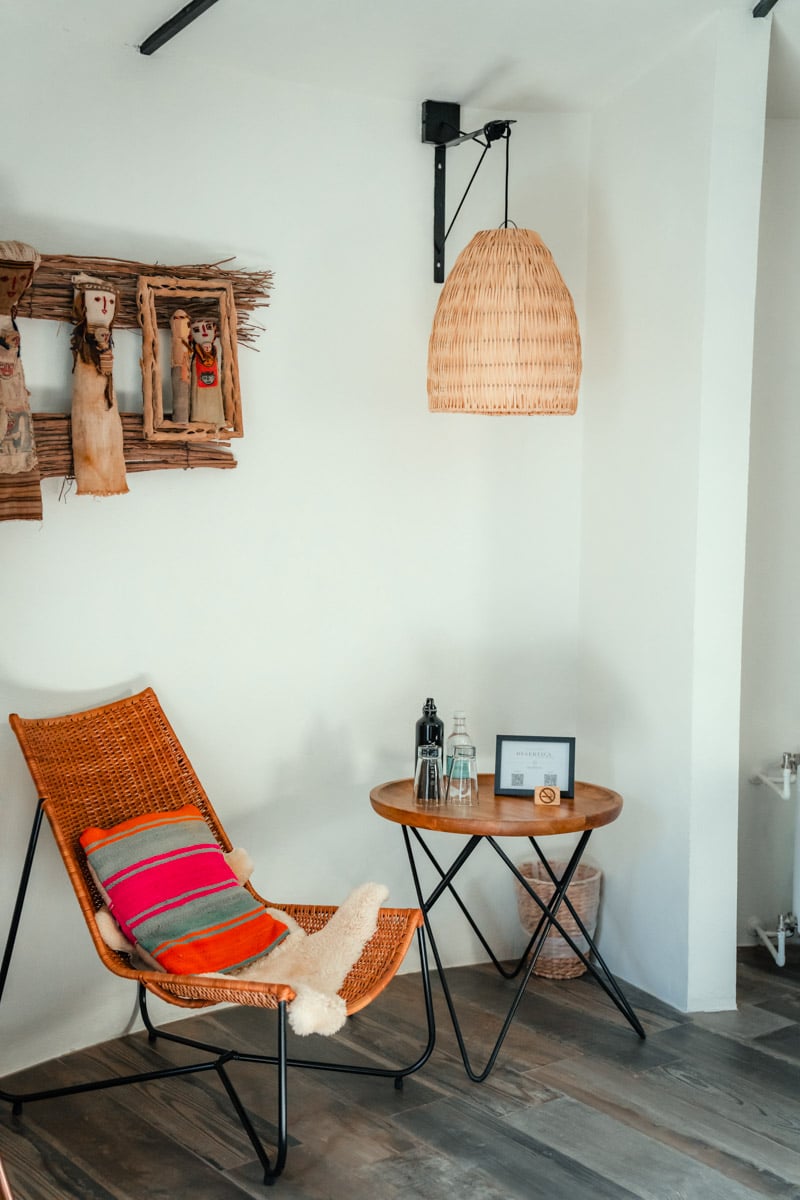 Very few hotels can stay true to their country's culture and history while delivering on contemporary style.
It's quite something to encounter a unique destination and find a beautiful fusion of traditional and modern designs that exude rustic elegance.
Hotel Desertica achieves all of that effortlessly. This small, chic property in San Pedro de Atacama is the ideal location for travellers who want a quiet vacation in a truly special place.
Comfort, panache, excellent service, terrific cuisine, and unforgettable experiences at one of the most phenomenal places to visit in South America: this is Chile's Hotel Desertica.
Hotel Desertica Atacama: The Full Review
My time at Hotel Desertica was so spectacular I fully believe that this property deserves the top spot on your list of Atacama desert hotels.
Here's all the information to ensure you plan the perfect trip to this remarkable San Pedro de Atacama location.
Location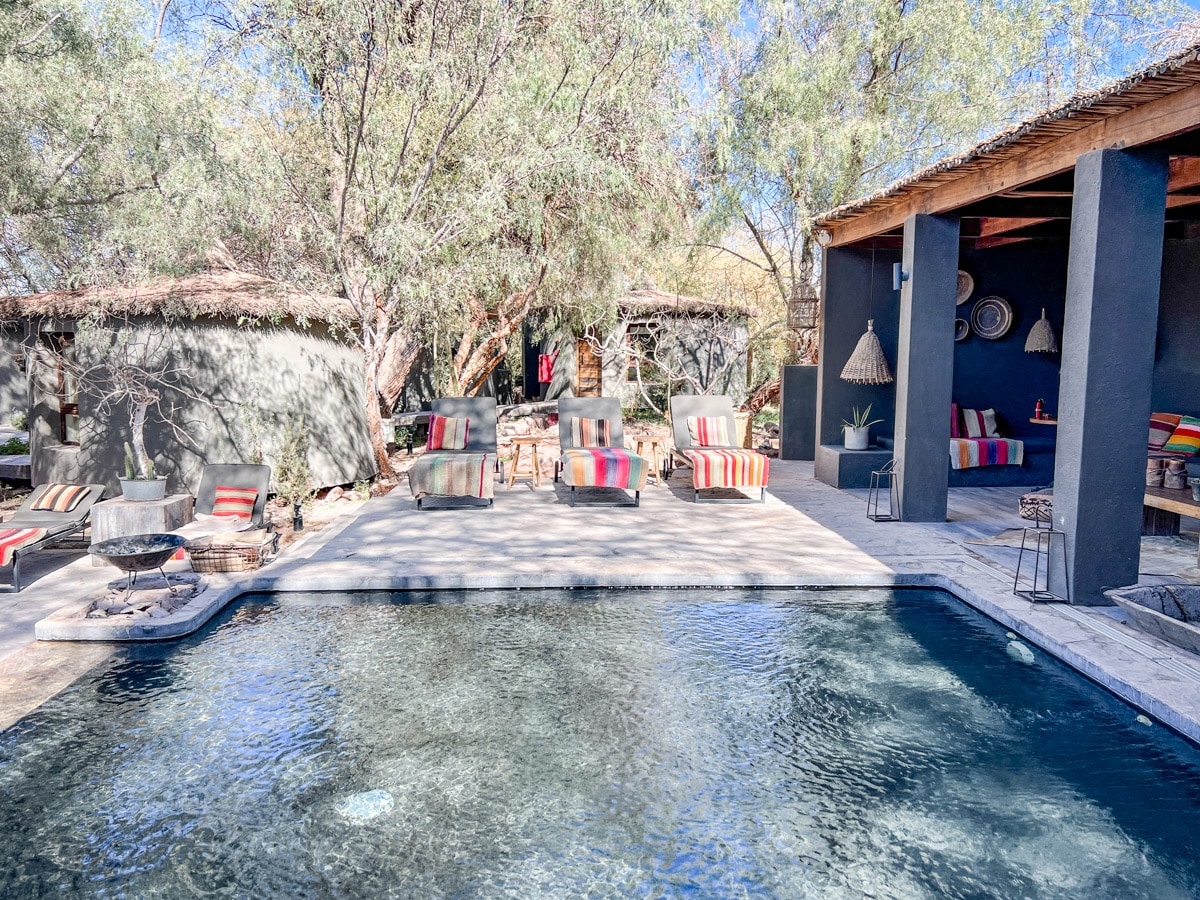 When you travel to the Atacama Desert, you can rest assured you're ticking off one the best places to visit in Chile. So it's only fitting that you choose the right accommodation for all your Atacama adventures.
Hotel Desertica is in a prime area on Caracoles – San Pedro de Atacama's main street. The hotel's so close to the main plaza and nearby eateries that you can take a stroll there.
No more than four miles away, popular tourist attractions include San Pedro de Atacama Church, the Pukará de Quitor monument, Piedra del Coyote's overhanging rock, and Valle de la Luna (Moon Valley).
Getting to the hotel is easiest and quickest when you fly to Calama's El Loa Airport (CJC) from the capital's Santiago International Airport (SCL). From Calama, you'll travel for an hour and 20 minutes to the property via private transfer or shuttle.
Style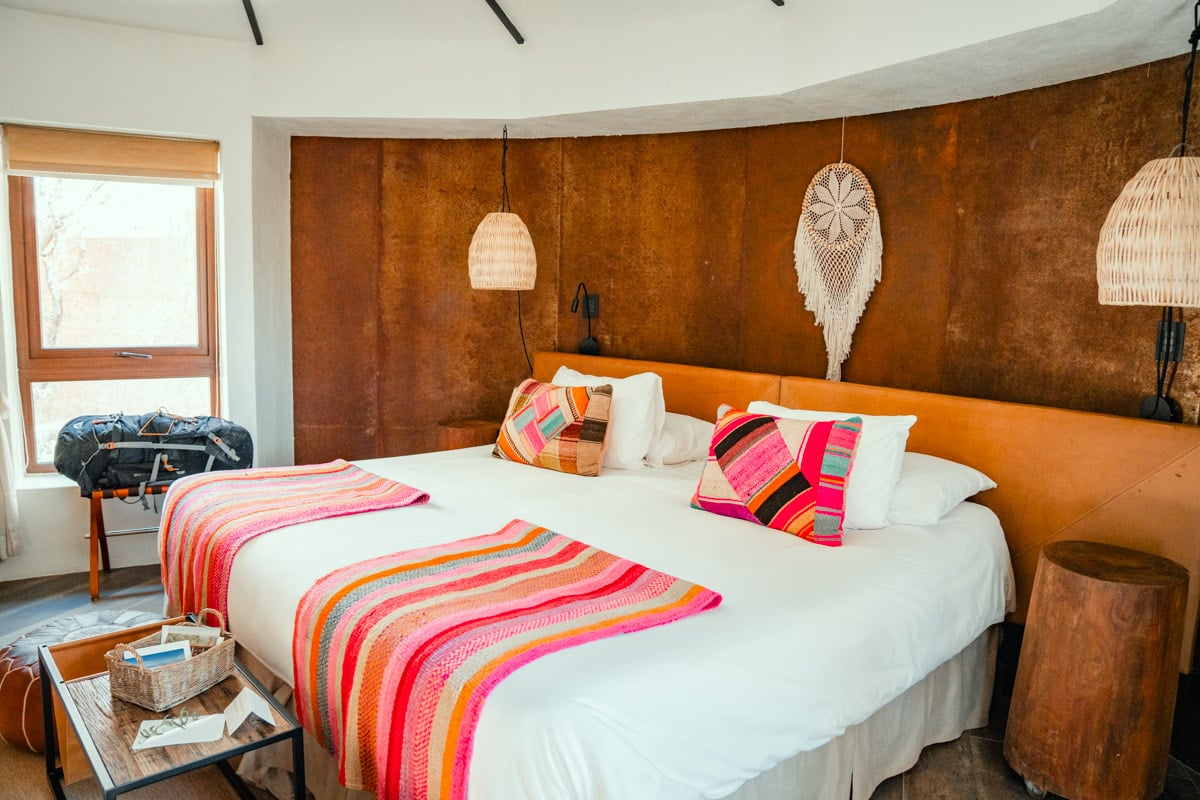 One of the things that sets Hotel Desertica apart is that it's a refurbished family farmhouse on an old Atacaman orchard, now serving as a boutique hotel in the heart of the desert.
I love Hotel Desertica's rustic design characteristics. They marry unobtrusive contemporary style with traditional textiles and tapestries that feature stunning pops of colour.
There's a clear connection between the hotel's architectural elements and the local culture. Although simple, the decor is still classy enough to create a magical world within the hotel's adobe walls.
From the rooms to the shared spaces, there are soft hues﹘with threads of grey, green, and brown fusing with reds, oranges, and gold. You'll appreciate the use of raw materials, paired with a muted mix of textures and tones.
The Desertica Hotel commits to being sustainability conscious, working to minimise harmful impacts on the surrounding area. The hotel does its part to preserve the landscape, which includes buildings on elevated trails to support the site's vegetation.
With footbridges forming part of the foundations, this preserves the land's original flood irrigation system and ensures harmony as the structures stand firmly on the soil.
Rooms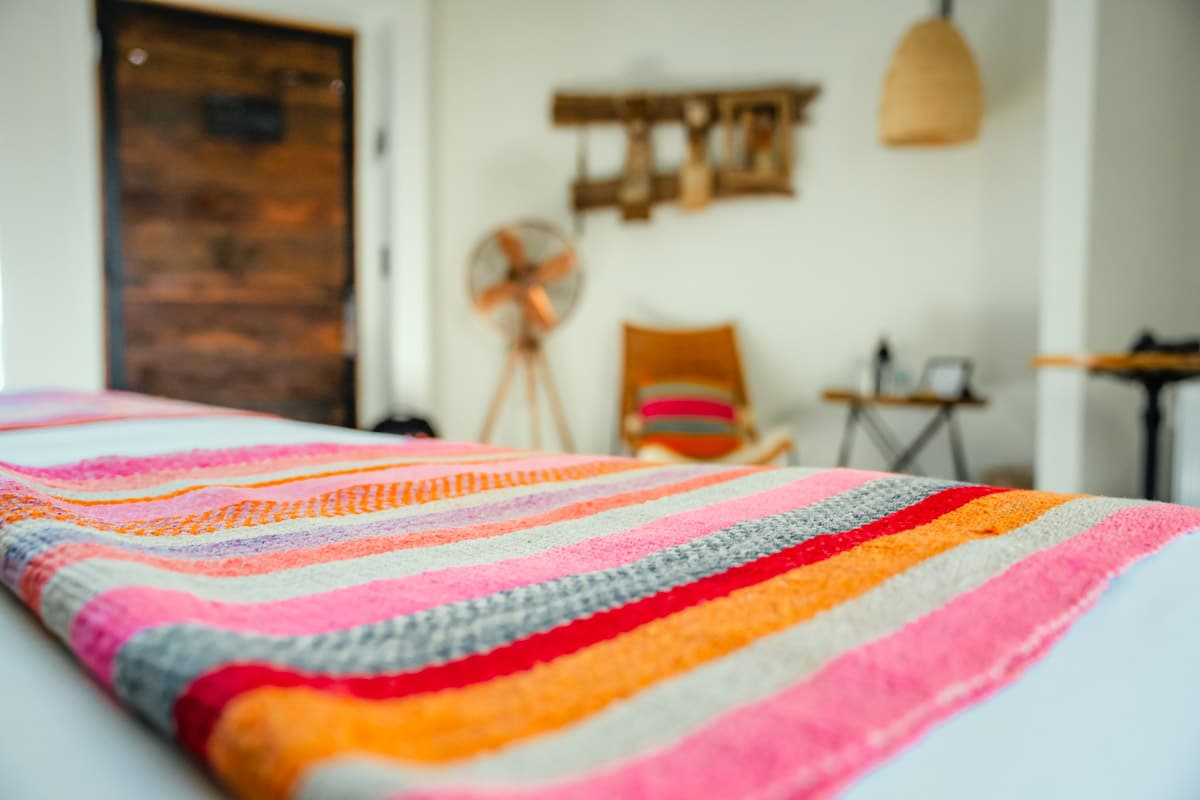 When I tell you Hotel Desertica is a boutique hotel, I mean it in every sense of the word. There are only 12 rooms, each built as a circular standalone turi (meaning "house" in Kunza﹘a native Atacaman language).
Each room's design resembles a hut structure, paying homage to how the pre-Hispanic Atacaman communities constructed their homes. There are two room types: standard and superior. Both offer a tranquil sanctuary to rest and restore every night.
My favourite room highlights include the neat wooden cladding, the bespoke furnishings, and the intricate detailing. Although circular, the rooms are pleasantly spacious.
You'll enjoy your cosy king-sized bed and large bathroom (with a shower). The complementary organic toiletries, selected bath products, gowns, and slippers are a much-appreciated perk.
At Hotel Desertica, the little things add that extra touch of luxury, style, and comfort. The lush carpets and crisp 300-thread count 100% cotton bed linens are just some examples of the simple pleasures you'll relish during your time at the hotel.
Save and Share on Pinterest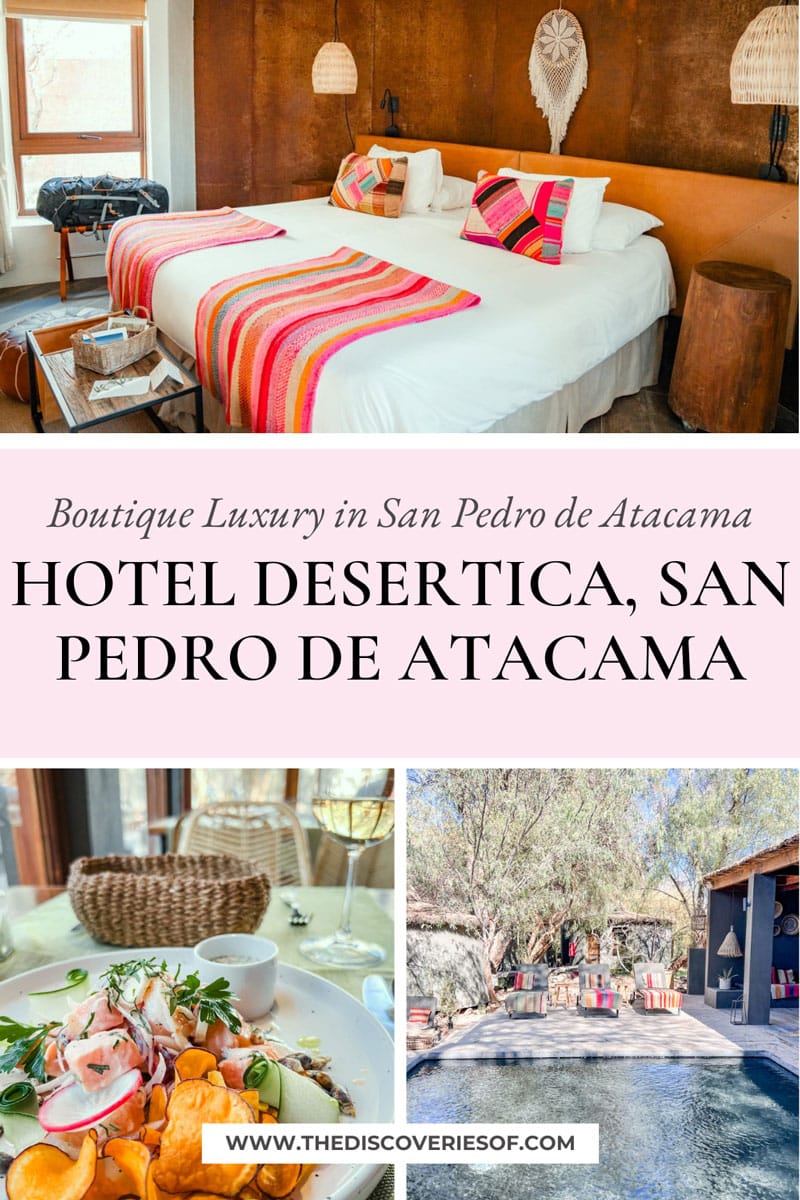 Experience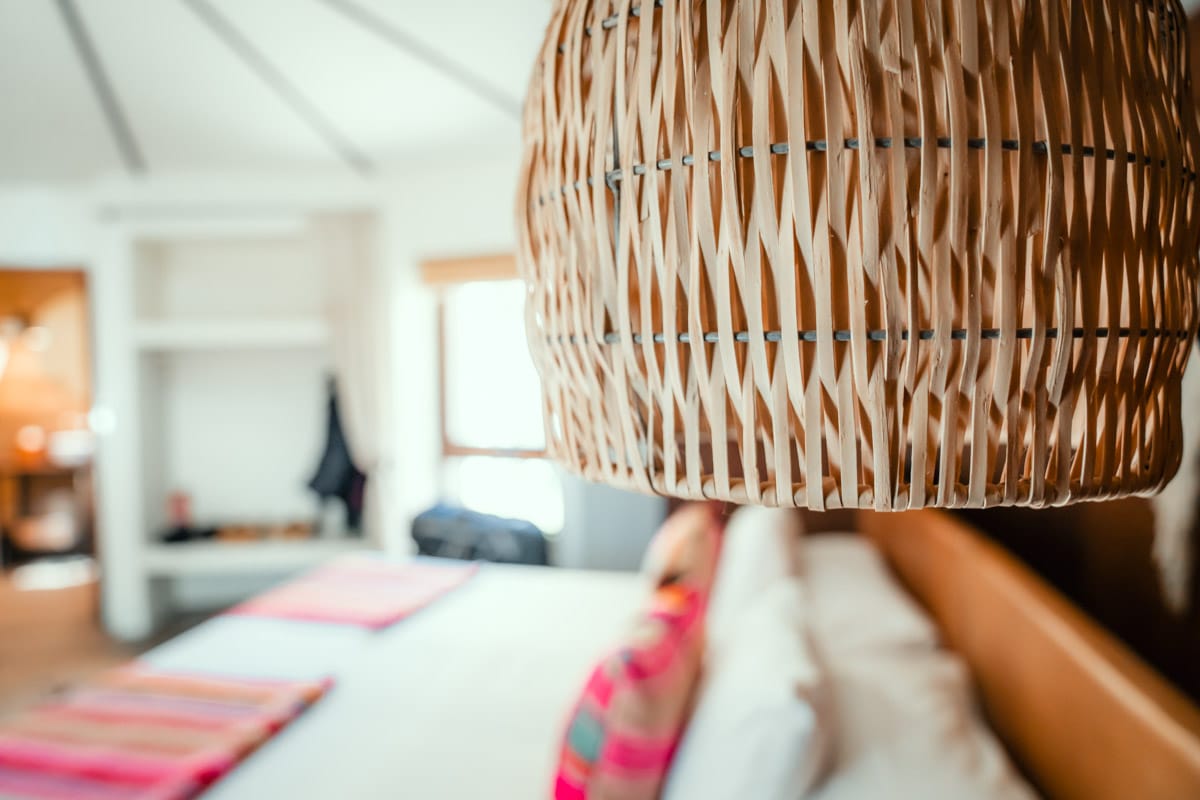 Like trips to many parts of the world, the welcome you receive sets the tone and makes a lasting impression. Hotel Desertica's welcome is warm indeed. The staff is all about personalised service and attention to detail.
Privacy and intimacy are the theme on a small property like this one. Expect to be well-catered to — no matter your needs. Every member of the hospitality team is ready and willing to make sure you feel comfortable and well looked after.
Facilities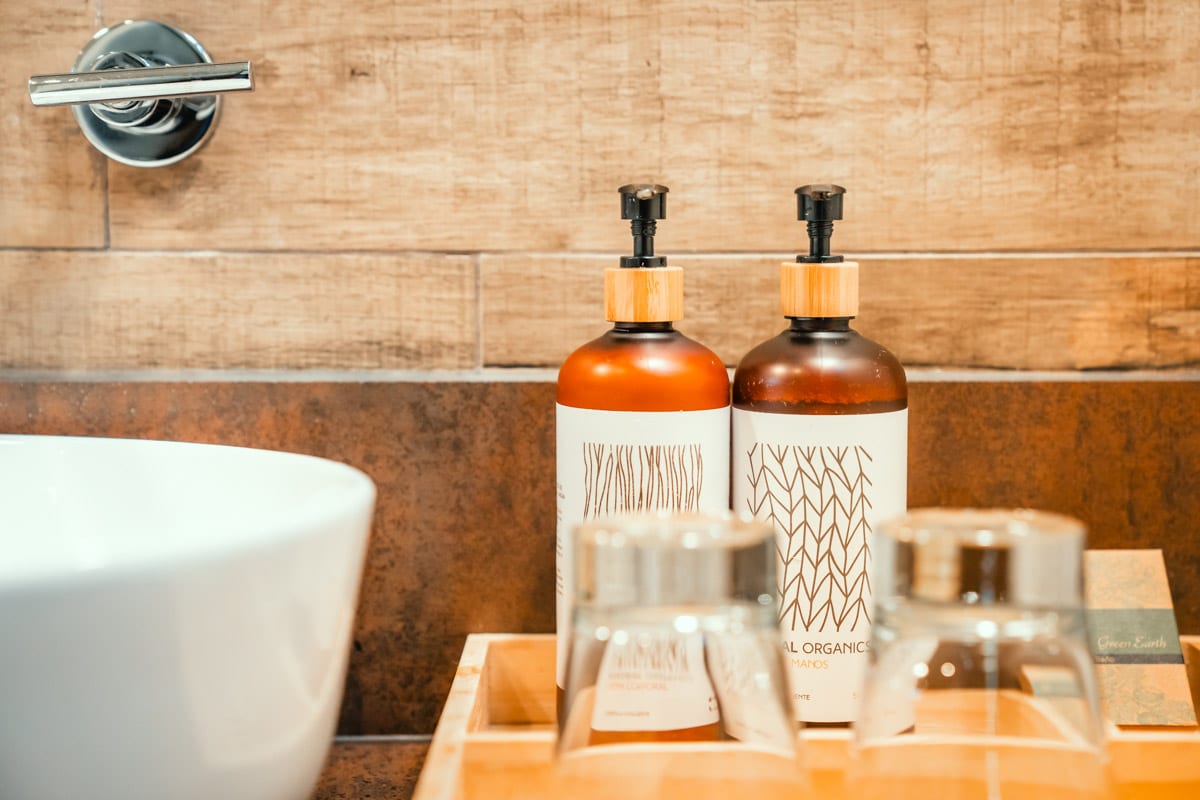 Desertica has designed three main facilities for your absolute pleasure. The first is the outdoor swimming pool, in which you will spend late afternoons after your time off-site exploring greater San Pedro de Atacama. (Fair warning: the water is quite chilly; you'll need to adjust if you're used to heated pools.)
Next, the outdoor lounge — spacious and well-furnished — is where you'll spend time sipping sundowners, cosying up around the evening campfires, and meeting new travel buddies.
Third, Desertica has what they call "magic corners" around the property. These designated spaces provide spots for private time and romantic dates. However you choose to spend your stolen moments of peace and solitude, there's a place for you.
The hotel grounds also feature a gorgeous garden, winding pathways, and a sun-kissed terrace, all perfect for relaxation when you're not out and about in town.
Services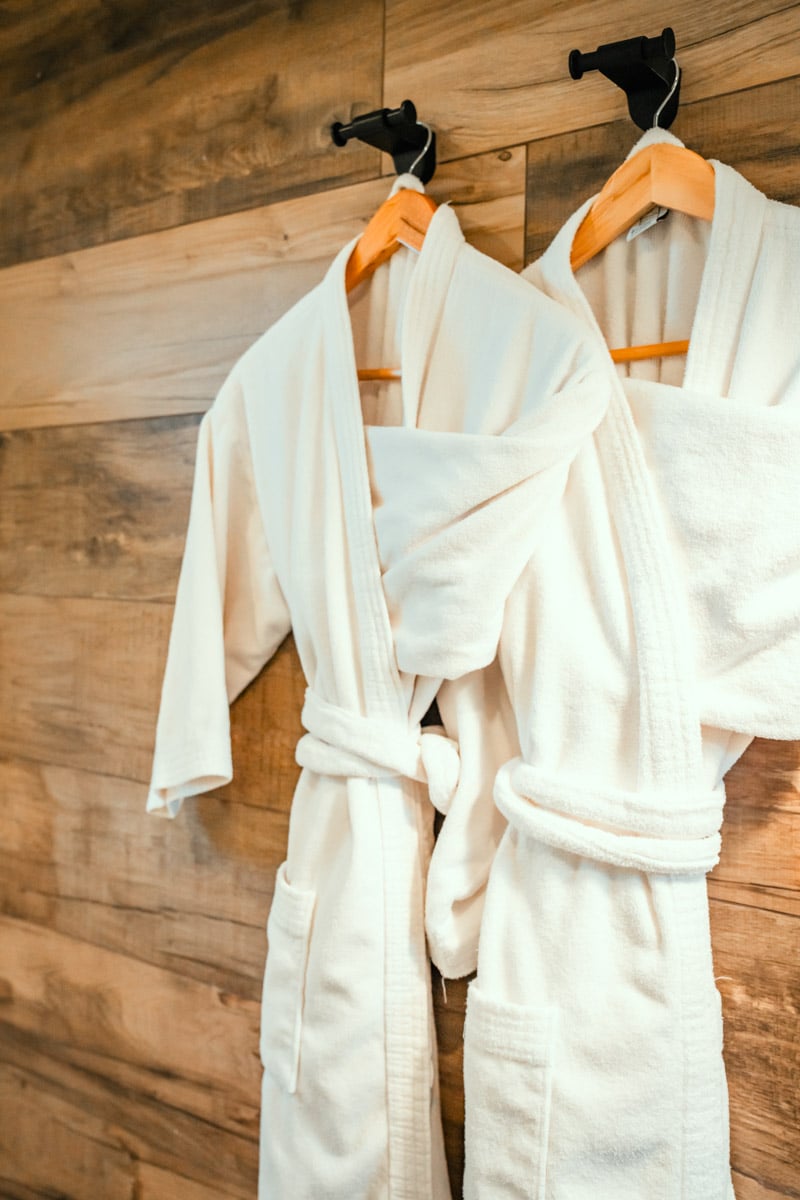 You'll be able to get all the rejuvenation you need between activities and excursions when you book one (or more) of the hotel's massage treatments. Simply arrange your session at the front desk at a time that suits you best.
Tours and Activities
While there aren't any in-house guided tours on offer, there are three programmes that cover accommodation, dining, amenities, and airport transfers. These are the "Experience", "Romantic", and "Adventure" programmes.
The hotel will gladly help you arrange fun-filled activities at nearby tourist attractions. Some of the best things to do in the Atacama Desert are stargazing and sunrise/sunset tours.
Top Tip
If you want an all-inclusive option, check out my review of Nayara Alto Atacama where I also stayed during my recent trip.
Some Off-site Activities to Add to Your Holiday Schedule
Remember, while Atacama Desert stargazing is all the rage, there are many other brilliant experiences. These include flamingo spotting at the Salar de Atacama salt flats and salt-water swimming in Cejar Lagoon.
Food & Drink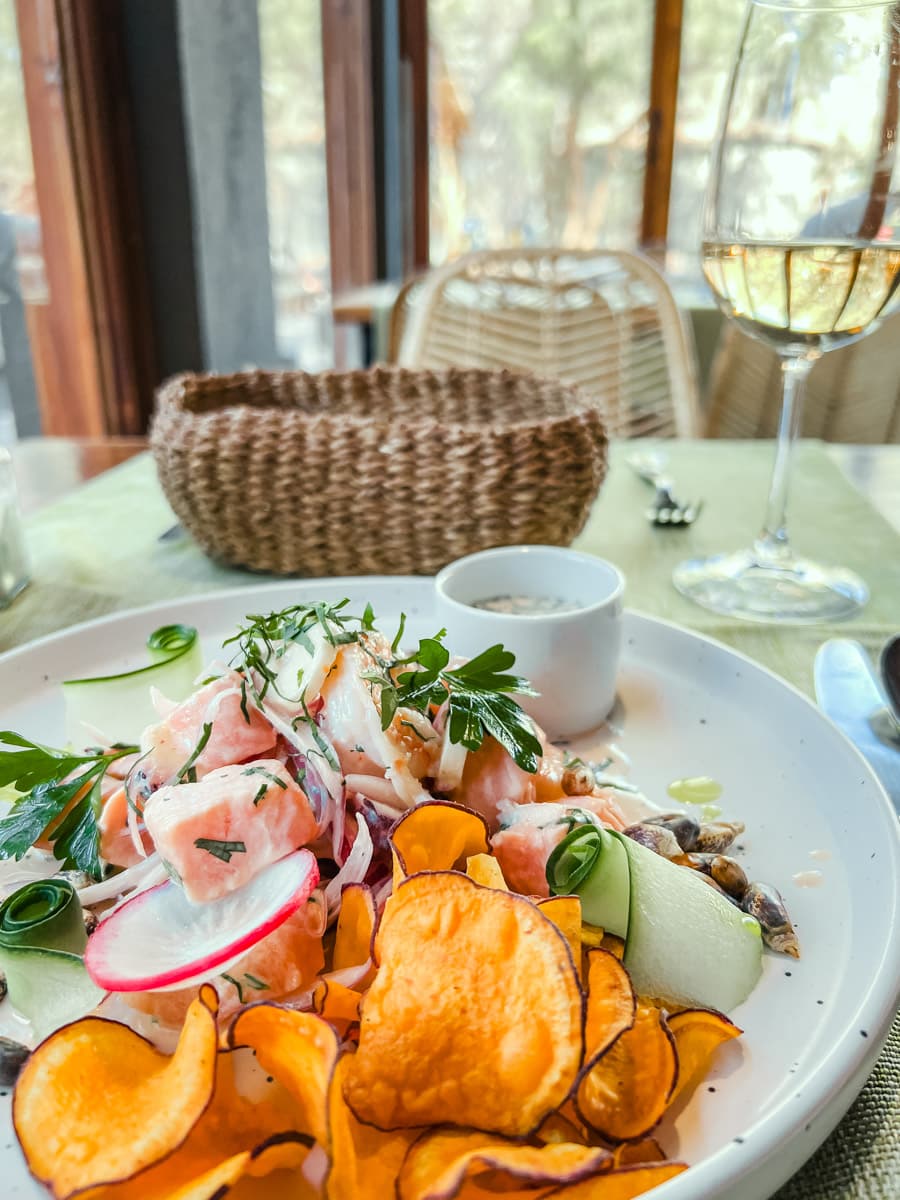 Your dining experiences won't be anything short of amazing. Each night you stay at Hotel Desertica, you can feast on traditional Chilean classics and contemporary international culinary creations. The on-site restaurant serves delicious dishes made from fresh seasonal ingredients.
Delight in rich flavours of pomegranate, rica-rica and alfalfa – just a few of the ingredients used to make speciality dishes (vegan and gluten-free options included).
An excellent à la carte breakfast menu? They've got it. Herbal juices, custom coffees, and a bar with your favourite spirits? Sorted. Local treats and divine desserts that'll be the sweetest way to end your dining nights? You bet.
Practical Tips: Hotel Desertica Review
Don't you just love a smooth journey with little fussing, zero travel fumbles, and more fun overall? Me too. These five practical tips will help you execute a solid travel plan.
When Is the Best Time to Visit Hotel Desertica in San Pedro De Atacama?
A few things will affect the timing of your trip, including your budget and your ideal itinerary.
If you're set on capitalising on the best time to visit Chile and San Pedro de Atacama, strictly based on weather conditions and climate, aim for the May-July period.
These are the desert's cooler months. In July, the skies are particularly clear, and stargazing opportunities abound.
The Atacama Desert also makes it onto the list of Chile's best places to go in October, which falls in spring (the shoulder season).
What You Should Pack for Your Stay at Hotel Desertica?
You might think packing for a desert destination is a piece of cake, but there might be one or two less obvious items.
There's also that all-important matter of when you're going because different times of the year require adjustments in your approach to your vacation wardrobe.
Here's a short list of inclusions to the general must-haves so you've covered the essentials:
How Long Should Your Desertica Hotel Atacama Stay Be?
Depending on how colourful and activity-filled you want your Chile itinerary to be, your stay at Desertica Hotel will hit the sweet spot when you spend at least three nights. That's enough time to kick back and enjoy the fabulous amenities.
What's a Suitable Dress Code for Hotel Desertica?
The overarching atmosphere at the hotel is cool, calm, and casual. You can't escape the rustic feel, but it's complemented beautifully by hints of modern sophistication.
As such, you'll fit in well and feel most comfortable if you keep your attire relaxed and sport a smart casual look during dinner time.
What's the Best Way to Book a Stay at Hotel Desertica?
For your one-of-a-kind stay at Hotel Desertica, check rates and availability on Booking.com.
Hotel Desertica, San Pedro de Atacama, Chile: Map
Use Hotel Desertica as a Base for These Atacama Desert Adventures
Love This? Save and Share on Pinterest