Eat your way around the best restaurants in Barcelona with this insider's guide. 18 spectacular places to eat you should have on your radar.
If you're even remotely familiar with the city, it should go without saying that there are some incredible restaurants in Barcelona.
After a three-month spell earlier this year during which I worked my way through Barcelona's restaurants, tapping up local after local for their recommendations, my Barcelona restaurant guide is finally here.
Look, I bitch about a lot of things, but sometimes I really love my job.
You'd better believe that eating my way around a city in which the standard is universally high (have you ever watched a Spanish person eat a terrible meal, the wrath is unparalleled) – was one of those tasks I was more than willing to dedicate myself to body and soul.
From small tapas bars to Michelin-starred eateries, this is the definitive guide to the places you need to have on your BCN dining map. These places focus on high-quality ingredients, turning out inventive dishes that are sure to awaken your taste buds.
Let's explore the best places to eat in Barcelona.
Best Restaurants in Barcelona
El Chigre 1769
El Born
££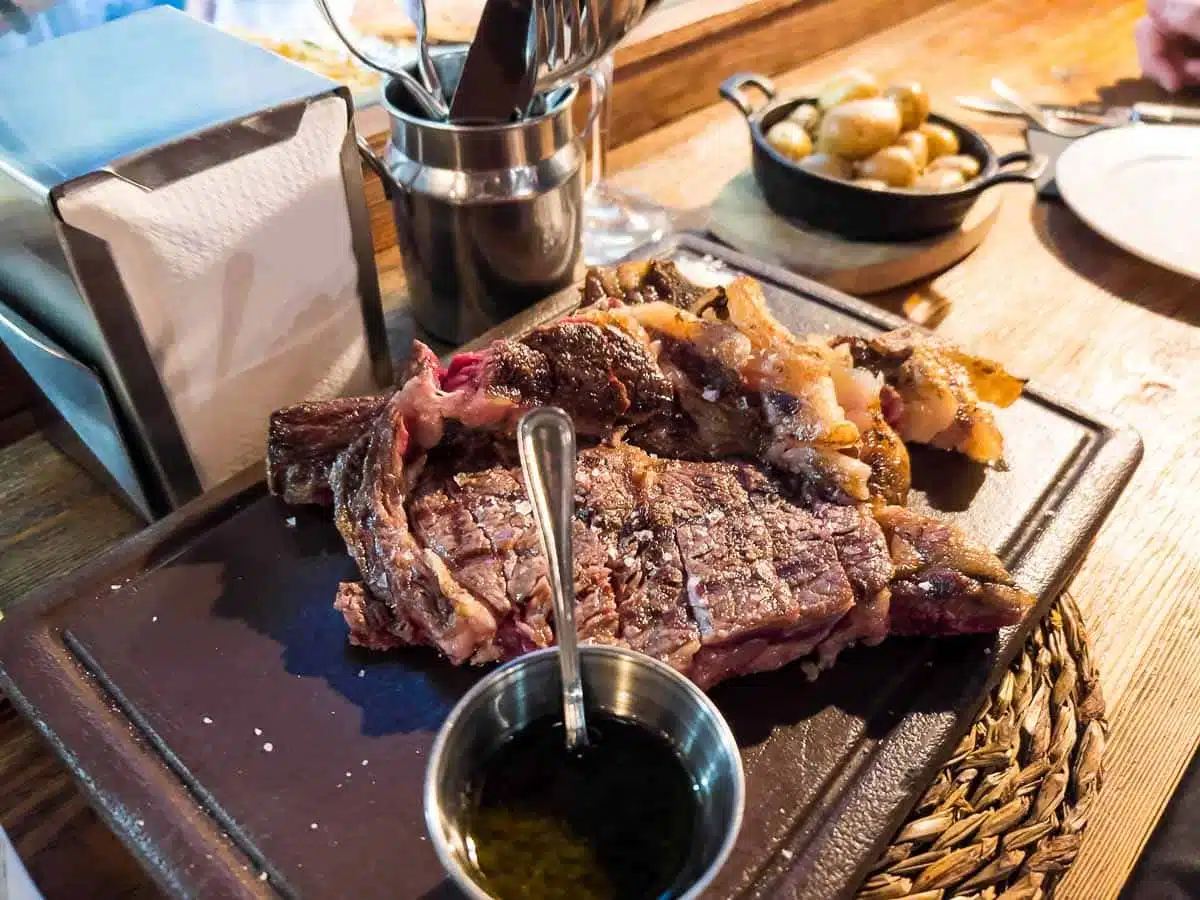 Nestled in Barcelona's El Born neighbourhood, El Chigre 1769 may bill itself as a vermuteria meets cidreria – and it is both of those – but the reality is that this is one of the best places to eat in Barcelona, no ifs and no buts.
A meeting place for Asturian and Catalan cuisine (they say Catarian, who am I to quibble) – it's a great opportunity to explore lesser-known Spanish dishes in a convivial setting.
There are tons to choose from on the menu, so it can be a bit overwhelming but seeing as the quality is consistently spectacular, take a punt and try whatever takes your fancy.
Even dishes that sound relatively boring on the face of it like egg and pancetta turn into a flavourful powerhouse in which the runny yolk is offset by crisp shards of pancetta and shreds of fried potato.
Don't even get me started with the bone marrow topped with flecks of air-dried fish. It sounds like it shouldn't work but it really does.
Bar Brutal
El Born
£££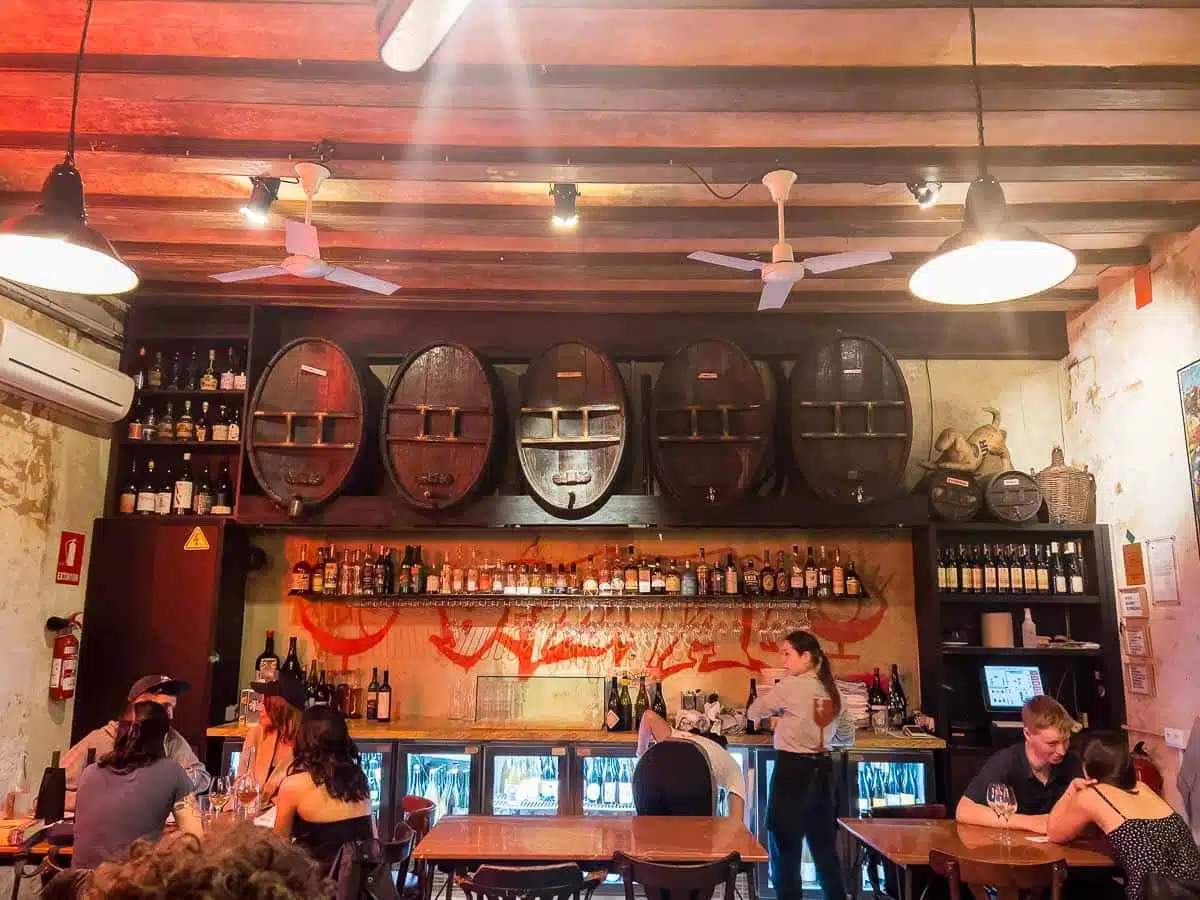 This Barcelona restaurant/ wine bar, Bar Brutal, has an interesting setup. Firstly, at the front of the space is a laid-back wine bar, Can Cisa, where you taste some of Spain's best natural wines.
The back houses the relatively upscale restaurant Bar Brutal. It's a bit hard to get in here without a reservation, but it's worth reserving ahead.
There's no point in me recommending specific dishes – the menu changes constantly but expect adventurous ingredients such as sweetbreads and duck hearts cooked to perfection.
Not sure about the sound of that – don't worry you're in very safe hands. There are also more traditional dishes such as scallops and octopus. This is Spain after all.
Compartir
Eixample
£££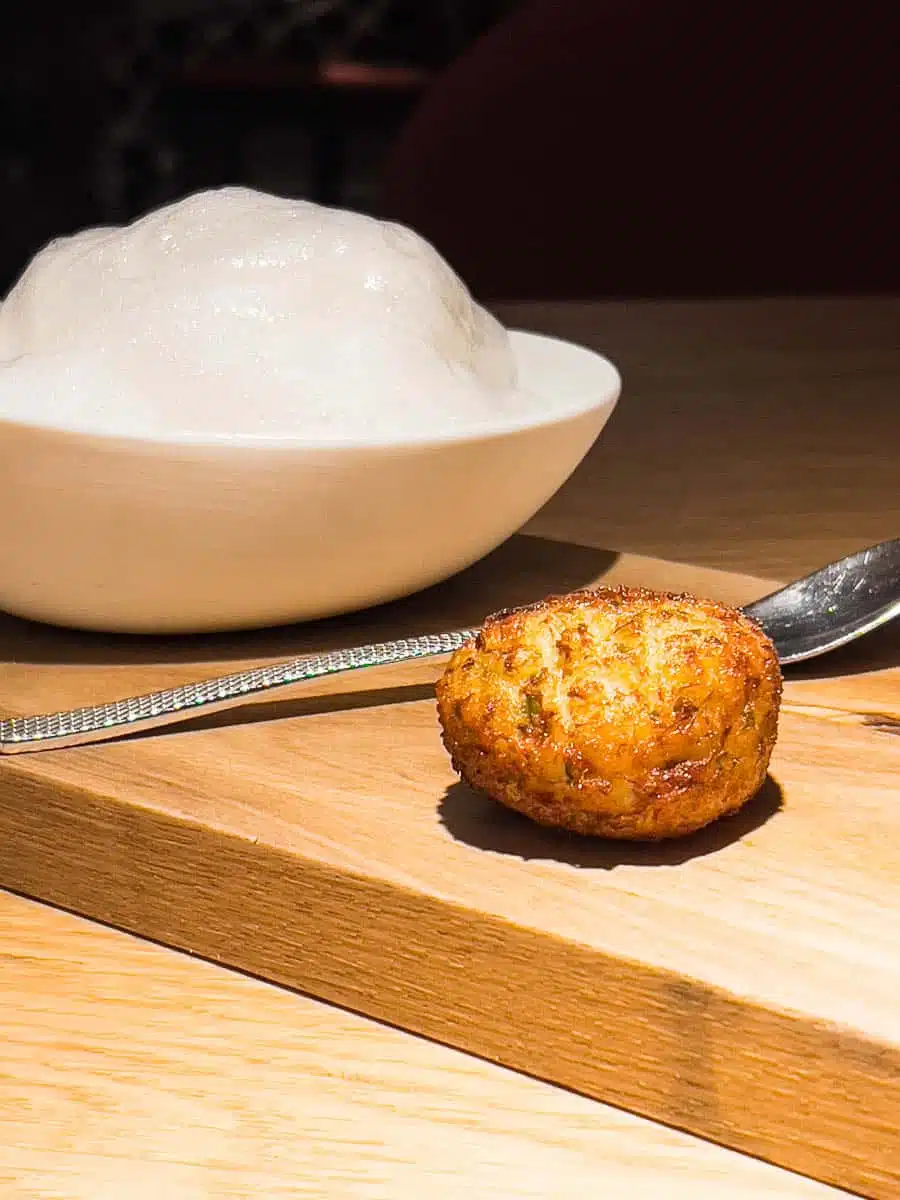 Compartir is new to the Eixample district. The team behind it, however, are by no means new to the culinary world: they run Disfrutar, one of the most lauded restaurants in the city.
It's not often that a restaurant really manages to surprise you, but Compartir's playful touch translated to a culinary adventure that I thoroughly enjoyed.
Dishes on the daily-changing menu are inventive and – as the name suggests (compartir translates as "to share") – focuses on sharing dishes.
What's more, the service here is top-notch and the wine list is extensive. If it sounds like a winner all round, that's because it is.
Batea
Eixample
££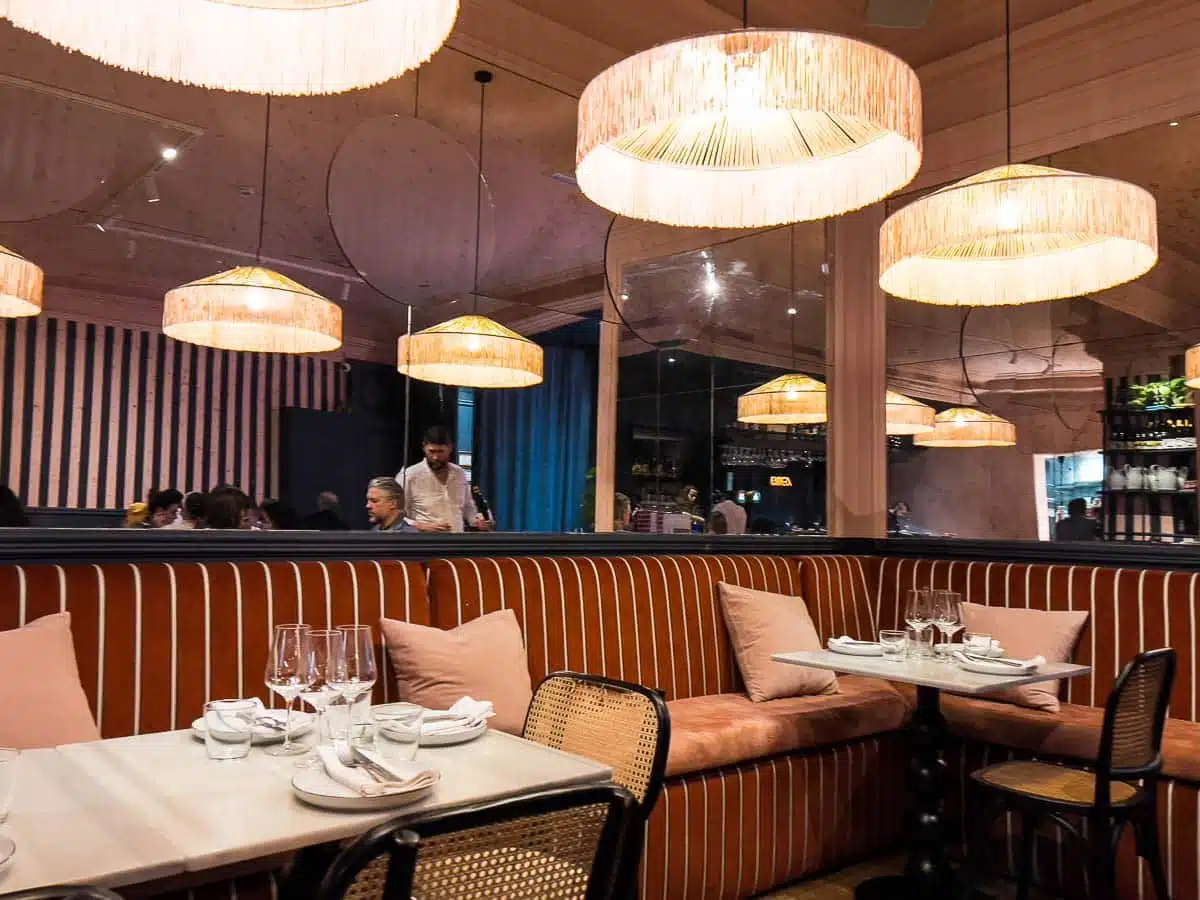 Let me introduce you to another top restaurant in Barcelona to try – Batea. This stylish restaurant on the Gran Via de les Corts Catalanes is definitely one for the seafood lovers out there.
It is very much a sharing concept kind of restaurant. There are a few "one bite" dishes such as the mussel croquette (fantastic) and oysters, but the majority of the menu is focused on sharing dishes.
Other personal favourites include the deep-fried baby monkfish tails with smoked paprika mayo and lime and the cured bonito tuna with red pepper emulsion and pickled potato salad – both were brilliant.
Besta
Eixample
££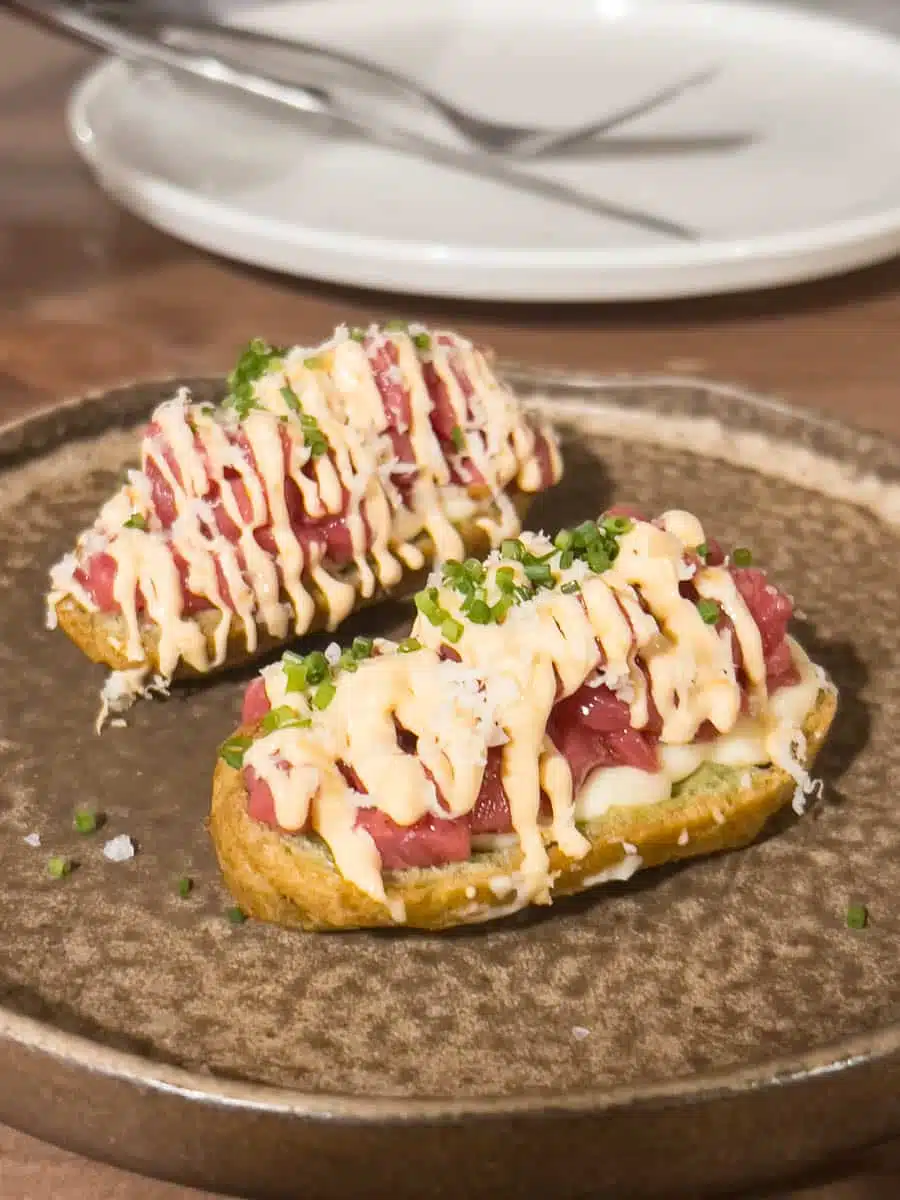 Besta is a cool, contemporary bistro bringing together the cuisines of Catalonia and Galicia thanks to a collaboration between two chefs from those respective regions (Charles Ramón and Manu Núñez).
First off, it's impossible not to be wowed by the gorgeous interior – a chic blend of neutrals offset with pops of deep colour and earthy touches like dried flowers.
Kick things off with the in-house gin, which is distilled with seaweed and oysters for an interesting twang and depth of flavour that catches you off-guard. If that all sounds a bit much for you, there's a broad selection of thoughtfully-curated wines ordered by region.
Then you get to the food. There is an a la carte menu, but if you really want to be wowed, opt for one of the two tasting menus priced at €55 and €75 per head respectively.
The latter was a culinary adventure, one that flirted with dressed white asparagus in one moment, sea bass tartare the next and shaved courgettes with oyster ice cream the next.
Prepare to be wowed – spread out over 2.5 hours, it was one of the most memorable meals I've had in a long time.
Parking Pizza
Eixample
£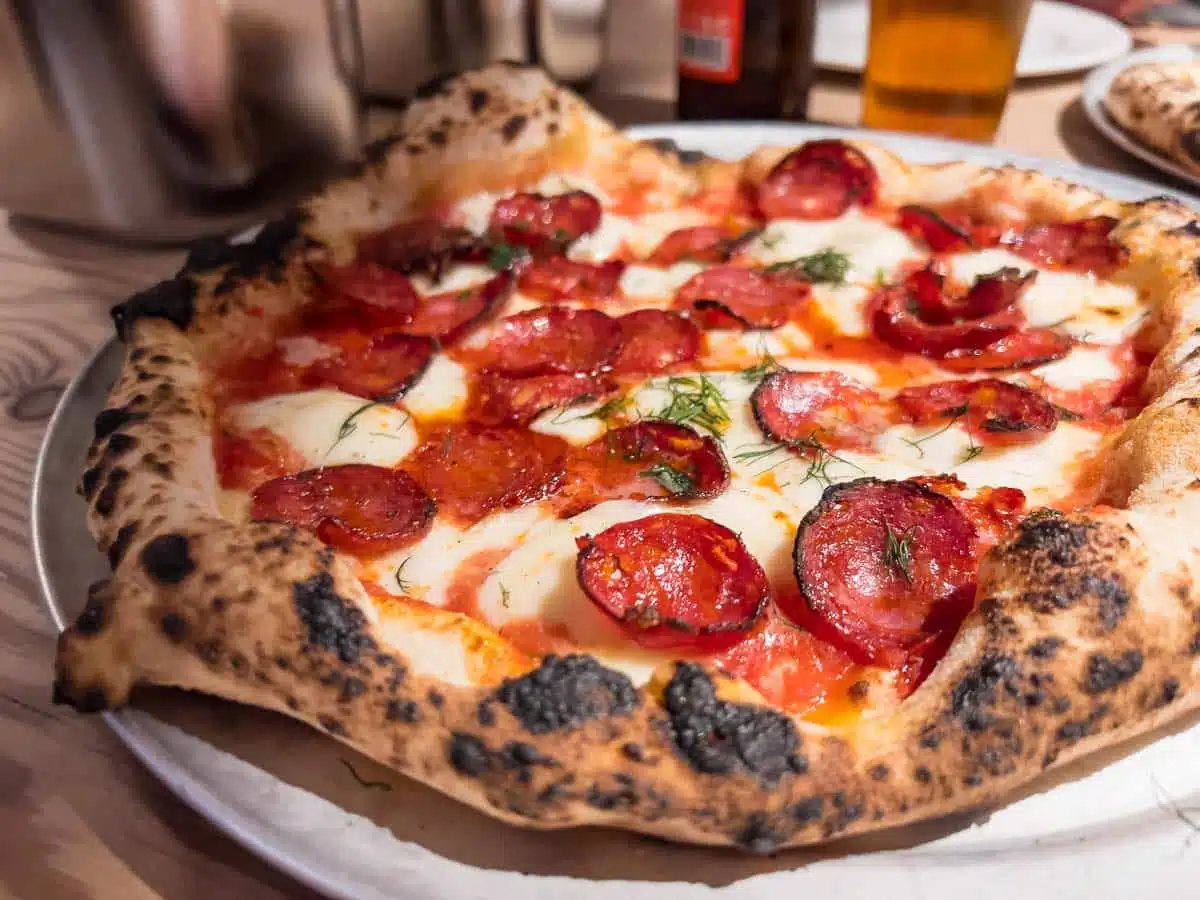 Parking Pizza wins on several fronts: managing to be one of the city's must-eat spots and keeping things affordable too.
Housed in a former car park, it's one of the city's most popular eats, which means getting there early and putting your name down for a table (they don't take reservations).
After that, it's a matter of getting yourself ready for some incredible food. This cool Barcelona restaurant is in a car park and features some of the city's best pizza.
Whether you go for the classic Number 11 – with fior di latte, truffle, fontina, parmesan, and egg or the Number 8 – laden down with mounds of pepperoni, tomato, and fennel, it's all good.
Pair it with a craft beer or a glass of vino for the perfect meal.
Berbena
Eixample
£££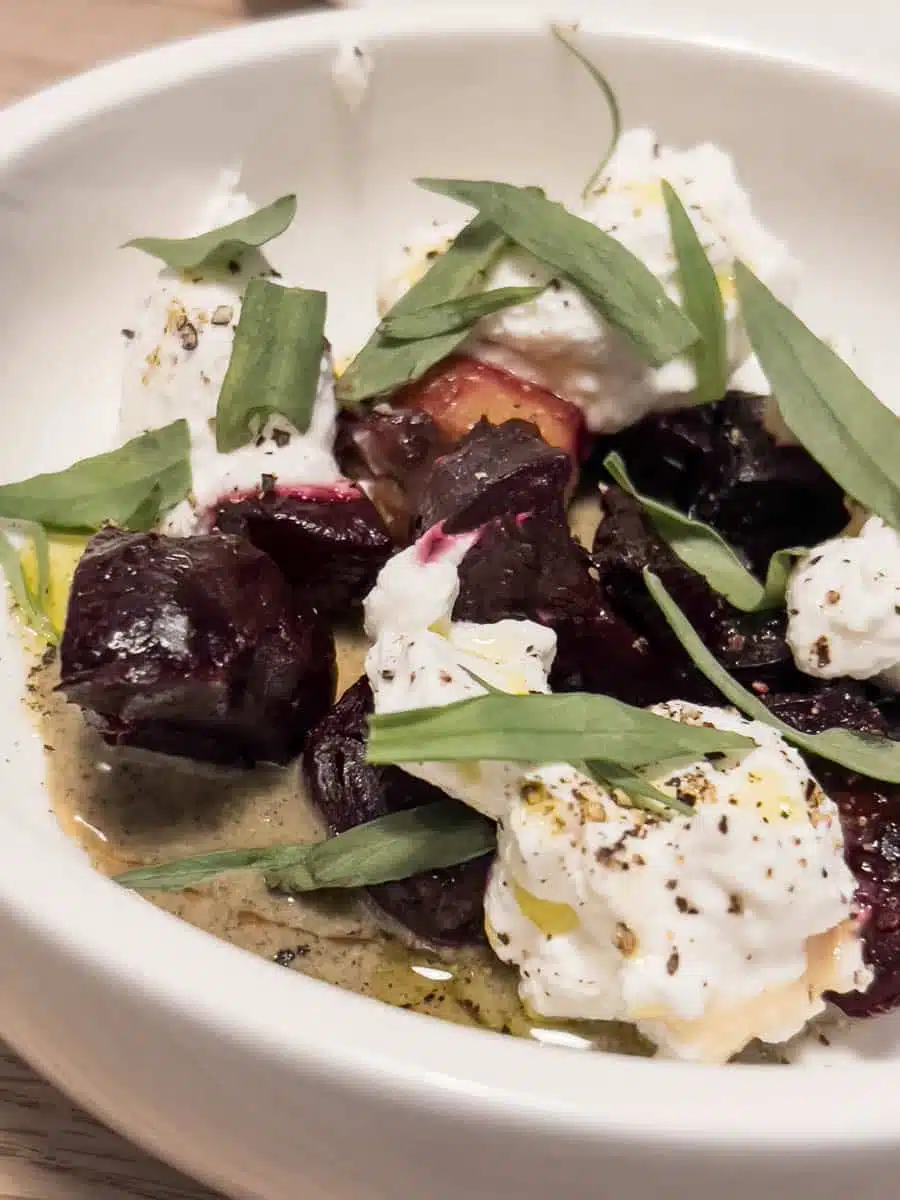 If you are looking for one of Barcelona's best restaurants, you'd better book your reservation at Berbena pronto.
There's a reason it's fiendishly difficult to get a table here and that's basically because it's excellent, through and through (and it's also very small, so there's that too).
The brainchild of Carles Pérez de Rozas Canut, it aims to serve exquisite food in a relaxed setting – and it's achieved that.
Staff are really friendly and knowledgeable – always on hand to give you lots of information if you want. Definitely get them to recommend wines once you've chosen your dishes.
My personal highlights were the Duck Gyoza in Jus and Pickled Beetroot with Strawberry and Olive Oil. Round the meal off with a selection of artisan Spanish cheese.
Sartoria Panatieri
Eixample
££
Book a table at Sartoria Panatieri for some of the best pizza in the city.
They dish up farm-to-table pizza as it should be. We're talking billowing and chewy crusts (thanks to the 72-hour fermented sourdough base), laden with artisanal ingredients including their home-cured hams and meats and fresh vegetables.
Don't expect your normal quatro stagioni pizzas here – the pizzas are inventive – with eclectic combinations that err firmly on the side of brilliance – my personal favourite was the Cured pork belly, mozzarella, roasted potatoes, with egg yolk and tuna bottarga.
Pair with one of their home-brewed beers, limoncello or wine.
Entrepanes Díaz
Eixample
£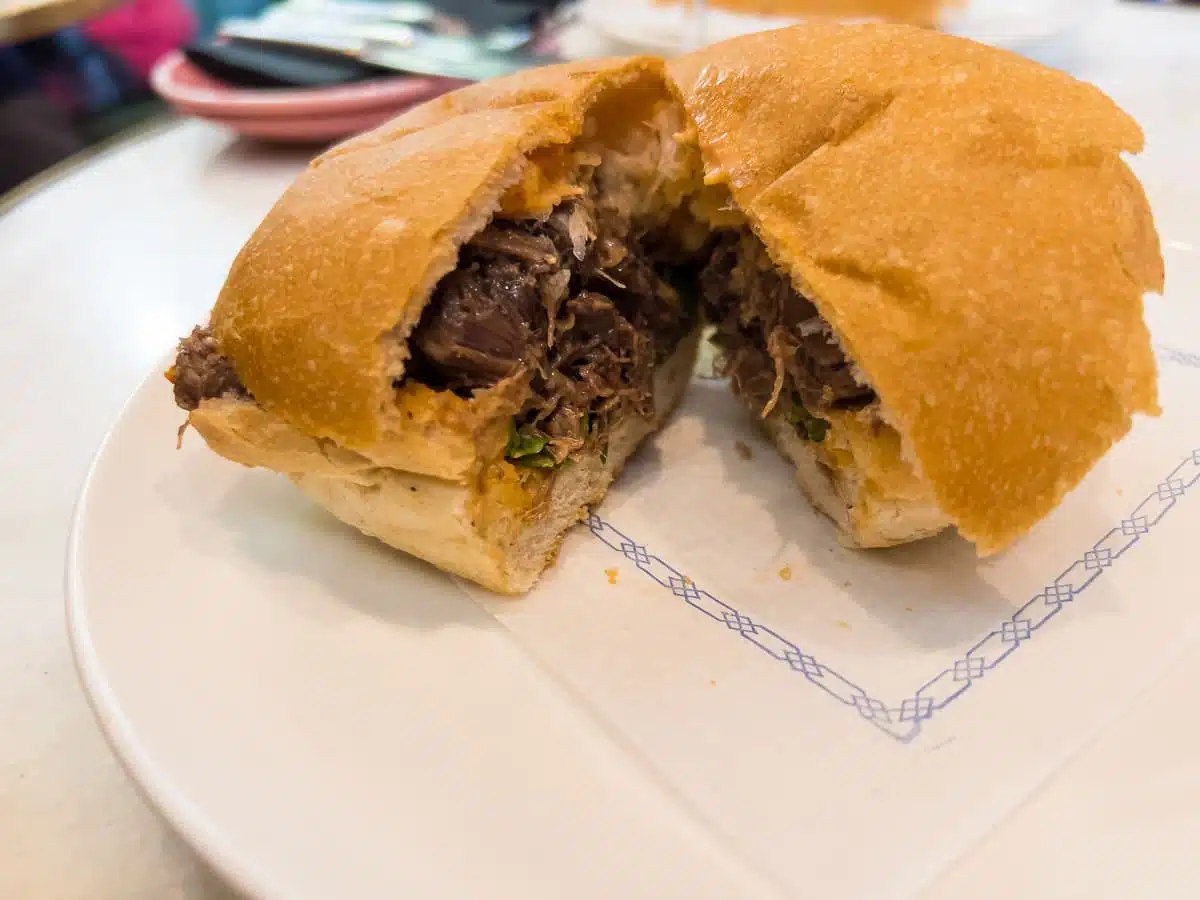 A visit to Barcelona isn't complete without trying a bocadillo. These scrumptious gourmet sandwiches are an iconic dish in the city – and Entrepanes Díaz is the iconic place to try them.
Why's that, you may ask?
It's hard to envision just how gourmet a sandwich can get until you actually visit but if you're thinking along the lines of scallops / calamari and chistorra (a local kind of sausage) and egg, you're on the right track.
Still hungry? Add one of their starters, such as cazón en adobo – vinegar-marinated fried fish.
Talk. About. Divine.
Can Fisher
Poble Nou
££
Although paella isn't a traditional Catalonian dish, there are a few places where you can get your hands on the real deal.
Can Fisher is one such place. Overlooking Bogatell Beach, this seafood restaurant in Barcelona buzzes with customers, but that's not because it's a tourist trap – it's because the service and the food are straight-up stellar.
Here's a suggestion: seafood paella with socarrat, freshly-grilled fish, a salad, and coca bread. Paired with a bottle of wine or a cocktail — you can thank me later.
1881 Per Sagardi
El Born
£££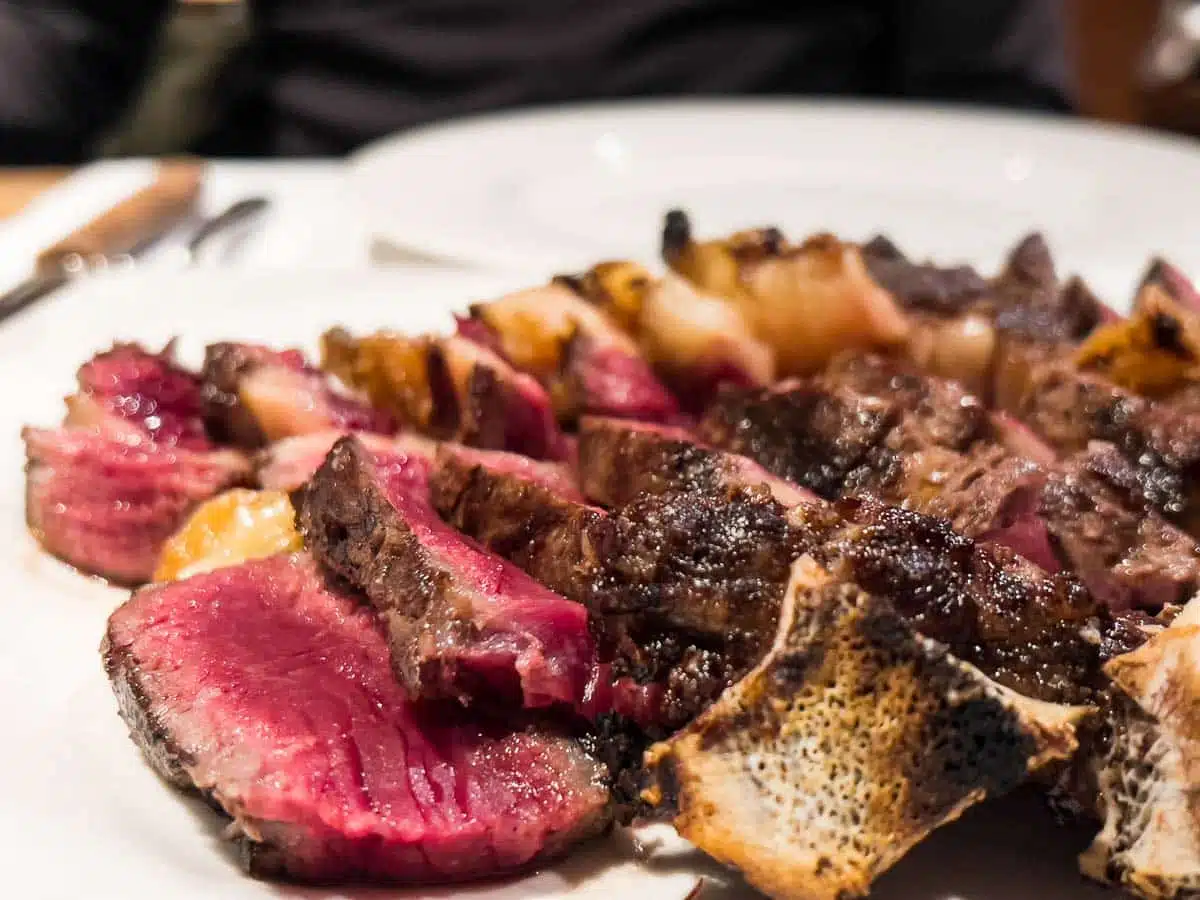 Ask any local for the best restaurants in Barcelona for meat lovers and the name 1881 Per Sagardi is bound to come up trumps.
This temple is dedicated to serving very good steaks. The proof of their success is just how tough it is to get a table here.
This classy spot specialises in txuleton – bone-in ribeye steak that come from 8+ year old dairy cattle. The result is unparalleled umami – a rich cut of steak that will blow your mind.
It is on the pricier side and you will have to book ahead to avoid disappointment. Trust me, it's worth it.
Bar Cañete
El Raval
££
One of the most famous restaurants in Barcelona, Bar Cañete is a classic tapas spot in the city.
Kick things off with pan con tomate – an iconic Catalan dish, with grated tomato and olive oil on garlic-rubbed grilled bread.
Then get stuck into the tapas – razor clams, oysters, tuna tartare, and various cured meats. Be sure to try the daily specials, whether that's the Cañete paella of the day or the fresh red prawns.
Lastly, make sure to book ahead, as it's always packed.
La Bombeta
Barceloneta
£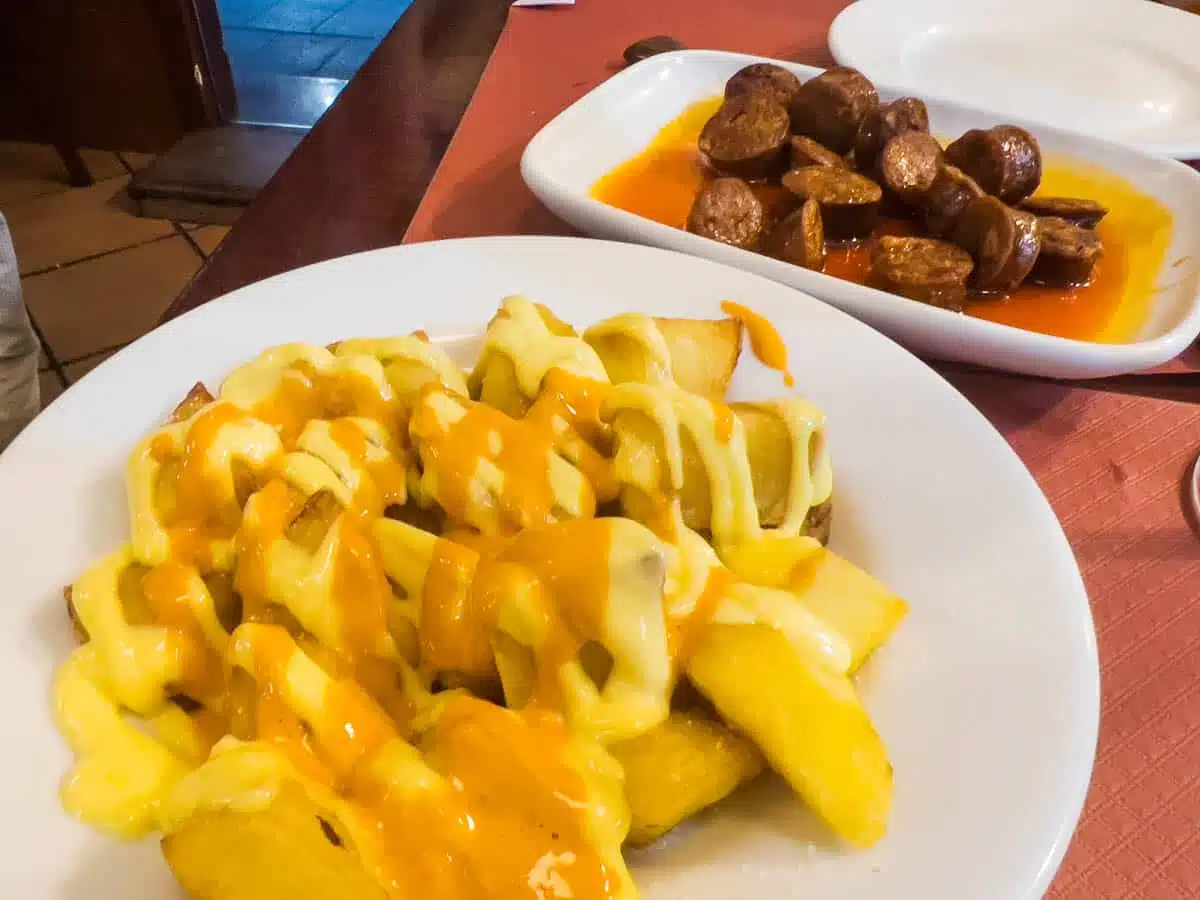 Take a jaunt to La Bombeta, one of the best tapas restaurants in Barcelona.
La Bombeta is one of a handful of traditional tapas restaurants serving truly excellent food in the Barceloneta area. Go after a hot day on the beach, or just go to pay homage to classic Spanish food done well.
There are all the classic tapas, including patatas bravas, tortilla, albondigas, and gambas al ajillo – all cooked to perfection.
That said, it does get busy quickly, so you'll have to wait for a table in peak season.
Cocina Hermanos Torres
Les Cortes
£££
Now, I'll mention a truly exceptional place to eat in Barcelona, Spain – Cocina Hermanos Torres. Run by twin brothers Sergio and Javier Torres, this Barcelona Michelin-starred restaurant has some of the best food you'll ever eat.
Attention to detail is the name of the game, from the super-attentive staff to the exquisite presentation of dishes – which almost look like they belong in the National Art Museum of Catalonia.
Their tasting menu never fails to amaze, thanks to dishes such as Iberian suckling pig with apricots and tamarind or sea bass with citrus salt.
La Plata
Gothic Quarter
£
Looking for a Gothic Quarter Barcelona restaurant? Let me introduce you to La Plata. Okay, so maybe calling it a restaurant is a bit much, as it only has six iron-wrought tables. However, don't be put off by its small size.
That's because what La Plata specialises in is making the perfect tapas dishes – it's known as one of the best tapas restaurants in Barcelona for good reason. Ever since they opened in 1945, they've turned out stunning dishes that keep locals coming back time and again.
I'd say get the deep-fried boquerones – some of the best anchovies around. Paired with their simple tomato, onion, and olive salad, morcilla sausage and a glass of white wine from the Penedès region, you'll get why locals love this spot.
Other Places to Eat in Barcelona
Bodega Vidrios y Cristales
Gothic Quarter / El Born
££
This Barcelona restaurant and tapas bar is one of the more hidden gems in the city, and one of its most authentic bodegas. Welcome to Bodega Vidrios y Cristales, a spot that really lasers in on Catalan cuisine.
Go for the stellar wine and melt-in-your-mouth jamon. Other recommended dishes include the sardines, the tortilla, or the salt-cured fish.
Bodega La Palma
Gothic Quarter
£
Bodega La Palma is another terrific place to eat in Barcelona – and packed with history too. It originally opened as a grocery store in 1935, but gradually turned into a restaurant – one with characterful interiors and a lot of charm.
Its food is just as impressive, from the patatas bravas – considered some of the city's best – to the moixama (salt-cured tuna). Other small bites to try are their croquettes filled with jamón, chicken, or squid, the cod bandrada, and the Catalan cannelloni.
Wash it down with a caña of beer or a glass of vermut for a delectable meal.
Colmado Múrria
Eixample
££
I'll finish this Barcelona food guide off with an absolute charmer – Colmado Múrria.
Although primarily a colmado (grocery store) selling some of the best Spanish produce,it also features a bar, El Murri, a fine-dining space, 1898 and Murmurri, a speakeasy.
Throughout the space, you can sample the produce from the store, whether that's one of their over 200 cheeses, spicy sobrasada sausage from Menorca, or a glass of J.Múrria cava (yes, it's named after the store's owner).
Top Tip: It's also a great last stop after a stay in Barcelona, as you can stock up on local olive oil, sardine cans, pimentòn – smoked paprika, or smoked meats to take home.
Practical Tips for Exploring The Barcelona's Best Restaurants
Make sure you know what time restaurants open and close. Dinner in Barcelona hardly ever happens before 8:30 pm. So, if you're feeling hungry, go to a tapas joint or a wine bar.
Catalan cuisine often features seafood, less well-known cuts of meat and exciting produce. Do try new dishes – who knows, you might find your new favourite meal.
Barcelona Restaurants: Map
Love This? Save and Share on Pinterest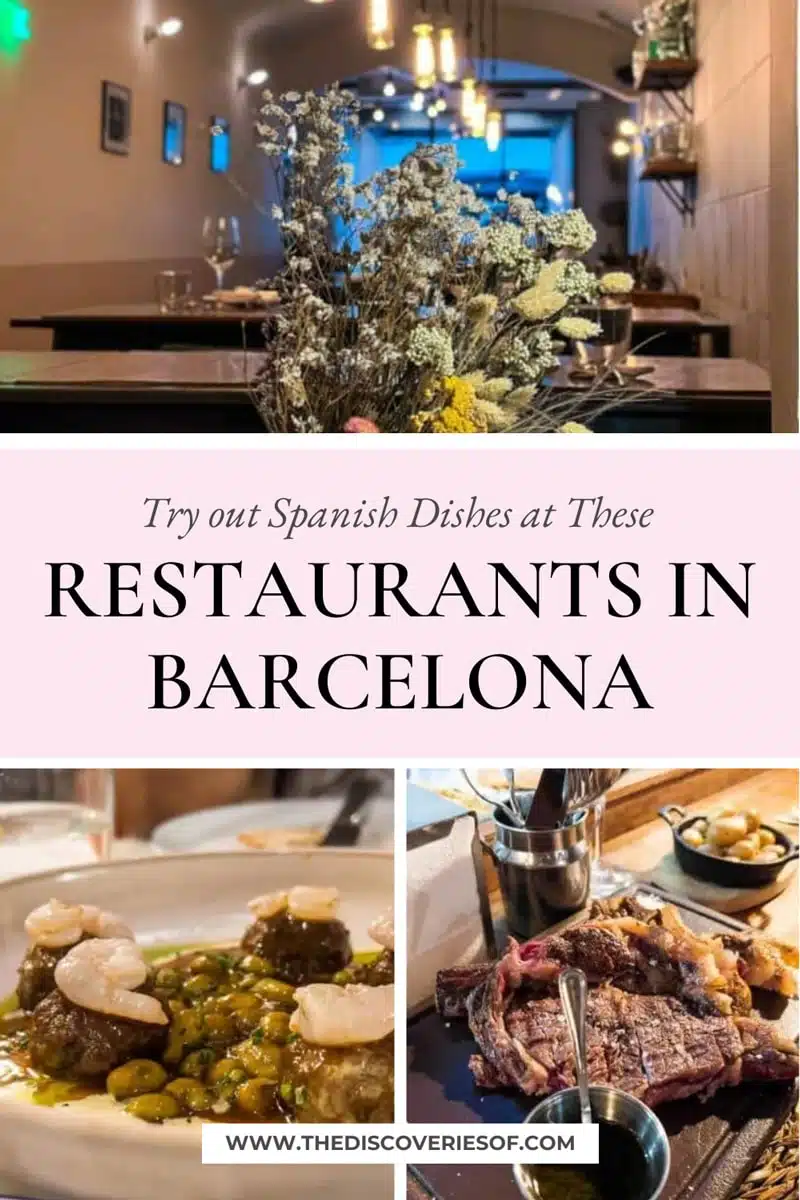 Best Places to Eat in Barcelona: Read Next