Looking for the best places to stay in Cambridge? Discover where to stay in this historic gem in the heart of the UK.
Harmoniously blending centuries-old heritage and contemporary cool – and of course, that iconic university, Cambridge is an enchanting city. Spend a night or two, and you'll get an even better understanding of why people fall for its charms.
But where are the best places to stay in Cambridge?

This guide dives into where to stay in Cambridge area by area: the most iconic hotels, budget-friendly stays, and off-the-radar gems you'll want to know more about before deciding where to bed down in this charming city in the UK.
Best Places to Stay in Cambridge: At a Glance
The Best Places to Stay in Cambridge
Looking for the best places to stay on your road trip from London? Here are some of the most popular hotels, budget-friendly rentals, and quirky places to stay in Cambridge.
Cambridge City Centre: The Overall Best Place to Stay Cambridge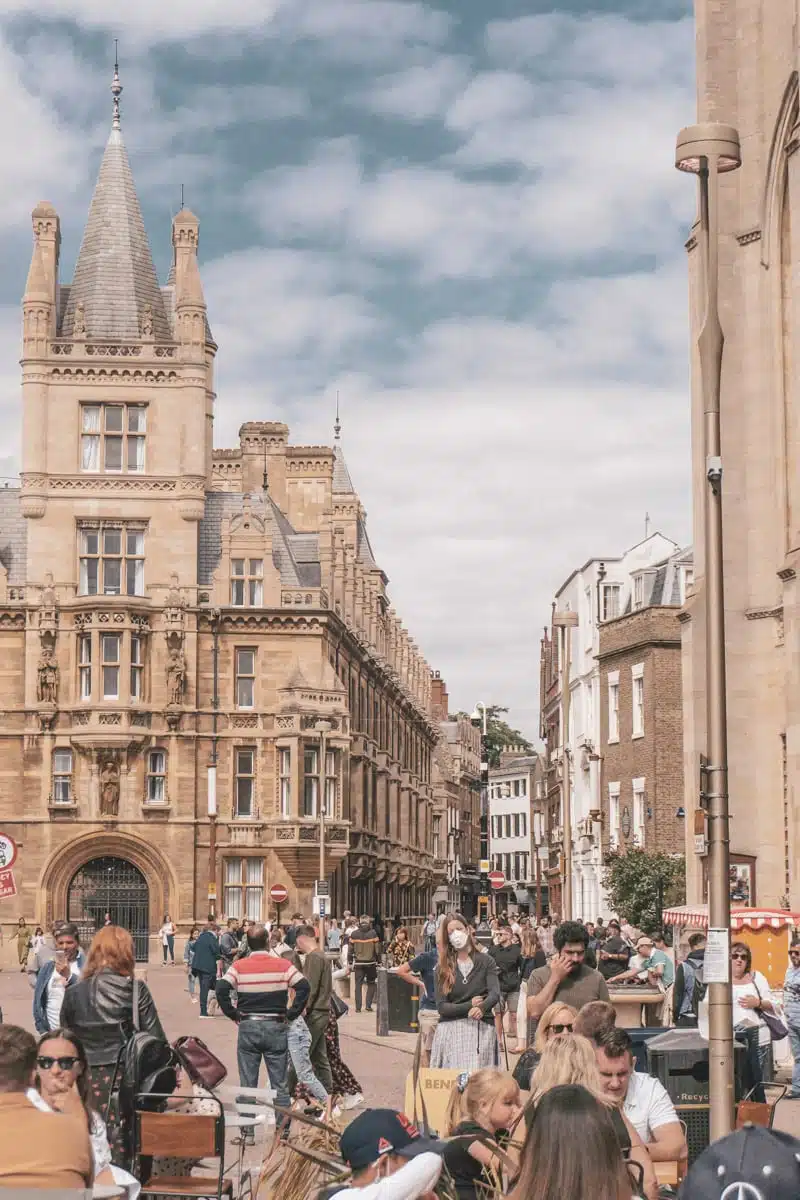 Planning to visit one of the university's 31 colleges or just want to be in the heart of it all, accommodation in the city centre is the best choice.

Why? You'll find a wide range of hotels for every budget right alongside the top landmarks and activities in Cambridge.
City Centre Highlights
Punting Down the River Cam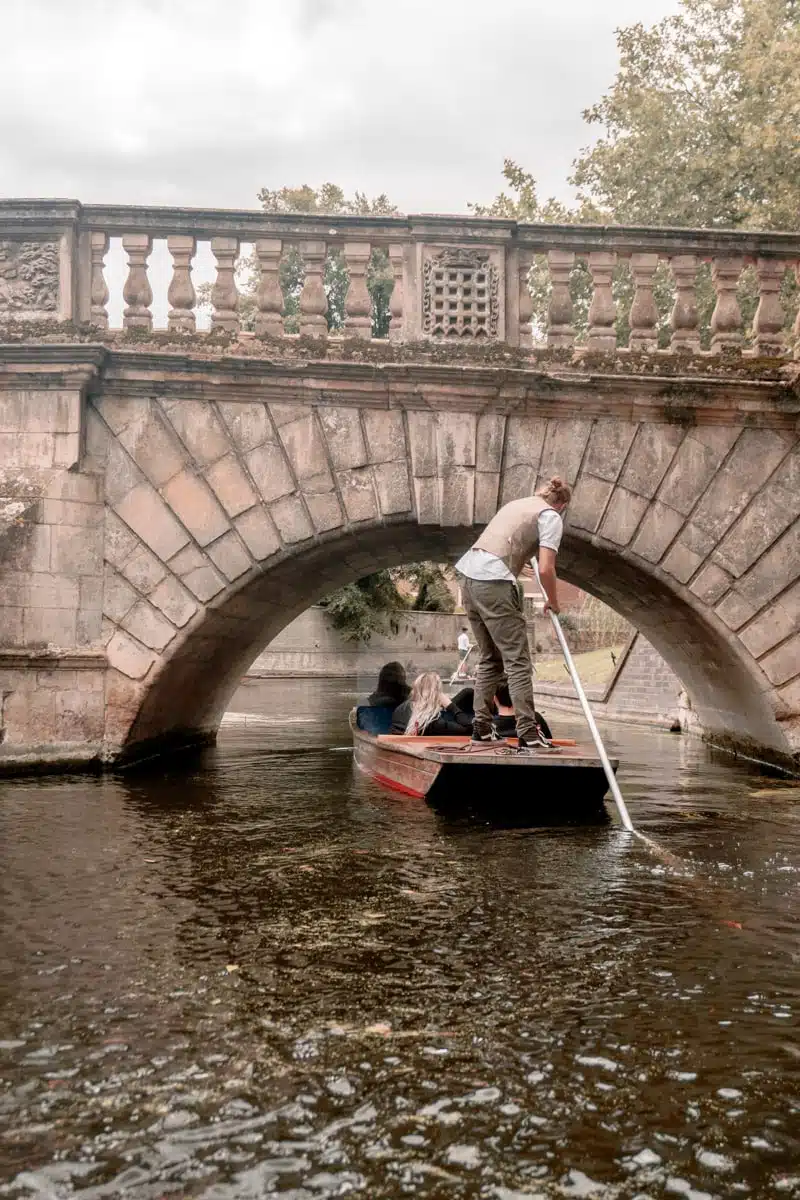 Hopping aboard a punt is a must when visiting Cambridge. Why? It's the only way to see many of the historic landmarks like the Bridge of Sighs in their full glory.

It's up to you to decide if you want to row your own boat or hire an expert guide. Want my advice? Hire a chauffeured punting tour to spare the unexpected swim that's happened to too many overzealous tourists.
King's College Chapel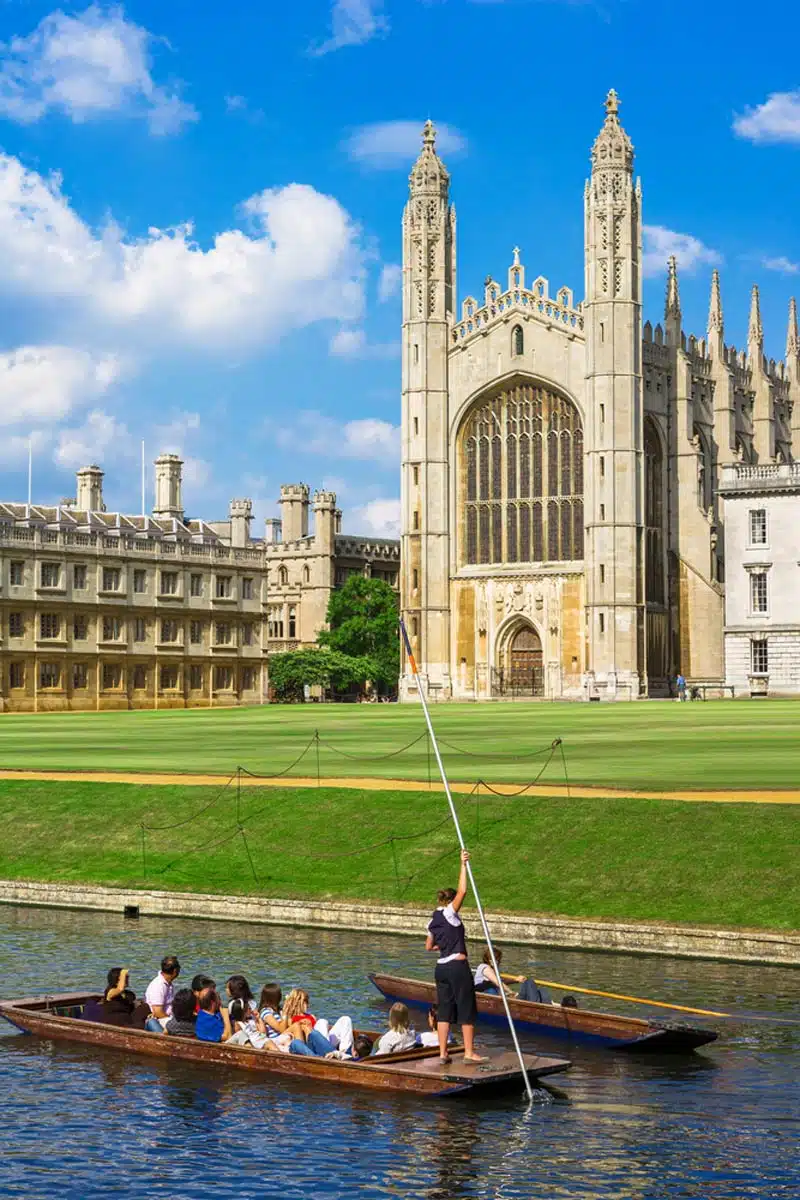 Whether you're looking from the outside or inside, King's College Chapel is one of the most impressive landmarks anywhere in the UK.

The massive Perpendicular Gothic chapel is worth an hour or two at the least but is the most special if you happen to catch a choir concert while you're there.
Cambridge Market Square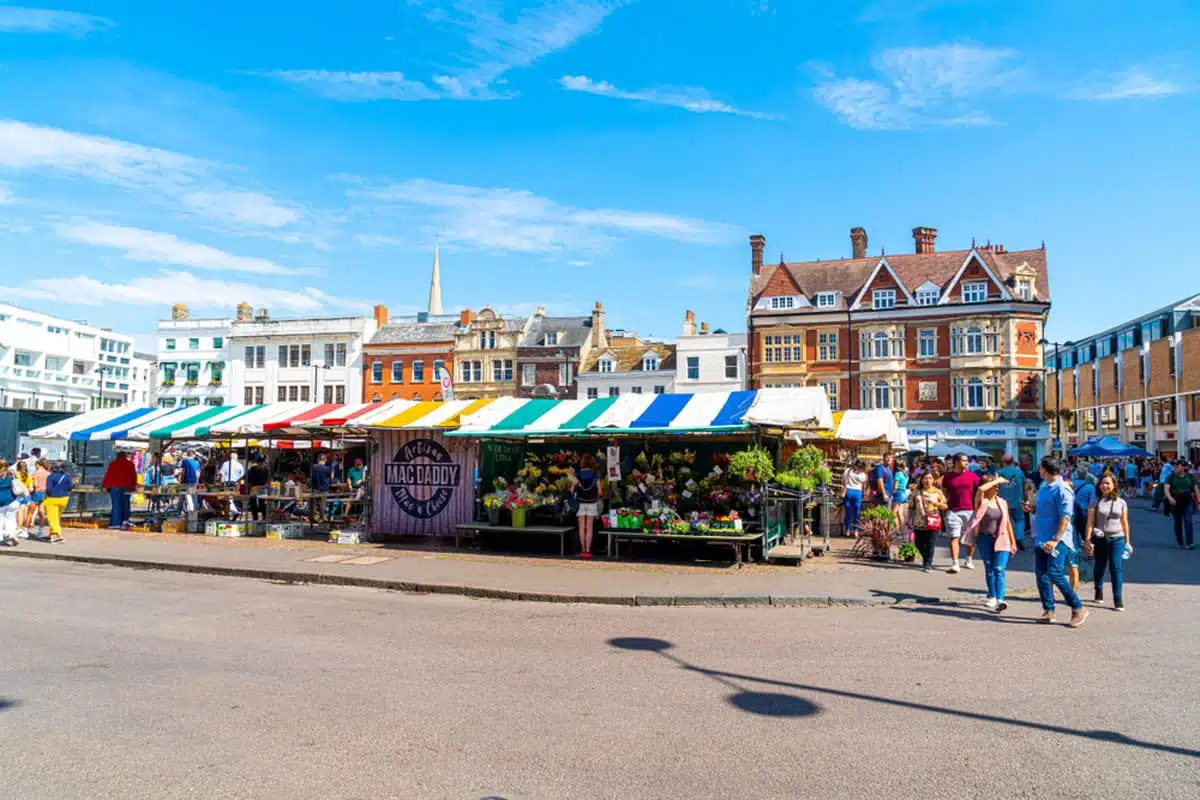 Stop by the Cambridge Market Square any day of the week to peruse the aisles of vendors selling wares and serving up a variety of dishes as it has for hundreds of years
Suggested Best Overall Hotels in Cambridge City Centre
Graduate Cambridge
Graduate Cambridge is just down the road from many of the university's iconic colleges and is an excellent option for an upscale accommodation with beautiful hardwood furniture and old-school decor in a convenient location.
Hotel du Vin & Bistro Cambridge
Hotel du Vin & Bistro Cambridge is a favourite choice for places to stay in Cambridge centre with its central location, gorgeous rooms, and excellent breakfast in the stylish restaurant.
Hilton Cambridge City Centre
Hilton Cambridge City Centre is a large four-star hotel in an ideally central location. Dine at the popular Bull & Bass Restaurant for local British cuisine and a wide range of cocktails, beer, and wine.
Petersfield: Where to Stay for Pubs and Cafes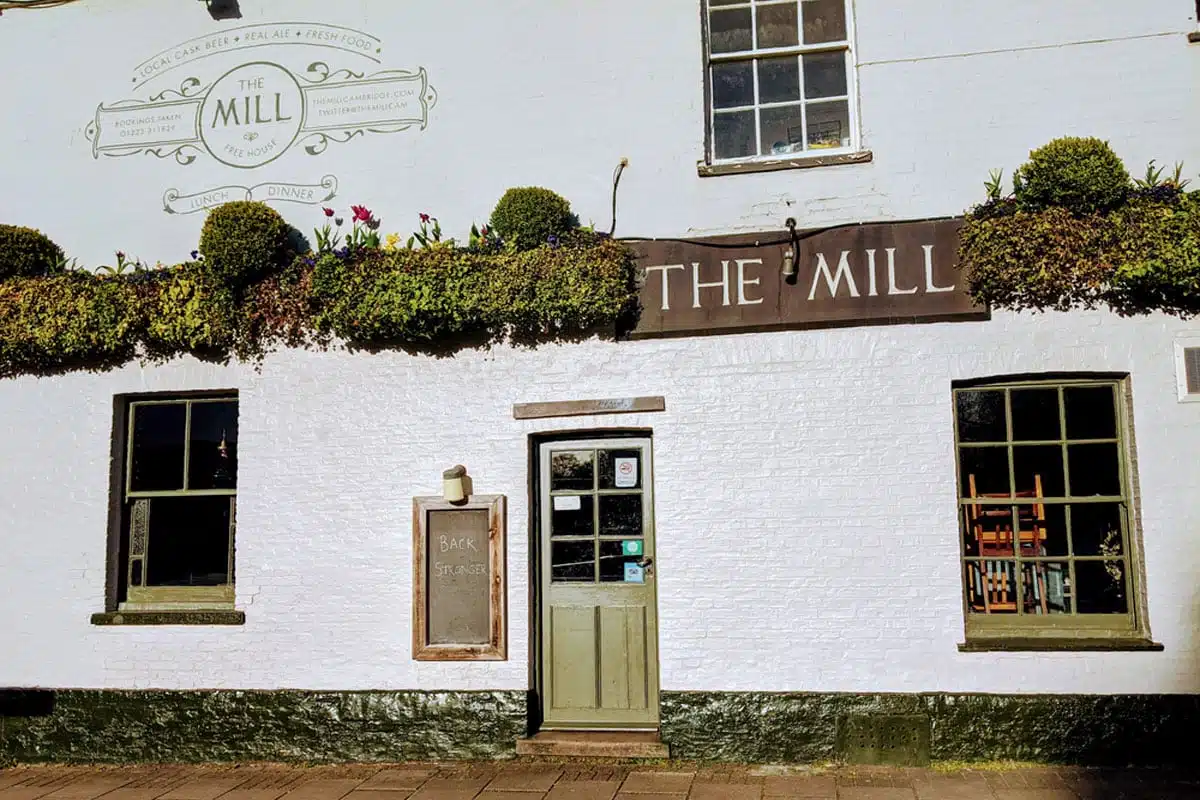 Walking down Mill Road on any given day paints a lovely picture of what life is like in the quaint town, mostly centred around the iconic colleges and River Cam that make up Cambridge University.
The bustling Petersfield district is where many locals (and visitors) like to go for the city's best pubs, coffee shops, and boutique stores.

There are also some fantastic places to stay in Cambridge in this popular part of town.
Petersfield Highlights
Parker's Piece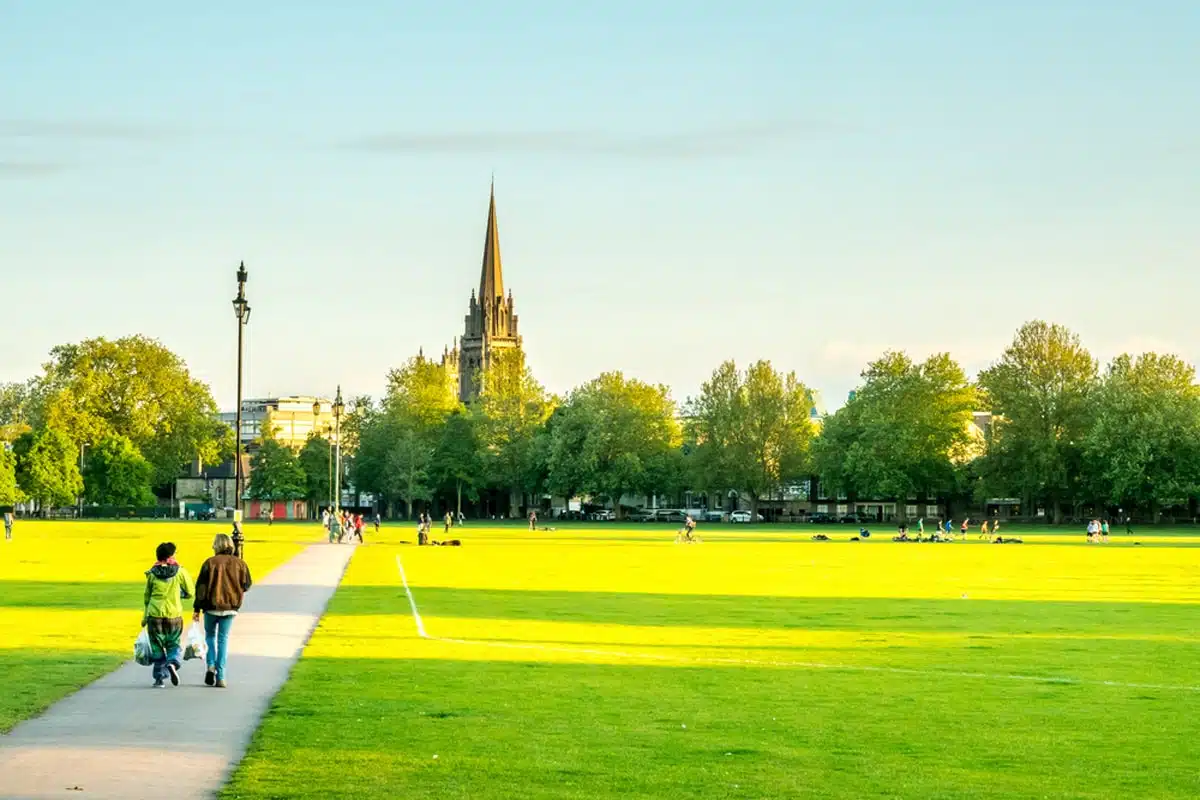 Stop by the famous park and spend an hour or so walking around and taking in the scenery and history (and reported birthplace of modern football) at this lively park near campus.
Mill Road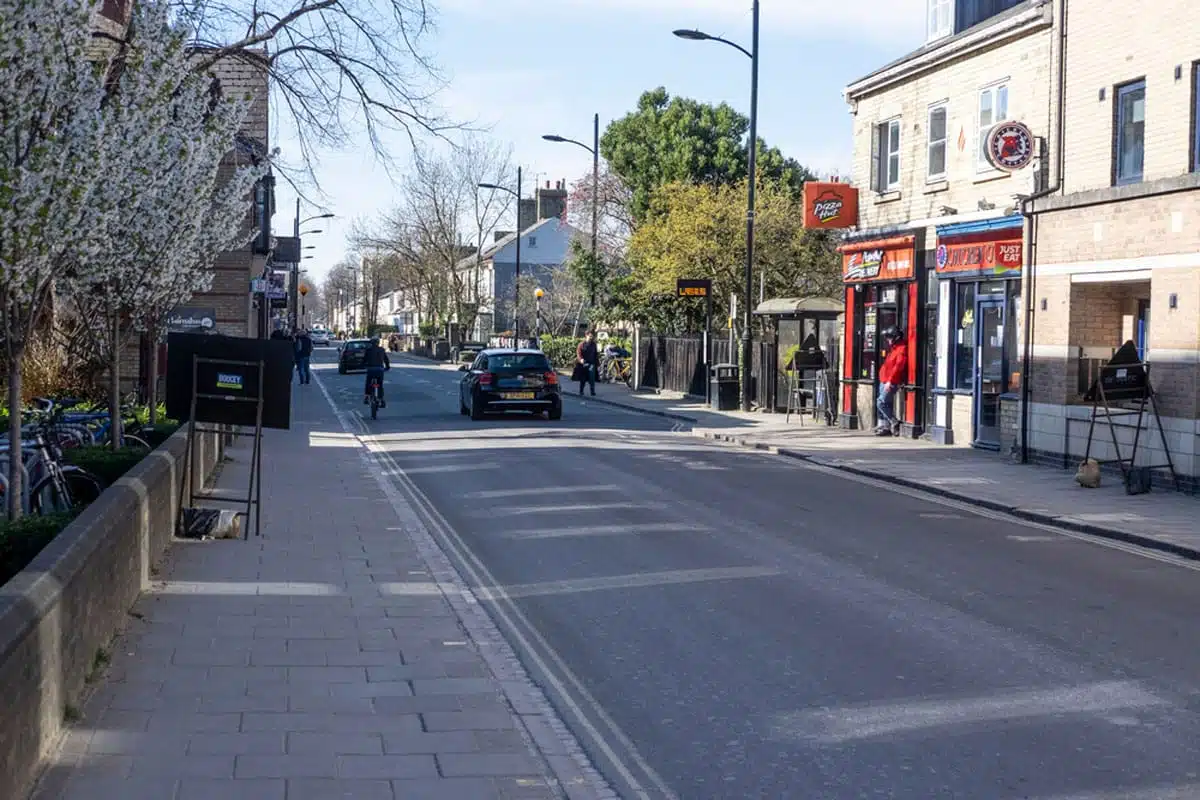 Much of Petersfield is on Mill Road, and you'll want to spend time visiting small businesses like Tom's Cakes, Spice Gate, and Hot Numbers Coffee while staying here.
The Petersfield
Walking into the winter white brick building on the busy Cambridge corner, you can see why it's a favourite pub amongst neighbourhood residents and people just passing by.

A cleverly chosen list of beers on the hand pump complements the classic British pub fare and vegan food options.
Suggested Boutique Hotels in Petersfield
Gonville Hotel
Gonville Hotel Rooms have a relaxed yet upscale look, each with unique artwork, colour schemes, and design. Located near the famous Parker's Piece, the hotel is close enough to the city centre, with quick access to many nearby attractions.
A & B Guest House Cambridge Ltd
A & B Guest House Cambridge Ltd is a charming hotel in an old stone house that offers comfortable rooms at affordable rates near many of the best restaurants, cafes, and pubs in Petersfield.
University Arms Hotel, Autograph Collection
Just across the park from Petersfield is University Arms Hotel, Autograph Collection, a four-star property ideal for visitors wanting a luxury hotel with rooms and suites near the iconic Parker's Piece.
Romsey Town: Best Place to Stay in Cambridge for Dining and Shopping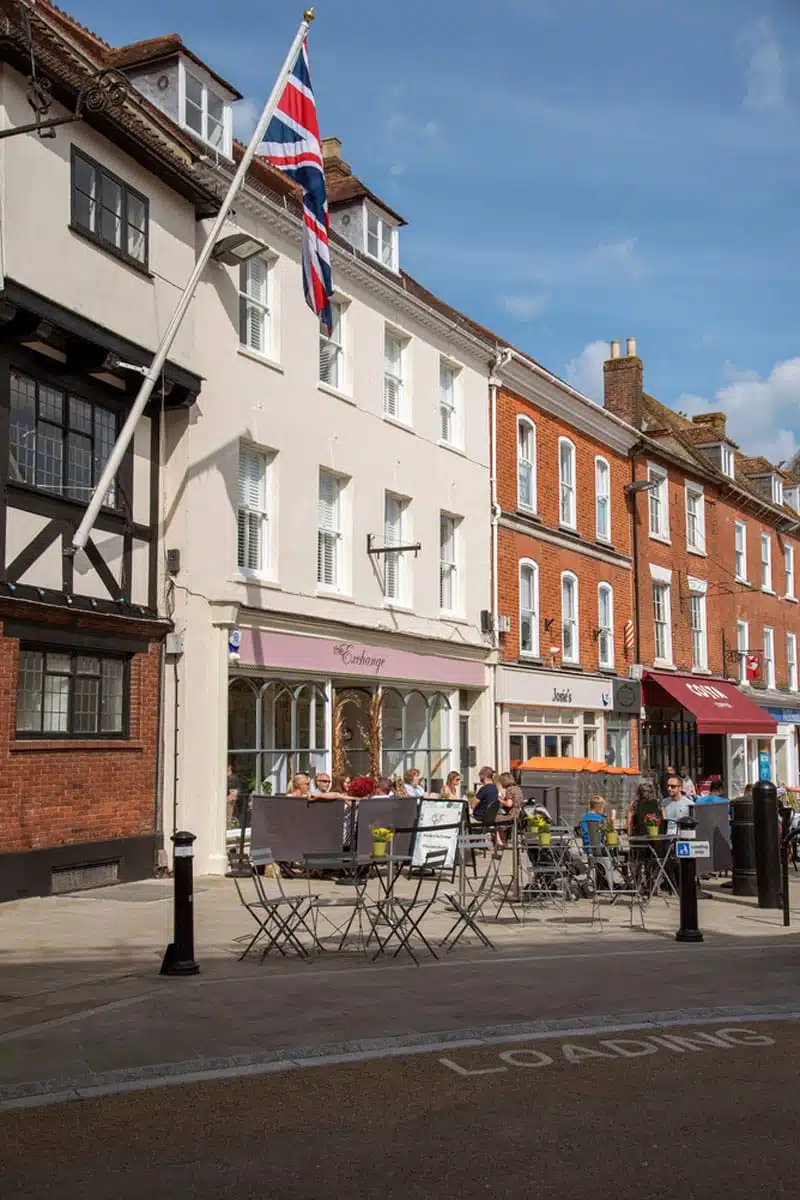 A bit further down Mill Road is the increasingly popular Romsey Town neighbourhood. Much like Petersfield, the area is known for its young and diverse crowd, excellent dining, and a relaxed vibe that is perfect for a holiday.
Romsey Town Highlights
Blue Sage
Blue Sage is the type of dining option that wins over so many locals and tourists in Romsey Town. The menu features Turkish food and coffee at reasonable prices in laid-back environs.
The Brook Cambridge
A welcoming atmosphere with classic pub grub, a reliable drink menu, and live music make this the perfect place to kick back with a couple of pints between shopping and sightseeing in Cambridge.
Relevant Record Cafe
This cafe and music store has a restaurant on the surface level and an underground record shop (yes, for real), making it one of the coolest stops in all of Cambridge.
Suggested Hotels in Romsey Town
ibis Cambridge Central Station
ibis Cambridge Central Station doesn't look like much more than a commuter hotel from the outside. Take a closer look inside, and the clever design and funky youthful decor are a perfect fit for the vibrant Romsey Town neighbourhood.
Parkview Guesthouse
If you're looking for nice places to stay in Cambridge on the cheap, Parkview Guesthouse has small but charming rooms that are clean, well-lit, and perfectly located in Romsey Town.
Clayton Hotel Cambridge
Clayton Hotel Cambridge is a stylish, modern, and classy hotel located near many of the top restaurants and bars in Romsey Town. On the property, you can dine at the brasserie-style restaurant that serves an international menu with local ingredients.
Eddington: Best for Eco-Conscious Travel
Eddington is a relatively new district on the Northwestern side of Cambridge that is a popular place for students and locals to walk around, shop, and enjoy some newer bars and restaurants.
For travellers looking for a bustling village on the outskirts of campus, Eddington is a good choice for where to stay in Cambridge.

There's an emphasis on sustainability, with projects like Brook Leys – where rain falls into reservoirs that supply homes with water for their bathrooms and laundry. The area also offers plenty of green spaces for exercising and enjoying nature away from the city centre.
Eddington Highlights
Brook Leys
A local green space popular with locals as a place for exercising, picnicking, and bird-watching in a quiet setting away from the fast-paced city centre.
Richard Of York Gave Battle In Vain
Ever use "Richard Of York Gave Battle In Vain" to help remember the colours of the rainbow? Well, even if you haven't, this art installation is worth a stop.

This public landmark pays homage to the famous mnemonic with a series of large discs that gradually change colours.
Suggested Quirky Hotels in Eddington
Hyatt Centric Cambridge
Hyatt Centric Cambridge is a nice option if you want a luxury stay in Cambridge with cool perks like complimentary bicycle rentals, parking on-site, and pet-friendly rooms in a neighbourhood that's filled with fun and funky things to do.

Stop by Dutch and enjoy an eclectic menu of cocktails and shareable plates perfect for an evening out.
Turing Locke
Turing Locke is an environmentally friendly choice to stay, as the company focuses on important details like sustainably sourced furniture and using local ingredients in their restaurant.

Rooms are modern and have full kitchens and lots of room to relax. The communal space has fun events like yoga classes and "sip and sketch" happy hours, and the on-site bike rentals are a welcome perk.
Rectory Farm
Looking for unusual places to stay in Cambridge? Rectory Farm is a unique cottage hotel on a quiet 50 acres of land a few miles from campus.

Dining options on-site are limited to breakfast, but you can drive to nearby pubs for dinner, and it's one of the best places to stay in Cambridge with parking.
Milton: Where to Stay Near Cambridge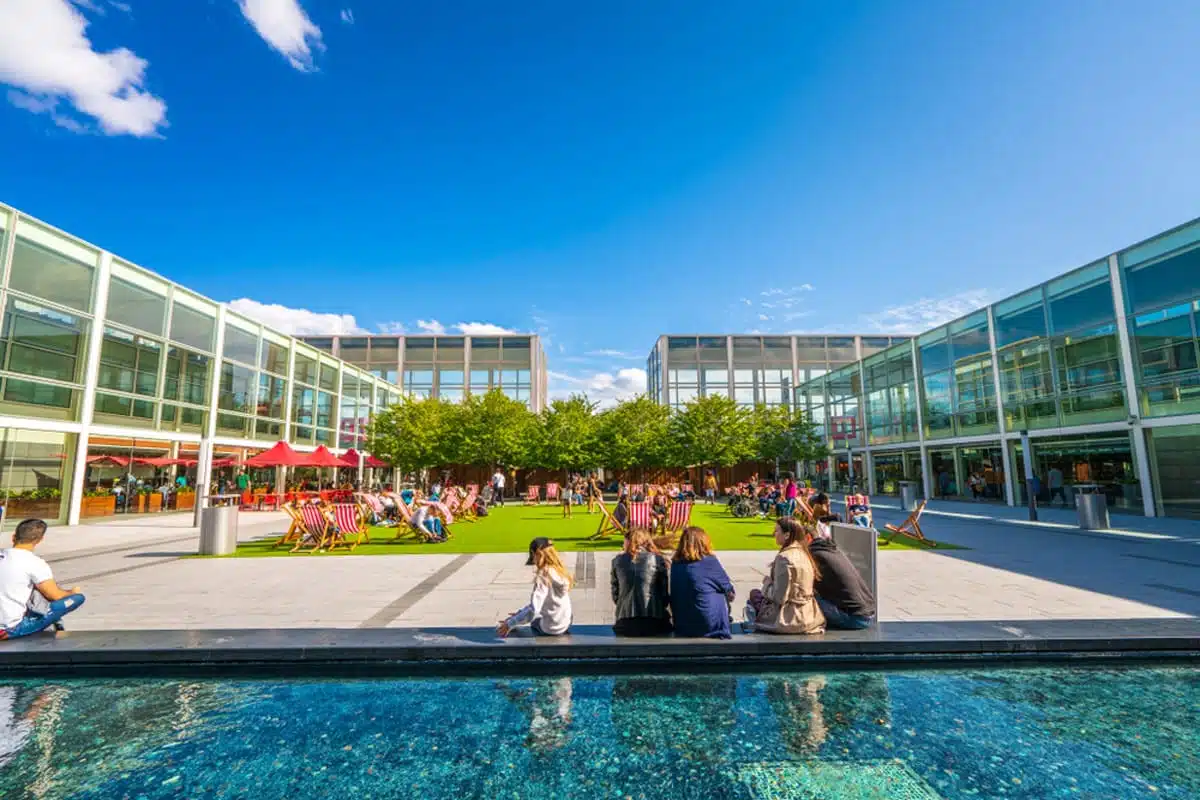 Just a few miles north of the university is the village of Milton, which is a perfect location for travellers who want to stay in a quieter community when visiting Cambridge.
Milton is one of the best places to stay near Cambridge, with a few cosy accommodations in a quiet village only a short drive from the university campus.
Milton Highlights
All Saints Church
All Saints Church is a historic place of worship with architecture dating back to the 12th Century.

The tower and nave are both signatures of the ancient building and are well worth exploring when you visit.
The Brewers Inn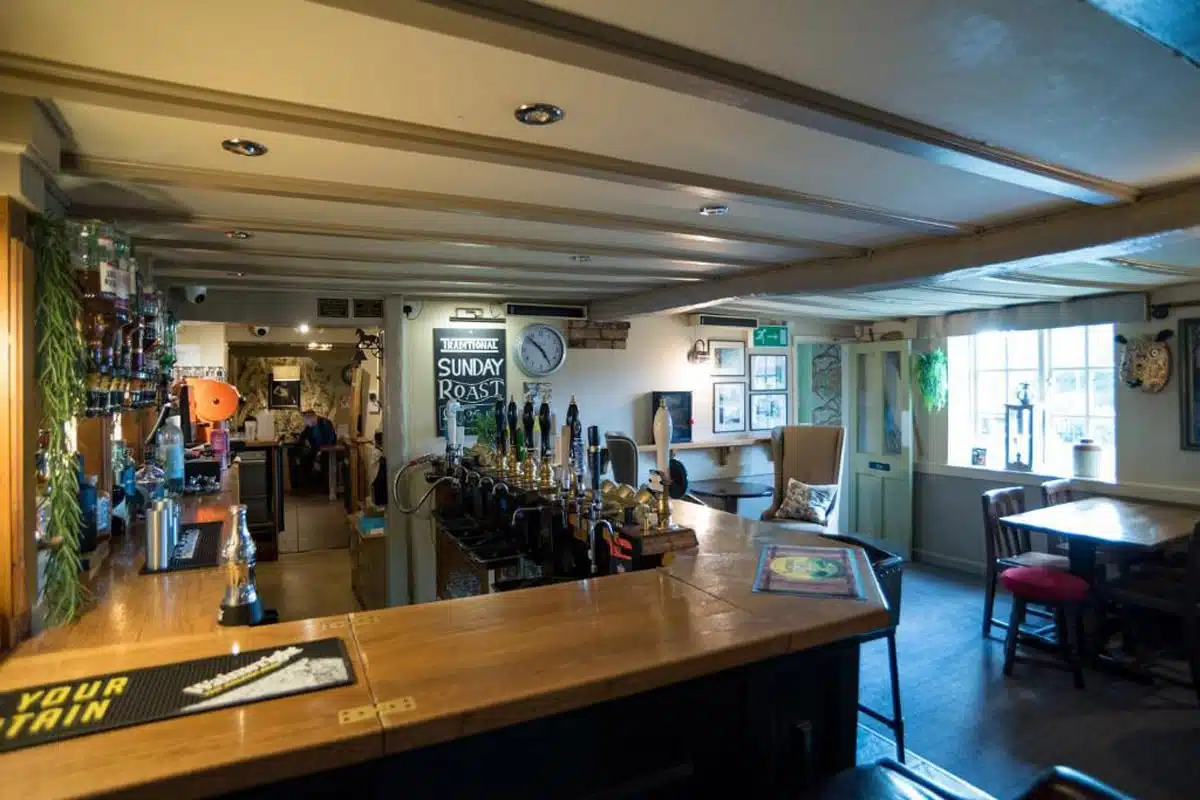 If you're looking for the quintessential English pub in the countryside, The Brewers Inn is a perfect choice.

The menu rotates seasonally and is surprisingly excellent, with choices like monkfish curry, a 28-day aged hamburger, and crispy lamb sweetbreads leading the way.
Suggested Hotels in Milton
The Brewers Inn
Stay in this quaint B&B affiliated with the restaurant in one of the charming rooms that is perfect for a quiet retreat away from the centre of Cambridge.
Novotel Cambridge North
Between Cambridge city centre and Milton is Novotel Cambridge North, which offers discounted room rates and excellent amenities like an indoor swimming pool, fitness centre, restaurant, and bar.
Holiday Inn Cambridge
Also in northern Cambridge near the small village of Milton, Holiday Inn Cambridge is a reliable choice for a quiet accommodation with parking, WiFi, and a 24-hour front desk.
Where to Stay in Cambridge: Frequently Asked Questions
Practical Tips to Consider Before Booking Your Cambridge Accommodation
If you're driving into Cambridge, choosing a hotel in Eddington or Milton will allow you the most choices for parking at a reasonable rate.
You can see many of the best things to do in Cambridge over 2-3 nights, making a holiday weekend the perfect time to visit.
Cambridge is stunning any time of year, but booking a holiday in the autumn sees the city at its prettiest and students begin returning to university.
Visit a local pub for at least one meal. The Eagle is the most famous option, but there are a lot of excellent choices around town.
Love This? Save and Share on Pinterest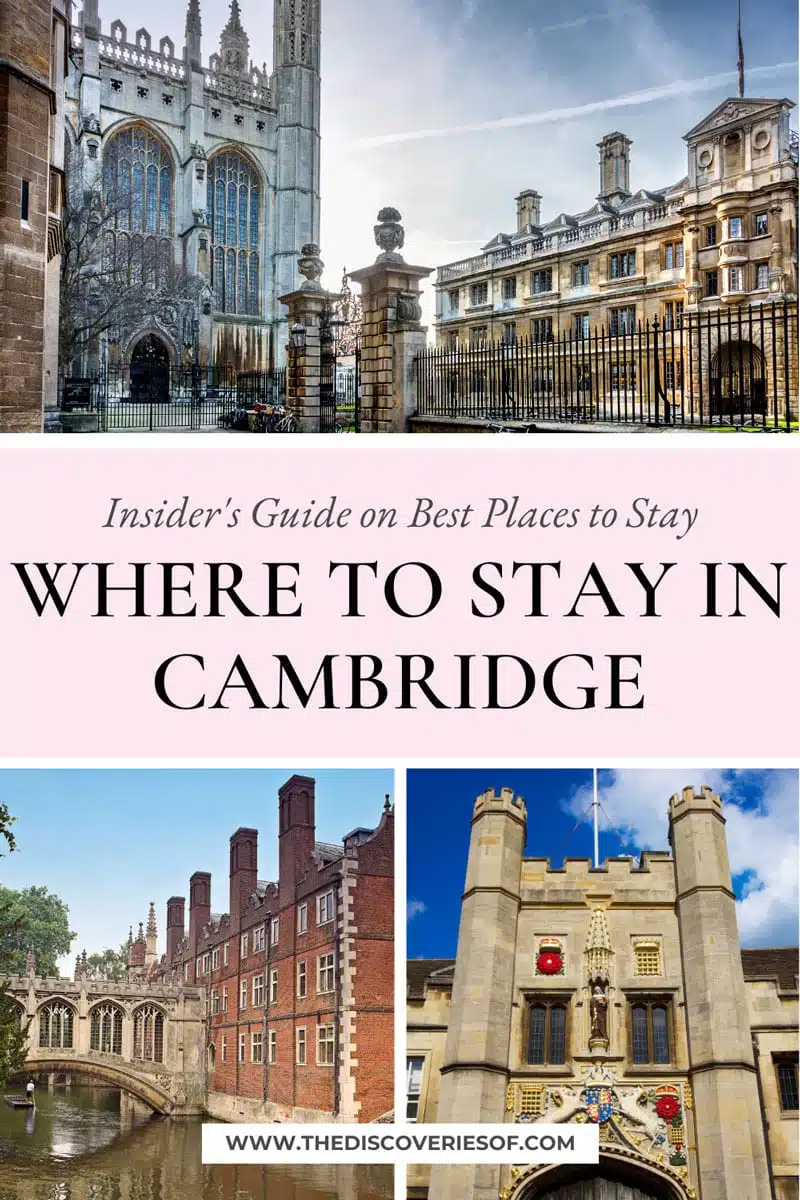 Where to Stay in Cambridge: Read Next