Here's where to stay in Barcelona, area by area. Discover the top neighbourhoods and hotels for your next Spanish escape.
Oh, Barcelona. You charming beauty.
I've just returned from a month-long stint in the Catalan capital and, I must admit, I'm already looking at going back. There's something about Barcelona that's addictive. It could be the tapas and the sangria, or the beaches, but I think it has more to do with its huge personality.
And, if you're wondering where to stay in Barcelona, look no further.
In a city where each neighbourhood offers an experience so vastly different, where should you stay?
Whether you fancy an all-out tourist vacation (in which case, you want to stay at the Gothic Quarter) or want to spend a laid back weekend mingling with locals (cough cough, Sarrià-Sant Gervasi), Barcelona has plenty of inviting enclaves to explore.
Excited? You should be. Barcelona beckons.
Best Places to Stay in Barcelona: At a Glance
Where to Stay in Barcelona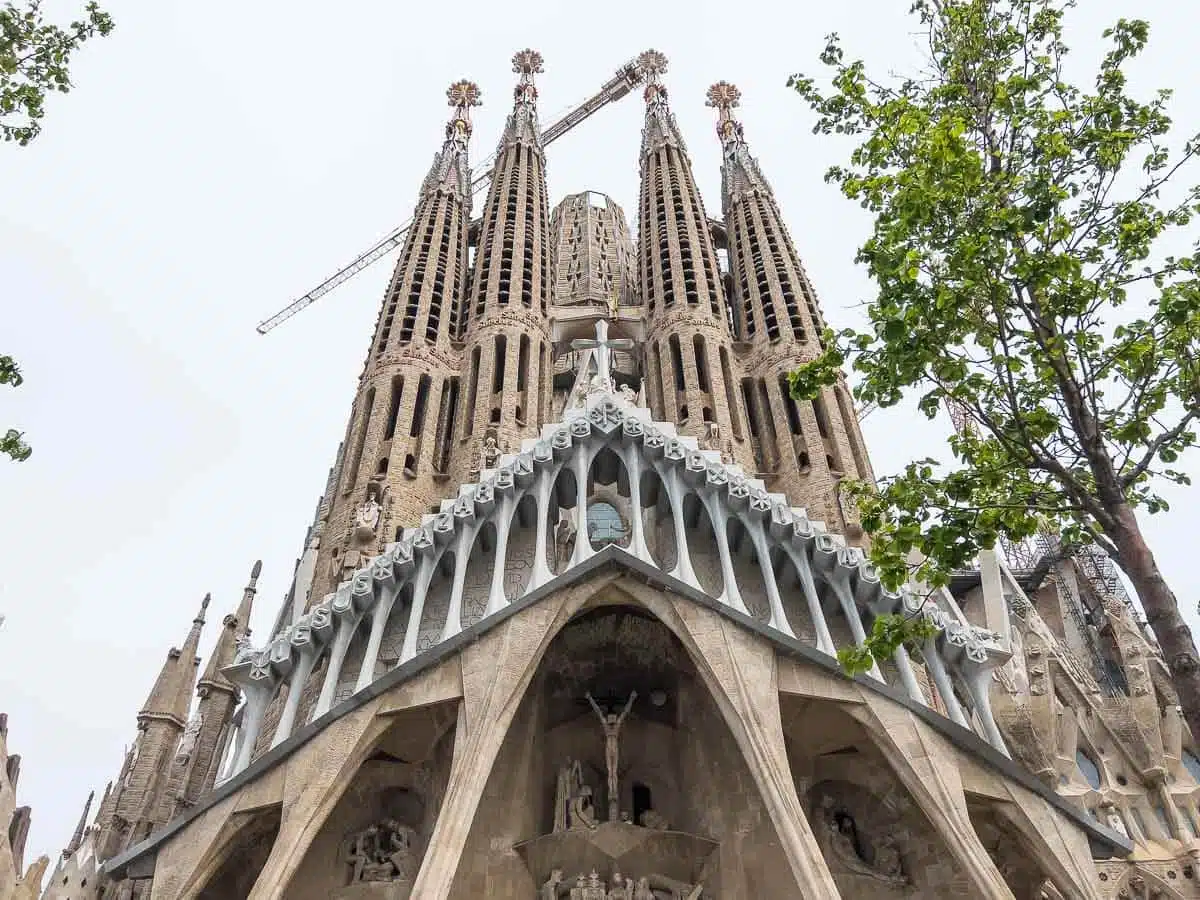 Whether you're pounding the streets of the Gothic Quarter or following in the imaginative footsteps of Gaudi, Barcelona tends to defy the imagination. Here's where to bed down.
El Barri Gòtic (The Gothic Quarter): Overall Best Area to Stay in Barcelona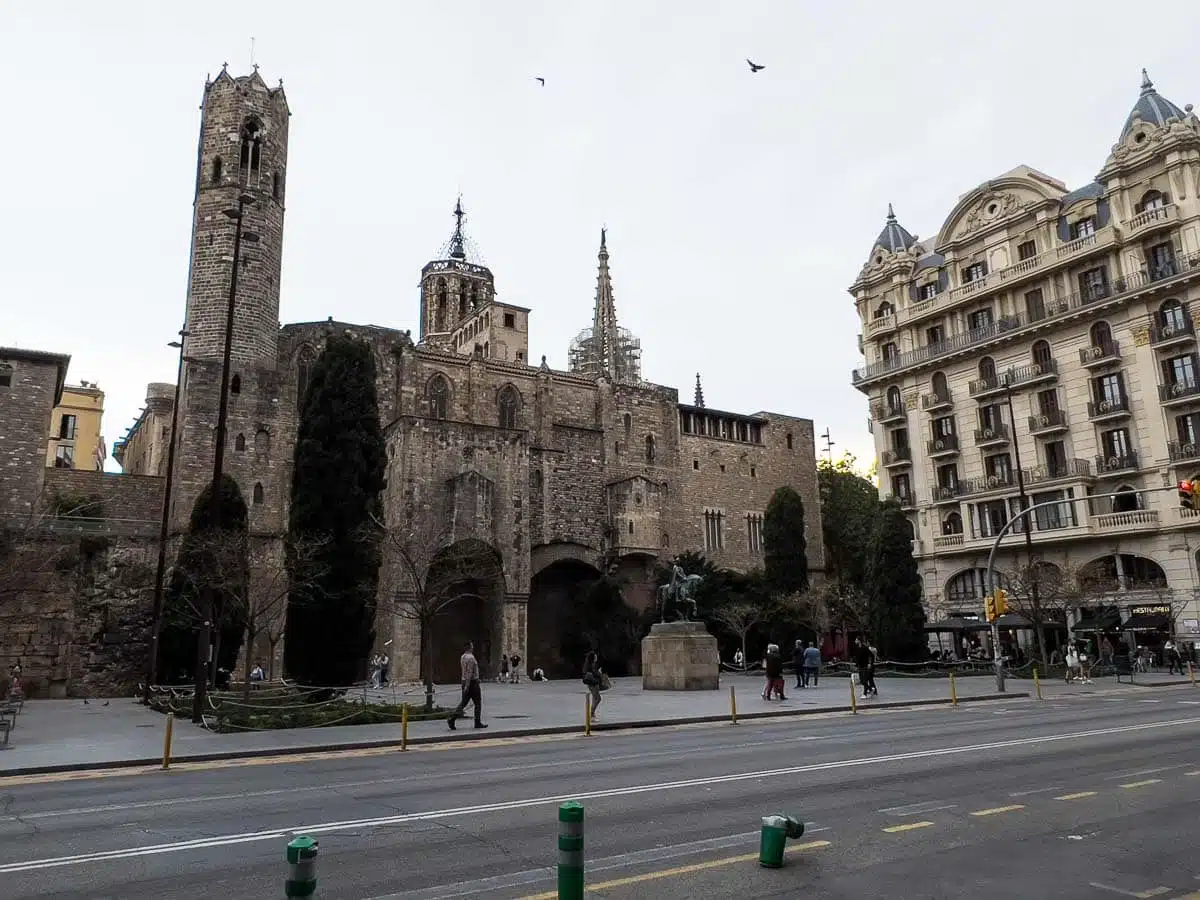 If it's your first trip to Barcelona, or you only have a limited amount of time in the city, you ideally want to stay in the Gothic Quarter. Smack bang in the heart of all the action, you're surrounded by some of the city's most iconic landmarks.
Here you'll find yourself living amongst the history of Barcelona, where centuries-old buildings blend with modern construction. With its winding streets, captivating food markets and endless stores, getting blissfully lost in El Barri Gòtic is the best thing you can do.
El Barri Gòtic Highlights
Las Ramblas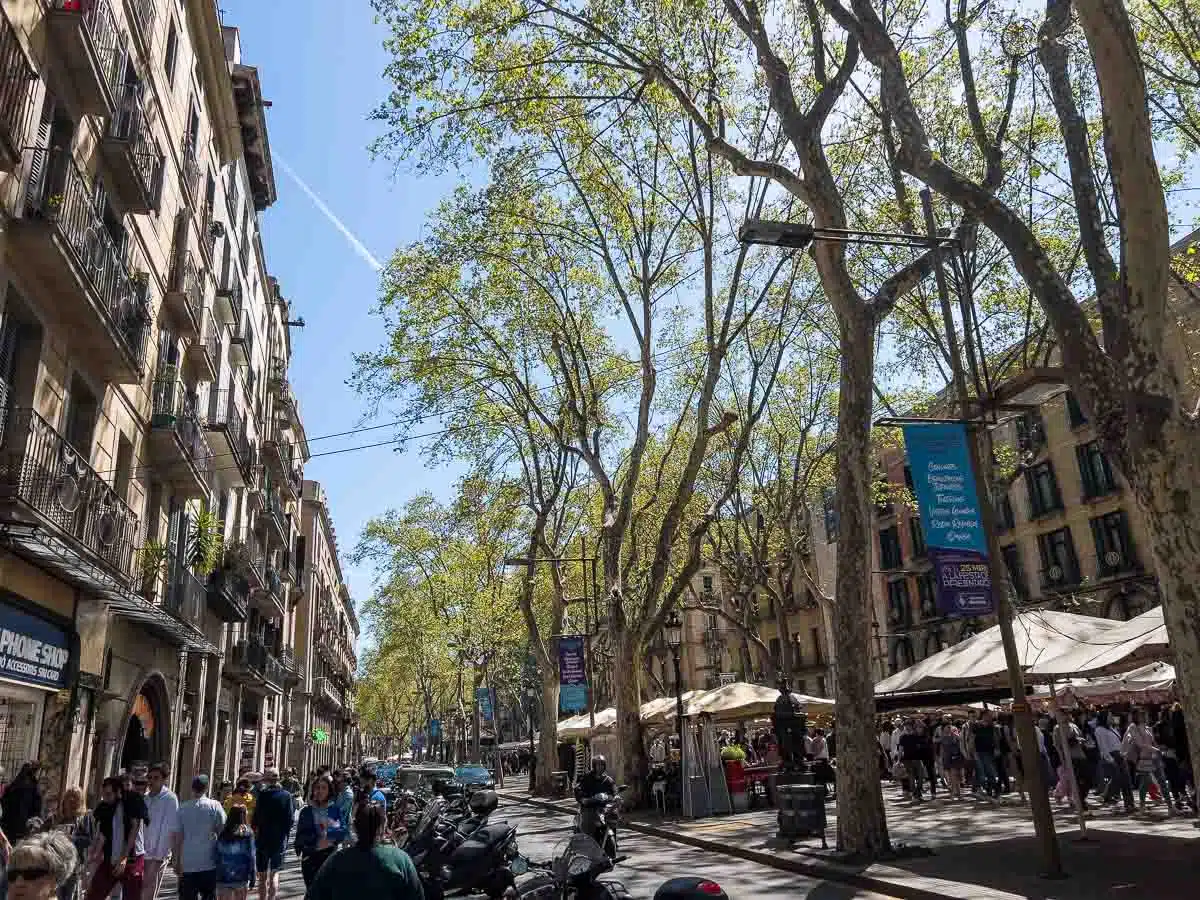 The most famous street in the entire country, Las Ramblas, is always pulsating with activity. This is evident in the many street performers, pop-up stalls, and, of course, tapas bars that line the road.
Mercado de la Boqueria
The most popular food market in Barcelona, you could spend an entire day at La Boqueria, indulging in tapas from local legends such as El Quim de la Boqueria and splurging on local produce.
Suggested Hotels in El Barri Gòtic
The Serras Hotel
The Serras Hotel is a pristine 5-star luxury property with a knockout rooftop infinity pool, Michelin-starred restaurant and vibrant, colourful rooms.
Hotel 1898
A dramatic ode to sumptuous luxury, Hotel 1898 is as picturesque as it is unique. It offers a unique and opulent affair, as some rooms have private jacuzzis and lush gardens.
Eixample: Perfect Place to Stay in Barcelona for Luxury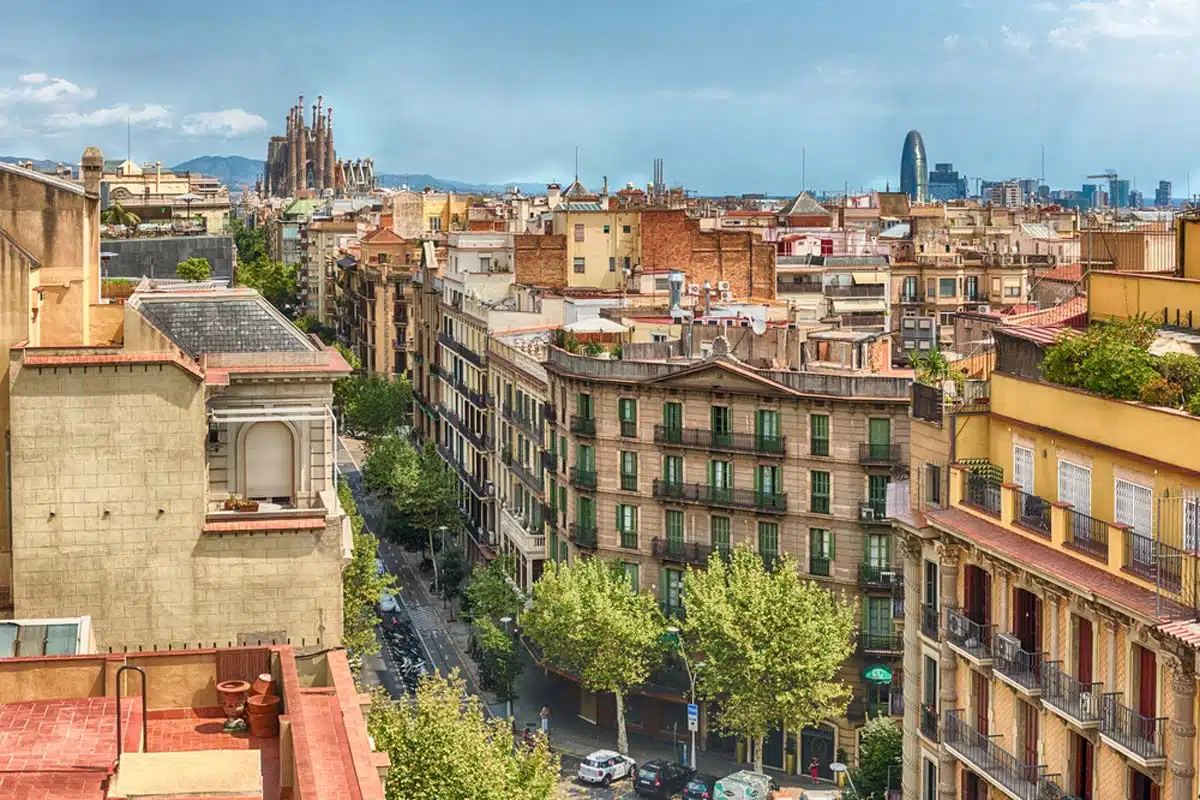 When it comes to living in the lap of luxury, staying in Barcelona offers a paradise of options sprinkled throughout Eixample. Aside from its ritzy accommodation options, this is as close to many of Gaudi's works as possible, making it all the more grand.
As one of the main shopping and business districts, Eixample is a showstopping 19th-century combination of expansive boulevards and striking architecture.
Eixample Highlights
Sagrada Familia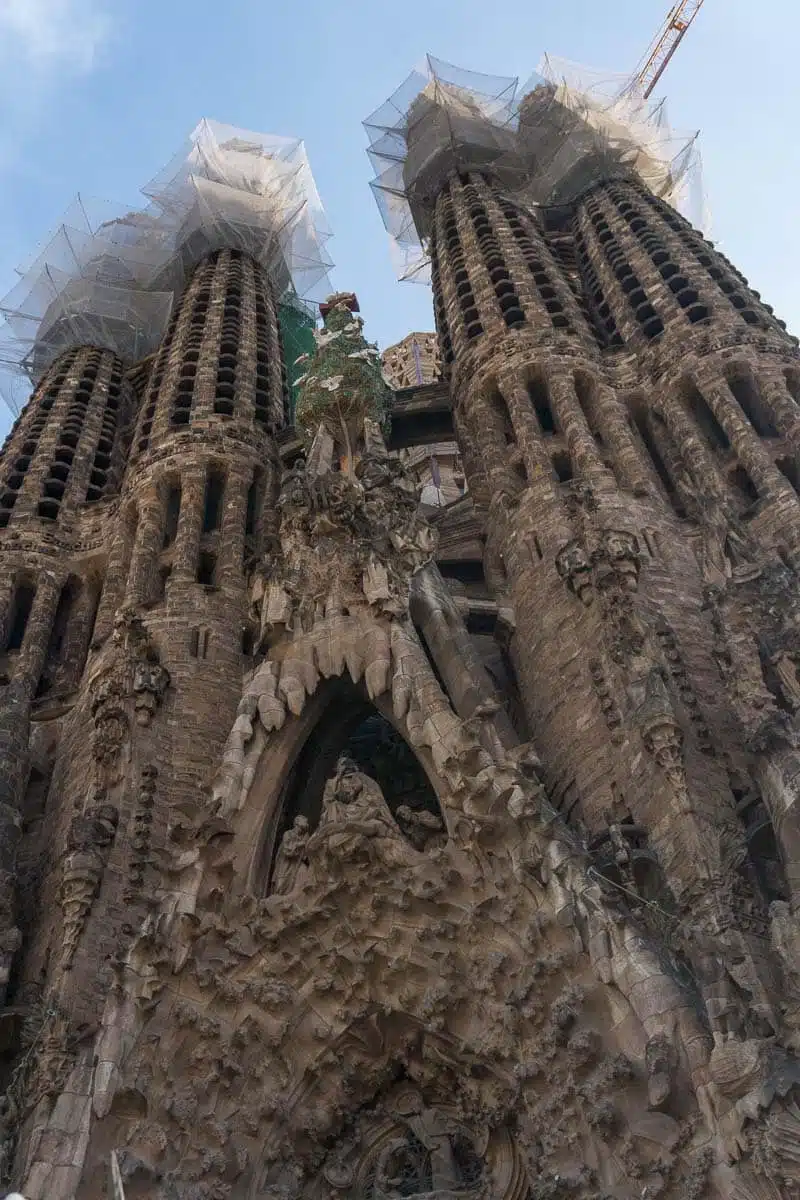 You can't visit Barcelona and not experience the Sagrada Familia in all its glory. A whirlwind of design elements from the mind of Gaudi, the entire structure tells the story of Jesus Christ.
Esquerra de l'Eixample
After spending your days admiring the artistic icons of Eixample, head over to its hottest night-out destination, Esquerra de l'Eixample. Aside from the two Michelin-starred restaurants, it hosts several of the best bars and clubs in the city.
Suggested Hotels in Eixample
Ohla Eixample
Contemporary, high-spec and stylish, Ohla Eixample is one of the best boutique properties in the city. Sitting close to some of Gaudi's works and Passeig de Gràcia, it's a standout.
Monument Hotel
Set within a neo-Gothic mansion dating back to 1896, the Monument Hotel offers a dreamy luxury experience. Inside, it exudes a warm, classy atmosphere with the furnishings to match.
El Raval: Best Area to Stay in Barcelona for Culture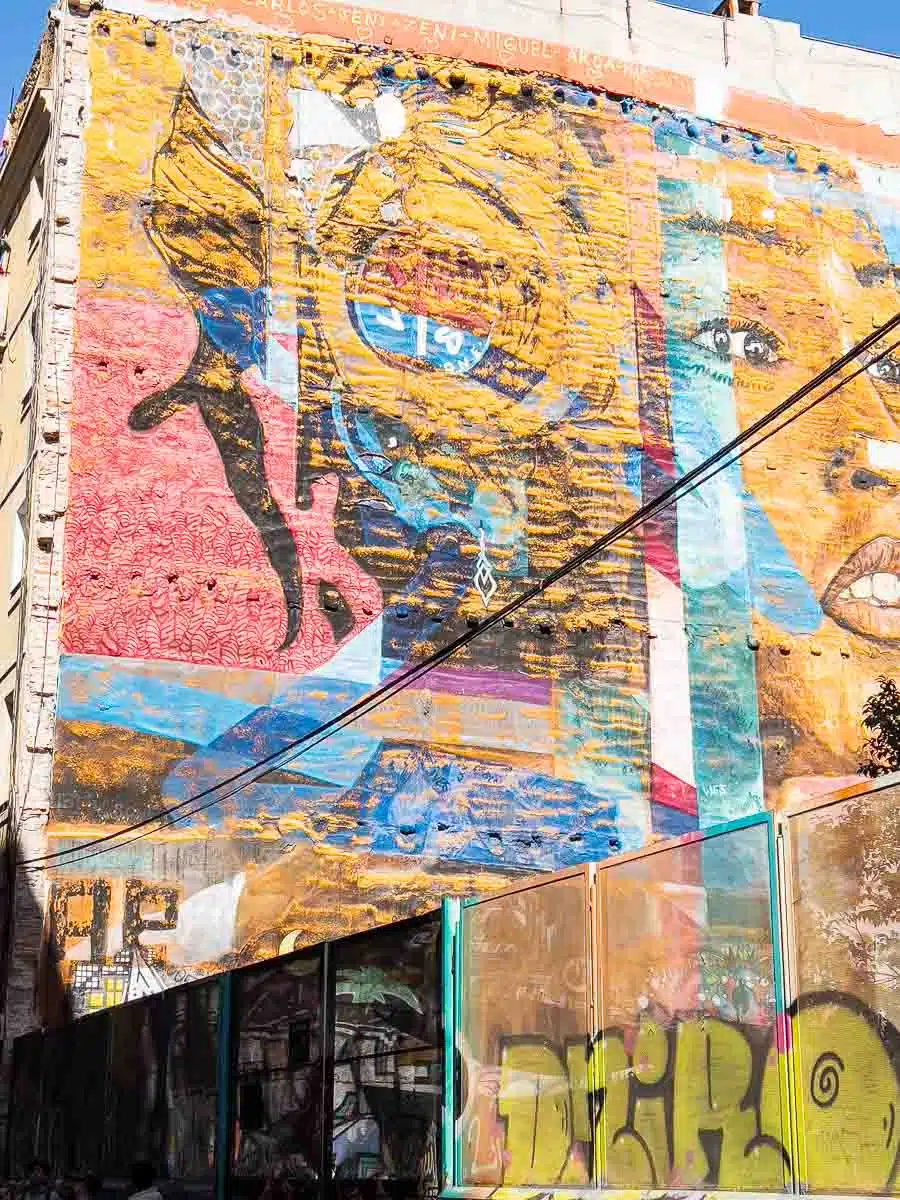 There's no place better to get an authentic look into the vast cultural landscape of the city than in El Raval. As one of the best Barcelona areas to stay, with its bohemian atmosphere and vibrant appearance, it's a sensational option.
A vivid neighbourhood with an edgy personality, it's a melting pot of eateries, bars, clubs and some of the city's most noteworthy museums.
El Raval Highlights
Barcelona Museum of Contemporary Art (MACBA)
MACBA is my favourite Barcelona museum. Definitely one of the city's top-rated attractions, and its entirely white-painted exterior holds some of the best contemporary artworks in Barcelona.
Maritime Museum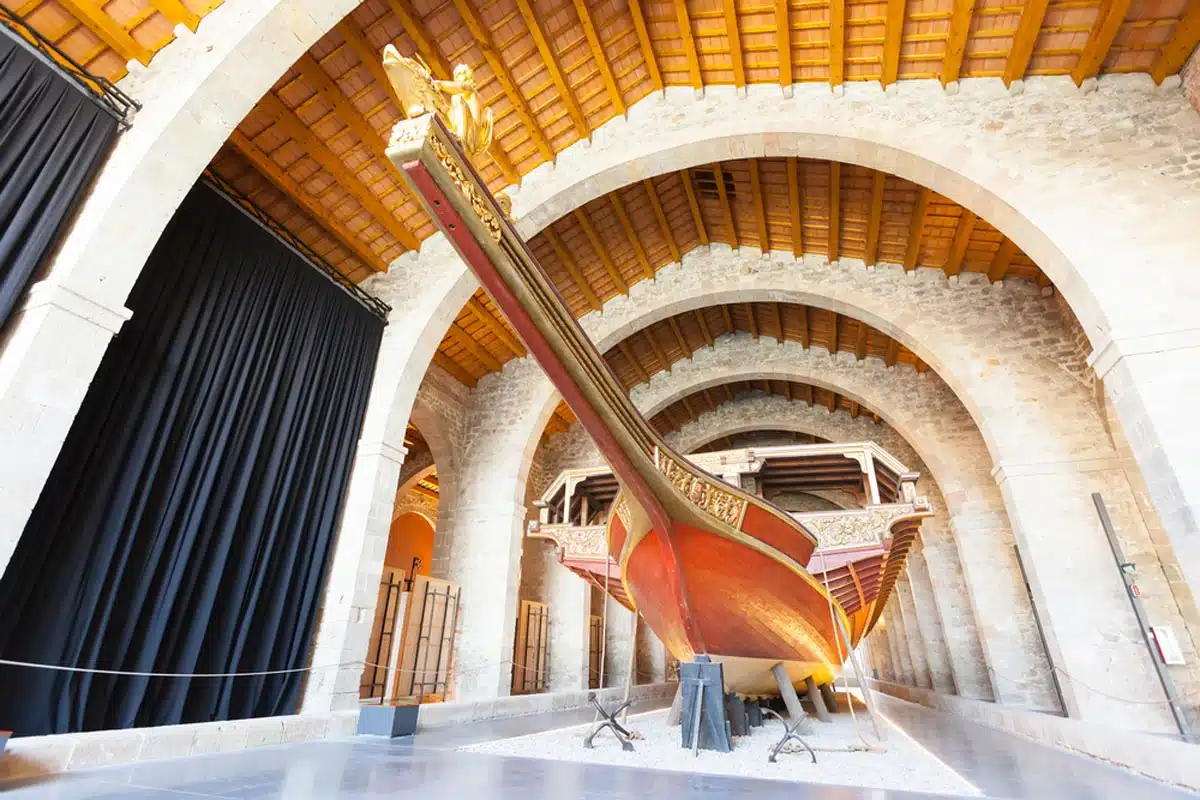 Sitting near the port, the Maritime Museum stands as a testimony to the seafaring history of Barcelona. Inside lies dozens of exhibits, a mediaeval harbour and a replica of a giant galleon.
Suggested Hotels in El Raval
Barceló Raval
In walking distance from MACBA, the captivating Barceló Raval dazzles with its refined design and standout features, such as a 360-degree top-floor terrace with a plunge pool.
Le Meridien Barcelona
An ultra-luxe 5-star property, Le Meridien Barcelona, brims with striking highlights. Its Neoclassical styling and design mean you should expect a chic, brightly-coloured stay.
El Born (La Ribera): Where to Stay in Barcelona, Spain, for Nightlife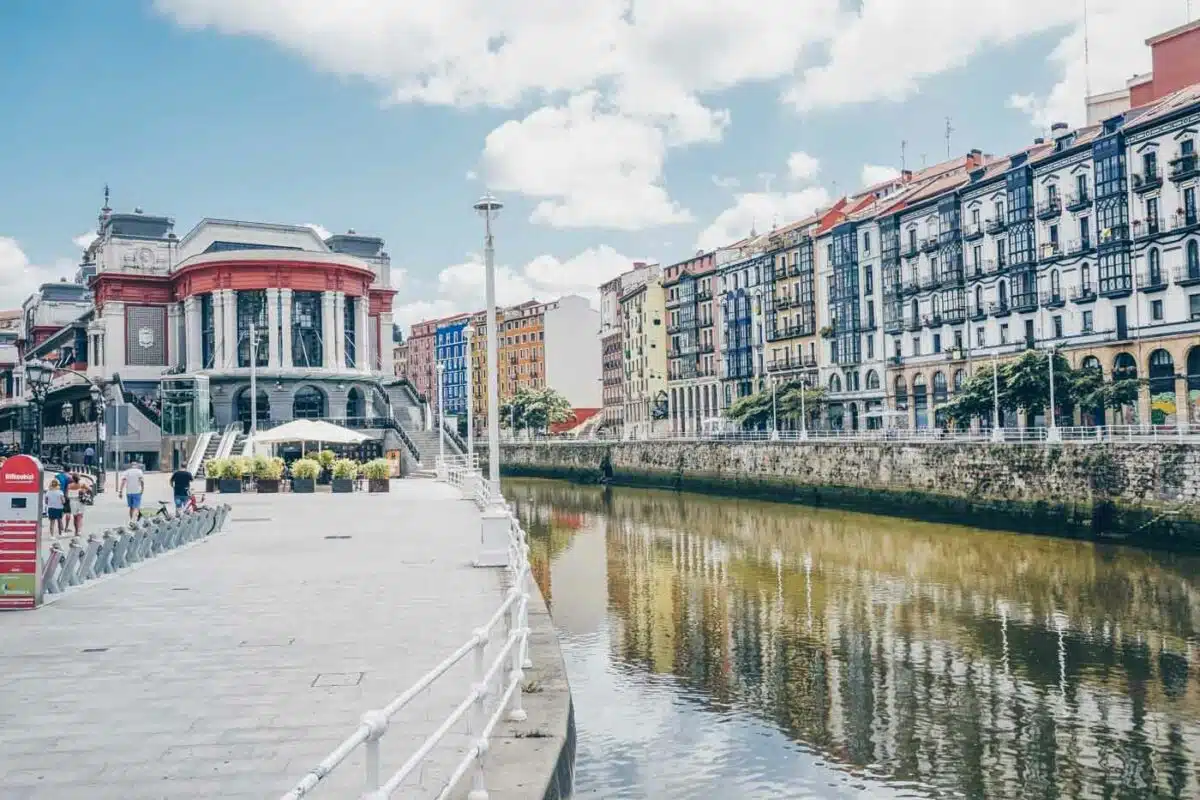 Home to much of the city's most enticing nightlife, El Born is undoubtedly one of the best locations in Barcelona to stay – and it's where I stayed on my recent jaunt to the city.
Yes, there's a constant party vibe that gives the district a bustling aura, but it also has a quieter side. Its mediaeval alleyways offer numerous designer boutique stores, and at night these lanes turn into a hotspot for cocktails, dancing and tapas.
El Born Highlights
Picasso Museum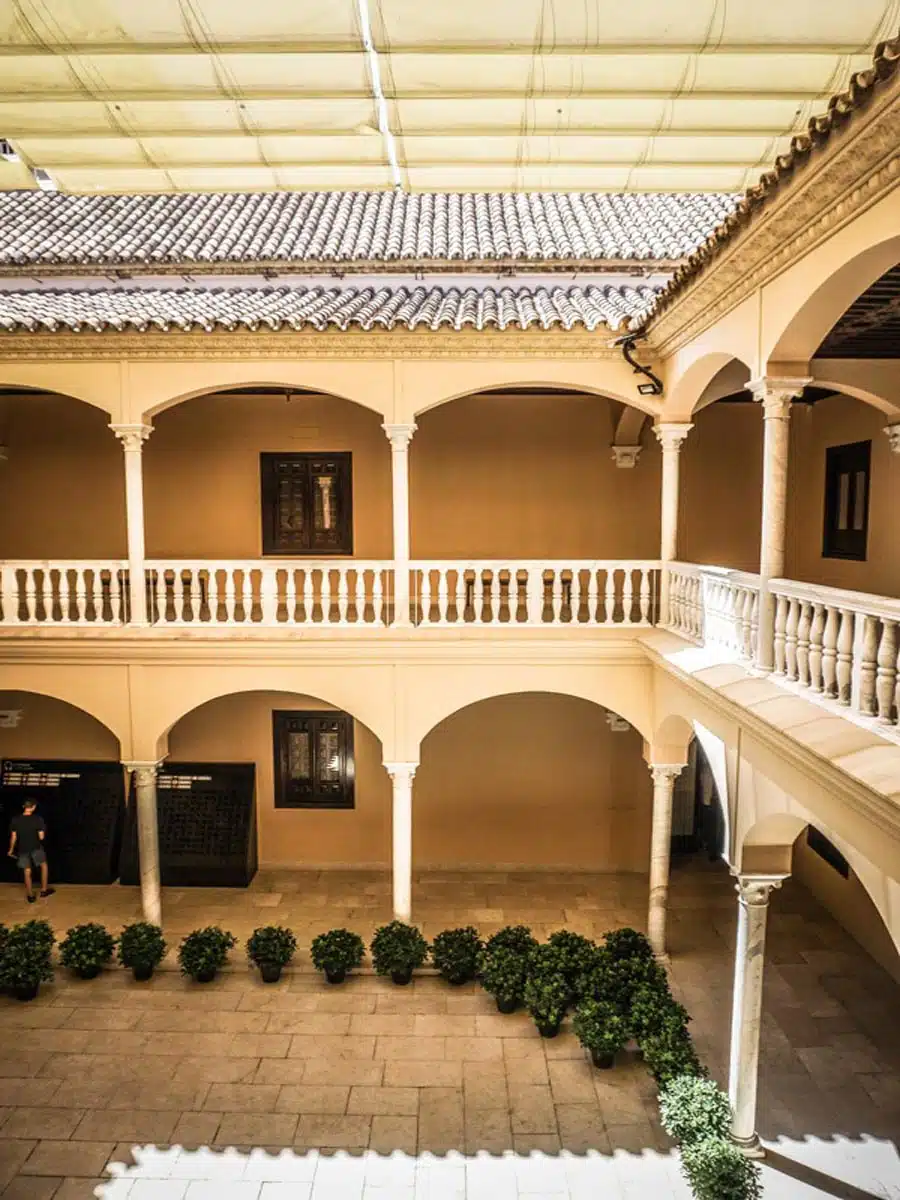 It's not all party here, though. The Picasso Museum in El Born is the ideal place to learn more about the artist as well as his relationship with the city during his exile from France.
Parc de la Ciutadella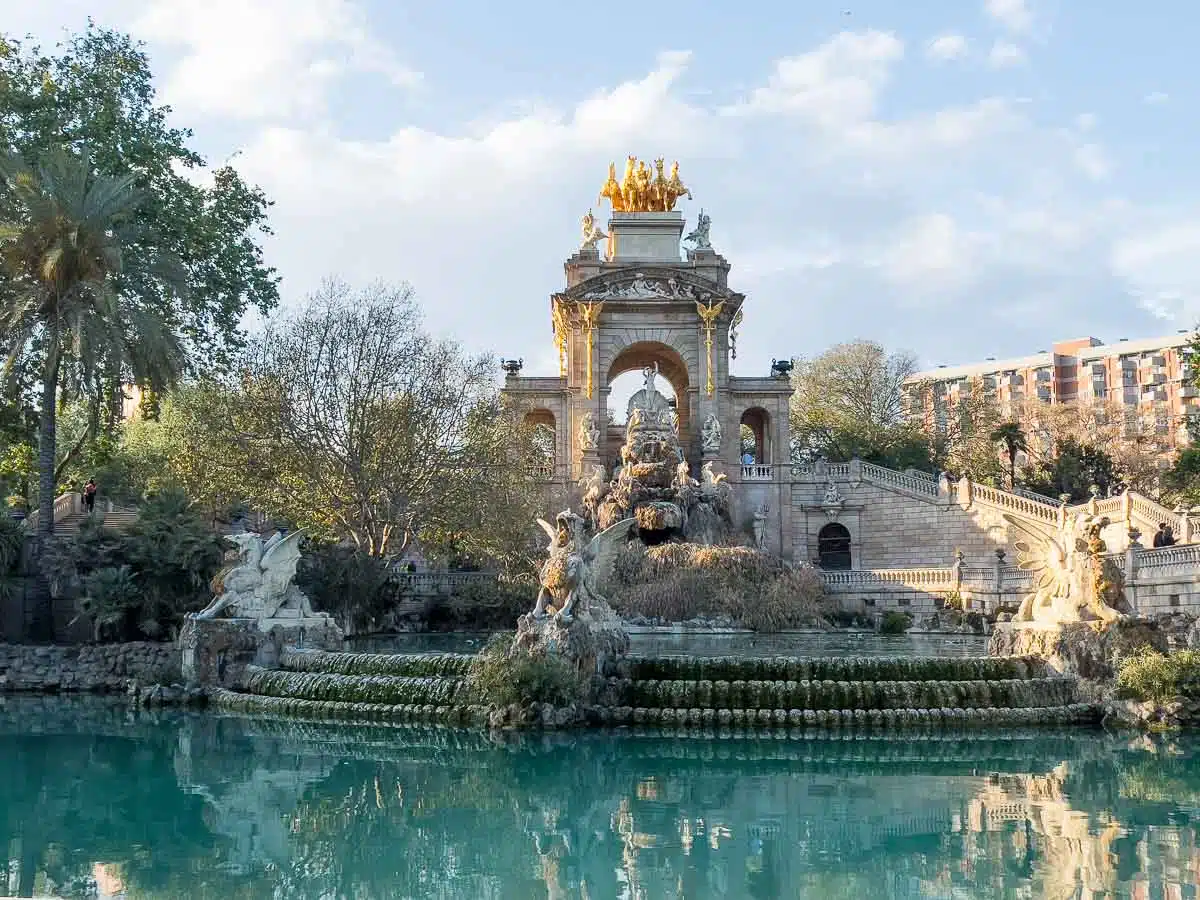 Sometimes you need to get in touch with nature, and that's where Parc de la Ciutadella shines. A sprawling park with a massive lake and numerous landmarks dotting its landscape, it's ideal to take in the Spanish sun.
Suggested Hotels in El Born
Grand Hotel Central
Fancy a little bit of luxury? Of course you do. Grand Hotel Central offers a take on ultra-chic that's as inviting as it is eye-catching. The boldest of its features is the rooftop infinity pool with dazzling views of the city.
K+K Hotel Picasso
A recent addition to Barcelona, the K+K Hotel Picasso showcases mesmerising avant-garde architecture. The best bit? As far as affordable luxury goes, the K+K reigns supreme.
Gràcia: Barcelona's Best Place to Stay for Romantics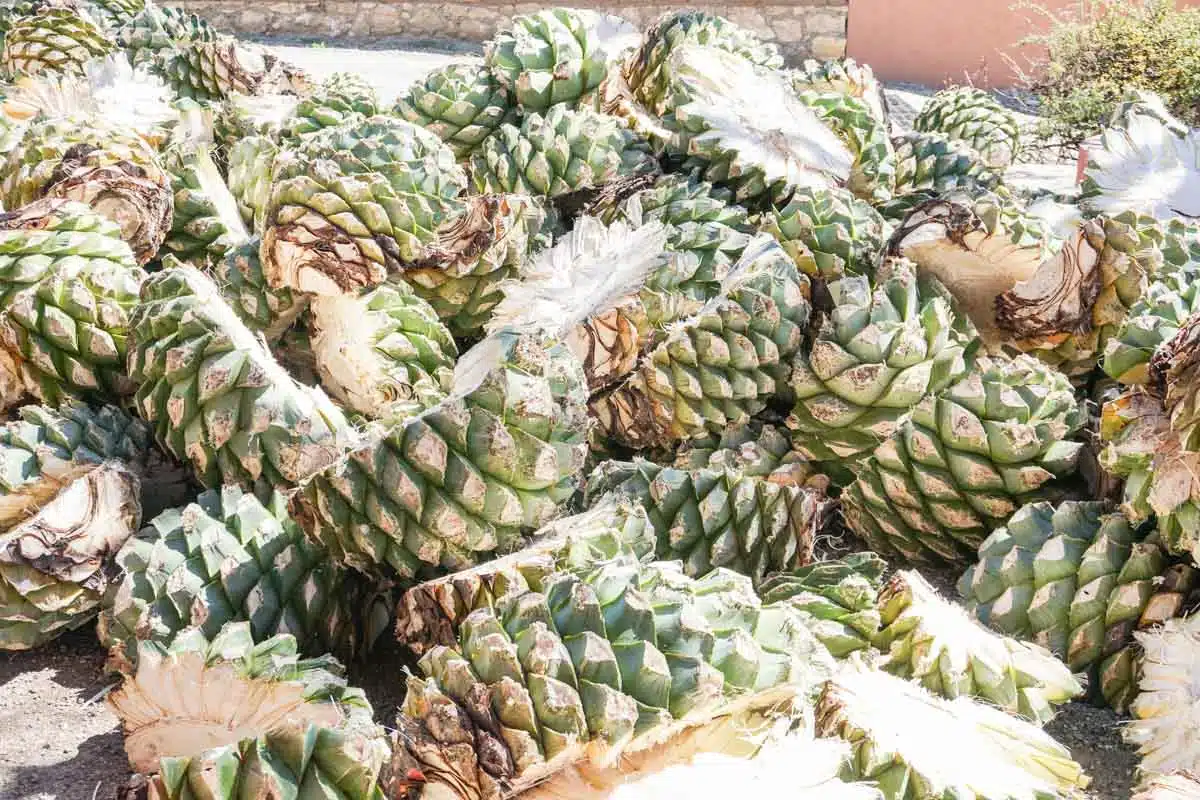 Although not the most central place to stay in Barcelona, Gràcia is an elegant and charming residential area with an air of romance. The entire neighbourhood feels like a small village inside the big city, giving it a unique experience compared to the rest of Barcelona.
I guarantee you'll love its individualistic appeal, and despite being non-touristy, there's a fantastic food and drink scene.
Gràcia Highlights
Parc Güell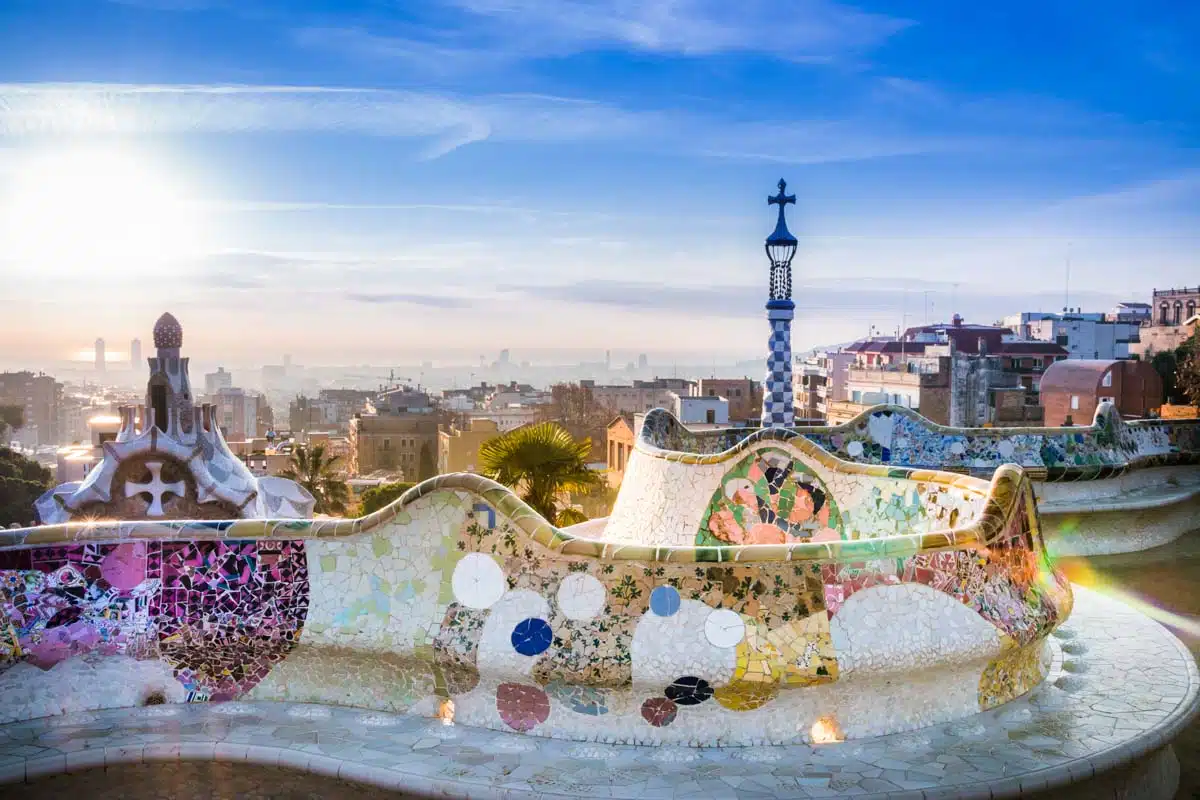 Gràcia sits just beneath one of Gaudi's most iconic works, making a trip to Parc Güell a no-brainer. Bordering the line between a park and a mind-blowing artistic experience, it's a visual feast.
Suggested Hotels in Gràcia
Hotel Casa Fuster
Located on the neighbourhood's outskirts, Hotel Casa Fuster is a stunning luxury property housed inside a Modernist-style building. It oozes sophistication, and you have unparalleled views of Barcelona from the rooftop pool.
Poble-sec: Best Place to Stay in Barcelona for Foodies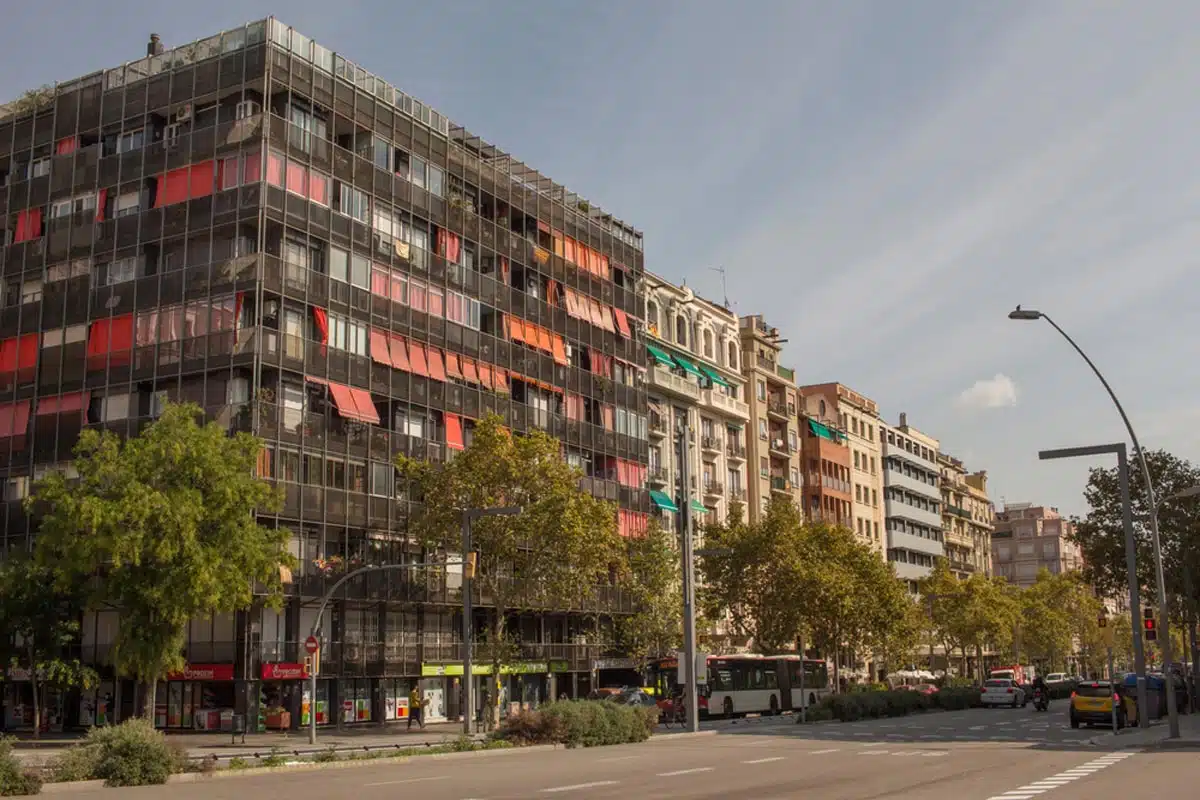 If you're stuck wondering where is the best area to stay in Barcelona, consider one of the city's oldest districts, Poble-sec. Contending with other areas like El Raval, Poble-sec has its fair share of music venues, clubs and cafes.
But, the true gems of this part of Barcelona are its eclectic collection of dining options. Treat your tastebuds to traditional Catalan cuisine or indulge in fare from around the world.
Poble-sec Highlights
Quimet & Quimet
One of, if not the, most famous tapas bars in Barcelona, Quimet & Quimet delivers some of the best cuisines in the district. Indulge in their tapas, conservas, or montaditos, all elevated and delicious.
Suggested Hotel in Poble-sec
INNSiDE by Meliá Barcelona Apolo
A stunning 4-star property that sits close to adjacent Sants-Montjuïc, the INNSiDE hotel offers minimalist luxury with striking design and decor.
Barceloneta: Best Place to Stay in Barcelona for Beach Lovers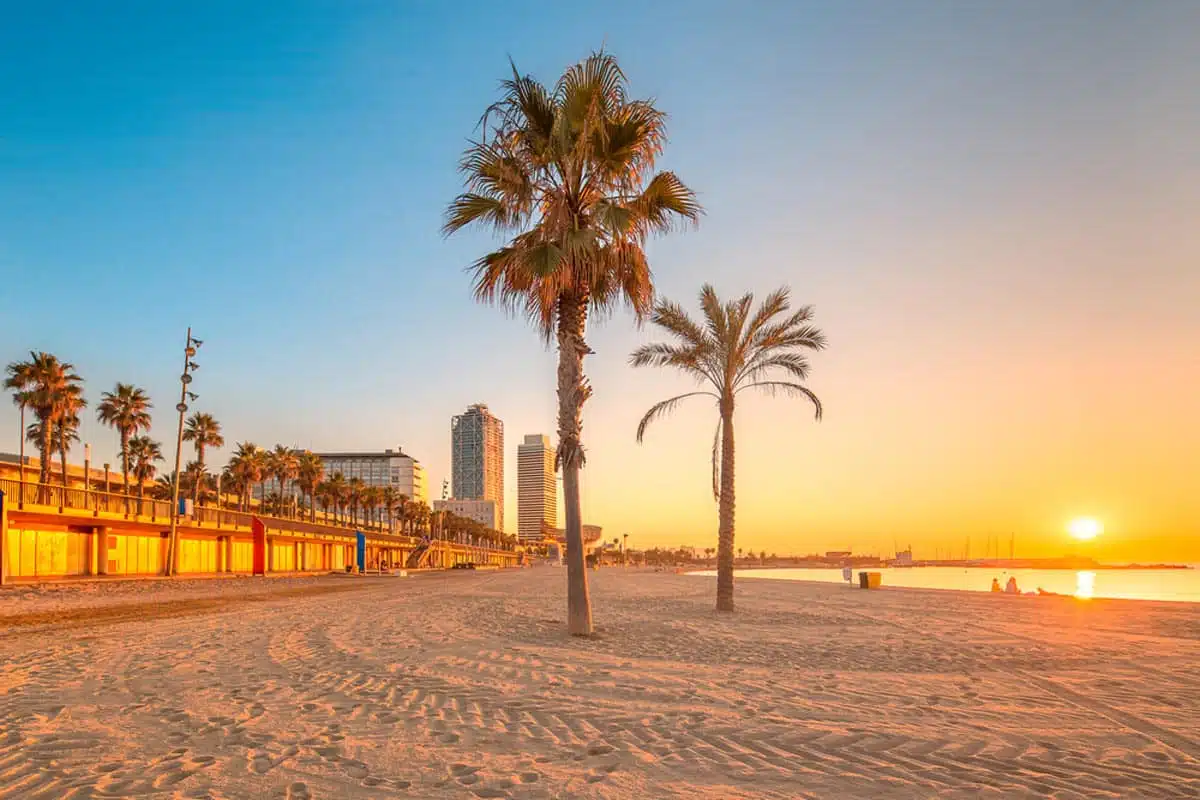 Whereas other Barcelona neighbourhoods aim for tourist inclusion, Barceloneta does the opposite. That's not bad, considering the rich Catalan spirit gives the entire area a unique and local vibe.
However, if you're after a beach-filled breakaway, there is no better place than this stunning and proudly Catalan district.
Barceloneta Highlights
Barceloneta Centre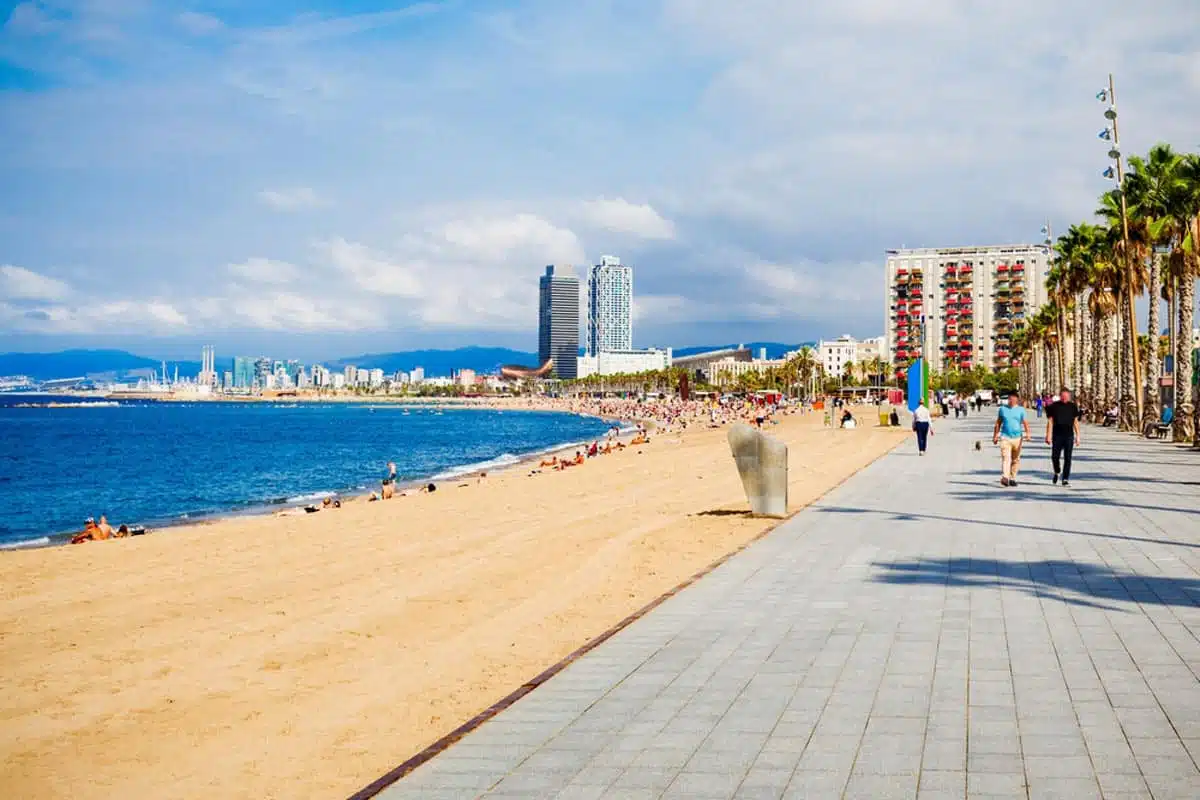 Beyond its fantastic coastline, the district is an attraction in its own right. It's the perfect place to stroll and indulge your thirst at charming blink-and-you-miss-them taverns.
Museum of Catalan History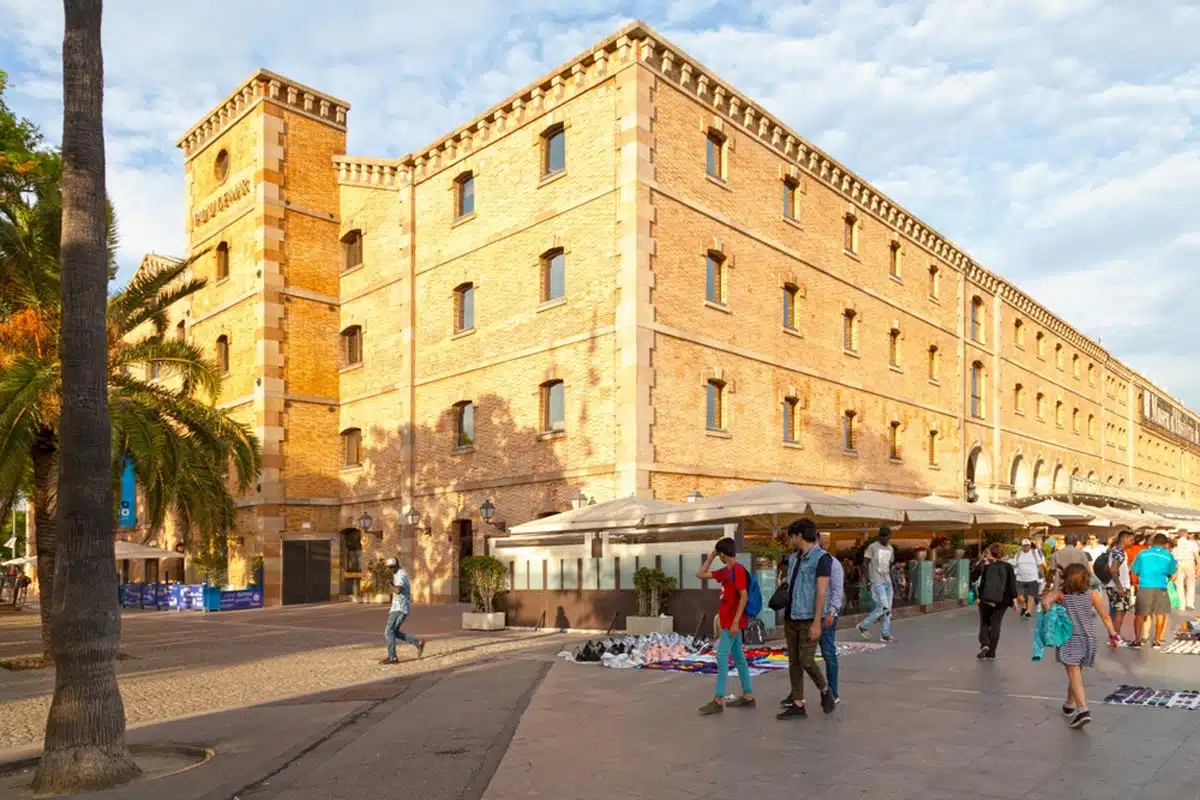 Yes, the coastal glory of Barceloneta is unmistakable. Still, if you're after a dive into the history of Catalonia, you can't skip out on a visit to the Museum of Catalan History, complete with views of the port from its observation deck.
Suggested Hotel in Barceloneta
W Barcelona
Beyond a shadow of a doubt, this is the most famous hotel in the city. W Barcelona, is a design tour de force and offers opulent luxury and service.
Hotel Arts Barcelona
A shining entry into the boutique landscape of Barcelona accommodation, Hotel Arts Barcelona sits on the beach with stellar features and amenities.
Poblenou: Best Area to Stay in Barcelona on a Budget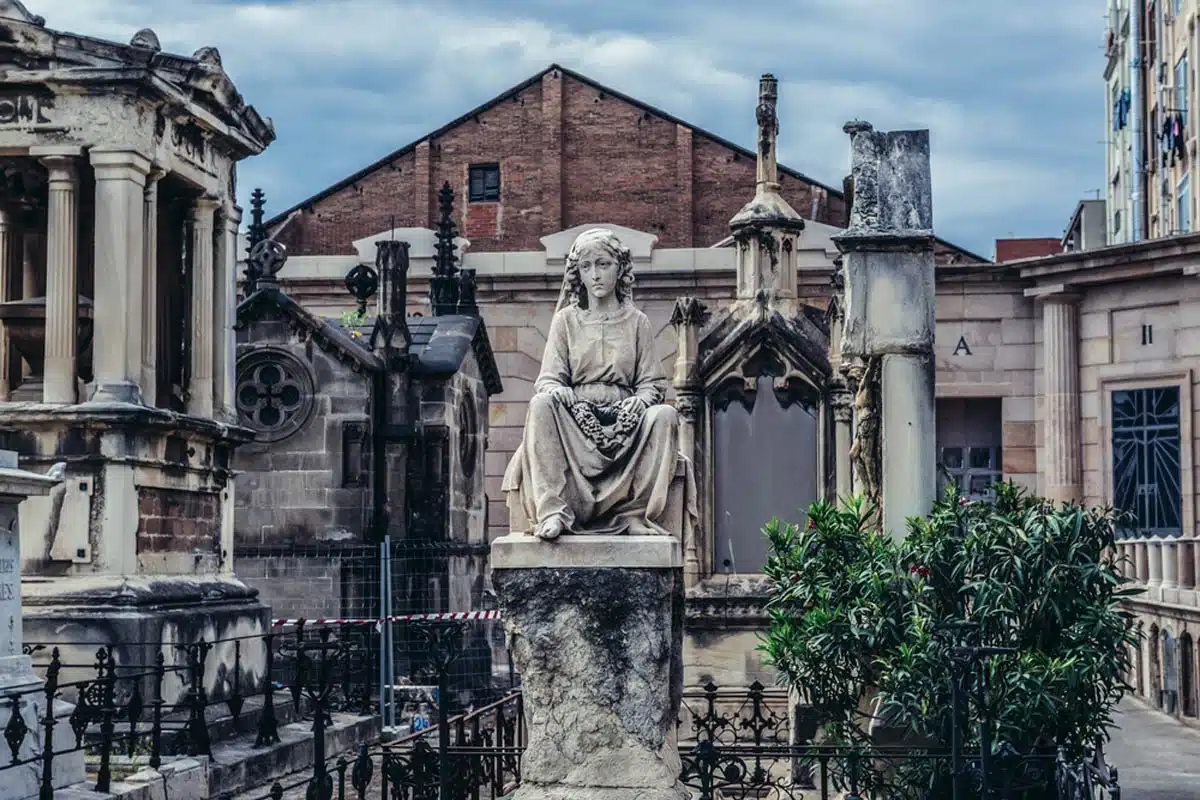 Locally dubbed the "New Village", the old industrial district of Poblenou where decrepit warehouses have turned into sleek office buildings, designer hotels and trendy nightclubs.
That's not to say it's lost any charm, with enough traditional restaurants and shops that hark back to its former facade, giving you a fantastic mix of both sides of Barcelona.
Poblenou Highlights
La Escocesa
Within one of the old warehouses of Poblenou lies La Escocesa, a creative factory where you can spend some time admiring urban art that will leave you in awe.
La Rambla del Poblenou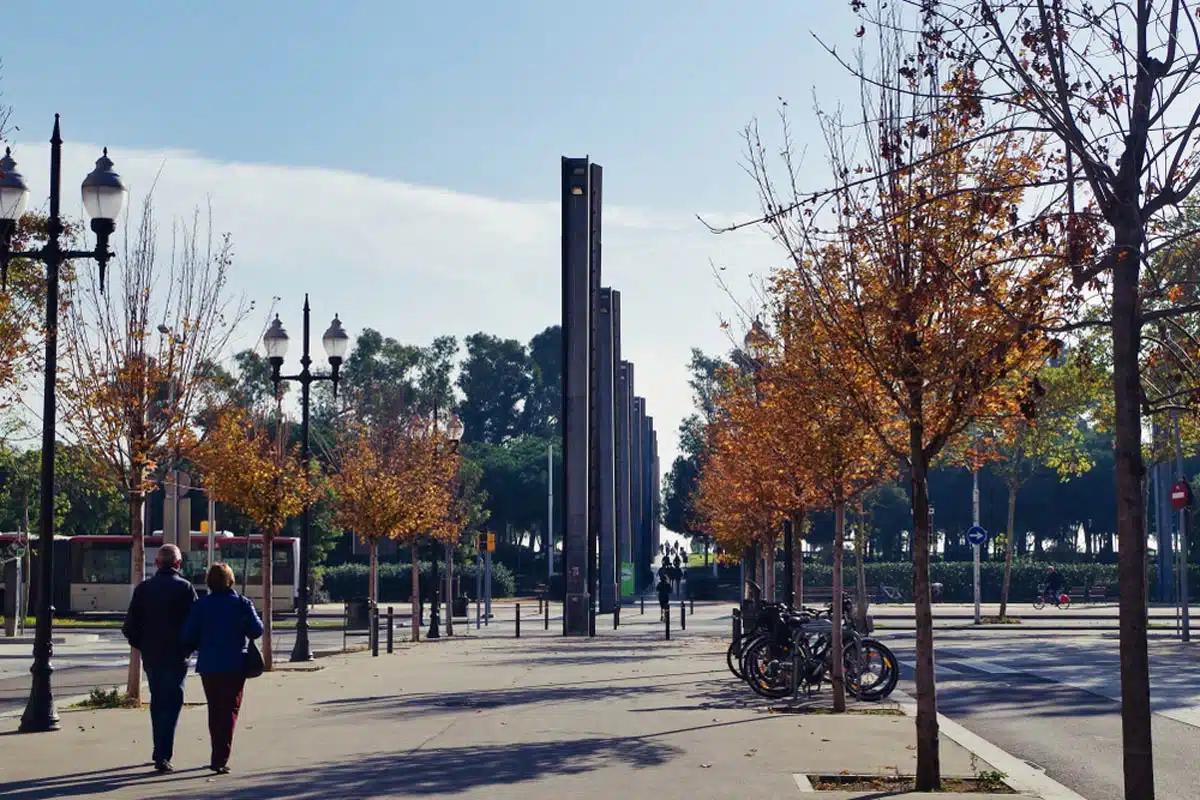 The cornerstone of social life in Poblenou, the street showcases a variety of tempting restaurants, bars, and cafes, ultimately leading you directly to the seaside.
Suggested Hotels in Poblenou
The Level at Meliá Barcelona Sky
On the higher end of Poblenou accommodation, The Level offers picturesque modern design and luxurious amenities. Numerous of Barcelona's best beaches, such as Mar Bella, lie only around 5 minutes walk away.
Sants-Montjuïc: Perfect Area to Stay in Barcelona for Art & Nature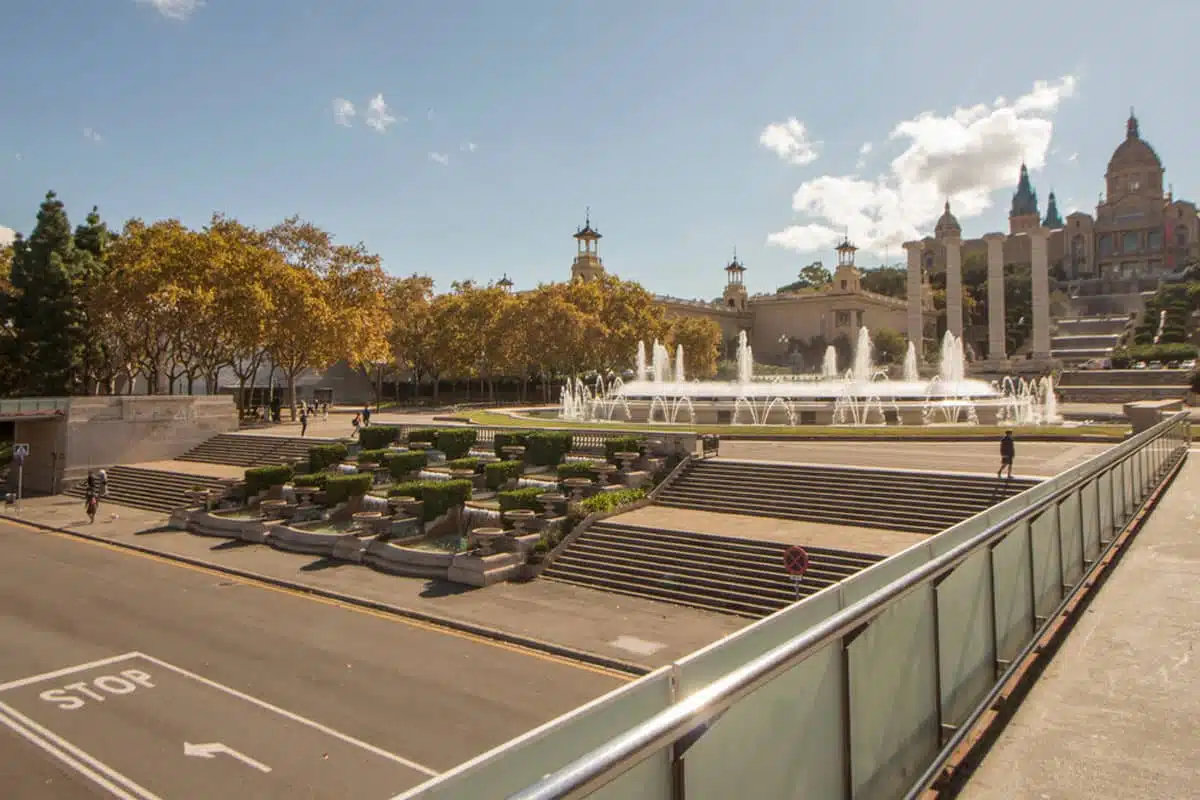 The verdant area of Sants-Montjuïc, also the site of the 1992 Olympic Games, brims with natural beauty. Of course, it also has its fair share of artistic offerings that make it a sensational place to base yourself in Barca.
Sants-Montjuïc Highlights
Museu Nacional d'Art de Catalunya (MNAC)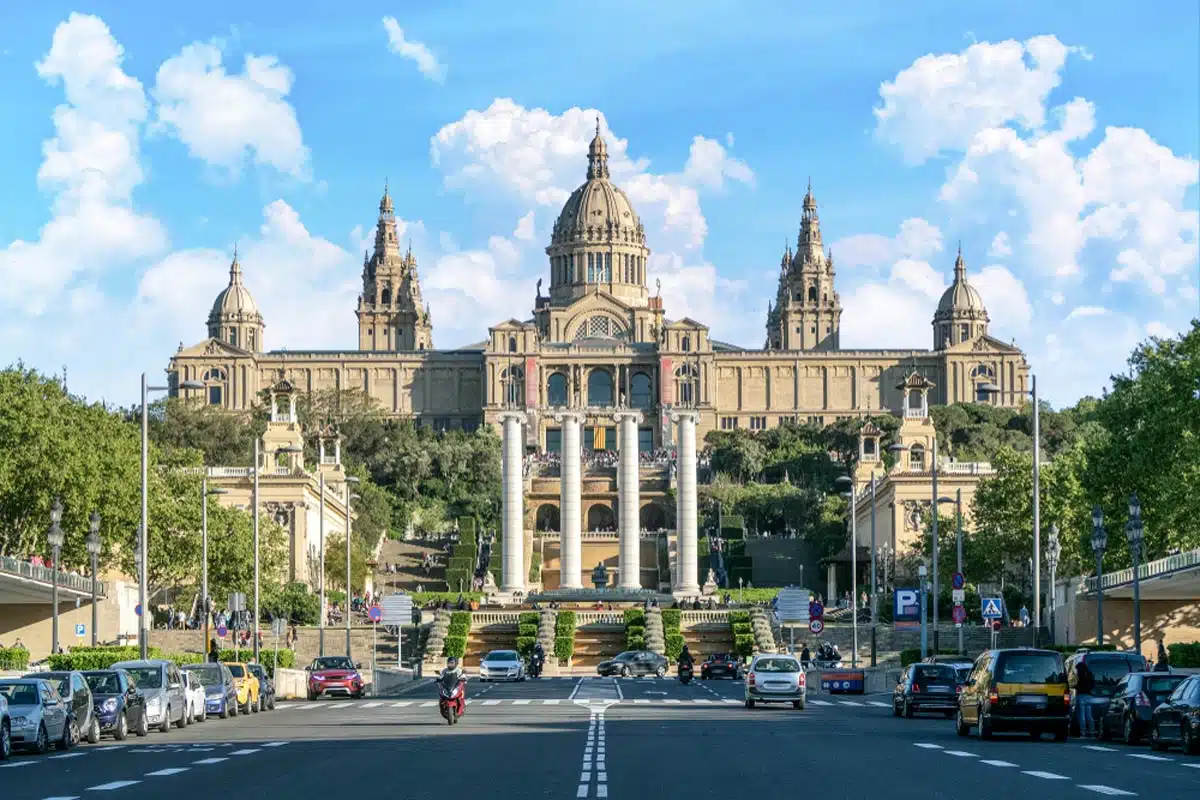 Housed within the impressive Palau Nacional, the National Art Museum of Catalonia boasts a wide and breathtaking collection of works from Gaudi to Velázquez.
Castell de Montjuïc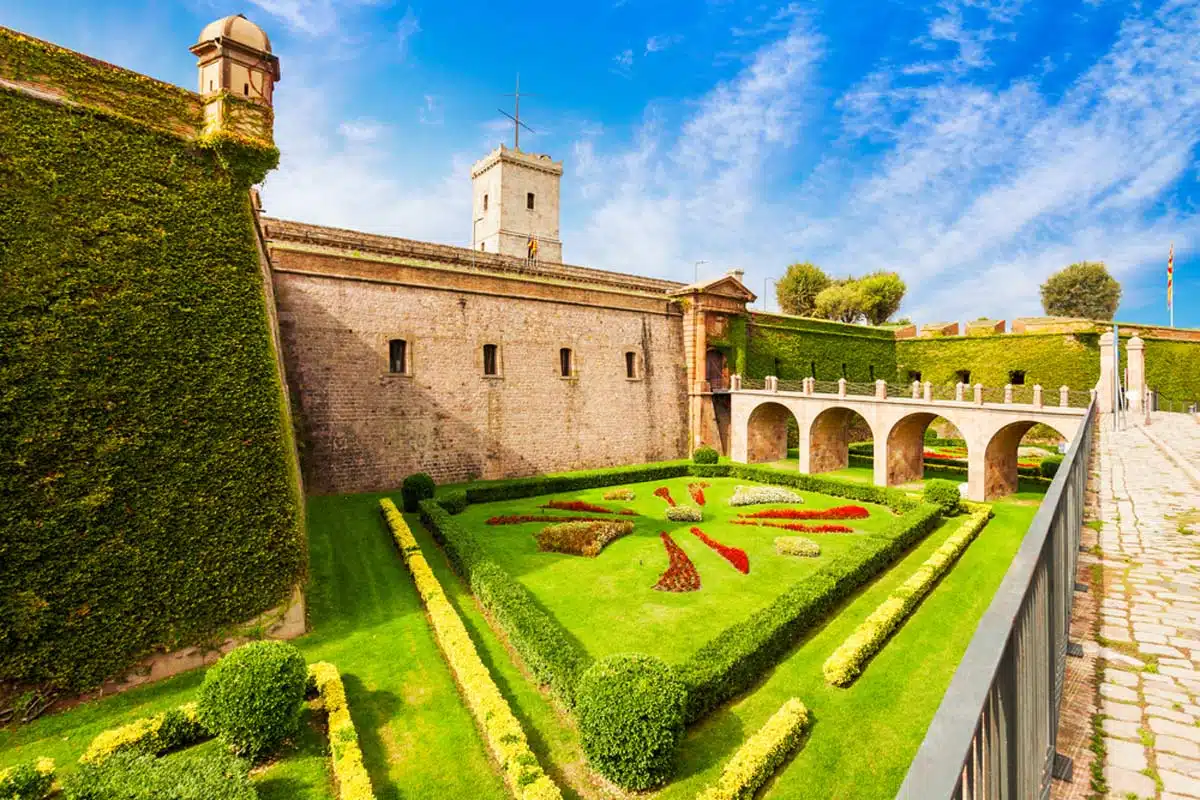 At the top of the hill in Montjuïc lies the famous castle of the same name. This old military fortress is reachable via a superbly fun cable car ride, where you can visit a grand observation deck featuring stunning views of Barcelona.
Magic Fountain of Montjuïc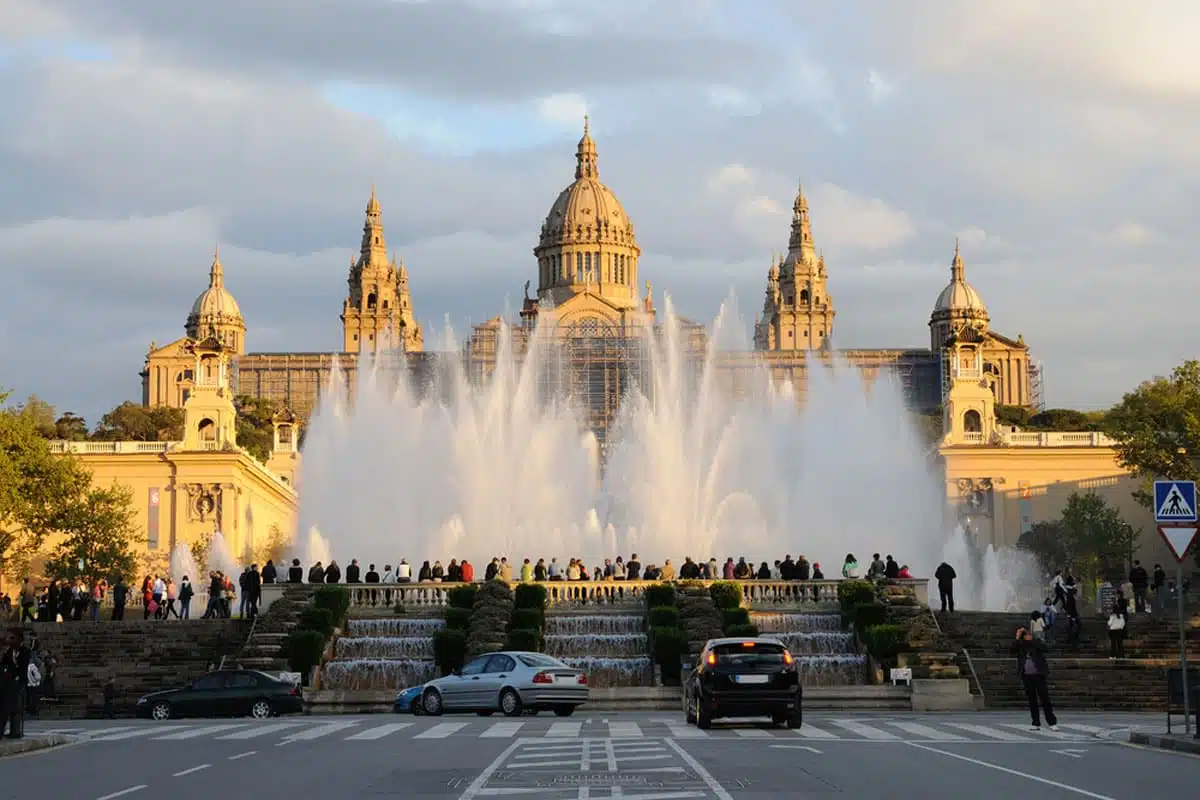 This magic fountain is an icon of the city. With dreamy city views, you can sit and watch as a colourful show plays as the sun sets in Barcelona.
Suggested Hotels in Sants-Montjuïc
InterContinental Barcelona
An ultra-modern 5-star property that blends contemporary with minimalism, the InterContinental Barcelona offers a plethora of upscale amenities and various restaurants.
Hotel Brummell
A marvellous boutique accommodation choice, the Hotel Brummell boasts a modern look and refined furnishings.
Sarrià-Sant Gervasi: The Most Authentic Place to Stay in Barcelona, Spain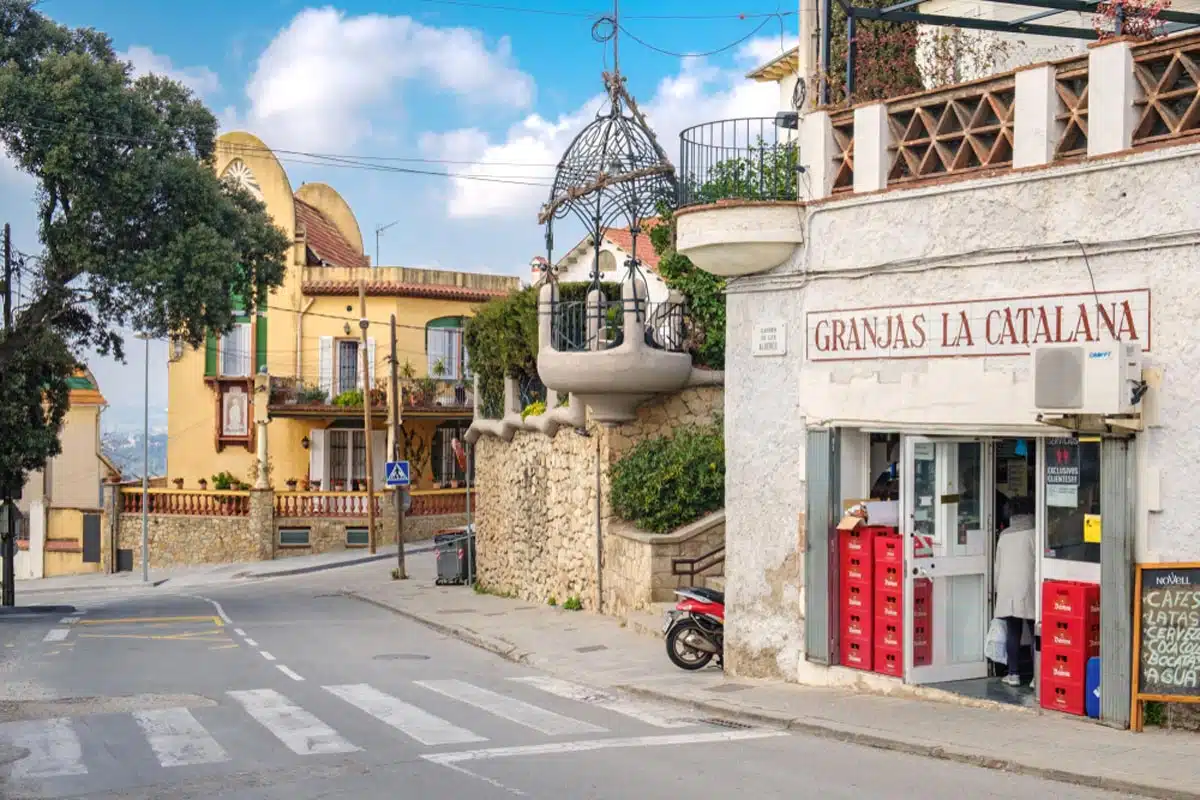 A former independent village, Sarrià-Sant Gervasi stands today as an integral part of Barcelona's urban landscape, albeit still bearing a village feel.
Historically it's one of the city's most affluent neighbourhoods; it has stayed untouched by most of Barcelona's tourism industry, making it the best place to experience local life.
Sarrià-Sant Gervasi Highlights
Bellesguard Tower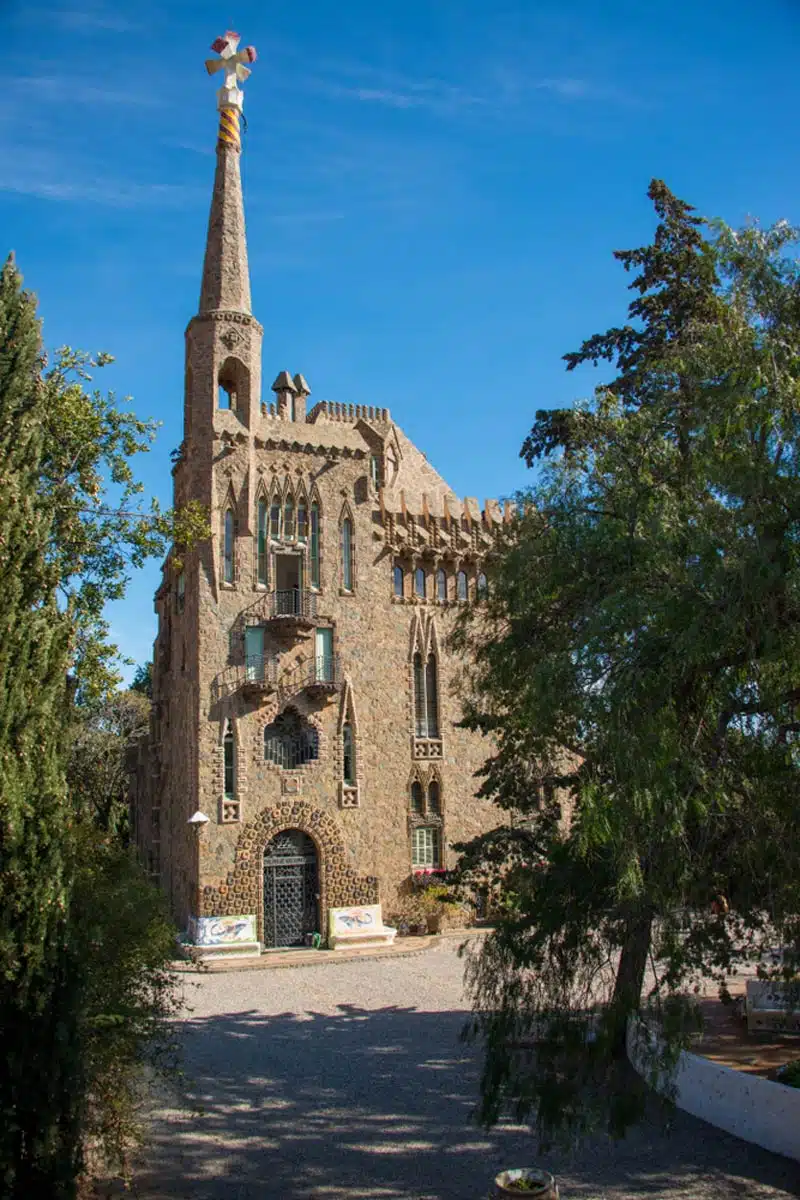 The Bellesguard Tower was once a private residence, but today it's open to the public. And if you want a complete view of Modernist architecture from the mind of Gaudi, it's an absolute treat.
Suggested Hotels in Sarrià-Sant Gervasi
Gran Hotel La Florida
Housed inside an imposing 1920s mansion, the Gran Hotel La Florida takes full advantage of its perch on the slopes of Tibidabo, offering luxury living on an on-trend design.
Silken Sant Gervasi
A tastefully designed mid-range property, the Silken Sant Gervasi seems understated, to say the least. Boasting simple yet modern rooms, it's contemporary and offers excellent quality amenities.
Where to Stay in Barcelona: Frequently Asked Questions
Practical Tips to Consider Before Booking Your Barcelona Accommodation
Decide on a budget and stick to it. While the fancier hotels in Barcelona can be expensive, there are plenty of budget friendly options for those looking to save some cash.
It goes without saying that you should book your hotel in advance. Rooms fill up extremely quickly, especially during the summer months.
Where to Stay in Barcelona: Read Next