Planning to travel to Spain and not sure where to go or what to do? Don't miss this in-depth, step-by-step Spain itinerary to help you plan the perfect break.
So I've just returned from 2 weeks in Spain. What a trip.
From the age-old grandeur of Seville to the lively capital Madrid – there's so much to see and do in Spain that it can be difficult to know where to start.
Let's tell the straight-up truth – I could come up with endless options for your Spain itinerary. I've travelled to Spain so many times, and each time it feels like I delve just that little bit deeper into the fascinating culture, food and history of the country.
All very well and good if you also have endless time to explore, but let's face it, most of us aren't in that position.
However, even if you are tight on time, you can explore this relatively compact country with ease with this step-by-step Spain itinerary. IMHO the best itinerary for Spain that you can get your hands on.
Handy Tips for Planning Your 10 Days in Spain Itinerary
Group Tours or Independent Travel?
At the end of the day, the choice to go solo or opt for group travel is up to you. I don't think it's necessary to book an entire group tour for your trip to Spain, though for people who don't want to worry about logistics, this can be great.
As I'm about to explain, travelling around Spain without a guide is ridiculously easy, so a package tour is unnecessary in my opinion.
That said, I do enjoy booking onto guided day tours to learn more about the region/museum I am visiting. I've linked a few of my favourite Spain tours below.
What to Pack for Your Spain Travel Itinerary
Comfortable walking sandals or shoes
A broad brimmed hat- the summer months are incredibly hot. Protect yourself from the sun.
A refillable water bottle
Packing cubes – Really handy when you are moving around a lot as you don't have to pack and unpack your whole suitcase the whole time.
Sunscreen
Sunglasses
Read more travel gear guides and advice.
Useful Resources
When it comes to booking a trip, these are the resources I always use…
Booking.com is the perfect tool for finding excellent rates on hotel stays. Alternatively, I like to use PlumGuide as it's similar to Airbnb but the homes are of a higher calibre.
Skyscanner is the only tool you need for checking flights. Compare and save on thousands of flights around the world.
Get Your Guide is perfect for finding local tours with reputable guides, plus you can often snag cheap entry tickets here.
Need to Know: Practical Information for Spain
Renting a Car
Renting a car in Spain is pretty easy and most of the large international car rental companies have branches across Spain.
On-street parking can be pretty tight in Spain, and we saw a lot of cars with small bumps and dents. It's not to say that if you park in Spain your car is particularly likely to get damaged but it's worth bearing in mind when you are deciding about which level of insurance to get when you are hiring the car.
Rental prices are low, insurance prices are high. Shop around to see if you can find the best deal. This Spain driving itinerary covers a lot of miles / kilometres – make sure that your car includes unlimited mileage.
Fuel in Spain isn't cheap – with prices hovering around the €2 per litre for unleaded fuel when we did this trip in June 2018. Make sure that you budget for this as fuel costs do build up.
Interrail Pass
Spain has a well-organised and far-reaching train network, which makes it a good destination for travelling around by train. My very first longer-term trip was Interrailing around Spain and Portugal and I've come back to travel around parts of Spain by train in years since.
Buy an Interrail Pass – they do save a lot of money, even if you're not buying the under 26 version, which is cheaper (damn you young people). However, you should bear in mind that some of the high-speed and long distance trains require seat reservations for which there is an extra charge.
You can check pass prices and book on Rail Europe. The cost of the pass depends on how many days you are travelling on trains and over what time period. For an adult doing this 10 day Spain itinerary, the cost would currently be $368 / €315 / £280 for a pass travelling 8 days within 1 month.
Children under the age of 11 travel for free
Check prices and book Interrail passes on Rail Europe.
Flights to Spain
We chose to fly in and out of Madrid because it meant we could spend time in the capital and didn't have to pay a one-way charge on the car for car rental.
You could easily choose to fly in and out of Malaga and not include Madrid on this trip or fly into Madrid and out of Malaga or Granada. Have a look at what makes most sense for you.
The Perfect Spain Itinerary for 10 Days: At a Glance
Days 1 -2 – Madrid
Days 3 – 4 – Cordoba
Seville 5 – 6 – Seville
Day 7 – Ronda
Day 8 – Malaga
Days 9 – 10 Granada
Spain Itinerary Days 1-2: Madrid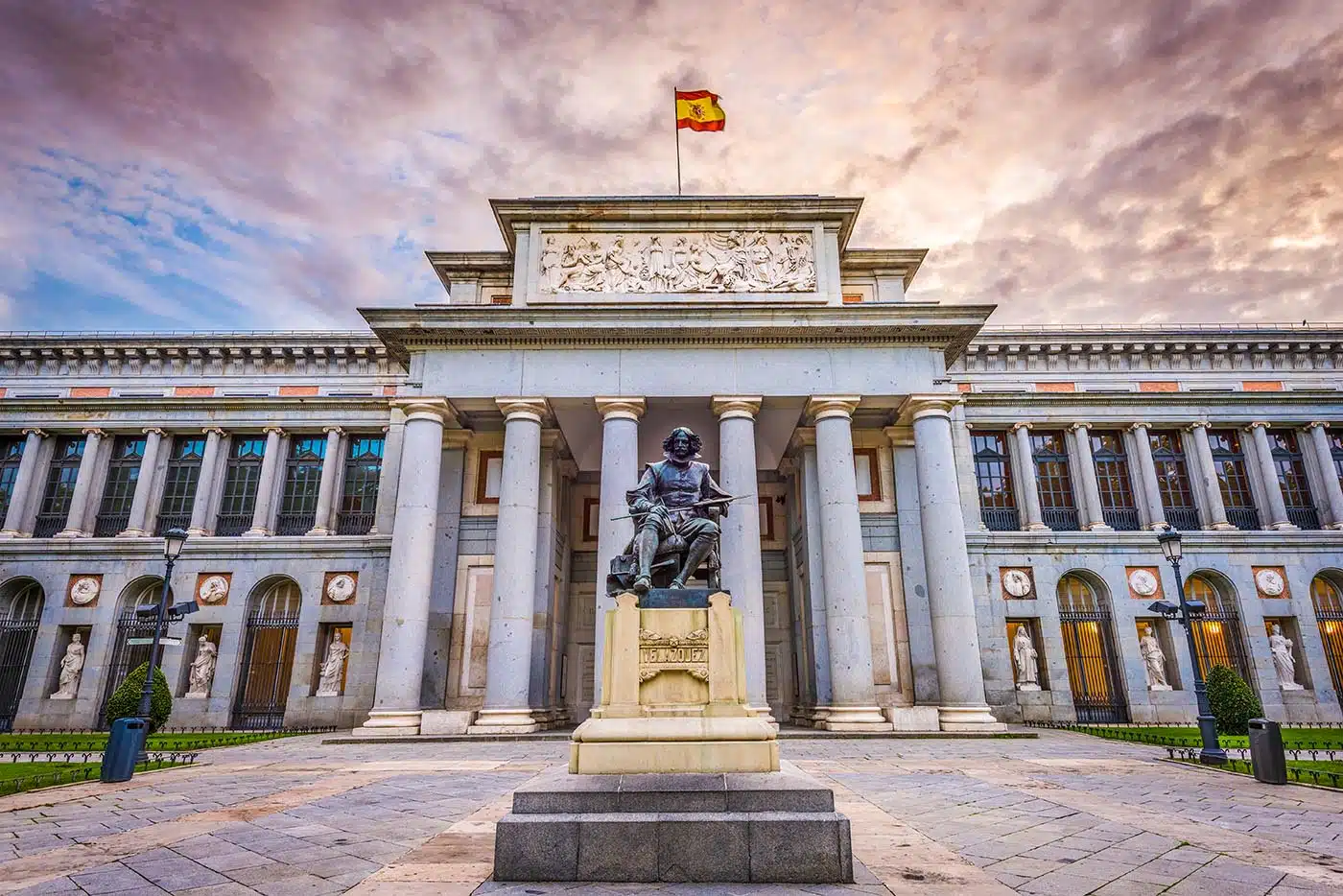 Madrid is Spain's chilled out capital. Stately, elegant and with a charming vibe, it's the perfect place to start your Spain travel itinerary.
With some of the best museums in Europe, awesome tapas bars, a royal palace and a cool cathedral, if I can give you and your travelling buddies one piece of advice when it comes to tackling Madrid, it would be to wear some comfortable walking shoes.
The city centre is relatively compact and totally walkable, not to mention the fact that you will see a lot more that way.
As with any large city, it can be difficult to see it all in a few days. Perhaps time for a hint to check out my One Day in Madrid itinerary if you want to totally ace it? I think so.
Practical Information for Madrid
Getting to Madrid
You have a number of options when it comes to getting to Madrid – either fly into Madrid Barajas International Airport or take a train to the city's Atocha or Chamartin stations.
Check flights to Madrid on Skyscanner.
Getting Around Madrid
As I said above, Madrid is easy to navigate on foot – with a lot of the main attractions within a relatively short distance of each other.
It does have a very efficient metro and bus system too: it's worth buying a rechargeable transport card if you are planning to use this.
Suggested Stay in Madrid: Hospes Puerta de Alcala.
Located in the plush surrounds of the Parque Retiro area, the Hospes Puerta de Alcala is a chic option for your first night in Spain. You're also in easy striking distance of most of the big sights.
Check prices and reviews for Hospes Puerta de Alcala.
Things to do in Madrid
I've written a whole guide on the best things to do in Madrid but here are a few highlights that you absolutely shouldn't miss.
Palacio Real (Royal Palace)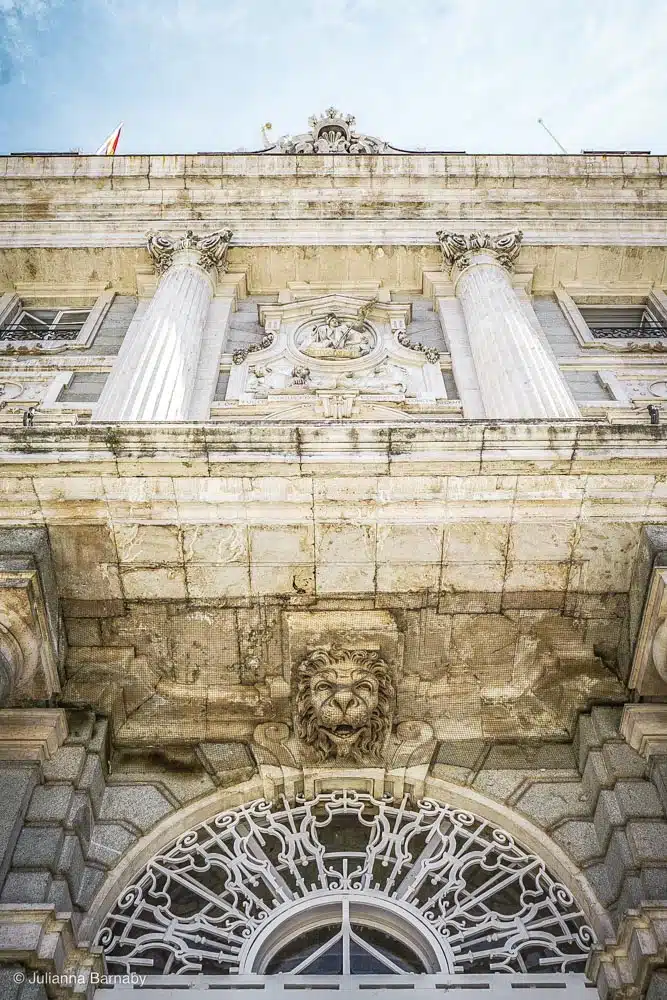 Ready for 10 days in Spain starting in Madrid? The Palacio Real is a decadent affair – gorgeous architecture and wide open spaces in the heart of the city.
I'll admit, I thought the Palace's interior was a bit all-gilt gaudy and it can get incredibly busy, but is well worth a whizz around. Be warned, there's a no photography rule in the most interesting rooms (it figures), that is strictly enforced.
To buy tickets for the Palacio Real, you can either queue to buy tickets on the day (not recommended – the queue hot and long) €10 per adult, buy online in advance on the Palacio's website for €10 or buy a skip the line ticket and guided tour €35.
Puerta del Sol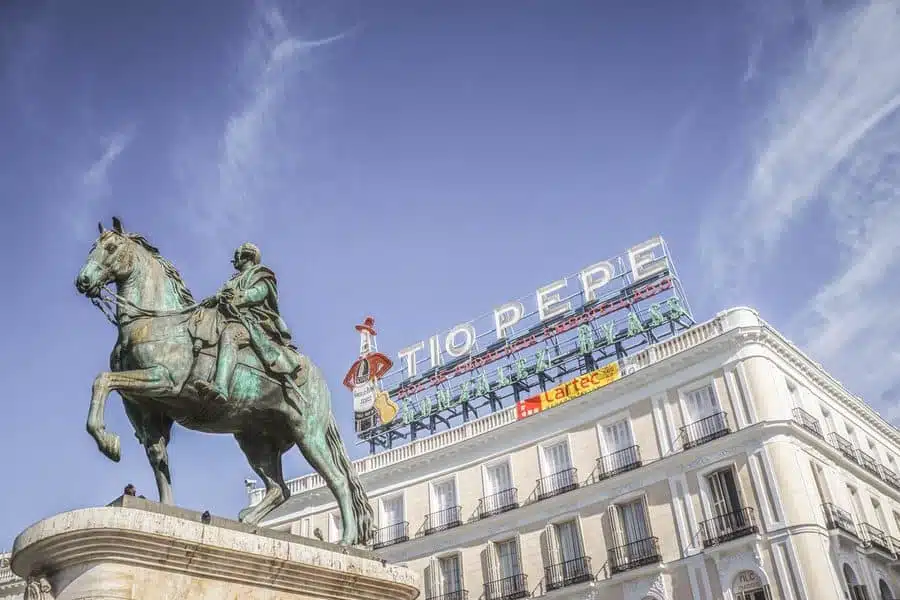 A bustling square, the Puerta del Sol is a must-visit during your Spain itinerary.
It's best known for being the home of El Oso y El Madroño – a statue of a bear eating the fruit from a tree – and a symbol of Madrid.
Plaza Mayor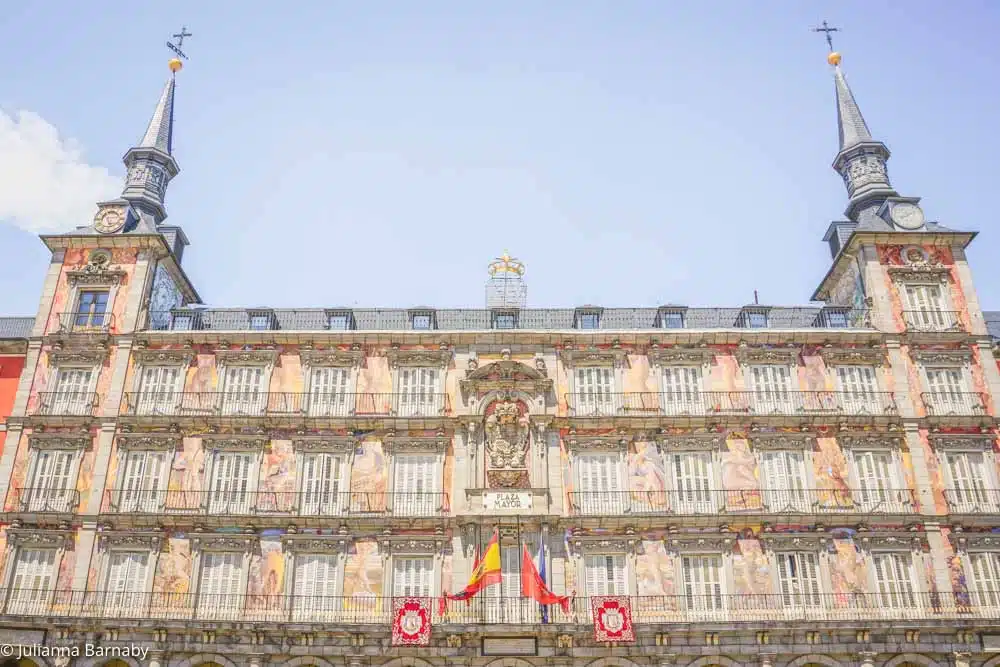 Madrid certainly has a thing for impressive squares – none more so than Plaza Mayor. Enter through one of the arched gateways and you'll find yourself in a haven of impressive architecture, bustling crowds and ample people-spotting opportunities.
I'd highly recommend popping into the Mercado de San Miguel next door when you are finished – the tapas is awesome and there are plenty of wine bars and cervecerias (beer bars) to accompany.
Check out Madrid's Street Art Scene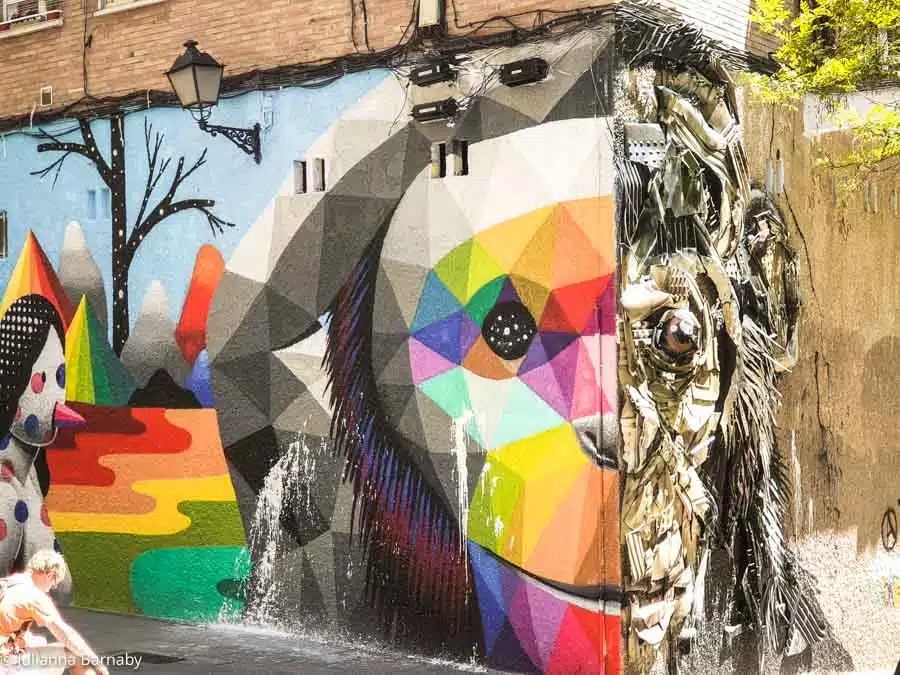 Madrid has a lively street art scene that any street art lover has to explore. From extensive graffiti walls to large-scale murals in metro stations, it's a colourful introduction to some of the world's most talented urban artists.
Catedral de Nuestra Señora de la Almudena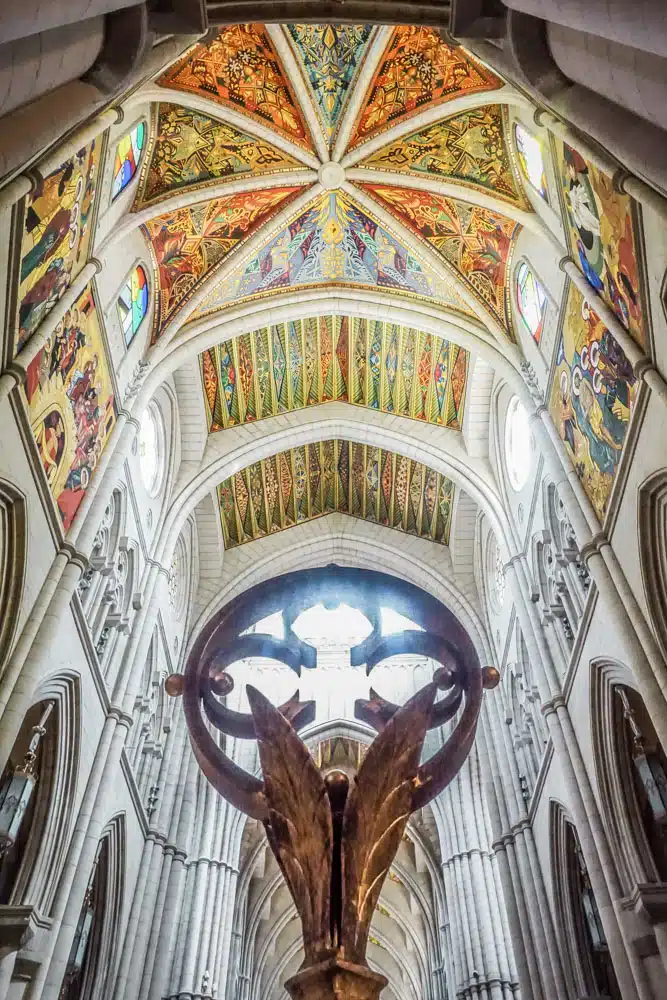 Madrid's Cathedral gets something of a bad rap – finished in 1994, it's certainly a more modern take on a cathedral.
Eclectic artwork – it's a traditional structure with a contemporary vibe. I personally loved that. Some don't.
Only way to find out is by seeing it yourself.
Entry is by suggested donation.
Madrid's Big Three Museums: The Prado, the Museo Thyssen Bornemisza and the Arte Reina Sofia
Madrid is famed for having some of the best museums in Europe (if not the world) – it would be a shame to miss them while you're in town.
Now, I should probably warn you that these museums are large and it's not an easy task to see them all in one or two days. Instead, I'd suggest picking one or two and doing them justice.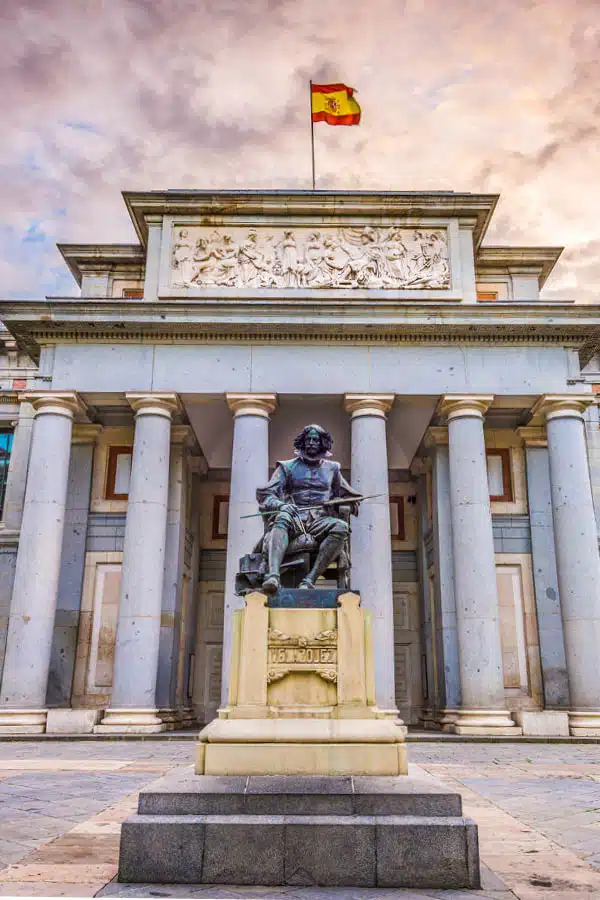 The Prado is the biggest and best-known of the three. Showcasing an impressive range of art (including the much-talked-about Pinturas Negras by Goya) and a lot of Goya in general and some great pieces by El Greco too), it's the biggie.
Entry is free after 6pm Mon-Sat, or after 5pm on Sunday. Otherwise entry is €15 per adult – you can buy on the door, Book online, or buy a skip the line ticket .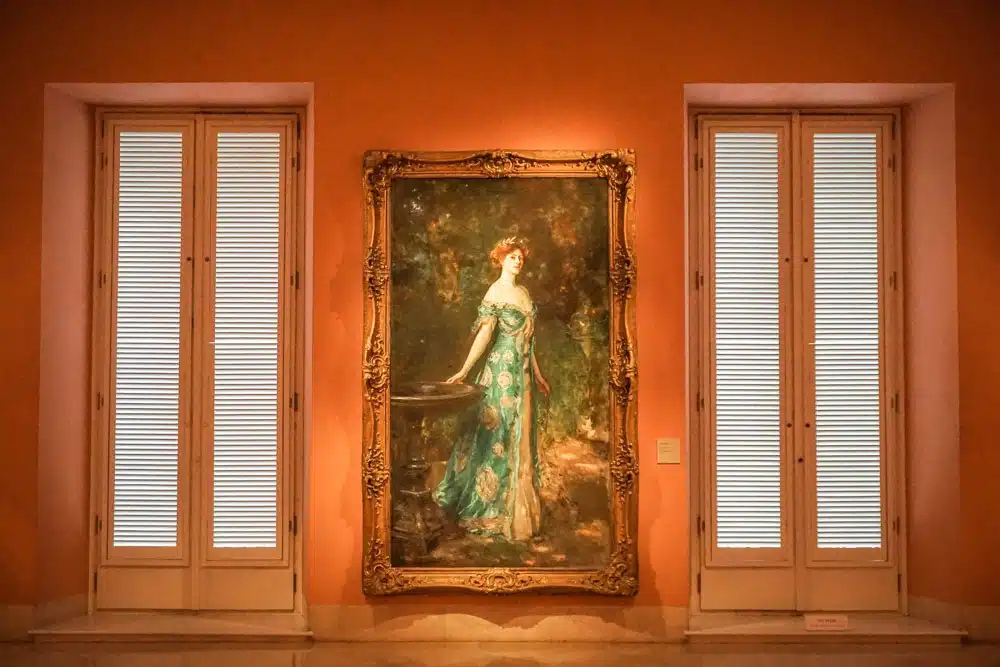 Smaller and with more of a focus on contemporary art, the Museo Thyssen Bornemisza is my personal favourite. The Thyssen spans art from the 14th century onwards, with a focus on the impressionist era. It's a beautiful building, with a nice vibe and a great cafe to unwind in after your visit.
Tickets-wise, you can buy them on the day: entry costs €12 for adults and €8 for students, Book online or buy a skip the line ticket.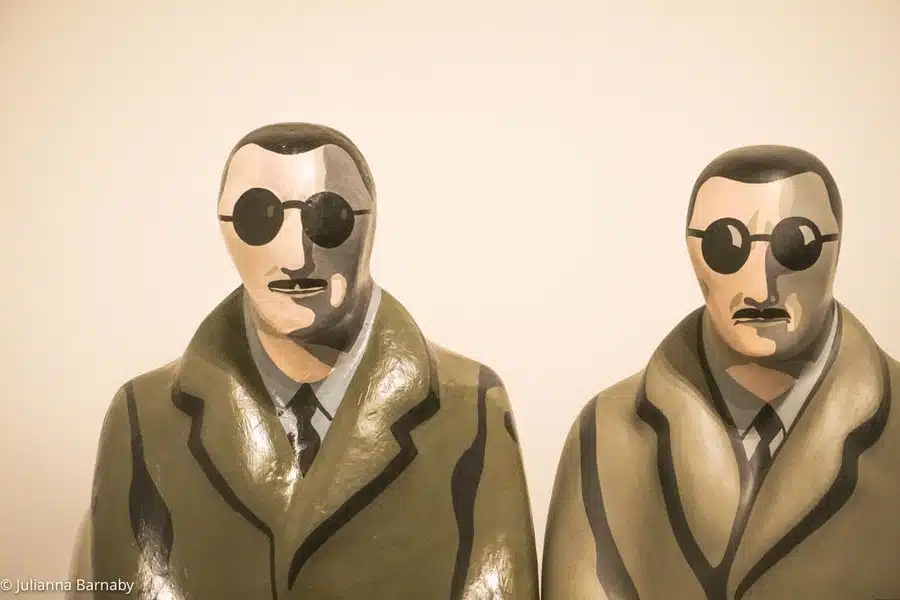 The Museo Arte Reina Sofia is primarily focused on modern Spanish art – meaning pieces by famous artists such as Picasso, Dali and Miro. It's home to Picasso's large-scale mural Guernica – one of the most famous pieces of art in the world.
For tickets to the Reina Sofia, it's a matter of buying on the door (€10 for adults), booking online or you can get a skip the line ticket complete with a guided tour.
Park Retiro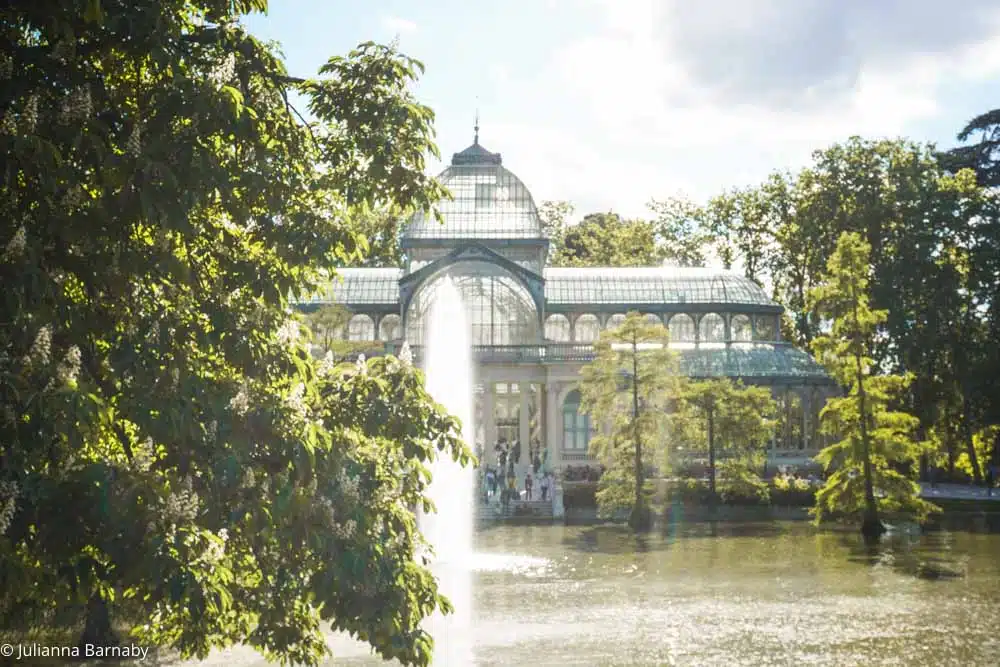 Every city has its big park – Madrid's is Parque Retiro – a gorgeous maze of open spaces, wooded areas, lakes, jogging tracks and cycle paths in the centre of the city.
Bring a picnic, chill out, and enjoy the sunshine like a true local.
Temple of Debod
Madrid might be the last place you expect to find an Egyptian temple, but that's exactly what you'll find at the Parque de la Montaña.
This reconstructed temple was actually a present from Egypt as a thanks for the help in preserving Abu Simbel's temples – it's one of the only examples of ancient Egyptian temples outside of Egypt.
Restaurante La Sanabresa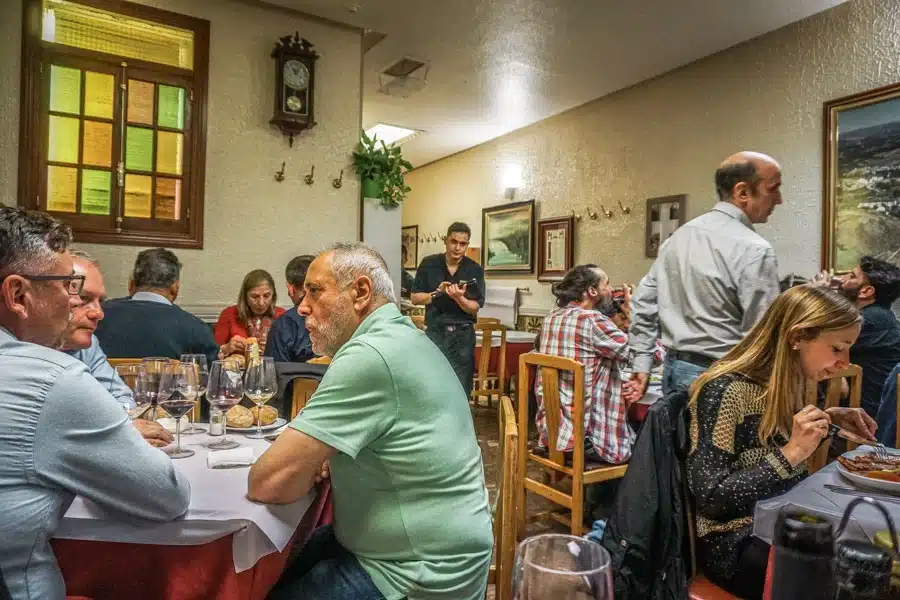 OMG guys, I cannot tell you how much I love this restaurant. I'll be completely honest and say that you should expect to queue for this incredibly popular restaurant – but it is totally worth it.
The enormous tapas menu offers you the chance to try as many dishes as possible (be warned, even the tapas-size portions are pretty large) – I'd recommend the Russian Salad, Albondigas and gazpacho at least.
No website.
Calle Amor de Dios, 12, 28014 Madrid, Spain
Phone: +34 914 29 03 38
Read More: Madrid Travel Guide: Things to do and Tips for Planning Your Trip
Spain Itinerary Days 3-4: Cordoba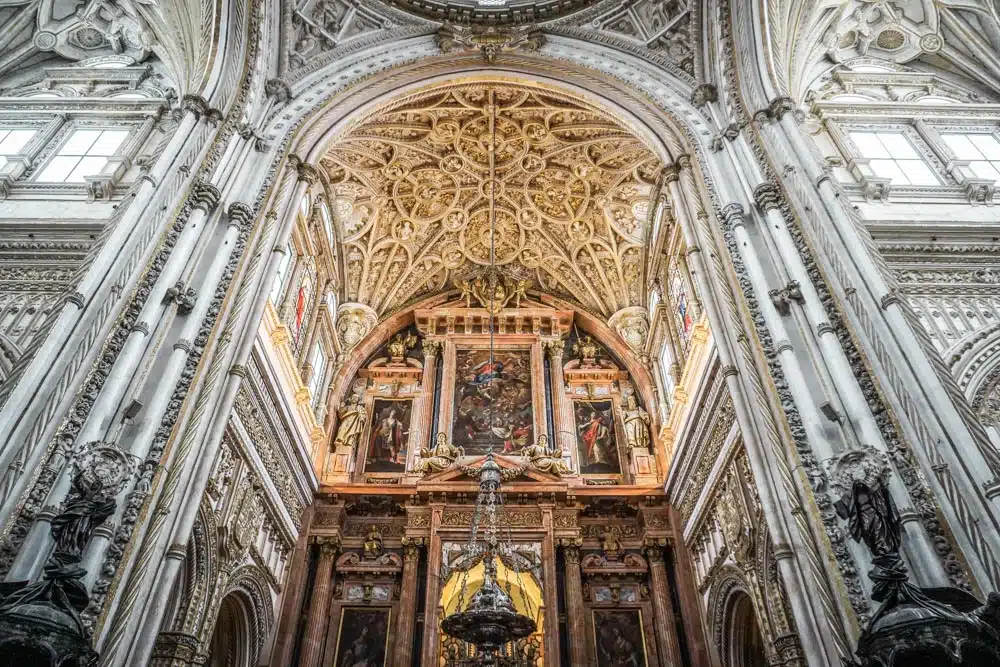 So, you've had a couple of days in Madrid – it's time to embark on your southern Spain itinerary with a trip down to Cordoba.
In days past, Cordoba was the old capital of Moorish Spain and the biggest city in Western Europe – reminders of that legacy remain, dotted around the city in a maze happy to reveal its secrets to those who look.
Of course, Cordoba's biggest draw is the fascinating and beautiful Mezquita – a mosque that was built on the remains of a church, extended and extended to a near-impossible scale, before being turned into a cathedral in the 13th century when the city returned to Christian rule.
Practical Information for Cordoba
Getting to Cordoba from Madrid
By Car
If you are renting a car for your Spain driving itinerary, I'd recommend picking it up at Madrid Barajas International Airport rather than in the city itself.
Even if you're staying in the centre of Madrid, you can easily get a metro out to the airport and it saves you from having to drive out of the rather chaotic city centre.
Check car rental prices from Madrid Barajas Airport or read my "Renting a Car" advice further below.
Driving time from Madrid to Cordoba is roughly 3.5 hours
By Train
Direct trains to Cordoba depart from Madrid's Atocha Station. The train journey is roughly 1hr 45 minutes. Adult fares range from €29-€63 for a one way ticket. Check prices and book tickets on Rail Europe.
Suggested Stay in Cordoba: Hotel Viento 10
I'm a sucker for a gorgeous boutique hotel so it was always going to be love at first sight with Hotel Viento 10. An old converted hospital in the heart of Cordoba, the rooms are completely unique: some with private terraces and courtyards, all at reasonable prices. What's not to love?
Check prices and reviews for Hotel Viento 10
Things to do in Cordoba on Your Southern Spain Itinerary
Mezquita (Mosque Cathedral of Cordoba)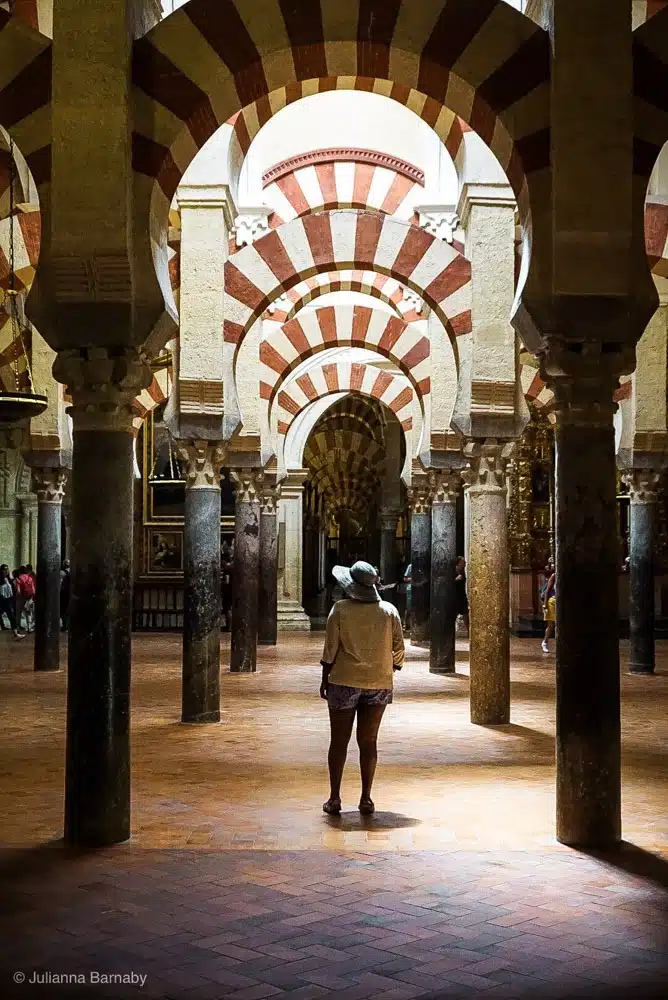 Be prepared to be wowed. Cordoba's Mezquita, or Mosque Cathedral, is one of the most spectacular buildings in Spain.
The orange-filled courtyard is pleasant enough, but nothing in comparison to the Mezquita's vast, elaborately patterned interior.
How often do you see things on social media and find the reality is a little disappointing in comparison? Well, the Mezquita is the opposite. The sheer size of the building means it's impossible to capture it properly, no many how many pictures you take (best believe that I tried).
Trace the building's complex history through its different architectural styles – from the numerous extensions that saw the mosque grow to its current size of 24,000 square metres, to its conversion into a cathedral in the 13th century and the addition of the rather incongruous but equally striking central nave in the 16th century.
Tickets: Buy on the door (€10 per adult), book online or book a guided tour with a skip the line ticket (highly recommended).
Alcázar de los Reyes Cristianos
Be warned, there are going to be a lot of Alcazars (palaces or fortresses) on this Southern Spain itinerary. Cordoba's Alcázar de los Reyes Cristianos (The Palace of the Christian Royals) is a good one to start with.
Though it's not a patch on its more famous counterparts in Granada and Seville, it's an interesting glimpse into times past, with gorgeous gardens to go with.
Tickets: Buy on the door (€7 per adult) or book a guided tour with a skip the line ticket.
Torre de la Calahorra
Short, squat and not that pretty to look at, the Torre de la Calahorra sits on the far side of the Roman Bridge. Though it's not much on the outside, you can visit the museum of Andalusian life housed inside the tower – it's interesting enough but not a total must-see.
Roman Bridge
Just around the back of the Mezquita and on the way to the Alcazar de Los Reyes Cristianos, the Roman Bridge is a reminder of the city's multi-layered history. The pretty location over the city's river, filled with willows and small islets, doesn't hurt either.
Roman Temple
Rather incongruously set at the end of a modern street, the Roman Temple was only re-discovered in the 1950s. Include it in your Cordoba walking itinerary.
Calleja de las Flores
Bursting into flower during Cordoba's May festivities, the Callejas de las Flores is one of the city's most famous streets. What's so special? Gorgeous whitewashed buildings, hidden nooks and Insta-worthy floral displays.
Palacio de Viana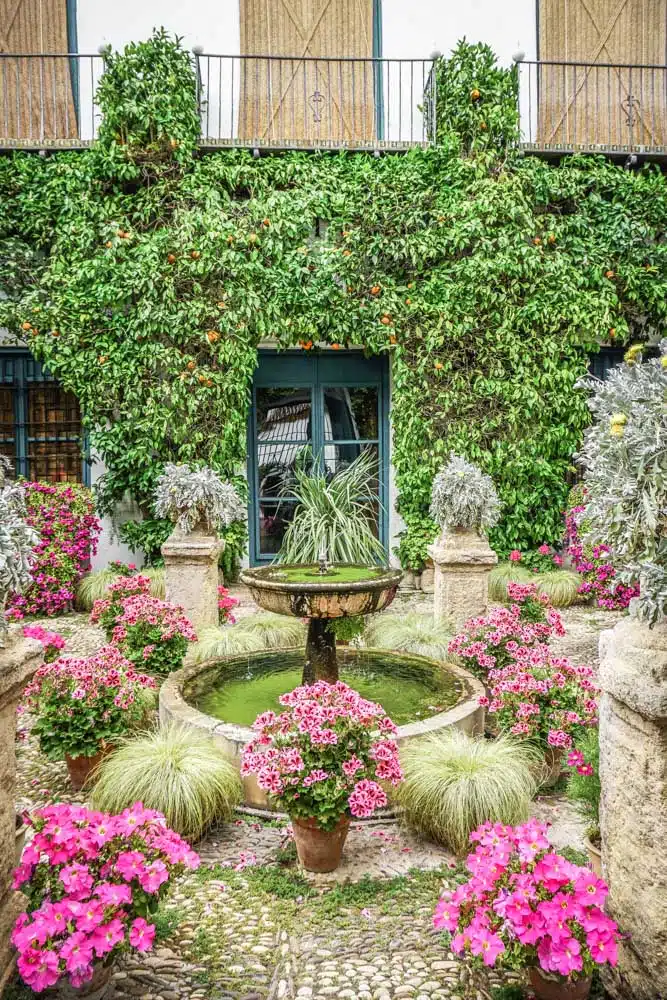 The gorgeous Palacio de Viana has a lovely interior but it's the fragrant gardens, bursting with well-tended and fragrant blooms that are the real draw here.
I loved the Palacio – nicknamed the Museum of the Courtyards, it has evolved over five centuries to become one of Cordoba's most beguiling spots. Highly recommended.
Tickets: Buy on the door (€8 for entry to the Palace and courtyards or €5 for entry to the courtyards only) or book a skip the line ticket with a guided tour.
Bodegas Mezquita
Look guys, I was a little suspicious when I saw that Bodegas Mezquita, one of Cordoba's most highly recommended restaurants was perched within throwing distance of the Mezquita. But happily, I was wrong – Bodegas Mezquita was brilliant – both in terms of value and as stomach-pleasing introduction to Cordoban fare.
Don't miss their salmorejo, Cordoba's traditional cold soup, a beefed up and thicker version of Gazpacho with egg and Iberian ham. It's delicious.
Patios de Córdoba
If you can time your visit with the Patios de Cordoba Festival, then I really recommend you do just that. It's no secret that the patios and courtyards of Cordoba are stunning and blanketed in flowers, and you do not want to miss them.
Don't fret if you cannot visit during the festival season – the courtyards are open all year round to peruse.
Spain Itinerary Days 5-6: Seville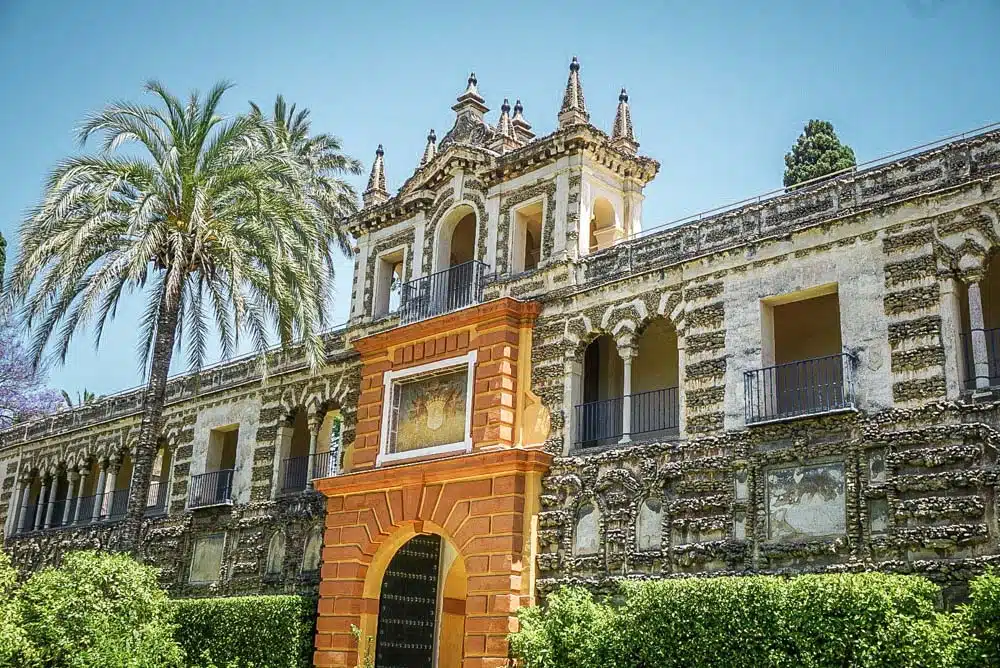 Seville, you are a showstopper.
From your flamboyant flamenco to your excellent tapas bars, not to mention the ridiculously gorgeous Alcazar (which, if you're as obsessed with Game of Thrones as I am, you'll also recognise as Dorne) – it's one of the true highlights on any Spain itinerary.
Practical Information for Seville
Getting to Seville from Cordoba
By Car
From Cordoba, it's roughly a 1.5 hour drive to Seville. Be warned, the car parks in central Seville do fill up during peak season – it may be better to park further out then walk or take public transport to the centre.
By Train
Frequent direct trains run from Cordoba to Seville. They take roughly 45 mins. Adult fares cost between €8-30. Check prices and book tickets on Rail Europe.
Suggested Stay: Legado Alcazar
An excellent-value hotel overlooking the lush gardens of the Alcazar, Legado Alcazar is a real find (so much so, that I really gave it serious thought before I put it in here).
Prices hover around the €90 mark per night, for which you get a room in a gorgeous 17th-century mansion, complete with historical features and breakfast served on a sunny patio.
Check prices and availability for Legado Alcazar.
Things to do in Seville on Your Southern Spain Itinerary
Real Alcázar de Sevilla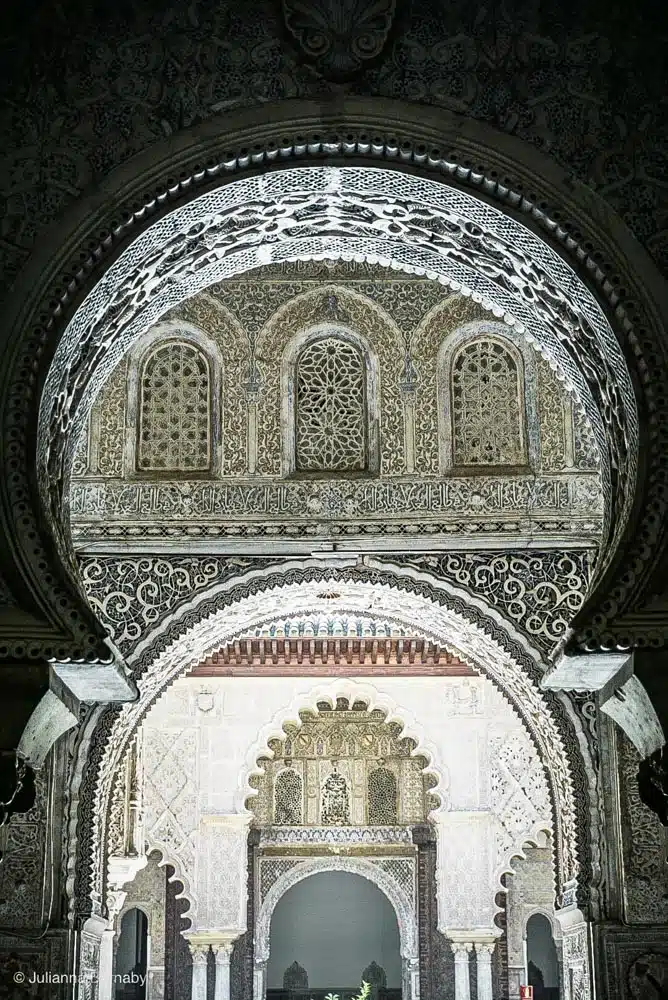 "In my opinion, the Real Alcazar de Sevilla is even more impressive than Granada's Alhambra interiors-wise." Punchy words from my guide Andres, but true.
I cannot emphasise how beautiful this complex of Royal Palaces, built by a succession of Moorish and Christian kings actually is.
Each room holds a new surprise, whether that's the room from which Christopher Columbus set out on his voyage of discovery, or the elaborate carvings in the bedroom quarters. Prepare yourself for a lot of oohs and ahhs and a hella lot of pictures.
It gets better. Any Game of Thrones gimps in the house (actually had to stop my own hand from shooting up as I typed that – what a dork)?
You'll be thrilled (read so excited you'll scare your guide more than just a little bit) to see Dorne in real life. Pretending to be gouty Doran Martell or the Vipers totally optional.
Tickets: Buy on the door (€12.50 per adult) or book online.
I took this 1.5 hour guided tour, which costs €13 (beware, the price does NOT include entry, although you do get to skip the line) and couldn't recommend it enough. Andres, our guide was funny, knowledgeable and bursting with insider tips and scurrilous gossip from days gone by. Honestly, well worth the money.
Don't miss my step-by-step guide to planning your trip to the Alcazar of Seville.
Seville Cathedral (Catedral de Sevilla)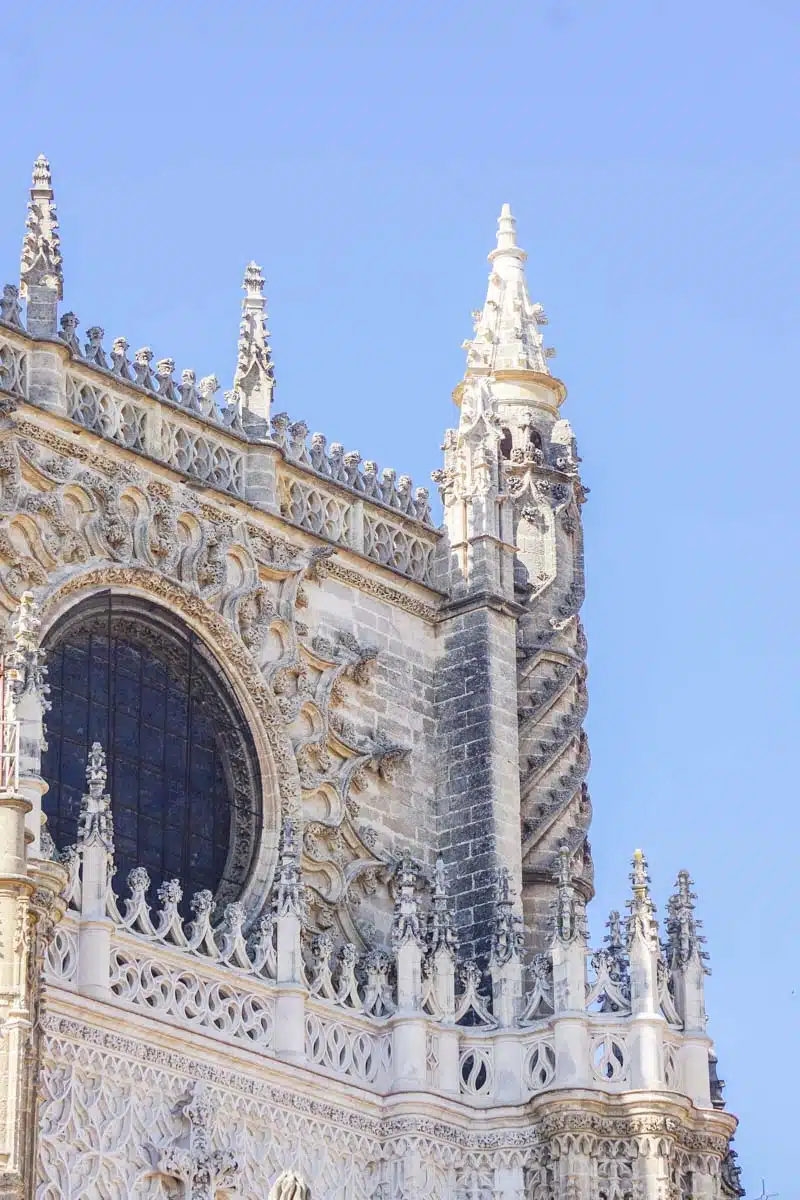 Seville's other big ticket Spanish landmark, the Seville Cathedral is the largest Gothic cathedral in the world (and the third-largest cathedral full stop).
Built on the site of a Mosque, like many buildings in Southern Spain, the region's Moorish past is still present. Here in the form of the mosque's minaret, which is perched alongside the cathedral.
Word of advice here, do the building some real justice and set aside at least a couple of hours to explore the cavernous interior. You won't regret it.
Tickets: You can buy tickets to the Seville cathedral on the door but be warned, the lines are long and roasting hot.
Fear not, there are a few options available for you savvy folks – the first is to buy a combined ticket when you visit the Alcazar (though the lines for that can be equally long), the second and much smarter option is to go to the Church of El Salvador and buy a combined ticket for the Church and Cathedral – there's rarely a queue and it's only 10 mins away from the Cathedral and is also worth a visit itself (see entry below).
Alternatively, you can book online or book a skip the line ticket for the Cathedral and Giralda.
Museo de Baile Flamenco
Sizzling hot, bursting with passion and flair, with a hint of dolorous sadness – flamenco is the folklore of Southern Spain in action.
The Museo de Baile Flamenco is the project of world-famous flamenco dancer Cristina Hoyos. Walking you through the history of flamenco in two compact exhibition floors, it's an impressive and an immersive experience.
Be sure to book tickets for the Museo's nightly flamenco shows, which sees performances from some of the best flamenco dancers in the world.
Tickets: Book a combined ticket for the Museum entrance and the flamenco show on the Museum's (rather difficult to navigate) website, or book a ticket to the show only here.
Plaza de Espana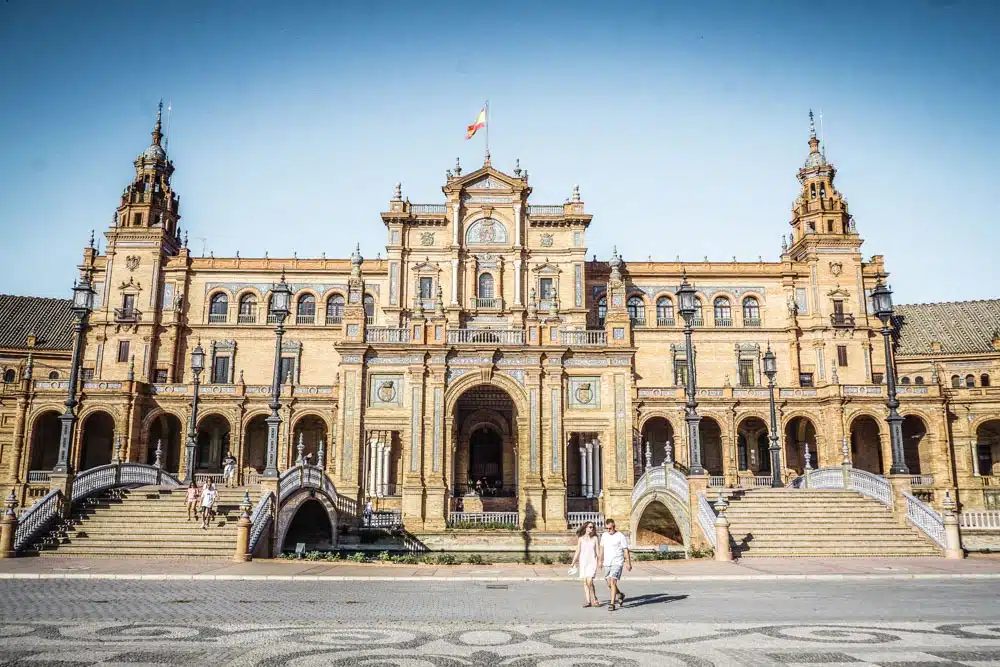 Built on a spectacular scale, there are few places that portray Seville's historical position as one of the most important cities in the world as the Plaza de Espana.
I can hear you thinking, how impressive can a plaza be? Here's a sneak peek…
Exactly.
Unashamedly over-the-top architecture, dripping with opulence, the 50,000 square metre plaza is the size of five football pitches.
Love it or hate it, you cannot miss it on any Andalucia itinerary.
Church of El Salvador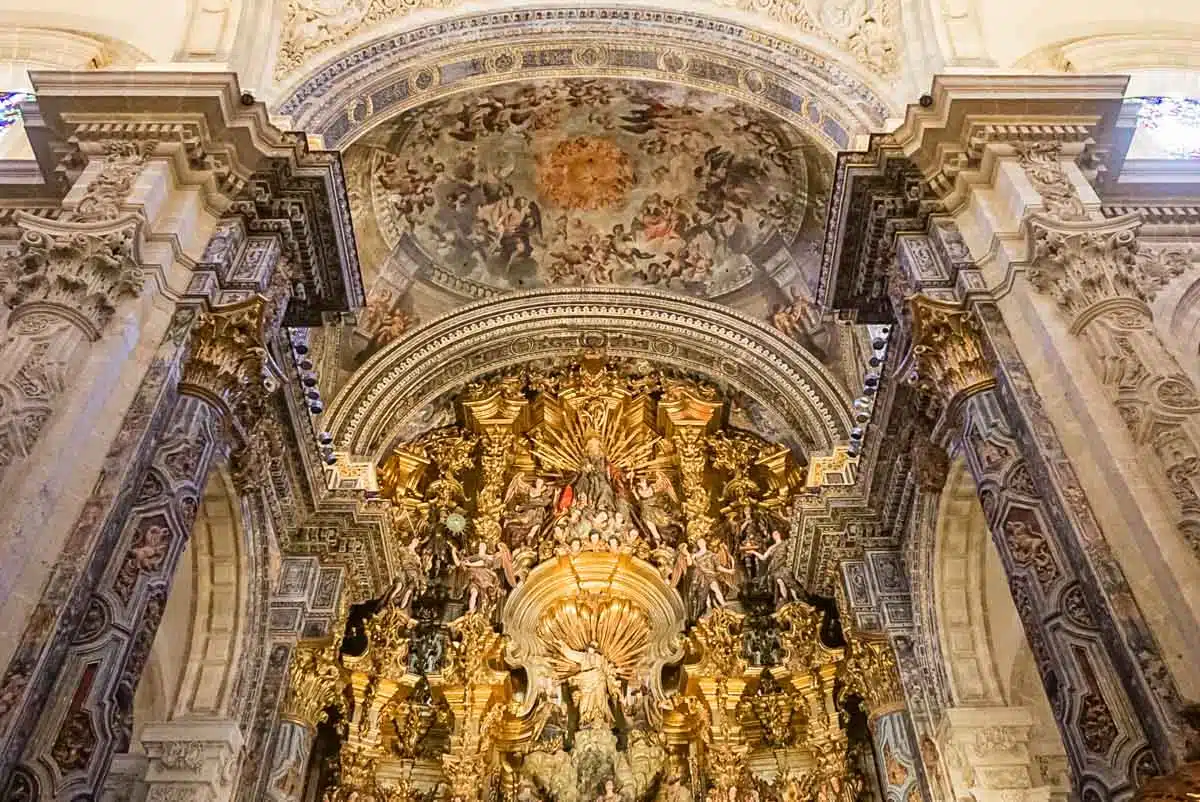 I hadn't heard about the Church of El Salvador prior to visiting Seville. In all honesty, I only really only visited after seeing the gigantic queue at Seville's Cathedral and hurriedly Googling what my options were when it came to skipping the Cathedral's line.
Turns out that you can buy a combined ticket for the Church of El Salvador and Seville Cathedral – simply breeze up to the (queueless) ticket office at the Church of El Salvador, give them your money and you're good to go.
I reasoned that as I'd gone to the effort of walking the ten minutes from the Cathedral to the Church (you laugh, but Seville was 37 degrees celsius that day. Ten minutes is no small fry) and paid for my ticket that I should at least peek in.
Let's just say I'm glad that I did… Make time to visit.
Las Terasas Seville
Mmmn. Yummy yummy tapas. Yummy yummy yummy tapas. I could go on, but you'd probably get bored and I'm already hungry.
Las Terasas does one thing: serving traditional Spanish tapas in the heart of Seville. Turns out it does it pretty well, and at reasonable prices to boot.
Don't be afraid to go for some of the restaurant's less well-known specials.
Our air-dried tuna, Iberican ham and squid in a garlic butter sauce were perfectly-cooked – bursting with the flavours of Spain. Wash down with a glass of manzanilla for true perfection.
Read Next: Unmissable Things to do in Seville
Spain Itinerary Day 7: Ronda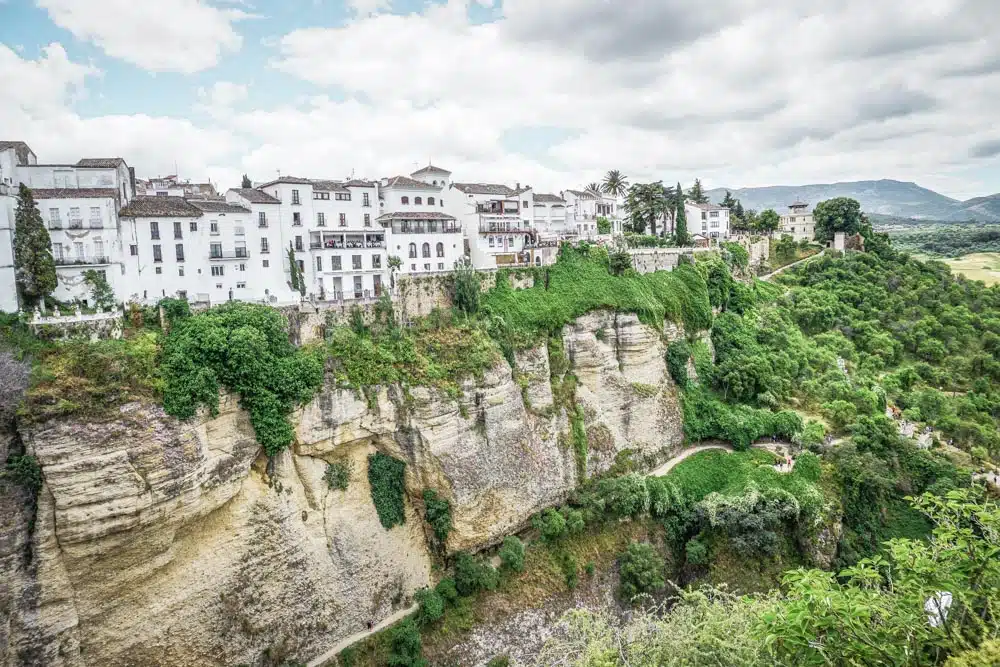 Ronda sits in contrast to the other spots on this 10 day Spain itinerary – it's much smaller for starters. This quaint town has an almost village-y feel to it.
Though there are plenty of things to see in Ronda, much of the appeal is the spectacular architecture of the town itself.
None more so than the jaw-dropping Ponte Nuevo, which spans the nearly 100m deep gorge of the Rio Guadalevin. It's a mind-boggling architectural achievement, with a gory history that's immortalised in Ernest Hemingway's For Whom the Bell Tolls.
Practical Information for Ronda
Getting to Ronda from Seville
By Car
From Seville, it's roughly a 1hr 45 minute drive to Ronda. If you have time, stop off at some of the gorgeous white villages that dot the landscapes between the two.
Parking in Ronda is plentiful and comparatively cheap.
By Train
There aren't any direct trains between Seville and Ronda. The journey, whilst relatively easy takes rather more time than the distance warrants – generally around 3 hours. Adult fares cost between €32-358. Check prices and book tickets on Rail Europe.
Suggested Stay: Aire de Ronda
You're in good luck (or you're very well organised) if you bag one of the four rooms at the characterful and cosy Aire de Ronda. Well-located, reasonably-priced and with a thoughtful design-led interior, it's no wonder that this is one of the most popular spots to stay in Ronda.
Check prices and availability at Aire de Ronda.
Things to do in Ronda
Ponte Nuevo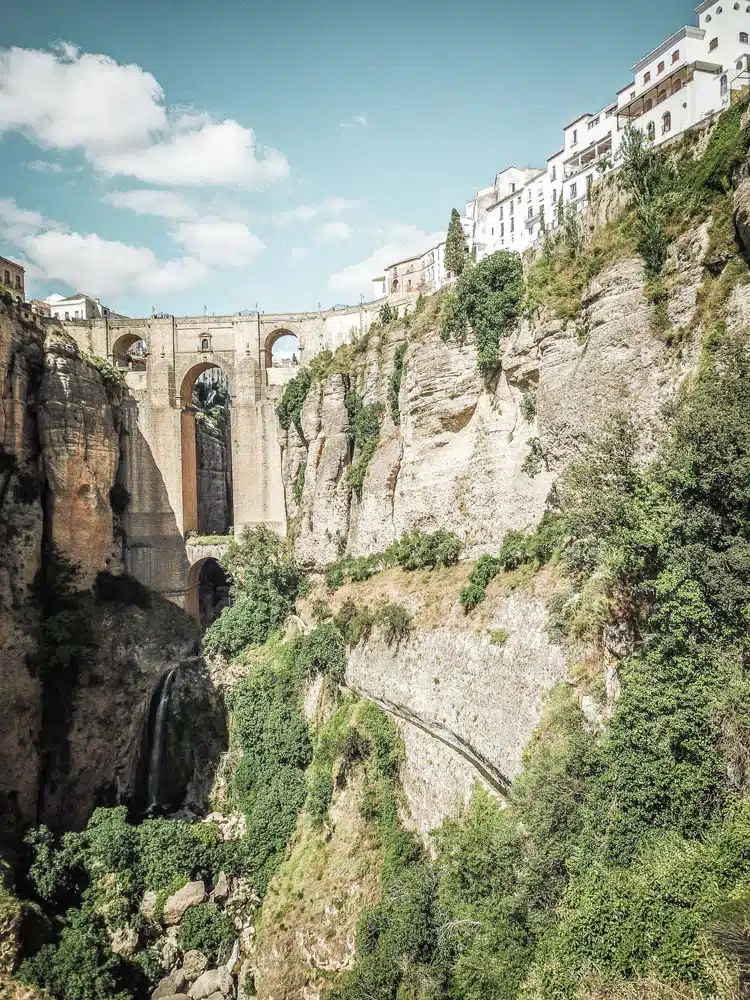 One of the most impressive sights in Spain, if there's one thing you shouldn't miss in Ronda, the Ponte Nuevo is it.
Completed in 1794 (so not so new after all), the Ponte spans a terrifying 100m drop into the Tajo Gorge that splits the town into two.
Head to the Jardines de Cuenca and the Mirador de Ronda for spectacular views of the bridge. You can also hike the path that leads from Ronda down into the gorge, which comes with constant views of the Ponte Nuevo – be warned it is quite steep in places.
Ponte Viejo
The Ponte Viejo might not have the same jaw-dropping wow factor of the Ponte Nuevo, but it's got its own low-key appeal going on too. The bridge offers close-up views of the gorge, thanks to its much lower position and is much quieter than the rather hectic Ponte Nuevo too.
Ronda Bullring and Bullfighting Museum
Divisive as it is, Ronda's history has largely been shaped by its position of importance in the bullfighting industry during the course of the last three centuries. Nowhere is this more apparent than in the stately Ronda Bullring.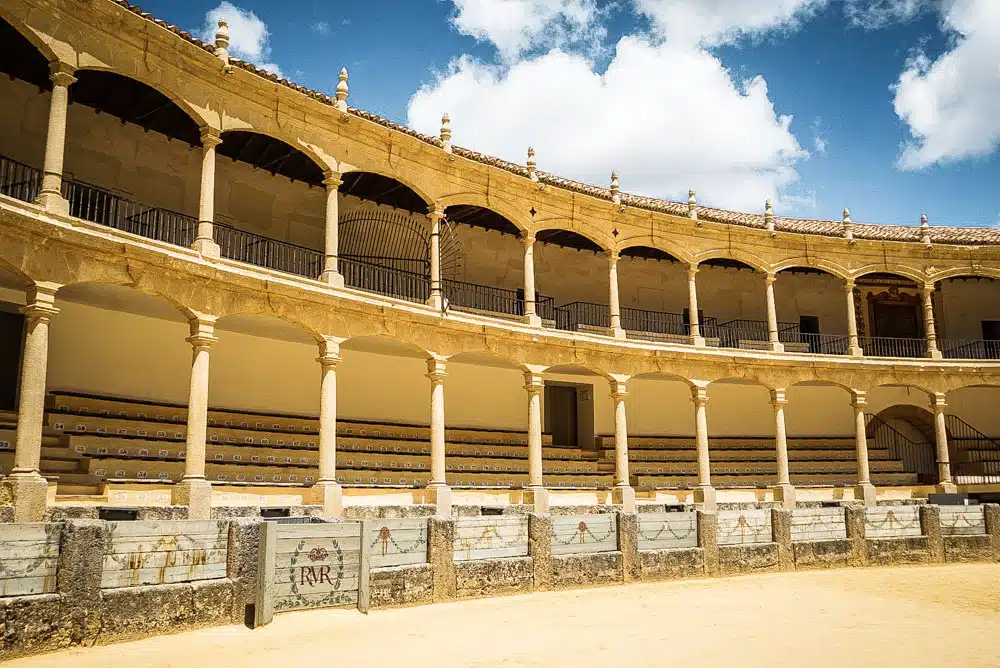 The ring was the setting for Spain's first official corrida in 1785, and still stages annual fights to date.
The attached Bullfighting Museum outlines the development of the sport during the course of history and displays costumes, artwork and photography to give greater insight into the controversial sport.
Tickets: Buy tickets on the door (€12.50 per adult).
Jardines de Cuenca
With spectacular views out over the Tajo Gorge, the multi-tiered Jardines de Cuenca are a pleasant enough spot to while away the time.
The gardens are set out in a series of terraces overhanging the gorge. Filled with palms, cacti and succulents, they're a nice escape from the hustle and bustle of the town.
Ronda's Arab Baths
These baths, or Baños Árabes, as they're known in Spanish, are simply breathtaking. Located near Puente Arabe, just outside the old city walls, they are some of the best-preserved examples of Moorish architecture in Spain.
The Arab Baths are similar in style to the more commonly-found Roman Baths, except they would have used steam instead of water to sweat out toxins. Add to this exquisite Moorish details and this is a spot you do not want to miss.
Bodega San Francisco
This busy restaurant on the outskirts is the place where locals head to eat their leisurely Sunday lunch. You should follow suit.
The gargantuan tapas menu might pose a few difficulties – even with tapas-sized portions it's impossible to try it all. Cheese lovers shouldn't miss the Queso Cabro Payoya, and opting for the croquetas is never a bad idea either.
Service can be a bit slow and the wait can be quite long (1.5 hours when I visited) – book ahead if you can.
Spain Itinerary Day 8: Malaga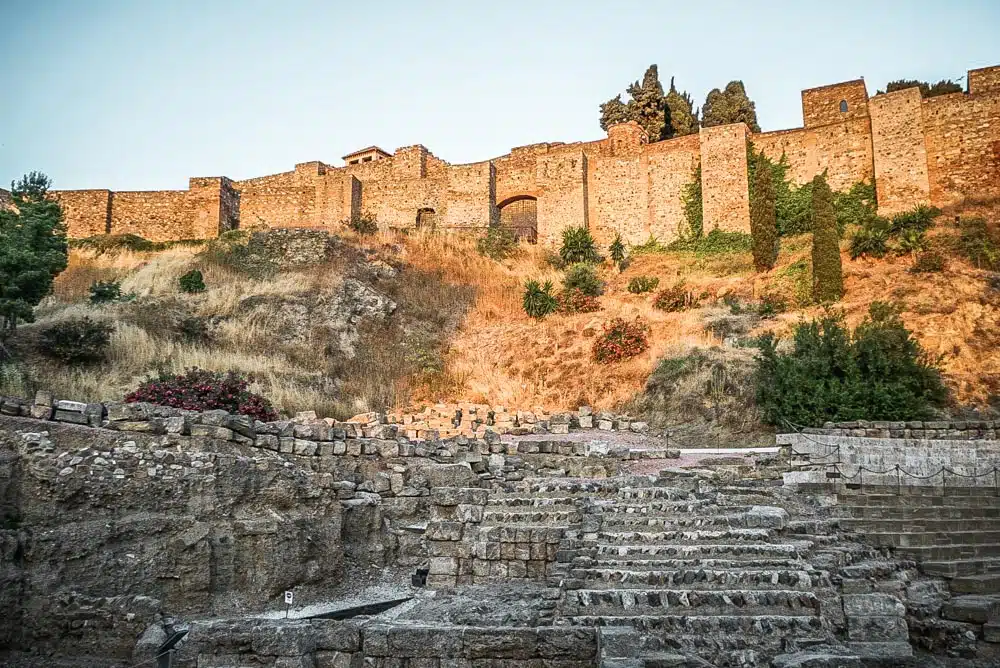 With a slightly dodgy reputation as a haven for Brits abroad, Malaga is full of surprises.
A well-preserved old town, complete with its own Moorish palace, an impressive cathedral and a small but interesting Picasso Museum – not to mention some top-notch restaurants might help change your mind.
Don't skip it – Malaga deserves a place on your Spain travel itinerary.
Practical Information for Malaga
Getting to Malaga from Ronda
By Car
From Ronda, it's roughly a 1.5 hour drive to Malaga. The first stretch is a lovely drive through the hills and one of the most scenic sections of this road trip.
By Train
There's a daily train that runs from Ronda to Malaga. It takes 2 hours and adult fares are around €15. Check prices and book tickets on Rail Europe.
Suggested Stay – Hotel Boutique Teatro Romano
Steps away from the Alcazaba and the Roman Theatre after which it's named, Hotel Boutique Teatro Romano is well-located right in the heart of town. Offering chic, cosmopolitan rooms designed using lots of natural materials, the end result is a coastal getaway vibe that's sure to win you over.
Check prices and availability for Hotel Boutique Teatro Romano.
Things to do in Malaga on Your Southern Spain Itinerary
The Alcazaba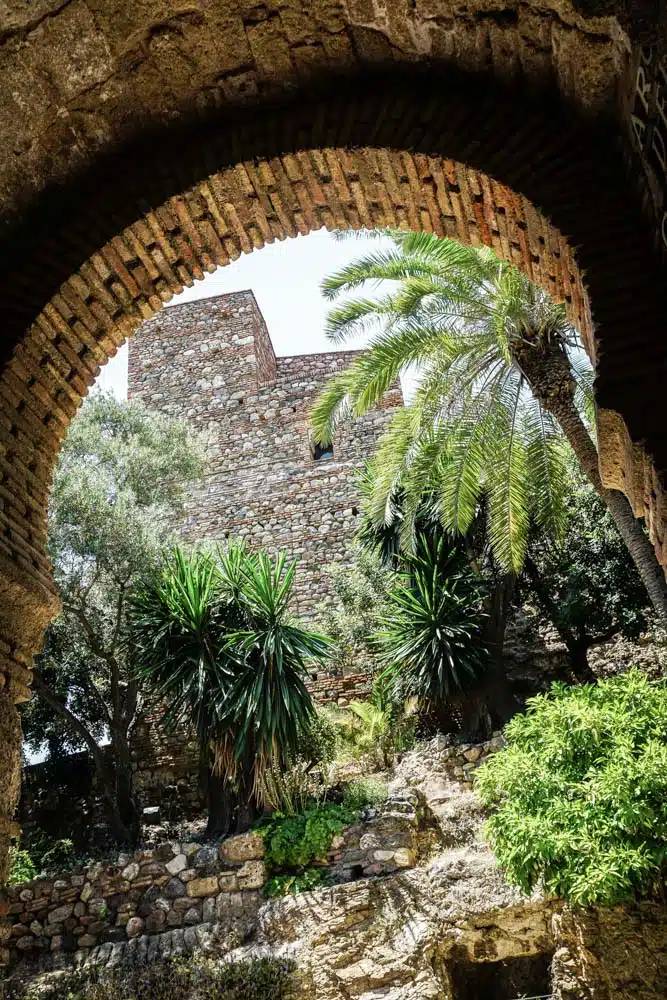 Malaga's Alcazaba isn't that well-known outside of those visiting Malaga itself. That's wonderful news for those who do visit as it's quieter than the palaces found in other southern Spanish towns and cities.
Perched on the edge of the old town, there's not much to see when it comes to the palace's interiors these days. However, walking through the gardens and along the walls, each with different views out over Malaga, is an unmissable experience.
Tickets: Book a combined ticket for the Alcazaba and the Gibralfaro for €3.55 or buy a ticket to the Alcazaba only for €2.20.
There's not much information about the Alcazaba within the palace itself – you may want to consider booking this tour of the Alcazaba and the Roman Theatre (entrance to the Alcazaba not included).
The Roman Theatre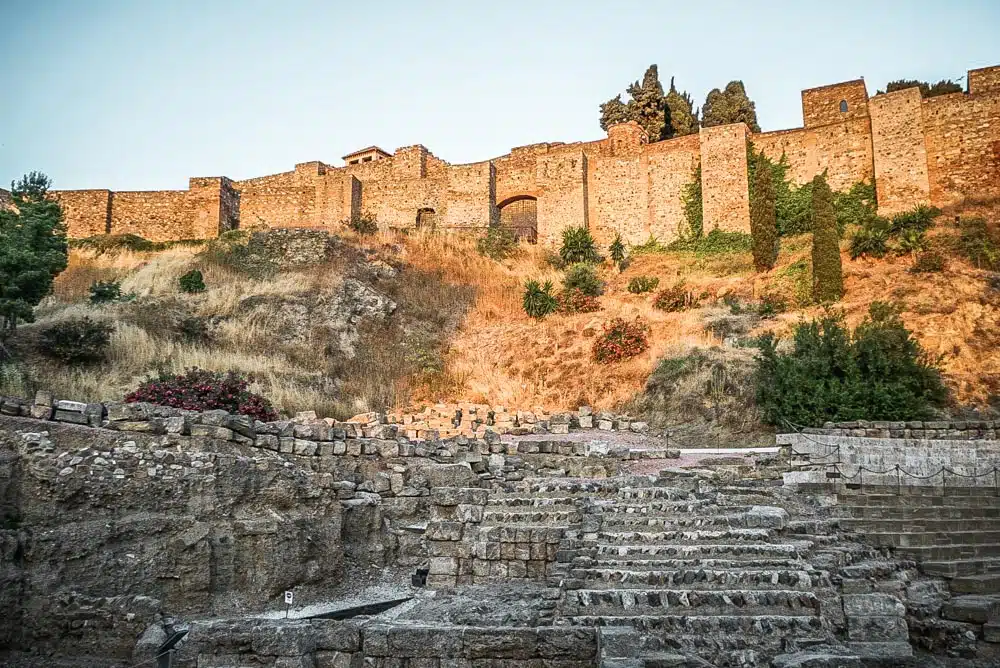 This well-preserved Roman Theatre sits at the foot of the Alcazaba – again clustered in the city's Old Town area. The ruins of the theatre were forgotten about for centuries until they were rediscovered in the 1950s – they're now open to the public and, even better, free to visit.
The Gibralfaro
The Gibralfaro Castle is a Moorish castle from the 10th century and the sister building to the Alcazaba. Recently restored, the castle is home to a military museum and also boasts some of the best views of Malaga from its position high on the hill.
The Picasso Museum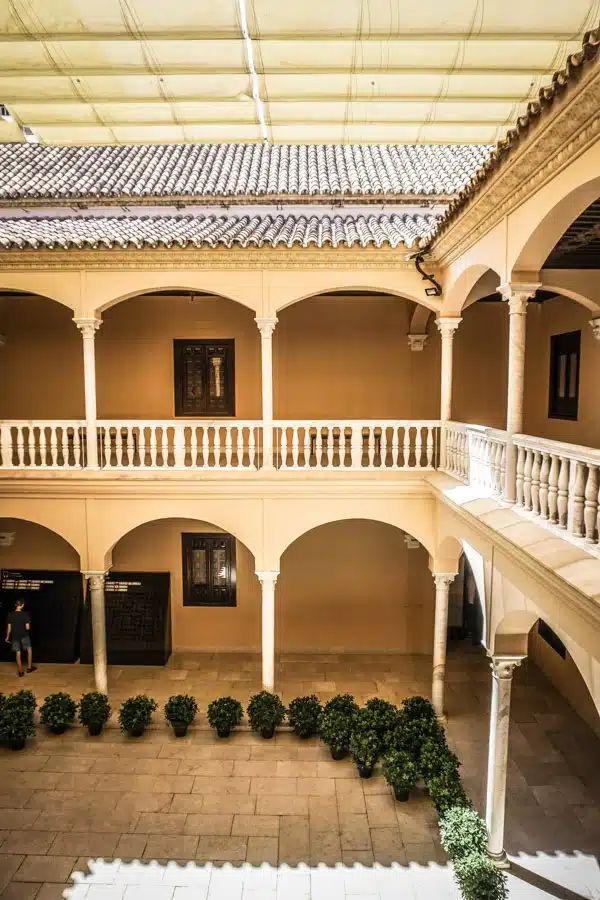 Malaga's most famous inhabitant, Pablo Picasso was born in Malaga. It's fitting that the compact Picasso Museum opened in 1994 to showcase the evolution of the artist's style and some of his lesser and better-known works.
To be honest, I've never really been that enthralled by Picasso, but the museum was incredibly interesting. Your ticket comes with a free audio guide, which gives you a fascinating glimpse into Picasso's motivations and artistic theory.
Tickets: Buy on the door (€7 per adult), book online or book a skip the line ticket here.
Malaga Cathedral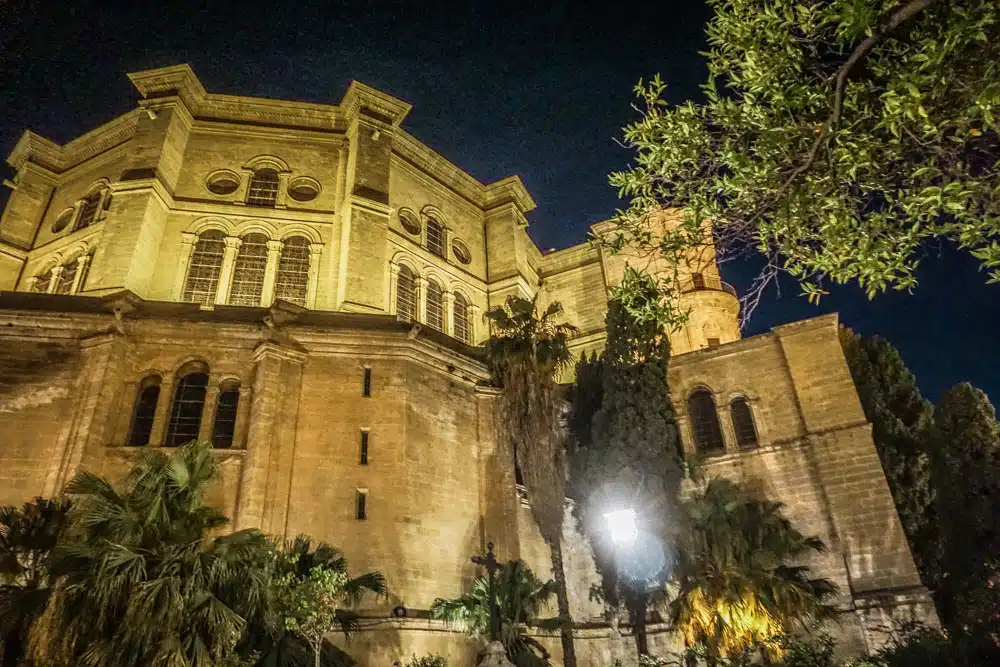 A hybrid of Baroque and Renaissance architectural styles, Malaga Cathedral took me by surprise.
Dominating the Old Town, the Cathedral is nicknamed the one-armed-lady – a reference to the fact that it only has one tower after funds for the second tower was donated to the American War of Independence.
Buy a ticket and make your way up to the Cathedral's rooftop – not only do you get some of the best views in the city on a clear day you can see across to Morocco too.
Tickets: Buy on the door (€5 per adult) or book a guided tour – complete with a skip the line ticket.
Cortijo de Pepe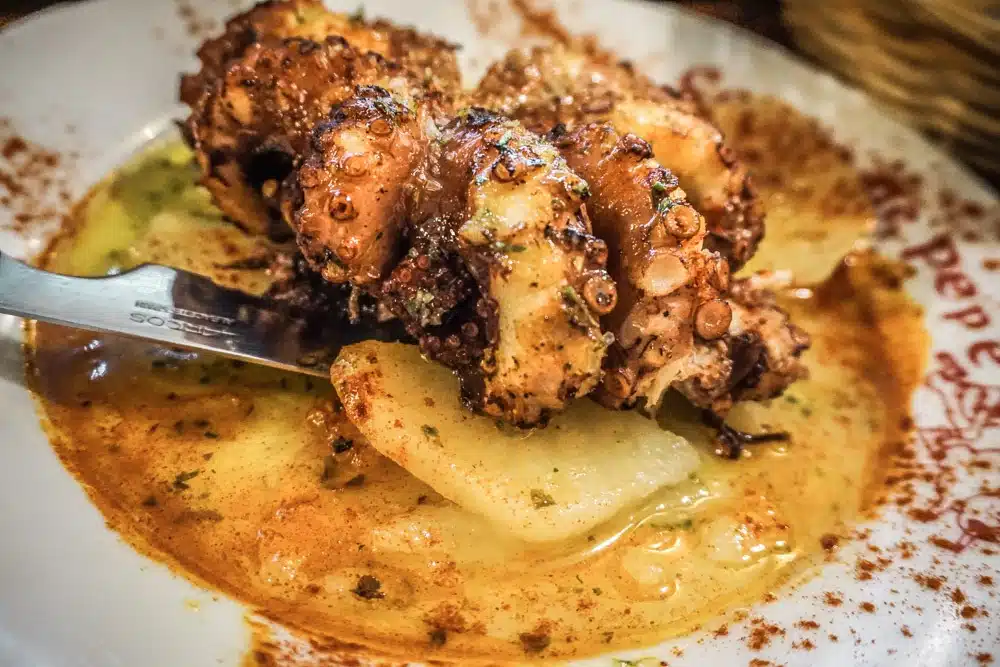 Do you ever go to a restaurant, try some of the food and immediately get so excited that you rationally sit down to plan how much you can legitimately eat without popping? Oh, just me then…
Cortijo de Pepe was hands down my favourite tapas bar in Malaga. Heaving with people around pretty much every available eating space – it's easy to learn the secret of its popularity – the food.
Traditional Spanish tapas dishes are served alongside regional specialities. I guarantee, it's going to be one of the best meals that you have in Spain.
If you're game, the octopus: braised then barbecued on the charcoal grill, then served with olive oil and garlic is the real star of the show.
Spain Itinerary Days 9-10 Granada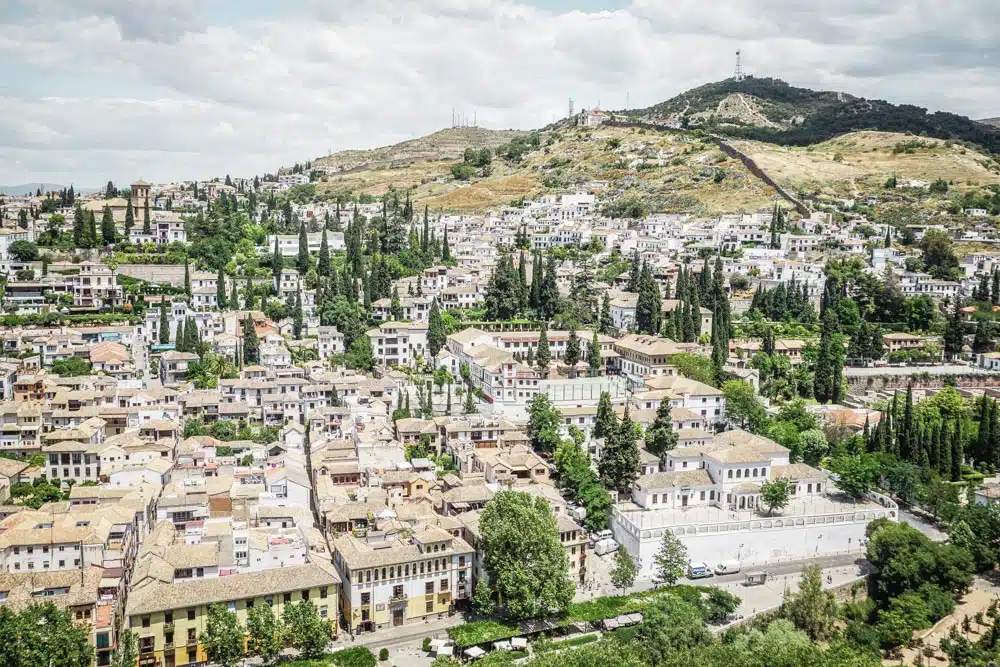 Am I leaving the best until last? Perhaps. Once you've seen the majestic Alhambra for which Granada is so well-known, it's difficult not to compare.
A maze of palaces and courtyards, not to mention the Generalife Gardens, there's a reason that The Alhambra finds itself onto pretty much every Spain itinerary out there.
But there's more to Granada than the Alhambra. From the gypsy caves of the Sacromonte area, to the cobbled maze of the Albayzin, Granada is a city steeped in history and the perfect place to round off your 10 days in Spain.
Practical Information for Granada
Getting to Granada from Malaga
By Car
From Malaga, it's roughly a 1.5 hour drive to Granada. Parking is quite expensive in Granada (€22 per 24 hours) but there are a lot of car parks in the centre of town.
By Train
There aren't any direct trains between Malaga and Granada. Journeys take between 2-3 hours depending on the changeover. Adult fares range between around €19-31. Check prices and book tickets on Rail Europe.
By Bus
If you're not driving, it's actually a lot quicker to get a bus between Malaga and Granada. Buses take around 1.5 hours and cost between €12-15 per adult. You can book tickets online in advance.
Suggested Stay – Gar-Anat
Hidden in the heart of Granada's Realejo (Jewish quarter), Gar-Anat is that rare jewel: a well-priced stylish hotel in Granada. Pared back rooms come with splashes of colour and the central atrium will make even the most seasoned design aficionado look twice. A comfortable boutique hotel for your time in Granada.
Check prices and availability at Gar-Anat now.
Things to do in Granada on Your Southern Spain Itinerary
The Alhambra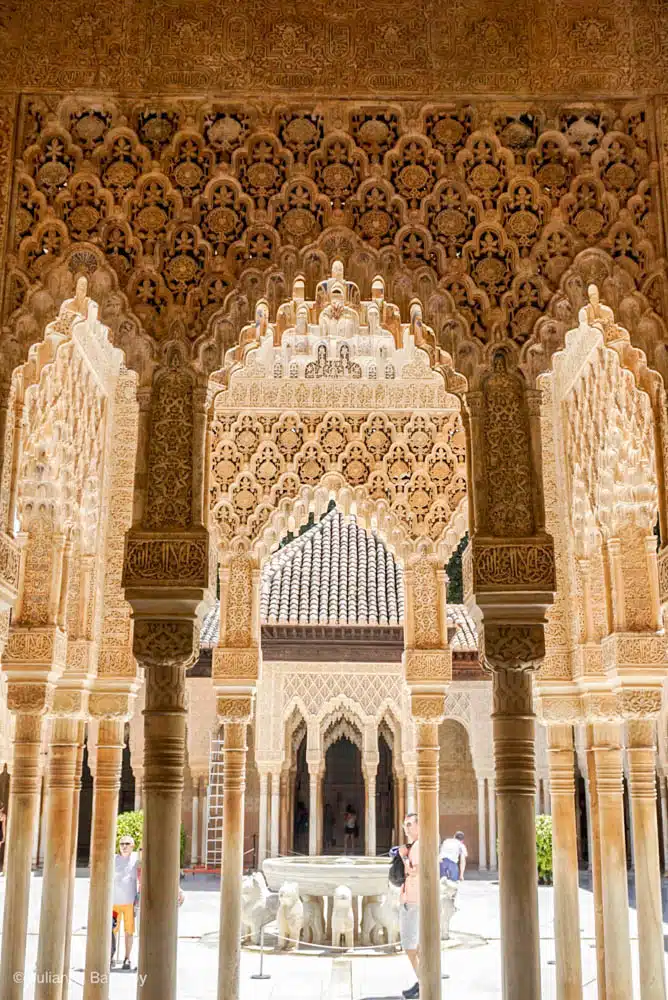 I've visited The Alhambra a number of times and I'll let you in on a little secret – it never gets old.
There's a reason that this complex of elaborate palaces set on a hill overlooking Granada is one of the most visited attractions in Spain.
Well restored, you can't fail to be blown away by the elaborate carvings, stately decor and water-filled courtyards found within the palaces. I'd recommend setting aside a full day for your Alhambra trip as there's so much to see.
That's the good news. What's the bad? Getting tickets to The Alhambra can feel like an impossible task. My travel tips? Book as far ahead in advance as possible and be prepared to be flexible. You can buy tickets online – but they tend to sell out around three months (yes, you read that right) in advance.
So what are your other options if the online tickets have sold out?
The easiest one is to book a spot on a tour that comes with tickets included – I booked this one on my most recent visit and it was something of a double win.
Not only did we get tickets less than a week before our visit, but the lively tour guide provided a level of detail about the complex that I'd never experienced on my previous visits.
Obviously though, this comes at a price – namely €40 per adult instead of the €14 if you book direct online.
You can buy tickets at the Box Office on the day. I'll caveat this by saying that there are only a limited number of tickets for each day and queues can be long.
There's every possibility that you will spend an hour queueing and still come away without a ticket. Still, if you don't have a ticket it's very much worth a try. Just make sure that you get there early.
The Generalife Gardens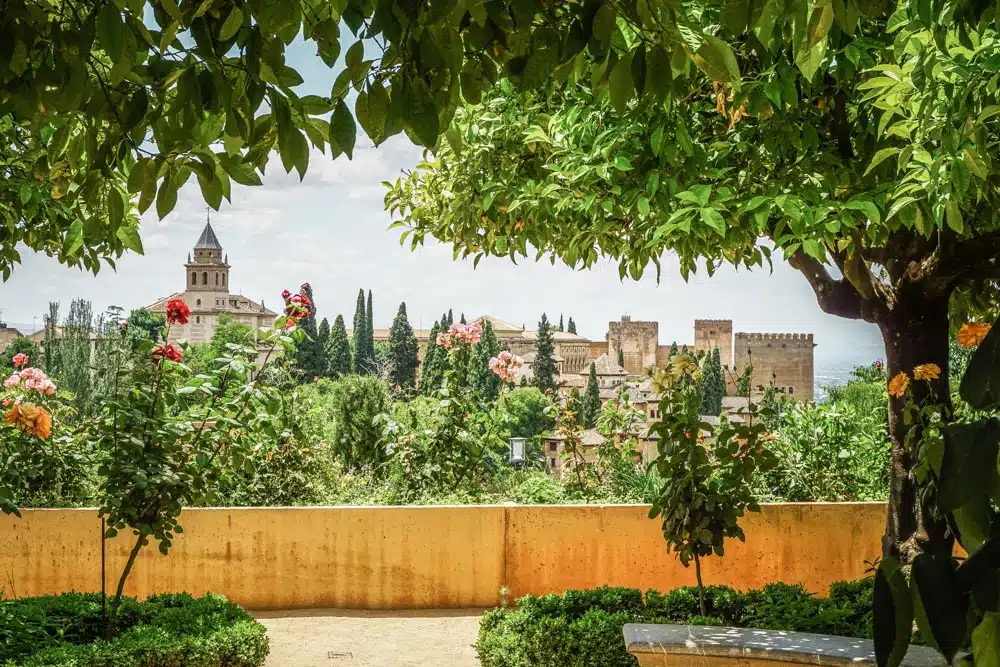 A stroll around the gorgeous Generalife Gardens is the perfect way to decompress after entering the fray at the Alhambra. You can access the gardens without an Alhambra ticket – it's worthwhile going.
The gardens are filled with the scents of southern Spain (there's even a maze) and offer spectacular views out over the Alhambra and also of Granada itself.
Flamenco in the Sacromonte
The Sacromonte district, up in the hills of Granada is renowned as one of the best places to see flamenco in the South of Spain. The cave-houses of the Roma-gypsy area provide an atmospheric backdrop to the passionate performances of skilled singers, dancers and musicians.
Check out flamenco shows in the Sacromonte
Explore Albayzin
With incredible views of The Alhambra, this district is a UNESCO World Heritage Site, filled with breathtaking examples of Moorish architecture and a must-add to your Spain trip itinerary.
This area is well known for its streets that have largely been preserved since Medieval times – and you would be a fool not to carve out an hour or two to explore (and snap those all-important pics for the 'Gram).
Sunset at Mirador de San Nicolas
Bill Clinton once said that watching the sun set over Granada and The Alhambra from the Mirador de San Nicolas was one of the most beautiful experiences of his life.
What ensued was pure comedy: the local authorities were so chuffed that they decided to change the name of the Mirador to Bill Clinton mirador (or something along those lines), making Granada's residents so upset that they burst into furious protest, lobbying the authorities until they had to drop the idea completely.
You can take two things away from that story. That sunset from the mirador really is that beautiful…But for heaven's sakes, don't say anything or it might start a series of very unfortunate events.
Be warned. It will be crowded. Get your elbows out and get ready to battle for your picture.
Tapas in Tinta Fina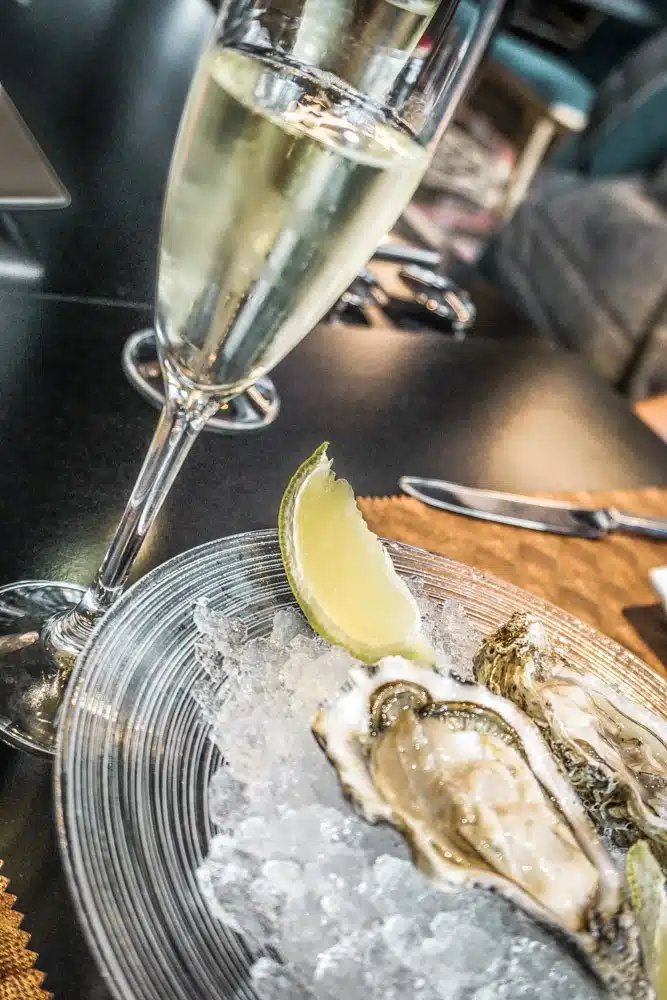 It's your last meal during your time in Spain, who else feels like treating themselves? Yeah, me too.
Tinta Fina is a rather upmarket restaurant and vinoteca specialising in seafood and wine. Nothing says the end of a fantastic holiday like indulging in half a dozen oysters and guzzling a few really good glasses of wine.
Read Next: Unmissable Things to do in Granada
So that's it. Your 10 days in Spain are over. Now all that's left to do is, catch a high speed train or drive back up to Madrid (or wherever you're leaving from) and ugly cry some silent tears on the plane home. You'll be back though right? I know I most certainly will.
Alternative: Itinerary for One Week in Spain
It's relatively easy to adapt this itinerary to one for 7 days in Spain. Unfortunately ,it means that you are going to have to cut a couple of places out but you will still get a good flavour of southern Spain.
I'd suggest flying in and out of Malaga to save driving time.
7 Days in Spain: At a Glance
Day 1 – Malaga
Days 2 – 3 – Cordoba
Seville 4-5 – Seville
Days 6-7 Granada
Alternative: Itinerary for 2 Weeks in Spain
With two weeks in Spain, you can take things slower on the itinerary, spending an extra day in Madrid, Ronda and Malaga (or hop over to Mojácar further down the coast), and an extra day in Granada, during which you can take a day trip to the the Alpujarras (white towns) in the nearby Sierra Nevada. Alternatively or you could take a big detour and swing by Barcelona for a day (which would make sense if you were flying from there home).
Spain Itinerary for 14 Days: At a Glance
Days 1-3 – Madrid
Days 4 – 5 – Cordoba
Seville 6-7 – Seville
Day 8-9 – Ronda
Day 10-11 – Malaga
Days 12-14 Granada (with a day trip to the Alpujarras)
10 Day Spain Itinerary: Discover More Spain Travel Guides
Love this? Save and Share on Pinterest!