Antoni Gaudí – I'm sure you've heard of him, but are you ready to discover more about his fascinating life and profound impact on architecture and art? Let's take a deep dive into Gaudí's Barcelona.
Let's just say that when I visited Barcelona for the first time at 18 years old, I didn't fully appreciate the genius of Antoni Gaudí. Sure, he made some pretty buildings, but I was definitely more interested in downing Sangria and eating my way around the city.
Fast forward a fair few years and I'm coming to the end of a three month-long stint in the Catalan capital. And, this time, I really got to delve into Gaudí's Barcelona – over the course of four weeks, I made my way around as many of his top sights as possible.
And let's just say I was impressed.
Ready to explore? Let's nerd out about one of Barcelona's most influential architects.
An Introduction to Exploring Gaudí's Barcelona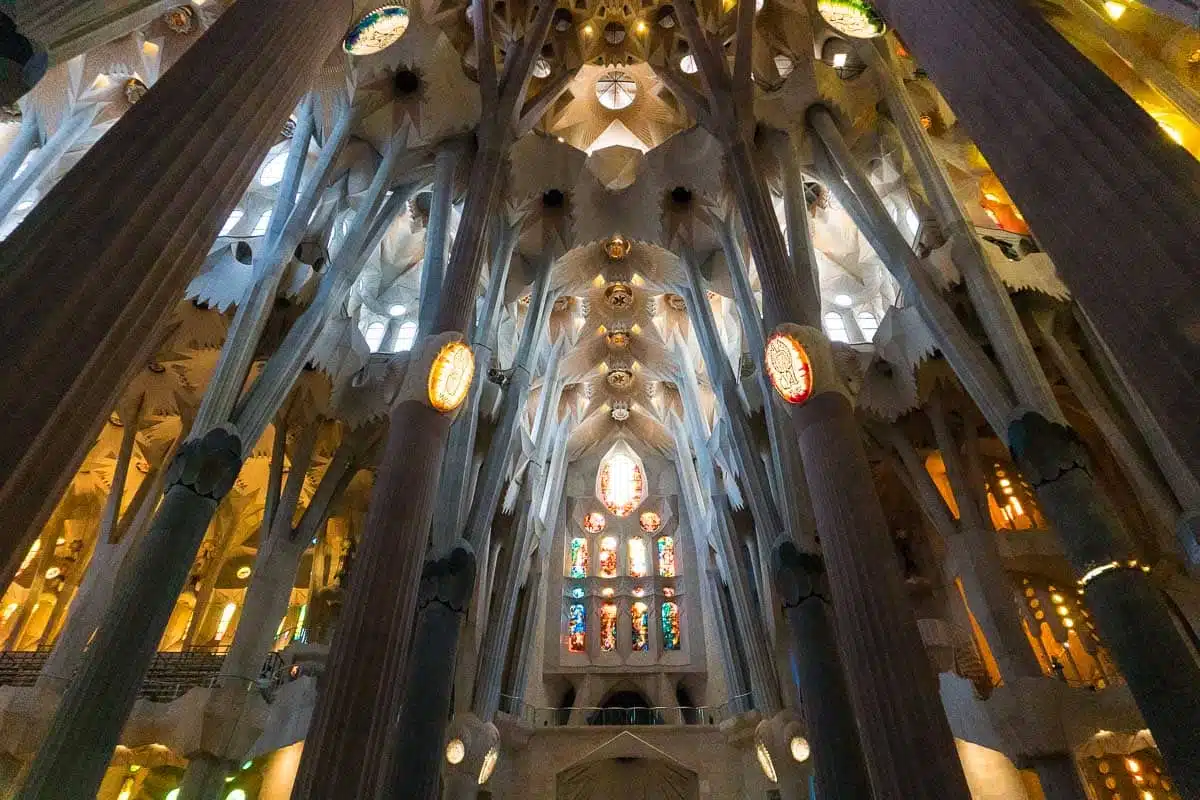 Like I said, during this trip, I've had the opportunity to fully delve into Gaudí's work. And, I have to admit, as much as I love London, our buildings seem a little bit grey and, well, boring in comparison.
But what is it about Gaudí's work that is so engaging? Well, his innovative style blends aspects of Art Nouveau, Gothic and Modernist features and is now known to millions worldwide. Not only do his designs impress, but the use of shapes and structural elements have pushed the boundaries of architecture.
Gaudí's work is an important part of Barcelona's culture and history. He is, after all, the designer of some of Barcelona's most recognisable buildings, including the marvel that is Sagrada Familia.
Some say Gaudí's work embodies the modernist movement by using organic and natural flow, shapes, distinct styles and even technical asymmetry. But, even if you're clueless when it comes to techy architectural terms, I'm sure you can still appreciate just how special Gaudí's work was (and is).
Before we uncover his best work, let's take a little look at his life and influences…
Who Was Antoni Gaudí? What You Need to Know About Gaudí's Life and Architectural Philosophy
Background and Early Years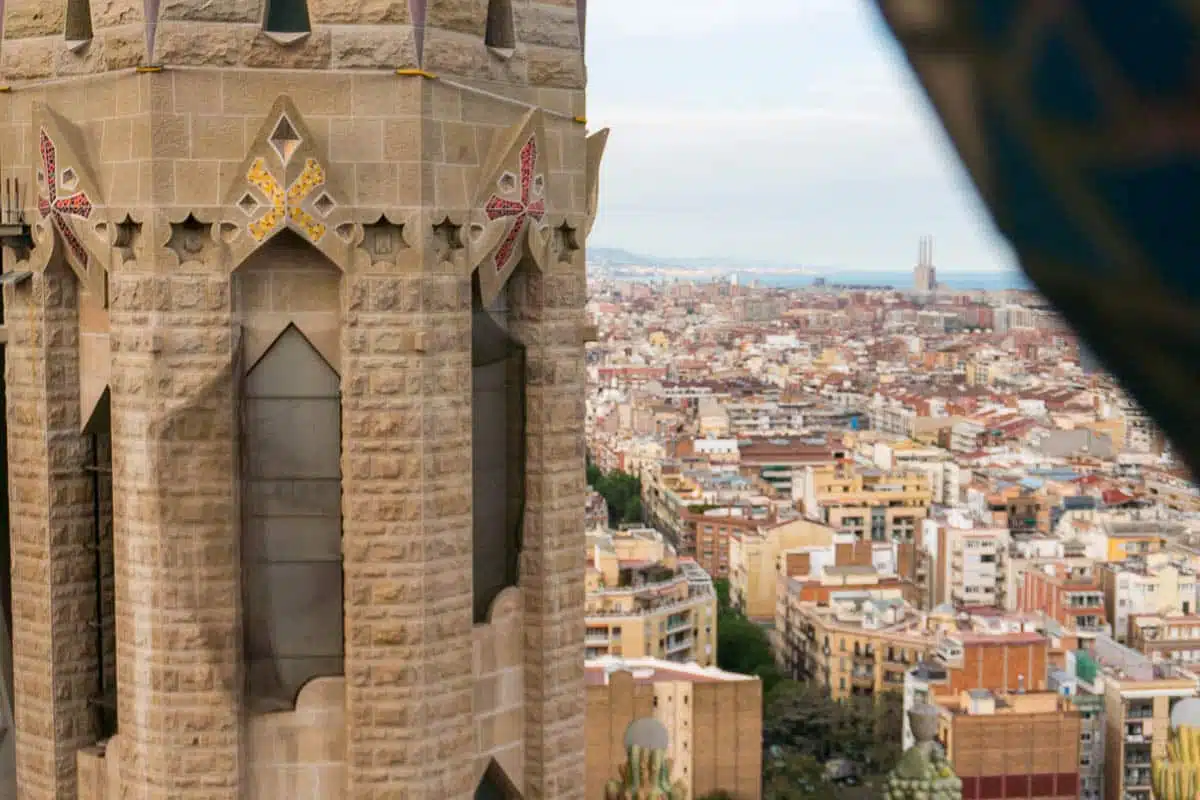 Antoni Gaudí was born in 1852 in the Catalan city of Reus, Spain. He ended up staying in Reus until he was around 16 years old when he decided to flee the nest and pursue his studies in Barcelona.
Gaudí was the son of a craftsman, so he was no stranger to the intricacies of building and creation. Even in his youth, he loved nature, which would later reflect in his work and designs.
While he struggled with some ailments in his early years, particularly rheumatism, he never let that bring him down, and he continued to study and pursue his passion for architecture.
Education and Influences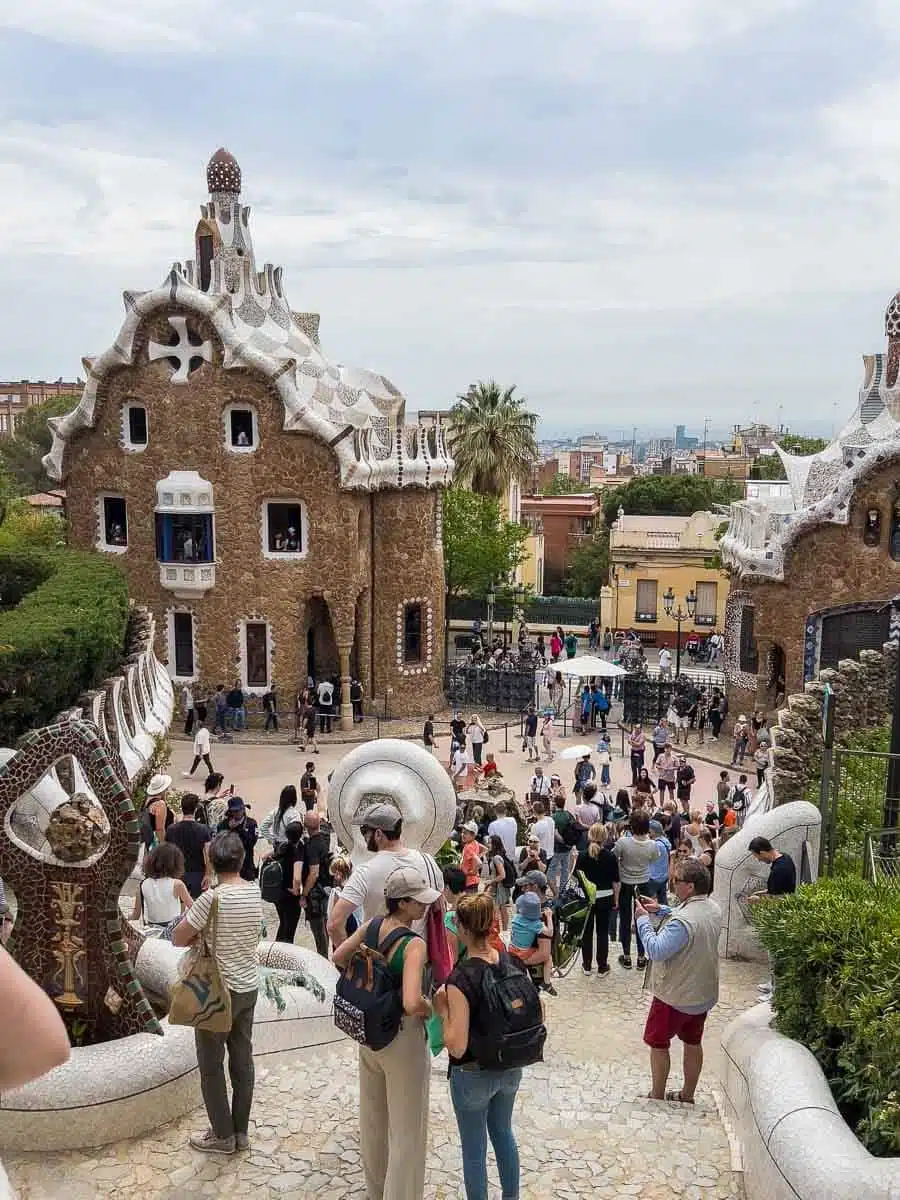 Gaudí's education didn't start with architecture – in fact, he initially studied teaching at a convent in the year 1868. Following some compulsory (and totally unwanted) time in military school, he enrolled at the Llotja School and the Barcelona Higher School of Architecture.
Gaudí always showed a keen interest in design, so when he graduated in 1878 with his architecture degree, he quickly became a rising star. Throughout his years, he broke through the ideas of the times and inspired architects of the future.
The real question is, who or what influenced him? It seems that he found inspiration in different art styles and movements, like Art Nouveau, Catalan modernism and Neo-Gothic styles. Not to mention other artists and mentors, like Eusebi Güell (but I'll get to him later).
The Modernism Movement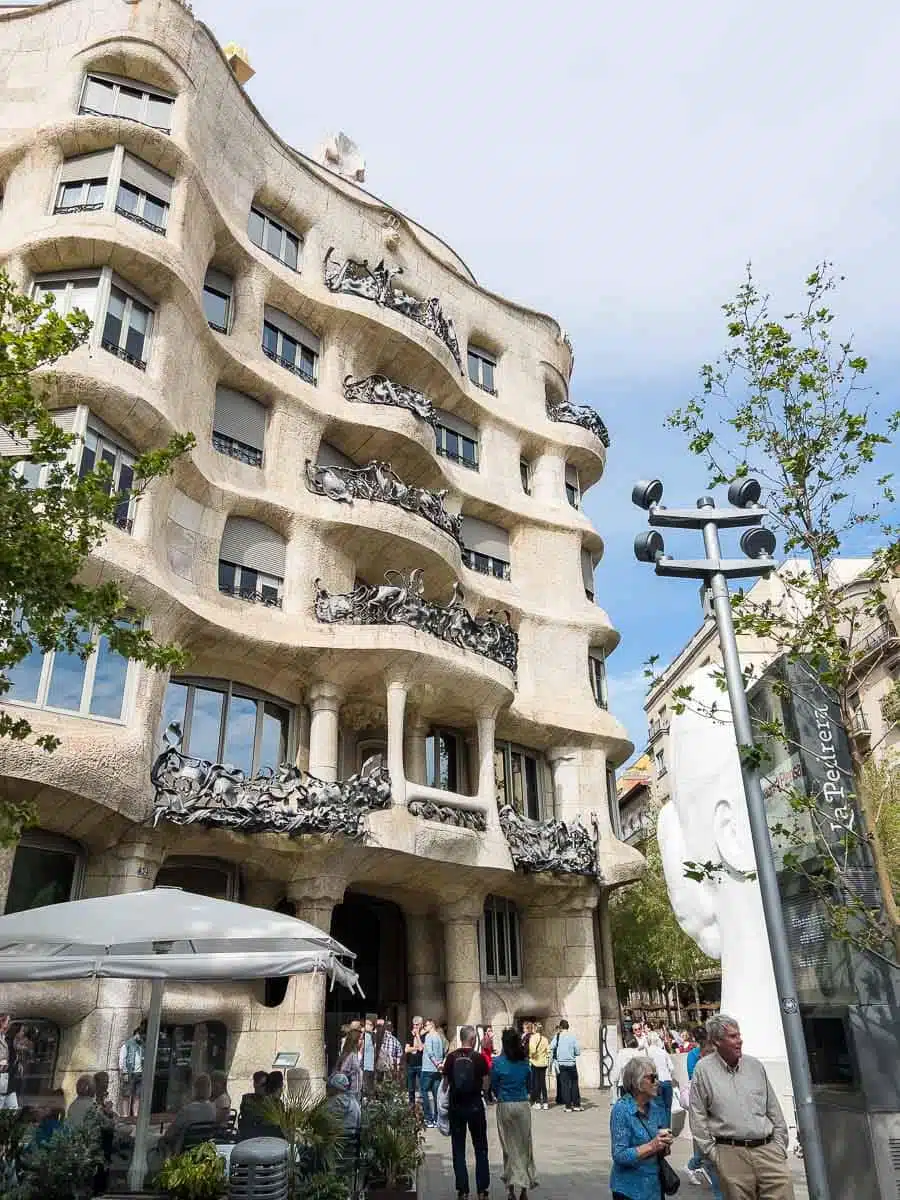 Let's first take a little look at modernism, or Catalan Modernisme. This was an artistic movement beginning in the 19th century and inspired a new era of art and innovation. But what does this have to do with Antoni Gaudí?
Well, this movement significantly influenced Gaudí's style. After all, he did grow up during this time, and it is no surprise that the changes around him played an essential role in his style development.
Natural and Organic Forms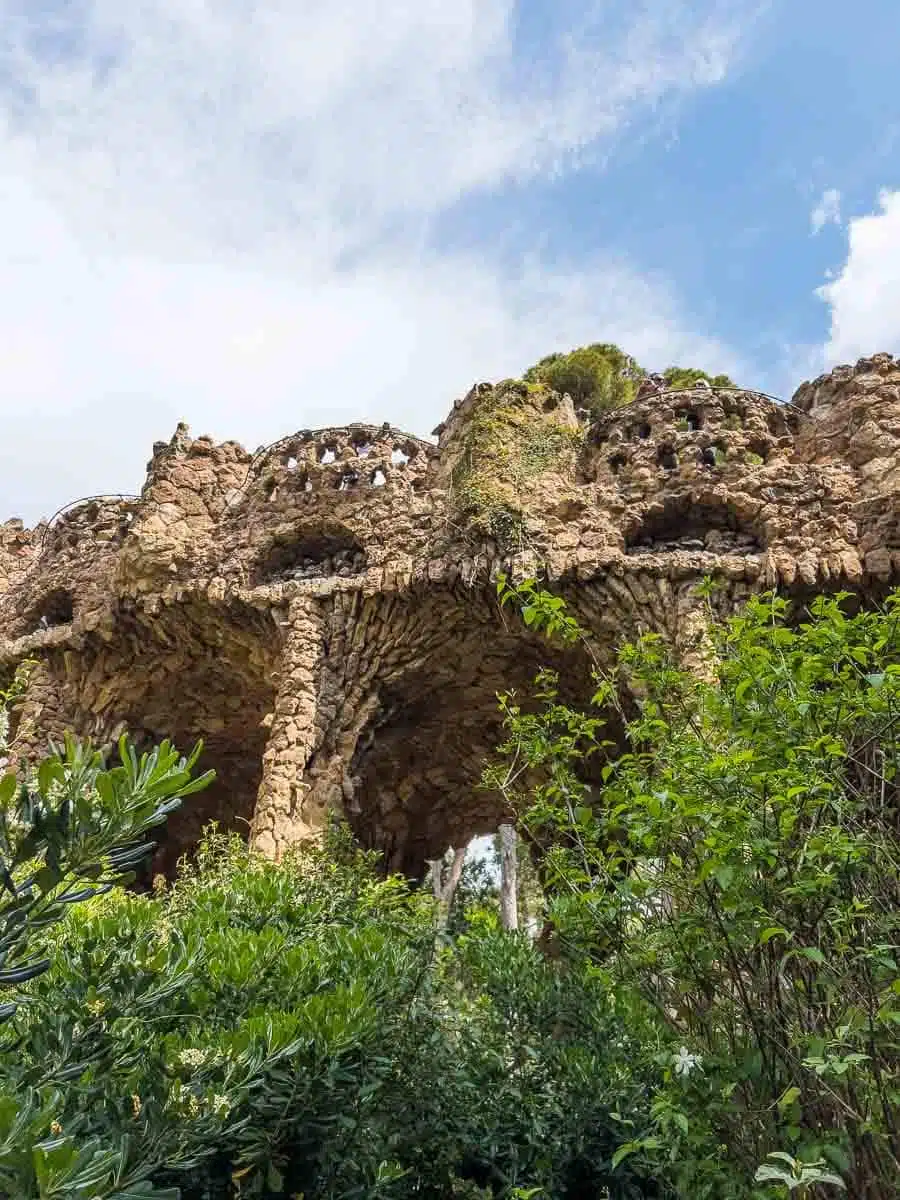 Remember how I mentioned that Gaudí was a lover of nature? A key feature of Gaudí's style is the use of natural and organic forms and shapes, which resemble nature in all its glory.
The environment was a major inspiration for him, and he made it a point to incorporate it into his designs whenever possible. You can certainly see this in the curves of stone or wavy shapes to represent the flow of water.
These inclusions make for a stunning piece, serving a practical purpose and making his structures more robust and sound. It's pretty poetic, really – designs influenced by nature meant to withstand nature's forces.
Development of Gaudí's Unique Style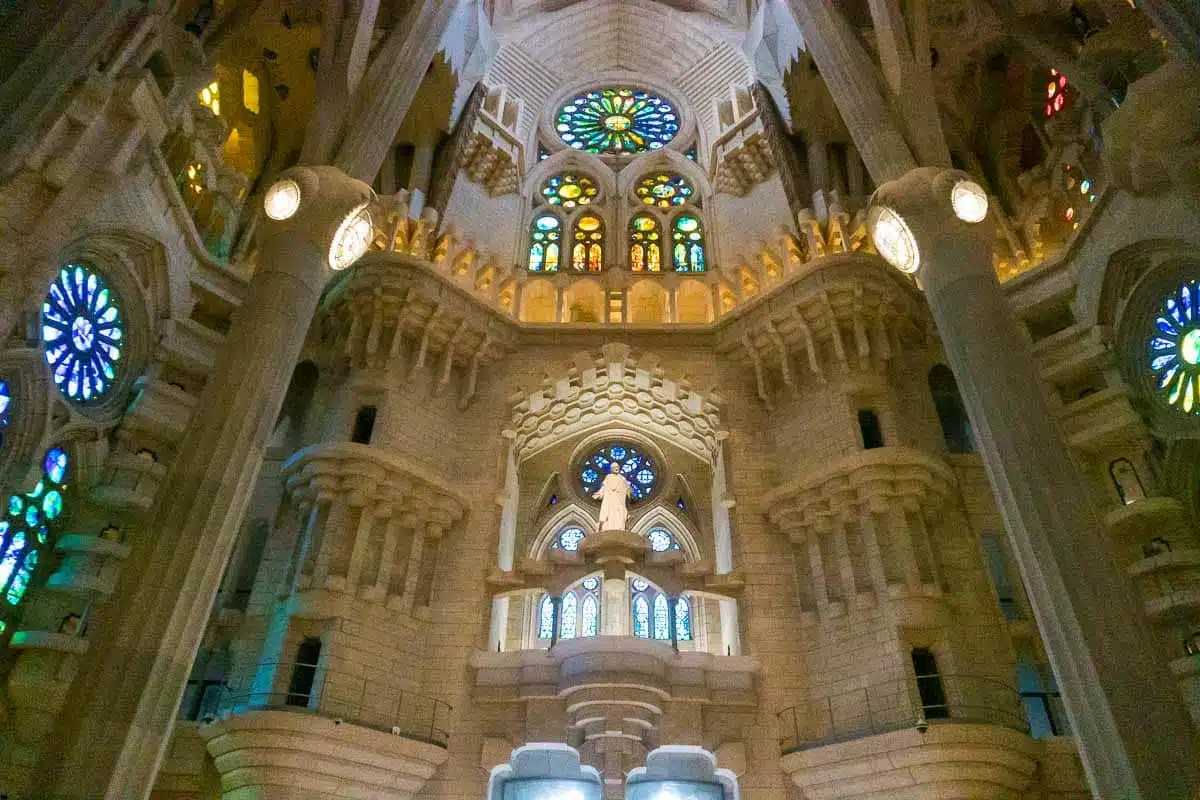 In Barcelona, Gaudí popularised the use of colourful mosaic tiles, unconventional shapes and curves, and creative symbolism. Over the years, his art style evolved (like all good things do) through historical events and the ever-changing landscape of Barcelona's architecture.
Influenced by Art Nouveau, Gothic styles and even oriental techniques, Gaudí's style developed into the wonder we see all around Barcelona today. Combine that with his love for nature and unique incorporations of practicality, and you've got his style in a creative little bundle.
Gaudí's Barcelona – Top Sights You Have to See
Sagrada Família
Background and History of Sagrada Família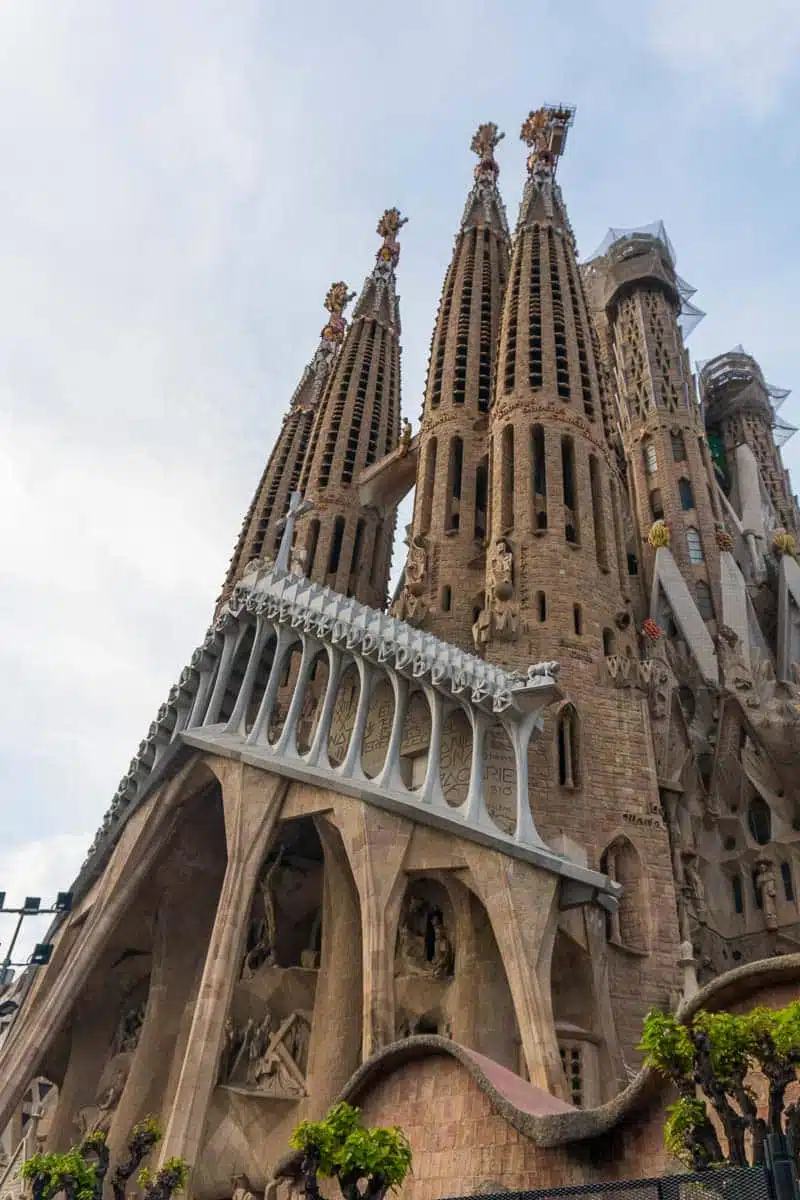 Let's start off with one of Gaudí's most influential pieces. The Sagrada Família has become one of the most famous landmarks in Spain – and for good reason.
The looming towers of the Sagrada Família are one of the most recognisable Gaudí buildings in Barcelona. Initial ideas of this architectural masterpiece first floated around 1866, when St. Joseph devotees envisioned a temple built in honour of the holy family.
Years of planning took place before the construction of the church began. Sagrada Familia's construction began under the watchful eye of Francisco Villar around 1882. Gaudí designed the astonishing towers and structures from the existing crypt, featuring a Neo-Gothic style.
Eventually, Gaudí took over the design, and the results were truly magnificent.
Key Features and Design Elements to Look Out For
Nativity façade
Passion façade
Glory façade (planned)
Interior and stained glass
Towers and symbolism
Ongoing Construction and Completion Timeline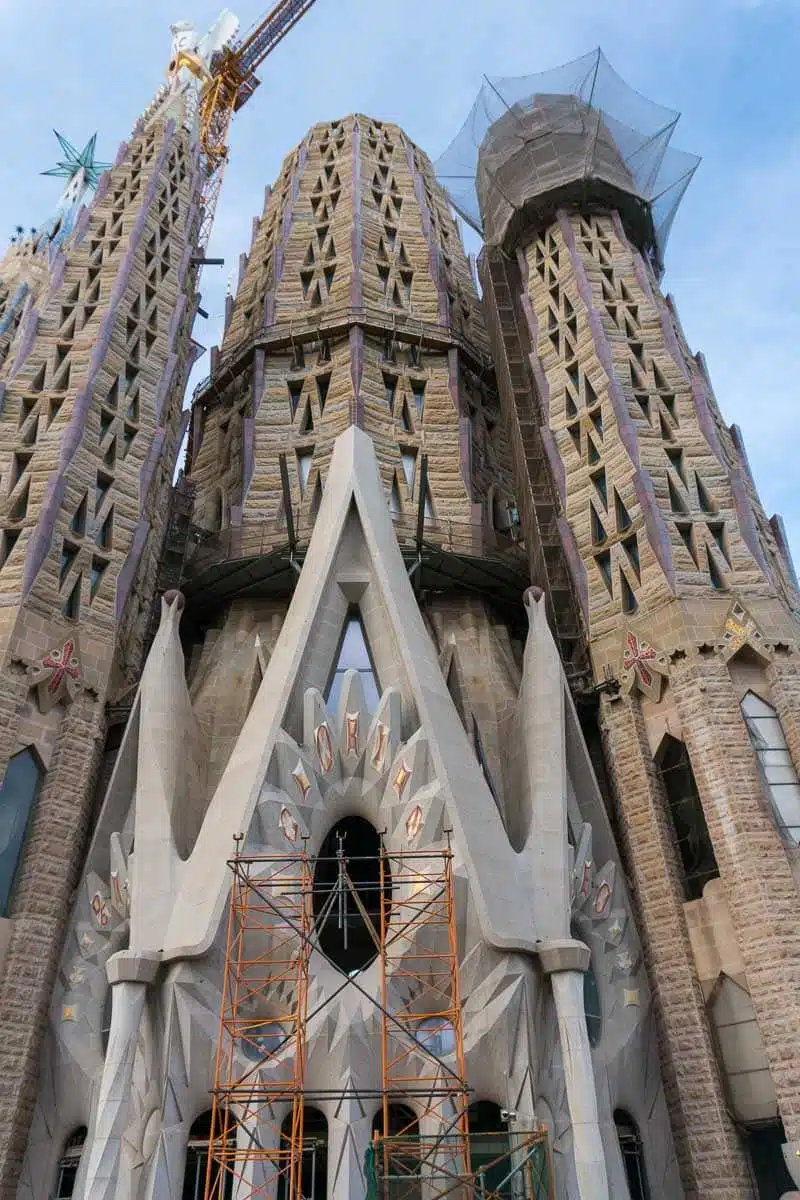 Ideas of building the Sagrada Família first circulated in 1866, but the construction only began in 1882. Antoni Gaudí took over site management in 1883 from Villar, and construction continued from there.
Work on the nativity façade started in 1891, with the bell tower as a part of this structure finishing in 1925. Sadly, this was the first (and only) complete structure Gaudí saw before passing in 1926.
Following this, Francesc de Paula Quintana took over site management in 1939. The building of the passion façade began in 1954, with the bell towers concluding in 1976. After much time and effort, in 1983, UNESCO named Sagrada Família a World Heritage Site.
Construction of various aspects continued throughout the years but halted during the COVID-19 pandemic, only to start again in late 2020 and early 2021 (thanks a lot, COVID).
While this colossal church is still under construction, the structure's completion will be around 2026 (well, at least that's the plan), on the 100th anniversary of Gaudí's death. Suffice to say that this will be a historical milestone for the ages.
Legacy and Significance of Sagrada Família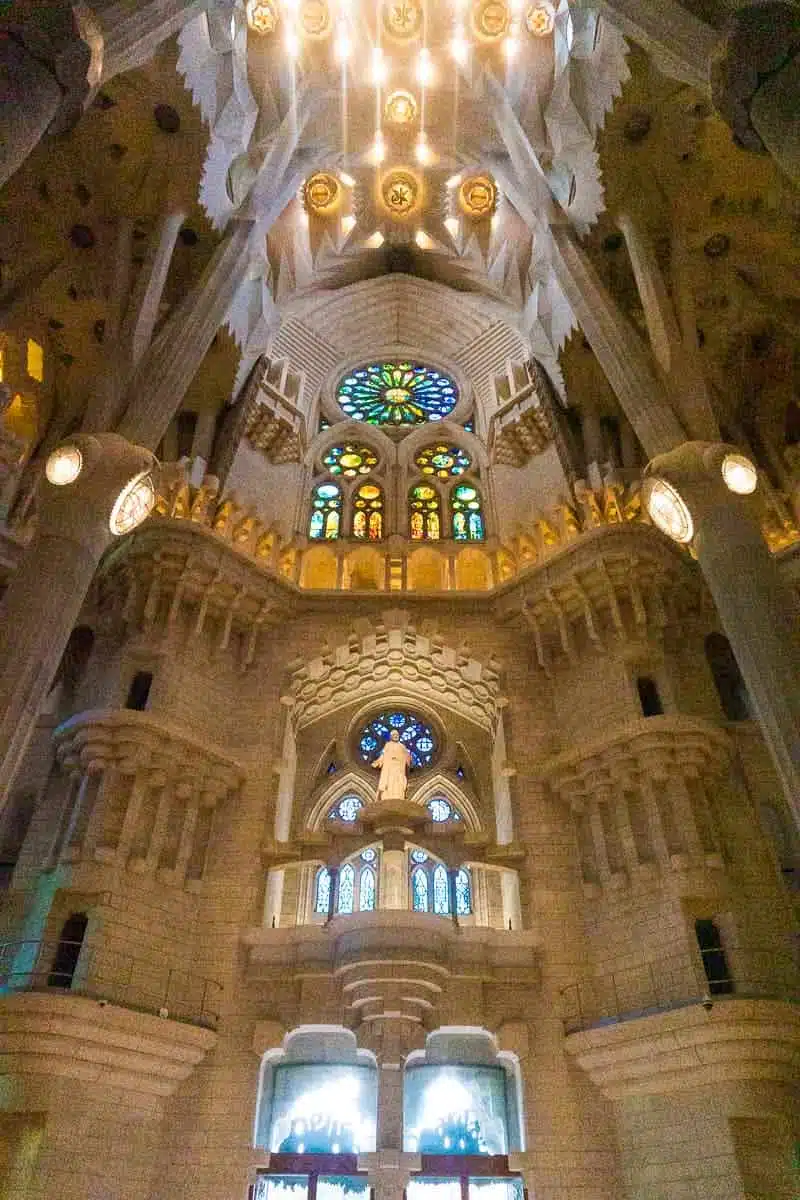 The significance of Sagrada Família is deeply rooted in the vision for this Gaudí cathedral, Barcelona and its people. Not only is it a place for Barcelona's residents to worship and sing prayers, but it is also the safe haven he envisioned for everyone.
The designs of the façades are incredibly intentional – with the Nativity façade depicting the birth of Christ in gorgeous detail. The Passion façade, on the other hand, is more reserved and illustrates the sombre nature of the events it portrays.
Park Güell
Background and History of Park Güell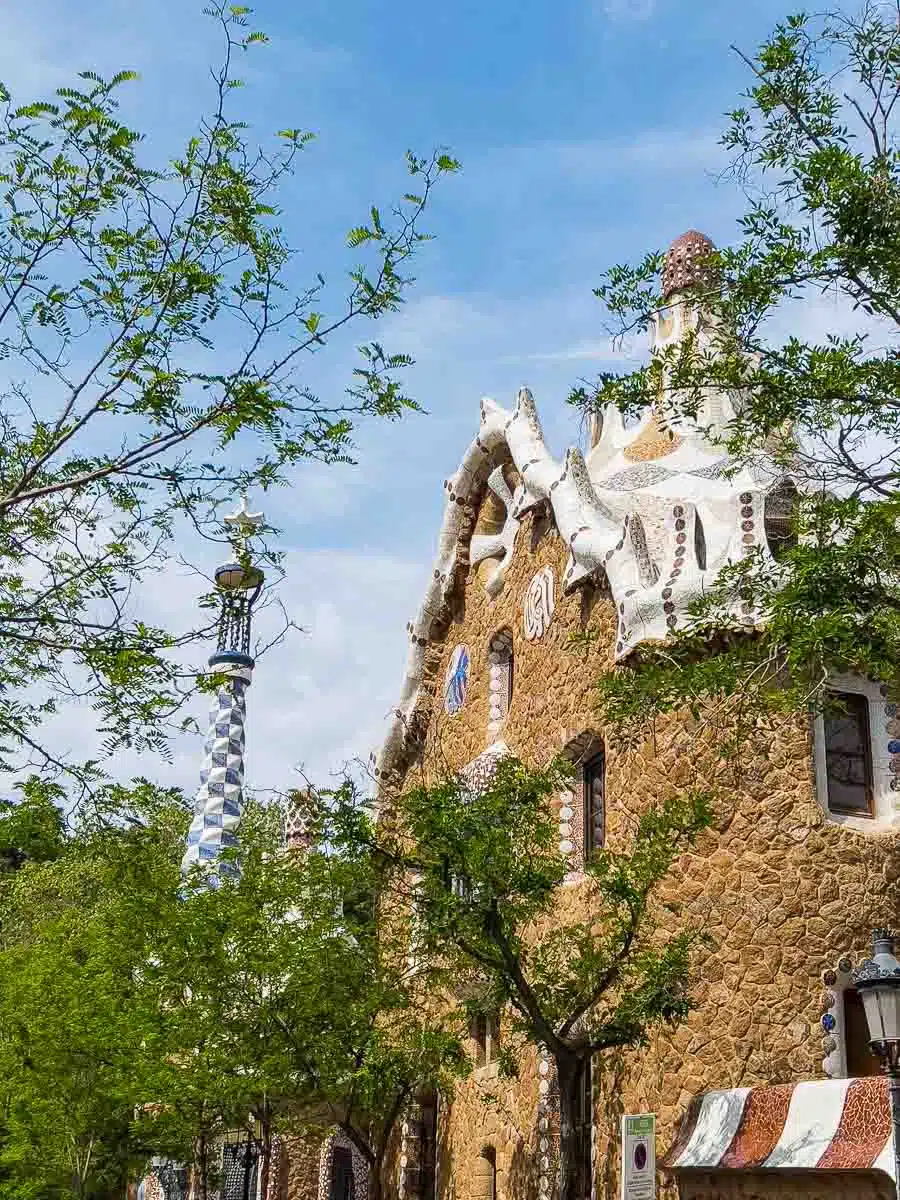 The perfect Spain itinerary doesn't exist without visiting Park Güel – it's one of the best things to do in Barcelona. I recently returned after (many, many) years and was still blown away as I was when I was in my youth and backpacking with friends.
It's part park and part magical escape – with fairytale-esque mosaic-covered structures, fantastic tunnels and grottos. But how did it all start?
Eusebi Güell, the owner of the park at the time, enlisted the services of Gaudí and asked him to develop plans for estates to lure wealthy families.
Construction began in 1900 but stopped in 1914. The park was then sold to the Barcelona council after the passing of Güell in 1918 and became a public park in 1926.
A few buyers purchased the three envisioned areas of land and two houses, including Gaudí's. Gaudí's property later became a school, but in 1963, it changed again, but this time into the Gaudí House, Barcelona – a historical museum.
It was finally recognised as an artistic monument, and UNESCO named it a World Heritage Site in 1984. You need to check it out for yourself.
Key Features and Design Elements to Look Out For
Mosaic work
Serpentine bench
Viaducts and colonnades
Symbolism and Interpretation of Park Güell in Gaudí's Barcelona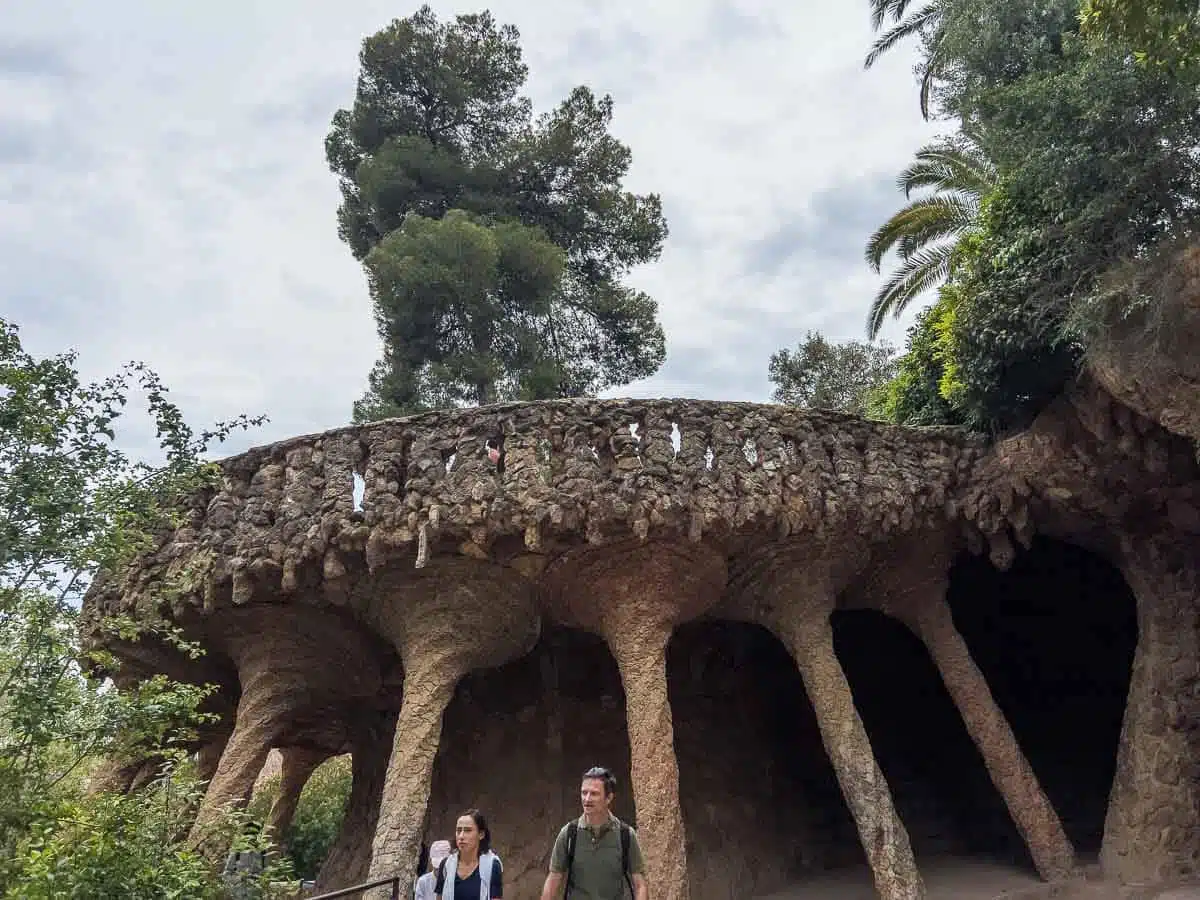 Güell initially wanted the park's design to combine Hellenic symbolism with Catalonian nationalism and Christianity. Sounds intense, right? Basically, that means that Gaudí built the park with religious symbolism in mind.
Take the entrance to the park, for example. Some say that this represents an entrance to paradise. Perhaps you're interested in the famous dragon sculpture located by the stairway. The three surrounding fountains and smaller statues of the dragon are symbolic of the Catalan countries.
One thing is sure, though – Park Güell is an exceptional representation of Gaudí's art style, religion, and Catalan history.
Casa Batlló
Background and History of Casa Batlló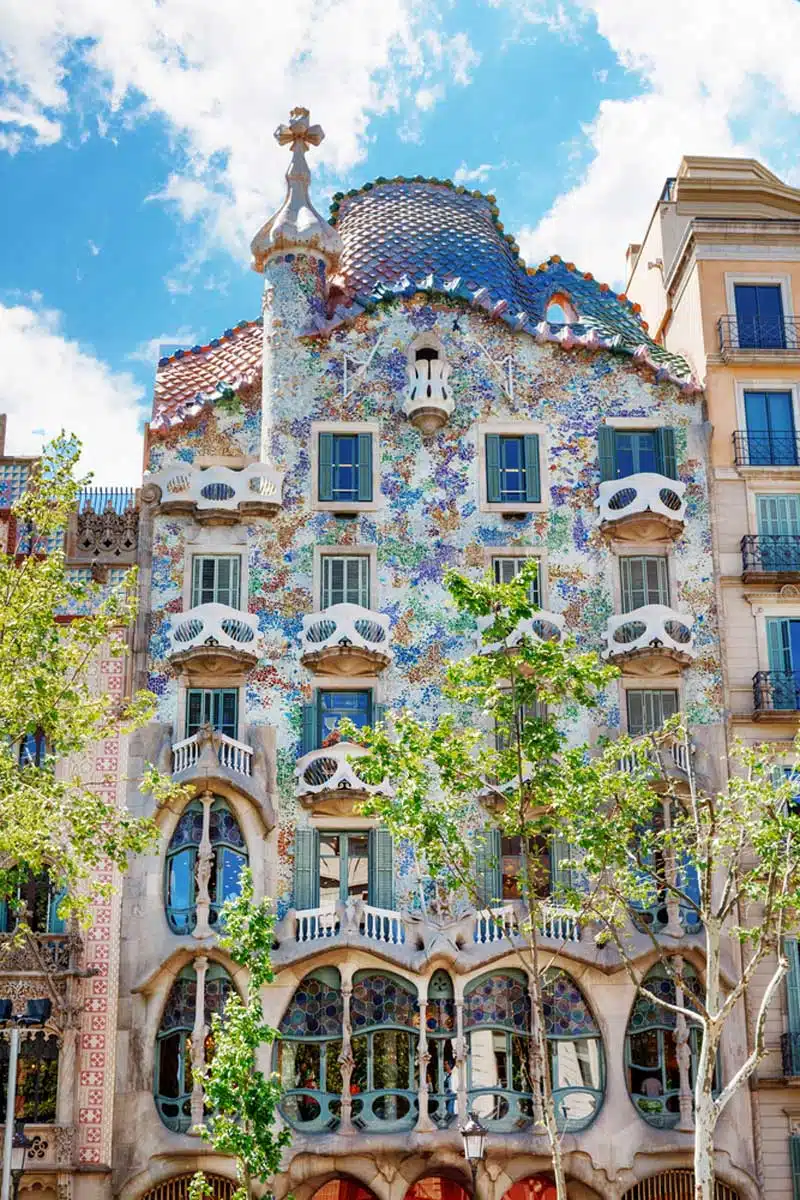 Casa Batllo is on Paseo de Gracia, an infamous street that has made its name as an epicentre in Barcelona – a locale for the important and the wealthy. Of all the Gaudí buildings Barcelona offers, Casa Batllo is among the best (in my not-so-humble opinion).
The house was initially constructed in 1877 by Emilio Sala Cortés, a former architectural professor of Gaudí. It was then purchased by Josep Batlló in 1903, who would later give Gaudí full creative reign to update the home – talk about the student surpassing the teacher.
Between 1904 and 1906, the house underwent further construction, and Gaudí redesigned it in his unique style, changing the house's façade, lighting and so much more.
Key Features and Design Elements to Look Out For
Façade and balconies
Interior design and layout
Roof and chimneys
Symbolism and Interpretation of Casa Batlló in Gaudí's Barcelona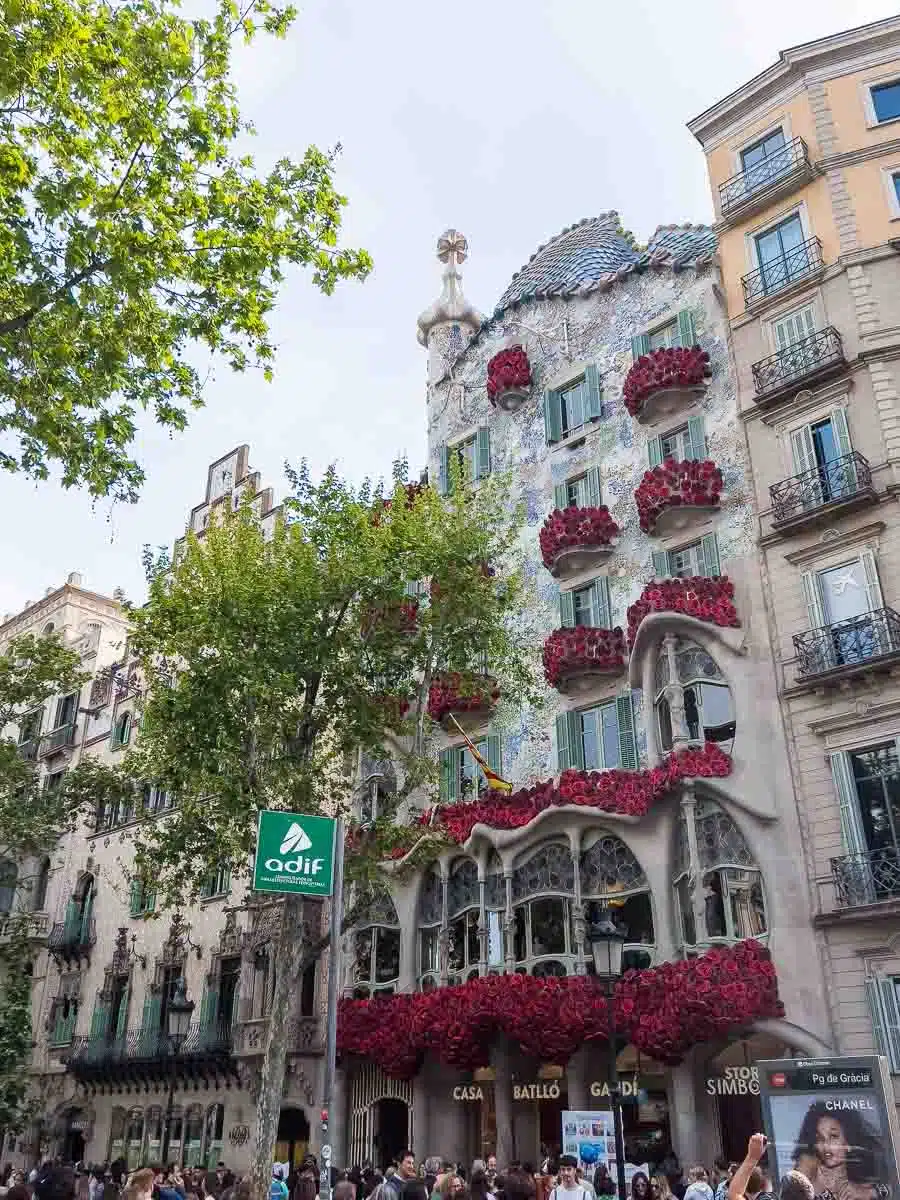 Gaudí was a known environmentalist, and maintaining the good of nature was incredibly important to him – that's why you'll often see his designs using mosaic styles. The jagged edges of broken tiles are distinct in his building, ensuring nothing goes to waste.
The main façade of the building has many interpretations and meanings. Most notably so is the representation of Saint George of Catalonia, the patron saint. The roof represents dragon scales, and the cross represents a sword.
The façade tells a story. A story of how Saint George slays a dragon with a mighty sword to protect a princess. Who would have thought that architectural design could depict such a fascinating tale?
Casa Milà (La Pedrera)
Background and History of Casa Milà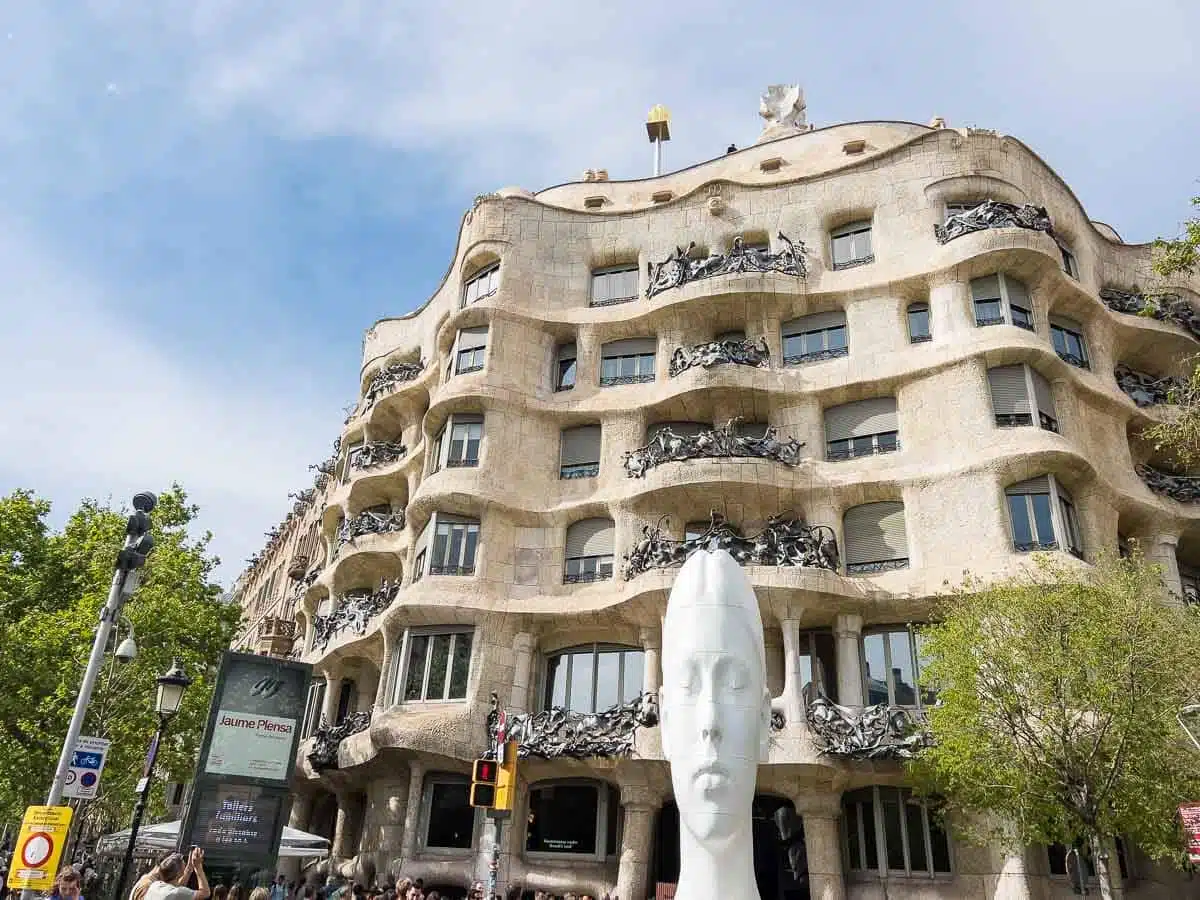 Next up: Casa Milà. Just a hop, skip and a very short stroll from Casa Batlló, Casa Milà is another of Gaudí's fantastical designs in the centre of town.
It was actually the last civic project Gaudí ever worked on, so it makes a nice bookend to visiting Casa Vincens to see how his work evolved throughout his lifetime.
Pere Milà commissioned the design and intended to create a new home for his family. The Mila family occupied the main floor while renting out the remaining apartments to residents of Barcelona.
Construction began in 1906 and concluded in 1912 with the fantastical façade and ornamental designs we know and love today.
Fun Fact: La Pedrada means "stone quarry". The concrete shapes and smooth finish of the building's exterior resemble the exposed stone of a quarry, hence the name.
Key Features and Design Elements to Look Out For
Wavy façade
Interior courtyards
Rooftop and chimneys
Symbolism and Interpretation of Casa Milà in Gaudí's Barcelona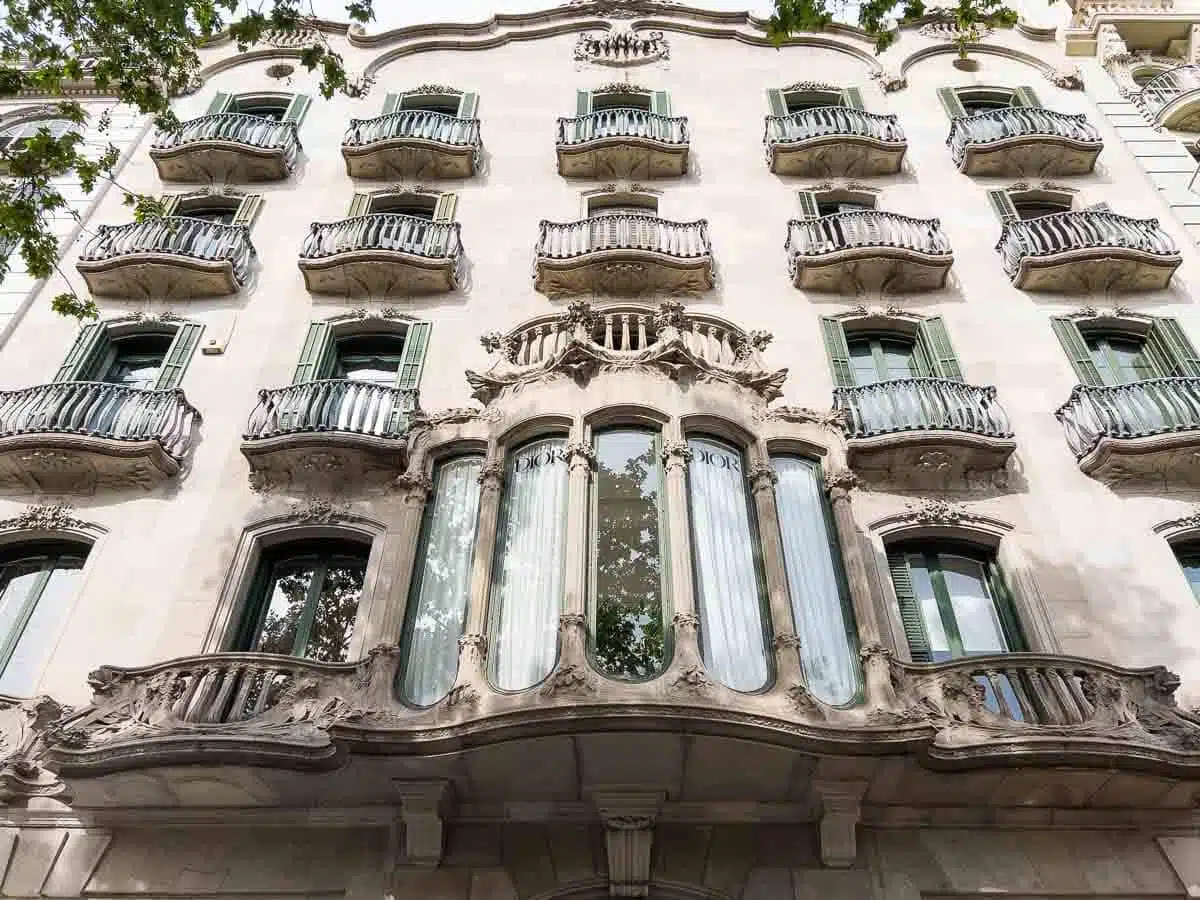 The waves and smooth edges of the building and chimneys represent Gaudí's signature natural and organic forms. They represent the curves of mountains and stone, although later found to resemble a stone quarry.
The stunning circular courtyard in the centre of the building opens up to allow the sunlight to cast its rays upon the structure. Even the ventilation holes on the ceiling are different shapes to represent the four elements, fire, air, water and earth.
Ultimately, Casa Mila, in a way, represents and honours nature – as many of Gaudí's builds do.
Top Tip: You can book special events on the rooftop at Casa Milà. This summer, for example, they're holding a series of jazz concerts on Thursday and Friday evenings. And I can't quite think of a more gorgeous location.
Palau Güell
Background and History of Palau Güell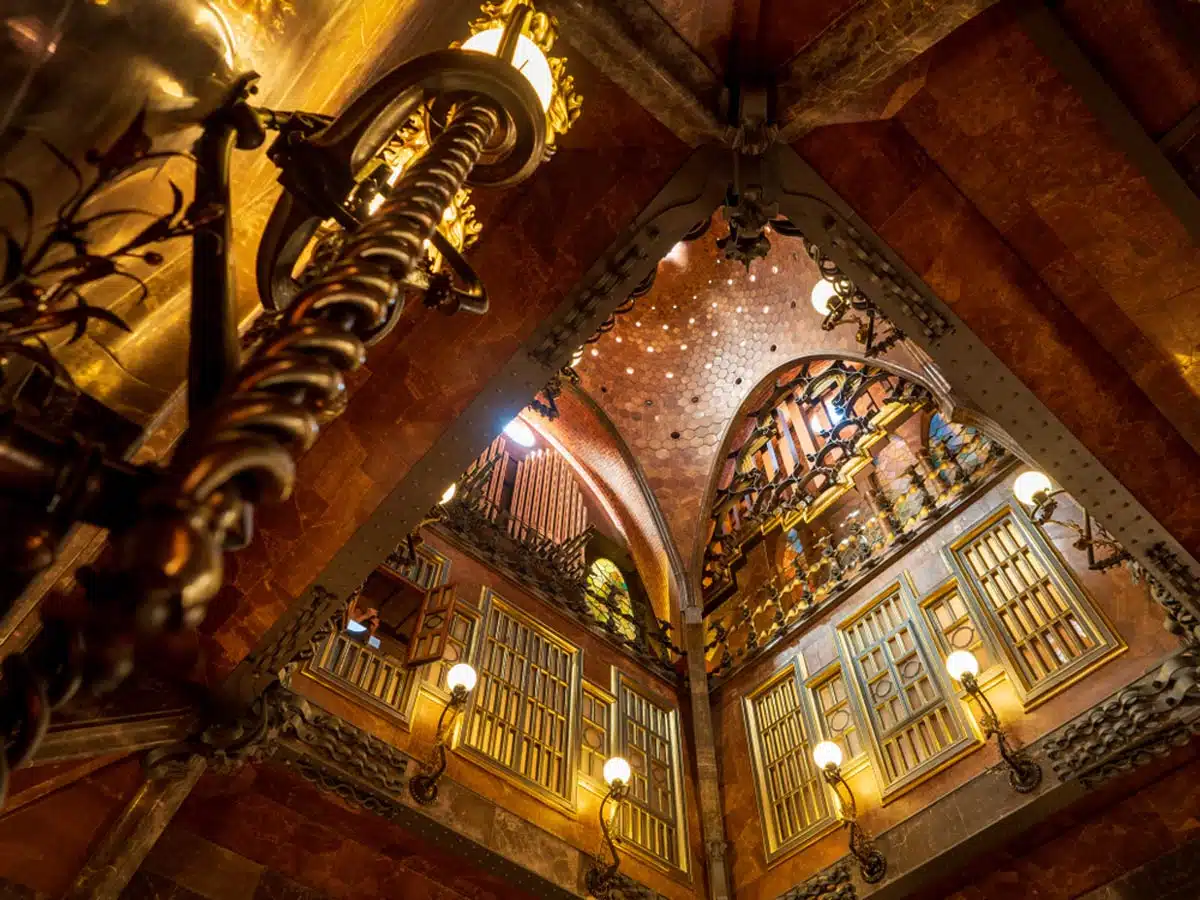 Palau Güell is one of Gaudí's earliest constructions that he began under the watchful eye of Eusebi Güell. The building for this location took place between 1886 and 1888 and truly is a marvellous representation of Catalan modernism.
Güell intended this to be an extension of his family home and commissioned Gaudí afterwards. Since this was one of the first major builds that Gaudí was responsible for, it became one of the most important for his career and reputation as an architect.
UNESCO named it a World Heritage Site in 1984, and it was later renovated for a further seven years between 2004 and 2011.
Key Features and Design Elements
Central hall
Wrought ironwork
Mosaic and ceramic decorations
Symbolism and Interpretation of Palau Güell in Gaudí's Barcelona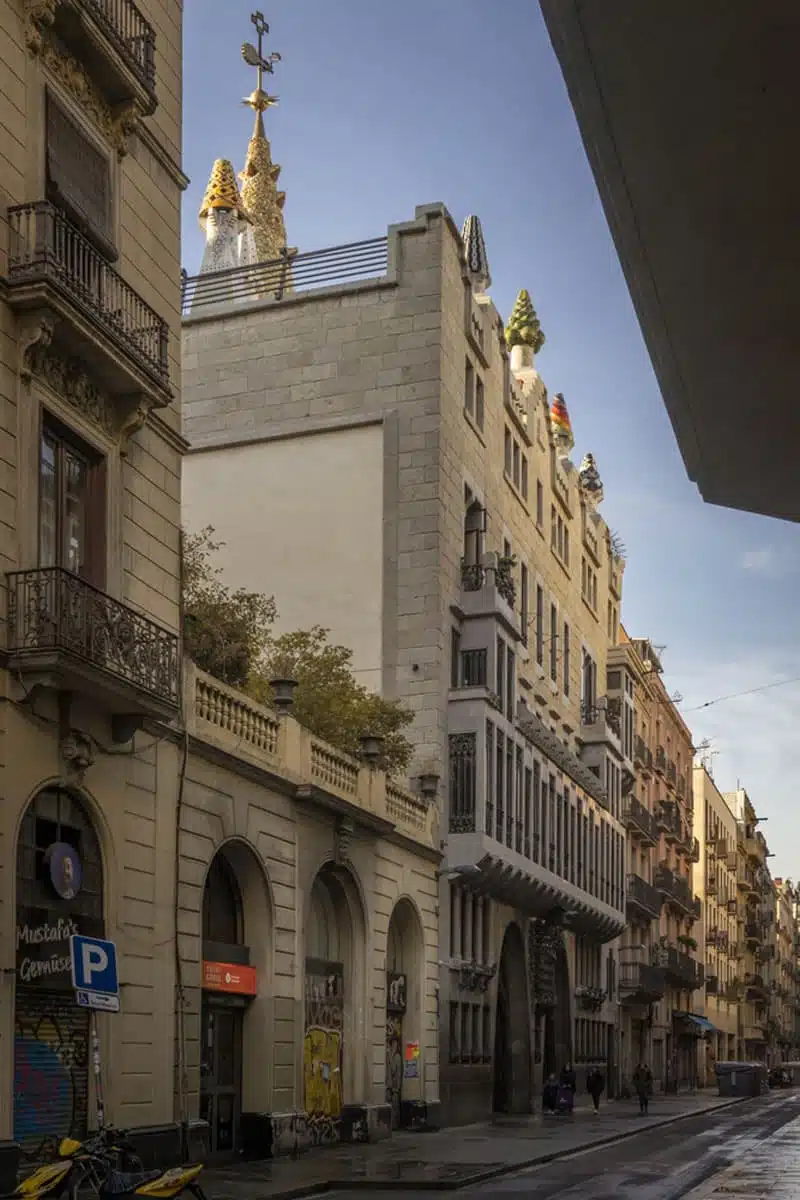 The exterior of this palace is the first example of just how creative and symbolic Gaudí's work is. The entrance to the main façade features a stunning iron door adorned with the Catalan coat of arms alongside a phoenix.
The phoenix is a famous symbol of rebirth and life, so it is no surprise that some believe this entrance represents the Catalan political and cultural movement and revolution. This takes a sharp turn from Gaudí's previous works that represented religion.
Colonia Güell
Background and History of Colonia Güell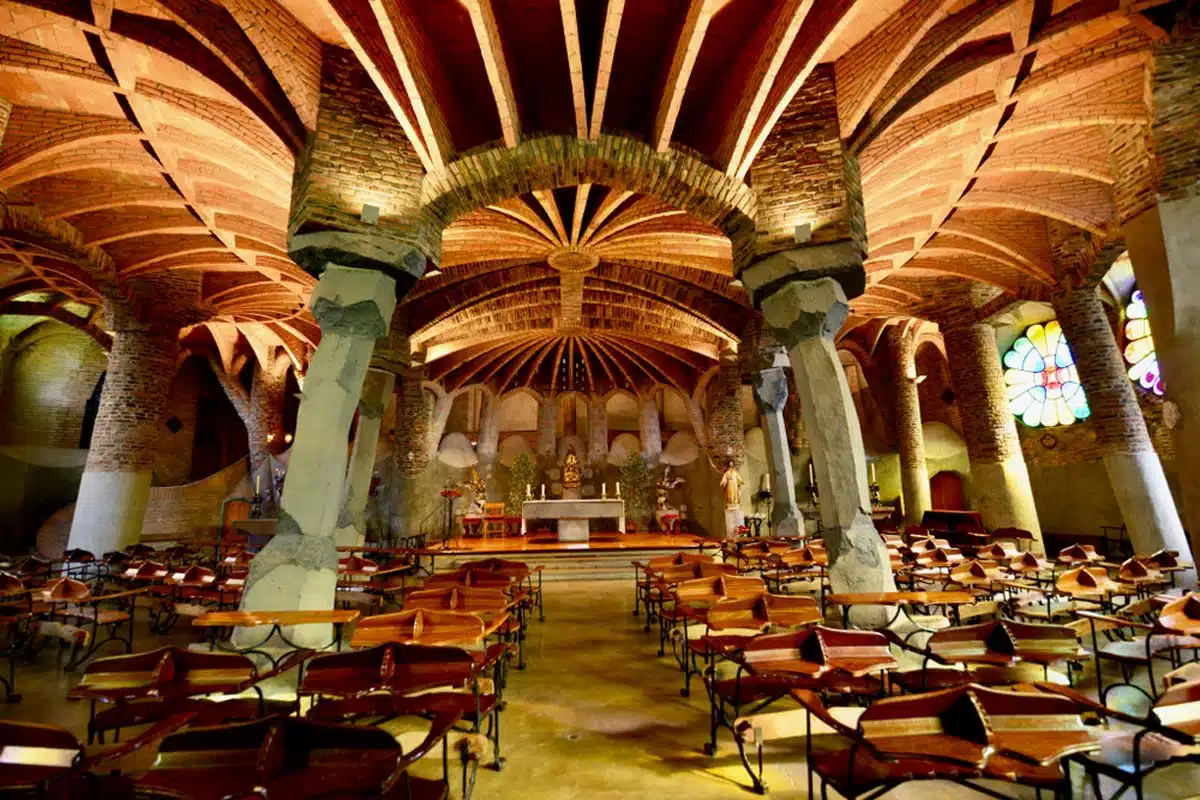 A Gaudí masterpiece that often flies under the radar is Colonia Güell. This is another work involving Gaudí and Eusebi Güell, and the construction of Colonia Güell began in 1890 on Güell's country estate in Santa Coloma de Cervelló.
It's rather sweet that Güell had a particular appreciation for his workers, so this building was a safe accommodation space for workers and their families.
That said, construction of this building was a wild ride. Güell had decided to withdraw funding for construction in 1914, leaving behind an unfinished structure that locals called the crypt.
Despite this, the church site still bares the beauty and uniqueness of Gaudí's work, and UNESCO finally named it a World Heritage Site in 2005.
Key Features and Design Elements
Catenary arches
Hyperbolic vaults
Broken mosaic tiling
Symbolism and Interpretation of Colonia Güell in Gaudí's Barcelona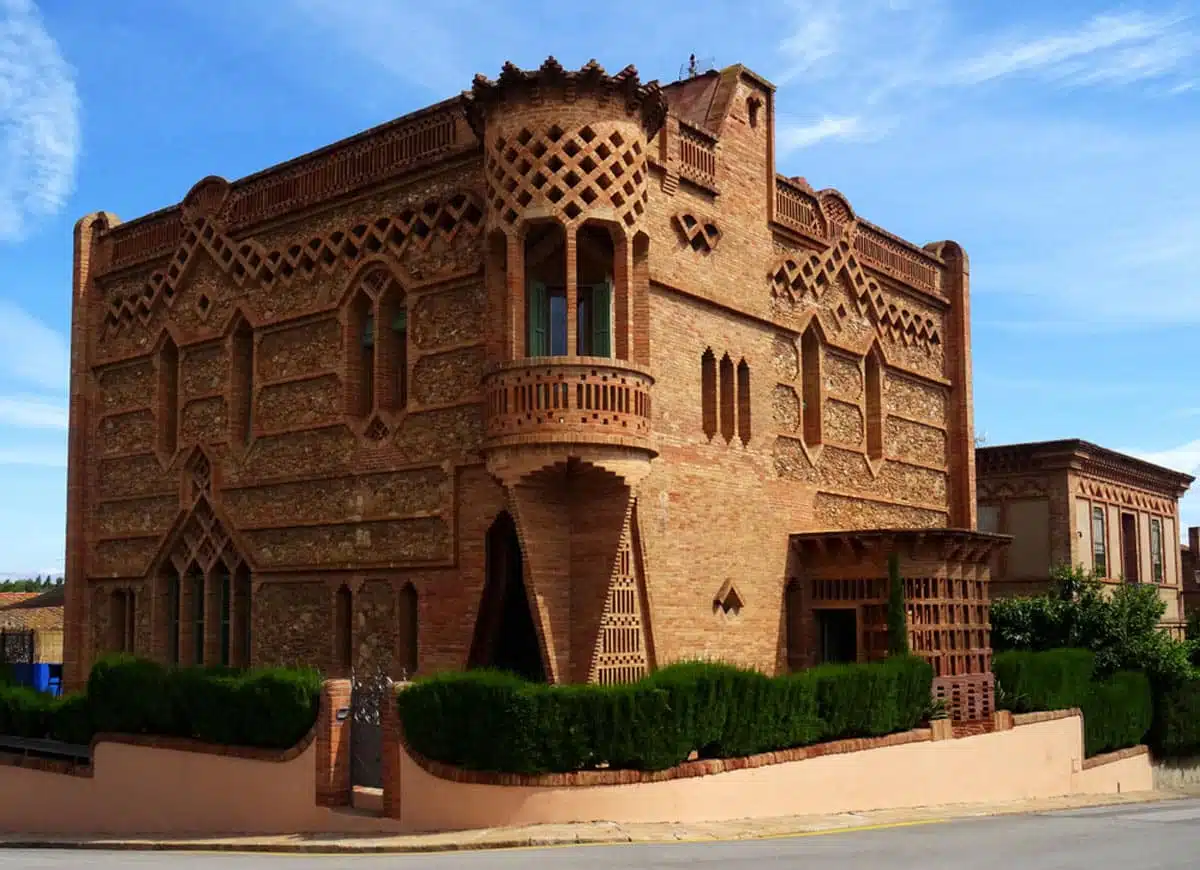 Since this was one of Gaudí's earlier commissions, it's no surprise that he used it to explore and hone his signature styles. From stained-glass windows to natural and organic forms, Gaudí could showcase the different styles that inspired his creations, especially modernism and nature.
Ultimately, Colonia Güell represents much of Gaudí's growth and the development of the style that he later used in his other astounding creations.
Casa Vicens
Background and History of Casa Vicens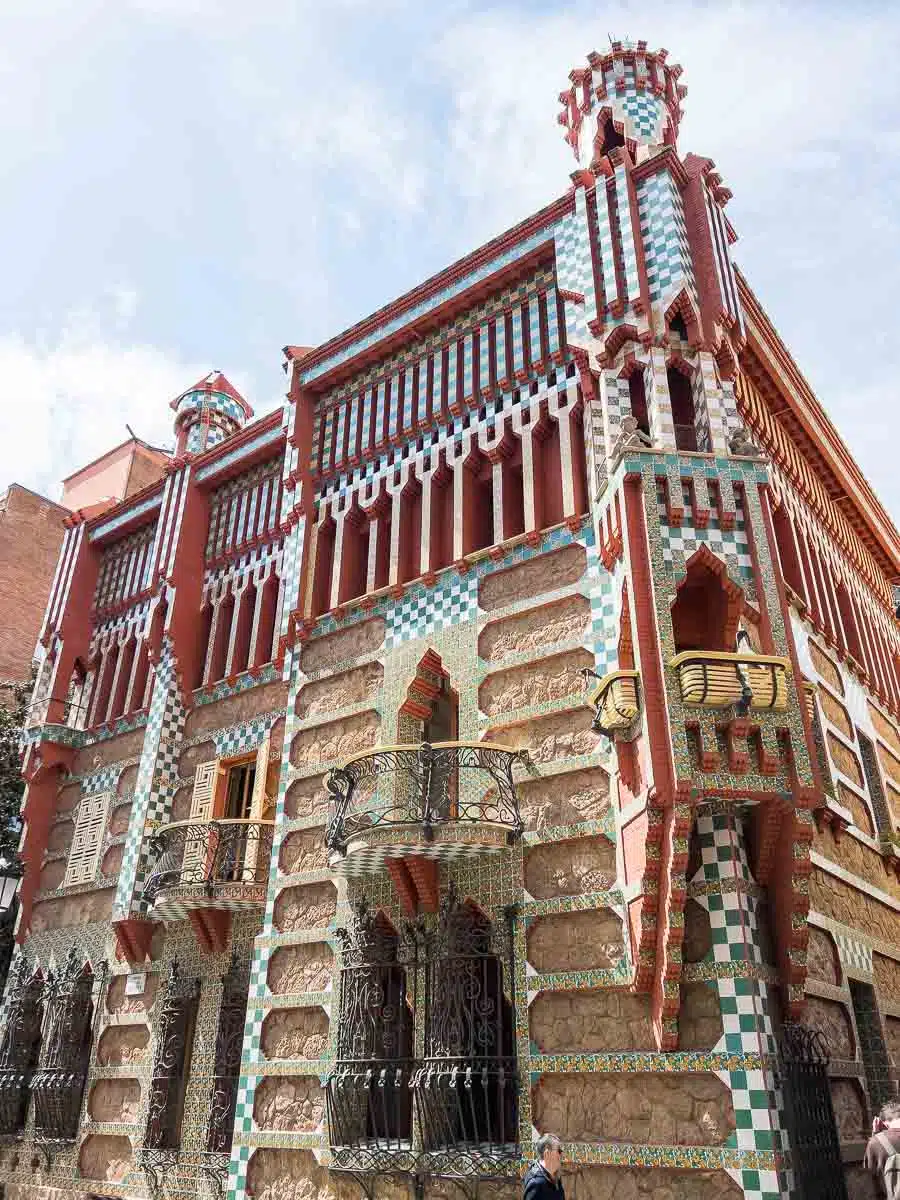 Casa Vicens is another one of Gaudí's earliest commissions (for some context, he was only 31 years old when he came up with this masterpiece). It is a must-see – I think this is definitely one of the best Gaudí sites in Barcelona.
Even though Casa Vicens is one of Gaudí's earliest works, you can see a lot of his signature use of colour, light and pattern throughout the home.
This gorgeous villa in Gracia was initially a private residence for a stockbroker named Manuel Vicens. Construction took place between 1883 and 1885.
Over the years, house ownership changed, but one thing remained – the beautiful architecture. Like many works of Gaudí, UNESCO named Casa Vicens a World Heritage Site in 2005, and in 2017 the house was finally open to the public. Now you can enjoy this site to your heart's content.
Key Features and Design Elements
Decorative tile exterior and garden
Entrance hall
Dining room
Symbolism and Interpretation of Casa Vicens in Gaudí's Barcelona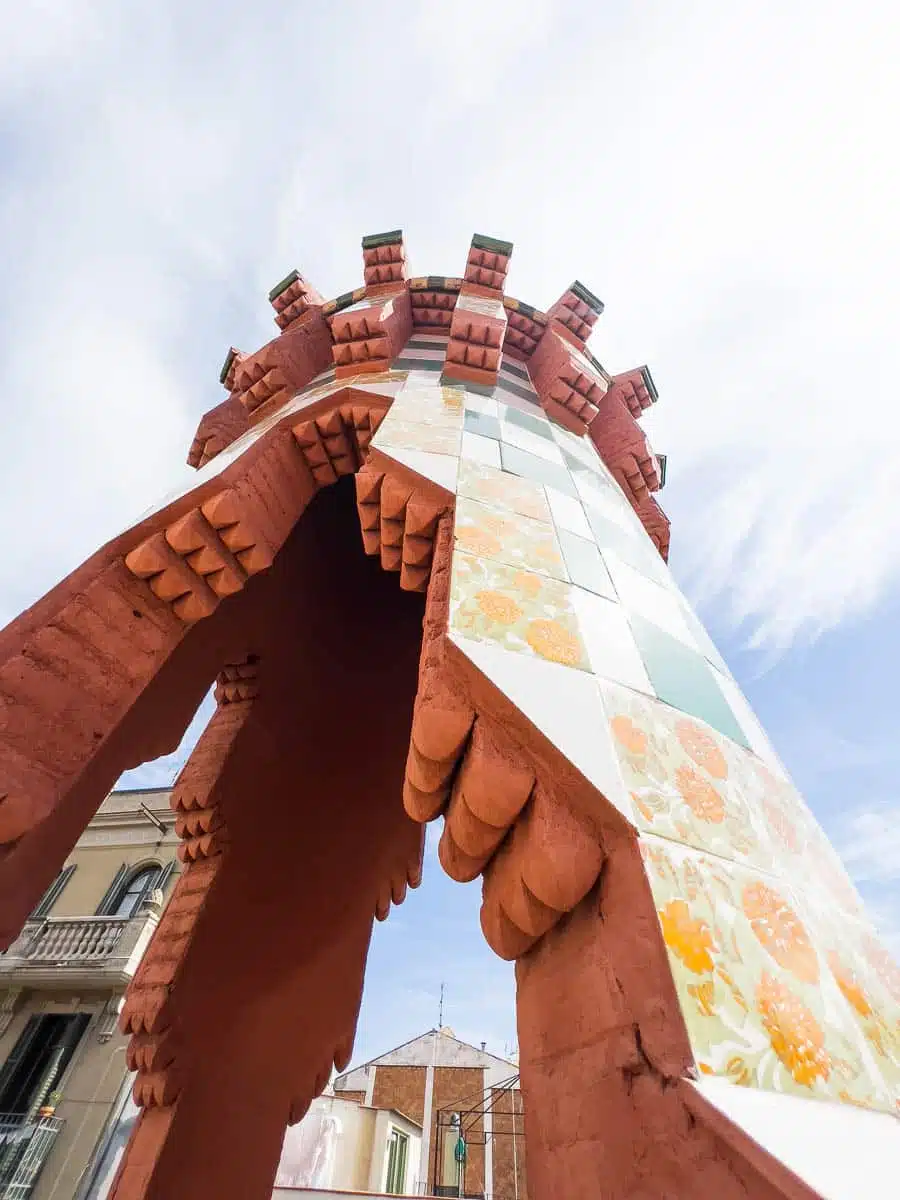 Casa Vicens is undoubtedly one of Gaudí's best works, but one might even say it is one of the first great representations of Catalan modernisme he created.
Incorporating the classic natural and organic forms that Gaudí loves, the building symbolises his love for nature and care for the environment. Not to mention the gorgeous colours and mosaics typical of his work are a 'Grammable dream.
I adored this building. For the entrance hall, Gaudí took what could have been a boring, small space and filled it with Modernist drama. It feels like a continuation of the garden, which was definitely a deliberate move on Gaudí's part.
This is similar to the dining room. Gaudí was not afraid of bold statements; he filled the space with depictions of wildlife and plants, accompanied by specially-commissioned furniture that only added to the drama.
Bellesguard
Background and History of Bellesguard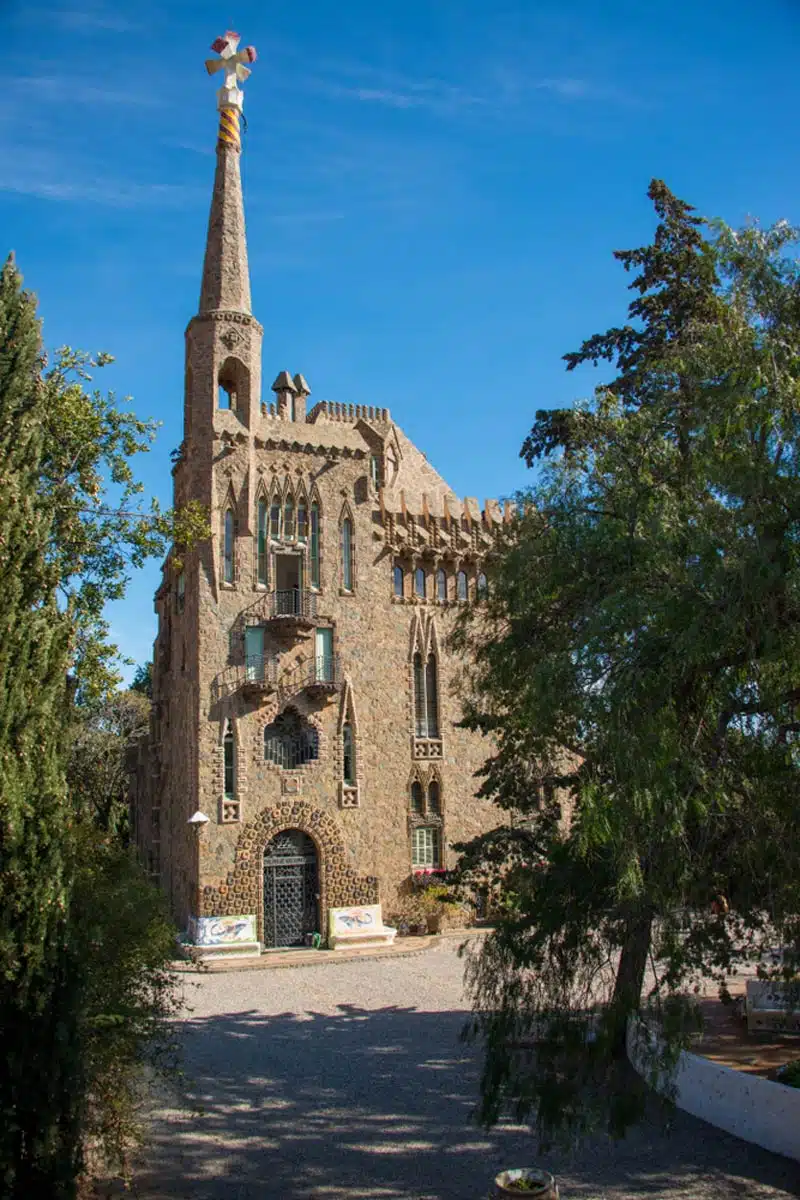 The slender tower and brick exterior of Bellesguard is an ode to medieval and Gothic architecture. Gaudí found inspiration in the previous castle of King Marti l'Humà and his summer residence in 1410 (talk about a blast from the past).
Gaudí designed Bellesguard with similar features to the castle and tried to maintain a similar style, like the courtyard, brick façade and embattments.
Construction of the castle-like structure began in 1900 and finished nine years later in 1909. The incredible tall tower, grand walls, and colourful tiles that adorn Bellesguard will surely impress you.
Key features and design elements
Bellesguard tower
Stained glass windows
Mosaics and tile patterns
Symbolism and Interpretation of Bellesguard in Gaudí's Barcelona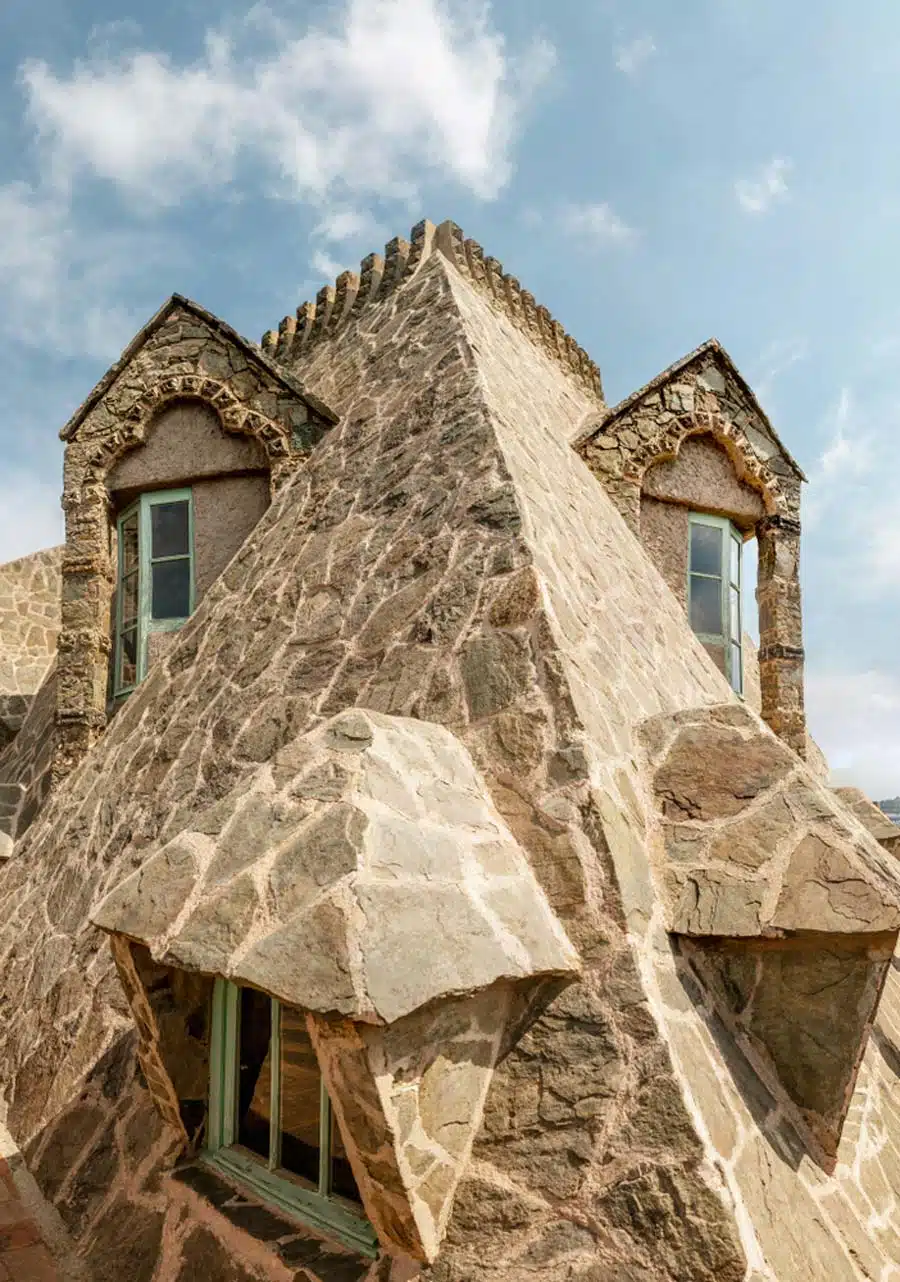 Of all the Gaudí sites in Barcelona, this one might seem slightly less extravagant, but Gaudí always had a way of including his signature touches. Bellesguard is one of the most remarkable representations of Catalan culture, despite its unassuming appearance.
The colours and details added not only represent his style but also pay homage to Catalonia. You'll find, specifically, tiles throughout the building that feature mosaics and animals of importance.
What better way to showcase the beauty and history of Barcelona and Catalan culture?
Gaudí's Lasting Impact on Architecture and Barcelona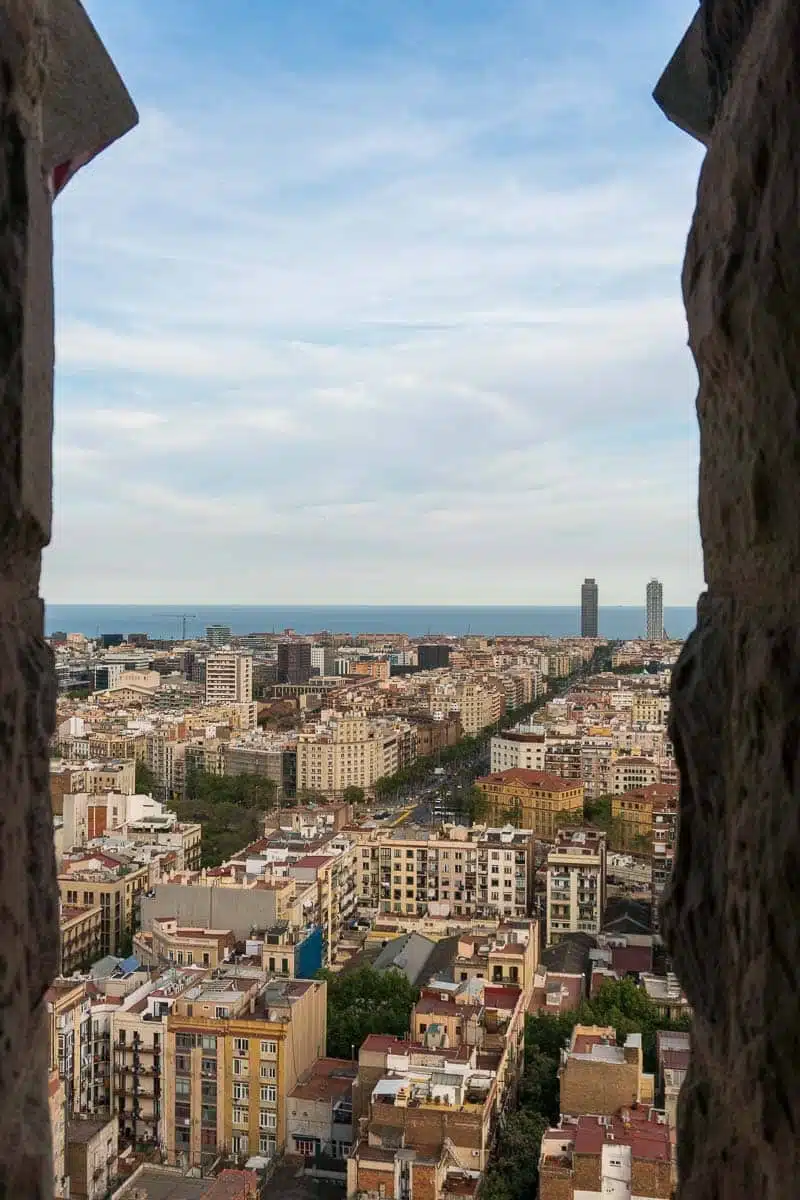 You don't need to be an architecture nerd like me to appreciate the lasting impact that Gaudí's work has had on the city of Barcelona and its surroundings. His gorgeous yet technical designs have done wonders for tourism and have undoubtedly put Catalan architecture on the map.
From modernism and the practicality in his plans, to his inherent love and care for nature, I guarantee you'll admire his work in the way that I do if you visit. Which, by the way, you totally should.
Undoubtedly, Antoni Gaudí's work and creations have had a long-lasting impact on Barcelona and the architectural world. I dare say that Gaudí was one of Barcelona's most influential architects.
Practical Tips for Exploring Gaudí's Architecture in Barcelona
Tickets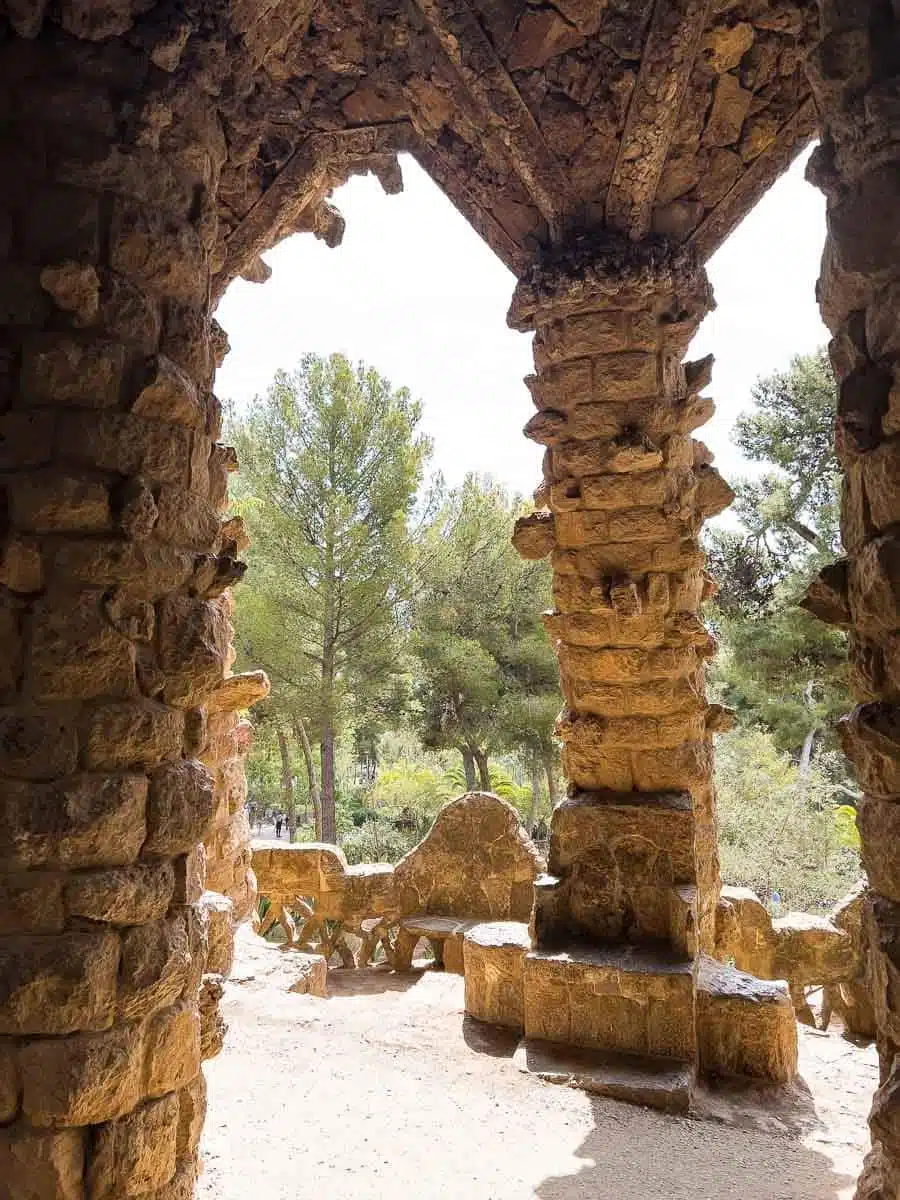 In Barcelona, Gaudí tours are a must-do. You can get tickets at Bellesguard or Casa Vicens on the day, so it is great to see the architecture without the crowds. It's always a good idea to book ahead of time, though.
When visiting Park Güell, it is always best to book ahead of time. This place is a tourist trap, so to avoid missing out, just buy your ticket online to save the trouble. Tickets tend to sell out several days prior, especially in peak summer months.
Sagrada Família is another site that sells out fast, sometimes even weeks before the day. So, book tickets to a Sagrada Família guided tour well in advance. At Sagrada Família, you can't find tickets that explore all the towers in one trip, so you'll have to decide between the Nativity or Passion façade.
Top Tips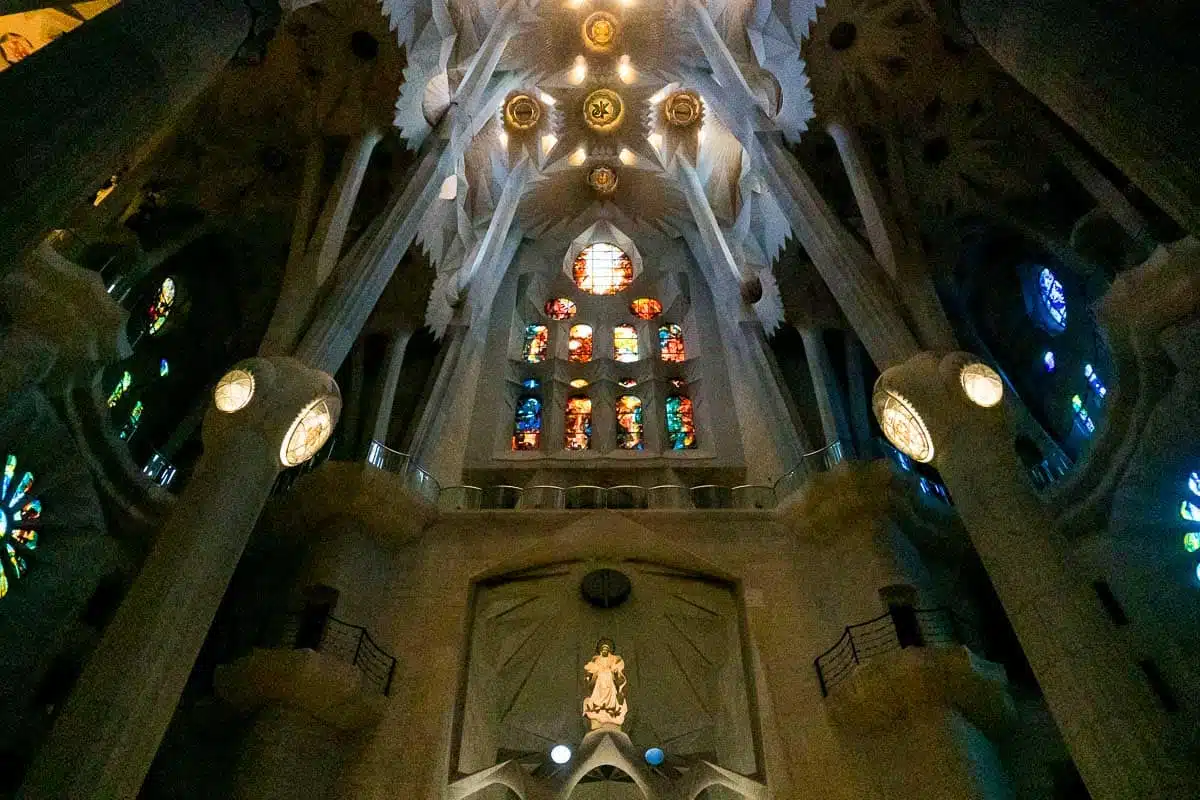 Be sure to have plenty of water and eat breakfast beforehand. Gaudí trips involve a ton of walking and stairs (I'm looking at you, once again, Sagrada Família). It's best to visit Gaudí sites in the early morning, during cooler temperatures during summer.
Gaudí's Barcelona: Map
Gaudí's Barcelona: Read More Spain Travel Guides
Love This? Save and Share on Pinterest