The Gothic Quarter is one of Barcelona's most iconic and historic neighbourhoods. Let's explore – these are the best things to do, see and eat when in Barrio Gótico.
Fresh off the back of a recent month-long trip to Barcelona, I cannot stop raving about the Gothic Quarter. This enchanting enclave is bursting with things to see, do and eat – so much so, you could probably spend an entire vacation in the Gothic Quarter alone.
This maze-like area is a treasure trove of surprises, where Roman ruins and mediaeval monuments coexist with contemporary art and cultural landmarks.
As you wander through the narrow alleys and hidden plazas, there's always something exciting (and surprising) hiding around every corner. And, with this guide in hand, you won't miss a thing.
Why Visit The Gothic Quarter?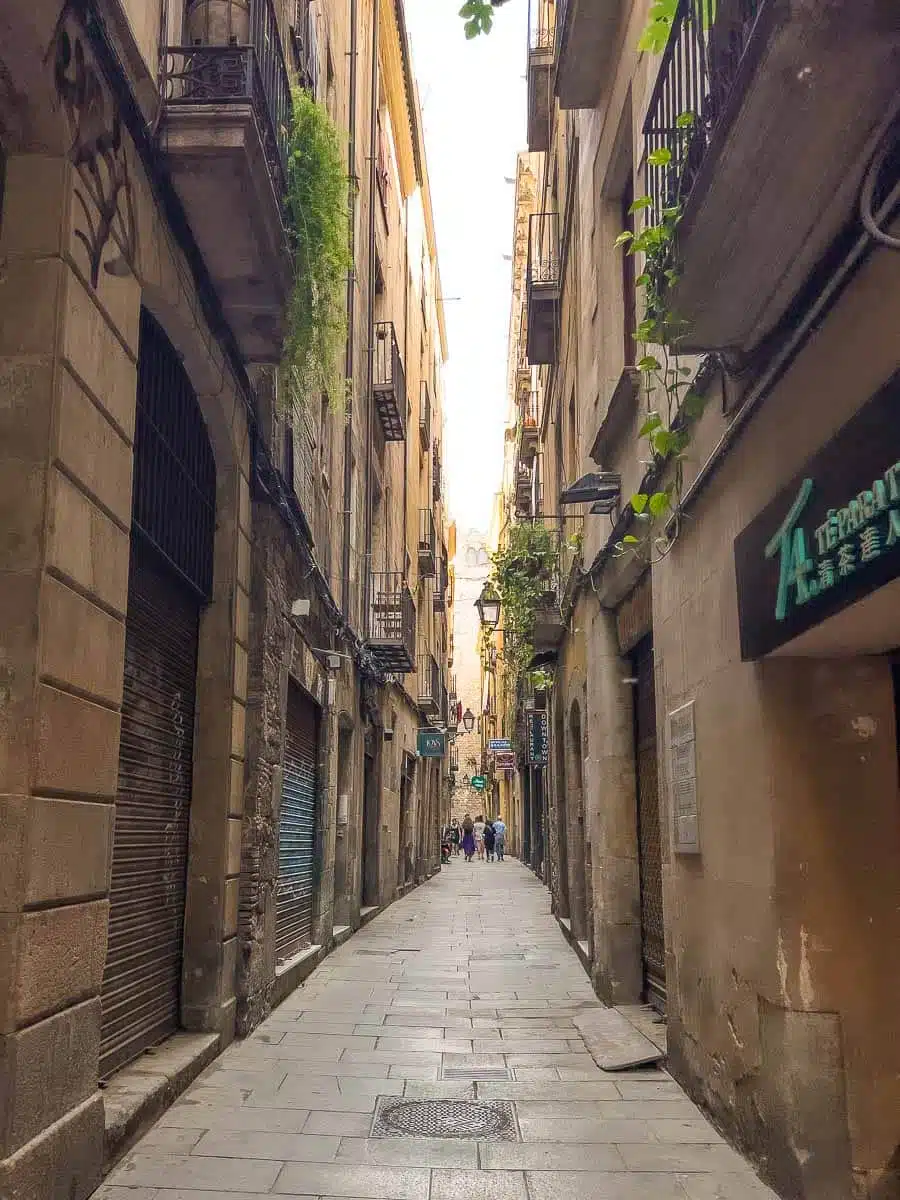 Barcelona's Gothic Quarter has a rich and fascinating history that spans centuries. It was once a thriving Roman village known as Barcinoe. Remnants of this ancient past still stand today, with archaeological sites and Roman walls scattered throughout the neighbourhood.
Over the years, the Gothic Quarter experienced various influences and events, including the Spanish Civil War. The echoes of that tumultuous period still show in the form of bullet holes etched into some of the buildings.
But, the appeal is not just about the past; the Gothic Quarter is also a vibrant hub of activity. Its streets teem with trendy boutiques, quirky shops, cafes and restaurants.
When the sun sets, the Gothic Quarter truly comes alive. Its hidden corners tuck away cosy bars, lively pubs, and underground clubs where you can dance the night away.
Barcelona is undoubtedly one of the best places to visit in Europe, and the Gothic Quarter is a fantastic representation of the city. With all its history, charm, vibrant nightlife and things to do – do you need more reasons to visit?
Things To Do in the Gothic Quarter, Barcelona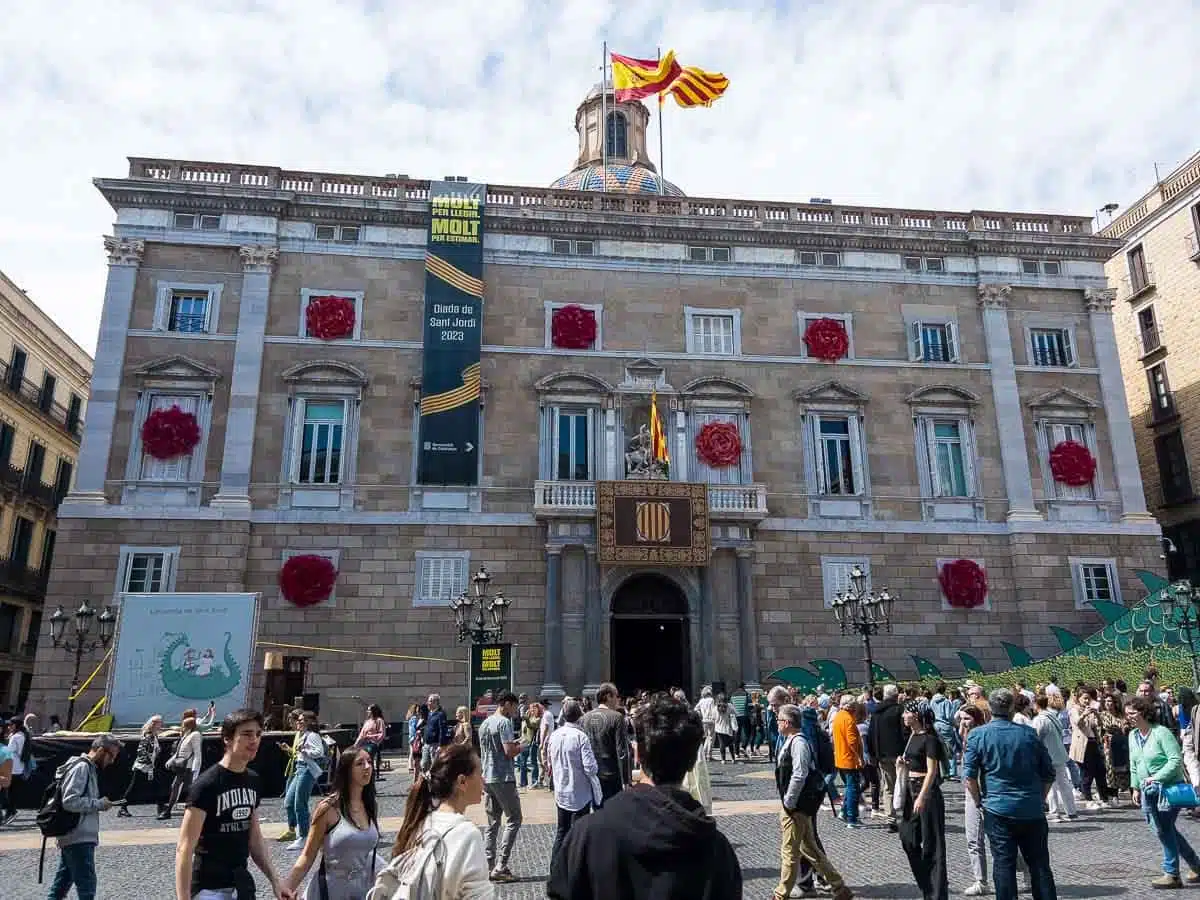 Explore the Art Galleries
As an art lover, it's no wonder the Gothic Quarter and its many art galleries blew me away on a recent trip. From contemporary masterpieces to thought-provoking installations, the art scene here is as diverse as it is captivating.
With the variety of art galleries and workshops that call the Gothic Quarter home, you might wonder which ones you should visit. Here are some of my top picks:
Artevistas Art Gallery
Tucked away in a charming "secret passage" in the Gothic Quarter lies Artevistas Art Gallery, a hidden gem that only the savviest art lovers know how to find. But believe me, you'll be glad you found it.
Artevistas is all about showcasing the talents of lesser-known and well-established artists with an undeniable knack for urban art styles. From vibrant street art to thought-provoking graffiti, their eclectic selection will take you on a visual journey through the beating heart of the city's art scene.
Base Elements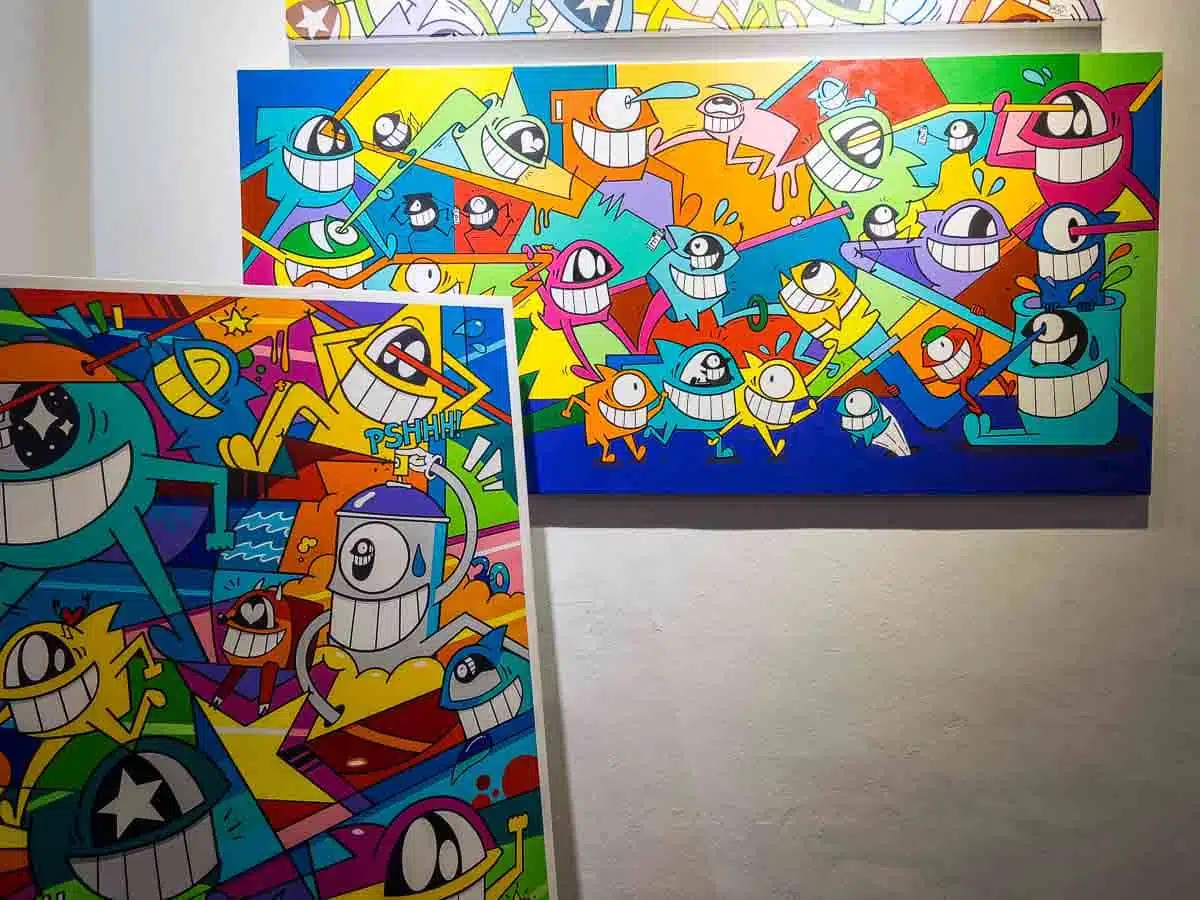 Base Elements is a longstanding urban art gallery in the Gothic Quarter that showcases a diverse selection of resident artists.
And here's the best part: the artists themselves often set up their easels and unleash their creativity right in the gallery. You can stroll through the space, converse with these artistic geniuses, and delve into the captivating stories behind their masterpieces.
Canal Gallery
Canal Gallery is a small yet captivating urban art gallery worth visiting for its impressive selection of up-and-coming artists' works.
Since its grand opening in 2021, Canal Gallery has been making waves in Barcelona's art scene, infusing a fresh and innovative perspective into the world of urban art.
From vibrant murals to captivating installations, every piece tells a unique story and showcases the diverse talents of the artists.
Marvel at the Barcelona Cathedral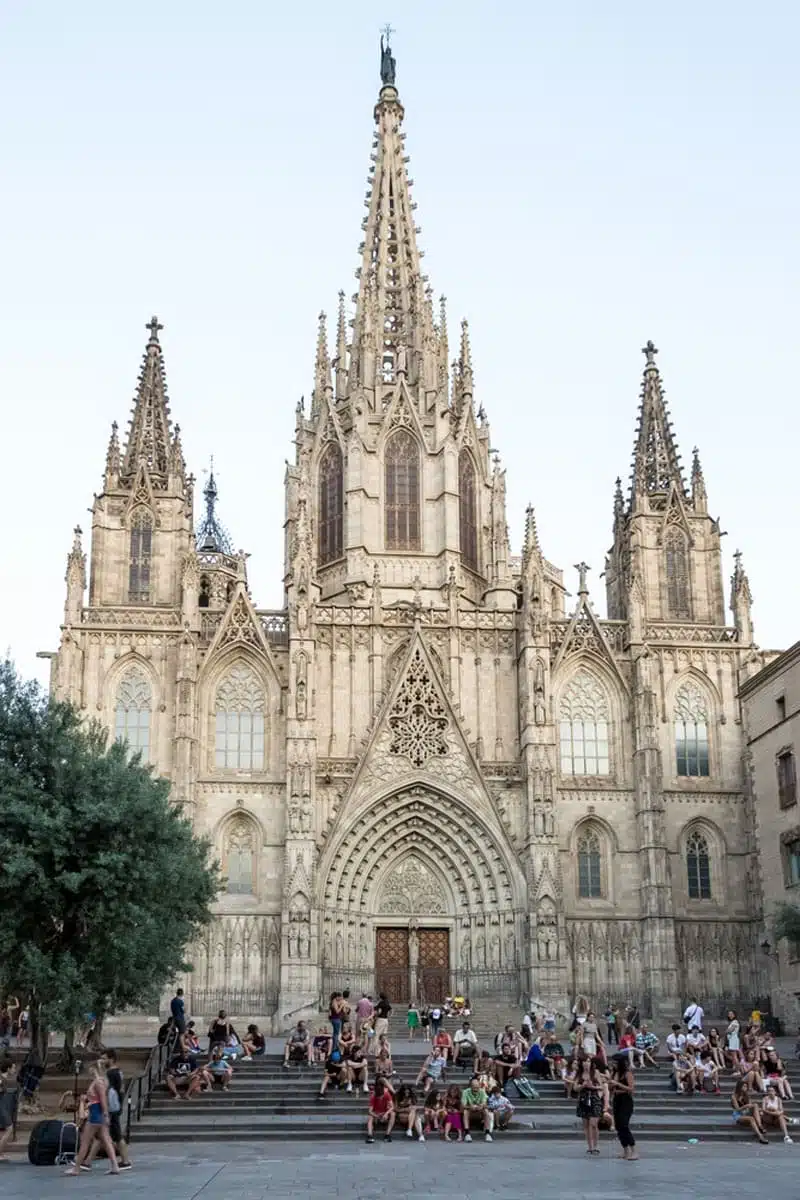 With the Sagrada Familia as its neighbour, it's easy to see why Barcelona Cathedral often gets overshadowed. But don't make the same mistake as many, wise traveller. Take some time to discover this glorious landmark when perusing the Gothic Quarter.
Walking through Cathedral Square, it's impossible to miss the stunning facade of the Barcelona Cathedral, also known as Saint Eulalia or the Cathedral of the Holy Cross.
Inside are 28 exquisitely decorated chapels, finely carved ornaments and beautiful stained-glass windows that illuminate the cathedral. And remember to visit the crypt of Saint Eulalia, the patron saint that inspired this awe-inspiring cathedral.
Top Tip: Take the elevator to the roof. Trust me. From up there, you'll see breathtaking 360-degree views of the city. You'll also get a closer look at the bell tower and the legendary gargoyles that have become the cathedral's iconic residents.
Stroll Through George Orwell Square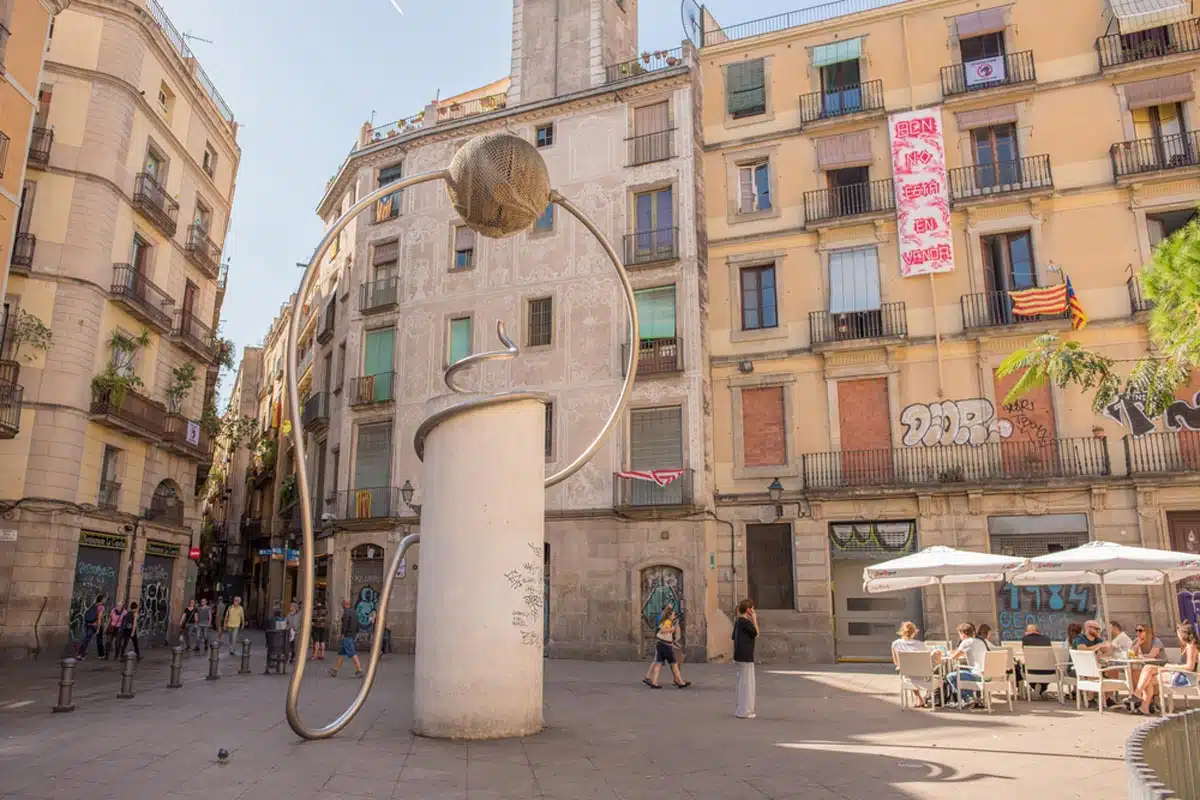 If you're a bookworm, you'll love George Orwell Square – also known as Plaça del Tripi (The Trippy Square). This charming little square pays tribute to the iconic author, and is dotted with statues and plaques dedicated to Orwell's life and literary contributions.
You'll find a unique public art sculpture by Leandre Cristòfol right in the centre of the square, paying tribute to Orwell. It's a charming and authentic piece of the city with a unique blend of history, art and a dash of whimsy.
If you need a break from sightseeing, the square's central fountain is the perfect place to relax and people-watch. And if you're feeling thirsty, the bars nearby have legendary status with the alternative crowd.
Shop at Mercado de La Boqueria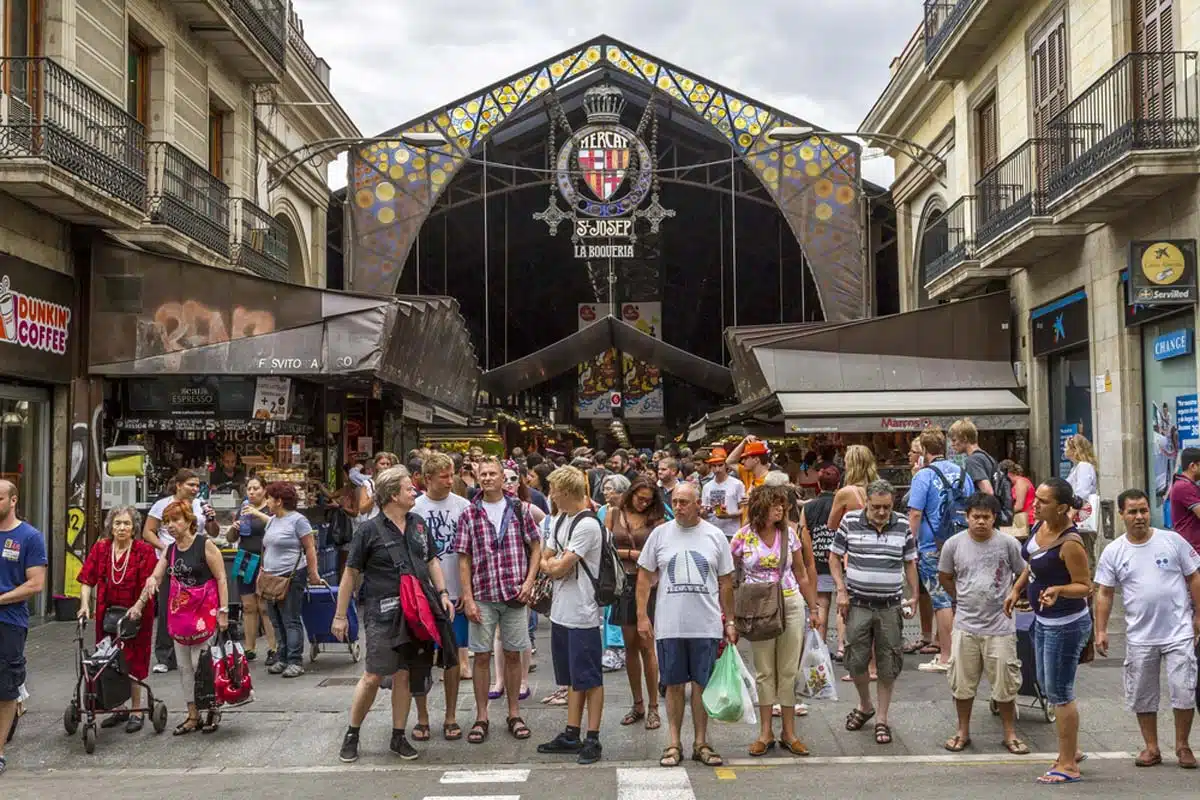 The Mercado de la Boqueria is a vibrant market in the Gothic Quarter. It's one of those places in Barcelona that's undeniably touristy, but don't let that deter you. It's still a fantastic option for a foodie adventure.
The market is a treasure trove of culinary delights, from fruits and vegetables to exotic spices, fresh fish and cured meats. You'll also find handcrafted souvenirs, like beautifully-bottled olives and homemade sweet treats.
One spot you absolutely must visit is El Quim de La Boqueria, a long-standing tapas restaurant right there in the market. Their tapas creations are some of the tastiest in the city and the lively atmosphere adds to the overall experience.
Gothic Quarter, Barcelona: Best Restaurants
El Bosc de Les Fades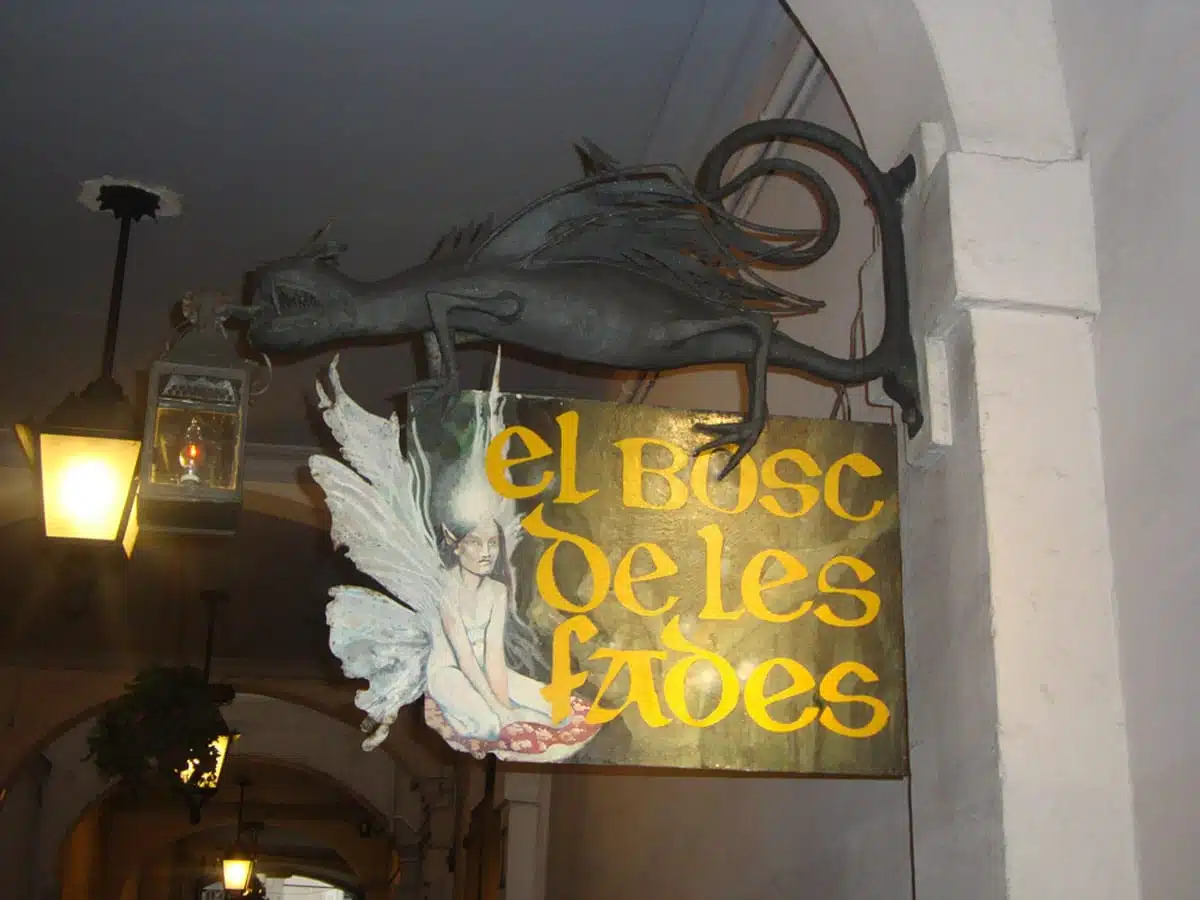 El Bosc de Les Fades – or the Fairy Bar of Barcelona – is another magical spot in the Gothic Quarter.
It translates to "the Forest of Fairies," and the decor does the name justice. From the artificial woodland and trickling waterfalls to the delightful fairies fluttering about (yes, really), you'll feel like you've stepped into a storybook.
You would be forgiven for thinking the food was going to be a gimmick. Rest assured, it's not.
The menu offers a great array of hot sandwiches, tapas and snacks to satisfy your cravings. But the best part? Washing it down with a delicious glass of the restaurant's signature sangria or their indulgent house cocktails.
El Salón
If you're after a special experience, El Salón is where to dine. Mainly because their terrace on Plaça Traginers lets you dine with ancient Roman walls as your backdrop. It's a truly magical setting that adds a touch of history to your meal.
Whether you're in the mood for fresh swordfish carpaccio, perfectly grilled sea bass or succulent duck confit in a luscious port sauce, they've got you covered. And make sure you save room for dessert. You can thank me later.
Can Culleretes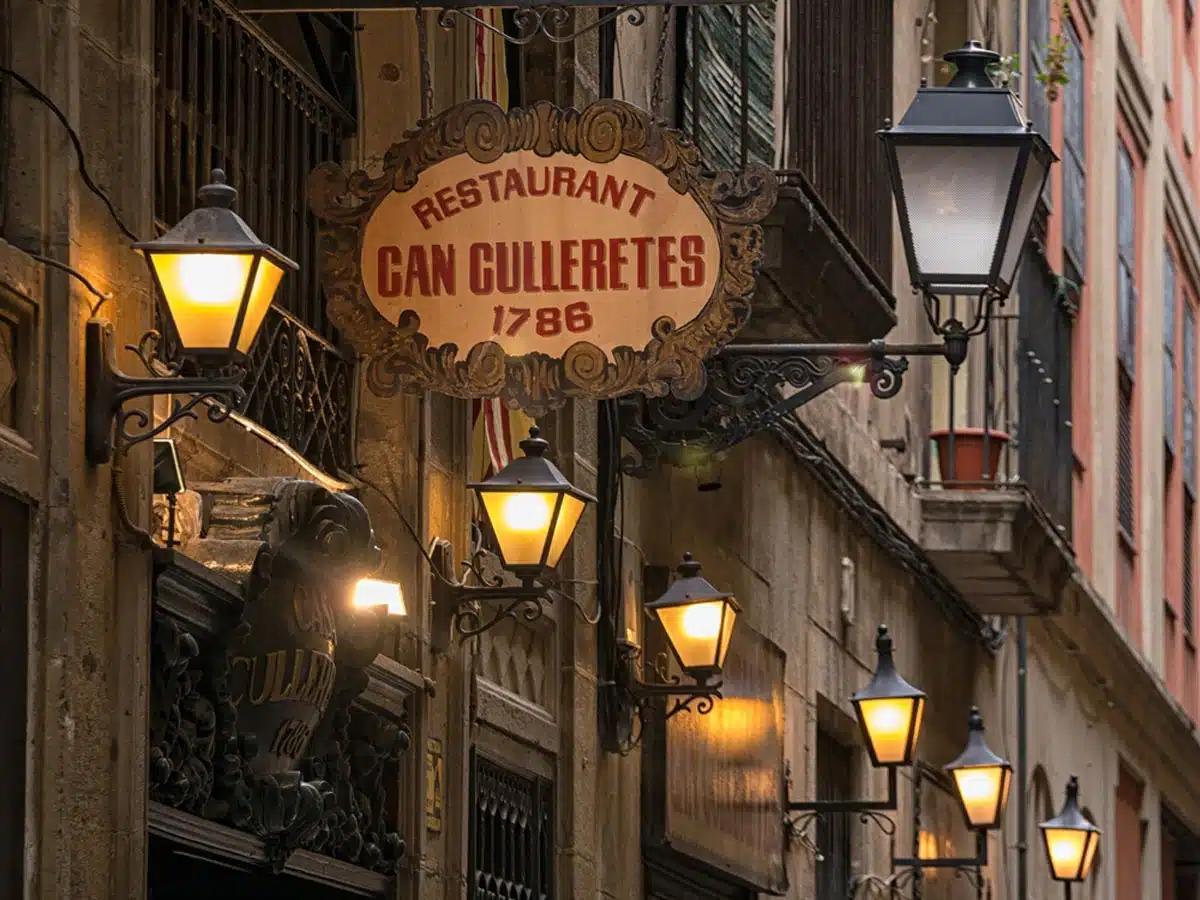 If you're craving an authentic taste of old-school European cuisine, look no further than Can Culleretes. Rumour has it that this is the oldest restaurant in Barcelona, serving delicious dishes since 1786.
Of course, the traditional paella is a must-try, though the signature escudella i carn d'olla (a hearty Catalan stew) and the melt-in-your-mouth crema catalana are also out of this world. But if you're feeling extra hungry, why not go for the wild boar stew or the Catalan-style roasted suckling pig?
Where To Stay in Barcelona's Gothic Quarter: Hotels & Airbnbs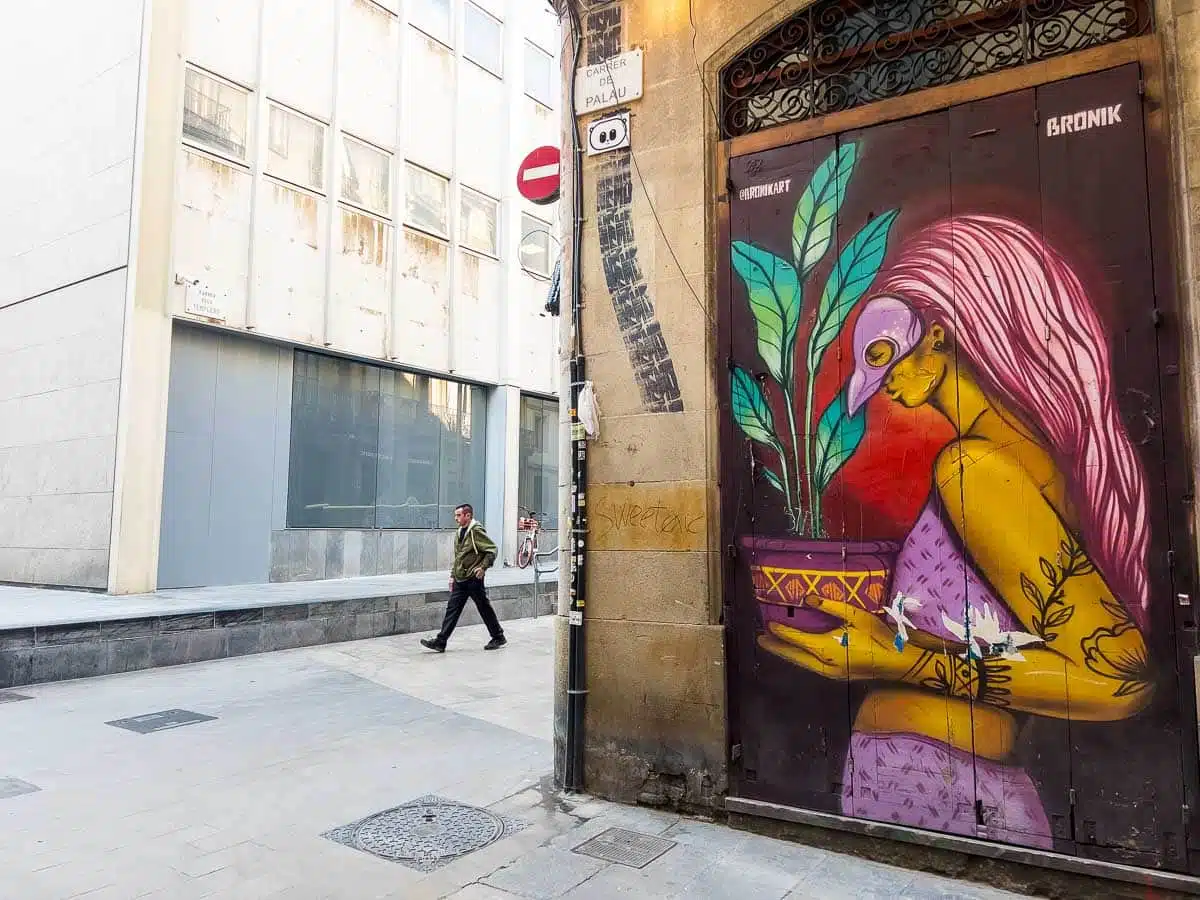 Here's where to stay for comfort, style and a dash of historic charm when visiting the Gothic Quarter in Barcelona.
Mercer Hotel Barcelona
Located in the heart of the Gothic Quarter, the Mercer Hotel Barcelona blends history with modern luxury.
Some rooms incorporate the city's original Roman defense towers, while all feature stylish decor and modern amenities like Wi-Fi, flat-screen satellite TV, and rain showers. And, with its prime location, you'll be within walking distance of Las Ramblas and other top attractions.
Airbnb: Rooftop Hideout
The Rooftop Hideout Airbnb is the ideal option for travelling in a group. This 3-bedroom apartment in the Gothic Quarter features traditional architecture blended with modern design to create stylish living spaces where you'll feel right at home.
But let's be honest – the real star here is the stunning terrace with outdoor seating and a private Jacuzzi that's all yours.
Hotel Barcelona Catedral
Hotel Barcelona Catedral is right in the heart of the Gothic Quarter, just 100 metres from – you guessed it – the stunning Barcelona Cathedral.
The gorgeous rooms have wooden flooring and modern amenities, ensuring a pleasant and comfortable stay. The real highlight is the rooftop terrace, where you can unwind and take a refreshing dip in the swimming pool. From up here, the breathtaking city views will leave you in awe.
Practical Tips for Exploring Barrio Gótico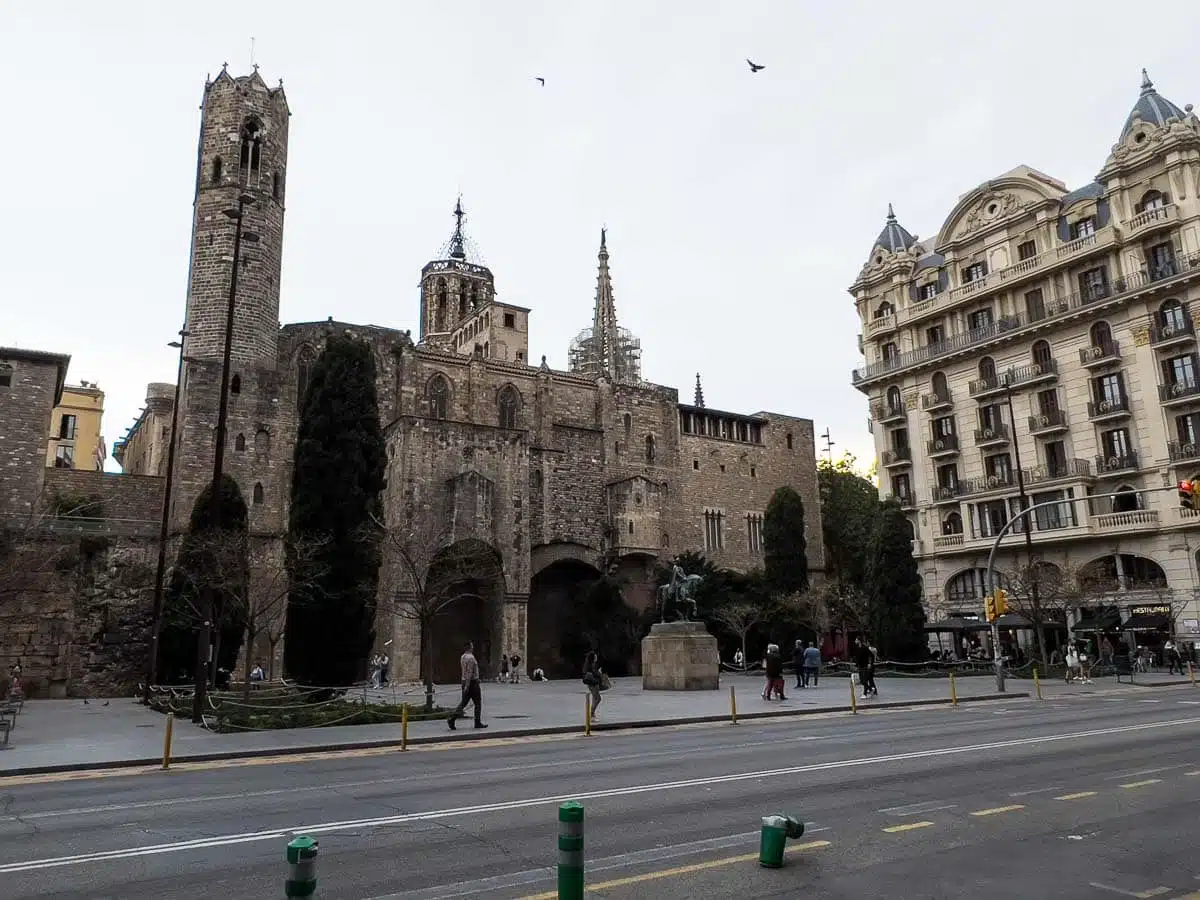 This quarter may only be a tiny portion of Barcelona, but do not underestimate the amount of walking you will be doing. If you are planning a day of sightseeing, make sure you wear comfortable shoes.
The Gothic Quarter is a popular tourist destination, meaning pickpockets may lurk around. Keep your eyes peeled and your valuables close to you.
While the main streets are beautiful and historic, some interesting sights exist in the side streets and alleys. Don't be afraid to explore off the beaten path!
Gothic Quarter Barcelona: Map
Barcelona's Gothic Quarter: Read Next
Love This? Save and Share on Pinterest