15 brilliant Atacama Desert tours for unforgettable adventures. Explore Chile's stunning destination.
Let me cut to the chase. Chile's Atacama Desert is incomparably beautiful.
Imagine walking along the tranquil salt lakes as the jagged landscape of purple-hued mountains creates an ethereal atmosphere. Add the 300 nights a year of perfect stargazing conditions and you're in for a real treat.
How does wandering through the geothermal hot pockets at El Tatio's Geysers sound? Or maybe a jaw-dropping sunset over Valle de la Luna? Whatever the case, these Atacama tours will make your eclectic getaway a touch more memorable.
Ready or not, Atacama awaits!
Best Tours of the Atacama Desert
Uyuni Salt Flats & San Pedro de Atacama 3-Day Tour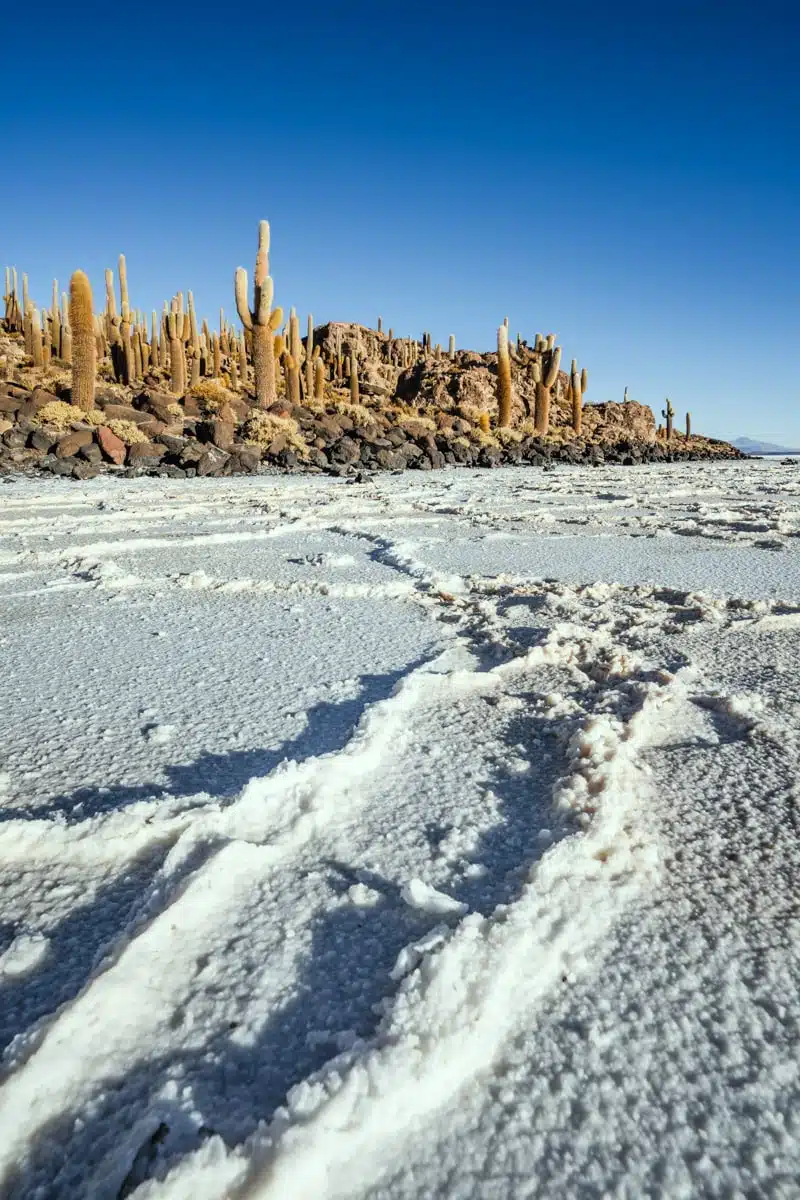 How does a Salar de Uyuni and the Atacama Desert tour all in one go sound? This is a 3-day tour that ticks all the boxes, from exploring Salar de Uyuni to the emerald green Laguna Verde.
The first half of the journey is a Bolivian whirlwind as you explore Colchani and Salar de Uyuni, ending off at Ajenchi Town. Soak up Bolivia's industrial past at the Train Cemetery and admire a sunset producing a myriad of colours reflecting off the pure-white salt flats of Uyuni.
How about popping over to the flamingo-filled waters of Cañapa Laguna? Perhaps you want to see the unique tree-like rock formations in the Siloli Desert? Whatever the case, you'll discover over 20 of Bolivia and the Atacama Desert's top attractions in three days.
You should note that the tour excludes Isla Incahuasi and the Eduardo Avaroa Reserve entry fees.
Piedra Rojas, Altiplanic Lagoons & Solar Full-Day Tour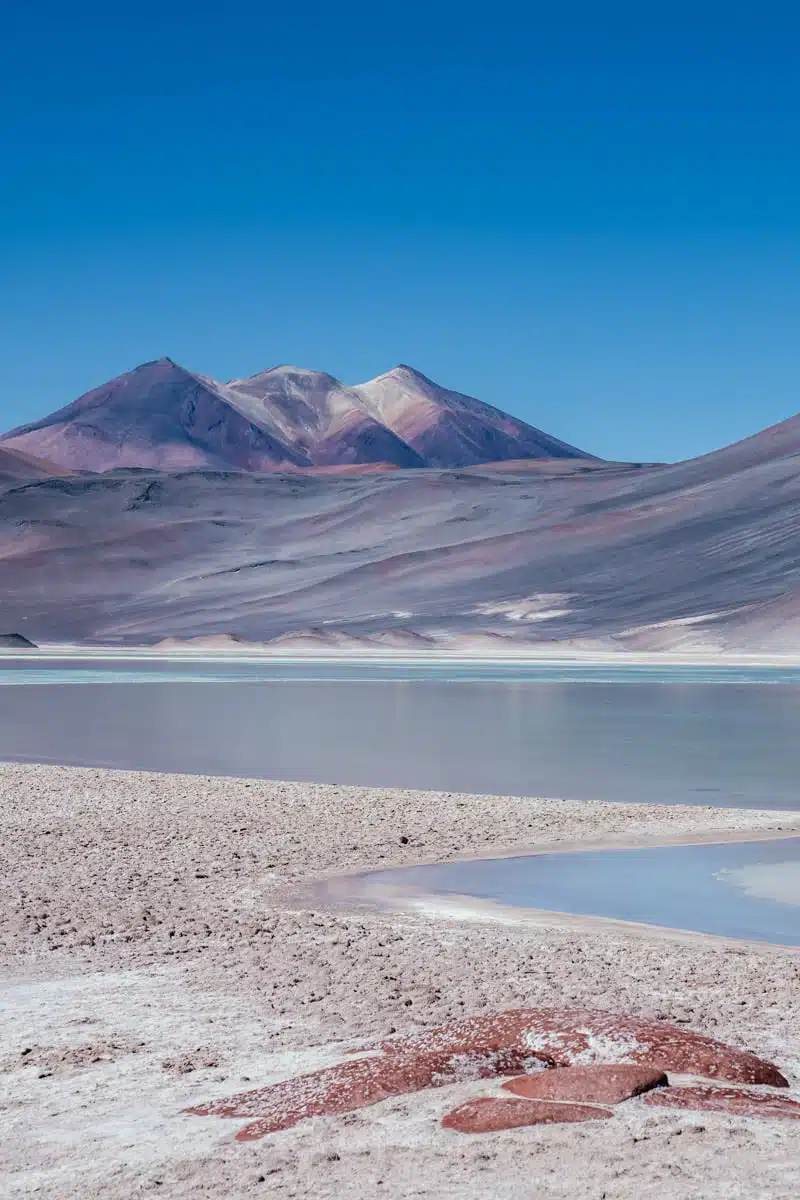 This Atacama Desert day tour is brimming with flora, fauna, and picturesque lakes. Start your journey with a delectable breakfast as you overlook the sulphur-lined Miscanti lagoon. Volcanoes surround Laguna Miscanti y Miñiques, creating a colossal atmosphere.
Next up, the lake of Piedro Rojas Salars offers an unimaginable cacophony of colours due to the variety of minerals within the water. It can freeze over in winter, which makes a cool contrast.
Top Tip
Visit Piedro Rojas in winter, as the lake's lower water levels make the colours even more vivid.
And if that's not enough, you'll also pop past Chile's largest salt lake, Salar de Atacama. If flamingo spotting is on your bucket list, you can definitely tick it off here, as Laguna Chaxa is home to three unique species.
San Pedro de Atacama Etno-Astronomical Tour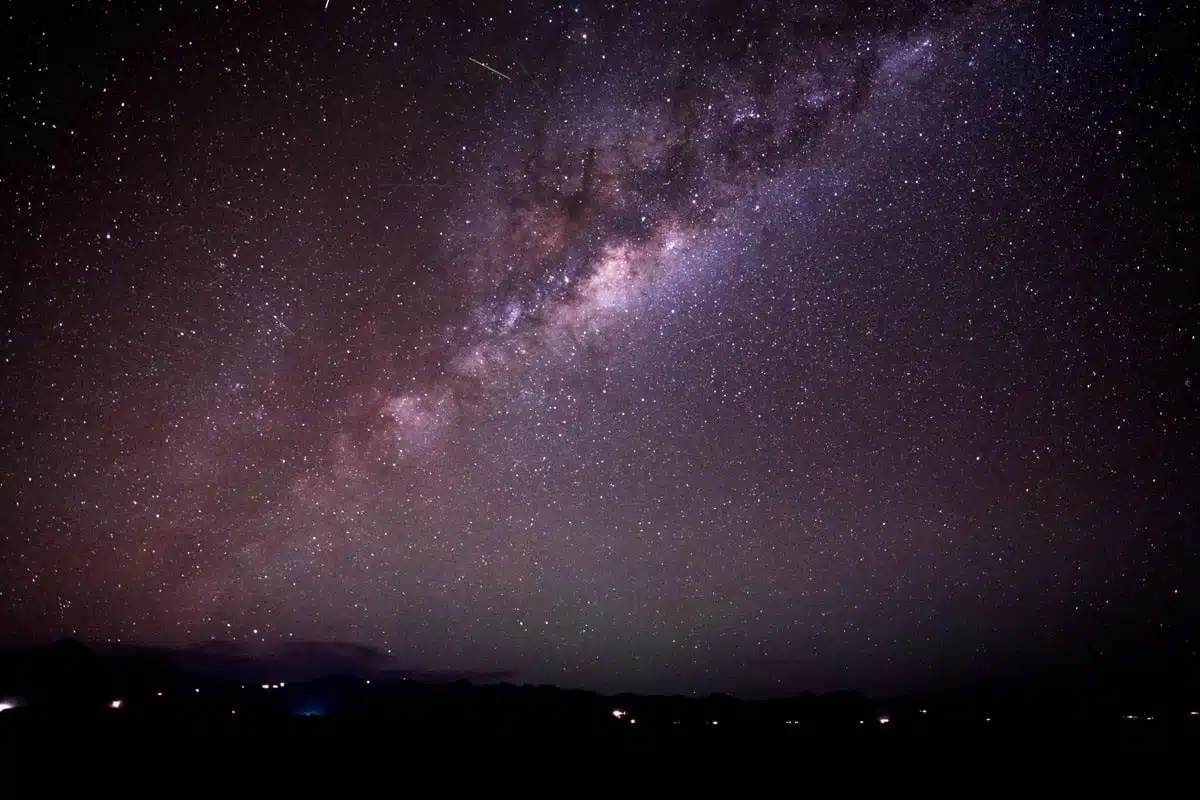 No Atacama experience is complete without a night gazing into the starry sky above. So, get the most out of the Atacanemo sky on this astronomical tour.
Start off by getting a deeper scientific understanding of the universe. Get ready to understand the cosmos and how to differentiate a planet from a star. And don't worry, you're not just blindly looking up. There are telescopes to help guide you.
Top Tip
Visit between April and September for the best stargazing conditions.
Science isn't the only perspective you'll learn more about, and your tour guide will also explain the ancient inhabitants' ways of seeing the stars.
Valle de la Luna Sunset Tour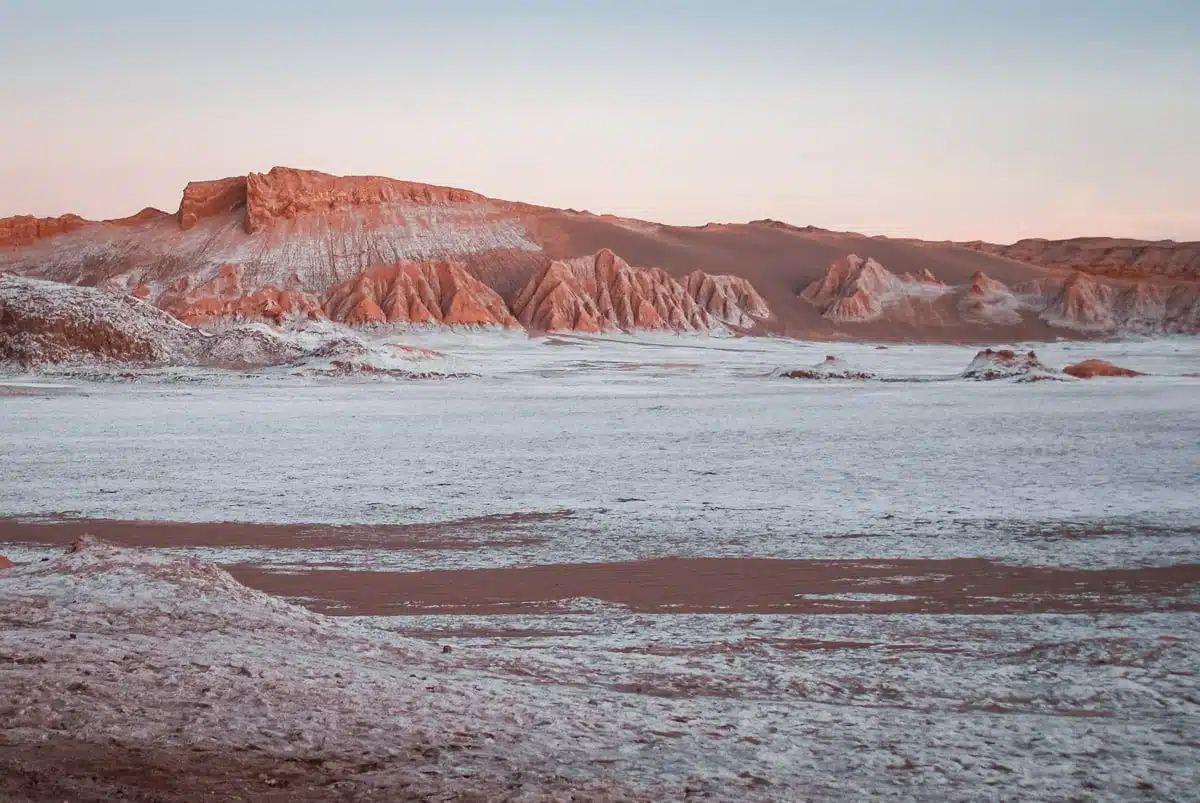 There's only one thing that beats seeing Valle de la Luna, and that's seeing this magical landscape at sunset.
This Moon Valley tour allows you to explore a land where the wind carves the Martian-like landscape into ethereal formations.
Watch the Grand Dunes ripple in the wind and gaze at Las Tres Maria's as the sun casts them in a golden glow. I'd usually recommend visiting Valle de la Luna at sunrise (to avoid the sunset crowds). But this is a private tour and your guide will take you to a secret spot that not many people know.
Atacama Desert Tour: 3-Day Special Activity Combo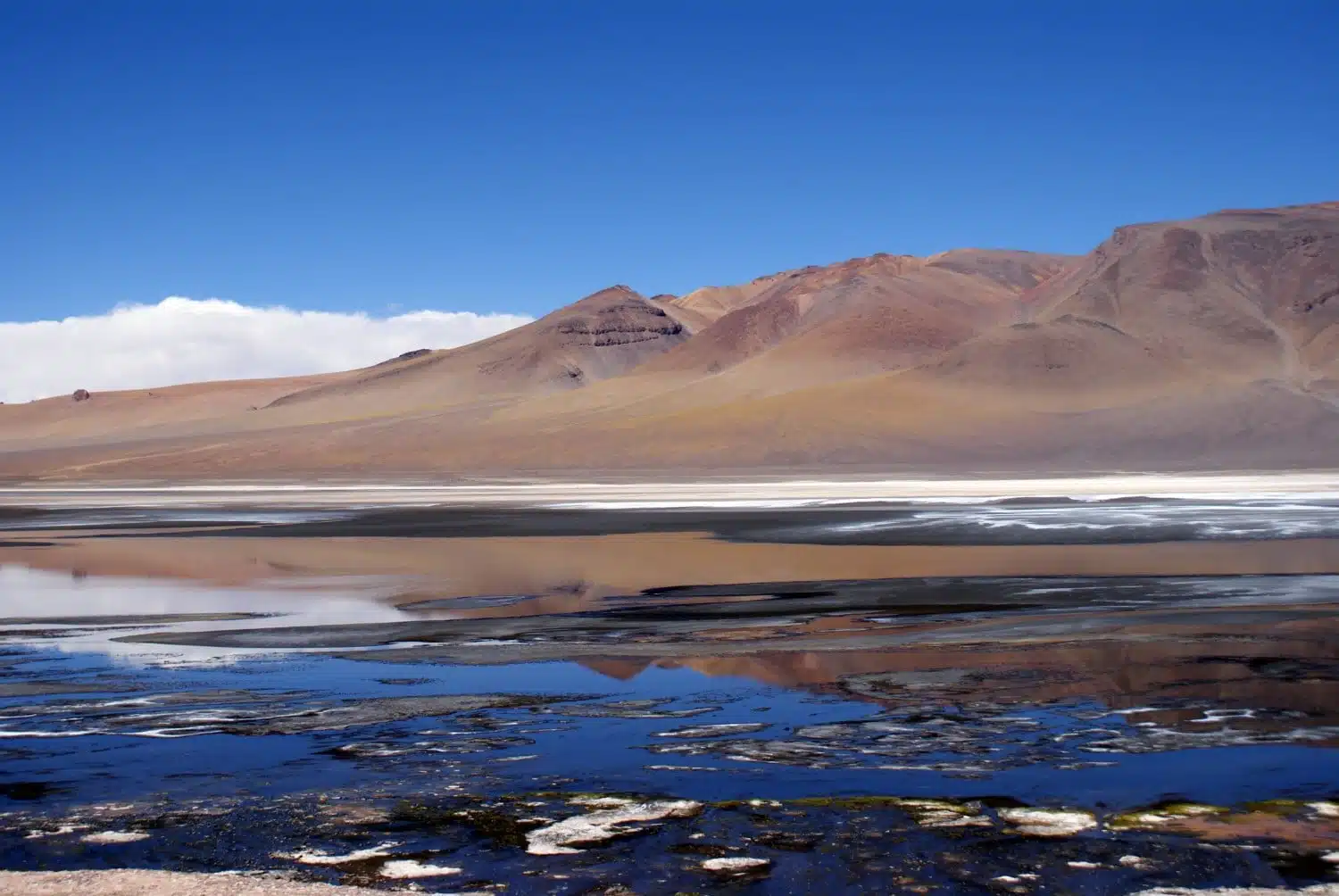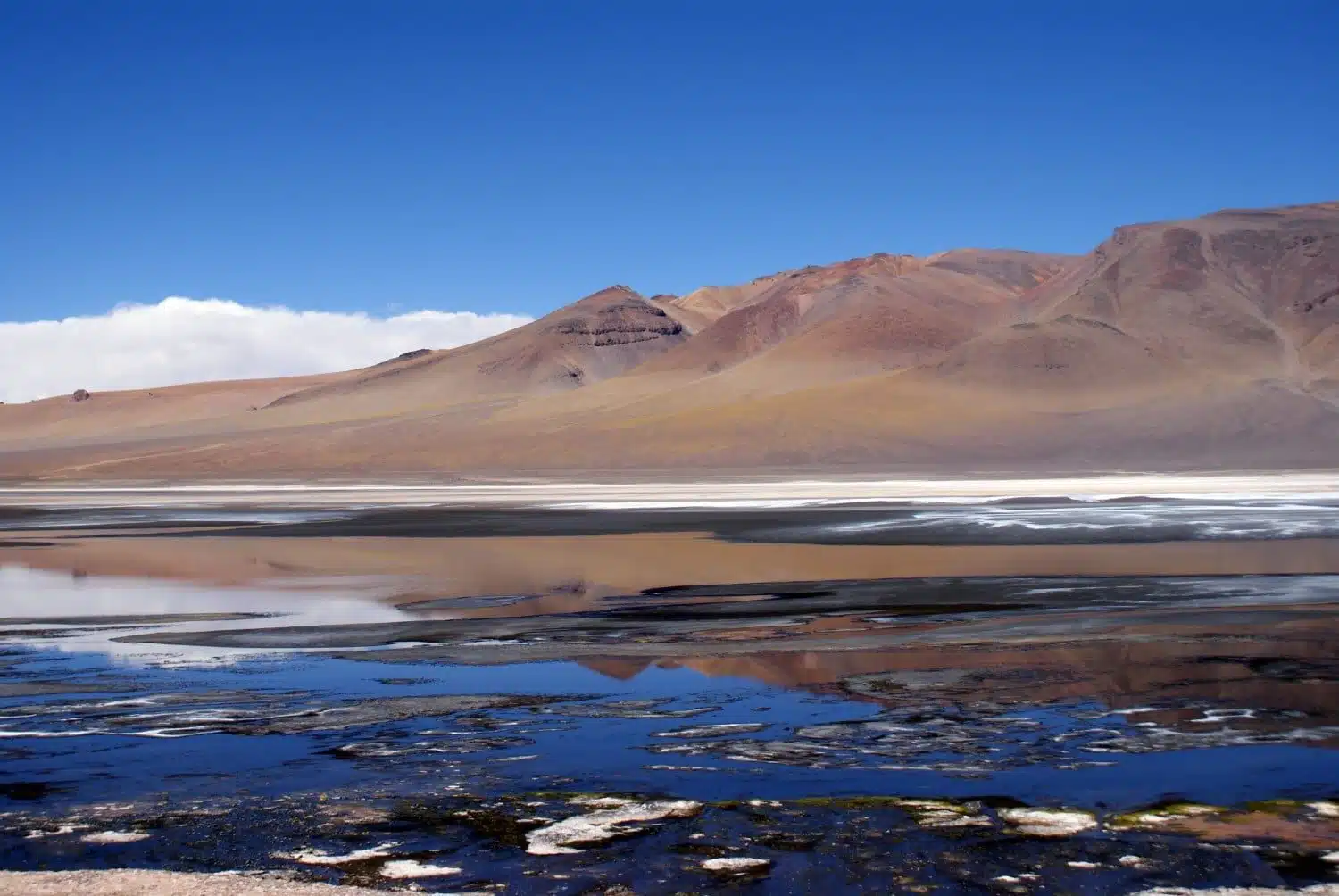 Pack four of Atacama's top tourist attractions into a 3-day experience like no other. Each tour departs from San Pedro de Atacama daily, so accommodation isn't included, but transportation is.
From a geyser that erupts every six minutes to the biggest fumaroles in the Northern Geyser field, El Tatio is a bubbling world of sulphur awaiting discovery.
Then there's the expansive fields of white salt flats in the High Altiplano. Some top ones you'll visit include Salar de Pujsa, with its wildlife-filled wetland and the peaceful lakeside of Salar de Quisquiro.
And the opportunities don't end there, as you'll visit the salt mountain range of Vallecito and the hidden lagoons of Baltinache. What more could you ask for?
Hidden Lagoons of Baltinache Tour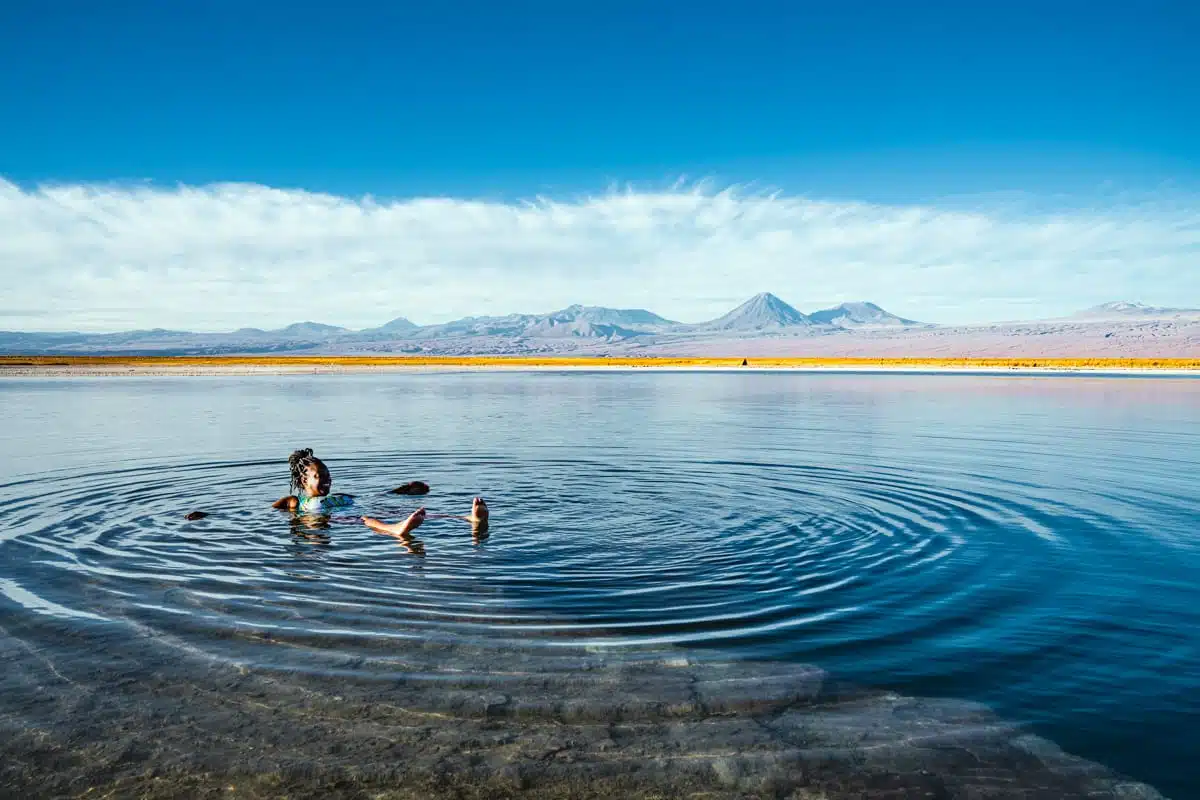 You've probably seen those epic videos of someone walking into the turquoise waters of a small lagoon as the sky offers a tapestry of colour. Do you wonder where on earth you can find these picturesque lagoons?
Wander no more because this Baltinache tour will take you to seven remote lagoons every Instagram model tries to photograph. Although the tour excludes entry to the lagoons ($11.85 cash), it does include transportation and a guide who'll make the experience truly unique.
Besides, who doesn't want the chance to float in like a cork in a crystal-clear lagoon with white sand surrounding you?
Guided Buggy Tour Through the Atacama Desert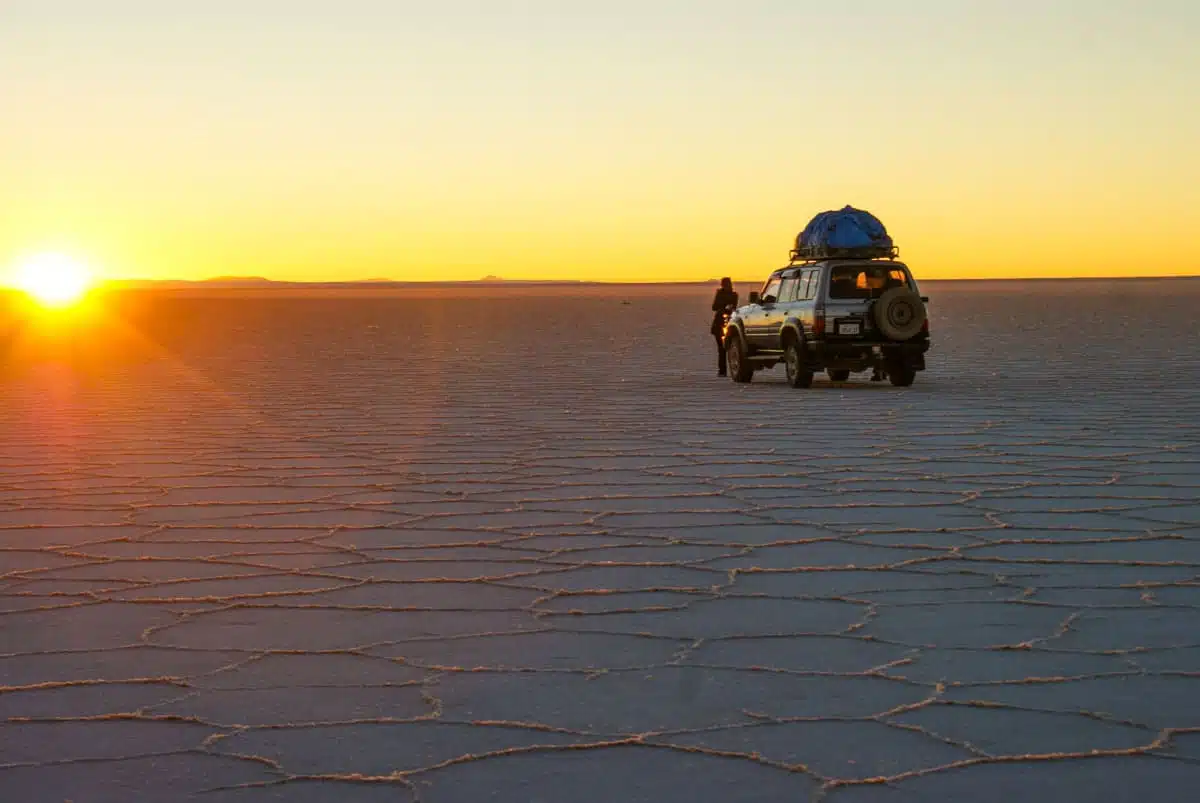 If you're an adrenaline seeker looking to take on the Atacama's rugged terrain, then this buggy tour is the one. Be it sand, mountains, or rivers. Nothing will stop your 4×4 vehicle in this seemingly never-ending landscape.
Want to pair a little adventure with some cultural significance? Your buggy tour will stop at two archaeological sites — you can try, but your GPS won't find these hidden destinations.
All-in-all, you'll traverse 31 miles of towering sand dunes, steep mountain roads (if you can call them roads), and trickling riverbeds.
San Pedro de Atacama Sunrise Hot Air Balloon Ride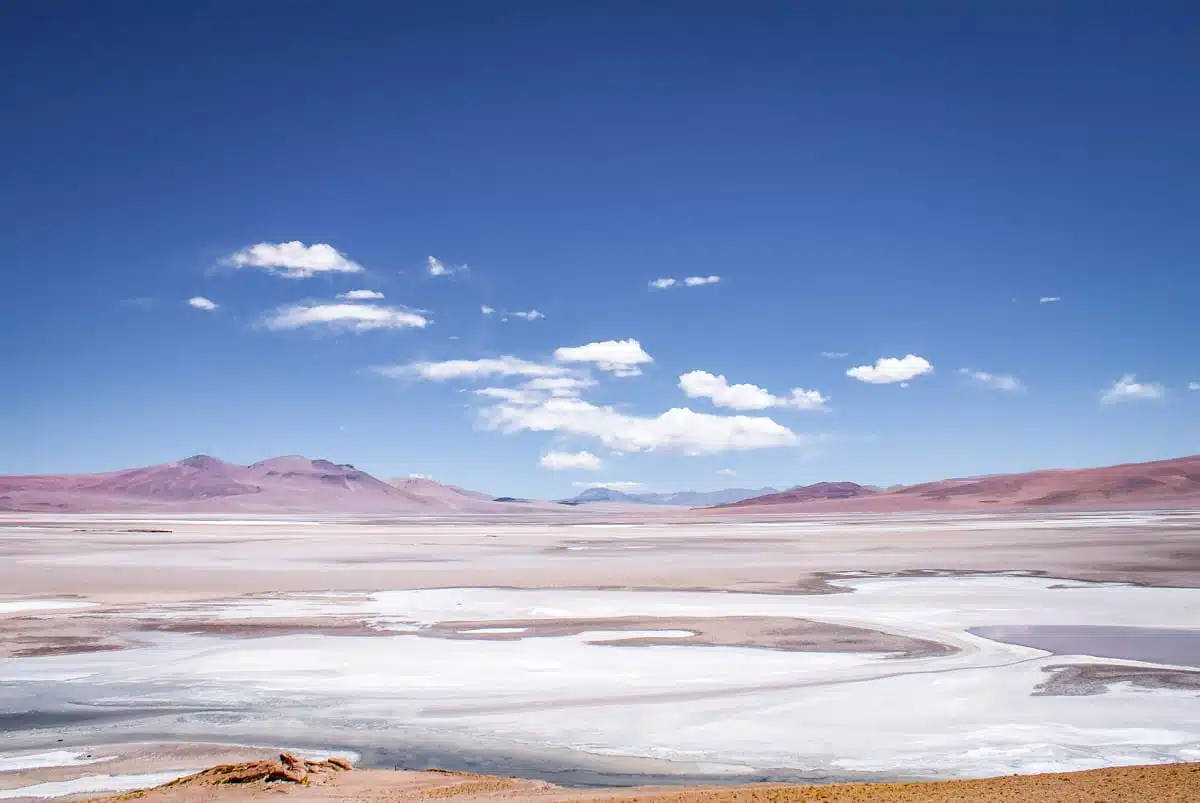 Start your day early with unprecedented views of the Atacama Desert from above on this sunrise hot air balloon ride.
Watching the reddish glow of the sun begin to peak from behind the Licancabur Volcano is a sight few get to enjoy. And it's a hundred times better when you're 1,000 feet in the sky.
Your chariot of the sky (humour me) rises between the Andean Mountains and Domeyco Cordillera. As the sun kisses the ground below with rays of light, you'll see it all, from Death Valley and Salt Mountain Range to the Atacama Lagoon and Moon Valley.
And just before you think the start of the day couldn't get any better, it does. After landing, you'll feast on a fresh medley of local cuisine. It's sure to be the best breakfast you'll have in Chile.
Geysers del Tatio Half-Day Tour From San Pedro de Atacama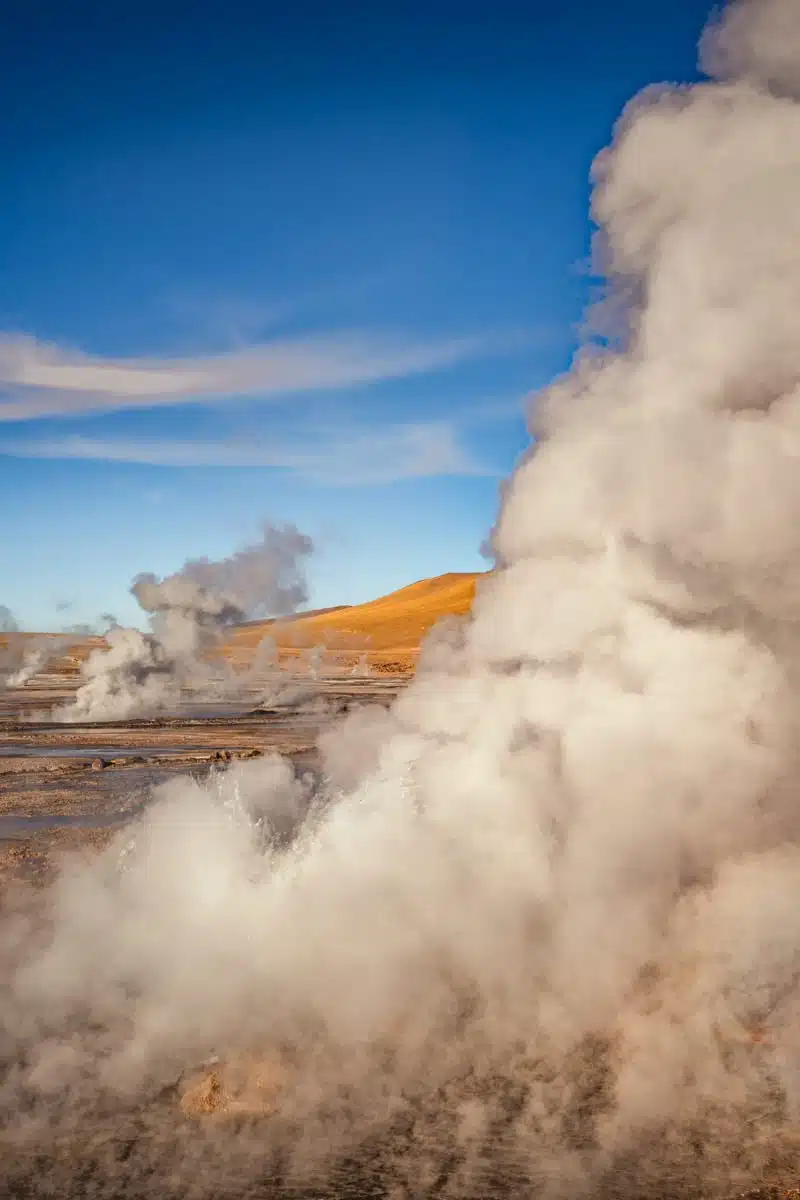 Get ready to see the natural fireworks that Rodolfo poignantly calls the El Tatio Geysers at sunrise. This half-day tour offers you a short but sweet opportunity to admire the glistening minerals in the bubbling and steaming waters of El Tatio's fumaroles.
The tour starts with a sunrise hike around the northern geyser fields. The bouts of steam and twinkling minerals throughout the walk are sure to knock you out of your early-morning drowsiness. After a generous breakfast, the second hike of the day takes you to the traditional village of Machuca.
This old Andean village still builds its homes (of which there are only 20) using traditional techniques. In other words, you'll also learn about the communities that still live within this harsh landscape of El Tatio.
Chile's Atacama Desert Tour With Canyoning & Trekking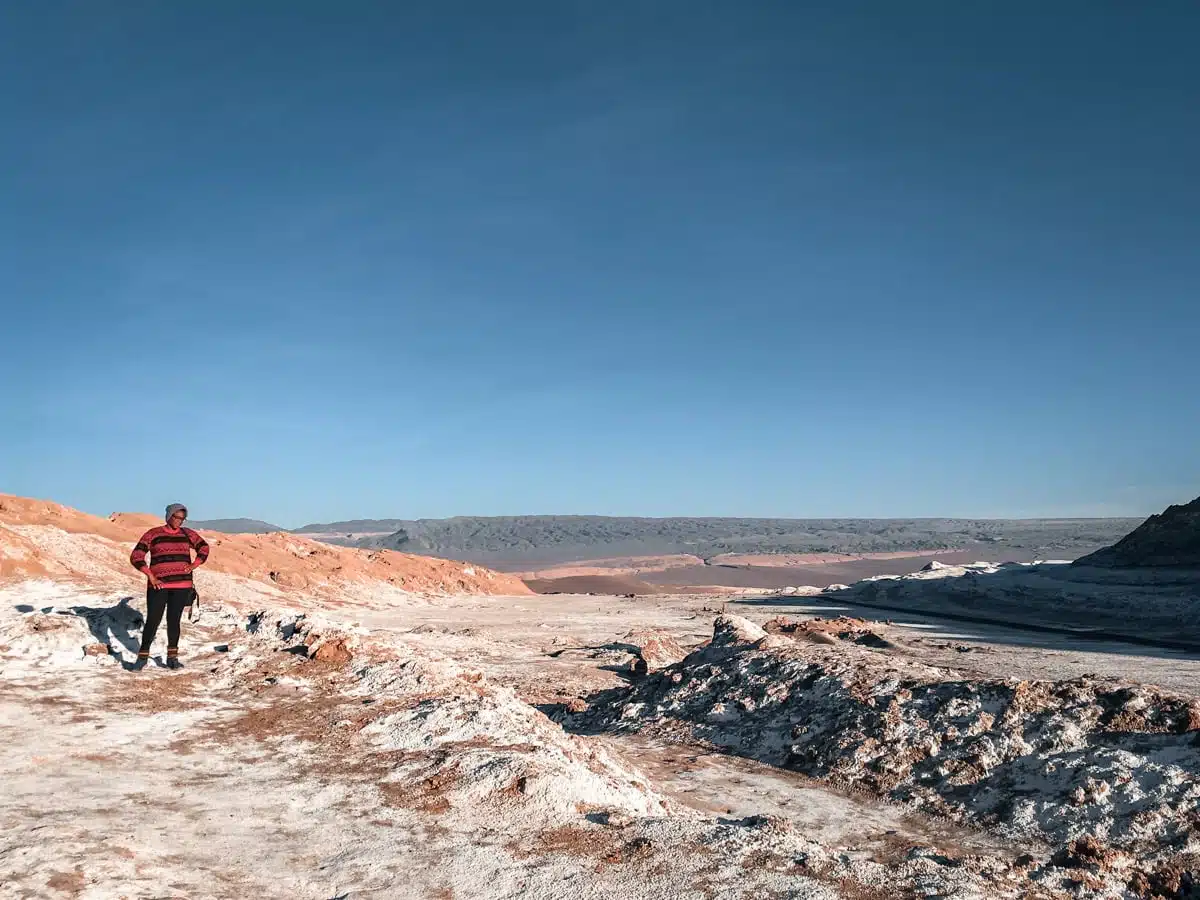 Are you looking to build up a sweat and test your limits? Then, one of the best Atacama tours for you has to be this canyoning experience.
Get ready to descend a towering cliff face with a raging waterfall alongside you. I know it sounds pretty dangerous, but trust me, it's sure to get your adrenaline pumping. You'll get to do four rappels throughout the day. And don't worry. A qualified guide will help you every step of the way.
You'll take turns climbing up to the top of the canyon and rappelling back down. So, in your off time, you can rest on the sandy banks or dip in the refreshing — albeit cold — river.
Atacama Red Rocks & Altiplano Lagoons Day Trip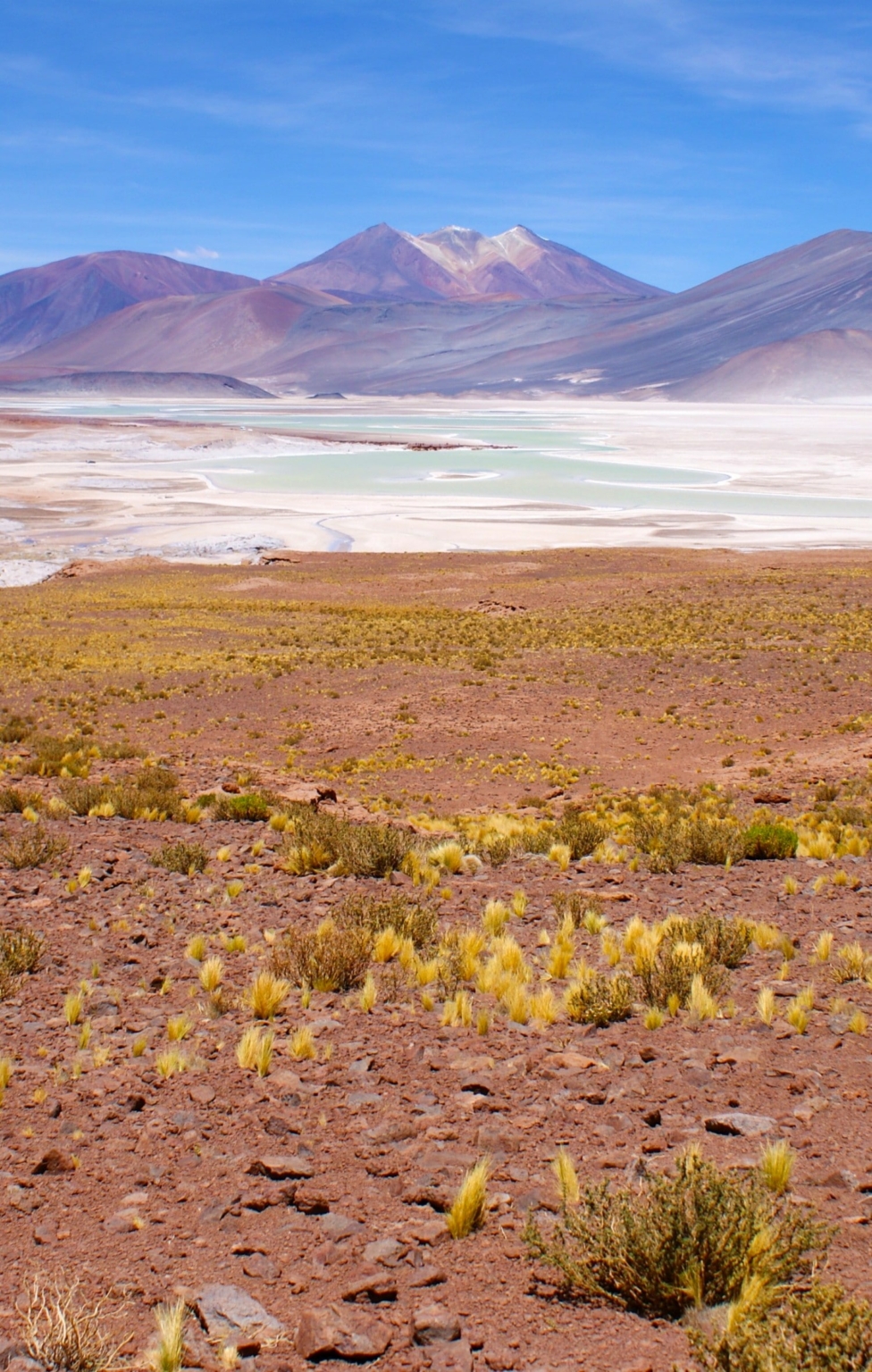 Book this Altiplano day trip to visit the Tropic of Capricorn and venture into the red-laden landscape of the Aguas Calientes Salt Flat. You'll enjoy an hour-and-a-half walk past the iconic Piedras Roja.
During the trip, you might spot the rainbow of colourful minerals cascading down Volcano Capur. But a guarantee is a visit to the most iconic lakes in the area, including Chaxa, Miscanti, and Miñiques.
On the way back from the Piedra Rojas, you'll stop by Socaire village. Here, you can snap some photos of the 700-year-old and the sun setting over the Incan terrace fields of the village.
Atacama Desert Astrophotography Tour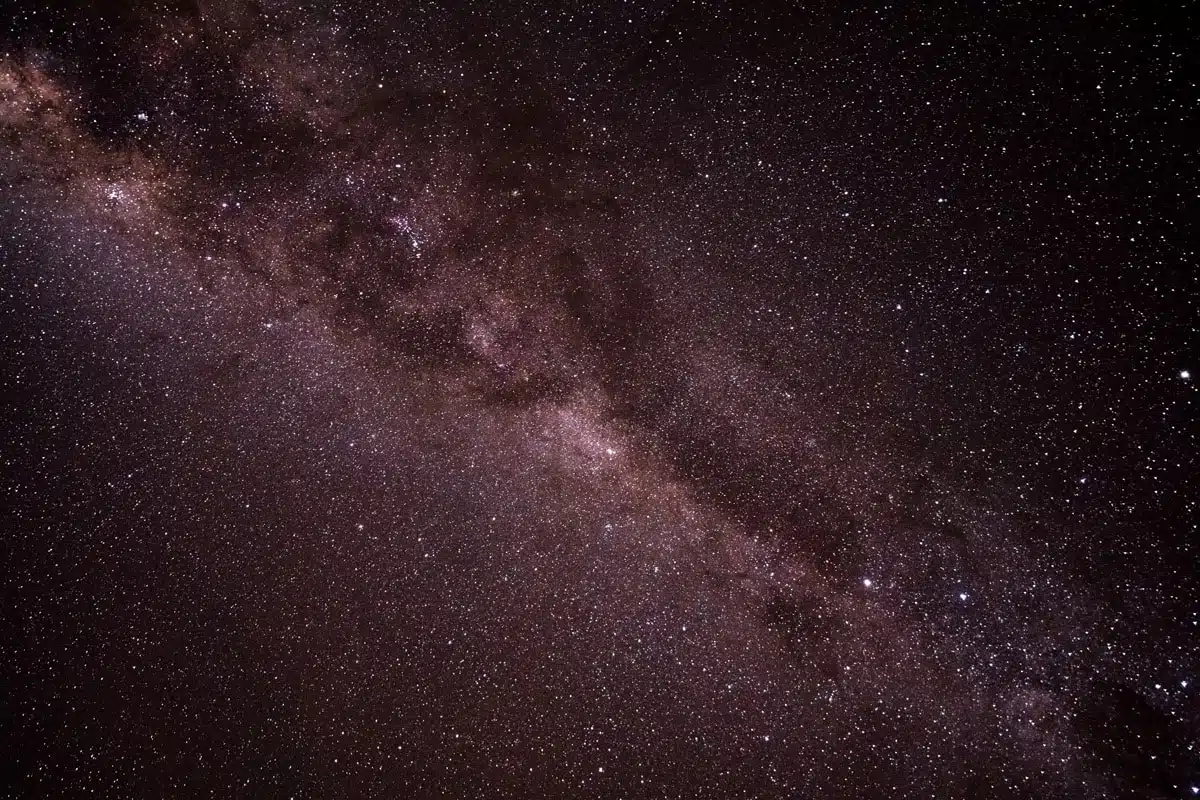 Atacama Desert stargazing is always on the agenda, especially when you consider it's a region at the forefront of astronomical research. With locations like ALMA and Paranal, taking an Atacama Desert observatory tour only makes sense.
This astrophotography tour is relatively new on the block, but it's the perfect way to admire the night sky and snap some memorabilia simultaneously. From visiting the ACT Observatory to sipping refreshing aperitivo, it's a memory that will last a lifetime.
And you'll take two professional photos home. Could you ask for much more?
Atacama Fat Biking Tour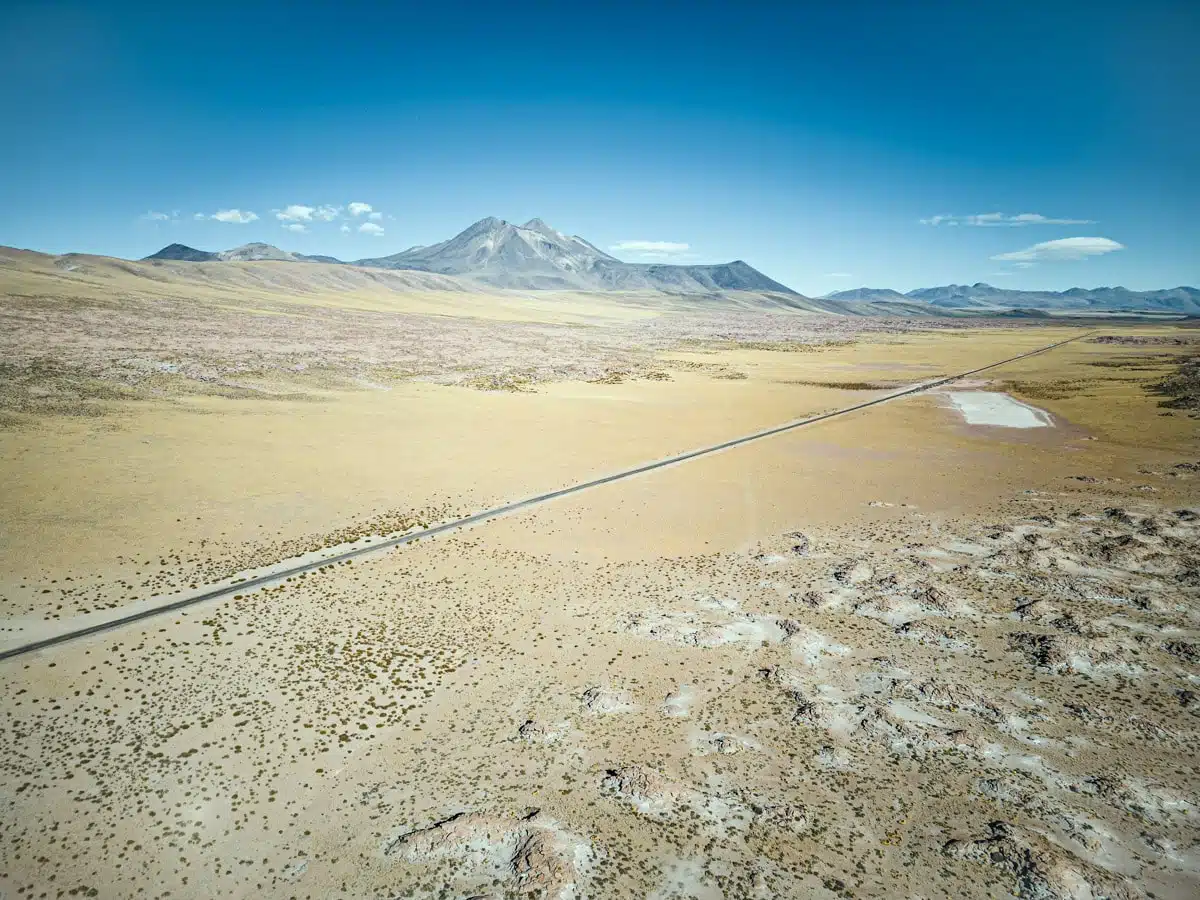 While everyone is heading to the usual tourist attractions, how about a guided bike ride through the Atacaman landscape? You won't see the bubbling geysers at El Tatio or the calming lakes of the higher Atacama Basin, but at least you'll be able to experience the land at your own speed.
The tour departs by car from Iquique in the afternoon and arrives in the middle of the desert just before sunset. This provides the perfect weather for the meandering journey through the region's dunes.
The tour doesn't include food, which isn't ideal, but as far as ways to explore the Atacama go, it's one of the best.
Multi-Day Tour in San Pedro de Atacama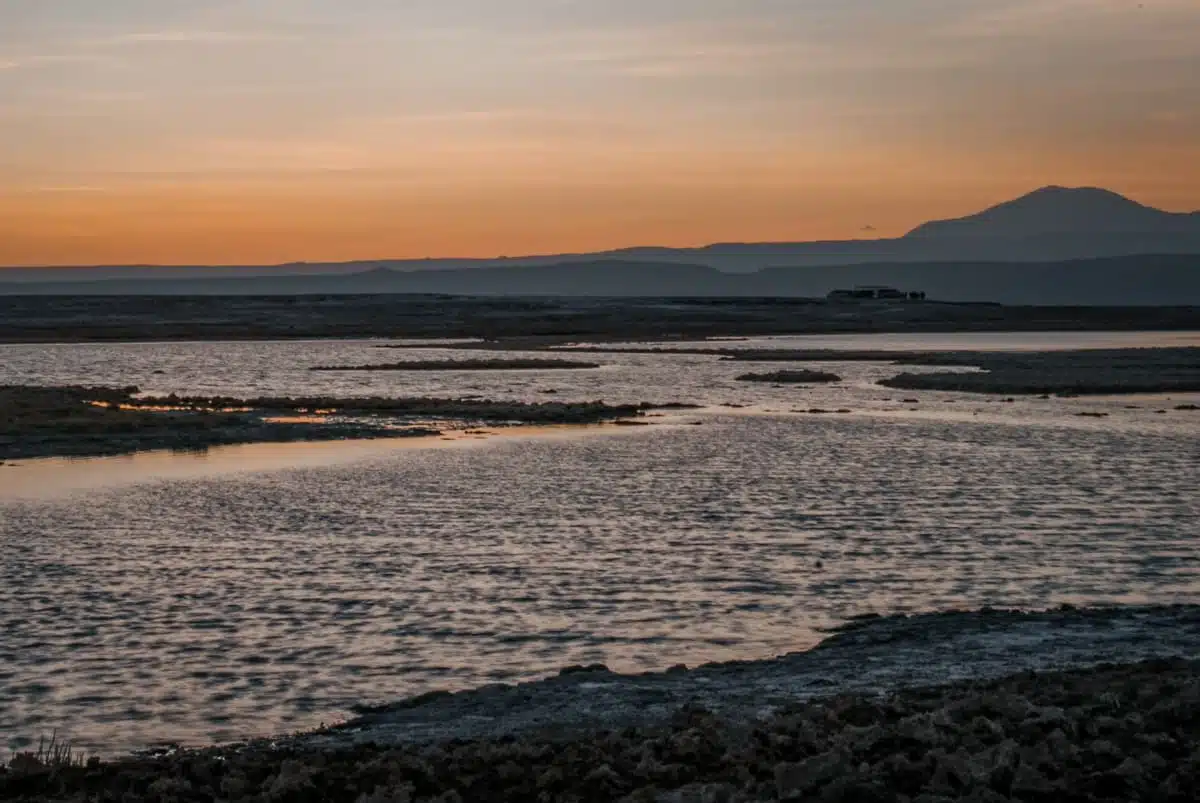 If you want to enjoy all the best things in the Atacama Desert without a worry in the world, then this multi-day tour is for you. The adventure spreads across four days for your convenience.
You can entice your inner explorer with guided tours to Valle de la Luna, Rainbow Valley, Atacama Salt Flat, Piedras Rojas, the Altiplanic lagoons, and El Tatio Geysers. And to put the cherry on top, you'll also embark on an astronomic tour at Ayllu de Cucuter.
You'll also enjoy all your meals from the tour agency, including all the park entrance fees.
Salar de Uyuni & Altiplano Cordillera Traveller Tour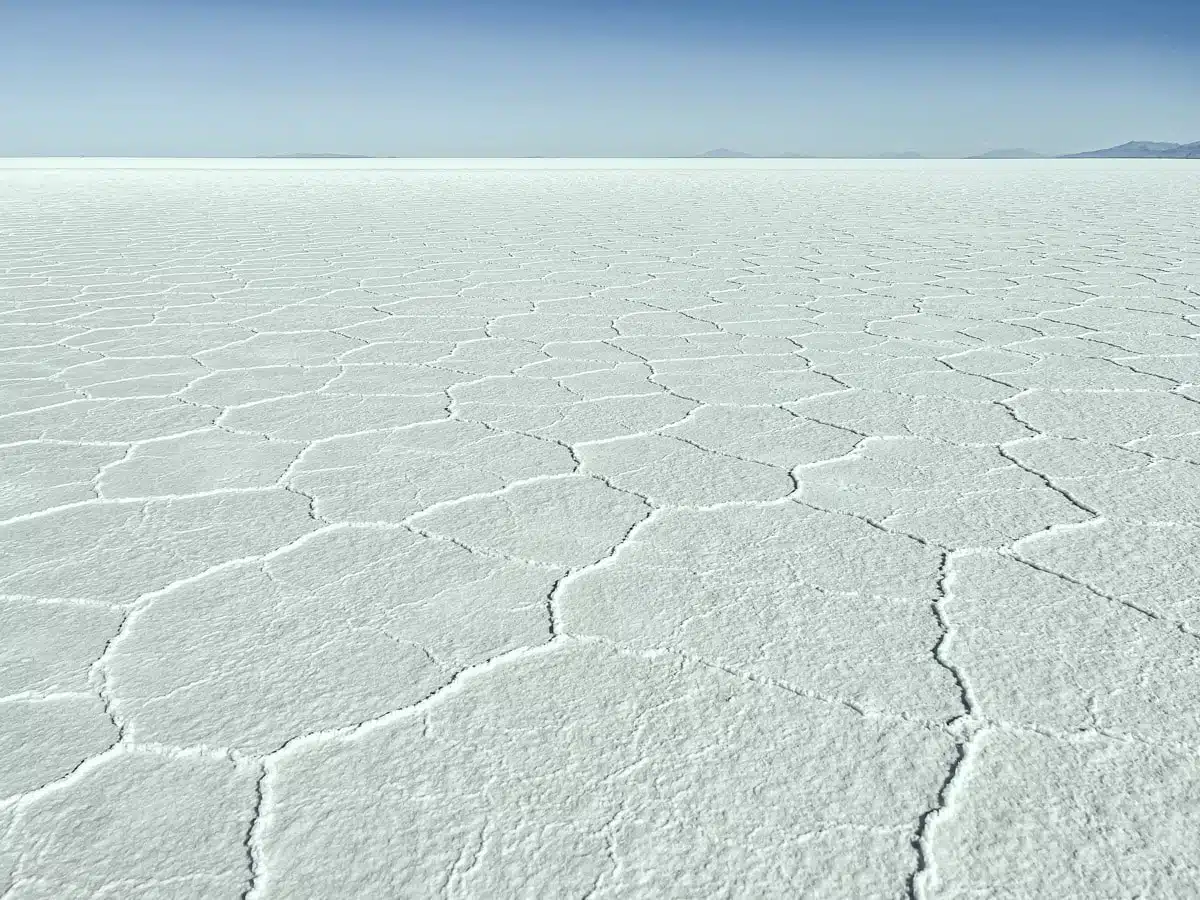 If you cross the border to Bolivia and want a truly exceptional experience, I highly recommend booking this Cordillera Traveller tour. My first day on the tour was a bit of a mix-up, as the booking office made a mistake, but my guide, Walter, was excellent.
The tour focuses on the Altiplano region, which happens to be the widest point of the Andean Mountains. One of the highlights of the tour has to be the visits to the pre-Columbian cities like Chirp.
These cities encapsulate just how powerful and significant the Incan Empire was. There are even Incan ruins at Licancabur Volcano, which you might visit if you choose it as a part of your tour package.
Practical Tips for Exploring the Atacama Desert Tours
Valle de la Luna gets extremely busy. If you're looking for a free-to-enter, quieter destination, consider Ckamur Valley.
If you want an all-inclusive resort that includes tours of the Atacama Desert, consider booking a stay at Nayara Alto Atacama.
Not all the tours depart from San Pedro de Atacama or include hotel pick-up. Make sure you read the tour description fully before booking.
Tours of the Atacama Desert: Read Next