Ready to discover the best things to do in Valparaiso? From seeing the colourful street art to exploring cool neighbourhoods, it's time to explore this vibrant South American city.
The iconic port city of Valparaiso beats to its own drum, bursting with colourful streets, balmy beaches, and empanadas galore (yum). Its inimitable charm bursts from picturesque cliff top homes and beguiling 19th-century architecture.
Santiago might hog all the attention, but if you venture to Valparaiso, don't be surprised if you fall head over heels for its charms.
Join me as we discover the must-see attractions and hidden treasures of Valparaíso. Let's go!
Top Tip: Need somewhere to stay? Book in to the stylish Augusta Hotel
Top 5 Things to Do in Valparaíso
Admire Street Art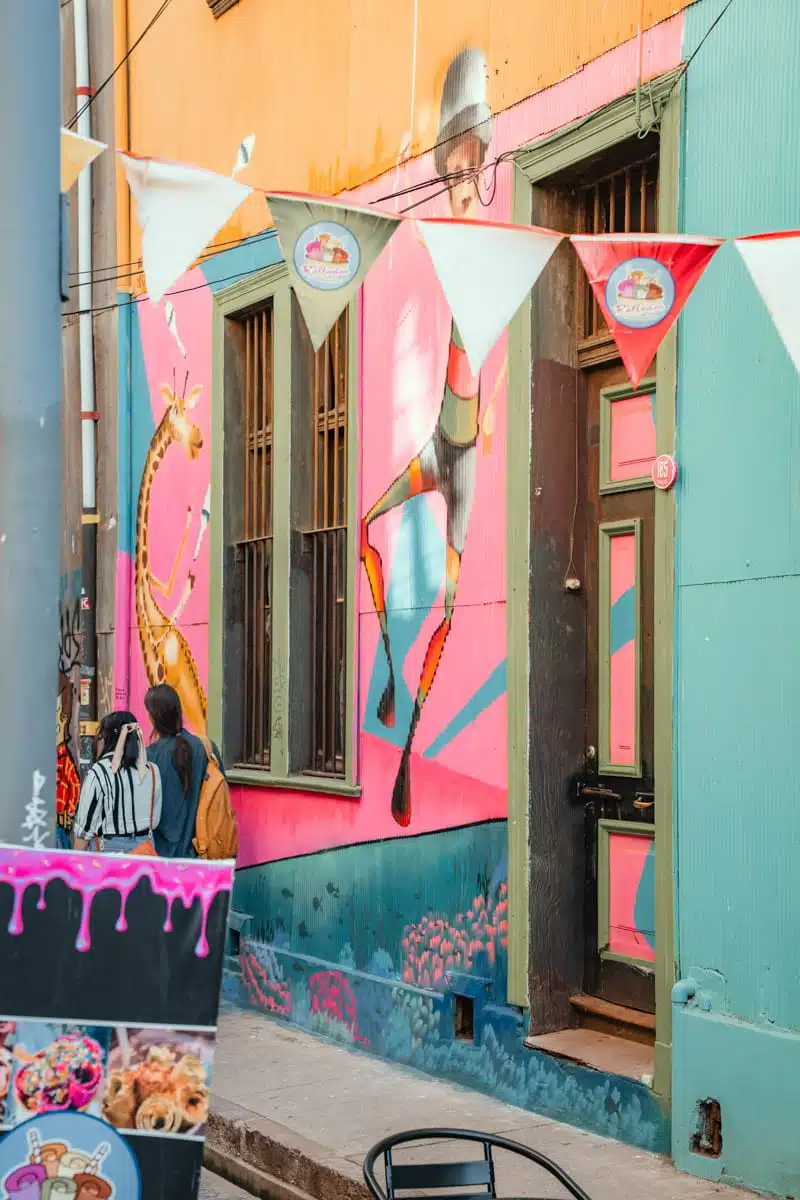 If you thought Santiago was a street art hub, Valparaíso is the mecca.
This is where you'll come across some of the most touching and thought-provoking visuals and murals in Chile. Don't forget your camera – trust me, these are worth every shot.
Start your street art escapade at the Cerro Concepcion, where you'll find a high concentration of captivating pieces. Funky hues and psychedelic geometric shapes assault your senses, making you question reality everywhere you look.
Oh, and don't skip the stairs from Almte Montt via Palma to Dimalow unless you want to miss out on a cluster of street art, quirky cafes, and shops.
Hop Onto an Ascensor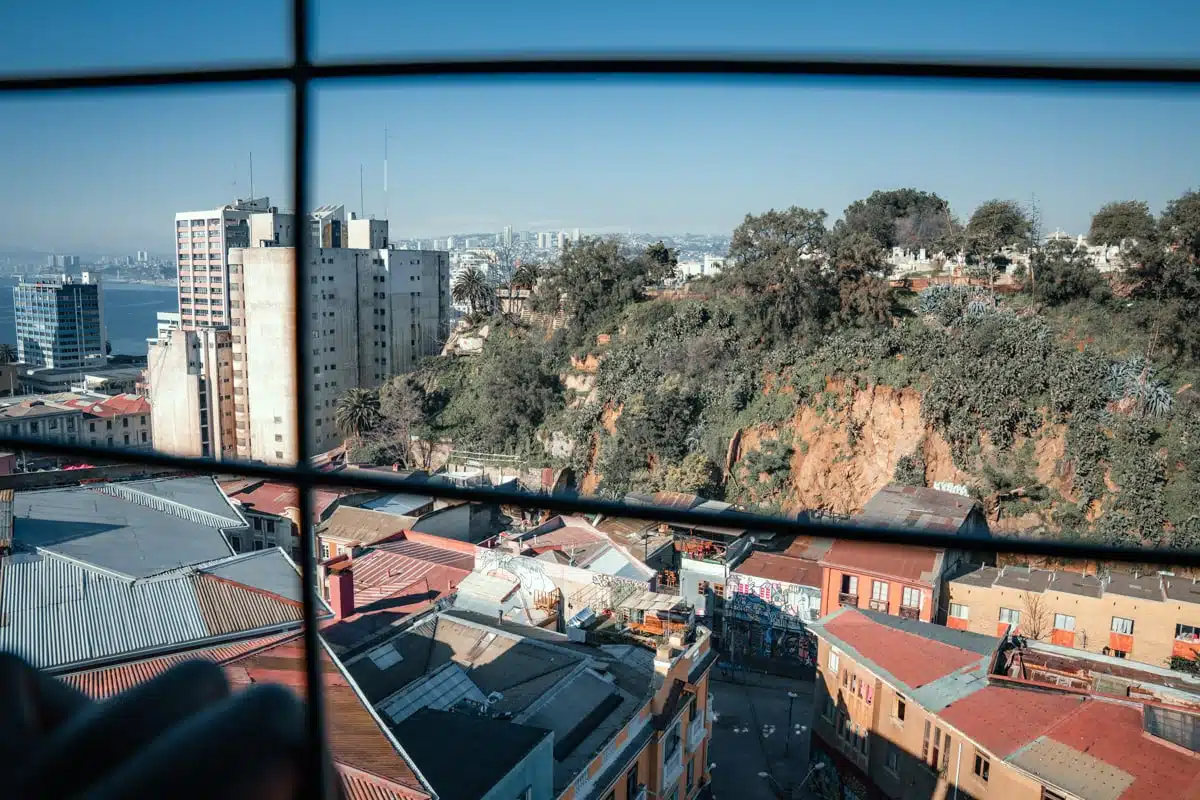 Valparaíso is well-known for its enchanting steep hillsides. While climbing these hills are rewarding for their breathtaking panoramic views, I wouldn't want to leave you with aching feet and burning thighs. The solution? Hopping on an ascensor (funicular).
These century-old funiculars are a practical (and fun) way to conquer the city's steep slopes at an affordable fee of £0.20 – £0.59 (CLP$222 – CLP$656) on top of that.
I recommend Ascensor Reina Victoria if you're near Plaza Anibal Pinto – it stretches from Elias Street to Paseo Dimalow.
Also, consider taking the famous Funicular Cerro Artillería if you want to journey up Artillería Hill and visit Museo Maritimo.
Visit Pablo Neruda's House in Valparaíso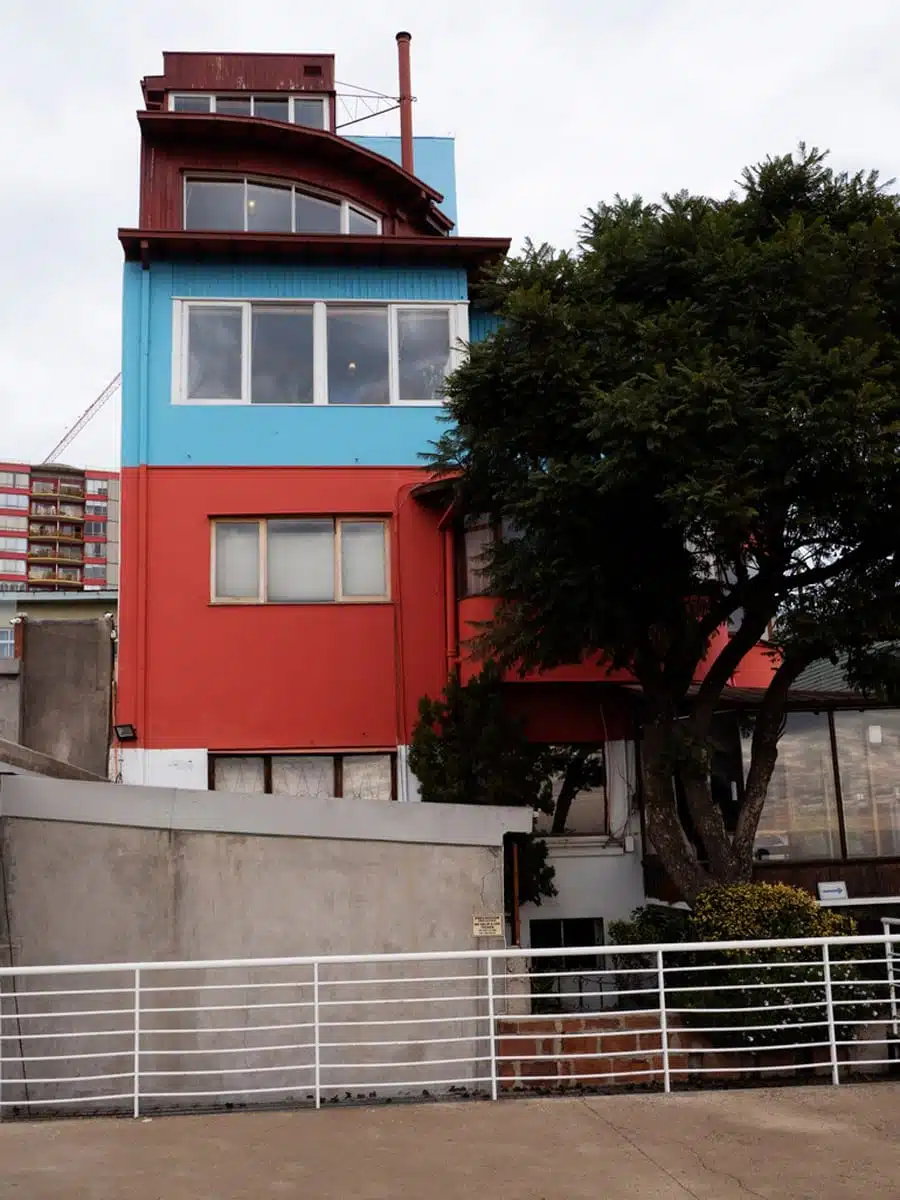 If you're into literature or Chilean political history, you should know how important Pablo Neruda is as a poet and a politician – so much so that he was awarded the Nobel Prize for Literature.
As an activist writer and voice to a generation confronting their current aristocratic government, Neruda's legacy leaves an everlasting imprint in Chile's history.
It makes sense then that the best thing you can do as a history buff is to visit Pablo Neruda's House in Valparaíso. Known as La Sebastiana, the eclectic home boasts 360 views of the city and some of the poet's personal memorabilia.
Top Tip: The La Sebastiana Museum is open Wednesday to Sunday from 10 am to 6 pm. Tickets cost £7.20 ($8,000 CLP) for general admission.
See the Piano Stairs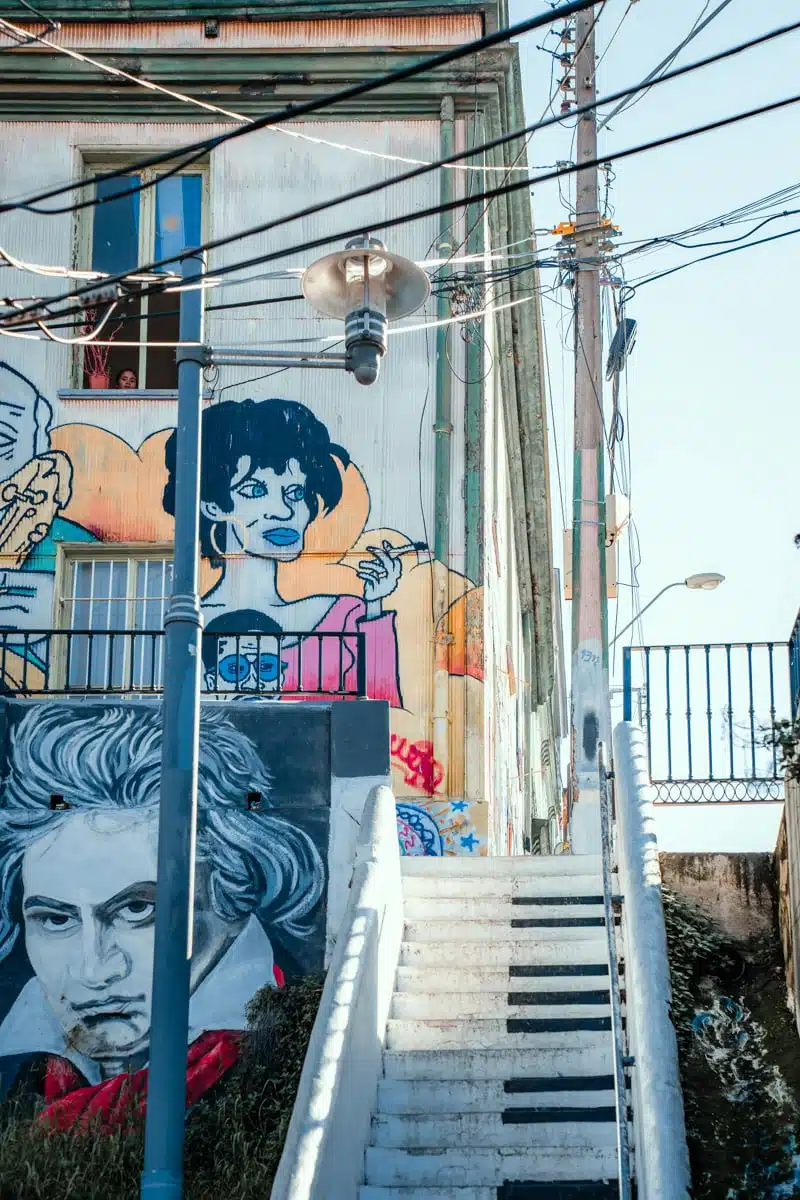 What if I told you that one of the best things to do in Valpo involves musical steps on Beethoven Street? Crazy right?
The Piano Stairs and their surroundings display colourful geometric patterns and are accessible 24/7 for free (obviously since it's public).
There's a bit of mystery surrounding them too – no one actually knows who painted them. The fact that we'll likely never know its origin makes it more intriguing. These "Beethoven" Piano Stairs sit right next to the cathedral in Cerro Concepción.
Visit this famous tourist attraction by hopping on the Ascensor Reina Victoria, and voila – you have a backdrop for your next social media posts.
Top Tip: Prepare to wait for your photo during peak times.
Wander the Winding Streets of Cerro Alegre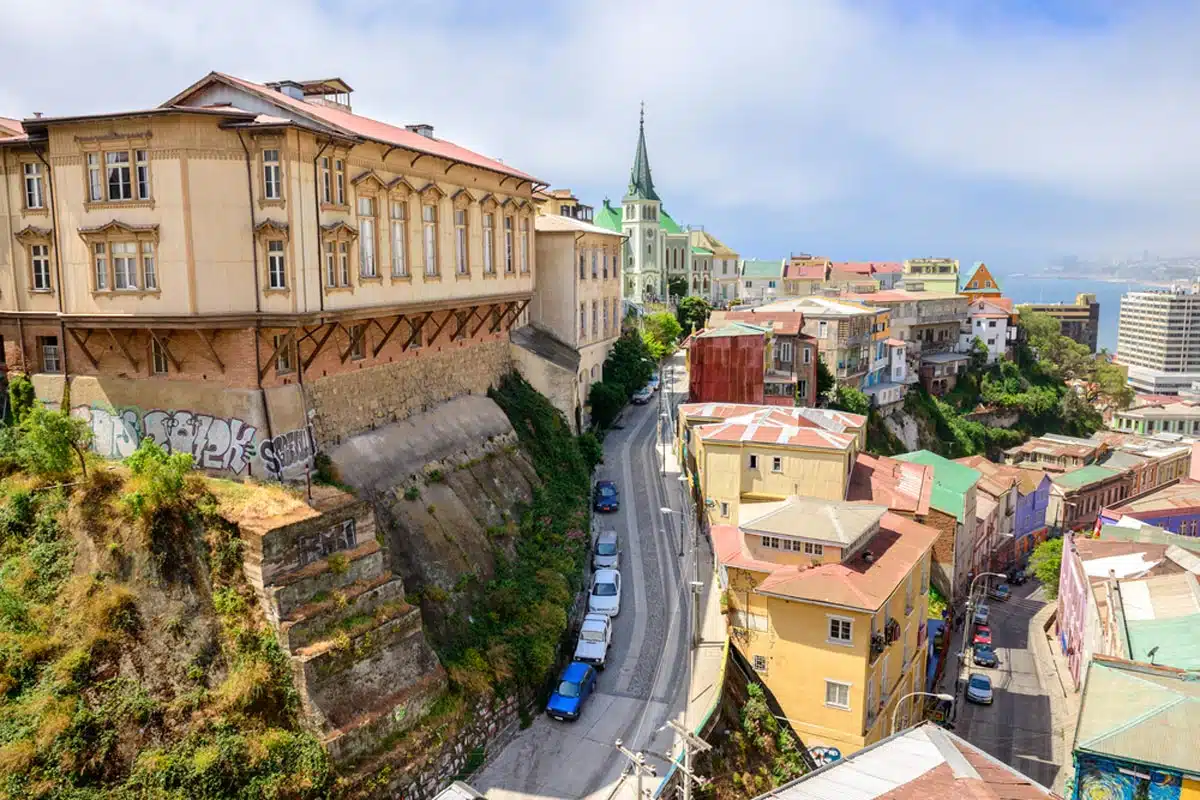 After taking in all the cool sights at Cerro Concepcion, it's time to explore another of Valparaíso's charming neighbourhoods, Cerro Alegre.
Perched atop the city's many renowned hills (45 to be exact), Cerro Alegre is charismatic and vibrant – pretty fitting for a place whose name translates as "Cheerful Hill".
Boasting a unique concoction of history, culture and aesthetically pleasing architecture – spending some time here is a must. Expect winding cobblestone streets dotted with colourful houses and bright murals when you do.
Walking through this neighbourhood feels like an open-air gallery. When you need a rest, you'll have a variety of restaurants, boutique shops, and cafes to choose from.
Brilliant Things to See & Do in Valparaíso
Go Up to the Cerro Concepción Viewpoint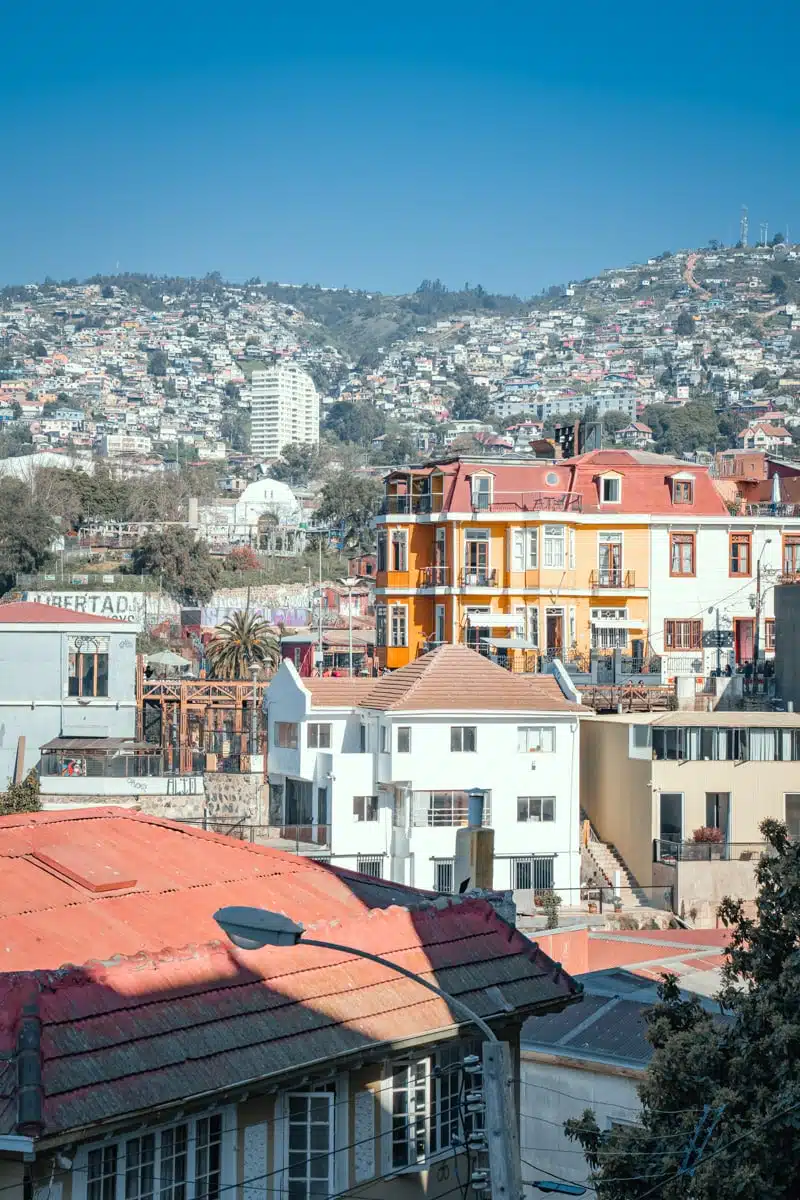 I've mentioned two scenic funiculars above, but let me introduce you to the Ascensor Concepción Prat. Inaugurated on December 1, 1883, it's the oldest funicular in Valparaíso, connecting the Elías Alley with the Gervasoni Promenade on the Concepción Hill.
This old-timer is also the very mode of transport that will take you to the Cerro Concepción Viewpoint, where vast views over Valparaíso await.
Make sure your camera's charged to snap up gorgeous photographs of the Pacific Ocean, vivid murals and brightly coloured buildings.
Grab Lunch or Dinner at La Conquistada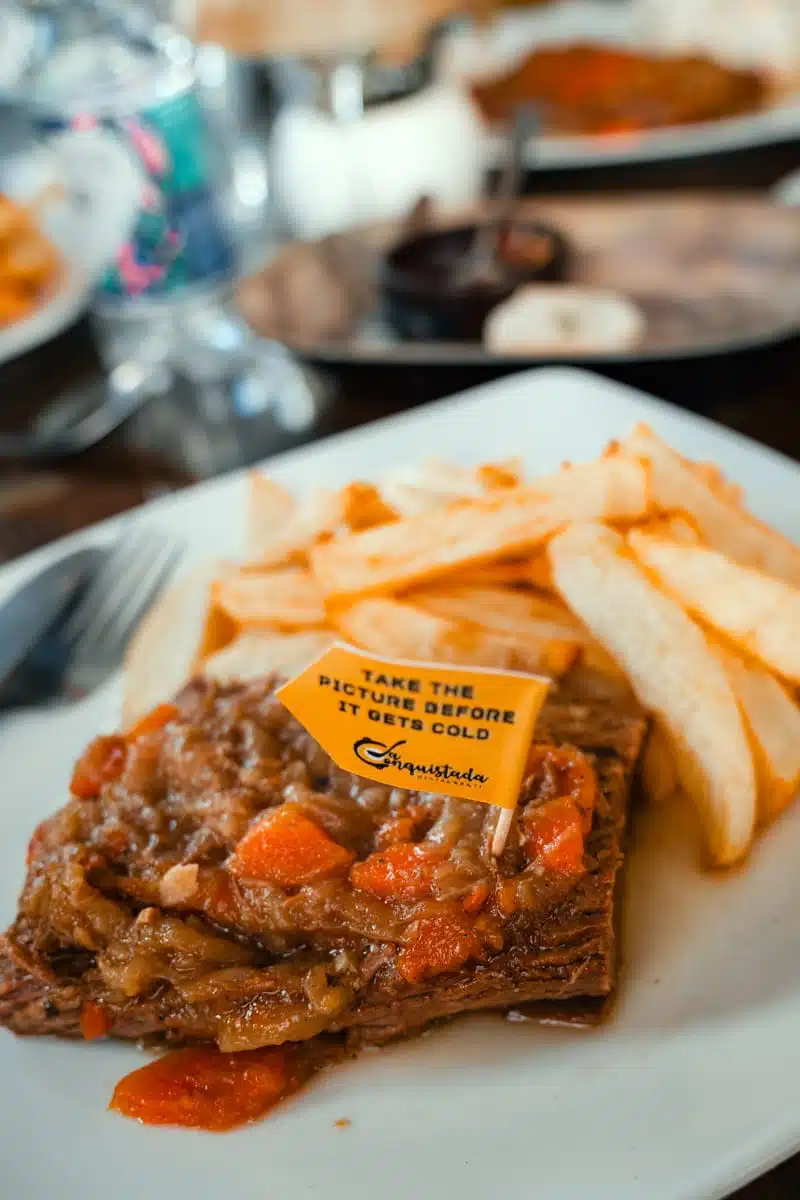 Can you call yourself a travelholic if you don't indulge in a country's local cuisine? I've got just the place for you: La Conquistada.
Serving you traditional Chilean delights and an authentic charm, this restaurant has you covered for lunch and dinner. Dig into delicious beef empanadas filled with surprising ingredients like raisins and olives, then wash it down with a sweet mojito.
Their menu includes homemade desserts like Celestinos con Helado or Mote con Huesillos, salads, sandwiches, beers and wines. Visit between 10:30 am – 6 pm, Monday to Wednesday and from 12:30 to 8 pm, Thursday to Sunday.
Hunt Down the Works of Un Kolor Distinto
Un Kolor Distinto is a dynamic duo in the thriving street art scene best known for their large-scale murals on the sides of the four highest buildings in the city.
If you are looking for fun things to do in Valparaíso, consider tracking down their magnificent murals depicting astronomical events.
These massive graffiti murals span 50 metres high, each inspired by themes of the Summer, Winter Solstices and the Spring, Autumn Equinoxes. In case you need the directions, here are the addresses to all four murals:
Spring Equinox: Yungay 2589
Winter Solstice: Calle Molina 531
Autumn Equinox: Avenida Pedro Montt between Rodríguez and Freire
Summer Solstice: On the junction of Calle Blanco Sur and Bellavista
Sip Sundowners on the Roof Terrace at Fauna
It's time to throw caution to the wind, and what better way to do so than sipping on a snazzy drink as you gaze upon the dazzling city skyline?
Make your way to the Fauna Hotel's rooftop bar in Cerro Alegre. Even better, come during their happy hour for uninterrupted sips and sunset views.
The restaurant operates daily from 12:30 to 10:30 pm, offering sublime bartending and cuisine. Expect locally crafted beers, expansive wine varieties and signature or traditional cocktails. You won't go wrong with the local special, Pisco Sours, or the Beautiful Bye, a deliciously fruity affair.
Take a Wine Tour of Casablanca Valley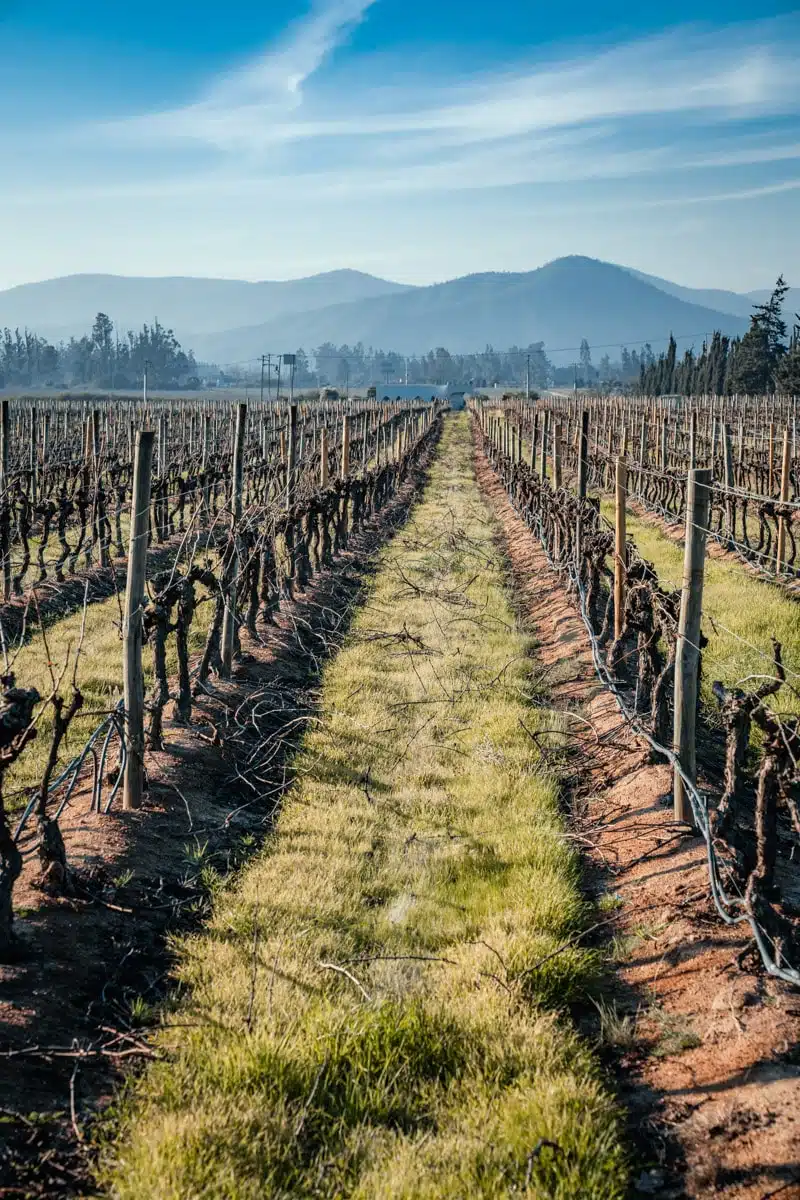 If you consider yourself a wine connoisseur, visiting Valparaíso, Chile, without touring the Casablanca Valley, would be an injustice.
This Chilean wine-growing region bursts with lush vineyards thanks to fertile soil, allowing wine-makers to produce some of the finest white varieties like Chardonnay and Sauvignon Blanc.
You can tour Casablanca Valley by yourself, which involves planning, such as calling up wineries at least one day before making a reservation. Most wineries charge between £10.80 – £18 ($12,000-$20,000 CLP). Luckily, most wineries are pretty close to each other.
Top Tip: Want the wine without the hassle? Opt for this wine-tasting tour
Unique Things to See & Do in Valparaíso: Hidden Gems That Are Off the Beaten Track
Chill Out on a Secluded Beach in Concón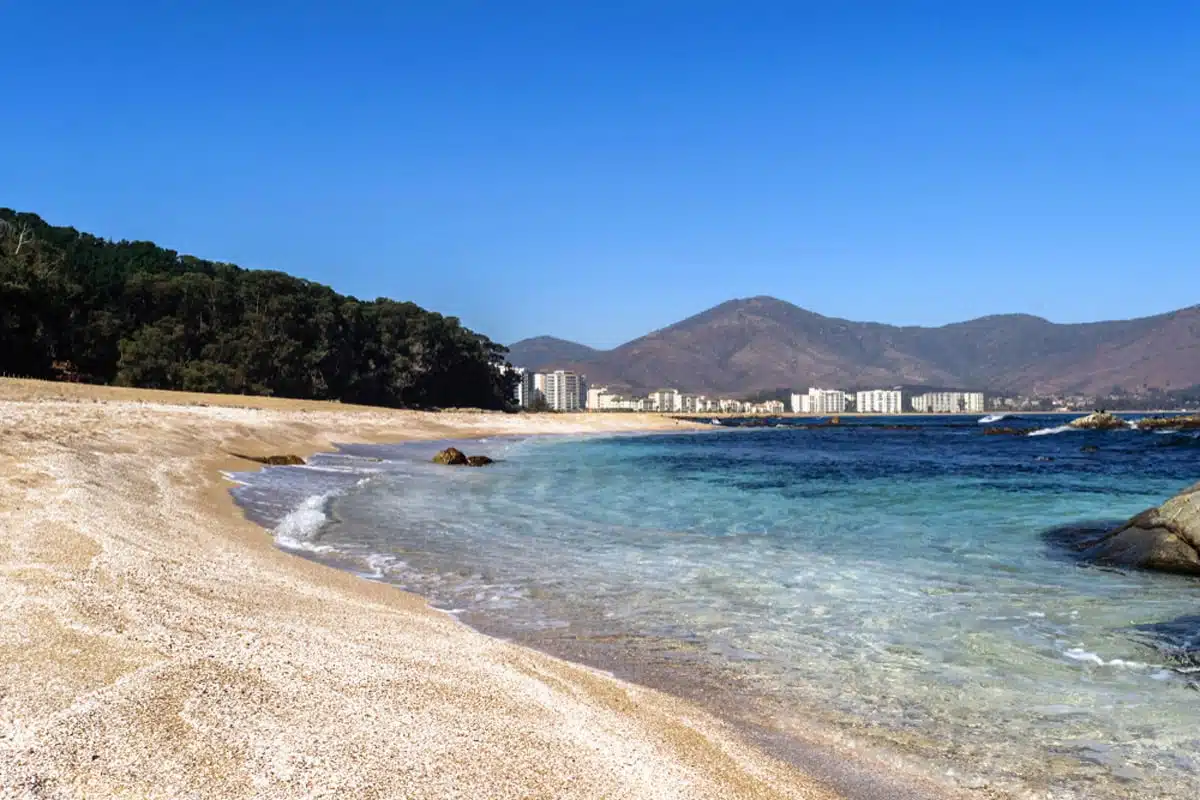 Not all your memorable adventures need to take place in Valparaíso. Hear me out: Concón, a quaint beach town, sits about an hour and a half (by bus) outside the city.
This beachy haven offers you one of the best things to do near Valparaíso and the best part? No one knows about it.
Playa Los Lilenes is a hidden gem offering seclusion in an unassuming residential area. This isolated beach has soft sand for sunbathing and calm, clear waters for tranquil swimming.
Experience a Lively Traditional Chilean Tango Bar
Most people associate tango with its birthplace, Argentina, but only some know that the Chileans like to get down to its hypnotic rhythms.
I recommend going to Bar Cinzano, where you can soak up live music and a buzzing atmosphere filled with locals and tantalising sips of Pisco Sours. This traditional bar opens its doors from six pm to two am on Thursdays to Saturdays.
Wander Through a Local Market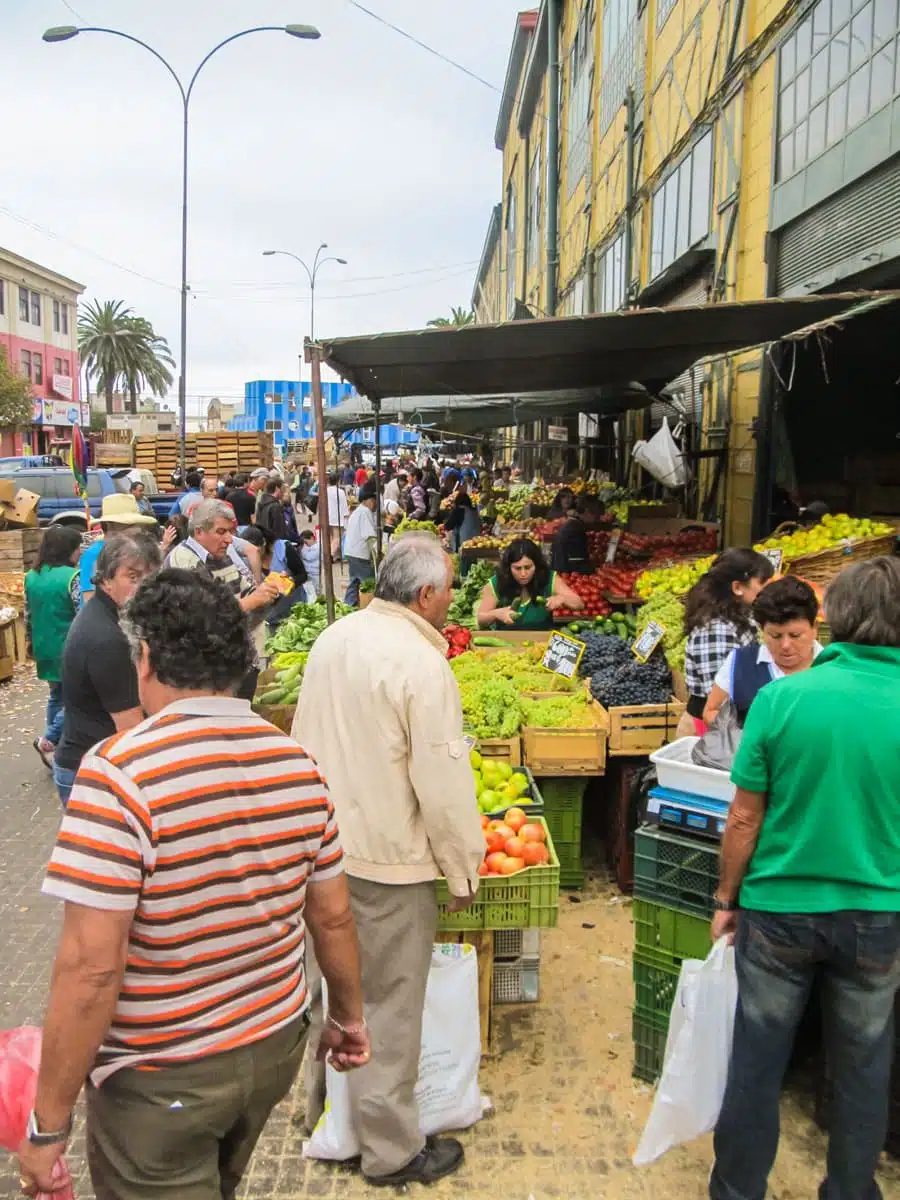 Visiting a market is one of the best ways to expose yourself to local culture and people.
Valparaiso's bustling markets also allow you to support small businesses, strike up conversations with residents and sample traditional foods not necessarily served at restaurants.
I recommend the Mercado El Cardonal, a lively market overflowing with diverse goods. These include jewellery, hand-made clothing, fresh produce and local dishes like empanadas and pastel de choclo.
The market opened in 1912 and is still operating daily, between 7:30 am and 5:30 pm.
Explore a Former Prison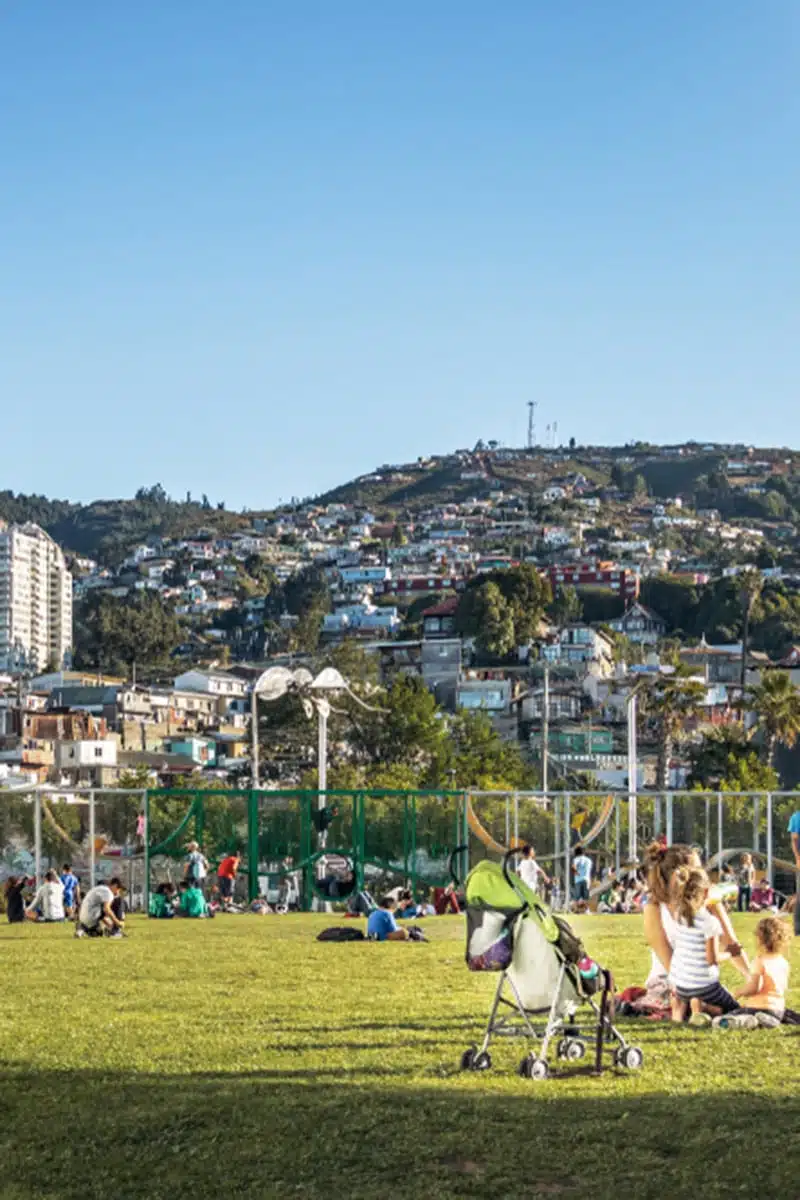 Parque Cultural de Valparaíso, or Valparaíso Cultural Park, is an old city prison once occupied by political prisoners During the Pinochet regime.
After 1999, the prisoners were eventually moved to a new location, exposing the building to local artists and their otherworldly imaginations. Today, it's a cultural hub filled with galleries, rehearsal halls, open-air master classes, a theatre and a circus.
It's fascinating how the dark and gloomy prison has been transformed into a colourful space bursting with creativity. You can visit the park every day, except Mondays, from 10 am to eight pm.
Go Surfing at Reñaca Beach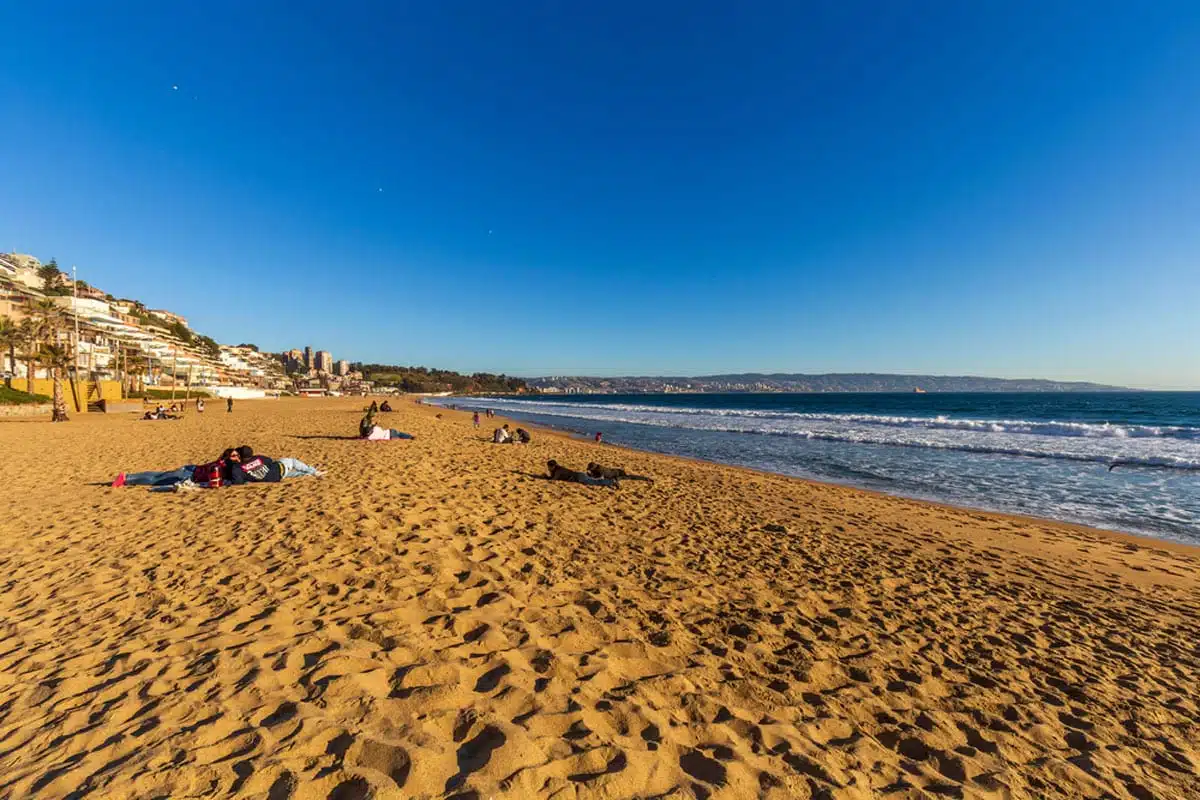 Looking for a rad yet serene surfing spot that is not cluttered with busy tourists?
Take on the rolling waves of Reñaca Beach, one of the best places for surfing in the country, thanks to fast barrels. You don't have to come here for the surf only, though – according to many locals, Reñaca is also a prime spot for fresh seafood.
The best time to visit Reñaca is between October and December. It takes about half an hour's drive to reach the town from Valparaíso. You can either rent a car, grab a taxi or travel via the Line 602 bus.
Things to Do in Valparaíso: Practical Tips for Your Trip
How Long to Visit in Valparaíso?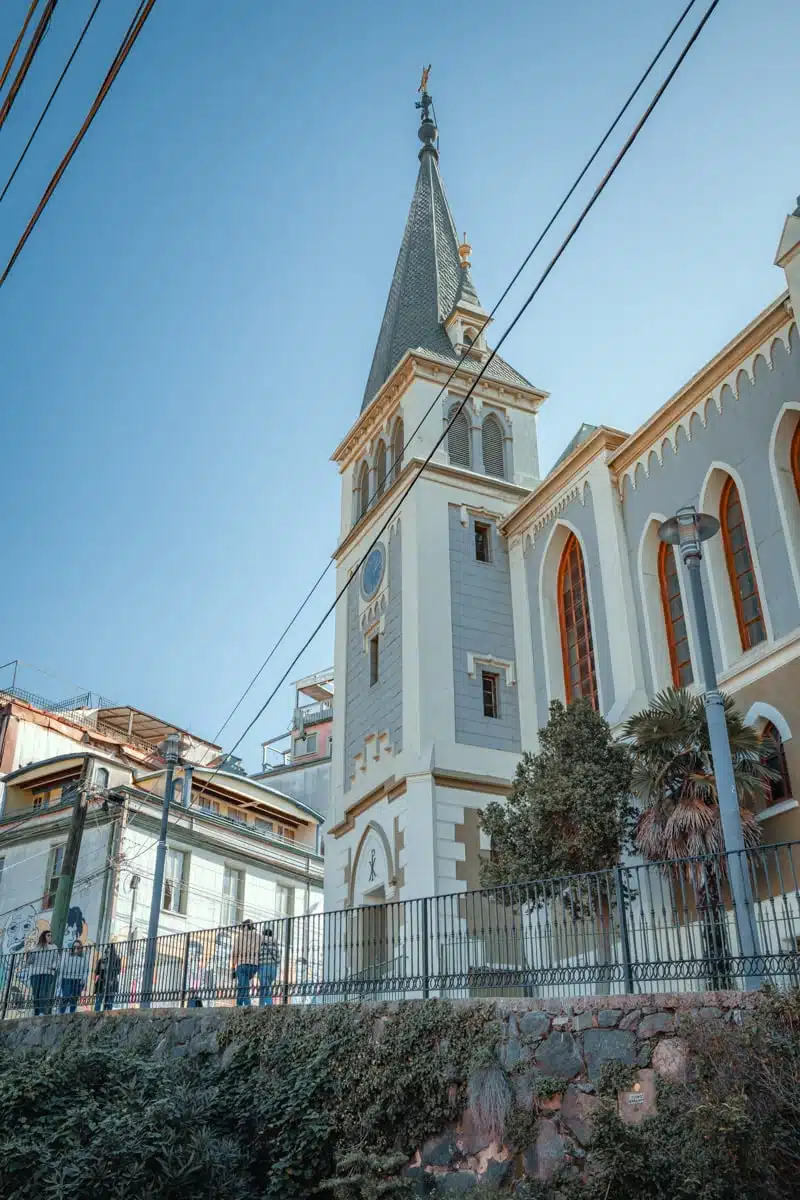 A three-day trip should be enough to explore the city's highlights and even make side trips to neighbouring towns like Isla Negra or Viña del Mar. If you prefer to explore Valparaíso leisurely, opt for four to five days.
Best Time to Visit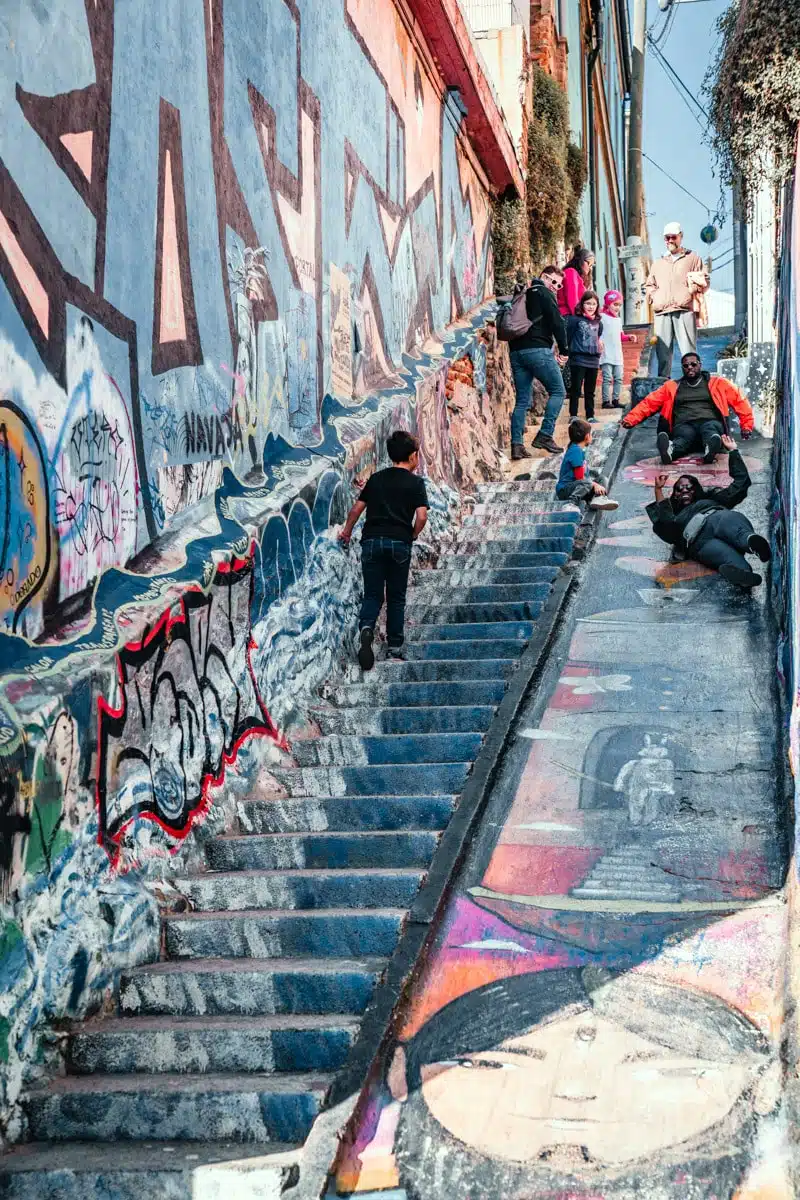 It's possible to visit Valparaíso year-round and still have a blast, but if you're really after warm and dry weather, go from October to April.
Where Should I Stay in Valparaíso?
Val Paradou – ex – Casa Magnolia (Mid-Range)
This elegant hotel draws on classic, art deco elements, offering you a splendid stay in the Cerro Alegre district.
The property features a sun terrace with gorgeous vistas and spacious rooms adorned with floral murals. Enjoy complimentary toiletries and continental breakfast at this stunning boutique hotel.
Augusta Hotel (Luxury)
Stay at a chic boutique hotel that boasts Instagram-worthy views and fabulous decor. The aparthotel features balconies with ocean sweeps and a fully-equipped kitchen in each unit. Enjoy a serene room with beautiful eclectic furniture, complimentary toiletries and a minibar.
Recommended Tours in Valparaíso
From Santiago: Vina Del Mar, Valparaíso, Casablanca & Reñaca Tour: If you're travelling from Santiago, you'll enjoy this day trip to Valparaíso, Vina del Mar resort, and the Casablanca white wine valley. 
From Santiago: Valparaíso, Viña del Mar, and Neruda Museum: Join this break-away tour from Santiago to explore colourful Valparaíso, Vina del Mar, and Neruda Museum for a medley of art, gastronomy, culture, and poetry. 
Things to Do in Valparaíso: Map
Things to do in Valpo: Read Next
Love This? Save and Share on Pinterest