Discover where to stay in Santiago, Chile. The best areas and hotels in the chic Chilean capital.
Santiago is a city where the cosmopolitan clashes with the majestic beauty of the Andes – there are few places in Santiago where you can't catch even a glimpse of the snow-capped mountains reaching for the sky.
Add to that a hyped dining scene, street art, museums and markets and it's no surprise that you're keen to plan your trip there. I've just got back from my fourth trip to Chile and I finally got to spend a decent amount in Santiago – all I can say is it's definitely worth it.
One drawback though. It's also sprawling – even the historical centre seems to go on for miles. There are so many districts (and small neighbourhoods within them) that it can be tough to pinpoint where exactly you want to stay.

The question of where to stay in Santiago is the key to unlocking the city's treasures. Whether you want to immerse yourself in the chic ambience of Lastarria or the artsy charm of Bellavista, Santiago's diverse neighbourhoods have you covered.

So, where is the best place to stay in Santiago? Let's dive into the top hotels and highlights in the best neighbourhoods around town.
Best Places to Stay in Santiago: At a Glance
Where to Stay in Santiago
Trying to figure out where to stay in Santiago? Here are the best neighbourhoods for your trip.
Lastarria: Best Overall Place to Stay in Santiago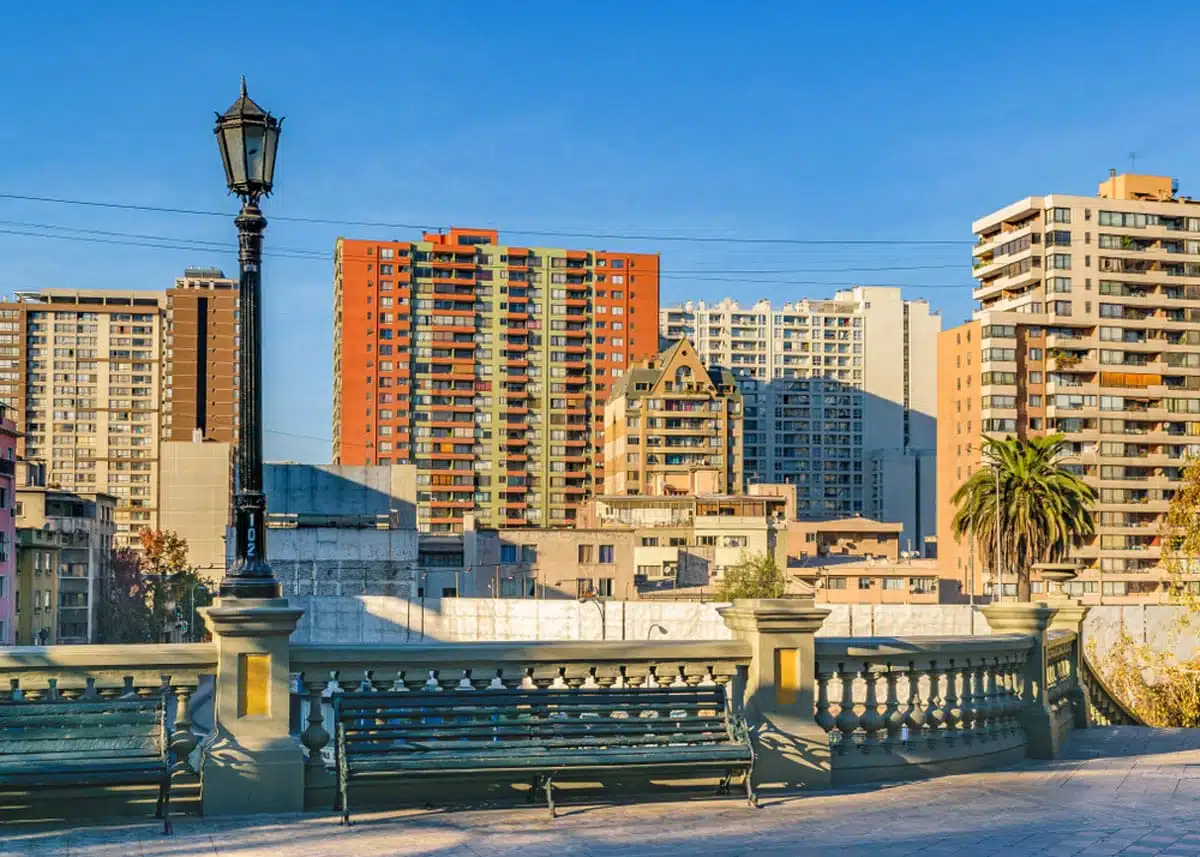 Pressed to choose the best place to stay in Santiago overall, it's a pretty easy decision.
With some of the best dining and cocktail spots in the city and lots of great boutique hotels to choose from, Lastarria is where to stay in Santiago if you plan to walk around and get to know the city.
You'll find local and international artwork at Museo Nacional de Bellas Artes, shopping at ​​Galería Lastarria, and cool bars like Bocanáriz.
Lastarria Highlights
Santa Lucía Hill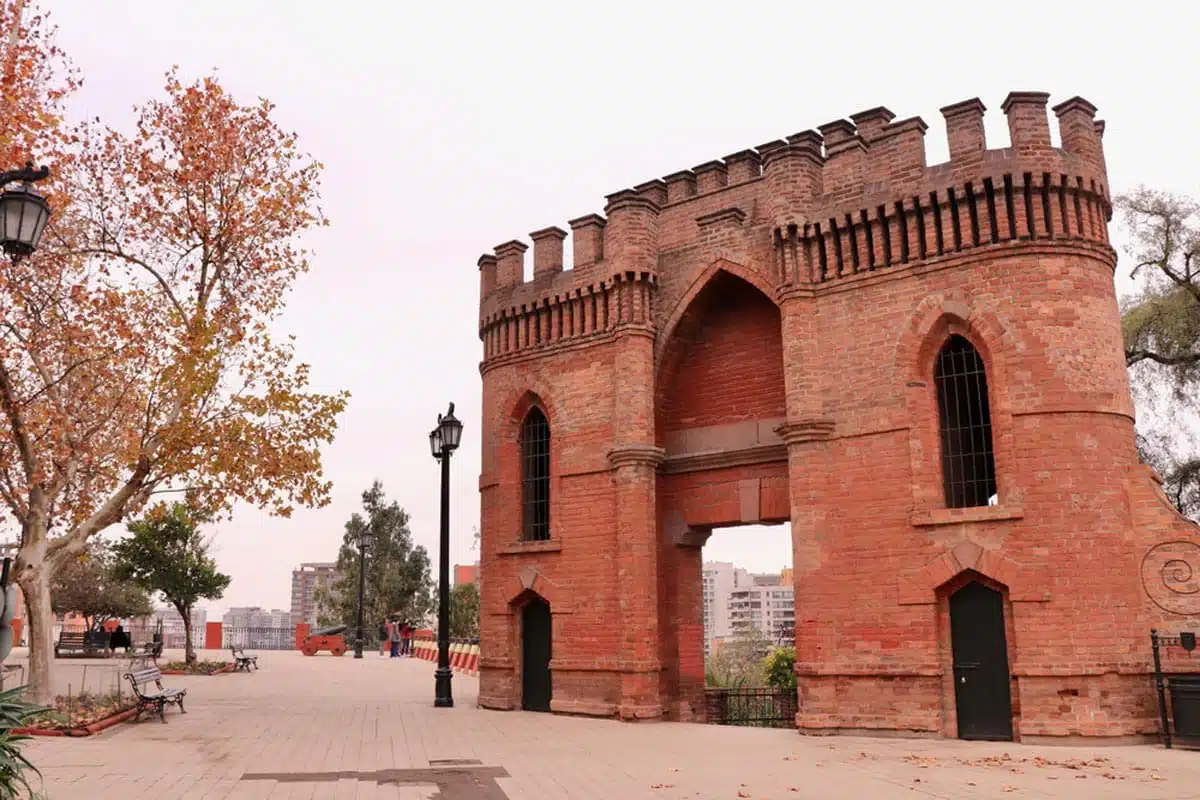 Explore the 19th-century Castle Hidalgo Castle, walk the staircases up the ancient volcano, and stop to check out the Neptune Fountain.
Museo de Artes Visuales (MAVI)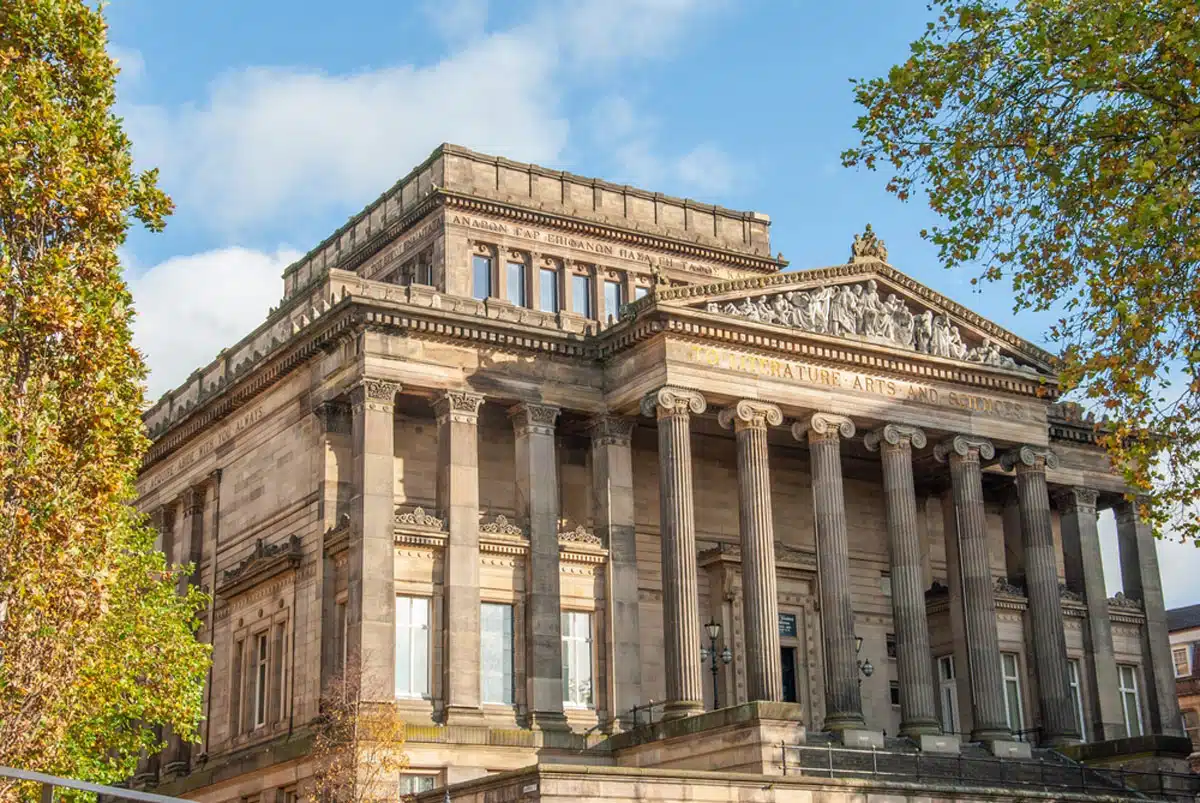 The striking building catches your eye from outside, but the constantly rotating (and free) collection of exhibits and galleries of Latin American artwork is always worth checking out.
Bocanáriz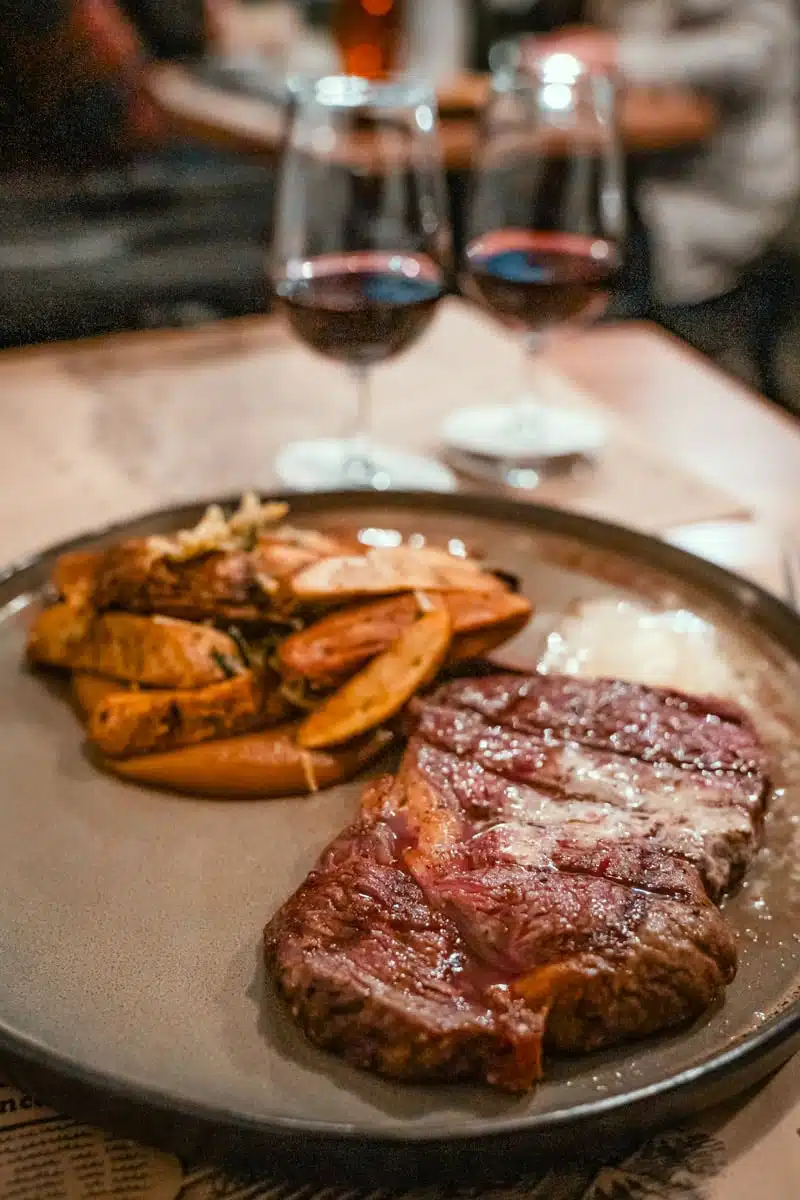 Chill wine bar with expertly chosen flights at reasonable prices. Pair them with any of the small plates available.
Suggested Luxury Hotels in Lastarria
The Singular Santiago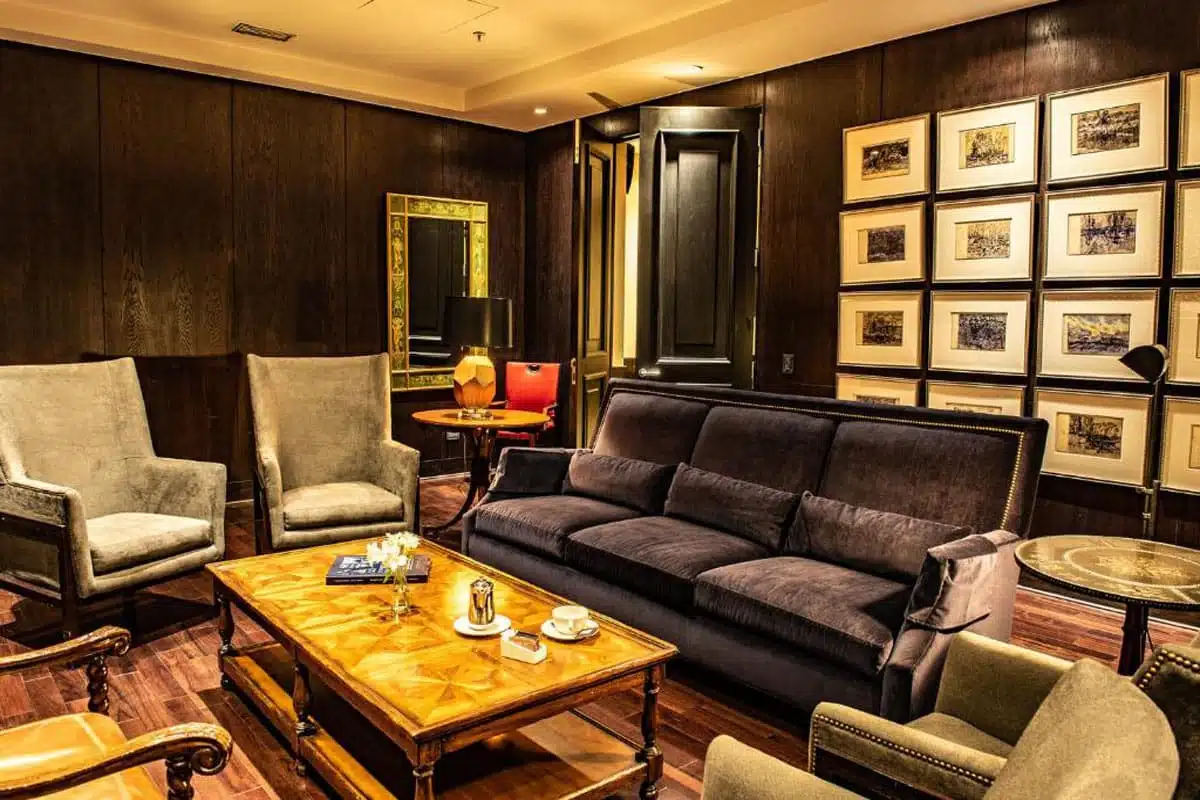 My favourite hotel in the city, The Singular Santiago, is a five-star luxury property in the vibrant Lastarria neighbourhood. The rooms are affordable yet lavish and oh-so-cosy, and the spa and rooftop terrace help create a welcoming vibe that made me feel right at home.
Hotel Cumbres Lastarria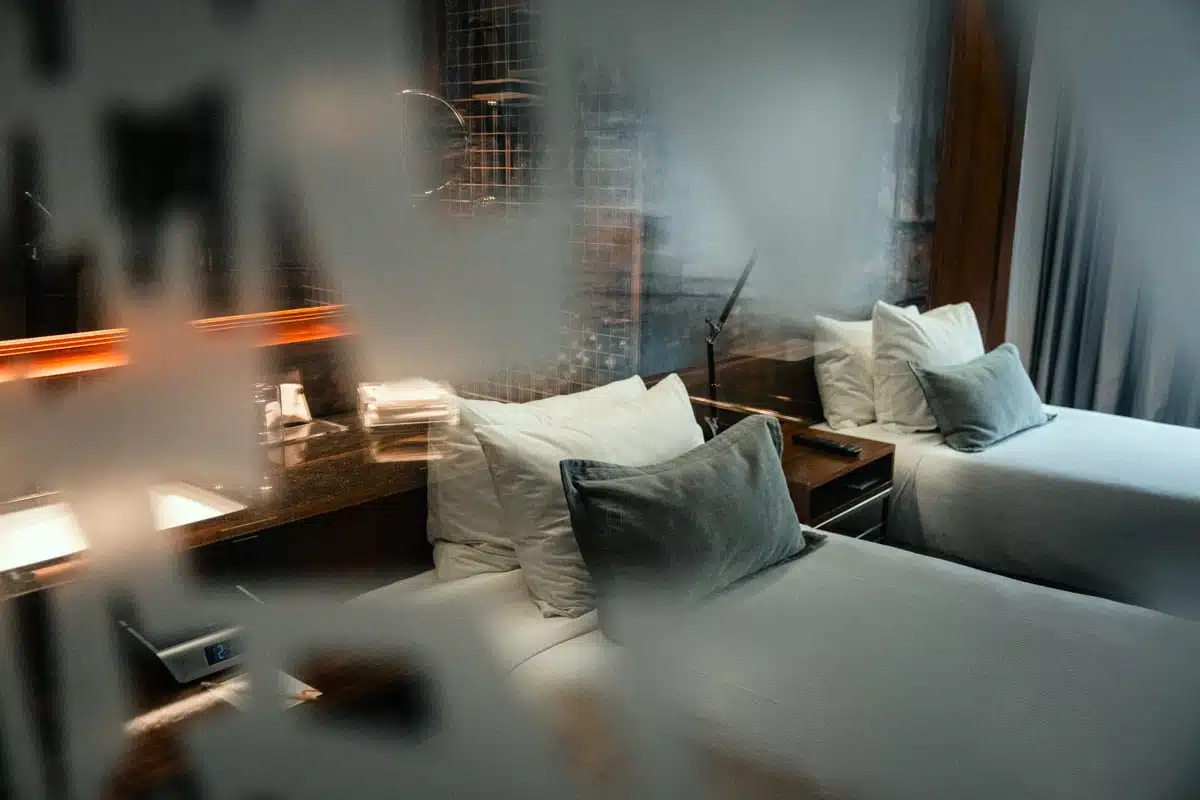 Hotel Cumbres Lastarria is another chic hotel in Lastarria offering well-priced accommodation in a four-star setting. The staff are friendly and kind, and the large rooms have a dedicated workspace. If you're a creature of habit, the breakfast options stay the same daily.
Plaza El Bosque Ebro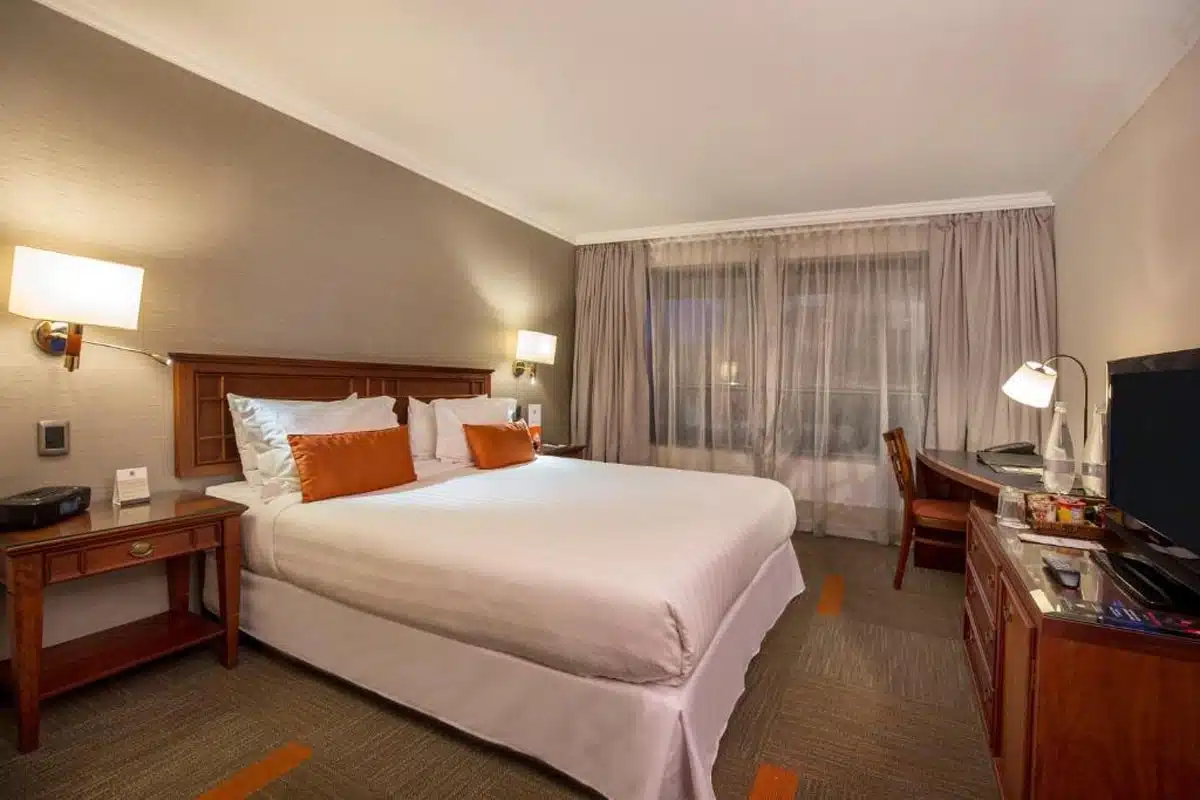 Plaza El Bosque Ebro boasts an indoor pool, billiards and game room, and art gallery inside, making it a good choice during colder months.
Bellavista: Where to Stay in Santiago, Chile for Shopping and Dining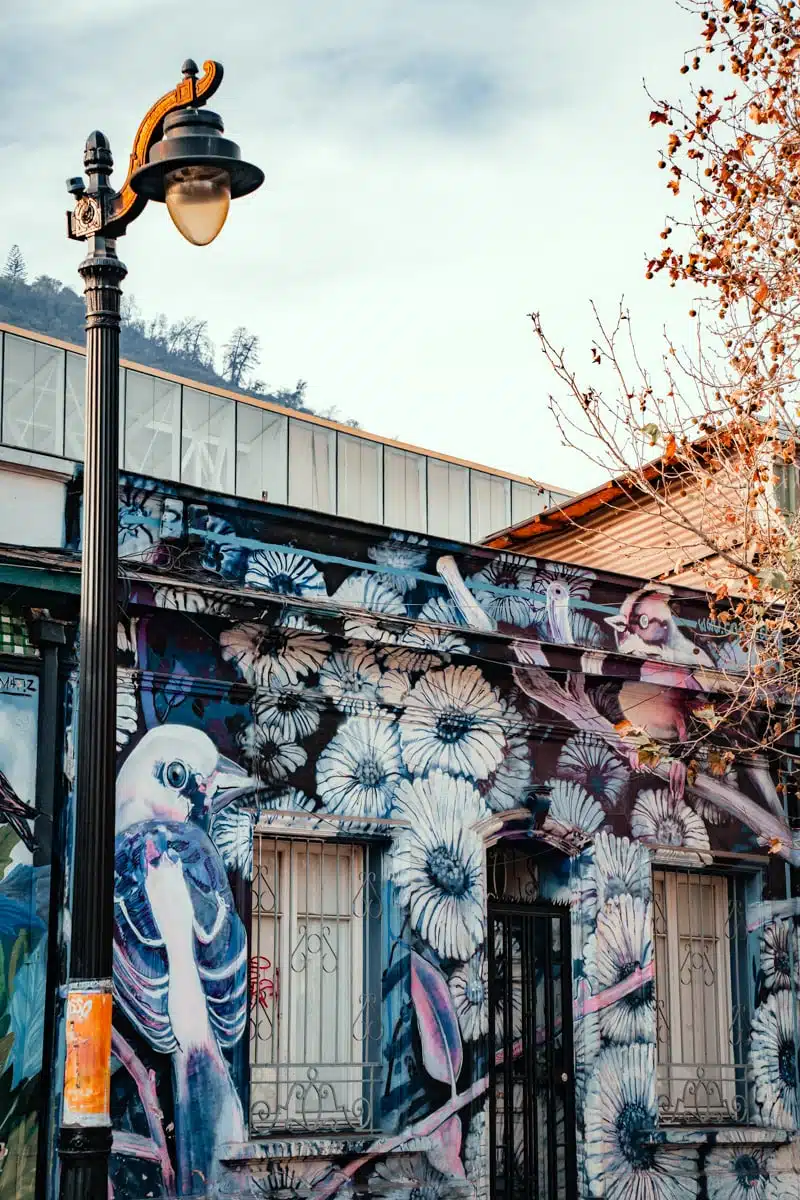 Bellavista is another great choice when deciding where to stay in downtown Santiago, Chile. Known for having a high concentration of great food, street art, sightseeing, and shopping – it's a perfect choice if you want to dive right into all the action.

It's where you'll find much of the best nightlife in the city, too. Tino's Bar, Liga Urbana, and Bar Altazor Mundo are reliable spots to have drinks and snacks in casual settings.
Bellavista Highlights
Patio Bellavista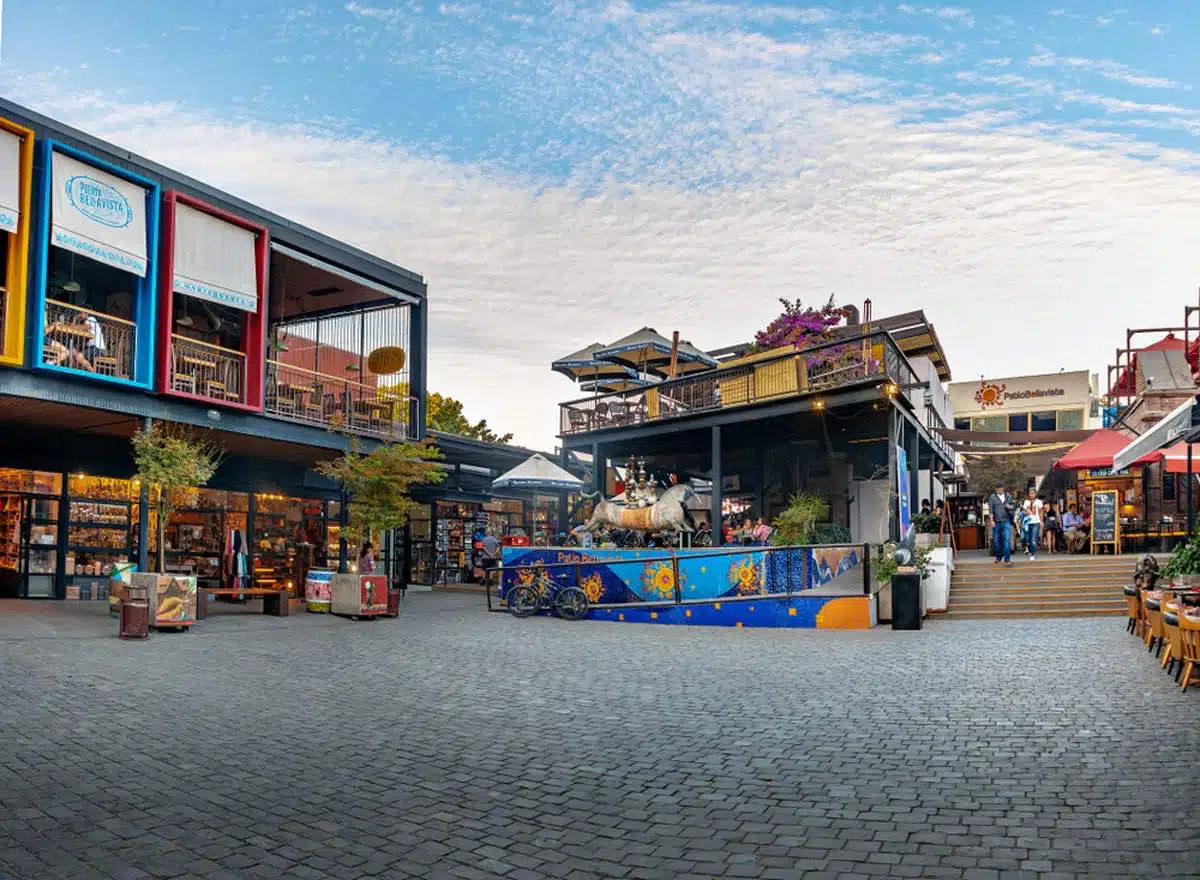 Indoor/outdoor space, known for its shopping, dining, and nightlife. Check out Red Luxury Bar for cocktails, Vendetta for a bustling Italian restaurant, and work your way through the boutique shops and art galleries.
La Chascona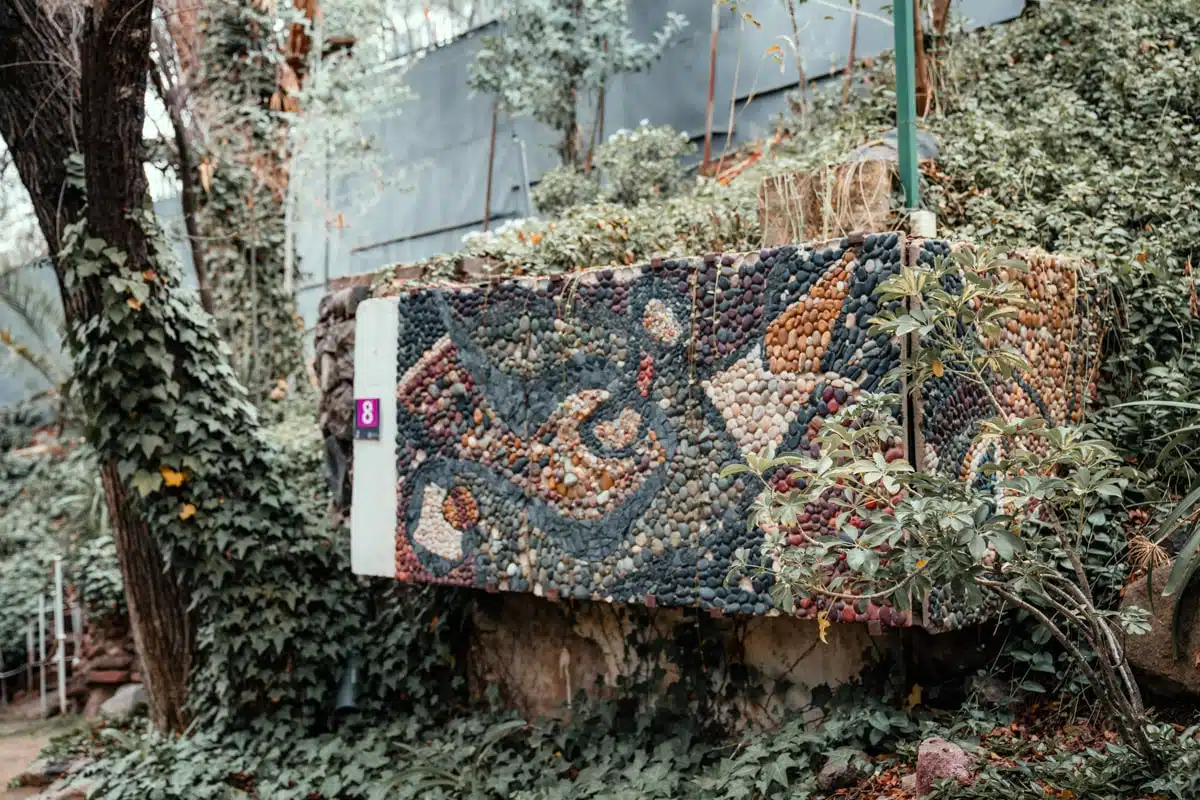 Visit the home of the Chilean politician and poet Pablo Neruda, which he dedicated to his mistress (and eventual 3rd wife) Matilde Urrutia. It's 8,000 CHP per ticket, and you get a free audio guide.
Restaurant Galindo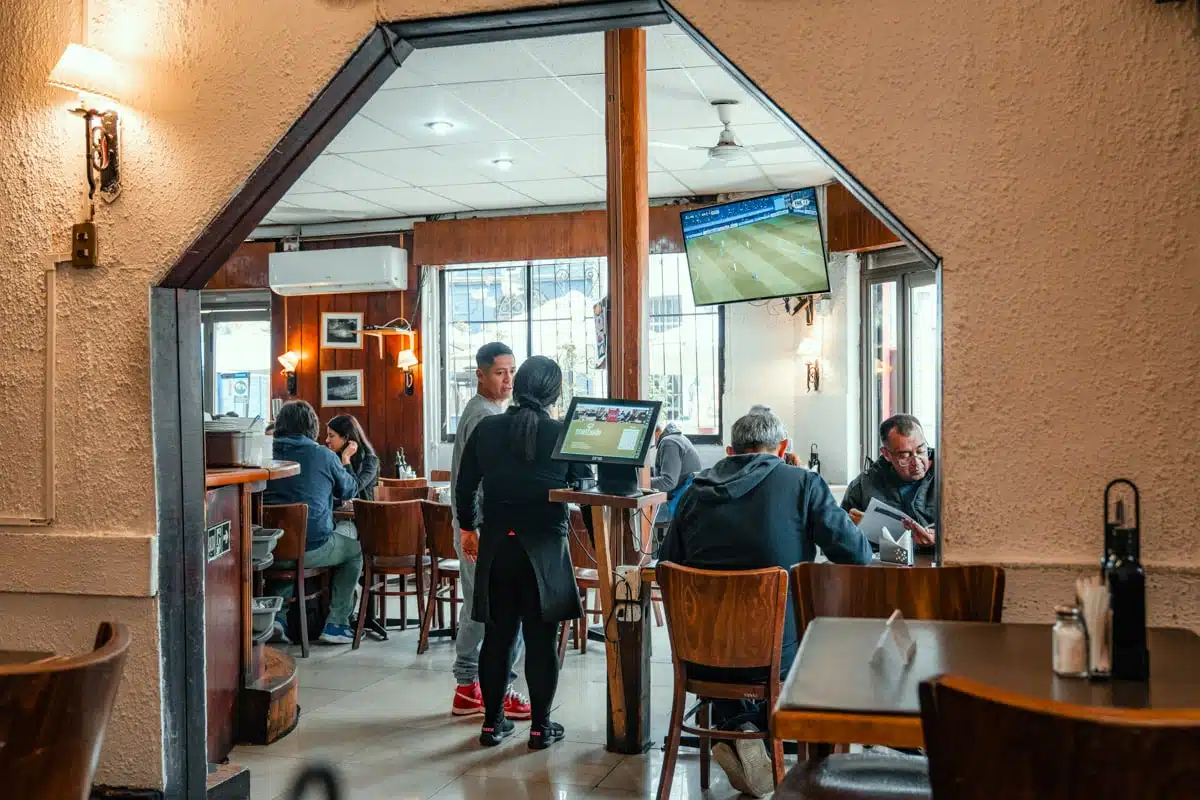 Popular spot serving excellent examples of classic Chilean dishes like Pastel de Choclo, which is a hearty dish with creamed corn, meat, and olives (beware of stones). Go early or be ready to deal with crowds.
Suggested Hotels in Bellavista
Hotel Boutique Castillo Rojo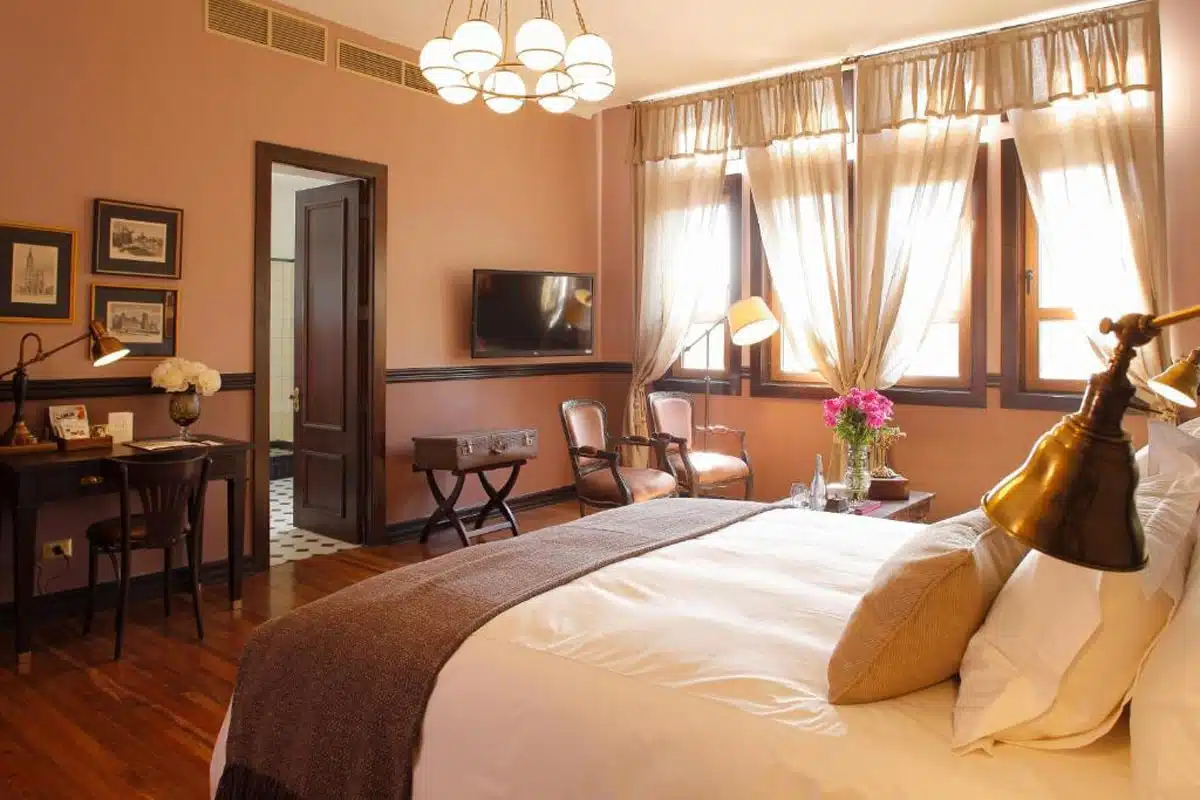 Hotel Boutique Castillo Rojo is located near La Chascona and Patio Bellavista and offers simple but stylish accommodations, a 24-hour front desk, and a restaurant and bar in a former 20th-century residence of the Lehuede family.
Hotel Loreto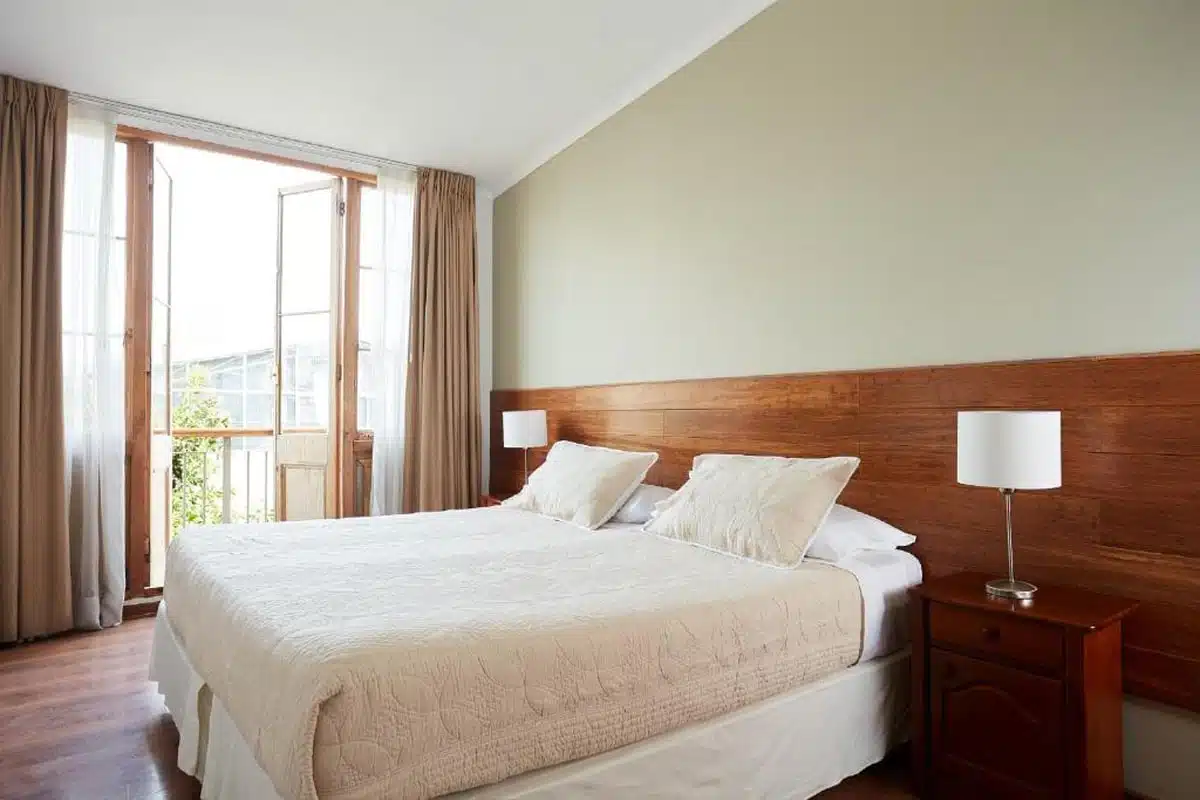 Hotel Loreto is where to stay in Chile Santiago for budget-friendly accommodation in the heart of Bellavista. Rooms are small but comfortable enough, and the suites have a workspace and Juliet balconies.
Casa Noble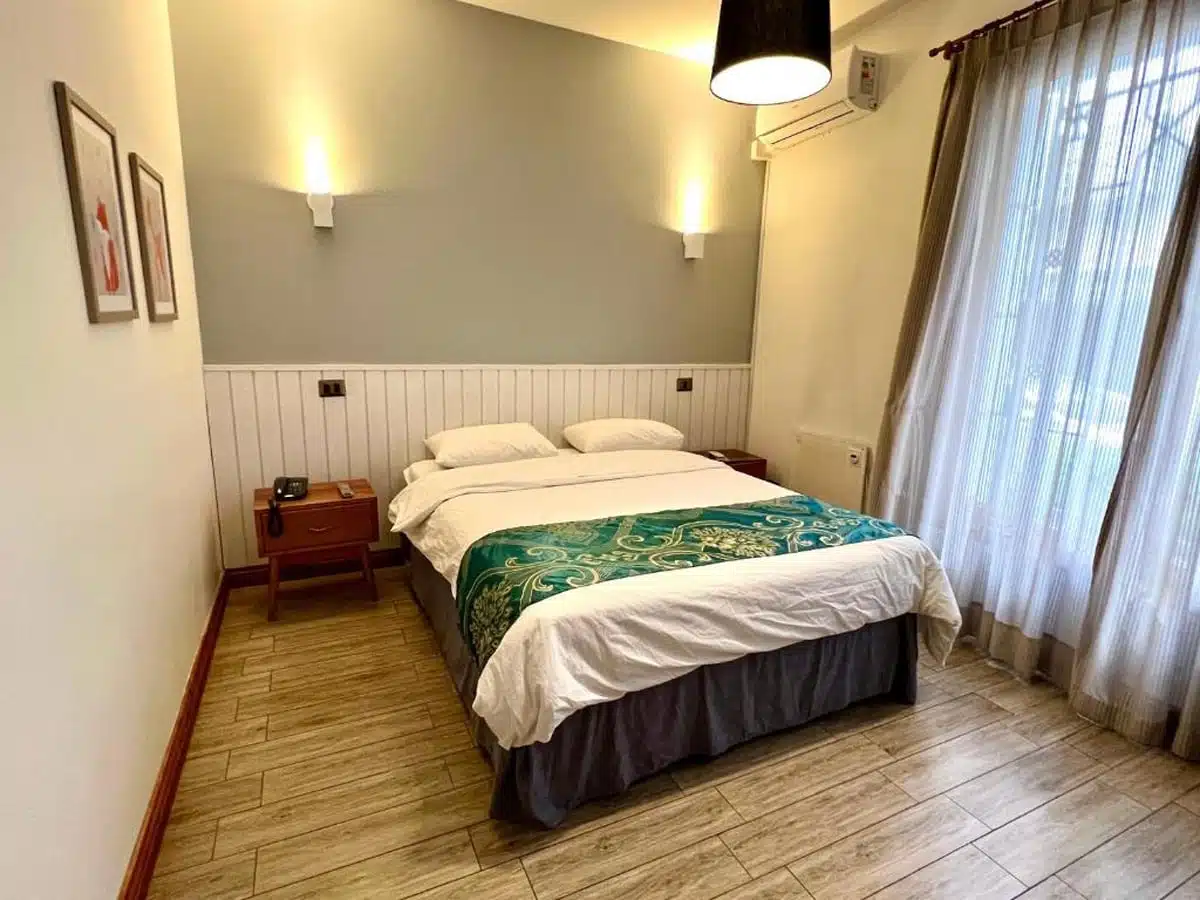 Casa Noble boasts stylish rooms featuring unique design and warm hospitality in the centre of the gorgeous Bellavista neighbourhood.
Centro: Where to Stay in Santiago, Chile for Arts and History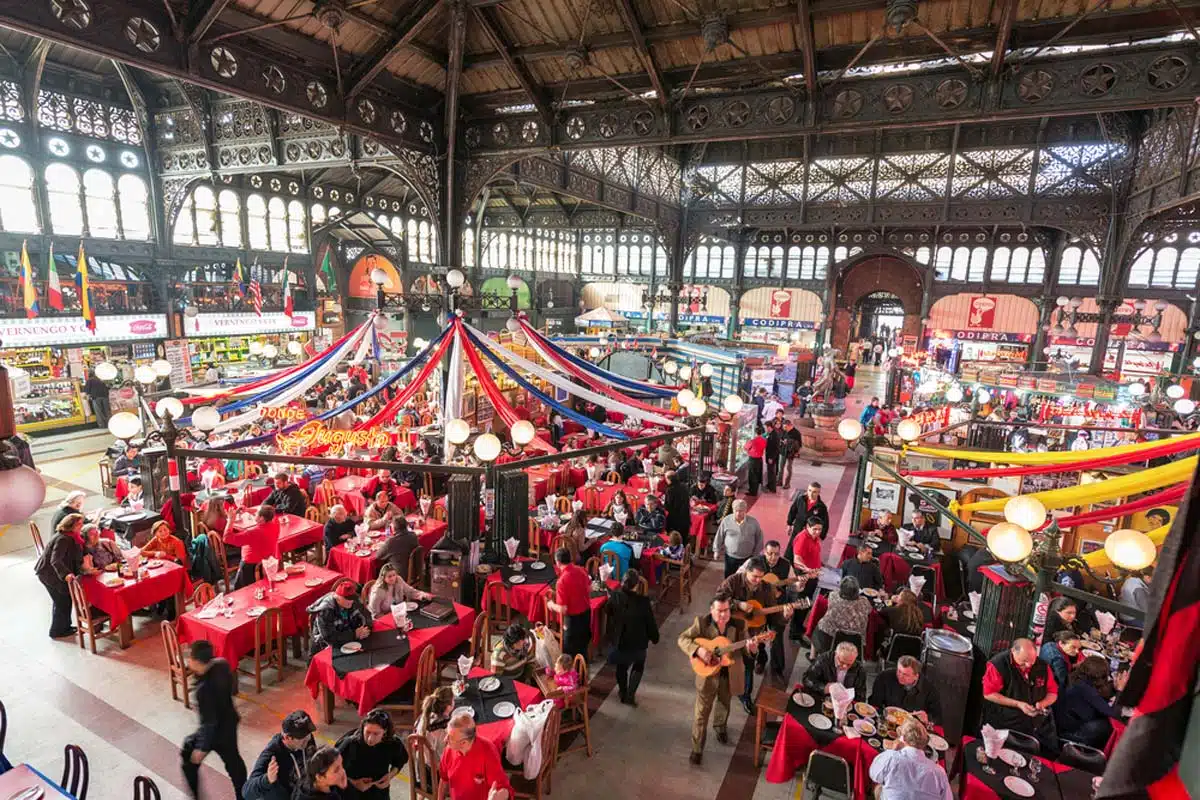 Centro is a buzzing section of Santiago where people are often on the move. Whether you visit historical buildings in the Civic District or follow the locals to find the best seafood at the Central Market, you're in for a treat.

Centro is one of the more popular places to stay in Santiago, Chile, with many of the best restaurants and sightseeing. You can also find some inexpensive hotels in the city centre, many of which are quite nice.
Centro Highlights
Museo Chileno de Arte Precolombino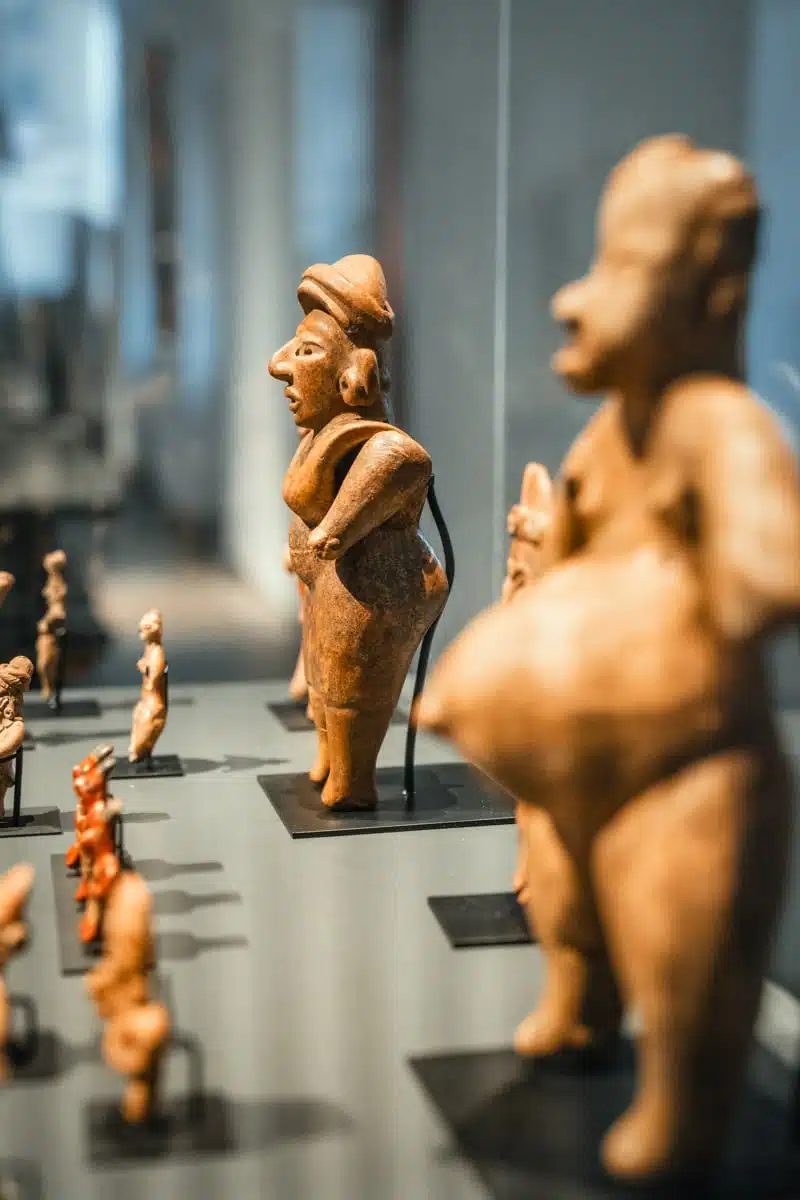 Museo Chileno de Arte Precolombino is a spectacular collection of pre-columbian artwork in the centre of the city. It was my favourite museum I visited, with incredibly well-preserved masks, pottery, and sculptures from South and Central America.
Plaza de las Armas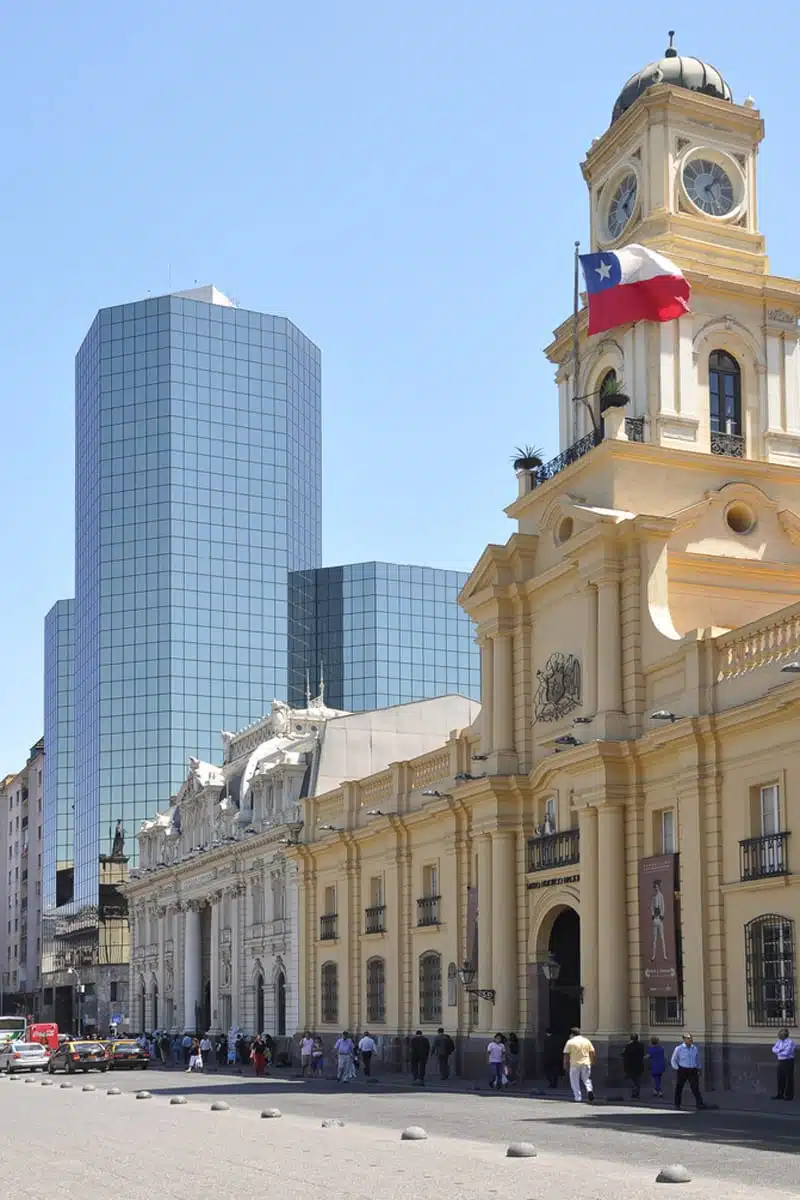 The central town square, Plaza de las Armas features the iconic Metropolitan Cathedral of Santiago de Chile, a Neoclassical and Baroque cathedral built in the 18th century.
Plaza de La Constitución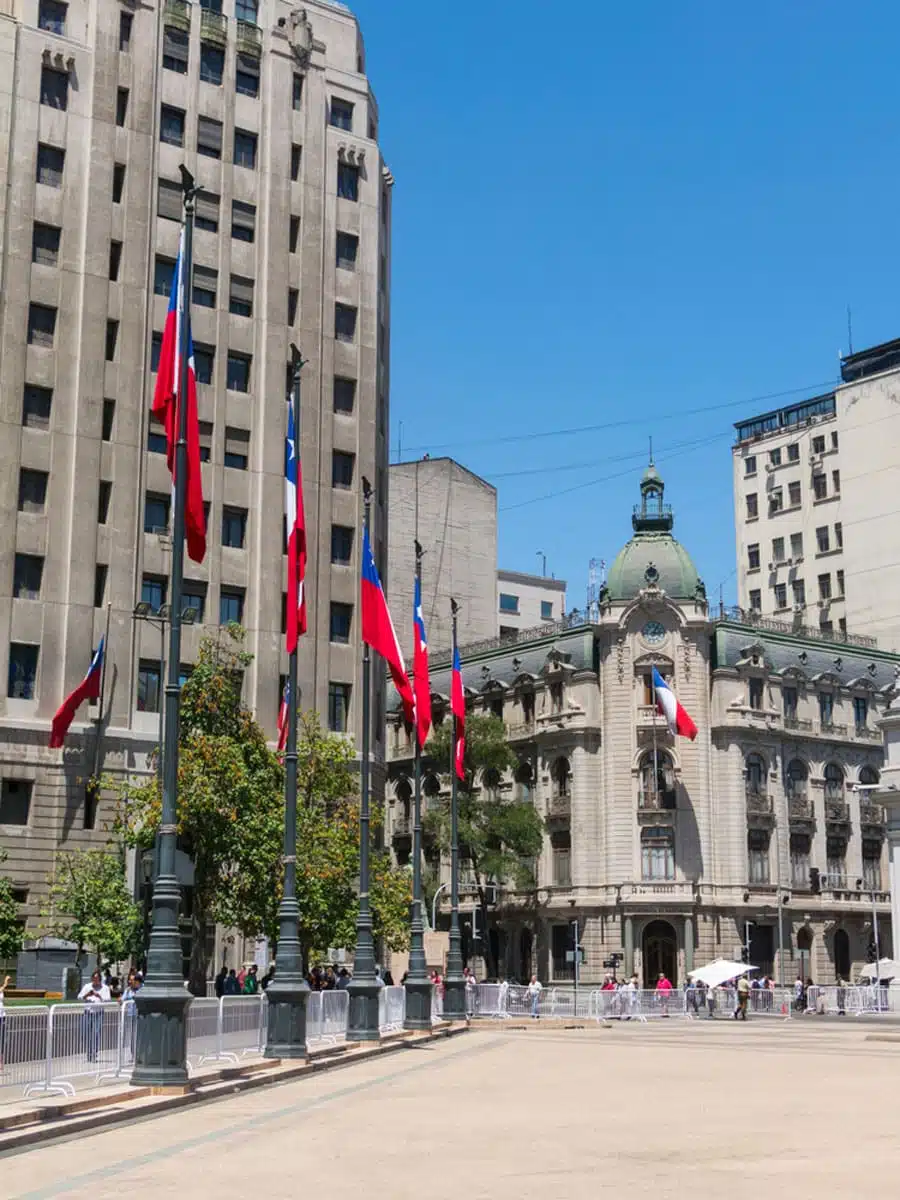 The Plaza de La Constitución sits in the middle of the Civic district of Centro, highlighted by the imposing 18th-century Palacio de la Moneda. It's worth a visit, but you may want to avoid it during political protests.
Suggested Hotels in Centro Santiago
Hotel Gran Palace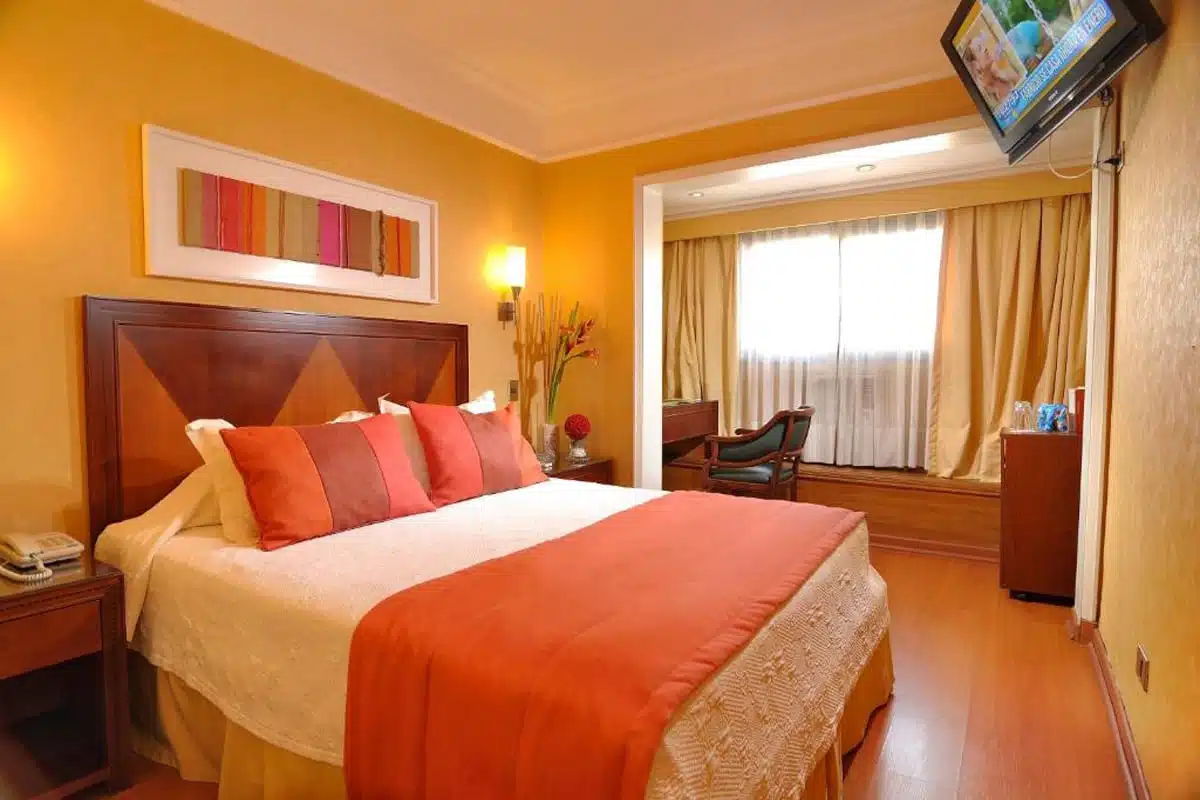 Hotel Gran Palace is a large boutique in the centre of Santiago, with 2 restaurants and a bar on site. It's within walking distance of some of the best museums and landmarks, and you'll get breakfast with your stay.
Novapark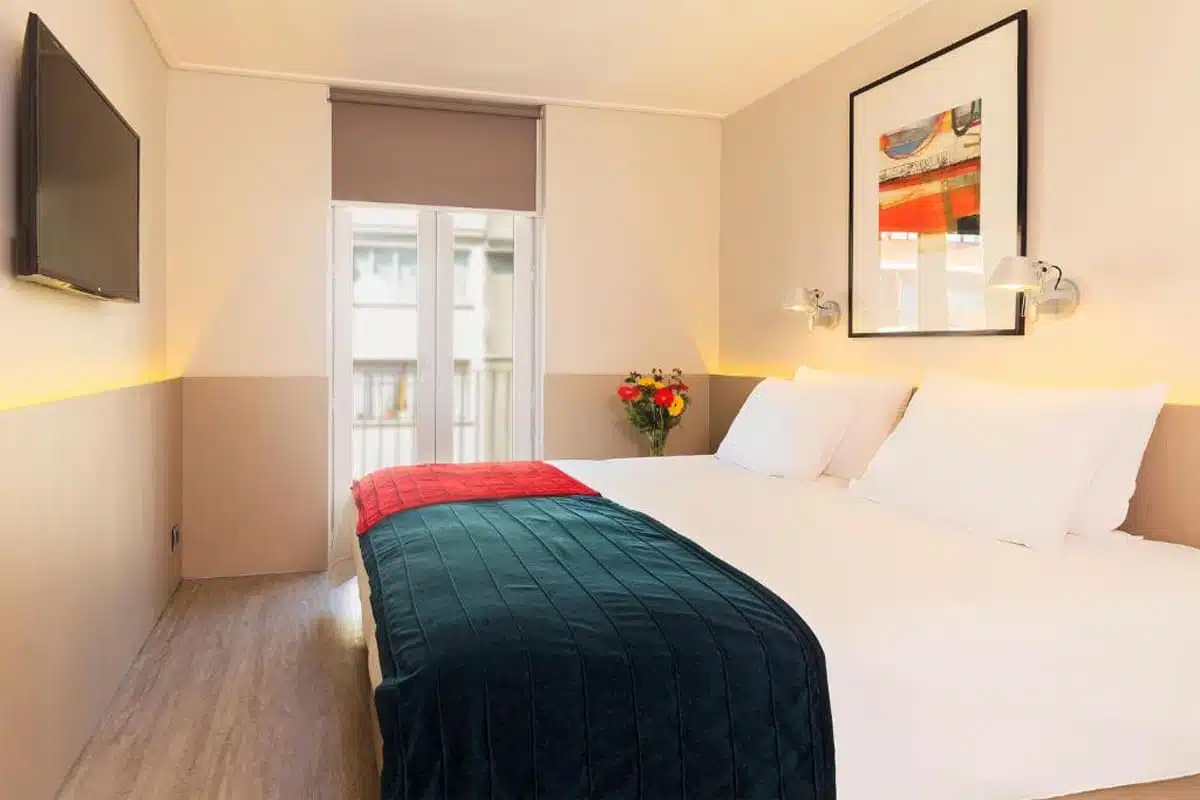 Novapark is a sustainable boutique property with a bar, cafe, and 24-hour front desk all on the property.
Hotel Diego de Almagro Santiago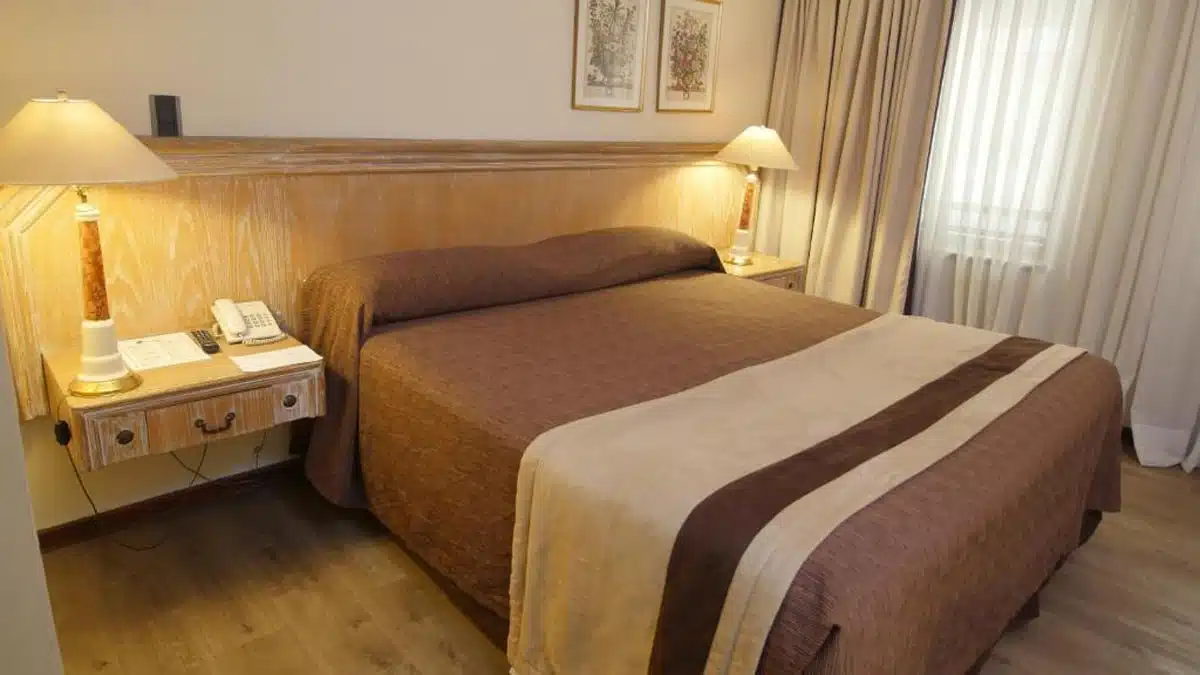 Hotel Diego de Almagro Santiago is conveniently located next to the subway and offers an outdoor pool, breakfast buffet, and soundproofed rooms.
Pedro de Valdivia Norte: Best Place to Stay in Santiago for Relaxation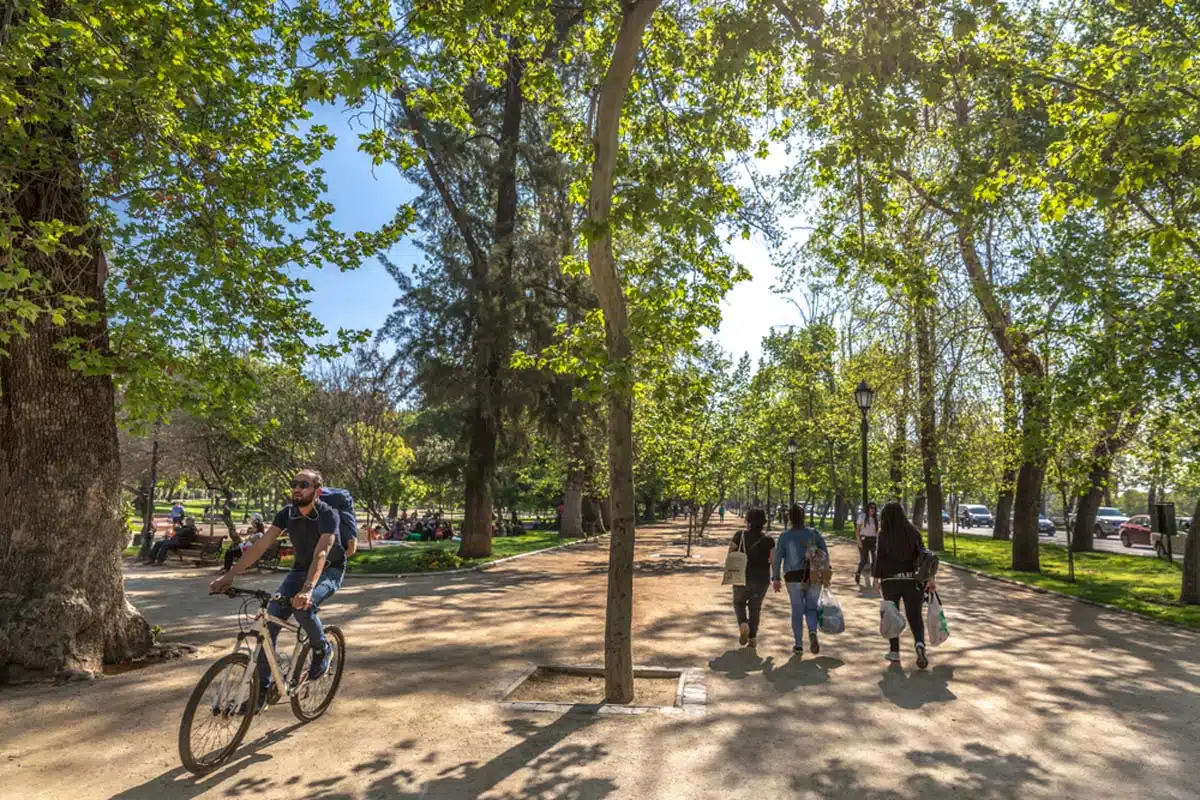 If you're looking for a laid-back, residential neighbourhood that's a short distance from many of the best things to do in Santiago, Pedro de Valdivia Norte is a good choice.
Named after the first governor of Chile under Colonial rule, the area was a suburban community for wealthy Santiago residents at the turn of the 20th century.
Now it's home to more apartments and businesses, but the tree-lined streets still offer a quieter vibe than nearby Centro.
Pedro de Valdivia Norte Highlights
San Cristóbal Hill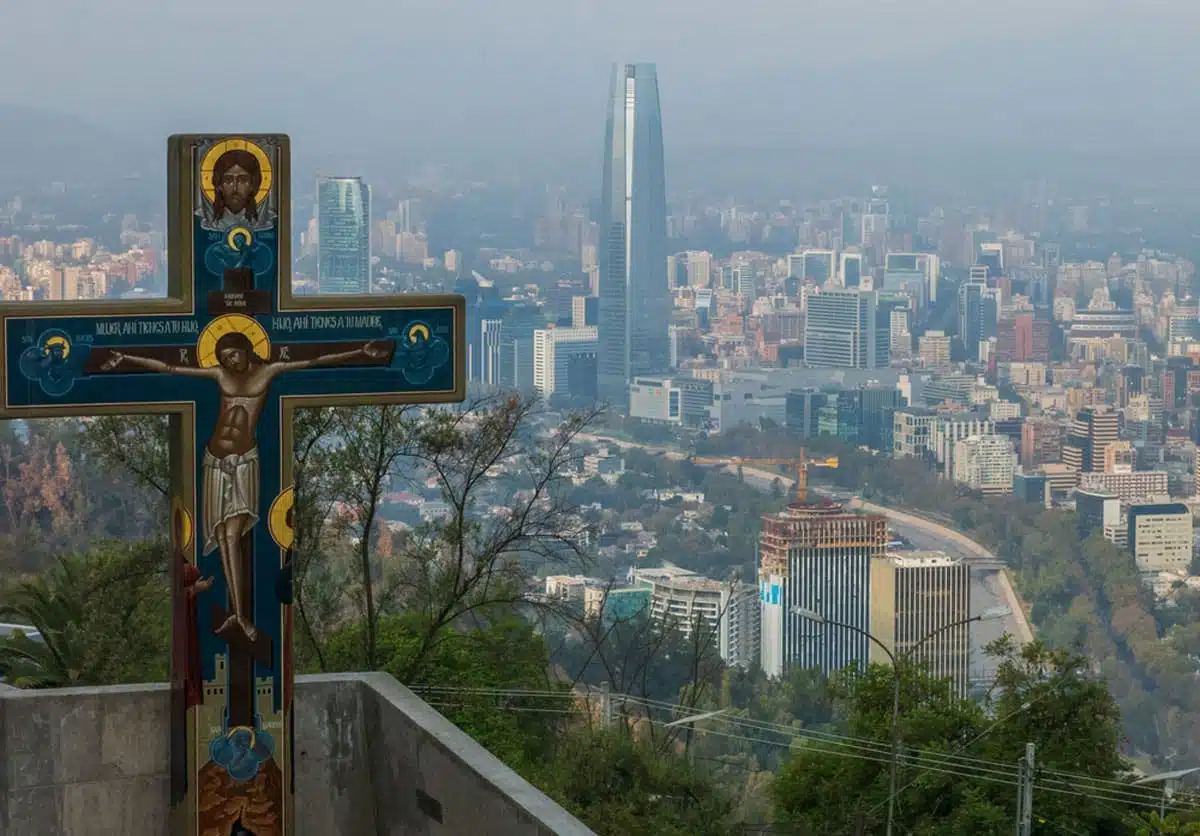 Offering some of the best panoramic vistas in the city, you can take a short walk over to the Funicular de Santiago and ride the cable car up the hillside for incredible views.
Sculpture Park Museum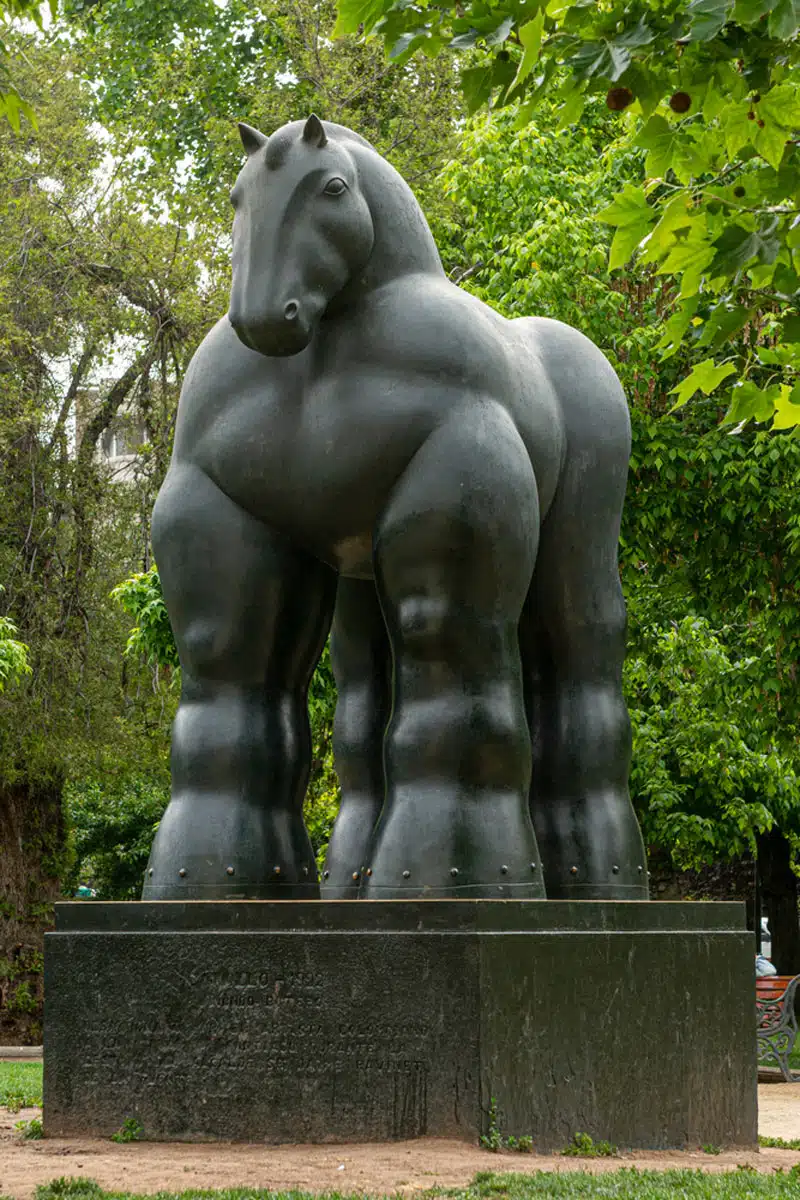 The Sculpture Park Museum is a perfect example of what I love about the Pedro de Valdivia Norte district. Walk around the small but interesting space to see sculptures made by local artists like Marta Colvin and light installations by Ruben Amsel.
Japanese Garden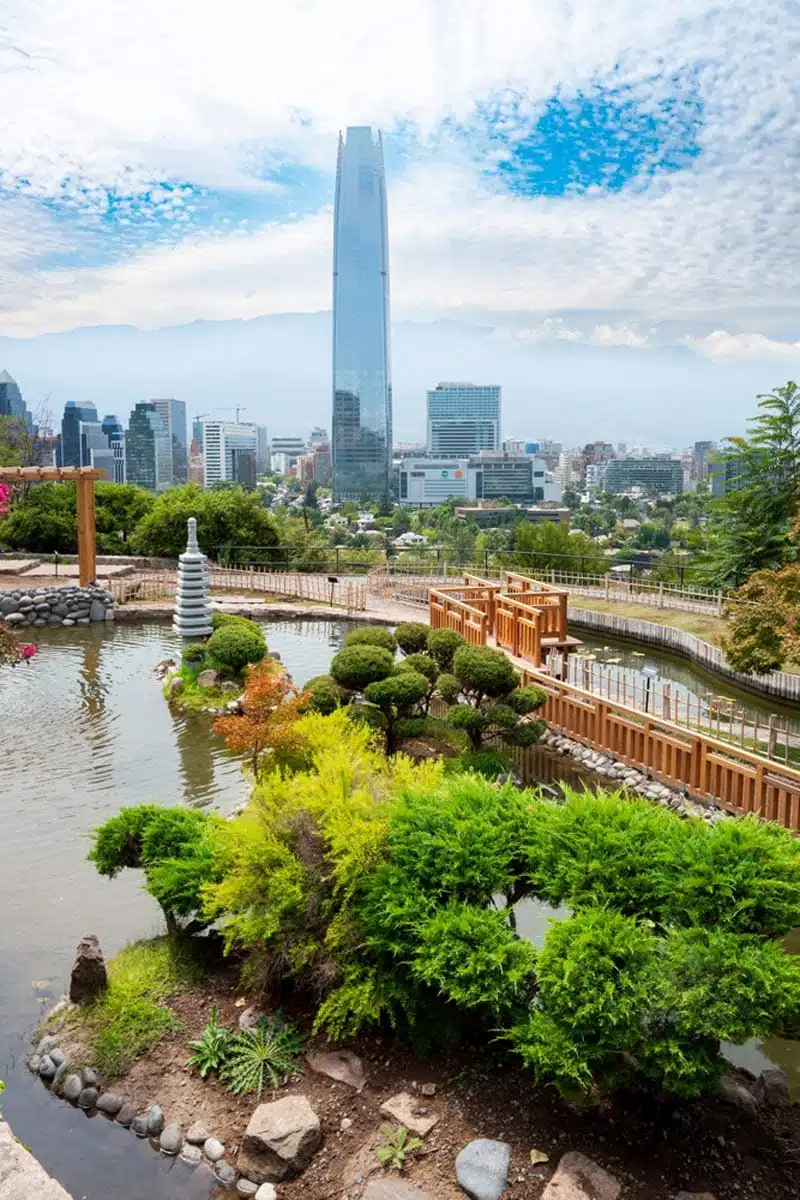 Located at the bottom of San Cristóbal Hill, the Japanese Gardens are a gorgeous (and free) place to set the tone for your day. It's a small but well-thought-out collection of fountains, ponds, and plants with incredible views of downtown Santiago.
Suggested Hotels in Pedro de Valdivia Norte
Hotel Sheraton Santiago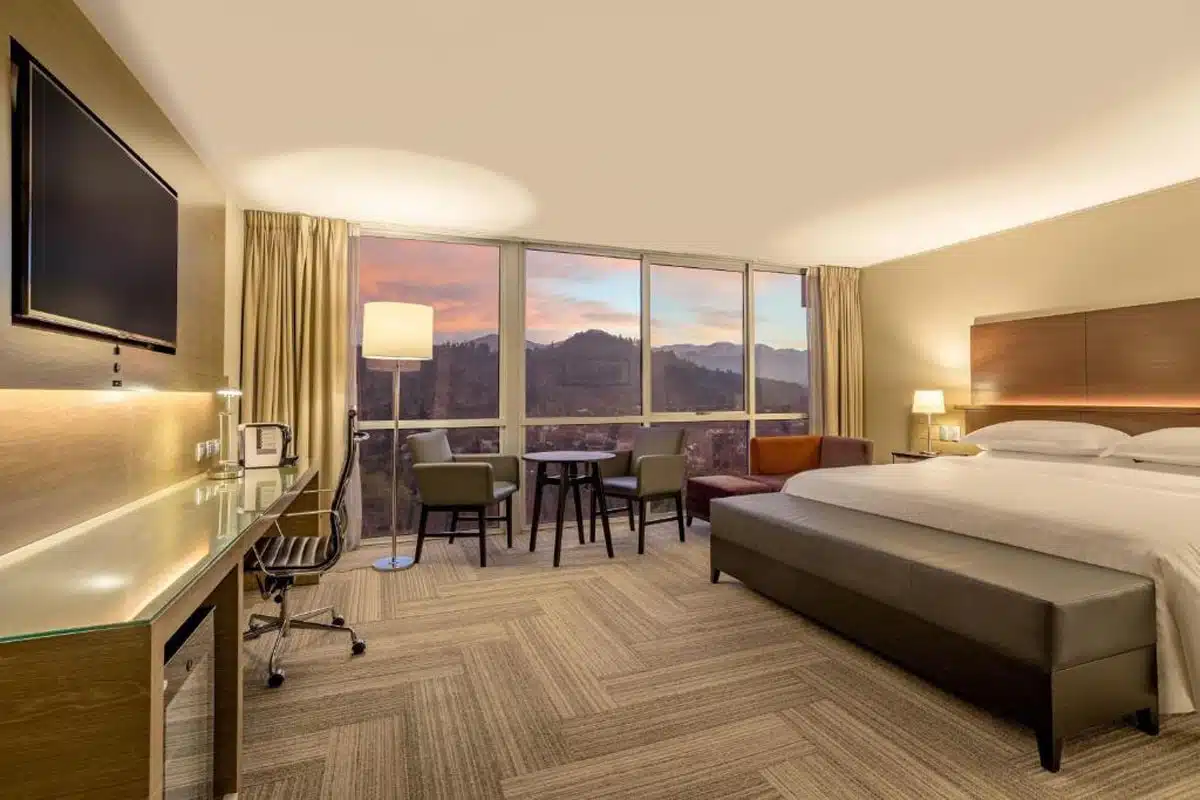 Hotel Sheraton Santiago is a five-star hotel and convention centre with the popular El Cid Restaurant and an outdoor pool on site.
Ladera Boutique Hotel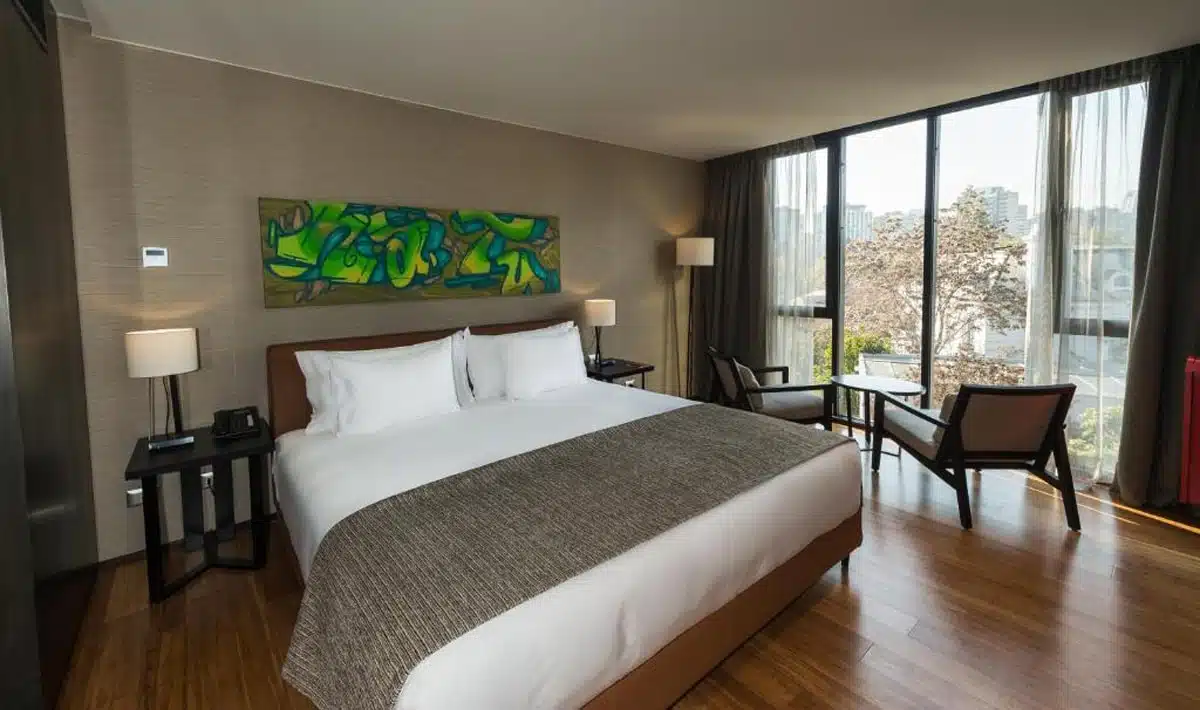 Ladera Boutique Hotel boasts spacious rooms with contemporary design, ample workspace, and excellent views of Centro.
Hotel Los Españoles Plus
Hotel Los Españoles Plus offers guests modern rooms and suites in a quiet part of town and has a rooftop pool and hot tub ideal for warm summer evenings.
Las Condes: Best for Luxury Hotels and Restaurants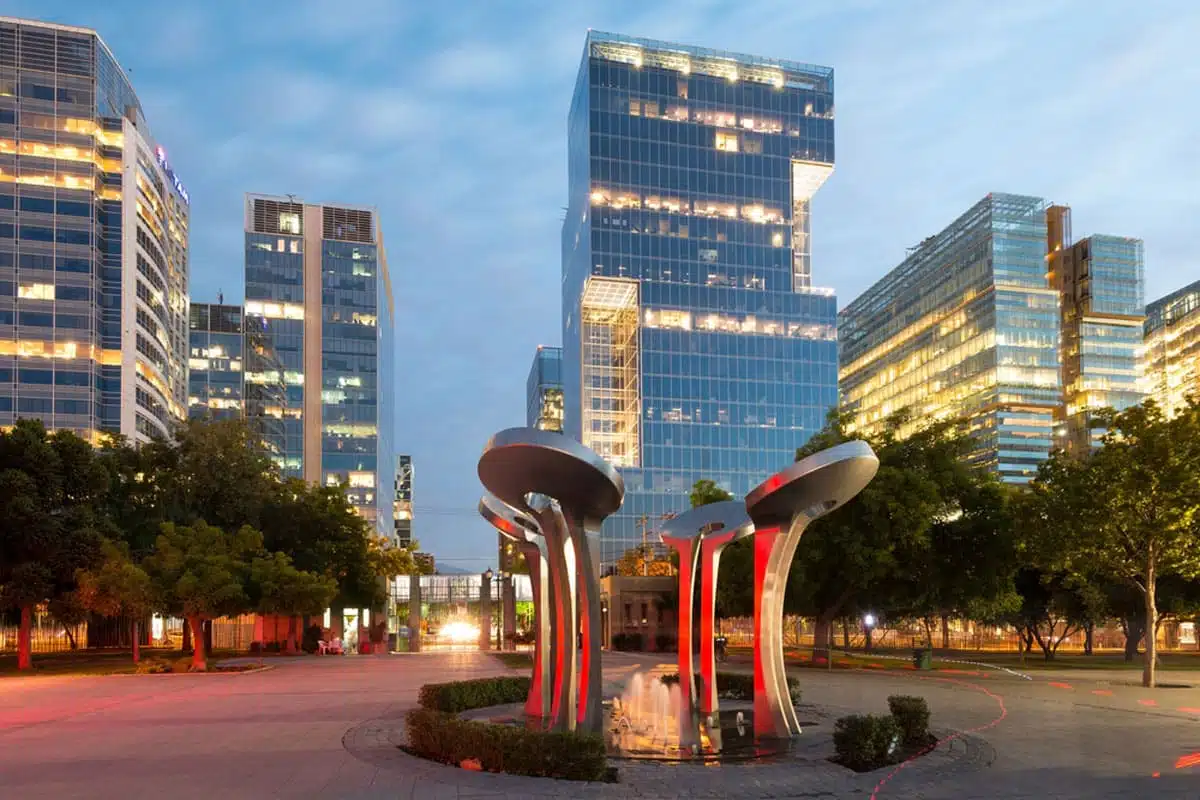 Las Condes is another quaint district outside downtown. One of the best neighbourhoods to stay in Santiago, Chile, you'll find some of the most luxurious hotels here.

There's a thriving restaurant scene, and it's a great place for nightlife, with a few theatres located in this section of "Sanhattan".

Cool local businesses like Fiambrería La Tabla and El Toldo Azul are great for grabbing an afternoon snack of charcuterie or ice cream.
Las Condes Highlights
Museo Interactivo Las Condes (MUI)
Museo Interactivo Las Condes (MUI) has interactive displays, educational experiences, and audio-visual exhibits on various subjects that frequently change throughout the years.
Boragó
Technically just north of Las Condes in Vitacura, you'll want to visit Boragó for one of the most unique dining experiences in Santiago. Expect the unexpected in this cavernous space with creative cooking and expert-level service.
Las Condes Municipal Theatre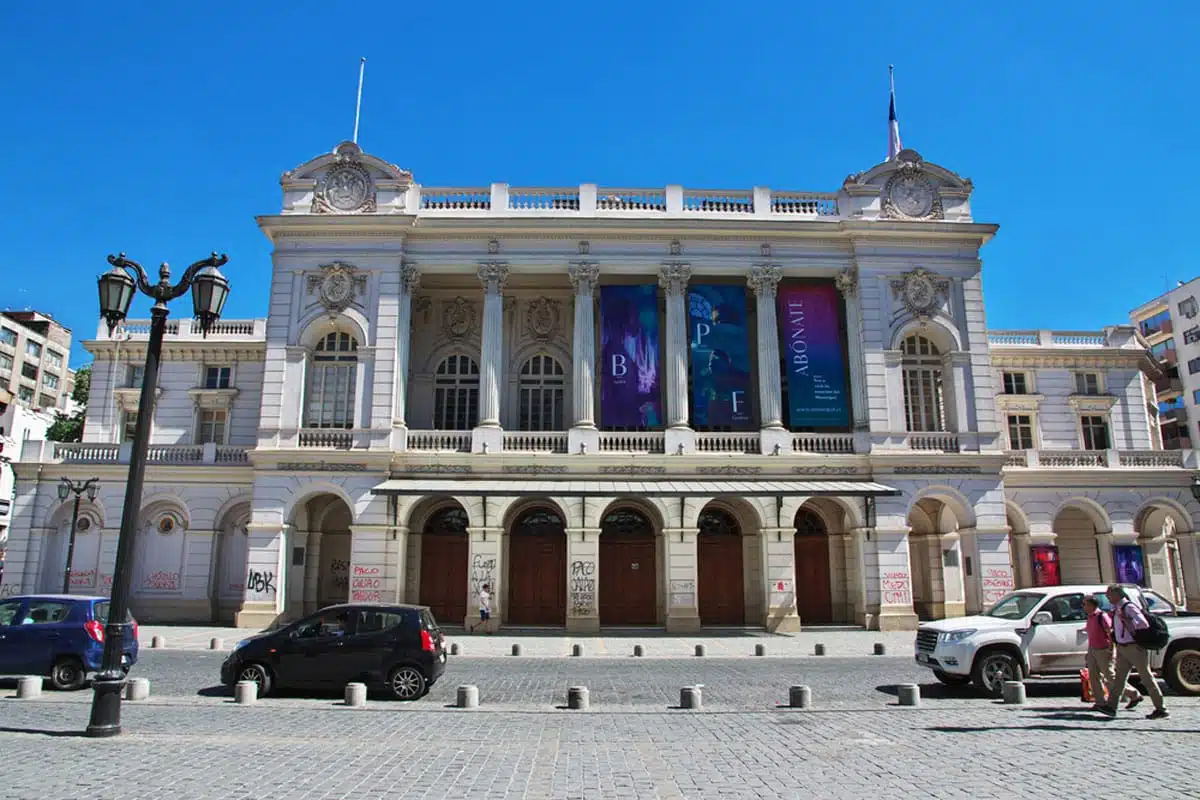 Check out the city like a local at Las Condes Municipal Theatre, where you can see entertainment ranging from dance performances to live concerts in an intimate setting with wonderful acoustics.
Suggested Hotels in Las Condes
The Ritz-Carlton, Santiago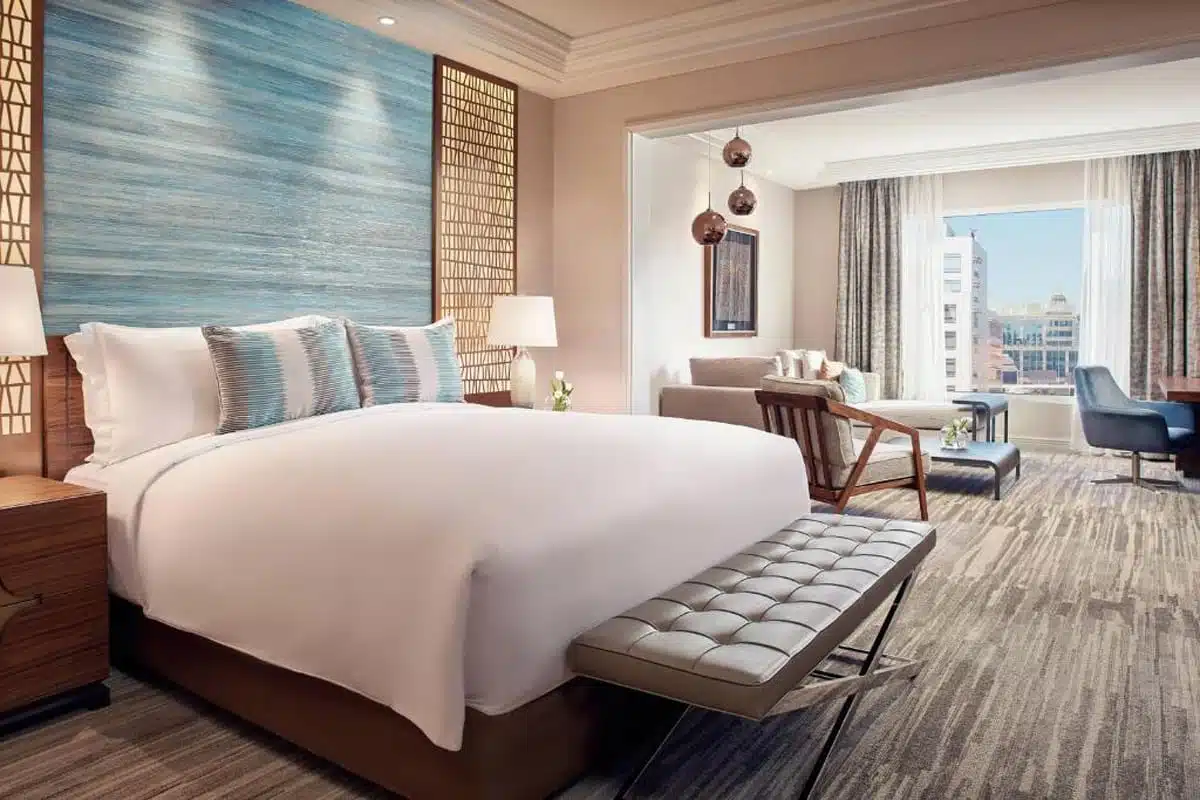 The Ritz-Carlton, Santiago has free parking, complimentary bikes, and a large indoor swimming pool. Rooms are spacious with king-sized beds and city views, and suites feature Egyptian cotton linens and Asprey brand toiletries.
W Santiago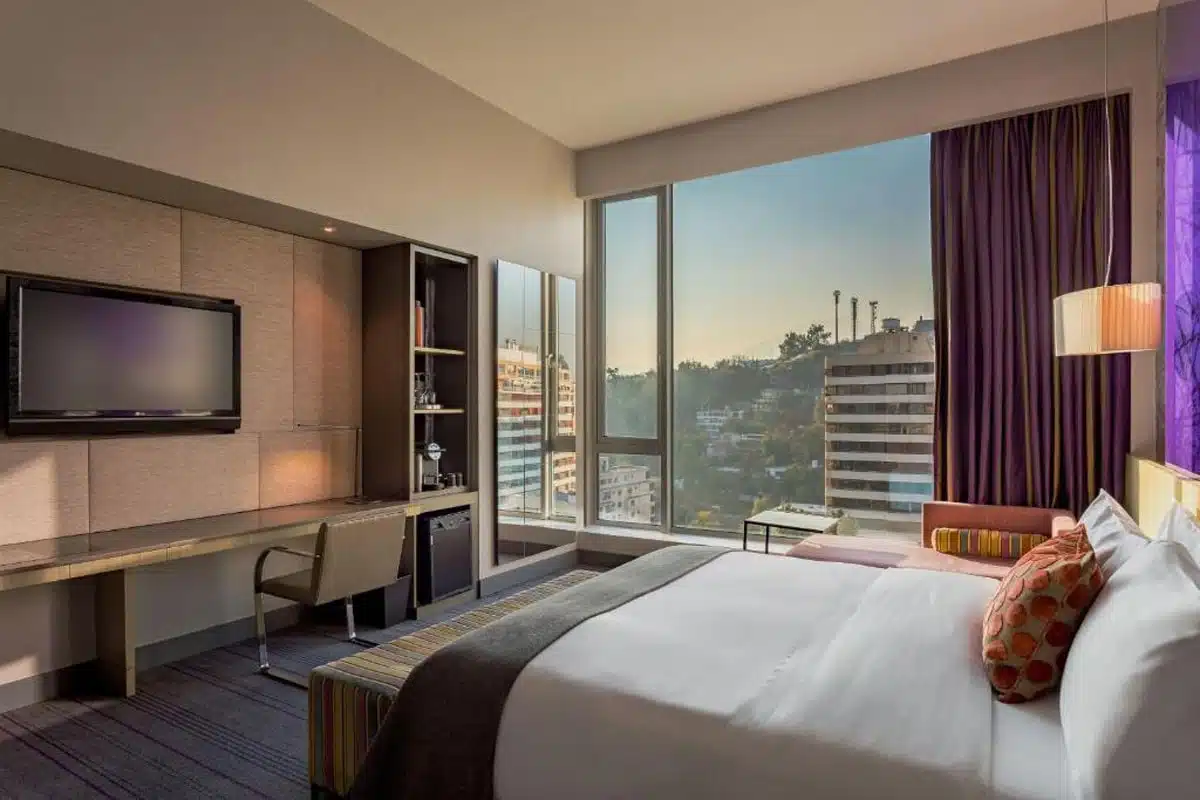 W Santiago offers guests exciting dining options like the popular sushi joint Karai, a rooftop bar Red2one, and a state-of-the-art fitness centre and outdoor pool.
Hotel Leonardo da Vinci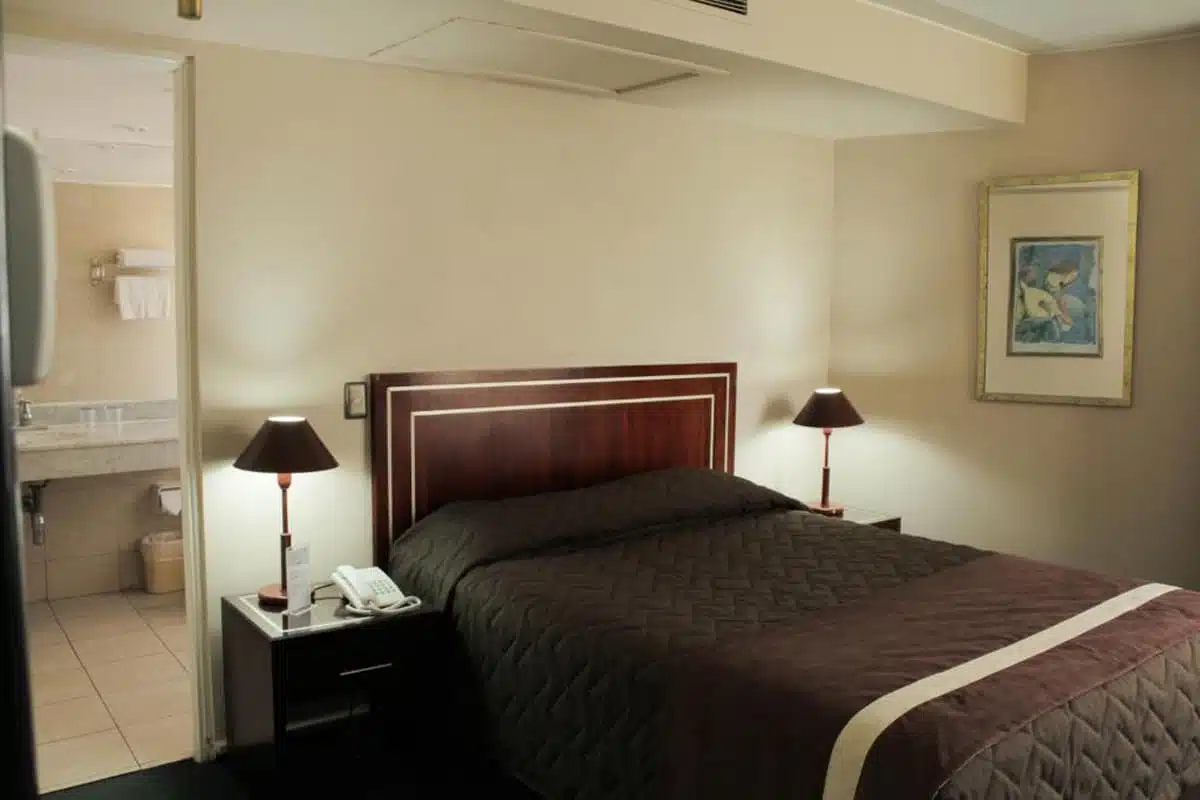 Hotel Leonardo da Vinci is a charming boutique hotel in Las Condes. Rooms are small and understated, but the friendly staff, excellent breakfast buffet, and charming location make it a great choice.
Barrio Yungay: Best for Street Art and Culture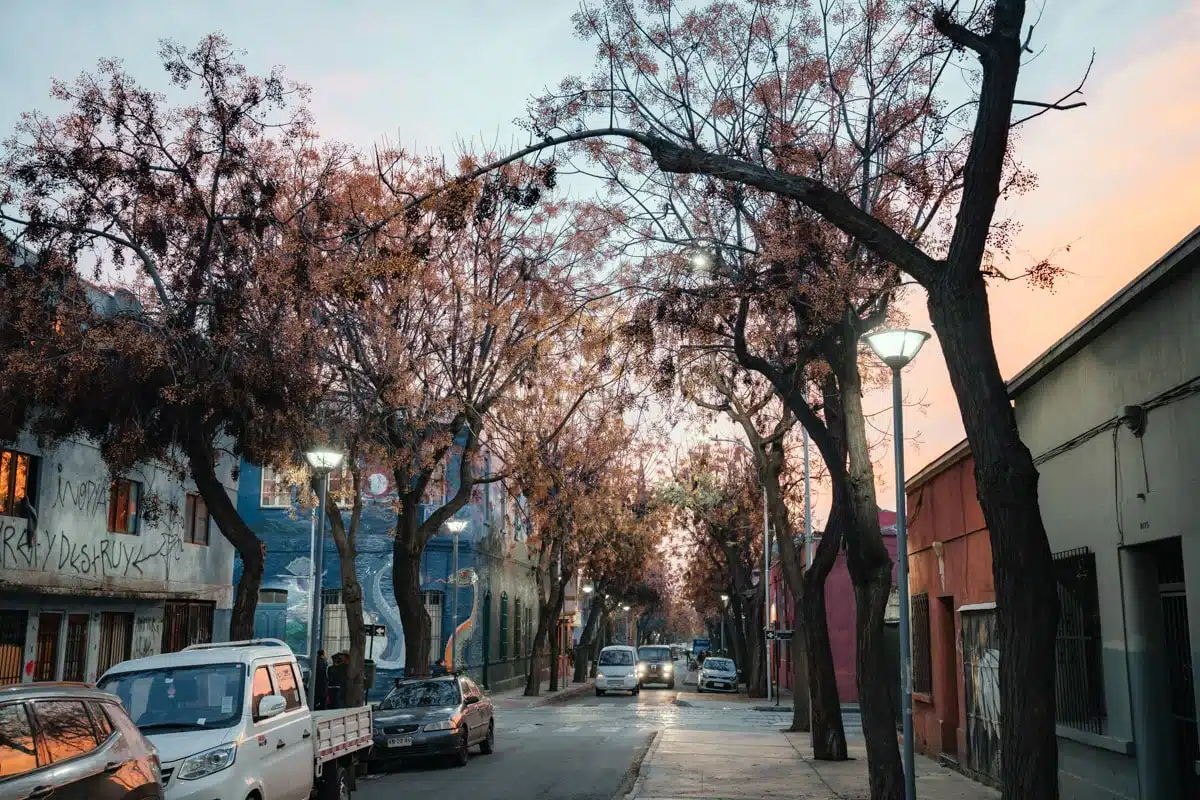 Where is the best area to stay in Santiago, Chile, for street art and culture? Barrio Yungay is an easy choice if you're looking for a vibrant local art scene and cafes filled with students and young professionals.

I took a guided art tour that explained some of the significance of artwork, espousing feminism, indigenous heritage, and even anarchy.
You'll also find some of the most important museums and landmarks nearby and a vibrant dining scene with some of the best food in Santiago.
Barrio Yungay Highlights
Museum of Memory & Human Rights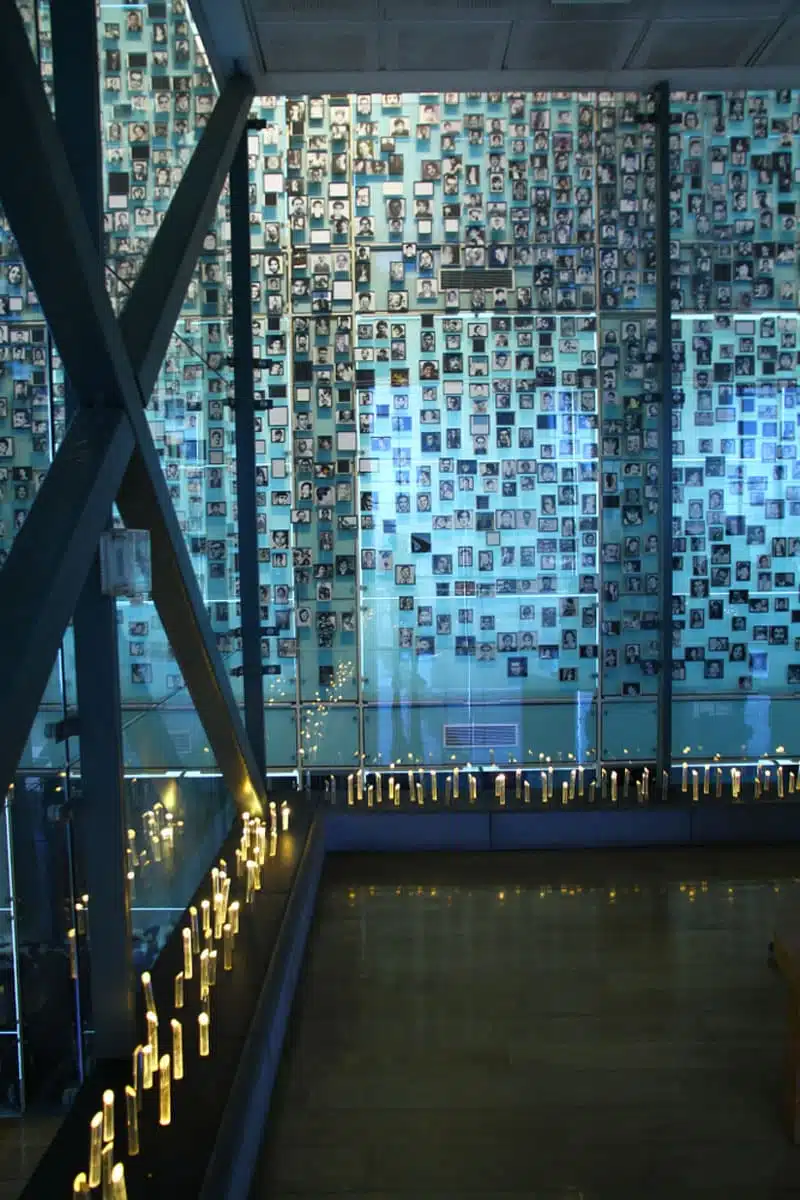 Chile has a long and tragic history of human rights abuse under former dictator Augusto Pinochet. Museum of Memory and Human Rights pays tribute to the victims through newspaper clippings, personal letters, and photos.
Cafe Brazil
Cool cafe and juice bar features some of the most political artwork in Santiago upstairs and photographs of left-wing political figures like Che Guevara.
Museo Artequin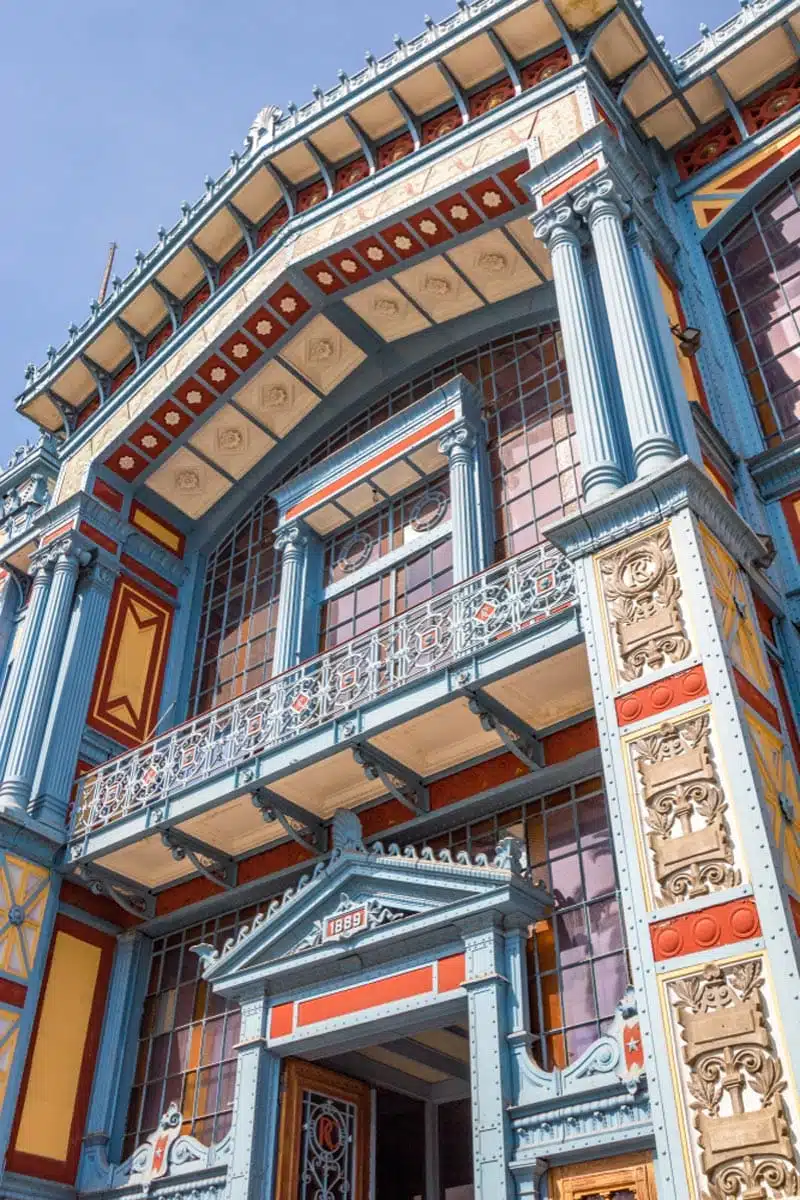 A unique piece of French architecture in the heart of Santiago, Museo Artequin is a small art museum located in a gorgeous (and funky) building that was once Chile's entry in the 1889 Paris Exhibition in France.
Suggested Hotels in Barrio Yungay
Hotel Boutique Casa Conde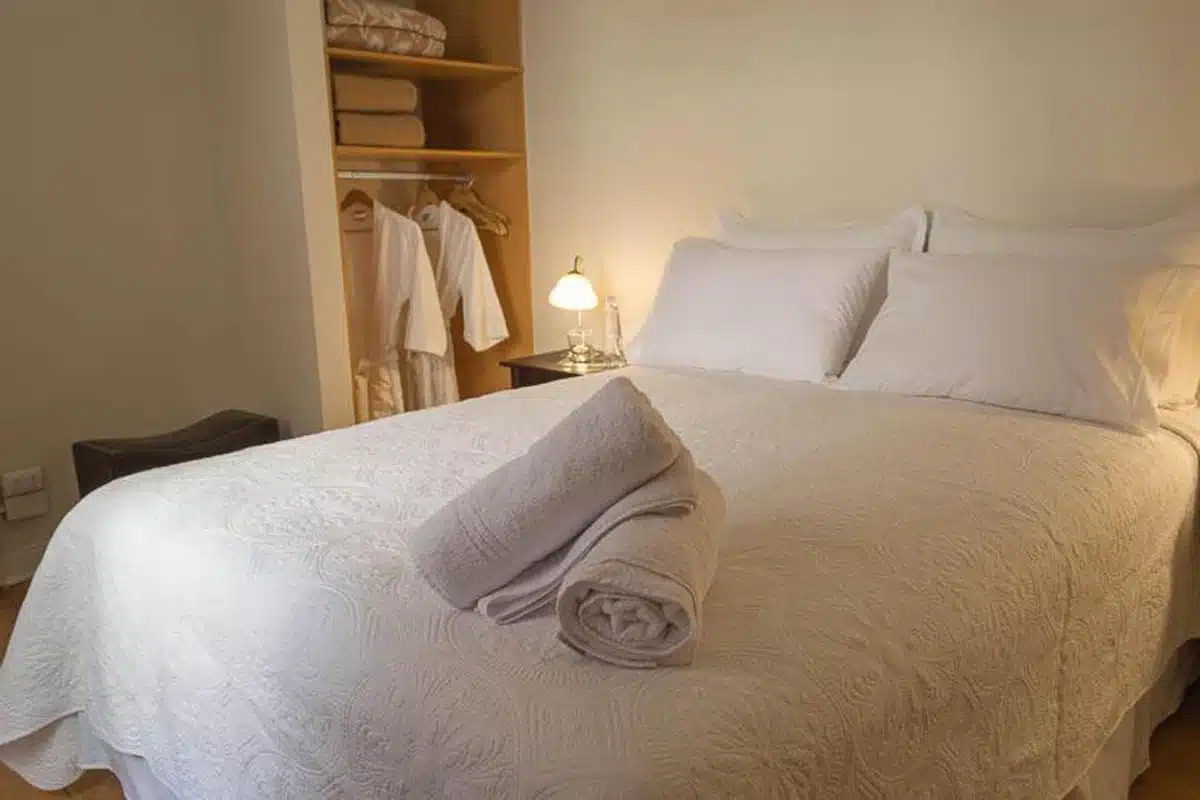 Hotel Boutique Casa Conde is a boutique property in the heart of Barrio Yungay that offers simple accommodations with free WiFi and complimentary breakfasts.
Matildas Hotel Boutique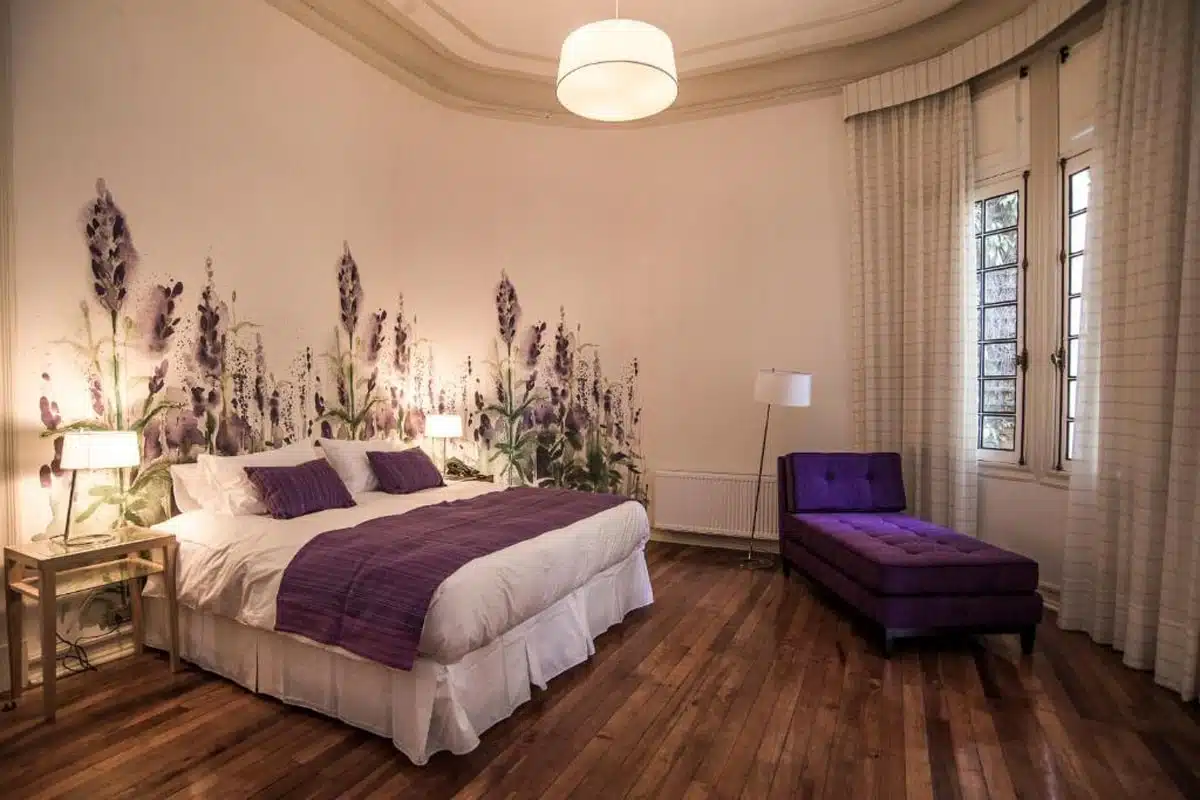 Matildas Hotel Boutique features fun and funky rooms with hand-painted walls and contemporary decor in a former palace in Barrio Yungay.
Hotel Brasilia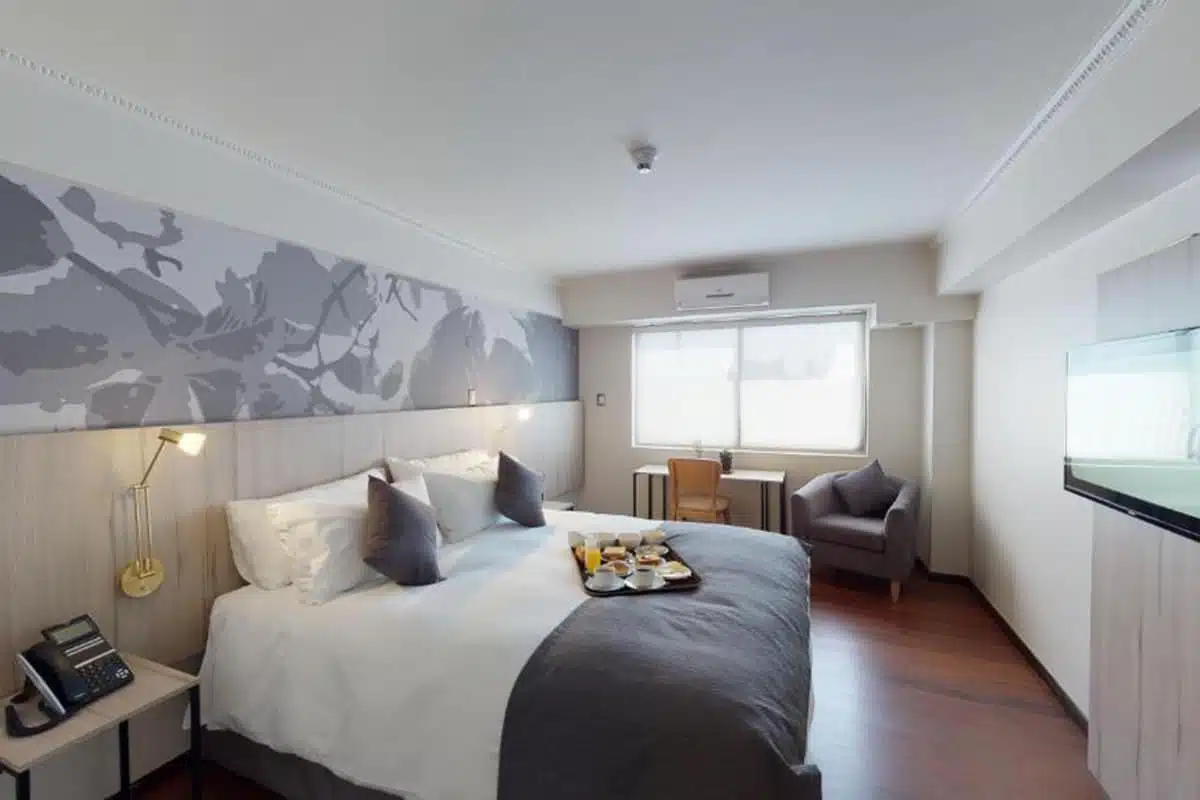 Hotel Brasilia combines value and comfort with intelligently laid out rooms featuring hardwood floors, large beds, and a table and chair for planning travels.
Where to Stay in Santiago: Frequently Asked Questions
Practical Tips to Consider Before Booking Your Santiago Accommodation
Be careful with your personal items when walking around Centro Santiago. Santiago's city centre has a lot of pickpocketing and non-violent crime, so be aware of your surroundings and don't let your guard down.
Summer in Santiago is from December to March. Remember this difference in seasons if you're travelling from the USA or Europe.
You can reach wine country (Maipo Valley) from Santiago in under an hour by car or on a guided tour.
If you want to be within walking distance from many of the best things to do in Santiago, then Centro, Lastarria, and Bellavista are your best choices.
Looking for luxury brand hotels? Las Condes is one of the best places to stay in Santiago, Chile, for high-end resorts.
There are many hotels to choose from in Santiago. You can often find reasonable rates when checking on Booking.com before your stay and comparing a few of your favourite choices.
Love This? Save and Share on Pinterest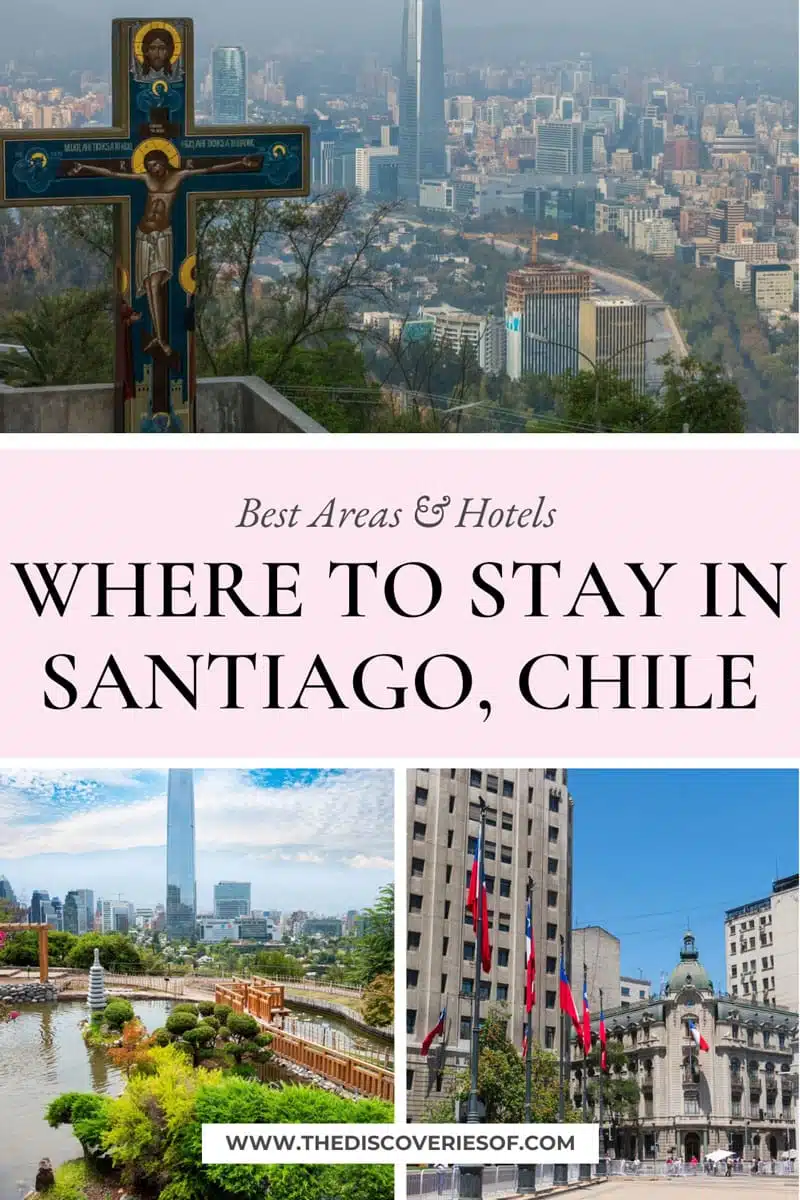 Where to Stay in Santiago: Read Next