Lagunas Miscanti and Miñiques are two lakes hidden in the volcanic foothills in northern Chile's Atacama region. Plan your visit to these natural attractions with this insider's guide.
"There are so many stunning sites to tour in the Atacama Desert – why should I make it a point to stop at this one?"
Good question, and I don't blame you for asking it. You'll have your answer once you see the striking blue waters of Lagunas Miscanti and Miñiques juxtaposed with the dark and dramatic volcanoes above them.
Want to know more? I'm spilling the tea on everything you need to know for your trip to this lesser-known spot in the world's driest desert.
Why Visit Lagunas Miscanti y Miñiques?
I think the real question here is: "Why not?". This site, among many others in the Atacama Desert, is an aesthetic paradise.
Imagine still landscapes with tufts of yellow grass, densely saturated lagoons and purple-coloured volcanoes all sitting below the brightest blue skies.
These are Lagunas Miscanti y Miñiques – possibly the two most breathtaking bodies of water in the entire desert. A glimmer of hope, in an otherwise inhospitable environment.
There's no way to get there other than on foot (there is parking nearby). It's a serene hike – one that takes place in the kind of absolute silence that feels like you've travelled into space.
First up, you approach the Laguna Miscanti by a designated path marked by a thick trail of rocks till you meet its sulphur edges. After that, you continue on the path to climb over an outcrop of lava to Miñiques Lake.
Laguna Miscanti y Miñiques: What You Need to Know
Location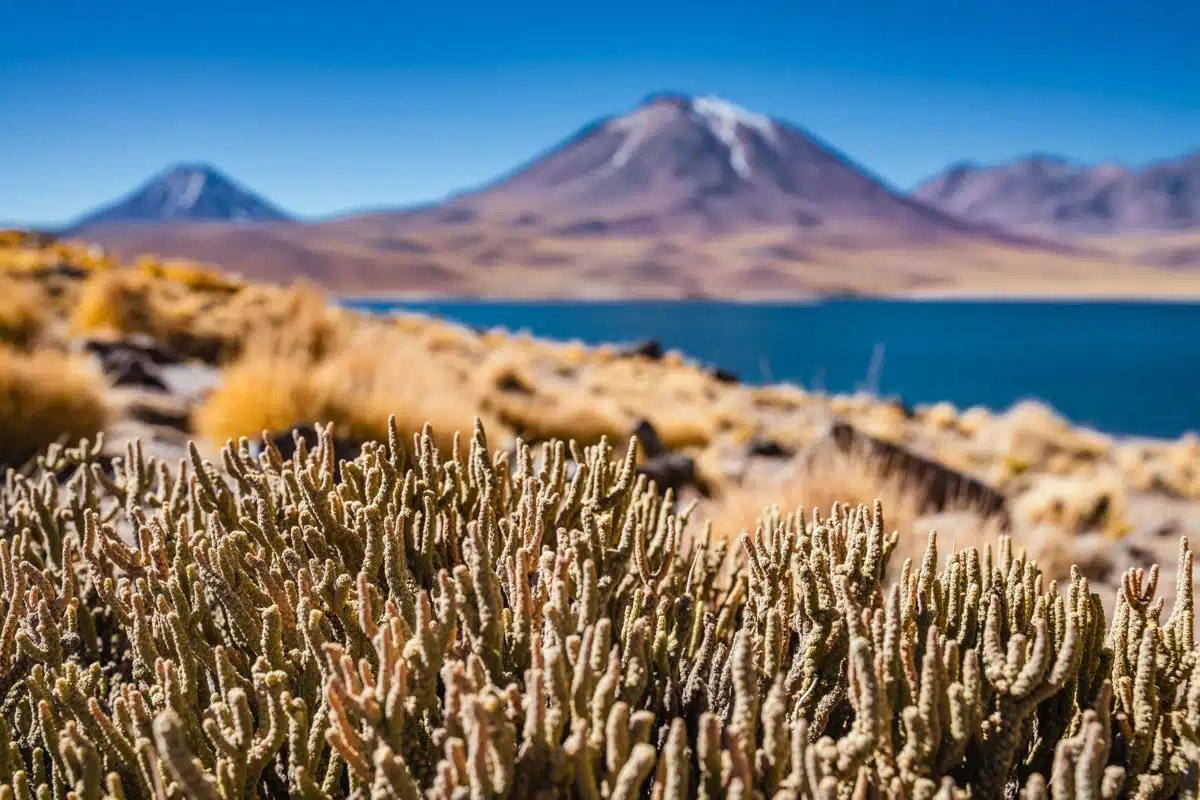 Located east-southeast of the Salar de Atacama, the Miscanti and Miñiques lakes sit at the foothills of the majestic Cerro Miscanti volcano. The lakes are part of the third sector of the Los Flamencos National Reserve, brimming with wildlife and geological wonders.
Two striking blue lakes surrounded by the driest desert on earth! These 10-metre-deep (10-foot) brackish lakes rest unspoiled against a magical natural landscape.
Geology: The Lakes' Passage Through Time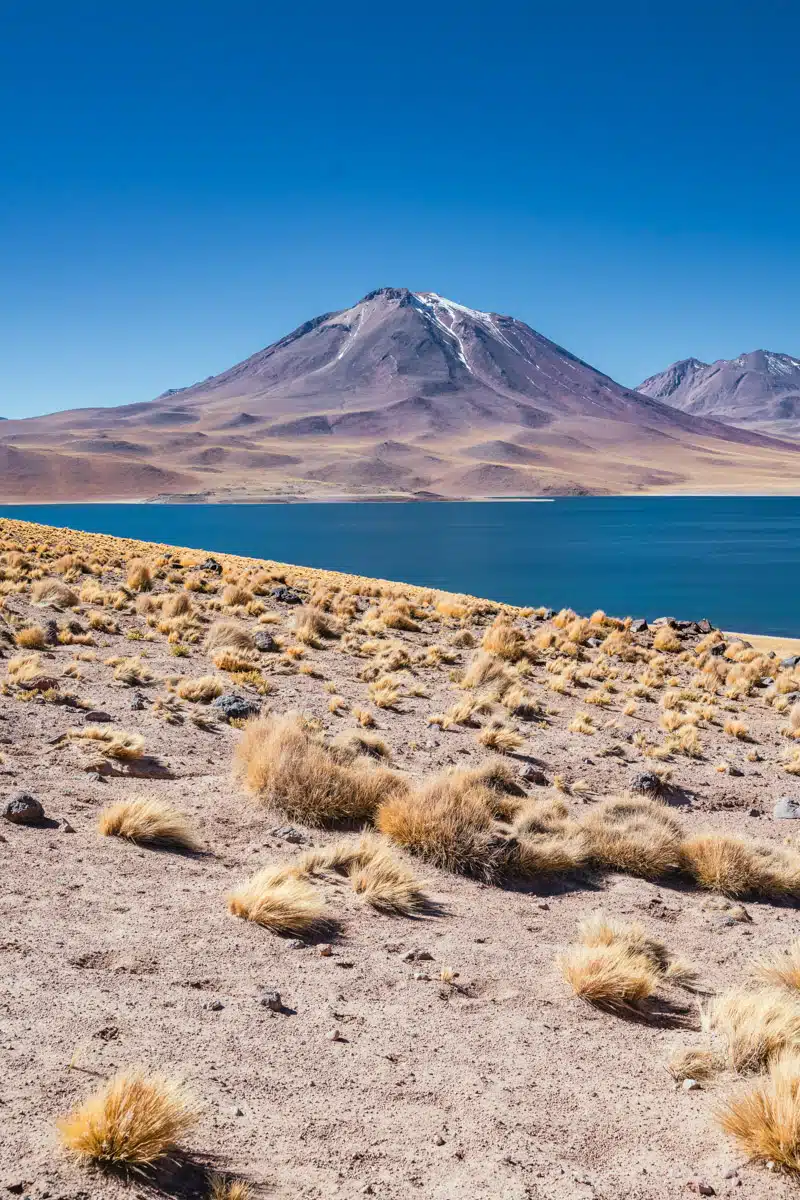 This unique and breathtaking appearance is a result of the Pleistocene period, or simply the Ice Age. The strong winds, arid conditions, Miscanti and Minaqui volcanoes, and salt flats have all contributed to its distinctive and untouched appearance.
This has all resulted in interesting geological features, including beach terraces, creeks, springs, and sedimentary rocks ranging from the Miocene to the Holocene age.
Though connected, there's a stark difference in the colour of the two lakes. Miscanti feeds Miñiques Lake – but while the waters flow from one lake to another, they pass through igneous rock, filtering it into a completely different colour.
Planning Your Visit to Miscanti and Miñiques Lagoons
How to See Lagunas Miscanti and Miñiques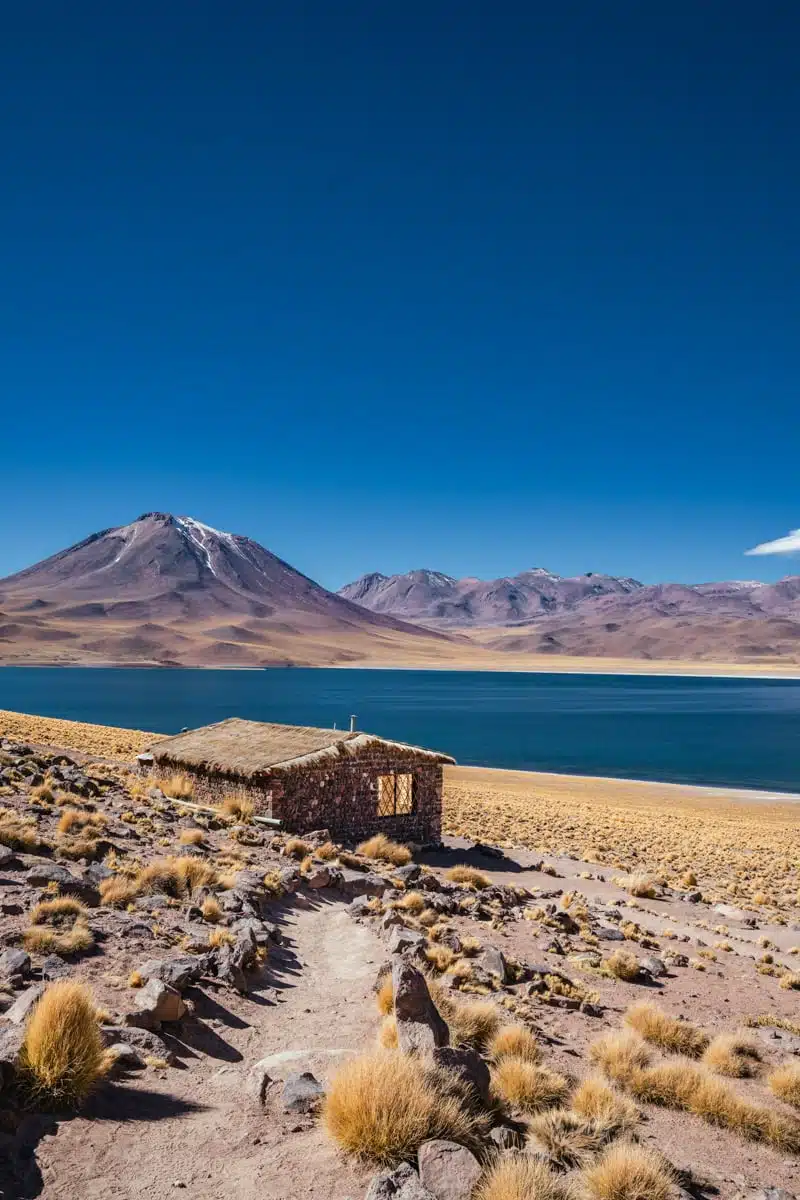 Try to visit these lakes on a day that's not so windy, which means you constantly have to check your weather app. On a windless day, you'll have an opportunity to capture the towering volcanoes reflected in the still water below.
You can also look forward to spotting some unique wildlife, such as flamingos, ducks, families of vicuñas and various birds.
Top Tips for Your Trip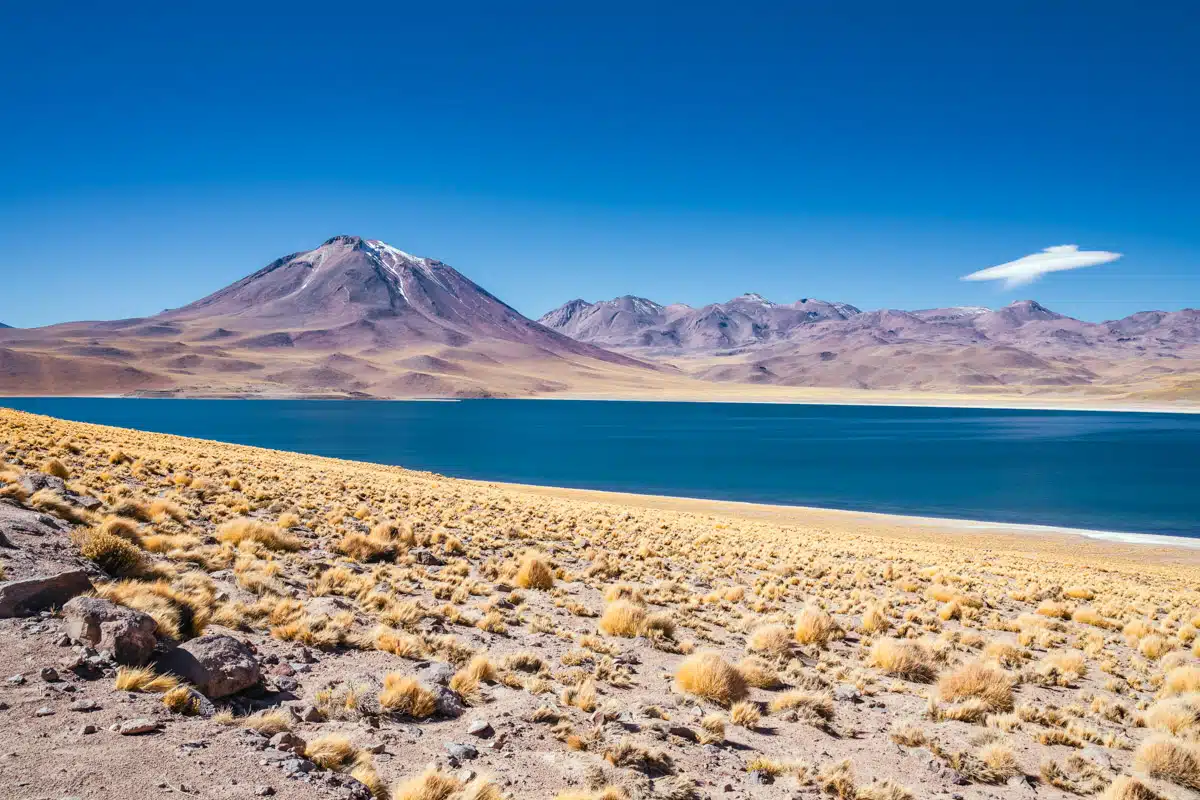 While the Atacama Desert is not as hot as the Sahara, there are times you'll find yourself panting in 30°C (86°F) plus temperatures. The dry desert air can also affect your nose and throat – so ensure you stay hydrated.
Prepare for altitude sickness since the lakes sit 4,320 metres (14,170 feet) above sea level. With the lack of oxygen, you'll likely feel out of breath, perhaps even dizzy and nauseated – but nothing a few cups of coca tea can't fix.
Maybe it won't get rid of your altitude sickness completely, but the locals swear by it (and it's helped me on several trips in the region) and remember to take deep breaths and take your time when exploring.
Top Tip
Coca tea or chewing on coca leaves is great for helping with altitude sickness. Bring some with you for this trip as you go over 4,000 metres.
Lagunas Miscanti and Miñiques Address
San Pedro de Atacama, Antofagasta, Chile
Lagunas Miscanti and Miñiques Opening Times
Monday – Sunday: 9:00 am to 6:00 pm
Visiting Miscanti and Miñiques Lagoons Independently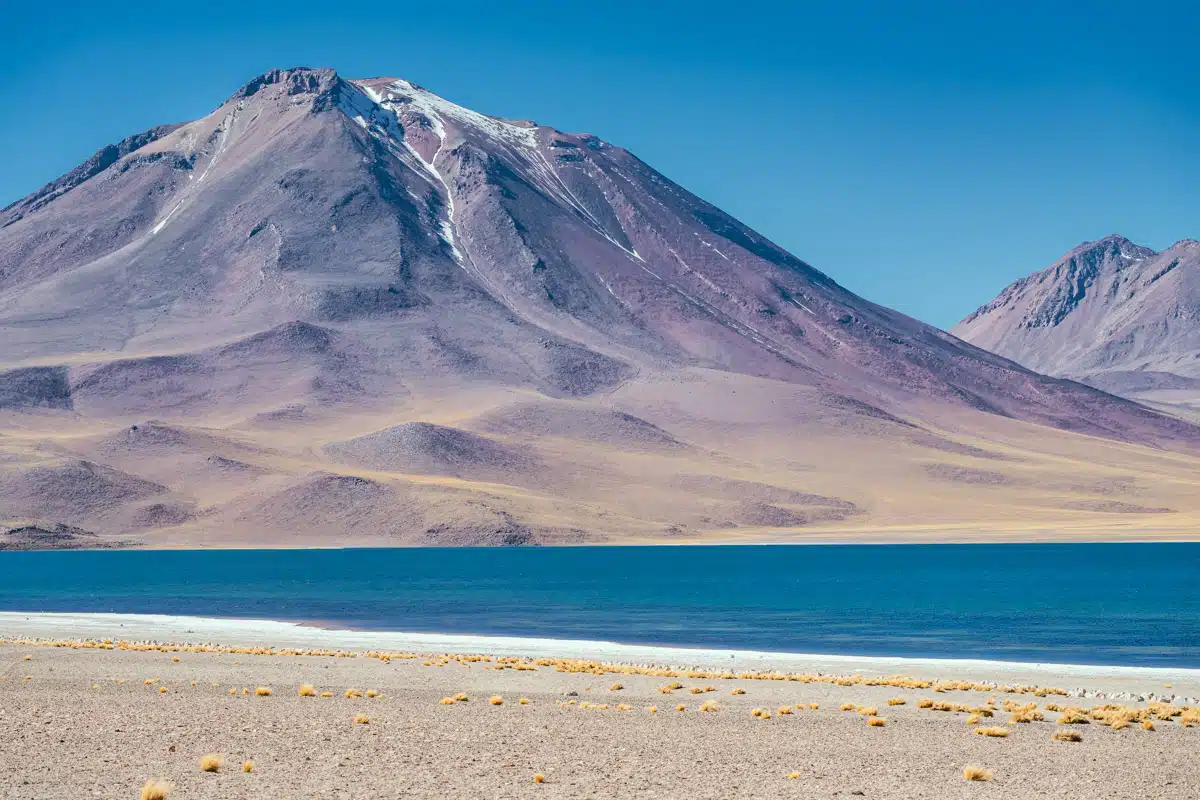 Calama is the gateway and central transport hub for visitors exploring attractions in San Pedro de Atacama. You can fly into Calama El Loa Airport from whichever major city in Chile you're based in — be sure to check Skyscanner for the best ticket prices.
You can rent a car in Calama for your trip to the Laguna Miñiques and Miscanti, allowing you to explore the region freely. An alternative is shared taxis, also known as colectivos, which run on fixed routes and cost around 700 pesos (£0.65/$0.82).
Visiting Laguna Miñiques and Miscanti On a Tour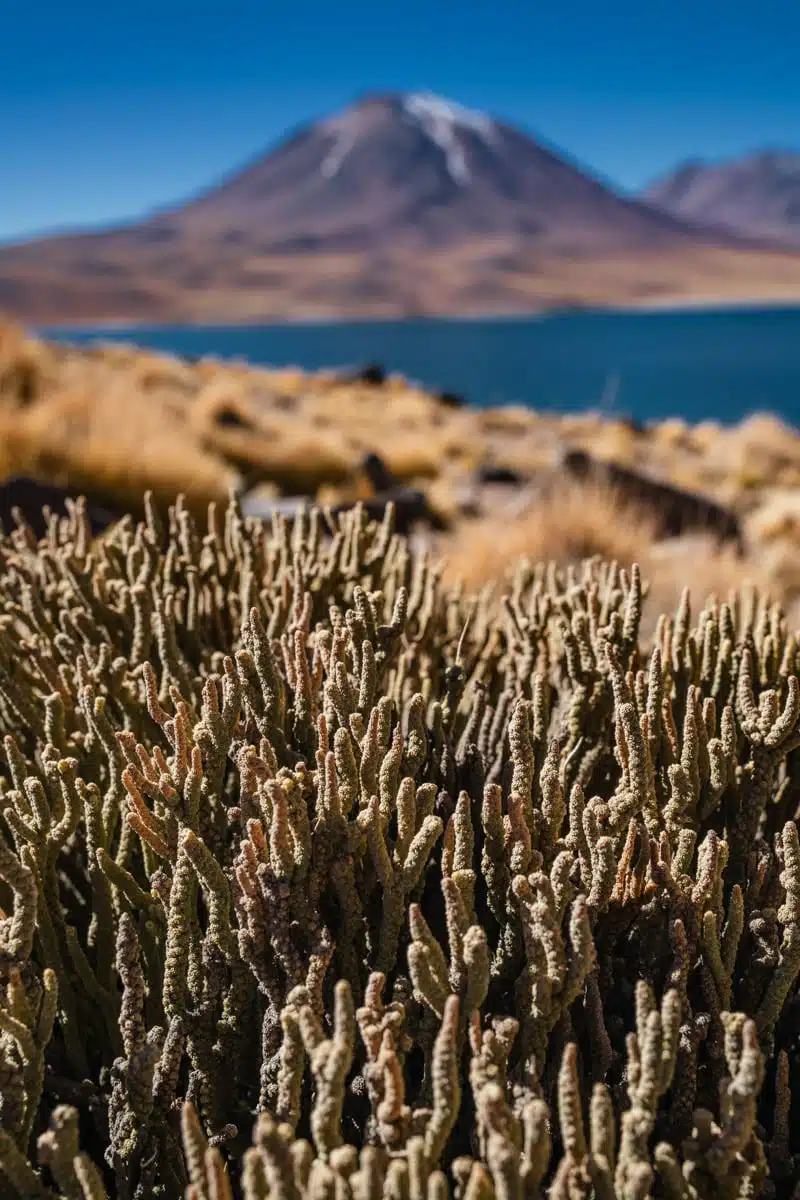 This full-day guided tour begins at the lakes, detours to the rustic Atacameño village of Socaire, and ends with a lovely tour of Chaxa Lagoon and the flamingo reserve, complete with lunch.
Where to Stay for Miñiques and Miscanti Lagoons
Nayara Alto Atacama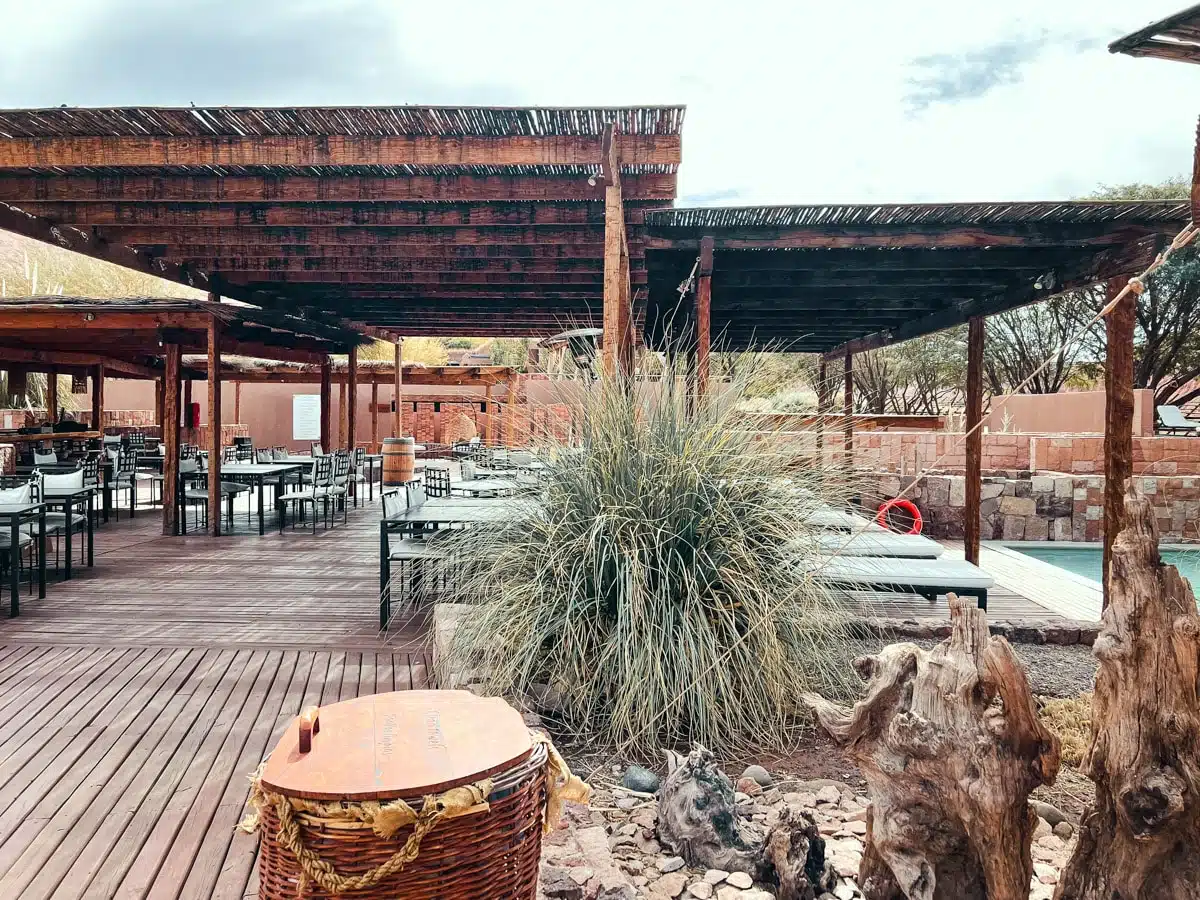 Nayara Alto is a chic resort-esque property ideal for Atacama stargazing as it has an observatory, allowing you to photograph some of the finest photos of the starry skies.
It also features top-tier amenities, including a luxe spa area, outdoor showers, hydro-massage baths, a sauna, and a steam room – blissss. Read my full review.
What to Pack for Lagunas Miscanti and Miñiques
Don't forget these essentials before heading to the Miñiques and Miscanti lakes:
Miscanti and Miñiques Lagoons Map
Now You've Visited Lagunas Miscanti and Miniques, See More of the Atacama
Love This? Save and Share on Pinterest