Looking for white sand beaches, vibrant beach clubs and luscious turquoise waters? Discover the best beaches in Ibiza with this insider's guide.
Ibiza is more than parties and beaches, but let's be honest,  when it comes to beaches, they really do steal the show. 
The island's pleasant weather and clean shores allow for idyllic beach days, cocktails during sunset, and even cliff jumping into the cool sea. Sounds idyllic right? It is.
So grab your sunscreen and your favourite swimwear and let's dive into Ibiza's most iconic beaches.
Best Beaches in Ibiza
Cala Comte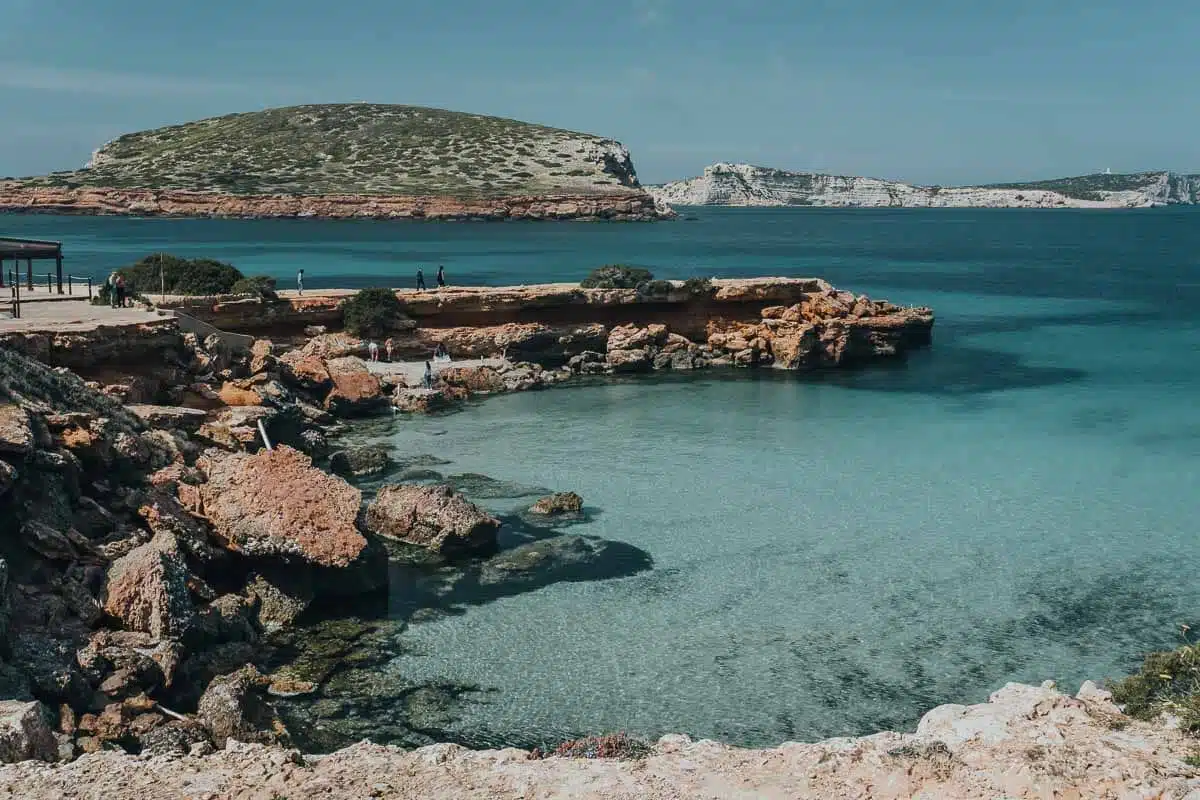 "Am I in the Caribbean or the Mediterranean?". 
It's a fair question.
With chalk-white sand and water so clear you can see shoals of fish swimming beneath the surface, Cala Comte is a firm favourite among both tourists and locals. Some even rate it as the best beach in Ibiza.
Although it's a trendy spot to watch the sunset, there aren't any shaded spots here during the day. So bring along a beach umbrella or a sturdy hat to protect yourself from the beautiful-yet-not-so-forgiving Ibizan sun (tanning fanatics, I'm talking to you, too!).
Punta Galera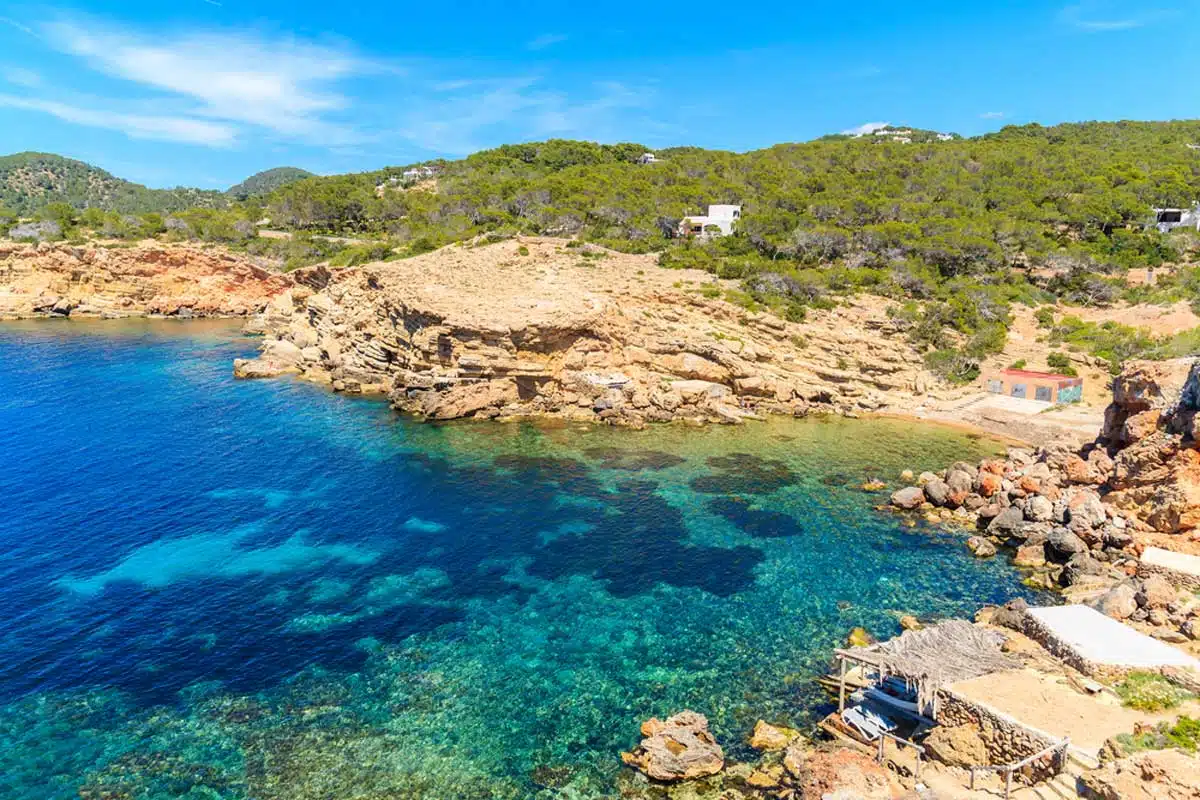 Punta Galera is not your typical white-sand beach. In fact, it's quite the opposite. This beach is a mishmash of rocky formations that form flat terraces jutting out to the water's edge. These stony platforms are ideal for tanning and diving straight into the water.
Just be sure to bring some steady shoes with grip – I don't want to speak for you, but slipping and sliding on the rocks is not the cool Ibizan look I'm after. And if shoes are all you're wearing, that's also fine, as Punta Galera is a well-known nudist beach.
Portinatx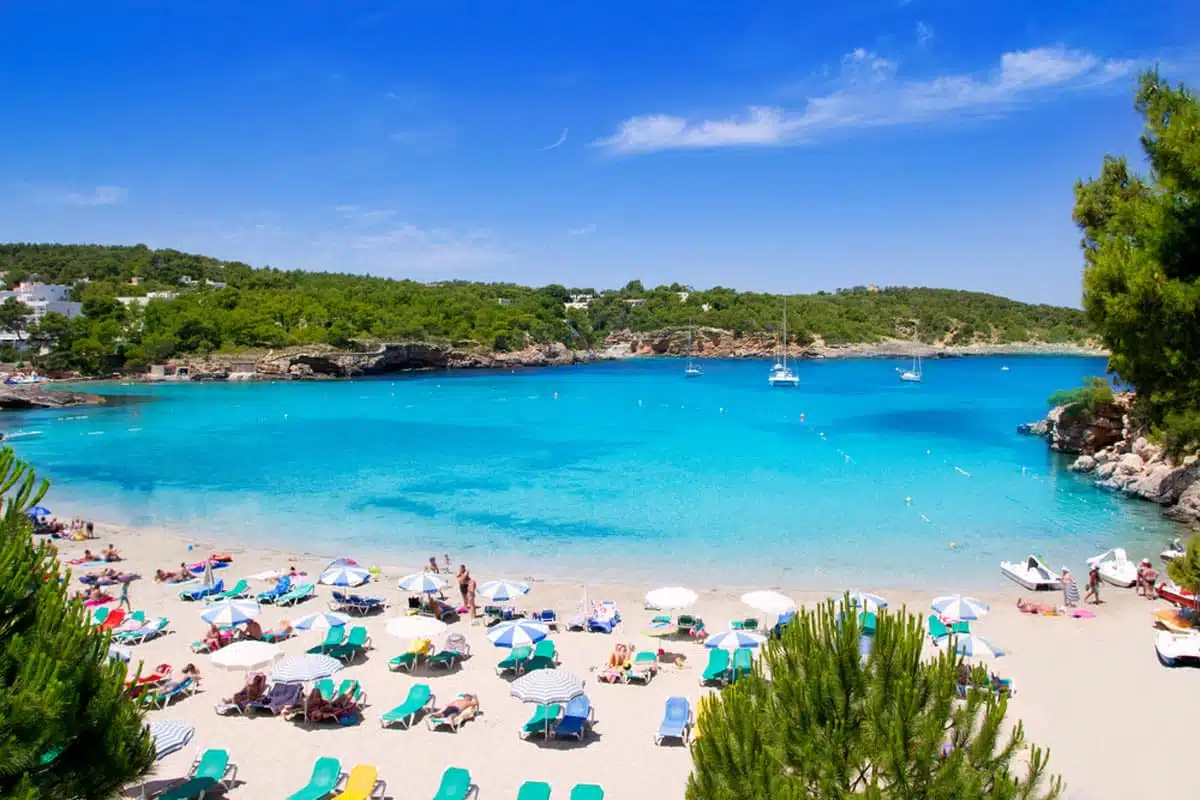 Portinatx is undoubtedly one of the most beautiful beaches in Spain. Its calm, shallow waters are enveloped by towering rocky cliffs and sweet-smelling pine trees, making perfect shady zones. I'd suggest you try your hand at windsurfing if it's a breezy enough day.
Nothing could make this beautiful little beach more perfect – except perhaps its wide array of amenities. There's nothing like a refreshing shower on the beach before deciding which restaurant to visit for lunch. Oh, and make sure you snap a pic on the wooden jetty leading out into the water.
Es Cavallet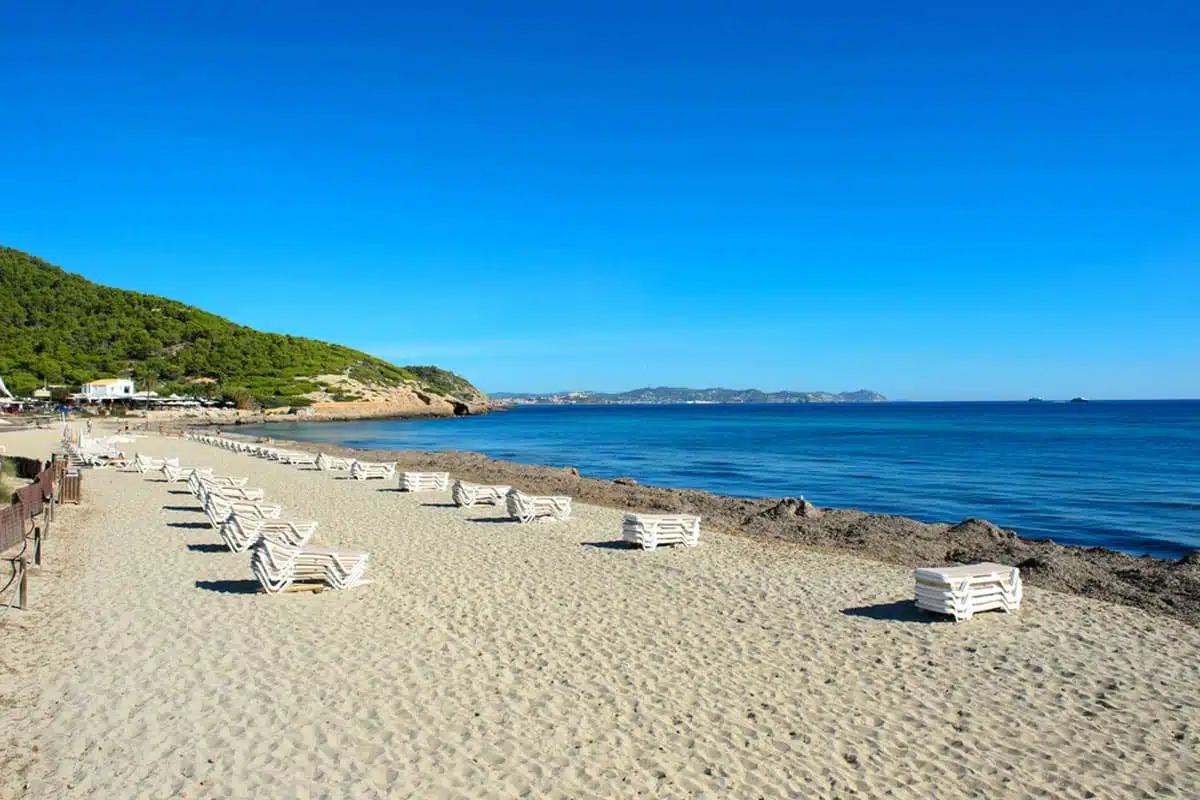 Calling all birdwatchers! At Es Cavallet in Ses Salines Natural Park, you'll experience some of the richest biodiversity in Ibiza, thanks to the area's natural salt pans and marshlands.
Watch for the pink flamingos and perhaps even a local Kingfisher or two that often frequent the beach. Plus it's actually on Formentera, so is a bit quieter, even in the peak summer months.
Es Cavallet is another famous Ibiza nude beach favoured by the LGBTQI+ community. I'd encourage you to grab a plush sun lounger at El Chiringuito beach club and sample some of their fine local cuisine and cocktails.
Cala D'Hort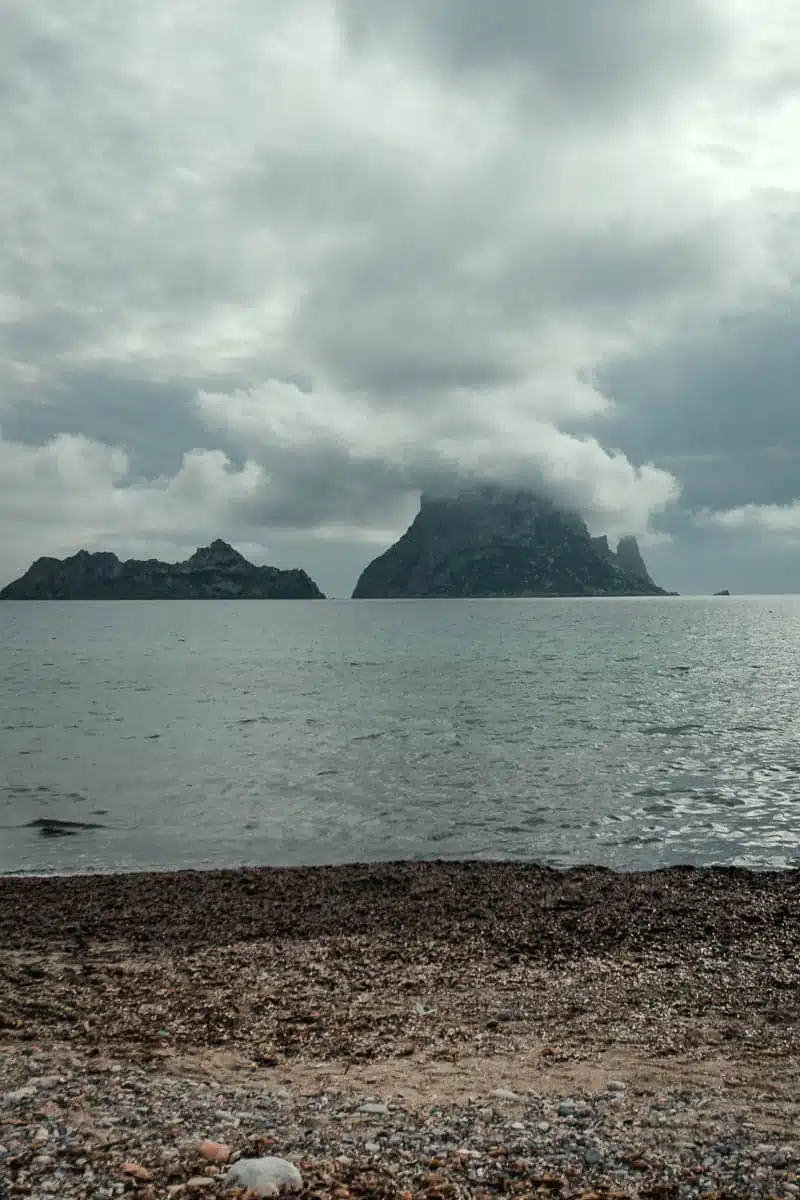 Tucked away in the tranquil southwest of Ibiza, Cala D'Hort is an enchanting sandy cove that's best known for its views of the majestic islet of Es Vedra rising dramatically from the sea.
It's beautiful at any time of the day, but witnessing the sunrise over Es Vedra after a night on the tiles is a classic Ibiza experience. Watching the silhouette of the rock, bathed in hues of orange and gold, you'll understand why.
Cala Bassa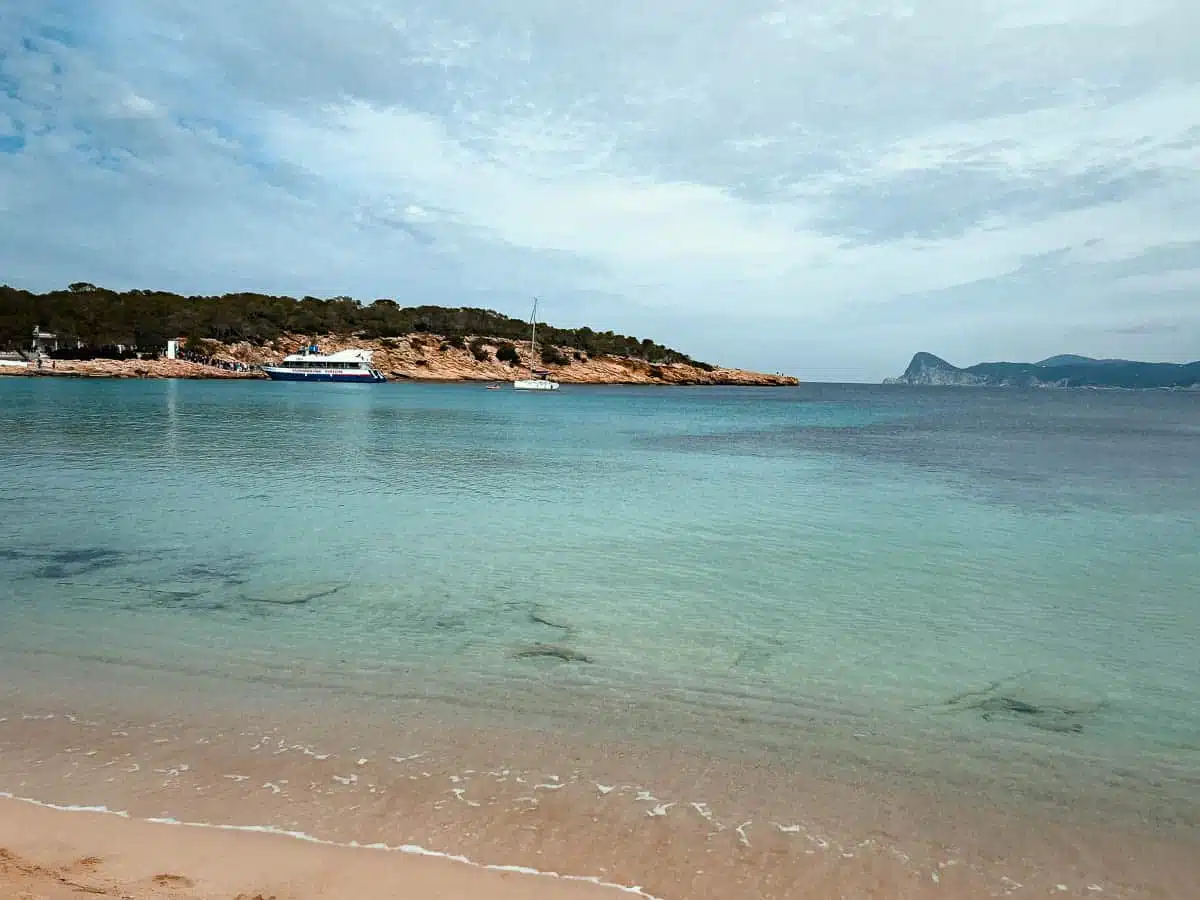 Cala Bassa provides beautiful views as you wiggle your hips to some divine downtempo music from the beach's very own beach club. This beach is also one of the best spots for sunbathing in Ibiza.
Due to its popularity, Cala Bassa can get busy and crowded, so I found it best to arrive here early to secure the perfect day spot. Can't find a shady area? No problem. Hire a lounger and sunshade and order a cool drink from one of the beach's three beach bars.
Las Salinas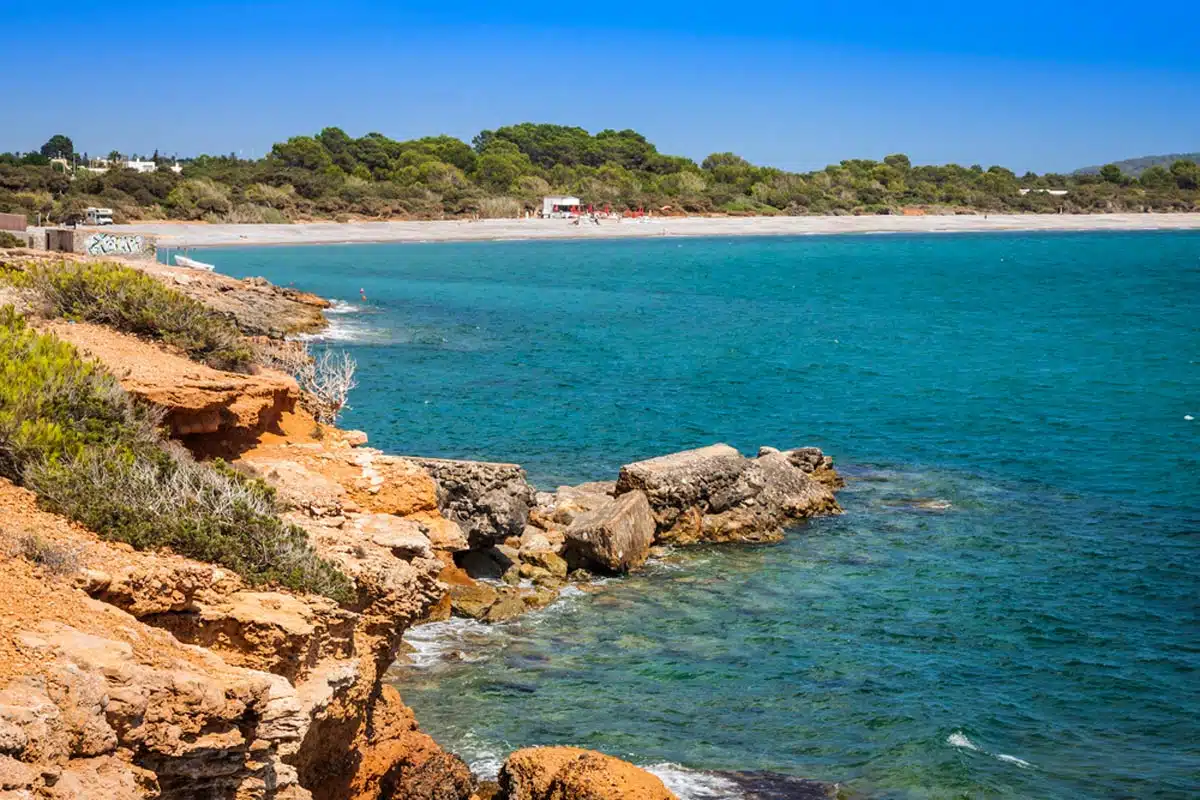 Yet another of the best beaches in Ibiza to spend a day, head over to Las Salinas for a day of rum, I mean fun, in the sun. The beach is home to El Jockey beach club, one of the original beach clubs in Ibiza. It's a super cool vibe to meet some locals and practise your Spanish.
The true magic of this place? This long, white beach gets its name from the nearby salt flats that sprinkle its shoreline. When the sun sets, the salt pans reflect a mirage of orange, red, and pink palettes from the sky.
Cala Xarraca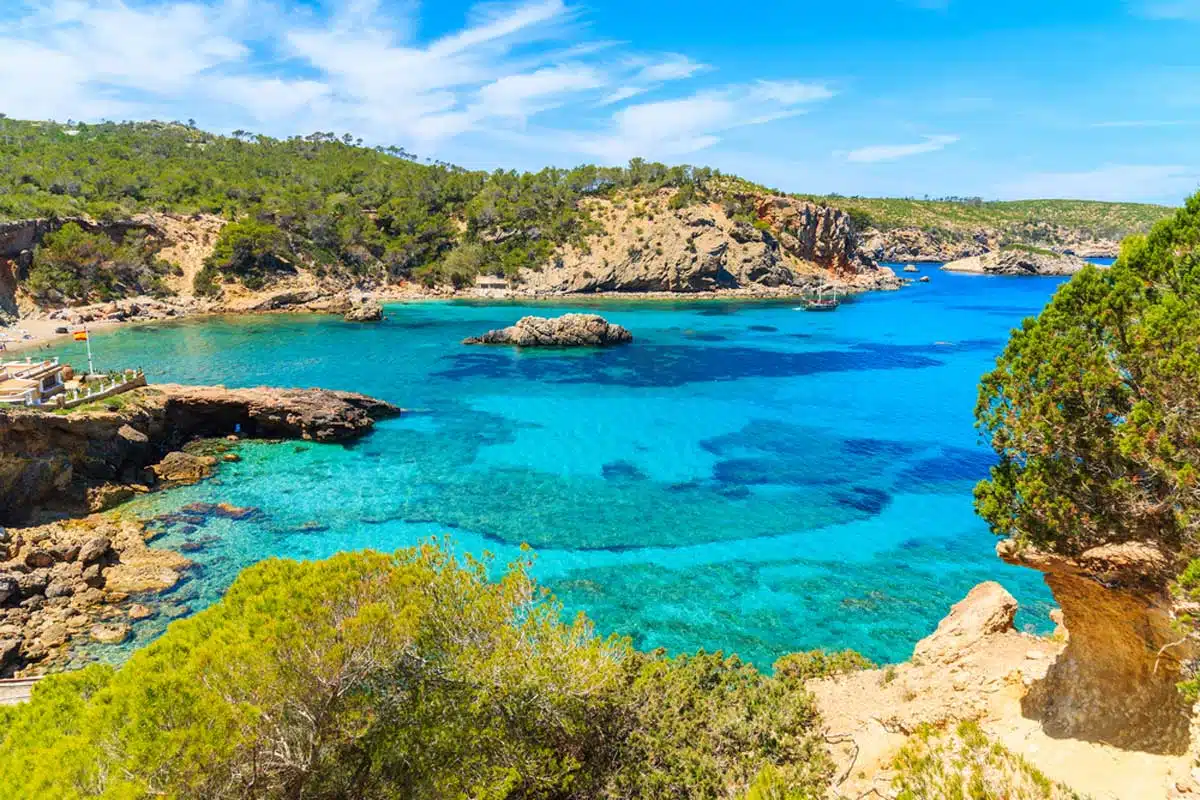 Cala Xarraca is more of a small cove than a full beach, but it's perfect for snorkellers and photographers. The beach has two areas – one for nudism and one for non-nudism.
For those willing to get down and dirty, there's even a natural mud bath to the left of the beach. Mix some seawater with the clay before rubbing it on your skin, and voila! You have your very own spa treatment.
Cala Tarida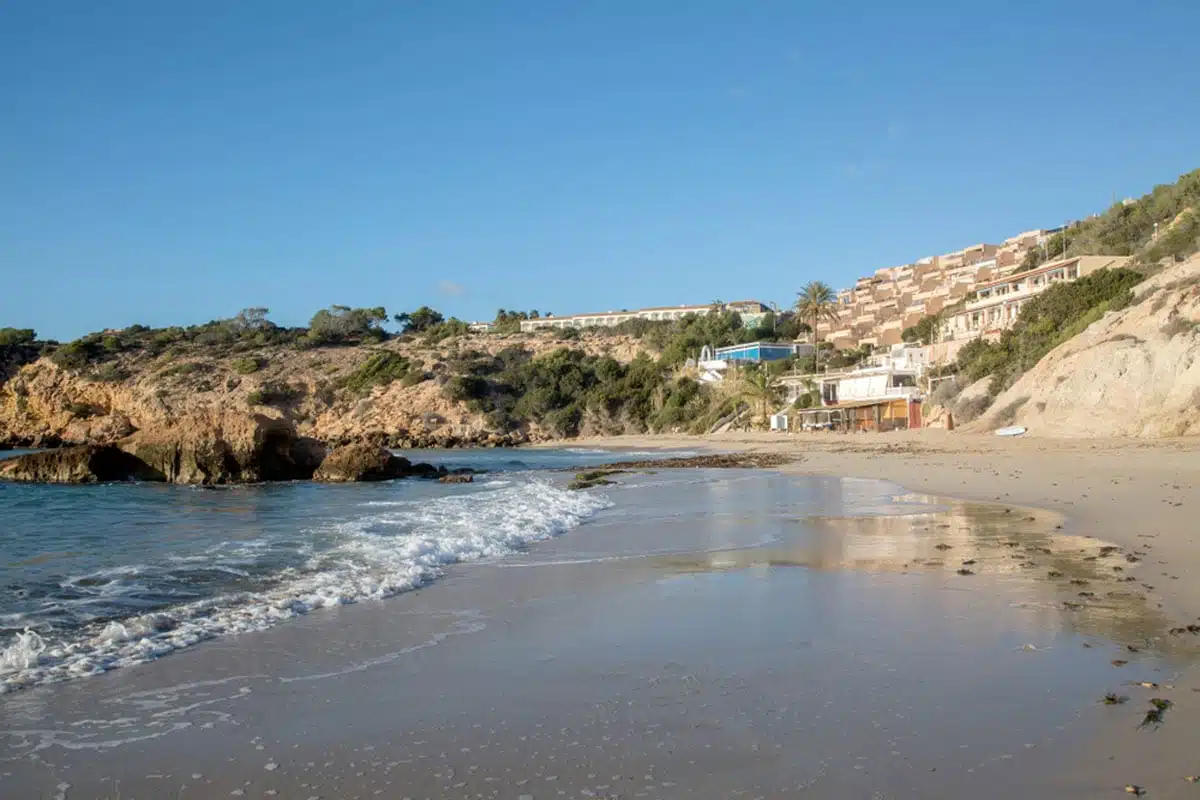 I urge you to plan a visit to Cala Tarida in your Spain itinerary. The horseshoe shape of this beach means its cove and crystal waters have protection from the wind and rough seas on nearly any given day.
My advice? Bring along a colourful floaty so you can spend your afternoon basking in the ocean. This beach is convenient, accessible, and packed with stylish beach clubs, restaurants, shops, and amenities. What more could you ask for?
Es Torrent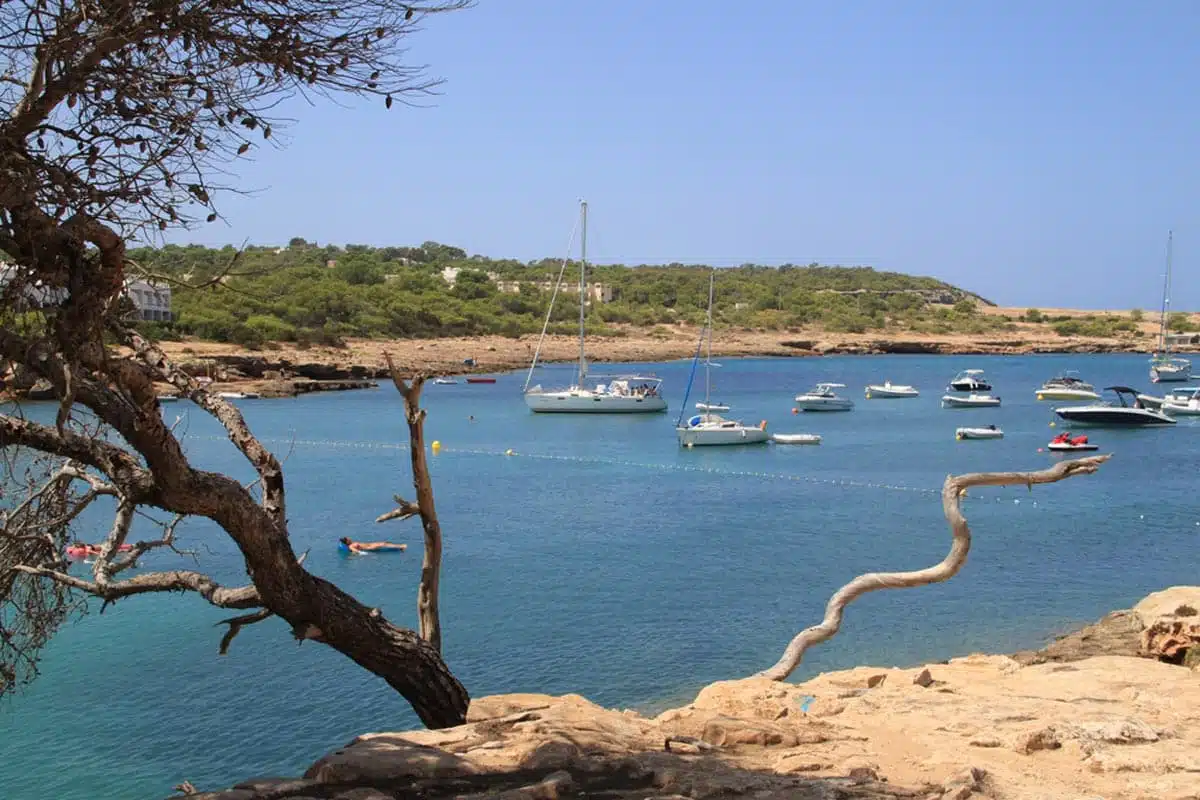 Compared to other beaches in Ibiza, Es Torrent is much more secluded, making it an excellent destination for those who love tranquillity. And trust me; sometimes you need a little peace and quiet in Ibiza.
This beach offers some of the best snorkelling on the island and boasts stunning marine life. While here, you should sample delicious Mediterranean cuisine at the fabulous beachside restaurant, Restaurante Es Torrent. I highly recommend you try the bullit de peix, a traditional Ibizan fish stew with rice.
Figueretas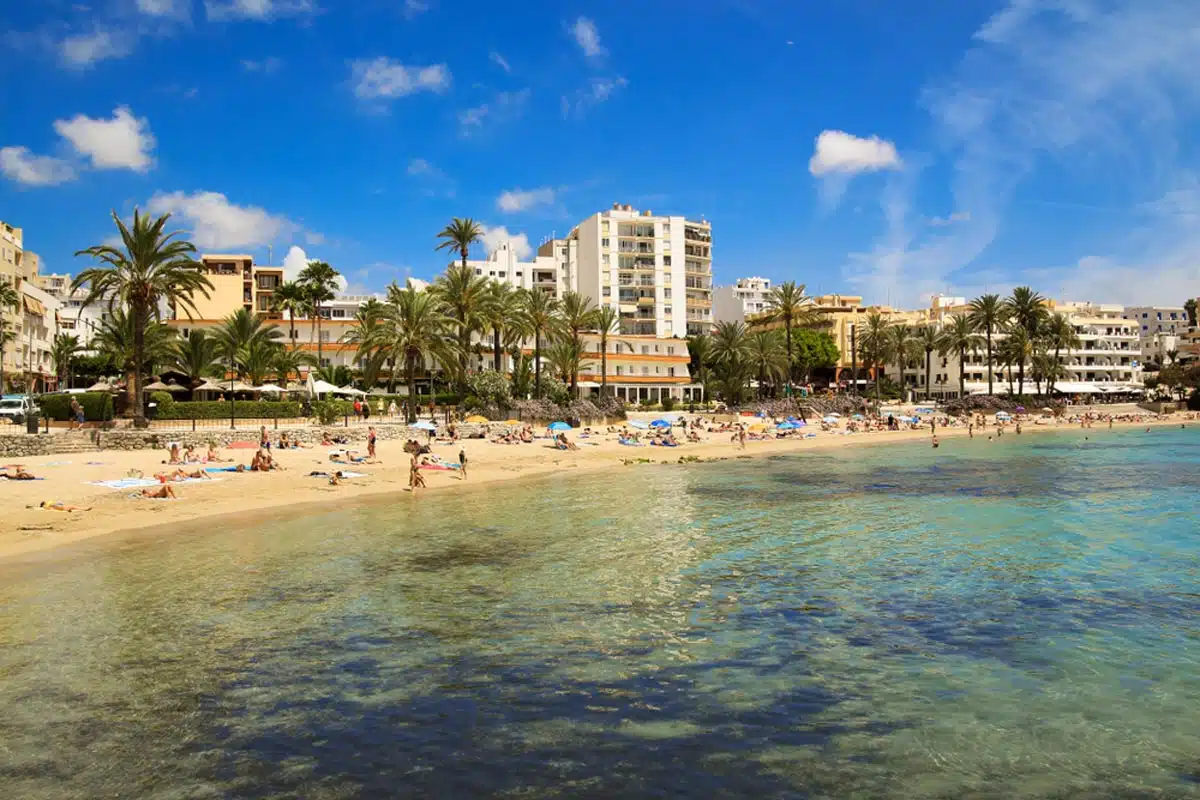 Figueretas is a long stretch of sandy beach within walking distance of Ibiza Town Center. It's also another popular gay beach in Ibiza. From Figueretas, you can enjoy panoramic views of Dalt Vila, the historic fortified old town of Ibiza (a UNESCO World Heritage Site).
There's a lovely promenade with a wide range of shops and restaurants, so you're spoilt for choice. The beach comes alive in the evenings, with awesome music providing a vibrant atmosphere to watch the sunset and dance the night away.
Cala Llentrisca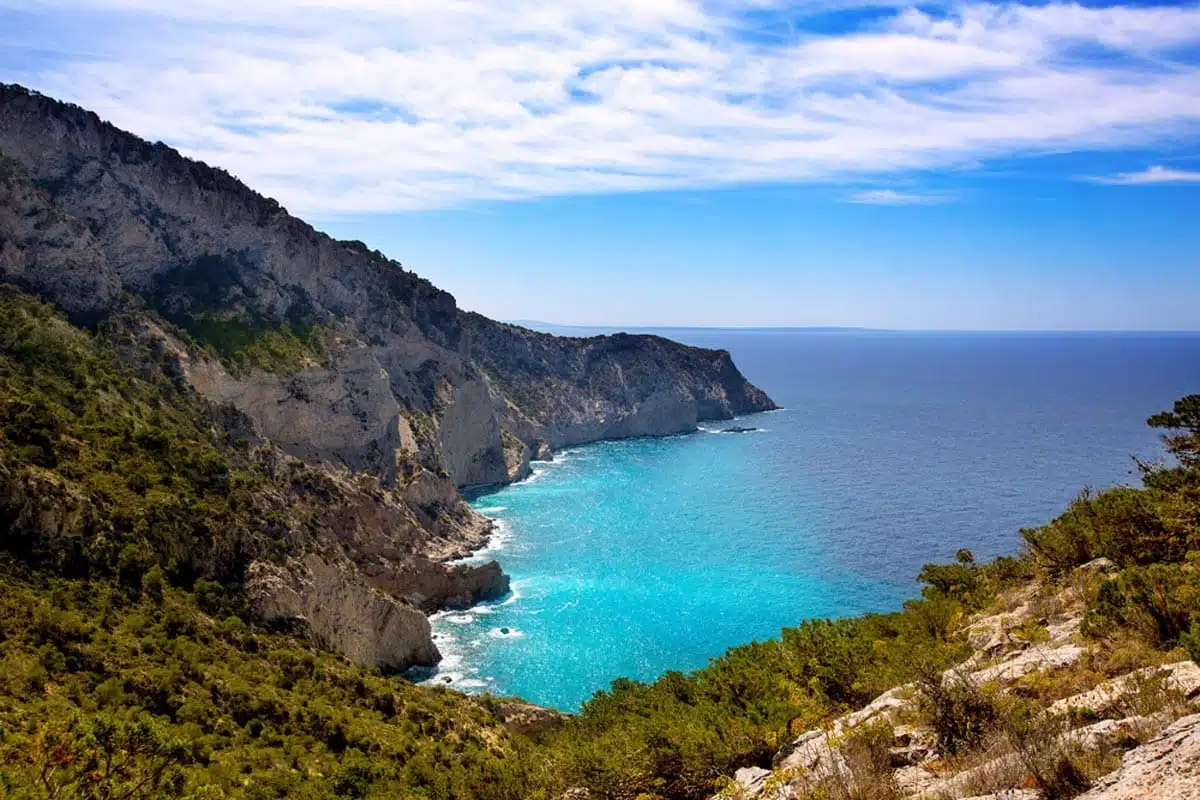 The small pebbled beach of Cala Llentrisca is spectacular, with ramshackle fishing huts lining the beach and lush pine forests sitting in the background. I found an air of exclusivity here, as you'll need to hike along a trail from Es Cubells Village to access the beach.
So relax, read a book, and soak up the sound of waves crashing on the shore. Before your walk, I suggest you stock up on supplies for a lunchtime picnic from Es Cubells.
Cala Llenya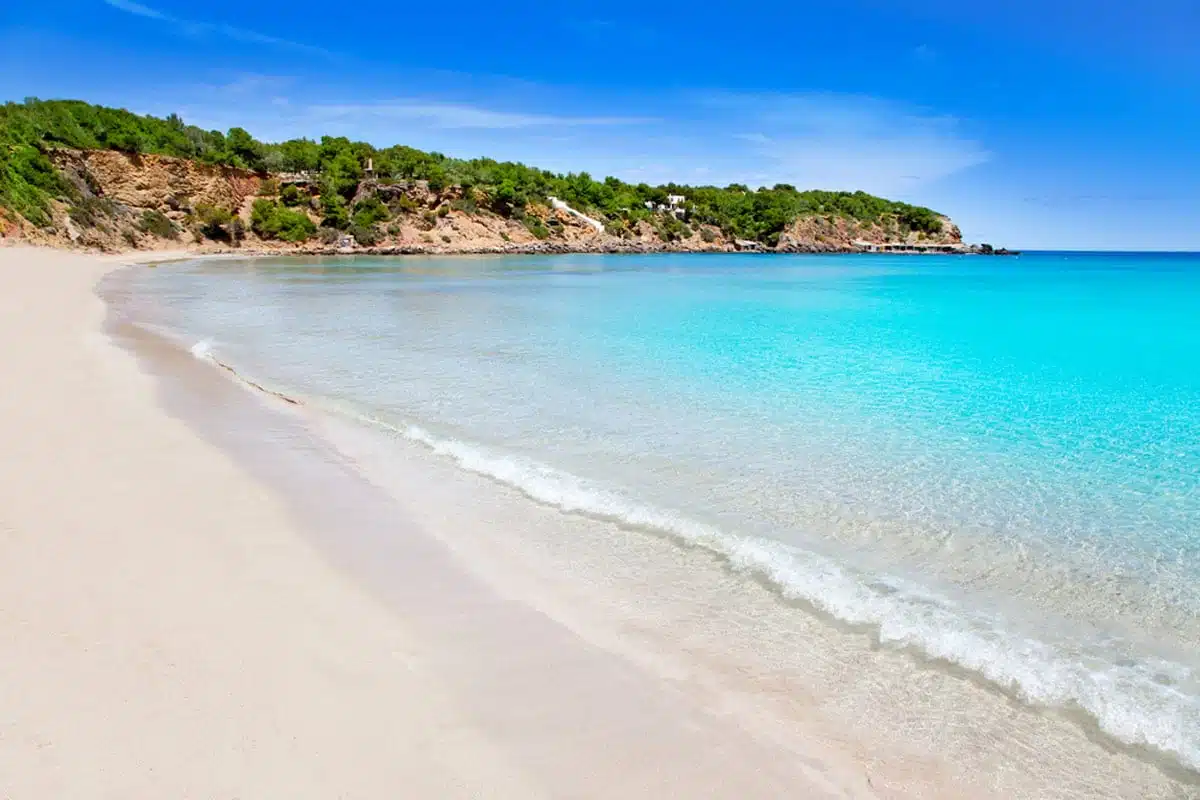 Cala Llenya is a wide beach with fine, white sand and an equally sandy seabed. This makes the water here appear a striking shade of teal. Visit this well-maintained beach with ample parking and easy accessibility for a glimpse into why Ibiza beaches are so popular.
There's a beach bar and restaurant if you want some tasty paella. Ensure you request in advance, though, as sometimes the establishment can get busy and overrun orders. It's worth visiting Cala Llenya on a Sunday because the weekend markets are just a short stroll from the beach.
Cala d'en Serra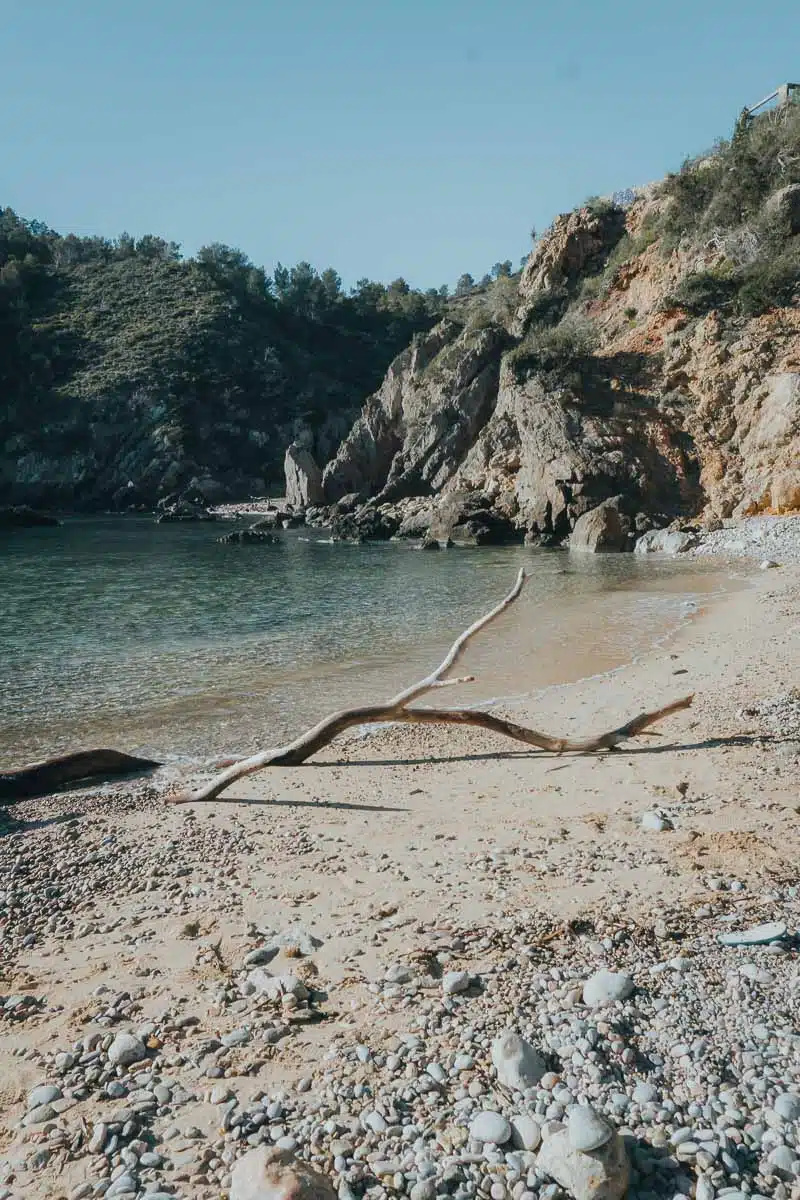 Sitting on the shores of Cala Sol d'en Serra feels a bit like I'd imagine what owning a slice of paradise feels like, and who can turn that down? It's also a starting point for many scenic hikes along the nearby cliffs and coastline, with fantastic views over Ibiza's southern seaboard.
And if your excuse for not going to the beach is the sand getting into everything (I'm not judging), then I've got some good news. Cala Sol d'en Serra is a pebble beach with just as much allure as its sandy counterparts.
The renowned Ibiza beach club, Amante, sits above the beach and you can look out to sea while enjoying the vibe here.
Cala Benirràss
The relaxed atmosphere surrounding Cala Benirràs is so unique you'll feel like you're in another realm. This beach attracts a diverse crowd but is especially popular among those individuals who fully embrace its 'Zen' and tranquil surroundings.
For the best experience, ask a local to help you plan your trip to the beach for the sunset drumming sessions — these only happen on certain days of the week (it used to be Sundays, but now the exact day is unknown). You can participate if you feel the beat; or stand back and enjoy the spectacle.
Ses Balandres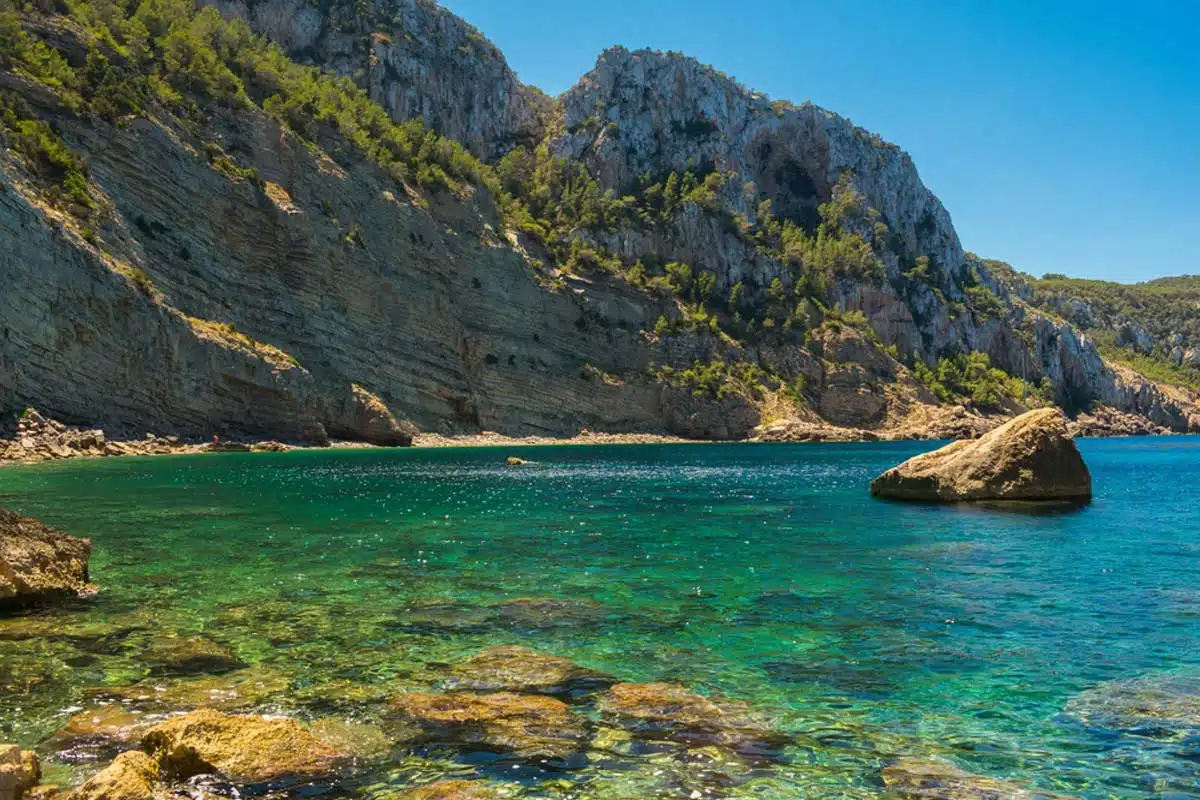 Feel like exploring ancient ruins and hidden treasures during your beach day? Then I say head to Ses Balandres — a secluded spot off the beaten path. But as mystically enchanting as this beach sounds, the slightly treacherous hike down to the secluded cove is not for the faint of heart.
To reach the beach, you need to tackle wooden steps, handrails, and ropes down the cliffs. Once you're there, I have no doubt you'll be glad you did it. Don't forget your diving goggles at the top, though, as you'll need them to dive for gems of precious shells and sea glass.
Practical Tips for Exploring Ibiza Beaches
What Should I Pack for a Week's Beach Holiday in Ibiza?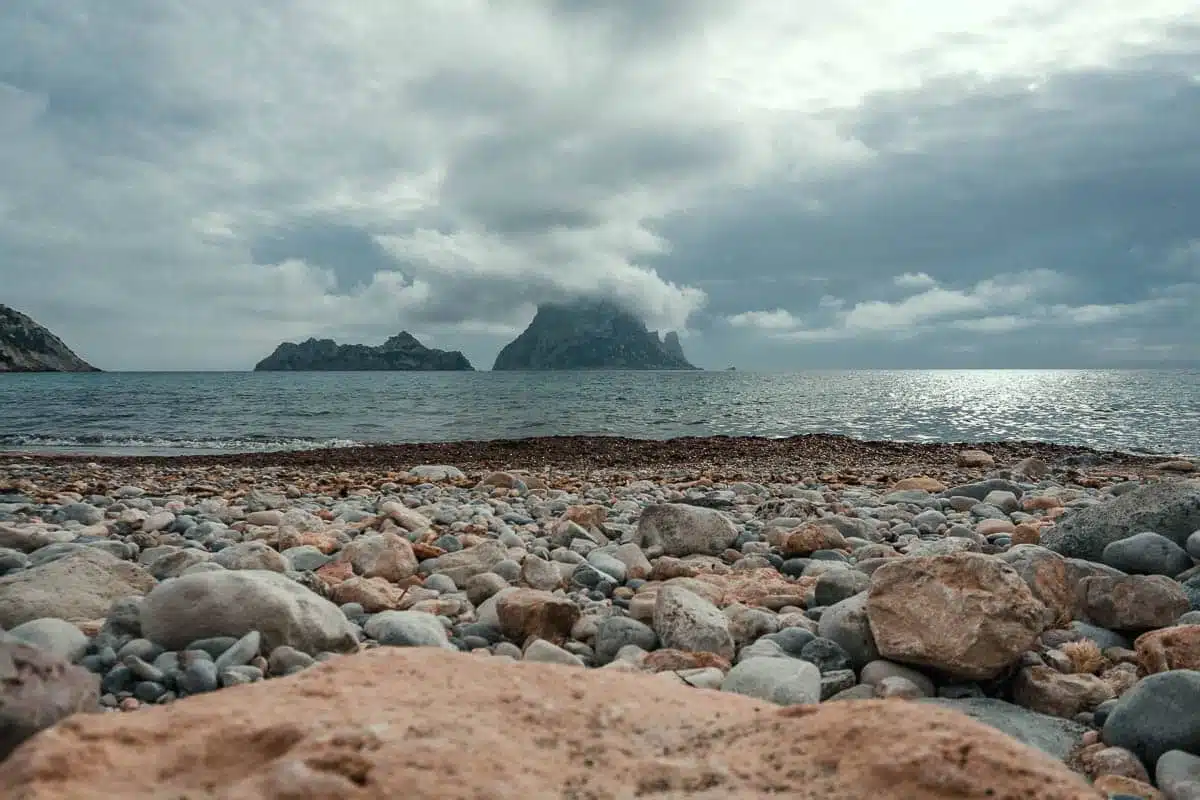 To be fully prepared for this island vacation, I suggest you bring sunscreen, hats, sunglasses, and plenty of swimwear options. You'll probably also need smart-casual clothes, as some beach clubs and fancier restaurants will require you to dress formally. And don't leave behind your sturdy walking shoes, sandals, and closed shoes for going out.
Check out my tropical vacation packing list for more insight on what to bring to Ibiza.
Which Part of Ibiza Has the Most Beautiful Beaches?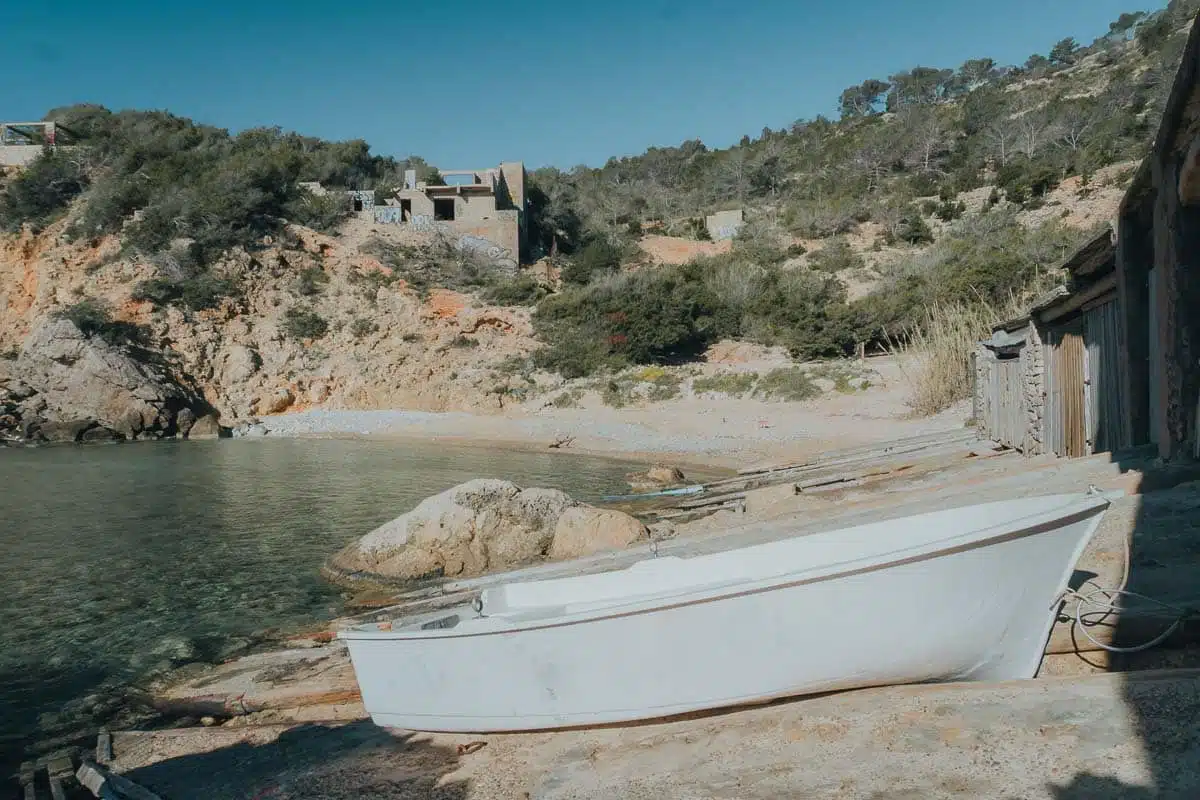 While there are lots of stunning beaches all along Ibiza's coast, the quieter, more private beaches are generally in the north of the island. In summer's peak tourist season, arrive early to secure a good spot. Ibiza's beaches can fill up quickly, and parking can become scarce.
Ibiza Beaches: Map