Get ready to explore with this guide to the best things to do in Ibiza. Here's your one-stop Ibiza guide, packed full with gems.
I'm not being dramatic when I say that Ibiza is a must-add to every Spain itinerary.
Let me stress, there's plenty more to Ibiza than its legendary clubbing scene. Hanging out at hippy markets, indulging in luxe spas and lounging postcard worthy beaches are just a few examples of what you can and should do in Ibiza, regardless of whether you want to party until dawn.
That's before I even start chatting about the delicious foodie scene, and the laidback bars that won't leave you with a pounding headache…
So, without further ado, let's dive into all the best things to do in Ibiza.
Where to stay in Ibiza? Book a room at Pikes Ibiza for some musical history and a dip in the same pool featured in Wham's 'Club Tropicana' video.
Top 5 Things to Do in Ibiza
Chill on Cala Bassa Beach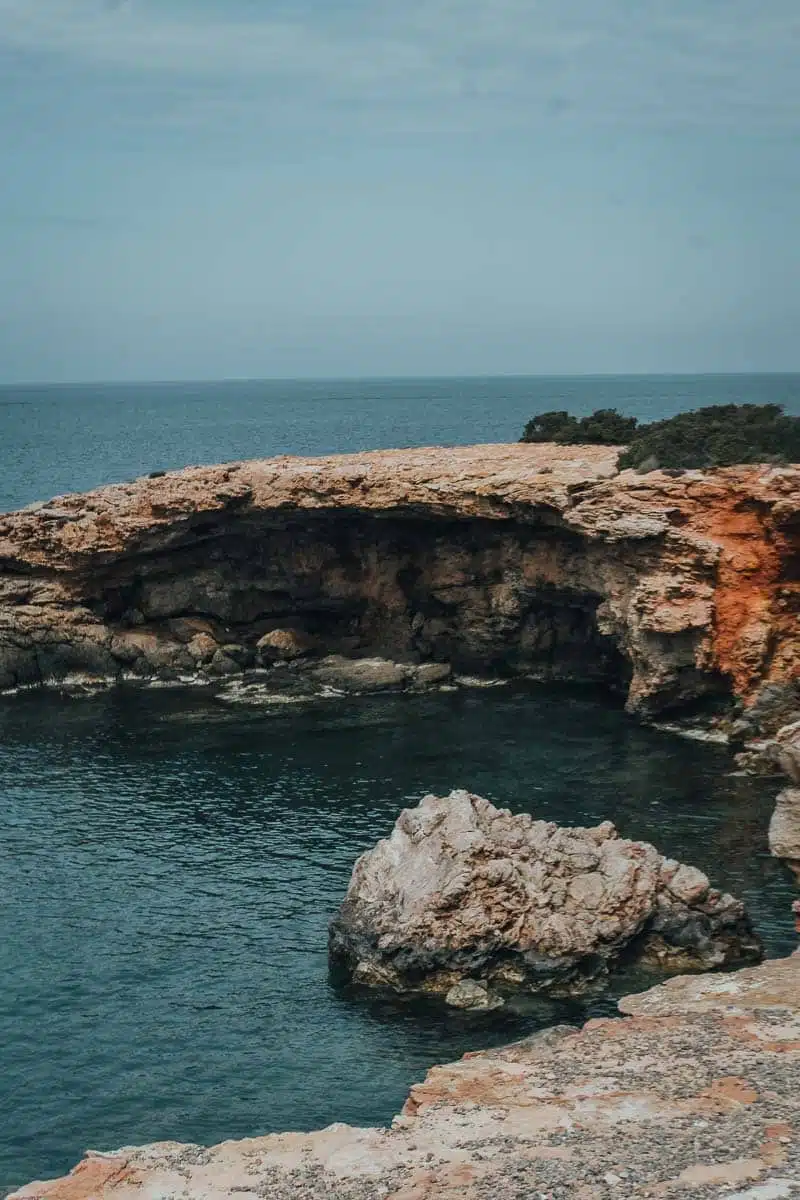 Head to the west coast of Ibiza and thank me later. Cala Bassa Beach is my favourite spot on the entire island, and I'm sure you'll be able to see why. It boasts a wooden area on one side and turquoise waters on the other.
The beach is a popular spot for locals and visitors, and it's home to Cala Bassa Beach Club, so cocktails at sundown are perfect here. The beach club also offers massages, showers and changing rooms.
You can laze on the soft sand, catch up on your holiday reading while tanning or hop onto a jet ski and enjoy a few watersports. Once your stomach starts rumbling, simply head to one of the four restaurants along the shore or right down to the snack bar for a quick bite.
Visit Ibiza's Banging Clubs
I know I said that there's plenty more to do in Ibiza than party, but that's the best place to start.
No trip is complete without a visit to one (or many) of the island's exciting clubs – the energy is amazing. You can dance the night away under the stars or chase down your favourite DJs for their sets.
From the world-renowned Pacha and Amnesia Ibiza to the trendy Ushuaïa and iconic Hed Kandi, the island offers an unrivalled clubbing experience. July and August are the best time to truly experience the party scene, though you'll notice the island is thrumming with activity in the shoulder seasons, too.
Get Pampered With a Spa Day at Atzaro Spa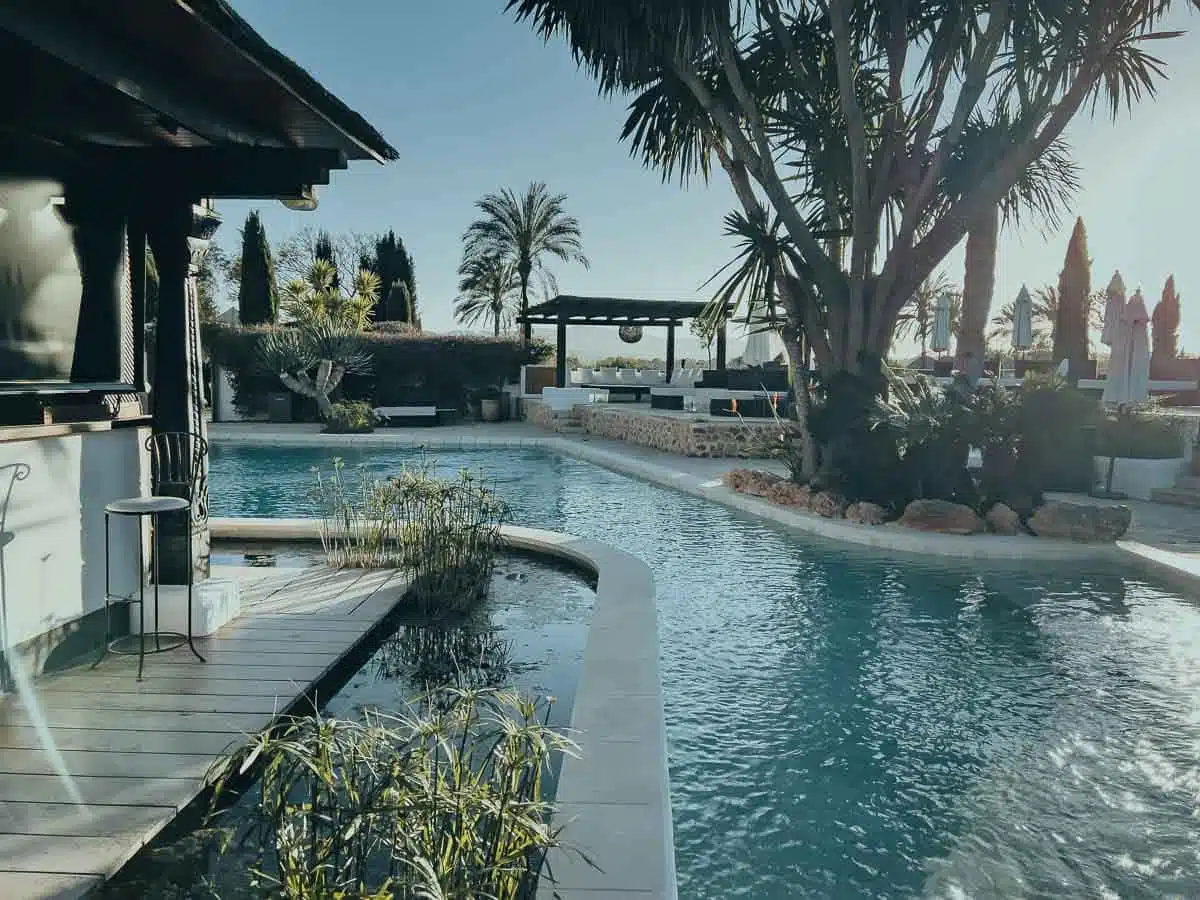 What better way to cure a raging hangover than with a spa day? And there's nowhere better than the Atzaro Spa. Set in the countryside, this spa is surrounded by lush gardens and orange groves.
Enjoy a massage, a facial or any of their other beauty treatments, and you'll leave feeling like a new person (or, at least, slightly more alive). If you can stomach a little bit of movement, there's also yoga, pilates and a sauna to make full use of.
Make sure you swing by Atzaro's on-site restaurant, La Veranda, for a bite to eat. There's something pretty magical about dining on farm-to-fork dishes as you hang out on a flower-filled veranda.
Top Tip: Book a full spa day and enjoy a treatment, and use of the facilities like the hammam, sauna, pool, etc., plus credit for food and drinks. Or stay longer and book a room at the spa hotel.
Wander Around Dalt Vila
Fancy a little bit of culture? Ibiza has it in spades. In fact, Ibiza's Upper Old Town – set inside ancient walls – dates back to the Renaissance era and is now a UNESCO World Heritage Site.
This is the perfect place to wander the cobblestone streets and soak in some of Ibiza's history.
The old quarter has residential homes, boutique stores and plenty of restaurants and cafes along with museums, galleries, and churches to admire. And, as you walk along the fortified walls, you'll come across plenty of lookout points that offer a whole new perspective of the island.
Top Tip: The only cars allowed to drive through these narrow streets are those belonging to residents. So wear comfy shoes and be prepared to travel mostly by foot while exploring Dalt Vila.
Hike the Cala Bassa / Cala Comte Circular Trail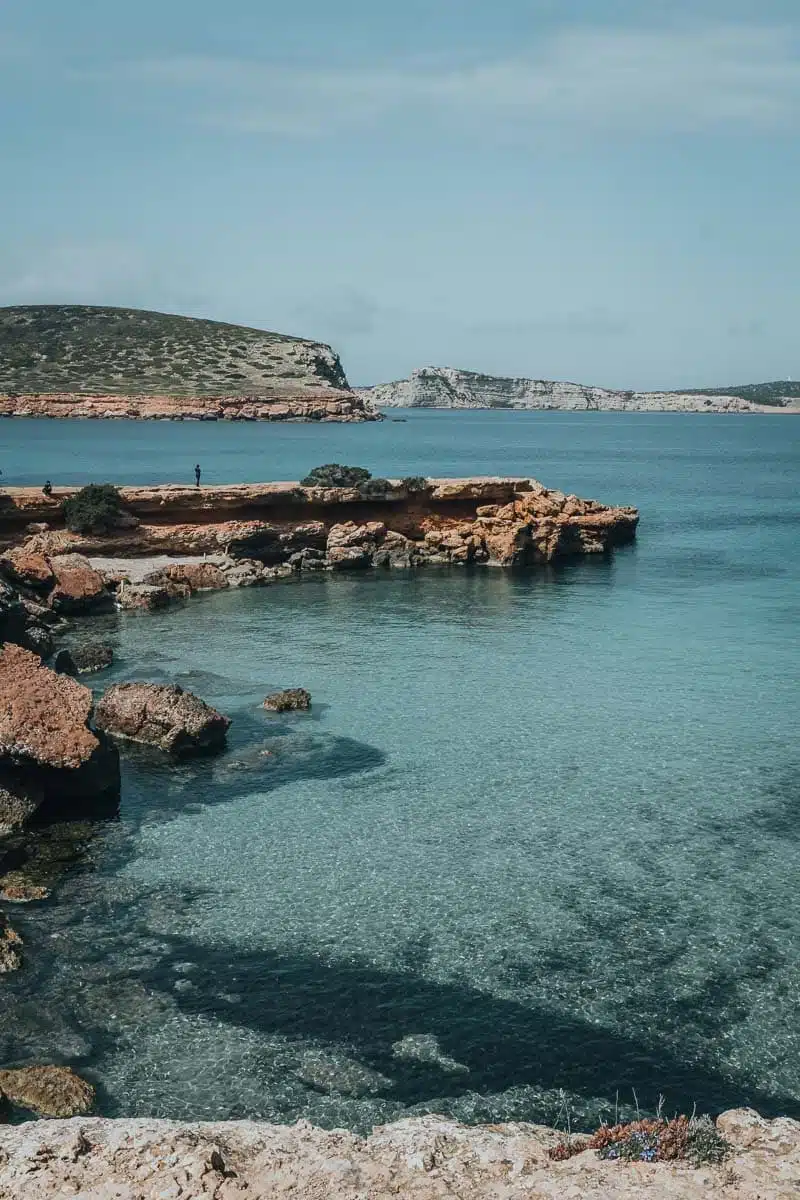 In between partying, eating and sunbathing, make some time to head out on the Cala Bassa Circular trail. It's one of the top hiking trails in Ibiza, taking you to three of the island's most beautiful hidden beaches across a 2 hour stint.
As you wander along the coast, you'll be treated to some pretty epic views – including the likes of the islets of Conillera and Cape Nonó's distinct peak in the distance. And you'll also pass the Torre d'en Rovira, one of the defensive watchtowers that dots the coastline.
The hike is classed as moderate but, to be totally honest, it's pretty doable if you can hike for 8 miles. Just remember to wear your comfiest hiking trainers (the Tropicfeel Geysers are my top pick) and bring plenty of water – the Ibizan sun is no joke.
Top Tip: Follow this handy trail map to make your hike that little bit easier.
Brilliant Things to See & Do in Ibiza
Catch a Sunset Over Es Vedra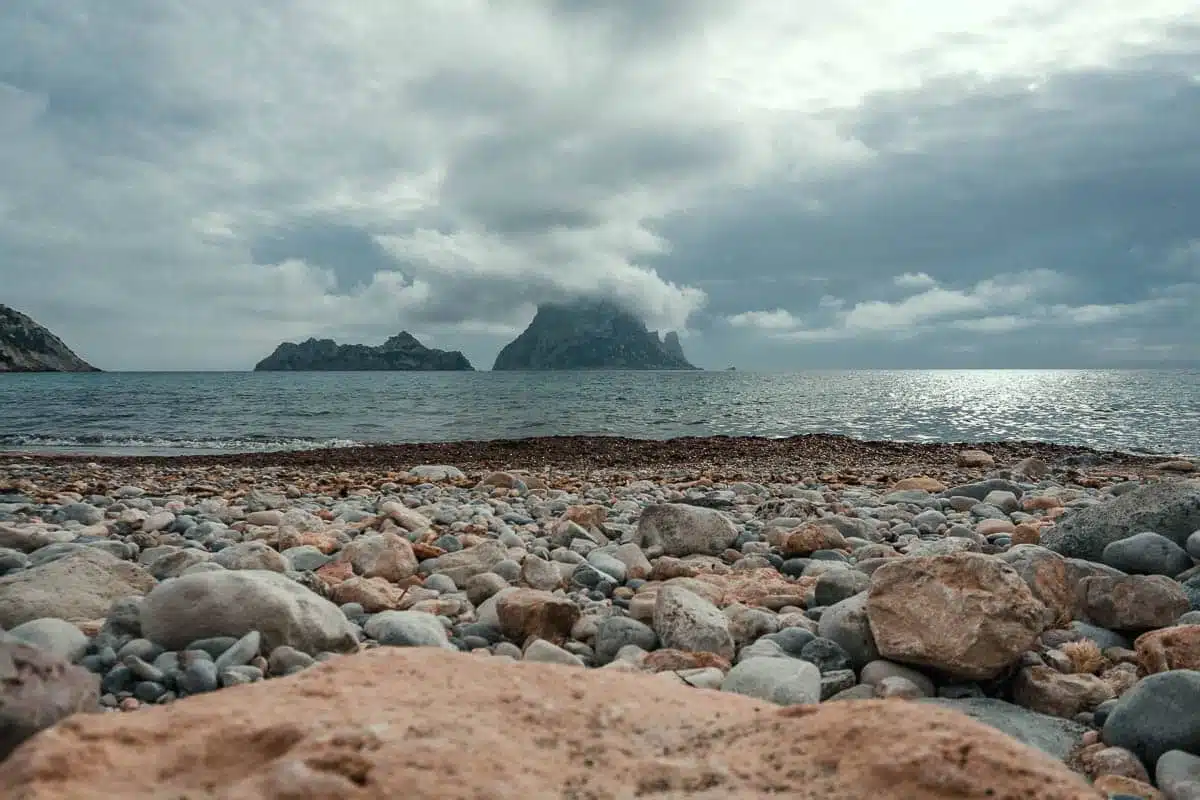 Sometimes when travelling, you'll come across a one-of-a-kind sight that imprints in your memory forever. For me, watching a sunset over Es Vedra was one of these kinds of experiences.
This islet off the coast is a huge rock formation jutting out of the sea, catching the warm rays of the sunset and creating an otherworldly view. The islet has long been a source of myths and legends for the people of Ibiza, and when you see it, you'll understand why.
To get the best view of Es Vedra, get high on the cliffs at Cala d'Hort and order a drink at Es Boldado, settling down before the sun begins to set.
Indulge in Lunch or Dinner at Okasan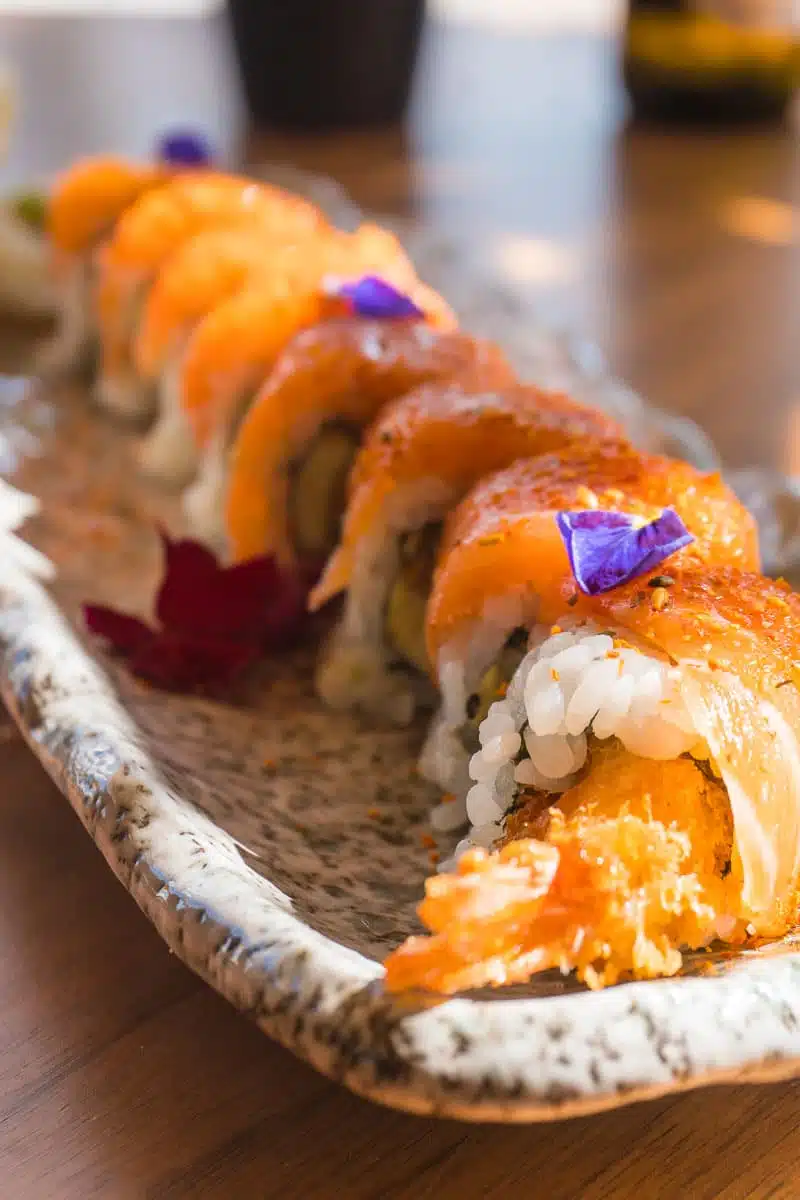 Plan lunch or dinner at Okasan in San Antonio for a delectable Japanese cuisine menu. Indulge in some of the best sushi in Ibiza, pair it with one of the restaurant's famed cocktails, and experience incredible views of the port and surroundings.
Find a seat on the outdoor terrace so you can enjoy the Ibiza air while you feast on food carefully created by the fantastic chefs at Okasan.
Visit Hippy Market
While Ibiza now has a handful of other hippy markets, it all began with Hippy Market Punta Arabí, which remains the biggest of them all. The market is open every Wednesday, and you'll find it inside the Es Caná resort.
Here you'll discover plenty of goodies to shop for, from souvenirs to handmade crafts and everything in between. The market also has a few bars and more than enough food to keep you fueled as you browse the vendor offerings.
This is an ideal way to dive more into the energy and culture of Ibiza and a fun way to spend a few hours.
Order a Seafood Paella at La Escollera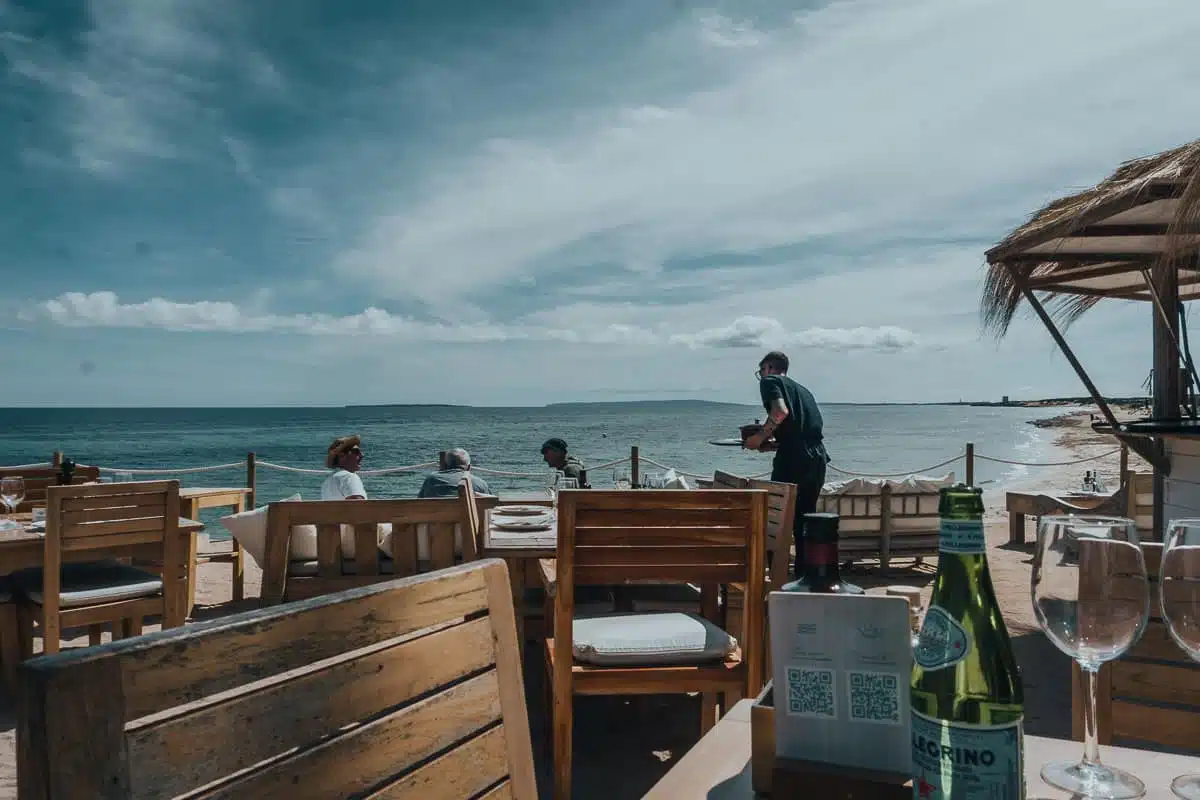 One thing's for sure – you won't leave Ibiza hungry. The island has so much good food, but you can't leave until you've tried the Seafood Paella at La Escollera.
The restaurant is a family affair, and the paella recipe comes from the granny's 30-year-old recipe. Locals rave about the food here, which should tell you all you need to know. And visitors to the island can appreciate the views over Es Cavallet beach along with the irresistible food.
Even if you're not a paella fan, the authentic Spanish meat dishes, sushi, green curry or even vegan paella will delight you all the same.
Go Bar Hopping in Old Town
As I've mentioned, I don't think you should visit Ibiza without at least heading to a couple of the nightlife spots. If the clubs are a bit too crowded, then bar-hopping across the island may be more your style.
You can do this on your own, stopping off at some of the more famous bars on the island. But there are also guided pub crawls available, which allow you to join a group, make friends and gain insider knowledge as you visit different bars. You also won't have to worry about safe transport between bars and to your hotel.
Pssst… Did you know that Spain has the most bars in Europe? Learn more facts about Spain before you visit.
Give Parasailing a Go
Ibiza offers some of the most amazing views of the Mediterranean Sea from almost anywhere in the country, but you can also get a bird's-eye view if you're up for an adrenaline rush. Take a tandem ride 400 meters above the ground and feel the wind in your hair.
This is especially amazing if you book a sunset parasail — just over 10 minutes in the sky and you'll have a whole new perspective of Ibiza. Whether you're a thrill-seeker or simply seeking a unique view of the island, parasailing in Santa Eulària des Riu offers an unforgettable experience.
Tour the Historic Village of Santa Gertrudis de Fruitera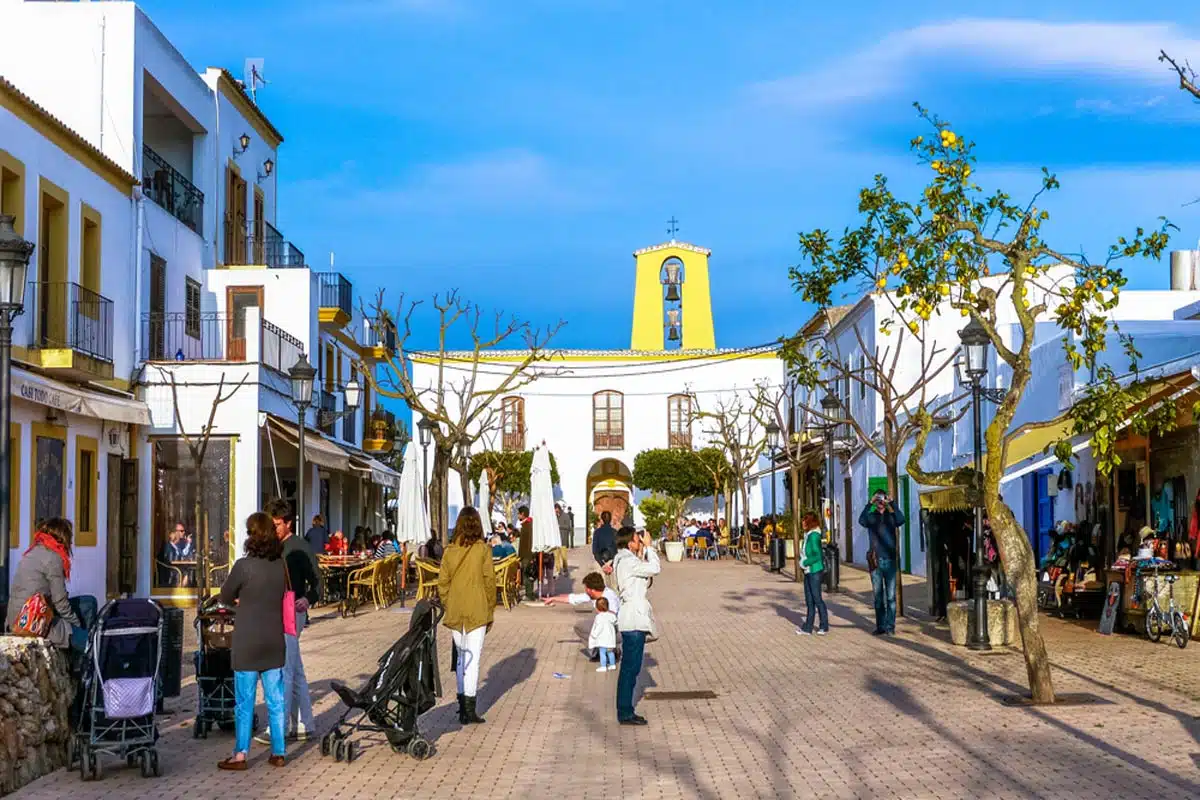 Let me tell you: locals don't call Santa Gertrudis de Fruitera 'Ibiza's Notting Hill' for nothin'. It's considered the Bohemian centre on the island. And while it's a small village, it offers so much to see.
The town gets much of its aesthetic from the Bohemian escapees that made it their home in the 60s and 70s. The crowd is mostly young couples and families, with an abundance of restaurants, art galleries and small shops adorning the bougainvillea-lined streets. AKA it's my favourite place to hang out on the entire island.
Admire Puig de Missa Church
Standing on a hill since the 16th century, Puig de Missa is a stunning landmark in Ibiza. The fortified church has seen – and been involved in – much of the island's history, and visitors come all year round to learn more about that.
You can visit this magnificent white building in Santa Eulària des Riu every day from 10 am to 8 pm. It's a bit of a steep walk to the top of the hill, but it's so beautiful that you'll barely notice the trek as long as you have comfy walking shoes.
Cliff Jump at Cala Tarida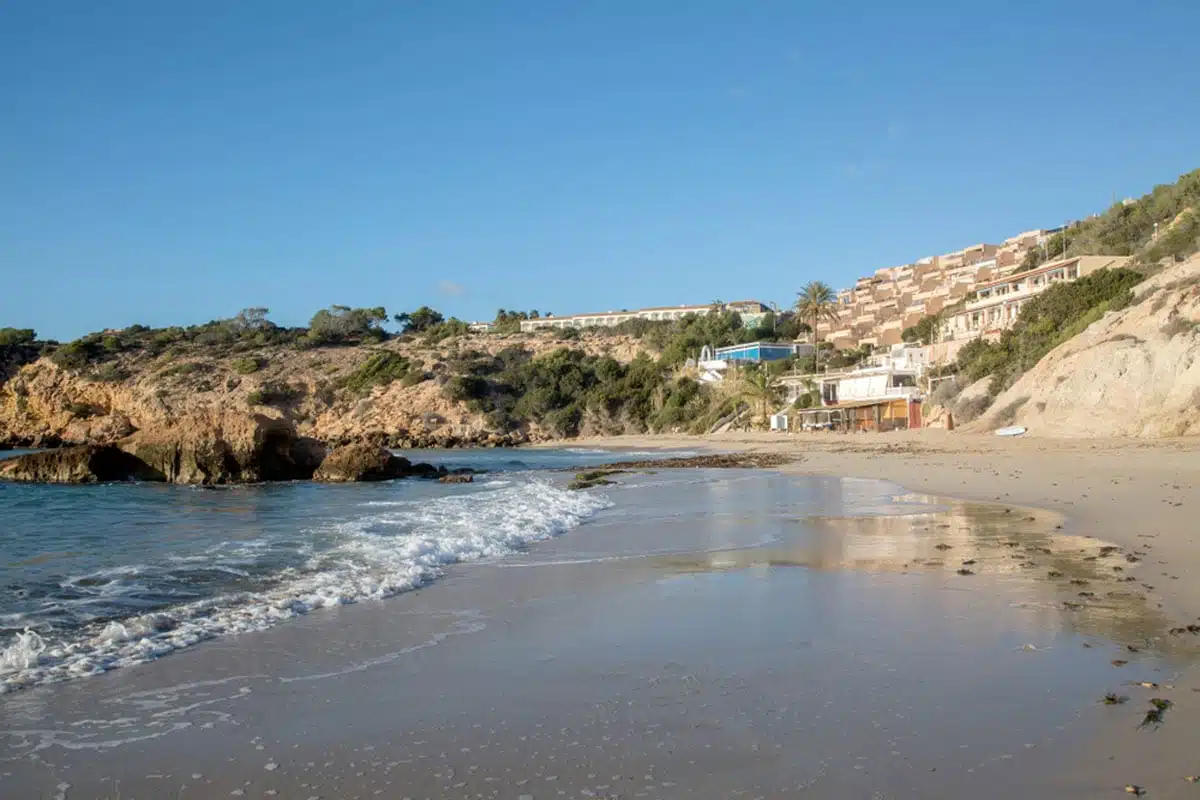 Why not get your blood pumping while in paradise? Cala Tarida is a popular spot with beach bars and water sports on offer, but there's a slightly more unique experience to be had here.
From the beach, you can swim out to a quiet islet with cliffs reaching about 8 metres above the sea. It's here that many adventure-seekers will climb up just to dive right into the stunningly clear water.
And when you're done, you can reward yourself with a refreshing drink on the beach. Sounds good, right?
Hop Into the Saddle at Ibiza Horse Valley
Looking for something wholesome to do in Ibiza? Look no further. On the northern side of the island, Ibiza Horse Valley is home to rescued horses and has become a sanctuary for the broken and mistreated.
But, don't worry – you don't need to be a seasoned rider to visit these beautiful animals and take a ride out into the forest.
The sanctuary offers tours throughout the year, which you can book before arriving and enjoy a tranquil ride out into the surrounding area. While here, you'll get to meet the other horses and learn about what the sanctuary does and how you're supporting them.
Soar Over Town in a Hot Air Balloon
There are a few places in Ibiza that offer hot air balloon rides, but I'd suggest you head to the busy San Antonio. This allows you to take flight over the coastline, view the cliffs and quiet waters, and then watch the crowds below you.
Some hot air balloon rides may take off from Ibiza Town, providing a unique perspective of the historic cityscape, ancient fortifications, and the sparkling Mediterranean Sea. Either way, you're guaranteed a magical experience.
Kayak or Stand-up Paddle Board Over the Turquoise Waters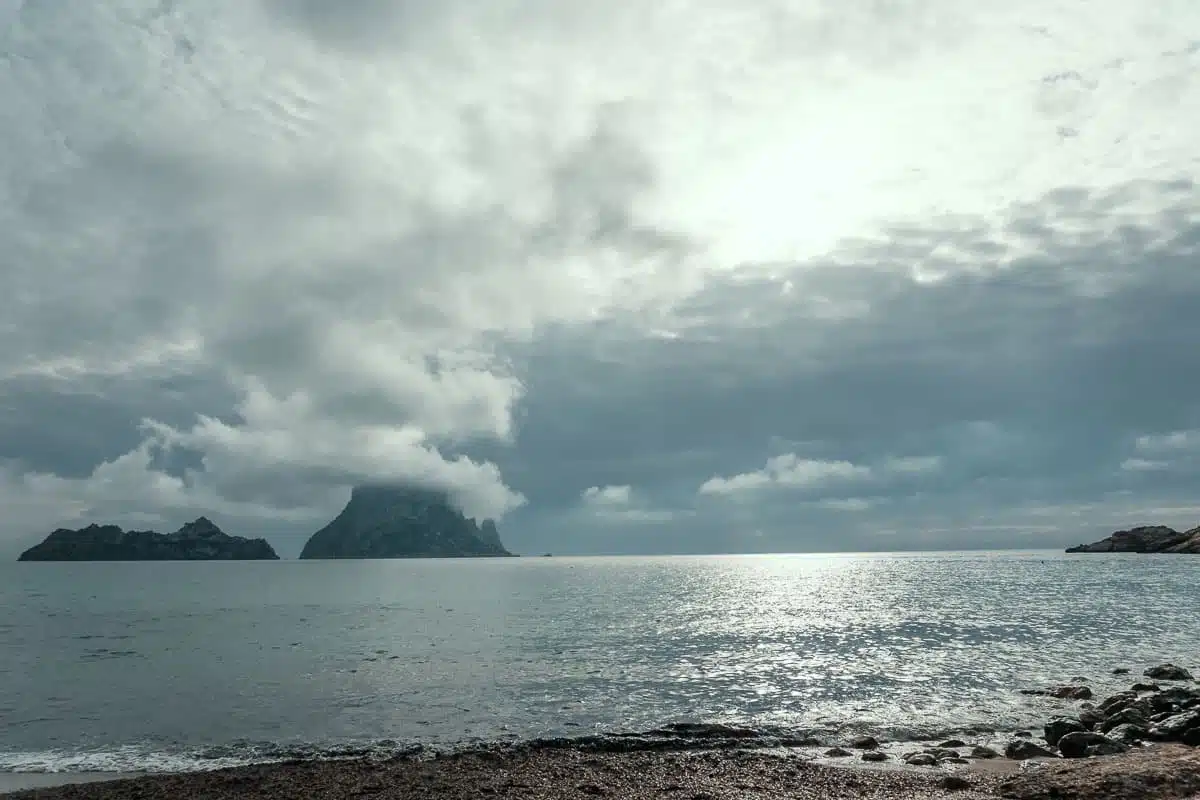 It's obvious that you can have plenty of fun on dry land in Ibiza, but don't miss out on the water-based fun as well. The clear turquoise seas offer the ideal place to go SUPing or take a kayak out.
Start your water adventures from Cala Bassa after a laze on the beach, or take off from San Antonio Bay, following the iconic sunset strip. You can take a guided kayaking trip too, for an even better experience.
Stroll Through the Streets Filled With Art
There are many streets in Ibiza containing buildings decorated with captivating murals and street art. There are also thought-provoking sculptures and installations that tell stories of the island and the brilliant minds that live there.
You can fit this activity in simply as you walk from one attraction to the next, but I'd suggest carving out some time to find as many of these artworks as you can. Take a bike tour to discover hidden gems in intimate galleries and stumble upon impromptu street performances.
Find The Captivating Natural Caves Of Can Marçà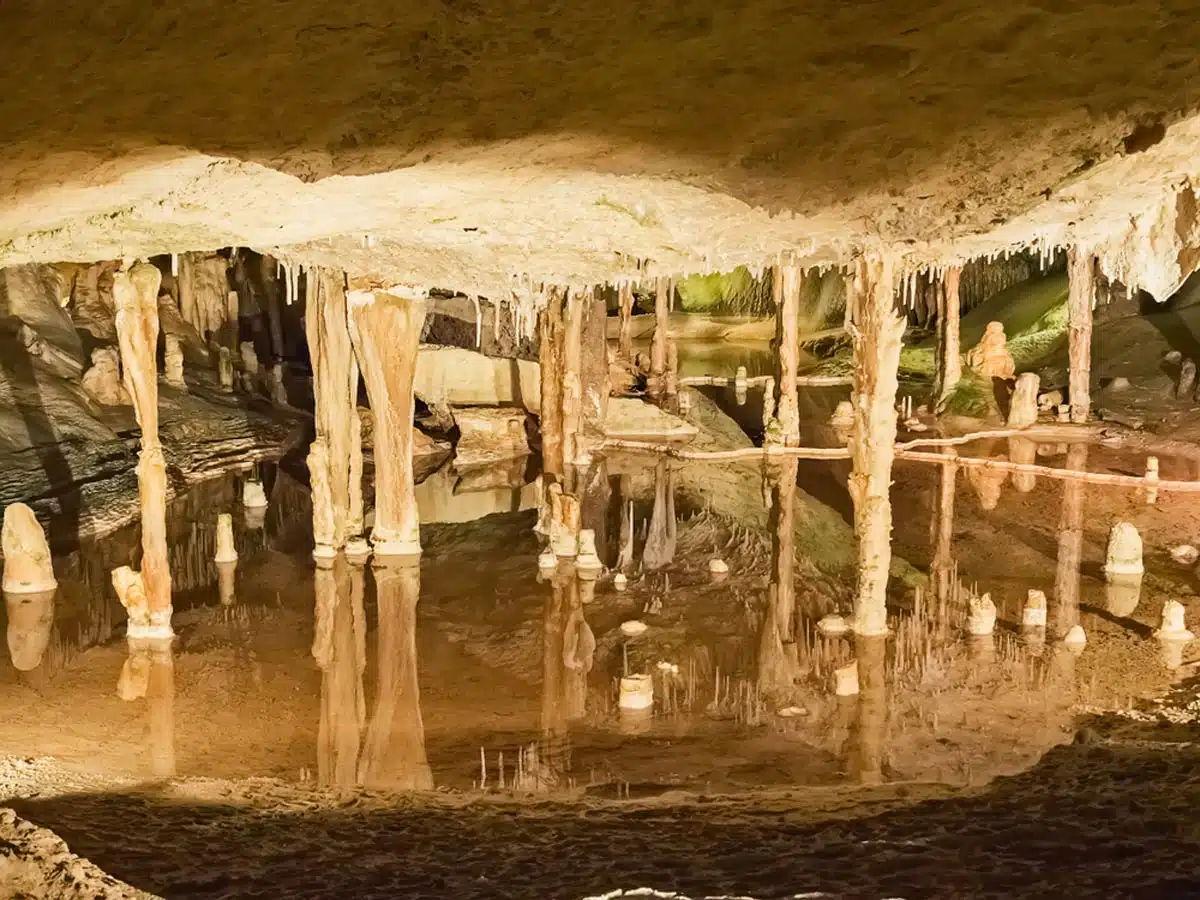 Heard of the Natural Caves Of Can Marçà? These caves are over 100,000 years old and were once the smuggle caves of pirates.
They're now a popular tourist attraction and a great way to spend a day in Ibiza. About 25 km from Sant Antoni de Portmany, these caves hold a treasure trove of natural history.
Over the years, the elements have created unimaginable formations inside the caves. And when standing inside, you get amazing views of the bay. The walk through the caves is about 40 minutes long, but it's quite easy for able bodies.
You can reach the caves by car or by taking a local bus or taxi — although there are also guided tours which offer you a more insightful visit.
Unique Things to See & Do in Ibiza: Hidden Gems That Are Off The Beaten Track
Check Out Cala D'en Serra Nature Reserve
If you're looking to explore Ibiza's natural side, a visit to Cala D'en Serra Nature Reserve is a must. Even better, this haunt is often only populated by locals, so you can escape the hordes of tourists and enjoy a side of Ibiza that visitors don't often see.
Set around a stunning cove, this nature reserve features dramatic viewpoints (often described as the end of the world) and plenty of lush landscape to hike your way through – and snap plenty of photos of.
The beach below is ridiculously beautiful, with azure water lapping at the white sand, while the epic hiking trails that surround the nature reserve are well worth a few hours of your time. Don't forget to check out the street art at the abandoned hotel by the beach either.
Top Tip: If you head up to a higher point in the park and can see that there are few people in the water, don't go swimming – there are often jellyfish in the area (and you should totally do as the locals do and avoid).
Spend Some Time at the Puig des Molins Museum and Archaeological Site
Take a short break from the usual Ibiza entertainment and head to this fascinating museum on an ancient archaeological site. The oldest preserved cemetery in Ibiza, Puig des Molins is a Unesco World Heritage Site and has over 3000 tombs.
When visiting, you'll have access to around 300 of those tombs. The tombs are hypogea-shaped and have been carved into the rock — part of why this site is so mesmerising. It's common belief that these tombs were meant for nobles, to keep their graves safe from thieves.
There is a small fee to enter the museum, but inside are exhibits and collections of jewellery, figurines and other artefacts that were found in the tombs.
Take a Boat Excursion to Formentera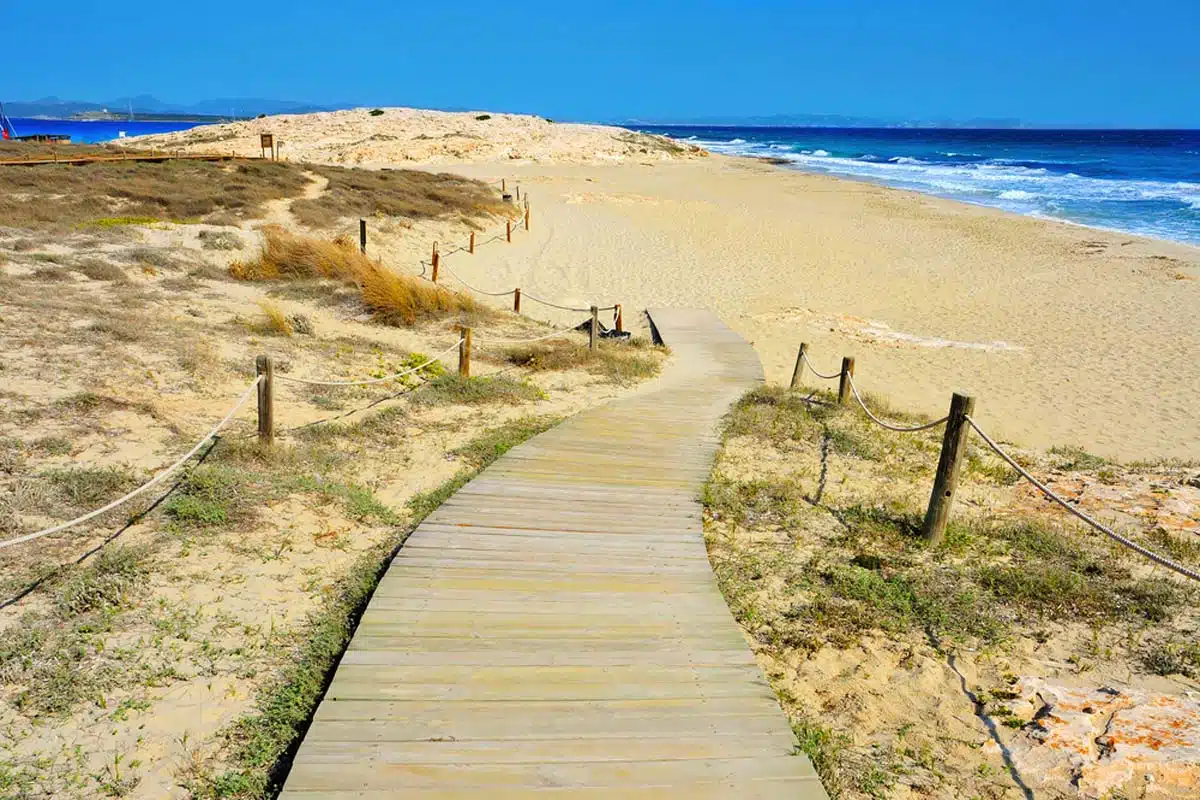 Think you've seen all of Ibiza? Why not head to Formentera for a chilled-out day trip?
Formentera is a small island in the Balearic Islands archipelago in the Mediterranean Sea, near the coast of Ibiza, Spain. You can enjoy the beaches here and, more importantly, some incredible snorkelling opportunities.
It's accessible from Ibiza ports, including Ibiza Town, San Antonio or Playa d'en Bossa. These boat tours will transport you to Formentera, stopping off at beaches and coves along the way.
Escape to Cala Codolar
It may be harder to find this secluded beach on the west coast near San Antonio, but that's the point, really.
Cala Codolar is a clean, inviting piece of sandy shore that many people don't immediately know about. It's also not quite on the tourist path — down a dirt road — and has very poor signage.
So if you're needing some time away from the Ibiza crowd, this little spot is ideal. That said, there is parking and even a restaurant here with rented pool loungers and portable toilets, so you won't be entirely desolate.
Explore Ses Salines Natural Park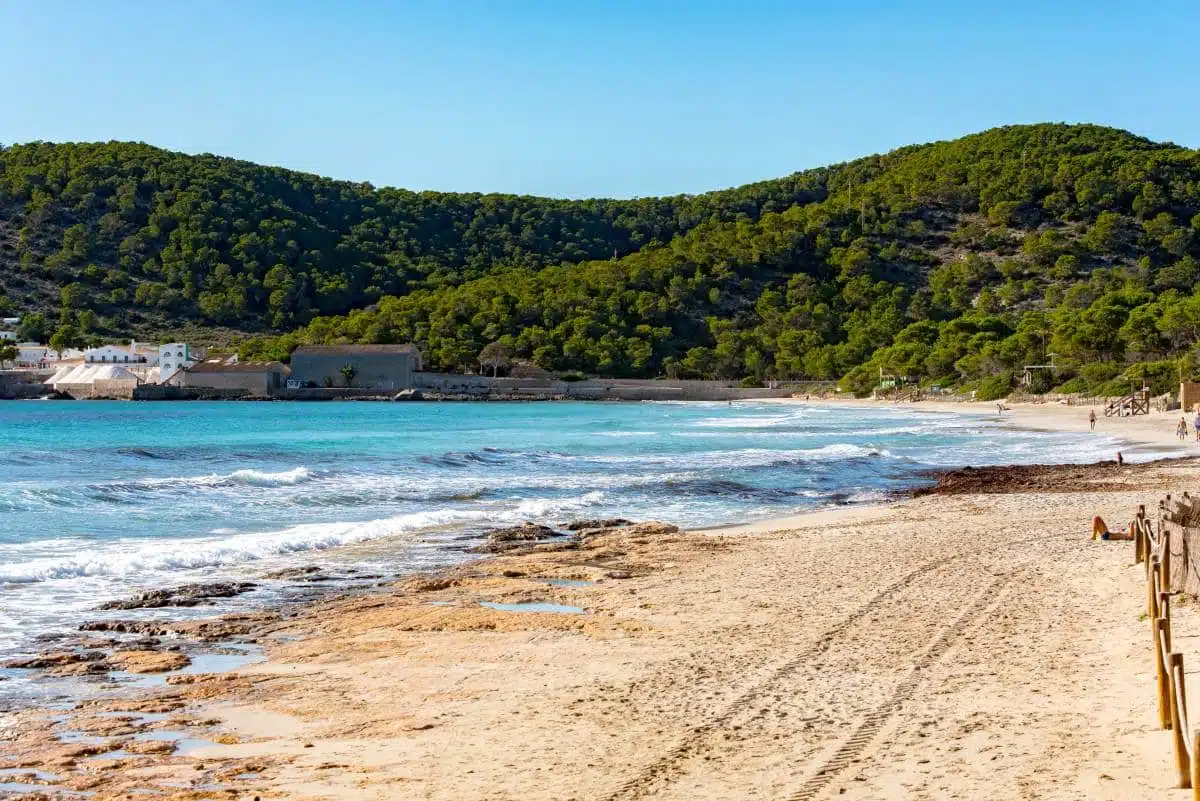 Ses Salines Natural Park, stretching from Saint Joseph to the north of Formentera, is a little bit of a hidden gem in Ibiza. This is a massive piece of diverse natural space that boasts salt ponds, hidden coves and preserved landmark buildings that you need to see.
If you're looking to go hiking in Spain, this is a good start as the walk will be scenic and not too strenuous. There are also numerous bird-watching spots through the nature reserve, where you can see the likes of flamingoes stretching out under the sun.
Stop to See Time & Space By Andrew Rogers
Ibiza is full of weird little gems, but none are quite as kooky as this next spot. You'll find the Time & Space monument in Cala Llentia, on the west coast, near the beaches of Cala Codolar and Cala Conta. This idyllic location provides a stunning backdrop for the sculpture installation.
Take a moment to pause and marvel at (and, let's face it, take a photo of) the captivating artwork by Andrew Rogers. Each sculpture represents a different symbol and serves as a meditation on the concept of time and the interconnectivity of human existence.
I'm not quite sure I'm smart enough to understand it, but it's fun to look at.
Seek Out Ibiza's Defence Towers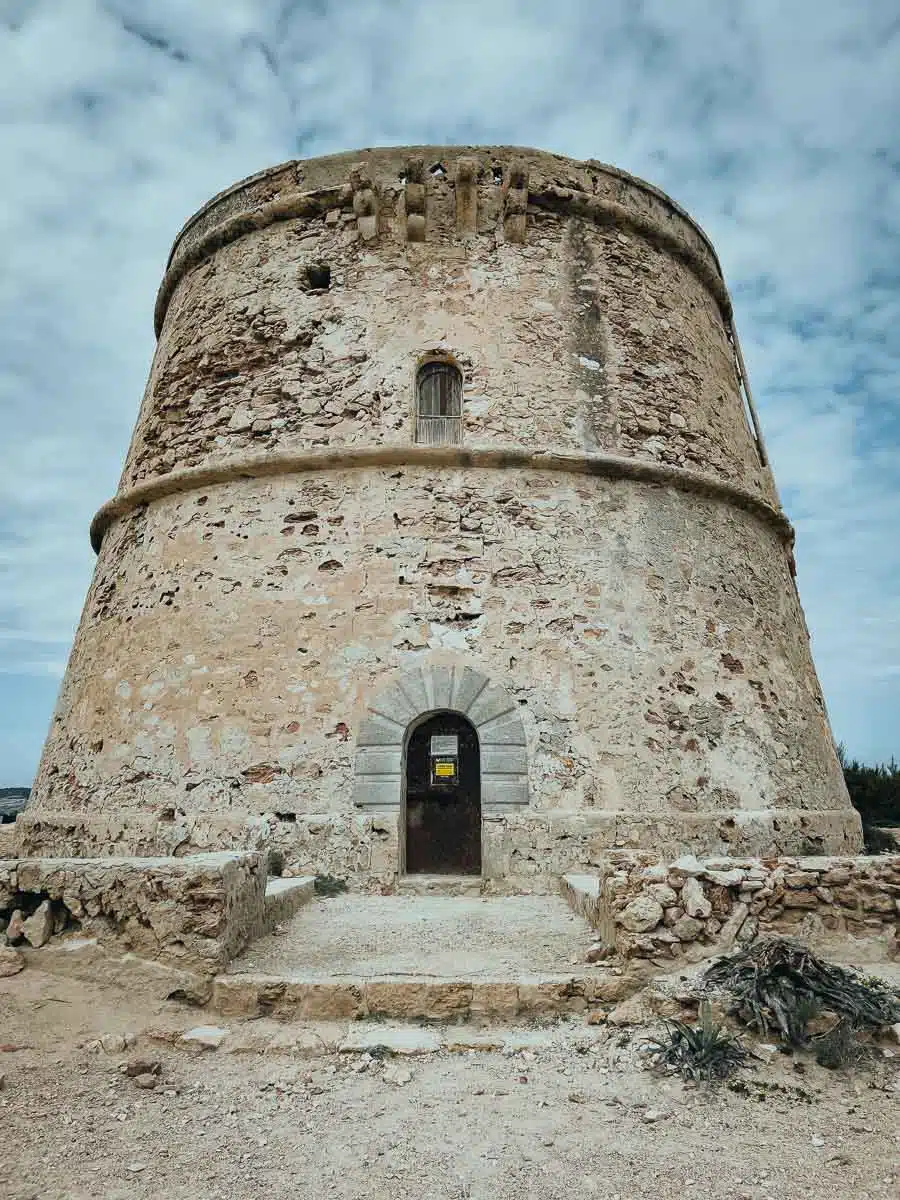 Ibiza has a long history of being targeted by pirates, which explains a lot when you look at how the towns have been built. One thing that the island still has quite a few of is the defence towers that helped keep the residents safe.
Climb the ancient city walls of Dalt Vila and discover the fortified towers, such as Torre dels Comtes or Torre de ses Taules, which provide panoramic views. As you venture along the coast, watch for the remaining defence towers, such as Torre de Sal Rossa or Torre des Carregador.
Top Tip: Joining a guided tour will ensure you don't miss any of these remarkable structures.
Book an Open-Air Jeep Safari
If you think you've seen all of Ibiza by now, think again. Buckle up on a Jeep safari tour and venture into hidden corners of Ibiza that are inaccessible to regular vehicles.
With skilled driver guides, you'll be able to go through off-road trails and end up in almost magical spaces that you won't get to see any other way. From hidden beaches to preserved traditional villages, jeep tours offer a way around the island that opens up a myriad of new sights.
Things to do in Ibiza: Practical Tips for Your Trip
Where Should I Stay in Ibiza?
Pikes Ibiza (Mid-Range)
In the heart of Ibiza, Pikes offers a unique stay with its rich cultural heritage, eclectic decor and vibrant ambience. With its storied musical history and renowned parties, this legendary boutique hotel promises an unforgettable experience.
TRS Ibiza Hotel – All-Inclusive Adults Only (Luxury)
TRS Ibiza is a luxurious adults-only resort situated in a stunning beachfront location. Its modern design, spacious rooms and serene atmosphere offer a perfect retreat for relaxation. Not to mention that it's an Instagram DREAM.
Recommended Tours in Ibiza
Things to do in Ibiza: Map
Read More Spain Travel Guides
Love This? Save and Share on Pinterest