Understated luxury is very much on the cards at Tamarind Hills, Antigua's hottest boutique escape. Read on to discover my experience and why you need to book yourself a stay there ASAP.

Antigua is a wildly popular location for couples, cruise ships and solo travellers visiting the Caribbean.
Why? Well, it might have something to do with the white sand beaches overlooking cerulean waters. And those waters, home to tropical fish, coral reefs and ageing shipwrecks, are an excellent choice for soaking up some sun.

What's not to love? The food is delicious, the people are chill – not to mention the abundance of swish resorts in Antigua that make the perfect base for your stay. Tamarind Hills is one such option.
I was lucky enough to bed down there recently. And, let me tell you, it didn't disappoint.

The gorgeous property spans two of my favourite beaches on the island, giving you convenient access to both. But location is only a small part of what makes this resort a must-book when you visit Antigua.
Read on to discover my thoughts on Tamarind Hills. Spoiler alert: I loved it.
Tamarind Hills, Antigua: At a Glance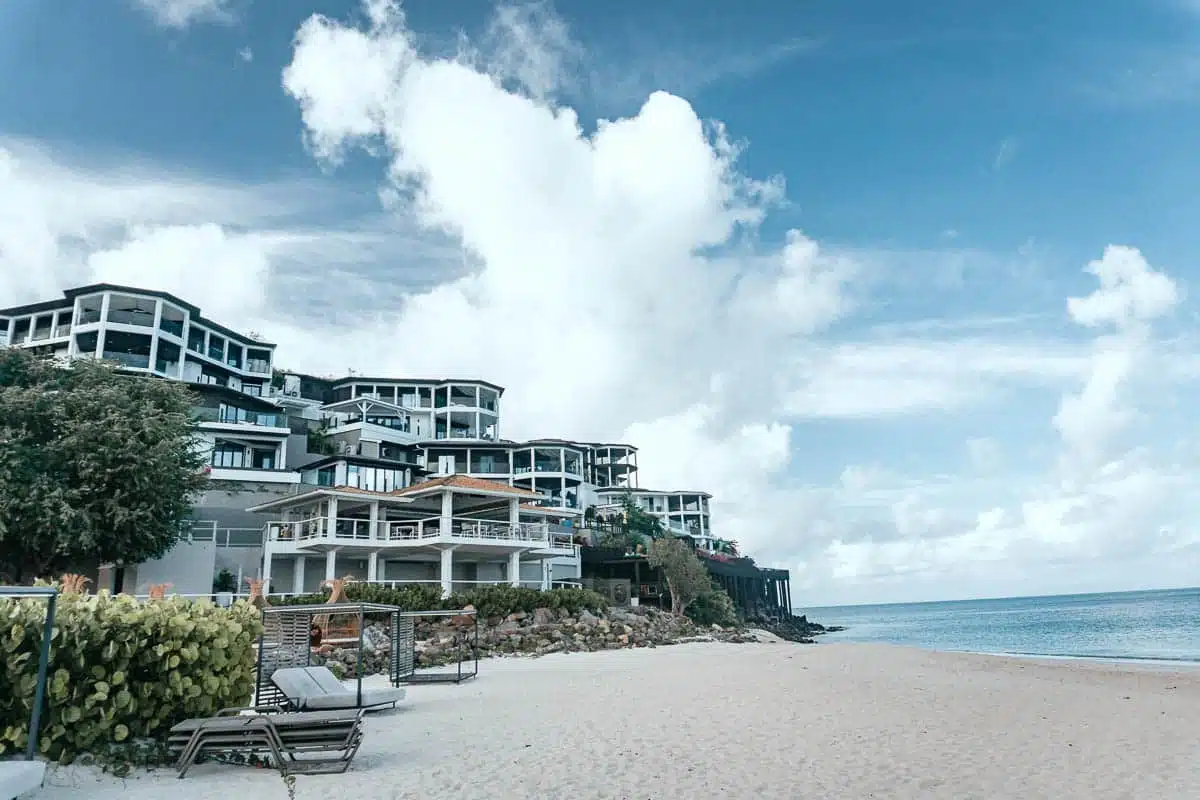 Like I said, there are A LOT of excellent hotels in Antigua. Forget them – and make a beeline straight to Tamarind Hills.
Hear me out. Imagine waking up in a modern luxury villa overlooking Ffryes Beach while sipping some of the best coffee you'll ever taste from your private terrace. Sound idyllic? That's because it is.
Put simply, if you're looking to stay in a luxury boutique hotel that forgoes the stuffiness of usual 5-star resorts, Tamarind Hills is an ideal option.
Tamarind Hills: The Full Review
Location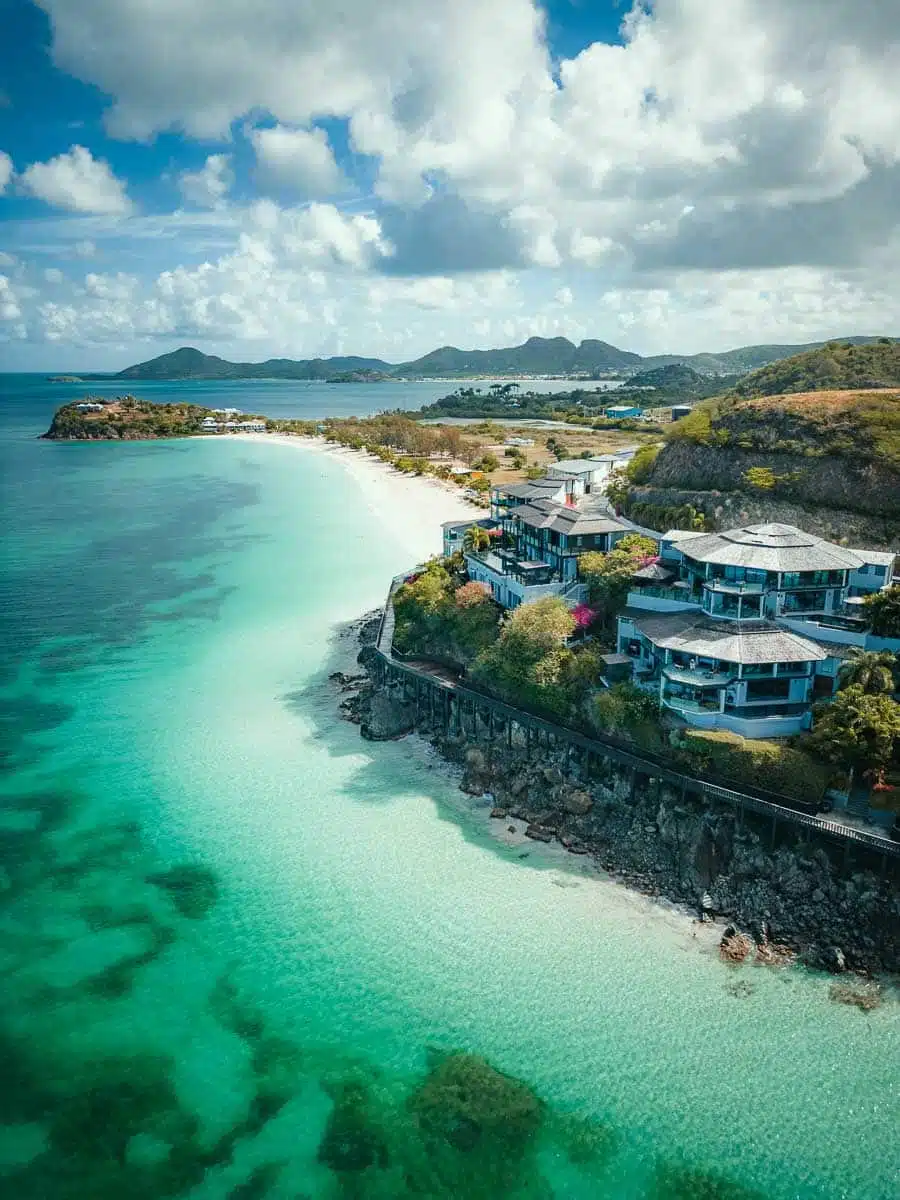 The location of Tamarind Hills is a huge selling point. It sits on – not one – but two beaches.
What does that mean? It means that the resort's luxury suites and villas cling to the hillside overlooking the gorgeous coastline. And the views from your room are guaranteed to be mega.
So how do you get to this little slice of paradise in the Caribbean? Fly into VC Bird International Airport, hire a car and drive about 45 minutes to the private parking lot at Tamarind Hills. Easy enough if you ask me.
Rent a car through Rentalcars.com
Style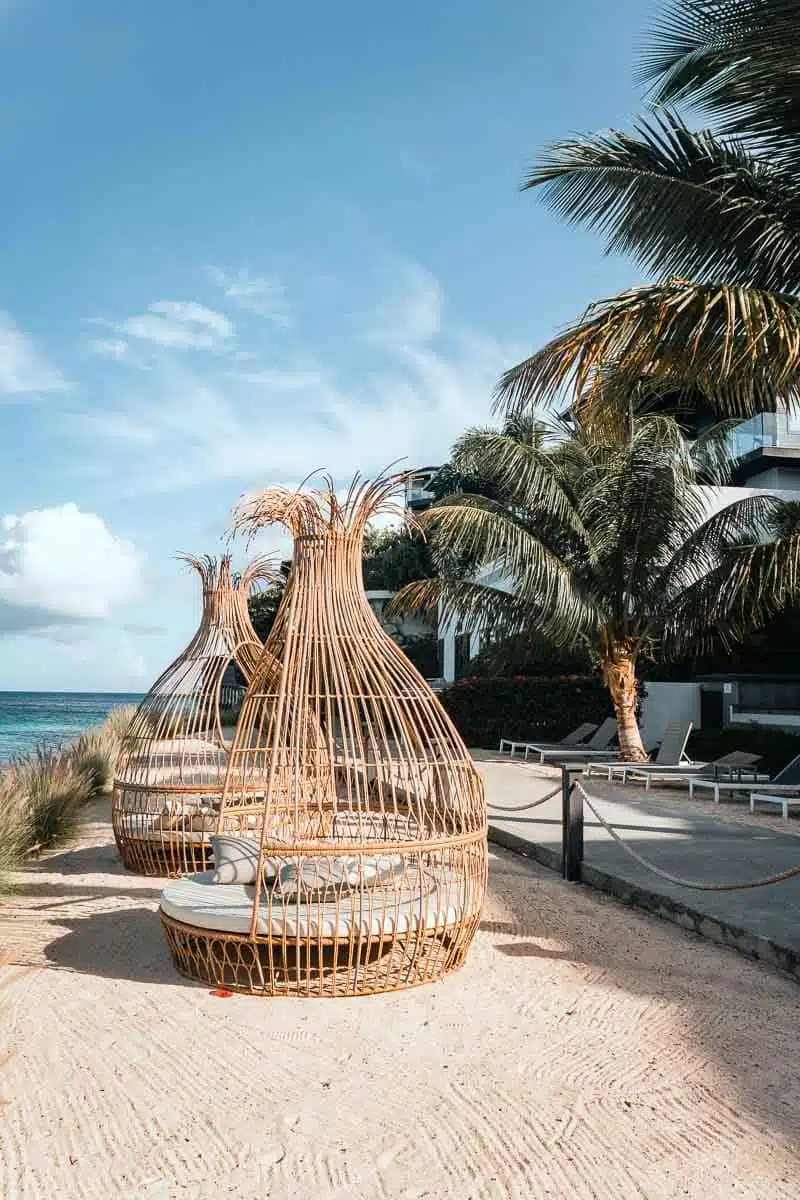 Because the villas are tucked into the dramatic coastal hillside, the unique architectural design is much more impressive from the ocean-facing vantage point than when you arrive by car.
Inside the all-suites resort, there are lots of natural touches like textured wooden tables, geometric separators and woven rattan decorations adorning the walls. Statement woven lampshades and kitchenettes in every room are a nice (and homely) touch.
The outdoor space was no afterthought either, but instead, the focal point of Tamarind Hills.
There are countless spaces where you can relax alfresco, including shaded day beds, chillout pods and obligatory sun loungers that give you the choice of soaking up the sun or escaping the tropical heat.
Tamarind Hills has a country club level of luxury balanced with the laid-back personality of a Caribbean beach house. It announces itself as the place to spend a week in Antigua with zero apologies.
Rooms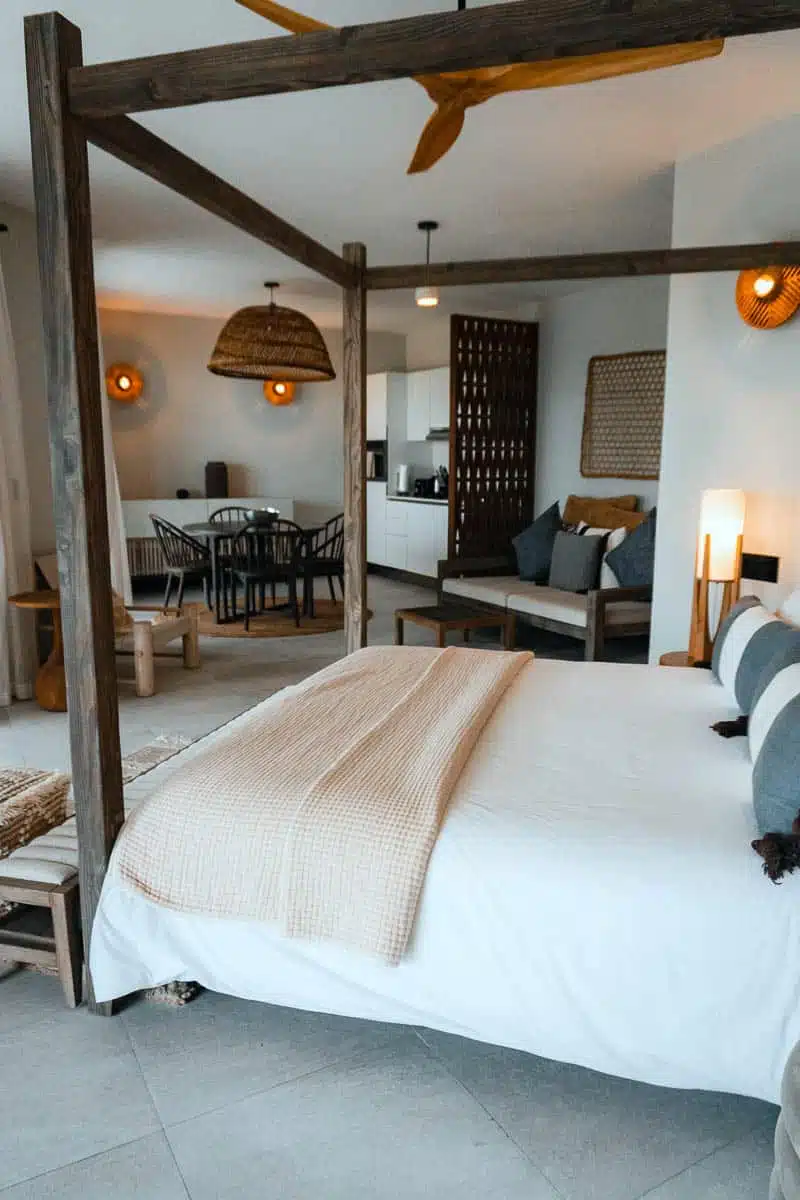 You can choose beachfront, oceanfront or ocean-view suites – equipped with private hot tubs or plunge pools on balconies where you can spend your evenings appreciating the finer things (like epic ocean views).
Hand-crafted chairs and four poster beds provide a sophisticated Caribbean cool that made me fall in love in mere seconds. The bathrooms are equally spacious and stylish – the huge shower and contemporary bath are perfect for chilling out in at the end of the day.
The contemporary luxe villas are pimped out with kitchenettes and coffee makers, so you don't need to fuss with breakfast plans. And I'm not talking about your run-of-the-mill Keurig machine. There's plenty of seating around the kitchen island, but if you're like me, you'll spend most of your time on the private patio.
In the living room, sliding glass doors let you walk right outside (God-tier coffee in hand) and take in the picture-perfect scenery around you.
After the sun goes down, the flat-screen TV and high-speed WiFi will keep you plenty entertained before tomorrow's hiking or fun in the sun.
Experience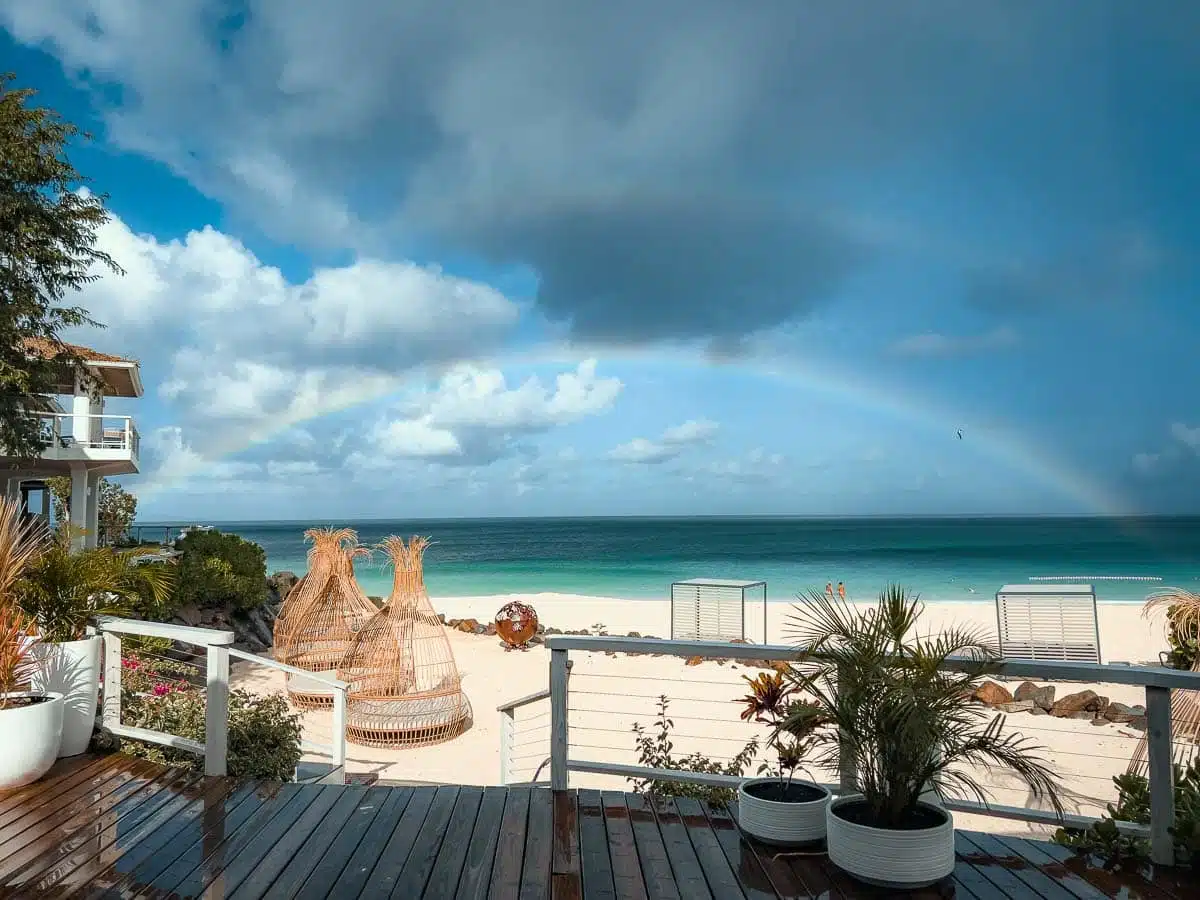 As I said, Tamarind Hills takes full advantage of its location in a tropical paradise. Head down to Tamarind Hills Beach Club and enjoy a saltwater infinity pool, poolside cocktail bar and trendy restaurant.

Or if you wake up and feel like connecting your body and mind to the Caribbean breeze, try a Yoga or Pilates workout on the house. For guests who fancy some cardio or want to keep up with their gains while on vacay, the fitness centre has everything you need, from dumbbells to ellipticals.
Nature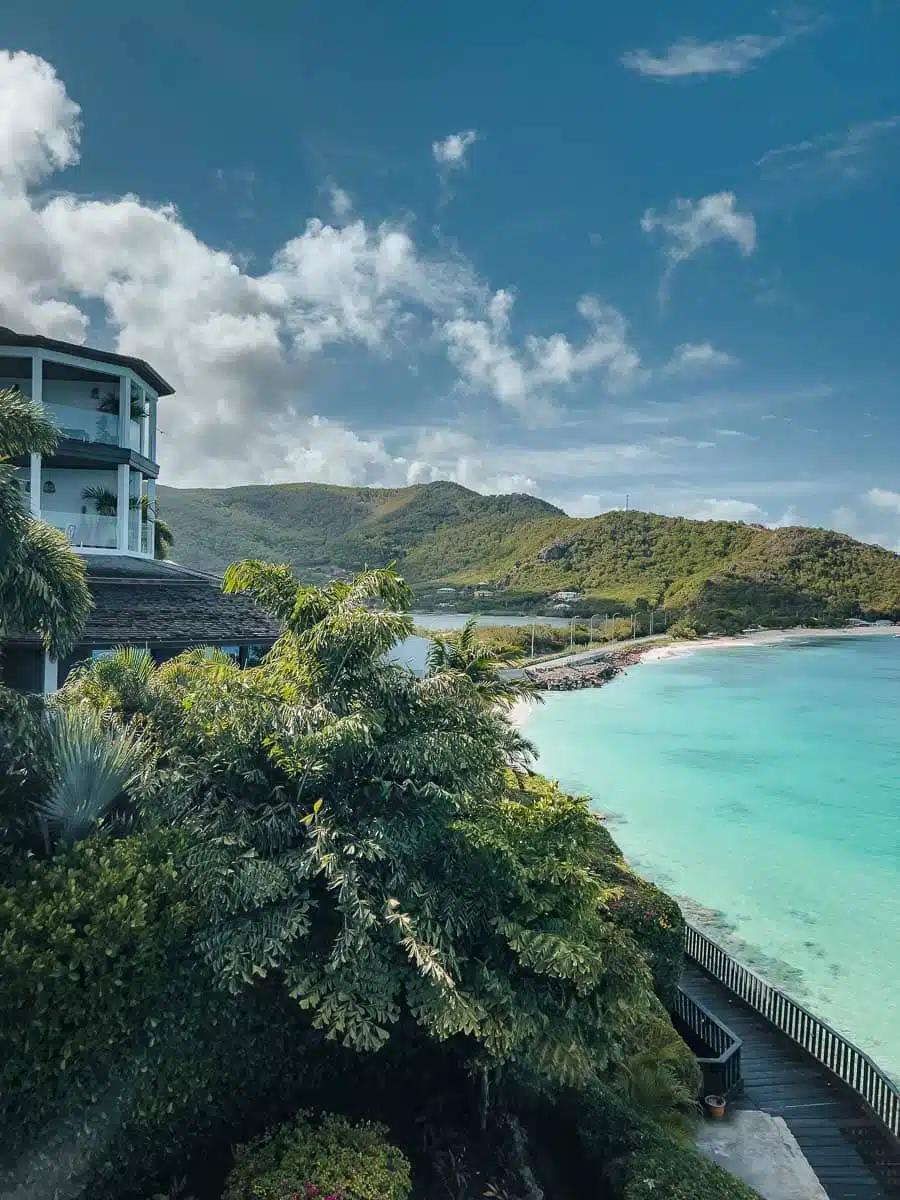 Sitting between Ffryes Beach and Darkwood Beach puts you right in the middle of some of the most storied real estate in Antigua. But the white sands and sparkling blue waters aren't the only views of Mother Nature you'll enjoy here.
Head underwater and discover the sunken reef off the coast of Darkwood Beach. So cool. You can also arrange a hike with the staff at Tamarind Hills and educate yourself about the wildlife and plants in the nearby hills.
Whatever you end up doing near Tamarind Hills, I guarantee you'll want to spend as much time outside as possible.
Food & Drink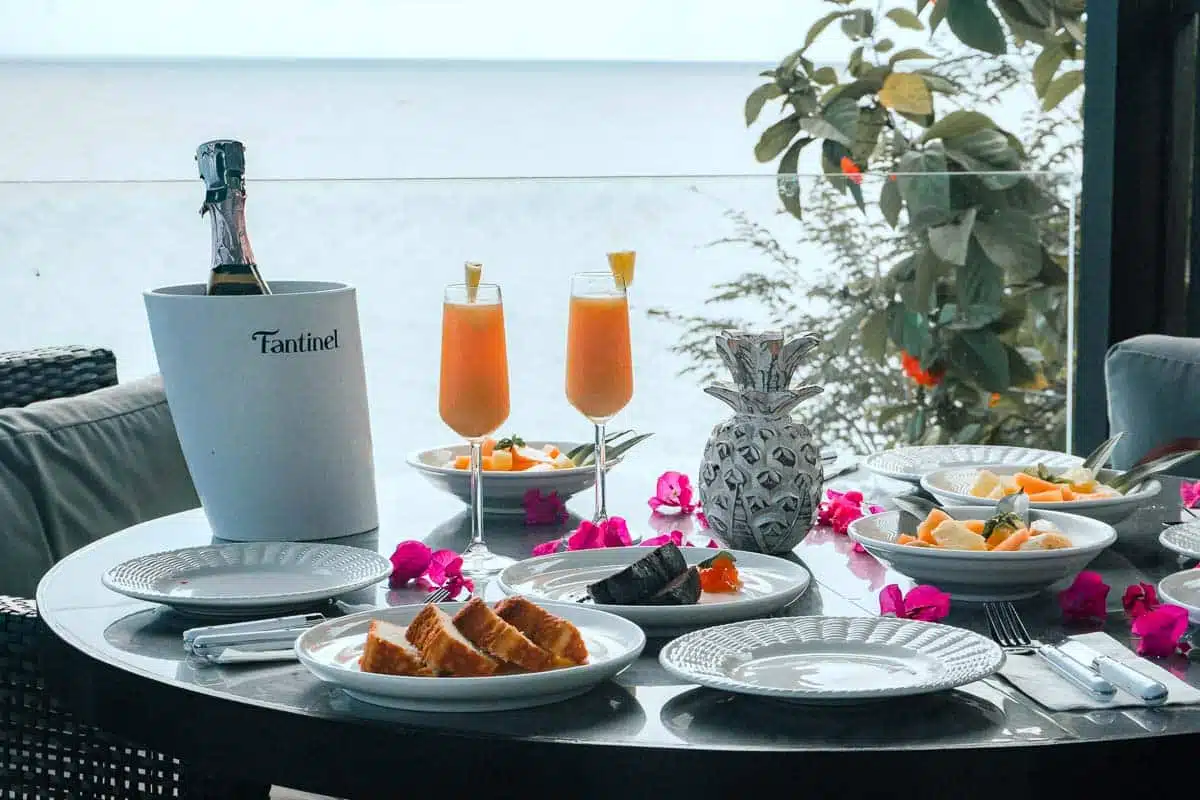 I'll be first to admit that I'm not usually a huge fan of hotel restaurants. Some are perfectly fine, don't get me wrong, but when I'm staying in a place with epic restaurants like Antigua, all I want to do is explore local favourites.
That said, I really enjoyed the food at Wild Tamarind.
The eclectic menu features inspired dishes with Mediterranean, Middle Eastern and Caribbean influences – and I didn't find a flaw in a single plate or presentation. And while I enjoyed everything I tried, seafood shines here, with choices like Cipriani Love Lobster and Catches of the Day being standouts.
The real highlight, though, was breakfast in the open-air restaurant upstairs. Nab one of the seats with a view and munch on your breakfast in peace – there are few better ways to start the day.
Breakfasts range from traditional Full English plates to healthier options such as a salmon bagel. And, while I'm far more likely to opt for the latter, it's nice to have a varied choice throughout your stay.
Fact File: Tamarind Hills Review
What Types of Plugs Are at Tamarind Hills?
Like most resorts in Antigua, you'll find Type A and Type B plugs in suites at Tamarind Hills.
Is Tamarind Hill Eco-Friendly?
Tamarind Hill plumps itself as an eco-conscious escape. I loved the organic bath products, locally sourced food and wellness-minded activities. Tamarind Hills is ideal for travellers who want to connect with the idyllic nature around them.
Which Currency Does Tamarind Hills Take?
You can pay with a credit card, the Eastern Caribbean Dollar or US Dollar at Tamarind Hill. Just keep the conversion rate in mind when looking at prices.
Booking Your Stay at Tamarind Hills
If you want to book directly with the hotel, you can, and they offer plenty of information on each type of suite.
Alternatively, book your stay through Booking.com
Tamarind Hill Antigua: Map
I was hosted by the Antigua & Barbuda Tourism Authority for my trip to Antigua. As ever, all thoughts and opinions are my own.
Tamarind Hills, Antigua: Read More Caribbean Guides