Deciding on the best things to do in Antigua? From learning to cook like a local to heading out on a sunset cruise, this helpful guide helps lay out some of the best activities in the Land of Sea and Sun.
Guys, if Antigua isn't already on your bucket list… It's time to add it. I just returned from a trip (most of which was spent eating, drinking and cruisin') and it was seriously fun.
Antigua makes up part of the nation of Antigua and Barbuda and is an excellent choice for travellers who want a laid-back beach vacation with just enough surprises to keep things interesting.

There are lots of great restaurants, hikes with stunning sunset (and sunrise) views, as well as plenty of unique activities, both underwater and onshore.

Ready to start planning a tropical vacation to remember? Here's everything you need to know about what to do in Antigua.
Looking to stay in a plush villa with incredible ocean views in Antigua? I loved the contemporary design and unbeatable location next to two of Antigua's best beaches at Tamarind Hills.
Top 5 Things to Do in Antigua
Soak Up the Views From Shirley Heights (And Attend the Sunday Night Party)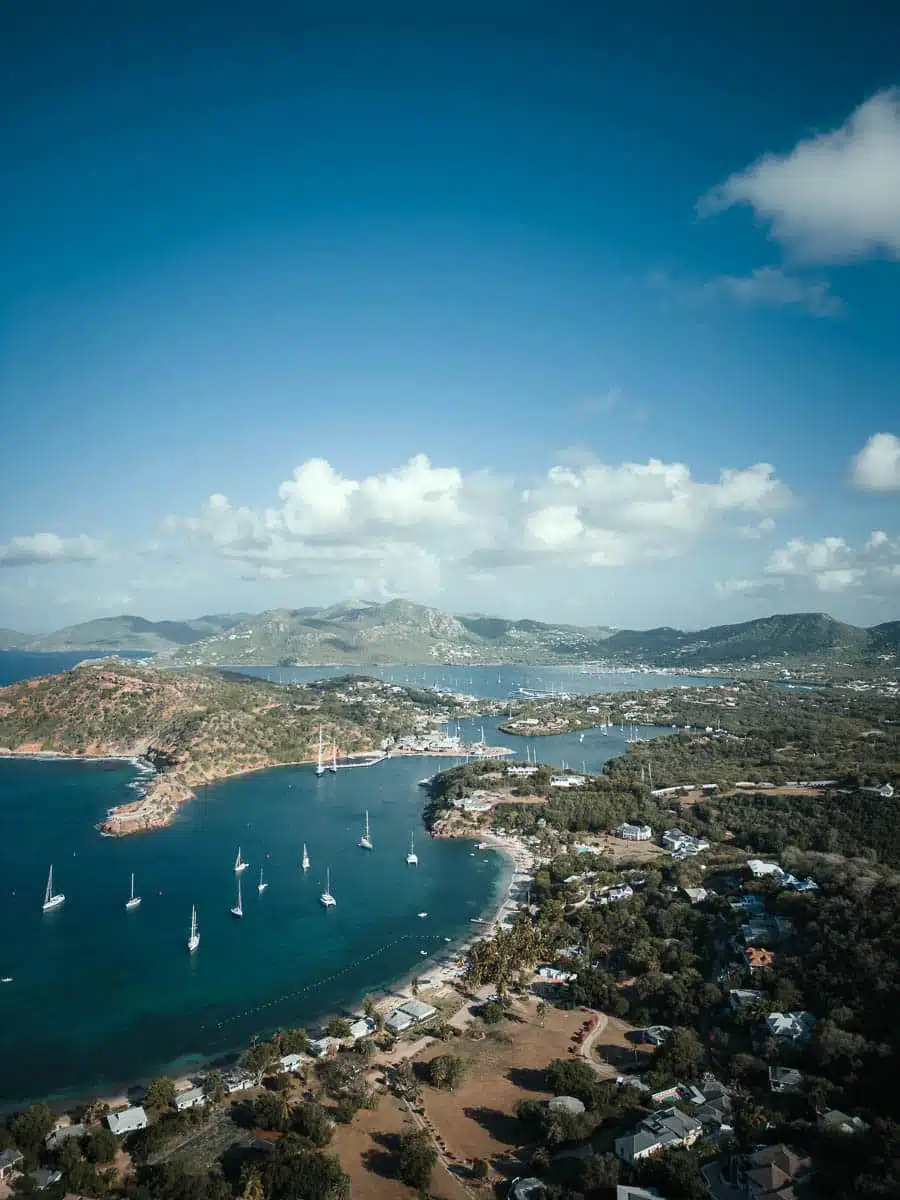 You might not think that an old military lookout and gun battery would have widespread appeal… but you'd be wrong. Shirley Heights is the place to go for the best views in Antigua; the views of English Harbour and Falmouth Harbour are legitimately jaw-dropping.
That's not all though. Each Sunday evening from 4 pm to 10 pm (and often later), the lookout turns into one of the island's hottest party spots. Locals start turning up the barbecues and playing some island jams. Be sure to stick around for sunset if you want a real show.
Walk Around St. John's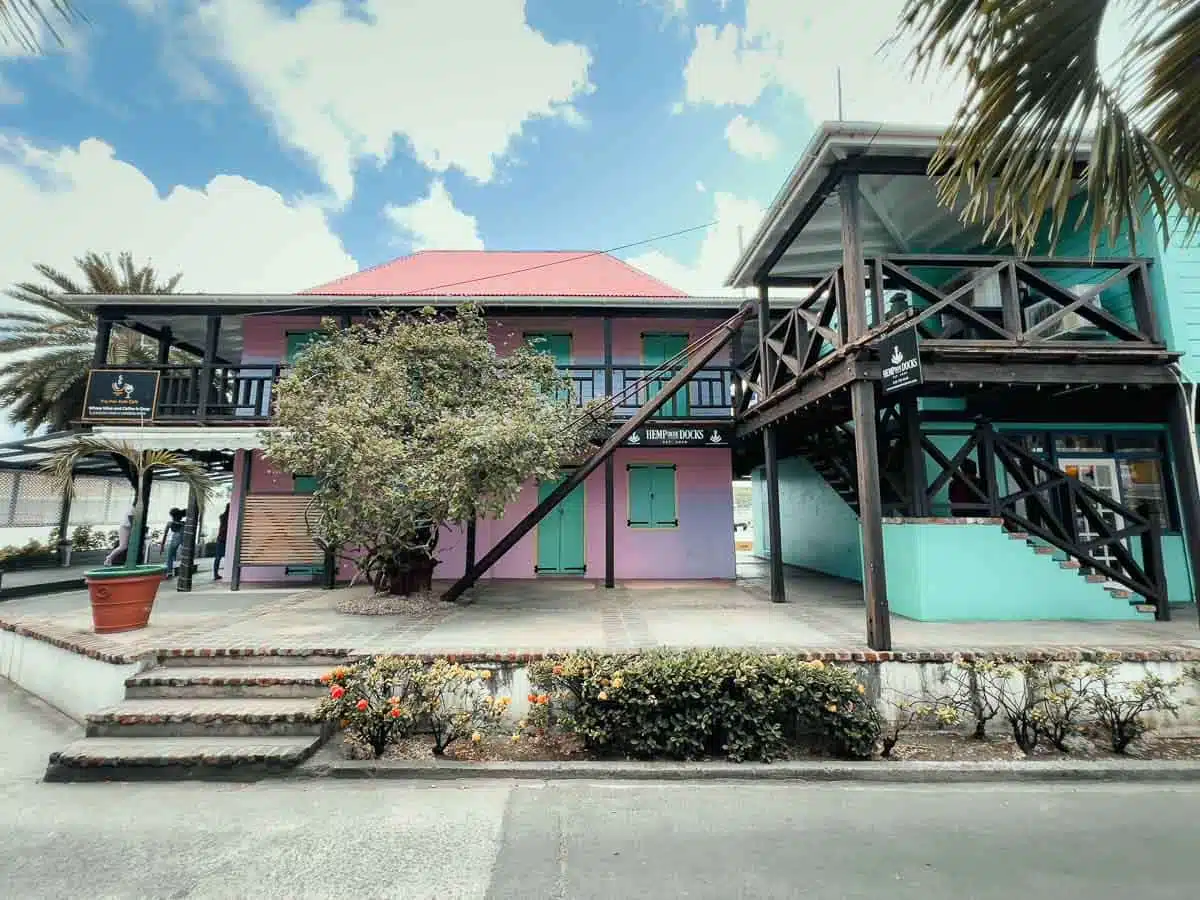 St John's, Antigua's capital city might not be the largest in the Caribbean, but it does boast its fair share of cool things to do.

The unique and brightly painted houses, eclectic boutique shops and excellent dining more than make it worth spending a couple of hours on your Antigua itinerary.
Head to the striking St John's Cathedral – you'll see it peeping out across the city. Follow it up with a stroll around Redcliffe Quay – one of the oldest parts of St John's that's filled with cool indie boutiques and restored colonial-era buildings.
Check out The Captain's Table for some excellent local cuisine in a cosy courtyard. This is the spot to go for delicious (and affordable) Antiguan classics like seafood rice, conch fritters and fried fish. Not going to lie… I'm still thinking about that seafood rice…
Take a Sunset Cruise Around the Island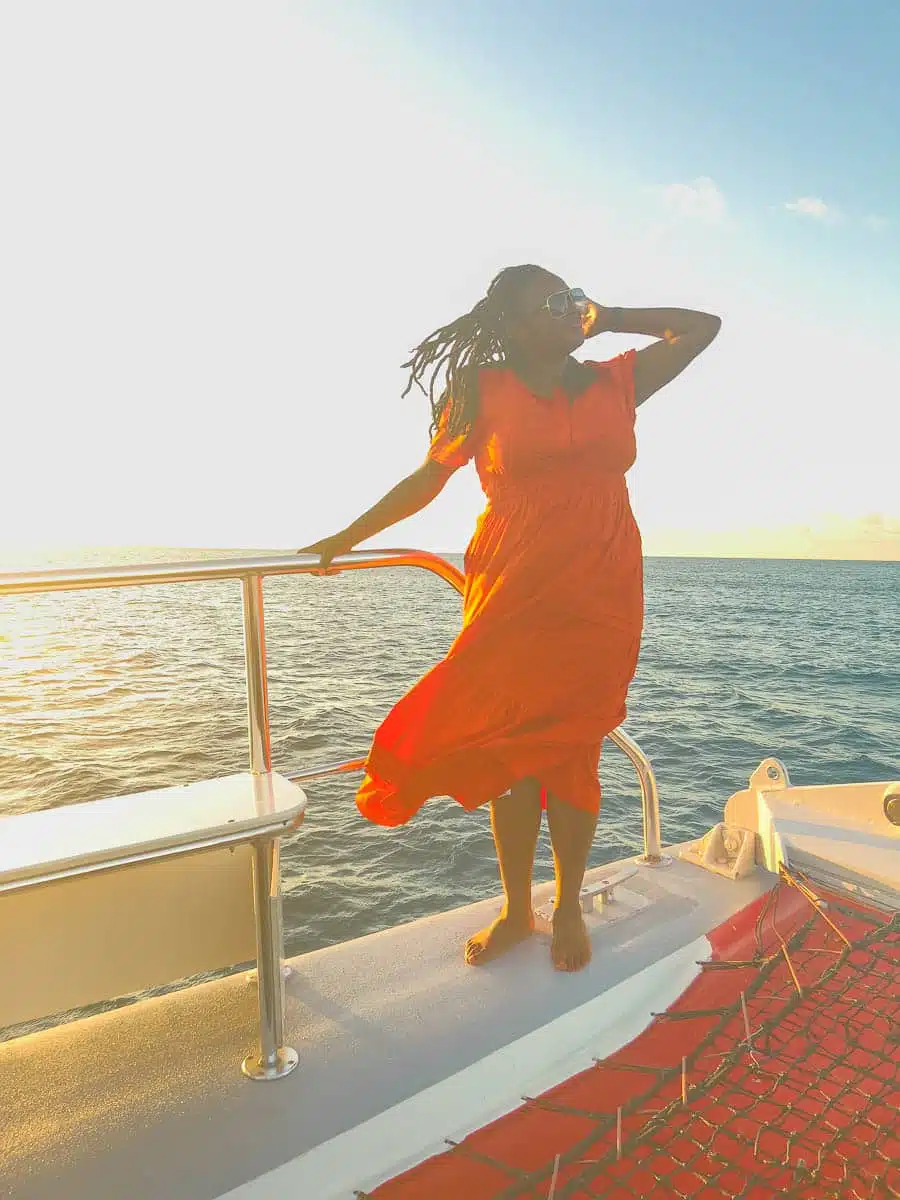 If you're visiting Antigua, you'll see some epic sunsets. That's a given.
Do yourself a favour and schedule plenty of time by the water each night to see the bright orange ball of fire dip below the Caribbean waters on a sunset cruise with Tropical Adventures.
My boat left St. John's to embark on a surreal journey that involved a beautiful sunset, festive Soca music (and dancing) and some sneaky strong rum punch (booze responsibly, or you may end up overboard).
Spend an Afternoon on Ffryes Beach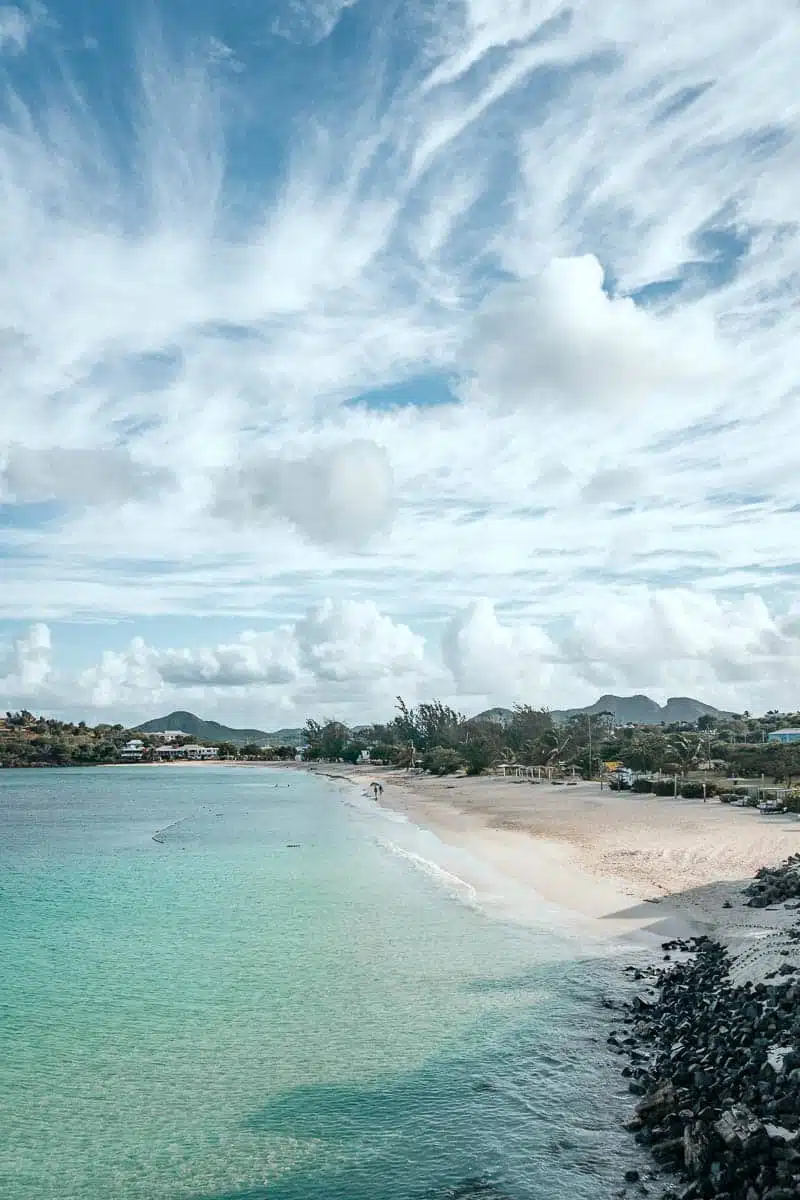 You won't have any trouble finding beaches around Antigua (there are reportedly 365+). Ffryes Beach has a reputation for being one of the best, and I won't disagree.

Grab a beach blanket, sunglasses and swimsuit. The mellow waters and brilliant white sands make this the perfect place to forget all your worries, if only for an afternoon.
Round your beach day off with lunch or dinner at the chilled Dennis' Beach Bar at the end of the beach (which was so good, I've written a whole section about it below).
Brilliant Things to See & Do in Antigua
Take a Food Tour with Eat n Lime Food Tours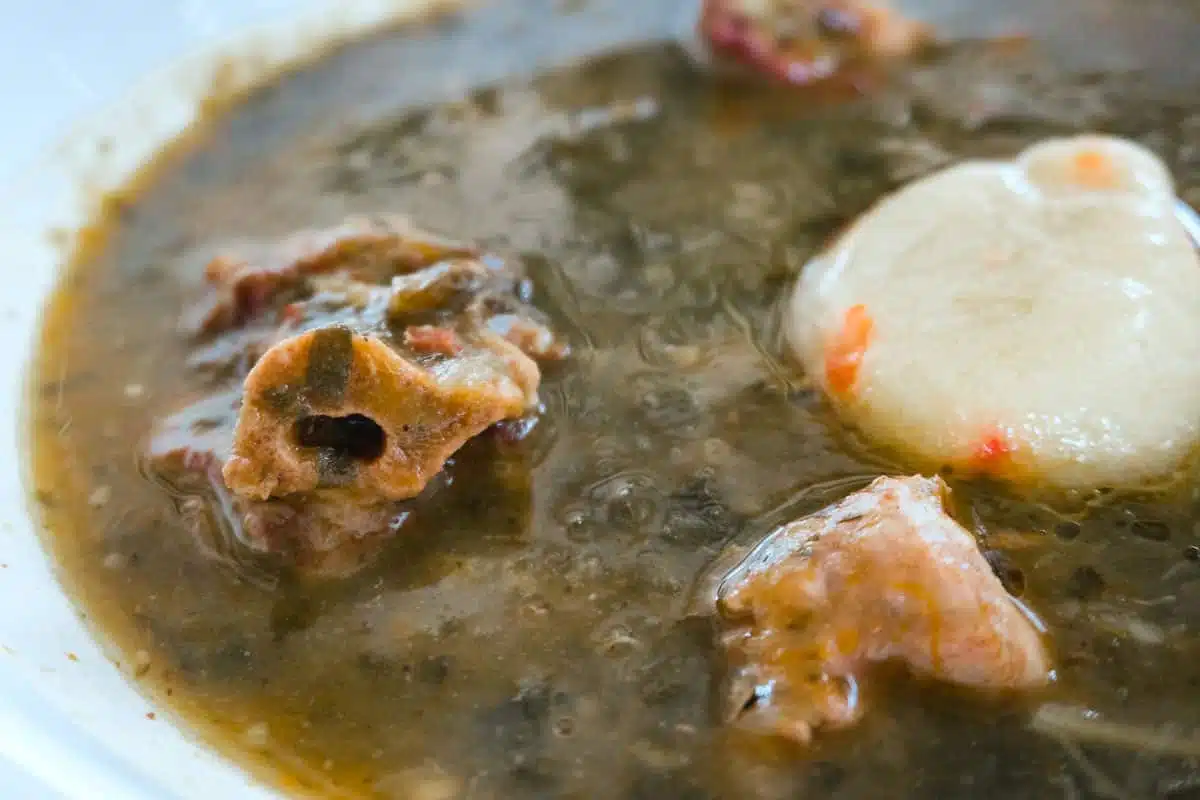 Is there a better way to immerse yourself in a Caribbean island than through its food? I don't think so – which is why Eat n Lime Food Tours are genius.
These top tours, led by Tiffany Azille, delve into the island's lesser-known spots.
It's safe to say that Tiffany knows the island (and its food) inside out. She will guide you on a whirlwind tour that allows you to sample Antigua's iconic dishes such as fungee and pepper pot, conch fritters and seafood rice, along with some lesser well-known eats.
We kicked our tour off with a tasting from English Harbour Rum Distillery – which certainly gave us a real taste of the island's flavours. And it only got better from there; what followed was an afternoon filled with delicious treats.
I won't spoil the surprise by giving you a blow by blow of what to expect, but all I'll say is go hungry.
Hike Up (Or Down) from Shirley Heights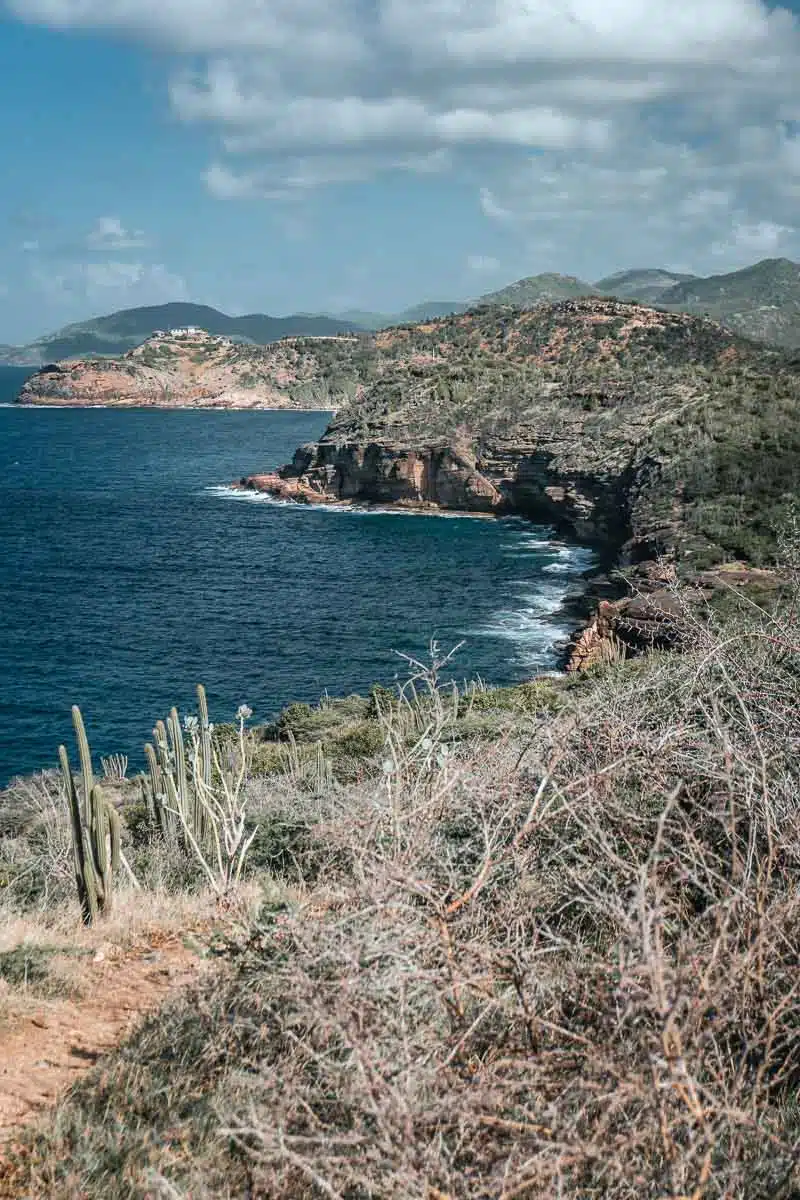 Sure – you could just go and enjoy the views of Shirley Heights, or you can go one better and pair it with one of the best hikes on the island.
The hike from the top of Shirley Heights to Galleon's Beach was one of the (many) highlights of my trip to Antigua. I'll warn you though: go early in the morning or in the evening (you'll see why the latter is better in a mo) to avoid the heat of the day.
I'll keep it real. There's not a lot I'd have dragged myself out of bed for at 6am during the trip, but I'm so glad I did for this hike. You can go solo, but I opted to hike with Trek Tours and loved it.
First up, you need to decide whether to tackle the trail uphill and end with the stunning lookout of Shirley Heights, or test your knees and head downhill. It's not too difficult, but you will need to wear appropriate shoes (I highly rate the Tropicfeel Geysers).
If you're not a hugely confident hiker, you might also want to use a pole – I did and was very grateful for it in the steeper sections down.
Take a Sailing Trip into the Caribbean Sea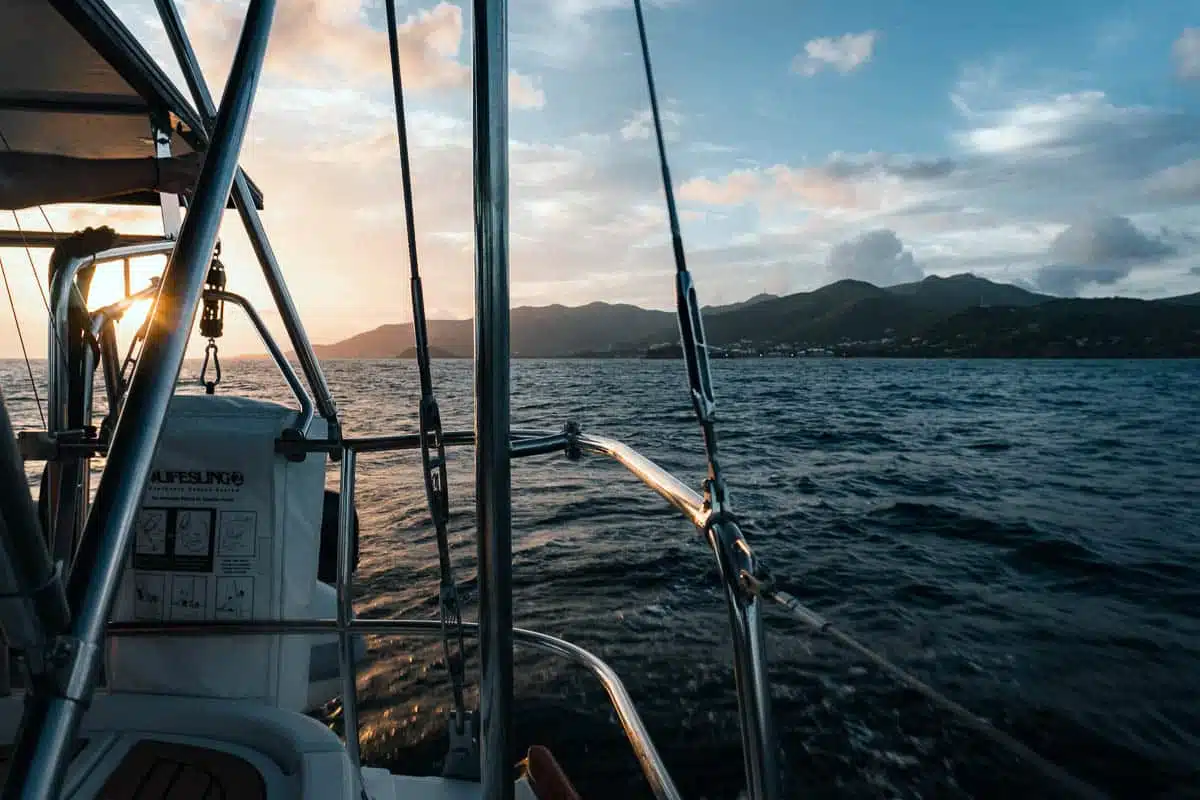 Another great way to see Antigua and the gorgeous Atlantic and Caribbean waters around it is by boat. You can do this with several different tour groups, but my favourite was the Dojo on the Wave Charters.

What makes it one the most fun things to do on the island? You'll be with a chilled-out crew who knows how to have a good time (there's even a recording studio on board) to show you as much of the surrounding seas as you'd like.
Whether you want to spend the whole day exploring other Caribbean Islands or just want to spend a couple of hours on the boat, it's a fantastic way to see Antigua from a different perspective.
Hang Out at Nelson's Dockyard
Antigua is full of unique history, and walking around Nelson's Dockyard gives you a glimpse into why the harbour helped the British protect Antigua after colonising the island in the 17th century.

Making up part of the English Harbour, Nelson's Dockyard was a famous landing spot for the British military ships, but it's now home to super yachts of the wealthy and elite, thanks to the calm waters and protected docks.
Top Tip: Spend an afternoon exploring the museums, cafes and boutique shops before walking up to Shirley Heights to see it from above.
Scramble Along to the Pillars of Hercules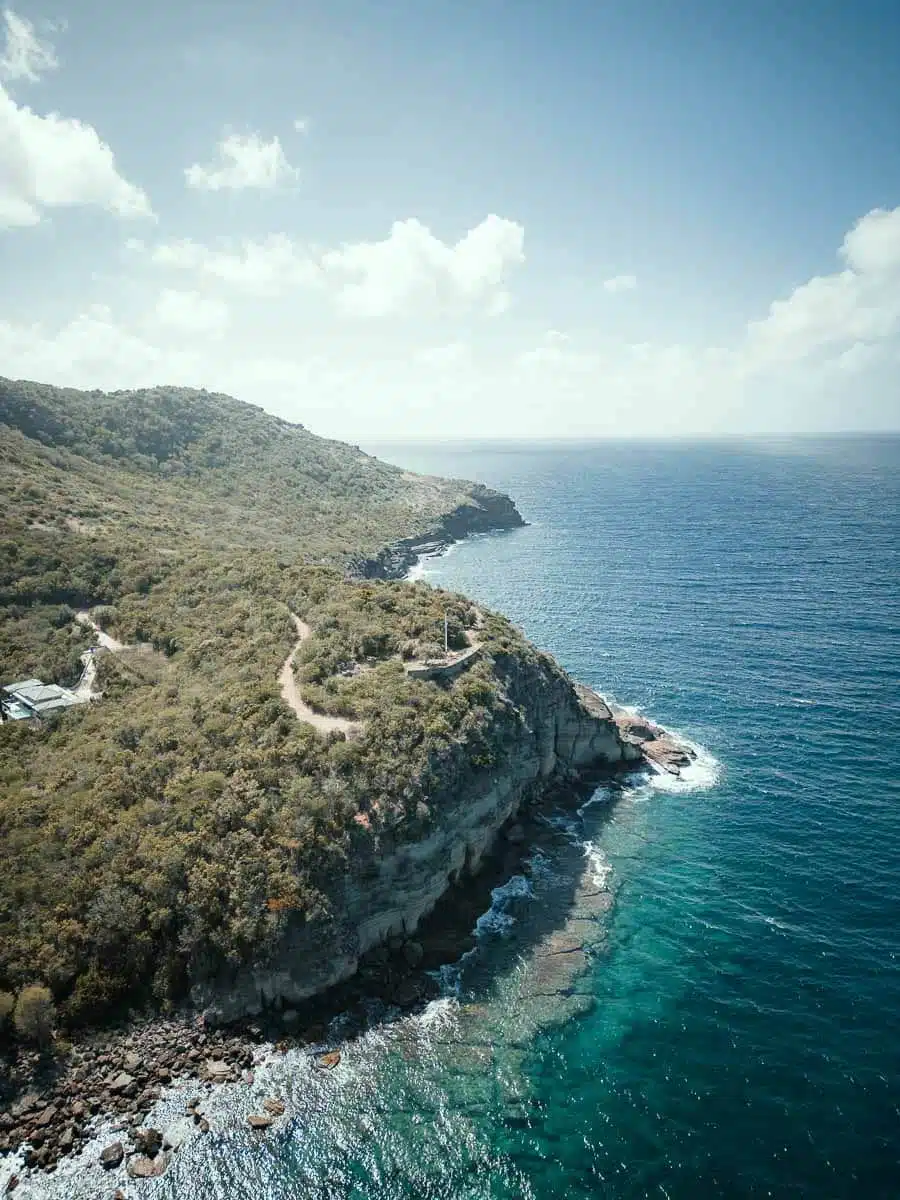 For those in the know, hiking along the short stretch of coastline to the Pillars of Hercules is one of the top things to do in Antigua.
What's in the name then? These dramatic limestone rock formations have been etched from the limestone cliffs and, over time the erosion has formed a series of striking pillar-like structures that together stand as a reminder of Antigua's unique geological history.
Top Tip: Check the tide tables, as conditions get a bit dicey around high tide.
Visit Barbuda
I didn't get a chance to do this on my last visit, but everyone in my group who took a tour to Barbuda described it as incredible. Very jealous.

Barbuda is small and very flat, but it's home to some incredible beaches and plenty of bird watching opportunities.

Oh, and don't miss Pink Sand Beach and Princess Dianna Beach while you're there, as both are stunning. You can also swank it up with lunch at Nobu because #youdeserveit.
Top Tip: Barefoot Antigua offers some popular tours, but you can take a public ferry to save some cash.
Learn How to Cook Antiguan Cuisine
One of my favourite things to do, no matter where I am in the world, is learn about new flavours, dishes and recipes. From Mexico to Thailand, I've had some amazing experiences under the helm of local chefs.

This is no different in Antigua. The cooking class from Nicole's Table is especially popular with tourists thanks to the unique opportunity to cook with the local rum, curry and seafood.
You'll likely learn a great deal and, most importantly, won't be hungry for half a day after taking a class with this husband and wife duo.
Visit the Rock Pools at Mermaid Garden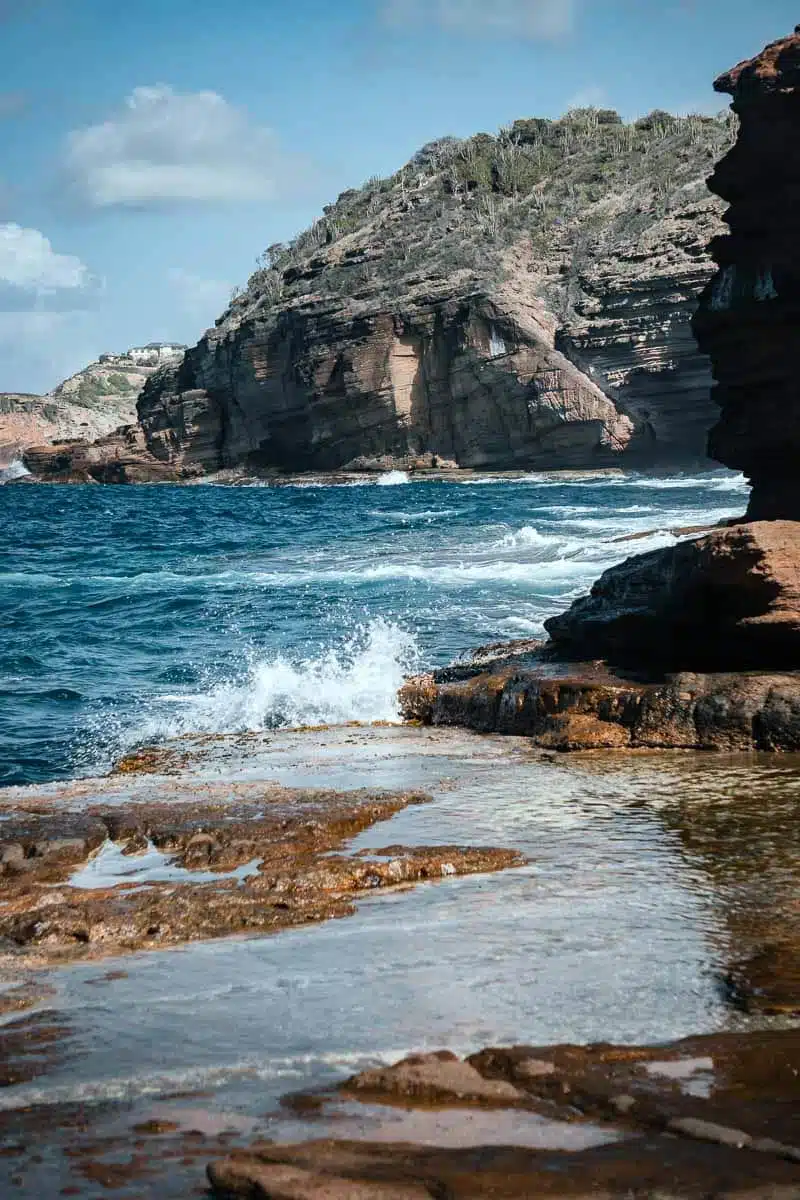 Check out the (somewhat) secret rock pools at Mermaid Garden.

You probably won't find any mythical seafaring creatures here – though I swear I could see them – but the gorgeous seaside cliffs make for a stunning photo set as a quick detour from your hike along Shirley Heights or beach day at Galleon's Bay.
Ride an E-Bike Around the Island
Fancy cruising around Antigua on two wheels? Then you definitely want to consider hitting up a Fat Tire bike tour.
Choose between a historic city tour or a beachy tour, though you can contact them and they'll also help you arrange bespoke tours if none of those interest you.
What's so great about these tours is that they use e-bikes, which assist you when pedalling around the island. This means that you don't need to be super fit to join in – all you need to do is keep your eyes out on the gorgeous scenery around you (and there's plenty of it).
Plan a Beach Day at Galleon Beach in English Harbour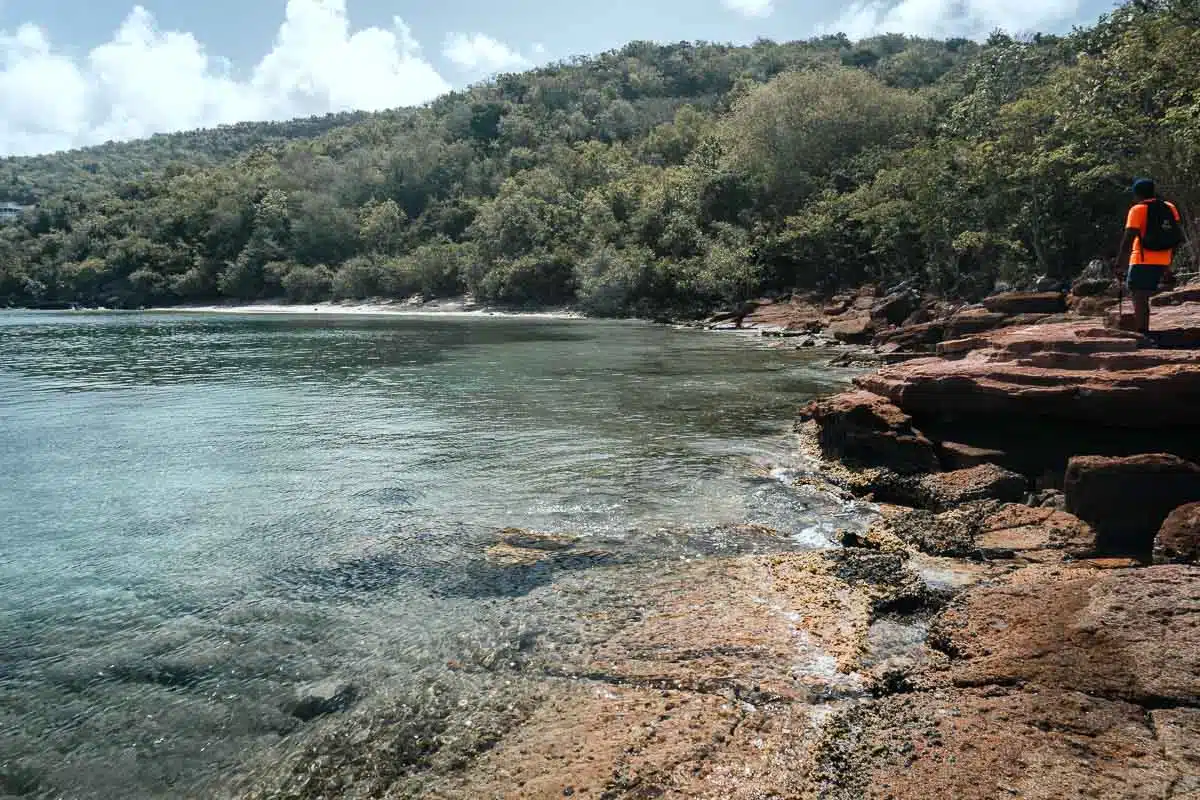 Head to Galleon Beach at English Harbour and enjoy the surprisingly relaxed vibes near one of the most famous areas in Antigua.
Pssst… While you're in the area, head to Roquito. This casual Spanish tapas bar is near the English Harbour in a chilled out open-air setting.
Top Tip: Book a water taxi to get there cheaply and quickly, it's worth the small investment.
Look for Frigatebirds Near the Coast
Antigua and Barbuda are considered a bucket list destination of serious birdwatchers, and the brightly coloured Frigatebirds are a big reason why.

Ever seen videos of those small black birds puffing up their mighty red chests? That's the male Frigatebird, and you'll be able to spot them around Antigua or at Codrington Lagoon in Barbuda, making it one of the best things to do in Antigua and Barbuda.
Top Tip: Codrington Lagoon in Barbuda is temporarily closed, so check with local guides to see when they plan to reopen.
Hit Up Antigua and Barbuda Restaurant Week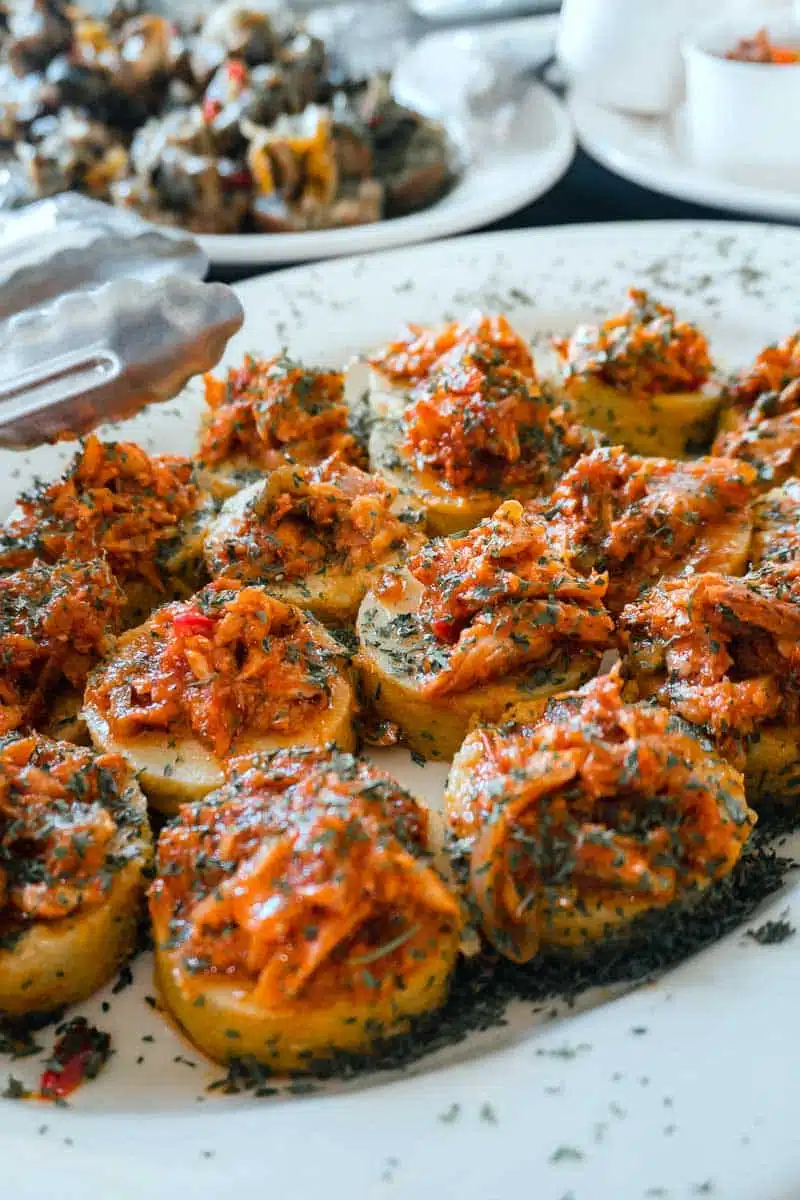 If you just so happen to be in Antigua during May (the exact dates change every year), don't miss out on the island's famous Restaurant Week.
Famous chefs from around the island – and the continent – flock to showcase their impressive skills. What's better? You get to taste it.
Throughout the week, there are discounts and special menus at a number of restaurants around the islands. Which means that you can dig in for bargain prices. And, if you want to be really savvy, pair it with a visit to Barbuda to enjoy the best of both worlds.
Unique Things to See & Do in Antigua: Hidden Gems That Are Off the Beaten Track
Learn About Antigua's History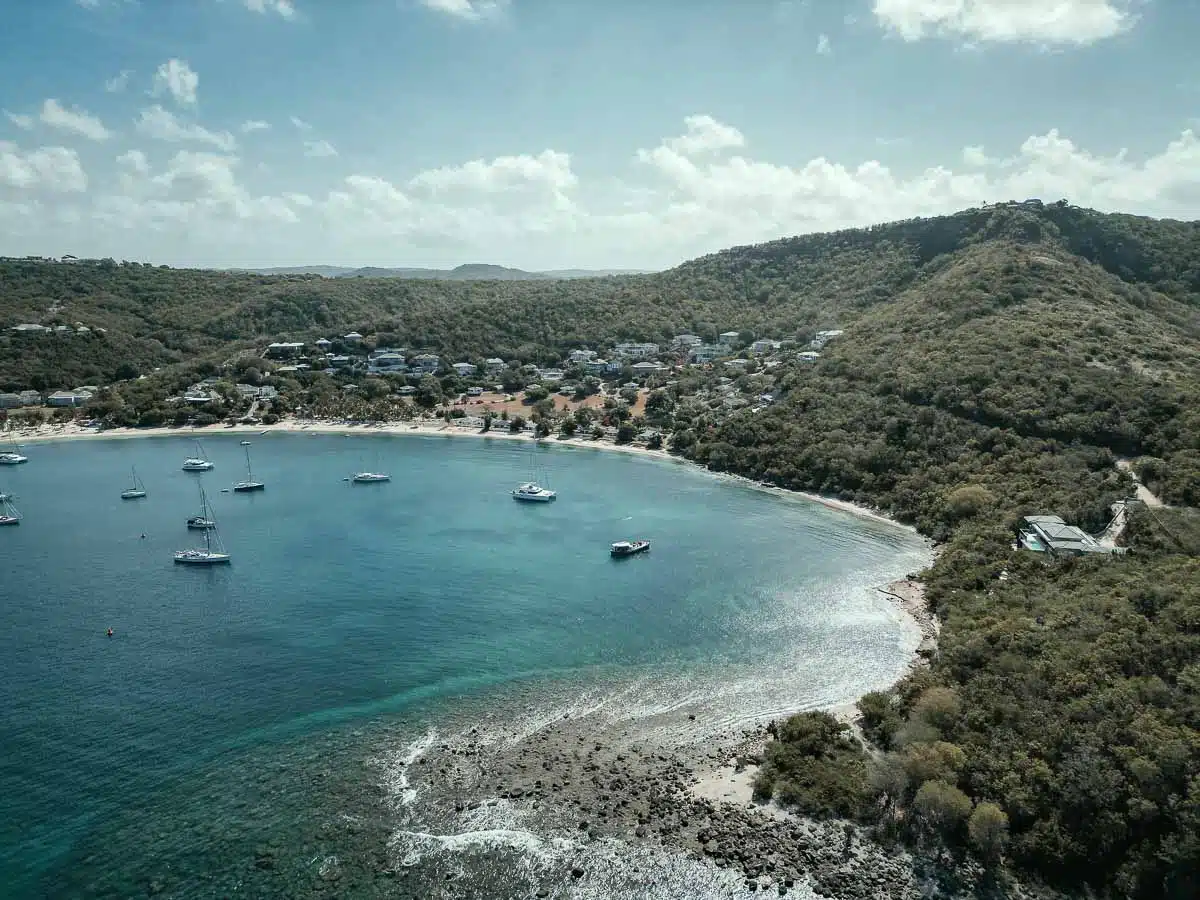 Not many visitors to Antigua take the time to learn about the island's complicated history. Christopher Columbus stopped by Antigua in 1493 and, nearly 150 years later, it was colonised by the British.

There is a devastating history of slavery and dire working conditions around the sugar plantation industry under the ​​Codrington family. The sugar industry also created numerous small villages (many of which had large stone and wood windmills to crush the sugar).

Visiting these towns is a humbling reminder of the troubling past, but many are now vibrant villages with unique culture, art and food.
I highly recommend booking this tour to learn more about the history of Antigua.
Jaunt Around the Island on a Jeep Tour
I don't know about you, but there's something special about zipping around an island in a 4×4 vehicle – the wind in your hair, and absolutely no worries in the world.

Naturally, one of the best things to do in Antigua is to hire a Jeep and cruise through the rainforests and oceanside roads (don't miss stopping by Devil's Bridge).

Want someone else to do the driving? Book this guided tour, kick back and enjoy Antigua like a boss.
Learn More About Rastafarian Culture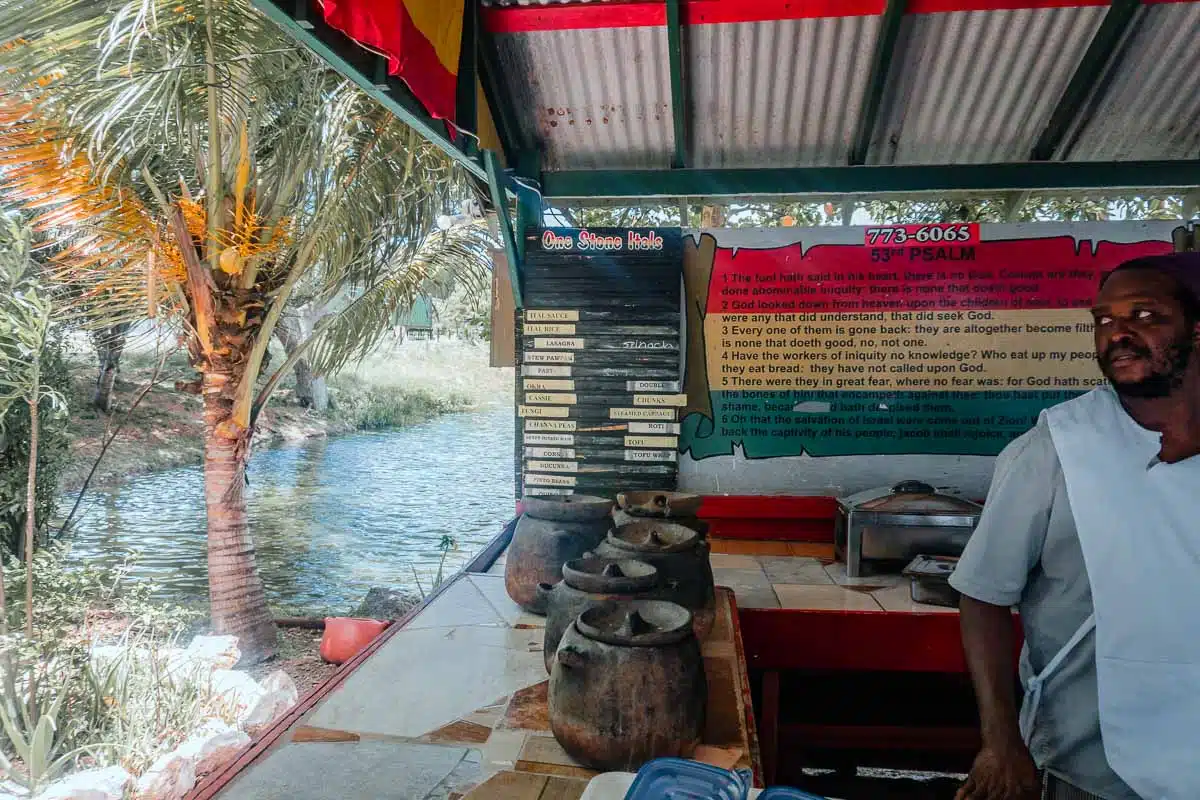 Sure, Jamaica might be one of the more famous destinations to learn about Rastafarian Culture. But you'll find plenty of opportunities to meet Rastafarian people and experience their culture, cuisine and way of life in Antigua.
One of the main ways to do this is by chowing down on Ital cuisine.

I fell in love with the fresh, vegan and vegetarian Ital food at One Stone Smoothie and Juice Shack. But I've also heard great things about Humble and Free Tours, where you can spend some time with Rastafarian people and learn how they live in Antigua.
Top Tip: Don't miss the chance to try ital juices like the detoxifying combo of lemon and turmeric that's perfect after a few sundowners the night before.
Play Distiller for a Day
Ever dreamed of making your own liquor? I definitely have – so when I heard about the Academy of Rum, it piqued my interest.

Book a spot for 60 to 90 minutes, and you can produce your own bottle of hooch using a traditional pot still with seasoned experts in an idyllic beachside surrounding.
Hang Out on a Private Island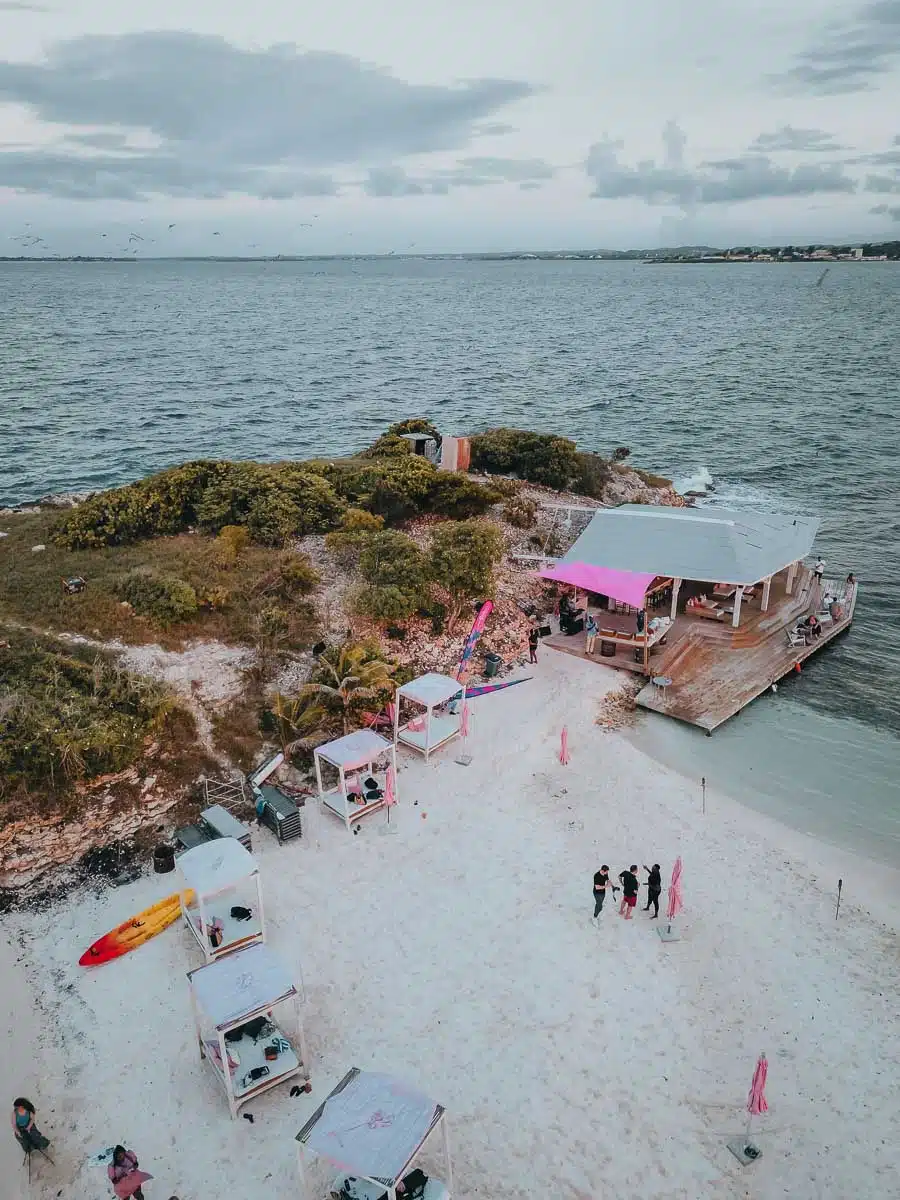 Looking for unique things to see and do in Antigua? Book yourself a trip to the private Prickly Pear Island.
It's only a five-minute ride from Hodge's Bay Hotel and a must-see for any traveller who can't get enough time on the beach (raising hand). And you don't need to be a hotel guest to book the tour, so don't be shy.
Shallow cerulean waters, gorgeous white sands and the option to book the island to yourself for a wedding (yes, please) make it one of the top things to do in Antigua.
Snorkel at Stingray City
Heading out to the crystal clear waters with your snorkelling gear to Stingray City is a must and one of the most popular things to see in Antigua.
Why? You'll have a chance to swim with stingrays (and even feed them if you want) and snap a selfie (or us-sie) if that's your thing.
Top Tip: Apply plenty of reef-safe sun cream. There's no shade anywhere in sight, so you'll want to protect your skin.
Visit Devil's Bridge National Park
If you want to see one of the more unique natural landscapes in Antigua, head to Devil's Bridge National Park. It's situated on the eastern tip of the island, not far from the town of Willikies.

Watch the waves crash around and under the natural bridge on this majestic rocky coast along the Atlantic Ocean. Let me warn you, though: the waves and rocks around the bridge are famously dangerous, claiming the lives of many throughout the years. Tread carefully.
Soak Up the Chill Vibes with a Meal at Dennis' Beach Bar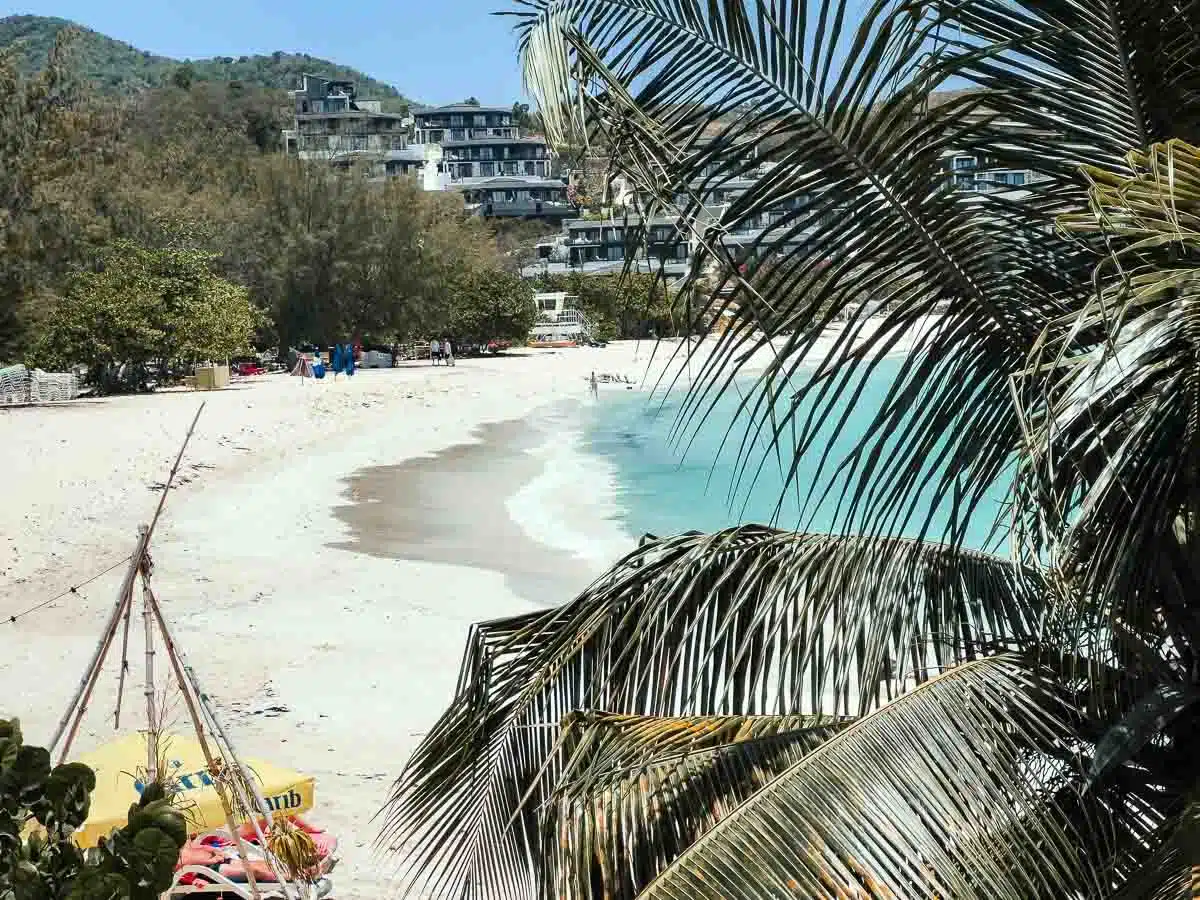 Fancy trying some of the incredible dishes that make Antiguan cuisine (especially the seafood) among the most delicious I've found anywhere? I thought so.

Don't skip favourites like the large grilled prawns fresh off the boat or the curried conch while overlooking the famous palm trees and cerulean waters of Ffryes Beach. Go with a group if possible and order a few plates to share with the table to try several excellent dishes.
Swim at Dickenson Bay
Antigua is famous for being the Land of 365 Beaches. A different beach every day of the year? Sign me up for that, pronto.
Dickenson Bay is one of the most popular areas to swim, sunbathe or paddle board thanks to gently rolling waves, crystal clear waters and pillowy white sands. Enough said.
Top Tip: Stick around for some nightlife; it gets lively after sundown.
Explore Fort Berkeley
Located in the serene English Harbour, Fort Berkeley is a great place to take in some history (and epic views) on your trip to Antigua.

You can walk over to the decaying fortress from Nelson's Dockyard, and I'd highly recommend doing it. Seeing the ancient ruins on the rocky peninsula is a unique and fascinating activity in Antigua.
Sample Antiguan Breads and Cakes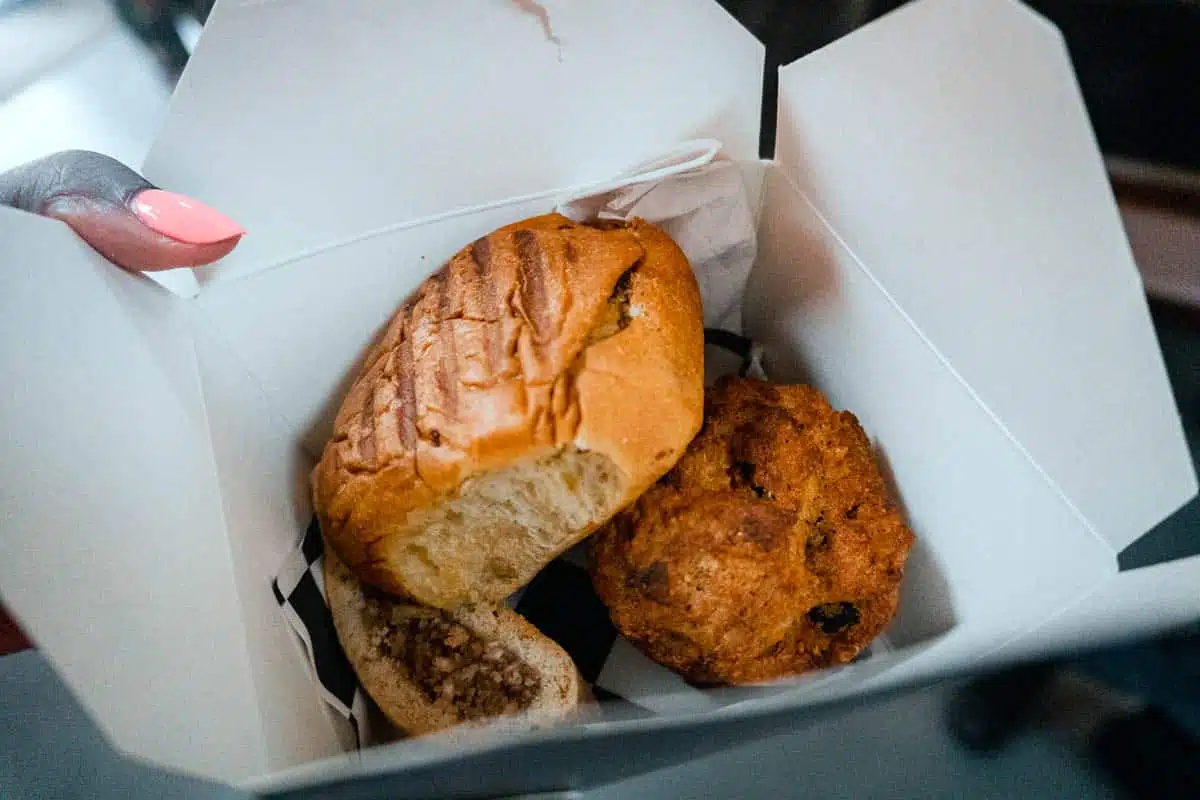 Looking for something to do in St. John's shortly after the sun comes up? Head over to The Makery (by VJ's Bakery) for some local Antiguan treats.

I tried the coconut tart, local-style bread pudding and a bun with cheese. They were all delicious, and, admittedly, I kept wanting to go back.
Top Tip: If you're looking for a quick (and affordable) lunch on the go, pick up a sandwich or salad before you walk around St. John's.
Go Bar Hopping in Dickenson's Bay
The bars and restaurants near Dickenson's Bay have a reputation for being a lively place to have a great time when the sun sets under the sparkling blue waters.

Grab a sundowner (or two) and stay for some live music and snacks with some fellow holidaymakers in Antigua. Bay House, Putters and Kon Tiki are a couple of the top spots worthy of your attention.
Things to Do in Antigua: Practical Tips for Your Trip
Where Should I Stay in Antigua?
Tamarind Hills (Luxury)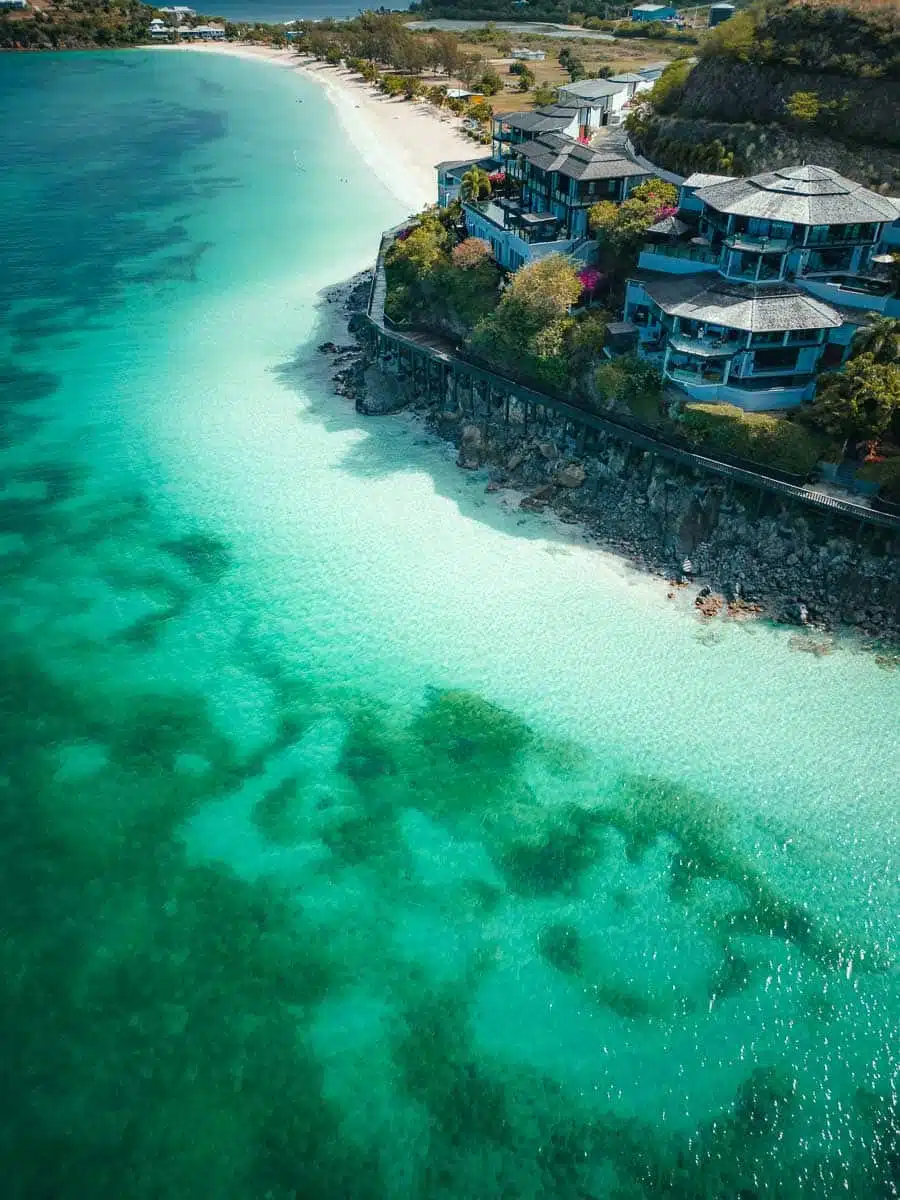 I recently stayed at the all-suites property Tamarind Hills, and it took about five minutes to fall head over heels for the modern luxe resort and its gorgeous accommodation overlooking two of the best beaches in Antigua.
Be sure to dine at Wild Tamarind – a rare hotel restaurant where I couldn't get enough of the delicious (and eclectic) menu with inspired Mediterranean, Middle Eastern and Caribbean cuisine.
Royalton Hotel & Spa Antigua (Mid-Range / Luxury)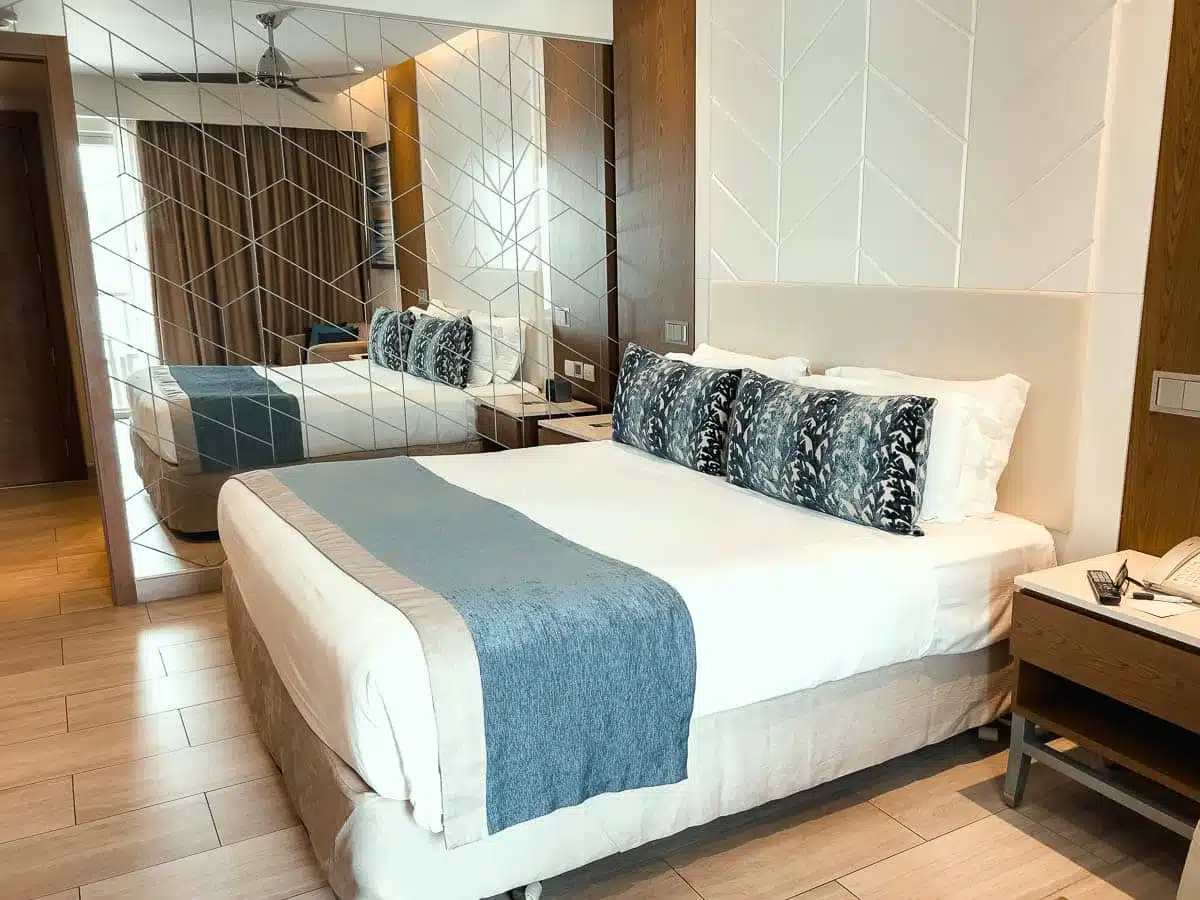 If you need a reliable place to bed down with all-inclusive packages, check out Royalton Hotel & Spa Antigua – the treatment combo package at the spa with access to the hydrotherapy suite is excellent.
The rooms were a bit basic but perfectly comfortable, and the dining and drinking options mostly kept us happy. Book a table at the steakhouse in advance; it's one of the best on the island.
Recommended Tours in Antigua
Antigua is small enough to explore on your own, but if you want to dive into some unique experiences and see more of the Caribbean while you're here, be sure to check out these tours.
Things to do in Antigua: Map
Love This? Save and Share on Pinterest!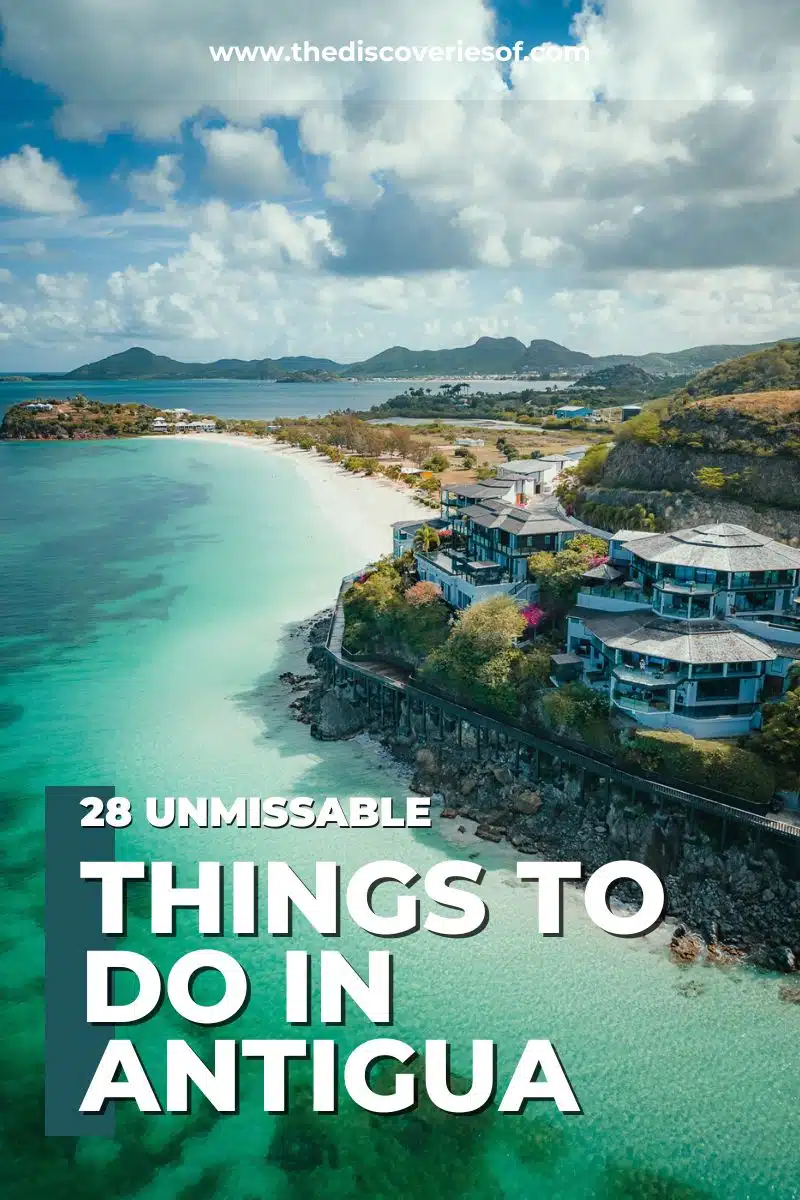 Things to do in Antigua: Read More Caribbean Travel Guides