Ready to dive into a culinary adventure in Antigua? If you're looking for flavour-filled delicacies in this tropical paradise, I've got you covered with this brilliant Antiguan food guide.
Sure, Antigua is one of the most beautiful places to visit in the Caribbean, but this island is not just about pristine beaches and swaying palm trees. Oh, no no no – it also boasts an extraordinary culinary scene.
Antigua's food reflects its rich cultural heritage in the form of succulent seafood platters, zesty Caribbean spices and what might just be the best pineapple I've ever tasted in my life.
With that in mind, we're going to take a jaunt around some of the best dishes and restaurants for your visit. So, let's get into it…
Must-Try Antiguan Food
Fungee and Pepperpot (Fungi Antigua)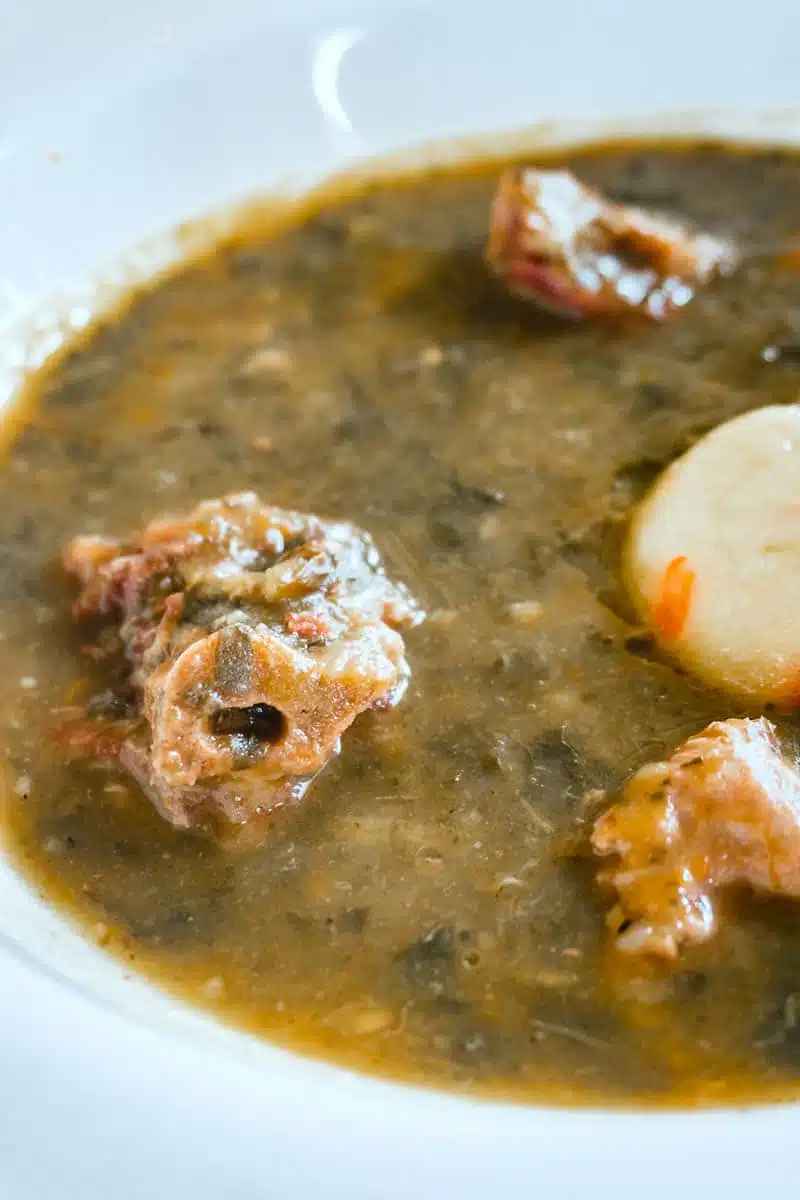 Where else to start than with Fungee and Pepperpot, the official national food of Antigua and Barbuda. And it is delicious.
Fungee, resembling bread balls, is made with cornmeal and okra. Meanwhile, Pepperpot, a hearty one-pot stew, features cassareep — a sticky liquid from bitter cassava roots — and a medley of meats or fish.
The combination of soft fungee and aromatic Pepperpot creates a mouthwatering experience.
Curried Conch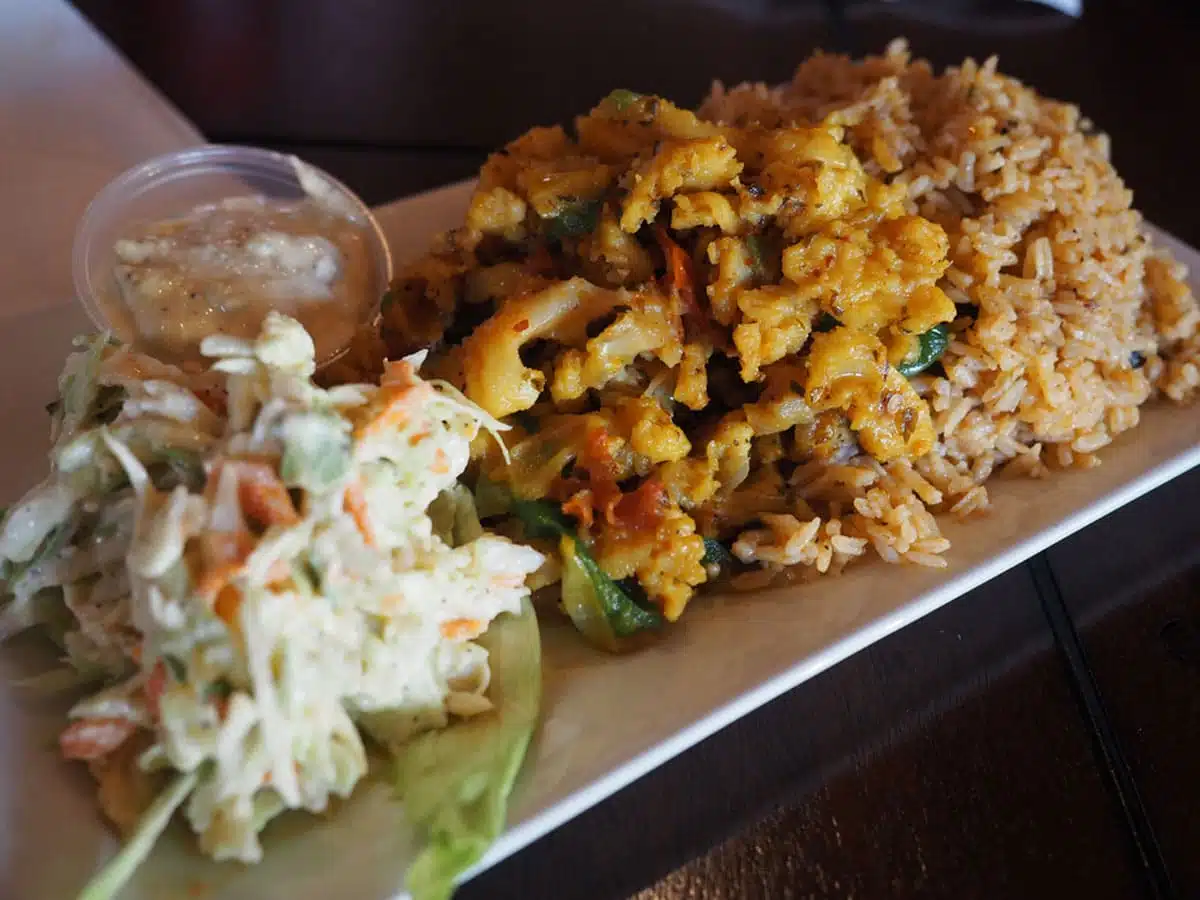 Curried conch is another delectable Antiguan dish featuring tender conch meat (from an oversized sea snail) cooked in a flavourful coconut curry sauce. This is typically served alongside fluffy rice or warm roti, making it the perfect comfort food with an island twist.
Ducana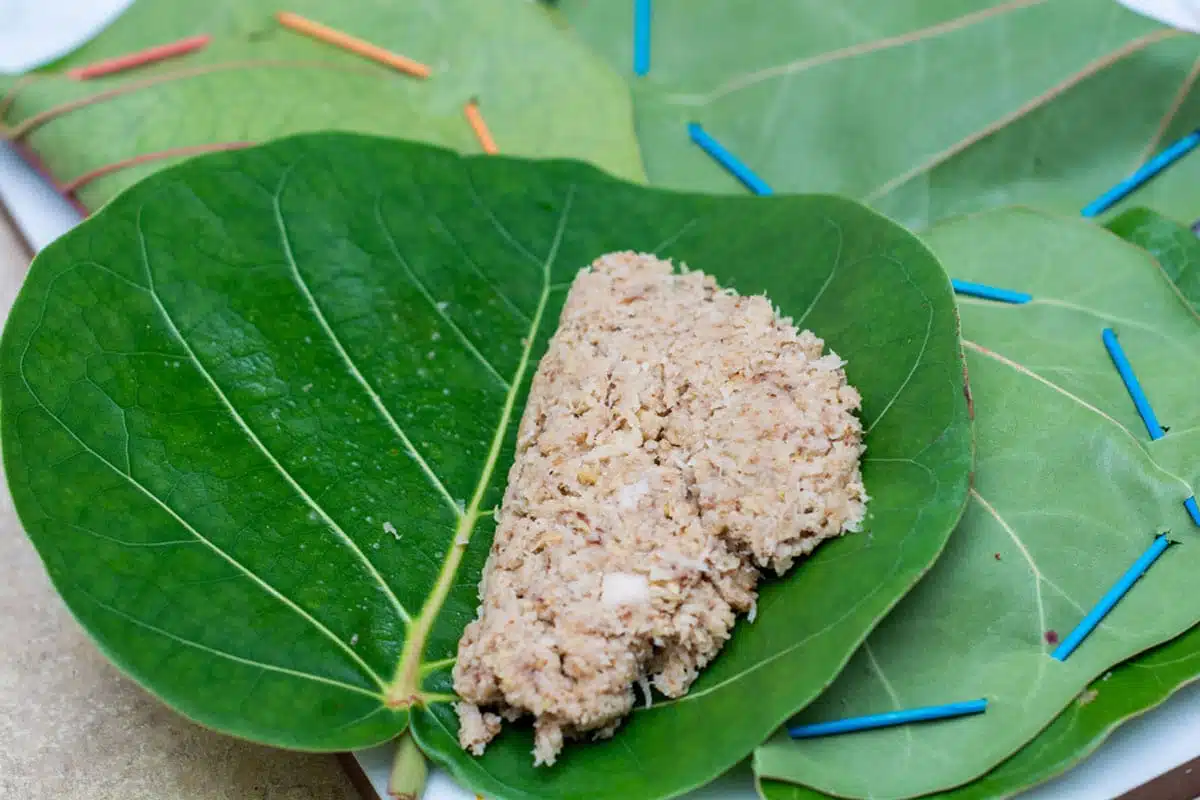 Fancy something a little bit sweet? You'll want to get yourself some Ducana. This is a creation of grated sweet potato, coconut and pumpkin dough, infused with cinnamon.
The dough is carefully wrapped in a banana leaf and perfectly boiled, creating a delectable dumpling-like texture.
Antigua Black Pineapple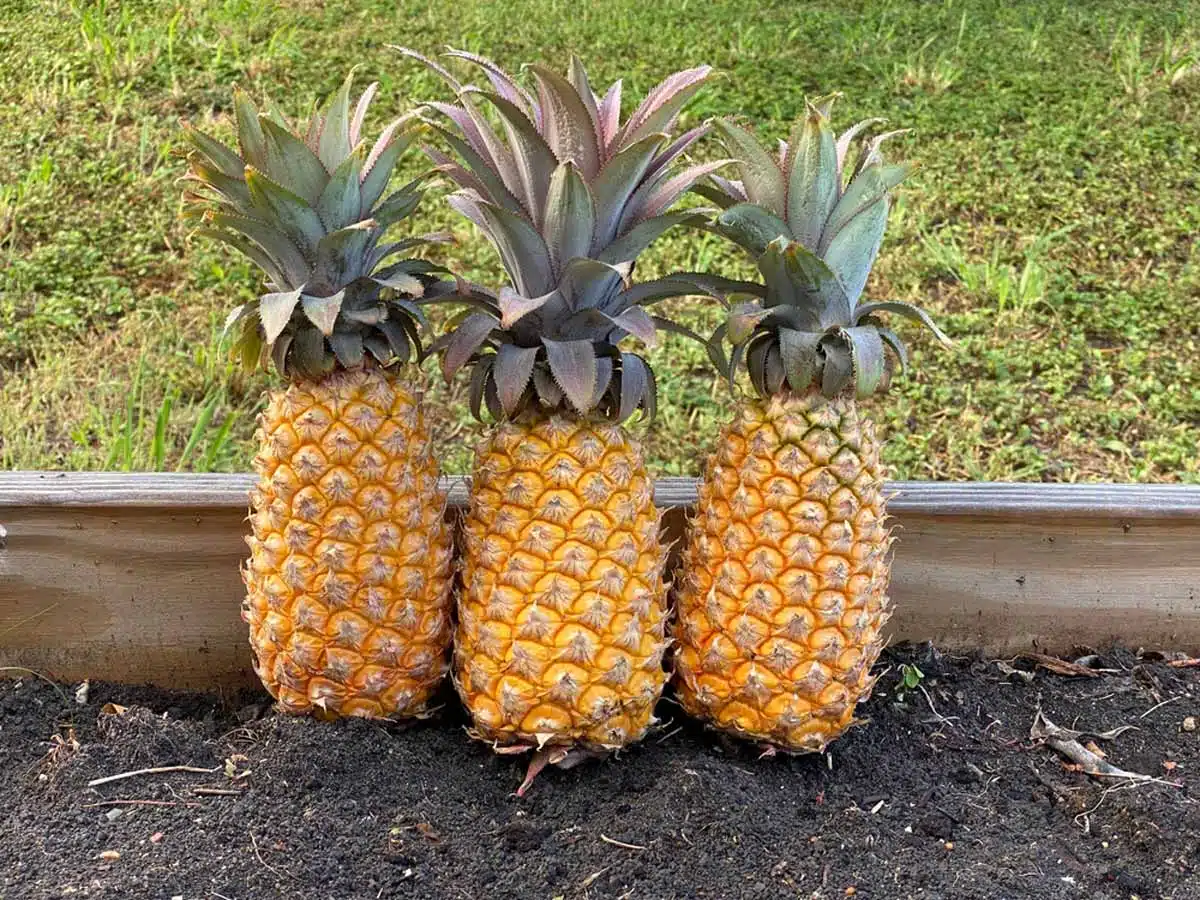 Antigua Black Pineapple, the island's official fruit (yes, that's a thing), is exceptionally sweet, less acidic and has an edible core. It's a must-try tropical delight that captures the essence of Antigua's flavours.
Saltfish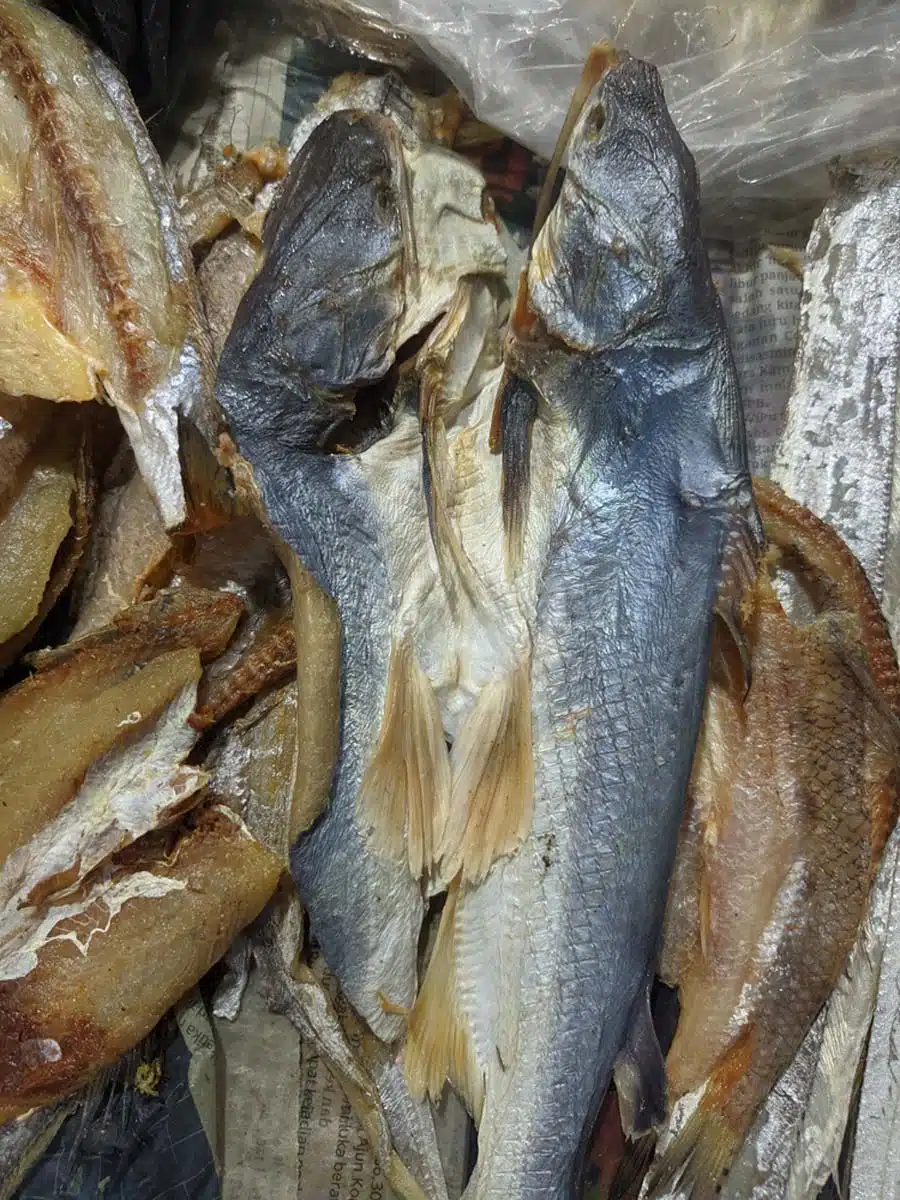 Find yourself in the mood for a feast first thing in the morning? I got you – no Antiguan breakfast is complete without salt fish. In fact, this is a staple across the vast majority of the Caribbean.
What is it? A salt-cured and dried white fish – usually cod – that is flaked and served often with either plantain or Ducana, as well as onions and peppers.
Chop-Up
Another dish that you'll find throughout the Caribbean is chop-up (also known as Caribbean spinach or Callaloo).
Instead of using the spinach you or I might recognise, Antiguans chop up amaranth leaves and mix with other veggies – pumpkin, onions, eggplant etc – in a toothsome kind of vegetable mash.
Butter Bread
Holy carbs. Butter Bread is one of the tastiest breads in the Caribbean.
Like the name suggests, this is extra-buttery bread that, although it doesn't really need any butter added, is often served with butter and cheese for breakfast.
Though locals will often pick some up throughout the day and chow down on Butter Bread as a delicious snack. You can pick some up at my favourite spot, The Makery – more on this epic bakery in a mo.
Souse
Souse is another dish native to the Caribbean. And, while the thought of eating what is essentially pig feet soup might not be that appealing, it's actually very tasty. The clear broth is pretty refreshing, served cold with pickled pigs trotters and plenty of onion and garlic to provide a punchy flavour.
Don't knock it 'til you've tried it!
Wadadli Beer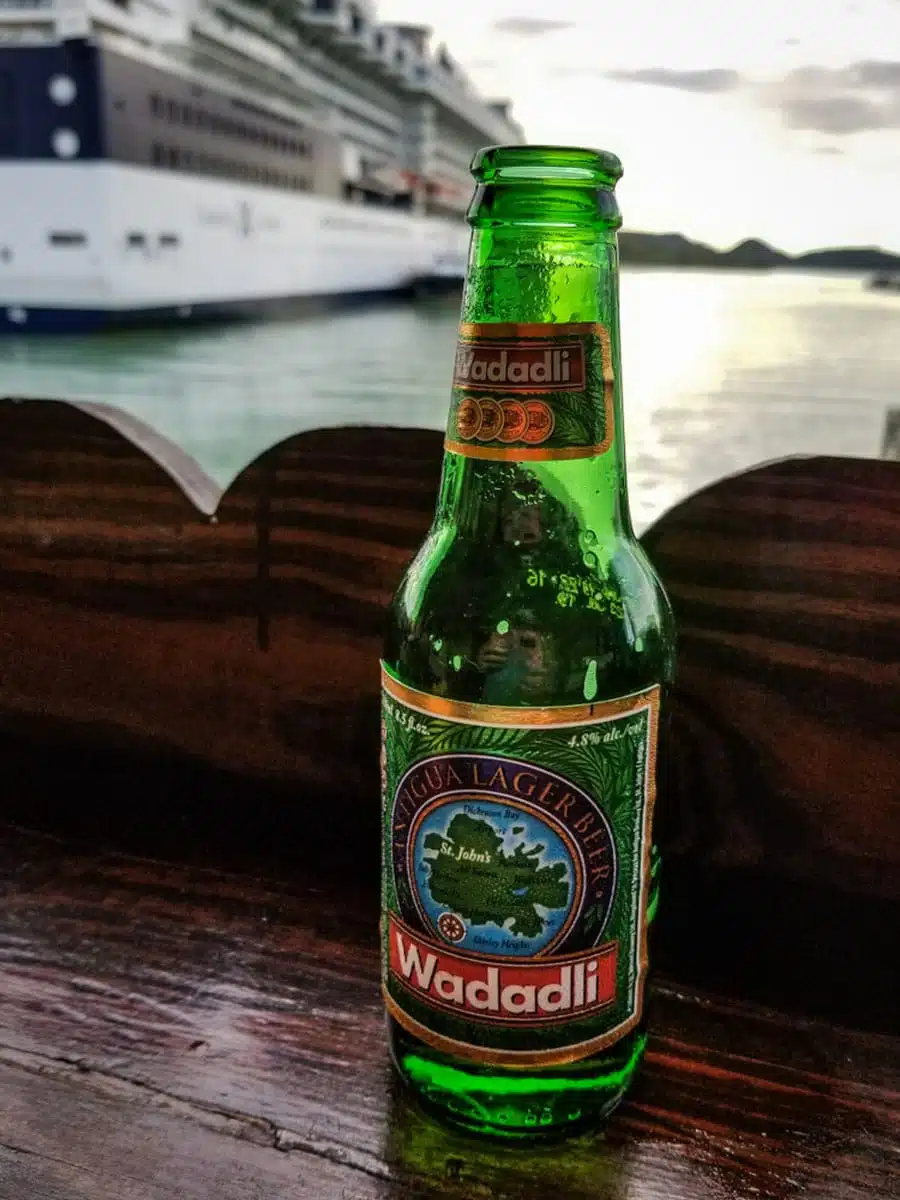 In the mood for a drink? You're in luck as Antigua boasts plenty of local brews and bevs.
You'll see bottles of Wadadli Beer wherever you go. Taking the name from the alternative name of the island (and what Antigua was officially called until Christopher Columbus decided to swan in and rename the island,) this beer is the official drink of Antigua.
Antiguan Rum
If you fancy something a little bit stronger, you might want to try some Antiguan rum – the most famous of which is English Harbour Rum.
I got the pleasure of doing a tasting with someone from English Harbour on my recent trip to Antigua and it was an incredible experience (plus, the free booze samples helped). Antiguan rum has a really delicious spiciness to it – it goes down oh-so-smooth, too.
Top Spots for Trying Local Food in Antigua
The Captain's Table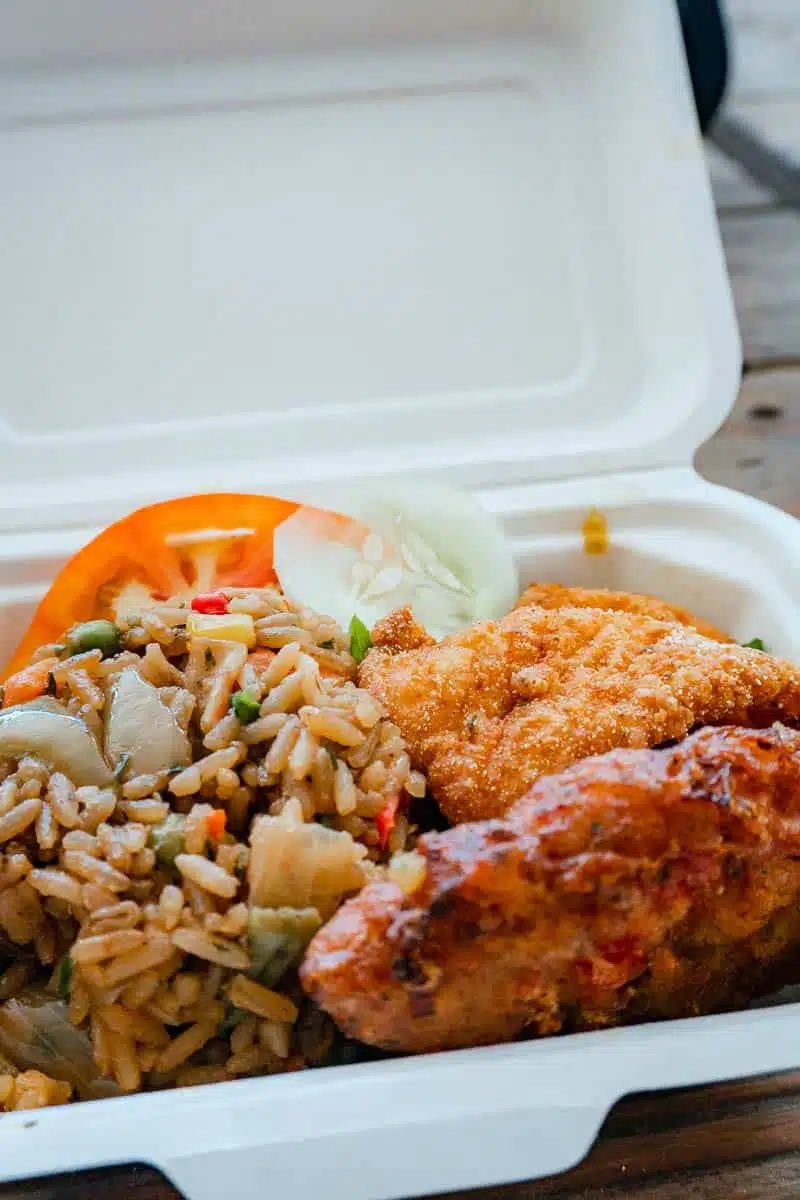 If you're craving Caribbean seafood and delectable cocktails with breathtaking views, drop by The Captain's Table. This casual eatery, tucked away in a cosy courtyard in St. John's, is an absolute must-visit for anyone seeking a taste of the freshest Antiguan cuisine.
It was one of my favourite spots on a recent trip to Antigua (and the first place I would hit up on my next visit). Locals flock here for their hearty seafood bowls, crafted with the finest local vegetables and sauces.
Don't miss the irresistible seafood rice, crispy fried fish and conch fritters.
Alma's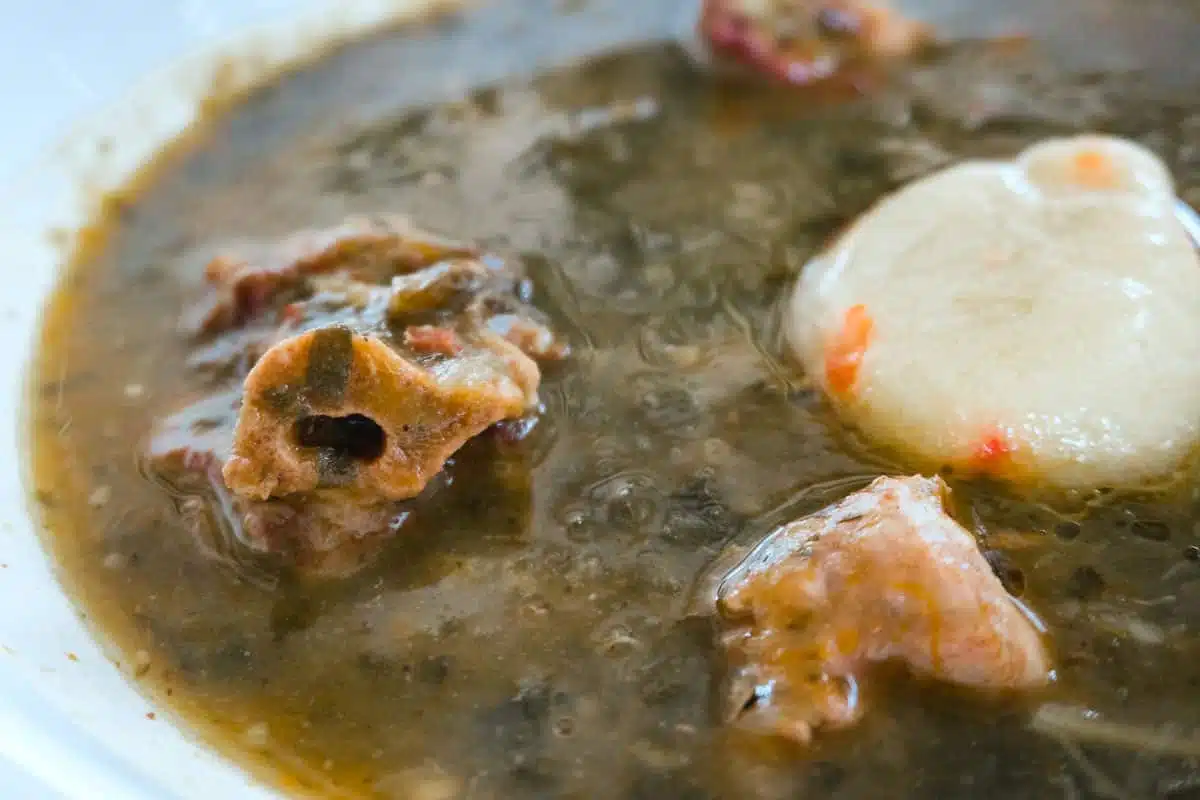 Another place I highly recommend is Alma's in St. John's. This cosy, open-air restaurant serves up wholesome Antiguan dishes – but you should make a beeline to one dish, and one dish only…
There's no point in visiting Alma's without trying their Fungee and Pepperpot. This steaming bowl filled with succulent stew, spinach, cornmeal, and okra dumplings is the epitome of authentic Antiguan flavours.
Dennis' Beach Bar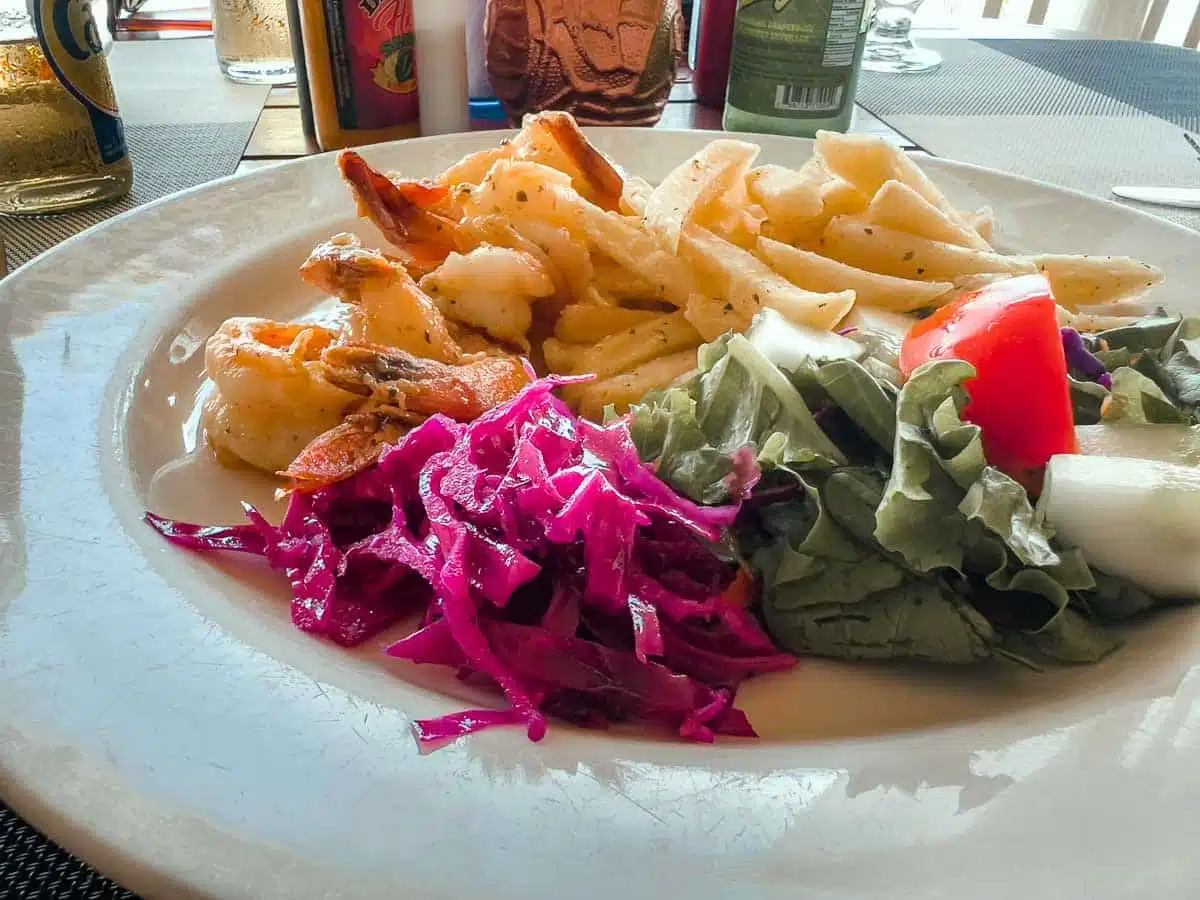 I was quite lucky to have Dennis' Beach Bar a short walk away from my hotel in Antigua. It's the ultimate laid-back beach restaurant. With its stunning views of Ffryes Beach, where palm trees sway against the backdrop of the Cerulean Sea, it's the perfect spot to unwind.
Don't miss their incredible curried goat or curried conch for a taste of local delights. Are you craving seafood? Go for their grilled prawns — fresh and succulent, straight from the boat.
One Stone Smoothie and Juice Shack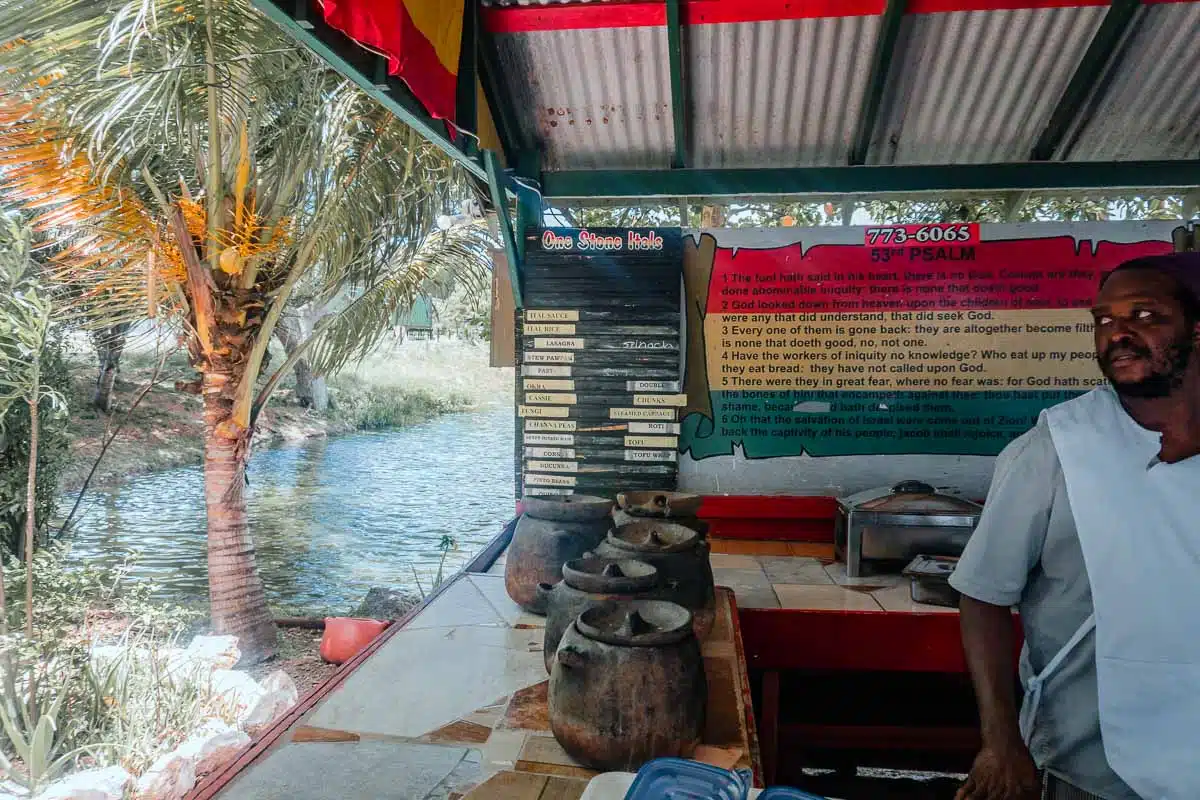 One Stone Smoothie and Juice Shack serve fantastic vegan cuisine infused with Rastafarian flair. They focus on serving fresh, wholesome food in a laid-back setting next to Country Pond, a charming little lake.
I recommend trying their fresh juices. Sip on refreshing blends like turmeric and lemon, perfect for keeping you cool in the island heat. Plus, they offer some of the best vegan-friendly options on the island.
The Makery by VJ's Bakery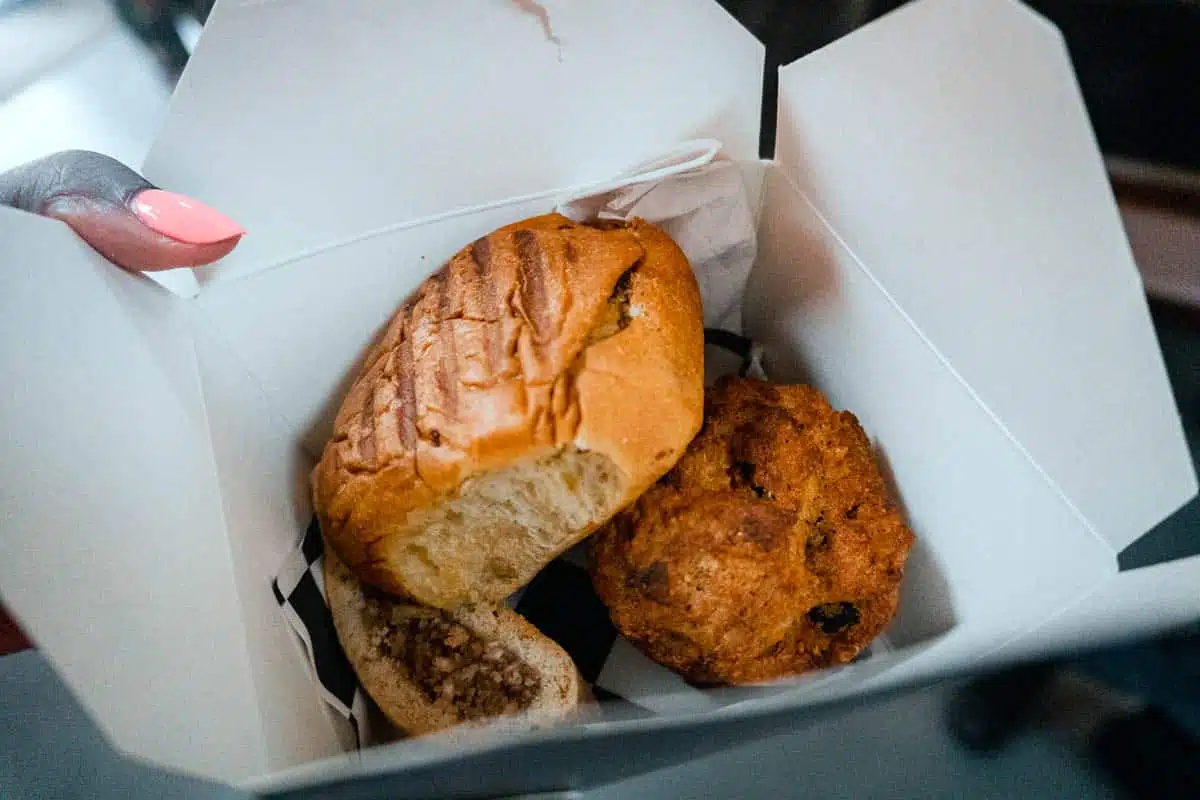 Now for a treat – the Makery by VJ's Bakery is a locally-owned treasure trove of mouth-watering Antiguan cakes, bread and snacks that'll transport you straight to a local's kitchen. Don't miss their coconut tart and indulgent bread pudding.
They also whip up fantastic sandwiches, salads, soups and fresh juices that are perfect for a quick and delicious lunch on the go. Everything, from the desserts to the bread, gets prepared in-house, ensuring the freshest and tastiest treats possible.
Boundary Bites by Twos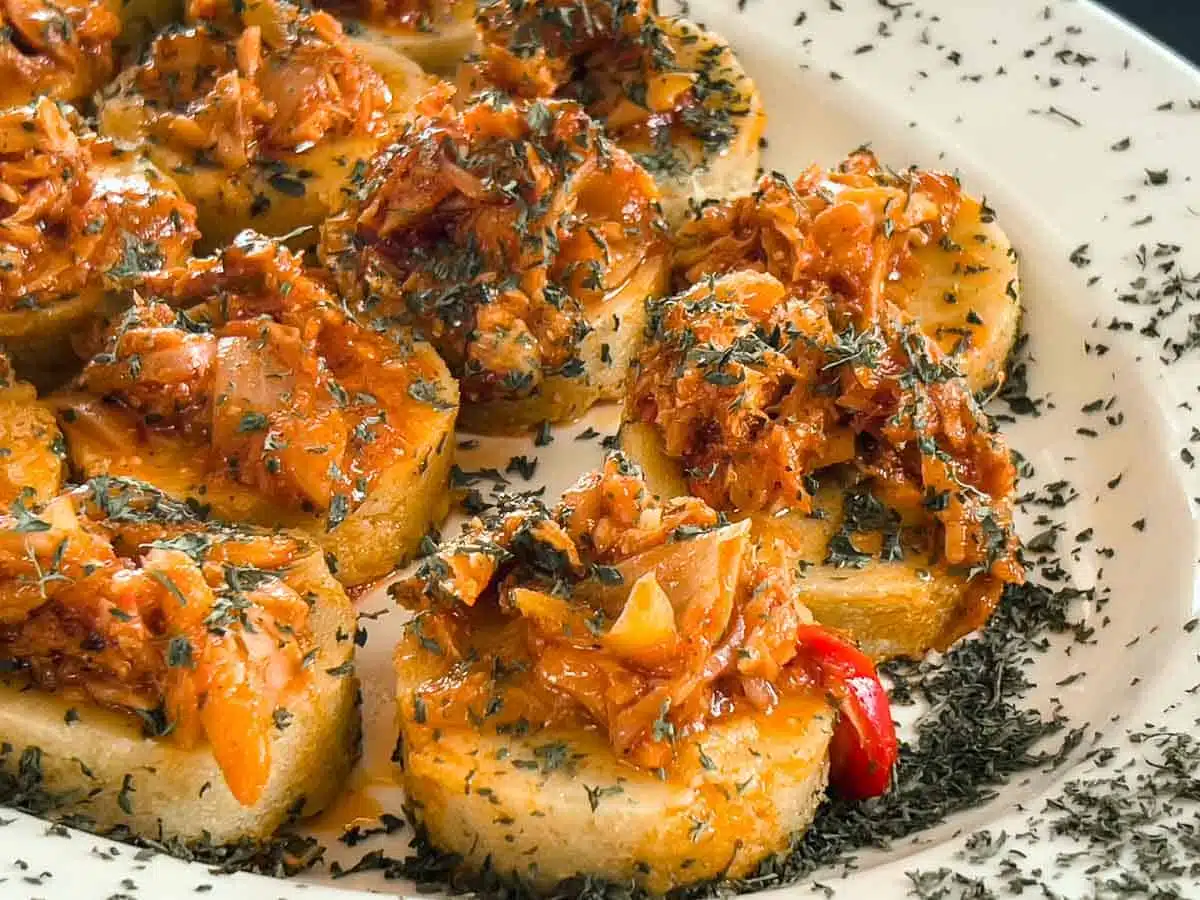 If you find yourself near the Sir Vivian Richards Stadium, visit Boundary Bites by Twos. Yes, it's a stadium built for cricket matches, but you should try their food even if you're not catching a game.
They serve hearty portions that will leave you beyond satisfied. And here's a bonus — they offer local delivery, so you can enjoy their delicious dishes wherever you are on the island.
Wild Tamarind Restaurant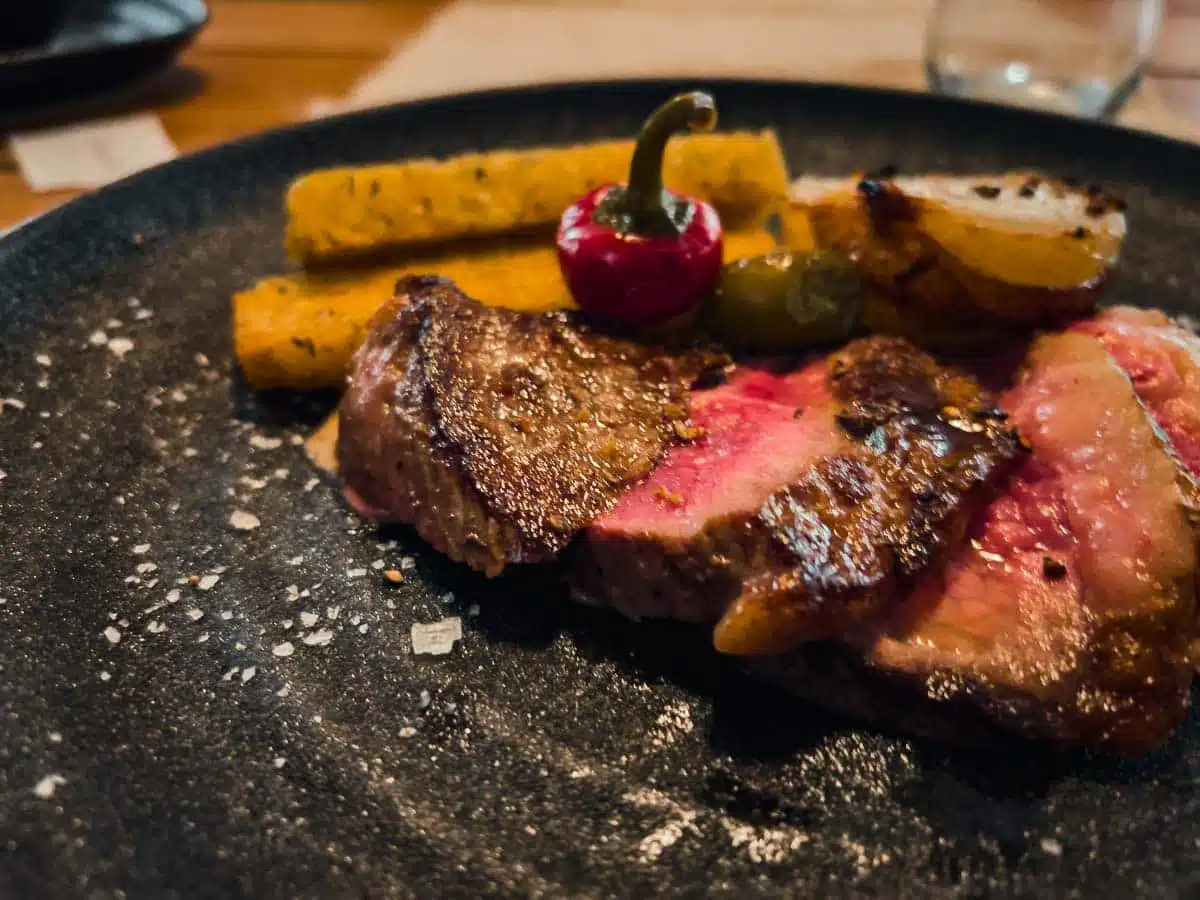 You'll find the Wild Tamarind Restaurant just a stone's throw away from Ffryes Beach. I'm not usually one to rave about hotel restaurants, but this place is fantastic.
Their eclectic menu is a fusion of Mediterranean, Caribbean and Middle Eastern flavours. Oh, and did I mention their extensive wine list? I highly recommend heading there for sundowners, basking in the breathtaking sunset and indulging in a feast at their open-air restaurant.
Rokuni
Perched on a stunning cliff along Antigua's eastern shore, Rokuni is the ultimate destination for laid-back afternoons in the sun and romantic evenings. From dim-sum by the pool to a lavish buffet, their Asian-inspired menu features sustainably sourced, top-quality ingredients.
They also have an independent bar beside their cliff-front pool with plush daybeds scattered about. So, this is the place to be if you want a luxurious lunch, dinner or a fruity cocktail with stunning poolside views.
Catherine's Cafe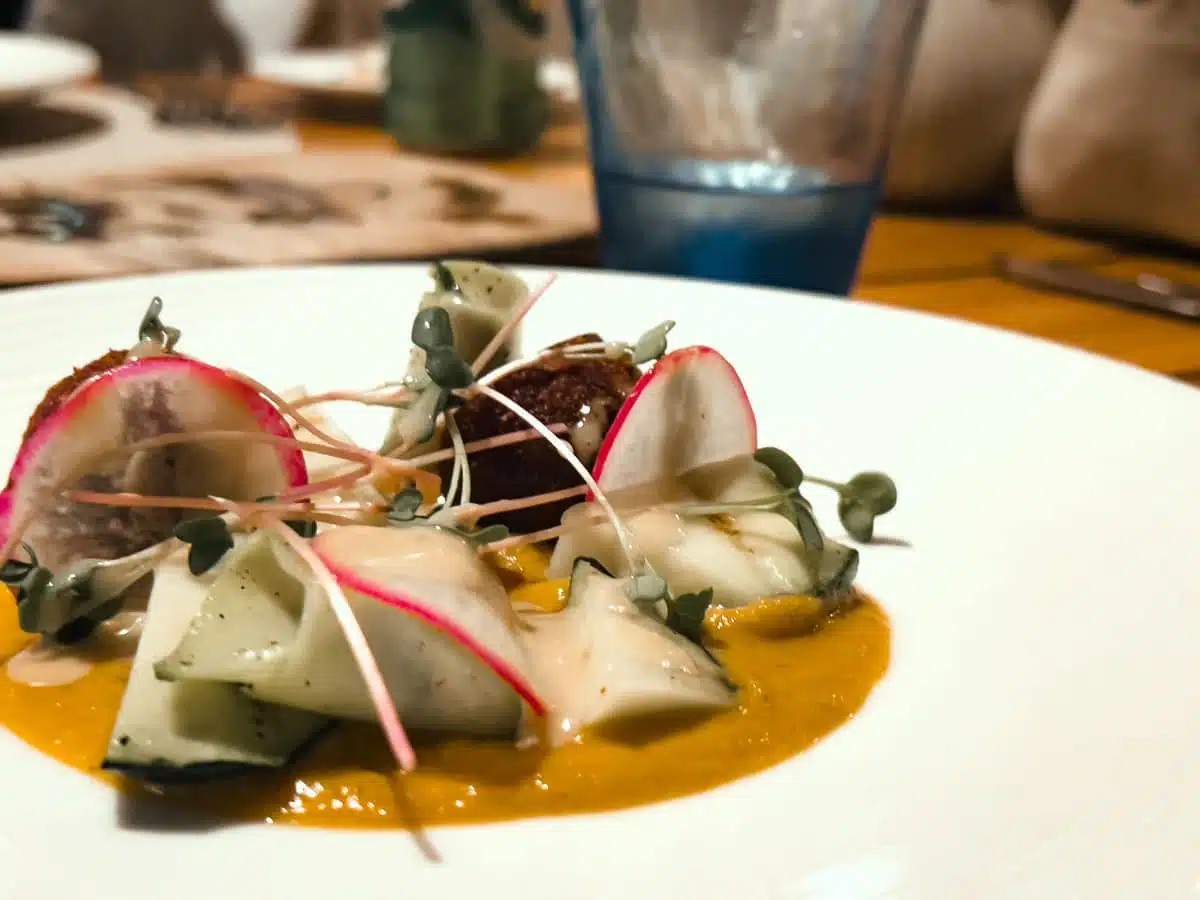 Catherine's Cafe is a trendy French bistro-style restaurant near Pigeon Point Beach. Their menu blends French culinary traditions with a laid-back beachy twist, using local ingredients from farmers, fishermen and artisan food producers.
Head over for a relaxing yet toothsome meal, and if you time it right, you might even catch the soulful tunes of a live jazz band.
Big Banana
Big Banana serves up a tantalising fusion of local and international flavours. Their legendary hot dogs and signature Big Banana pizzas steal the show, earning them their reputation as a must-visit.
But fair warning — the pizzas are massive, so don't leave your appetite at the door. The fun and lively atmosphere adds to the overall experience and will entertain you as you savour every delicious bite.
Pop Up Beach Bar at Jolly Harbour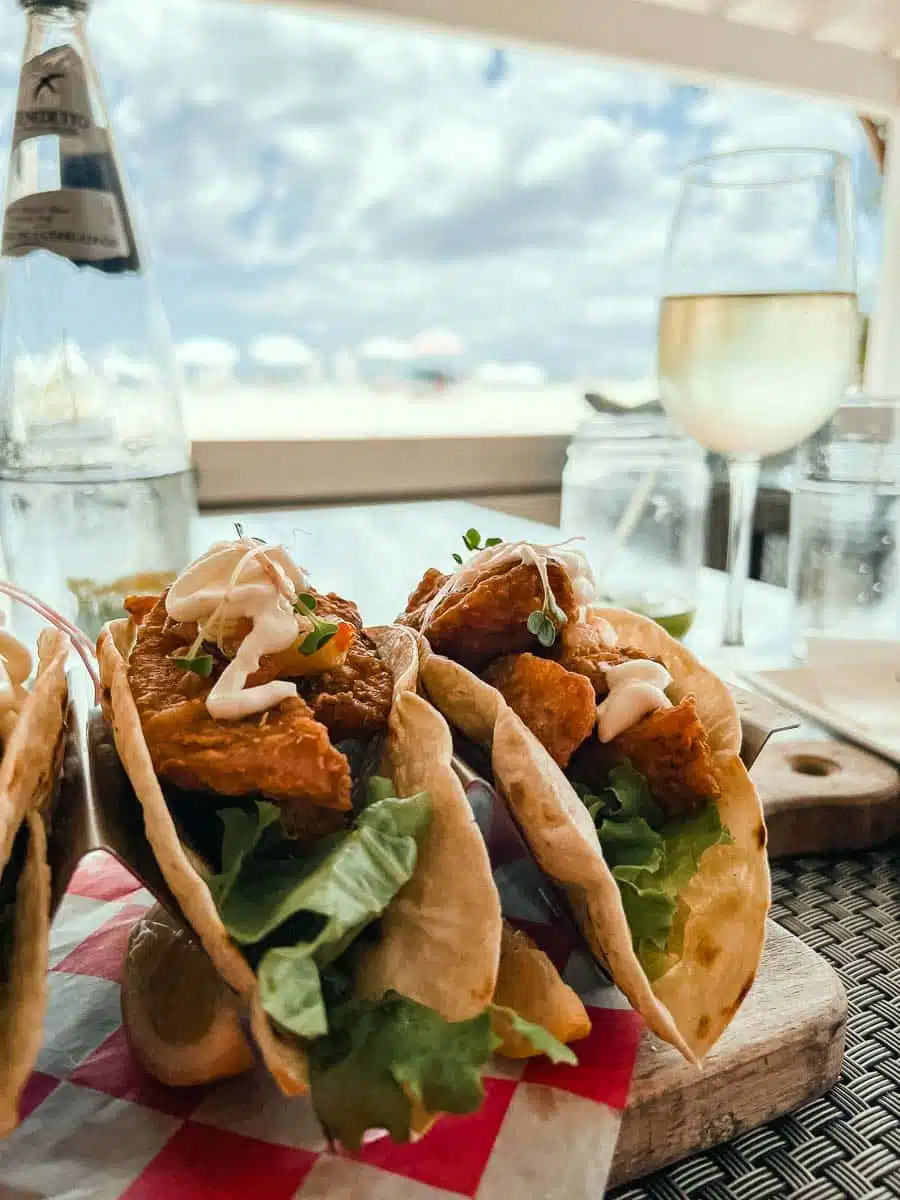 The Pop Up Beach Bar at Jolly Harbour is hands down one of my favourite spots for a fun lunch experience. It's got that feel-good bohemian vibe that instantly puts you in vacation mode.
Let me take a moment to rave about their incredible fish tacos — tender chunks of lightly battered fish perched on a bed of fresh tacos and zesty salads. It's the ultimate treat after a sun-soaked day.
And don't forget to pair it with a zesty caipirinha cocktail or a glass of crisp white wine.
Practical Tips for Exploring Antiguan Food
Don't be afraid to venture beyond the restaurants and explore the street food scene. Antigua has many food stalls offering delicious snacks like saltfish fritters, roti and grilled meats.
Quench your thirst with local beverages like Wadadli beer, rum punches and mauby (a traditional herbal drink).
If you really want to learn more about Antigua's food scene, I highly recommend taking a Eat n Lime Tour. Run by Tiffany, these tours allow you to delve deeper into the culture and find hidden gems around the island. We started ours at a rum distillery which totally set the scene for an epic tour.
Antiguan Food Guide: Read Next