Travelling to Italy and want to see Rome in one day? Here is my epic 1 day in Rome itinerary, packed with everything from where to eat to the best sites to visit during your short time in this magnificent city.
If there is one thing you need to know about Rome, it's that the city is bursting with exciting sites and attractions around every corner. Although I'd suggest spending 3 days in Rome, you may not have that long to spend in the city.
But, hang on, can you even see Rome in a day? Yes, you can.
This is where I come in – I'm going to to show you the best way to see Rome in a day. You'll be able to explore glorious sites from the mighty Colosseum to the enchanting museums of the Vatican City on this whistle-stop tour.
Get ready for an action-packed day in Rome.
Handy Tips for Planning Your Day in Rome
Group Tours or Independent Travel?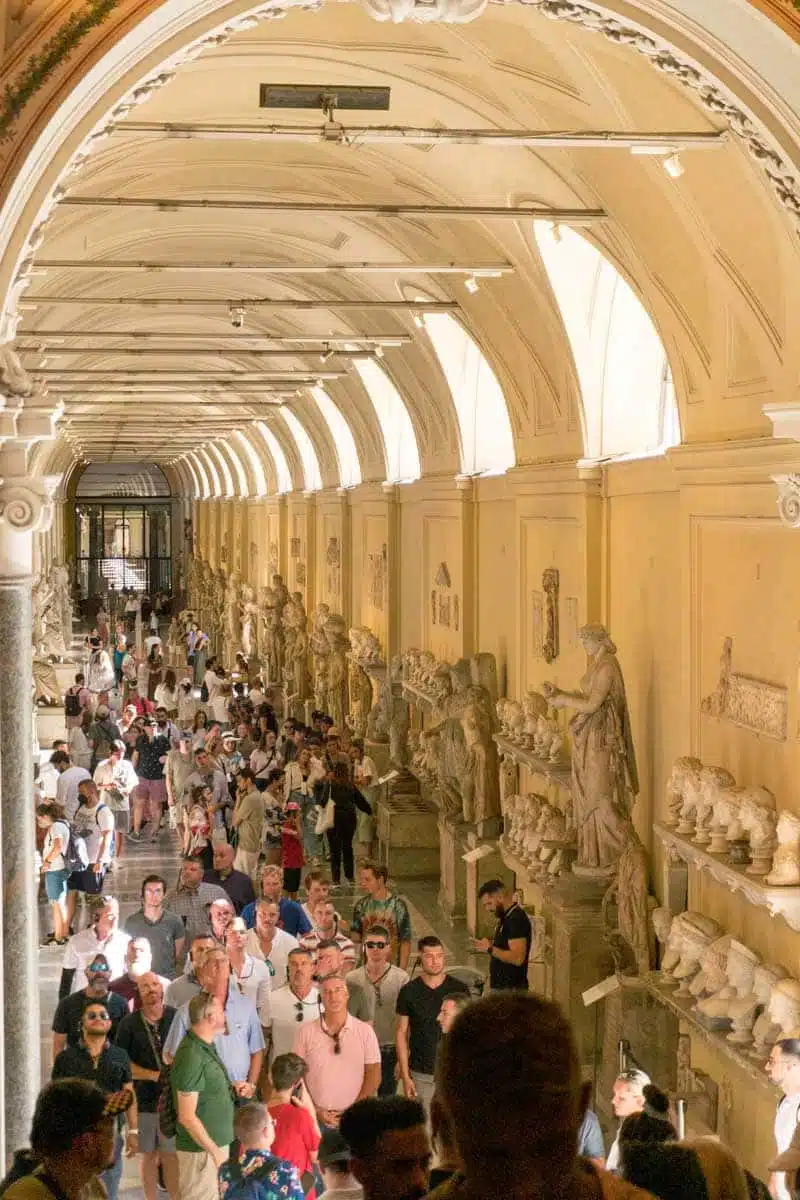 It's entirely understandable if you want to explore Rome at your own pace. That said, group tours also offer some fantastic insider information you may miss if you decide to tour Rome independently.
There are some things you don't need to join a group tour to enjoy, such as visiting Trevi Fountain or exploring the Pantheon. However, the museums of Vatican City have thousands of things to see, and this is where group tours come in handy to show you the best bits.
Here are some great options you can join:
How to See Rome in a Day: Useful Resources
Here are the best tools you can use to make the perfect day in Rome a reality:
Top Tip: Learn More about how to prepare for Rome with my Italy travel guide
Getting Around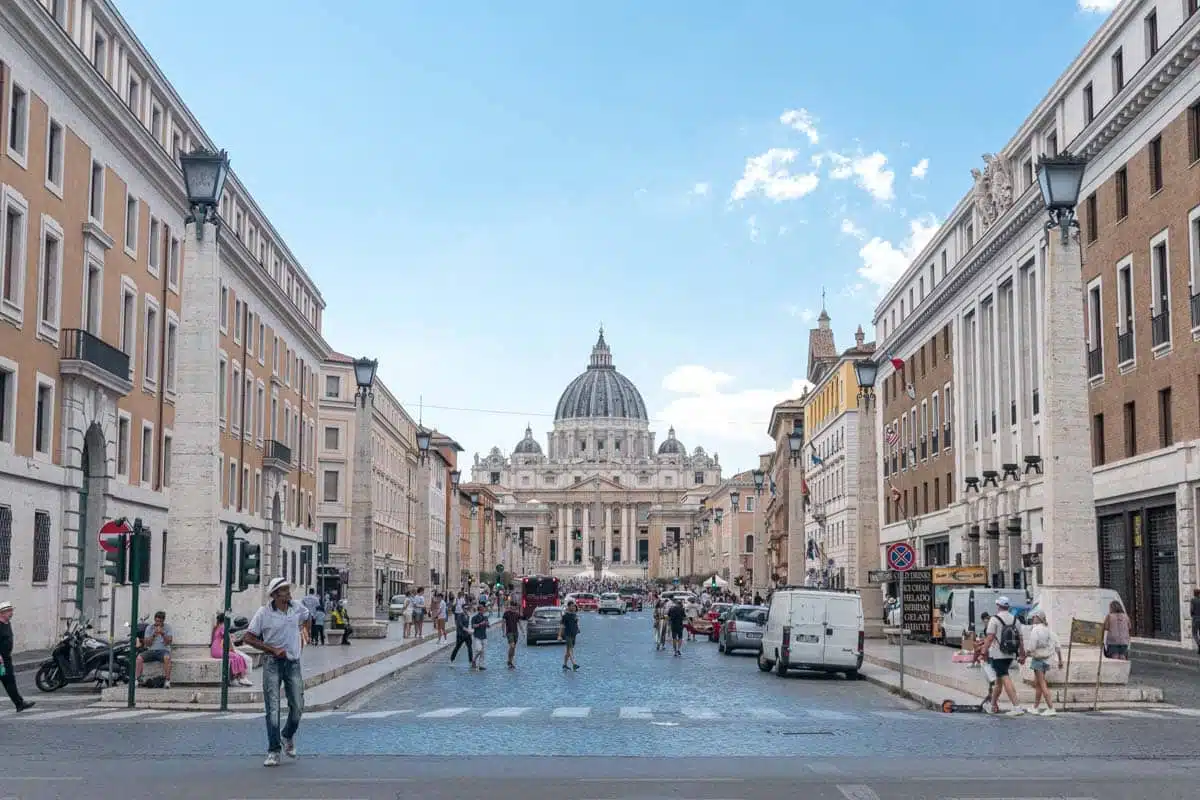 This may seem crazy, but I truly believe that the best way to get around the city is by foot. This is because most of the major historical sites are all close together in traffic-free zones of the city.
That said, the Vatican City – which is definitely on this Rome-in-a-day itinerary – is slightly further away from the central historic district in the city. That's when the metro comes in very handy.
Or, to save time and see everything the city offers in a day, use appTaxi to book and pay for trips conveniently from your phone.
One Day in Rome Itinerary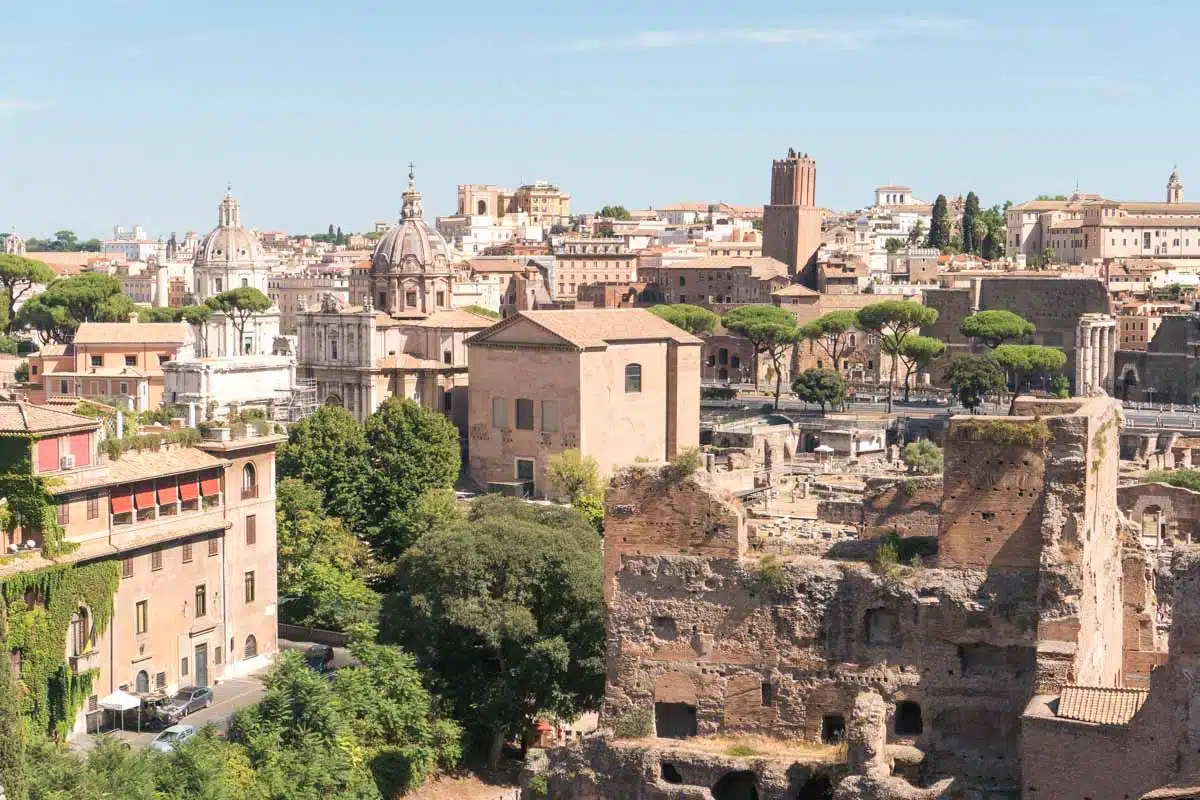 Now that I've gone through the essential tips you need to know before embarking on your one-day Itinerary in Rome, let's jump in.
Things to Do in Rome in a Day: Morning
I suggest getting as early a start to your day as possible.
As the Colosseum only opens at 8:30 am, try and get a light breakfast at La Licata, a trendy cafe that's only an 8-minute walk away. The cafe opens at 5:30 am, so you can have a relaxing early morning breakfast before the start of a busy day.
8:30am – Colosseum and Arch of Constantine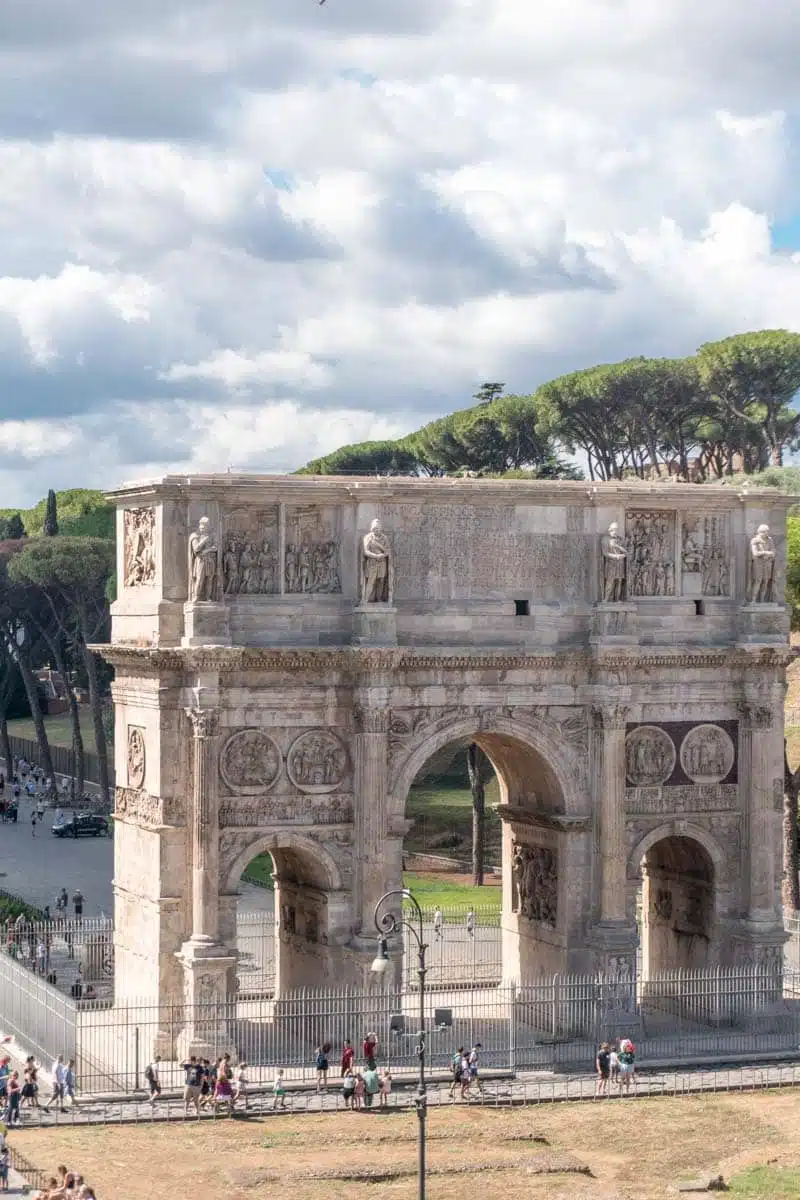 Before entering the Colosseum, admire the Arch of Constantine, which represents the success of Constantine in forming a united Italy. Don't forget to snap an epic pic of yourself by this historic monument.
Built between 72 A.D. and 80 A.D. by Emperor Vespasian, this historic landmark is an icon of the great Roman Empire. Explore the Colosseum's Hypogeum, the underground tunnels where the prisoners and animals would stay before engaging in battle.
You can spend up to an hour at the Colosseum. It's relatively easy to find guided tours that include the Roman Forum and Palantine Hill – the next destinations on this Rome 1 day itinerary.
Book Your Skip-the-Line Colosseum Guided Tours Here
9:30am – Forum and Palatine Hill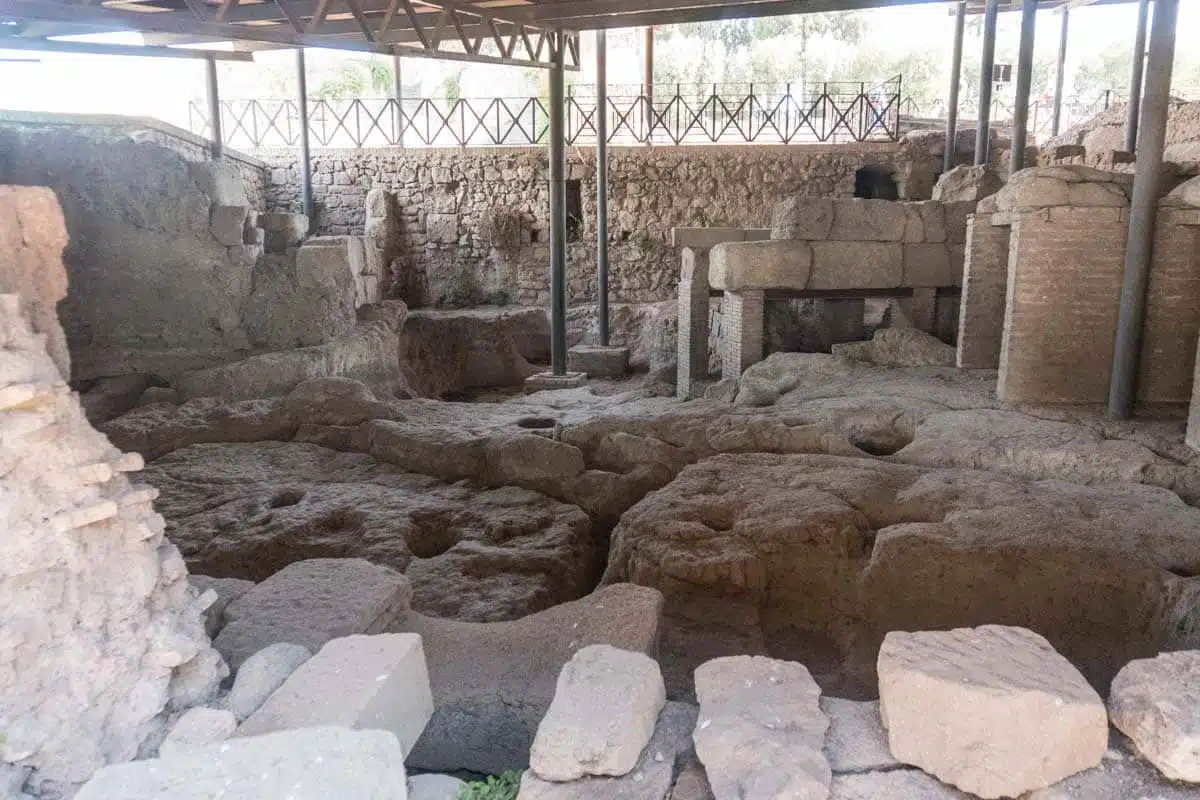 Head over to Palatine Hill, no more than a minute's walk from the Colosseum. Palatine Hill was one of the most popular areas in Ancient Rome and is an important archaeological site that provides stunning panoramic views of the city.
The Roman Forum is a minute away from Palatine Hill by foot, so pairing these two sites into one visit is super convenient. The Roman Forum was once the cultural hub and marketplace of ancient Rome and is easily identifiable with the ruins of past governmental buildings.
You can easily see the Colosseum, Palatine Hill, and Roman Forum in two and a half hours.
Book Your Forum and Palatine Hill Tours Here
11am – Piazza Navona
Alright, by this stage, it will be somewhere around 11 am, and there are still a couple of sites you'll want to see before lunch.
Take a short 15-minute walk (1,3km) from the Roman Forum to Piazza Navona— one of Rome's most beautiful open spaces. The Piazza Navona was first a sporting stadium built by Emperor Domitian in 86 A.D, which is the reason for its elongated shape.
Today, Piazza Navona has three glorious fountains: Fontana del Moro, Fontana dei Quattro Fiumi, and Fontana di Nettuno for you to admire. This is a fantastic place to walk around and take in the local culture.
Top Tip: The Piazza Santa Maria in Trastevere is another excellent square you can visit in Rome.
12pm – Pantheon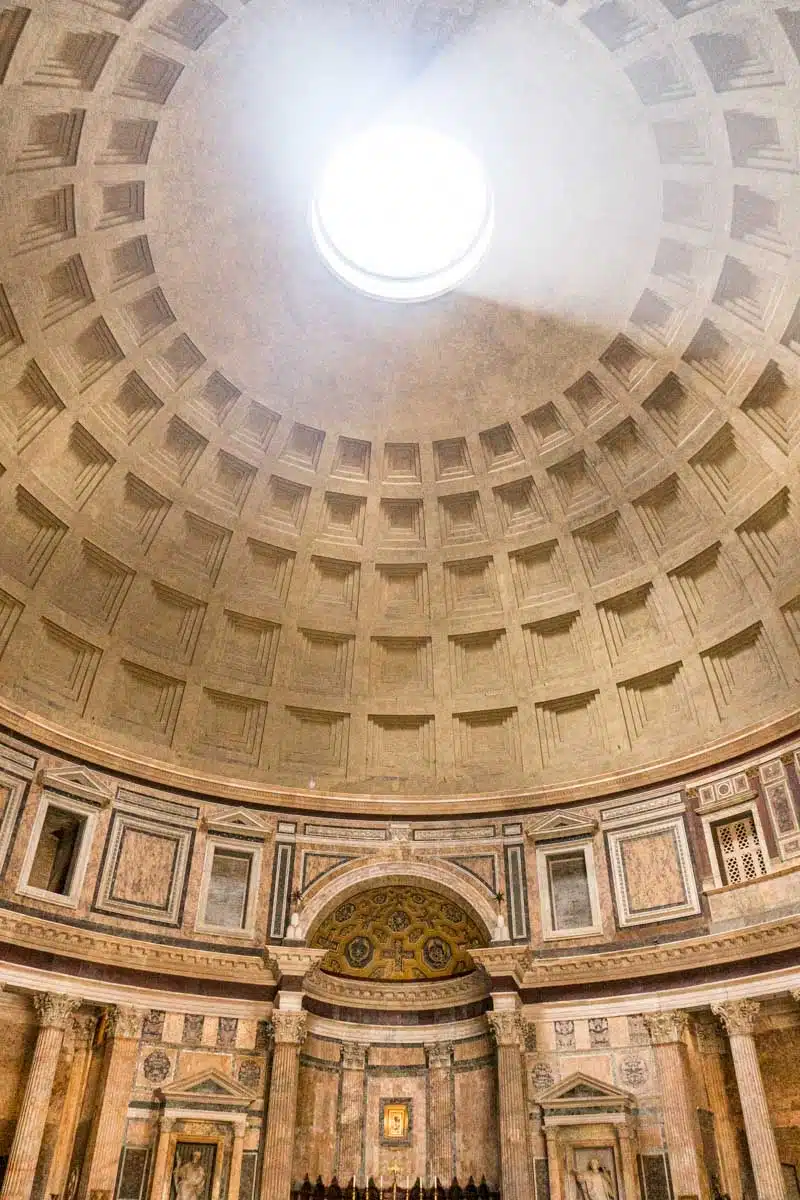 After a laid-back walk through Piazza Navona, take a 5-minute walk (300-metres) to the Pantheon, the most well-preserved building from Ancient Rome. Previously created as a temple to the Gods, the Pantheon is now an architectural wonder with the largest unsupported dome in the world.
Aside from mesmerising architecture, you can visit the tombs of famous Italian poets, kings and the renaissance artist Raphael. Gaze up at the Pantheon's oculus, which lights the large hall and serves as a sundial.
I recommend spending between half an hour and 45 minutes at this architectural masterpiece before having lunch. I also recommend booking skip-the-line tickets to avoid having to queue outside.
Book Your Pantheon Guided Tours Here
Things to See in Rome in One Day: Midday
Now it's time to fuel up on authentic Italian cuisine before exploring even more landmarks.
12:30pm – Lunch at L'Antica Birreria Peroni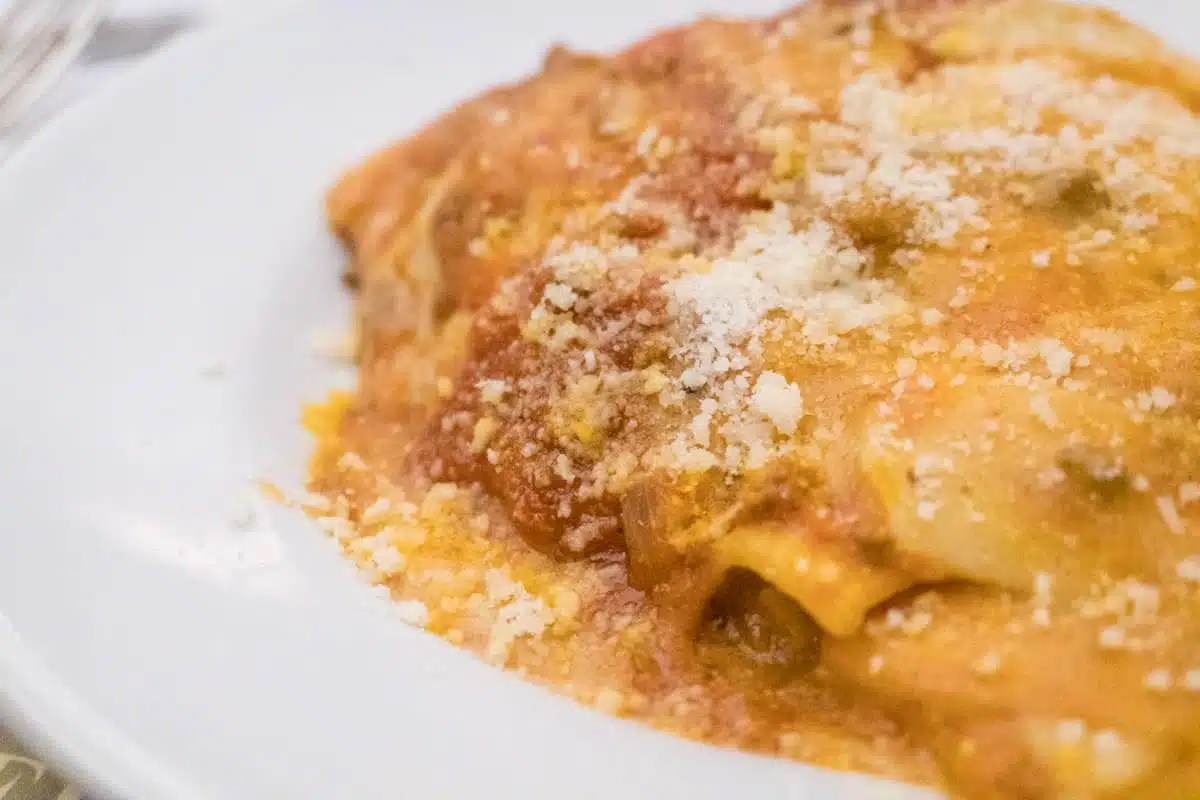 Only a short 7-minute walk (550-metres) from the Pantheon, L'Antica Birreria Peroni is a culinary sensation you will love. This restaurant is the perfect pairing of Italian cuisine and craft beer, set in a building teeming with history.
You'll find the restaurant in a building that used to be a post office and then a church. So religious relief sculptures are all over the walls, which adds to the uniqueness of this restaurant.
L'Antica Birreria Peroni pairs particular beers with select dishes to make each meal an adventure for the senses.
1:30pm – Trevi Fountain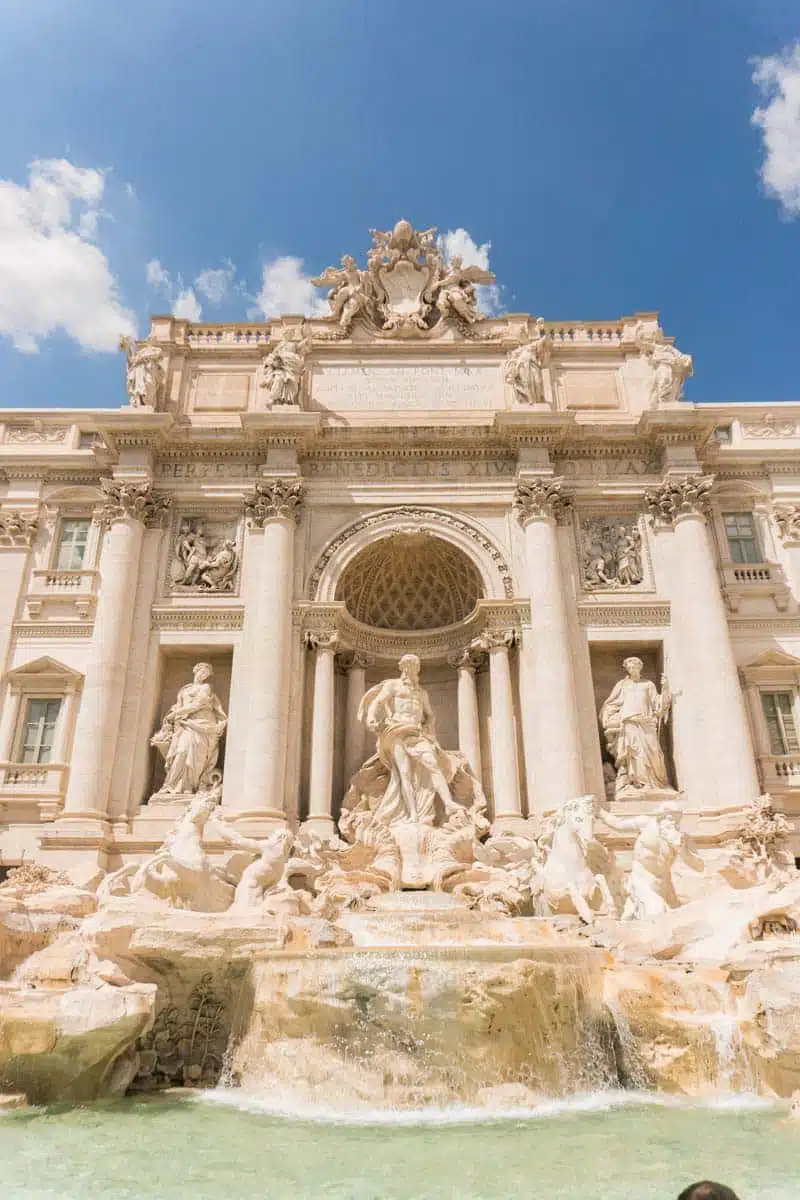 After an unforgettable lunch, take a short 5-minute walk (300-metres) to Trevi Fountain, the most beautiful fountain in Rome.
The sculptures that ordain this fountain depict Neptune, the God of the Sea, riding a chariot pulled by two horses. Each horse represents the calm and rough nature of the ocean and depicts Neptune's battle to tame the Sea.
This is a beautiful feature in Rome, but you don't need to spend more than 30 minutes here, as there is plenty more to see.
1:45pm – Spanish Steps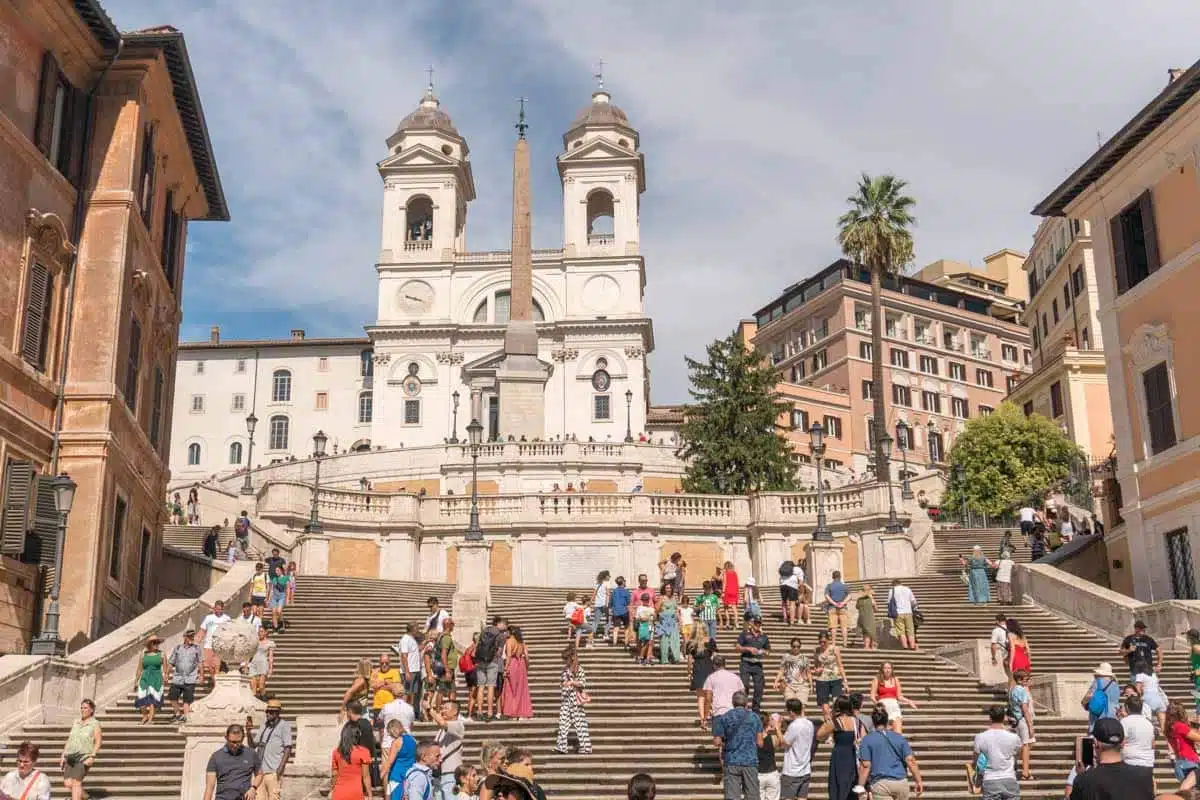 After a brief 8-minute walk (650-metres) from Trevi Fountain, the Spanish Steps reveal themselves. The 135 travertine steps and 12 ramps make up this landmark and connect the Piazza di Spagna to the Trinità del Monti Church.
The Spanish steps aren't just the longest but are also the widest set of steps in Europe. Although enjoyable, you don't need to spend more than 15 minutes at this famous tourist site.
Top Tip: It's illegal to sit on the Spanish Steps, and you can face a fine of up to 400 euros if caught.
2pm – Castel Sant'Angelo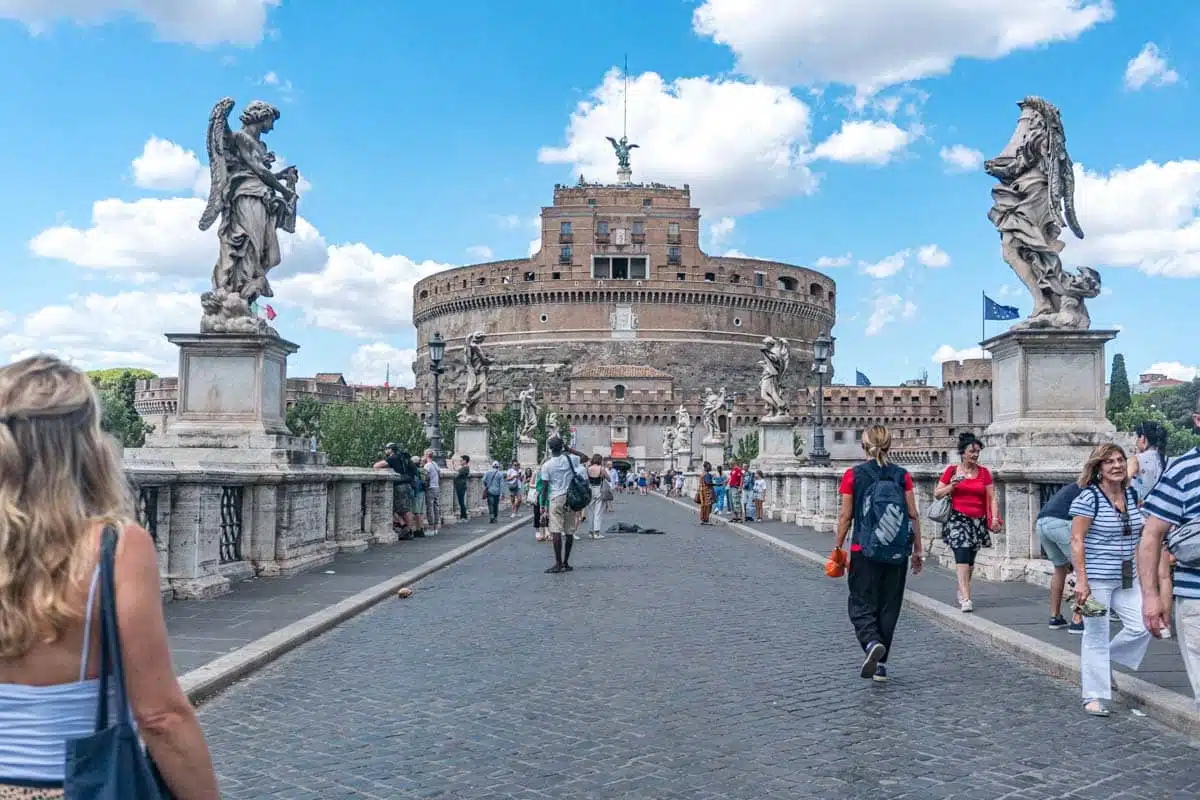 To get to Castel Sant Angelo from the Spanish Steps, you must cross River Tiber on a 1,5km walk or catch a taxi for a 10-minute drive.
Once here, admire the spectacular view of this historical museum from St. Angelo Bridge. Entering the building is optional, but the museum has an impressive seven stories of exhibits, including the beautiful fresco painting of Cupid and Psyche.
If you decide to go into the building, I recommend spending no more than an hour.
Book Castel Sant Angelo skip-the-line tickets here
Things to Do in Rome in One Day: Afternoon
By this stage, it will be around 3 pm and just about time to fit in the last and possibly the most enthralling activity of the day.
3pm – Vatican City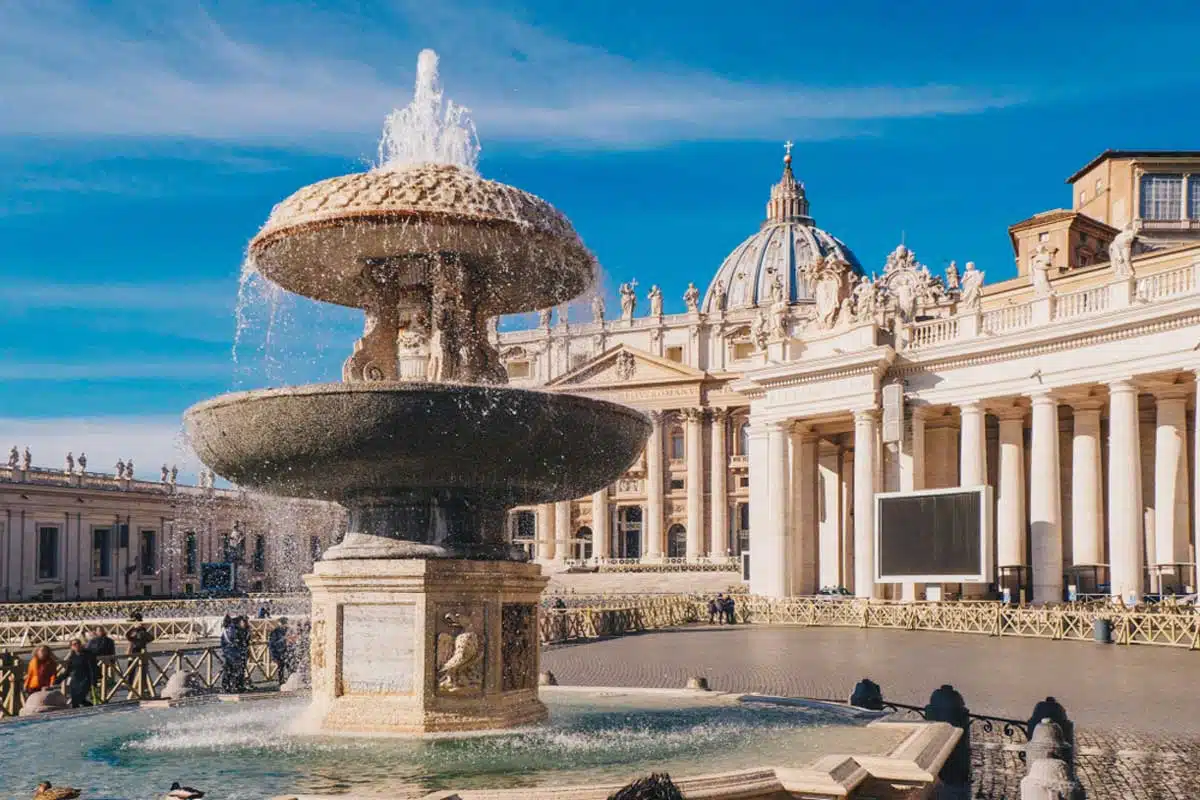 You didn't think I would forget the Vatican City, did you?
Explore the endless supply of history, art, and culture that the Vatican city offers. It's art galore at the Vatican, from Michelangelo's frescoes in the Sistine Chapel to the room of Raphael in the Vatican museum.
You can also experience the optical illusion of St. Peter's Basilica, which makes it appear bigger the further you walk. The Vatican is a historical goldmine, and the best way to explore it is with a skip-the-line guided tour.
By the end of your tour, it will be somewhere around 6 pm, and the sunset will slowly be creeping in. Catch a taxi to Terrazza Les Etoiles (1,5km away), a beautiful rooftop bar, so you can enjoy the sunset to wrap up an eventful day.
8pm – Dinner at Miraggio Ristorante Pizzeria
It's time to finish off your day of adventure – how better to do it than to head to Miraggio Ristorante Pizzeria, a 2,7km drive from Terrazza Les Etoiles. Miraggio Ristorante Pizzeria offers the perfect pizza pasta experience in the heart of Rome, and don't get me started on the wine.
This vibrant and romantic restaurant will make you fall in love with the atmosphere of Rome and have you already planning your return.
24 Hours in Rome – Map