Planning a trip to Rome and searching for a cosy place to call your temporary home? You can't go wrong with these gorgeous Airbnbs in the city.
Whether you fancy staring out the window at Colosseum views (yes, really) or bedding down in a colourful apartment in Rome's coolest district, Monti, believe me when I say that there are so many apartments worth ditching a plush hotel for.
In case you haven't heard me bang on about Plum Guide yet, this is an alternative to Airbnb and their accommodation options are top-notch. You'll find high-quality properties and each host is individually vetted, keeping you safe and your money secure.
Ready to discover the best Airbnbs in Rome?
Best Airbnbs in Rome: At a Glance
Best Airbnbs in Rome
Rome is full of famous landmarks to see and it also helps that the city is fairly walkable. But picking the perfect Airbnb can be the difference between living your best life in Rome and finding the city a bit meh.
These are my top picks…
Hungry Lions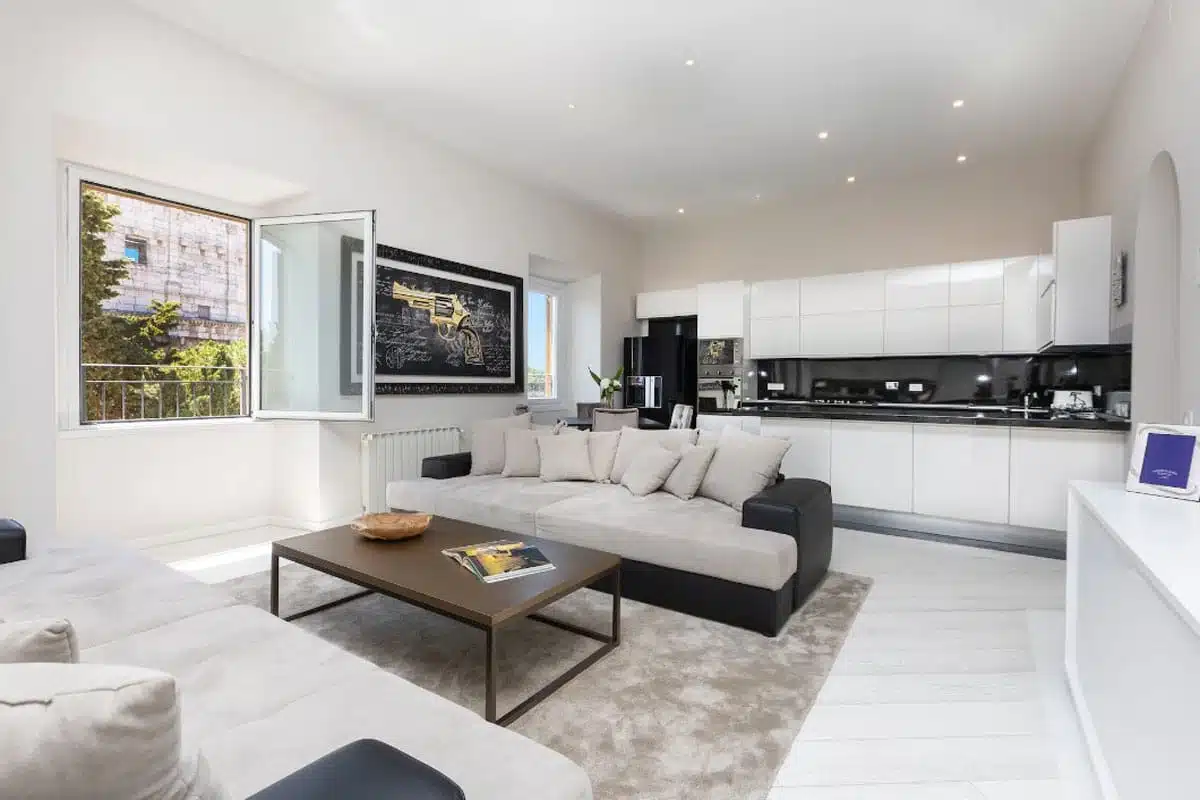 During my recent Rome trip, I stayed at this studio-style apartment and boy did it impress.
Colosseum views anyone? The stunning landmark is a 4-minute walk from the front door, and the metro is a (very) short walk away.
This was my home for just three days in Rome, but the fully-equipped kitchen and spacious living area—as well as the comfy king-size bed—would make for a lovely longer stay too.
Location: Monti
Monti is where all the cool kids stay – there are great restaurants and bars in the area and they're often decently priced, too.
Wine & Travertine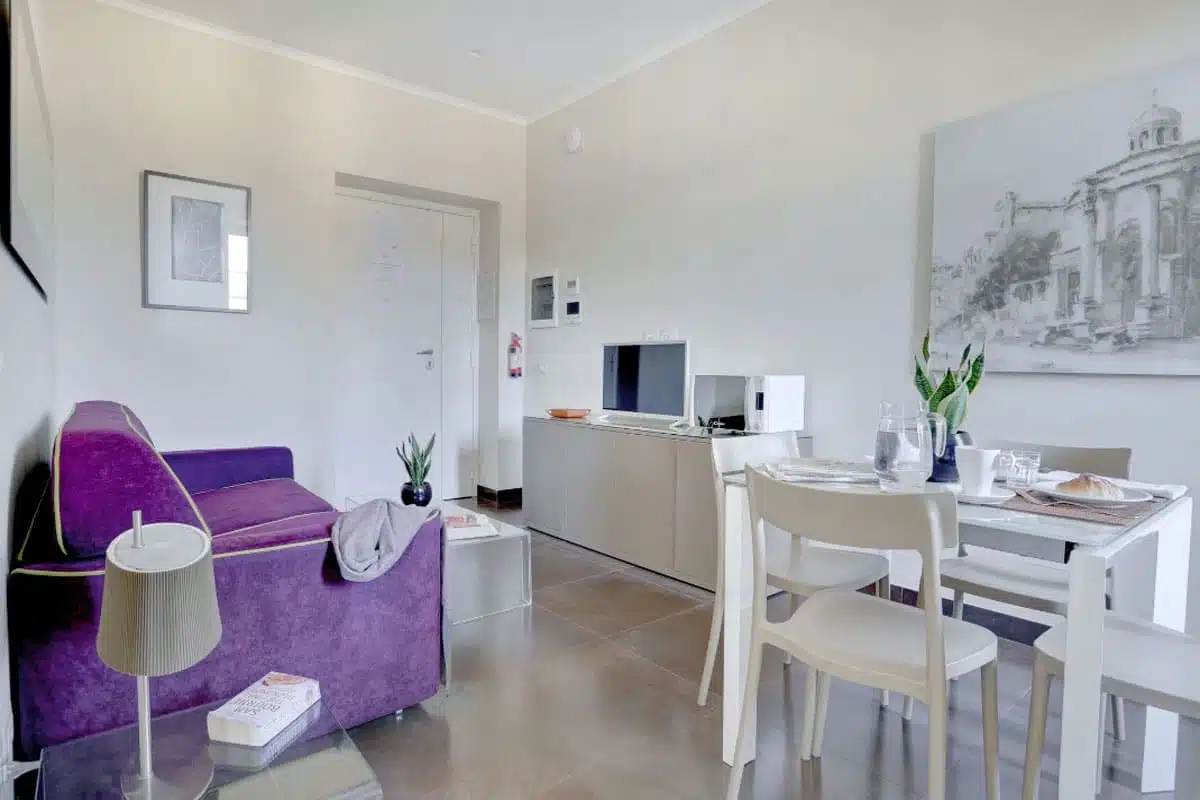 This homely Airbnb might be small but it's perfect for solo travellers and couples. The minimalist feel here is ideal if you're simply looking for somewhere to bed down at the end of each day.
Though that's not to say you're compromising on luxury here – not at all. The apartment comes with a tiny kitchen (though, it has everything you need for a short stay) as well as a large master bedroom and beautiful ensuite.
You're so close to Rome's stunning attractions, restaurants, and shops that you will likely be out exploring most of the time.
Location: Monti
Get in some vintage shopping while seeing many of Rome's most famous landmarks, all from the convenient neighbourhood of Monti.
Ponte Fresco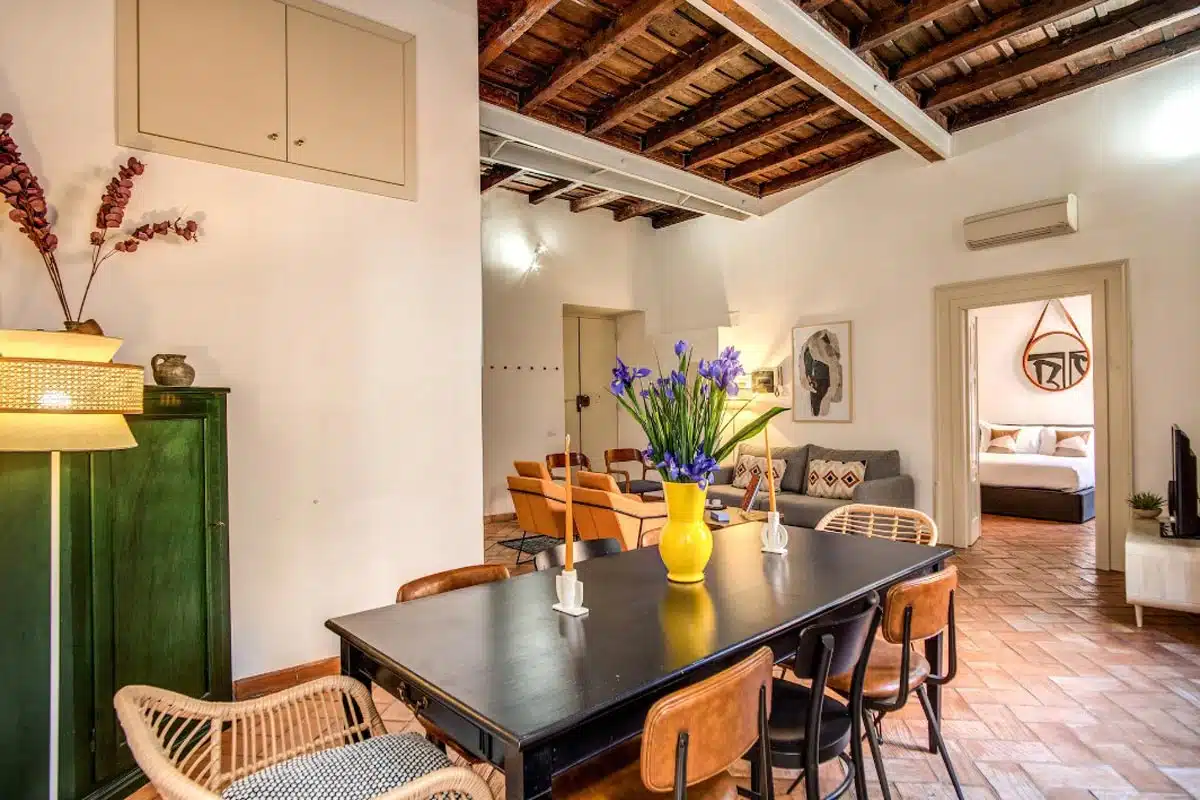 Travelling with friends? Larger groups of travellers will fit comfortably into this 4-bedroom Airbnb. And while the building is older, the inside is spacious and modern. Get ready to live out your sun-drenched Italian dreams.
Besides four welcoming bedrooms, the Airbnb offers an outside terrace and an indoor dining table for shared meals. The best part? The Pantheon is only 15 minutes on foot from here.
Location: Ponte
Along the River Tiber, this neighbourhood offers cobblestone streets and quaint cafés. Delight your senses with the various sights, smells, and tastes.
Moda Gialla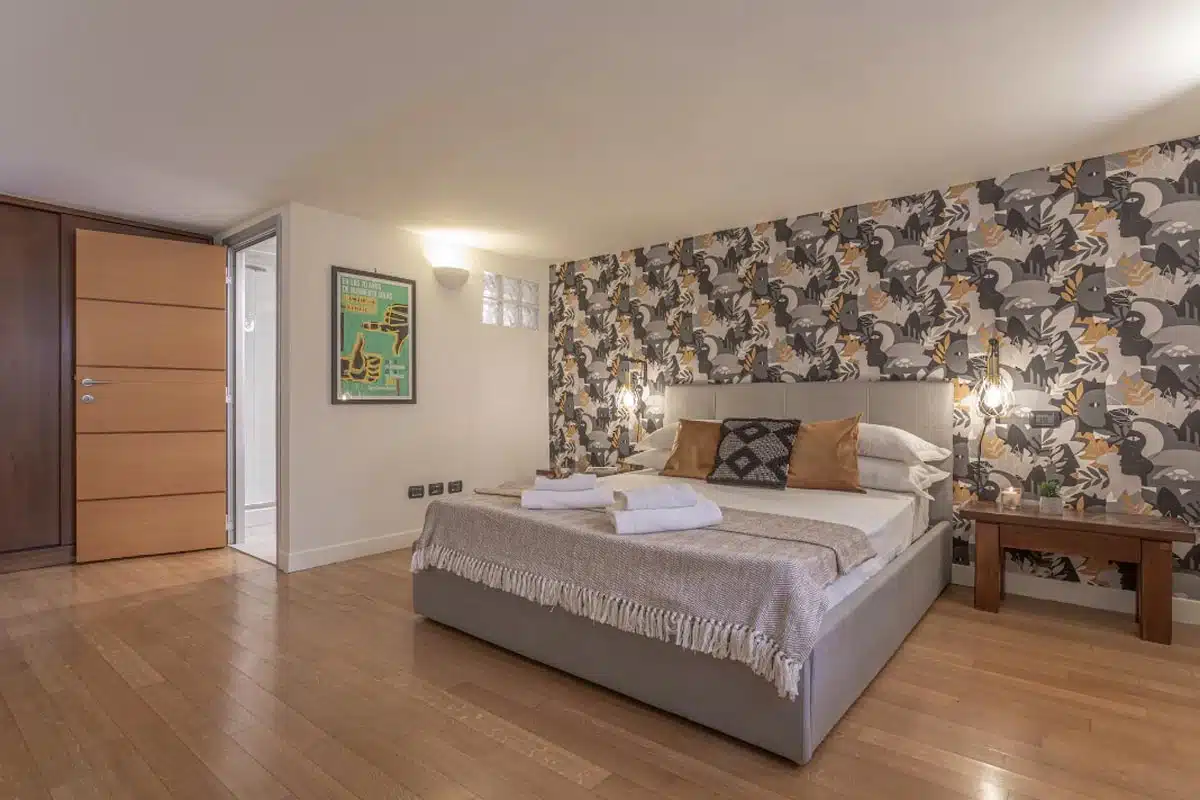 If the Vatican City is on your Italy itinerary wishlist (and it totally should be), staying at this colourful apartment is a must. There are two bedrooms and two bathrooms, so it's a great place to share with a small group.
The two-story apartment boasts bright feature walls, plant-filled bathrooms, and clean but cosy spaces to relax. The accommodation is just 750 metres from Vatican City, so you can roll straight out of bed and into the Holy See.
Location: Quartiere XV Della Vittoria
North of Prati, Rome, this neighbourhood is perfect for exploring the city. Admire Milvio Bridge, see the Foro Italico sports complex, and feast at one of the hillside restaurants.
Speranza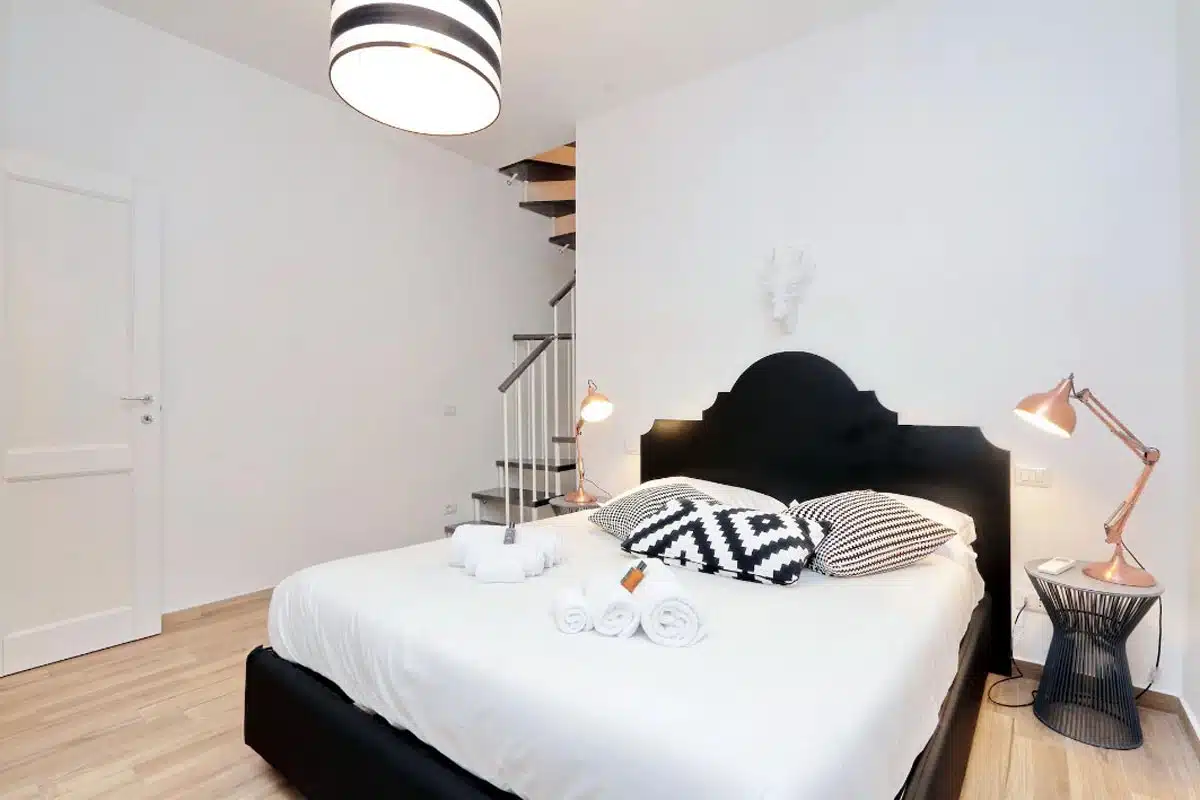 This compact yet trendy apartment fits right into its surroundings in chic Monti. There's a separate bedroom with an en-suite and a kitchenette, all in a pared-back space with eccentric pops of colour.
Staying here puts you fifteen minutes from the Spanish steps and thirteen minutes from the Colosseum, so it's ideal if sightseeing is the main reason you're visiting Rome. Aside from the food, of course.
Location: Monti
Monti is a prime place to stay while spending some time in Rome. It's central and vibey with family-run establishments and boutique stores.
Piazza Terrazza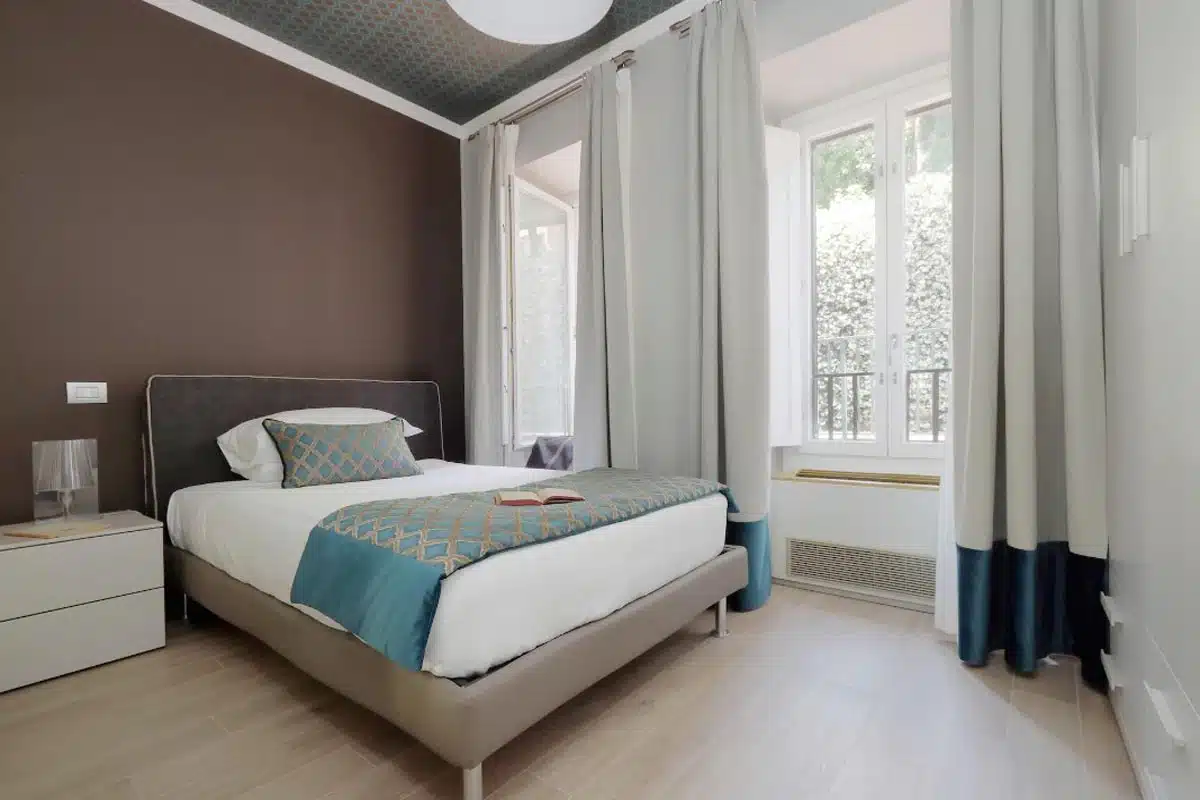 Boasting a private Cotto-tiled terrace, bright and airy living spaces, and two relaxing bedrooms, this Rome Airbnb is an excellent place to come back to each night. If you can tear yourself away in the first place.
Some of the top places to see near this accommodation include the gardens of Villa Borghese and the historic Piazza Navona.
Location: Rione IV Campo Marzio
This is one of Rome's oldest neighbourhoods, packed with old-world opulence and charm. It's quieter than Monti but still has a lot of character.
Bauhaus Loft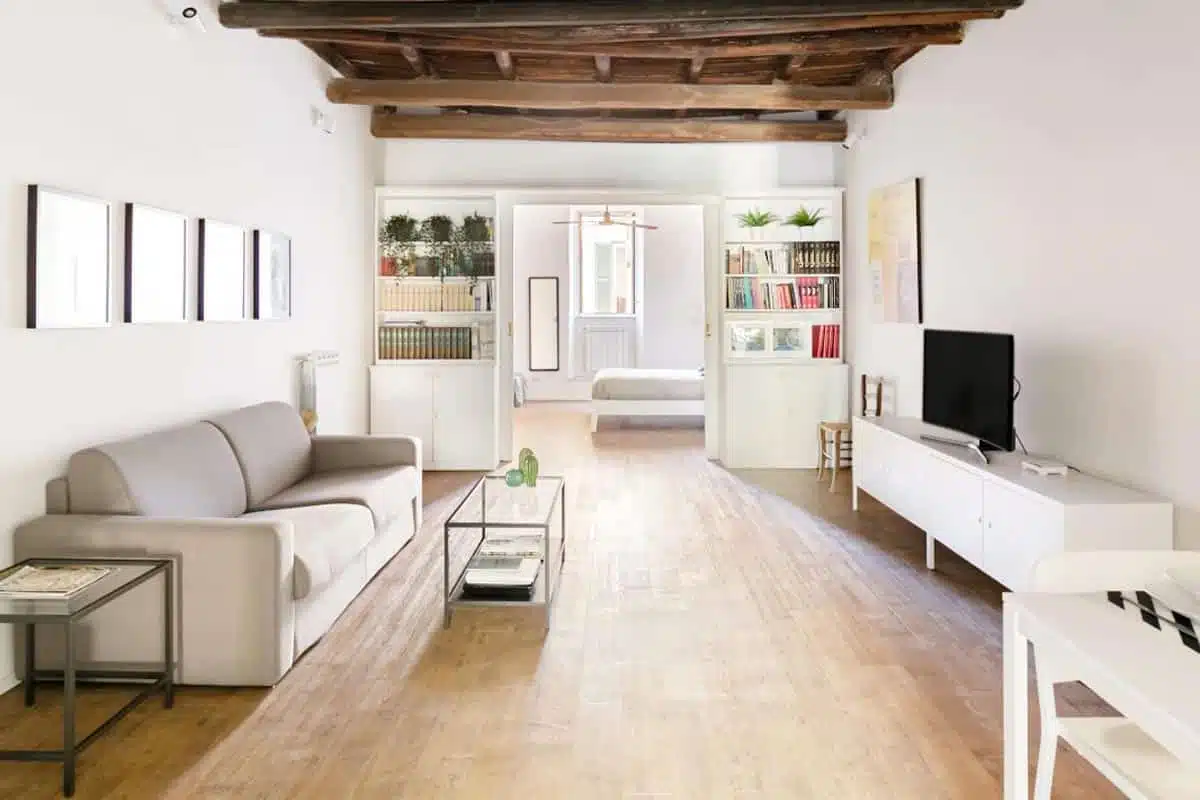 This Airbnb in Rome's Trastevere neighbourhood blends antique wooden beams and floors with modern finishes and furniture. It's a real fashionista's choice. There's also a charm about the traditional wooden shutters on the bedroom window—although the black-out blinds may come in handy too.
You're in the heart of Rome's stellar restaurant scene here, and the hosts take advantage of this by adding recommendations on the blackboard in the kitchen. A personal touch that I adore.
Location: Trastevere
As Rome's old Jewish Quarter, Trastevere boasts some of the city's most intriguing history, which you'll find around every cobblestone corner.
Terrazza Popolo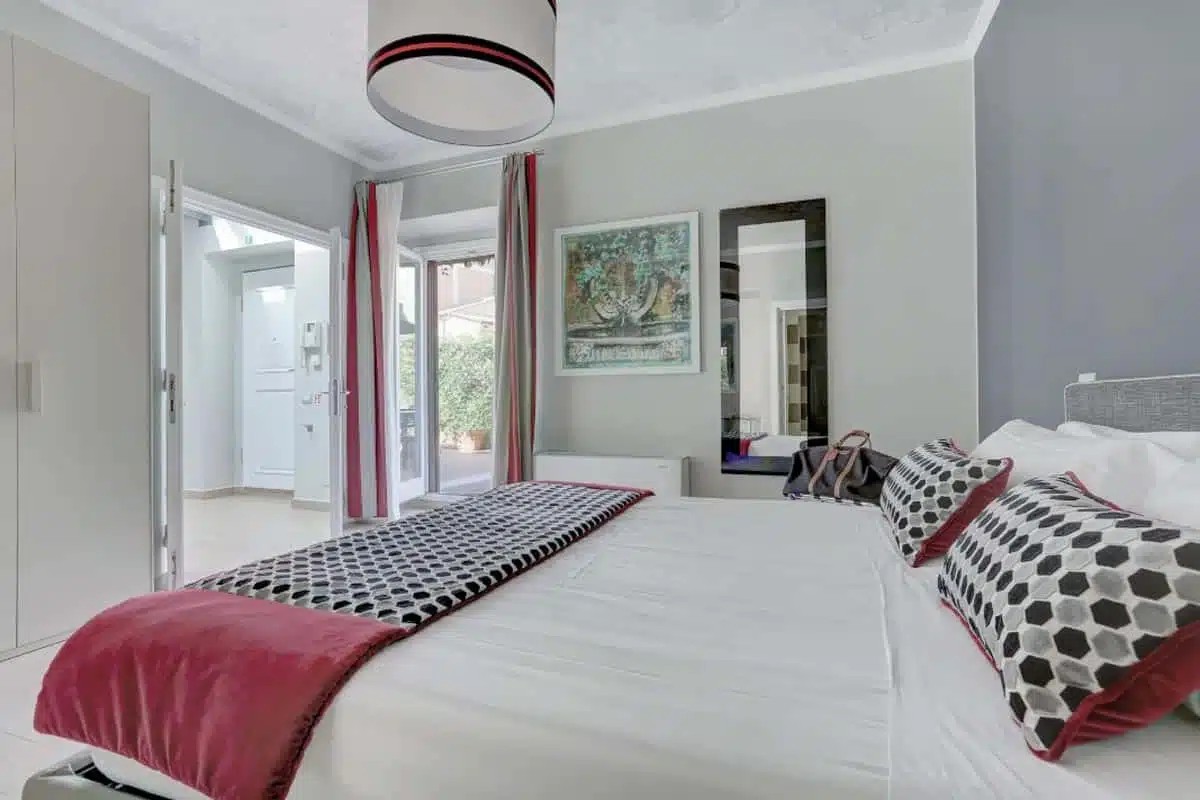 This could be the best Airbnb in Rome with a terrace, though it has stiff competition. And the green walls of plants offer privacy while you laze about in the Italian sun. Inside it's cool and breezy, with French doors in the bedroom and a large sunroof.
Staying here, you'll be just 15 minutes from the Trevi Fountain and other magnificent Rome attractions. Just note that the streets below do get loud at times.
Location: Rione IV Campo Marzio
This is an upscale neighbourhood boasting posh shoppers and a little more luxury. It can get quite busy, so bear this in mind if you like early nights.
Verdant Verde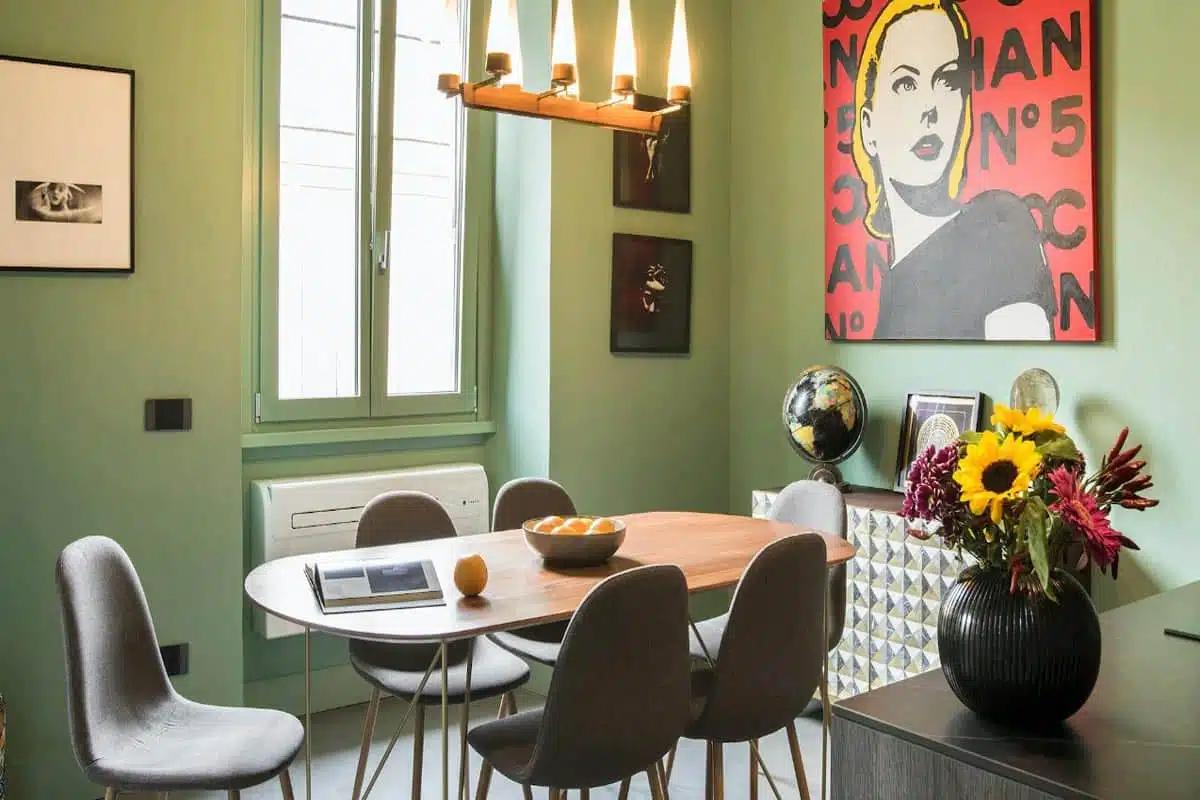 Book into this Airbnb in Italy, Rome, to add some funky colour to your trip. The walls are a mix of greens and blues, and the quirky decor perfectly accentuates the space. The apartment sleeps two and is cosy and warm, but still has enough space so you won't be on top of each other.
Oh, and sightseeing from here is a breeze since Termini (the biggest train station in Rome) is round the corner.
Location: Esquilino
Right next to Monti, this neighbourhood is a budget-friendly option for anyone needing to save a few pennies in Rome.
Roses & Gold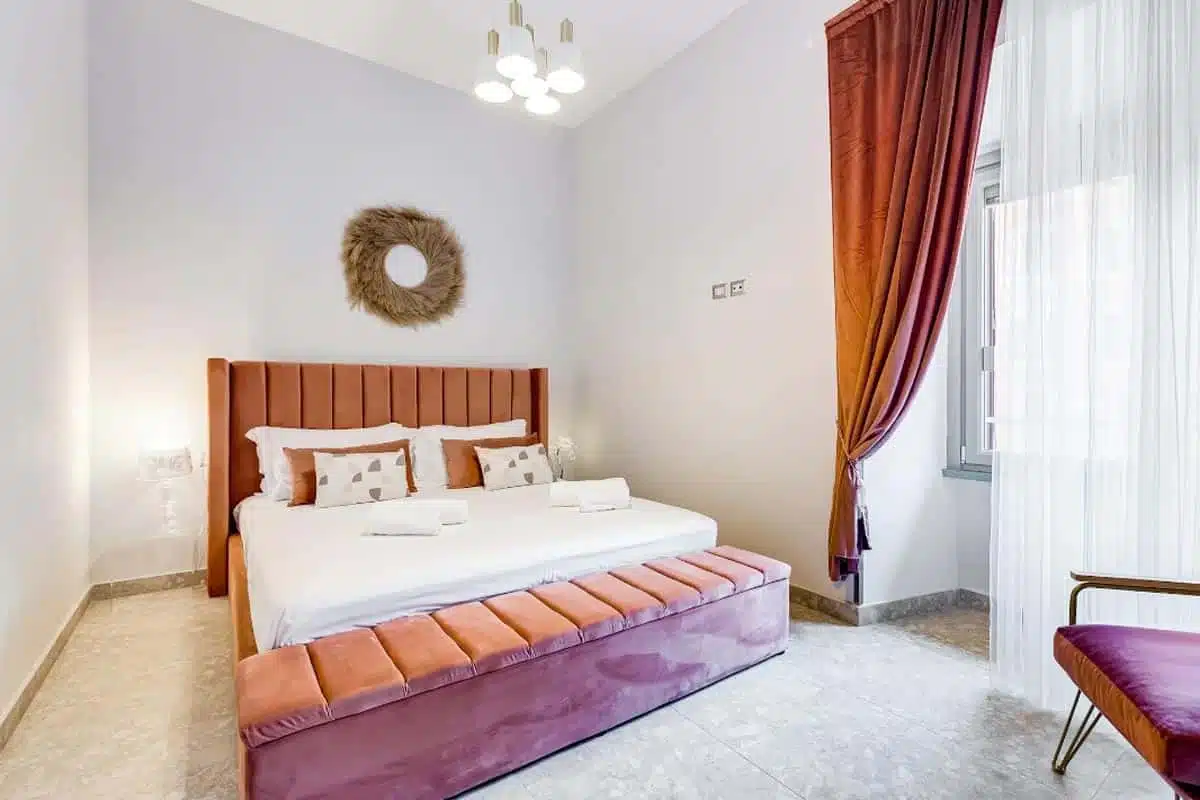 A beautiful Airbnb in central Rome, Italy, Roses & Gold is stylish and homely. The apartment is adorned with pink and gold decor and boasts views over stunning buildings.
Location-wise, this apartment is pretty spot on (though busy). The obvious attraction near this Airbnb is the Trevi Fountain, but there's plenty more to see once you get walking.
Location: Trevi
Beside being home to the magical fountain, Trevi combines ancient history with shopping districts and incredible architecture.
History's Echo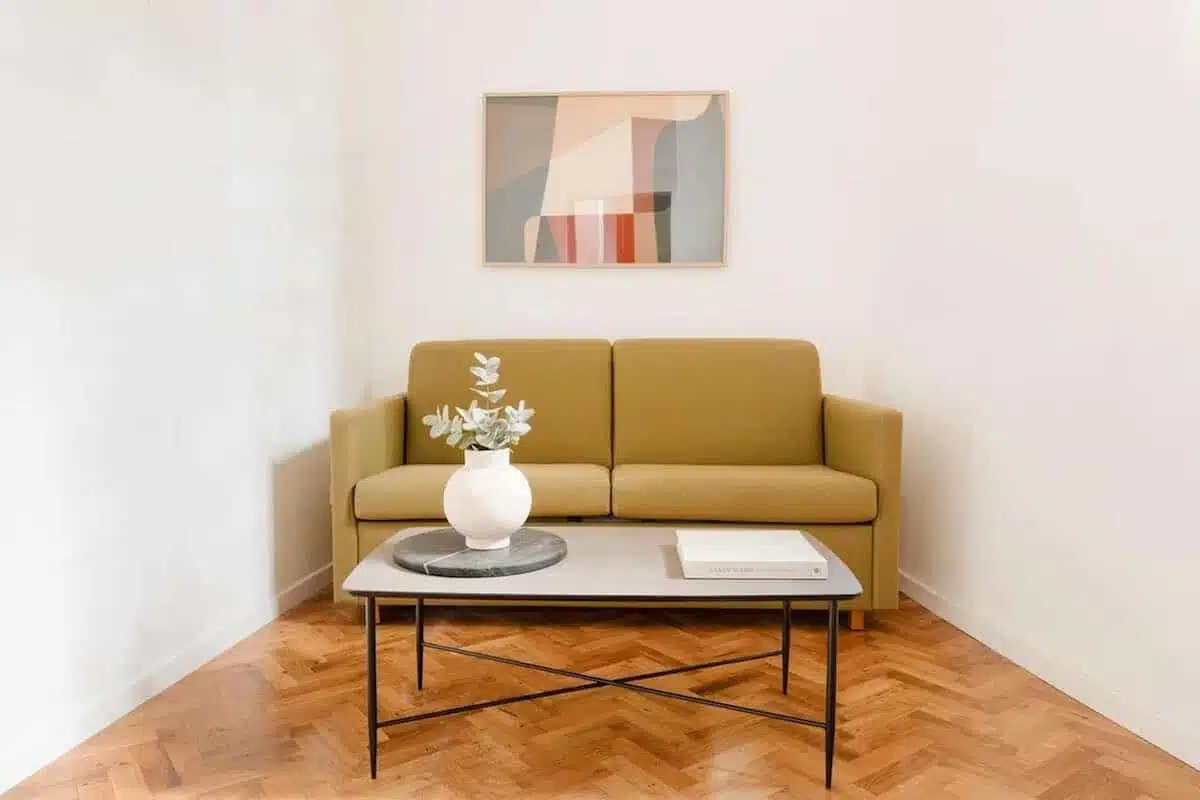 This is a seriously beautiful little Airbnb in Rome. It might not be as garishly opulent as some of the others I've mentioned in this guide, but its herringbone floors, simple design and subtle pops of colour make it one of the most stylish places to bed down in the city.
It can sleep up to four (the second pair being on the sofa bed), however, I think this best suits a couple looking for a romantic getaway in one of the dreamiest cities in the world.
Location: Ponte
Just around the corner from Piazza Navona, some of the best restaurants in the city are on your doorstep.
Casa Luce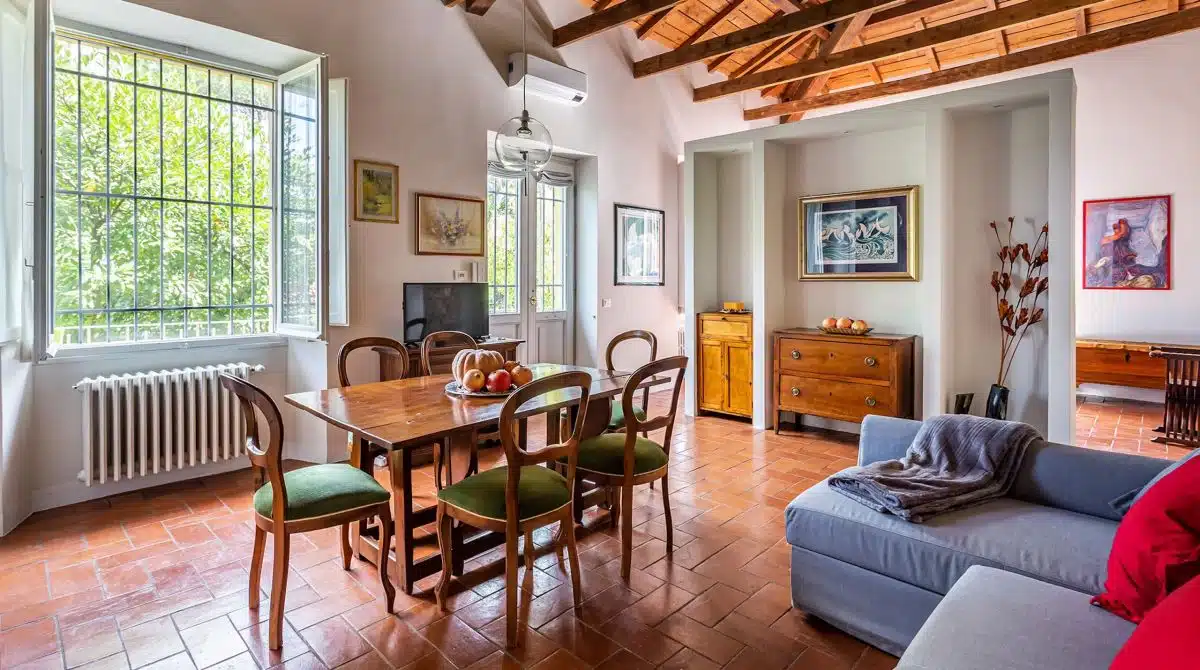 With leafy views and spacious living quarters, Roman life doesn't get much better than at Casa Luce. This 19th-century home boasts traditional terracotta floors and exposed stone walls, though the country-style kitchen is just modern-enough to feel cool.
Inside, there's enough space for six people to live comfortably, while the outdoor pool is the perfect place to gather for a sundowner or two.
Location: Municipio XV
Okay, so this Airbnb is on the outskirts of Rome, which might be a dealbreaker for some. But for those who don't want to be totally immersed in the hustle and bustle of the city, this is perfect.
Onsen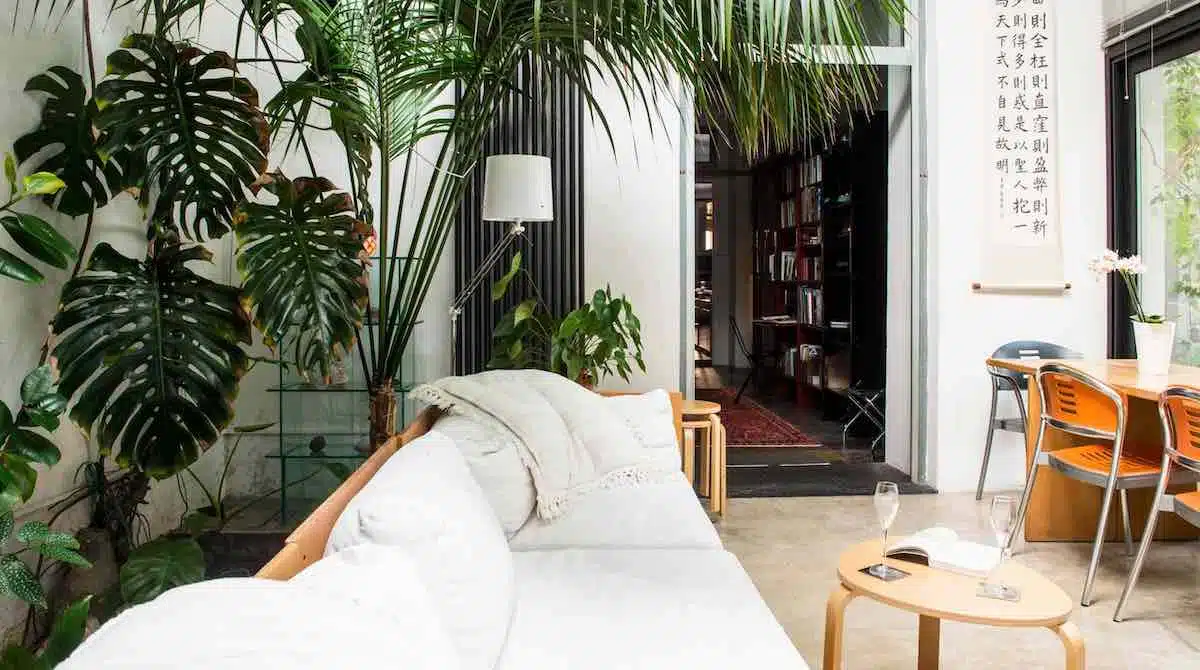 In a city that's famed for its crumbling ruins, it's not very often you find a botanic oasis. Enter Onsen, a gorgeous 2-bedroom apartment, full to the brim with plants.
This Japandi-style apartment might be on the smaller side, but it packs a punch. A coffee machine (very important), workspace and spacious living area are some of the features that make this Rome Airbnb so stellar.
Location: Monti
The coolest Airbnb in the coolest neighbourhood? This one is a winner.
Holy Ground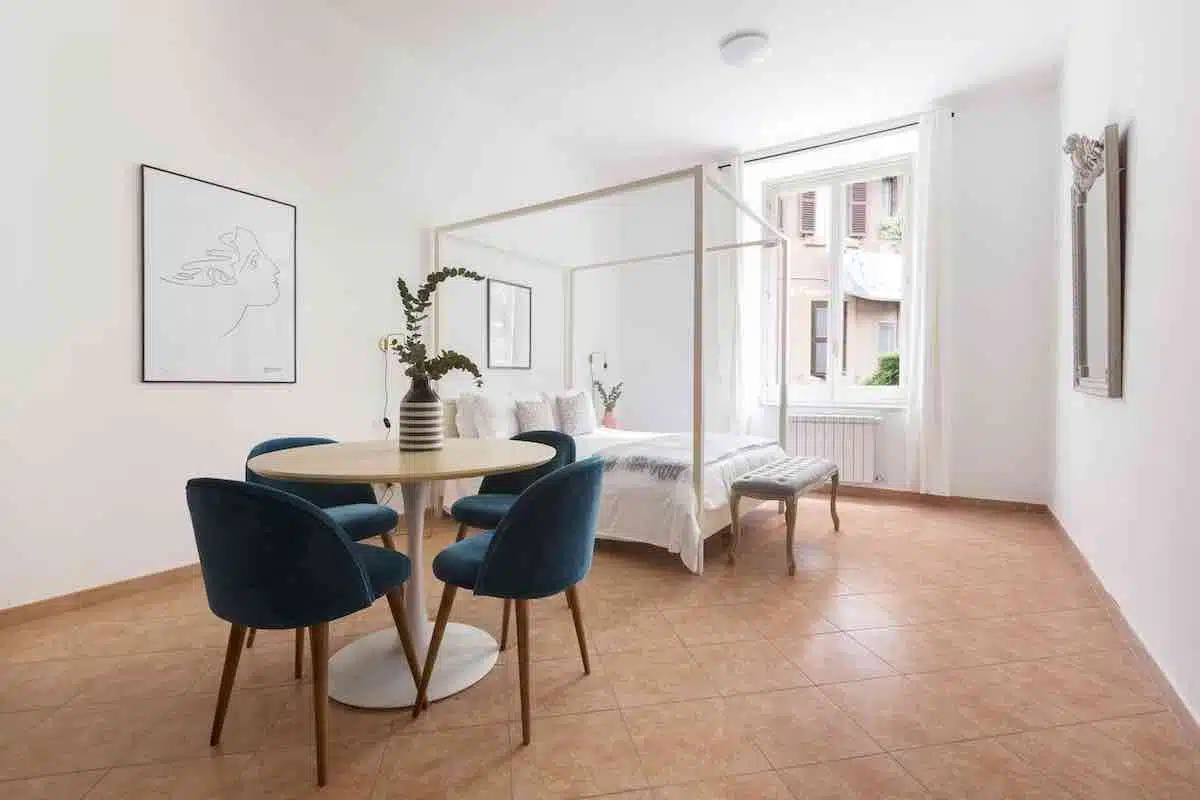 This heavenly Airbnb is right next to the Vatican – and you'll be hearing angels the moment you step inside. It's bright, white, light and extremely modern, with a couple of lovely homely touches (I'm eyeing up those blue velvet chairs).
Though it says it sleeps up to four, I'm not quite sure where the extra bed is (my best guess is it's a sofa bed but the listing doesn't specify). Confusion aside, this is the perfect apartment for a romantic getaway.
Location: Aurelio
Right next to the Vatican. I wonder if the Pope makes for a good neighbour…
Practical Tips to Consider Before Booking Your Airbnb in Rome
As I mentioned in this article, Rome is a fairly walkable city and most Airbnbs don't offer parking. I say consider leaving the rental behind and using the metro or your feet to get around.
Make note of check-in and check-out times to avoid extra fees. And be aware that some hosts offer extra VIP services – make sure you're clued up on these before you arrive to know what you can expect.
Airbnb Rome, Italy: Map