Explore the best things to see and do in the historical city of Siena.
Tucked away in the heart of Tuscany, the historic city of Siena transports you back to the Middle Ages with its tightly packed narrow streets centering on the Piazza del Campo, home to the stunning Siena Cathedral and the annual Palio races.
Once a Tuscan heavyweight that vied for power with the nearby city of Florence, the city has come to be known as one of the most beautiful cities in the region and is a UNESCO World Heritage site.
The city is said to have been founded by Senius, son of Remus (one of the founders of the city of Rome), and sits across three Tuscan hills. Dating back to Roman times, it used to be home to a Roman Forum before being completely rebuilt in the late 13th and early 14th centuries during the rule of the Council of Nine.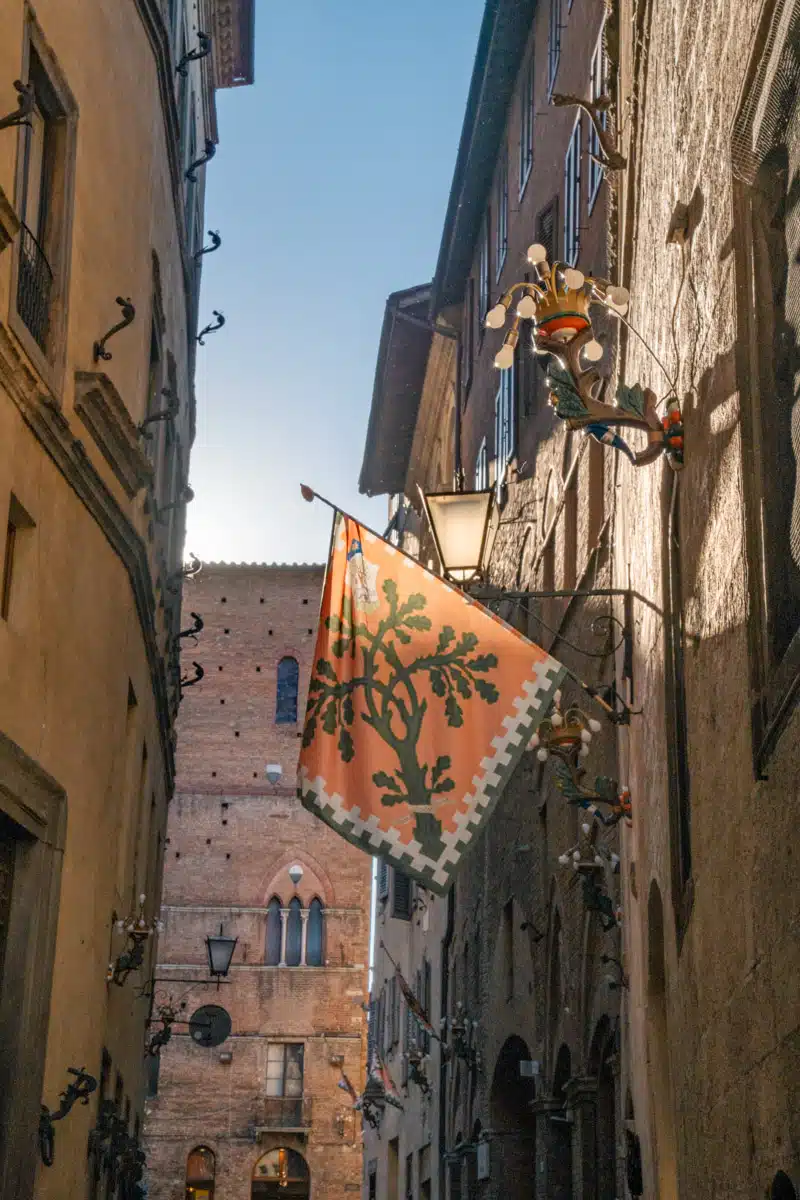 I knew all of this before my most recent trip to Siena a couple of months ago, but even though I'd seen it before, I was blown away by the city's captivating maze of winding streets and stunning architecture.
In short, Siena was the highlight of my recent visit to Tuscany. Read this comprehensive guide packed with ideas for things to do and top tips to find out why it'll be yours, too.
Top 5 Things to do in Siena
Piazza del Campo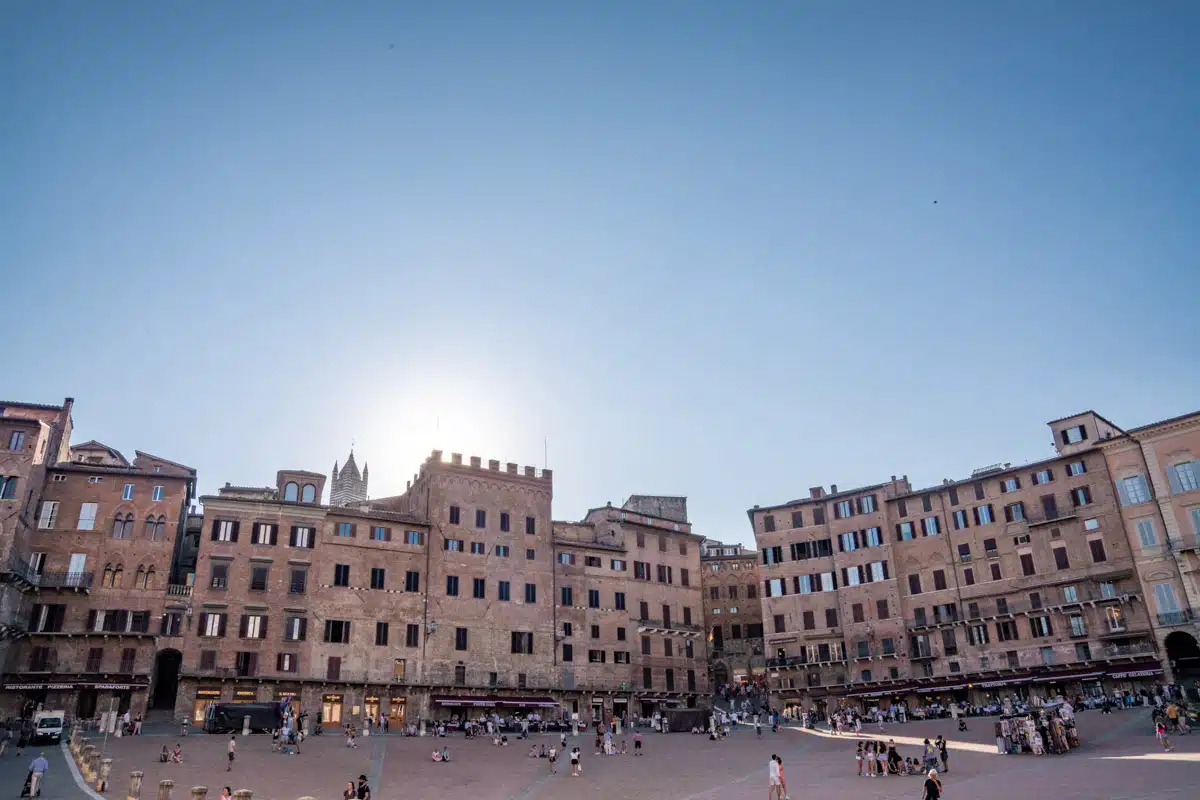 The Piazza del Campo is the beating heart of Siena, dating back to the late 13th century.
Built on the intersection of the three main thoroughfares that lead to and from Siena, the Piazza was designed to be a neutral place where political and public holidays could be celebrated.
The square has a circumference of 333 metres and hosts the famous Palio horse races twice yearly in July and August. The various "contrade" or city regions compete in a horse race around the square, each represented by an animal.
Top Tip
These fiercely contested races, full of processions, marches and vibrant colour, are a sight to behold and unmissable if you're in town when they're on.
Siena Duomo (Cathedral)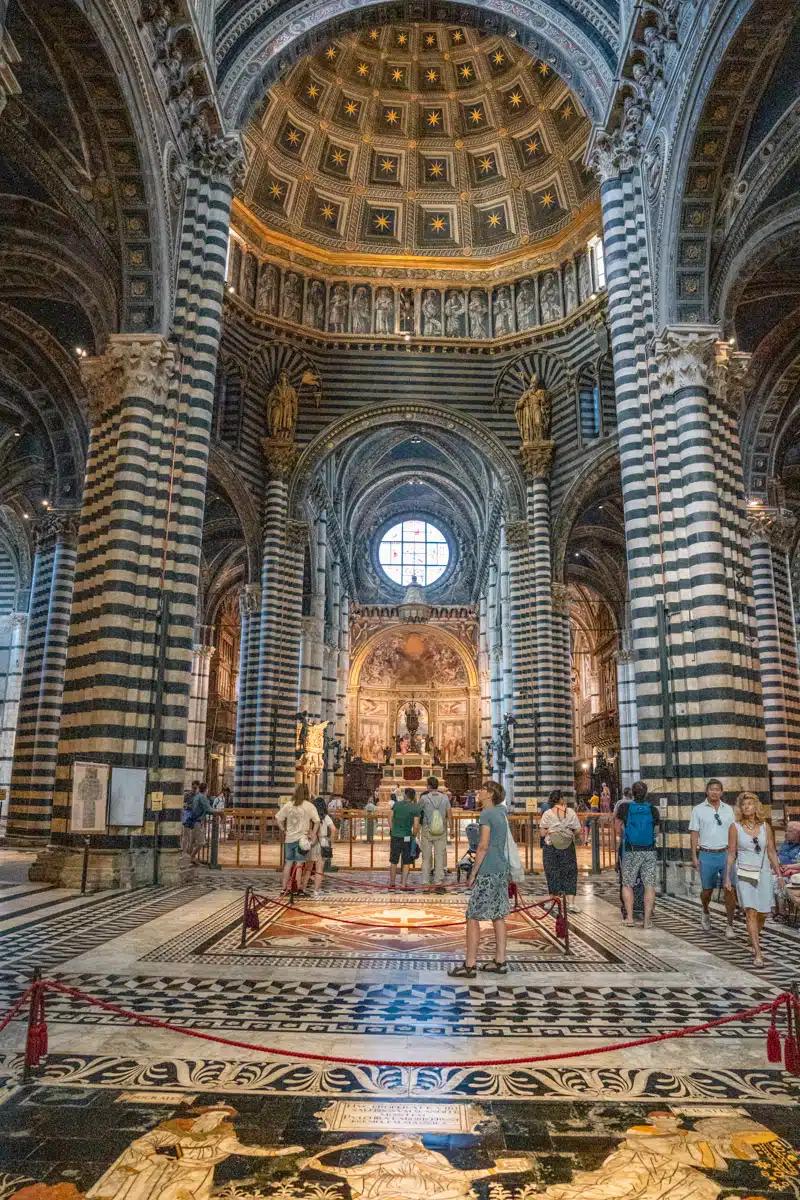 Siena's stunning Gothic Duomo dominates the Piazza del Campo. Venture inside to find priceless treasures from Donatello, Michelangelo and Pisano and gorgeous frescoes by Pinturicchio.
The cathedral's exterior is incredible enough to photograph, dating back to between 1215 and 1263. Walk inside and feel your breath taken away by the stunningly white and greeny-black striped marbling throughout.
Top Tip
Entry to the cathedral is €8, but an extra €2 also gets you into the baptistery, crypt, and opera museum, each of which is well worth your time.
Torre del Mangia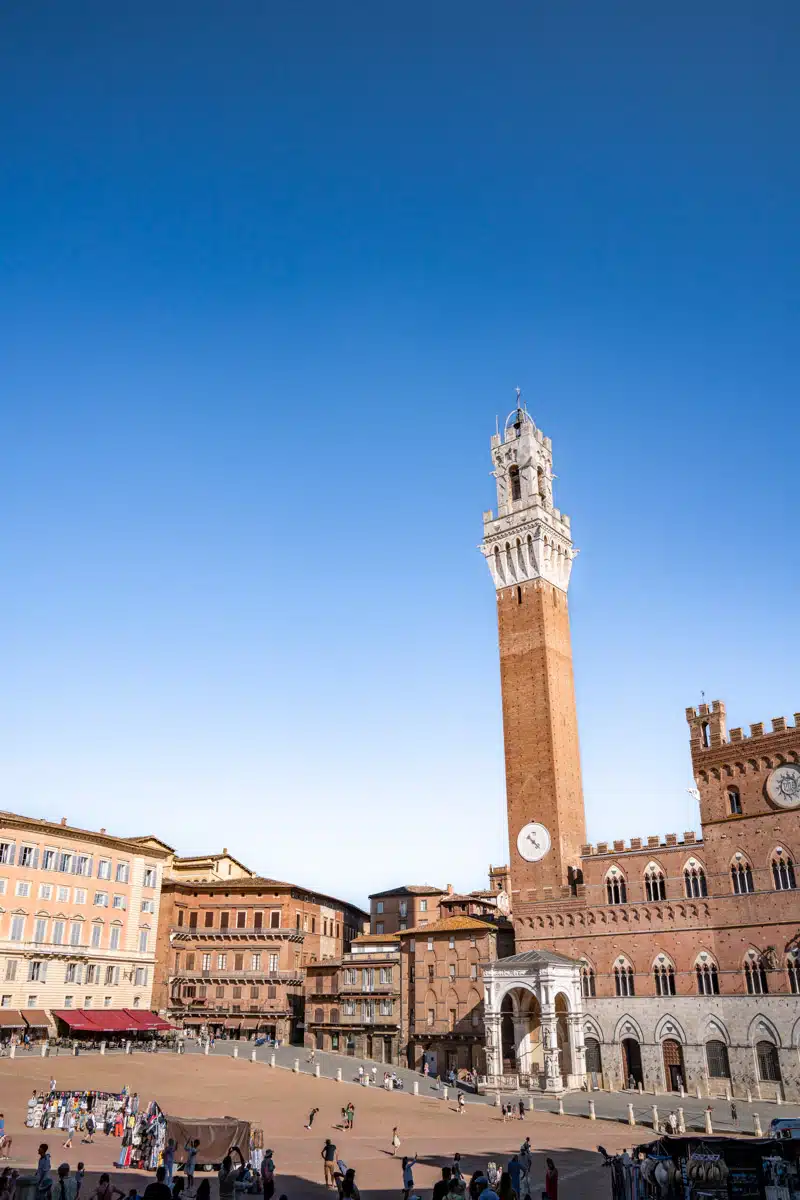 The highest point in Siena and the third tallest tower in Italy, the Torre del Mangia is a red brick tower that is part of the Palazzo Publico.
Built to give civic authority the same power as religion, climb to the top of the tower and take in incredible views of the apparent hodge-podge nature of Siena's medieval town centre and across the city towards the rolling backdrop of Tuscan hillsides.
The tower was built between 1325 and 1348 by the Di Rinaldo brothers from Perugia.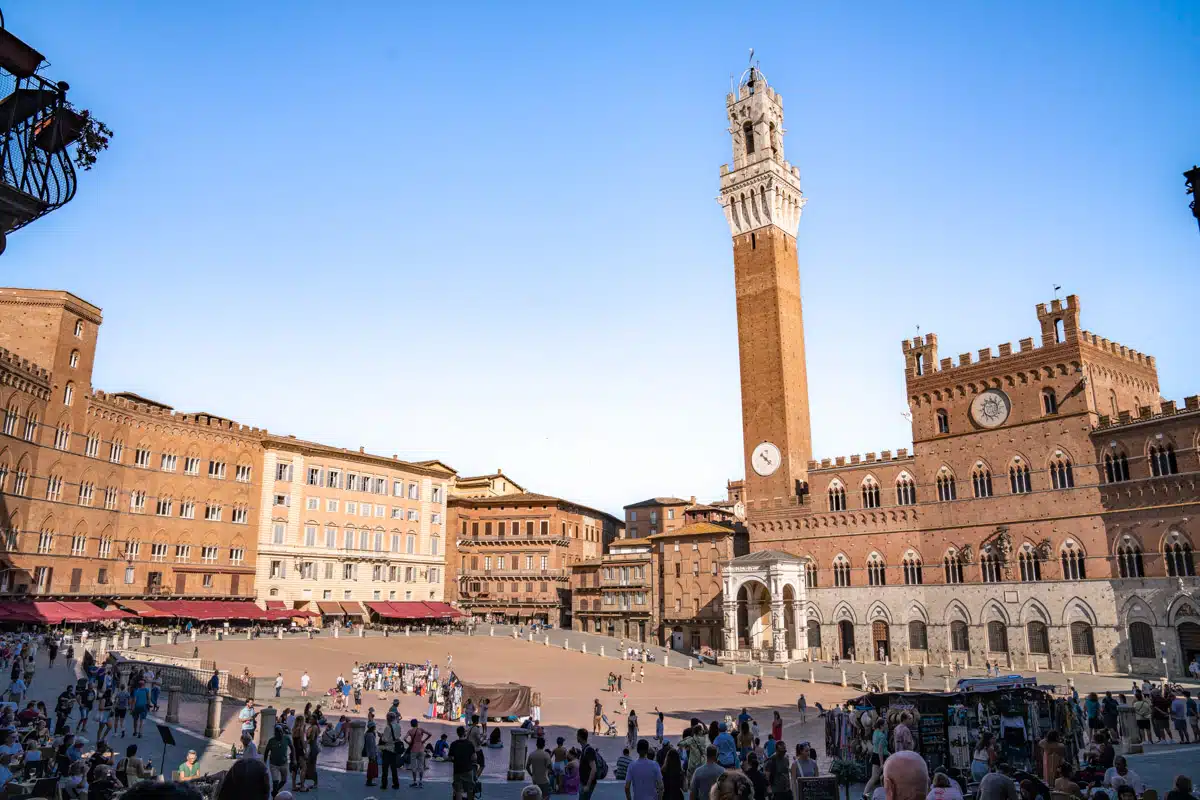 Legend has it that the tower takes its name from the first bell ringer, who would climb the 400 steps hourly to ring the bell. Nicknamed Mangaguadagni, Giovanni di Balduccio earned his nickname through his habit of "eating" through his substantial earnings!
Santa Maria della Scala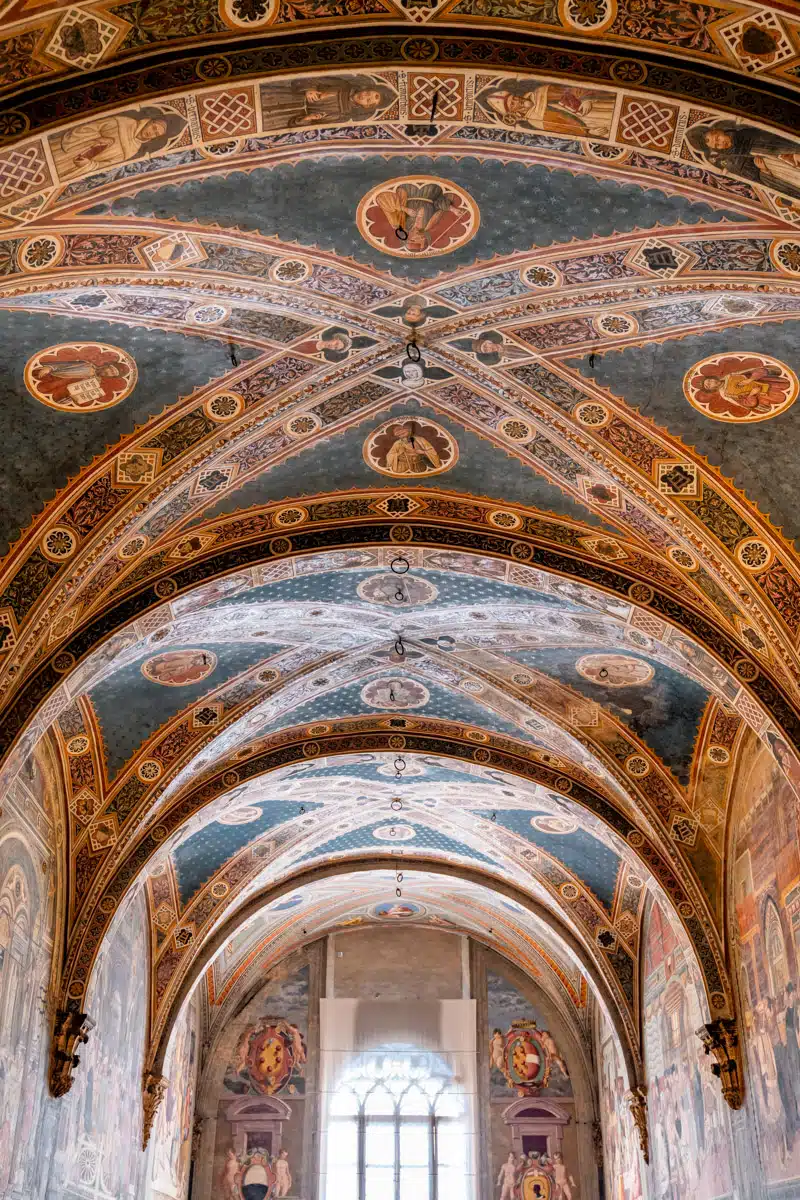 One of the main museums in Siena, the Santa Maria della Scala complex, was originally one of the oldest hospitals in Europe. It offered shelter to pilgrims heading to Rome while assisting the poor and local orphans.
Now, more than 10,000 square metres of museums, exhibitions and gallery space opposite the cathedral, and for just €9, visitors can spend hours traversing the vast rooms, interconnecting corridors and discovering endless exhibits in breathtaking frescoed surroundings.
I was enchanted by the frescoes in the Pilgrims' Hall, the first hospital ward built in 1328. Get yourself the audio guide to help you get an authentic flavour of the building's former life in this extraordinary setting.
Palazzo Pubblico / Museo Civico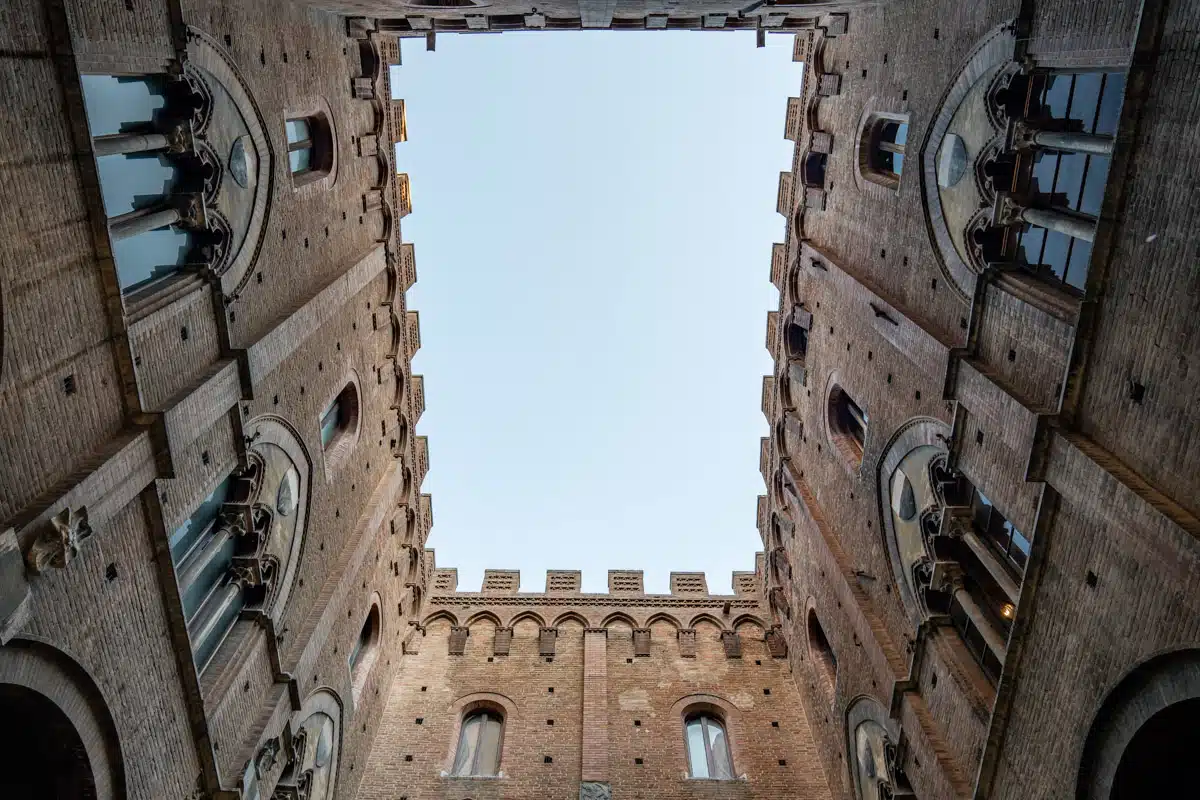 The Palazzo Pubblico, home to the Torre del Mangia, is still used as the civic office for Siena, making it one of the longest-running buildings still used for its original intention. The impressive Palazzo now also contains the Museo Civico or civic museum.
Bursting with beautiful artworks preserved on the museum walls that act as a social history. For example, the Hall of Nine has a stunning fresco that depicts the cycle of good and bad governments.
Take a seat and let your eyes take everything in as you understand what the artist was trying to convey and how the message is as pertinent today as it was in the 14th century.
Brilliant Things to See & Do in Siena
Porta Camollia
The Porta Camollia is one of the eight gates that leads to Siena's Medieval defensive enclosure.
Still standing today, this imposing gate bears the inscription "Cor Magis Tibi Siena Pandit." Translated as "Siena opens its heart wider to you than this gate," the message remains as accurate today as when it was initially built in the 7th century.
The gate was destroyed during the siege of Siena in 1555 and rebuilt in 1605 by Alessandro Casolani. The sculptings around the arch record the entrance of Spanish King Ferdinand I into the city following the Spanish conquest.
It remains one of the most ornate and beautiful city gates in Italy and a must-visit
Fontebranda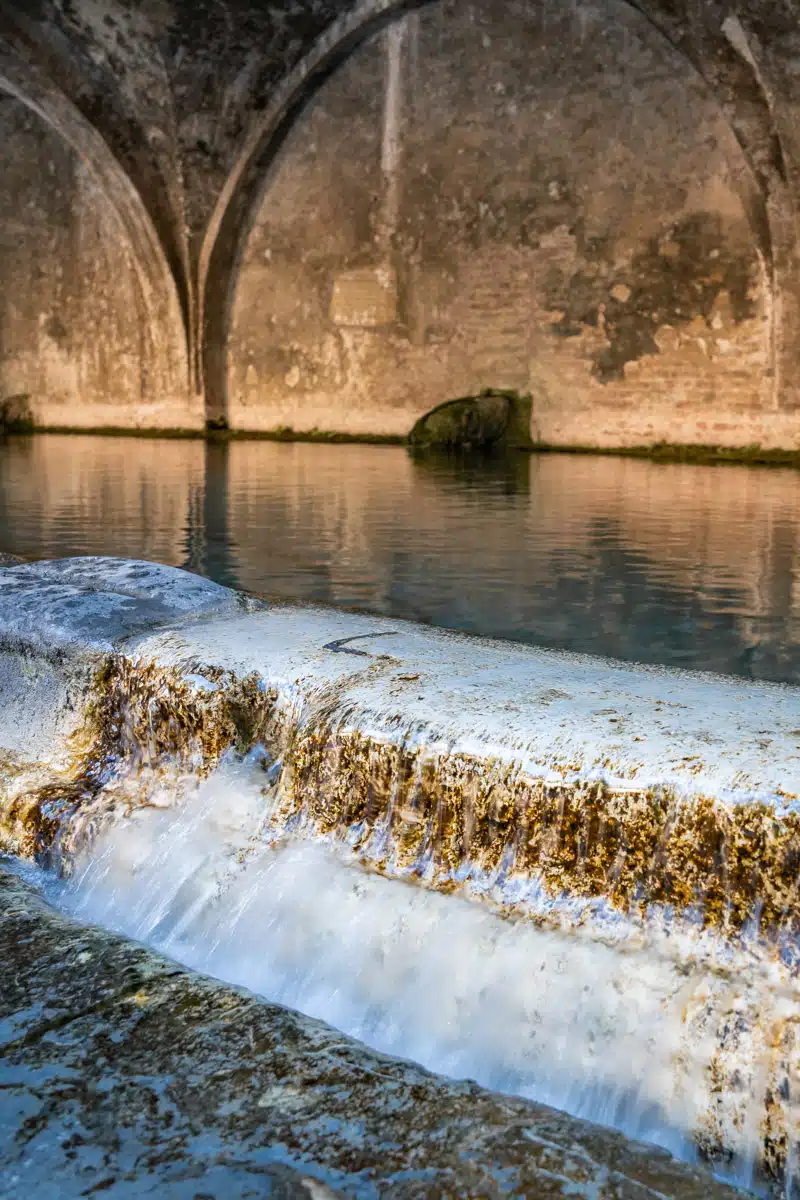 Located near Porta di Fontebranda, this medieval fountain dates its foundations back to 1081. It was expanded in 1193 and rebuilt in brick and travertine in 1246 to support the wool industry that needed a constant water supply.
The fountain is housed within three large Gothic arches and contains several stunningly preserved sculptures. Walk through the tunnels where rainwater collects in a small carved channel.
Top Tip
This exquisite fountain is probably the most famous in the region after being mentioned in The Divine Comedy by Dante Alighieri.
Go Wine Shopping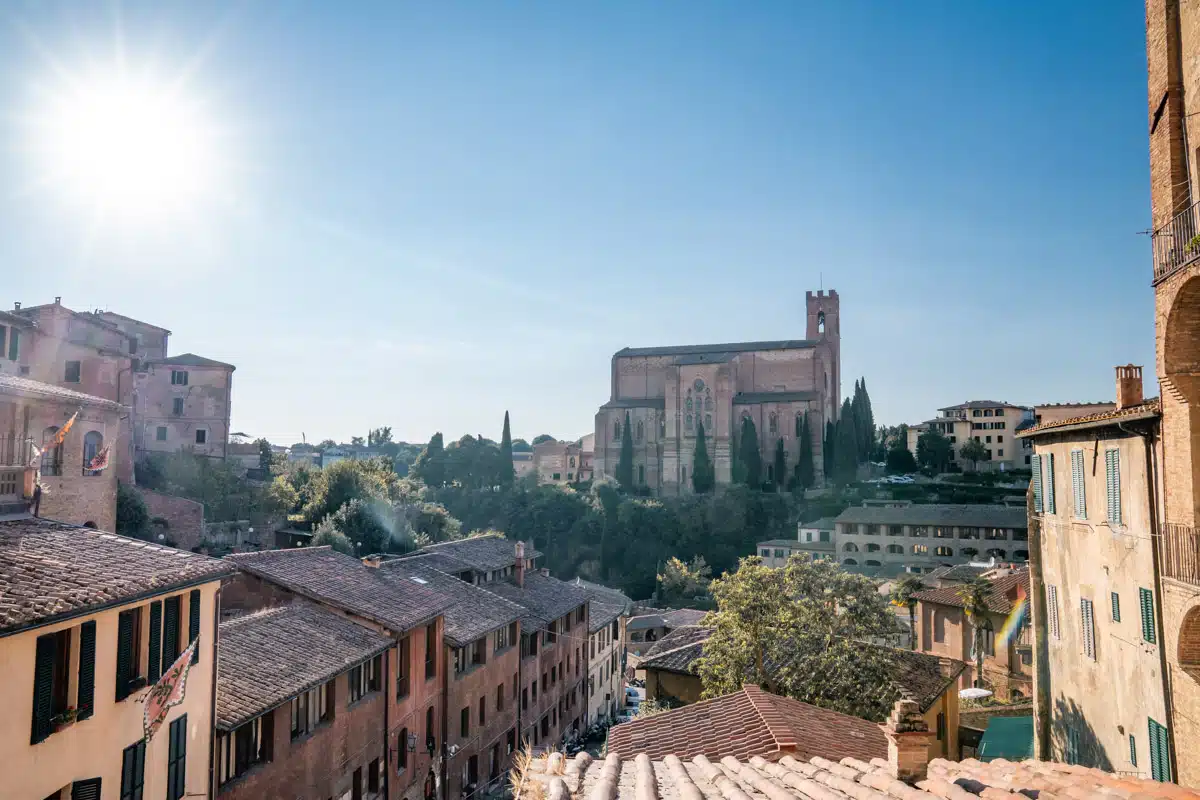 Siena's location in between the Chianti, Vino di Nobile and Brunello couldn't be better for wine drinkers. Whatever your tipple, you can find something to suit your palette at one of Siena's dozens of outstanding wine shops.
While reds tend to dominate, you can find a cool crisp white, such as the Vernaccia di San Gimignano, a personal favourite. Cantina in Piazza, Enoteca San Domenico and Le Bollicine are the best places to shop.
Must-Try Bars and Restaurants in Siena
Enoteca I Terzi
Located inside brick vaults wrapped around two sides of the ancient 12th-century stone tower called the Torre dell'Orso, I Terzi produces stunning Tuscan cuisine backed by one of the town's most extensive and well-equipped local and foreign wines.
The asparagus risotto with goat cheese, saffron and lemon zest is a beautiful way to start, and the steamed sea bass is perfectly cooked. If there are two of you and you fancy sharing a rib-eye steak, it looks sensational as a sharer.
La Taverna di San Giuseppe
Owned by Matthew and Mark, the Taverna di San Giuseppe is a historical restaurant and Tuscan tavern lovingly restored to its former glory.
Just 300 metres from the Piazza del Campo, this brick-lined eatery dates back to 1100 and is one of the most comforting places to sample Tuscan cuisine in this historic city.
I loved the Tagliolini al Tartufo (Tagliolini with fresh truffle) to start, followed by a tender Sienese pigeon served with fluffy roast potatoes. I even had space for the beautiful creme brulee for pudding and a sweet glass of dessert wine to top things off perfectly.
Osteria da Divo
This beautiful Sienese restaurant sits over three levels, where you can enjoy the most refined dishes in Siena.
Only the best locally sourced seasonal ingredients are used, and part of the menu is dedicated to truffles all year round. And trust me, if you don't have an intolerance, you should be making Tuscan truffles part of your culinary experience.
Other highlights on the wide-ranging menu include roasted octopus starter served with kataifi basket, purple potato foam, yoghurt sauce and seasoned with mint. Mains worth trying include stuffed guinea fowl thigh or past stuffed with salmon, asparagus and ricotta.
Best Hotels in Siena
Belmond Castello di Casole
Around 25 km outside Siena is the stunning Castello di Casole. It provides the height of luxury and movie-star-style service to guests in an unbeatable rural setting.
This beautiful castle dates back to the 10th Century and was built on a site that can trace its roots back as far as the Bronze Age. Over the years, it has hosted royalty, political big-wigs and film stars. As soon as you step inside, you'll see why.
The hotel has a terrific outdoor pool that overlooks rolling Tuscan hillsides, a spa fitness centre, and two mouthwatering on-site restaurants. Meanwhile, all rooms have a mini bar, TV, aircon and freestanding bathtubs in ornately finished private bathrooms.
Il Batistero Siena
Meanwhile, if you want to stay in Siena's breathing heart, Il Batistero Siena in Piazza San Giovanni overlooks the gorgeous Duomo and provides outstanding elegance and comfort.
Enjoyed by popes, famous authors and leading architects, the building now fuses authentic medieval architecture with beautiful modern design. Open the large bedroom windows to enjoy the sights and sounds of Siena.
All rooms have flat-screen TVs, beautiful standalone bathtubs, or high-pressure showers.
Villa Scacciapensieri
This is an excellent option if you want to enjoy being within easy reach of Siena but not in the city centre. Villa Scacciapensieri is a beautiful four-star boutique hotel in a rolling parkland just outside the city.
Dating back to the 18th Century, the villa has a couple of annexes that contain rooms with private showers and bathtubs. At the same time, the main building has a library in which you can sit and relax and a private chapel if you want further quiet reflection.
Siena: Practical Tips for Your Trip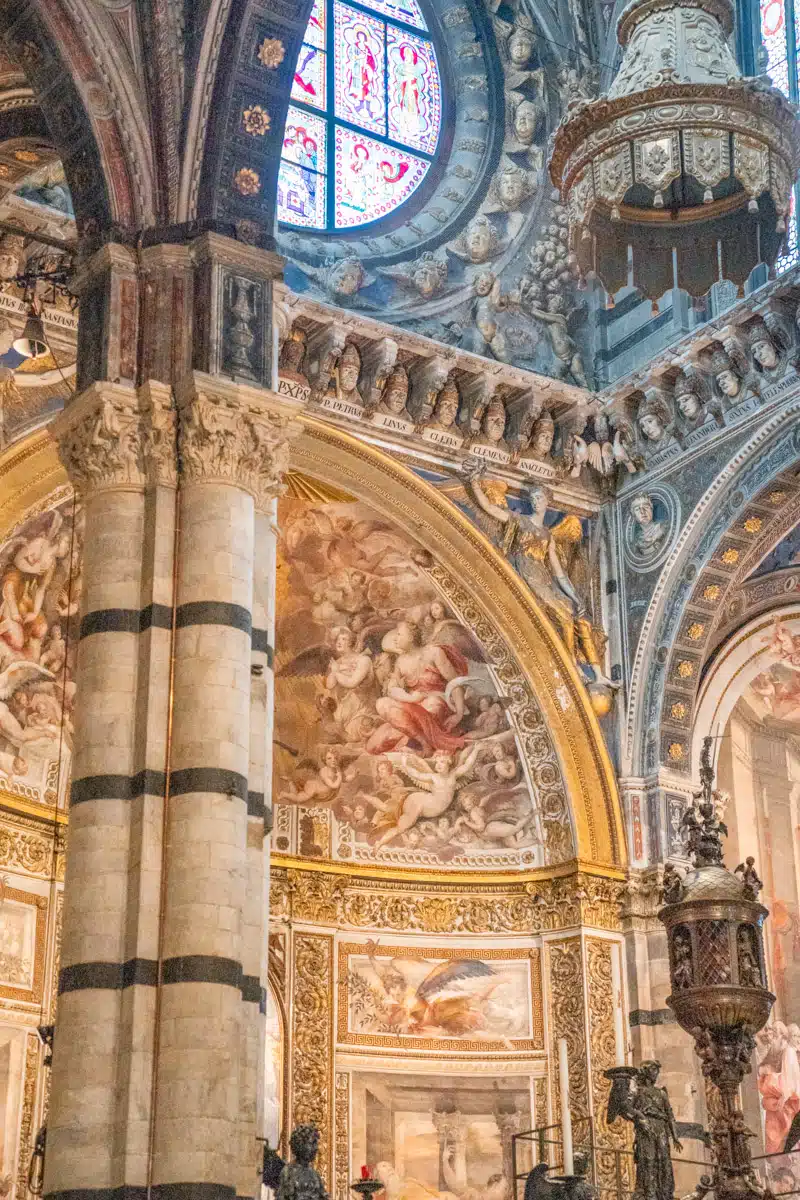 Siena city centre is pedestrianised, so you'll need to park outside the city and get one of the series of cleverly placed elevators to get up the hill into the main city. If it's a hot day, trust me, you'll be thankful for these rather than walking up the steep inclines!
If you're driving into the city, there's plenty of parking near the Fontebranda. It only takes 10 minutes to reach the Cathedral from there.
Florence is the nearest airport to Siena. Book your transfers in advance, or make sure you have a car hire arranged in advance. Be aware that if you're staying in the centre of Siena, you will have to do some walking with your luggage.
If you want to be in town to experience the sights, sounds and thrills of the Palios, they take place annually on 2nd July and 16th August.
Things to do in Siena: Map
Love This? Save and Share on Pinterest