Discover the best hotels in Siena – from boutique escapes to all-out luxe stays, here's where to stay in the jewel of Tuscany.
Angling to stay in Siena on your next trip to Tuscany? I don't blame you.
The city's very name is founded in legend – said to have been founded by Senius, son of Remus (of Romulus and Remus fame), the tale is also illustrated in the city's symbol – that of the she-wolf who suckled Senius's father.
In reality, it's a beautiful city (IMHO, Tuscany's prettiest, sorry Florence) that's set across three hills with the famous medieval Piazza del Campo in its heart.
Sure, there's the two annual Palio horse races, which see the districts of Siena compete in fierce races around the Piazza del Campo at breakneck speeds, but even outside of the Palio, Siena is not only a must for your Tuscany itinerary, but a great place to base yourself during your Tuscan trip.
Ready to go? Let's explore the best places to stay in Siena.
Best Hotels in Siena: At a Glance
Hotels in Siena
Belmond Castello di Casole
£££
Casole d'Elsa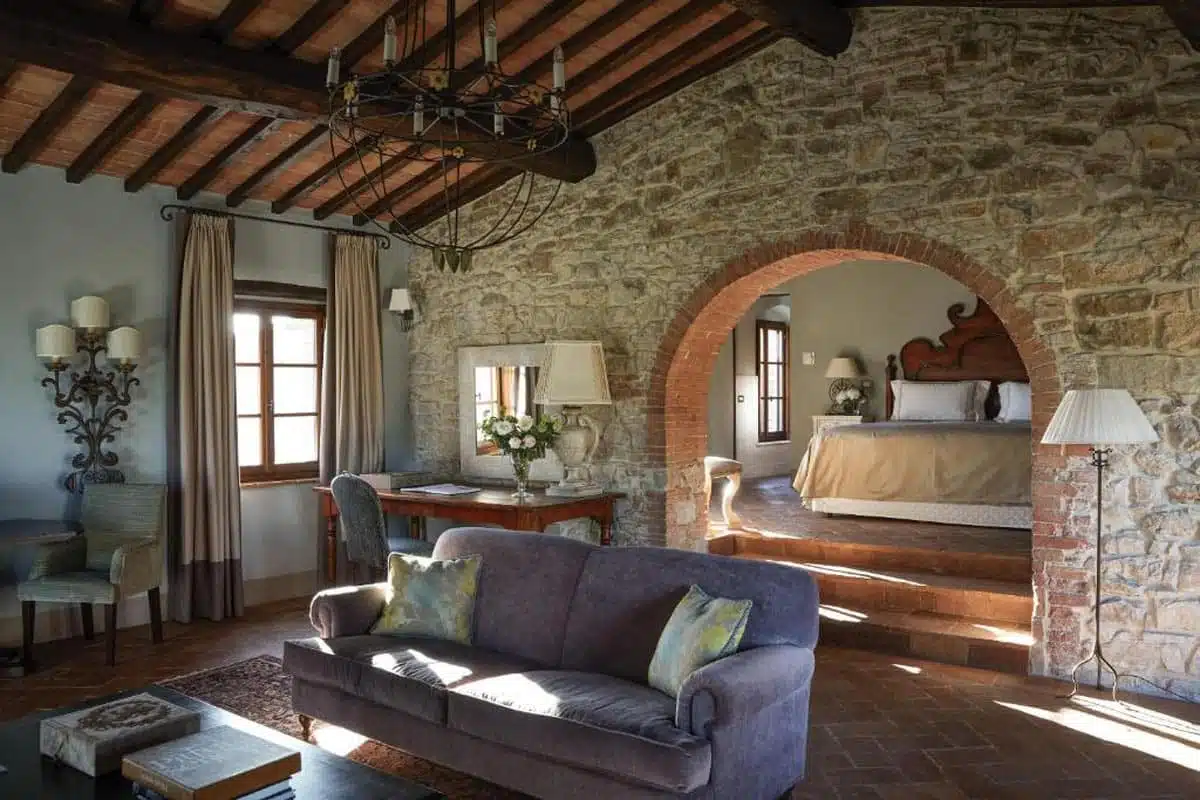 Set in the beautiful Tuscan countryside near Siena, Castello di Casole is part of the Belmond Hotel chain and the perfect out-of-town retreat to be treated like a 50s film star while revelling in some of the most beautiful rural landscapes.
The site can trace its roots back to the Bronze Age, while the castle was built in the 10th Century. Follow in the footsteps of royalty, political heavyweights and glamorous movie stars of yesteryear at this stunning castle.
All rooms come with a mini-bar, satellite TV and air conditioning, along with gorgeous Italian designed freestanding bathtubs in the private bathrooms that feature antique mirrors and luxurious marble or mosaic flooring.
The hotel comes with a fabulous outdoor pool overlooking the rolling Tuscan hills, a spa, fitness centre and two beautiful restaurants. I recommend dining al-fresco at Tosca to sample some authentic mouthwatering Tuscan cuisine.
Il Batistero Siena
££
Siena's Historic Centre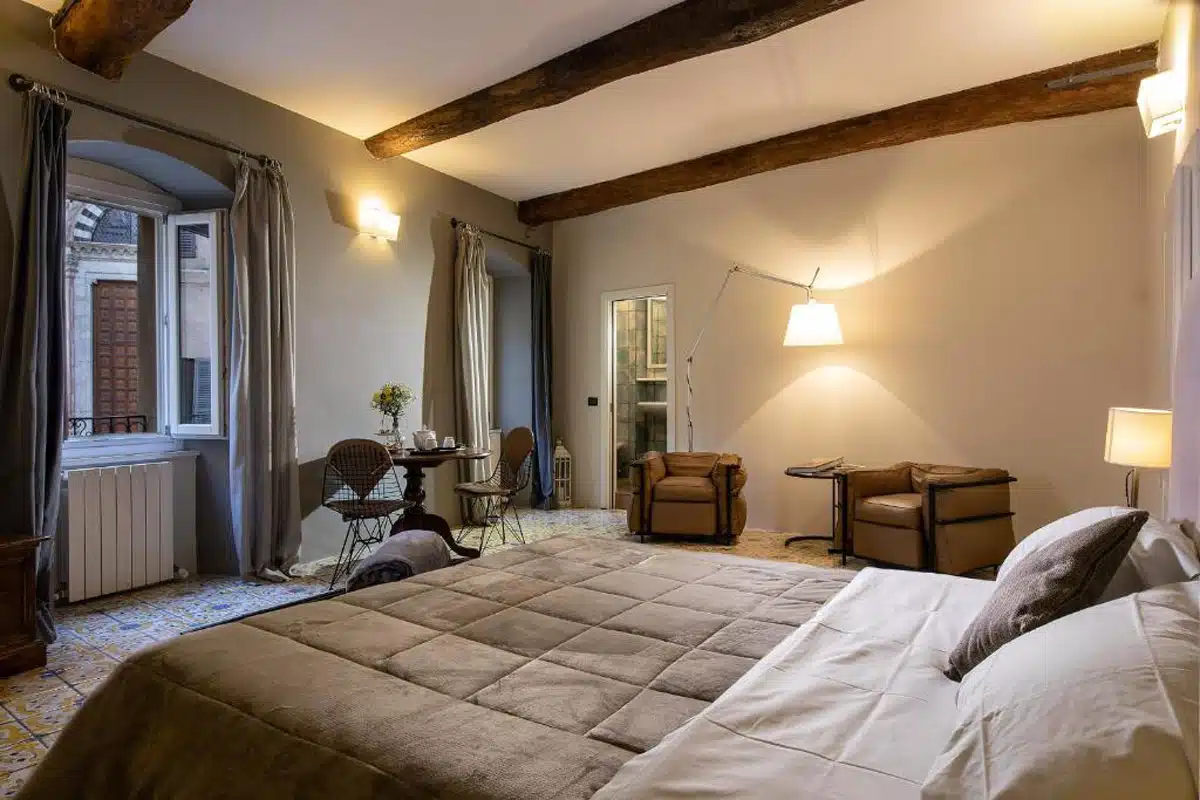 Located in the heart of Siena on the Piazza San Giovanni overlooking the unmatched beauty of Siena's stunning Cathedral, Il Batistero Siena is a beautiful boutique hotel with an unbeatable location.
Recently restored, the building fuses modern design with authentic medieval architecture to provide a wonderful experience that Popes, authors and architects have enjoyed in years gone by.
Throw open the bedroom windows to enjoy the exquisite sights and sounds of the centre of Siena, which are enough to inspire the most creative of hearts.
All rooms have a flat-screen TV, while bathrooms have high-pressure showers or ornate standalone bathtubs. Meanwhile, quench your rumbling stomachs and dry mouths at the Bistro coffee bar, the wine shop under the cathedral or the gorgeous Carriage Restaurant.
Villa Scacciapensieri
££
Le Scotte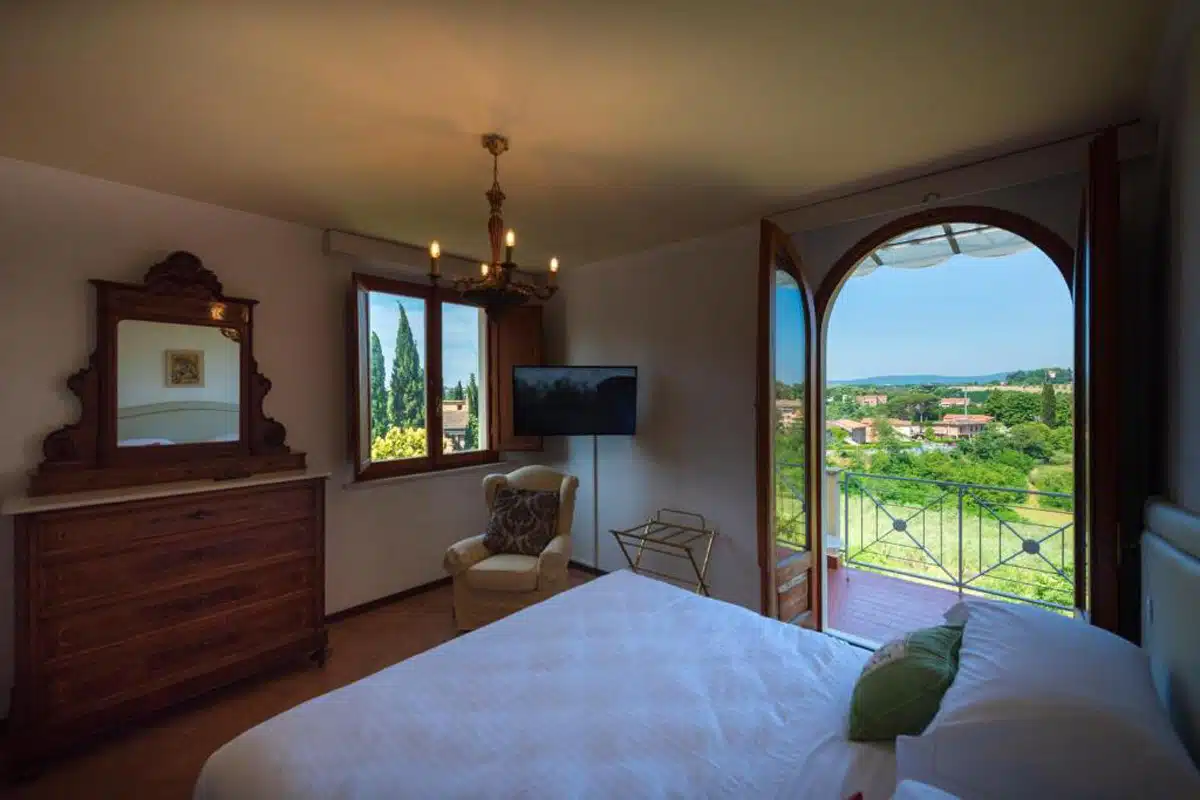 Surrounded by a vast, stunningly-maintained park just outside Siena, Villa Scacciapensieri is a beautiful four-star boutique hotel that provides comfort, luxury and views to die for.
The main building dates back to the 18th Century, but the hotel also contains rooms in a couple of annexes within easy reach. Each room includes a shower and bathtub, some of which have jets to help ease the aches and pains of a long day's explorations.
The main building has a lounge bar, a well-stocked library, a business centre with an internet connection and a private chapel to sit and reflect quietly in.
The on-site restaurant focuses on traditional Sienese cuisine in comfortable surroundings and an extensive wine list. Meanwhile, swimmers can use the pool that overlooks the sweeping Chianti hills.
Hotel NH Siena
££
Siena's Historic Centre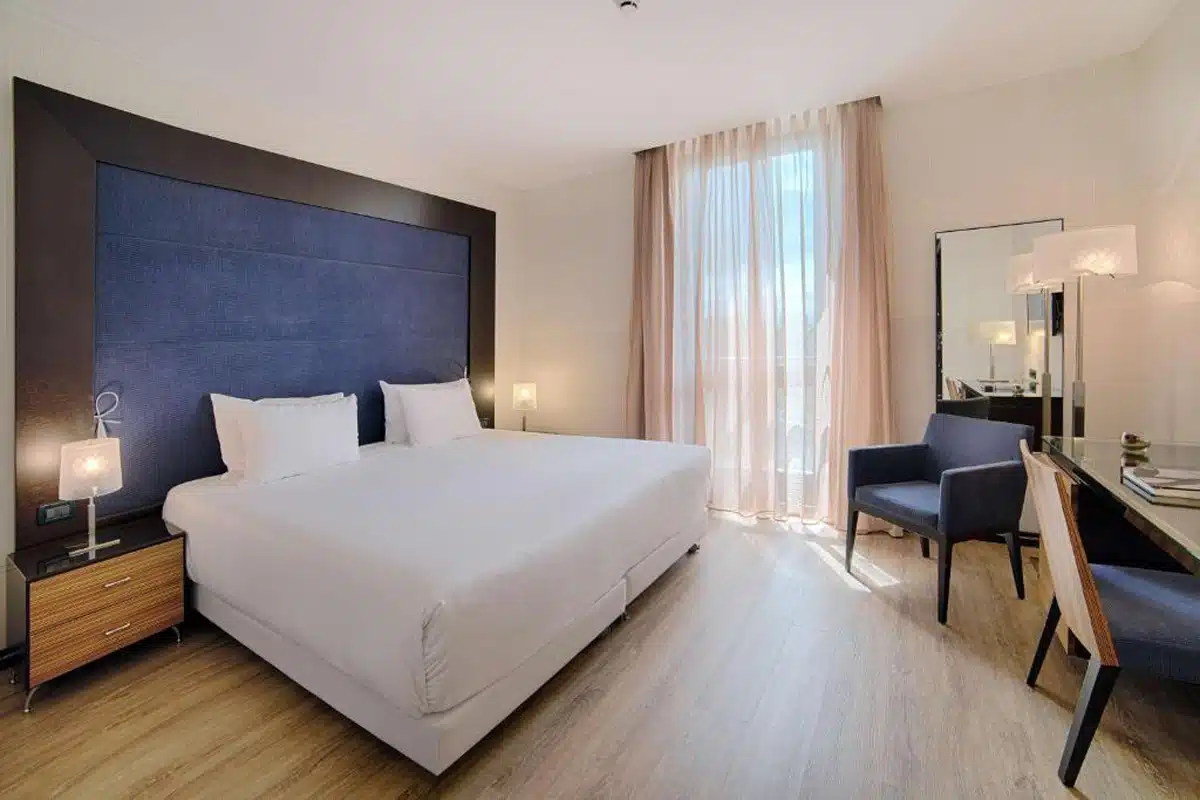 A classy modern establishment located 10 minutes from the Piazza del Campo, NH Siena eschews the classical Italian decor for a much more modern feel, with clean lines, crisp furniture and an elegant contemporary feel.
Enter the main lobby and be wowed by the enormous gothic chandelier. Then head to your room and find a nice, clean space that prioritises comfort. Every room includes a mini-bar, hairdryer and pay-per-view channels to enjoy, while the dining room serves a rich filling American-style breakfast.
Enjoy Tuscan specialties at the onsite restaurant, while the hotel also caters to anyone wanting to hire a bike to explore the city. In addition, there's a free gym for guests to use, meaning your vacation doesn't mean you need to neglect your well-being!
Relais Degli Angeli
££
Siena's Historic Centre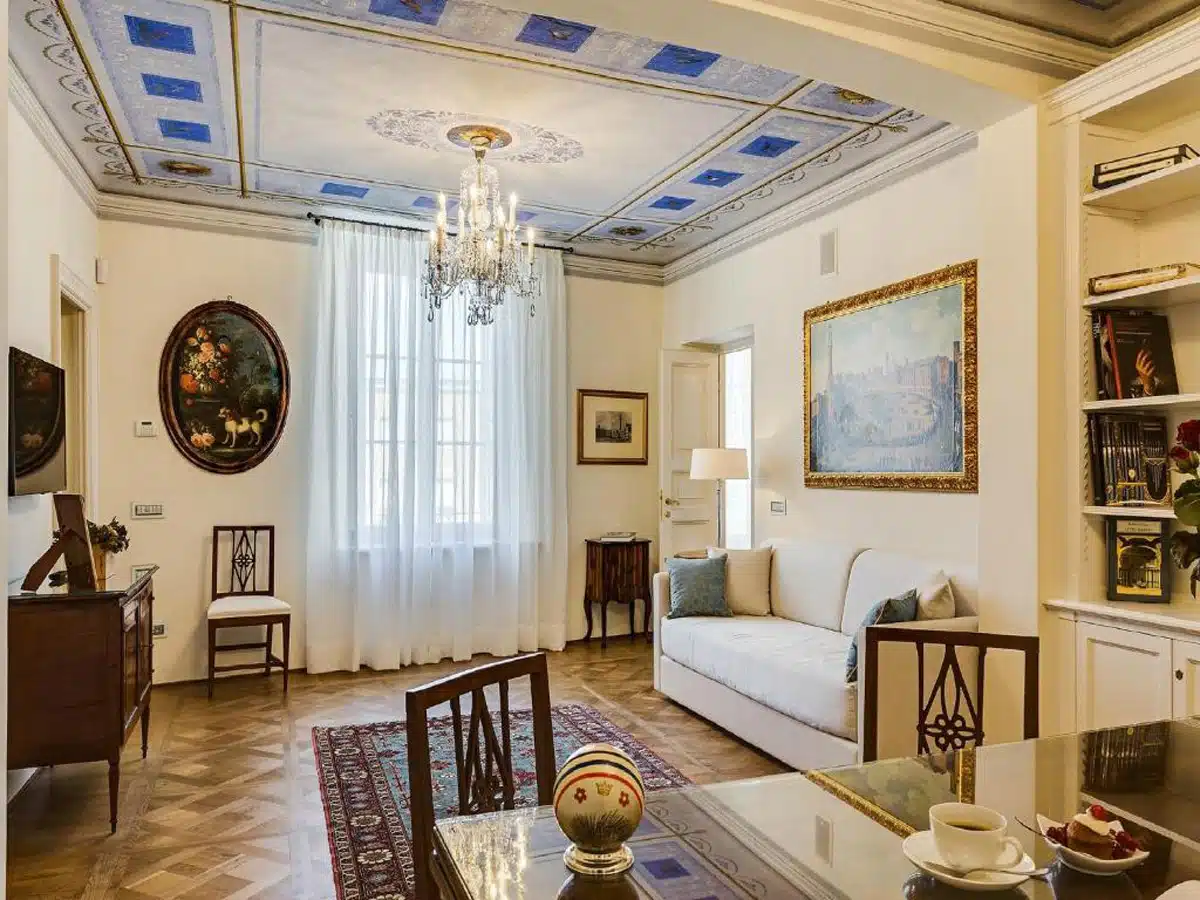 Formerly an ancient noble palace, the Relais degli Angeli is a stunning boutique hotel that offers rooms and suites with frescoed ceilings, ornate finishes and exquisite, comfortable furnishings in one of Tuscany's most beautiful settings.
Air-conditioning is standard across all rooms, as are flat-screen TVs, while the complimentary bathrobes and slippers are a nice touch. Some rooms come with a living area and others with a stunning balcony.
Breakfast is served daily until 10:30 am, meaning you can enjoy a relaxing start to your day. Begin in the breakfast room or sit outside on the terrace in the early morning sunshine.
Grand Hotel Continental Siena
£££
Siena's Historic Centre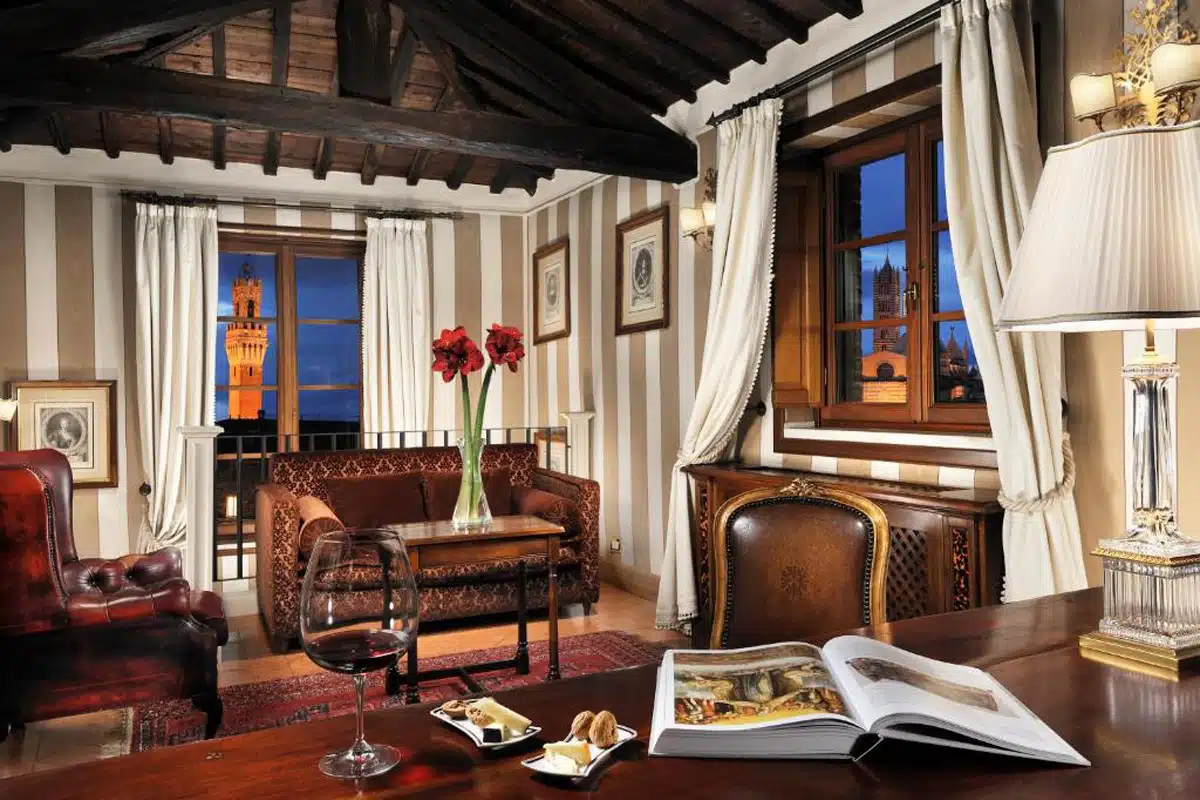 Walk into the Grand Hotel Continental Siena and you'd be forgiven for thinking you'd stumbled into Renaissance-era Italy. The level of decor in this majestic 5-star hotel is unlike anything you'll find anywhere else in Siena.
All rooms come with ornate fresco ceilings and period furnishings dating back to the 17th Century. At the same time, priceless artworks, porcelain and marble detailing are scattered throughout the building as you step along original Tuscan terracotta floors.
The Sapori Vino restaurant is one of the finest eateries in Tuscany, while the Lounge Bar is perfect for a pre-dinner cocktail or pre-bed nightcap.
This stunning hotel comes at a price, but believe me, it's worth every penny, cent, and dime as you experience the kind of hospitality enjoyed by the nobility four hundred years ago.
ELEROOM
£
Istrice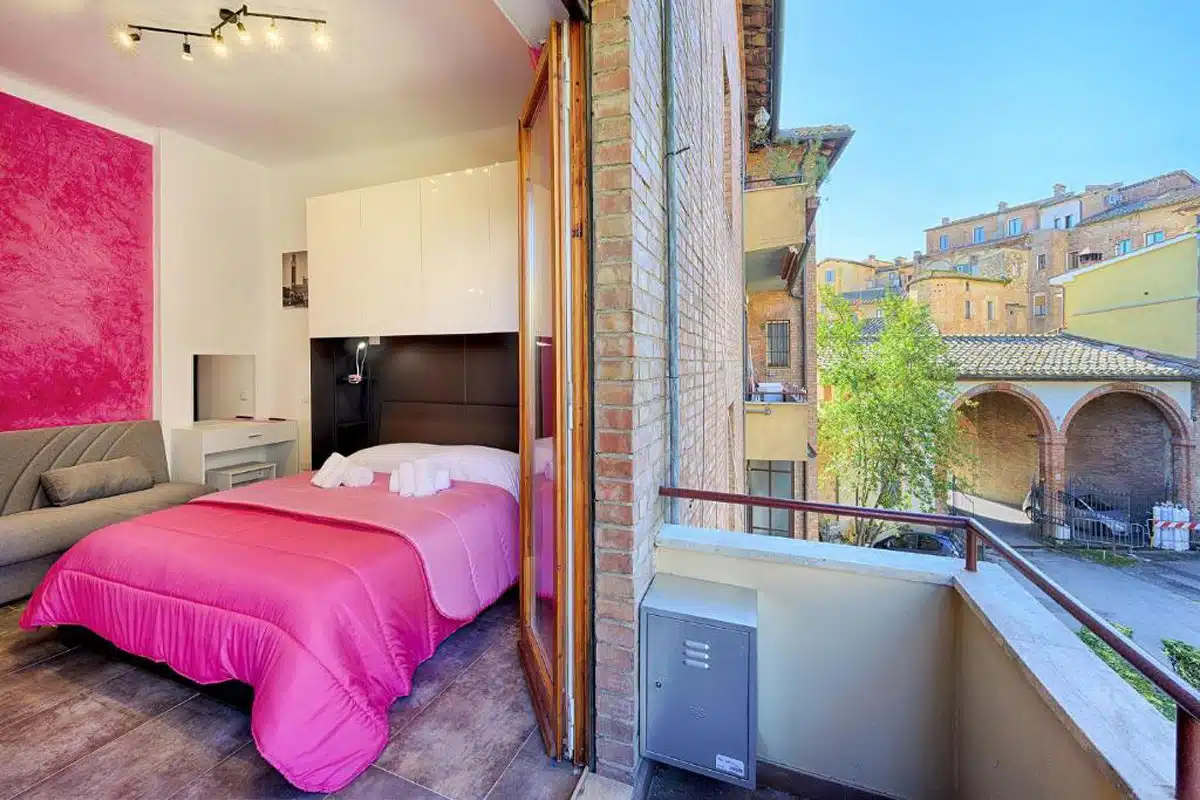 Visiting Siena doesn't mean you need to break the bank. ELEROOM offers beautiful, modern, colour-themed comfortable rooms at bargain prices, making the perfect budget stay in the centre of Siena.
Choose from one of six coloured rooms (orange, pink, purple, lilac, green or blue), each with a private bathroom. There is a communal room where you can hang out with other guests using the vending machines, fridge, oven and microwave to self-cater.
All rooms also come with air-conditioning, a smart TV and Wi-Fi, while each room provides enchanting views across the city.
Hotel Garden
££
City Outskirts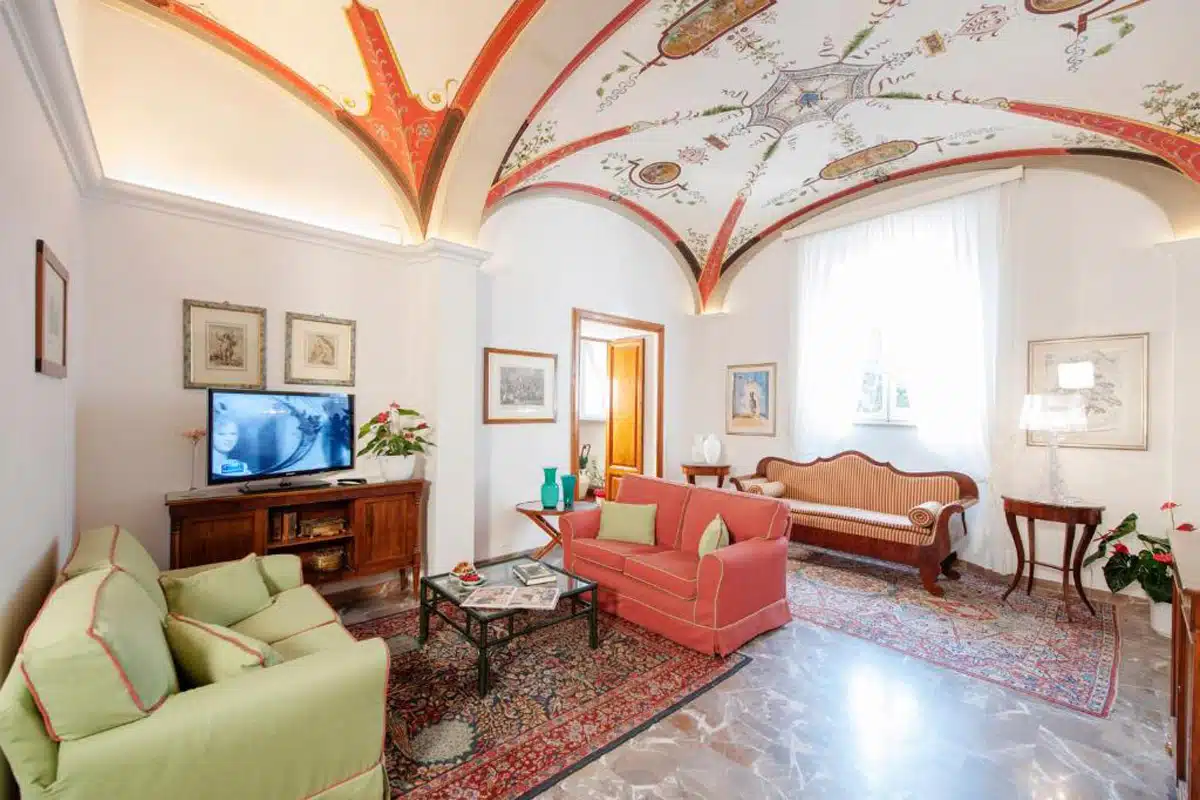 Hotel Garden sits on the hills overlooking the city centre, providing you with the perfect spot to enjoy a break without being in the hustle and bustle of the town centre. 
A four-star hotel with beautiful gardens, guests can enjoy the outdoor pool, tennis courts and an outdoor buffet breakfast served on the sun terrace each morning.
La Limonaia's restaurant specialises in authentic Tuscan cuisine with a list of the finest local wines. Meanwhile, rooms include a stunning fusion of classic design and a modern edge with antique furniture co-existing with mod cons like satellite TV and a minibar.
Hotel Athena
££
Siena's Historic Centre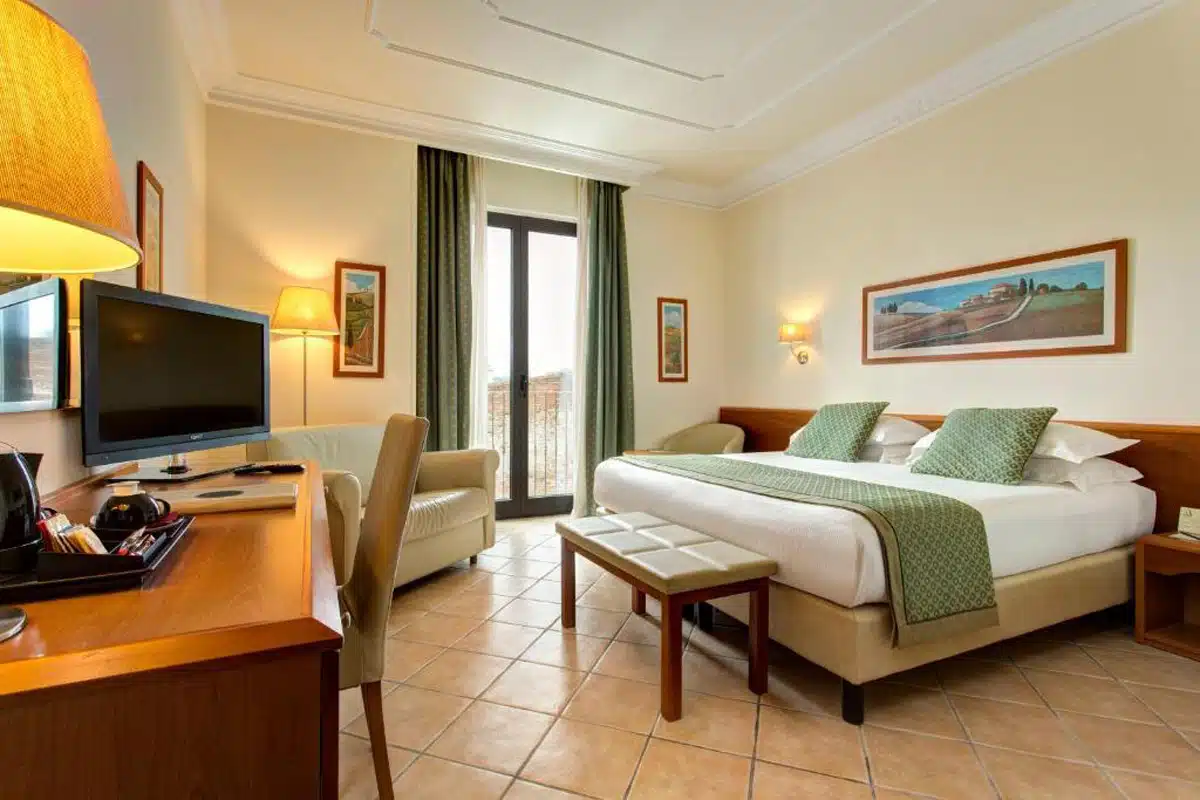 Located just inside the historic city walls of Siena, Hotel Athena is a gorgeous boutique hotel that offers unparalleled views of the town and surrounding valleys from its beautifully furnished outdoor terrace.
Rooms are spacious and include warm colour tones to make you feel at home, while the tiled floors add a splash of modern elegance. Each has a private bathroom, minibar, smart TV and enchanting city-wide views.
You can satisfy your cravings for fine wines with tours of the Chianti and Brunello hills arranged by hotel staff. You won't want to miss them!
Hotel Palazzetto Rosso
££
Siena's Historic Centre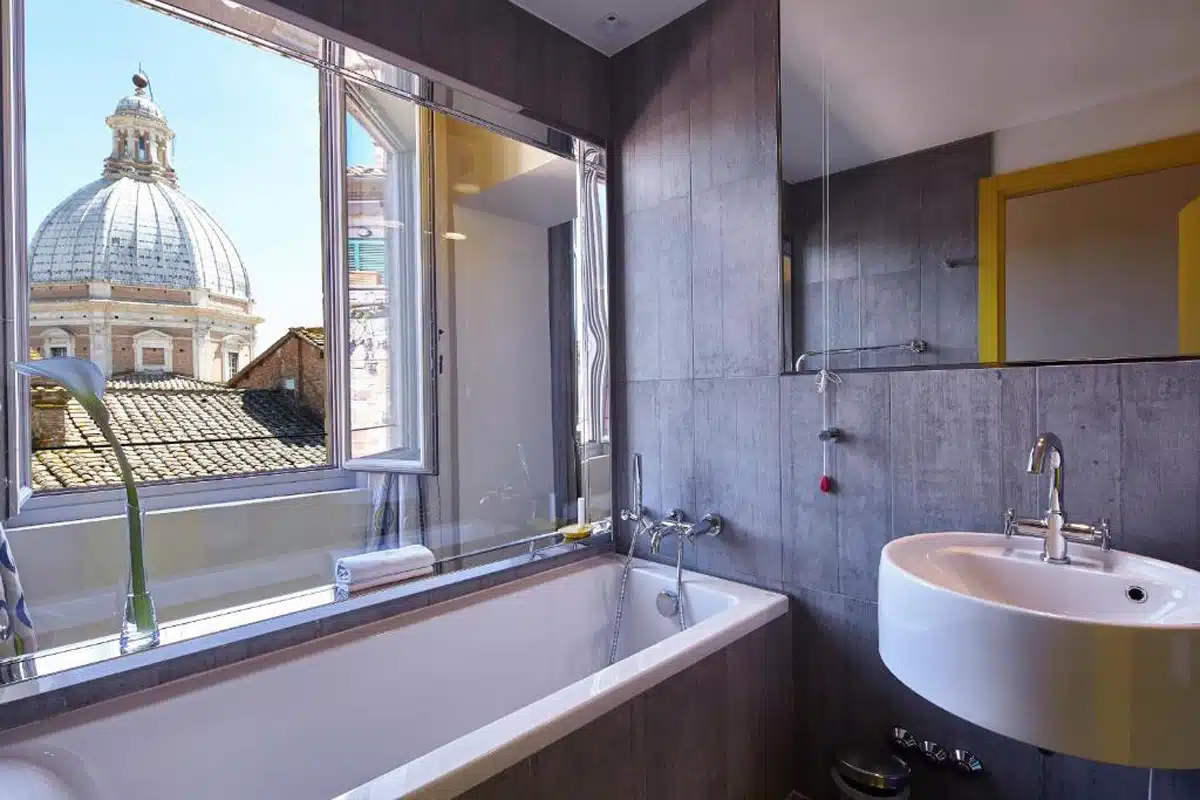 A beautiful brick-built hotel with a stunning authentic facade, Hotel Palazetto Rosso was most likely accommodation that hosted travellers in the Middle Ages.
Walk into the beautiful interior and you'll find exposed brick walls decorated with antiques collected over the years by previous owners.
All rooms and suites in the hotel are equipped with a private bathroom, each having a bathtub, complimentary toiletries, a flat-screen TV and, in some larger rooms, a comfortable seating area to relax in.
City-wide views come as standard from each of the stunning rooms in this beautiful boutique hotel that will leave you wanting more.
Albergo Chiusarelli
£
Siena's Historic Centre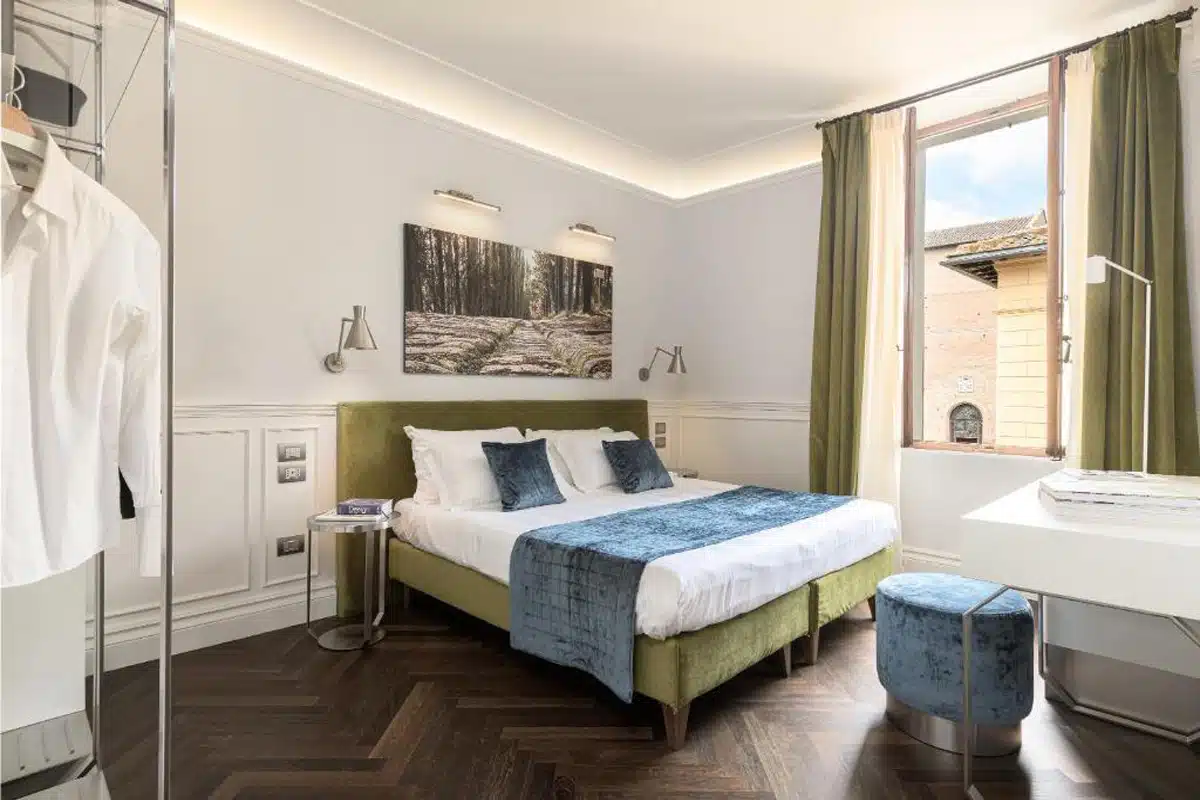 Recently renovated, Albergo Chiusarelli has a Neoclassical style that creates comfort, elegance and luxury at prices that won't hurt your wallet. All rooms come with air-conditioning, satellite TV and a private bathroom.
While some offer views across the centre of Siena, others take in the Stadio Artemio Franchi, home to Siena's premier football club, who plays in third-tier Italian football.
This beautiful 3-story 19th-century building is a superb spot to base yourself for a visit to Siena without having to negotiate the tightly-packed medieval streets.
Where Should You Stay in Siena? Frequently Asked Questions
What is the Best Area to Stay in Siena?
Finding the best area to stay in Siena depends on what you want from your visit. If you want to experience the hustle and bustle of a stunning historic city, find a hotel near the Piazza del Campo.

However, if you're after something a little less busy, book yourself into one of the incredible hotels in the hills overlooking the city for the best of both worlds
.
Practical Tips to Consider Before Booking Your Stay
Work out how you're going to access your hotel. Siena's city centre is notoriously tight thanks to the narrow medieval streets, making it difficult for cars to negotiate – and much of the city centre is off limits to cars anyway.
If you're staying in the city centre, you'll need to park outside the city and get the escalators up into the centre, or get a taxi most of the way and walk the remainder.
Arrange your airport transfers in advance. The nearest international airport is in Florence, about an hour's drive from Siena.
Even if you're staying outside the town centre in one of the hotels in this list, most places in Siena are within walking distance. Check before you book.
Plan Your Tuscany Trip with these Guides
Love This? Save and Share on Pinterest