I know that choosing an Italian road trip route can be difficult. Who wants to restrict themselves to one region in a country with so much to see? Even so, this road trip through Tuscany takes some beating.
Words by Torie Ross
From landmarks known the world over to hidden medieval towns nestled deep within the hillsides of Tuscany, this awesome road trip will ensure you see the best that the region has to offer.
Of all the fantastic road trips from around the world, there's nothing more iconic than driving through Italy's winding hillside region with the top of your convertible down, scarf elegantly blowing in the wind.
It doesn't matter if your trip embraces the effortless elegance of Grace Kelly or the hilarious hijinks of the Griswolds, a road trip through Tuscany offers something for everyone to enjoy.
Read on to discover how you should spend ​​5 days in Tuscany.
Handy Tips for Planning Your Tuscany Road Trip Itinerary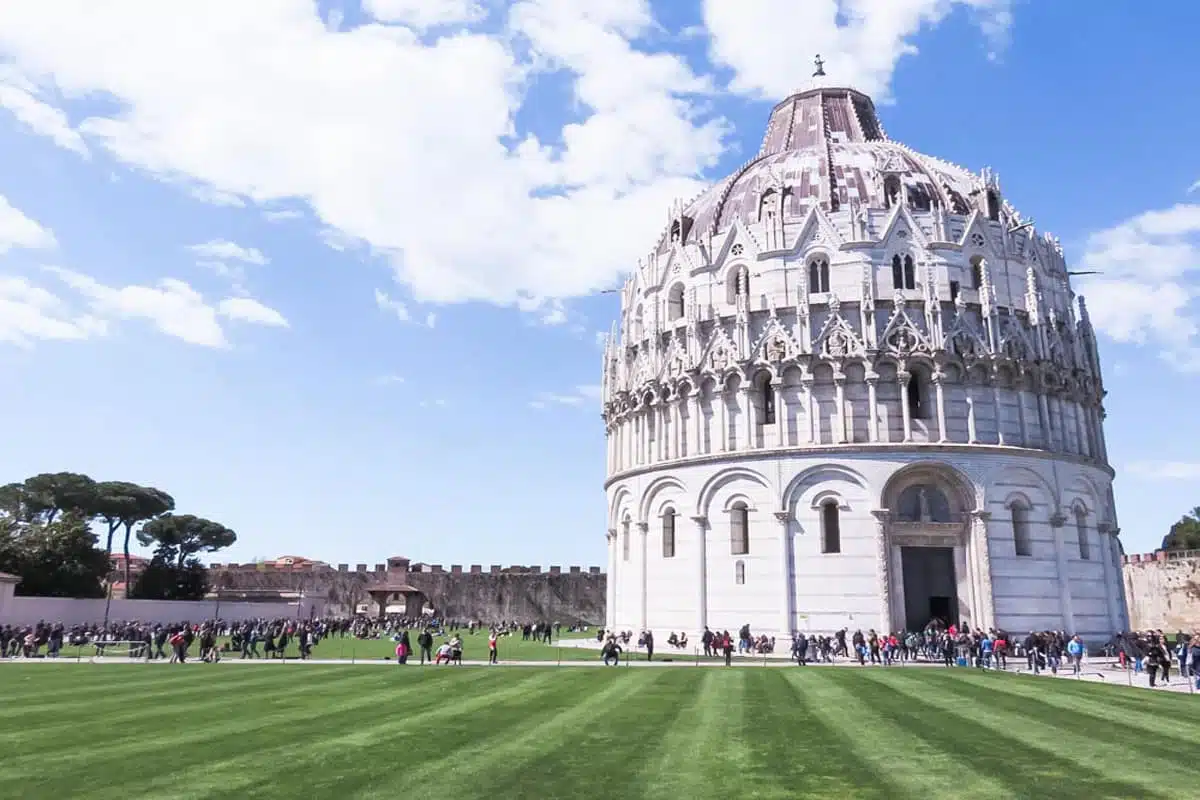 Group Tour or Independent Travel?
In general, Italy is a place where I favour independent travel. And Tuscany is no different (especially if you're seeing the best of Tuscany in 5 days).
While you can (and should) book entrance tickets in advance, there's nothing quite like planning your own itinerary and allowing yourself to wander the streets without a time constraint.
If you do prefer taking group tours, I recommend checking Get Your Guide for individual day tours (like this Florence guided tour). It gives your day some structure while still allowing you the freedom to plan your own itinerary.
What to Pack for Your Tuscany Itinerary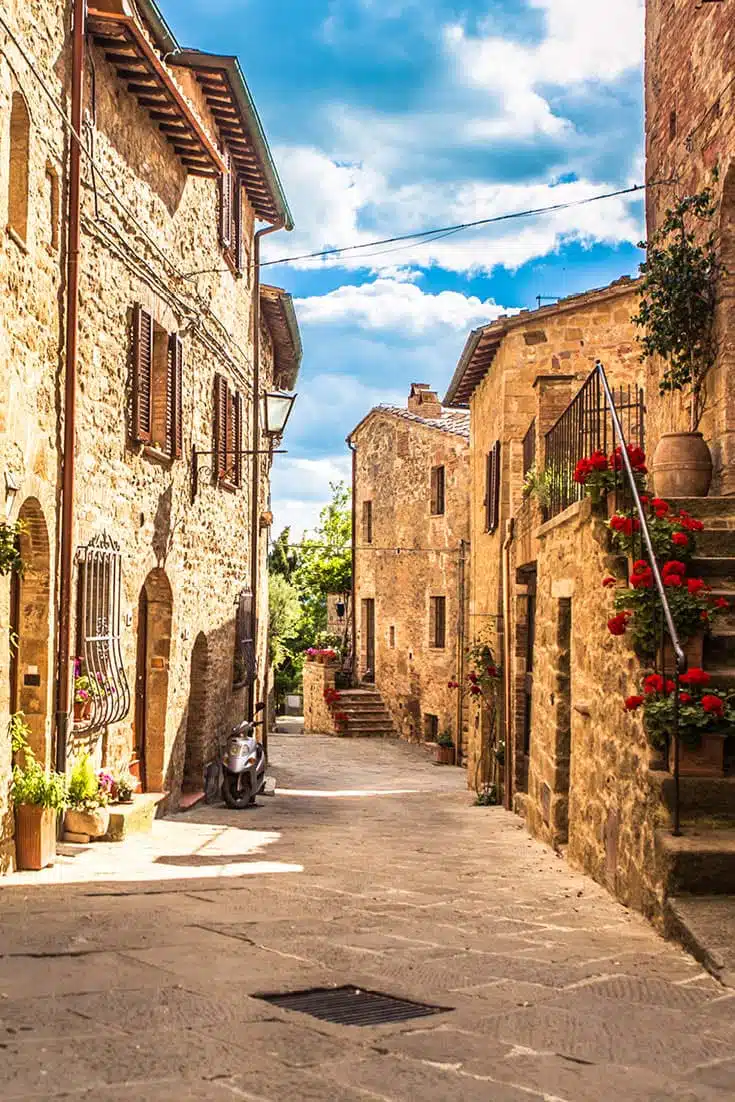 Luckily, a road trip to Tuscany doesn't require any specialist equipment/clothing. But here's some ideas for what you need to bring.
Whatever you take, you need to make sure it fits in your suitcase. Check your airline's requirements in advance to avoid extra fees at the airport (I've witnessed people snapping wheels off their suitcases to avoid this – don't be that person).
Comfortable sneakers for walking around the cities/countryside.
A small bag for carrying the basics around with you – I like to use bumbags as it's easier to keep valuables close to the body
Sun cream/hats/refillable water bottle – stay sun safe and hydrated, thank me later.
Light layers, especially if you're visiting in the shoulder seasons. It can seem super hot in Tuscany, but the evenings cool down a LOT and I promise you'll be grateful for that extra jacket.
Useful Resources
Here are some valuable tools that can help make your Seychelles itinerary trip planning a little easier:
Skyscanner: This site allows you to search and compare flights around the world.
Booking.com: I rarely book hotels through any other site. This is a fantastic tool for comparing a wide range of hotels (at different price ranges, too).
Tripadvisor: It's no secret that Tripadvisor is the best place to book tours and read genuine reviews on tour experiences and restaurants. 
Get Your Guide: My top choice for tours. GYG offers a wide selection of planned tours around the world at reasonable prices.
Viator: Another tool that allows you to compare and book different tours and trips.
Getting Around
If you're travelling through Tuscany, you'll likely want o rent a car (though public transportation is also pretty good) – I like to use Rentalcars.com as I find they often have the best rates.
Tuscany Road Trip Day 1: Take off from Florence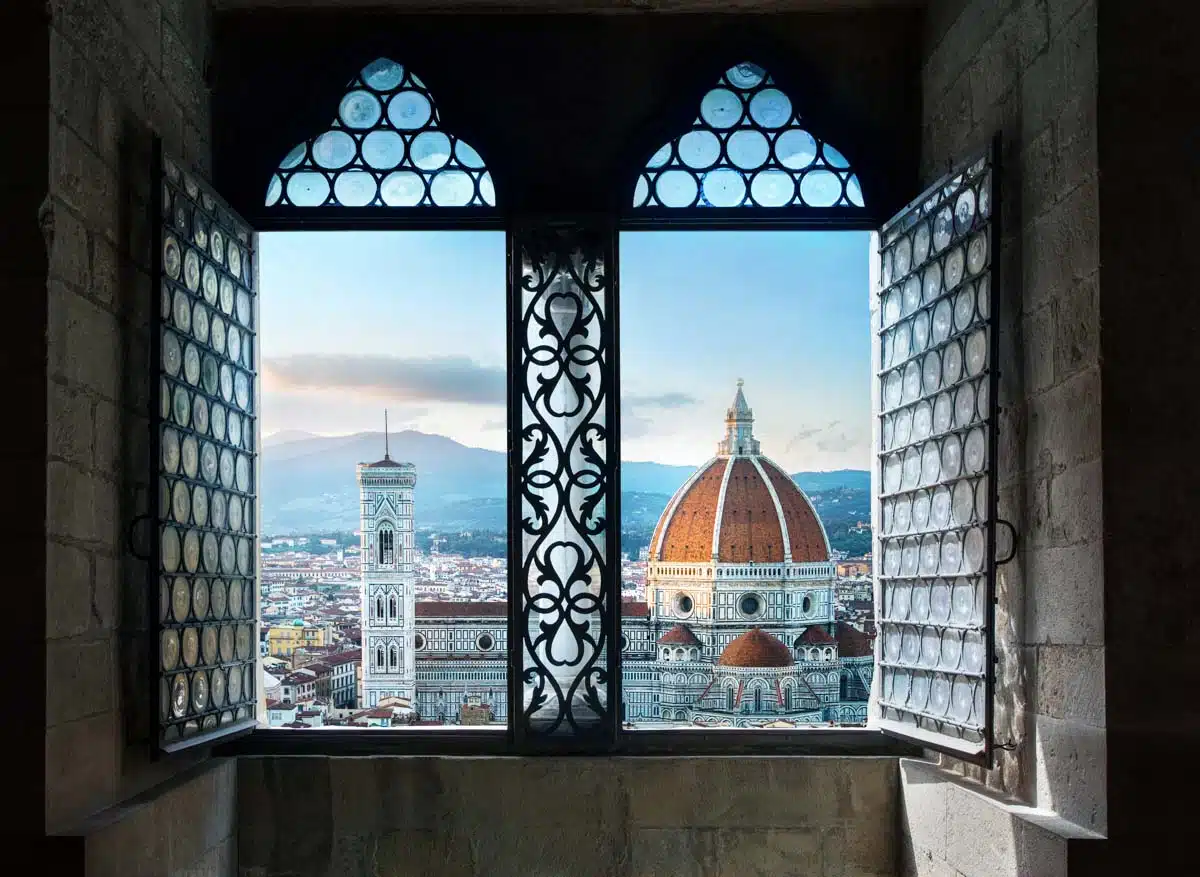 Florence's conveniently located airport, wide range of amenities and iconic architecture make it the perfect introduction to the region and an ideal place to begin an Italian road trip through Tuscany.
Things to do in Florence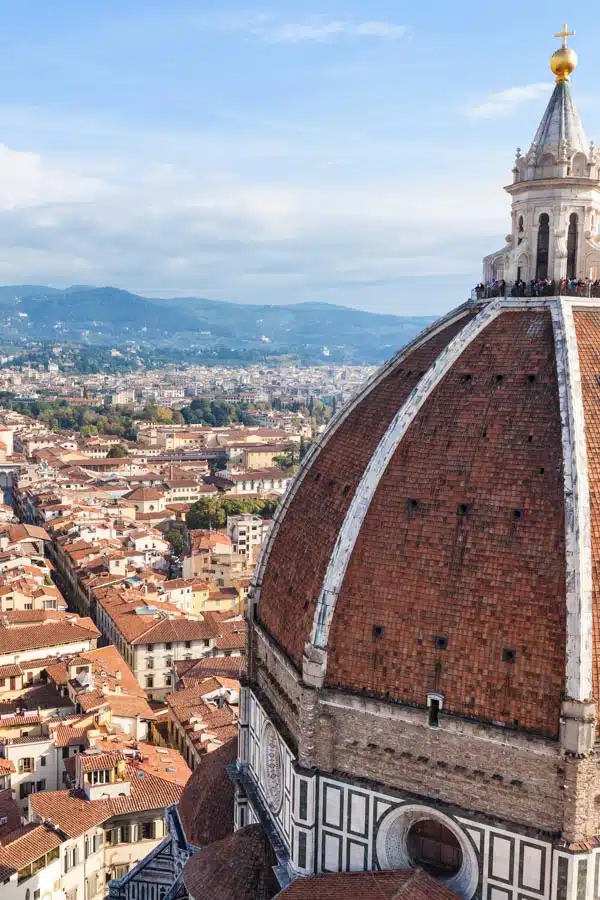 Florence is stuffed with famous landmarks around every corner. It's no wonder that it often features on many a Tuscan honeymoon itinerary. 
The expansive Piazza del Duomo, which dominates this city both in popularity and in history, is a sight to behold.
The highlight of the piazza, The Santa Maria del Fiore Cathedral, usually just referred to as the Duomo, is one of the most recognizable landmarks in the city and the main draw for visitors to this famous piazza.
The adjacent Giotto's Bell Tower and St. John's Baptistry are also remarkable. It's well worth the time and the patience it takes to explore them all, especially for a first time visitor.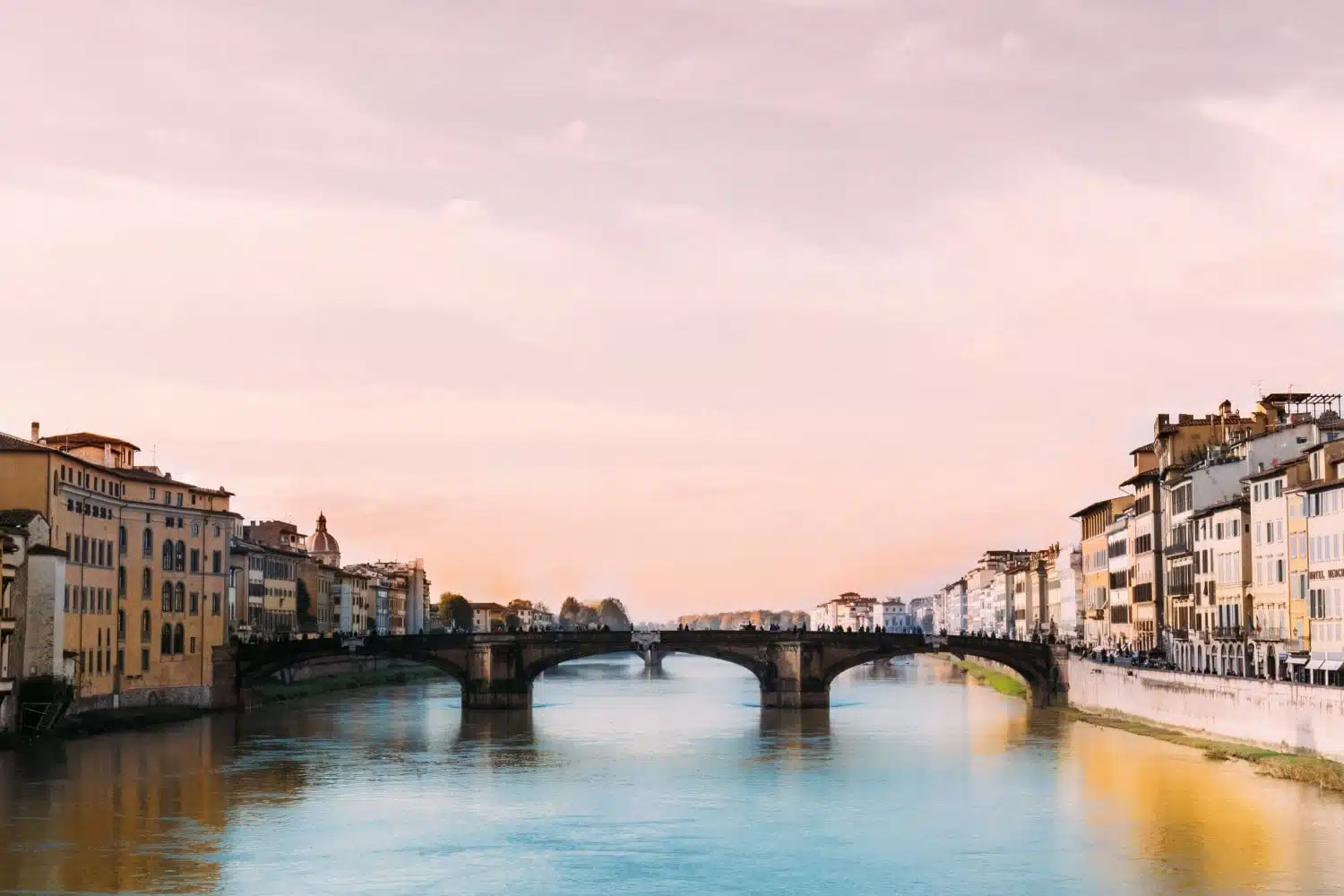 The Ponte Vecchio, another iconic Florence landmark, is perfect for window shopping at the historic jewelry stores that line the bridge or enjoying the buskers that perform to captivated audiences as the sun sets over the River Arno.
Beyond the crowds of flag waving walking tours and selfie sticks, the alleyways and secret corners of Florence offer a breadth of museums, restaurants and bars just waiting to be discovered.
On the slightly macabre side, visitors can gaze upon several of Galileo's bony fingers and teeth at the Florence History of Science Museum.
After a long day of walking and exploring, prepare yourself for the journey ahead with an expertly tossed pizza at the popular Gusta Pizza or a fine glass of Chianti paired with local cheeses at the intimate cafe Mangiafoco.
It's almost impossible not to fall in love with the food in Florence – what better reason to try and learn some Florentine cooking skills while you're there.  It's no wonder that food tours in Florence are all the rage. 
Getting to Florence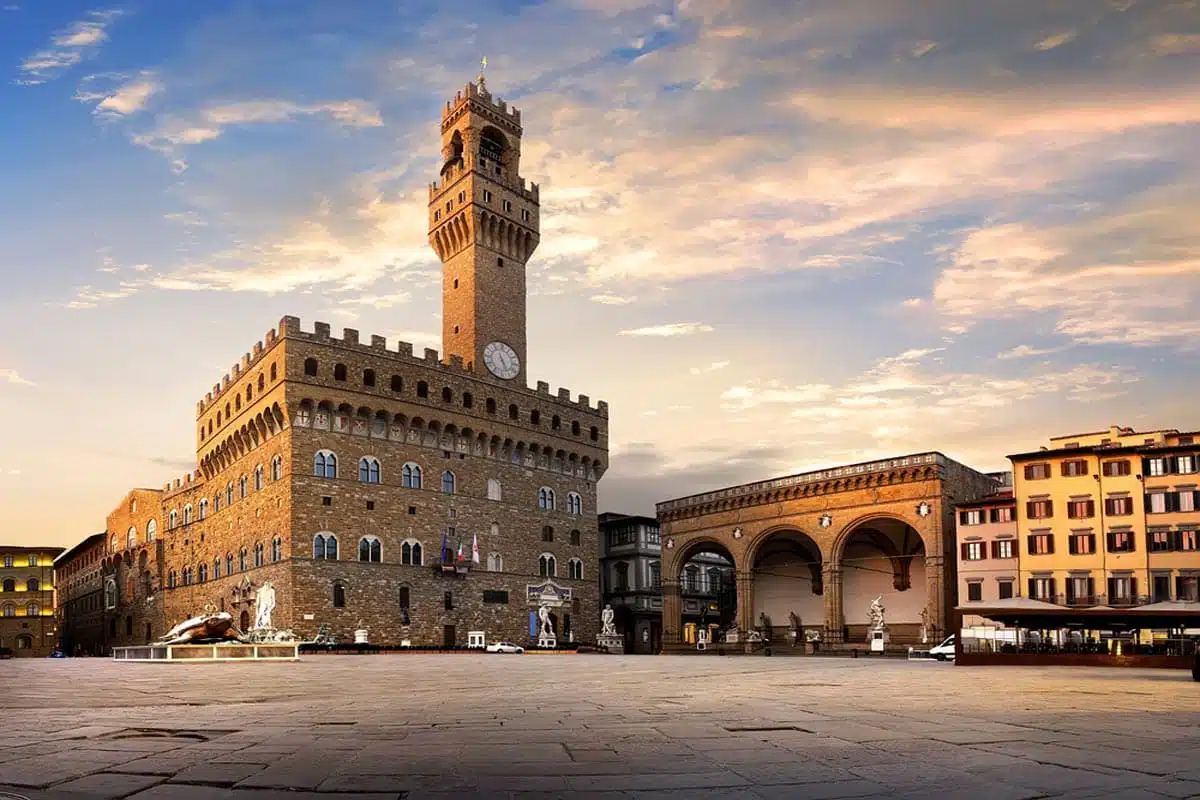 Getting to Florence is fairly easy – you'll likely arrive at either Florence's (small) airport or Pisa Airport. From Florence airport, the easiest way to get into the city is by taking the R04 bus.
From Pisa, you can rent a car and make the hour drive. Alternatively, you can hop on a direct train.
Suggested Stay for Florence on your Tuscany Itinerary
Despite the name, Hotel Roma is a deliciously sophisticated place to bed down in Florence. Each room is spacious and filled with quirky features that make it so distinctly Italian – think random arches and pillars embedded into the walls.
Alternatively, check all accommodation in Florence
Read More: The Best Things to do in Italy
Tuscany Road Trip Day 2: Escape to Lucca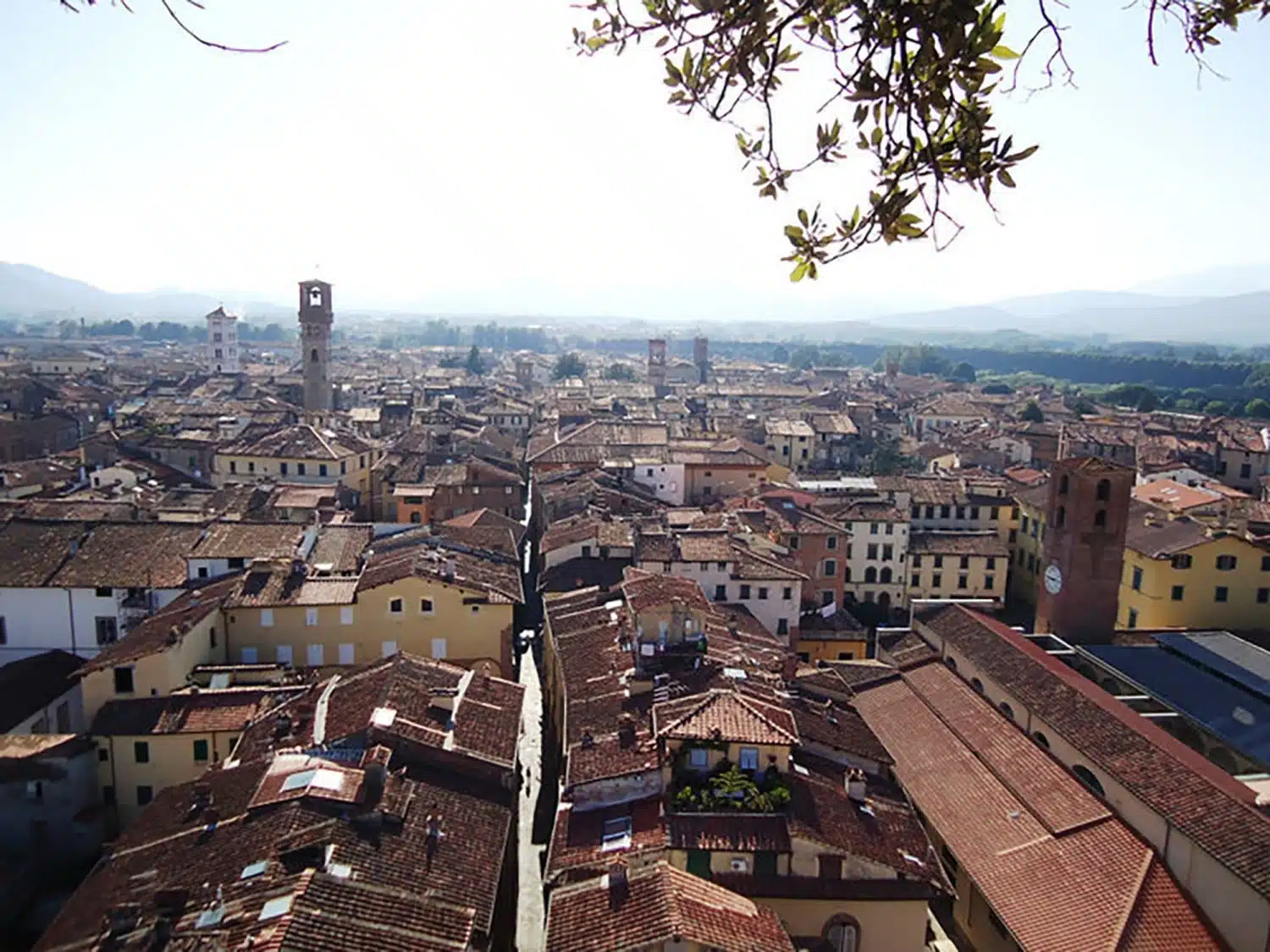 Heading northwest, roadtrippers can make a quick stop in Pisa for a photo op before escaping the crowds and heading into the lovely town of Lucca.
All of Tuscany's cities and towns are within easy reach of one another, ensuring you won't be so tired from the drive that you can't enjoy the destination.
Things to do in Lucca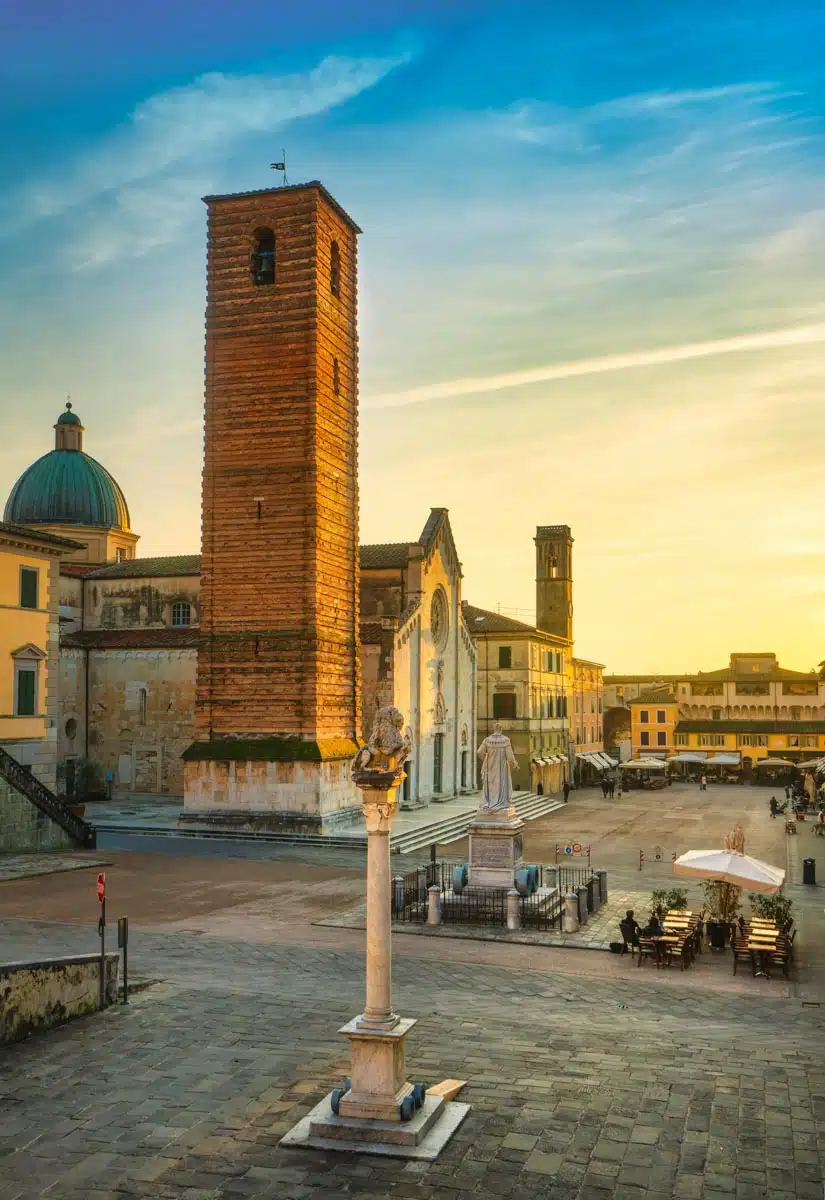 Lucca, located about 70 kilometres of Florence, is best known for the Renaissance era walls that surround the town's historic centre.
The walls are one of the last remaining examples of the type of fortification that used to surround so many of Tuscany's towns and cities.
Pleasant promenades and tree lined walks now exist where military lookouts used to keep watch. Today, visitors can take a leisurely stroll around the perimeter or see even more of the city by renting bikes to explore the walls and surrounding areas.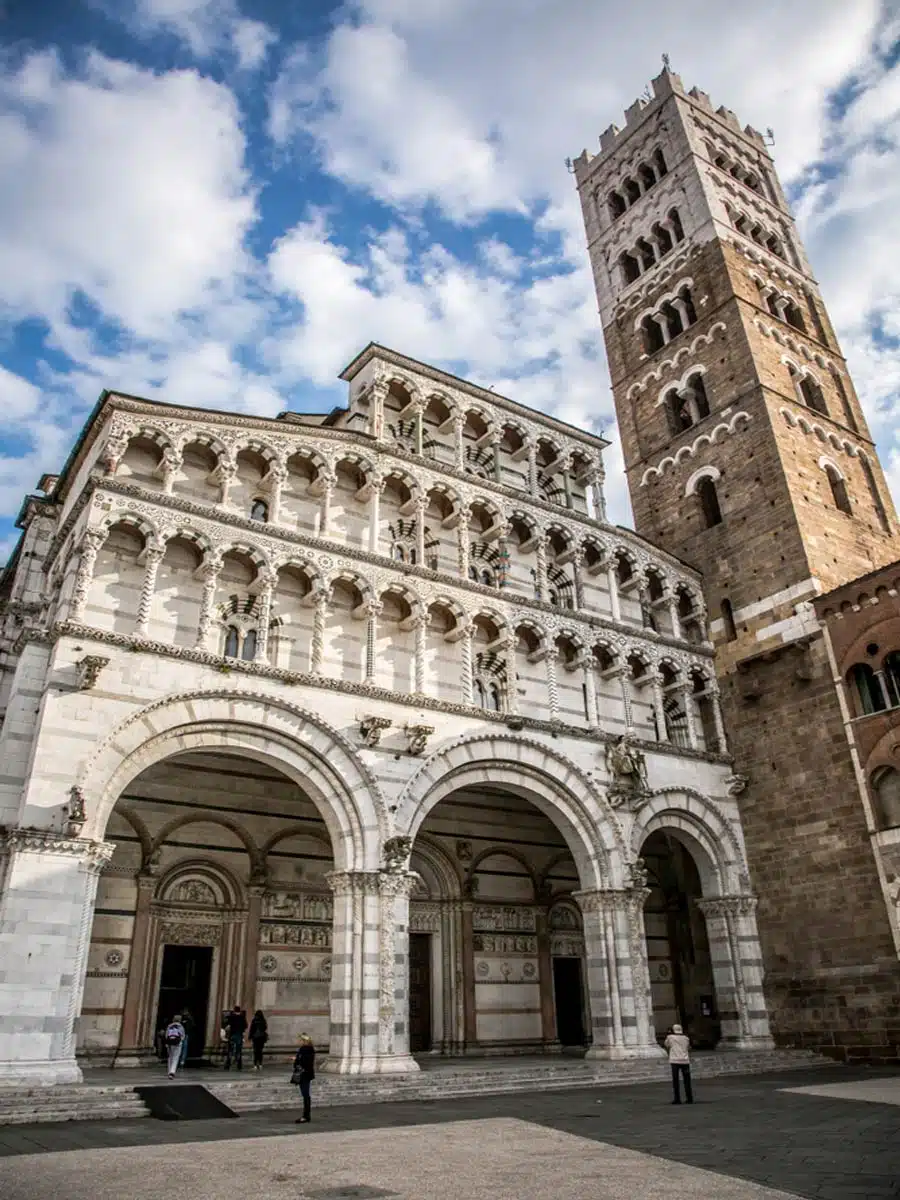 Within the city itself, also known as the City of 100 Churches, Lucca's cobbled streets and spacious piazzas make it one of the easiest places in Tuscany to explore on foot.
For history buffs, the Piazza dell'Anfiteatro maintains the shape of the Roman amphitheatre which would have once stood in the area, while the climb to the top of the nearby Guinigi Tower offers a remarkable view over the narrow streets and historic buildings of Lucca's centre.
For a bit of modernity, Via Fillungo is Lucca's main shopping street and offers a range of internationally recognized shops alongside more local brands.
Nature lovers and hiking enthusiasts will love the city's locale at the foot of the Apuan Alps. The area's stunning drives and hikes throughout the region allow visitors to enjoy a bit more of Tuscany's natural settings in any season. Read more about Tuscany in Autumn.
Getting to Lucca
It takes around an hour to travel between Florence and Lucca (although add plenty of time for a Pisa stop!) by car, or you can hop on a train, which takes around an hour – an hour and a half.
Suggested Stay for Lucca on your Tuscany Itinerary
You're not exactly spoilt for choice when it comes to accommodation in Lucca, but La Gemma is a charming hotel. Decor is bright, bold, and unashamedly Italian – I love it.
Alternatively, check all accommodation in Lucca
Tuscany Road Trip Day 3: Climb the Towers of San Gimignano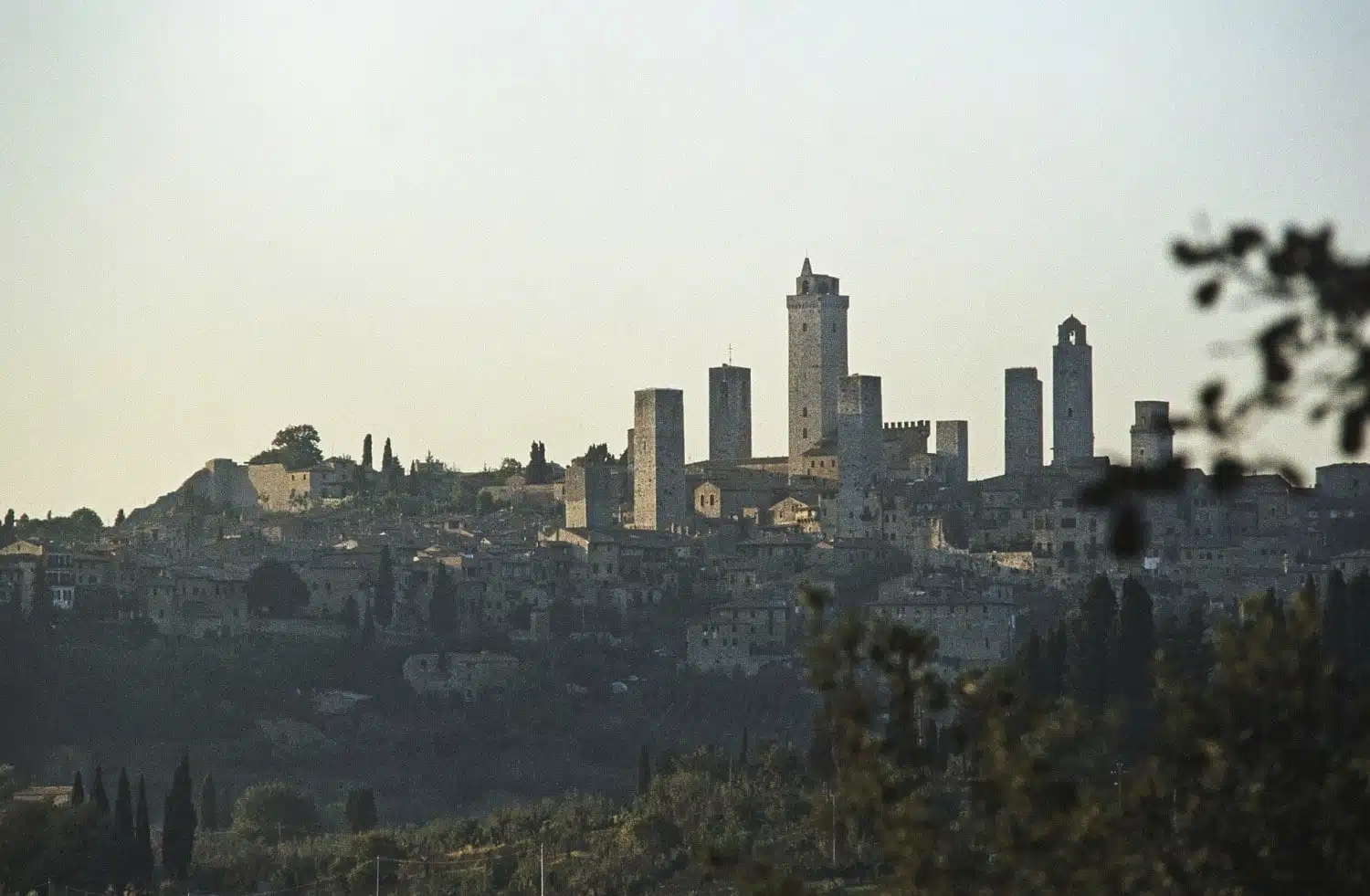 Next up: San Gimignano. This destination is a little bit of a gem within Tuscany, but one I highly recommend you make time for on your Tuscan road trip.
Things to do in San Gimignano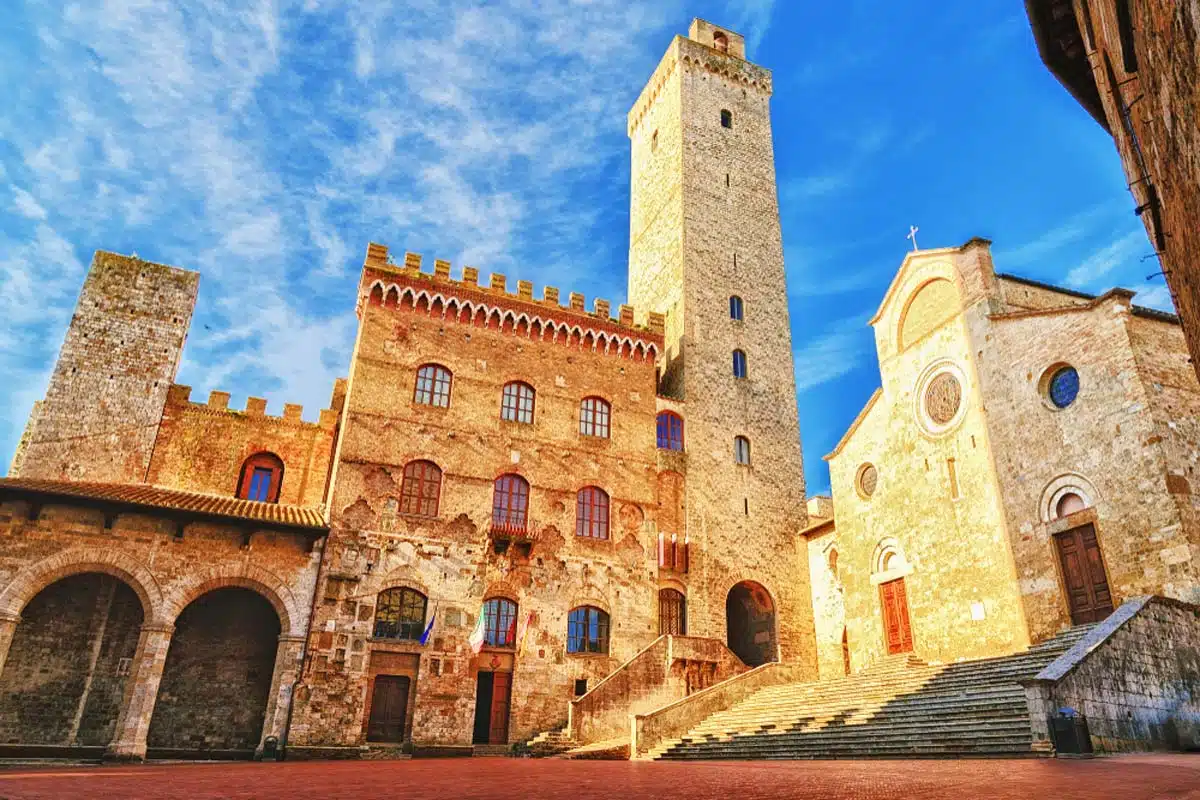 As you head even further south and drive into San Gimignano, the prominent 14 towers of the city provide just a hint of the medieval offerings the town has to show visitors.
The towers, which were built as a 13th century version of keeping up with the Jones' by San Gimignano's most prominent families, provide an interesting challenge to tourists committed to climbing as many of them as possible.
Torre Grossa, San Gimignano's tallest tower, and Torre della Rognosa, one of the city's oldest towers, are two of the most popular with those looking for stunning views and a good workout.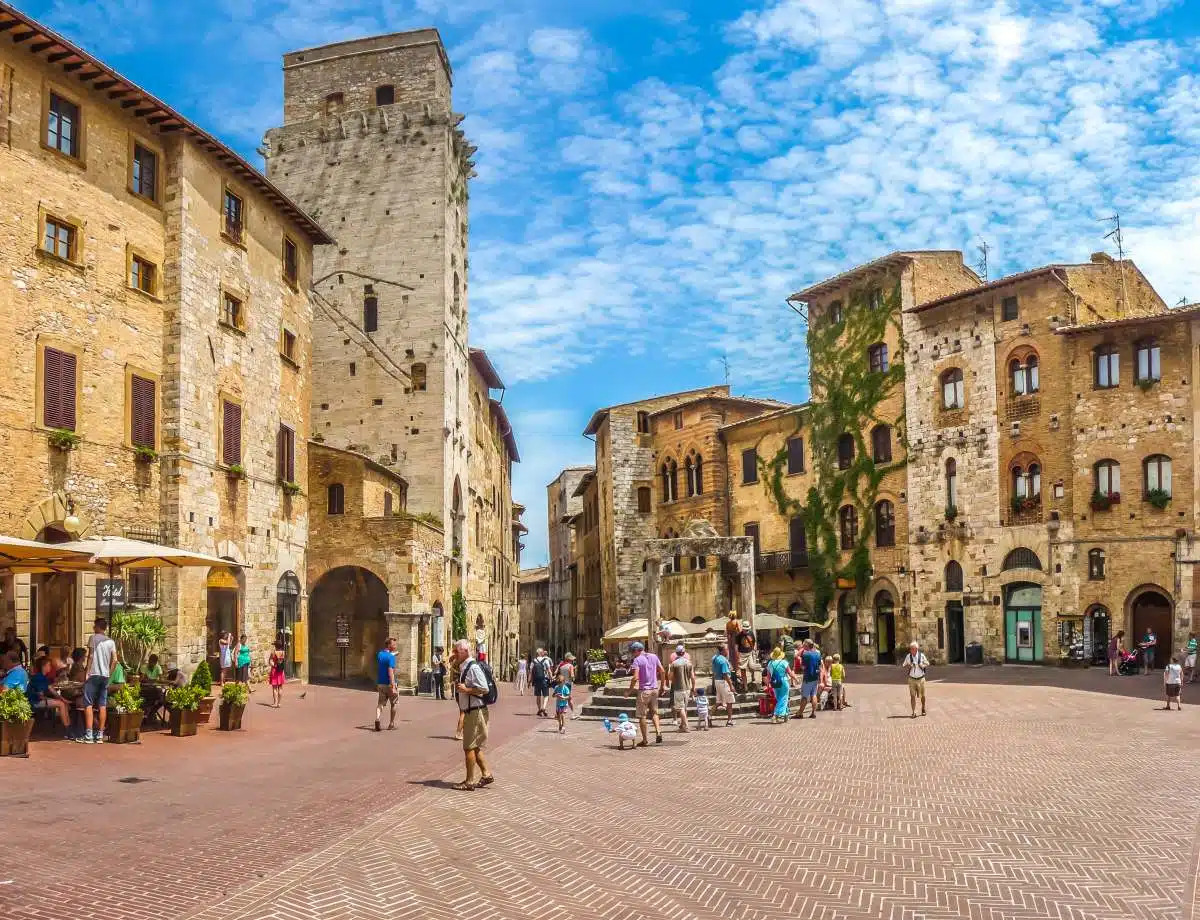 For visitors who prefer to save their leg strength or want to avoid a strong case of vertigo, San Gimignano has far more to show than just the towers which attract busloads of day trippers each day.
Museums including the Torture Museum, the Archaeology Museum and the Civic Museum, which is located inside the Palazzo del Popolo, offer an intimate look into San Gimignano's rich history.
For gelato lovers, no trip to San Gimignano would be complete without a stop at Gelateria Dondoli, centrally located in Piazza della Cisterna. The gelateria boasts back to back Gelato World Championship wins and is well loved for their extensive menu of unique flavours.
For far reaching views over the whole of the city and the surrounding countryside, head straight to La Rocca, San Gimignano's 14th century fortress.
Although it may be a bit of a climb, the effort it takes to get up the hill is well worth it once you reach the top.
Getting to San Gimignano
Driving is the easiest way to get between Lucca and San Gimignano – that is, unless you fancy a multi-stop train ride that takes you the most part of your morning.
Nope, drive the 90 minute journey – trust me on this.
Suggested Stay for San Gimignano on your Tuscany Itinerary
Looking like it belongs in a cheesy romance novel, Il Coltro is a Tuscan farmhouse of dreams. The fully-contained apartments are fitted with everything you could possibly need for a cosy stay – not to mention the incredible views.
Alternatively, check all accommodation in San Gimignano
Tuscany Road Trip Day 4: Race to Siena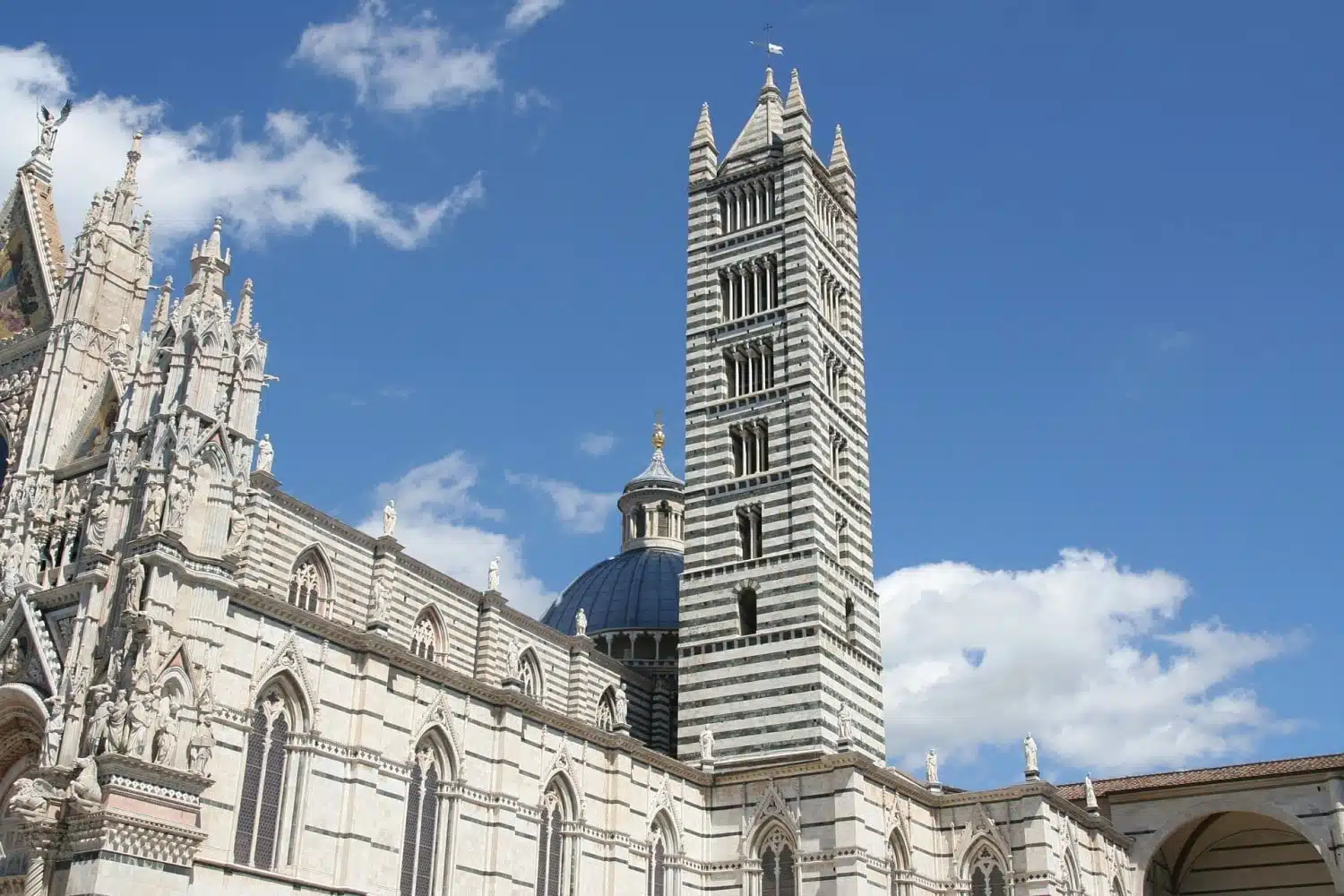 Located about 70 kilometres south of Florence, Siena is often referred to as Tuscany's "second city", but this bustling town should not be overlooked on your Italian road trip.
As Florence's rival for centuries, much of Siena's architecture, culture and rich history may have been bred from competition, but today it stands as a gem of its own within the region of Tuscany.
Things to do in Siena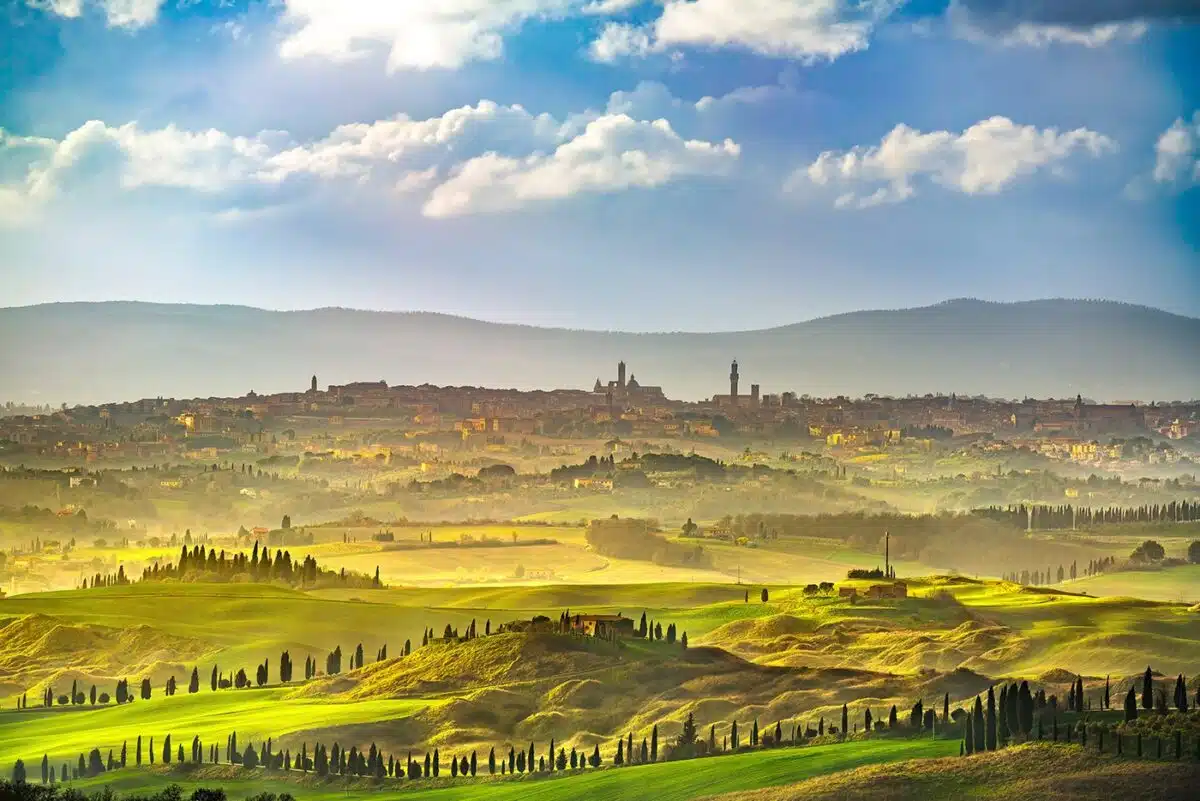 Any trip to gorgeous Siena would be amiss without a visit to the expansive Piazza del Campo.
While the city's central square is always a buzz of activity, no matter the time of year, in summer the Campo comes alive with the historic spectacle that is Il Palio, Siena's famous horse race.
Here, the city's notoriously competitive districts, or contrade, compete for bragging rights and for the elusive Palio, a painted silk banner.
Trial races, parades and a lot of conniving between jockeys and their contrada occurs in the days leading up to the main event.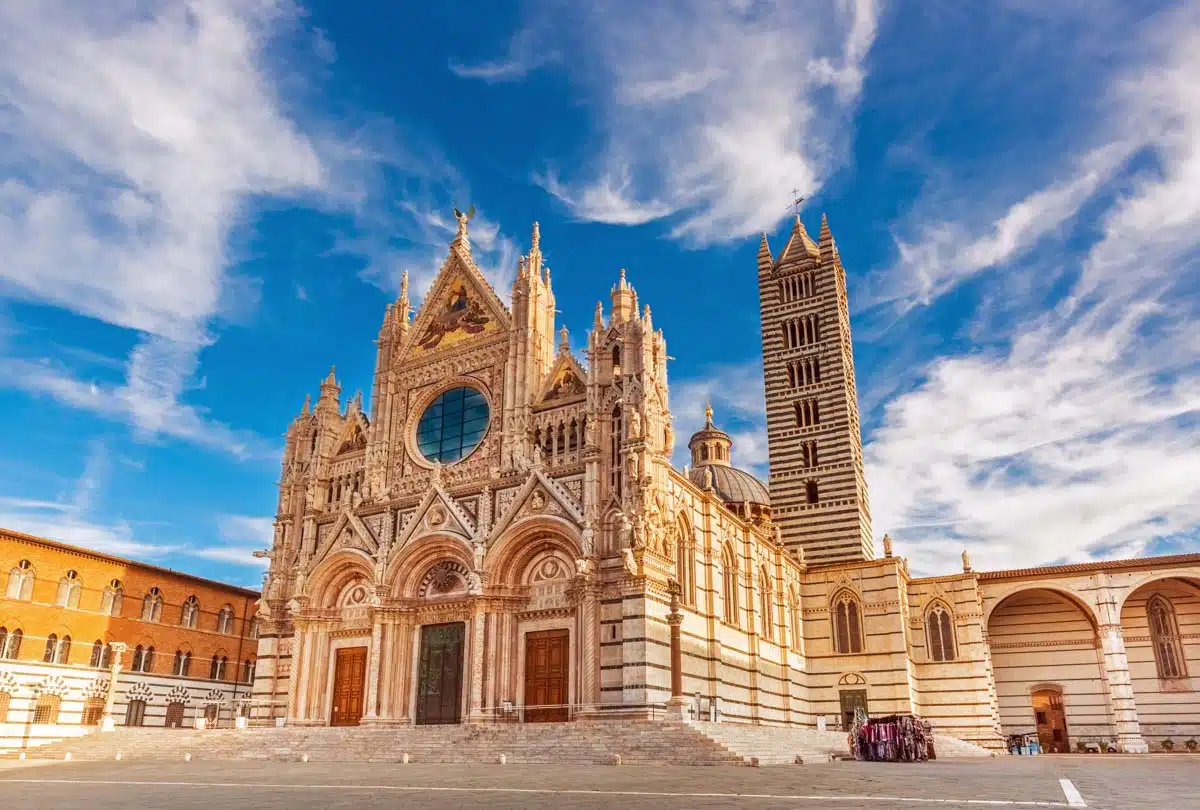 The rest of the year Siena's famous striped cathedral, the Cathedral of Santa Maria Assunta, steals the show.
If you want to see the impressive interior of the cathedral, or Duomo, buy an Opa Si Pass from the nearby tourist office. This will allow you access into the Duomo, the Baptistry, the crypt and the Museo dell'Opera which houses many of the cathedral's rarest artefacts.
While the city of Siena is the buzzing centre of the region, a quick trip in the car will take you through winding hillsides and into tiny medieval towns, just minutes from the heart of the city.
San Gusme, Lucignano d'Asso and Montefollonico are just some of the hidden gems waiting to be discovered.
Getting to Siena
Whether you choose to drive or take public transport (bus 130 from Piazzale Montemaggio), travelling between San Gimignano and Siena takes around an hour and is incredibly easy.
Suggested Stay for Siena on your Tuscany Itinerary
A former monastery, now transformed into a plush pad – can you see why I love Hotel Certosa so much? Rooms are elegant yet modern, while the lantern-filled trees make for a romantic evening under the stars.
Alternatively, check all accommodation in Siena
Tuscany Road Trip Day 5: Reminisce Over a Bottle of Wine in Montalcino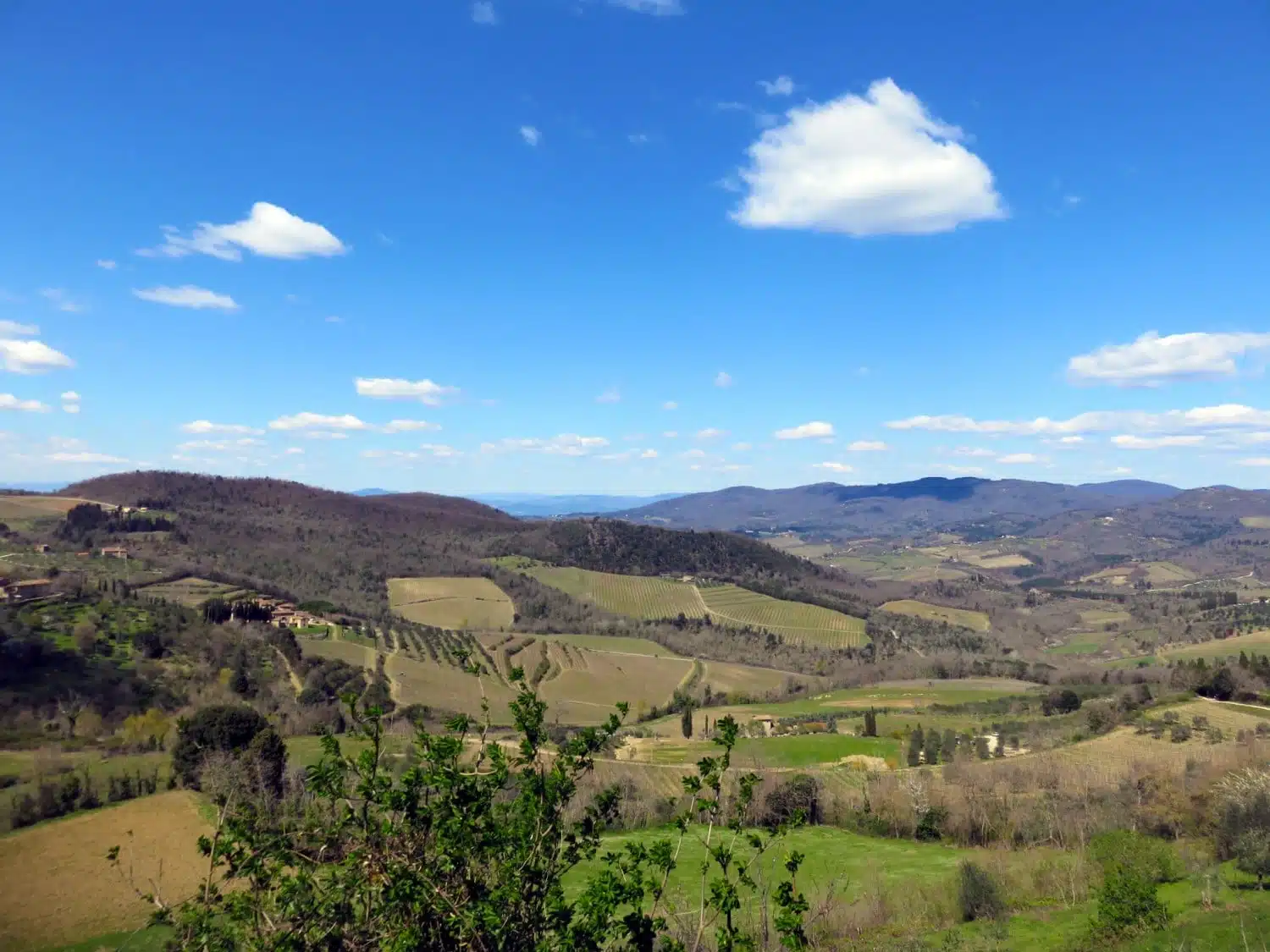 After exploring Florence's bustling city streets, the quiet respite of Lucca, the imposing towers of San Gimignano and the competitive heart of Siena, head to the most southerly, and the final, point on the route, Montalcino.
Set within the stunning Val d'Orcia Natural Park, Montalcino is renowned for its natural beauty, medieval architecture, rich artistic history and, of course, its production of the famous Brunello wine.
Things to do in Montalcino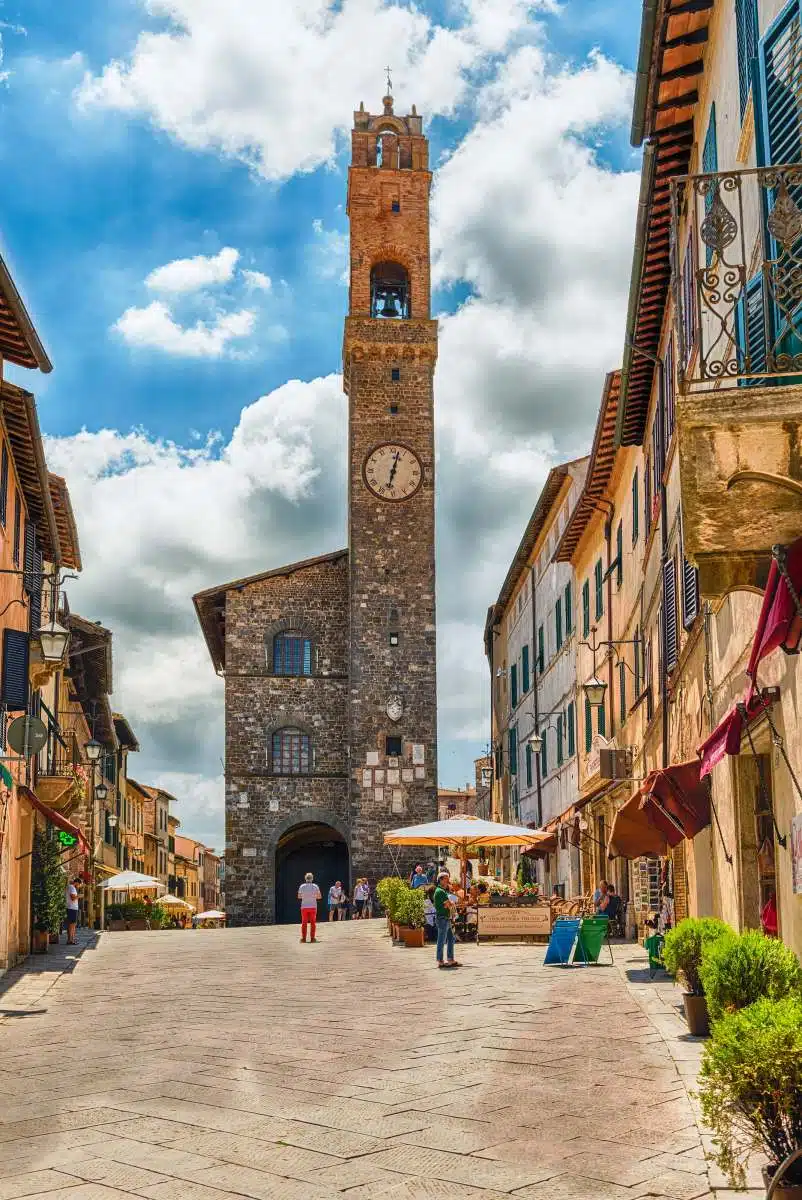 No Italian road trip would be complete without some wine tasting and Montalcino is the place to do it.
Wine bars and shops line Montalcino's stone streets, interspersed with cafes, antique shops and award-winning restaurants.
In the city centre, the views from the town's 14th century fortress offer the perfect place to reflect on all the places your journey has taken you, as the scenery stretches back to Siena and across the surrounding hillsides.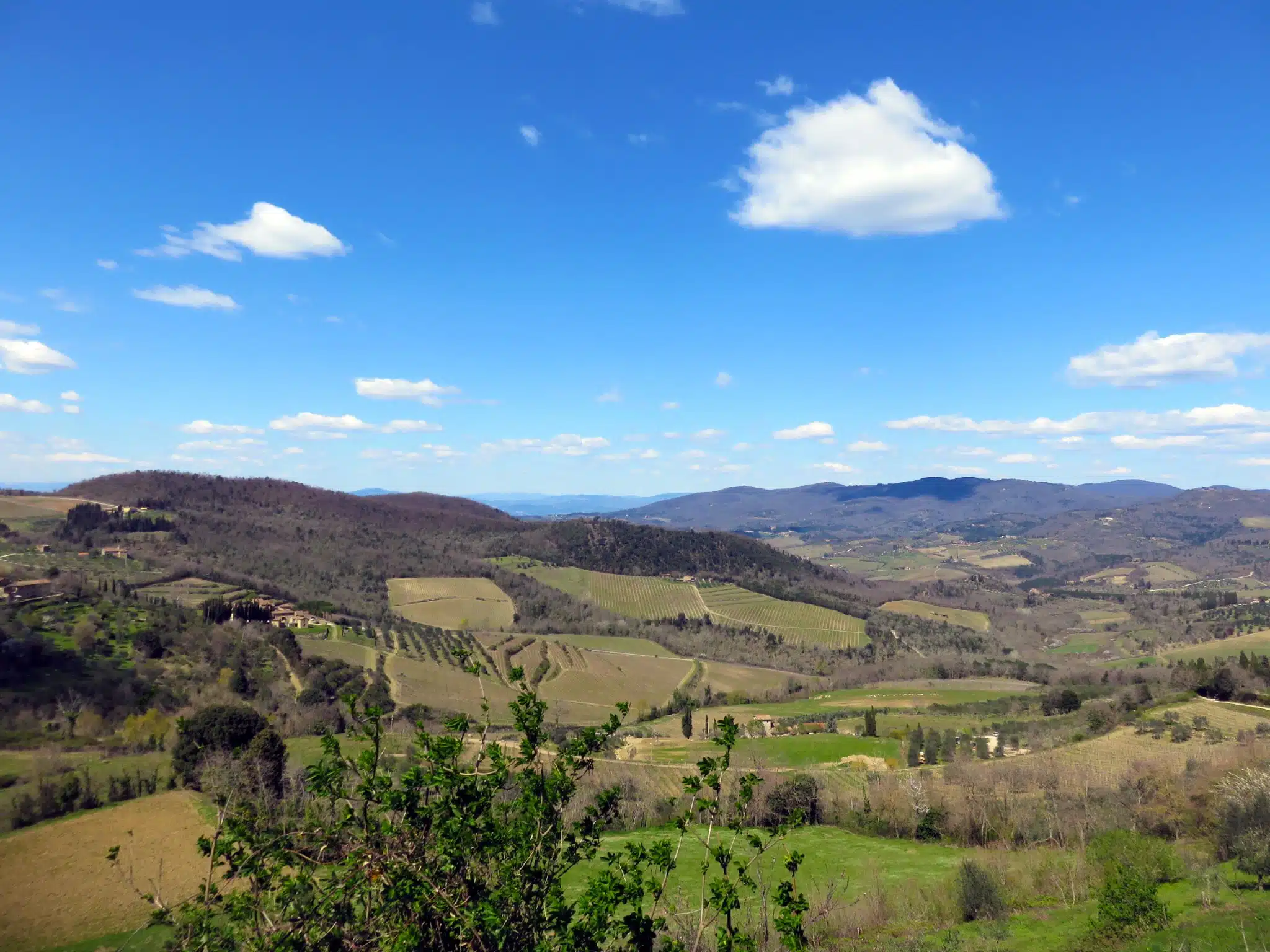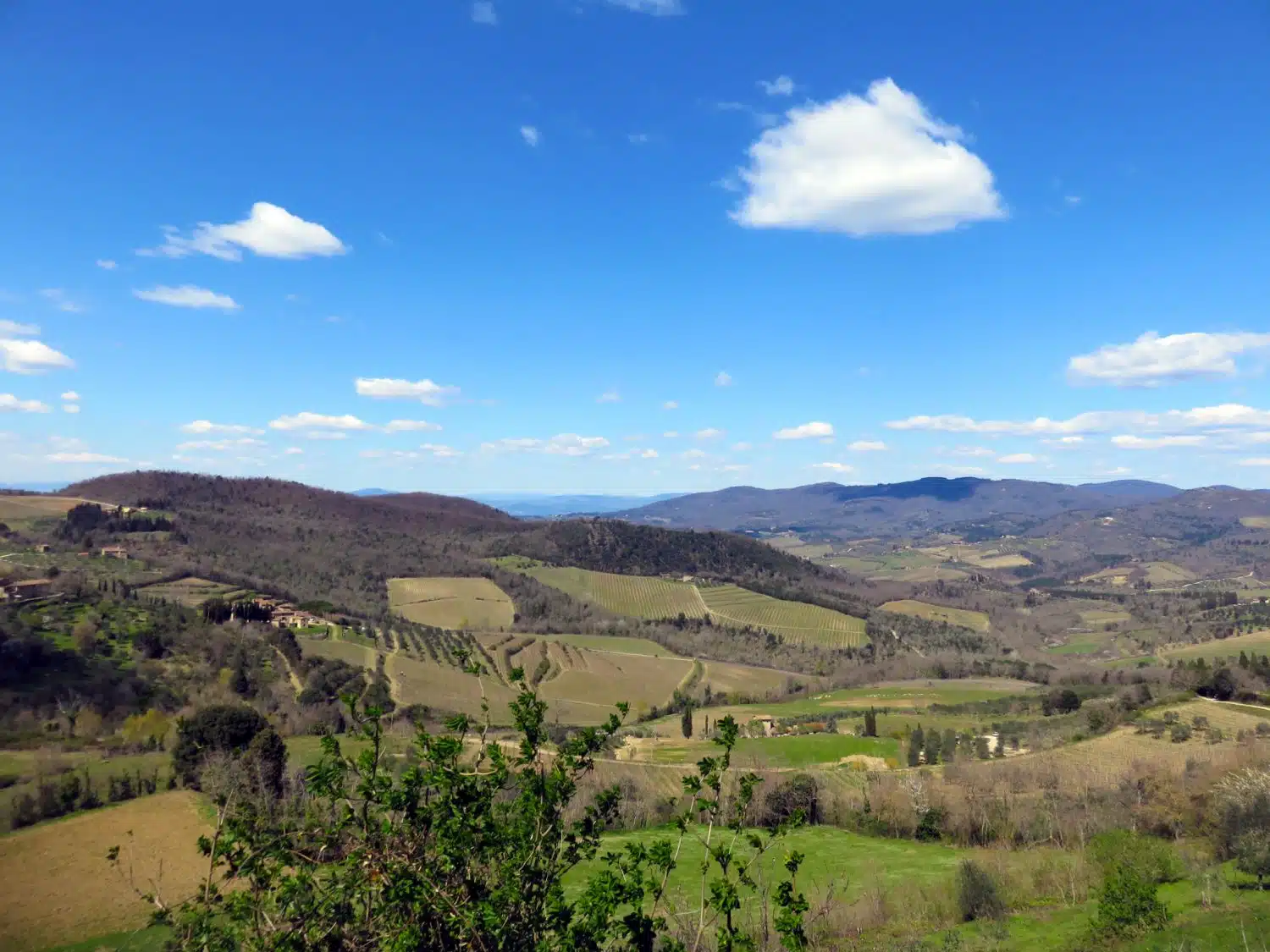 While the nearby region of Umbria has become increasingly popular with wine aficionados over the years, Tuscany, and Montalcino in particular, still remains one of Italy's most loved wine regions.
Montalcino's surrounding hillsides are dotted with vineyards and olive groves making it a paradise for culinary enthusiasts and the ideal place to relax, rejuvenate and reminisce over the fantastic sights and sounds experienced during your road trip through Tuscany.
Getting to Montalcino
You've got two options when it comes to getting to Montalcino: Either you drive the 50 minute highway-based route (this is what I would choose), or you hop on a 90 minute train journey with a change in Buonconvento. Either way, both are pretty simple.
Suggested Stay for Montalcino on your Tuscany Itinerary
Sipping wine by the pool with epic views? It's no wonder this hotel is called Si Montalcino. Rooms are daily simple (yet still gorgeous), but it's the surrounding area that really makes this one of the best Tuscan hotels.
Alternatively, check all accommodation in Montalcino 
Road Trip Tuscany: Final Thoughts
The beauty of the Tuscan road trip is that travellers can spend anywhere from a few days to a few weeks exploring this region and always find something new to discover and enjoy.
From relaxing drives down country roads to hectic jumps from city to city, an Italian road trip through Tuscany truly is what you make it.
Tuscany Road Trip Itinerary – Map 
Like this? Save and share on Pinterest!