Looking for the best day trips from Venice? Read on to discover the top places in Italy you can explore in a day.
Pals, it's no secret that Venice – the breathtaking capital city of the Veneto region, built on a lagoon from the Adriatic Sea – is one of my favourite destinations in Europe.
Renaissance and gothic palaces line the emerald canals, and picturesque bridges connect everything. It's truly magical.
While visiting Venice is best done over a few days, if you're looking to take a day trip outside of the city, there are so many stunning options that you might feel quite overwhelmed.
Not to worry. That's exactly why I've written this guide to the very best Venice day trips. From waterparks and galleries to historic sites and culture, I've covered it all.
The Best Day Trips From Venice
Murano & Burano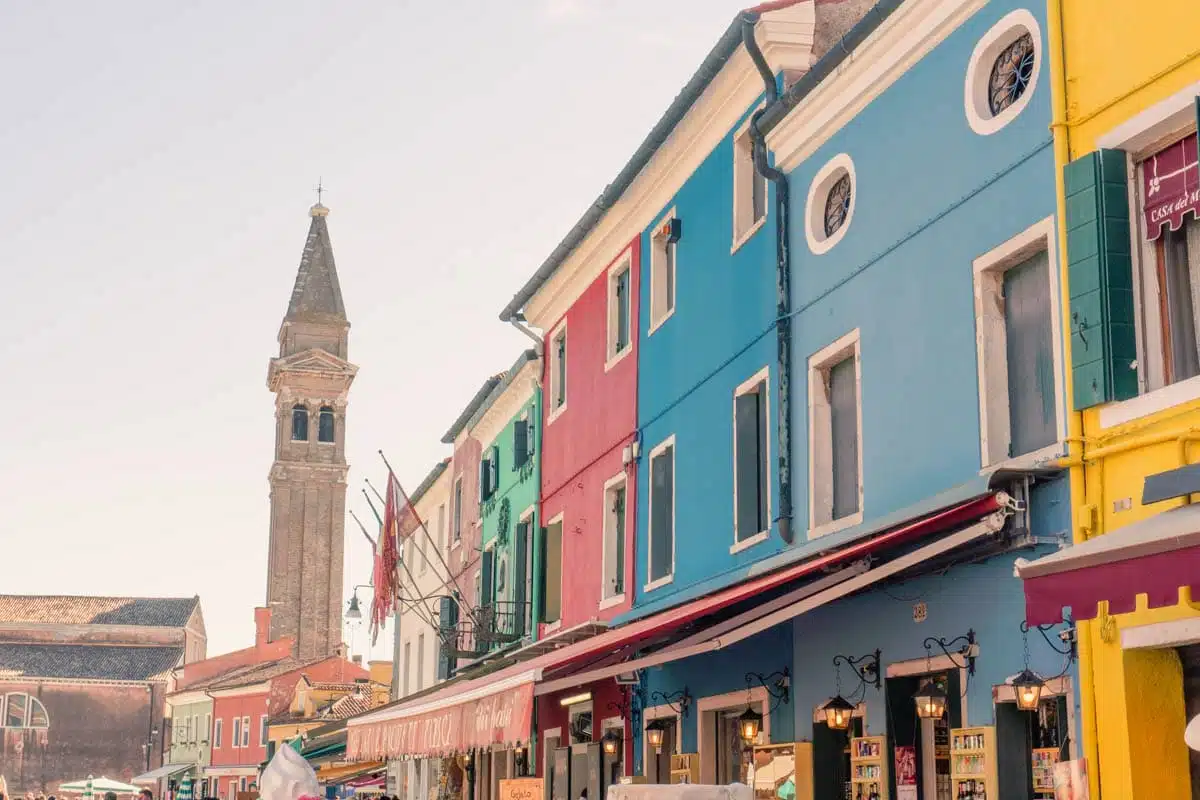 First up: One of the most popular Venice day trips. And for good reason.
Murano and Burano are two vibrant islands floating in the Venetian Lagoon in northern Italy near Torcello. These islands are picturesque, featuring brightly coloured homes all along their canals. In other words – you've likely seen them on the 'Gram.
Murano is well-known for its glass, while Burano shines in lace-making, so you'll have plenty of opportunity to snag a souvenir. Plus there are some fascinating attractions to inspire any photographer, from majestic cathedrals to must-see bridges.
Apart from a charming atmosphere, you can browse through Murano's glass showrooms and shops. Or see local women basking in the sun while hand-crafting their Burano lace.
How to Get There: It's easy. Hop on a Vaporetto (water bus) service at Fondamente Nove. To reach Murano, take the 4.1, 4.2, 12 or 13 routes and then take the number 12 line from Murano to Burano.
Average journey duration: About 15 minutes to Murano and 30 minutes to Burano.
Hassle-free option: Book This Guided Tour 
Rome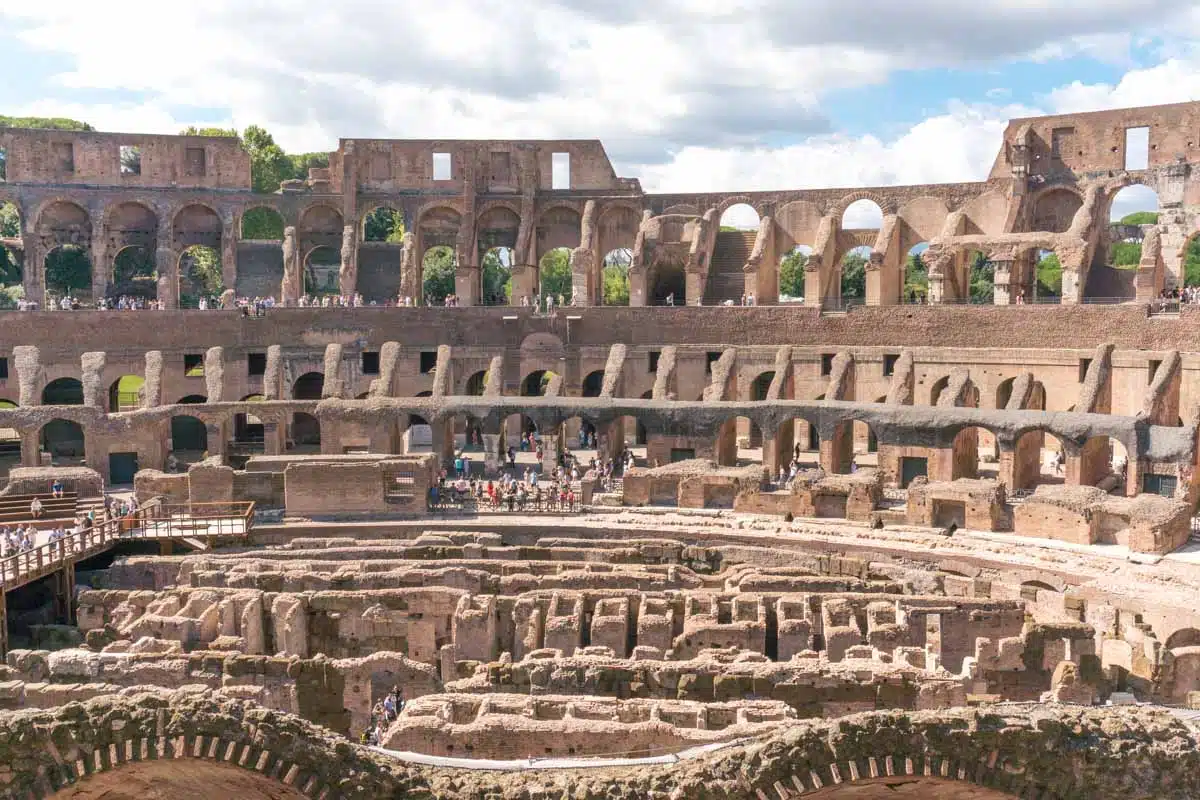 They say, all roads lead to Rome, so it makes perfect sense to take a ride on one for your day trip from Venice. You'll need to prepare yourself for a seriously long day, however, it's worth the time and effort.
Rome is gorgeous (gasps). Sprawling with classical architecture, elegant artwork, and lush gardens filled with fountains and delicious food, it's any traveller's dream come true.
The grand Colosseum, the Pantheon, the Trevi Fountain, the Roman Forum, and a slew of museums and galleries are just some of the outstanding sights to adore. Rome may not have been built in one day, but you can see most of its sites in under 24 hours when following my epic one day in Rome guide.
How to Get There: Take a direct train from Venezia S. Lucia station to Roma Termini. Several high-speed trains from Venice to Rome also start from €10.90.
Average journey duration: High-speed trains average around 3 hours and 43 minutes. Travelling with a direct Frecciarossa and Italo train will get you there in just 3 hours and 15 minutes.
Florence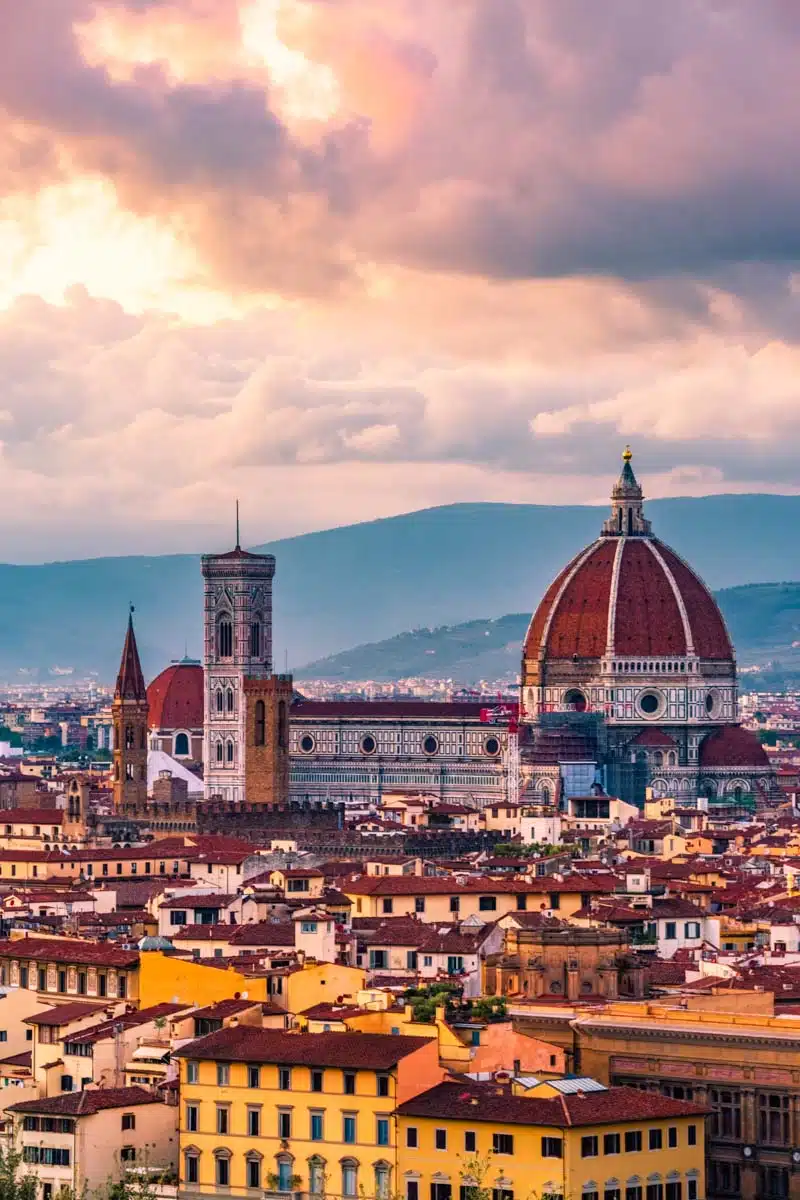 A day trip to Florence from Venice is mandatory if you're an arts and history lover. Florence was the birthplace of the Renaissance — so expect to be amidst some of the most significant artworks and an extravagant display of Italian culture and cuisine.
See celebrated pieces by Michelangelo, Da Vinci, and Raphael in world-famous galleries such as the Uffizi Gallery. Then sample some of the best foods and wines, such as the traditional Tagliatelle Funghi Porcini e Tartufo (a mouthful, but a tasty one at that!).
How to Get There: The quickest way would be by high-speed train. Trenitalia and Italo trains run from Venice's Santa Lucia station to Santa Maria Novella station in Florence. Expect to pay no less than 43€.
Average journey duration: 2 hours 16 mins
Hassle-free option: Book This Guided Tour 
Trieste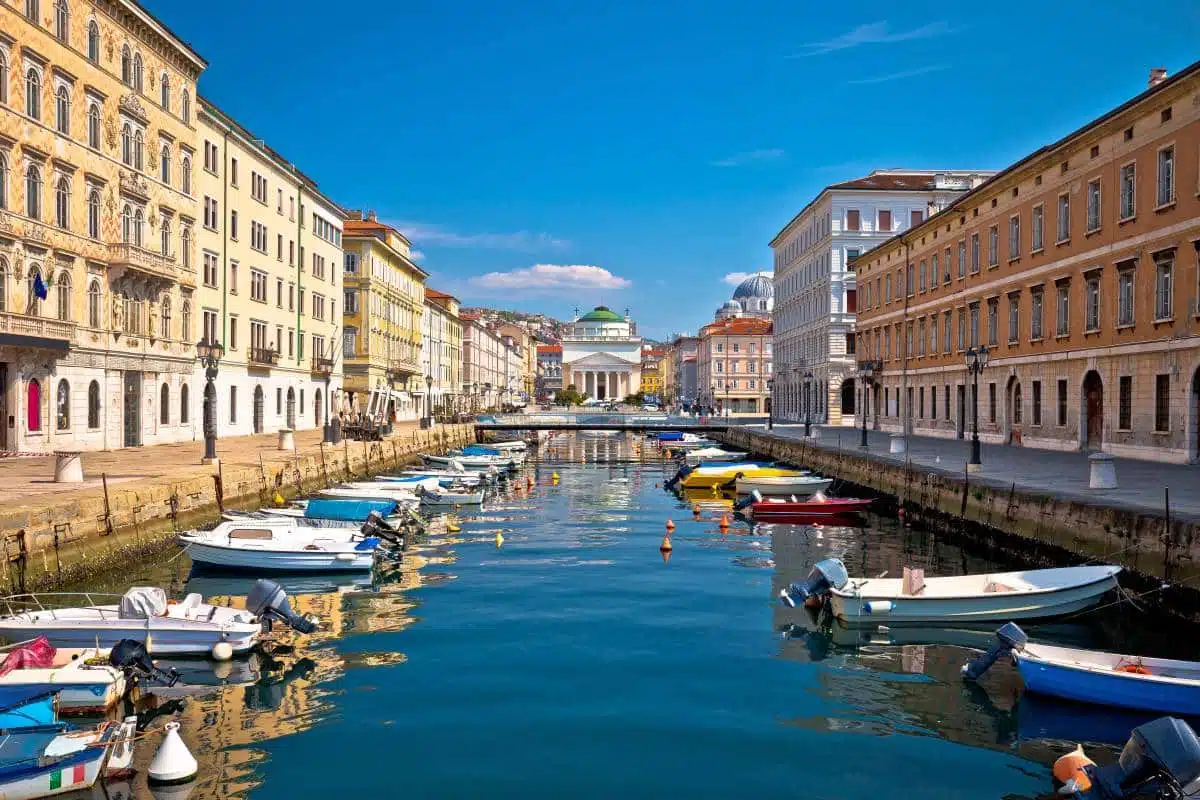 Trieste is a scenic port city between the Adriatic coast and Slovenia's border. It's a certified haven for coffee-holics, boasting home brands such as Illy and Hausbrandt. Apart from all the must-visit Viennese-style coffee houses, you can check out the exquisite historic square with sea views: Piazza Unità d'Italia.
Get in with the locals by sampling some tantalising traditional dishes such as Prosciutto di San Daniele and Sauris smoked ham from renowned restaurants. Being a port city, you can explore some of the prettiest beaches, like the classic Ausonia.
How to Get There: Your best bet is by bus from Tronchetto station to Autostazione in Trieste, which is quicker and cheaper than a train ride, costing only €10 – 13.
Average journey duration: 2 hours 10 minutes
Dolomites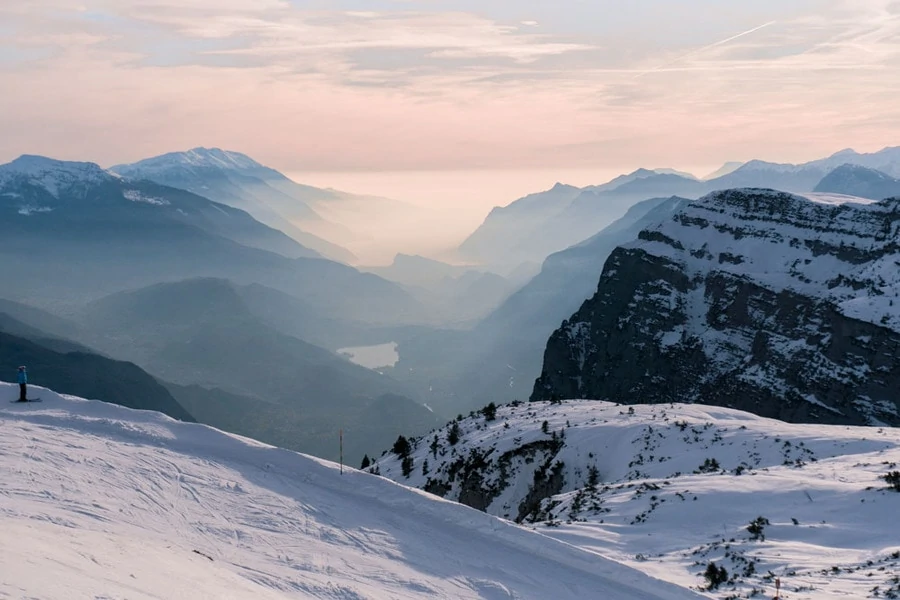 If you've always wanted to explore the Dolomitic Alps, here's your chance with a fantastic day trip to the Dolomites from Venice.
The mighty Dolomite Mountains (a mesmerising UNESCO World Heritage Site) sit proudly on northeastern soil, with swirling clouds at its peaks, allowing you to absorb an ethereal scene.
In winter, the Dolomites see heavy snowfall, offering sublime skiing opportunities. Then take up hiking, cycling, mountain climbing, and hang-gliding for the remainder of the year.
How to Get There: The quickest way to make this journey is to get on a bus at Venezia – Tronchetto station to Falcade, then hop on a taxi to Dolomite, Veneto.
Average journey duration: 3 hours by bus and another 15 minutes by taxi.
Hassle-free option: Book This Full Day Tour
Padua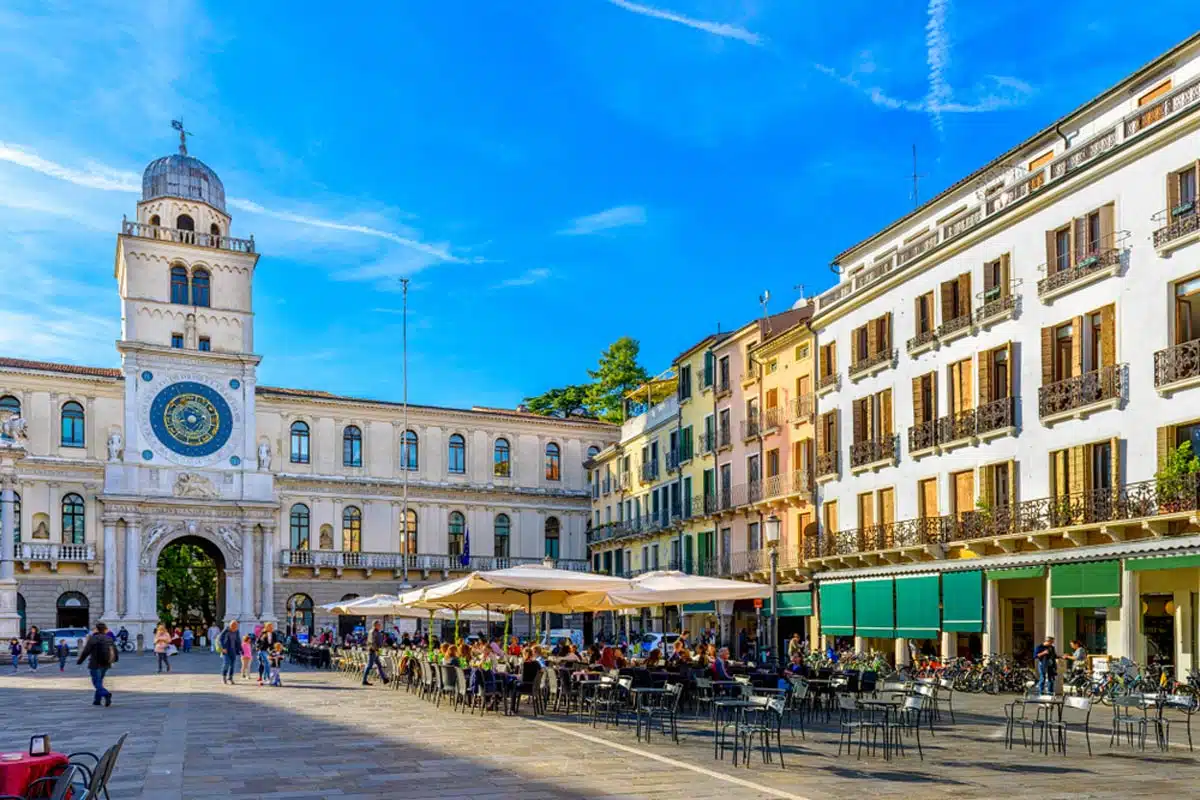 Located in northern Italy's Veneto region, Padua is a quaint and elegant city worth a visit. You can see why this has made my list as a bustling tourist destination and a famous Italian art city.
Wallow in the marvellous religious history of this city that boasts majestic churches such as the 13th-century Basilica of St. Anthony or the renowned Scrovegni Chapel.
Then, wander through the arcaded streets in the old town and swing by stylish cafés and boutiques. Finally, absorb the eclectic nightlife and culinary scene with scenic winery tours.
How to Get There: A direct train from Venice Santa Lucia station to Padua is the quickest and costs just €5.
Average journey duration: 28 minutes
Treviso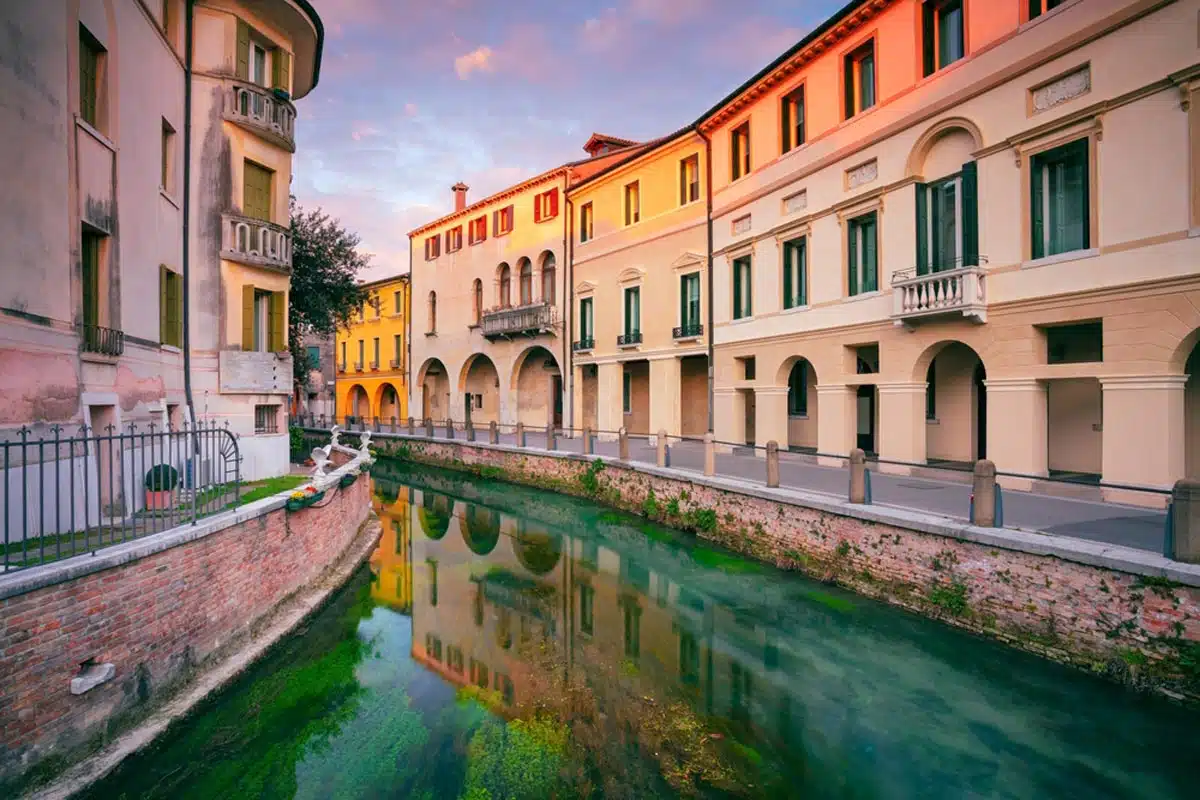 Another city in the Veneto region to visit is the enchanting Treviso. Boasting many canals, the Duomo, the Fontana delle Tette, and a Romanesque crypt, you won't bore easily.
Treviso is famous for being the original production area of the honey-suckle Prosecco wine (I recommend taking a wine tour, of course) and radicchio. After admiring the nude female torso of Fontana delle Tette, you can make your way to the atmospheric plaza of Piazza dei Signori, brimming with shops and cafés.
Then stroll to the beautiful walls of Treviso for stunning scenery featuring intricate architecture, lush gardens and bridges overlooking canals.
How to Get There: For €12, you can board a bus at Venezia, Piazzale Roma station to Treviso, Aeroporto.
Average journey duration: 1 hour 10 minutes
Marostica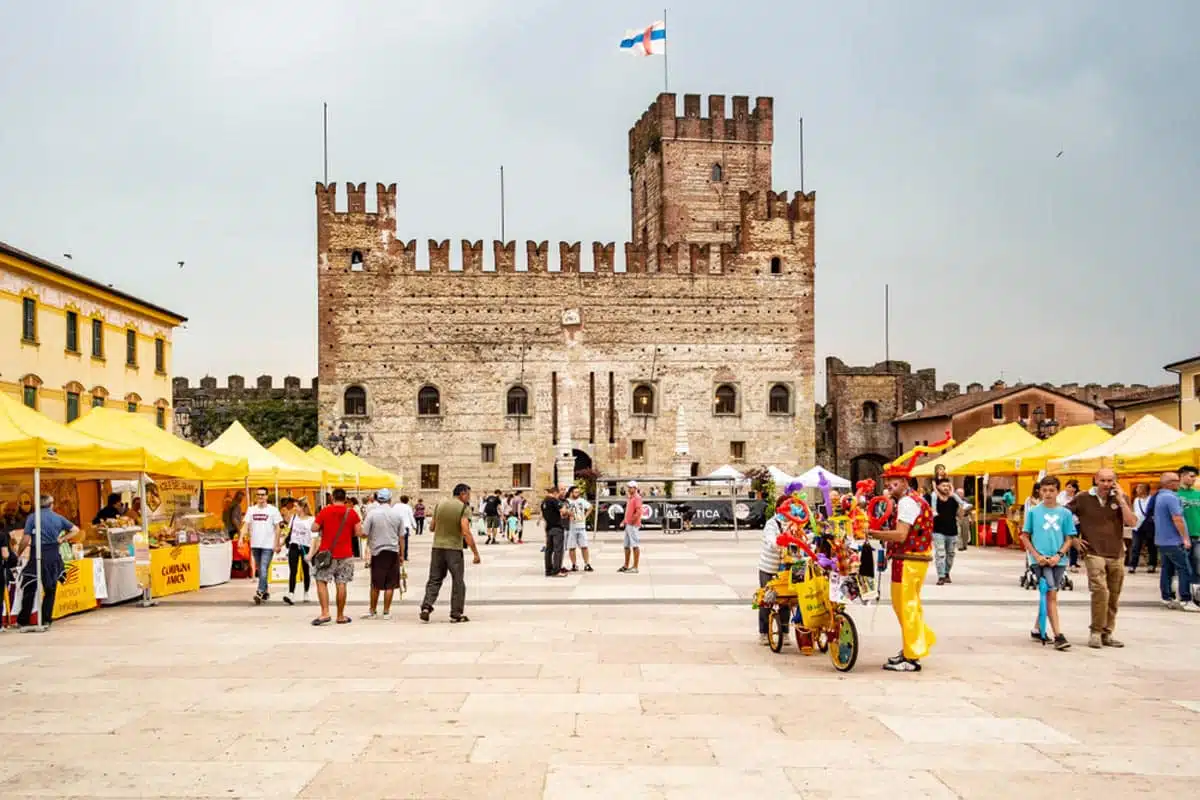 Scaling down from the bustling cities to the picturesque town of Marostica might do you some good. Sitting in the province of Vicenza, this hidden jewel is loved for its local cherry variety and, interestingly, its human chess game.
Adorned with beautiful mediaeval villages, historical landmarks and exuberant green hills, your camera's bound to work over time.
Sampling the traditional cuisine of Marostica should be at the top of your list. Osteria Madonnetta, Ristorante Hotel La Rosina, and Ristorante Cuori are excellent dining spots.
How to Get There: The recommended means of travel is via train from Venezia S. Lucia station to Bassano Del Grappa for €6–13.
Average journey duration: 1 hour +/- 30 minutes
Bassano del Grappa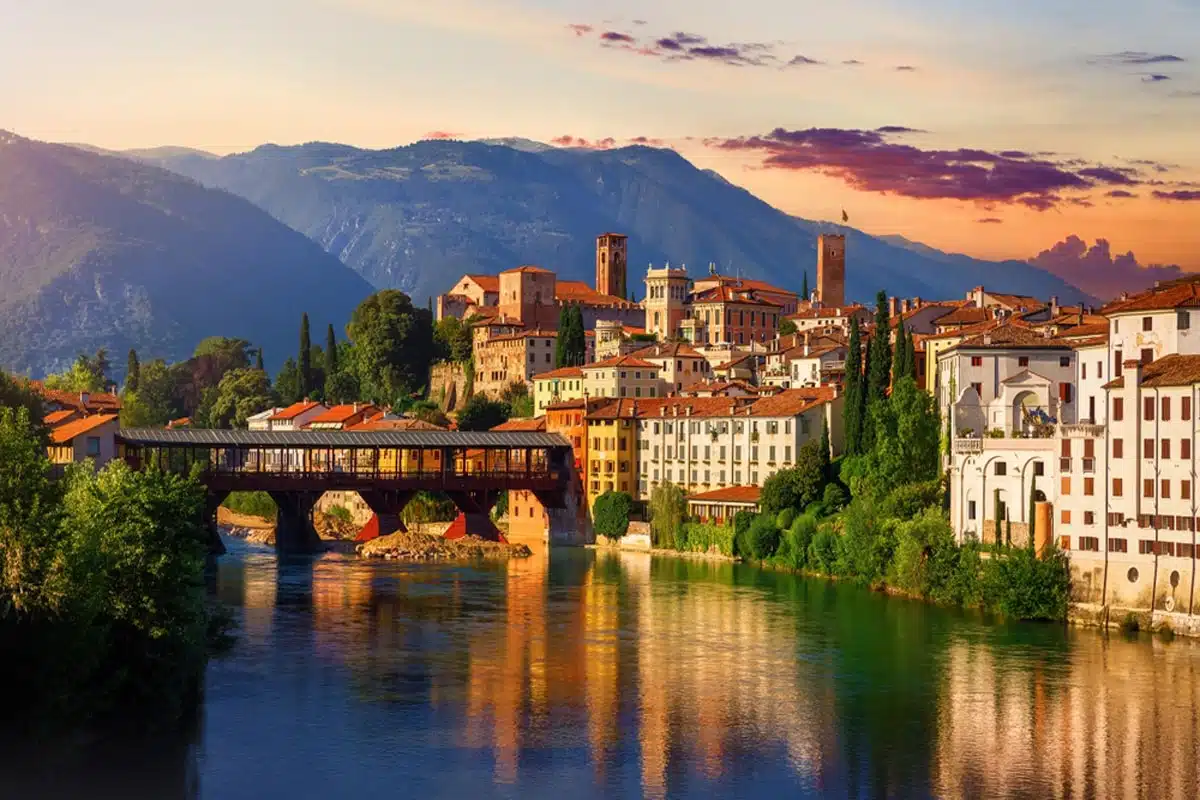 Swoon! Bassano del Grappa is as pretty as a picture, with its stunning 13th-century Ponte Vecchio wooden bridge spanning the tranquil River Brenta. After taking in the beautiful bridge, make your way to Museo degli Alpini to see WWI artefacts.
The Civic Museum boasts an extensive art collection, and the Civic Tower has sweeping views over the city. The medium-sized town is also notable for its ceramics, which you can admire in the Palazzo Sturm museum.
How to Get There: The easiest option is to hop on a direct train at Venezia S. Lucia station for €7.
Average journey duration: 1 hour +/- 15 minutes
Abano and Montegrotto Terme
Fancy something a little more indulgent? I've got you.
Abano and Montegrotto Terme are unique Italian spa towns adjacent to each other, with Montegrotto being the oldest of its kind, while Abano is bigger.
These towns boast many spa resorts and hotels, making them the perfect place to escape for ultimate relaxation and spa therapy. Think healing thermal springs, mud treatments, steamy rejuvenating pools, and more.
Afterwards, you can enjoy a calm stroll through the town centres and enjoy charming scenery.
How to Get There: A cheap and quick option is via train from Venezia S. Lucia station to Abano for only €6.
Average journey duration: 1 hour
Verona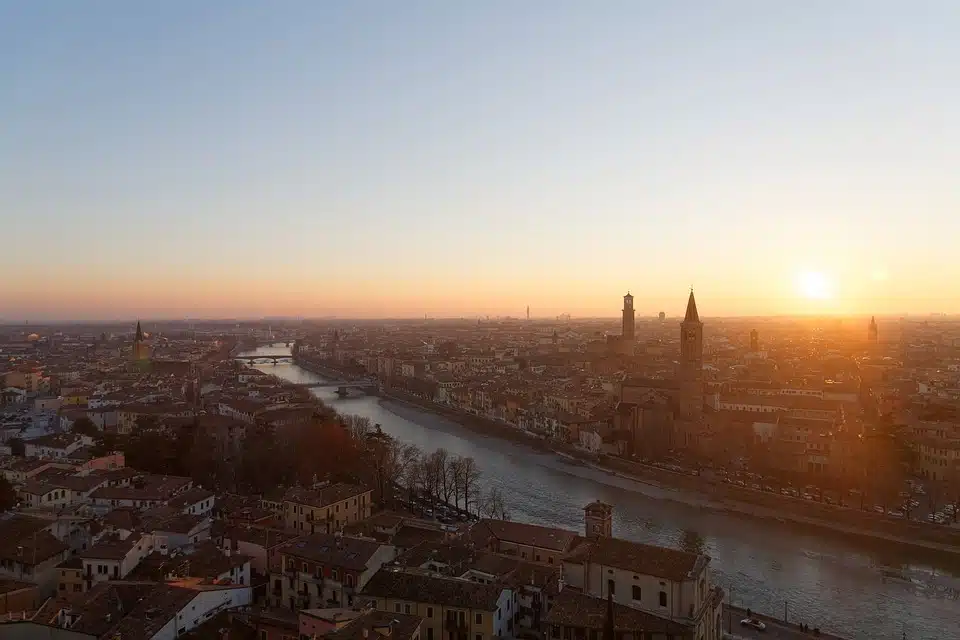 Probably most well known as the setting of Shakespeare's Romeo and Juliet, a true bibliophile and romantic could never say no to visiting Verona for a day. This charming destination is home to an old mediaeval town nestled between the meandering Adige River.
It's also the location of a vast 1st-century Roman amphitheatre, the Verona Arena, still hosting notable concerts and opera performances today. Known as "little Rome", one can embrace the richness of Roman antiquities dotting the city.
How to Get There: Take a direct Regionale train from Venezia Santa Lucia station to Verona Porta Nuova station for the quickest arrival time.
Average journey duration: 1 hour 15 minutes
Hassle-free option: Book This Full-Day Tour 
Brenta Canal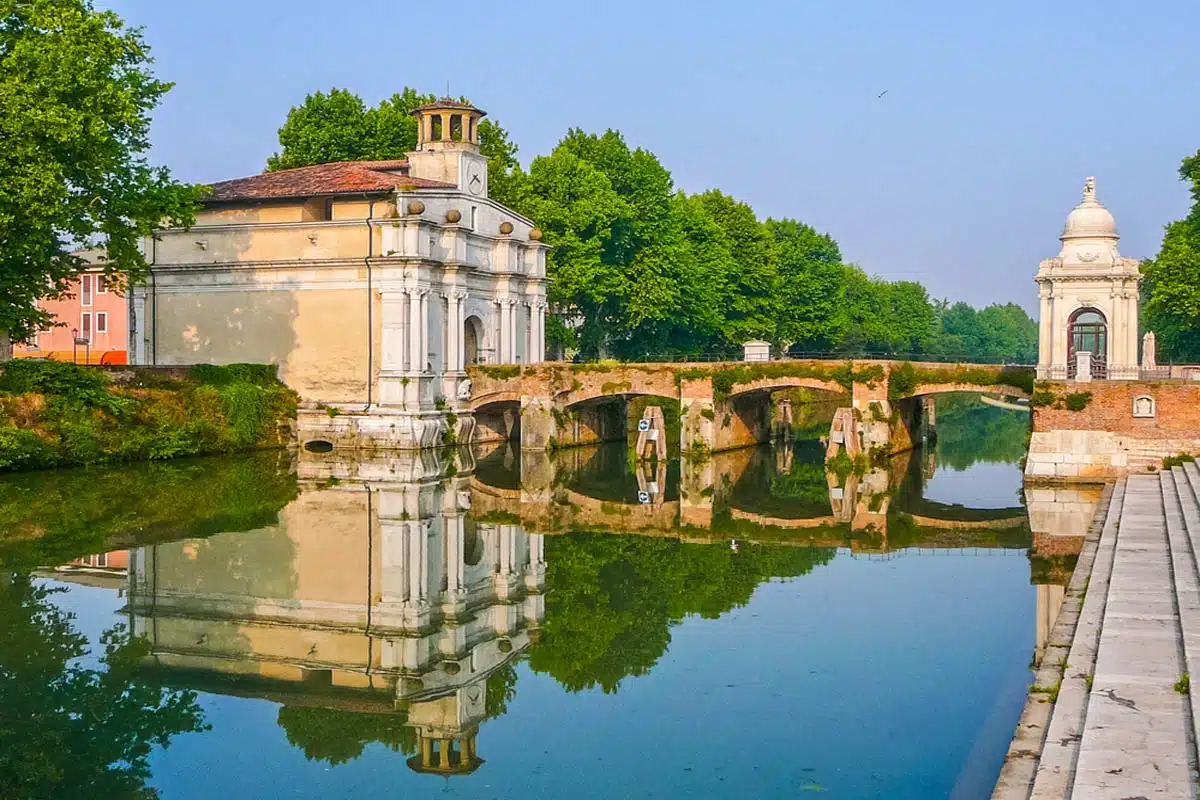 If you would rather the journey be a part of the day trip, I've got the perfect option: Take a scenic cruise on the Brenta Canal. Its construction helps prevent damage to transport links in the lagoons around Venice but now serves as a main attraction outside the city.
Take in the gorgeous surroundings, gardens, boats and awe-inspiring villas as enjoy a charming leisurely cruise on the Brenta Riviera.
How to Get There: The most convenient option is taking a one-way cruise to Padua.
Average journey duration: +/- 9 hours
Hassle-free option: Book This Full-Day Cruise 
Vicenza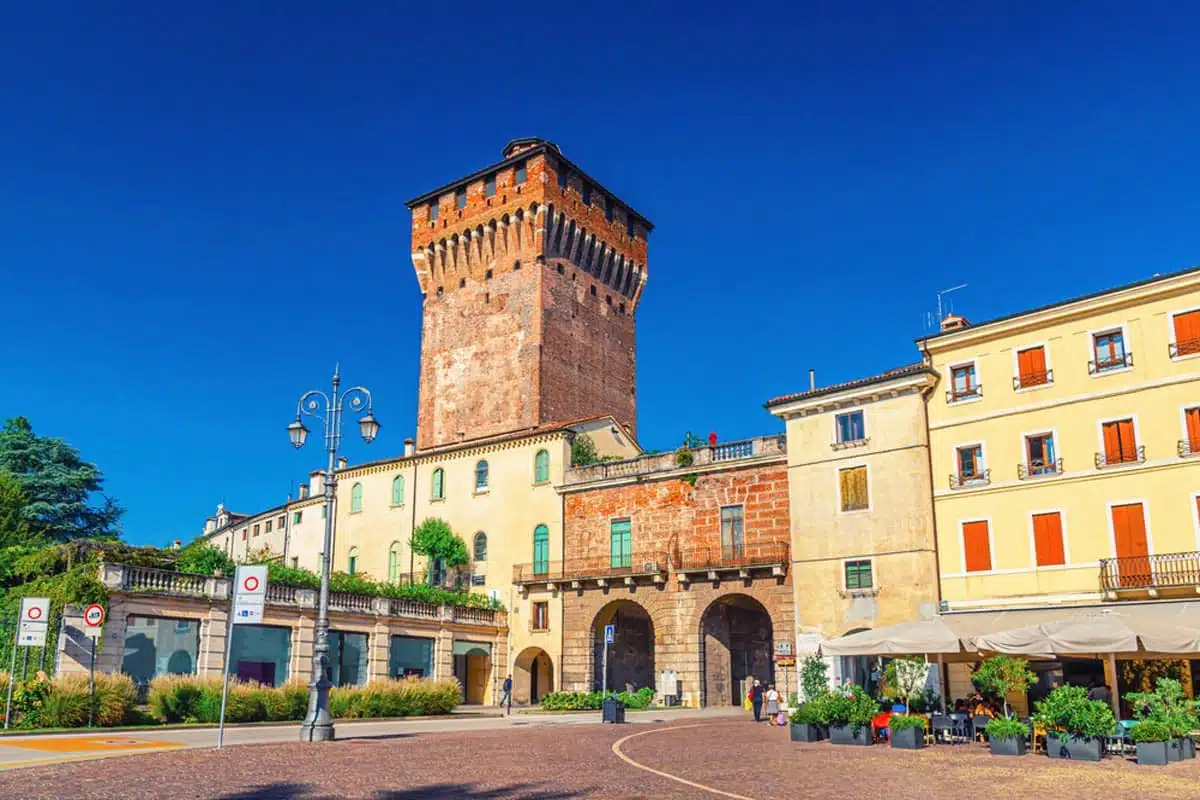 Vicenza is a sophisticated city of elegant buildings designed by Andrea Palladio in the 16th century. It boasts many landmarks, such as Monte Berico, the classical outdoors theatre, Teatro Olimpico, and Palazzo Chiericati, a renowned art gallery.
The Palladian Basilica, Piazza dei Signori, and Palazzo Chiericati are more landmarks to squeeze in on your day trip. Beyond sightseeing, the "City of Gold" offers many shopping and culinary experiences.
How to Get There: Hop on a direct train at Venice Santa Lucia station via the Regionale line for the quickest and cheapest (€7) trip.
Average journey duration: 1 hour 15 minutes
Palmanova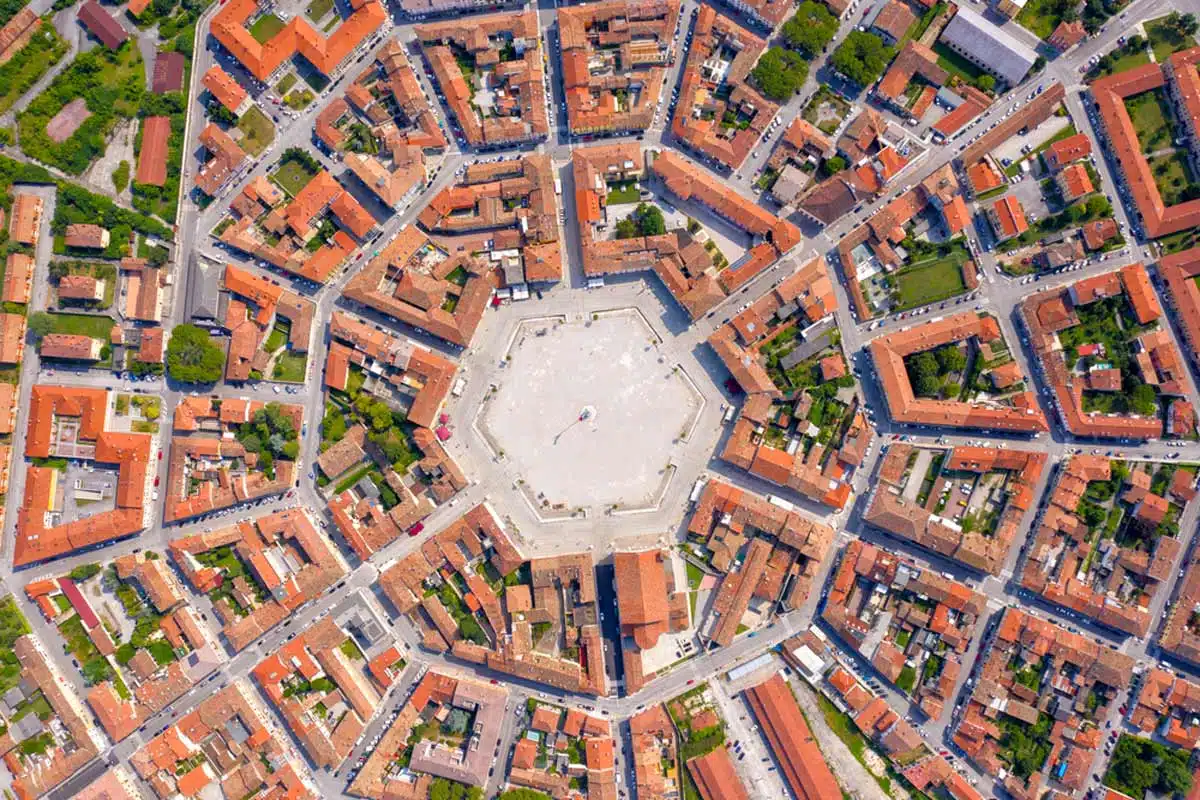 If it's impressive sights you're after, a visit to Palmanova is a must. This UNESCO World Heritage Site is a hidden gem in the Friuli-Venezia Giulia region, while the city's 9-pointed star shape makes it so iconic.
It's equally as unique as Venice and offers delightful walking and biking opportunities. After wandering through the city, explore top historic sights like Piazza Grande di Palmanova and Chiesa del Santissimo Redentore.
The city has many bars and restaurants – Pizzeria Al Gambero and Bar & Bistrot Eccetera are both excellent.
How to Get There: The easiest route would be a Regionale train from Venice Santa Lucia station, with one transfer at Cervignano-Aquileia-Grado. Expect to pay around €11.
Average journey duration: 2 hours
Valeggio Sul Mincio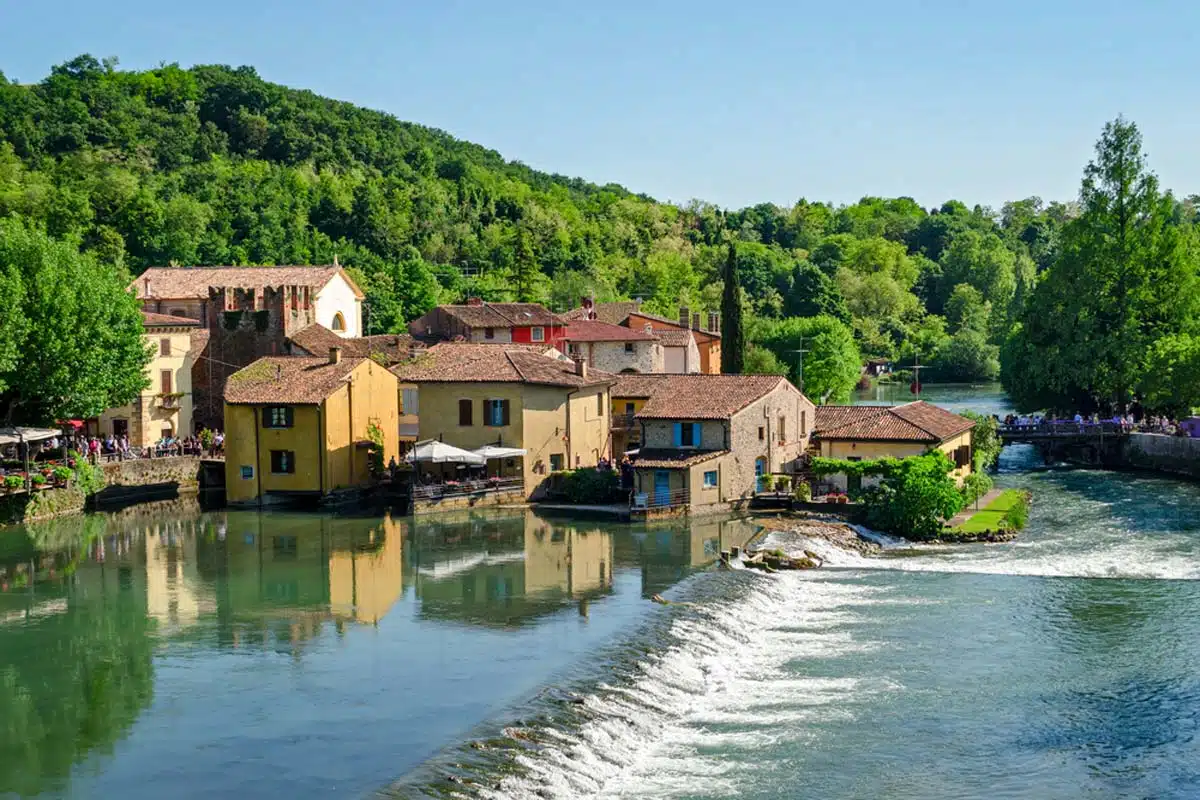 I think I may have just saved the best Venice day trip til last. Maybe.
Valeggio sul Mincio is a quaint commune in Verona province. It's an ideal destination if you're seeking peace and quiet, surrounded by rural landscapes and beautiful nature. I urge you to spend some time relishing the sun-drenched views and picturesque buildings reflecting on the Mincio River.
Parco Cavour is a main attraction there. This waterpark features slides, crystal clear lagoons with white sand and wellness areas. Strolling through the Parco Giardino Sigurtà gardens and visiting Villa Sigurtà are also great activities for the day.
How to Get There: A train/bus combo would get you there quickly if you're using public transport. Hop on a train at Venezia S. Lucia station. Then you transfer to a bus at Peschiera Del Garda Station. This can cost anywhere between €11–93.
Average journey duration: 2 hours 20 mins minimum
Practical Tips for Easy Day Trips From Venice, Italy
You'll probably be taking trips from Venice by train as it's the most convenient mode of travel in Europe. This site can help you find a train to any destination.
Wondering how to pack for multiple destinations? Read my travel packing list for some ideas.
You'll likely be doing lots of walking during your day trip; wearing comfy shoes is imperative. I don't go anywhere without my Tropicfeels.
Map of Venice Day Trips
Day Trips From Venice: Read Next