Discover why you need to visit Venice in winter with this handy travel guide.
Venice is unique to most cities – the environment, history, and architecture are totally unlike any other city in Europe. You certainly won't tire from the striking buildings, picturesque bridges, and winding canals.
That said, I totally get why you would prefer to visit Venice in the warmer months – the thought of strolling down cosy cobblestone streets and enjoying an Aperol Spritz al fresco is too tempting to resist.
But, what if I told you that heading to Venice in winter could save you some serious cash? Not to mention, it can be far more pleasant to visit the floating city without the huge crowds.
I'm sure you're listening.
Why You Should Visit Venice in the Winter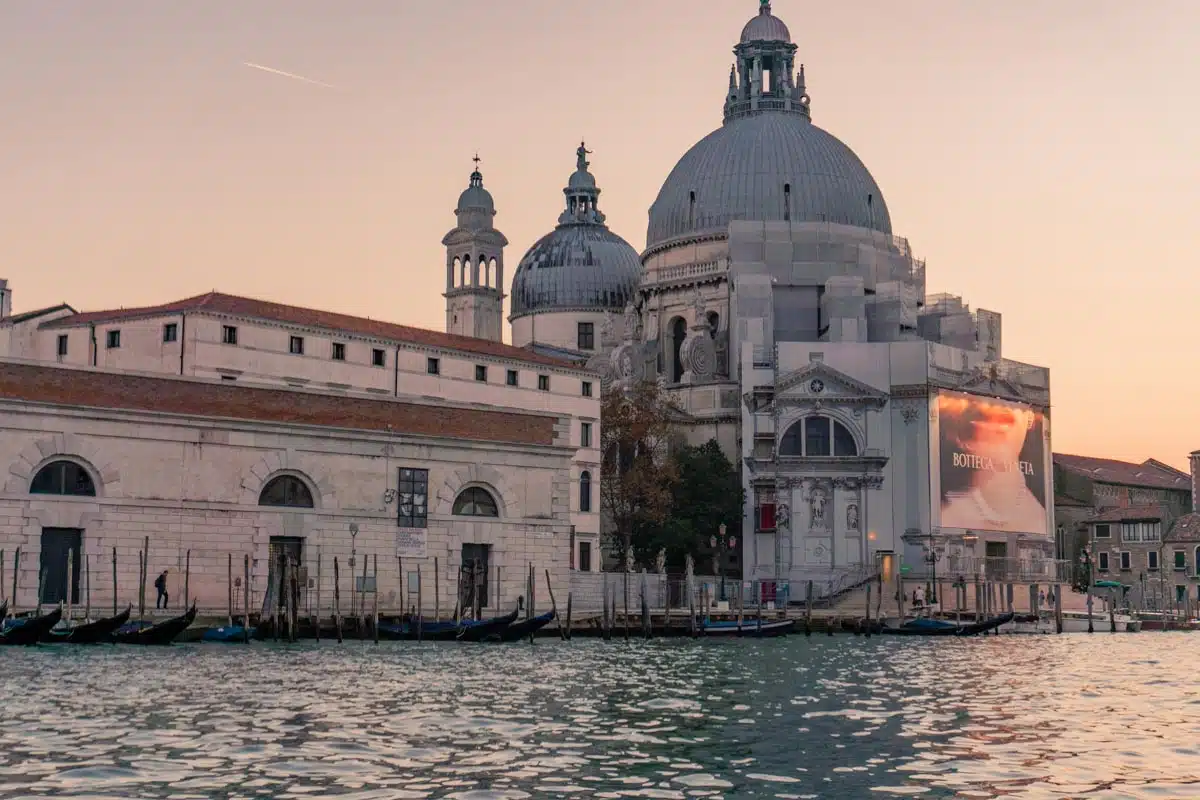 Let's cut to the chase: compared to the remainder of the year, winter in Venice sees much lower price tags on accommodation.
But I don't blame you for still thinking: is it worth visiting Venice in winter? Because you're probably worried about what you'll be able to do while it's cold and rainy outside.
That's where the next section comes in. I've listed some of the top things you can do in Venice, Italy, in the winter (including unique experiences only possible in winter). For now, though, I can give several more reasons to convince you.
There are certain places in Venice, such as Doge's Palace, St Mark's Square, and more, that you can visit no matter the season. There are also fewer tourists and shorter lines, meaning you'll have more time to fit in more activities and sightseeing.
In case you're still not sure, let me break it down even further, so you can choose the perfect winter month for your trip:
Venice in December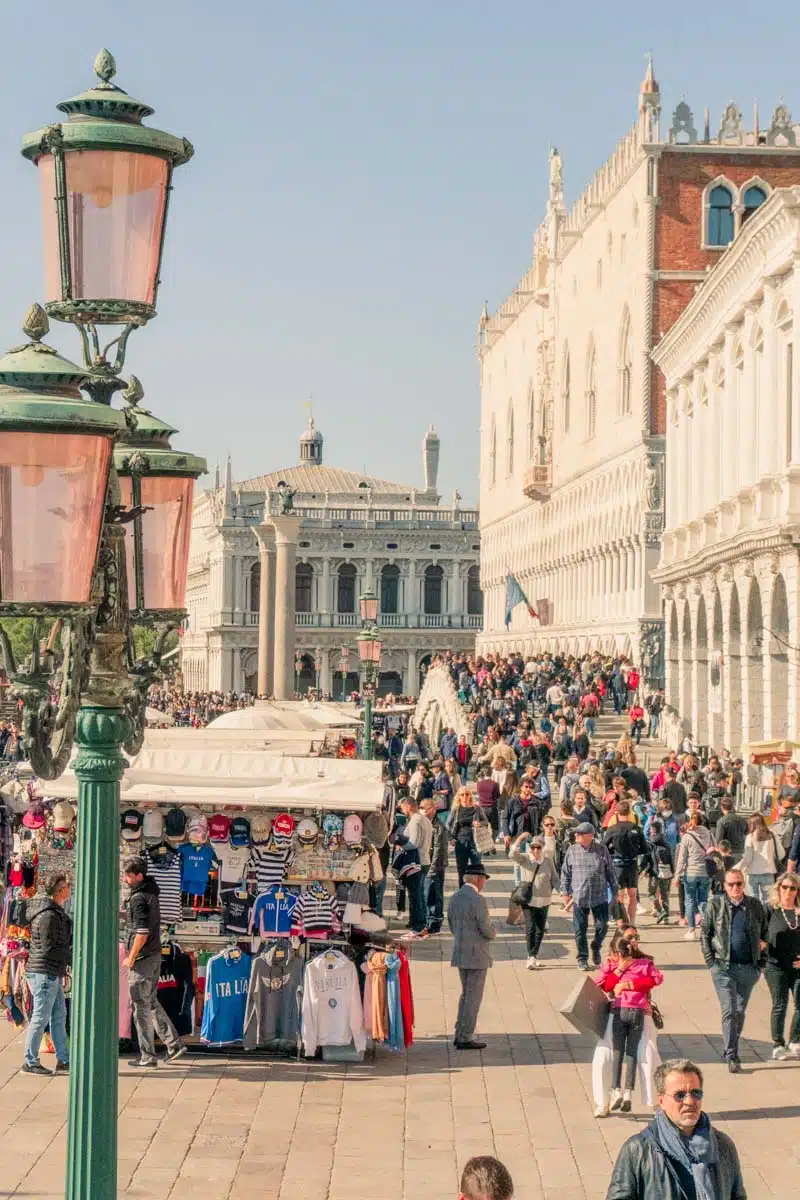 Visit in December if you've always wanted to experience a romantic Christmas in Venice. The atmosphere and serene scenery make it the perfect place to celebrate the holiday season with your loved ones.
Venice in January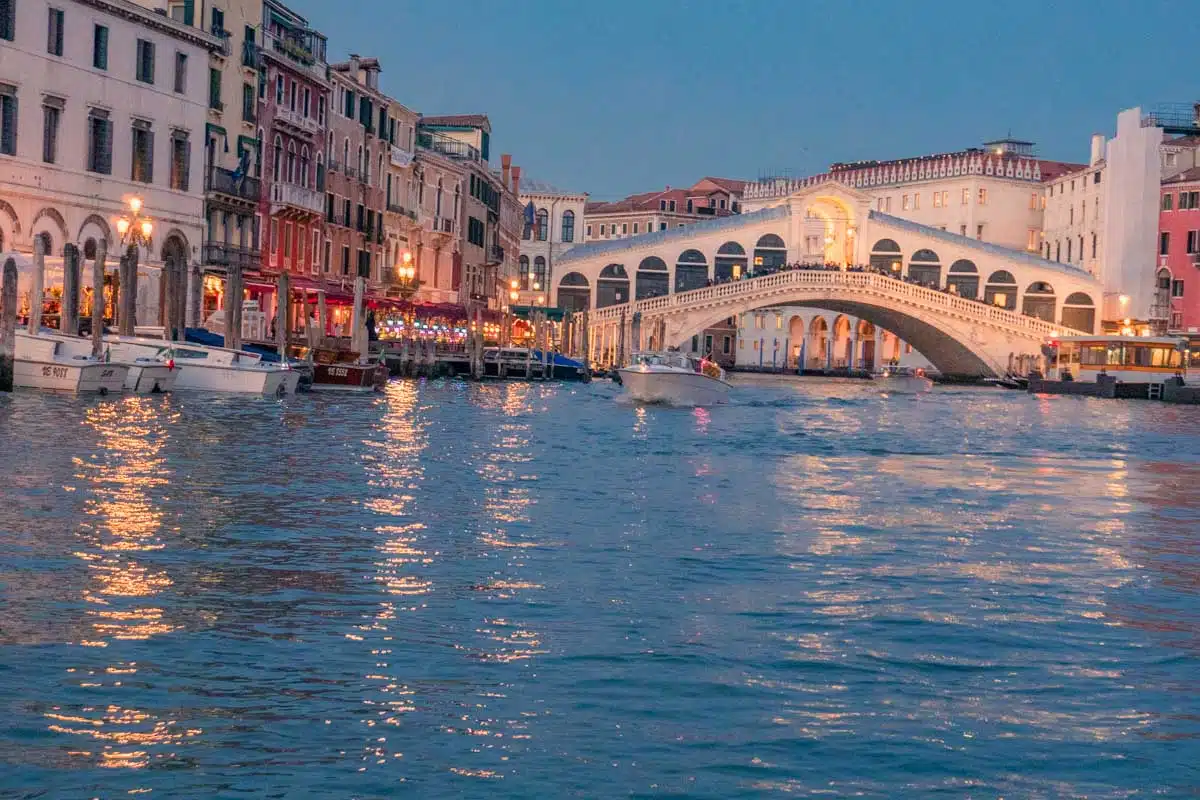 January sees the coldest temperatures, deterring most tourists. This means that you'll have a pristine city at your disposal. So if you're not a fan of crowded places and want to save a few bucks, there's no better time to go.
Venice in February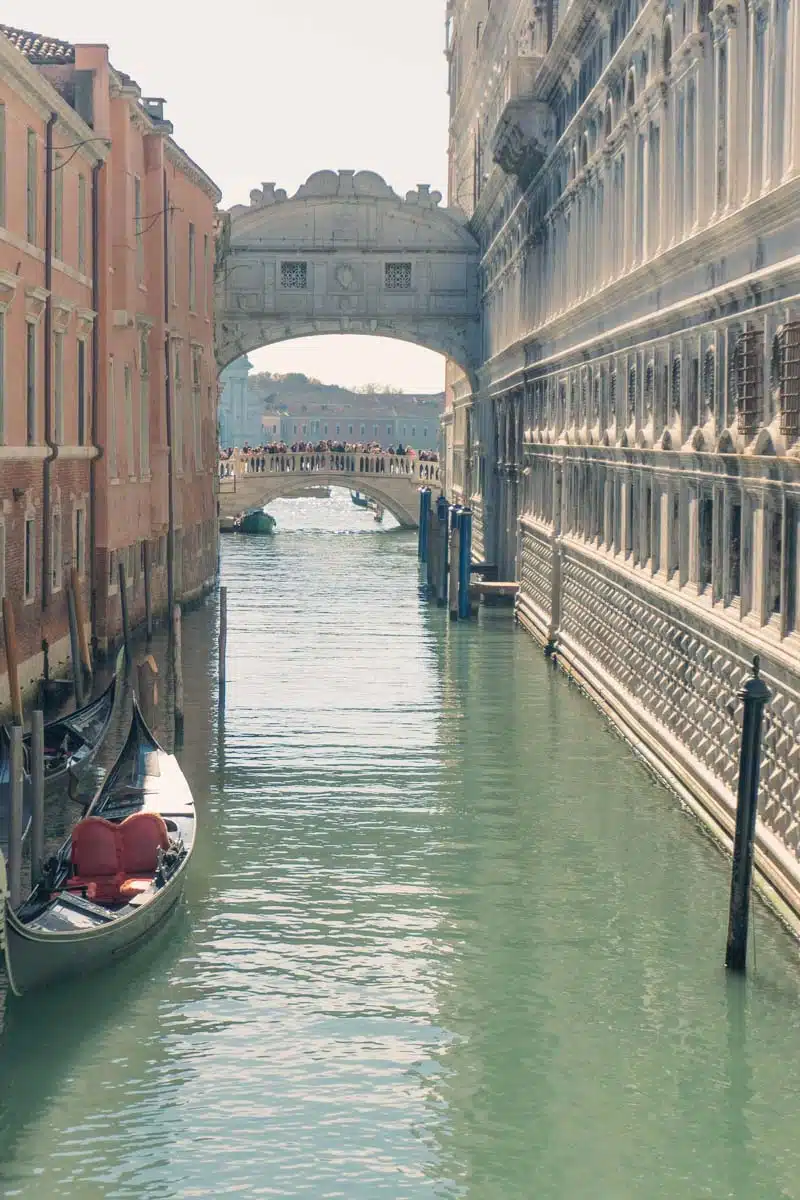 Ignoring the bliss of reasonable prices and abandoned attractions, the Carnival is reason enough to visit Venice in February.
Join in on the celebrations and organised parades for an absolute blast. Plus, there's no better time to visit than on the ultra-romantic Valentine's Day.
Top Things to Do in Venice in Winter
Go on a Gondola Ride Through the Fog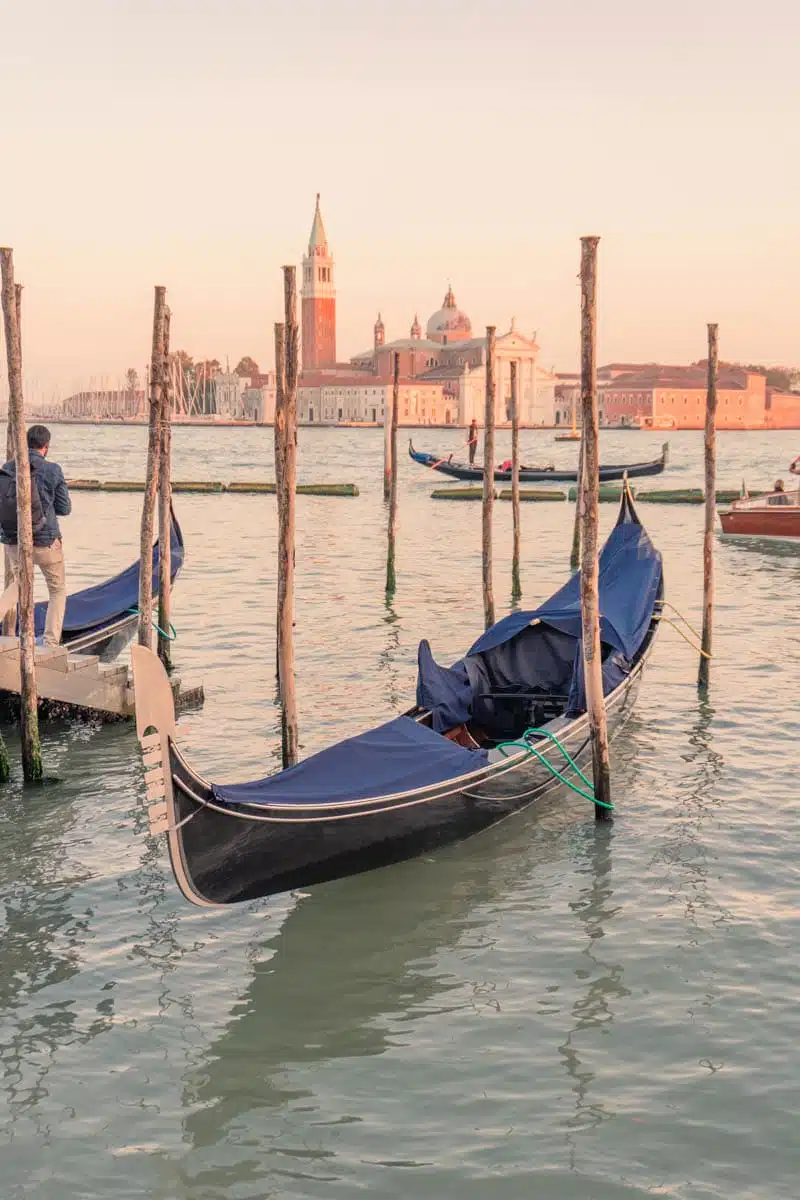 Taking a gondola ride in Venice is an iconic activity you cannot skip. That's right – even in winter.
The foggier conditions make it feel eerie while you're slowly gliding across the waters (and evoke a few snuggles). It's a magical experience, especially as you catch glimpses of the astounding architecture.
A romantic gondola ride with your better half sounds like the perfect date. There's no better way to unwind than along the tranquil canals and underneath picturesque bridges. And you can also snap some otherworldly images to fill up your gallery.
Top Tip: Save money by taking a shared gondola. It's less romantic, but worth it if you're travelling with pals.
Explore Doge's Palace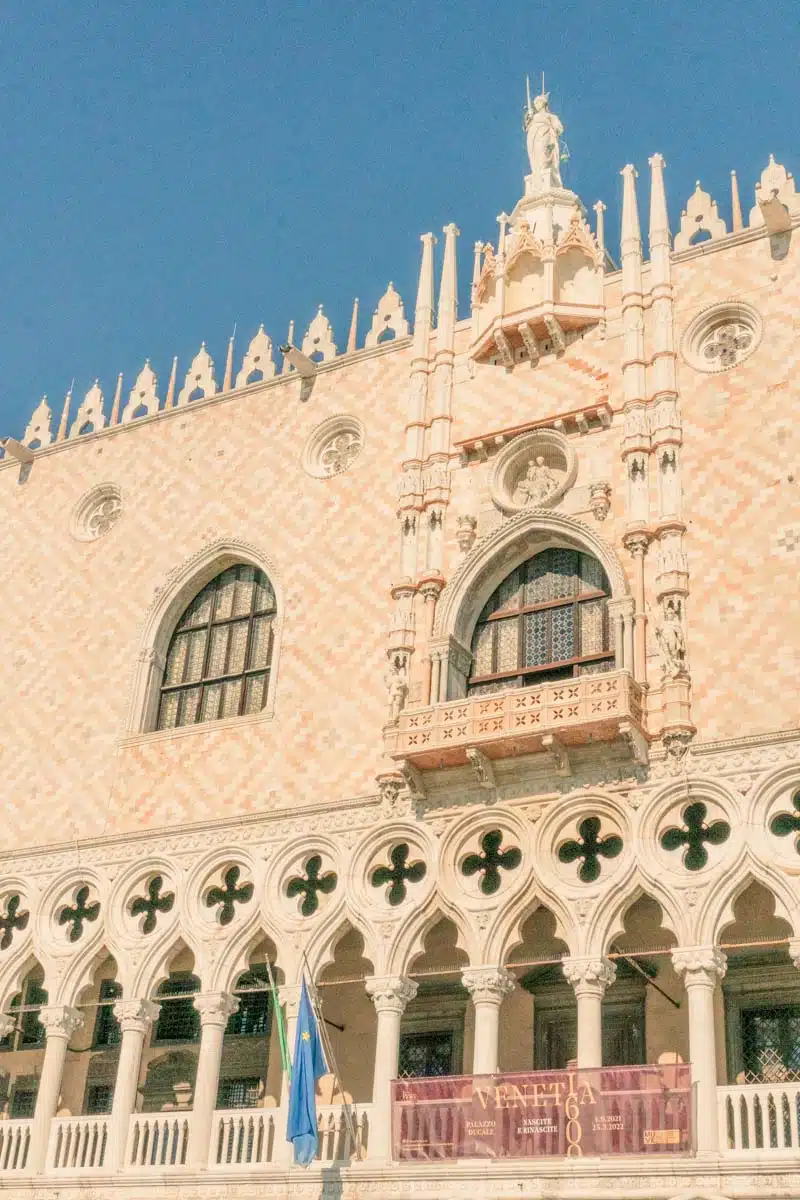 What would any guide to the best things to do in Venice be without a mention of the opulent Doge's Palace? Exactly.
The lavish Gothic palace has overlooked St. Mark's Square since the 14th century. It's one of Venice's top landmarks, which saw itself rebuilt and expanded into a conglomeration of multiple buildings and styles.
It's magnificently over the top and certainly worth your time. You can explore its grandiose halls in a calm atmosphere with fewer crowds in winter – a win, I promise.
Doge's Palace is open daily from 9 am to 6 pm, though I recommend visiting first thing in the morning, as you need at least a couple of hours to see the entire site.
Marvel at Venice's Famous Bridges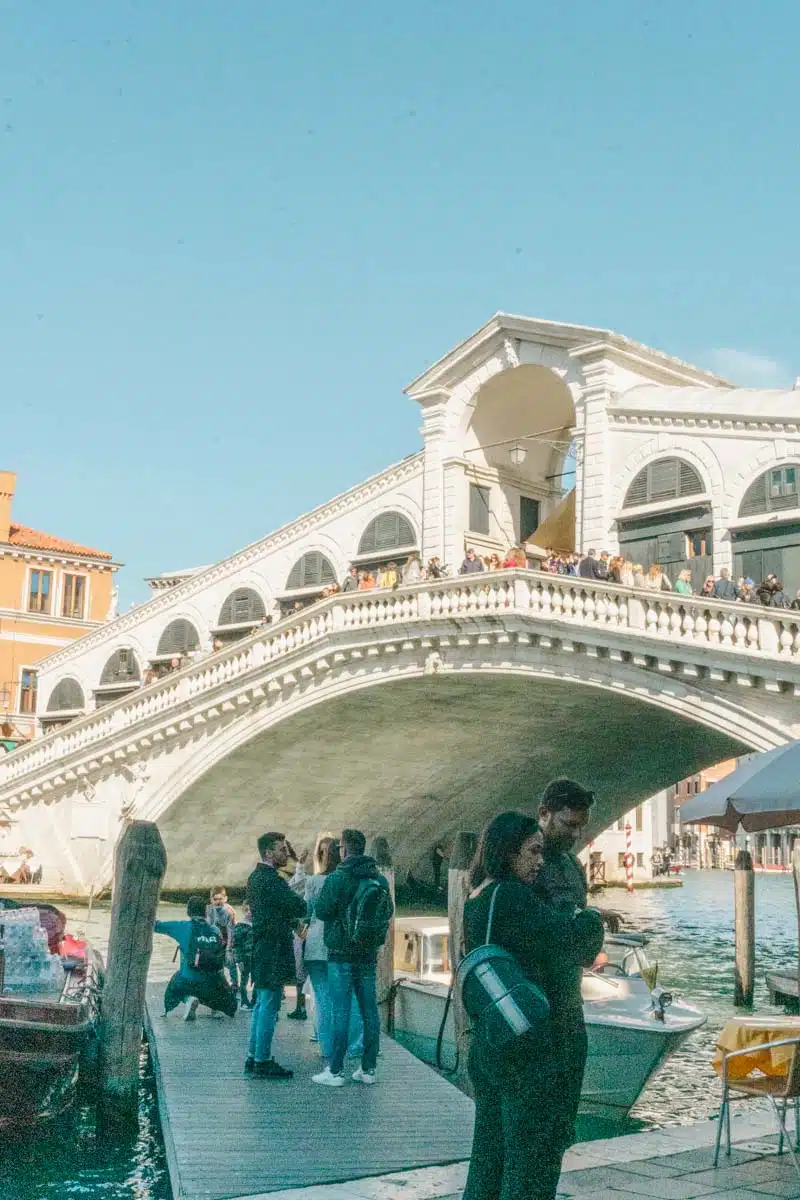 Venice is well-known for its famous bridges, and visiting in winter gives you all the more reason to admire them up close without hordes of tourists getting in the way.
And, trust me, you'll want to bring your camera along for this one.
The Floating City goes by yet another nickname, "City of Bridges", and with 400 of them, you can see why.
Beyond their aesthetic charm, these picturesque landmarks serve a functional role in connecting the city's districts. The Rialto Bridge, Ponte della Paglia, and the Constitution Bridge are some of the most adored bridges to lock your eyes on.
Ice Skate in Campo San Polo Square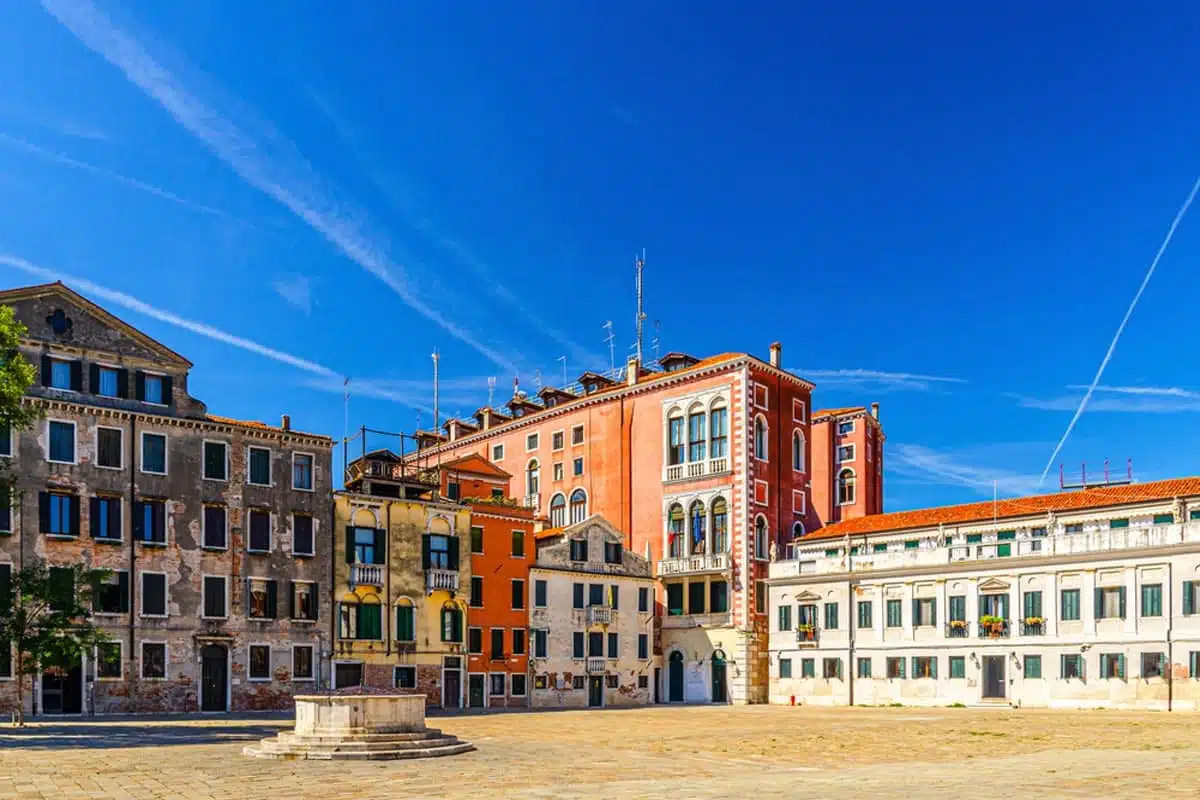 As the Christmas Markets begin to take over the city, some will feature temporary ice rinks adding to the festive feel. And one place to enjoy this tradition is in Campo San Polo Square.
While I'm not a huge fan of ice skating (I'll admit, I'm pretty terrible at it), you must take advantage of the chance to skate in the prettiest city during the winter season.
There's a skate rental service on-site, and the ice rink opens daily from 11 am to 8 pm. You will get turns of an hour and a half with 30-minute breaks in between. Rates for non-residents range from €8 to €12 depending on your age and if you're renting skates.
Collect Gifts from a Christmas Market
If you find yourself in a panic because you haven't done any Christmas shopping yet, I've got good news for you. Become this year's top secret Santa with gifts from a Venice Christmas market. They open from late November through the end of December or early January.
So many charming markets will pop up everywhere over the city's winter wonderland period. But of these fantastic Christmas markets, a few stand out, such as the Campo Santo Stefano (basically a magical Christmas village), Campo S. Bartolomeo, and Campo San Salvador.
Expect to see Christmas ornaments, ceramics, jewellery, carnival masks, and other Venetian crafts among the many trinkets.
Admire the Bridge of Sighs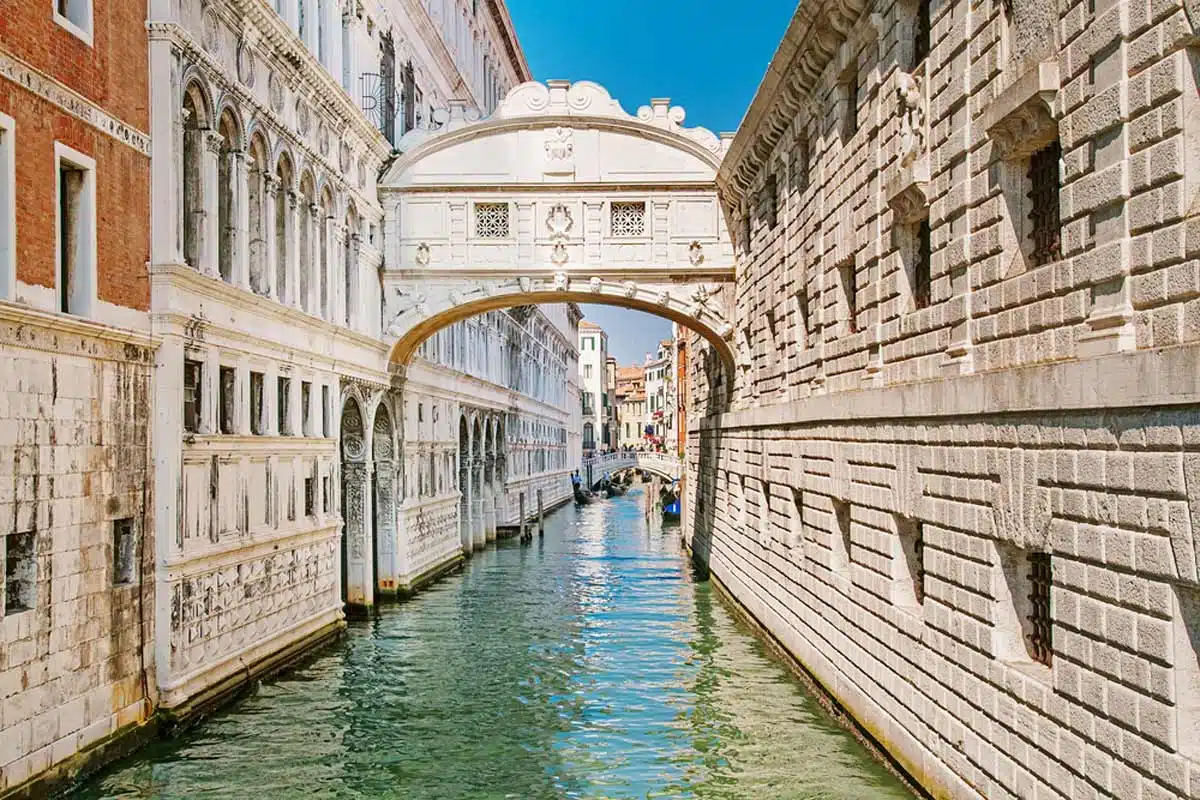 Sure, I've already told you to view the many beautiful bridges of Venice, but the Bridge of Sighs deserves its own mention. It'll have you sighing in wonder, as this white limestone structure has a fascinating story behind it.
Legend says that the bridge inherited its name from the despairing sighs made by prisoners as they absorbed the beauty of Venice one last time before entering the darkness of imprisonment. But wait, there's more (sigh).
An old tradition suggests that if couples kiss while passing underneath the bridge of sighs, their love will last an eternity — how romantic?
Swing by the Opera at Teatro La Fenice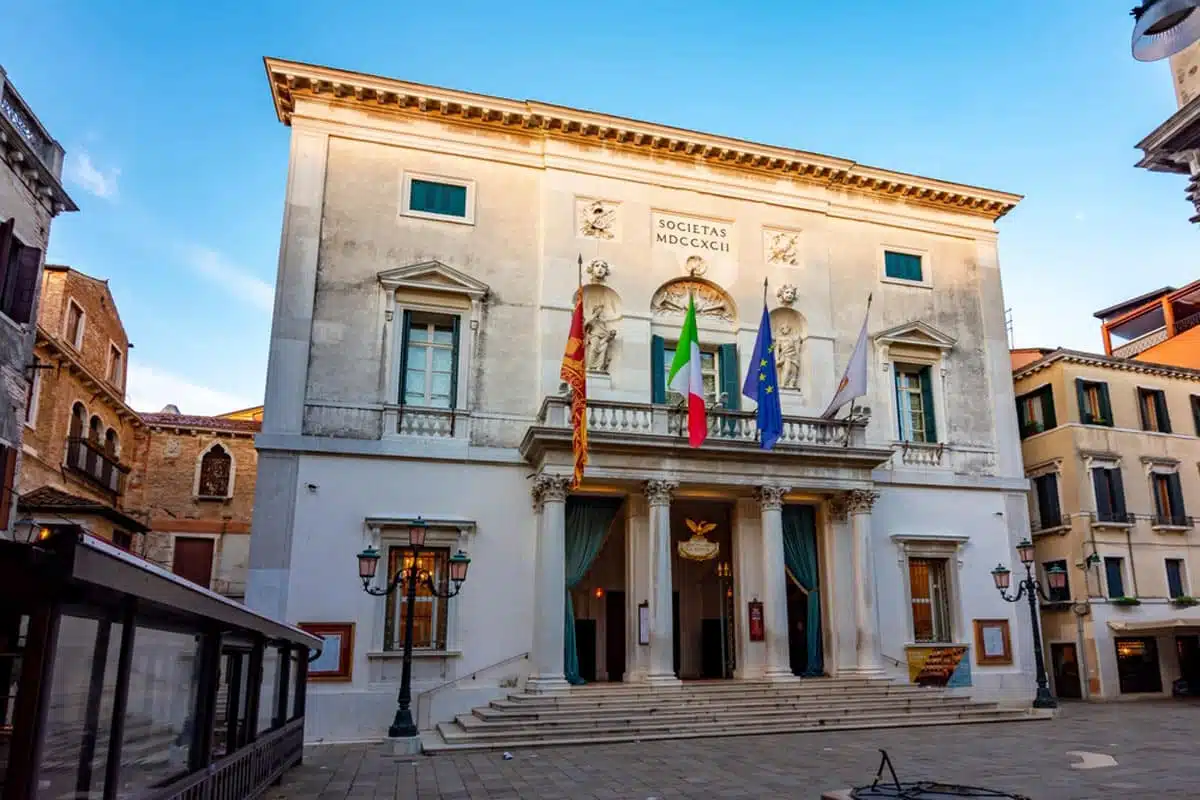 Visiting the Opera at Teatro La Fenice on a rainy day is the perfect indoor activity. And with this entry ticket, you can skip the line and discover this exemplary opera house's history and architectural ingenuity. You're totally welcome.
You're in for a unique experience, as this theatre has a prestigious artistic quality shared by few others. The splendour of this building makes it one of the leading opera houses in all of Italy and Europe. But, as with all historical and architectural wonders, seeing it in person is incomparable.
Top Tip: For more information on opening times, the address, and performances, visit the official Teatro La Fenice page.
Get into a Few Chapters at the Quirky Acqua Alta Bookstore
The Acqua Alta bookstore is a haven for bibliophiles. But also, if you enjoy finding hidden gems, look no further. The unique bookstore is very cosy and features vintage titles, and get this — resident cats.
Yes, these cute critters call this place home, so there's no avoiding cuddling up with a fluffy friend while reading there. If you do have a cat allergy, though, steer clear. And if you were wondering how the kittens got there, you're not the only one.
I'll let you find that out by yourself (wink). You can pop in at this quirky place after topping up at a nearby cafe daily from 9 am to 7:30 pm.
Visit St. Mark's Square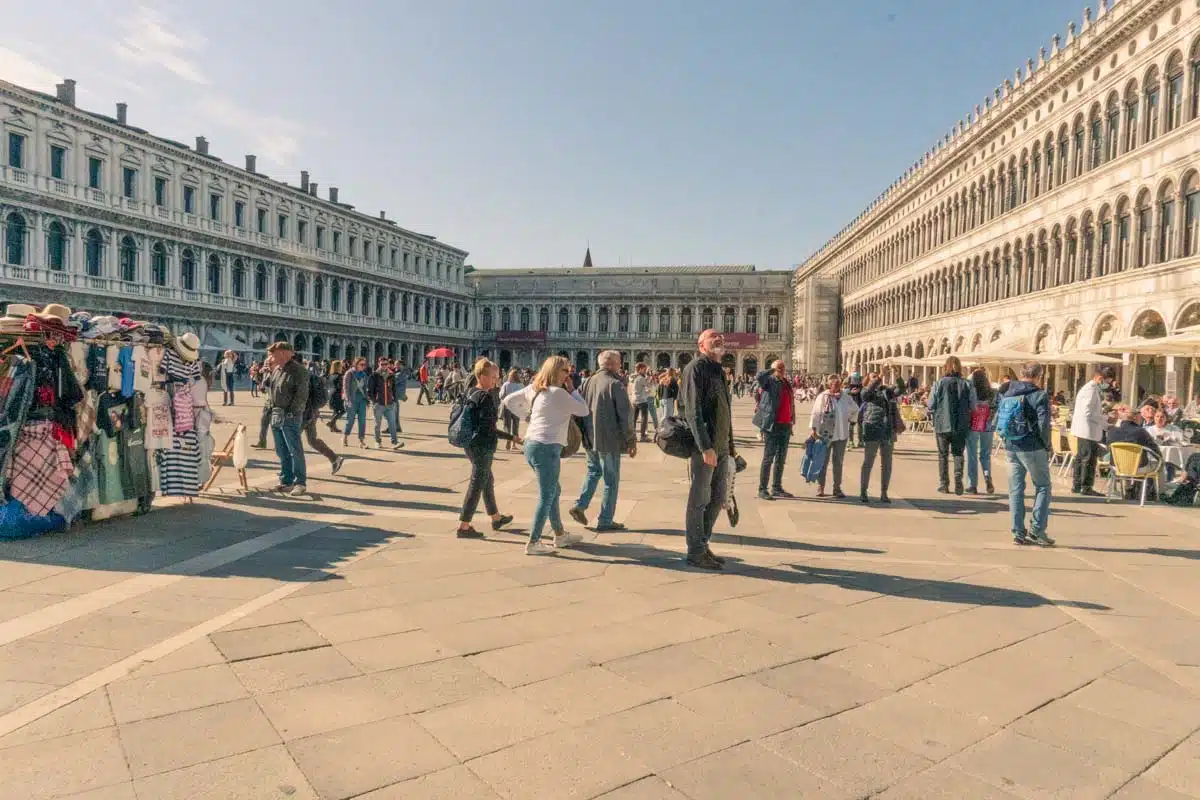 After seeing Doge's Palace, you might as well discover more of St. Mark's Square. The iconic renaissance structures will have your camera working overtime. Apart from soaking up the views, you can enjoy a coffee, visit Museo Correr or appreciate the statues.
Generally known as simply la Piazza, this famous square is the only one of its kind in Venice. It's the place people (and pigeons) flock to catch the eye of onlookers, so people-watching can keep you entertained for hours.
Within la Piazza, you'll find the Saint Mark's Basilica, a majestic Gothic cathedral that is a feast for the eyes.
Indulge in Venetian Hot Chocolate
Italians love their coffee, but when the weather starts getting chillier outside, another sweet beverage takes over as a drink and dessert.
Honestly, what's better than a hot cup of cocoa in winter? Answer: Venetian hot chocolate.
Venetian hot chocolate is out of this world as it's thicker, richer, and creamier (you actually taste the chocolate). What separates this treat from other European varieties is that Italians add cornstarch to thicken the mixture even more. Doing so results in a pourable pudding-like consistency.
You can pop in at places like Cafe Florian or Caffe Del Doge for the most delectable cup of hot chocolate.
Take a Cooking Class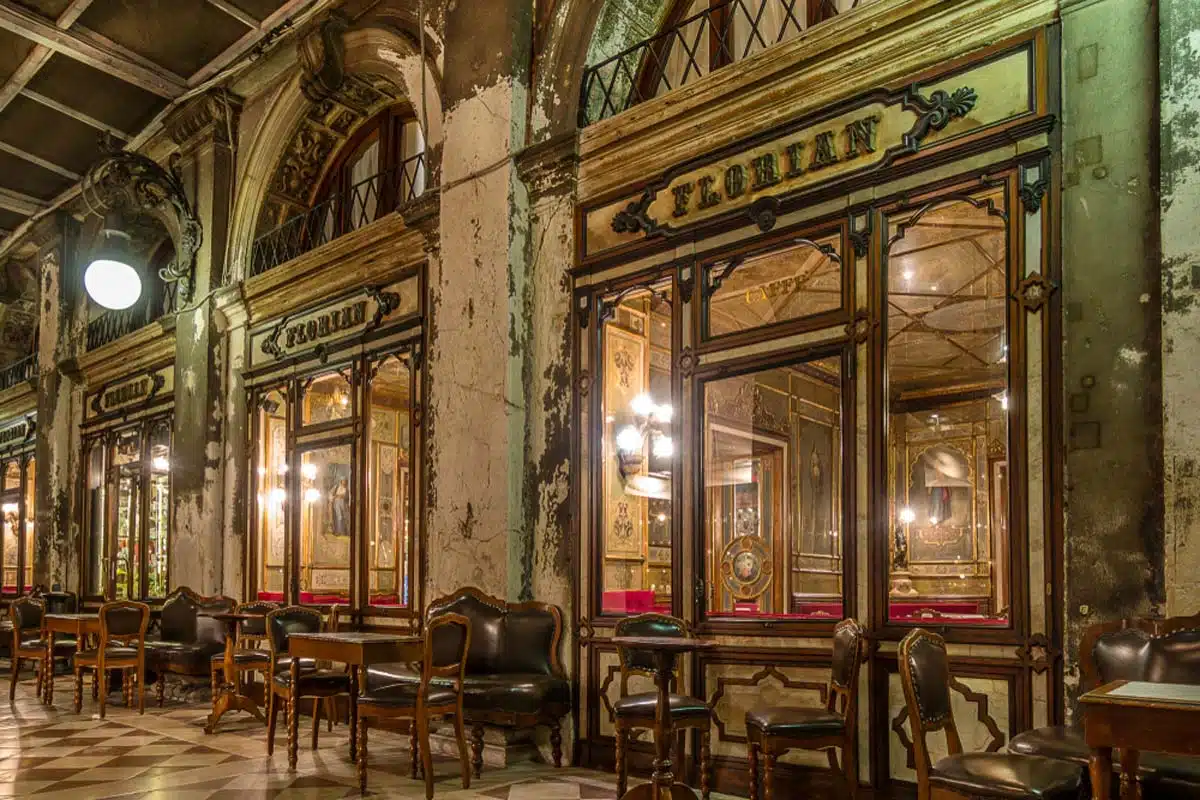 Want to learn how to make the perfect homemade pasta and a tasty tomato-based sauce to go with it? Of course you do. Learning to cook authentic Italian food will impress even the toughest nonnas out there.
It's cold and rainy outside, and what better to do than cook up a hearty, Italian-style meal? Elevate your skills with a fantastic cooking class in the heart of Venice, courtesy of Chef Carolyn. You'll cook with locally-sourced ingredients to create tantalising Venetian food.
If your cooking skills aren't at Masterchef level yet and you'd rather do all the eating than work, you can always visit one of Venice's renowned restaurants.
Create Your Own Carnival Mask
Before joining the festivities of the 10-day celebration, why not make your own Venetian mask to stand out from the crowd? I guarantee it's an excellent conversation starter, and you can also show off your artistic skills.
Joining a mask workshop makes for a fun and quirky experience. You'll also take home memorabilia that symbolises Venetian culture created by you. And while you're there, you'll get some insight into the traditions of Carnival.
The masks are significant in Venetian culture because they represent, in part, the history and development of the Serenissima Republic. Wearers can hide their identity and strip any social barriers.
Check out the Flooded Crypt of San Zaccaria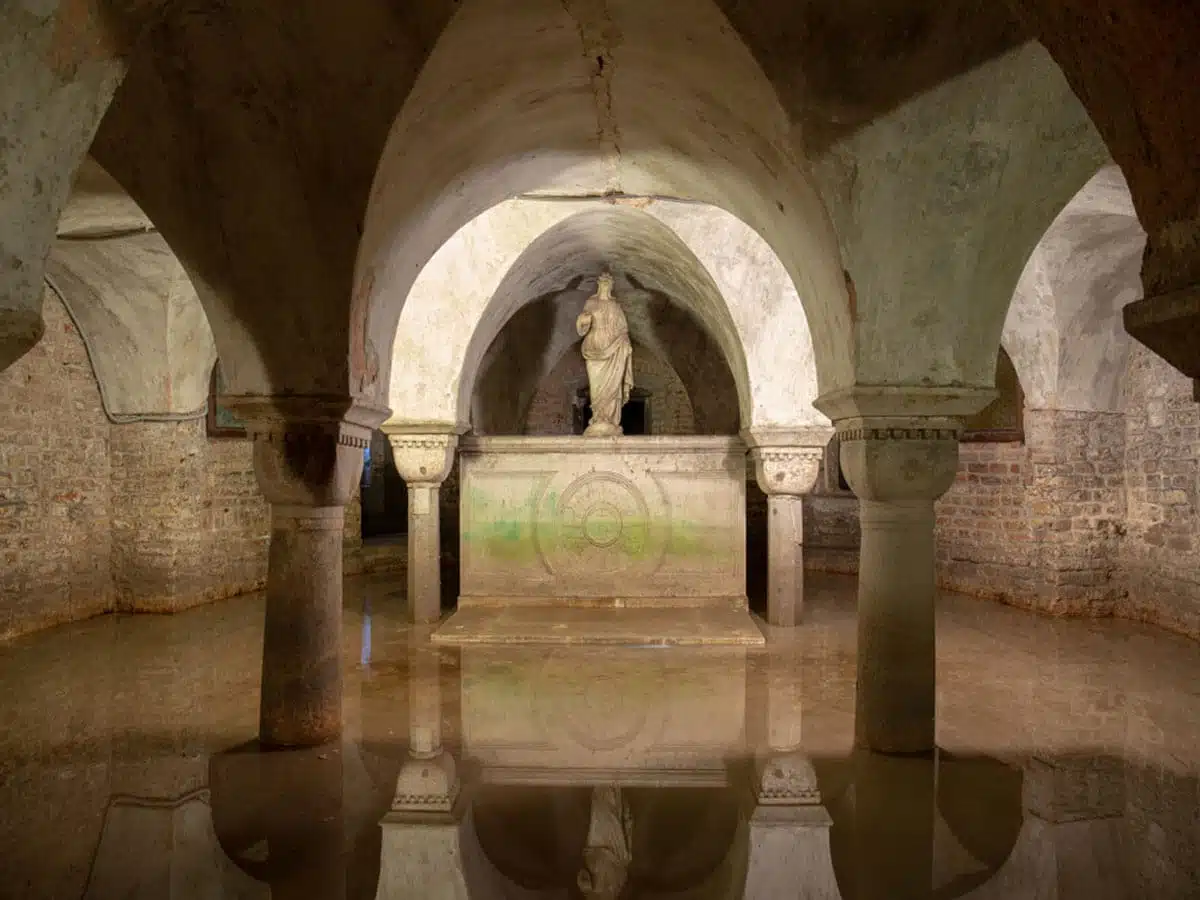 The ornate crypt of a 15th-century church, San Zaccaria, is permanently flooded by the waters from surrounding canals. The beautiful church features a blend of Renaissance and Gothic features, leaving you with much to admire.
While entry to San Zaccaria is free, if you want to step inside the flooded crypt, you need to pay just a few Euros. In the Campo San Zaccaria, you'll find this attraction just off the waterfront southeast of Piazza San Marco and St Mark's Basilica.
Opening hours are 4 – 6 pm on Sundays and for the rest of the week: 10 am – 12 pm and 4 – 6 pm.
Shop Til You Drop During the January Saldi
The January Saldi describes an Italian tradition: a winter sales period starting early January and lasting through to February. So if you were looking to score on winter clothing, there's no better time.
If you're not sold on this idea yet, up to 70% off on clothing might convince you. Not to mention, Italy is one of the world's fashion capitals and home to top brands such as Versace, Dolce & Gabbana, Valentino, and Prada, to name a few.
Also, I can't think of a more ideal winter activity than shopping at some of the most elegant boutiques in Italy.
Wander through a Gallery or Museum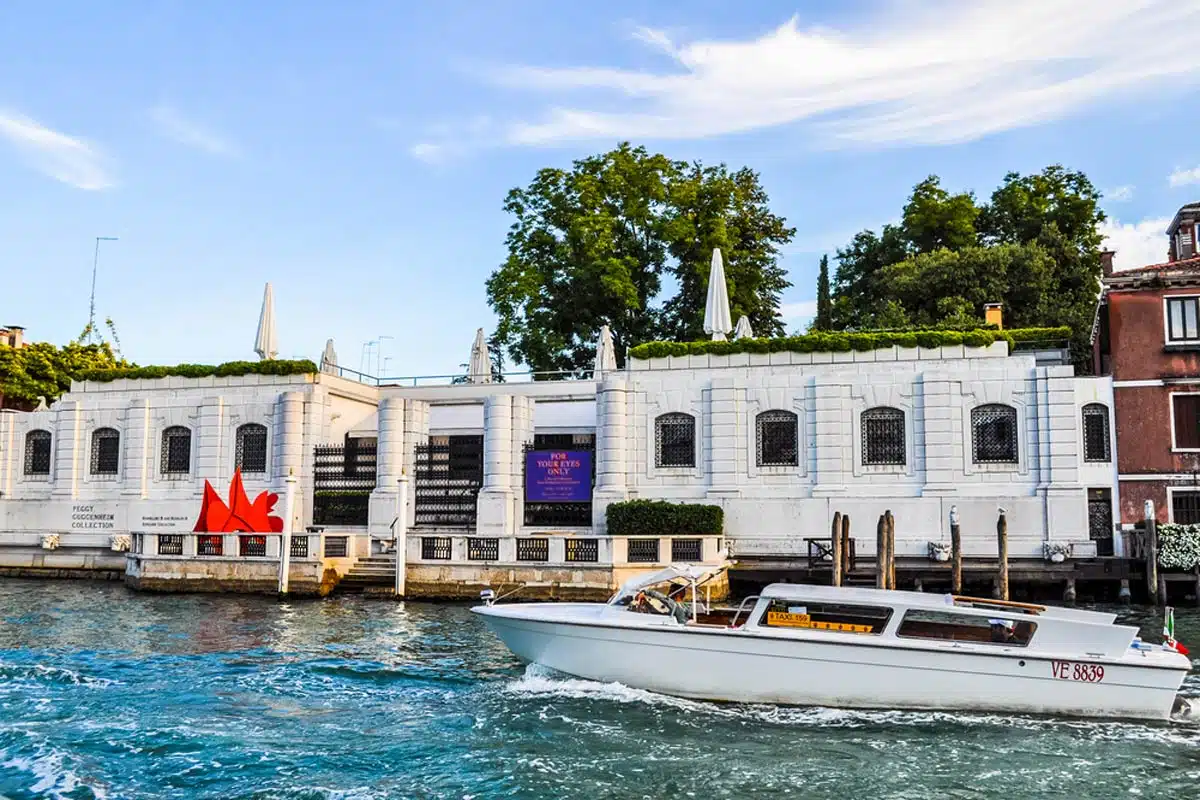 As a self-claimed culture nerd, there's no better way to learn about the culture and history of a city than by wandering through its museums or galleries. These places contain the works of artists and memorabilia of ancient times that reflect its current era and society.
It's genuinely a form of time travel, and you get to be at the forefront (literally because there are little to no crowds blocking your view). While there are many museums and galleries you can choose from, these are my top choices to make time for:
Practical Tips for Exploring Venice in Winter
Europe's winters are no joke, and Venice can stoop down to freezing 0°C at times, averaging around 4°C in January. You can check out my winter packing list for some handy tips.
You should still book accommodation in advance, even in the low season. This way, you can score on great deals, save money, and have many options.
Venice's winter is wet. While it may not snow, this city is no stranger to frequent showers. So stay dry with a waterproof jacket, rain boots, and an umbrella.
Note that many shops, museums, and galleries will close on public holidays in winter.
Top Things to Do in Venice in Winter: Map