Delve into the cuisine and dishes of the Trentino region in Northern Italy with this delicious guide.
Those of you following along with my adventures will know that I recently spent ten days in Trentino on a winter wonderland trip with Visit Trentino and Traverse Events, and if you took a peek at my Insta stories, or my Winter in Trentino guide and YouTube video, you will know that I was SO excited about the food.
Like legit, before I even stepped on the plane, I was posting on stories about how incredible the food was going to be… and guess what? It was.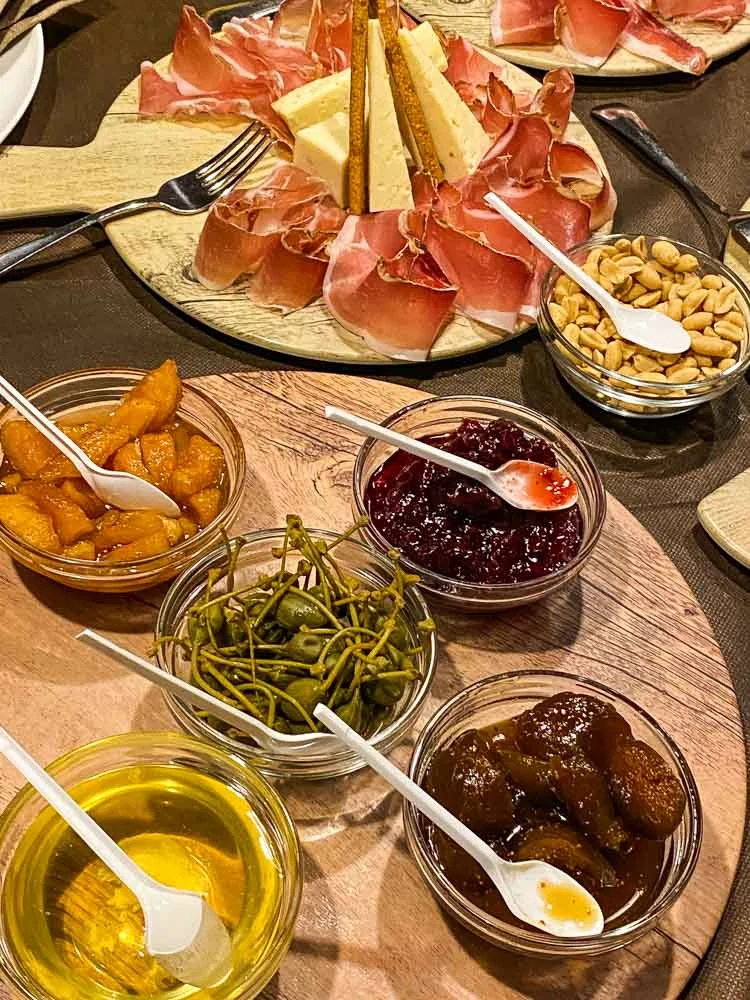 Now I know you're not basic enough to think that all Italian food is the same, but I think you'll be surprised by just how different the food in the Trentino region is.
I was fascinated by the range of incredible cuisine that we encountered during the trip and how distinct it was from that of other areas in Italy I've spent time in like Tuscany and Umbria.
It makes sense really – what we casually call Italian food today is actually the meeting point of the cultural and culinary identities of so many different regions, former republics and city-states that were only fully united towards the end of the 19th century – every meal, breakfast, lunch and dinner is a culinary odyssey. 
Wondering what sets Northern Italian food apart? Which dishes you need to try (and where to try them)? Read on (but not on an empty stomach).
What is Northern Italian Food?
Shaped by the Alps and the Dolomite mountain ranges that flow through the region of Northern Italy, Northern Italian cuisine is typified by hearty, warming cuisine that would help locals see through the long (and often bitter) winters.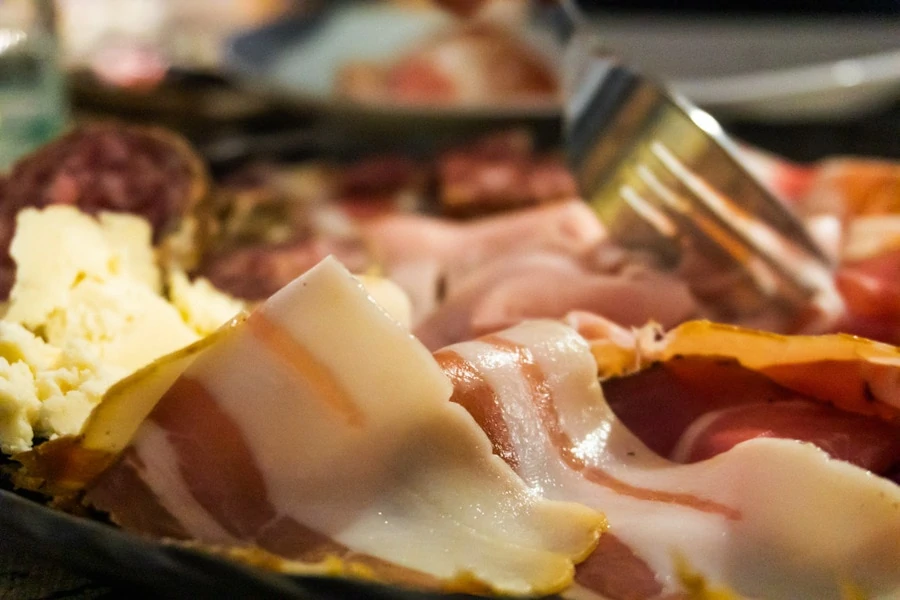 That same landscape that today makes Trentino a skier's paradise, with plenty of fresh powder and well-manicured slopes, was tough terrain to live in in centuries past.
Add to that the influence of neighbouring Austria, Switzerland and (to the west) France and you have the beginnings of a cuisine vastly different from that of the south.
Typically, Northern Italian food uses less olive oil and tomatoes than that of its southerly counterparts and more dairy (particularly butter), polenta and rice.
Trentino itself is interesting because it used to be a part of Austria and that is reflected in some of the cuisine: many a strudel popped up on the dessert menu throughout the trip, while dumplings – a mainstay of Austrian cuisine, also made their presence known.
I travelled in the Trentino region, so this is the focus of this guide, but you should remember that even within Northern Italy, the cuisine varies from region to region.
So what you'll find in Trentino, you won't necessarily find in the other Northern Italian regions – Aosta Valley, Piedmont, Liguria, Lombardy, Emilia-Romagna, Veneto and Friuli-Venezia Giulia.
Specialty Dishes in Northern Italian Cuisine You Need to Try
Strangolapreti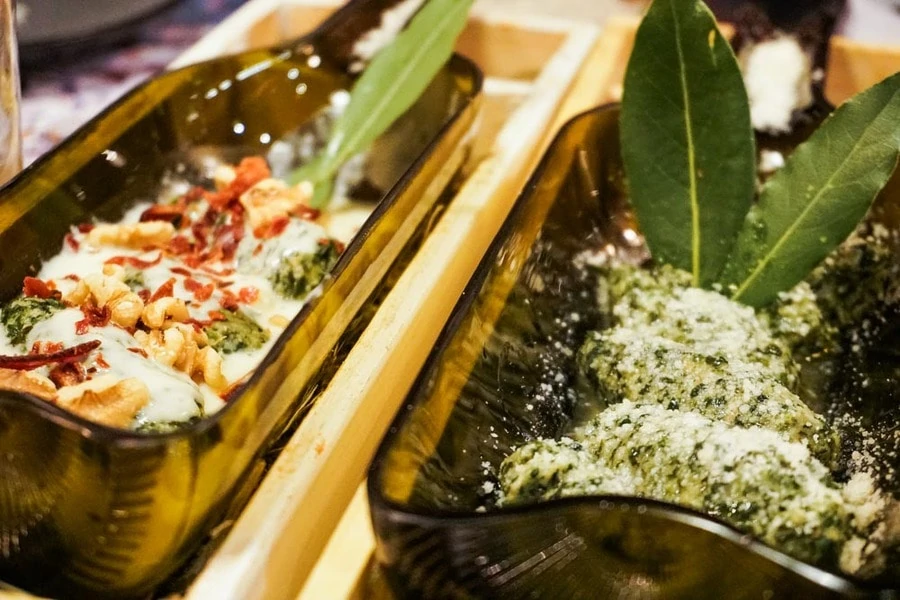 Gnocchi is a popular dish in Trentino cuisine, and is thought to have originated from the potato dumplings of Austria, Germany and beyond.
Wherever it originally came from, Trentino has certainly put their own delicious twist on it with Strangolapreti – a gnocchi with bread and spinach.
They can be served on their own with a grating of cheese or in a creamy cheese sauce – in this case with walnuts and dried peppers – droooooooooool.
PS, the name strangolapreti translated literally means "priest stranglers" thanks to an old legend that priests ate so many of them they choked. To be honest, I can totally see the temptation.
Tagliatelle Teroldego
How do you make pasta even better? No, this is not a trick question.
The answer? Add a glass of the rich and fruity Trentino Teroldego red wine to it.
The wine gives an extra-savoury, slightly bitter umami note to the pasta with the result that you'll never feel quite the same way about plain old pasta ever again.
We actually learnt how to make this at a cooking class in Le Chicche Bio Bistro in Andalo and I'm not going to lie, I've made it a couple of times at home already and it's only been a month.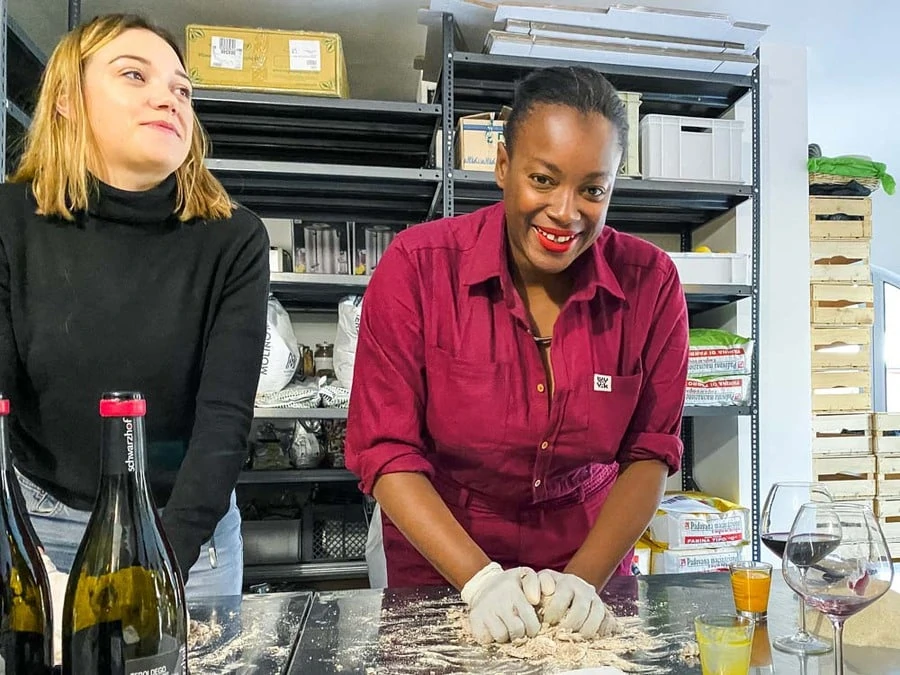 PS, if you love punchy red wines with explosive flavour, fruity but not sweet, do yourself a favour and buy a bottle (or 12) of Teroldego. It's one of those sneaky secrets the Italians like to keep to themselves but I'm spreading the word. You can thank me later.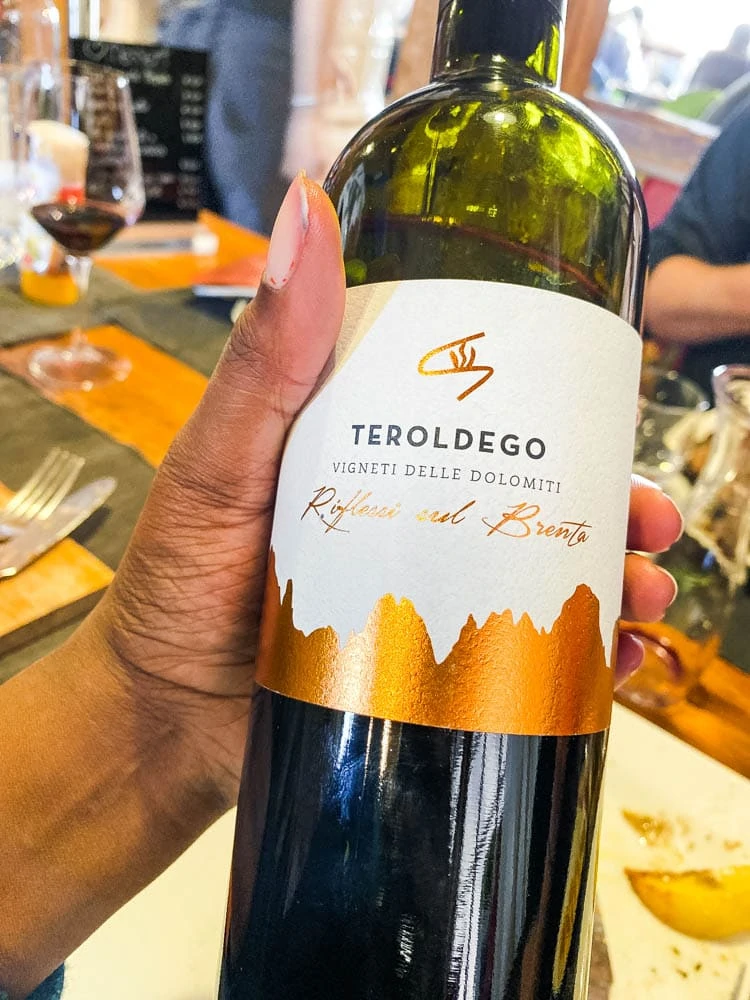 Speck Alto Adige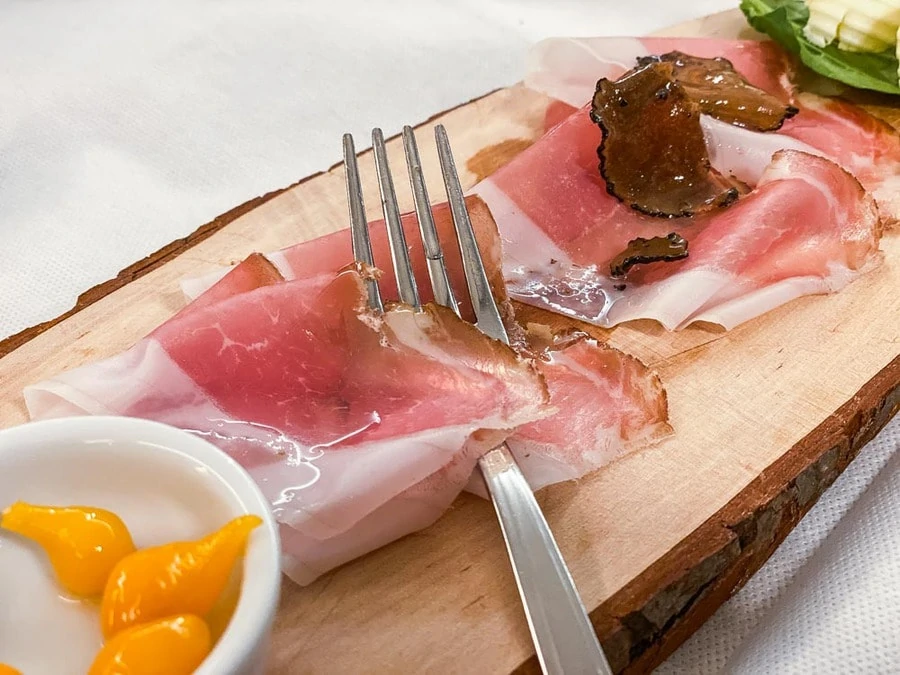 Move over prosciutto, speck is slowly making waves and garnering gastronomic fans thanks to its rich flavour and buttery, rich fat that melts on your tongue in a slow explosion of delight.
Antipasti platters come laden with paper-thin slices of the cold cut cured and smoked pork and have done since 1200AD, the earliest documented production of speck in the region. Who are we to break with tradition?
Trentino Cheese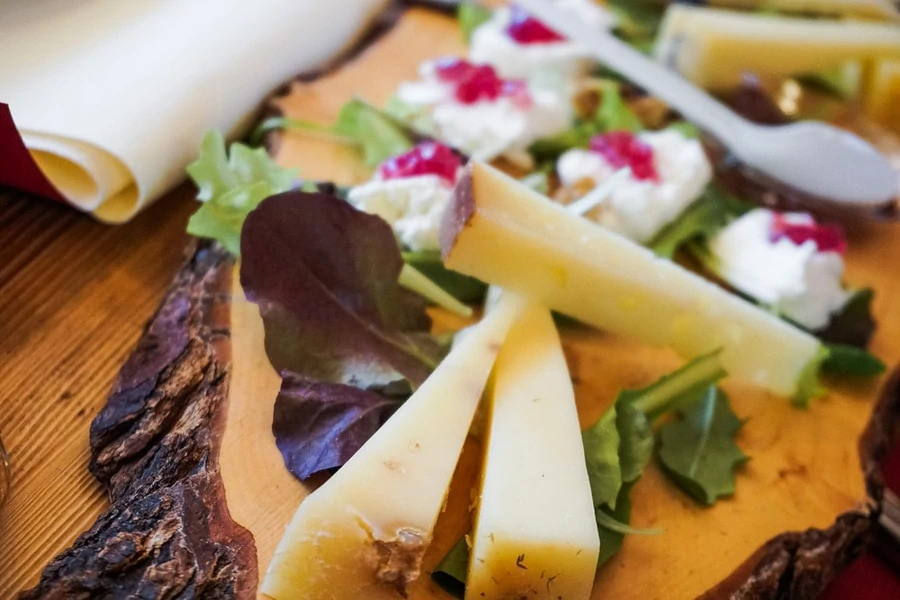 I could write a whole article about the variety of cheeses found in the Trentino region (I say article, it would be more of a poetic ode with me mostly writing cheese cheese I love cheese over and over again) but I feel the need to exercise some restraint and keep it short.
The mountains and valleys of the Trentino region produce some of Italy's best cheeses – though many aren't known outside of the country.
Eaten as an antipasti, making their way into sauces, gnocchi and even some desserts, their uses are as varied as the cheeses themselves.
Top specialities include Spressa delle Giudicarie, a semi-hard cow's milk cheese with a spicy, aromatic flavour and Trentingrana, a hard cheese made from raw cow's milk and aged for 22 months.
Apple Risotto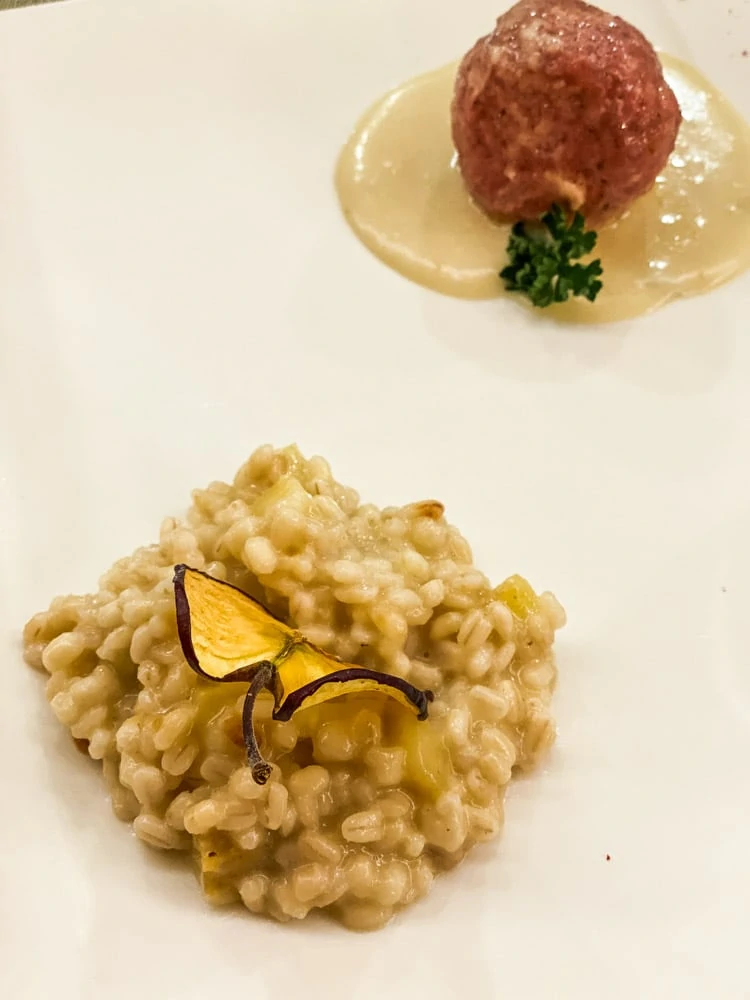 Did you know that one in every five apples eaten in Italy comes from the Trentino region? You'll find plenty of apple strudel in Trentino (and I'll talk about that more below) but one of the biggest food surprises of the trip was the savoury apple risotto.
Made with the local Nostrano cheese – the cheese perfectly offsets the sweetness of the apples – this one was also made with barley rather than rice and I was totally into it.
Carne Salada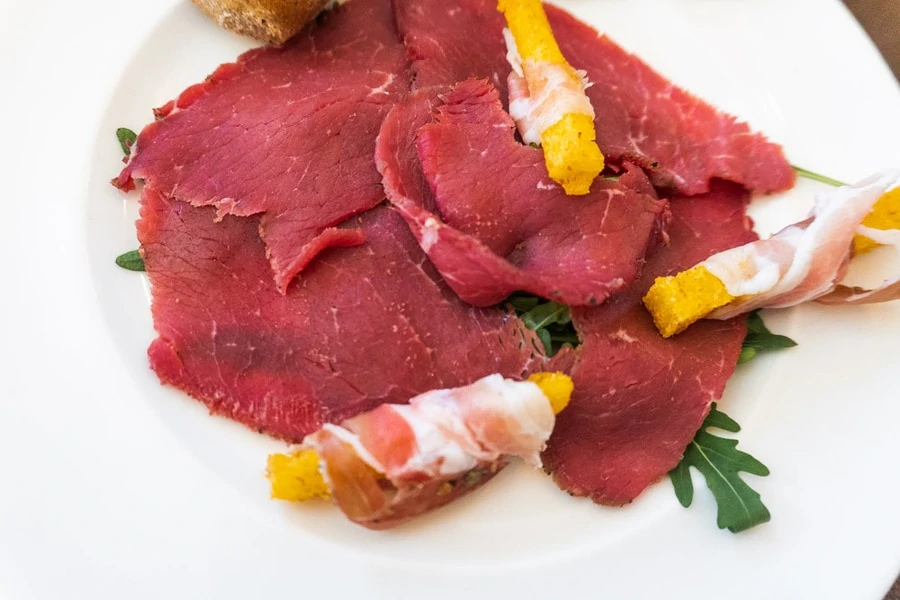 A meat salad might not sound that exciting, and, if you use low-quality mass-produced meat, it isn't.
Instead, this dish requires lean beef, with the distinct grassy notes of grass-grazed cows. Thinly sliced, it's served with a drizzle of olive oil (from Trentino of course) on a bed of rocket.
Apple Strudel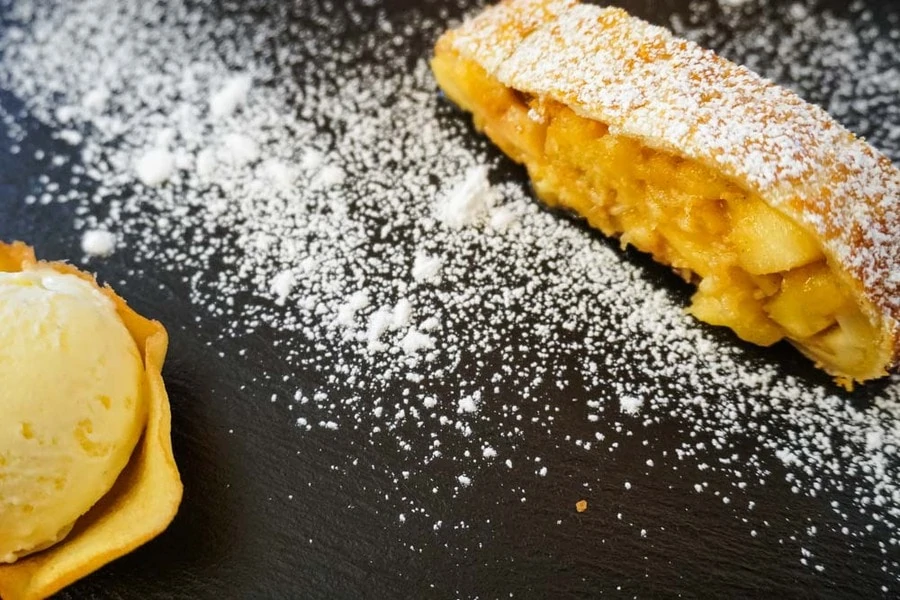 Now before you think I've lost my mind, pointing out that strudel is clearly not an Italian dish, cast your mind back to when I said that Trentino was actually a part of the Austro-Hungarian Empire until the end of WWI.
Suddenly it all starts to make sense right?
The strudel in Trentino is made with shortcrust or puff pastry and local apples – you don't have to look hard for it as it appears on pretty much every trattoria menu in the region.
Trentino Cheesecake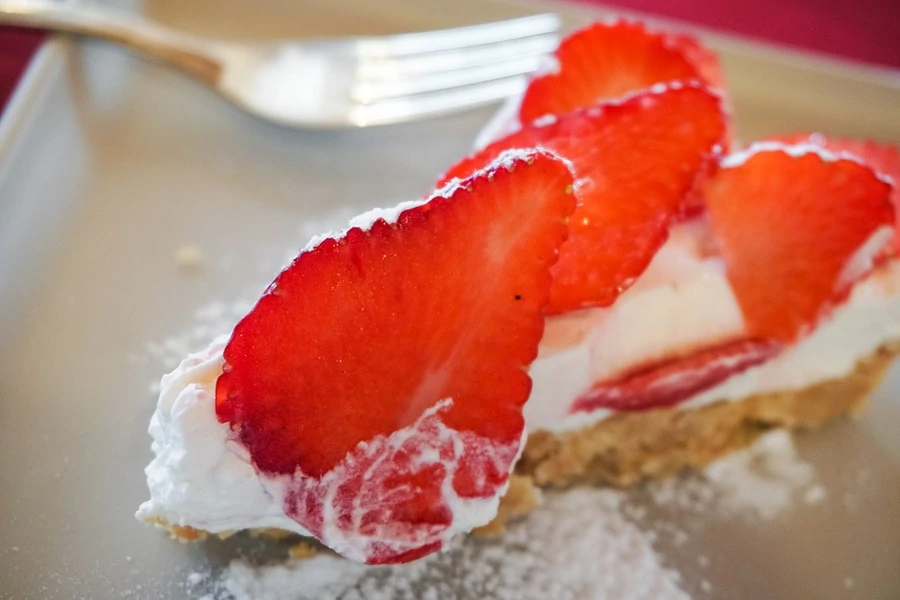 I don't know what they do to make the cheesecake in Trentino so good but it is perfection, which is why I've added it to the list even though it's not specific to the region.
The thick, buttery biscuit base is topped with a layer of fresh cheese (apparently ricotta or Trentino cheese will do) and then adorned with fresh fruit – in this case strawberries. Simple but so very, very good.
Planning Your Own Culinary Adventure through the Trentino Region
I really cannot stress enough how good the food is in the Trentino region – its distinct cuisine makes it the perfect contender for a gastronomic trip to Italy, yet it flies relatively low under-the-radar as a culinary destination. Everyone else's loss is your game.
If you are planning a foodie trip to Trentino or Northern Italy in general, these were my favourite restaurants from the trip.
Top Places to Eat in the Trentino Region
Rifigio Boch in the Madonna di Campiglio area
Rifugio Lago Nambino in the Madonna di Campiglio area
Home Stube in Madonna di Campiglio
Rifugio Patascoss, Madonna di Campiglio
Chalet Fiat, Madonna di Campiglio
Rifugio Capana Presena, Val di Sole
La Baracca, Val di Sole
Malga Frattasecca, Val di Sole
Bistro Dolomieu, Andalo, Paganella (also has insane views out over Lake Garda)
Le Chicche Bio Bistro, Andalo, Paganella
Mountain Hut Dosson, Andalo, Paganella
La Montanara, Andalo, Paganella
Suggested Stay: Hotel Chalet Al Foss
This was my favourite of the places we stayed during the trip.
Surrounded by the Dolomites, Hotel Chalet Al Foss certainly makes the most of its stunning location.
Add to that spacious rooms, complete with outdoor chill out areas with mountain views, (yet another) stellar restaurant and extensive spa facilities that include a guided sauna session to help you detoxify and relax, and you start to get an idea of why I loved this place so much.
Check Rates & Availability at Hotel Chalet Al Foss
Enjoy!
Love this? Save and Share on Pinterest!
PS, want to see more of what we got up to on the trip? Check out my Youtube video.