Looking for the best Airbnbs in Venice? From cosy rooms to impressive apartments with dreamy canal views, these are the best vacation rentals.
If you ask me, Venice has to be one of the most idyllic spots to visit in Italy. But, with over five million tourists visiting annually, hotel prices can get hella expensive.
Fear not, as I've compiled a guide to the best Airbnbs in Venice to stay in.
Though – while I love and use Airbnb, I've found that, over the years, I actually prefer Plum Guide. It has a brilliant filtering system that makes finding your dream accommodation easy, not to mention that the properties are hand-picked by the PG team. 
Psst… Not sure what to do while in the City of Canals? Check out this in-depth guide on the best things to do in Venice.
Best Airbnbs in Venice: At a Glance
Best Airbnbs in Venice
Biennale Bliss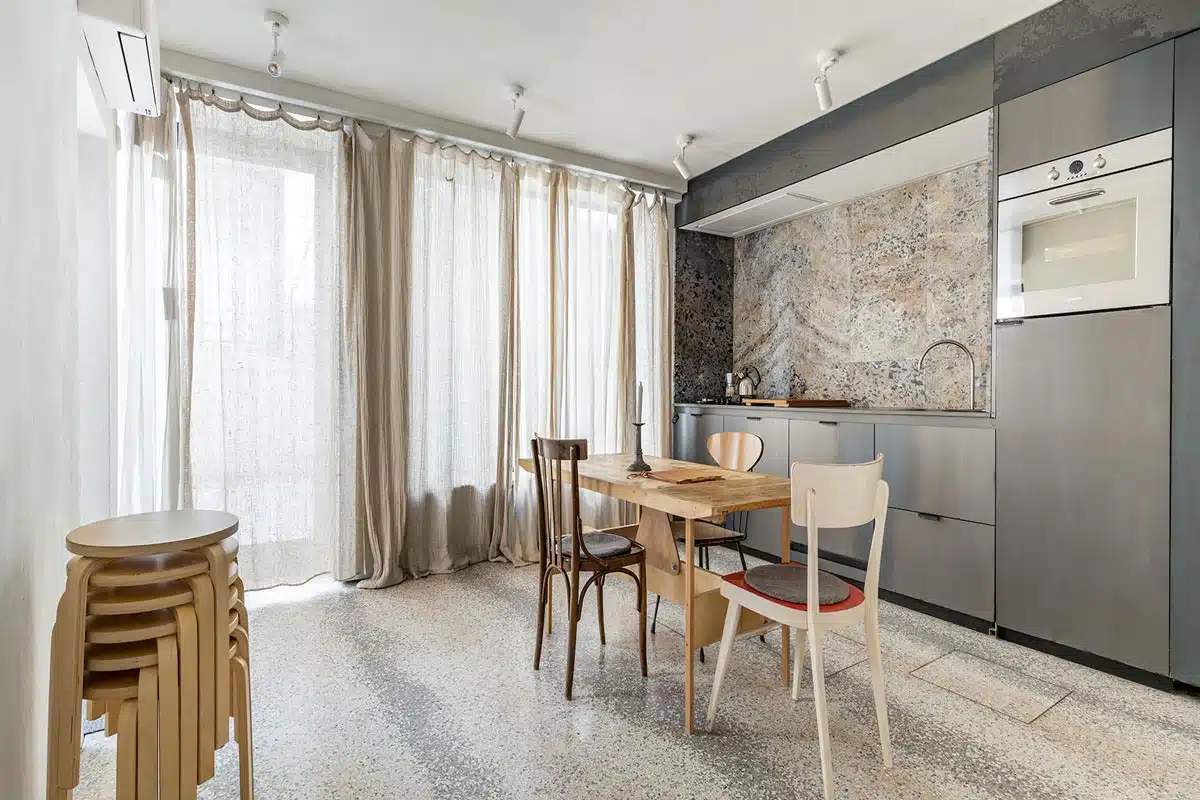 This minimalistic house is perfect for art aficionados, as it's only two minutes from Giardini della Biennale, home to the internationally-renowned Venice Biennale. Speaking of art, you'll love the paintings that adorn the home's walls, of which the host is an avid collector.
The property is packed full of beautiful designs with marble finishes, terrazzo flooring, and abstract-shaped furniture. I love this house, as it has a shower, a bath, and a private balcony – for that perfect La Dolce Vita moment.
Location: Castello
You might be glad to know that Castello is not a big tourist area, perfect for mingling with locals.
Venetian Terrace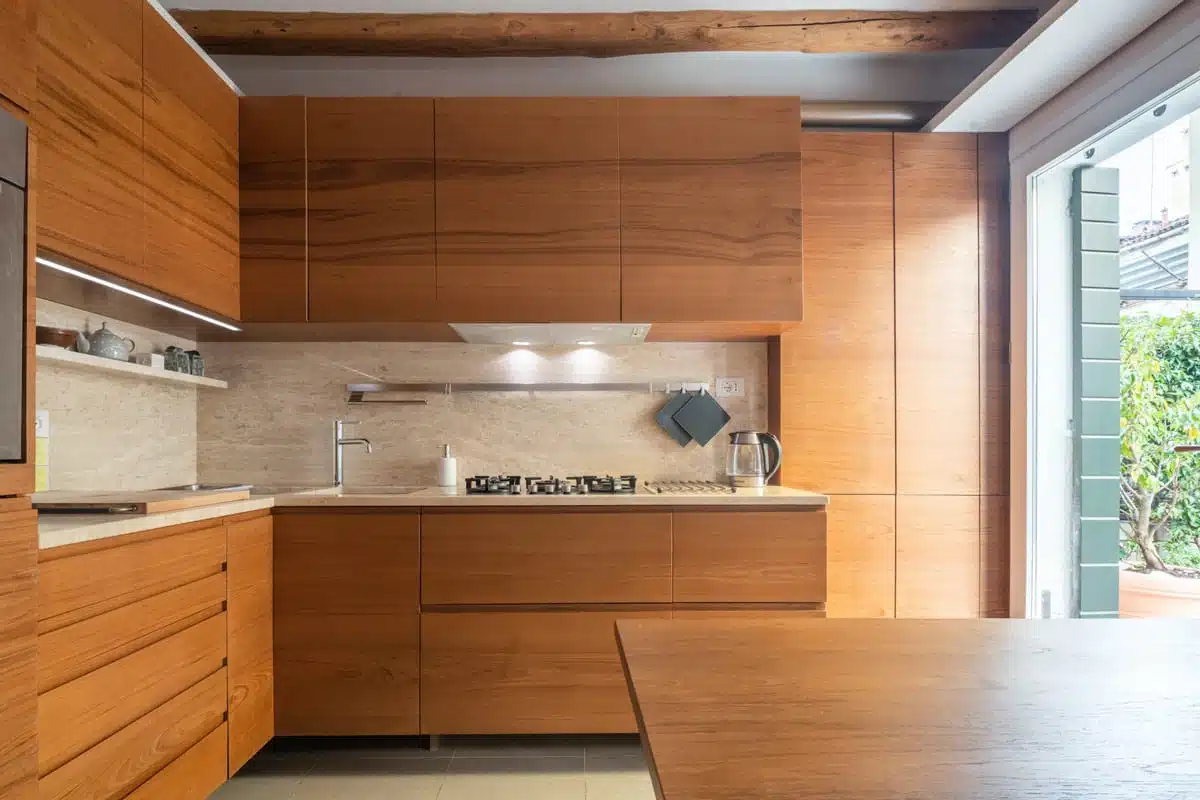 Witnessing the beautiful canals of Venice is one of the highlights of visiting this city. This stylish home guarantees a fantastic view on a private terrace, perfect for summer meals and drinks.
I also love how chic it is, from the wooden beams to the pops of red and green. The bedroom is tranquil with its white linen and comfy mattress.
Location: Dorsoduro
This trendy area is one of my favourite neighbourhoods in Venice – it's full of shopping and nightlife options.
Brushstrokes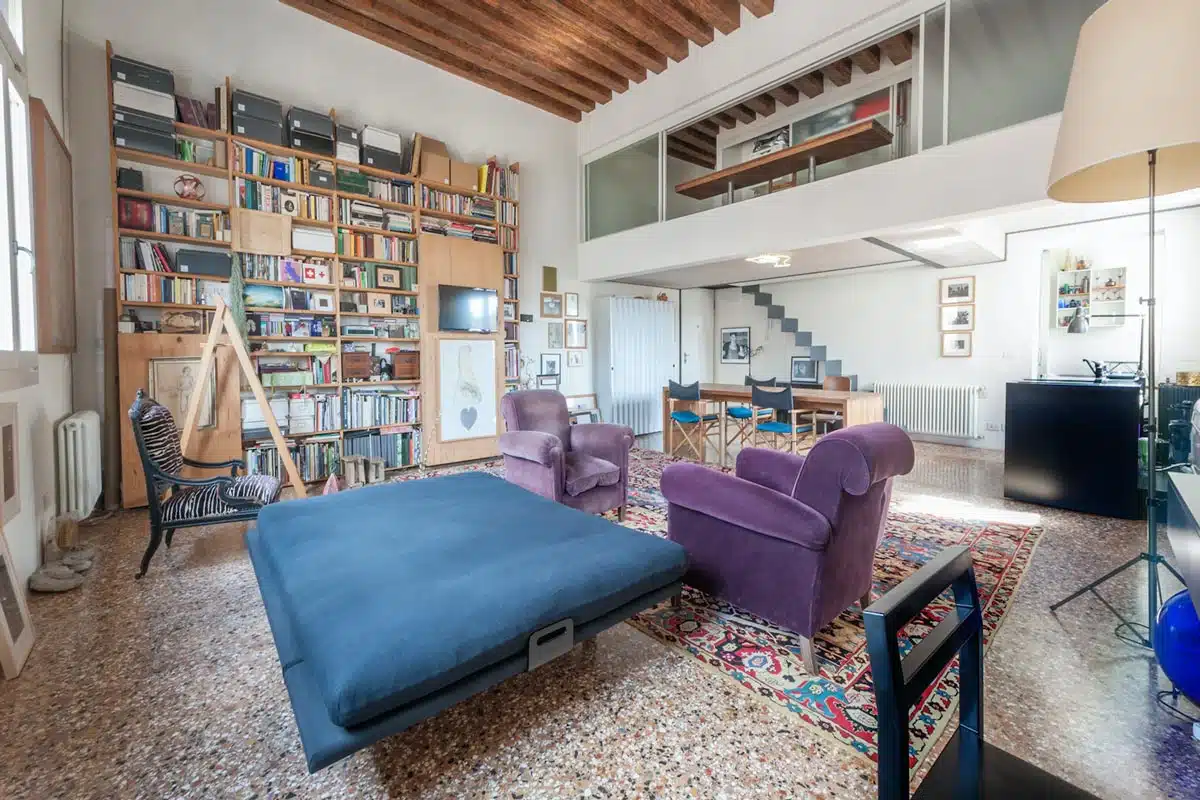 You'll find this eccentrically-designed flat in the heart of the San Polo district. Besides the benefit of its central location (ten minutes from Rialto Bridge, one of Venice's famous bridges), it has a fully equipped kitchen, TV, and parking if needed.
I love the intricate details, including plush furniture and a floor-to-ceiling bookshelf. It's also great whether you're visiting Venice in winter or summer, as it has both central heating and air conditioning.
Location: Rialto
Smack bang in the centre of the city, you're near a bustling food market and various historic churches.
The Velvet Merchant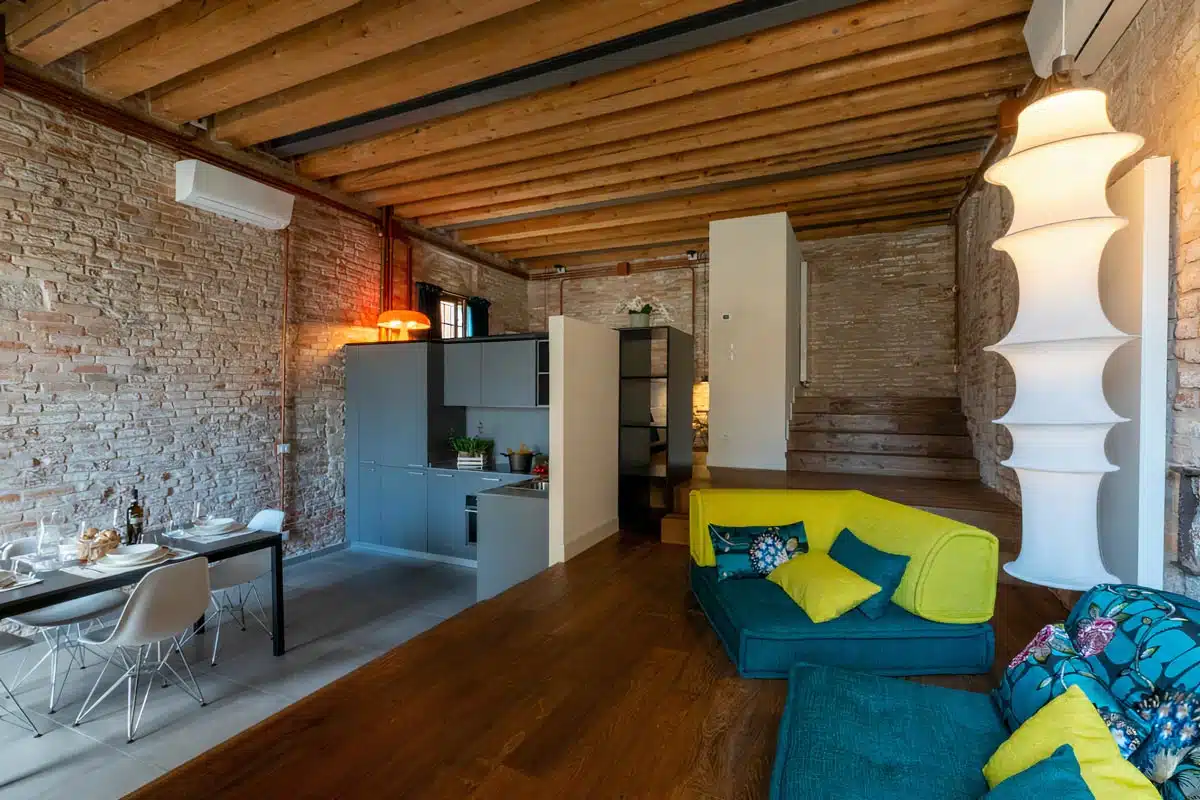 You'll find this elegant home on the calm Misericordia Canal and Venice's Jewish Quarter. And this home fits right in with the area's history, from the exposed-brick walls to the ornate spiral staircase.
It's a perfect spot to relax after a busy day exploring some of Venice's landmarks. Start your day with a fresh breakfast on the outdoor terrace and end it in the comfy bed.
Location: Cannaregio
This area is perfect for budget-friendly accommodation, without compromising on location.
Gilt Edges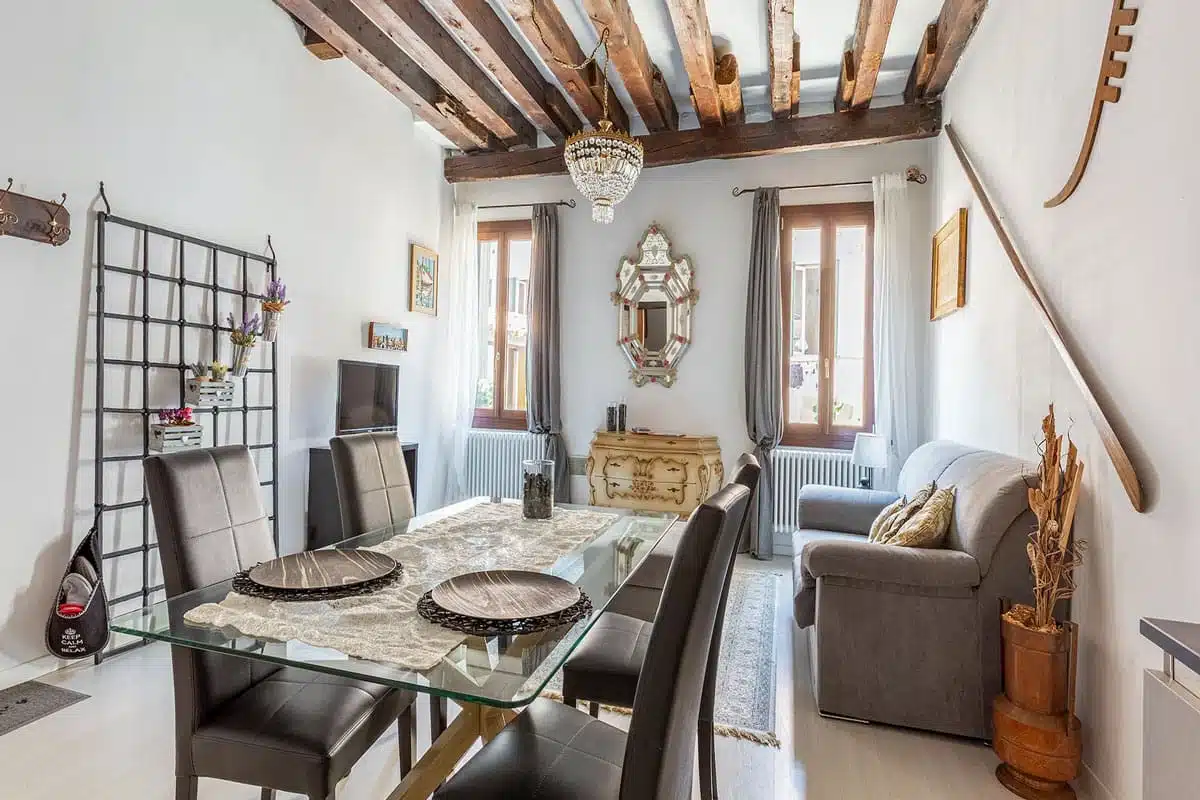 You'll feel as if you've been transported back in the Renaissance era in this exquisite house, with its antique stylings and wooden ceiling beams. Don't let looks fool you – it's definitely not outdated, as it's got air conditioning, Wi-Fi, and a washing machine.
This is perfect, especially if Venice is one of the stops on your multi-day Italy itinerary, as you can put a wash on before departing.
Location: Castello
This is the perfect area for a relaxing stay, and it has many osterias and bars nearby.
Room N.5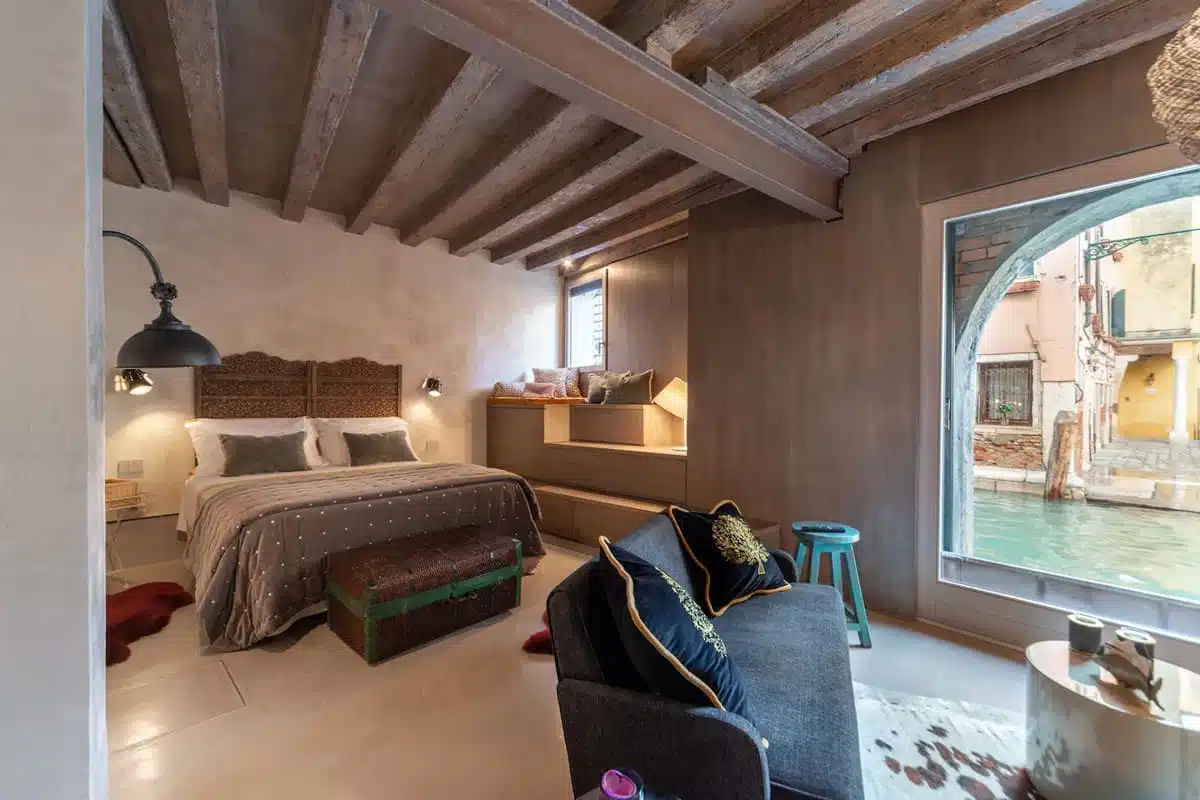 This delightful apartment is the perfect spot to stay in Venice. It's decked out with 100% cotton sheets, an open-plan kitchen, and a gold-tiled bathroom with a rain shower. And that doesn't even include the intimate canal view you get from the living room.
To make this even better, the host, Dada, has fantastic communication. The only inconvenience is the canals that get quite noisy, so close your window at night.
Location: Cannaregio
It's a fantastic area for an authentic feel of Venetian life as it's a buzzing hub.
Apartment with Terrace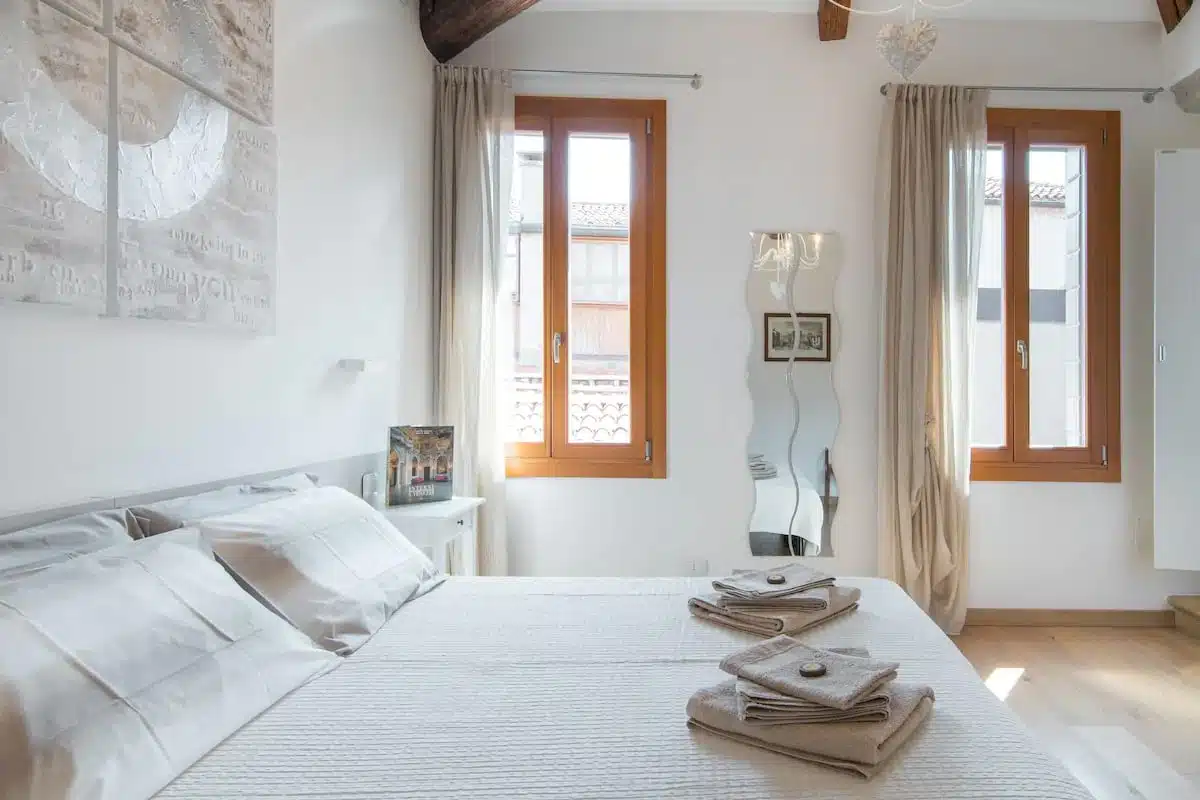 This modern apartment might be one of Venice's best places to stay. It boasts a lovely outdoor terrace, perfect for an afternoon Aperol Spritz or a coffee from a Bialetti.
Host, Leone, is attentive to all your needs and will help you carry your luggage or meet you at your water taxi stop.
Location: San Polo
This area is close to various attractions and vaporetto stops.
Ca' Neola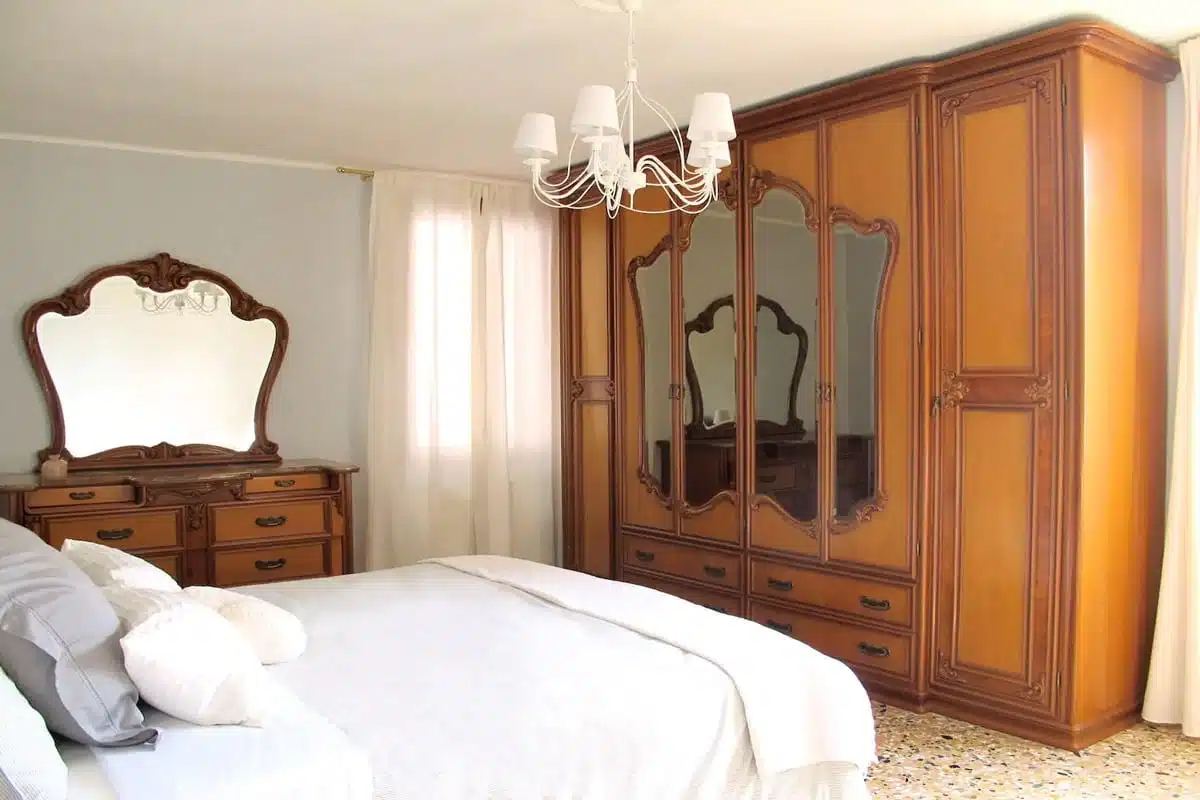 This charming apartment is tucked away in a quiet Venetian neighbourhood, but it's still optimally situated. Besides this, it has brilliant amenities, such as memory foam mattresses, high-speed Wi-Fi, and a spacious kitchen.
There's also a lovely terrace covered with vines where you can hear church bells ringing or enjoy a beautiful Italian sunset. Mauro will be your host and is incredibly hospitable, keeping the apartment spotlessly clean.
Location: San Polo
This neighbourhood is close to the Cà Pesaro Museum of Modern Art and Rialto Fish Market.
Alice's House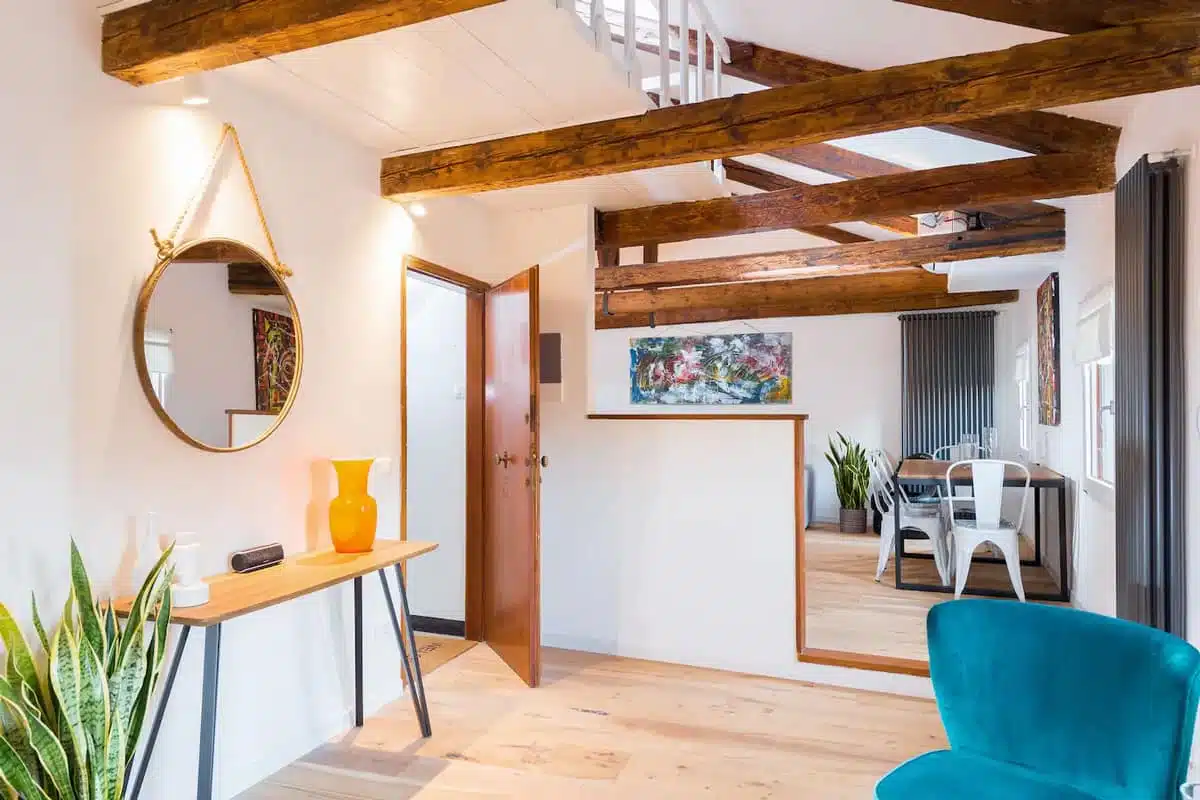 This charming spot is perfect for a group stay, as it can sleep four, has extremely fast Wi-Fi, and has a decked-out kitchen. You'll get stunning views of the Venetian skyline, as it's on the building's third floor.
For a Venice apartment, this spot is surprisingly spacious and an incredible alternative to the tiny hotel rooms you'll often be faced with in Venice.
Location: Castello
This area is a haven for foodies – the Airbnb host, Alice, is super and can provide you with brilliant dining recommendations and which tourist traps to avoid.
Stunning Studio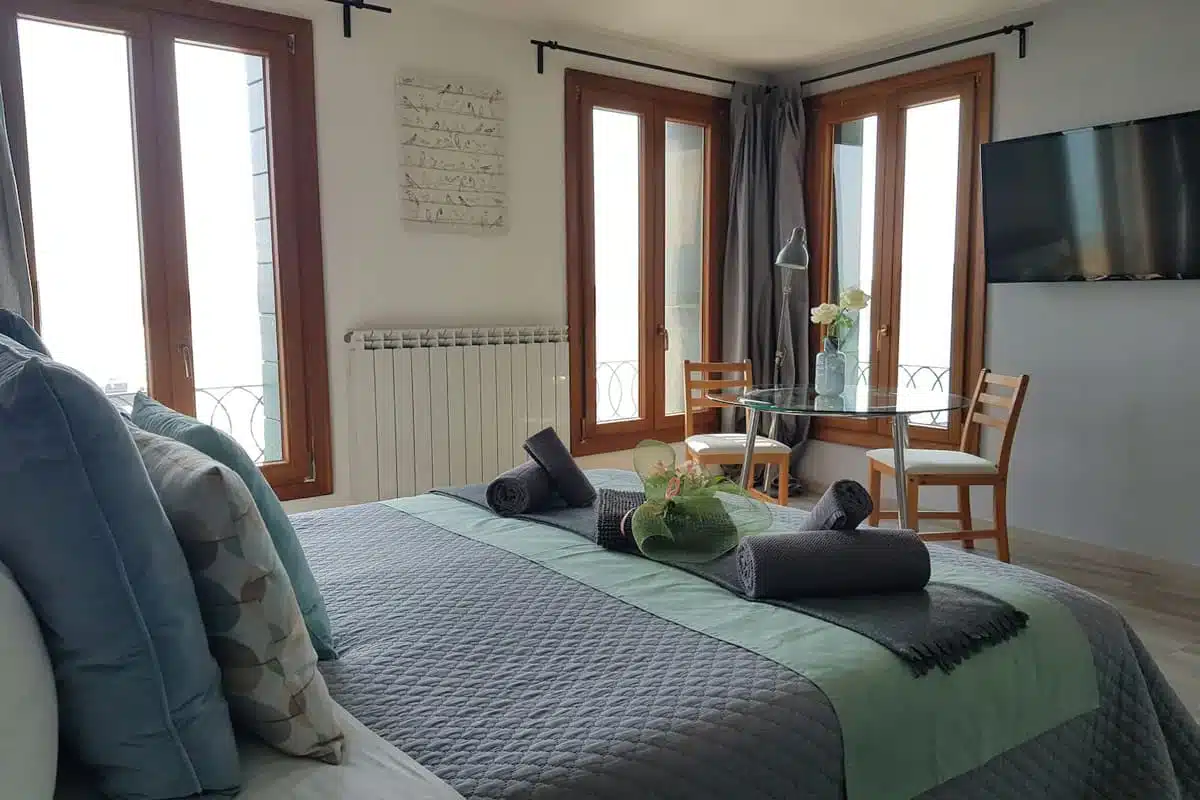 This canal-side apartment has one of the best views in Venice on the Zattere. Better yet, it's only two minutes from a ferry stop, making it a perfect place to situate yourself.
The hosts will guide you on how to get there and are incredibly accommodating, allowing early check-in or luggage storage.
Location: Dorsoduro
This beautiful area has a bustling nightlife scene, as well as some of the best restaurants in the entire city.
Practical Tips to Consider Before Booking Your Venice Airbnb
Travelling to Venice and struggling to pack? Not to worry – I've got you covered with this handy guide to what to pack for Italy.
Since Venice is a canal city, I highly urge you to take a gondola or the ferry to get around.
Airbnb Venice: Map