Venice in two days? No problem – this handy travel guide has got you covered.
Alright, so saying I love Venice is akin to being enamoured with Paris. I get it. But this city is seriously breathtaking.
Italy is rich in history, culture, and gastronomy, so it's no wonder that Venice is usually high on many travellers' bucket lists.
It might be small, but it's certainly mighty – in fact, there are so many brilliant things to do in Venice that you could easily spend a few days exploring this glorious city.
But what if you only have two days to spend in Venice?
Fear not, because I've got you covered with an epic itinerary for 2 days in Venice.
Handy Tips for Planning Your 2-Day Venice Itinerary
Top Tours to Add to Your 2 Days in Venice Itinerary
What to Pack for Your 48 hours in Venice Itinerary
Where to Stay for Your 2 Days in Venice
Hotel Dei Dragomanni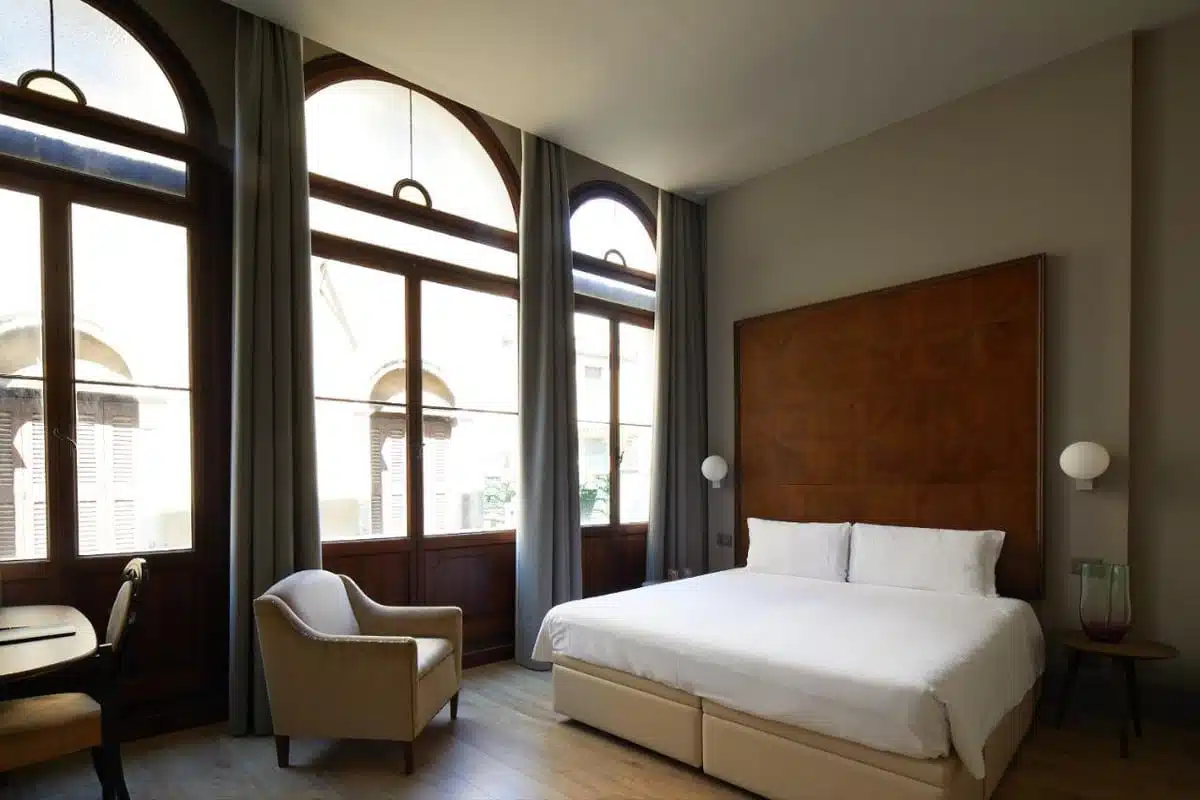 Hotel Dei Dragomanni is the perfect place to base yourself to explore all of Venice's main attractions.
This contemporary hotel is only four bridges from St. Mark's Square and 150 metres from the Peggy Guggenheim Collection and Accademia Bridge. Some rooms even have stunning views of the Grand Canal, which is a real treat.
Hotel Carlton On The Grand Canal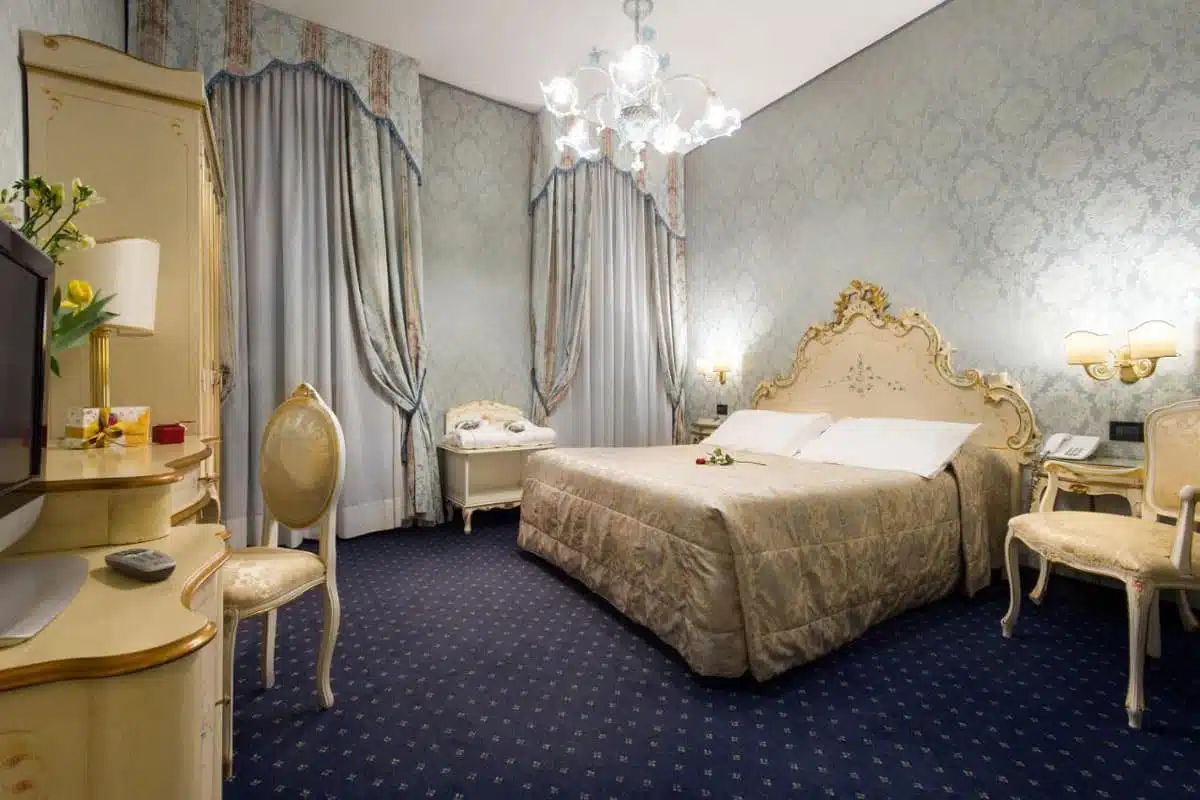 The Hotel Carlton On The Grand Canal is your best bet if you want to stay on the Grand Canal. This luxurious 4-star hotel offers touches of old Venetian decor, with elegant Murano glass lamps and antique furniture.
The hotel is a short distance from The Bridge of Sighs, Rialto Bridge, St. Mark's Square, and Peggy Guggenheim Collection, which are just over 1 km (1.6 miles) away.
Hotel Torino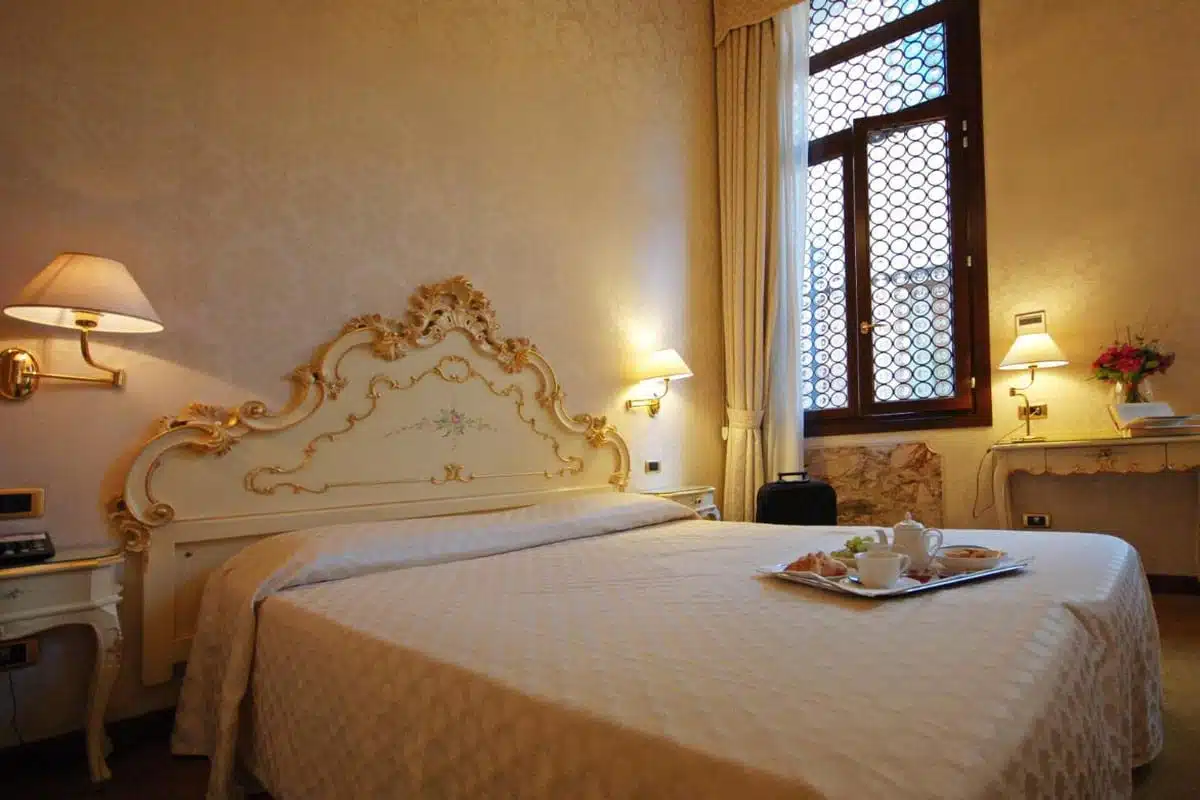 Stay in the heart of St. Mark's Square at Hotel Torino. This elegant hotel is in a 16th-century building that features distinct Baroque-style rooms.
Plus, all the major attractions in St. Mark's Square are just 300 – 400 metres from the hotel, which makes exploring Venice in two days even easier.
Useful Resources
Getting Around
Venice is extremely walkable – still, there will be times when you might want to hop on public transport or take a leisurely cruise along the canal. I've got you.
48 Hours in Venice Itinerary
Venice Itinerary Day 1: San Marco & Surrounding Areas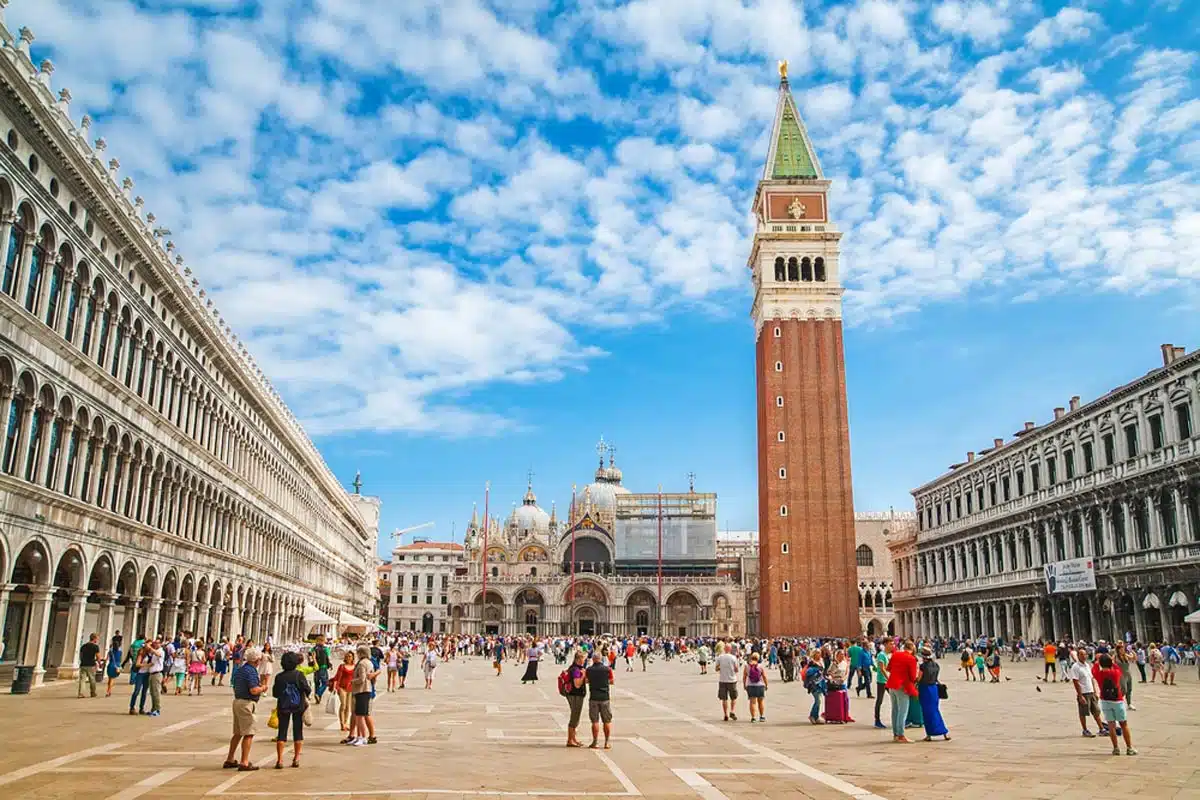 Is 2 days in Venice enough? Absolutely. I hope you're ready to experience all of Venice's famous attractions – because that's what day one is all about.
There's no better way to do that than by heading to St. Mark's Square (Piazza San Marco) because this is where you'll find most of Venice's best attractions.
Here's what you can do on the first day.
Grab a Coffee at the Historic Caffe Florian
Start your day with a cup of the good stuff from the oldest café in Europe. Yes, it's a tourist trap. But, if this is your first time in Venice, it truly is a must-do.
Sitting in St. Mark's Square, Caffe Florian opened its doors in 1720. It's the most elegant café in Venice, and even famous people have a quick coffee and breakfast here.
While it's not the cheapest place to eat (I recommend just grabbing a pastry and a coffee), it is quite an experience. Go early in the morning to watch as the square becomes abuzz with activity.
Doge's Palace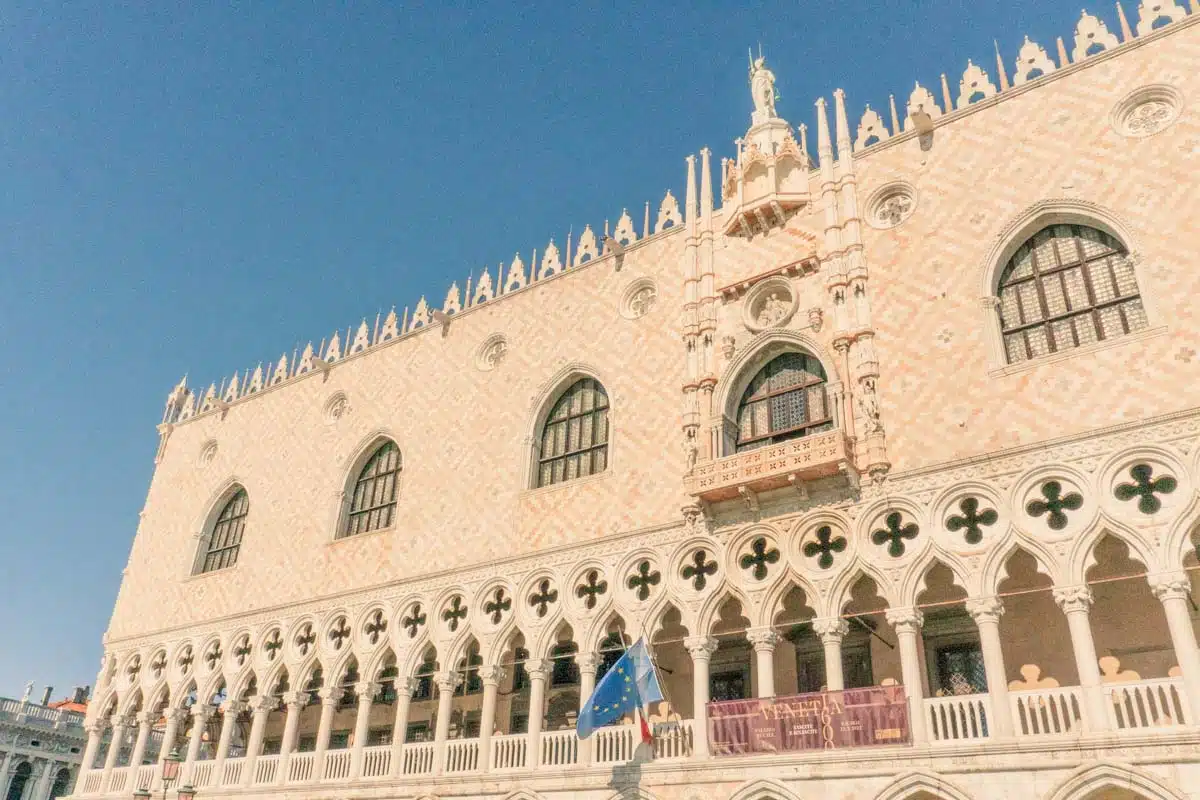 Once you've gotten your caffeine fix for the day, it's time to start exploring St. Mark's famous attractions. And your first stop should be the incredible Doge's Palace.
You'll find numerous grand palaces dotted throughout Venice, but this is one of the most exquisite ones.
Doge's Palace dates back to 1340 and features Venetian Gothic-Style architecture. Once the headquarters of the former Venetian Republic, it is now a museum and is an epic place to learn about Venice's history and art.
As you walk inside, the Great Council Chamber will capture your attention immediately. Its ceiling has incredible paintings encased in gold picture frames.
Tip: Consider booking a guided Doge's Palace tour that includes priority entrance to save time and avoid crowds.
St. Mark's Basilica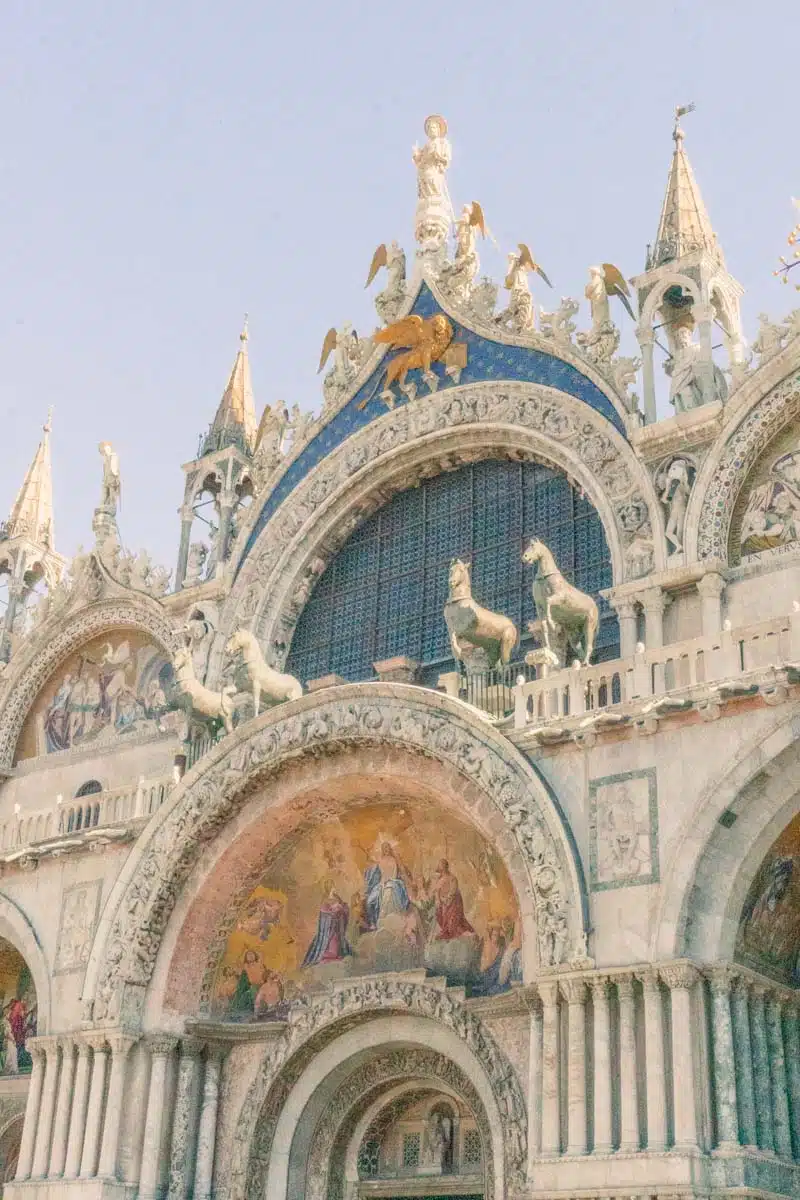 After you've explored Doge's Palace, it's time to head over to another one of Venice's top landmarks. I'll be honest, it's hard to miss the Basilica because it's such an imposing structure.
It's one of Venice's oldest churches and features various architectural styles, including Gothic, Romanesque, and Byzantine.
But the interior is equally impressive, with high vaults, artwork, and gold mosaics. Please be aware that if you visit St. Mark's Basilica, you must bring a shawl or scarf to cover your shoulders; short clothing is not permitted.
Tip: Because of your limited time in Venice, I advise booking a fast-track entry ticket to avoid standing in time-wasting long lines.
St. Mark's Campanile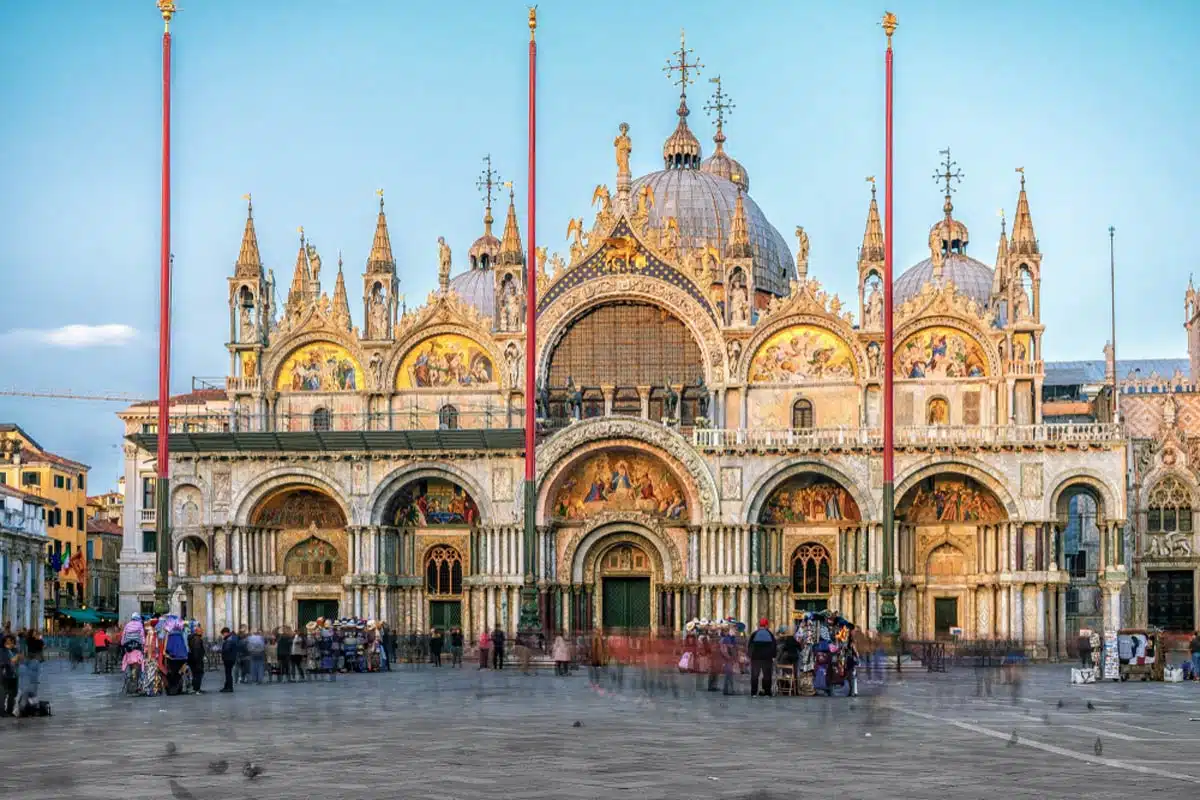 Day 1 is in full swing, and next up is a visit to the tallest building in Venice – the St. Mark's Campanile. Standing at a dizzying height of 98.6 metres (323 feet), it's one of the first places you'll see when you enter Venice.
Why is St. Mark's Campanile so tall? Well, pals, this was the city's main watchtower and was previously used to guide ships into the Venetian Harbour.
And, because of its location on the Grand Canal and its height, this is one of the best vantage points in Venice. Once you reach the top of the tower, you'll get 360-degree views of the city that you won't get from any other building in Venice.
Gran Teatro La Fenice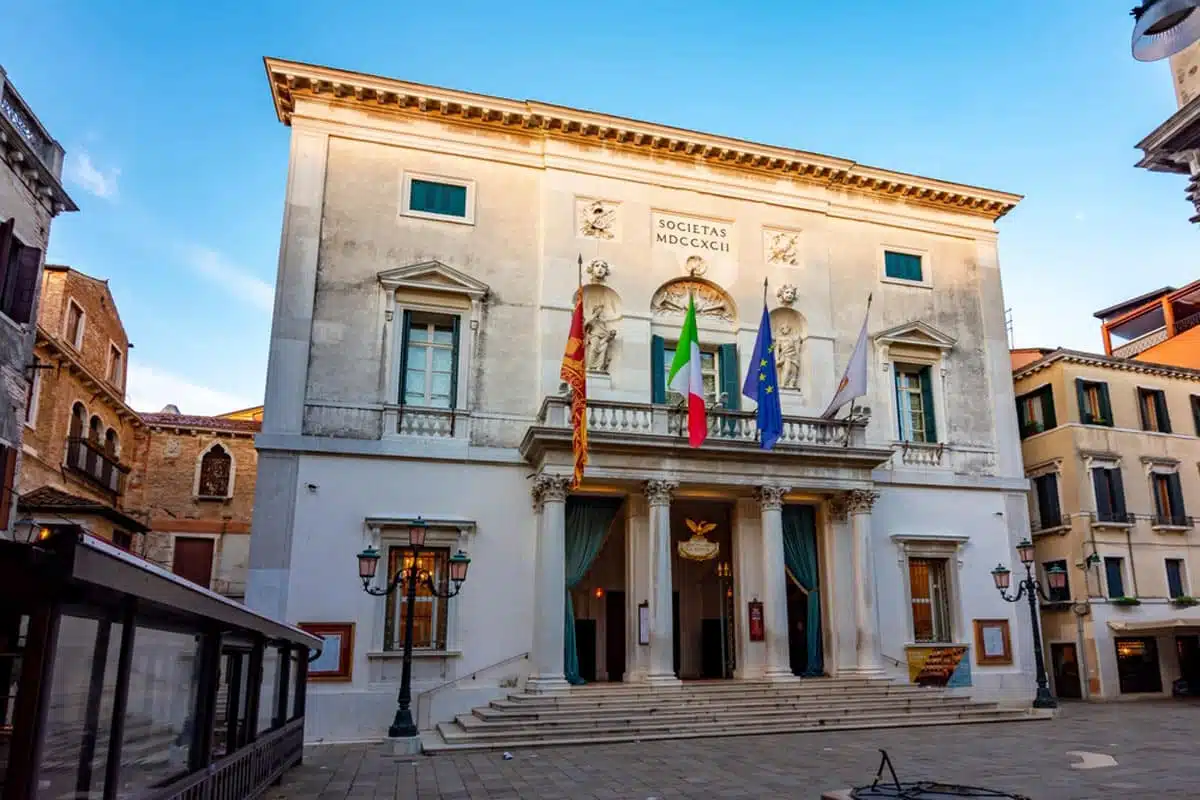 After you've marvelled at the Floating City from the top of St. Mark's Campanile, it's time to head back down to the ground and pay a visit to the Gran Teatro La Fenice. This is the most important opera house and theatre in the city.
In fact, it's one of Italy's oldest theatres and opera houses, built in 1792. After sustaining severe damage over the centuries, it has aptly earned the name La Fenice (The Phoenix).
From the outside, it seems like a plain Venetian building. But don't let that fool you – once you step inside, there's a world full of grandeur and beauty. The theatre has exquisite ceilings with artwork, chandeliers, red seats, and gold boxes.
Just standing in the theatre is an experience in itself. If you are fortunate enough, you can always head back in the evening and catch a show to experience its true magic.
Tip: This short 1-hour guided tour is an effective way to see this incredible landmark if you only have two days in Venice to spare.
Jewish Quarter (Cannaregio)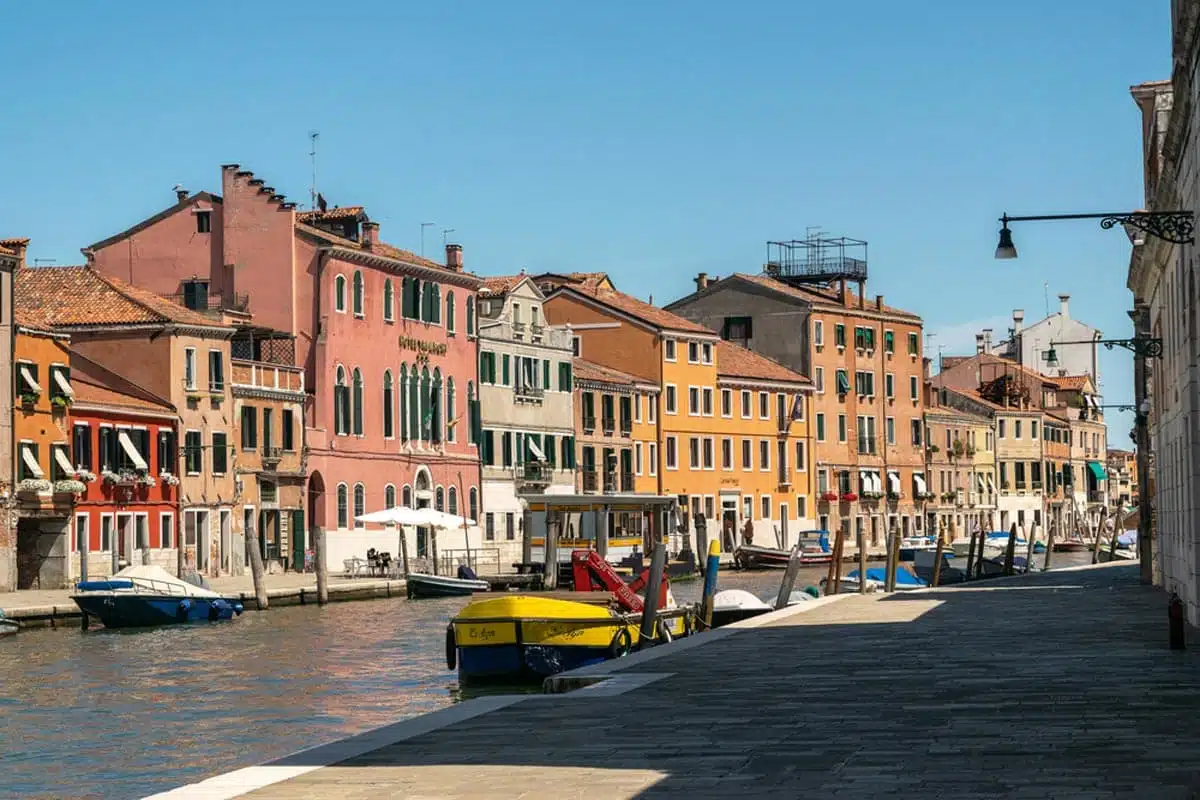 Now that you've seen all the main attractions in St. Mark's Square, it's time to cross the Rialto Bridge and make your way over to the Jewish Quarter in the Cannaregio area.
This is one area that is rich in history and culture, so I couldn't leave it out. In 1516 the Venetian Council forced all Jews to live in a place called the Ghetto; the aim was to try and isolate Venice's Jewish population and break their spirits.
In the evening, guards locked the area and patrolled it, ensuring no one escaped. During the day, the Jews had to wait for yellow patches on their clothing to identify themselves when they left the area.
However, it remained a lively area with the community aiming to make the best of their circumstances.
Today it remains a buzz with activities, although very few Jewish residents are still in the area. You can take a leisurely walk around, visit the Jewish Community of Venice Museum, artisan workshops and shops, and grab something to eat at a nearby café.
Tip: While you might want to explore the Jewish Quarter by yourself, you can also go on this 2-hour guided walking tour. An experienced guide will delve into the area's history and point out hidden gems along the way.
Rialto Market
After spending a few hours in the Cannaregio area, it's time to make your way back across the Rialto Bridge and stop at the Rialto Market. This is the oldest market in Venice, even pre-dating the Rialto Bridge by about 100 years.
In fact, a large part of building the Rialto Bridge was so residents could access the market more easily. This lively and colourful market has three main sections that sell meat, fish, and fresh produce.
If, at this point, you've worked up an appetite (which, after all the walking you've done, is quite reasonable), this is a fantastic place to eat. There are more than a few cafés and restaurants serving mouthwatering Venetian dishes.
Rialto Bridge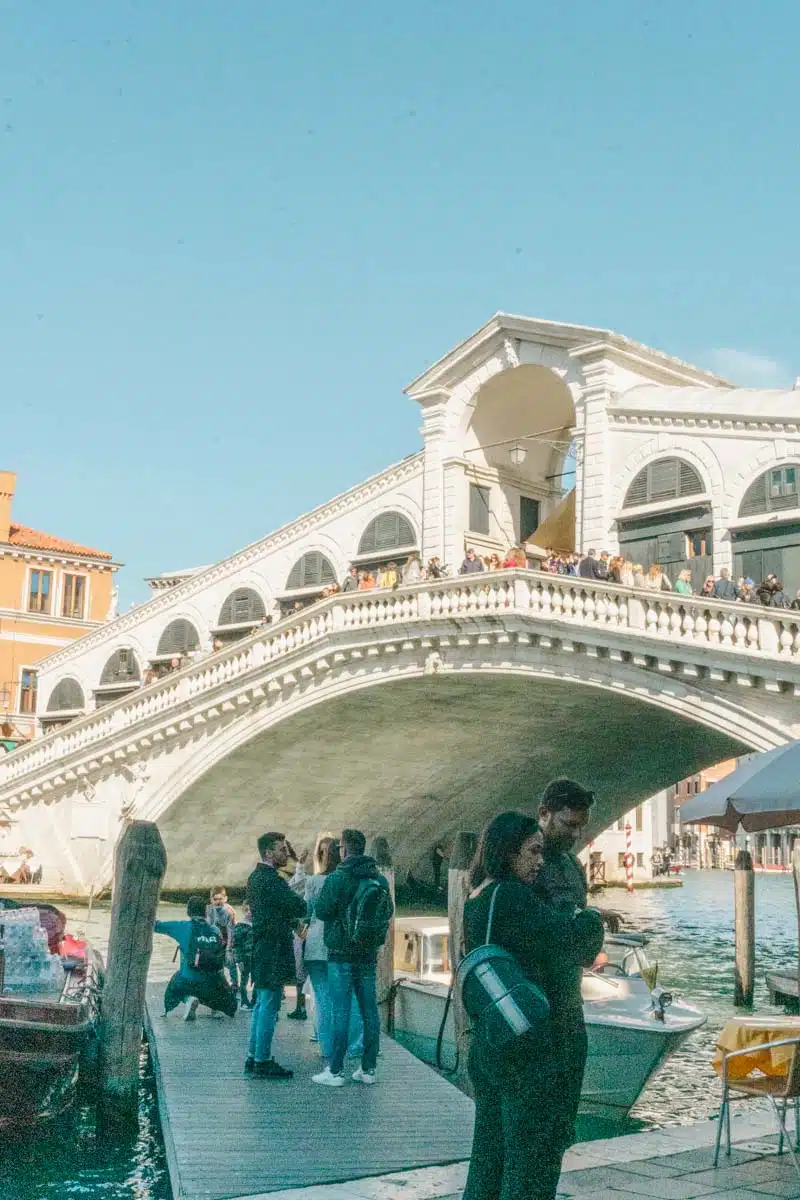 As the sun sets, I urge you to return to Rialto Bridge for a golden photo opportunity. This is the oldest of the four bridges that stretch over the Grand Canal, first built as a simple pontoon bridge in 1181.
The Rialto Bridge is a true symbol of Venice and one of the first places you'll see when you enter the city. Today it's a solid stone bridge that has two arches, connecting the Grand Canal with the San Marco and San Polo Districts.
In fact, it's only a short 1-3 minute walk from St. Mark's Square to the Rialto Bridge. When you step onto this iconic structure, you'll walk across a set of wide stairs, with stalls lining each side of the bridge.
The Rialto Bridge is always busy and, because it looks like a high street with all its shops, you can easily forget that you're walking across the Grand Canal. This landmark is the best place for views of the Grand Canal, so it would be criminal to skip it as the city is illuminated in an orange hue.
Cruise down the Grand Canal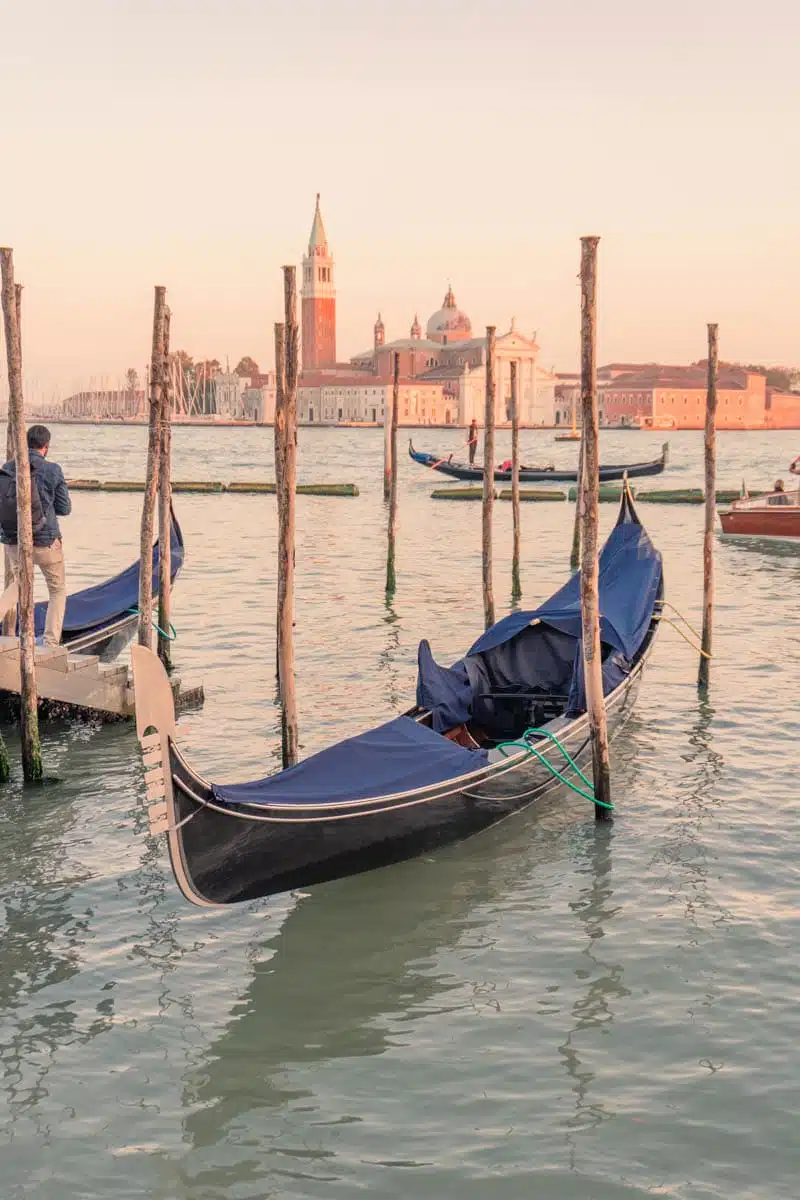 To top off your epic first day of exploring, why not take a gorgeous evening gondola ride? You'll see how magical Venice is as you glide across the water and watch as the sun glistens over the Grand Canal.
But let's be real – gondolas are not cheap. So if your budget is tight, then I suggest skipping this.
However, you can still hop on a Vaporetto and sail around the Grand Canal. True, it may not be as romantic, but it's a lot cheaper, and you'll get to see the same views.
After that, it's time to rest up for your last day in Venice.
Tip: The standard price for a gondola ride is €80. However, it's not uncommon for gondola operators to overcharge tourists. Check out my guide on taking a gondola in Venice so no one can take you for a ride (pun intended).
Venice Itinerary Day 2: Other Activities
After starting the day with a hearty Italian breakfast, it's time to head off and explore some more of Venice's gems. Here's what you can look forward to on your final day in the Floating City.
Basilica di Santa Maria Della Salute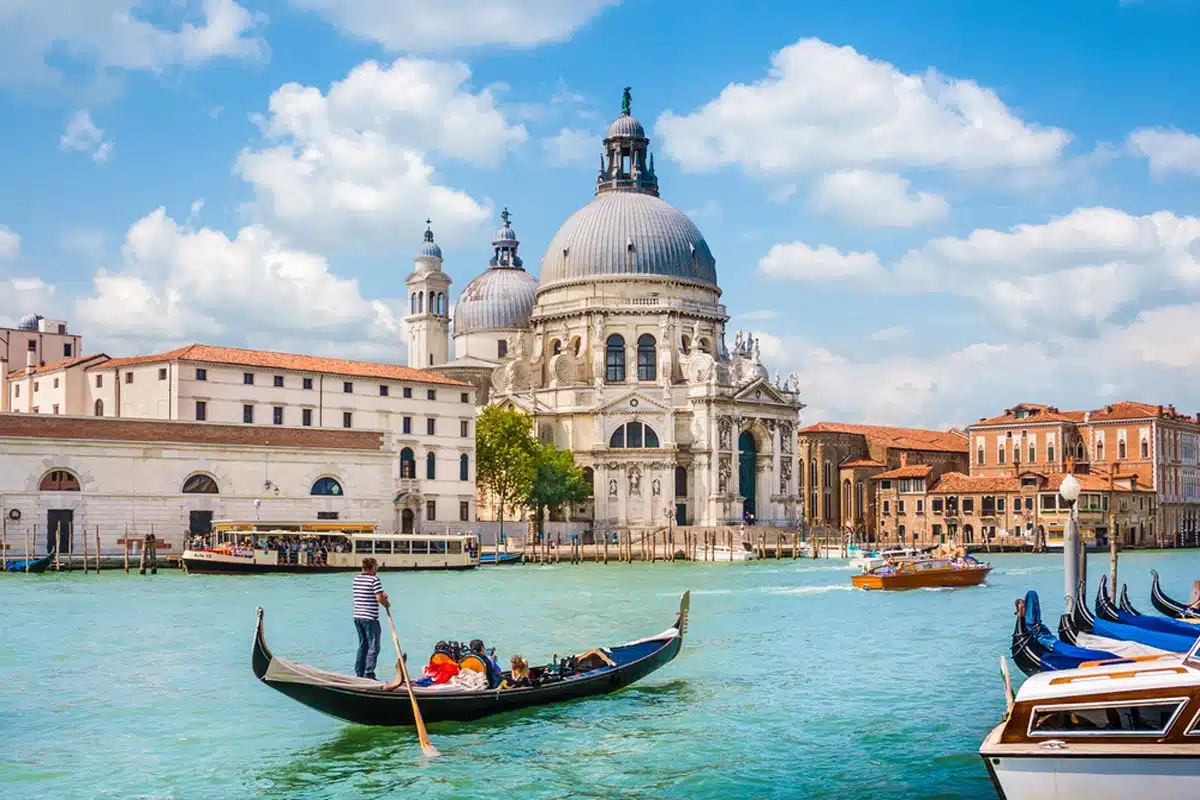 One Venetian landmark you cannot miss is the Basilica di Santa Maria Della Salute. Not because you'd want to, but simply because it's impossible. This imposing structure sits along the southern end of the Grand Canal. Because of its position, you can see it from anywhere in the Canal.
Built in 1631, the Basilica commemorates the end of the Black Plague that killed thousands of Venetians. The building honours Our Lady of Health for her deliverance (salute) of the city.
The outside features the distinct Baroque architectural style with white limestone, intricate details, and its signature blue dome ceiling.
While the inside is just as impressive as the outside – your eyes gravitate to the high ceiling that emits abundant natural light from its glass windows.
You'll also find statues, tall white stone pillars, wide arches, and exquisite marble floors with highly decorative designs.
Note: Wear clothing that covers your shoulders and legs when entering this building.
Peggy Guggenheim Collection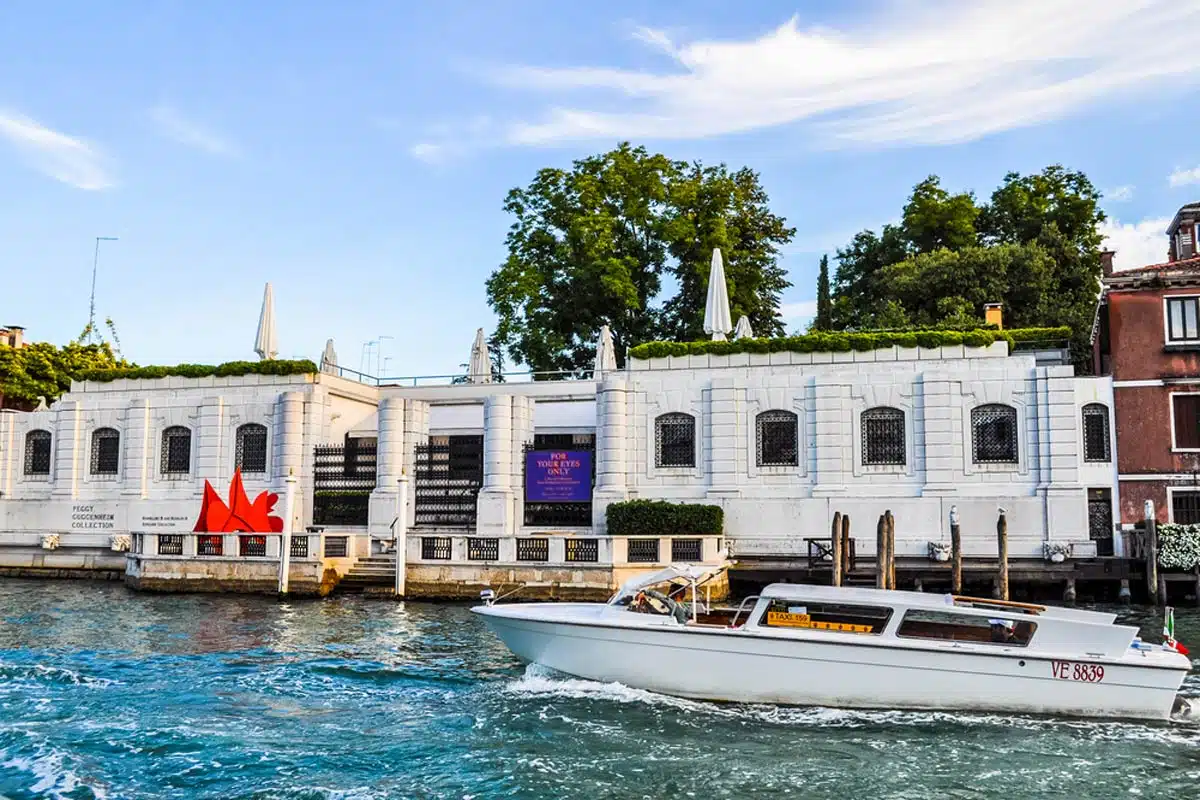 After marvelling at the impressive Basilica di Santa Maria Della Salute, head over to one of the most incredible art museums in the world. The Peggy Guggenheim Collection is a treasure trove of contemporary art.
The museum sits the Palazzo Venier Dei Leoni along the Grand Canal. It was also the home of American socialite and art collector Peggy Guggenheim which she had commissioned in the late 1940s.
Today the museum houses an eclectic mix of European and American art. You'll find the delicate artworks of more than 200 artists, including Picasso, Dali, and Magritte, collected by Peggy herself.
Apart from the museum, there is also an extensive library for you to check out. If you have time, you can stroll in the museum's garden or enjoy something at the café. Though, I would urge you to skip that in favour of seeing more of the city.
Tip: Book this Peggy Guggenheim Collection entry ticket beforehand to save time.
Gallerie Dell'Accademia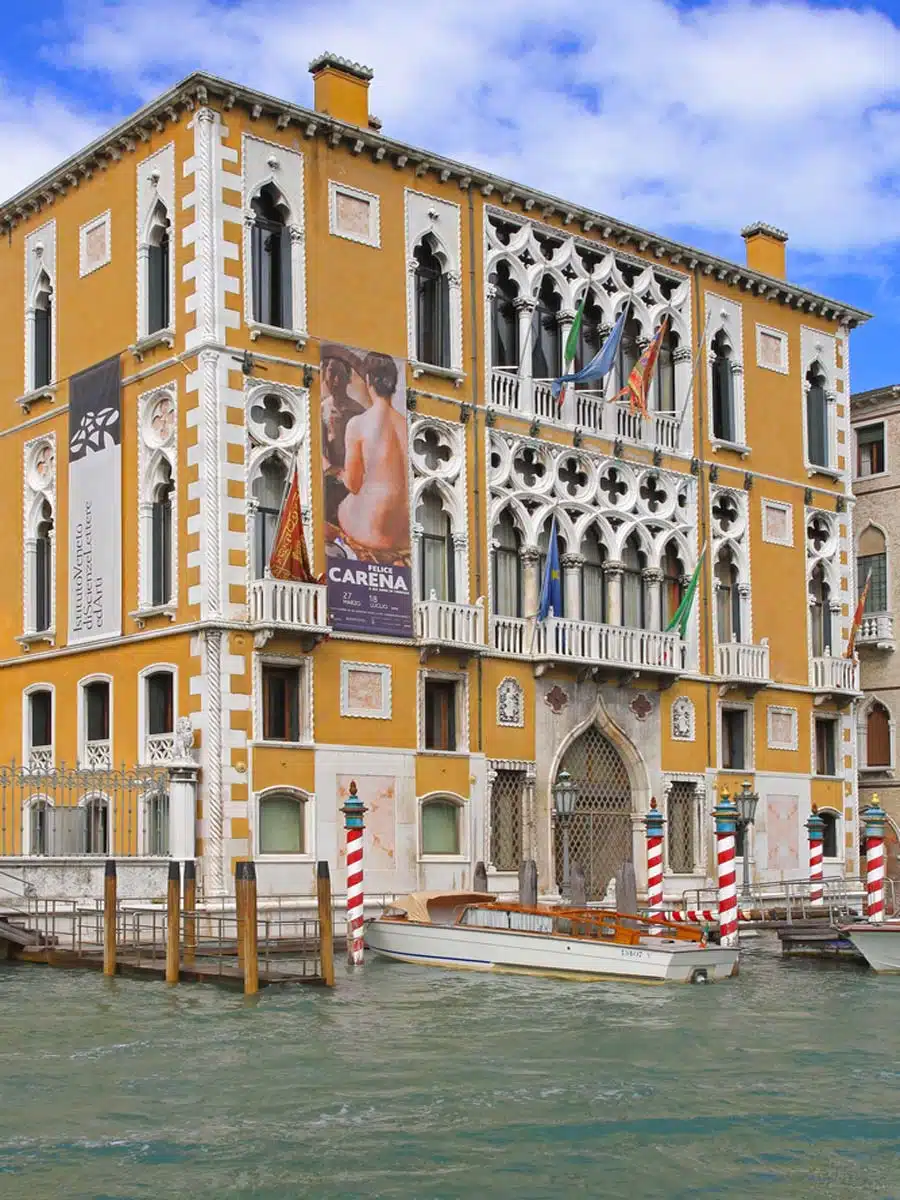 Making your way from one fine art museum to the next, the Gallerie dell'Accademia is the next place on the list. This is one of the oldest fine arts museums in the world, originally opening in the late 18th century.
The museum started as a school teaching art and sculpture. It later included classes on art restoration and was the first museum to do this. Today it houses the most extensive collection of Venetian art predating the 19th century.
There are more than 800 paintings from leaders in the fine arts world, including Guardi and Tinroterro. That said, the Vitruvian Man by Leonardo da Vinci is the museum's most famous painting (and why I was so desperate to visit). Sadly, though, it's hardly displayed since the drawing is highly fragile.
Ponte Dell'Accademia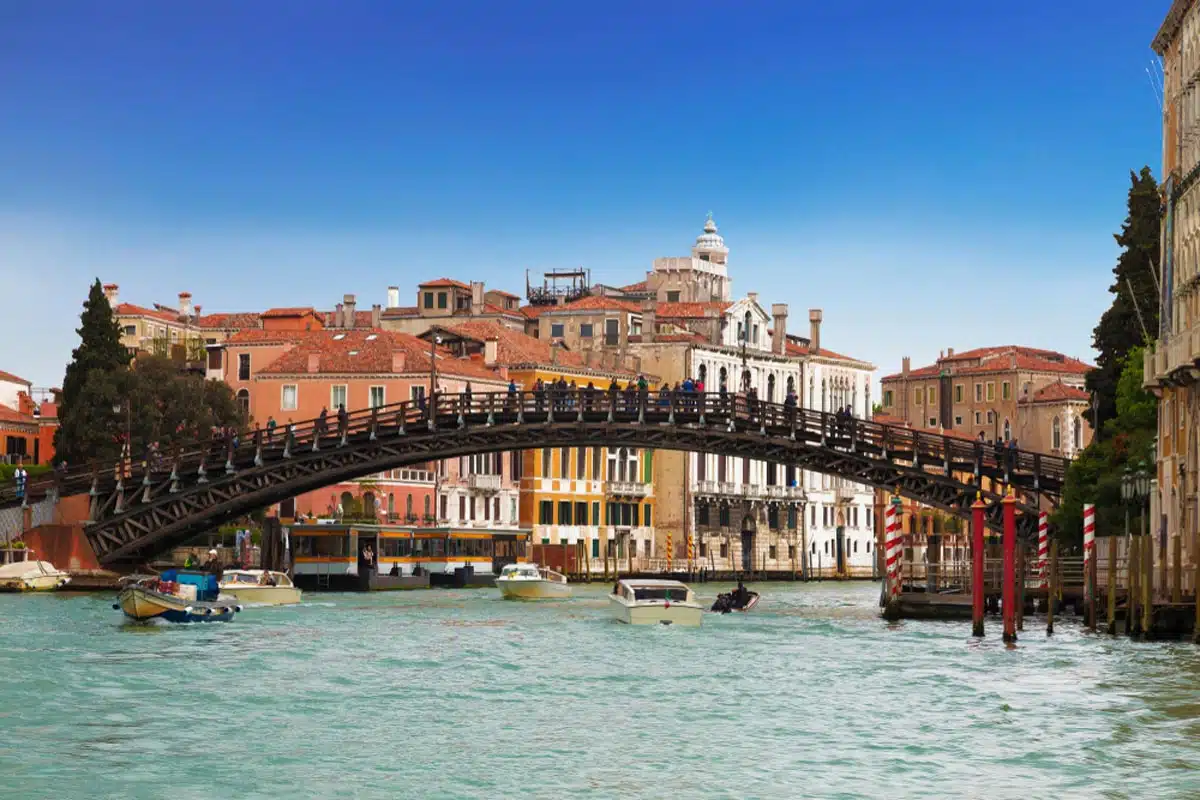 The next stop on the list is the Ponte dell'Accademia. This is one of the four bridges that crosses the Grand Canal and is only a short walk from the gallery. While it's not as famous as some of the other bridges in the city, it still offers some of the best views of the Grand Canal and is worth passing by.
It's also one of the oldest bridges in Venice, dating back to 1488. It connects the San Marco and Dorsoduro districts with the Peggy Guggenheim Collection and Gallerie dell'Accademia.
After crossing the bridge and admiring the views over the Grand Canal, take a stroll to the Calle Nuova Sant'Agnese. You'll find numerous quirky cafés where you can grab a freshly baked pastry or dessert and refreshments.
Explore the Dorsoduro District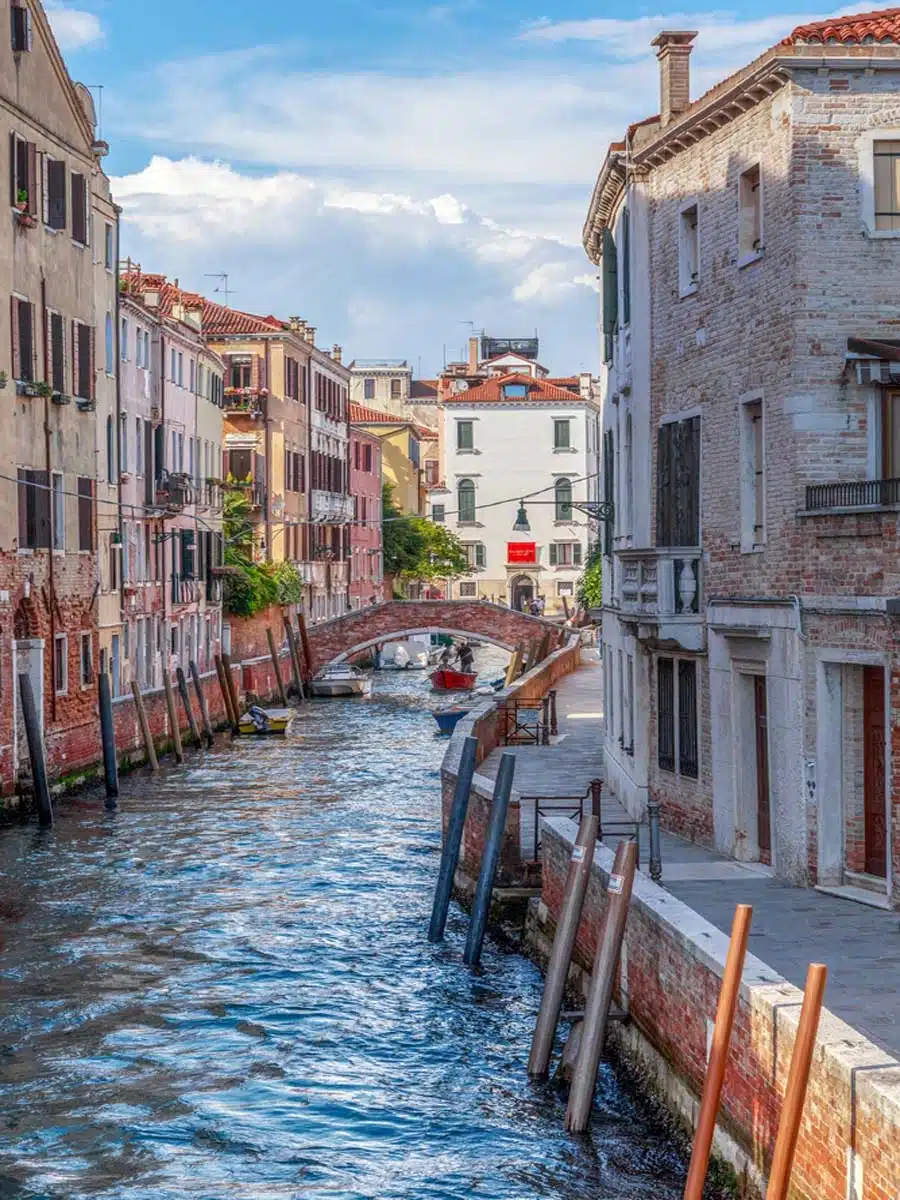 If you cross the Ponte dell'Accademia, you end up in the trendy Dorsoduro district. This is one of the quieter areas in Venice and is a great place to escape the crowds that take over the San Marco area.
Generally, food prices and souvenirs are much cheaper in this area, so if you want to do any shopping, then this is the place to be. This is a wonderful place to pick up some Murano glass without travelling to the island of Murano.
Another thing that you can also do is attend a mask-making workshop and walk away with one of the personalised carnival masks that the Venetians are famous for.
Or, have you ever wondered how the Venetians make gondolas? You don't have to wonder anymore because you can catch a glimpse of the process through a gondola-making workshop. Mind = blown.
Admire the Bridge of Sighs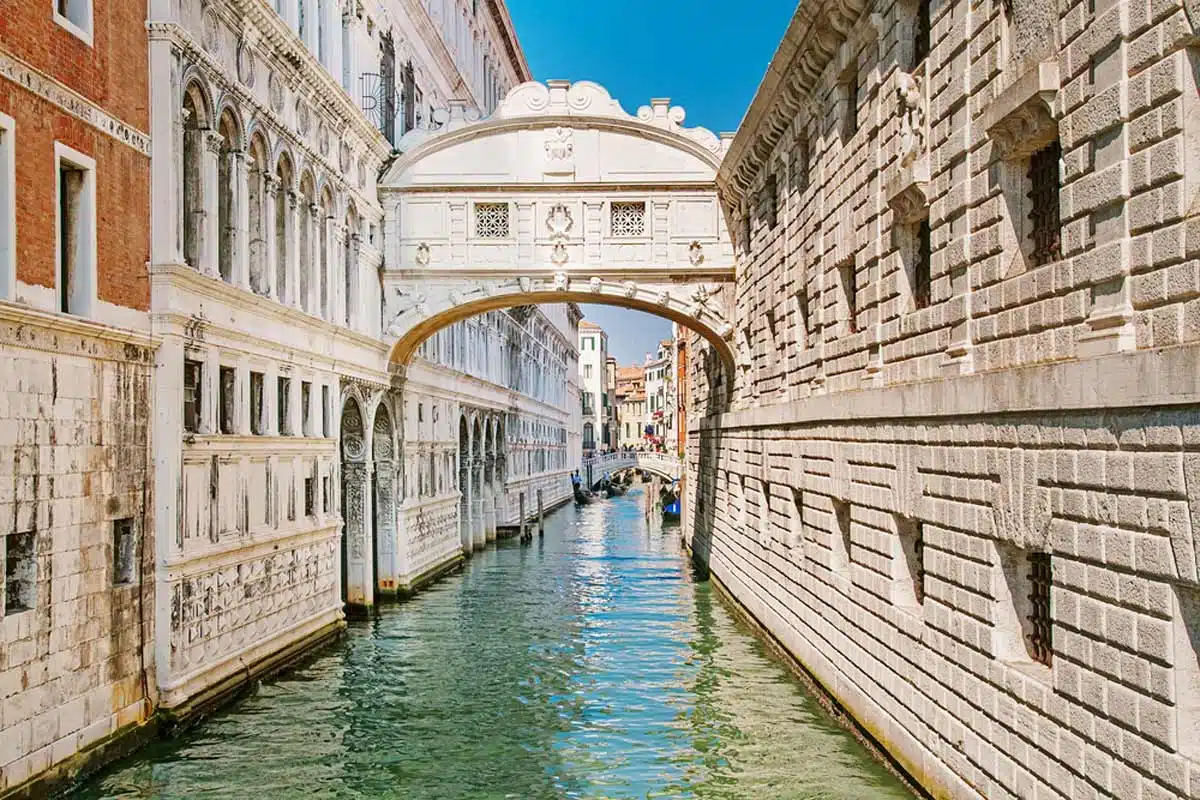 Making your way back over the Ponte dell'Accademia, it's time to head back to the San Marco District and marvel at the iconic Bridge of Sighs.
Built in 1602, this limestone bridge connects the New Prison with the interrogation room in Doge's Palace. The government made it so that they could transport prisoners from the palace after prosecution to the prison without ordinary citizens seeing them.
According to locals, as prisoners crossed the bridge, they would take one last look over the canal and sigh at the loss of their freedom.
You'll see this small but decorative bridge from the boat with its stone bars and windows hanging above the Rio Palazzo.
Climb Up Othello's Staircase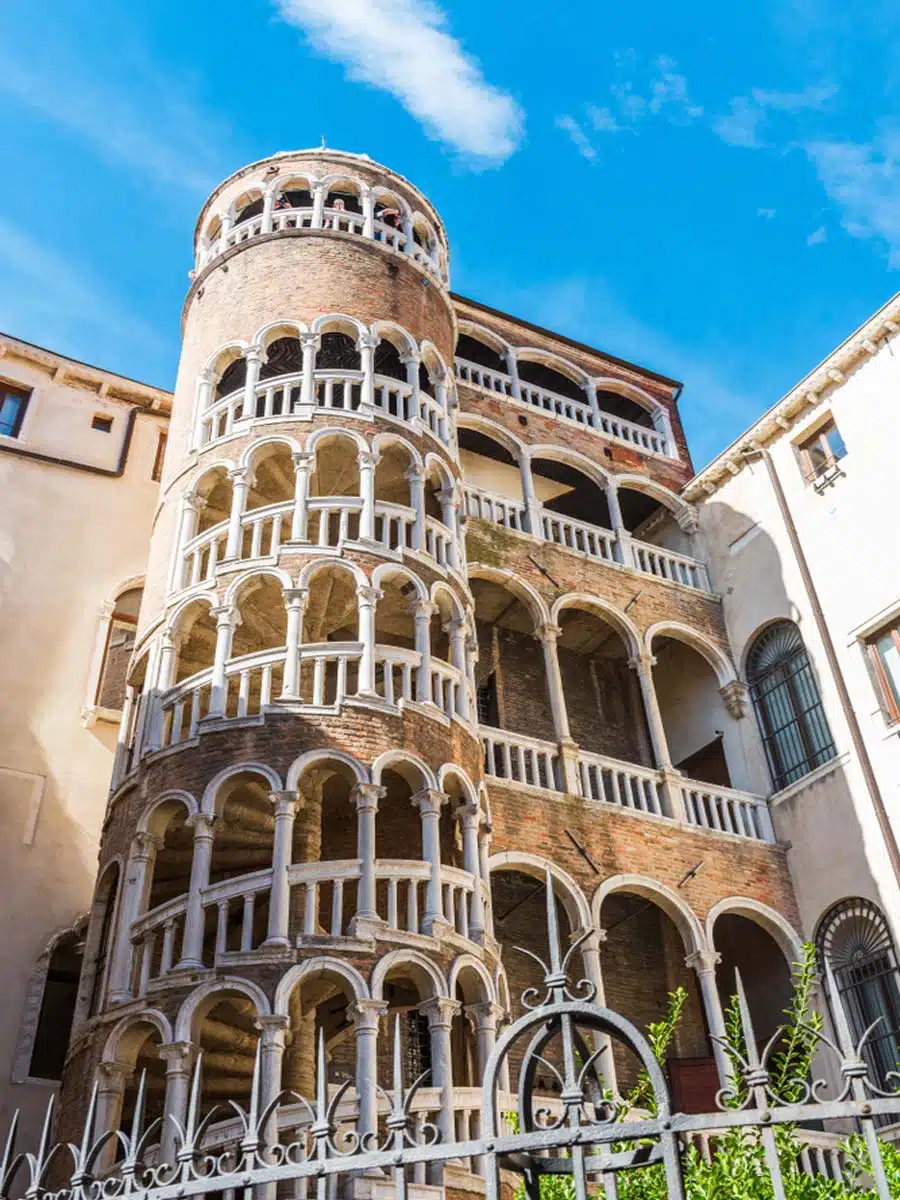 Recognise the story of Othello? I thought you might. This is one of Shakespeare's most famous literary works set in Venice.
This staircase, which is a short distance from the Bridge of Sighs, is instantly recognisable from many film adaptations of Shakespeare's play.
It's tucked away in the Palazzo Contarini del Bovolo. The building features a mix of architectural styles and snakes around the palazzo, leading up to a rooftop terrace. From there, you can either pretend to be on the set of Othello or simply admire the views of Venice.
Enjoy a Sunset Walk Along the Grand Canal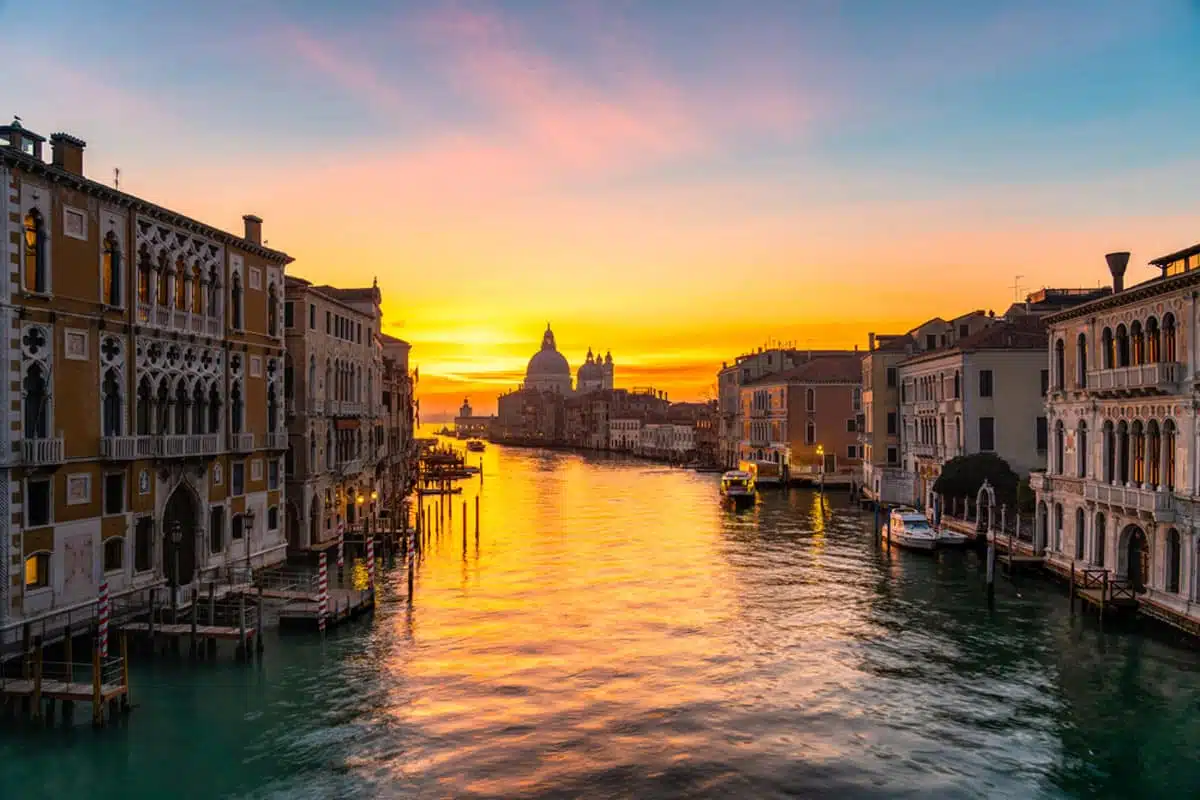 As your final day in Venice ends, one of the best things you can do is to take a stroll along the streets running down the Grand Canal. Whether you take a sunset walk alone or with your significant other, it's still pretty special.
Venice is pretty cool during the day, but it becomes even more magnificent once the sun starts setting. Stop and take a moment to watch as the hues of orange, red, and purple colour the Grand Canal's waters.
End the Day Off With Cocktails and Cicchetti
Round off your two days in Venice the Italian way – with food and alcohol. But since Italians often eat late in the evening, you might want something to snack on in between.
That's where aperitivo comes in – the Italian version of happy hour where you can sip wine or an Italian drink called spritz. This pairs well with cichetti – the Venetian rendition of tapas.
This includes small servings of seafood or meat dishes, half-boiled eggs, sandwiches, crostini with various toppings, and bowls of olives. Some people choose to have them individually or make a meal out of it by ordering a cicchetti platter that comes with multiple options.
There are special cicchetti bars you can go to for something light to eat. It's also an authentic Venetian experience and is usually cheaper than dining at a restaurant. Plus, you're usually surrounded by locals – a dreamy way to end a trip, if you ask me.
Venice 2 Day Itinerary: Map