Discover the best things to do in Burano, Italy, with this practical guide.
Burano is a small island located in the Venetian Lagoon, just a short boat ride from Venice. 
A vibrant spot known for its brightly-coloured houses, lace making tradition and delicious seafood cuisine – you simply have to visit on your trip to Venice. 
A day trip to Burano is the perfect way to escape the hustle and bustle of Venice and enjoy some peace and quiet in a beautiful setting. Here's what you need to know before you go.
Quick Tip: Save yourself the hassle of organising your own transport and book onto this brilliant guided day trip to Burano, Murano and Torcello from Venice 
Why Visit Burano?
Burano is a UNESCO World Heritage Site that is known for its well-preserved Venetian architecture. The island is home to some of the most colourful houses in Italy, which makes for great photo ops!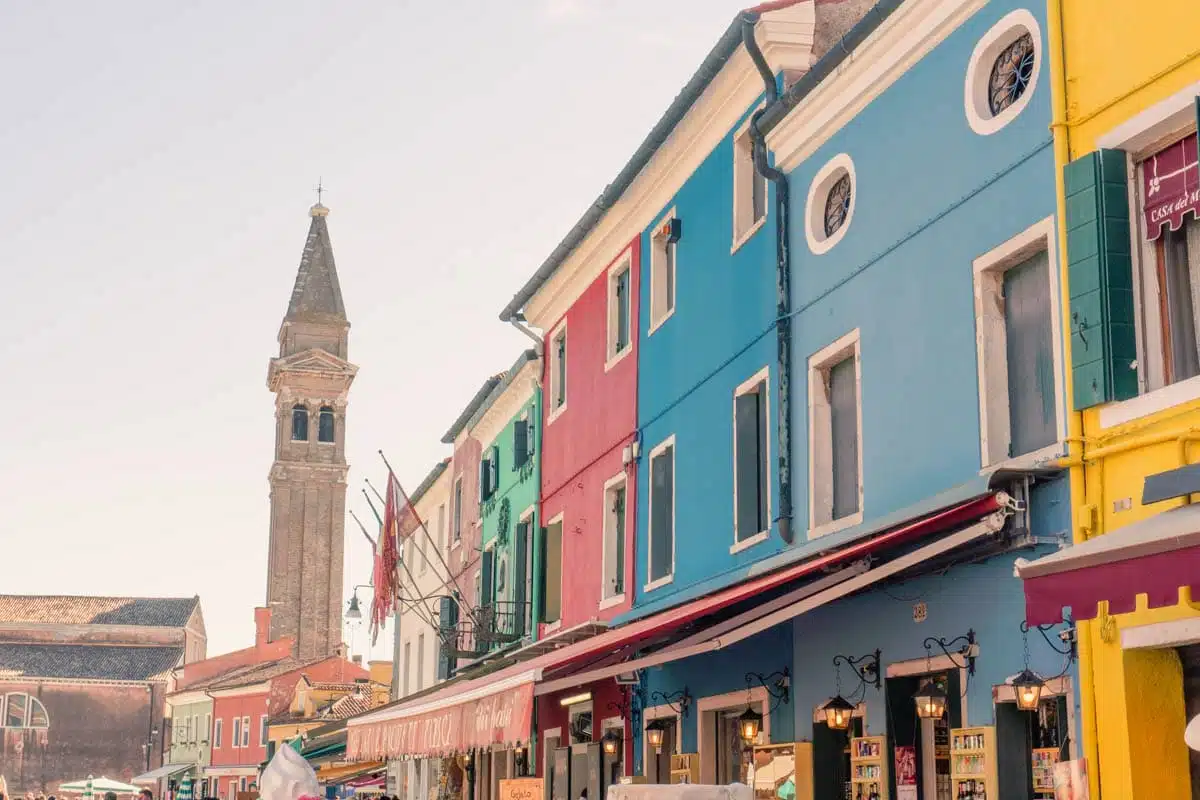 Prettiness aside, Burano is also famous for its lace making tradition, which dates back to the 16th century. You can watch the lace makers in action at one of the many workshops on the island, or even purchase some beautiful lace souvenirs to take home with you.
Thanks to a prime location on the Venetian Lagoon, no trip to Burano would be complete without sampling its delicious seafood cuisine.
Local specialties include anchovies, sardines, and squid, all of which are cooked in a variety of tasty ways. So be sure to indulge in a seafood feast while you're on the island!
Things to do in Burano
See Burano's Colourful Houses
One of the main attractions on Burano is its colourful houses.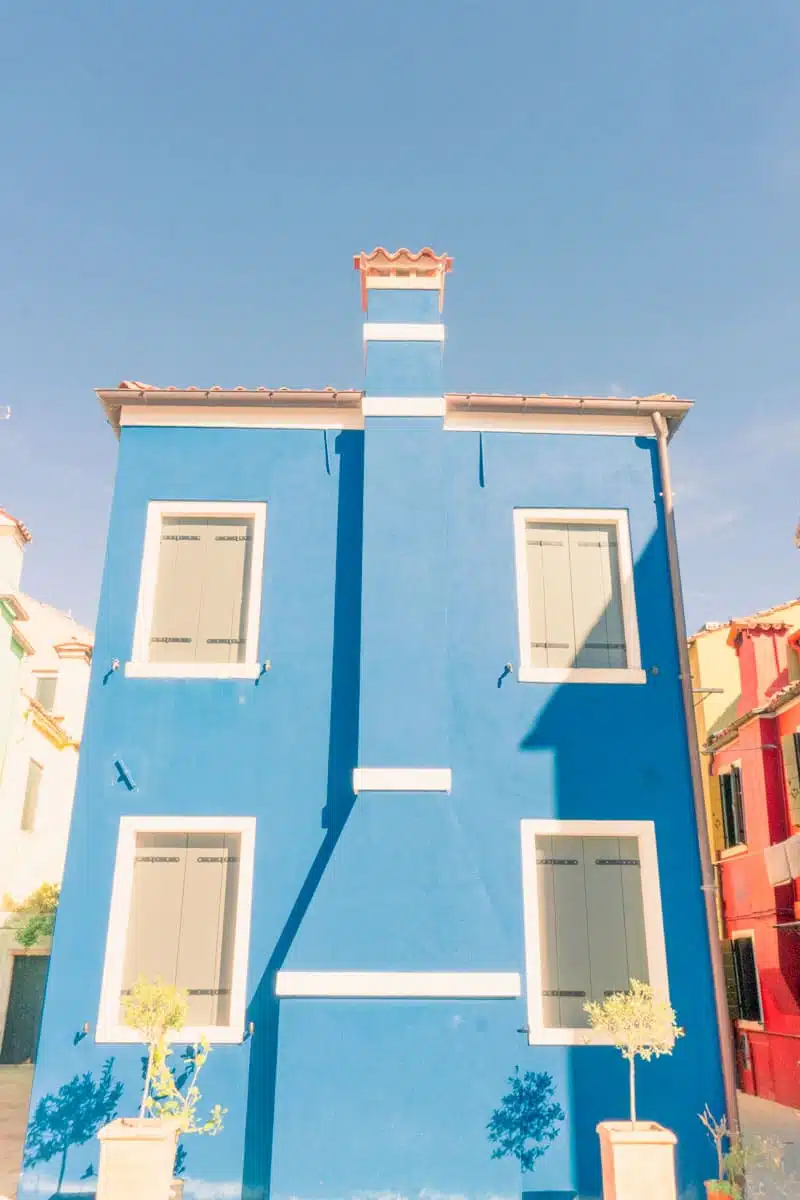 There are no two houses that are exactly alike, so be sure to wander around the island and take in all the sights. You'll find a rainbow of colours on display, from vibrant pinks and blues to muted greens and yellows.
Burano's colourful houses date all the way back to the 16th century! They're actually protected by local laws, so no one is allowed to paint their house a different colour without getting permission first.
It might sound a bit restrictive but the end result is a kaleidoscope of colours and one of the most stunning places to visit in Italy.
If you want to get some great photos of the houses, head to Piazza Galuppi. This square is located in the heart of Burano and is home to some of the most photogenic buildings on the island.
Take a Look At The Leaning Tower of Burano at the San Martino Church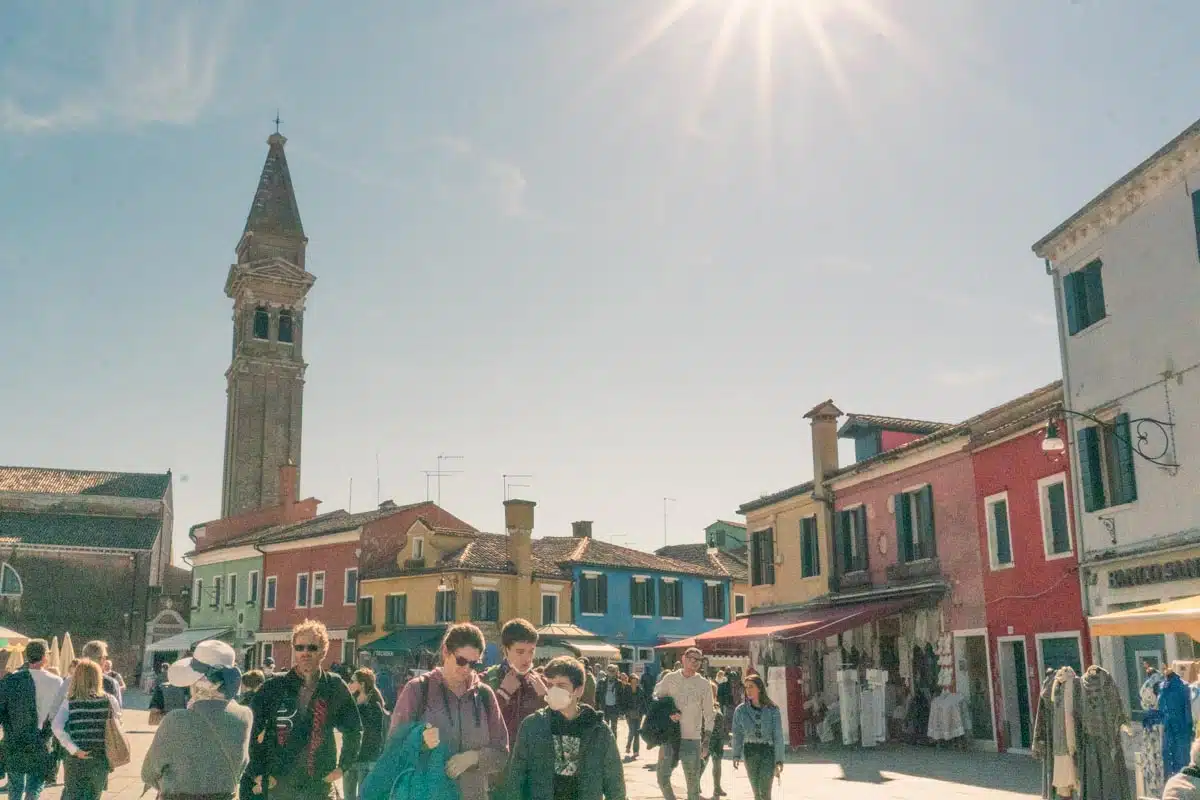 Be sure to snap a picture of the iconic " leaning tower" of Burano, which is a bell tower that leans quite drastically to one side.
It's not quite as famous as the Leaning Tower of Pisa, but it's still a pretty cool sight to see.
Sample Burano's Delicious Seafood Cuisine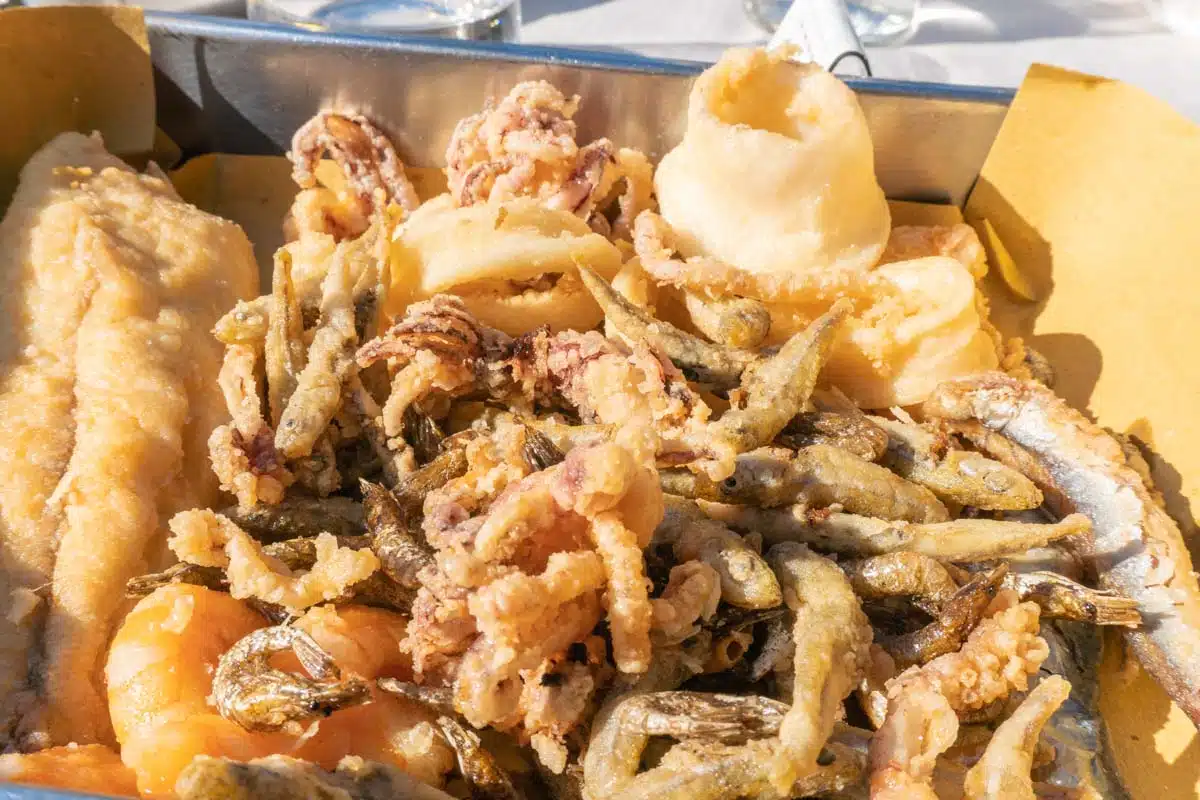 As I mentioned before, one of the best things about Burano is the chance to sample some of its delicious seafood cuisine.
There are plenty of restaurants on the island where you can sample some of the local dishes. Be sure to try out some of the classics, like anchovies, sardines, and squid. You won't be disappointed!
The best restaurants to try in Burano are Ristorante Da Romano, Trattoria al Gatto Nero, and Osteria da Pomponio.
Take a Boat Ride Around The Venetian Lagoon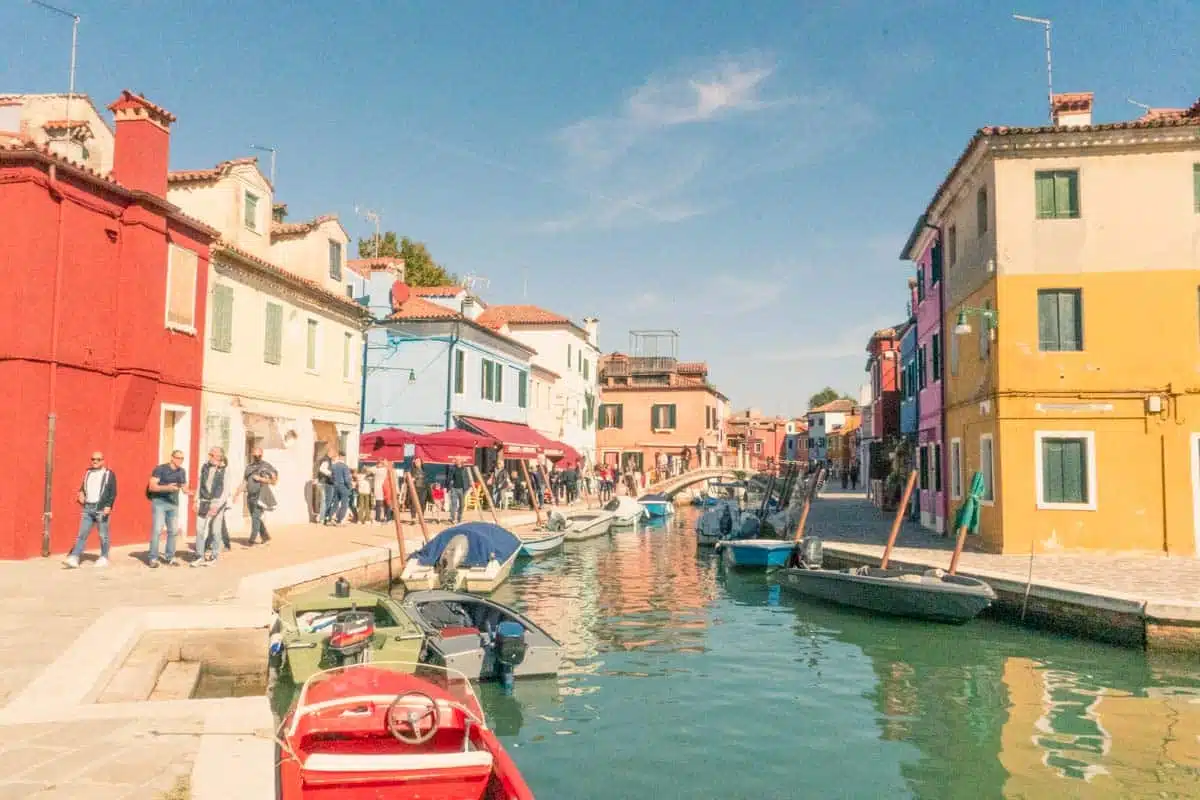 If you want to explore more of the Venetian Lagoon, why not take a boat ride?
There are plenty of companies that offer boat tours, which will take you to some of the other islands in the lagoon, as well as Venice itself. It's a great way to see more of this beautiful area and enjoy some stunning views.
How to Do It: Book This Day Trip to Murano, Burano and Torcello
Visit a Lace Making Workshop
Lace making is one of the oldest and most traditional crafts in Burano.
If you want to learn more about this centuries-old tradition, be sure to visit one of the many lace making workshops on the island. Not only can you see the lace actually being made, you can take advantage of the opportunity to buy some handmade lace to bring home with you.
Visit The Lace Museum
If you're interested in learning more about Burano's lace making tradition, be sure to visit the Lace Museum.
This museum is dedicated to showcasing the history and art of lace making, and it features some beautiful examples of this intricate craft.
It's a great place for those who want to learn more about this unique aspect of Burano's culture.
Practical Tips for A Day Trip from Venice to Burano
The Best Time to Visit Burano
If you're planning to visit Burano, try and visit in quieter seasons, or at least away from the weekend. The island can get quite busy, so it's best to avoid the crowds if you can.
Case in point? On my last visit, we went on a Sunday in October and even then, the Vaporetto queue to get back to Venice was hours long (as an aside – you can always try going to Murano and seeing if the boat stops there on the way back to Venice – it's only a short walk over a bridge).
How to Get To Burano from Venice
The only way to get to Burano from Venice is by boat. There are a number of companies that offer private boat tours from Venice, and the journey only takes about 30 minutes. 
You can also catch the Vaporetto number 12 from Venice to Burano, but it will take a bit longer (around 45 minutes).
Where to Stay in Burano
There are a number of accommodation options on Burano, from hotels and B&Bs to apartments and vacation rentals. If you're looking for a place to stay, be sure to check out some of the options below.
Hotels
There are a few hotels on Burano, including Venissa and the Hotel Belvedere. These hotels offer great locations, as well as comfortable rooms and excellent service.
B&Bs
If you're looking for a more intimate experience, why not stay in a B&B? There are a few B&Bs on Burano, including the Night Galleria and the Casa Tipica. These places offer charming rooms and a warm welcome.
Apartments
If you're travelling in a group, or if you want more space, why not stay in an apartment? There are a few apartments on Burano, including the Bruna Holidays House and Casa sul Cielo. These places offer comfortable accommodation and great locations.
Burano, Italy: Map
Love this? Save and share on Pinterest!
Discover More Things to do in Venice