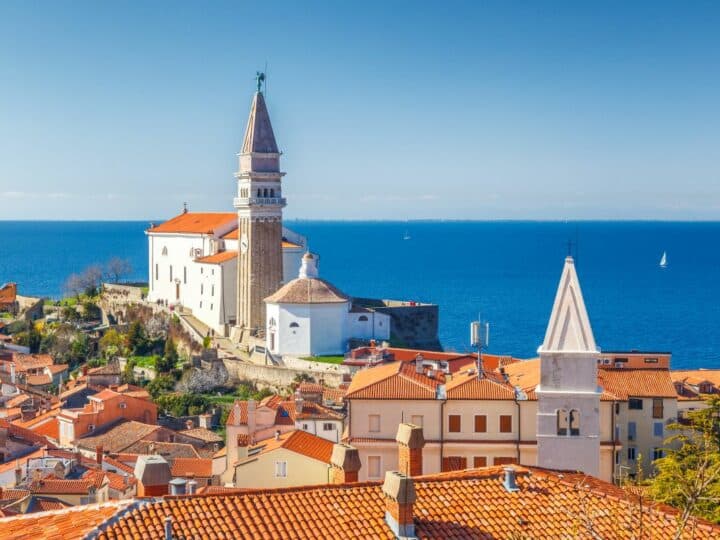 Discover the best day trips from Ljubljana with this handy guide. 15 epic places you need to explore.
Slovenia is the perfect destination for travelers with limited vacation time. Why? Because Slovenia is such a small country, and it's super easy to see a lot of its different regions and nature areas as day trips from Ljubljana, the capital city.
In fact, it would be a shame to come all the way to this beautiful country and only stay within Ljubljana's city limits. While the city is beautiful and full of things to do, staying there would mean missing out on some of the true highlights of Slovenia – its landscapes and countrysides.
Slovenia is full of incredible nature, delicious food and wine, and picturesque villages that you can explore! We created this guide to the best day trips from Ljubljana to help you experience many of the magnificent adventures you can have in the country in a short amount of time.
The Best Day Trips from Ljubljana, Slovenia
Bled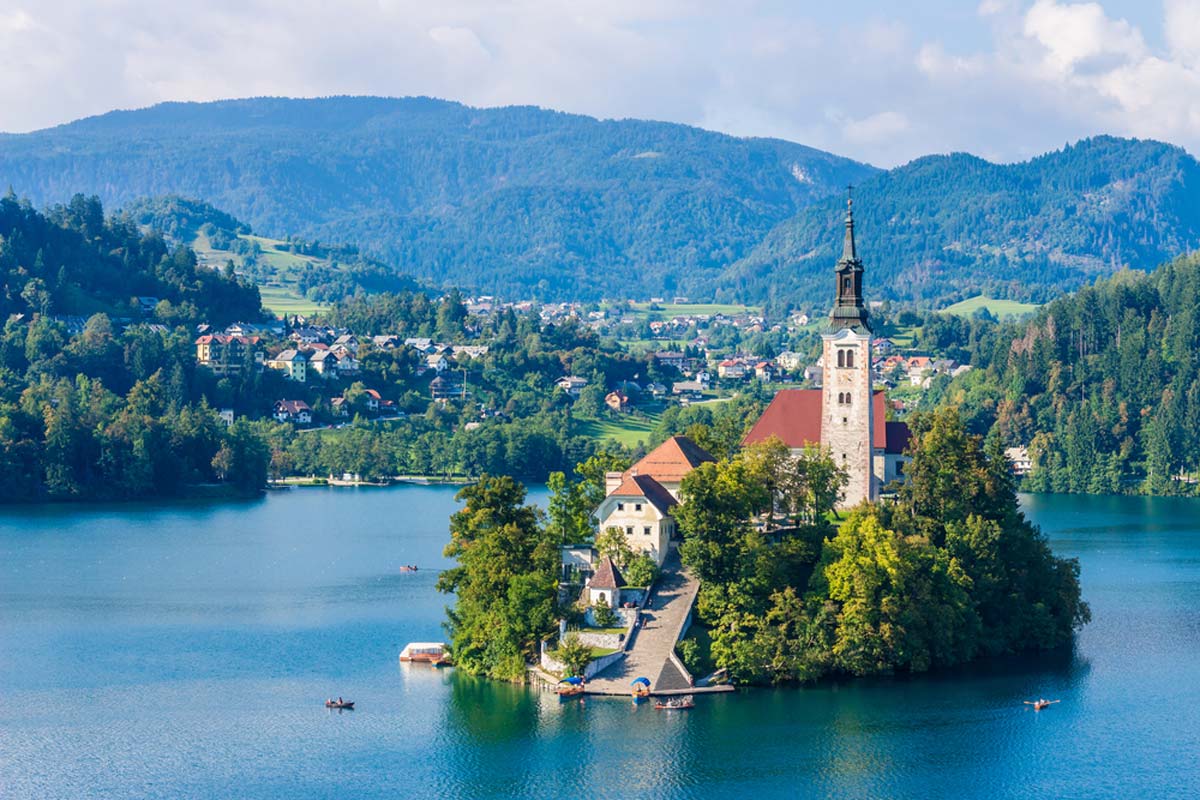 Distance from Ljubljana:

54 kilometers

Estimated Travel Time:

45 minutes (1 hour by bus)

Highlights:

Dreamy, picturesque lake with a church on a tiny island; kremsnita (traditional cream cake)
Many people who visit Slovenia come to see the magical, mysterious Lake Bled. It's one of the most popular day trips from Ljubljana, and if you look at photos, you'll understand why!
Bled gives a fantastic balance of nature, history, and Slovenian culture, and if you only do one of the many-day trips from Ljubljana, I'd strongly recommend this one.
Situated near the Julian Alps and Triglav National Park, Lake Bled is best known for its picturesque island with a Gothic-style church.
The church is actually called the Pilgrimage Church of the Assumption of Mary, and you can visit it by boat year-round. Legend has it that if you ring the church bell, your wishes will come true!
In the summer, visitors can also swim in the lake in the Castle Bathing Area, which is the part of the lake dedicated to swimmers and bathers. Additionally, you can rent a kayak, stand-up paddleboard, or scull and paddle around the lake on your own.
Things to Do in Bled for Outdoor Lovers
Aside from boats and the picturesque church, there are tons of other things to do in the Lake Bled area. For outdoor lovers, head to nearby Vintgar Gorge to wander through the breathtaking rock formations and stare googly-eyed at the transfixing turquoise water.
Alternatively, take a hike to Ojstrica and Osjonica, two postcard-perfect bird's eye viewpoints of Lake Bled, Bled Castle, and the tiny church island. For super serious adrenaline junkies, you can organize a canyoning and rafting tour from Bled to explore some of the town's other nature areas.
Things to Do in Bled for Foodies
Food lovers will enjoy sampling Bled's most famous dish: kremsnita, or cream cake. This layered, fluffy pastry originated at the Park Hotel in Bled, which has an adorable terrace restaurant on the lake.
Head there and order a cup of coffee with kremsnita and watch the world go by, or take a leisurely stroll around the lake's loop trail.
How to Get to Bled
You can take a day trip to Bled in three ways: on a tour, by bus, or by car. By far the easiest way to get to Bled is by booking a guided group tour like this one.
You'll be picked up and dropped off at your hotel in Ljubljana, and your transit and activities (including a trip to the beautiful Vintgar Gorge) will be planned for you! However, this option gives you the least flexibility in your itinerary, so if you want to travel on your own watch, I'd recommend going by bus or car.
If you're coming by car, take Highway E61 straight to Bled, where you'll find signs leading to the town center. You have to pay for parking at Bled, and it's extremely limited, so keep that in mind when you're coming by car.
By bus, you'll want to buy your ticket online or at the Ljubljana bus station and arrive at the station 20 minutes before your scheduled departure.
Kranjska Gora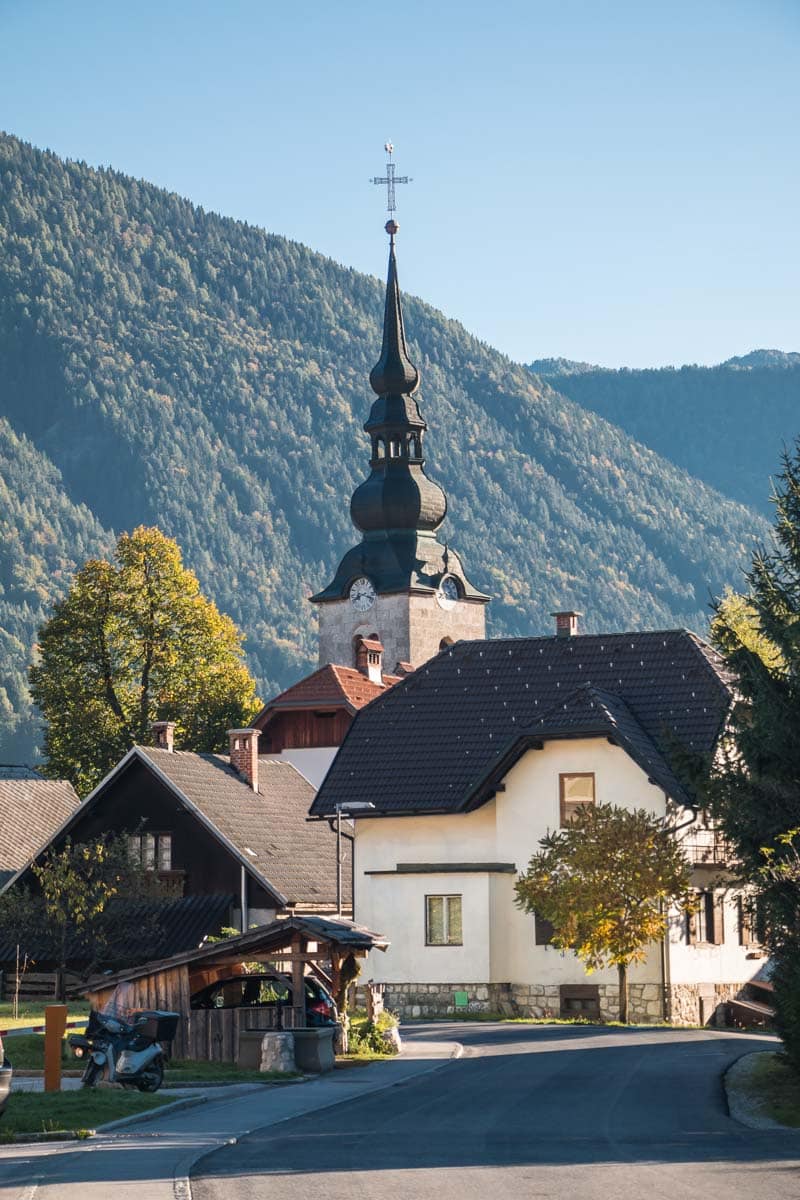 Distance from Ljubljana:

85 kilometers

Estimated Travel Time:

1 hour & 15 minutes

Highlights:

Stunning turquoise alpine lake, fun winter sports hub in the colder months
Kranjska Gora is a small town and alpine region located on the "Three Countries" border between Slovenia, Italy, and Austria.
For people looking to escape the city and get a perfect mix of small towns, beautiful alpine vistas, and a laid-back vibe, Kranjska Gora is one of the most idyllic day trips from Ljubljana.
Kranjska Gora in the Winter
Known most predominantly for its world-famous skiing, Kranjska Gora has ski slopes and areas suitable for beginners through expert skiers of all ages.
In the winter, locals and visitors flock to Kranjska Gora to hit the slopes and enjoy the snow-covered scenery, from the mountaintops to the evergreen trees. For expert-level skiers, the World Cup of ski jumping happens in Planica, near Kranjska Gora, and some of those runs are available for you to try!
Aside from skiing, you can also try cross-country skiing, winter hiking, snowshoeing, and more in the Kranjska Gora area during the winter.
Kranjska Gora in the Summer
In the summer, Kranjska Gora's main draw is its lovely, rustic villages and beautiful scenery. Head to nearby Lake Jasna, which is one of the most famous areas for photography and hiking in the entire country.
Many visitors come to the area to take advantage of the amazing mountain biking and hiking trails, to go horseback riding, or to stay in an adorable mountain inn (gostilna, in Slovenian) for a few relaxing days.
The junction of the three countries also poses some really interesting opportunities. You can go directly to the Tromeja, which is where Slovenia, Italy, and Austria meet — kind of like the "three corners," so to speak.
Or, alternatively, spend a chunk of your day driving between the three countries (check that your rental car company permits this, however).
How to Get to Kranjska Gora
Again, the easiest way to get to Kranjska Gora is by booking a direct tour like this one from Ljubljana. Your transportation, activities, and lunch will all be organized for you – SCORE!
Kranjska Gora is a little bit farther and less touristy than Bled, so having someone to guide you around to the area's best spots is super ideal and hassle-free.
However, if you'd prefer flexibility, I strongly recommend coming in your own rental car. Kranjska Gora is the kind of place where you'll want to make stops along the way, and the best way to do so is by driving yourself!
Lake Bohinj & Savica Waterfall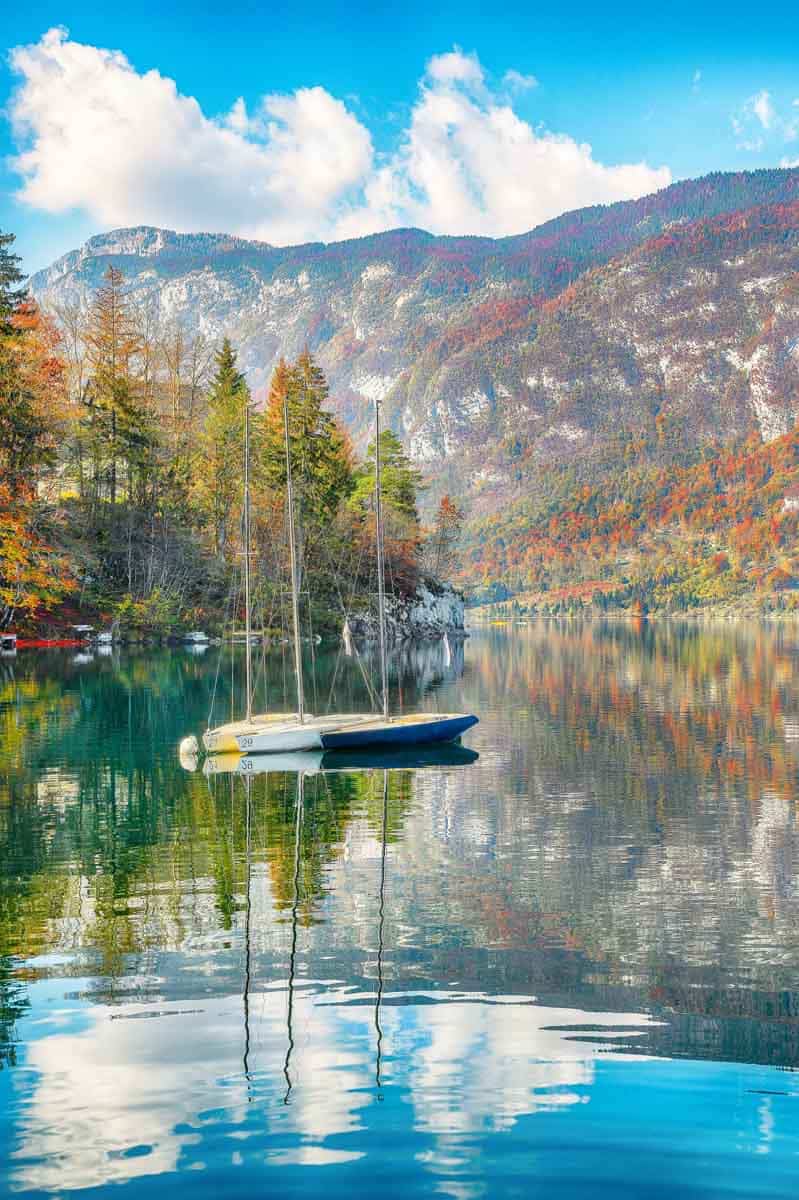 Distance from Ljubljana:

77 kilometers

Estimated Travel Time:

About 1 hour

Highlights:

Peaceful lake surrounded by mountains, with several hiking trails & boat rides available
As a quiet, contemplative lake surrounded by mountain peaks, Lake Bohinj is one of the jewels of Triglav National Park and Slovenia as a whole. Located just a few minutes outside of Lake Bled, Bohinj is a much quieter, more peaceful area to enjoy a day trip from Ljubljana.
There are a lot of legends surrounding Bohinj, one of which you might see as soon as you've arrived in the park. On the banks of the lake, there's a large statue of a goat standing on top of a rock. This goat's name is Zlatorog, and it is known as the protector of the lake and its surroundings.
If you opt for the 10 Euro electric boat, which departs from the parking lot across the bridge from the St. John the Baptist's Church, you'll learn more about the legendary creatures surrounding the area.
I highly recommend taking the boat tour if you want to see the lake from a new perspective and learn about the area and its folklore from an experienced local guide. The boat is also 100% electric, as gas boats are not allowed in the park.
Alternatively, you can explore the lake by foot, as there are hiking trails surrounding the lake's shores.
After you're done exploring Bohinj, don't leave just yet. Instead, head to Savica Waterfall, which is located a few minutes down the road from the lake. You'll need to hike a short distance uphill, but once you reach the top, you'll see the dazzling, emerald waterfall and its many pools and streams below.
It's a true beauty, and something that you definitely shouldn't miss if you're in the Bohinj area.
How to Get to Bohinj
Bohinj is the perfect spot to pair with a trip to Lake Bled, since they're so close to each other. And, with the abundance of tours, the duo is one of the easiest day trips from Ljubljana to plan.
If you'd rather DIY your trip to Bohinj, the easiest way to do so is by renting a car from Ljubljana for the day. This way, you can take your time at the lake, on the nearby trails, and at Savica Waterfall, going through the area at your own pace.
Soca Valley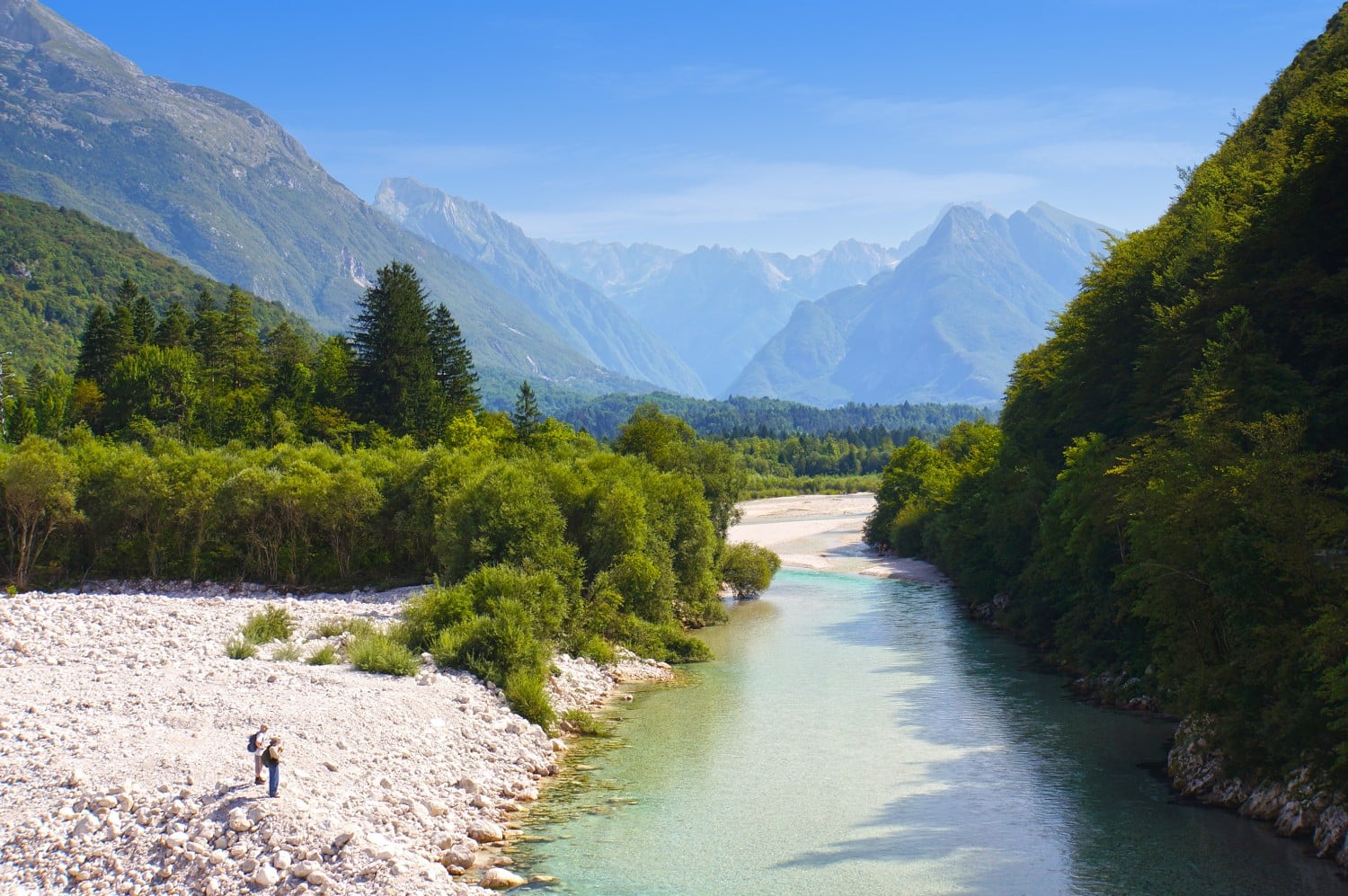 Distance from Ljubljana:

120 kilometers

Estimated Travel Time:

1.5 hours

Highlights:

Unique "emerald river," plenty of hikes, waterfalls, and kayaking opportunities for adventurous travelers
Ah, the Soča Valley. It's a place that serious outdoor lovers absolutely CANNOT miss in Slovenia, with its gorgeous, emerald-colored waters, beautiful scenery, and amazing outdoor activities.
Even better, the Soča Valley was the first location in Slovenia to be awarded an EDEN (European Destinations of Excellence) for its sustainable development of tourism. Sustainability AND stunning scenery – amazing, right?!
For adventure travelers, the Soča Valley is easily one of the best day trips from Ljubljana (although, like me, you'll probably never want to leave.)
There are tons of things to do in Soča Valley, but we'll start with the obvious: outdoor activities. Here, you can go rafting, kayaking, canyoning, hiking, etc. The Soča River is an amazing place for water sports.
For adrenaline junkies, you can book a Soča River rafting tour, which will take you to some white water rapids along the more tumultuous areas of the river. For a more peaceful experience, rent a kayak or go on a guided kayaking tour to explore other parts of the river at a slower, more laid-back pace.
Along the main roadway, there are lots of short trails that lead to waterfalls, like the Boka Waterfall, which is 144 m high, and the nearby Kozjak Waterfall. Some sources say that the Soca Valley alone has over 300 waterfalls! You can also try paragliding, mountain biking, and more in the Soča Valley.
For history enthusiasts, you can learn more about the awful battles of WWI that took place near the Soča Valley on the Path of Peace, a 230-kilometer-long trail that takes you to the Isonzo Front. This was the site of a very deadly battle during WWI.
Today, it's a peaceful spot with tons of greenery, but it's important to understand what happened here to truly understand Slovenia's role in the war. You can also visit the Kobarid Museum to learn more about the war and its impact on the region.
Lastly, food. Food? Yup, food. Much like the rest of Slovenia, the Soča Valley is home to tons of farms, where fresh produce is harvested during many months of the year.
Foodies can visit the acclaimed Hisa Franko, which was featured on Netflix's Chef's Table. They have two tasting menus, and while it'll cost you a decent chunk of change, the dishes are fresh, delicious, and deeply ingrained in Slovenian culinary traditions and the surrounding landscapes.
How to Get to Soca Valley
Don't think you can cram this all into a day trip? Think again! This guided tour from Ljubljana takes you to all of the highlights of Soca Valley, including waterfalls, white water rafting, WWI historic sites. Most importantly, the tour organizes all transportation for you, which can be tricky given the small country roads in the area.
If you'd like to DIY your day trip, I strongly recommend driving. There are a lot of different sights to see in the Soca Valley, but they're pretty spread out. Although you can technically take a bus to Bovec and go from there, driving will give you the most flexibility and comfort.
Triglav National Park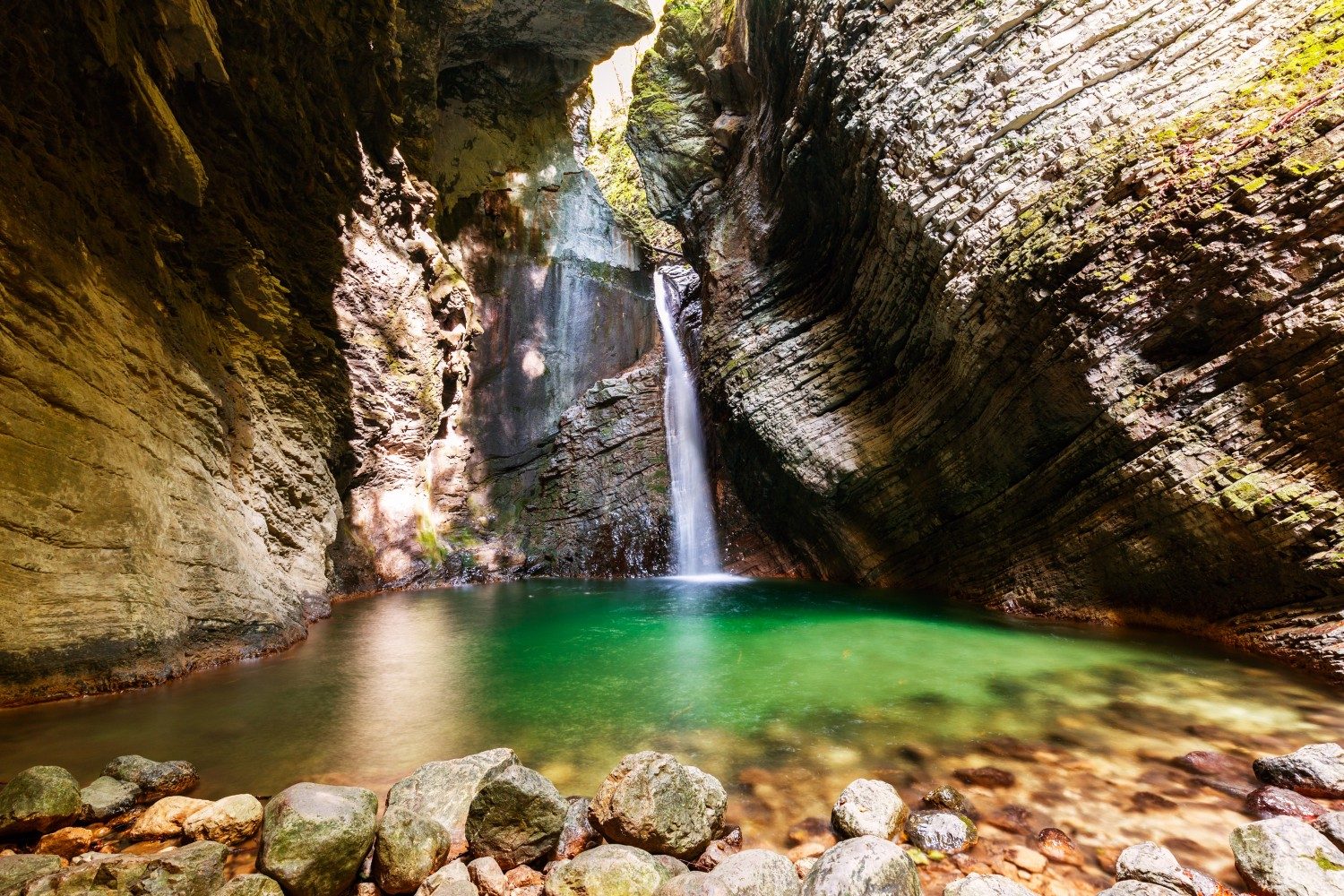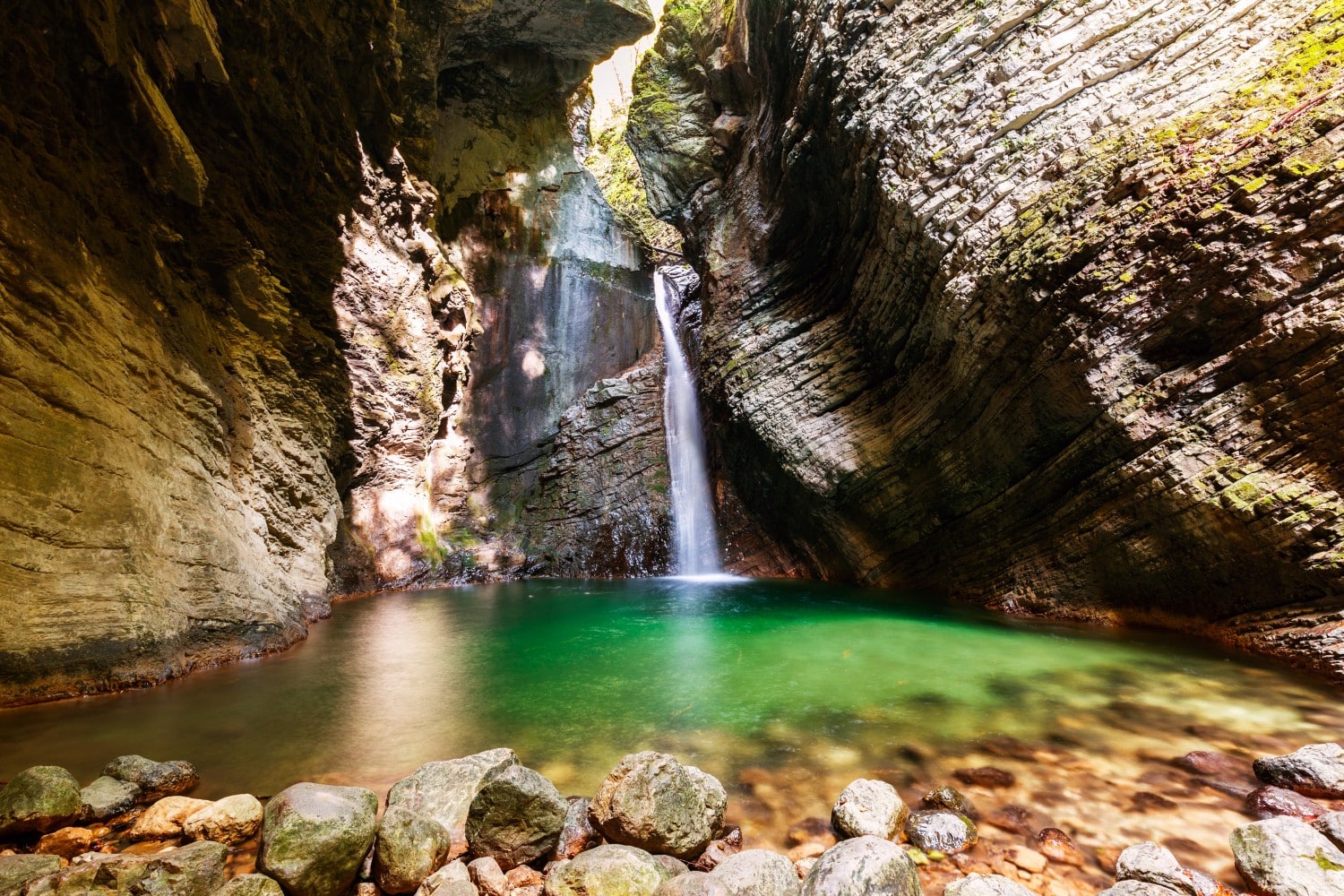 Distance from Ljubljana: 60-65 kilometers
Estimated Travel Time: 45 minutes to 1 hour
Highlights: Exploring the only national park in Slovenia
The other day, I was going through my favorite national parks in the world in my head and Triglav's name kept popping up. With its amazingly beautiful limestone karst formations, bluer-than-blue lakes, and 838 square kilometers of terrain to explore, Triglav is THE BEST day trip from Ljubljana for people who want to spend a day outdoors.
We've already covered many destinations in Triglav National Park on this list, but there are many other destinations that I haven't. So, I decided to encourage outdoor enthusiasts and nature lovers to take a day trip from Ljubljana and simply visit Triglav National Park.
In short, Triglav National Park includes:
Lake Bohinj (Already mentioned)
Soca Valley (Already mentioned)
Vogel Ski Resort
Vintgar Gorge (Already mentioned in Bled section)
Tolmin Gorges
Savica & Pericnik Waterfalls
Mount Triglav & Surrounding Peaks
…and more
So, as you can see, there are tons of different areas and activities to do outside of the ones we discussed earlier. You can participate in virtually any kind of outdoor activity you could ever want in Triglav National Park. You can also do several multi-day hikes and stay overnight at the vast array of mountain huts in the park.
Around the park, you can find stark mountain peaks surrounded by vast, lush forests. There are also stunning gorges, like Vintgar Gorge and the Tolmin Gorges, to explore.
Year-round, Triglav National Park offers tons of opportunities for adventurous travelers to get outdoors and enjoy its impeccable scenery.
How to Get to Triglav National Park
If you're crunched for time and want to see as much as possible in a day, I highly recommend taking a guided tour like this one, which takes you to the main highlights of Triglav National Park in just one day.
Transportation can be crazy here, especially in the high season, so a guided tour is a hassle-free way to see the park without worrying about getting there.
For DIY day trippers, you must come with a car. There's really no other way to get around the park, and you'll want one to get to various trailheads, viewpoints, and landmarks.
Trieste, Italy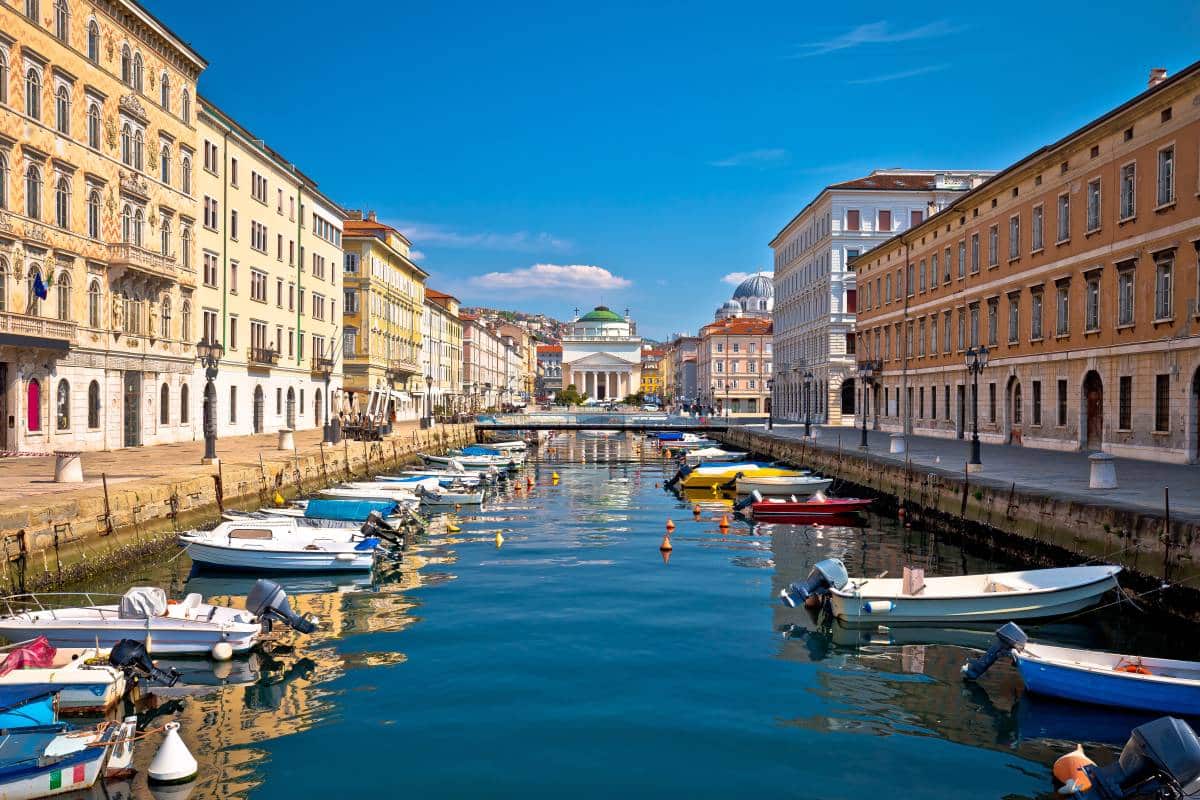 Distance from Ljubljana:

94 kilometers

Estimated Travel Time:

1.5 hours

Highlights:

Historic Italian port city with a unique blend of cultures
Trieste isn't your typical Italian city. While, yes, it is located in Italy in a beautiful seaside alcove, it's got a deep Austrian heritage, which is reflected in the architecture and the vibes of the city.
Once you arrive in Trieste, regal buildings and wide squares abound, and with them comes a fascinating history and blend of cultures and influences.
If history is your game, there are few better day trips from Ljubljana than Trieste, which has several historic buildings, squares, and monuments you can explore, many of which are remnants of the Habsburg style.
The Miramare and Saint Giusto Castles are two such buildings, which are spectacular displays of the variety of influences in the region. You can also visit the Cathedral of San Giusto, which has beautiful architecture that dates back to 699 AD.
And, you can't miss the Canale Grande, which is a giant canal surrounded by the city's most magnificent buildings.
Much like many coastal cities, the vibe here is relaxed, especially toward the end of the day, where you can find locals and visitors chatting over Italian wine at a streetside cafe or bar. On warm summer and fall days, many people choose to visit the seaside at nearby Barcola, where you can lounge around and enjoy the sunshine.
How to Get to Trieste
There are daily buses from Ljubljana's bus station that go directly to Trieste, and you can find a return bus in the afternoon.
I usually use FlixBus for inter-country travel in Europe. Taking a bus is by far the easiest and cheapest way to get to Trieste (assuming you book as far in advance as you can!).
Some rental cars may allow you to drive a Slovenian car into Italy, but you'll need to talk to your rental agency to make sure driving across a country border is in compliance with their terms of service.
Piran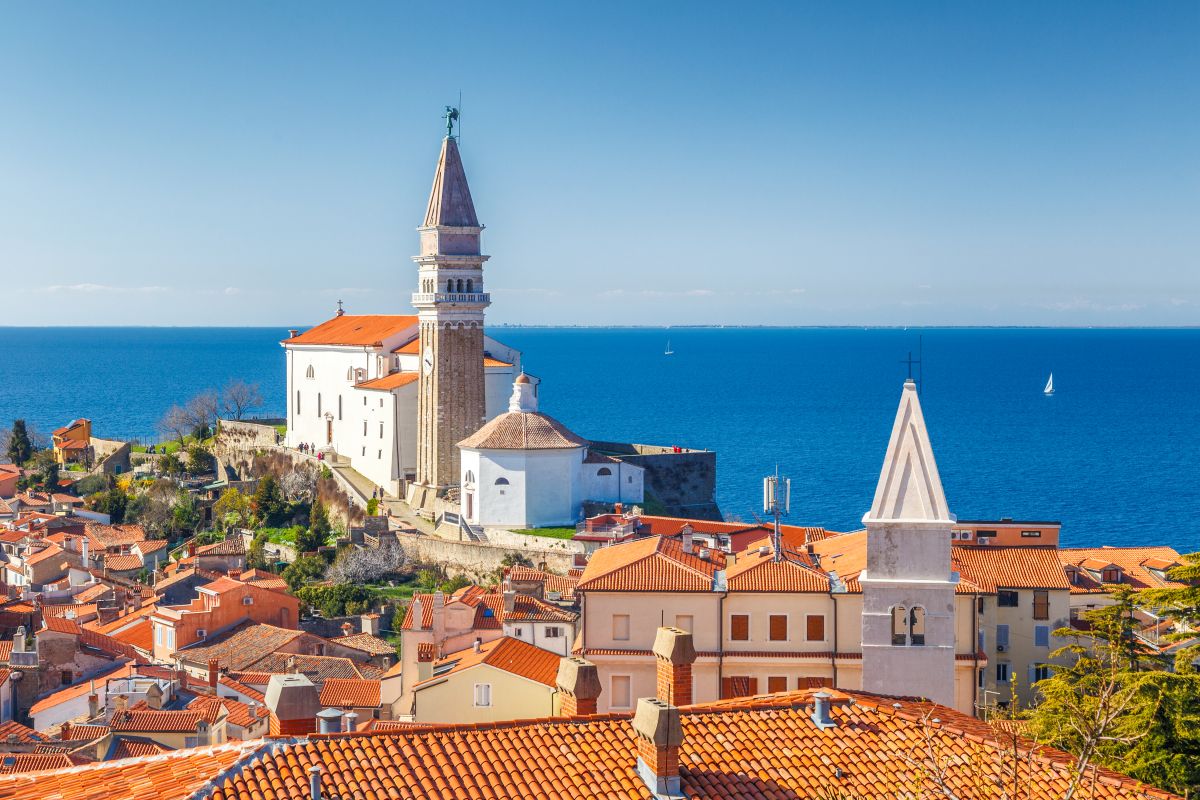 Distance from Ljubljana:

121 km to Piran

Estimated Travel Time:

1.5 to 2 hours

Highlights: Adorable orange-roofed seaside town with historic churches and walls you can climb for incredible views!
Piran is easily one of my favorite places to visit in Slovenia, and while it's somewhat far from Ljubljana, it's definitely worth the trek.
Instead of alpine vistas and emerald cascades, you'll find shimmering shoreline and medieval alleyways full of life. Get your cameras ready, y'all, because there are SO MANY good photo opportunities in this picturesque little seaside paradise.
Known as the "city built from salt," Piran's surrounds are home to salt flats that you can actually visit!
One interesting tidbit about Piran is that Italian used to be the main language of the area until the mid-1900s, when it shifted to Slovenian. But, as you can imagine, the Italian influence on the area hasn't dropped off quite so drastically, and you can still find lots of remnants of the cultural exchange between the two countries here (the best things being pasta and wine…yum!).
In Piran, you'll want to lace up your best pair of shoes, because you'll be doing a LOT of walking. First of all, cars aren't allowed within the old city limits, so walking is basically a must. Second, there's so much to see on foot, you won't want to explore Piran in any other way.
Head up to St. George's Church, where you can climb the bell tower to take in stunning views of the city and its sparkling seas. If you're there at any 15-minute interval, you'll be able to hear the bells chiming (it's super loud and totally exhilarating to feel the floor vibrate beneath you!).
Then, wander through the city's alleyways, perhaps making a stop at the Minorite Monastery. You'll eventually end up in Tartini Square, which is home to a large statue of Giuseppe Tartini, a world-famous violinist born in Piran. While in Piran, you can also explore the nearby salt flats, either on your own by bus/shuttle or through a guided tour, like this awesome salt pans bike tour! Salt was one of the main industries of the Piran area, and its salt production facilities continue to be an important part of its history.
How to Get to Piran
Because parking is such a pain there and cars aren't allowed in the town center, I recommend coming to Piran either by bus or with a tour.
A tour will by far be the easiest option: you won't need to organize transportation and you'll get to see all of the highlights, including the nearby Skocjan Caves. I recommend this one for a fabulous, comprehensive tour option in Piran and the coastal region of Slovenia.
If you'd like to come by bus, there are several buses per day that depart from Ljubljana's main bus station. You'll need to buy a ticket in advance during the high season. Buses take 2 to 3 hours to arrive, depending on how many scheduled stops there are on the route.
Skocjan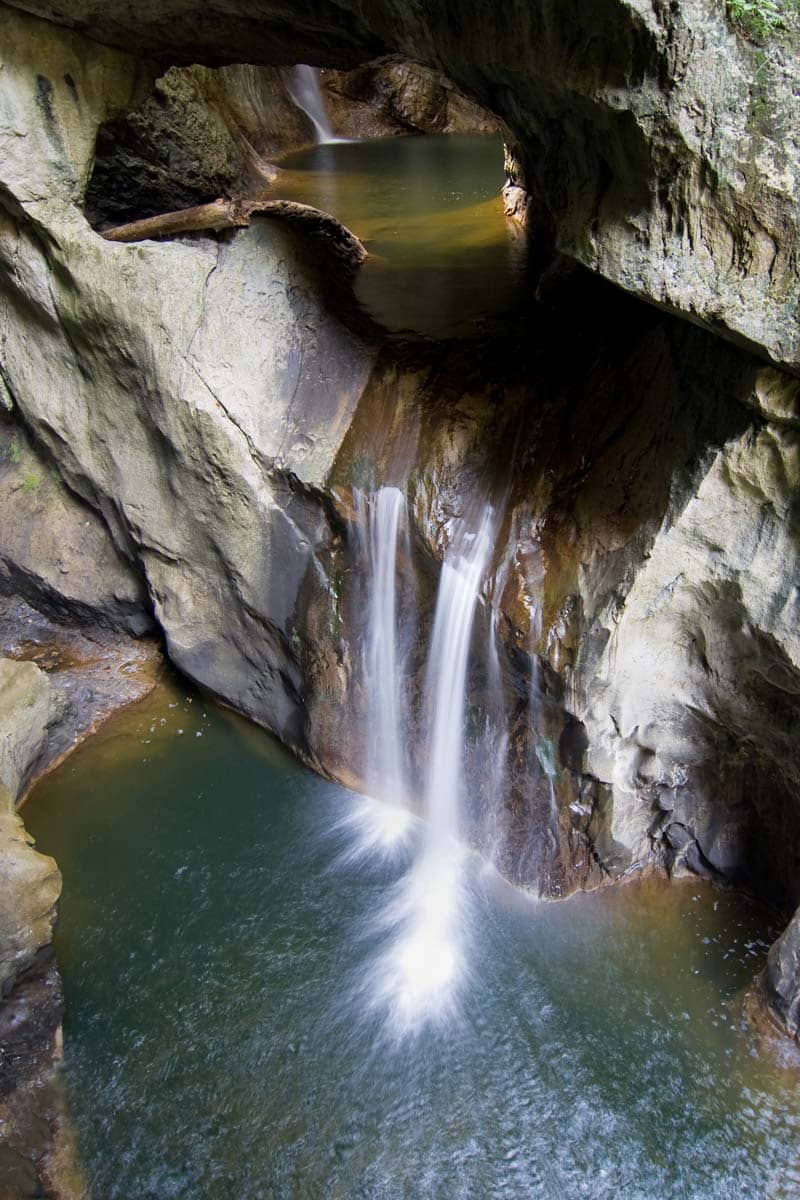 Distance from Ljubljana:

78 kilometers

Estimated Travel Time:

1 hour

Highlights: Visit the world' largest underground canyon
Skocjan is arguably Slovenia's most impressive cave system, which earned a UNESCO World Heritage Site designation for being home to the largest underground canyon in the world.
It was formed by the mightly Reka River, which flows partly over ground until it reaches the caves. Over thousands of years, the river has carved this underground canyon, which you can now visit on a day trip from Ljubljana.
The caves are made of limestone karst, a type of rock unique to Slovenia. In fact, "karst" is one of the few Slovenian words that is used in every scientific terminology around the world.
Because of this porous type of stone, the rivers have been able to carve magnificent, jagged formations over time, which is why Slovenia's landscape holds over 10,000 (yes, you read that right) caves.
To visit Skocjan Cave, you'll need to book a guided tour. During high season, these happen several times a day (you can check this page for exact times and prices).
How to Get to Skocjan
The easiest way to get to Skocjan is to book a tour, like this one. However, if you'd like to go on your own, the easiest way to get there is to drive.
Predjama & Postojna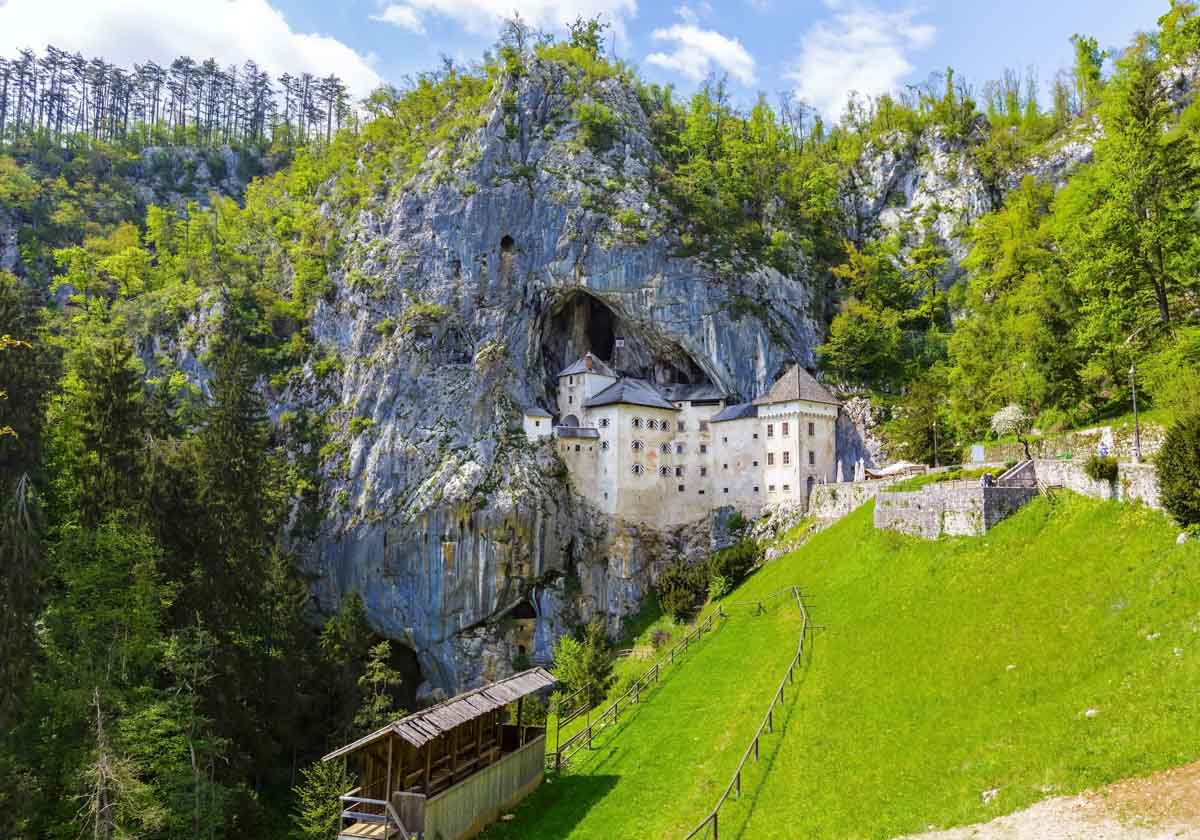 Distance from Ljubljana:

53 kilometers

Estimated Travel Time:

1 hour

Highlights: A fascinating cave-castle and cave duo, this day trip is a history and nature double-whammy
Predjama and Postojna, aside from being really funny-sounding names, are two of the most iconic sights in Slovenia, and can be experienced in just one day.
But let's start with what they actually are: Predjama is a castle that was built into a cliff, whose architecture connects with the extensive cave networks below. Postojna is a large cavern system that you can visit, and even ride a train through! Yup, it's the world's only cave train, and it's right here in Slovenia.
So let's start with Predjama. It's AWESOME and one of my absolute favorite places in Slovenia. Why? Because its story is just so freakin' COOL.
First of all, it was the home of a robber-baron named Erazem, who was fleeing from a variety of enemies and needed a home where he could easily escape. The castle was built into the network of caves for that exact reason – so Erazem could "disappear" when he needed to.
Second, it's an 800-year old castle, which means it definitely has TONS of amazing stories.
Don't just visit the castle and snap your pictures and leave. I strongly recommend going inside and learning more about the history and fascinating architecture of the place, which is truly an example of man-made and natural elements coming together seamlessly.
Postojna is nearby and offers guests an amazing glimpse at the world underground that's totally different than Skocjan. While Skocjan was carved by a river (and therefore looks very "canyon-like"), Postojna was an open cavern that has stalagmites and stalactites all over, which were formed by millions of years of dripping mineral water. Cool, huh?
While in Postojna, you can also see the "baby dragons," otherwise known as the "human fish," which is a native species of salamander that can only be found in Slovenia's cave systems.
And, let's be real, one of the most interesting parts of Postojna is that there's a TRAIN inside the cave. Yup, you heard that right, it's an underground train, and it's the only one in the world. You'll need to book a guided tour to see the cave, and every tour comes with a train ride, so you'll always leave with the souvenir of bragging rights.
How to Get to Predjama/Postojna
The best way to get to both Predjama and Postojna is by car. During the summer months, you can take a free shuttle between the two sites (saving you an extra drive).
However, if you'd prefer to have everything organized for you, you can also book this awesome tour that goes to both attractions in one day.
Rijeka & Opatija, Croatia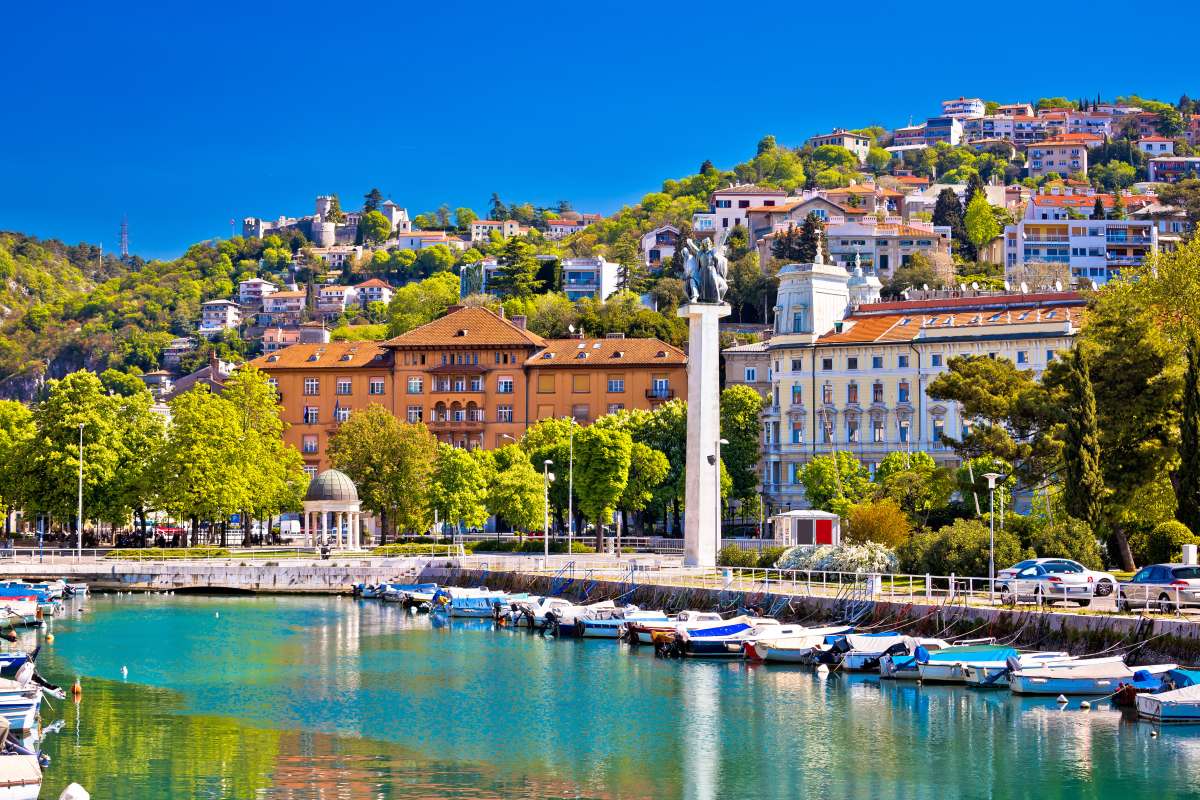 Distance from Ljubljana:

115 kilometers

Estimated Travel Time:

2 hours

Highlights: Beautiful Habsburg and Italian architecture in a stunning seaside escape
If you want to explore the Croatian seaside but don't have the time to go all the way to Dubrovnik or Split, you can catch a glimpse of it one of our day trips from Ljubljana: Rijeka & Opatija.
Full of beautiful beach resorts, the vibes here are a little more laid-back than crowded Dubrovnik and Split, and you'll be able to experience a more authentic Croatian way of life.
The city center is full of Austrian-style historic buildings, left over from the Austria-Hungary empire days. Now, it serves as a port city with a busy harbor. You'll find mostly buildings, architecture, and concrete in Rijeka, so to enjoy the beach a bit more, head to nearby Opatija.
Opatija is a resort town that's been around since the Austria-Hungarian days, and today there's no shortage of lavish resorts and ornate buildings there. The beaches are the most coveted draw of Opatija, so don't expect tons of activities on a day trip here.
However, combined with busy Rijeka, it makes for a lovely, short glimpse into Croatian history and culture!c
How to Get to Rijeka & Opatija
You can take a bus from Ljubljana to Rijeka's bus terminal, then use local transportation to get around the city or hop over to Opatija.
There are several departures from Ljubljana's bus terminal that pass through Rijeka each day. The easiest way to visit, though, is to drive your own car – just make sure your rental agency is okay with that.
Zagreb, Croatia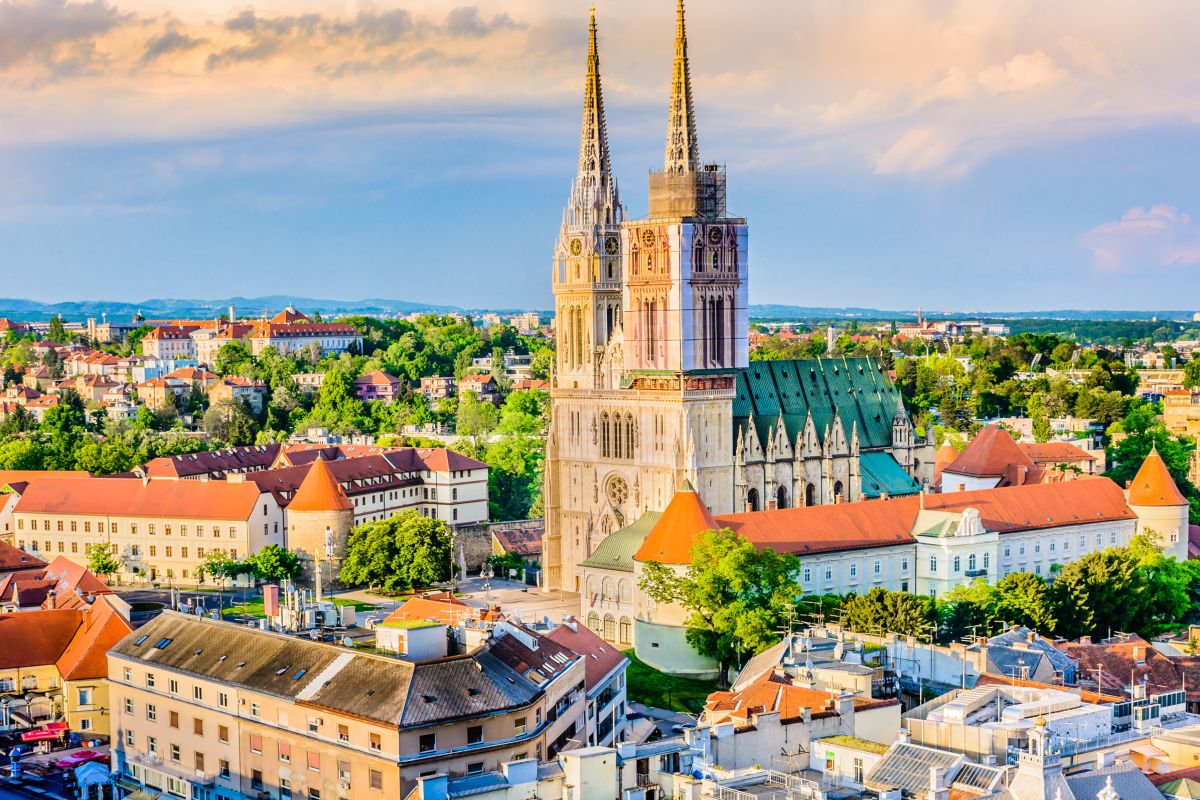 Distance from Ljubljana:

143 kilometers

Estimated Travel Time:

2 to 2.5 hours

Highlights: Historic cathedrals, fantastic (and weird museums), and lots of fun neighborhoods to walk in
If you head east from Slovenia, you'll run into Croatia in no time. While travelers often group the two countries together in one itinerary, they are both very distinct.
To get a feel for Croatia's city life and local culture, head to Zagreb, the largest city in Croatia which also happens to be the capital. Once a Roman city, it has consistently been a hub for politics and culture throughout Croatia's history.
So, as you can imagine, Zagreb is a fantastic day trip for history and culture lovers. Here, you can visit the famous St. Mark's Church, which has an iconic tiled mosaic with the coat of arms of Croatia. You can also pass through the Zagreb Cathedral, the tallest building in the country but also home to some pretty spectacular Gothic architecture.
For more history, you can visit the National Theatre, which was built in 1895 and still hosts performers from all over the country and the world.
Additionally, there are tons of awesome museums in Zagreb. The Zagreb City Museum and Archaeological Museum are two classic places to learn more about the history of the area.
However, my favorite is definitely the Museum of Broken Relationships, which sheds light on lost love based on items that were donated by scorned lovers. You want some juicy drama in your life? This museum will give it to you.
You can also wander around the many parks and walking streets in Zagreb, like Maksimir Park, which is one of the oldest and most famous green spaces in the city.
How to Get to Zagreb
There are buses that depart daily from Ljubljana's bus station. However, note that as Croatia is NOT in the EU, so you'll need to go through the border crossing (which can take up to an hour, depending on the day and time).
You can also rent a car from Ljubljana and drive for the day – just check to make sure you're following the rental agency's rules on border crossings.
Velika Planina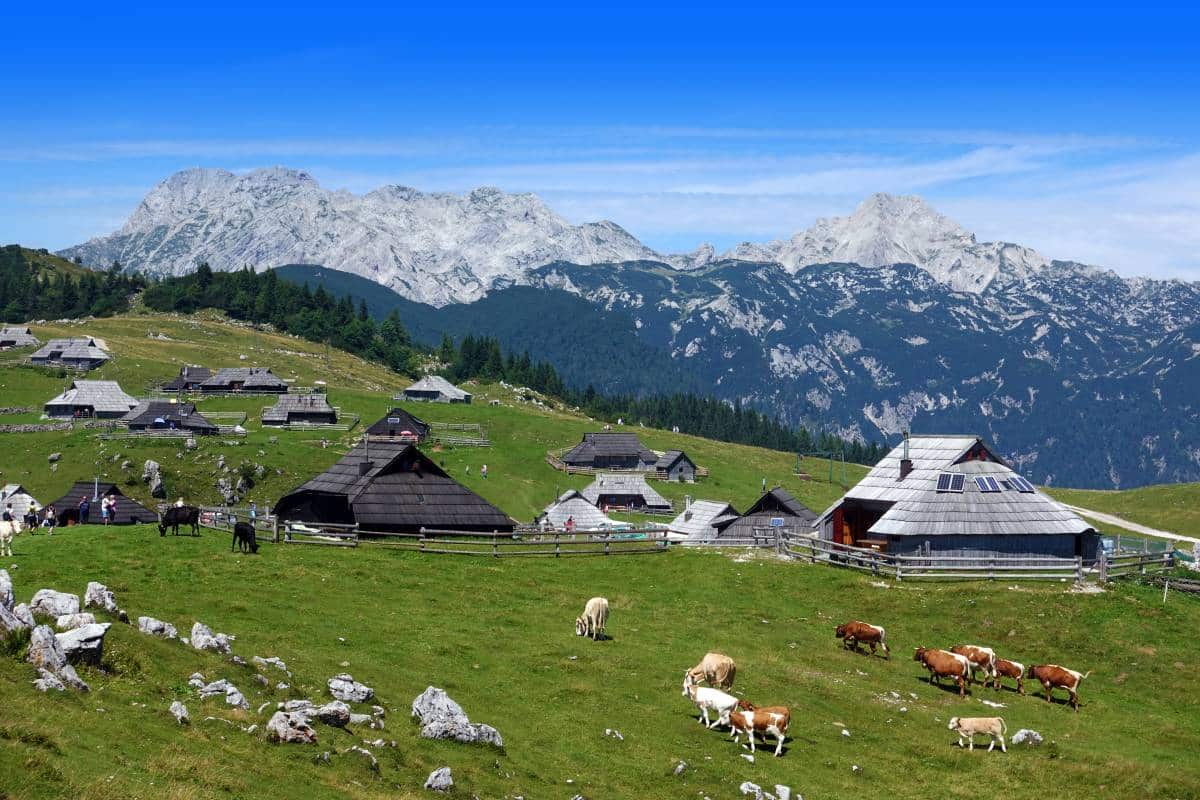 Distance from Ljubljana:

48 kilometers

Estimated Travel Time:

1-1.5 hours

Highlights: A highland plateau full of small herder villages that serve a special kind of cheese (and the views are pretty cool, too!)
I've included Velika Planina on this list after a local really sold me on going there. I never ended up being able to go, but after looking at photos and asking around, this is area is clearly one of the most beloved and beautiful in the country.
Velika Planina is an alpine plateau that's full of rustic houses and agricultural settlements, where you can explore the beautiful nature around while also experiencing a different way of like than in Ljubljana.
Take a cable car to get up to the plateau, where you can hike around and visit the famed herdsmen's settlement to experience one of Slovenia's more pastoral ways of life.
How to Get to Velika Planina
The easiest way to get to the Velika Planina cable car is to drive your own car.
Logar Valley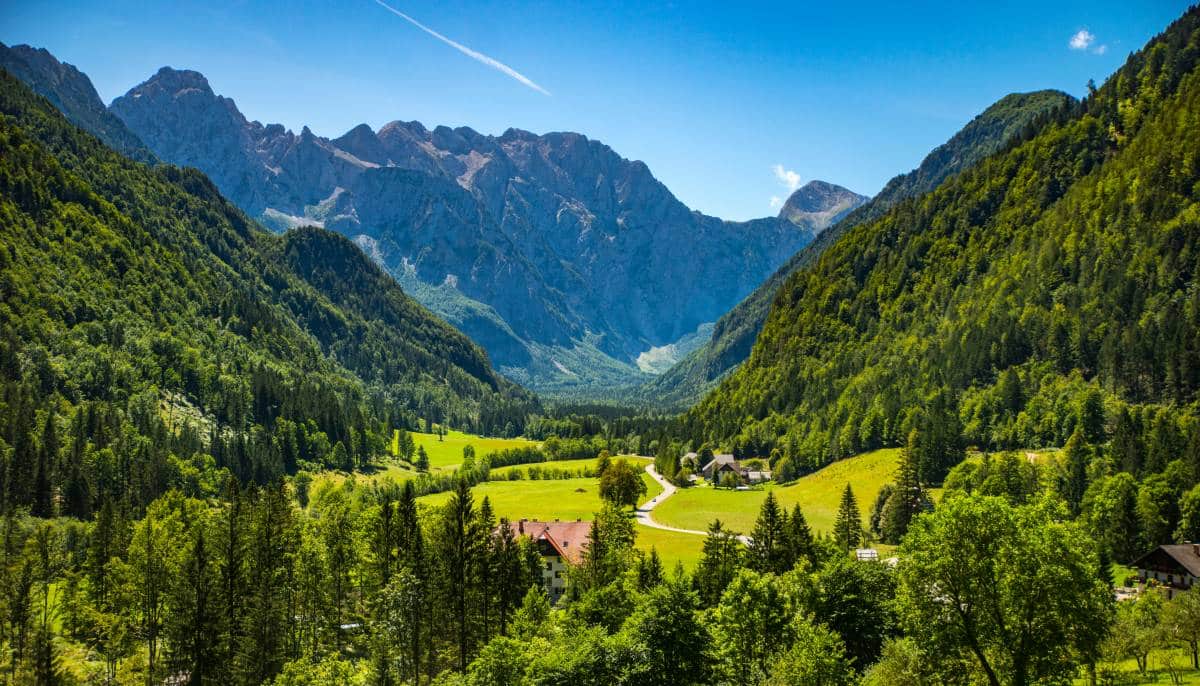 Distance from Ljubljana:

63 kilometers

Estimated Travel Time:

1 to 1.5 hours

Highlights: Outdoor adventures galore, plus the Solcava Panoramic Road
According to locals, Logar Valley and Velika Planina are some of the most beloved places to visit in Slovenia. And, because they're not on the typical tourist track, they're a bit less crowded than Ljubljana or Bled.
The recommendation for Logar Valley and Velika Planina is one that was actually given to me by a local I met while staying in her Airbnb. I haven't actually been, but she sang high praises about them, so I figured I'd look into them a bit more so you can have the chance to visit during your time in the country. They're both definitely on my list for next time.
Logar Valley is home to some of the most breathtaking landscapes in Slovenia. Carved by ancient glaciers, the Logar Valley area features striking valleys amidst jagged, otherworldly mountaintops. In Logar Valley, you can drive down a scenic road that winds through the mountains called the Solcava Panoramic Road.
Alternatively, you can go on one of the many hikes in the area.
How to Get to Logar Valley
It's best to drive to Logar Valley so you can take advantage of the Solcava Panoramic Road! It's one of the most scenic roadways in the entire country and one you shouldn't miss if you're in the area.
Novo Mesto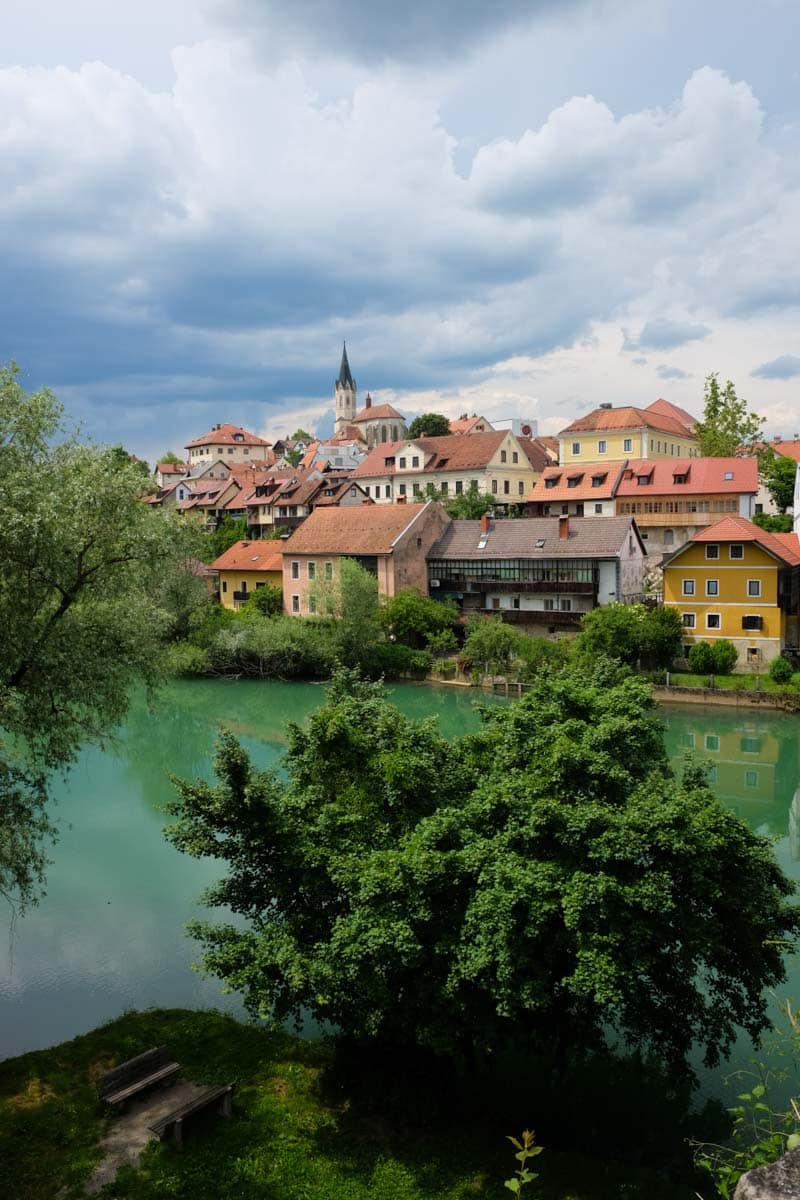 Distance from Ljubljana:

71.4 kilometers

Estimated Travel Time:

1 hour

Highlights: Wine country, amazing outdoor and nature areas for adventure activities
Situated in the eastern part of Slovenia, the picturesque city of Novo Mesto is an architectural marvel located in the middle of Slovenia's Dolenjska wine country, where they make traditional Slovenian Cvicek wine.
In town, you can pay a visit to the Museum of Dolenjska to learn more about the region's history and artifacts, or sample local eats at a home-owned restaurant.
Additionally, in true Slovenian fashion, there are TONS of outdoor activities to do in the Novo Mesto area, like mountain biking, kayaking or rafting down the Krka River, and hiking on the various trails in the area.
The landscapes here are different than some of the others in Slovenia, with leisurely rolling hills filled with lush forests and cool, flowing rivers.
Just outside of Novo Mesto lies the picturesque estate of Otocec Castle, a luxury hotel built into a historic castle where you can ACTUALLY stay the night! Located on an island in the middle of the Krka River, Otocec Castle is a gorgeous place to spend a day (or a few) basking in the history and culture of Eastern Slovenia.
How to Get to Novo Mesto
There are regular buses to Novo Mesto from Ljubljana that leave from the central bus terminal. You can also drive, which I'd recommend if you want to visit Otocec or some of the other nature areas surrounding Novo Mesto.
Maribor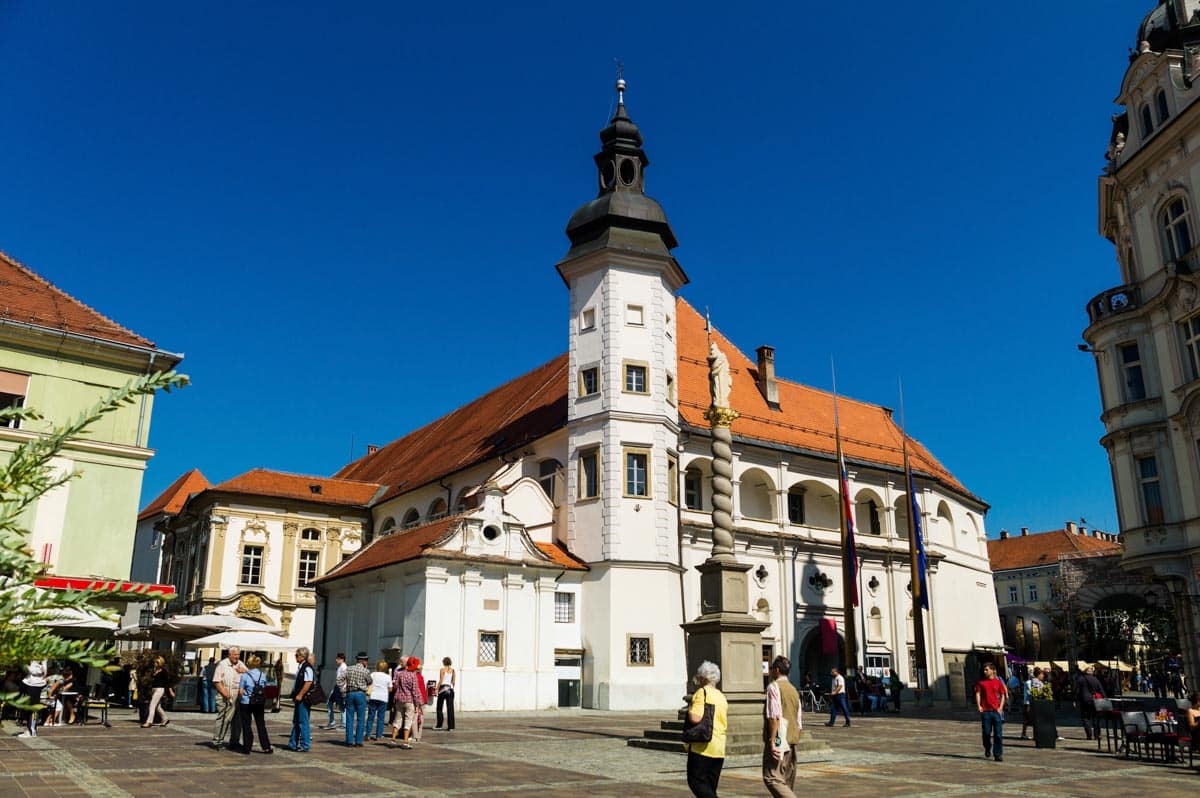 Distance from Ljubljana:

128 kilometers

Estimated Travel Time:

1.5 hours

Highlights: Slovenia's second city, with beautiful architecture, the oldest vine in the world, and access to great mountain areas
Maribor is Slovenia's second largest city and serves as a perfect gateway to the Eastern part of Slovenia.
History and architecture enthusiasts will LOVE Maribor because of its great museums and historic buildings. I'd strongly recommend Maribor as one of the easiest and most interesting day trips from Ljubljana!
Within Maribor's city limits, the activities are especially perfect for wine lovers and foodies. Visit the Old Vine, the oldest grapevine in the world, and sample some fine wines in its shop.
For history lovers, head to the Maribor Cathedral and the Maribor Regional Museum to learn more about the city's deep history. Both will give you a sense for the differences between Ljubljana and the eastern part of Slovenia. Even though it's not that far, each has its own story!
Near Maribor, you can also enjoy outdoor activities like skiing (Mariborsko Pohorje Ski Resort is a fabulous nearby resort), hiking, and scenic drives in the eastern part of Slovenia bordering Croatia.
How to Get to Maribor
There are frequent buses to Maribor (or that pass through Maribor) every day from Ljubljana's bus terminal. Catch an early one to maximize your time in the city.
Given the frequency of the buses, you really don't need to rent a car and drive, but you can if you choose to.