Discover Piran, Slovenia's coastal gem, with this handy travel guide.
Imagine an enchanting seaside town with burnt orange rooftops, a rocky shoreline, and quaint, winding alleyways, surrounded by sparkling blue water, and filled with friendly locals.
Sounds like paradise, right? Well, I'm here to tell you that this dream is real, and it's called Piran, Slovenia. The adorable town of Piran captured my soul so much that I moved around my entire Europe trip just to be able to stay there a night longer.
But we're getting a little ahead of ourselves, aren't we?
The Slovenian coast is tiny, and Piran (known as Pirano in Italian) is definitely the most iconic and picturesque town on its 46-mile stretch. Situated on the tip of a small peninsula, the charming, orange-roofed village of Piran is surrounded on 3 sides by the sea.
With Venetian-style architecture blended with Slovenian language and culture, Piran is home to a unique blend of cultures, languages, and traditions. You can see within the city that history is an extremely important aspect of the town's identity, as ancient structures still stand prominently throughout Piran today.
Even if you only have a few days in Slovenia, Piran is definitely a town that should be on your radar.
Why Visit Piran?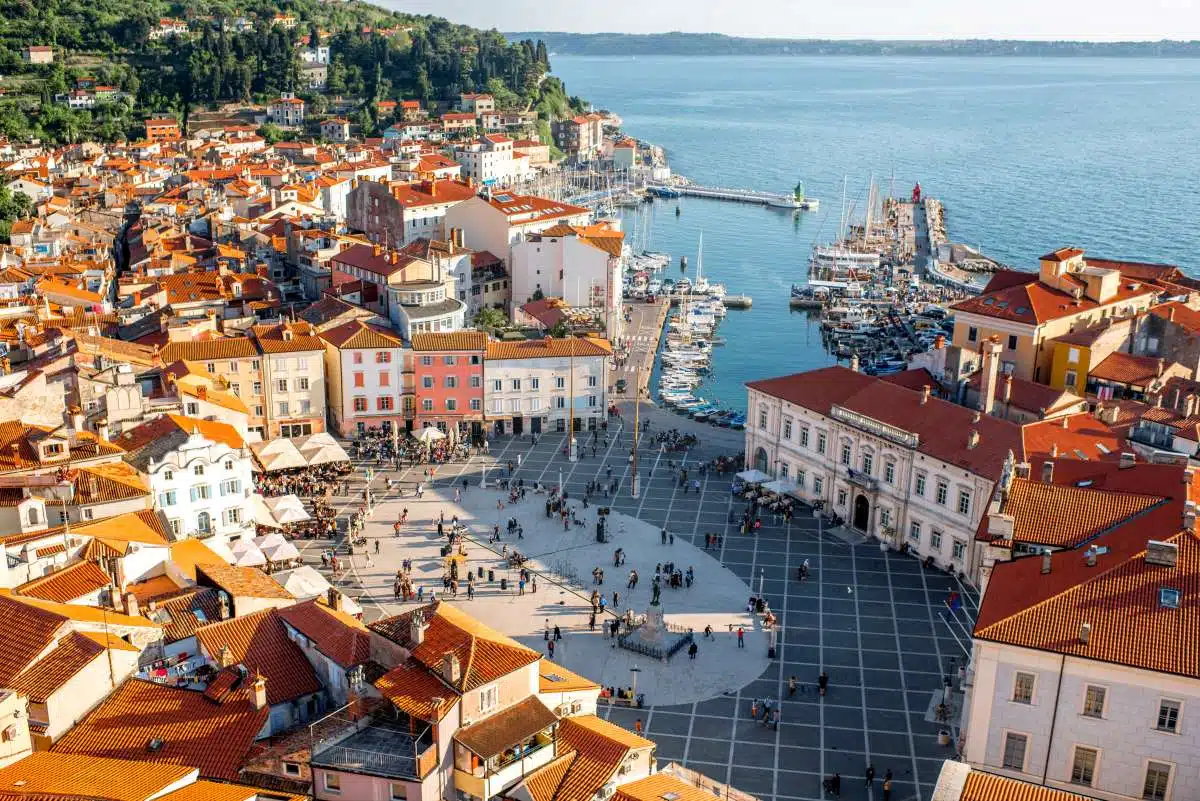 At just 1.5 hours from Ljubljana, Slovenia's capital city, and 2.5 hours from Venice, Piran is an easy trip from some of Europe's most visited destinations.
Additionally, it's one of three major towns on the Slovenian coast, so there are frequent buses that run from Ljubljana or Venice each day.
Additionally, Piran is an extremely walkable city. In fact, cars aren't allowed within the old city area, so you have to walk around to get places in Piran. This means visitors can stay here for a few days and simply wander around by foot.
No need for expensive car rentals, tours, or transportation here!
With a wide variety of cute B&Bs, hostels, and upscale hotels, Piran is a destination suitable for any kind of traveler, from budget backpackers to luxury lovers. When I visited, I'd been traveling for several months already, and it was the perfect place to relax, rejuvenate, and explore in a beautiful low-key, low-stress environment.
Things to Do in Piran, Slovenia
Bask in the Bustle of Tartini Square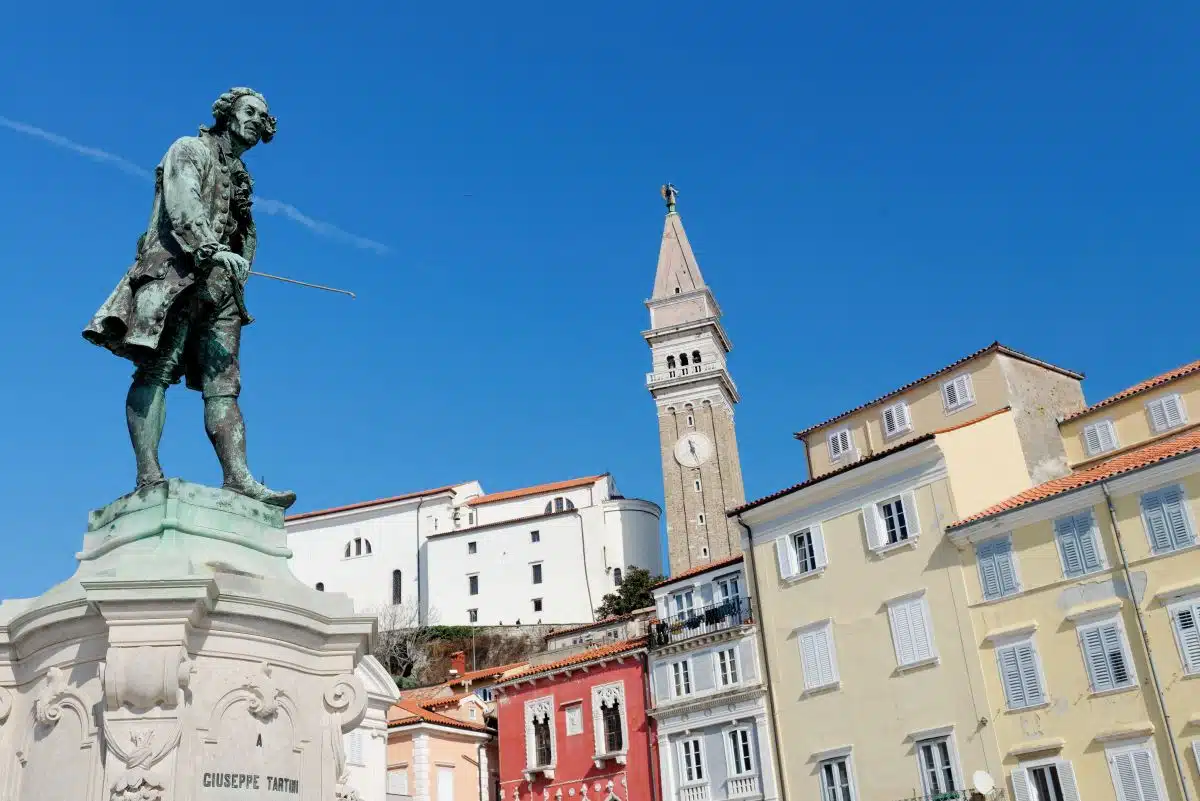 Tartini Square is one of the main center points of Piran and is home to the statue of Giuseppe Tartini, a famed violinist and composer who was born and raised in Piran. He became a world-famous musician and, even today, Piran locals celebrate his musical contributions on an international stage.
If you're a classical music lover like me and you want to learn more about Tartini's life in Piran, you can visit the Tartini House, which is a yellow structure located on the square, and see his actual violin.
Aside from Tartini's statue and home, the square is home to some colorful, historic houses, cute cafes with open-air seating, and the Tourist Information Center, which has a wealth of information on booking excursions and tours around the area.
If you're really into people-watching, I recommend grabbing a coffee at Mestna Kavarna, sitting outside under an umbrella in the square, and watching the world go by.
Get lost in Piran's Winding Alleys and Side Streets
One of the nicest takeaways from Italy that makes Piran so unique is its colorful, narrow alleyways that wind through the buildings and houses throughout the town.
There are SO many cute little corridors hidden in the alleys and side streets around the city. It's almost as if all of Piran's quirk and character decided to build its nest in the alleys of the city. They're picturesque, cute, and totally Instagrammable.
For any first-time visitor in Piran, I'd recommend taking a few hours to simply get lost in these alleyways and side streets that connect the different neighborhoods with the main square. You'll probably find something beautiful and exciting along the way!
Relax at the Seaside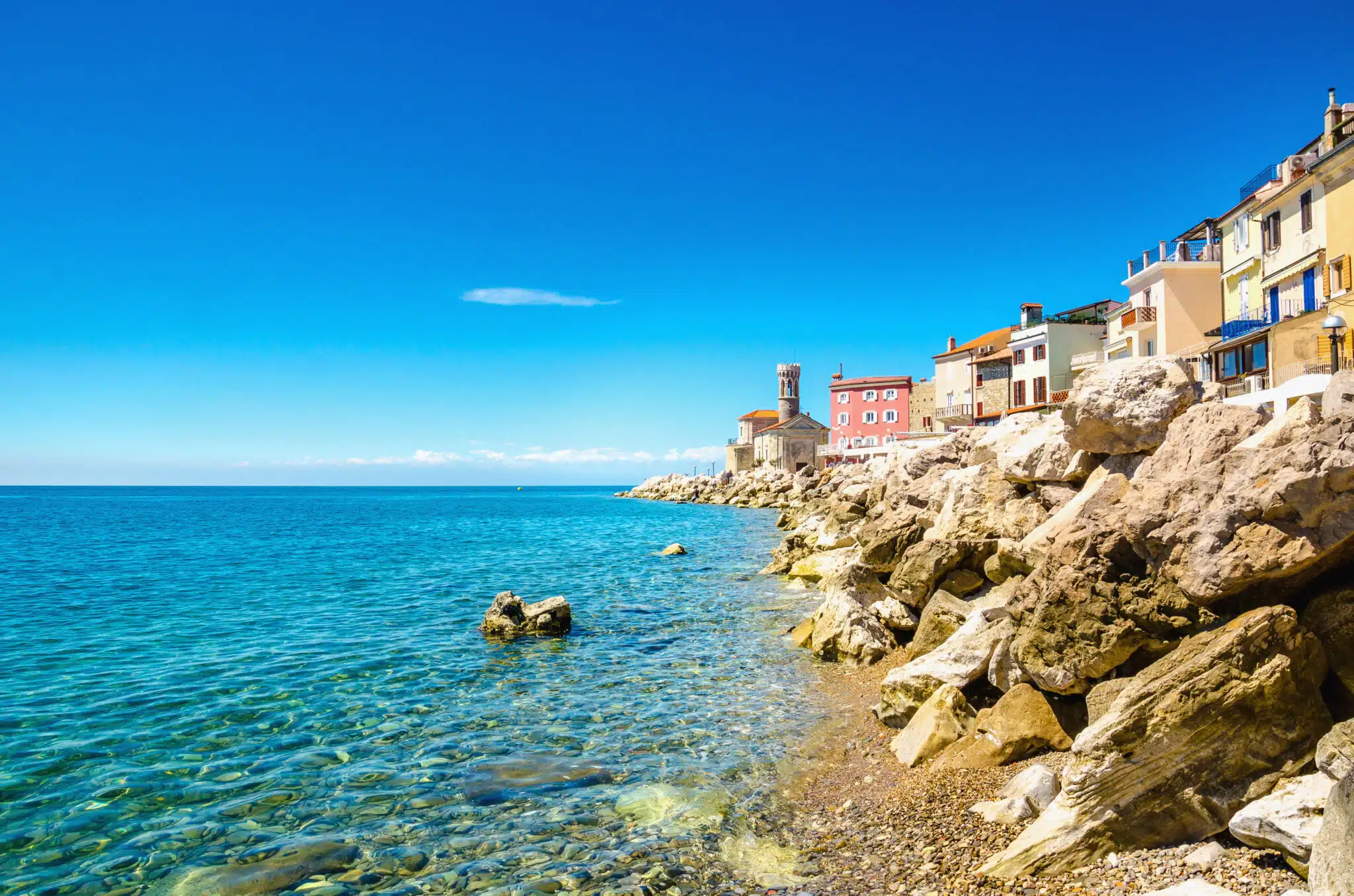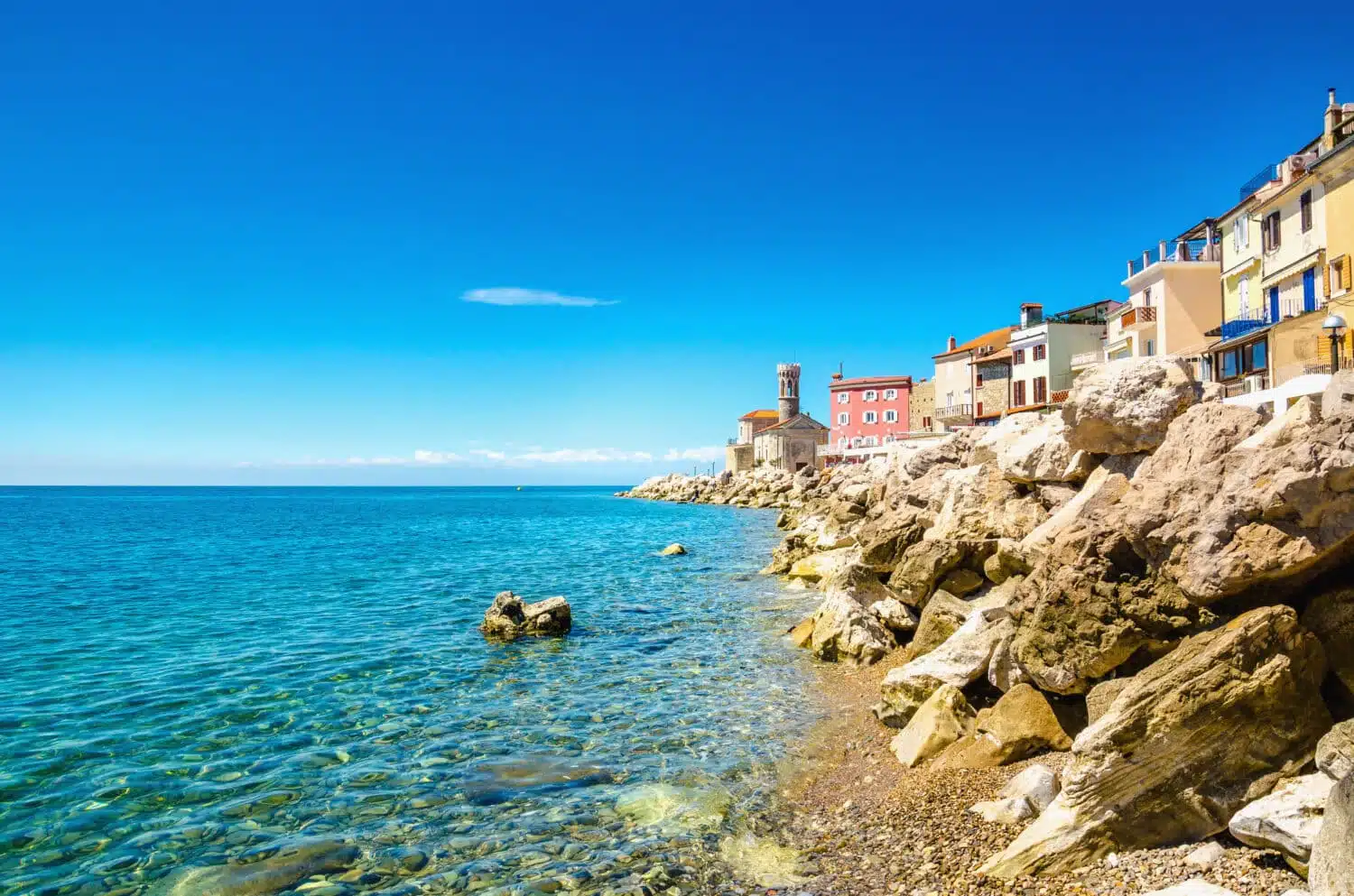 You've most likely come to Piran to catch a glimpse of the sparkling Istrian coastline, and I don't blame you – it's stunning. With that said, there are a ton of ways to kick back, relax, and enjoy the bright blue water.
In the warmer months of the year, swimming is extremely popular and there are small staircases all over Piran's waterfront that lead into public bathing areas. Hop into your swimsuit and go for a refreshing dip in the clear blue waters of the Mediterranean.
If you're looking for a more upscale experience, another popular venue for relaxation in Piran is at a spa. There are tons of spas in the entire coastal region, many which specialize in treatments from the region's special salt. While most of the spas are in Portoroz, there are a handful closer to Piran that visitors can try.
One of the best hotels with a spa in Piran is the Barbara Hotel & Spa, which is located on a secluded beach about a 15 minute walk from the center of Piran. The spa offers massages and body treatments at reasonable prices.
Stroll Through the Minorite Monastery
Hidden in the back alleys of Piran, close to the church tower, lies a small monastery with a beautiful little courtyard.
This monastery, the Minorite Monastery, is believed to have been founded in the early 1300s when the church was built. Tartini once studied here during his early teenage years. Needless to say, the monastery has served as an important educational and cultural center for the Piran community.
Today, you can enter the monastery and stroll around. It's pretty small, but there are nice pieces of artwork lining the walls and the courtyard is absolutely beautiful.
Climb the Old Church Tower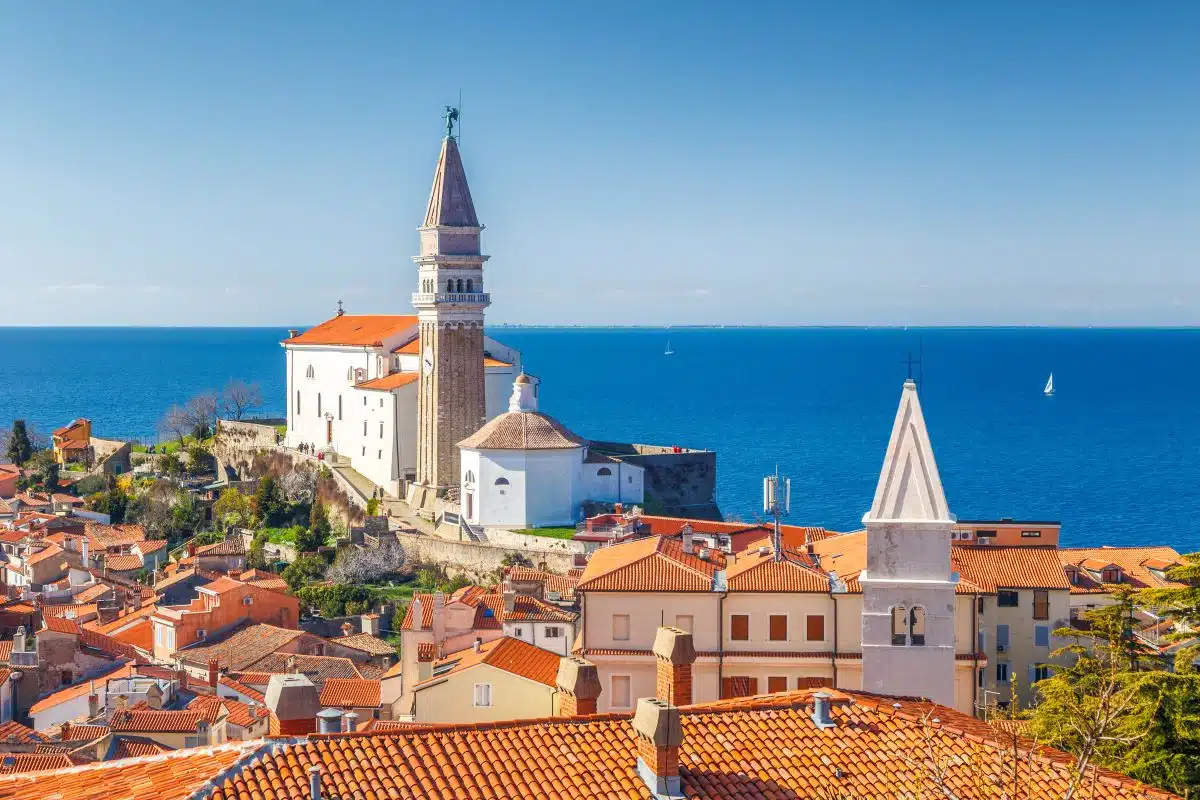 There's nothing more jaw-dropping than seeing Piran from above, and fortunately there are many places inside of the city where you can do this. Hands down, the bell tower at St. George's Church housed my favorite view, with over 140 steps up a wooden spiral staircase leading up to the top. Climbing to the top of the tower costs €2 and, TBH, it was the best €2 I spent in Piran.
The tower's narrow viewing deck boasts unobstructed panoramic views of the town's iconic orange rooftops, Tartini Square, the marina, and Piran's lighthouse. If you're there on the hour or at any 15-minute interval (12:15, for example), you'll get to hear the bells chiming nice and loudly.
Peruse One of Piran's Many Small Museums
Visit one of Piran's many local museums on rainy days or to learn more about this small but strong village. You can find all kinds of exhibits within the city, from historic homes to archeological finds, seashells to salt pans, and of course, tons more. Some of the most popular museums in Piran, Slovenia include:
Take a Boat Tour
There's really no better way to get a feel for the Istrian coast than by taking a leisurely boat ride and seeing Piran from the sea. You really can't go anywhere in Piran without seeing sailboats, yachts, and small fishing boats.
While it seems like there should be a TON of different tour companies offering boat tours in the Piran area, there were only a small handful when I inquired about them, many of which only operate during the high season. (Take note: I think this is an AWESOME business opportunity!!)
The Subaquatic boat tour came recommended by the tourist information representative I spoke to, but unfortunately it wasn't running while I was in Piran. However, it looked like a really cool ship, with open-air balconies and windows under the water so you can catch a glimpse of both the land and the sea. It's DEFINITELY something I've got on my list for next time!
Go Scuba Diving
If you're an adventure traveler like me, you're probably itching to do something active after all of the cultural activities in Piran.
Well, don't worry, we're getting there!
If you weren't aware, there's actually a fantastic diving scene off the coast and there are a handful of dive shops that organize fun dives. So if you felt your bones itching for the sea after visiting the Underwater Activities Museum, you can jump right in with a local diving company.
For diving in Piran, Piran Divers comes highly recommended and they have everything you need to go diving, including gear rentals and refresher courses.
Prices vary based on whether you need to rent equipment and whether you're planning to dive during the day or at night. If you're a non-diver interested in getting certified, they offer courses as well.
Sample Traditional Istrian Food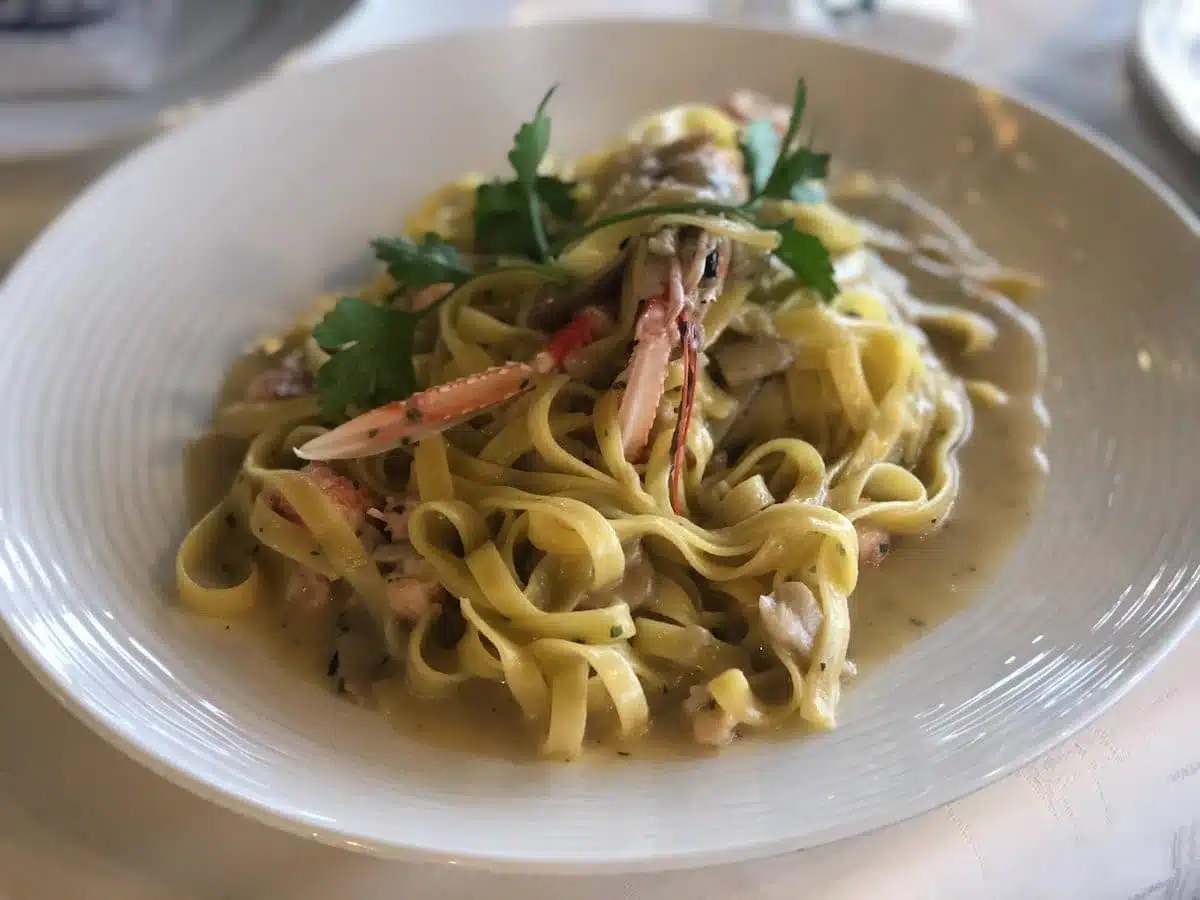 Because of its location in Slovenia's Istria region and also its vantage point on the seaside, Piran has some fantastic food dishes to try for any first-time visitor to the area.
In Piran, you can sample traditional Istrian dishes like:
Istrian dumplings with truffles
Homemade pasta
Fresh seafood dishes
Suffice it to say that if you want to sample some of the best food Slovenia has to offer, Piran is the place.
If you're looking for casual, inexpensive fresh seafood dishes, I highly recommend the laid-back Okrepcevalnica "Kantina." It's a self-serve kiosk next to a great bar where you can order local seafood and side dishes for very reasonable prices.
For a sit-down experience next to the sea, I highly recommend Pavel 2 Restaurant. They've got fantastic pasta and seafood dishes with a variety of wine options.
Other fantastic options include Tartini Art Hotel for fish and chips and Mestna Kaverna for coffee and sandwiches.
Take a Walking Tour
During the high season (May to September), there are a variety of walking tours, including a daily one that costs 9 Euros and shares the history of the entire city and some of the main highlights.
While there are more basic walking tours, there are also a few with better perks, like local food and drink tasting or tours with a boat component.
Unfortunately, I wasn't able to go on any walking tour because I visited in October, but reviews of the tour on TripAdvisor are overwhelmingly positive.
Walk Through the Ancient Walls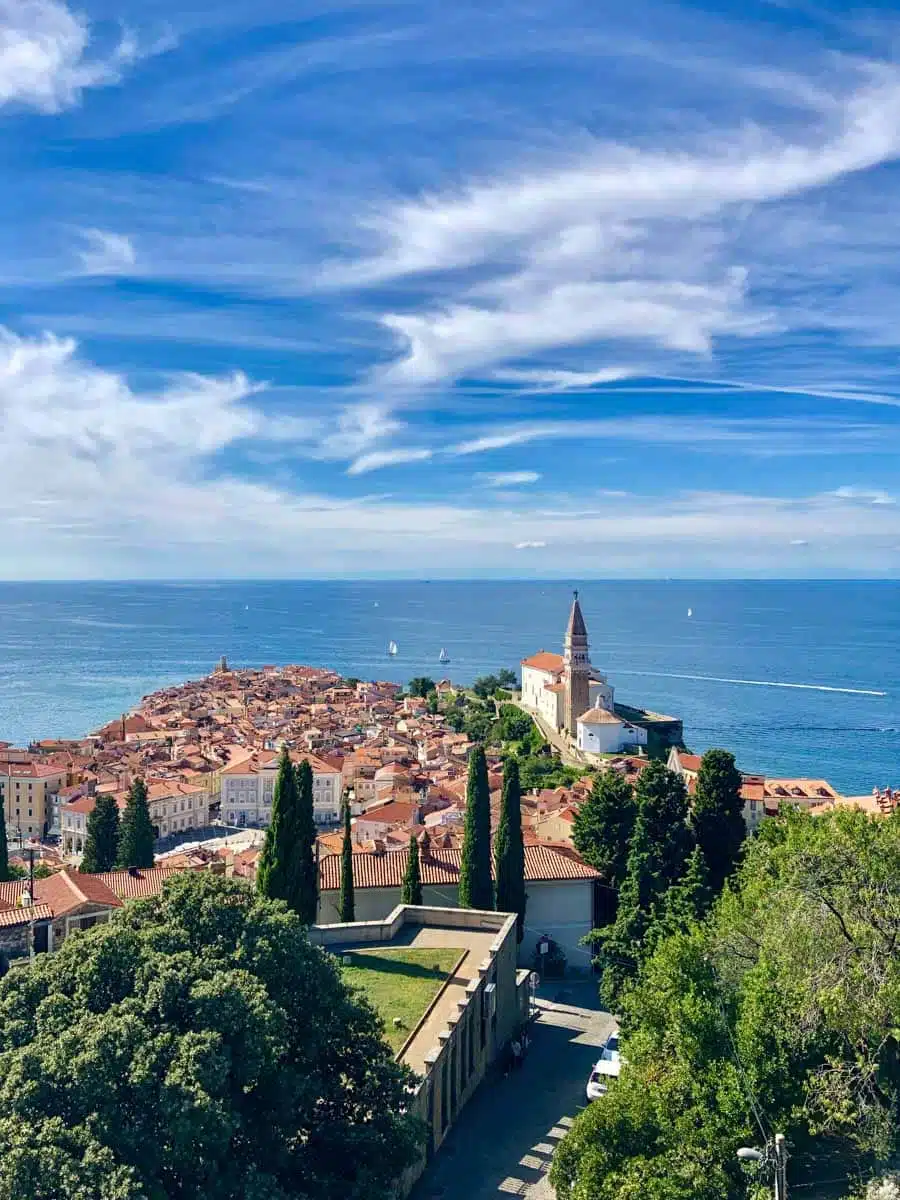 There's really no shortage of ancient architecture within Piran's city limits, and the Walls of Piran are no exception. Boasting impressive views from its highest points, you can climb up to various areas of the walls and see all the way out above the orange rooftops to the glimmering blue sea.
For the best views of Piran, I recommend going all the way to the far end of the walls by the exit and climbing the last tall tower – the views there were by far the most unobstructed in the whole complex.
Look Out for Rock Art Along the Coast
What's that I see? Is that a…face?!
Yep, that's exactly what I was thinking when I took a stroll around the rocky shore of Piran, half-asleep and blurry-eyed, only to find several rocks carved into faces, mermaids, you name it! It's fun to simply walk around the rocks and see if you can spot any of these quirky little sculptures, carved by local artists.
Hike on One of Several Nearby Walking Trails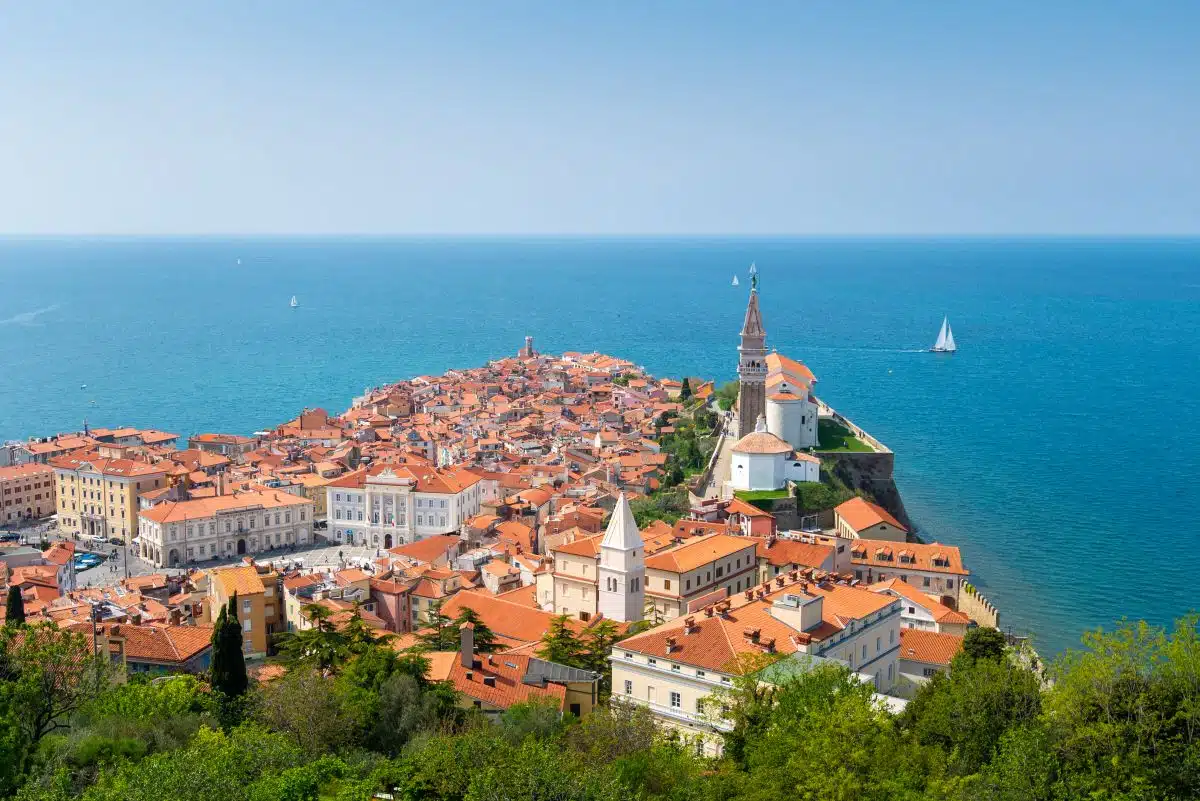 If you're hoping to get your blood pumping while enjoying spectacular seaside views, take a long stroll on the Seaside Promenade, which extends along the coast from Portoroz through Piran and all the way to Strunjan Nature Reserve.
You can walk for as little or as long as you'd like, or take a side detour to extend your hike. Before I departed for my long walk to Strunjan, I picked up one of the really helpful Walking Trail Maps provided by the local tourist office.
There are a large number of trails all the way out to Portoroz, so if you're keen to stay on your feet, the walking trail map is a must.
Sip by the Seaside
This one goes without saying, but Slovenia is a country of wine making. However, most of the wine doesn't ever leave the country because the locals give it away to their friends! I
n Piran, however, you can take advantage of being in Slovenia and sample some of their finest white and red wines in a restaurant by the seaside.
Some of my personal favorite Slovenian wines include teran (a dry red wine) and zelen (a popular white wine). Or, if you're feeling adventurous, try more than one!
After all, there's no better place to sip on delicious vino than on the sparkling blue Mediterranean coast…amirite?!
Watch the Sunrise and/or Sunset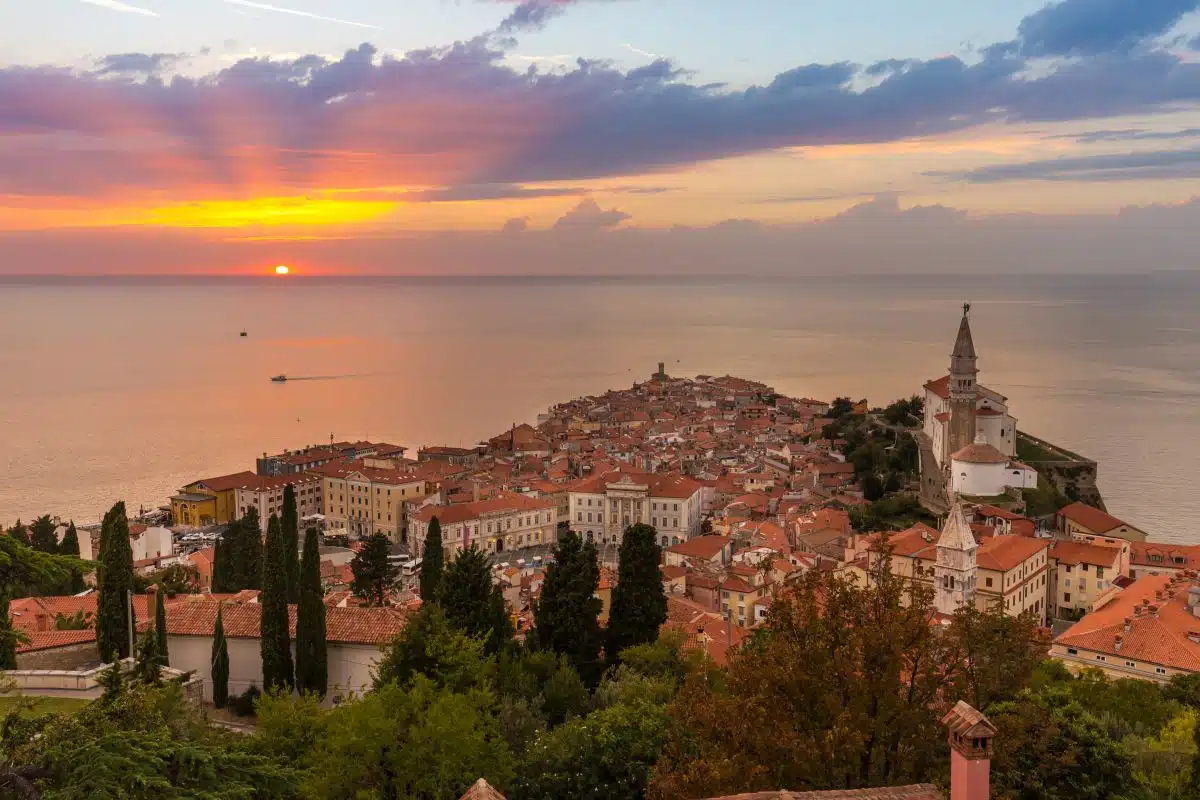 With so many different viewpoints and walking areas, the sunrise/sunset are a MUST in Piran, Slovenia. Head to the old walls or the church tower for bird's eye sunset views, or just walk along the seaside promenade for something more up-close and personal.
Or, if you just want to enjoy the sunset without going anywhere, seek out a waterfront table at one of the town's many restaurants and watch the reds and oranges light up the sky while you wine and dine.
Unfortunately, it was a little cloudy while I was in Piran, so you'll have to use your imagination on this one.
Take a Day Trip to One of the Amazing Nearby Attractions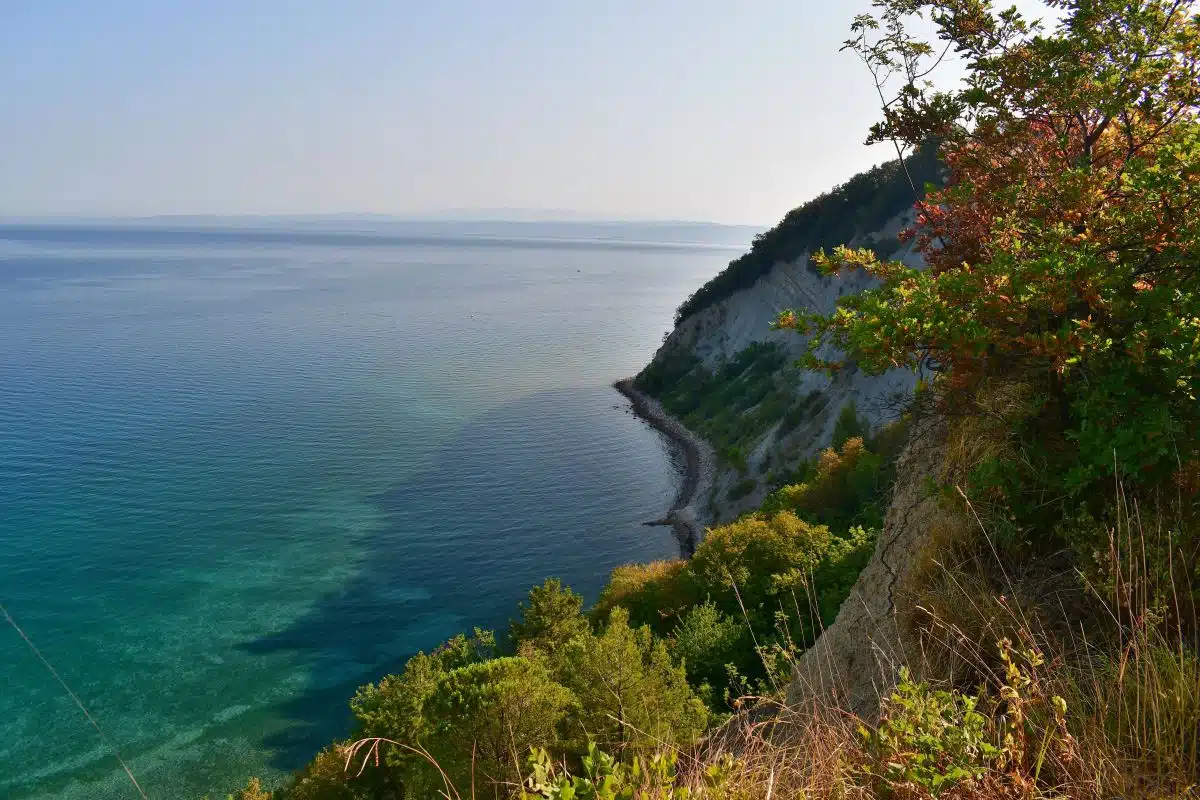 Piran is located on the end of a cluster of villages on the Slovenian Coast, each of which has its own gems and natural attractions to explore. You can travel to the neighboring villages either by bus (€1.80) or by foot via the network of walking paths in the area.
While I was in Piran, Slovenia, I took a trip to the nearby Strunjan Nature Reserve and salt pans. I walked there by foot, which took around an hour on a path along the coast.
There, I made my way through small farms, olive orchards, and seaside cliffs to arrive at beautiful views like the one above.
For even more adventures, you can head to the nearby villages of Koper, Izola, and Portoroz, each which have their own charms and attractions.
Know Before You Go: Piran Travel Tips
When to Travel to Piran
The tourist high season in Piran is from late May through September, with the largest crowds peaking during the summer months. During this time, you'll want to reserve everything ahead of time as it's a really small city and hotels/tours/etc. do tend to fill up quickly.
However, if you'd like to avoid the crowds, I recommend October, which is when I went.
Of course, being a very seasonal destination, some of the activities in Piran won't be available if you go outside of the high season, but you'll still be able to do almost everything on this list if you plan to stay a few days.
How to Get to Piran, Slovenia
While driving is a popular way to get around in Slovenia, I actually recommend ditching the rental car for Piran. There are no cars allowed in Piran's city center, meaning you'll have to park (and pay) outside of the city and walk or take a free shuttle inside (AKA, it's a huge pain in the a$$).
Instead, I recommend saving some money and taking public transportation from one of the major cities in the area. See below for some of the most popular routes.
From Ljubljana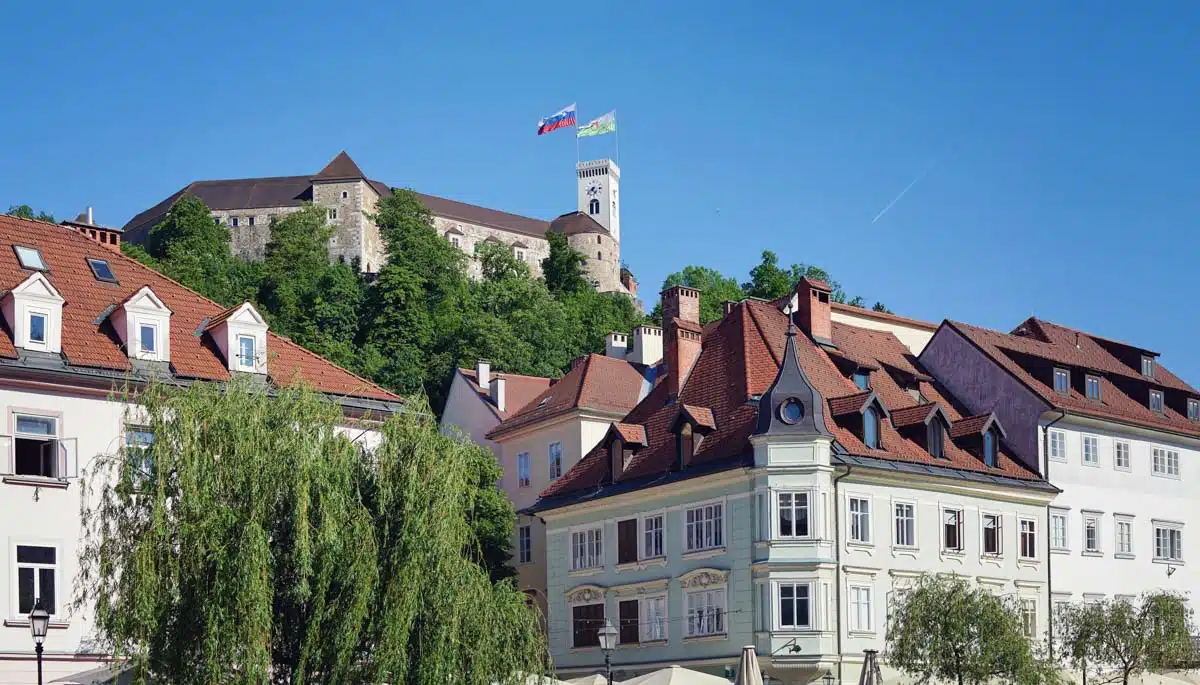 From Ljubljana, there are several buses that depart from the central bus station (Avtobusna Postaja Ljubljana) to Piran each day. You can view the daily schedules for the buses here.
I bought my tickets online, but it's a hassle to pick up and print. Unless you are going during the high season, you can simply board the bus and pay the driver with cash or credit card. If you're going during June-August, I recommend booking in advance online or at Ljubljana's bus station.
The amount of time it takes to get from Ljubljana to Piran by bus varies depending on how many stops you bus makes. When I arrived, it took over 3 hours with 15+ stops, but when I left to go back to Ljulbjana, it took less than 2 hours with just a handful of stops.
From Trieste
FlixBus runs a number of bus lines from Trieste, Italy to nearby Portoroz. From Portoroz, you can take a local Arriva bus to Piran for just 1.80 Euros (no ticket necessary, just simply pay the driver when you board!).
To Piran, the bus ride takes approximately 15 minutes and you can view the daily schedules here.
From Venice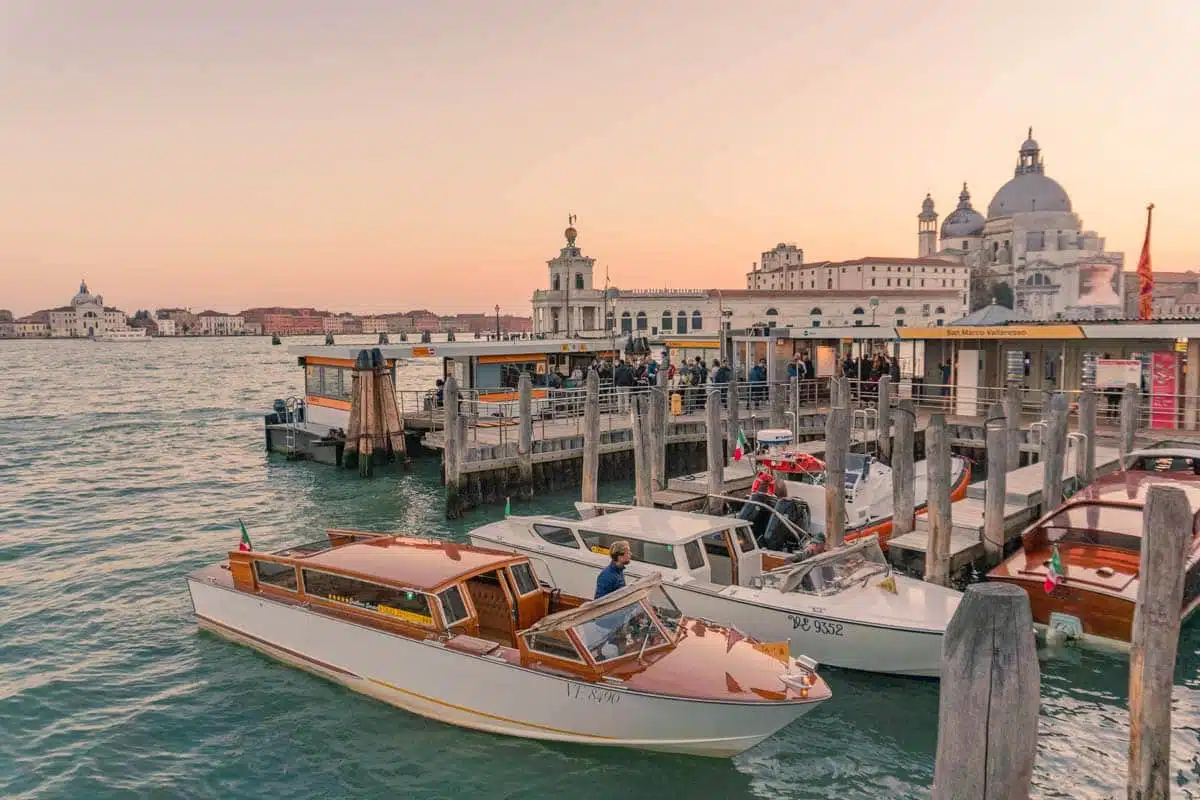 From Venice, you can either take a bus or a ferry to get to Piran. Either way, it takes anywhere from 2.5 to 3.5 hours.
FlixBus operates a direct bus twice per day from Venice to Piran that takes about 3 hours to arrive. The bus drops you off near Portoroz, so you'll still need to take a local bus or a taxi to get to Piran from there (~15 minutes).
The ferry only runs once per week (on Saturdays) and takes about 2h45 to arrive in Piran.
From Croatia
There are buses directly to Piran from many towns on the Croatian coast, including Rovinj. There's also a ferry from Porec to Piran that departs Wednesdays, Saturdays, and Sundays.
Where to Stay in Piran, Slovenia
Traditional Piran House
While there, I stayed in the Traditional Piran House, which is located on a quiet side street just off Tartini Square. It's a hostel/hotel hybrid, which consists of a handful of private bedrooms, a kitchen, and a shared bathroom.
It's a great option for budget travelers who are just looking for a place to rest their heads at one of the best prices for a private room in all of Piran.
Art Hotel Tartini
Situated right on the side of the busy Tartini Square, Art Hotel Tartini is a fabulous choice for people who want more comfort in a chic, contemporary boutique hotel setting.
I didn't stay here, but I paid the hotel a visit while I was in Piran, and it's just as cute as it looks in photos.
They also serve a mean fish and chips in their hotel restaurant.
For those looking for a high-end stay, the nicest hotels and resorts in the area are actually in Portoroz.
While I do recommend staying at least a night or two in Piran itself, there are many luxury options in Portoroz that you may prefer if you are seeking five-star accommodations.
Check Rates and Availability for Piran Hotels