Ready to discover the most beautiful castles in Slovenia?
If Slovenia isn't yet on your radar, it should be: this country is one of Europe's best-kept secrets.
With their rich history, beautiful architecture, and location in nature, the castles in Slovenia are some of the most amazing in the world. In this post, I've picked 25 of Slovenia's most beautiful castles for you to learn more about and explore on your next trip.
How Many Castles Are in Slovenia?
After spending some time traveling around Slovenia, you might start to feel like there are churches and castles around every turn. And, in many respects, that's actually true!
In total, there are over 500 castles in Slovenia, many of which have been converted into museums and parks. That's a lot – approximately one castle per 15 miles – for a country as tiny as Slovenia!
While some of these castles are in impeccable condition, others are now standing as ruins you can explore. Either way, they're all magical in their own way. In this post, we'll cover 25 of the most beautiful castles in Slovenia that look like they came from a fairytale.
Castles in Ljubljana & Central Slovenia
Ljubljana Castle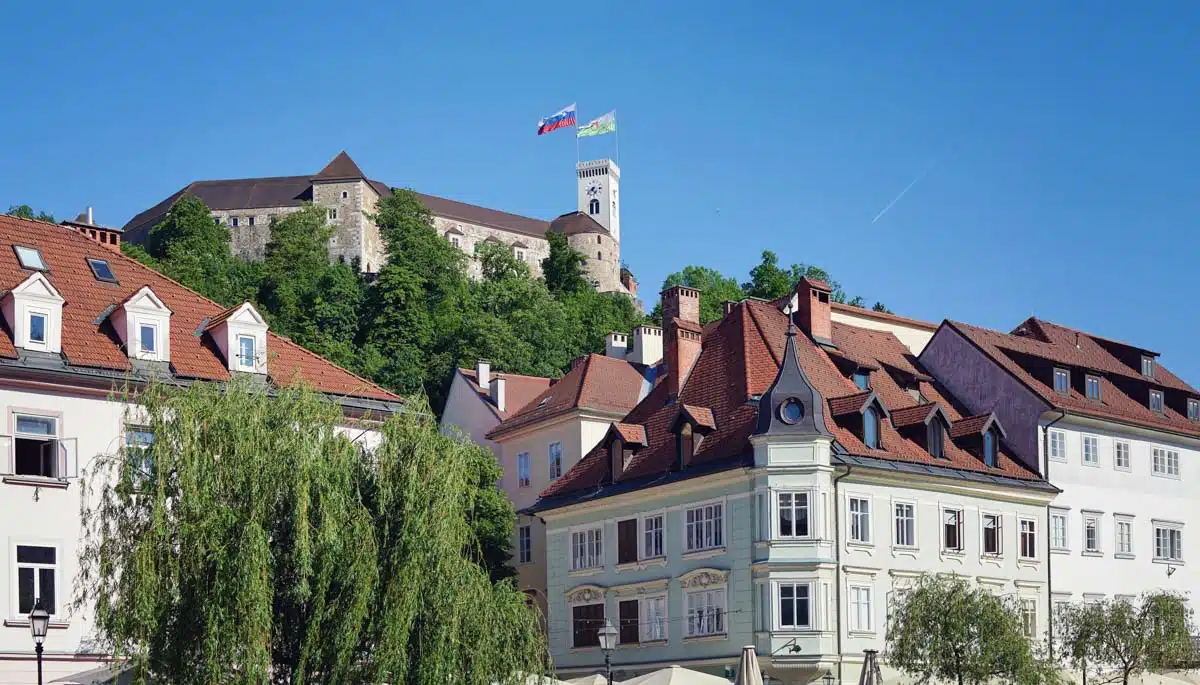 One of the most popular and iconic castles in Slovenia is located right in the middle of its capital city, Ljubljana. Situated on top of a hill, Ljubljana Castle is a citadel that has overlooked the city for over 900 years.
While you can take a funicular car to the top, I recommend exploring some of the winding staircases and alleyways surrounding the castle, making your way up to the top by foot.
Once you arrive at the castle, you can explore the castle itself, with its famous rooms, its puppet theater, and more.
Afterward, take some time to explore the grounds, which boast gravel walking trails and stunning city views.
Address: Grajska planota 1 1000 Ljubljana
Castle and Funicular Car Hours:
January to March and November: 10:00-20:00
April, May, and October: 9:00-21:00
June to September: 9:00-23:00
December: 10:00-22:00
Cost of Entry:
€7.50 per person (€10 for ticket + funicular car ride)
Polhov Gradec Mansion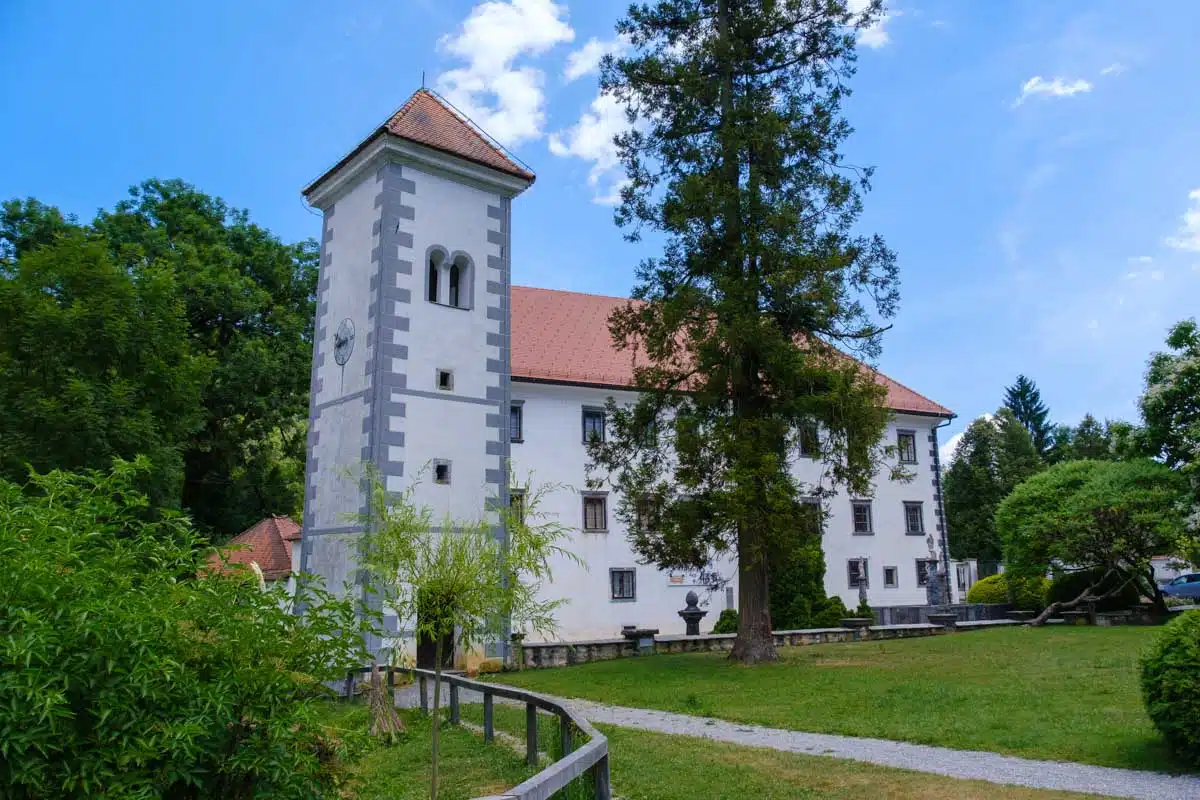 Located 30 minutes west of Ljubljana, the Polhov Gradec Mansion and Museum was built in the baroque area and owned by a wealthy count.
Today, the Polhov Gradec Local Museum gives visitors the opportunity to see inside the castle. Aside from the castle itself, there's a beautiful garden and set of statues on the mansion's grounds as well.
Address: Polhov Gradec 61 1355 Polhov Gradec
Castle Hours: Tuesday to Friday, Sunday and public holidays 10:00-17:00 (last entrance at 16:00)
Cost of Entry: €2.50-5 (you must buy paired with a ticket to the Technical Museum of Slovenia)
Bogensperk Castle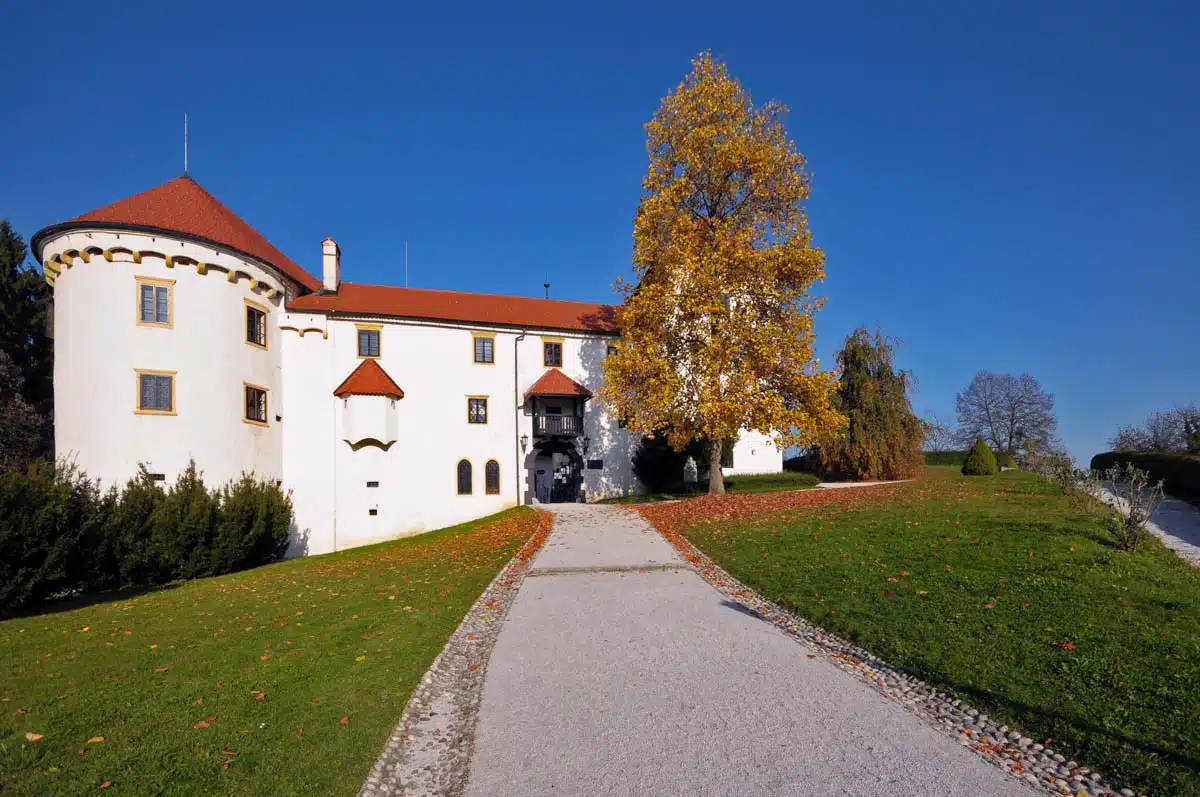 Built in the 16th Century, Bogensperk Castle is one of Slovenia's most beautiful gems.
With its whitewashed walls lined with orange shingles, the cylinder-shaped rooms and pointed rooftops definitely give Bogensperk a fairytale-esque look.
Today, visitors can see this castle and its grounds, including many of the inhabited areas and its extensive collection of minerals. There's even a fascinating section on Slovenian superstitions for those interested in folklore and mystery!
Address: Bogenšperk 5 1275 Šmartno pri Litiji
Castle Hours:
April-June and September- October

Tuesday to Friday: 9:00 to 17:00,
Saturday: 10:00 – 17:00
Sundays: 10:00-18:00
Closed Mondays

July-August

Tuesday to Saturday 10:00 -18:00
Sundays 10:00-19:00
Closed on Mondays

March and November

Thursday to Sunday 10:00-17:00

December-February closed
Cost of Entry: €4.50 per person
Little Castle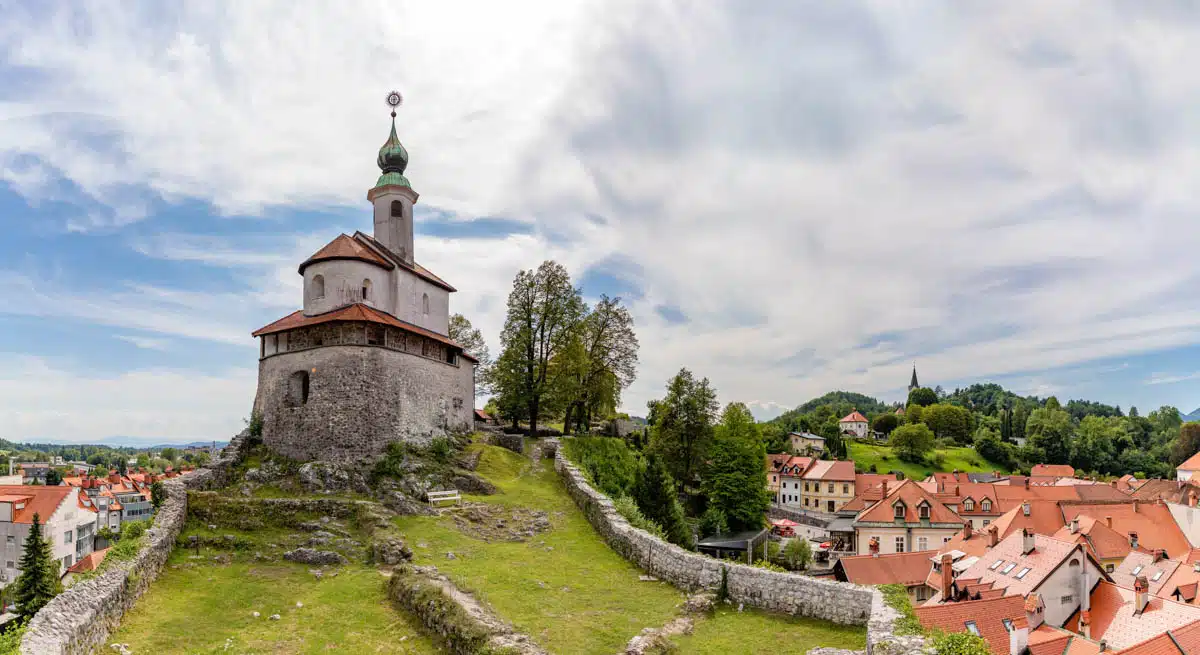 In the center of the city of Kamnik lies a tiny castle and a lone steeple that stands in front of a background of striking mountains.
This tiny structure is called Mali grad, or the "Little Castle," and is one of the most famous landmarks in all of Kamnik.
Although this castle is quite small today, it used to be just a tiny section of a much larger castle complex that was constructed in the 11th or 12th century.
Visitors cannot enter the castle's chapel without a guide, which can only be organized by appointment. However, this magical structure is lovely even just to look at and photograph!
Address: Kamnik City Center
Gewekenegg Castle
Built in the 16th century as a hall to store food for the residents of Idrija, a large mining city. It was owned by the mining administration and housed a few mine worker residents.
It's the only Slovenian Castle not built by a lord in the feudal system – it was built by the people, for the people. Today it houses a museum about the mining activities in the area.
Address: Prelovčeva 9 5280 Idrija
Castle Hours:
May-September:

Monday-Friday: 9:00-17:00
Saturday and Sunday: 10:00-15:00

October-April:

Monday-Friday: 9:00-15:00
Saturday and Sunday: 10:00-15:00
Cost of Entry: €5 per person
Castles in Northwestern Slovenia
Brdo Castle
Built in the 16th century, Brdo Castle was long known as being a hub for ceremonial occasions and important events in Slovenia. Now a conference center, hotel, and tourist landmark, Brdo Castle has maintained its high profile after many centuries of changing hands.
Although tours of the castle itself are not widely available, visitors can tour the castle's grounds during designated times for a small fee.
Address: Predoslje 38, 4000 Kranj, Slovenia
Brdo Grounds Hours: Sunrise to sunset
Cost of Entry: €3 per person
Bled Castle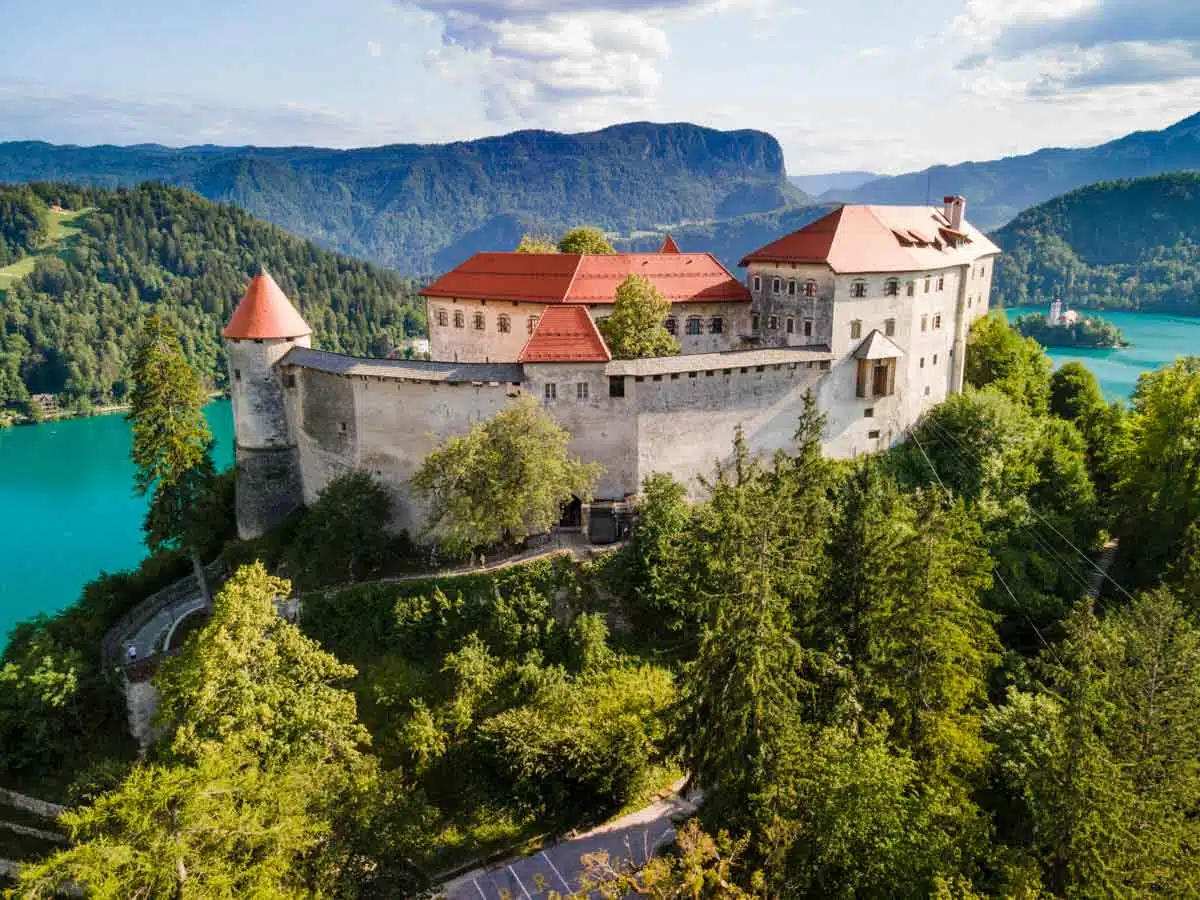 Perhaps one of Slovenia's most beautiful locations, Bled Castle is located atop a cliff next to the famous Lake Bled.
Built in the 11th or 12th century, this castle is said to be the oldest in Slovenia, according to written documentation.
Today, the castle operates as a historic institution and museum. The views from the castle's incredible vantage point are spectacular, giving visitors the chance to see down into the lake and beyond to the Julian Alps.
Address: Grajska cesta, 4260 Bled, Slovenia
Castle Hours:
January-March, November-December: 8:00-18:00
April-May, September-October: 8:00-20:00
June-August: 8:00-21:00
Cost of Entry: €11 per person
Kamen Castle
In the village of Begunje lies a set of castle ruins that once stood mighty.
Built in the 12th century, it changed hands between several families much like many of the castles on our list. In the 18th century, it was abandoned and left to ruin, its remains used to built the rest of the town.
Today, it still has a few structural pieces intact, like a small turret-like building, but most of it is simply brick walls now. Visitors can walk the grounds and explore this magical ruin.
Address: 4275 Begunje na Gorenjskem, Slovenia
Pilgrimage Church of the Assumption of Maria (Bled Island)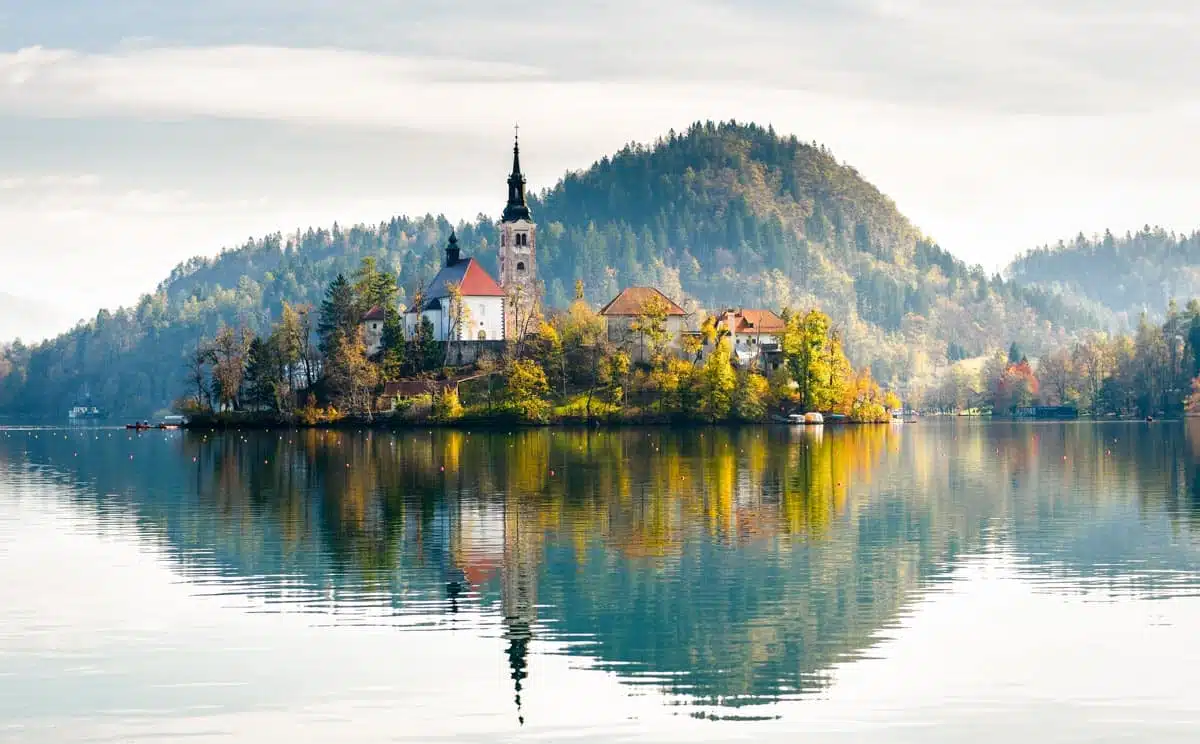 OK, OK, I know this isn't a castle. But it's too beautiful and too iconic to leave off a list like this, especially because of how fairytale-esque it is.
When people think of Slovenia, they often think of this very image, the beautiful tiny church on the island in the middle of Lake Bled. Well, folks, the Church of the Assumption of Maria is it.
Aside from being one of Slovenia's most iconic views, the Pilgrimage Church has a really fascinating history, too.
According to the legends, if you ring the bell three times at the church, your wishes will come true. Or, go for a hike to the Ojstrica viewpoint to see a picture-perfect view of its iconic steeple.
Address: Center of Lake Bled
Church Hours: 9:00-16:00 or 9:00-19:00, depending on the month
Cost of Entry: €6 per person plus cost of boat ride
Khislstein Castle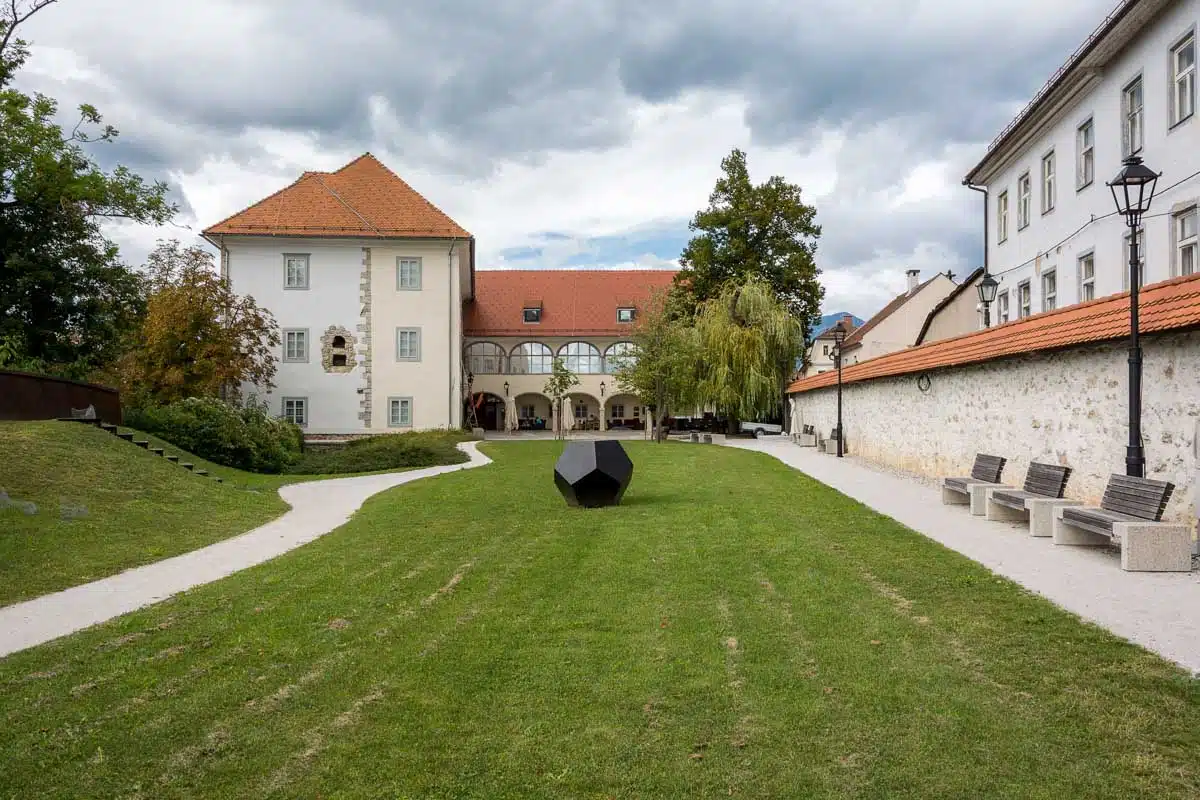 Located near Kranj, Khislstein Castle is a beautiful estate built in the 13th century. It changed hands between families and was used as a fortress to guard the city, finally purchased by the state in 1913.
Today, Khislstein Castle is a municipal building for the Agency for the Protection of Natural and Cultural Heritage.
Address: Tomšičeva ulica 44, 4000 Kranj
Castle Hours: 10:00 – 18:00
Strmol Castle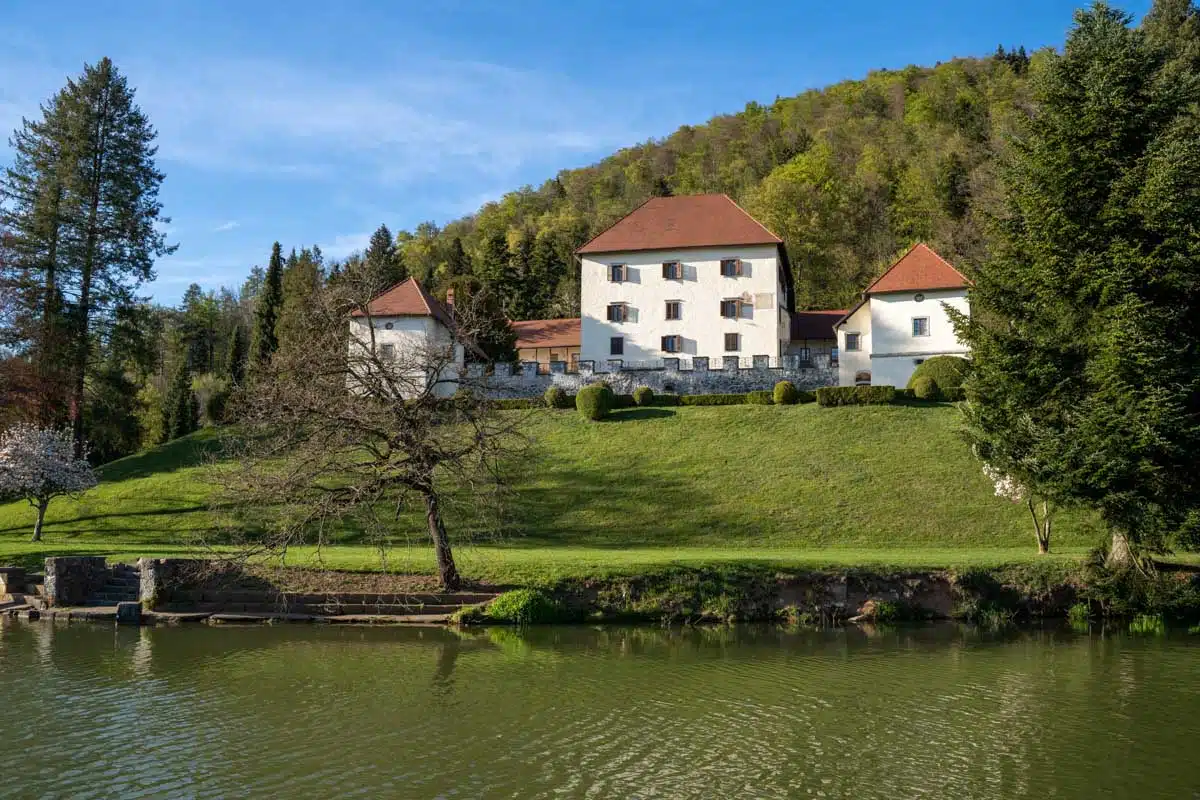 Strmol Castle is one of the most beautiful and well-maintained castles in all of Slovenia. It's a smaller castle, but has been handed down through the years since the 13th century.
Now a luxury hotel, restaurant, and events center, visitors can stay in this regal castle for the night. There are even still some of the original furnishings in the hotel's common areas.
Address: Dvorje 4, 4207 Cerklje na Gorenjskem, Slovenia
Castle Hours: 7:00-22:00
Kacenstajn Castle
At first glance, Kacenstajn Castle in Begunje village looks like another one of Slovenia's beautiful baroque castles, but it has quite a dark history. During WWII, it served as a prison, and its gruesome history led to 849 bodies of detainees being buried on the groups.
Today, it serves a dual purpose – much of it is a psychiatric clinic/hospital, but it also houses a Hostage Museum open to the public.
Castles in Southern Slovenia & the Coast
Predjama Castle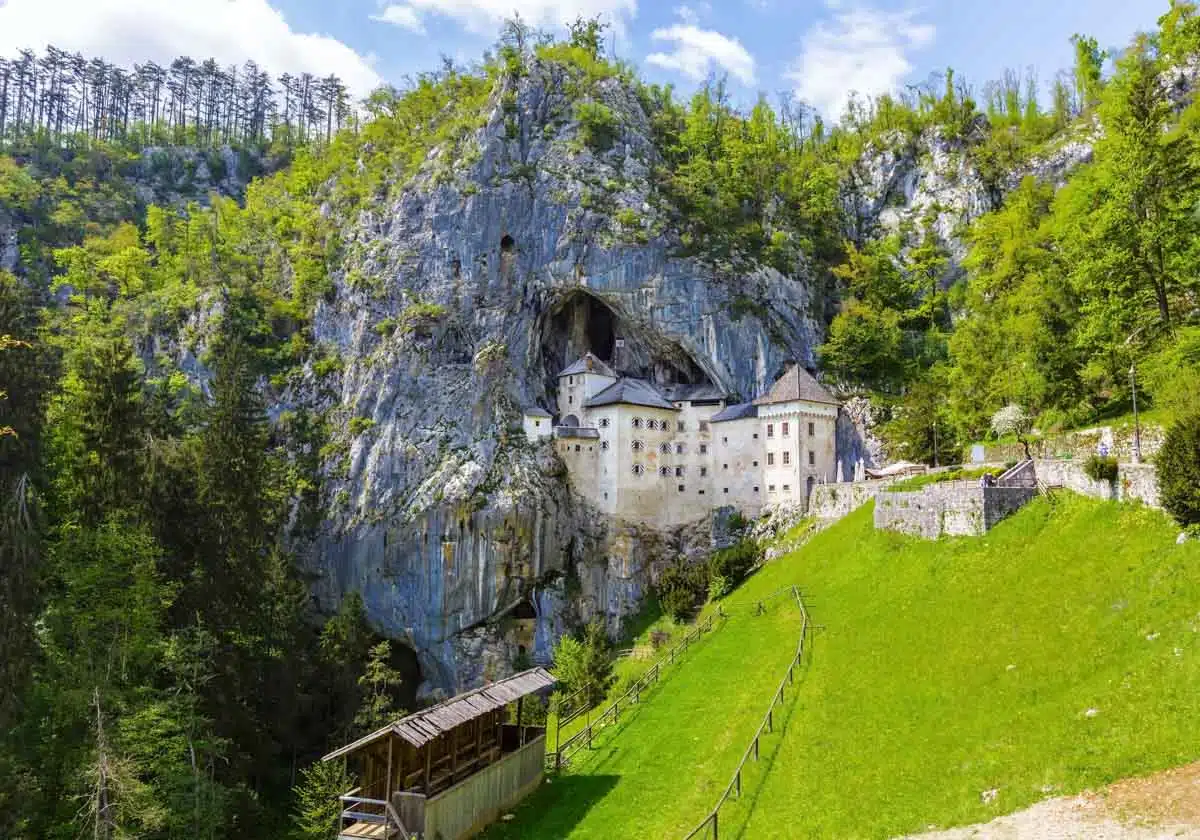 An 800-year old beauty, this castle was built into the natural cave system in the cliff it occupies, making it a really interesting juxtaposition of man-made and natural elements.
It was home to a famed robber baron, Erazem, whose story still lives on today in Slovenian folklore. Since its feudal days, it has been the filming site of many famous movies and shows.
Today, visitors can tour the armory, which is home to many medieval weapons and armors, or take a tour of the caves connected to the castle.
Address: 6230 Predjama, Slovenia
Castle Hours:
April and October: 10:00-17:00
May, June, September: 9:00-18:00
July-August: 9:00-19:00
November-March: 10:00-16:00
Cost of Entry: €13.80 per person
Stanjel Castle
Built in the feudal system, the castle once stood much smaller, but was expanded as it changed hands several times throughout its history.
In WWI, the Austrian army used the complex as a hospital. Between WWI and WWII, it served as a town meeting place with a school, a library, and a medical center.
Stanjel was heavily damaged in WWII, but its remains today welcome visitors to see its Baroque-Renaissance grandeur and beauty.
Address: 6222 Štanjel, Slovenia
Castle Hours: 24 hours a day
Sneznik Castle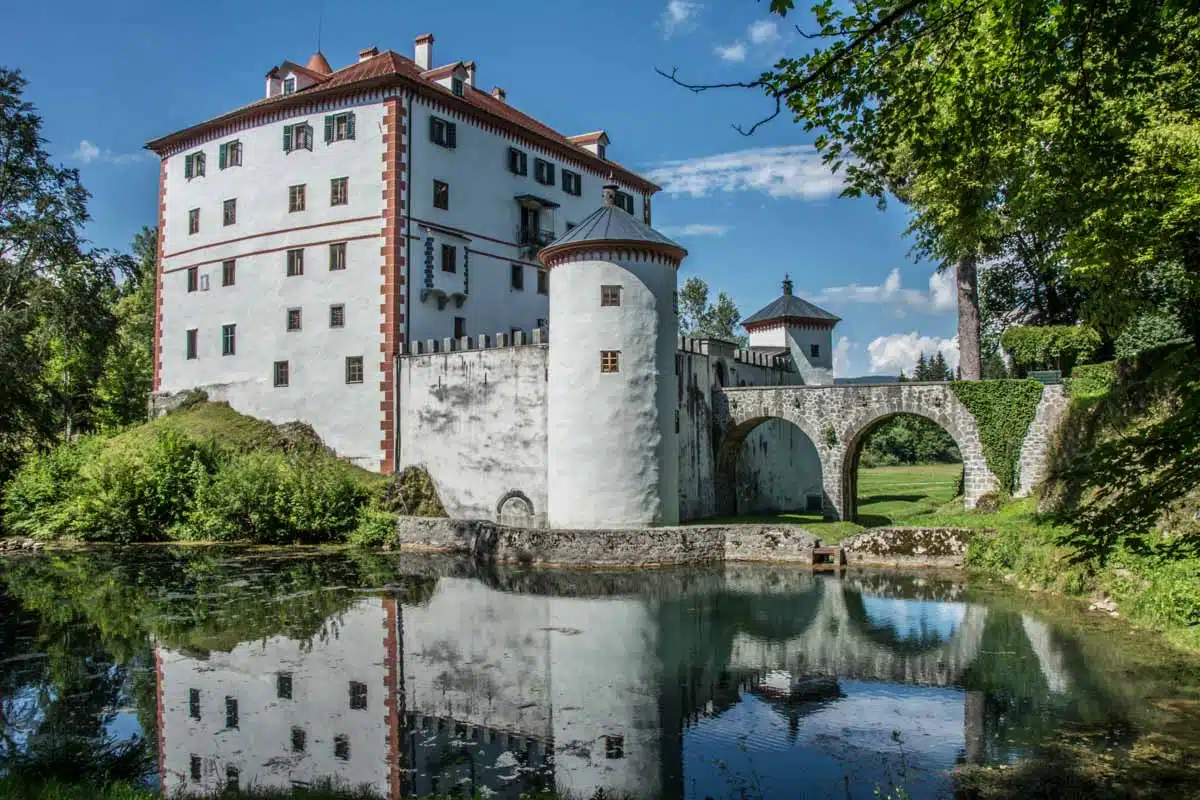 Built in the 13th century, this magical Slovenian castle sits next to a stunning reflection pool and looks like something out of a Disney movie.
In 1832, the family that owned the castle put the castle up on a lottery, which was subsequently purchased by a Hungarian blacksmith, and was later taken over by a German prince.
In 1945, the castle was nationalized, and today it is a museum that visitors can explore.
Address: Kozarišče 67, 1386 Stari trg pri Ložu, Slovenia
Castle Hours: 10:00-16:00, closed Mondays
Cost of Entry: €5 per person
Castles in Eastern Slovenia
Podsreda Castle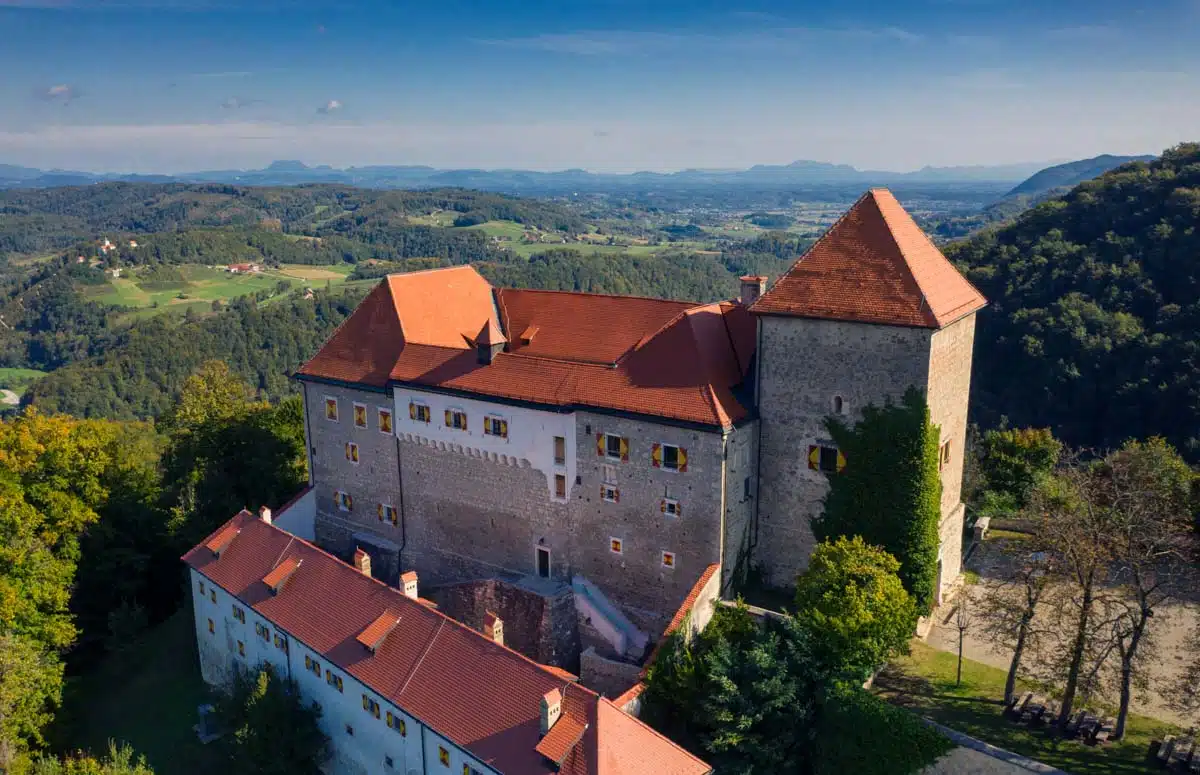 Podsreda Castle is known to many as Slovenia's most stereotypical royal castle, and is situated atop a hill in the town of Podsreda.
It is a nationally-renowned example of Romanesque archetecture.
It was nationalized after WWII, and today is home to a small historic museum and an exhibition of paintings and artwork by Slovenian artists.
Address: Podsreda 103, 3257 Podsreda, Slovenia
Castle Hours: March to November 10:00-18:00
Cost of Entry: ~€4 per person (as of 2015)
Olimje Castle & Monastery
One of the oldest castles in Slovenia, Olimje Castle was built in the 11th century. Upon seeing this castle, I thought it was one of the most beautful.
The building boasts beautiful gray and white patterns, and looks like something out of a storybook.
It houses the oldest pharmacy in all of Europe, which visitors can still tour today. It has also hosted several monks throughout history, and is now owned by the Conventual Franciscans, who operate regular masses in the monastery's chapel.
There's also an operating herbal apothecary where visitors can peruse and purchase various items.
Address: Olimje 82, 3254 Podčetrtek, Slovenia
Castle Hours: Open all day – mass is at 9:00 AM on Sundays and in the afternoon on weekdays
Cost of Entry: Unknown
Zuzemberk Castle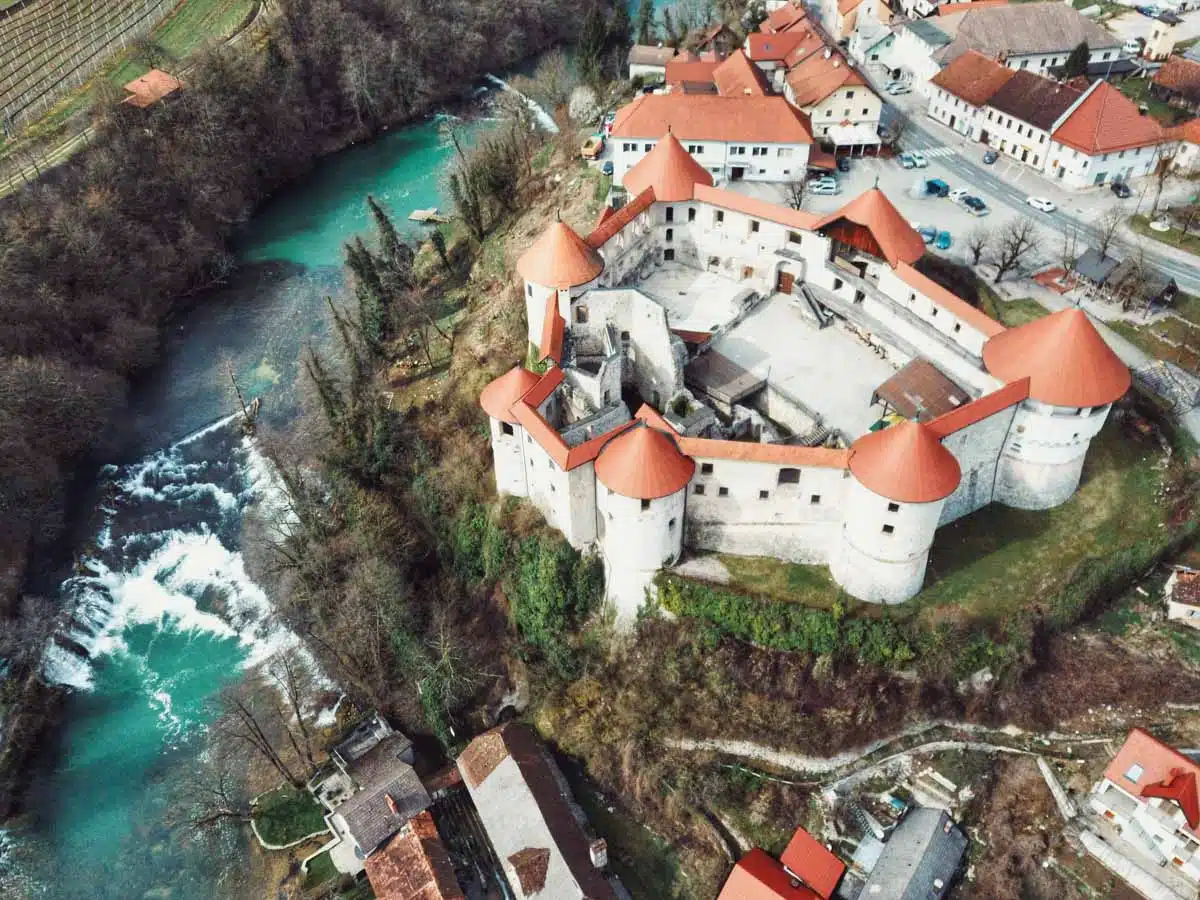 An iconic edifice with seven round towers, the Zuzemberk Castle is one of Slovenia's most interesting-looking castles.
Built in the 13th century as a much smaller complex, it was fortified with its famous 7 round towers in the 16th century for stronger defense.
During WWII, the structure was badly damaged and is still undergoing restoration today. Visitors can walk around the grounds or enjoy live shows in the summer months.
Address: Grajski trg 1 8360 Žužemberk
Entry: By pre-arranged appointment only
Sevnica Castle
For many centuries, Sevnica Castle was owned by the Archdiocese of Salzburg.
According to legends, the castle and surrounding area were once connected by a network of underground tunnels that were said to have been built to protect against Turkish invasion. After WWII, the castle was nationalized, and there were many local families living in the castle for many decades.
Now, it serves as a museum where visitors can tour the grounds, learn about the Lutheran cellar, and attend special exhibits and various performances.
Address: Glavni trg 19, 8290 Sevnica, Slovenia
Castle Hours:
November-March:

Fridays: 15:00-18:00
Saturdays and Sundays: 12:00-15:00

April-October:

Tuesdays-Fridays: 12:00-18:00
Saturdays and Sundays: 12:00-18:00
Cost of Entry: €2-8 depending on age and size of group, art galleries are free of charge
Castles in Northeastern Slovenia
Betnava Castle
Constructed in the 14th century, Betnava Castle was built to model a Florentine-style mansion. With its pink exterior and white detail, it looks somewhat like a dollhouse with some dilapidated charm.
This castle is interesting because it has come to ruin in recent years due to poor maintenance and abandonment.
For this reason, visitors cannot enter the building. However, it isn't hard to see, even from the outside, how beautiful this castle once was.
Address: Streliška cesta 150a, 2000 Maribor, Slovenia
Maribor Castle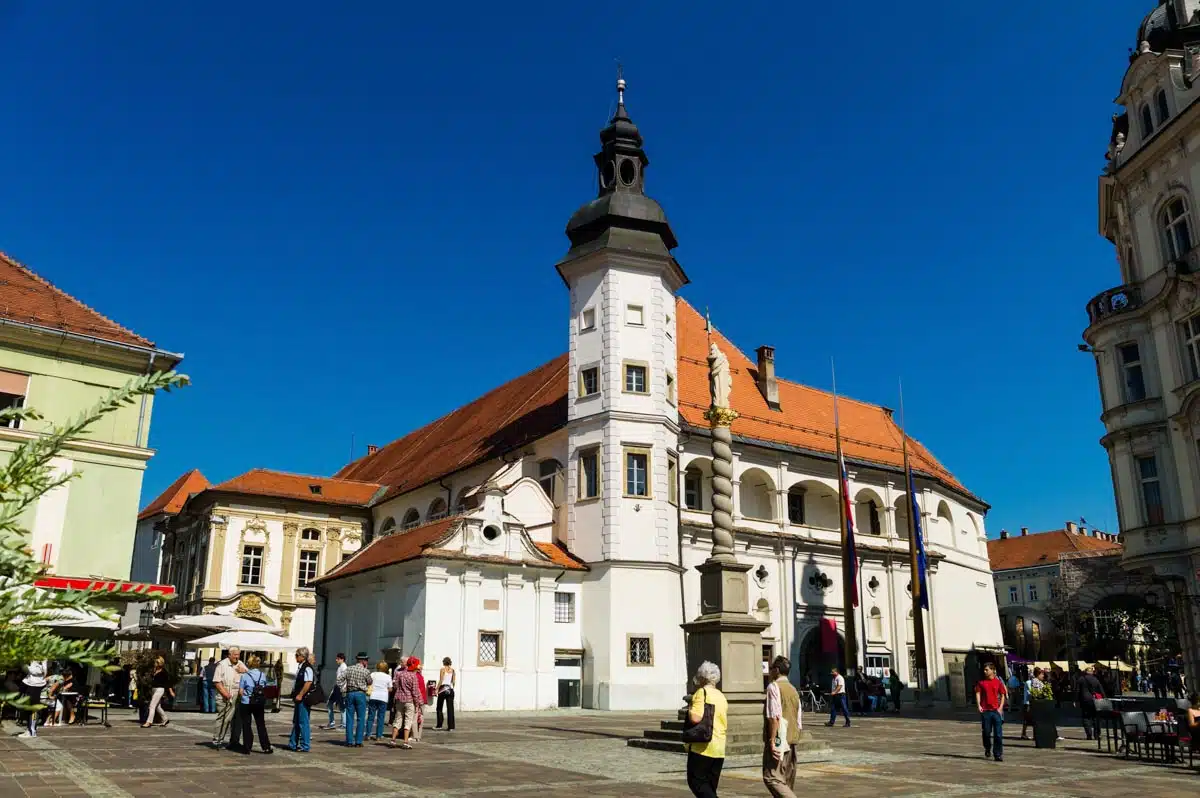 Built in the 15th century as a fort to protect the city of Maribor against invaders, Maribor Castle is located in Maribor's city center.
A venue for concerts and important meetings, the most famous room in the castle is called the Festive Hall, and it has hosted several famous people in its time, including Franz Lizst, Leopold I and Pope Pius VI.
Today it is a historical museum where visitors can learn more about the history of the area.
Address: Grajska ulica 2, 2000 Maribor, Slovenia
Castle Hours: 10:00-18:00 Tuesday through Saturday, 10:00-14:00 Sunday, Closed Mondays
Cost of Entry: €3 per person
Statenberg Mansion
Built much later than many Slovenian castles, in the late 17th century, Statenberg Castle was named after an older castle that was destroyed prior to construction.
As a result, it looks very different than many of the other Slovenian castles on our list.
Today, it hosts weddings and big events, and the mansion is the start of many surrounding hiking trails. There is also a museum guests can enter on the weekends.
Address: Štatenberg 89, 2321 Štatenberg, Slovenia
Website: Statenberg Castle
Castle Hours:
May, September, and October: Saturday and Sunday 12:00-18:00
June-August: Saturday and Sunday: 12:00-19:00
All weekdays by prior arrangement only
Bistrica Castle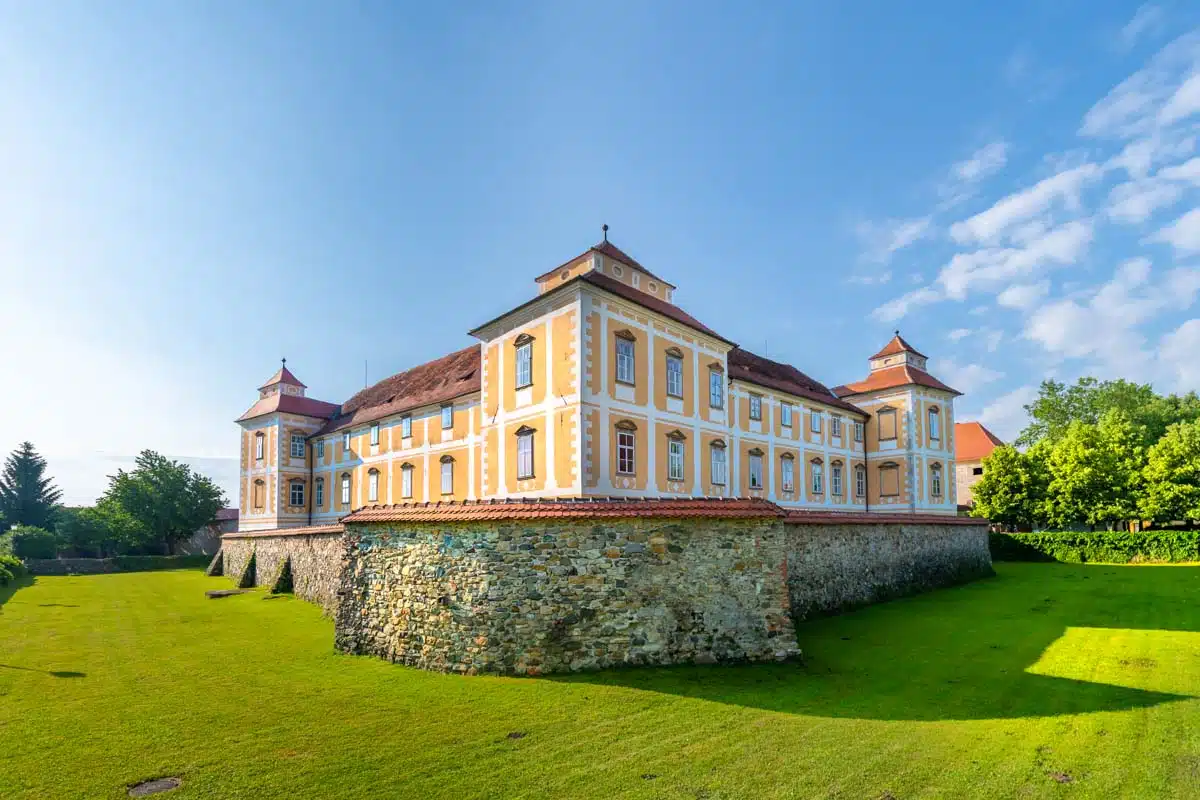 Having undergone several renovations since its construction in the 14th century, Bistrica Castle is one of the most well-maintained castles in Slovenia and, over the years, was made to look like a residence.
The castle's beautiful, sunny yellow exterior is a splash of bright color even in the cold of winter (see photo above).
Today, visitors can tour the grounds and the home. In June, the castle opens its doors to Old Bistrica Evenings, which offer family-friendly activities and shows.
Address: Grajska ulica 11, 2310 Slovenska Bistrica
Castle Hours:
From Tuesday to Friday: 9:00 to 17:00
Saturday: 11:00 to 15:00
Sundays and Mondays: upon prior arrangement
Stari Grad Celje (Celje Castle)
Once the largest fort in Slovenia, it looks like a stereotypical "castle on a hill," a ruin of something that was once grandiose. Fabled to be a completely impenetrable target, this castle is a remnant of the fortitude back then. The earliest records of this castle were from the 12th century, and today it sits as a ruin in the city of Celje. On a visit to the Celje area, tourists can see some of the castle's remining interiors and explore its grounds.
Address: Cesta na Grad 78, 3000 Celje
Castle Hours: Varies by month but generally open from 10:00-16:00
Cost of Entry: €4 per person
Ptuj Castle
Built to defend against the Hungarians, Ptuj Castle sits at the pinnacle of the city, looking over the river and the classic orange rooftops of the nearby streets. It is said to have been built atop the remains of an old Roman temple.
Inside, there's an exhibit on musical instruments, weapons, and furniture that visitors can explore. Possibly the best thing about a visit to Ptuj Castle is the marvelous view of Slovenia's oldest town, Ptuj.
Address: Na Gradu 1, 2250 Ptuj, Slovenia
Castle Hours: Weekdays 9:00-18:00, Weekends 9:00-20:00
Cost of Entry: €5 per person
Explore Slovenia's Castles: Practical Tips
Why Travel to Slovenia
Slovenia has for a long time been one of Europe's best kept secrets – there's truly something for everything here.
On my last visit to Slovenia, I had the immense pleasure of doing a variety of different activities, including hiking, boating, road tripping, eating, and exploring some fascinating historic buildings and castles.
With its fascinating history and incredible nature, Slovenia is a treat for the senses and a hidden gem waiting to be explored.
Getting Around Slovenia
After reading this article, you might ask yourself how you can even visit many of these castles. Although it's probably not the cheapest option, the easiest answer is to rent a car.
Driving in Slovenia is fairly easy thanks to mostly well-paved highways and roads, but it does get a little tricky in the small towns, where the streets are narrow and typically only fit one lane of cars.
However, I highly recommend renting a car as it will give you the flexibility to travel around at your own pace.
Did you find this post inspiring? Pin it for later!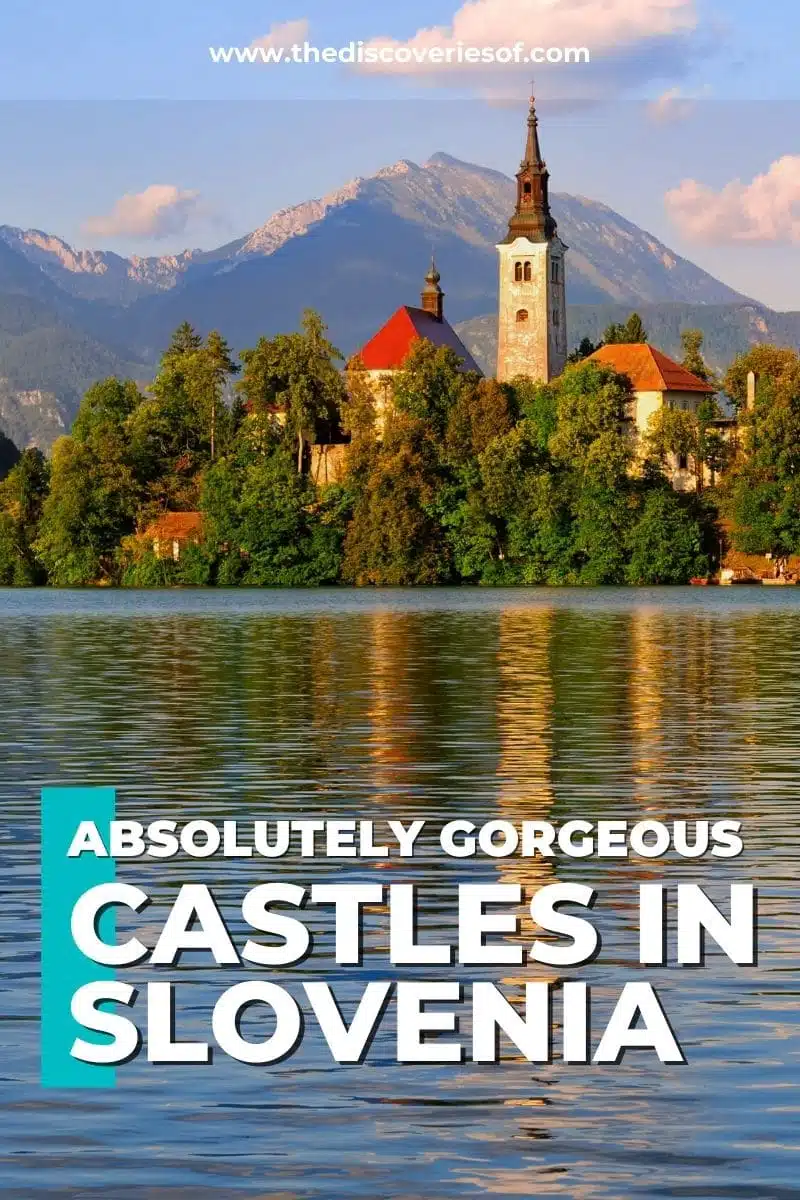 Gorgeous Castles in Slovenia: Read Next