Ready to discover the best things to do in Slovenia? Explore with this insider's guide.
Ah, Slovenia. Just thinking about this amazing European country makes me feel like taking a deep breath of fresh Slovenian air.
The beautiful, magical, fairytale-like, kind of addictive tiny country of Slovenia, located just east of Northern Italy, is one you might not have thought of visiting. But with dozens of things to see, adventures to try, food to eat, and places to visit in Slovenia, it's a country I'd highly recommend for ANY kind of traveler.
I've now been to Slovenia twice because, if you haven't noticed, I'm kind of obsessed. I mean, who wouldn't love a country full of farm-to-table food, mountains to hike, and charming small towns to fall in love with?!
The country's small size makes it a lot easier to get around, meaning you can see a LOT in a short amount of time. It's a perfect destination for time-strapped travelers who want to see more than just the highlights in a short amount of time.
To help convince you to visit this place that I hold deep in my heart, I've compiled this list of my 17 favorite (or highly recommended) things to do in Slovenia.
17 Unique and Adventurous Things to do in Slovenia
1. Ljubljana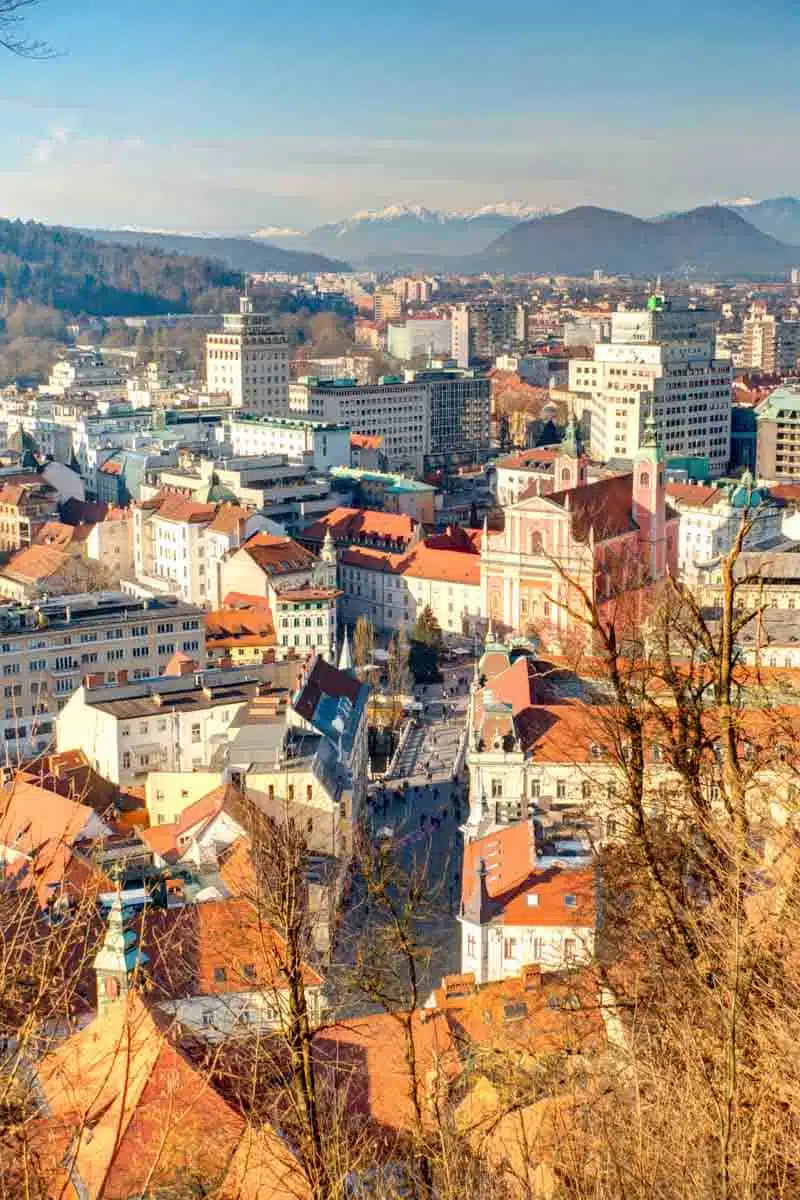 Ljulbjlana is Slovenia's capital and its largest city – so it figures it's at the top of most travelers lists of things to do in Slovenia.
It's also the heart of many of the significant events in Slovenia's history, as well as a great hub to base yourself if you've only got a couple of days in Slovenia. With tons of historic landmarks and fun neighborhoods, Ljubljana is definitely worth exploring for a few days.
While you've probably come to Slovenia to enjoy the small villages and natural attractions, there's a lot to enjoy in Ljubljana. First of all, there's an epic free walking tour you can take to get acquainted with the city, led by local guides who know all kinds of epic and weird facts and trivia. (Tours are daily at 11 AM, with a second at 3 PM during the months of November to April.)
Afterward, head to the citadel of the city, Ljubljana Castle, which has tons of historic rooms, galleries, and exhibits you can view. It's also got some of the most breathtaking views of the city's iconic red-roofed homes.
When you're done there, go for a stroll along Mestni Trg, the Old Town walking street between the castle hill and the river where you can find TONS of boutique shops and restaurants.
At the end of the walking street, there's the Central Market, which is open every morning. On Fridays in the summer, you can also find a big food market full of stalls from local chefs, also known as Ljubljana's Open Kitchen.
Additionally, you can also take a boat tour, sample amazing traditional Slovenian eats (the garlic struklji at Figovec and the kranjsko klobaso at Klobasarna are to DIE for), or visit one of the many art and history museums in the downtown area.
2. Bled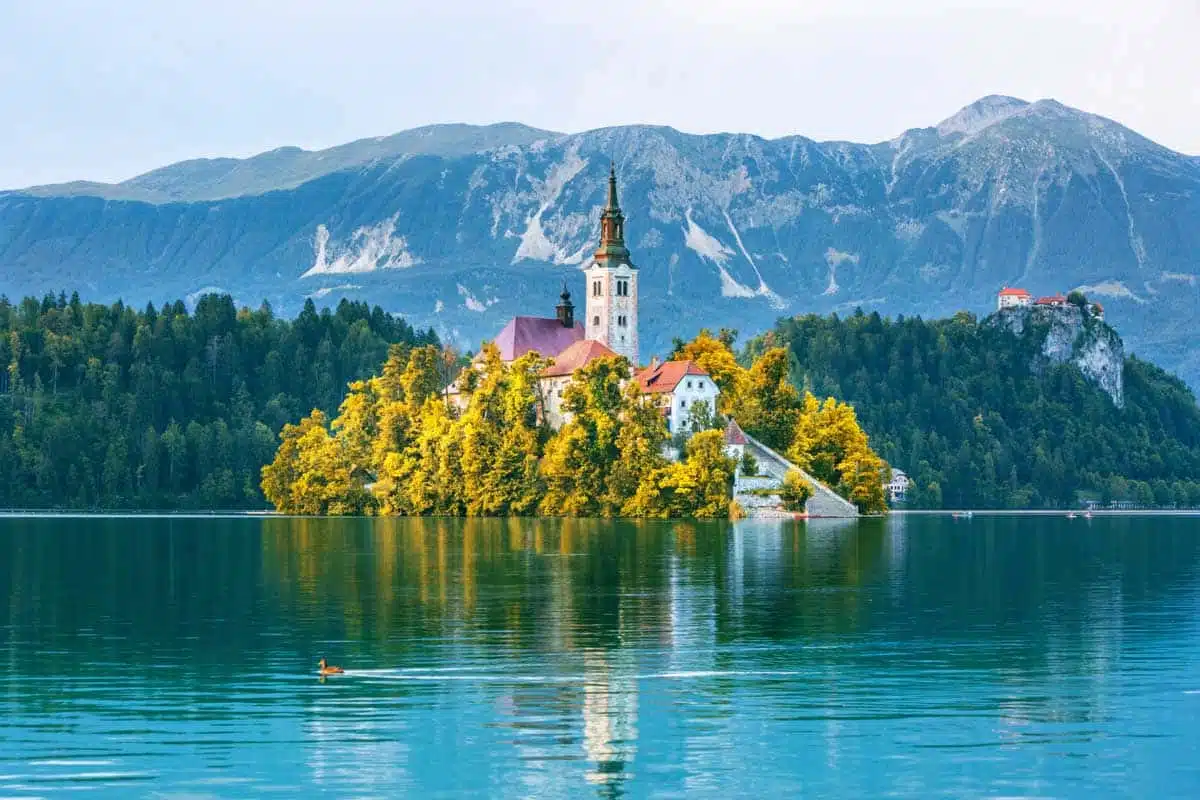 If you've ever seen those dreamy photos of a beautiful church steeple on a tiny island in a lake surrounded by mountains, you've actually seen Lake Bled.
While the name is a little violent, it's actually quite a peaceful place. Arguably one of the most picturesque locales in all of Europe, Bled's stunning location and memorable island make it one of the most coveted places to visit in Slovenia.
While you can visit Bled as a day trip from Ljubljana, I strongly recommend spending a night or two there to explore the town's attractions and the nearby Triglav National Park.
Of course, in Bled, you'll probably want to take a boat and visit the iconic church (Pilgrimage Church of the Assumption of Maria) that first brought attention to this small Slovenian town.
Legend has it that the island was once the temple of a Slavic goddess, Ziva, but it was destroyed when Christians began to settle the region.
A Gothic church was then built in its place, which through the years (and an earthquake) was destroyed and restored. Today, it's said that if you ring the church bell and make a wish at the church on the island, your wish will come true.
But after that, don't just leave! There are tons of other things to do in Bled that warrant a few extra hours (or days) in this beloved town.
Don't forget to try the famed Bled cream cake (kremsnita) and visit the Bled Castle, which sits atop a picturesque cliff along the side of the lake.
Surrounding the lake, there are also some hikes you can do, including the hike to Ojstrica and Osojnica (where the photo above was taken).
3. Lake Bohinj & Savica Waterfall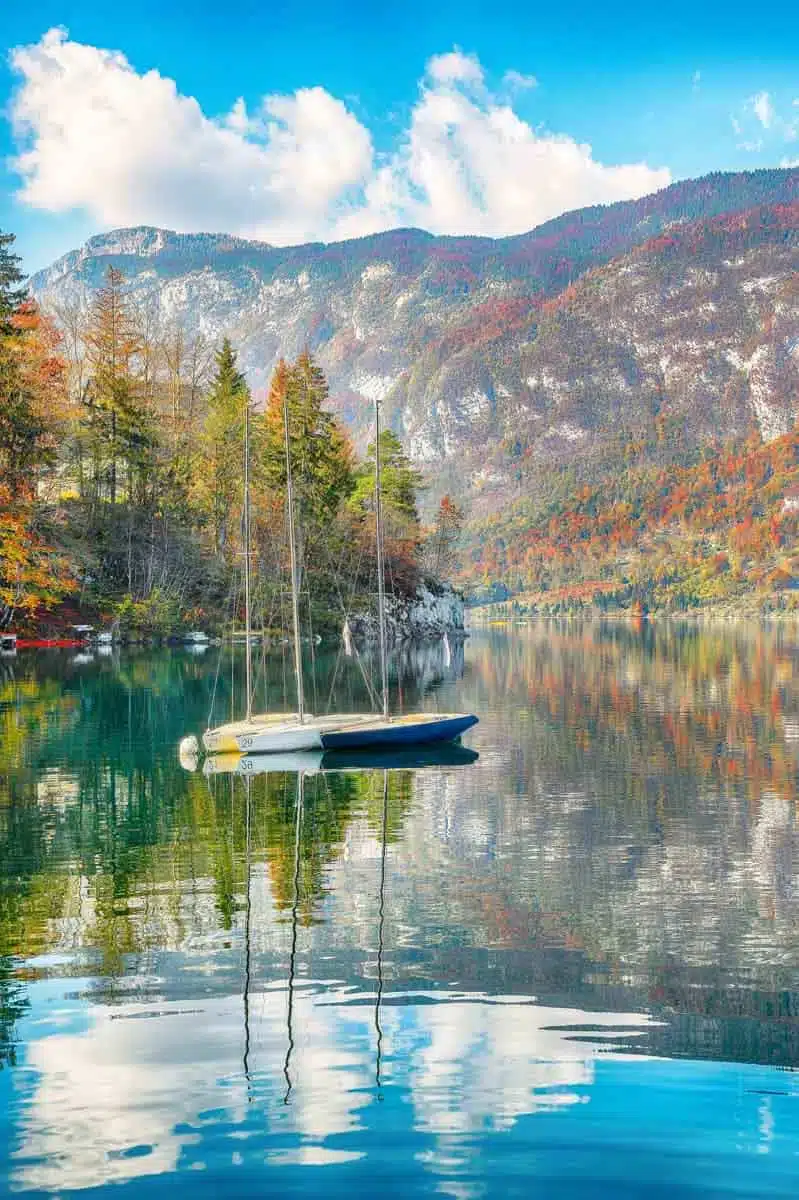 Located in the Carniolian region in the northwestern corner of Slovenia, Triglav National Park is the only national park in the country and is one of the (literally) sparkling gems of the region.
With gorgeous waterfalls, sparkling lakes, amazing hiking trails, and some of the most awe-inspiring views in the country, this park showcases the Julian Alps in the best way possible.
Within Triglav are two incredible sights located not far from each other: the mysterious Lake Bohinj and the deep teal Savica Waterfall.
Lake Bohinj is the center of many Slovenian myths, including a large dragon which supposedly lives in one of the many caves there.
On the shores of Lake Bohinj, near the parking lot, you'll find the famous statue of the golden-horned goat, Zlatorog. It's said that Zlatorog is the protector of the lake, and the statue pays tribute to him as a thank you.
At Bohinj, you can go for a swim (or a dive), or ride the electric boat there for just €10 round trip. On the boat ride, a local guide will explain some of the landmarks of the lake, and share a few of the local legends that make the lake so special.
There are also walking trails around the lake's perimeter, as well as a small church with historic frescoes you can visit.
A short drive from Bohinj lies the trail to Savica Waterfall, otherwise known as Slap Savica. It's a short uphill hike to get to the falls, but once you arrive, you'll be treated with excellent views of Triglav National Park, as well as a stunning 78-meter teal waterfall.
Go early and you may enjoy the falls all to yourself!
4. Soča Valley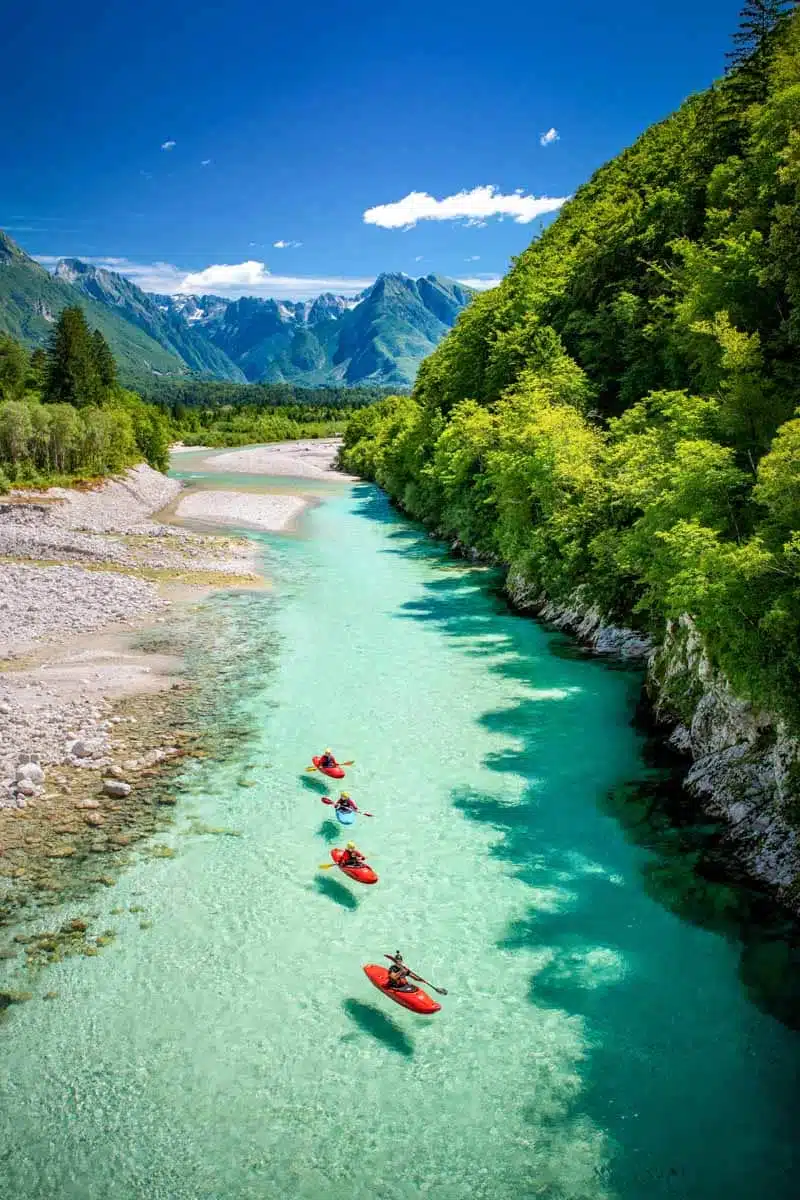 Another famed area of Triglav National Park lies the scenic and magical Soča Valley. Home to the Soča River, which is also known as the Emerald River, this area is arguably the most beautiful in all Slovenia.
Honestly, who's to judge? I think everywhere in Slovenia is beautiful, but the Soča Valley does top my list.
For outdoor lovers, there's a TON to do here. I mean, with a raging river surrounded by mountains, the adventure activities are endless.
You can rent a kayak and paddle the river or join a whitewater rafting tour in the Soča River. Or, alternatively, tackle one of the breathtaking hikes in the area, like the Soča Trail or Kobarid Waterfall. You can also visit the stunning, 100+ meter Boka Waterfall, which is pretty freaking breathtaking if you ask me.
If you're not a big fan of getting your feet wet in nature, Soča Valley offers a wonderful selection of cute inns and farmhouses where you can stay, like the Hotel Dobra Vila in Bovec. A visit to Soča Valley a great way to escape the cities and enjoy a few places in nature.
You can also visit the restaurant of Ana Ros, Hiša Franko, which was featured on that one SUPER picturesque episode of Chef's Table on Netflix.
This badass boss lady's restaurant caters to the finest of foodies, and you definitely won't be disappointed while sampling traditional Slovenian flavors and ingredients in a charming countryside farmhouse.
5. Kranjska Gora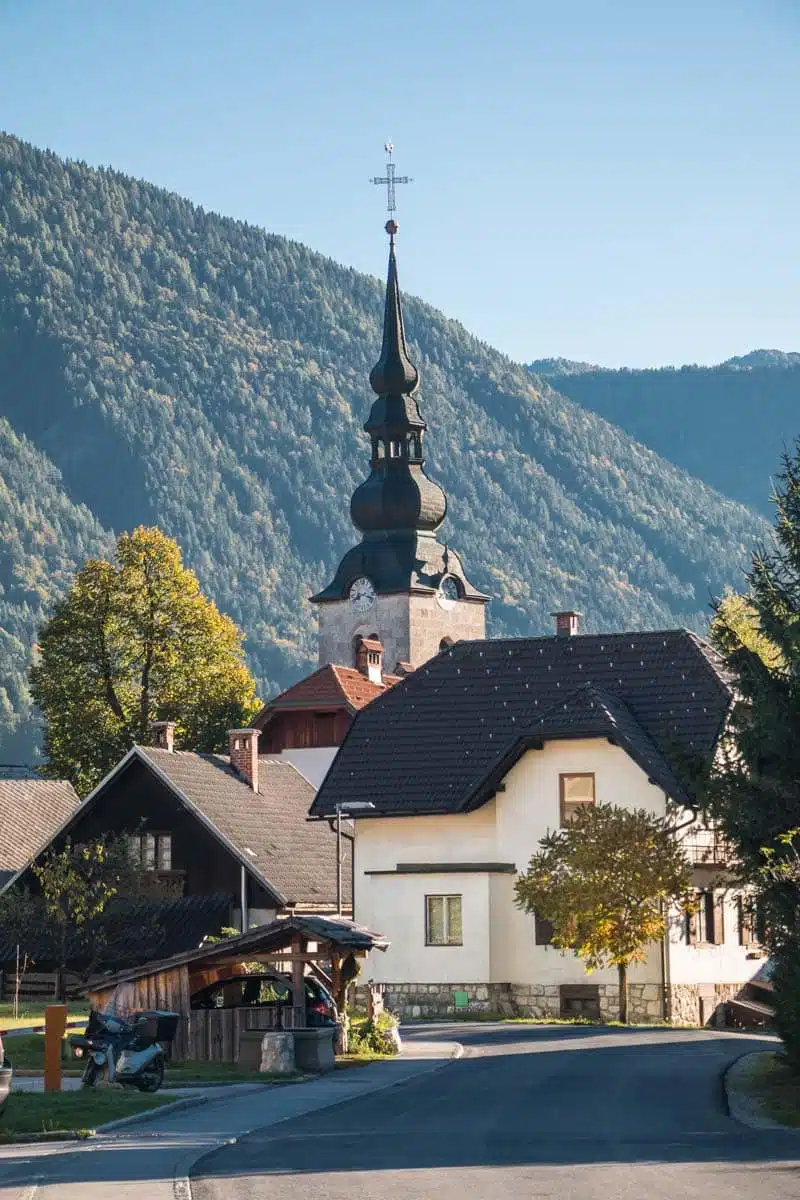 Kranjska Gora is a small ski town located on the border of Austria, and it's much less visited than its neighbors, Triglav National Park and Bled. If you want to know what to do in Slovenia and don't mind getting a little off the beaten track – Kranjska Gora is for you.
However, don't let the smaller tourist numbers fool you – this is one of my favorite places in Slovenia because it's SO. FREAKING. BEAUTIFUL.
But when you visit Kranjska Gora, don't confine yourself to the city. Instead, visit some of the gorgeous gems – lakes, mountains, and rivers – surrounding the area. You certainly won't be disappointed!
Take a short drive to Lake Jasna, one of the most picturesque alpine lakes in the country and the hub for some of the most stunning photos of Kranjska Gora. Here, you can spend the day admiring the reflection of the Julian Alps in the still, turquoise lake or wandering around the lakeside boardwalks and trails.
In the winter, you can participate in a number of winter sports in the Kranjska Gora area, including skiing, snowboarding, tubing, snowshoeing, winter hiking, ice climbing, snow biking (which I didn't even know was a thing but, hey, the more you learn…), and more.
Basically, it's a winter wonderland for snow sports lovers, and we've literally never been more excited to say, "winter is coming…"
6. Predjama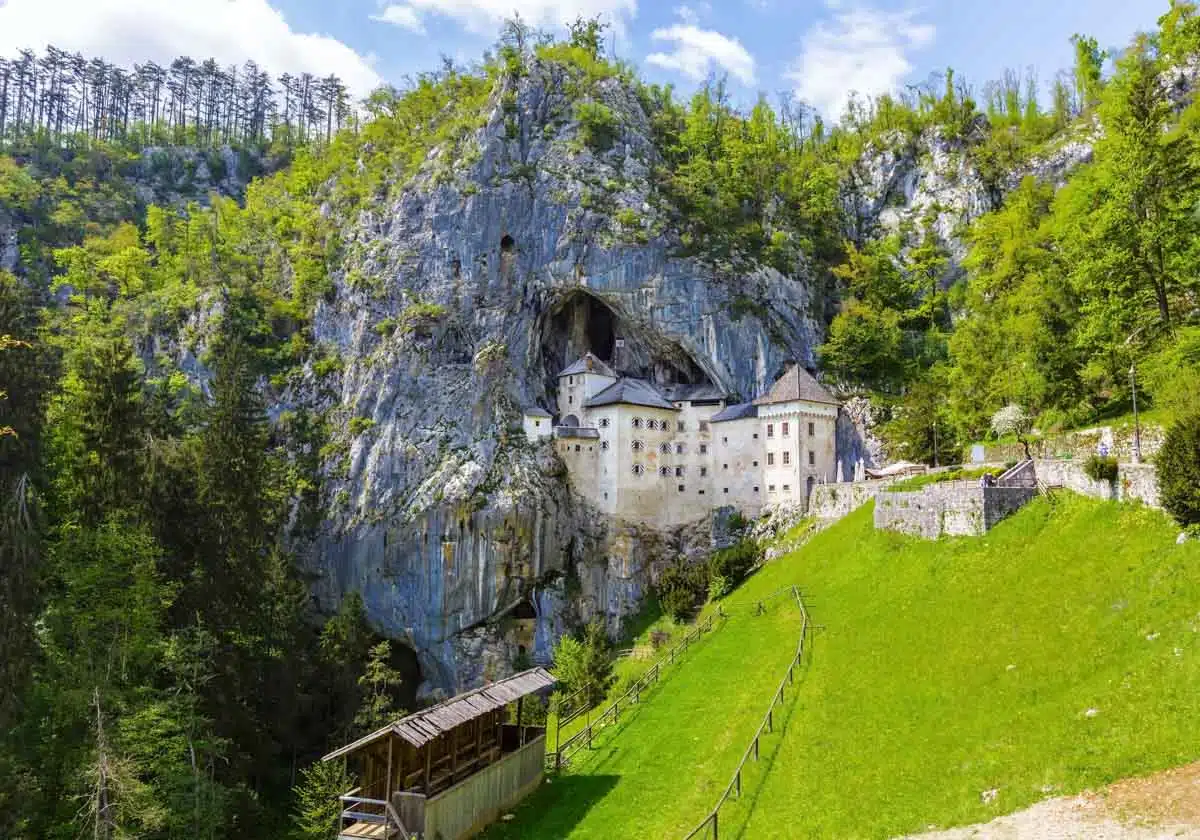 One of the strangest and most oddly beautiful places to visit in Slovenia is Predjama Castle, which is situated about an hour outside of Ljubljana.
As you can see from the photo, this castle was built into the side of a limestone karst mountainside, which is a super unique and fascinating marriage of man-made structures and the landscape that Slovenians love so much.
You may be tempted to simply go to the castle, take a photo of the outside, and leave. But actually, it's really worth paying to enter and take the audio tour (and yeah, this is coming from someone who never opts to go into museums for fun…).
Long story short, I loved the audio tour, which recounts the story of Erazem Lueger, a terrifying robber-baron who built and owned the home until his untimely death while literally sitting on his "throne." (You'll have to take the tour to get the joke!)
Additionally, entering the home gives you the chance to see how the castle was built to integrate elements of the karst mountainside into which it was built.
There are secret hideouts, escape tunnels, cave dungeons, and more hidden in the walls of this exquisite home, and you can't fully experience them unless you go inside!
7. Postojna Cave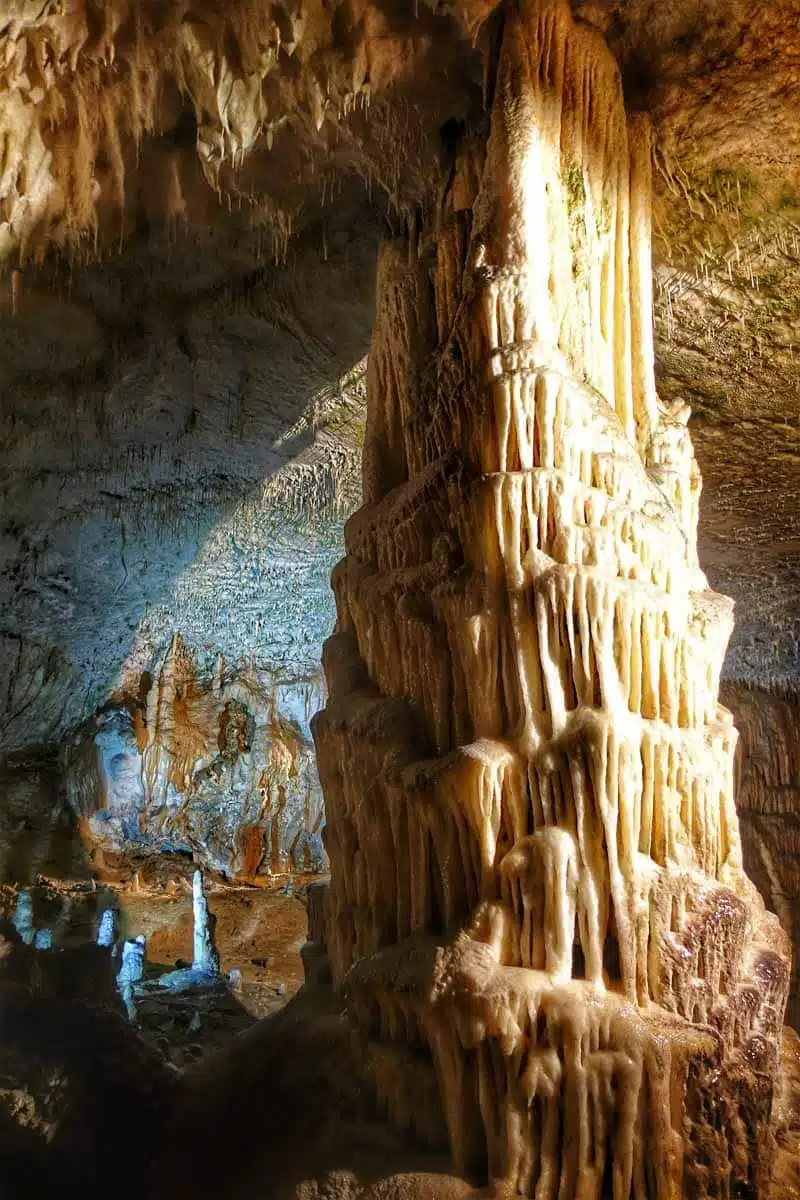 Next to Predjama is the amazing Postojna Cave, which is one of the most popular and beautiful places to visit in Slovenia.
Slovenia is known for its unique limestone karst, which is a porous type of rock that most of the landscape here is made of. (Fun fact: karst is also one of the only Slovenian words that's used regularly in other languages.)
The karst is what creates the enormous cave systems throughout the country, as there are many areas where rivers ran (or are running) underground for thousands of years.
Sadly, I've never actually gotten to visit because I always arrived too late in the day. (Don't be like Kay: research the cave's opening hours before getting in the car in Ljubljana!).
Anyway, I've never been, but I've heard and seen amazing things about it, as the second-longest cavernous system in Slovenia.
You have to take a guided tour of Postojna Cave, but the good news is that they happen several times a day during the high season. They've got paved footpaths and lighting so you can see all of the details of the breathtaking stalactites and stalagmites in the cave.
You can even take a train ride through the cave, which is definitely a great happy hour conversation starter. ("Oh yeah, I just took a train ride through a giant cave in Slovenia, and you?")
It definitely looks like an amazing experience (darn you, Kay, and your "Filipino time"…*shakes fist*), and can easily be done as a day trip from Ljubljana. During the high season, it's strongly recommended to book your tickets in advance.
8. Piran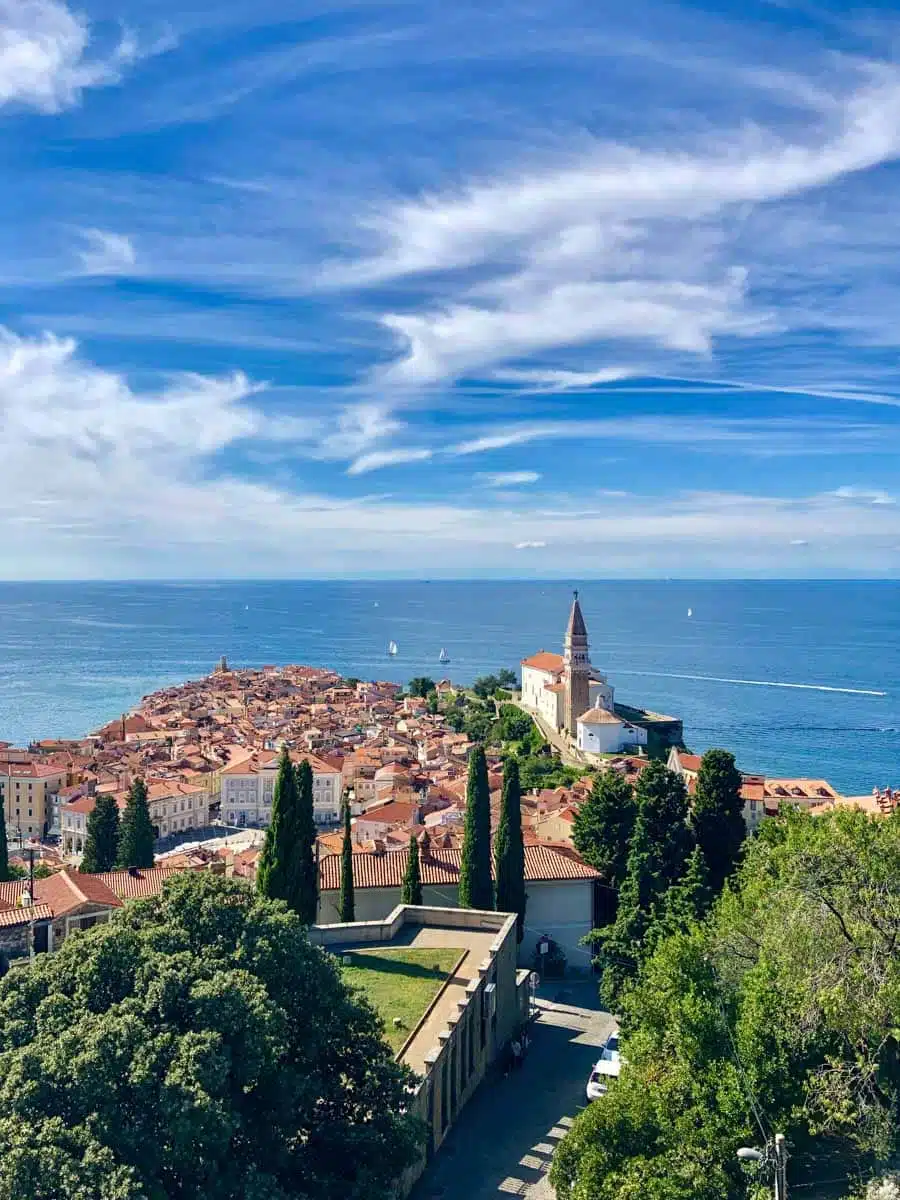 Totally different from the snowy peaks and alpine lakes in the northern part of Slovenia, Piran is a picturesque seaside town located on the tiny Istrian Coast of the country.
Piran is home to a very unique blend of Slovenian, Croatian, and Italian cultures, and its food and local lifestyle are a reflection of the laid-back coastal vibes here. When people ask me about my favorite places to visit in Slovenia, Piran is ALWAYS on the list.
In Piran, you can have a totally jam-packed itinerary, or you can simply enjoy the sea breeze and wander around the town without a plan. Both are totally awesome ways of exploring this lovely little town.
Should you decide you do want to make a plan for some of Piran's attractions, head to the Walls of Piran for some of the most amazing views, climb the St. George's Bell Tower, and of course, don't forget to sample some of the fresh seafood dishes (with Slovenian wine!) available in basically any restaurant in town.
To get to Piran from Ljubljana, I strongly recommend taking a bus.
Why? Because driving in Piran is severely restricted, and you'll have to pay to park outside the historic city limits (meaning you probably won't use your car at all anyway).
9. Izola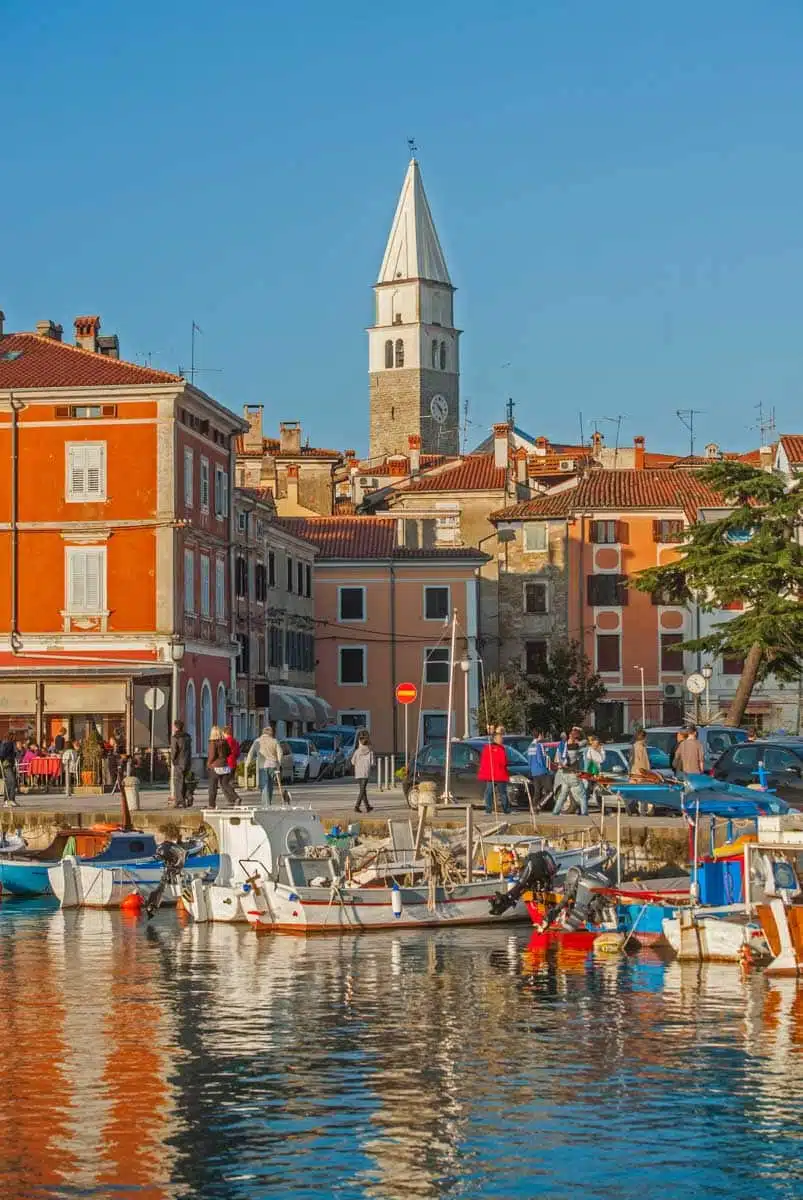 If you'd love a seaside getaway in Slovenia without the crowds of famous Piran, head to Izola, which is yet another quaint seaside town on the Istrian Coast.
Filled with traditional orange-roofed homes just like its neighbor, Izola is a quieter, more local fishing village where you can enjoy the seaside way of life without as many fellow tourists.
Here, you can book yourself into a tiny local B&B or boutique hotel (like the charming Hotel Marina) and simply relax on the beach on this peaceful escape. (Yup, unlike Piran, Izola has actual beaches where you can put on your swim trunks and your flippy floppies and relax!)
Alternatively, sample fresh seafood dishes after wandering along the shoreline trails to nearby villages and nature areas.
10. Mangart Saddle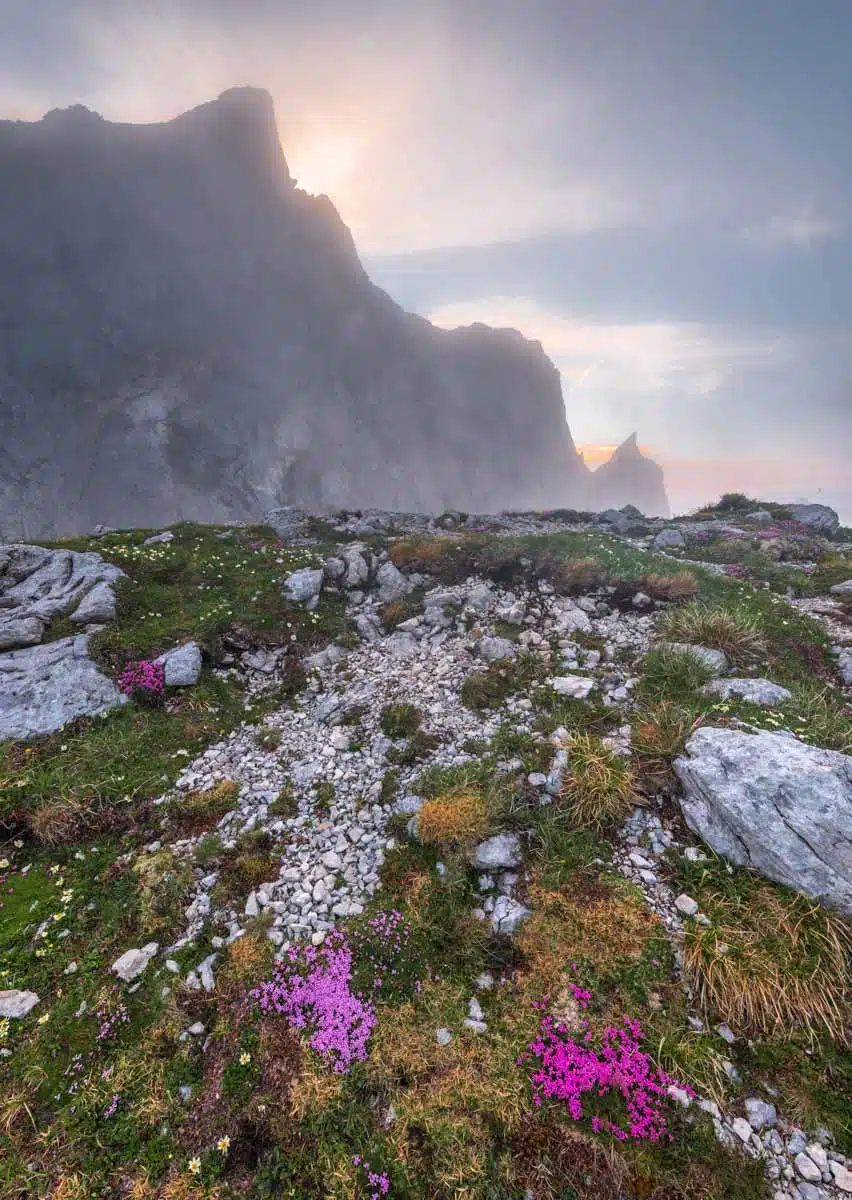 As one of Slovenia's hidden gems for hikers, Mangart Saddle is a jaw-dropping mountain area that's perfect for hikers, mountain bikers, and lovers of the outdoors.
It's located on the very northern border of the country in a secluded mountain pass area, so it's a bit difficult to get to without your own car. However, if you make the trek up there, you'll be rewarded with some of the most absolutely stunning, raw nature available in all of Slovenia.
11. Logar Valley & Velika Planina
According to locals, Logar Valley and Velika Planina are some of the most beloved places to visit in Slovenia. And, because they're not on the typical tourist track, they're a bit less crowded than Ljubljana or Bled.
The recommendation for Logar Valley and Velika Planina is one that was actually given to me by a local I met while staying in her Airbnb.
I haven't actually been, but she sang high praises about them, so I figured I'd look into them a bit more so you can have the chance to visit during your time in the country. (They're both definitely on my list for next time!)
Logar Valley is home to some of the most breathtaking landscapes in Slovenia. Carved by ancient glaciers, the Logar Valley area features striking valleys amidst jagged, otherworldly mountaintops.
In Logar Valley, you can drive down a scenic road that winds through the mountains called the Solcava Panoramic Road. Alternatively, you can go on one of the many hikes in the area.
Nearby Velika Planina is also worth a stop if you're planning on exploring the area. An alpine plateau that's full of rustic houses, take a cable car to get up to the plateau, where you can hike around and visit the famed herdsmen's settlement to experience one of Slovenia's more pastoral ways of life.
12. Novo Mesto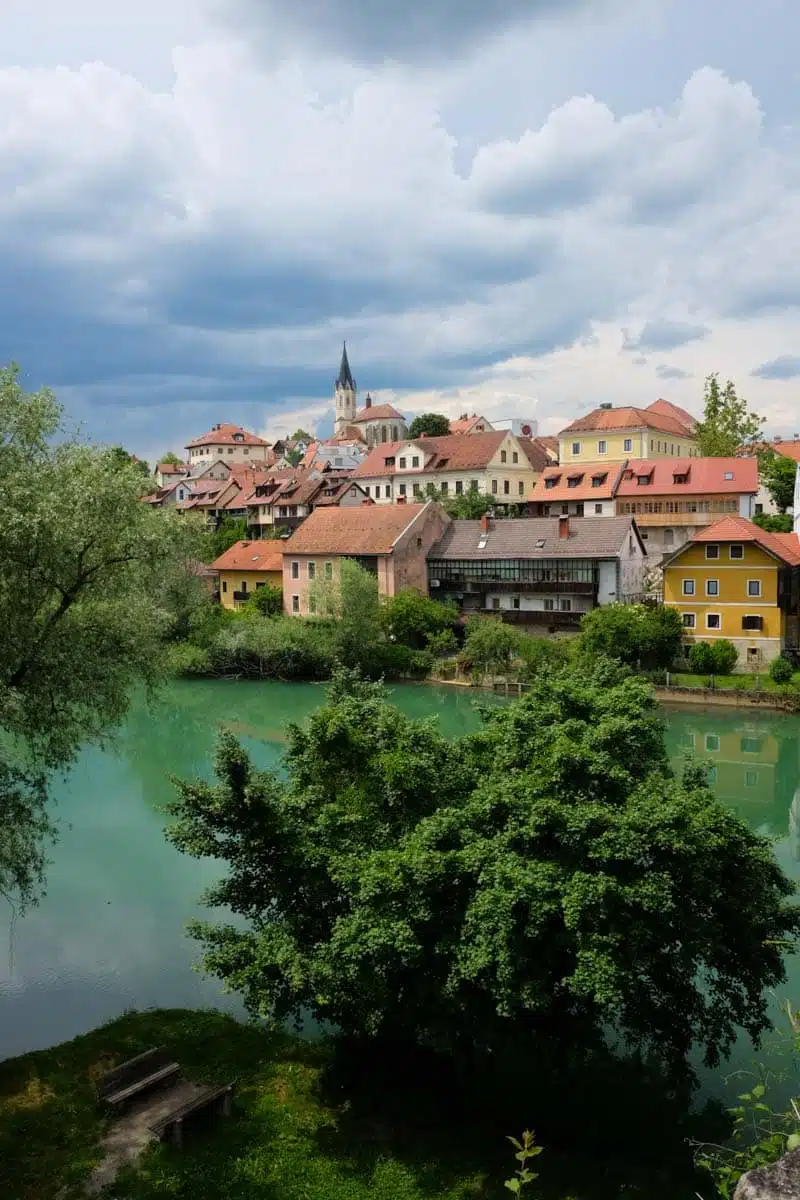 Situated in the eastern part of Slovenia, the picturesque city of Novo Mesto is an architectural marvel located in the middle of Slovenia's Dolenjska wine country, where they make traditional Slovenian Cvicek wine.
In town, you can pay a visit to the Museum of Dolenjska to learn more about the region's history and artifacts, or sample local eats at a home-owned restaurant.
Additionally, in true Slovenian fashion, there are TONS of outdoor activities to do in the Novo Mesto area, like mountain biking, kayaking or rafting down the Krka River, and hiking on the various trails in the area.
The landscapes here are different than some of the others in Slovenia, with leisurely rolling hills filled with lush forests and cool, flowing rivers.
Just outside of Novo Mesto lies the picturesque estate of Otocec Castle, a luxury hotel built into a historic castle where you can ACTUALLY stay the night! Located on an island in the middle of the Krka River, Otocec Castle is a gorgeous place to spend a day (or a few) basking in the history and culture of Eastern Slovenia.
13. Maribor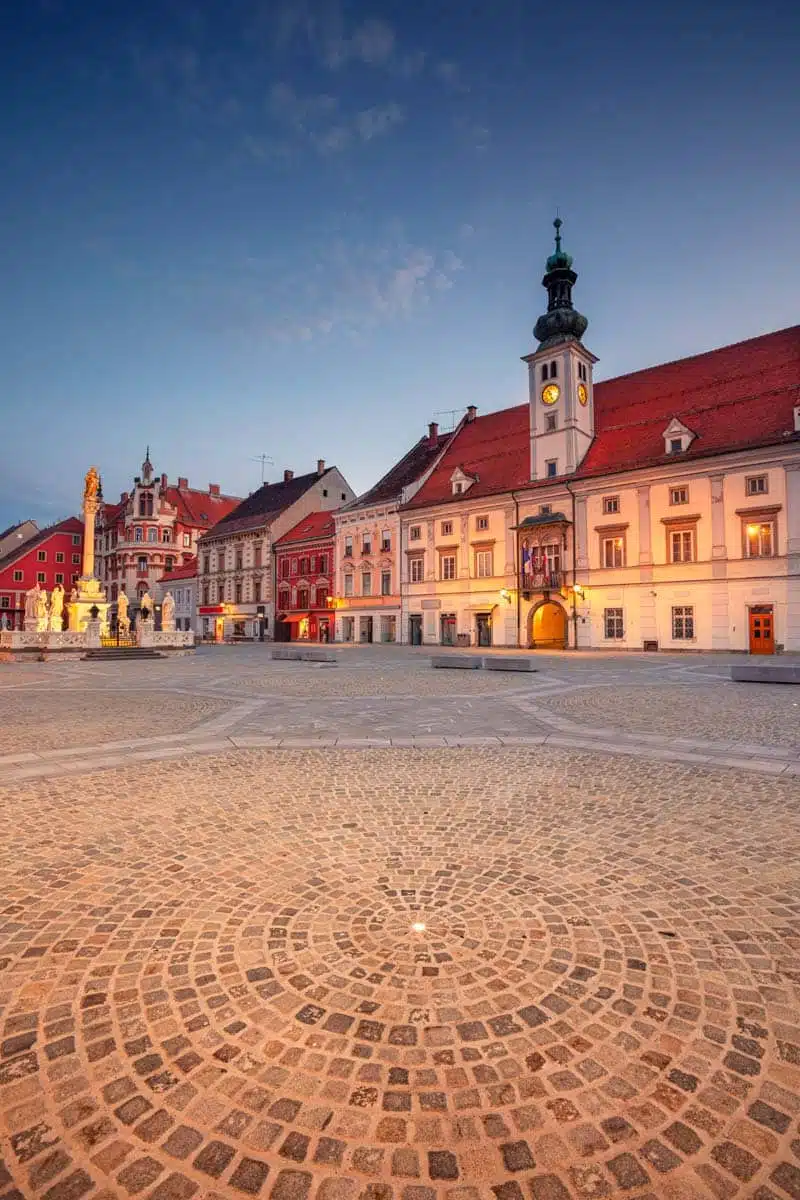 Maribor is Slovenia's second city and serves as a perfect gateway or hub to the Eastern part of Slovenia. It's definitely one of the must-see cities in Slovenia, especially if you're into history and architecture.
Because of its size and its proximity to amazing outdoor areas, I'd strongly recommend spending a couple of days in Maribor during your trip to Slovenia, if you have the time.
Within Maribor's city limits, you have a LOT of choices for things to do. It's especially perfect for wine lovers and foodies. Visit the Old Vine, the oldest grapevine in the world, and sample some fine wines in its shop.
For history lovers, head to the Maribor Cathedral and the Maribor Regional Museum to learn more about the city's deep history.
Near Maribor, you can also enjoy outdoor activities like skiing (Mariborsko Pohorje Ski Resort is a fabulous nearby resort), hiking, and scenic drives in the eastern part of Slovenia bordering Croatia.
14. Vogel
Winter sports lovers will LOVE Vogel, the hub of all things skiing, snowboarding, snowshoeing, winter hiking, and more.
Vogel is a ski resort that located not far from Lake Bohinj, and it's a perfect region to pair with a winter trip to Bled or nearby Austria. Whether you're new to winter sports or you're an experienced skier, you can find an incredible winter adventure in Vogel.
15. Ptuj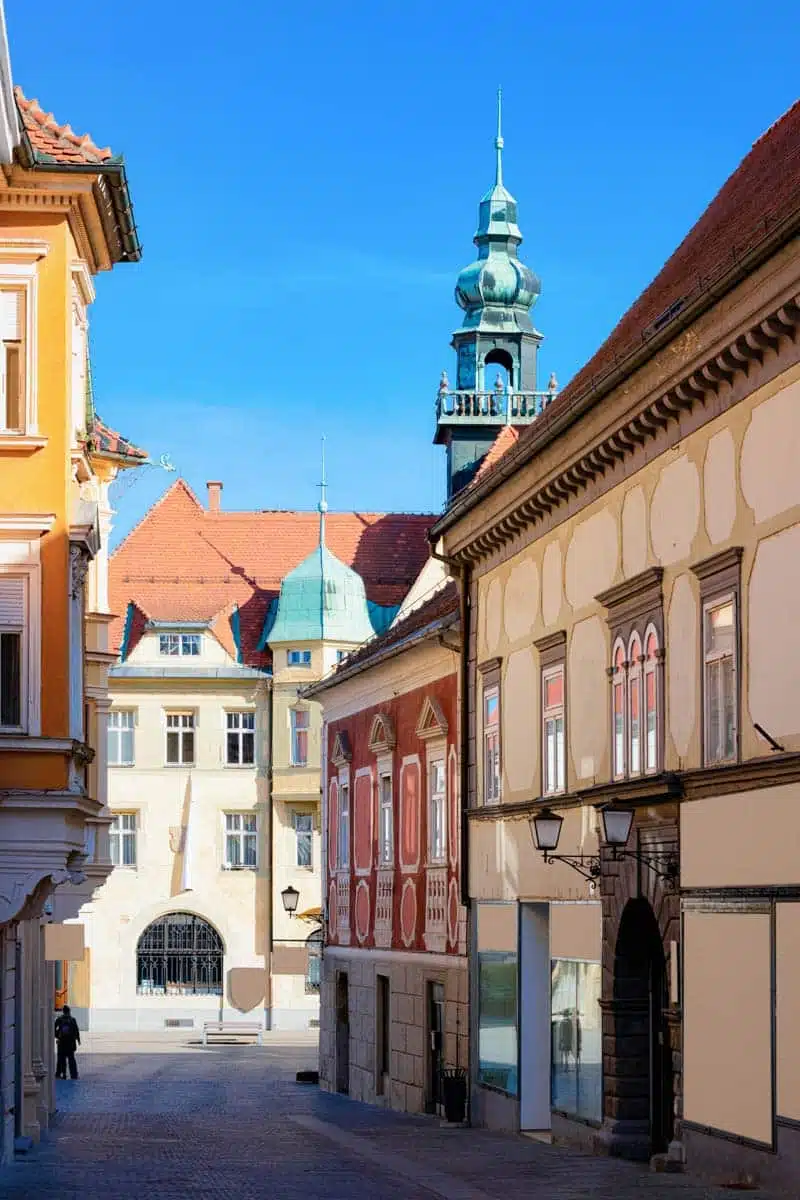 A total gem of a city in eastern Slovenia, Ptuj is a gorgeous example of Slovenian architecture. But even better than its picturesque facade is its fascinating cultural elements, many of which can only be found in Ptuj.
Learn about the traditional costumes, annual customs, and fascinating religious rites that once called Ptuj home.
While here, visit the historic Ptuj Castle, with its original designs and architecture, or learn about the ancient religion of Mithraism at one of the city's many Mithra shrines.
Don't forget to go see the shaggy Kurent costumes, which are traditional costumes used as a fertility ritual and to celebrate the first days of spring.
16. Idrija
As a UNESCO World Heritage Site, Idrija is one of the coolest and most significant places to visit in Slovenia.
A historic mining town built amidst rolling hills, Idrija was where Mercury was first found in 1490, and there are many historic mining buildings that continue to tell its story today. It's also famous for its lace production, and you can find tons of locally-made handicrafts for sale in its local boutiques.
When you explore the town, you can visit a few of the landmarks and museums to get a feel for its mining history. Visit the Idrija Mercury Mine to learn more about the mining activities in the area, or the Idrija Lace School to see the famous local lace products made in real-time.
Or, for nature lovers, head to Wild Lake (divje jezero), a fascinating forested lake that appears to be multi-colored.
17. Skocjan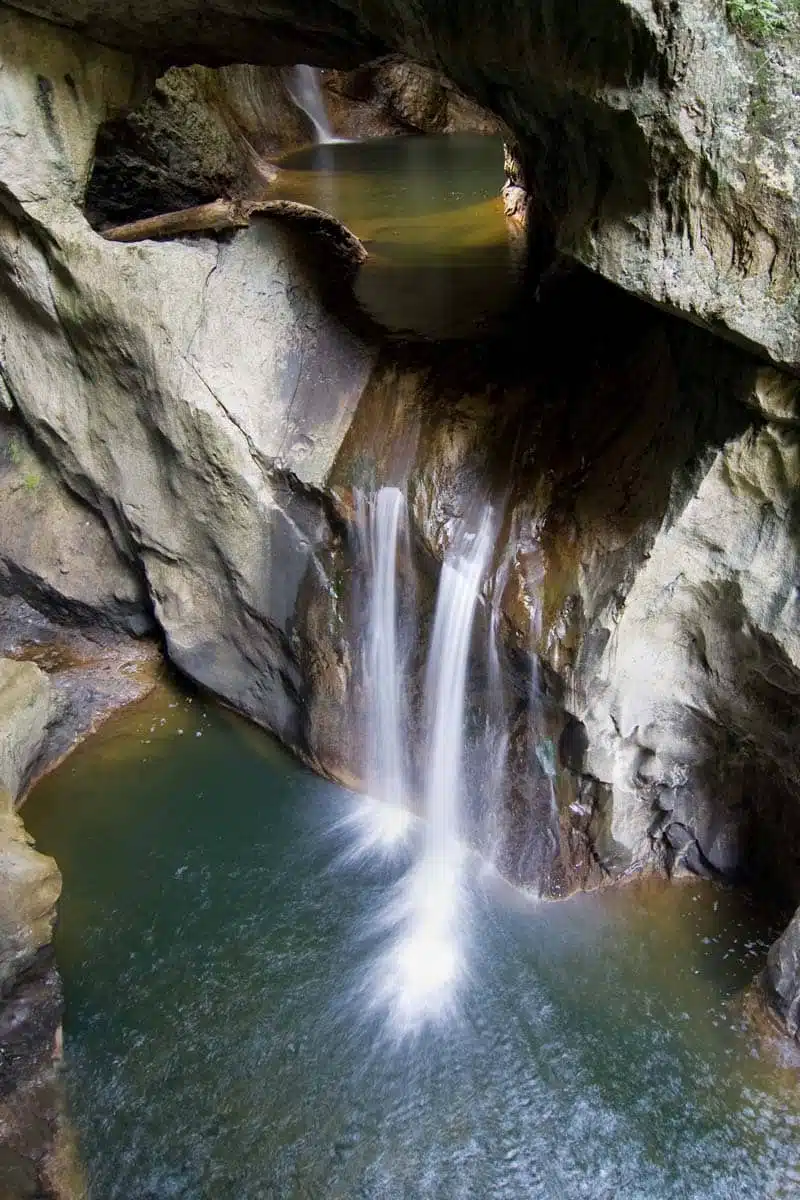 The Skocjan cave system is a little out of the way, but it's an absolutely magnificent display of nature at work. Named a UNESCO World Heritage Site, the Skocjan Caves are an absolutely impressive set of underground tunnels with some otherworldly rock formations, too.
To visit the cave, you need to buy a ticket at the entrance and choose a designated tour time. You can't enter the cave without a tour guide.
The tour is a full 2.3 kilometers, so be ready for a bit of walking throughout the cave's paved, lit pathways. While inside, you'll get to see the many rock formations caused by the Reka River's carving over thousands of years.
Practical Tips for Exploring the Best Things to do in Slovenia: Know Before You Go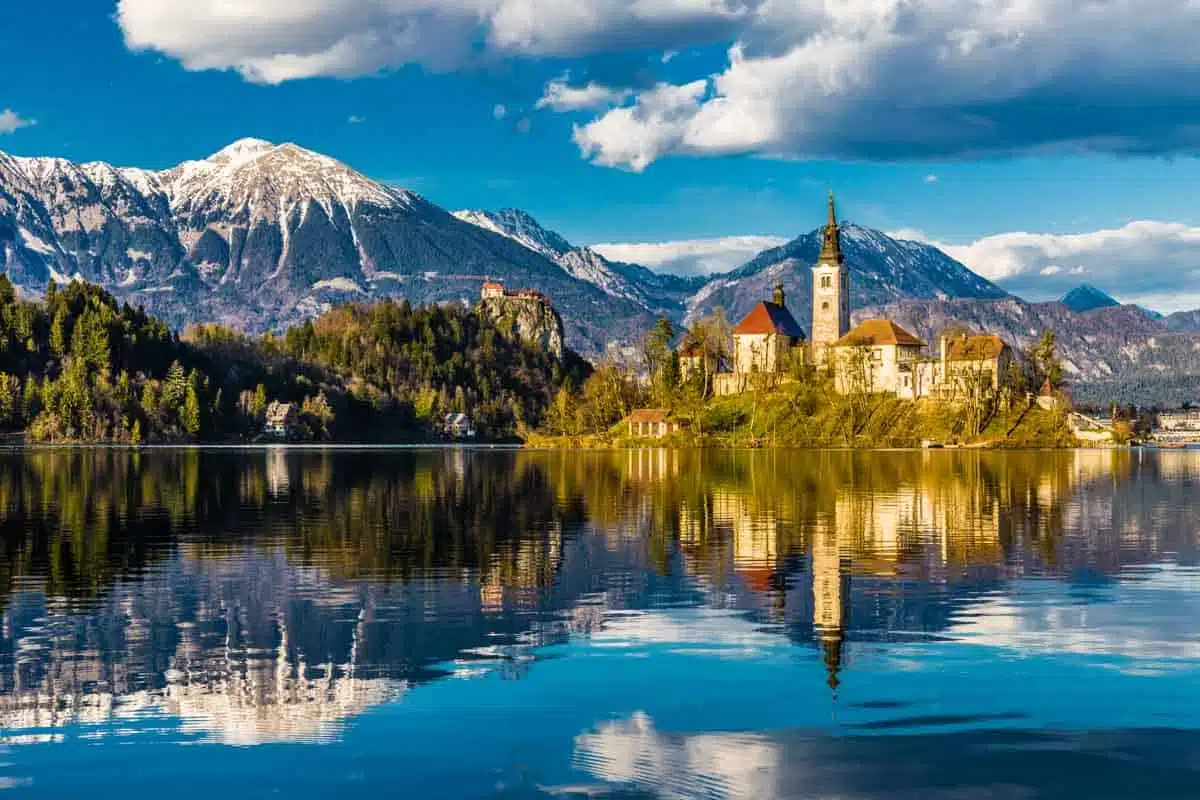 When to Visit Slovenia
Slovenia is truly a year-round destination. There's literally so much to do here during any time of year, in the cold of the winter or the heat of the summer. However, if you have specific things in mind for your trip to Slovenia, you'll want to make sure you come during the right season. Here's a quick cheat sheet:
If you want to hike, explore caves, or go rafting: Go in the summer. June to mid-September is the best time for you to head there, although be warned — this is peak tourist season and therefore the main attractions will be VERY crowded.
For snow sports & winter wonderland photo opps: Winter is your jam. Go between December and late February for the best powder and weather for winter sports.
To avoid the tourists: Head to Slovenia in the spring or in the fall, March through May or October through November. These months are the least crowded and you may even get a glimpse at some really spectacular attractions without anyone else around.
How to Get to & Around Slovenia
Getting To Slovenia
It's easy to get to Slovenia, either overland from a bordering country or by air. You can take a FlixBus to Ljubljana from most large cities nearby, including Verona, Venice, Trieste, Zagreb, Graz, and Vienna. Additionally, you can fly on most European airlines directly to Ljubljana's airport (LJU).
Getting Around Slovenia
While there are buses all over the country, the easiest way to get around is by rental car. Slovenia has well-maintained highways that will take you to all of the major sites. To rent a car, simply book one online (I use Sixt usually) and pick it up at the airport or in downtown Ljubljana.
During your trip, you may need to drive on some narrow streets through small towns or country roads, but drivers in these areas are generally friendly and you can find ways to maneuver around them as needed.
Where to Stay in Slovenia
There are lots of really cool and interesting places to stay in Slovenia. You can stay in traditional hotels, local farmhouses & inns, and even a few castles! While I can't go through all of my favorite hotels in the country here (that's a whole different post!), here are a couple of the most unique places to stay in Slovenia:
Hostel Celica (Ljubljana): This hostel, located in a really cool neighborhood near the train/bus station in Ljubljana, was built into a former jail. Yup, all of the rooms are crafted into jail cells, and if you're a believer in ghosts…well, you may just have a fun run for your money. 🙂
Otocec Castle Hotel (Otocec): At this gorgeous estate in the eastern part of Slovenia, you can stay in a LITERAL castle. If you ever wanted to soak in a piece of Slovenian history, this beautiful castle hotel along a river is the perfect spot.
Old Parish House B&B (Bled): One of my personal favorites, this quaint bed and breakfast is located right next to the staircase/trail to Bled Castle in an old convent/priest's home next to the church. The rooms are bright and some have views of Lake Bled.
Hisa Franko (Soca Valley): You remember that awesome, high-end restaurant that was featured in Chef's Table? Well, they also have an adorable guest house located right there, on the property! With your booking in one of their beautiful farmhouse-style rooms, you get a free breakfast, too.
Love This? Save and Share on Pinterest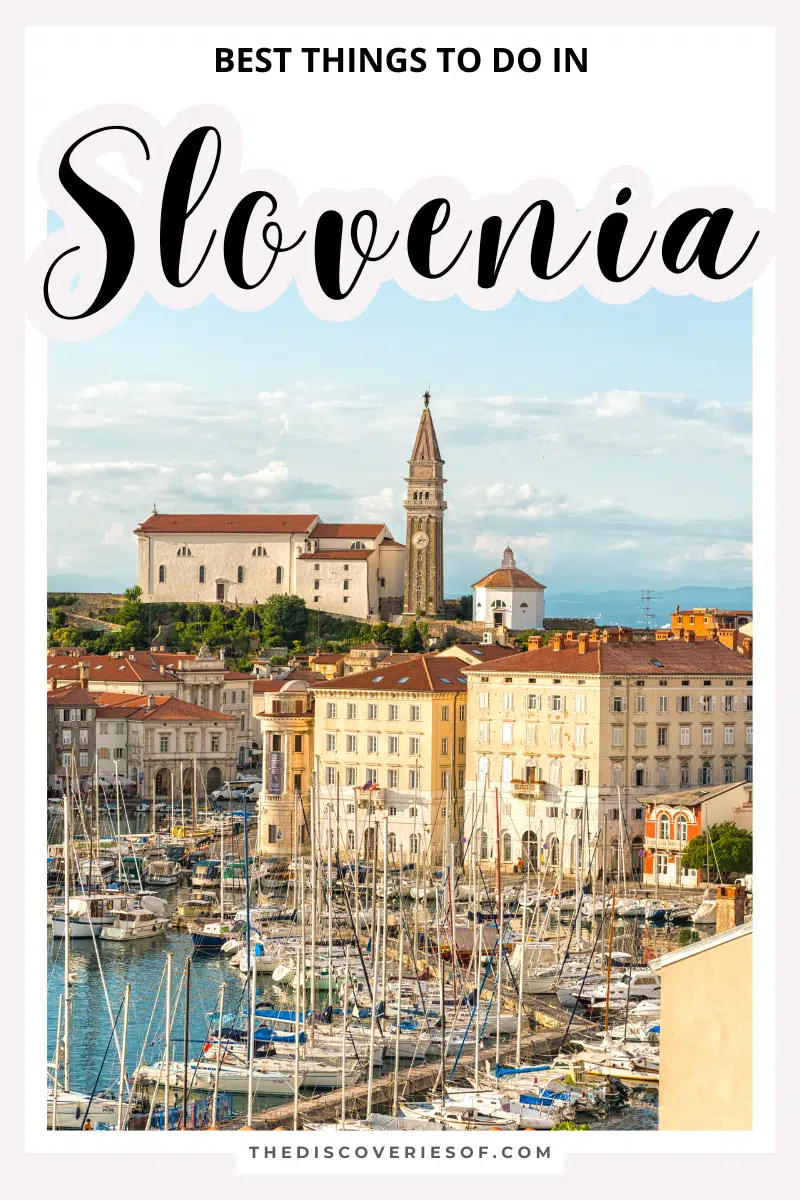 ---