Looking for Argentina's best beaches? An excellent choice, I say. Don't miss this guide to the very best.
Let's be real: Argentina isn't a country that boasts white sandy beaches like Tulum or other parts of the world. In fact, Argentina is not even on some people's radar for a beach holiday.
But that doesn't mean that you shouldn't visit this incredible country. With nearly 3,000 miles of coastline and warm waters, it's definitely worth a beach vacay.
If Argentina happens to be on your South American itinerary (and it most definitely should), here are some beaches you should check out.
Best Beaches in Argentina
Las Grutas
Rio de Negro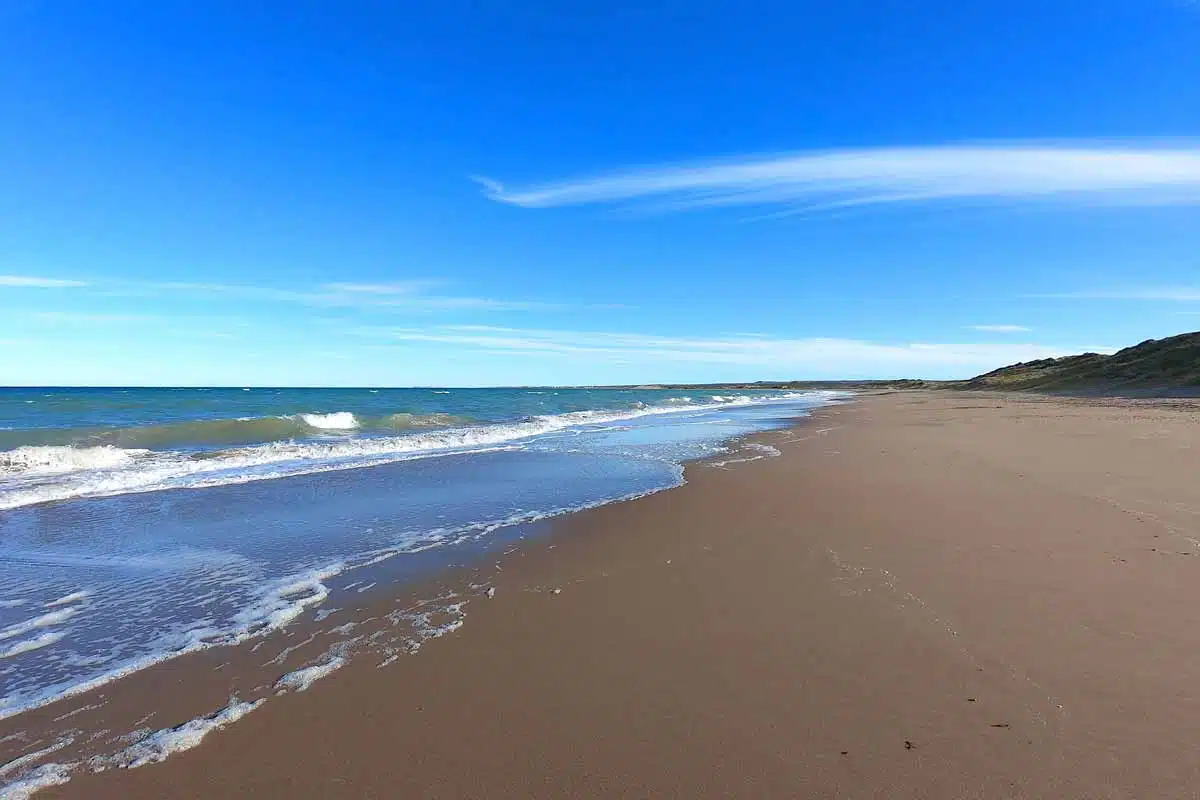 Let me tell you, this beach in Argentina is a major contender for the top spot. It sits in the province of Rio de Negro in northern Patagonia, and the stretch of beach is surrounded by dramatic cliffs, secret caves, and warm water.
This resort town has only recently gained popularity, but is still relatively quiet compared to other beach towns in Argentina.
Now I'll be straight will you, this beach is quite remote. It's 13 hours from Buenos Aires. But Patagonia has loads of hidden gems, and Las Grutas is one of them, so it's worth checking out. 
Mar del Plata
Buenos Aires
Mar del Plata is one of the most popular Buenos Aires beaches, and it should come as no surprise – it sits on the southernmost edge of the Buenos Aires Province and is Argentina's first beach resort city. 
This beach is super popular with locals and visitors alike, with thousands of tourists flocking to the beach in summer to cool off. Its picturesque landscape and nearby seaside restaurants and bars make it the ideal location to spend the whole day.
Plus there are loads of activities you can enjoy besides lazing on the beach or swimming – sailing, fishing, and scuba diving are just a few honourable mentions.
Tip: Looking for somewhere to stay? Why not check out the elegant Hotel Dos Reyes, close to the beach.
CarÍlo
Buenos Aires
As I've already said, Mar del Plata is a fantastic beach area, but it fills up quickly with crowds in the summer.
Have no fear: For something quieter, visit Carílo, another beach resort town in Buenos Aires Province. This is another of Argentina's best beaches – and it's even the top choice for politicians and celebrities to hang out at.
Carílo is a large beach area, so there's plenty of space for everyone. Around the beach are a few restaurants, boutiques, and spas where you can hang out after a refreshing swim.
Miramar
Buenos Aires
Also situated near Buenos Aires, Miramar is just a 1-hour drive from Mar del Plata. Offering over 12 miles of sandy beach for everyone to enjoy its warm waters, if you're looking for a place to bask on a relaxing beach holiday, I recommend visiting Miramar.
It boasts a far slower pace than some of Argentina's other beach resorts, and everything from accommodation to food is much more affordable than its neighbour, Mar del Plata.
Villa Gesell
Buenos Aires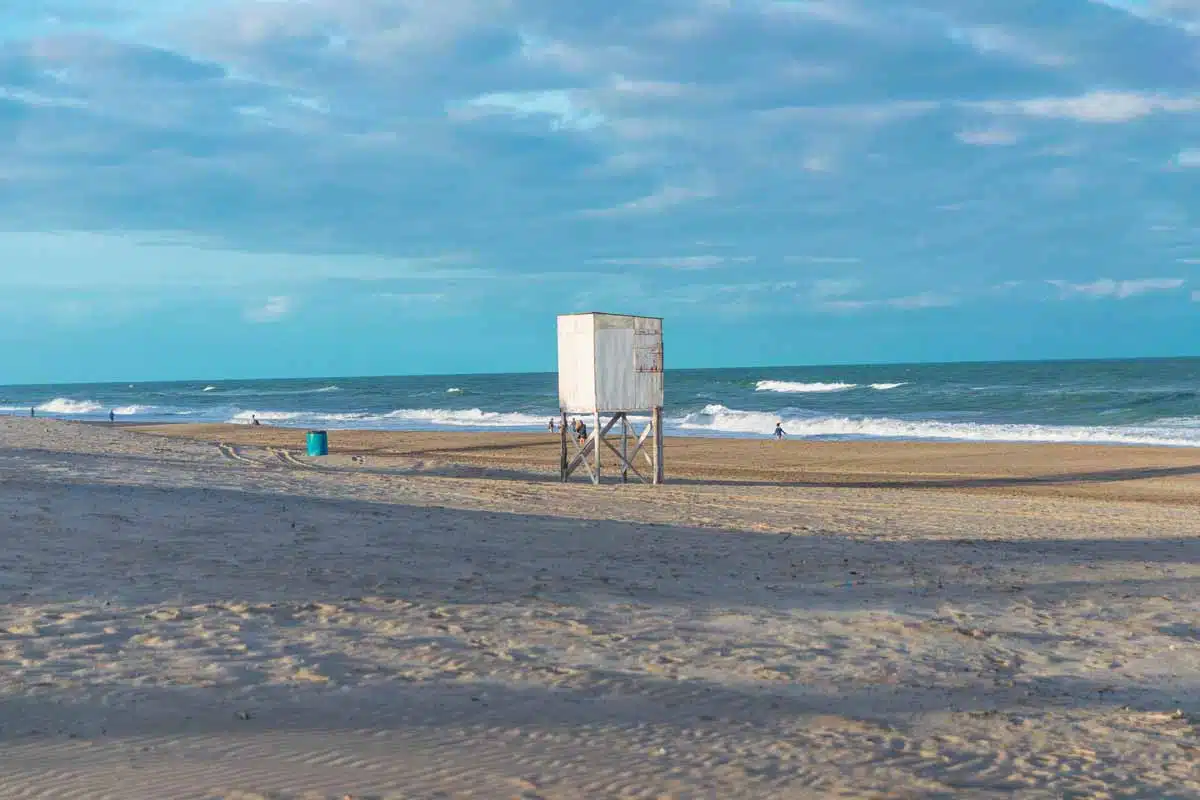 If it's golden sand, clear warm waters, and a relaxing vibe you're looking for, then Villas Gesell is where you'll find it. This 6-mile stretch of beach sits in the charming resort town of Villa Gesell Partido in Buenos Aires Province, first established in 1931 for Argentina's wealthy class to chill out on.
Nevertheless, today the beach is open to all.
Here you'll find a limitless number of hawkers selling freshly made churros, ice cream, and other treats. Nearby there are a variety of restaurants and a golf course to tee off at after enjoying a morning at the beach.
Pinamar
Buenos Aires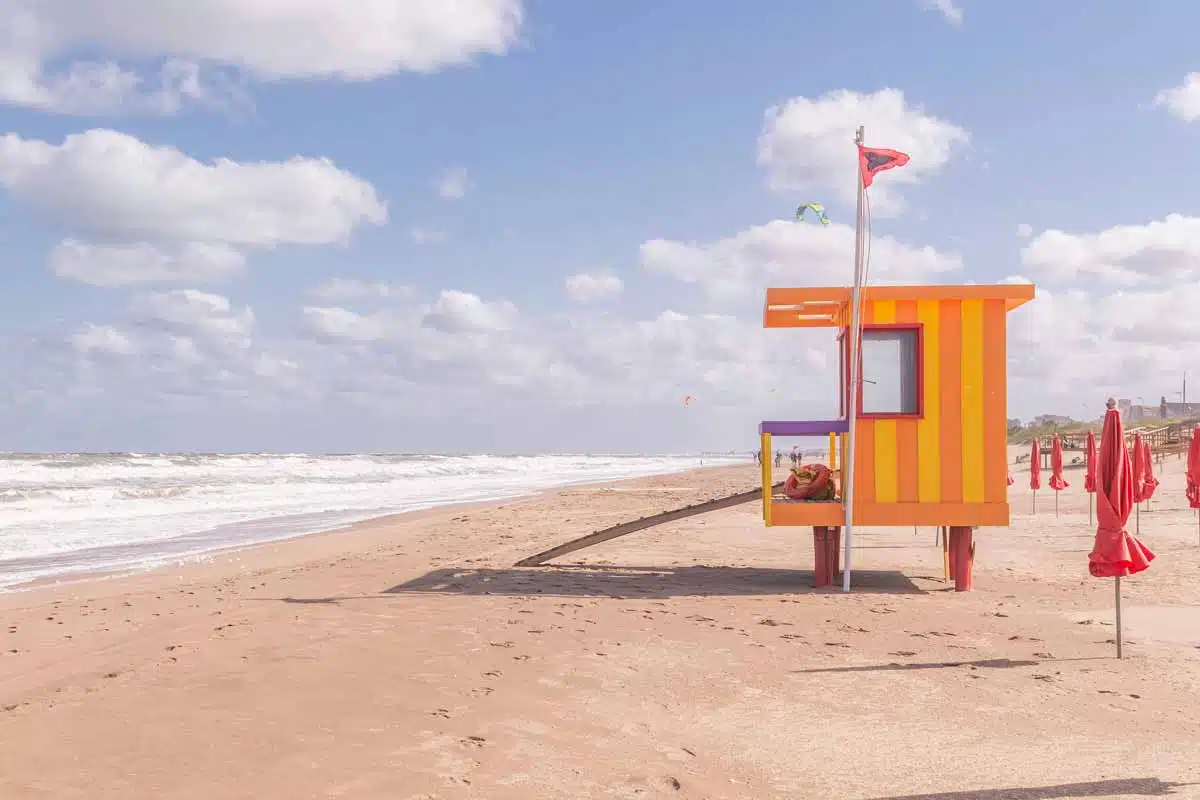 Pinamar is the much quieter neighbour of the famous Mar del Plata – but don't let that put you off.
This quaint seaside town is relatively small, lined by the beach on one side and thick pine forests on the other. This golden sand beach is a 3-hour drive away from Buenos Aires and perfect for escaping the hustle and bustle of the big city.
Pinamar is quite a large beach, so there's plenty of space for everyone. Better yet, you don't have to worry too much about arriving super early and having to fight for a spot on the beach. And it's one of the most idyllic places to watch the sunset in Argentina, so hang around a little longer to catch it.
Tip: Book a stay at the Pinamar Beach Resort for easy access to the beach.
Balneario La Florida
Rosario
You might be happy to know that the best beaches in Argentina aren't all in the Buenos Aires Province. Balneario La Florida is a case in point. You'll find it in the vibrant city of Rosario in the Santa Fe Province.
When the summer heat starts setting in, this is where you'll find most locals, and for good reason. Unlike many other beaches in Argentina, this one has loads of amenities, including restrooms and changing rooms.
There's a mini-market, restaurants, beach bars, beach chairs with umbrellas, and a volleyball net. Oh, and if you consider yourself an influencer (or you just can't live without the 'Gram), you'll be happy to know that there's free WI-FI on the beach, so you can keep your followers updated with all your latest activities.
Playa Bristol
Mar Del Plata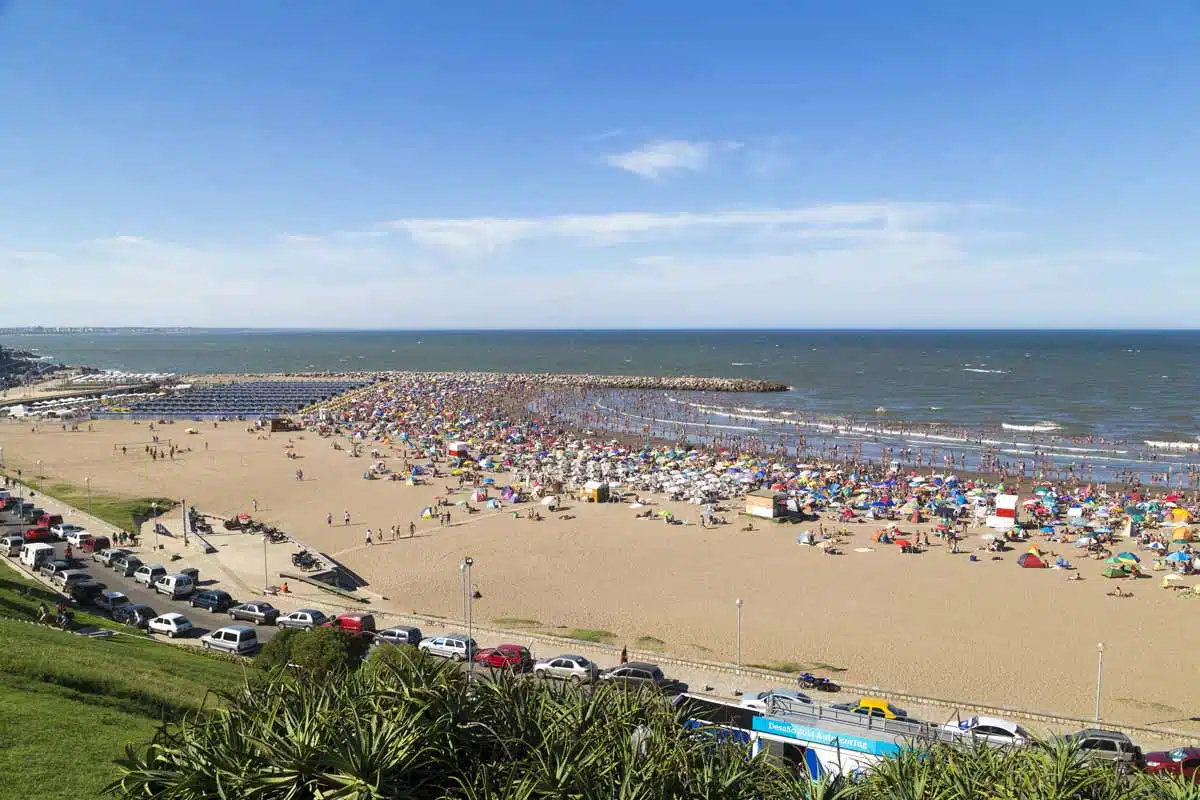 Argentina's Playa Bristol is undoubtedly one of the country's most popular beaches in Mar del Plata. Named after the nearby Bristol Hotel, it welcomed visitors from as early as the 19th century.
Play Bristol sits around a sheltered bay with clear warm waters and has paved promenades. It gets rather crowded here due to its popularity, but it is still a perfect place to enjoy the cool ocean breeze or get involved with some people-watching.
Playa de Mar de Ajo
Buenos Aires
Playa de Mar de Ajo is Argentina's original resort town, founded by Governor Juan Manuel de Rosas in 1839. It sits in Buenos Aires's Coast District of the Atlantic, and only started gaining popularity in the 1930s.
Apart from golden sand beaches, there are various activities to enjoy, such as water sports and beach sports like volleyball and beach soccer.
One thing that sets this Buenos Aires beach apart is its ship cemetery in Nueva Atlantis. At low tide, you can see a few 18th and 19th century vessels that ran aground.
I know it sounds a bit eerie, but if you're after unique things to do in Argentina, this is one of them.
Puerto Madryn
Patagonia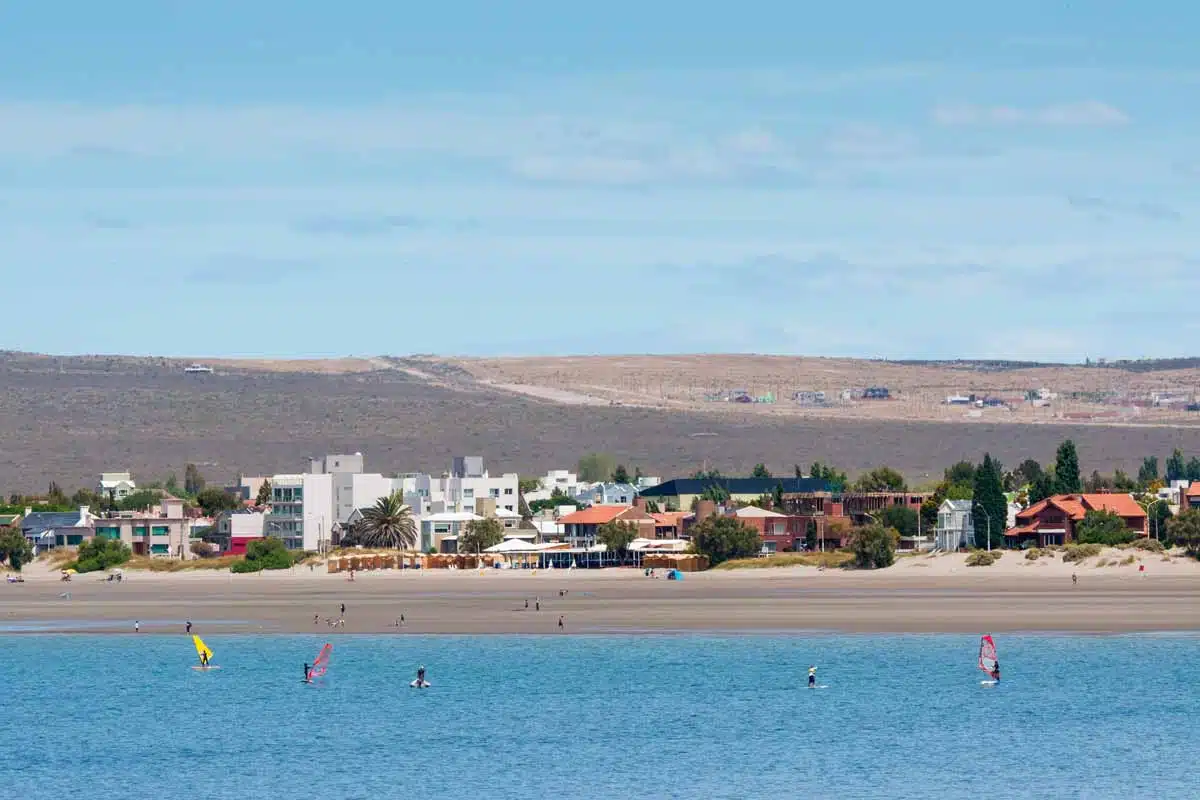 So I've saved the best for last. As far as for the best beach in Argentina, Puerto Madryn might just take the title.
Puerto Madryn has a long stretch of sandy beach and a more exclusive beach surrounded by white cliffs and azure waters.
This area in northern Patagonia is famous for its abundance of sea life. Puerto Madryn also serves as the gateway to the Valdes Peninsula. You can see orcas, southern right whales, and penguins right from the beach at certain times of the year.
Tip: Book this whale-watching tour from Puerto Madryn
Practical Tips for Visiting the Best Beaches in Argentina:
Best Time to Visit Argentina Beaches
Summer in Buenos Aires and other parts of Argentina, like Patagonia, is undoubtedly hot. Expect to experience temperatures up to 32°C (90°F). So that makes it perfect for enjoying the beach, but fair warning, beaches do get full.
On the other hand, spring experiences average temperatures of around 20°C (68°F). The water is still reasonably warm and sees a significant decrease in crowds. If you ask me (which, I suppose, you are) this would be the best time to visit.
Where to Stay
There are a huge number of excellent hotels near the beach in Argentina. Pinamar Beach Resort has lovely sea views, and is close to the beach. Another option is Hotel Dos Reyes – it's centrally located and close to the beach.
How to Get to Argentina Beaches
The bus is the cheapest way to get around, with basic fares starting at USD 0.25c (AR$38).
Argentina has a well-connected rail system that connects Buenos Aires to nearby outlying areas such as Mar del Plata and beyond. Ticket prices start at USD 26 (AR$4000).
Don't Forget to Pack
Argentina Beaches: Map