You're not going to be able to see all of South America in 2 weeks – but we've got everything you need to plan your travels with our pick of two week South America Itineraries. Inspiration for your next Latin American adventure.
By Sophie Ritchie and Julianna Barnaby
Going to South America? Read my step-by-step South America guide. Everything you need to know to plan your trip.
South America is such a large continent that it can be difficult to know where to start and how much to see on a shorter trip. Into beaches, jungle or mind blowing landscapes?
Whichever way, there's an itinerary for you.
2 Weeks South America Itinerary: 5 Step-by-Step Routes
Explore Patagonia: El Chaltén, Perito Moreno Glacier, El Chalten, Torres del Paine
Exploring the Incan Empire and Lake Titicaca: La Paz, Lake Titicaca, Cusco, Inca Trail, Machu Picchu
Incredible Landscapes in the Altiplano: Atacama Desert, Bolivian Altiplano, Salar de Uyuni
An Amazon Adventure: Manaus, Tabatinga, Leticia, Iquitos
Beach Hopping Break in Brazil: Ilhabela, Paraty, Ilha Grande, Rio de Janeiro, Salvador, Fernando de Noronha
2 Weeks in South America: Patagonia
Destinations: El Chaltén, Mount Fitzroy, Lago Argentino, Perito Moreno Glacier, El Calafate, Puerto Natales, Torres del Paine
Countries: Chile and Argentina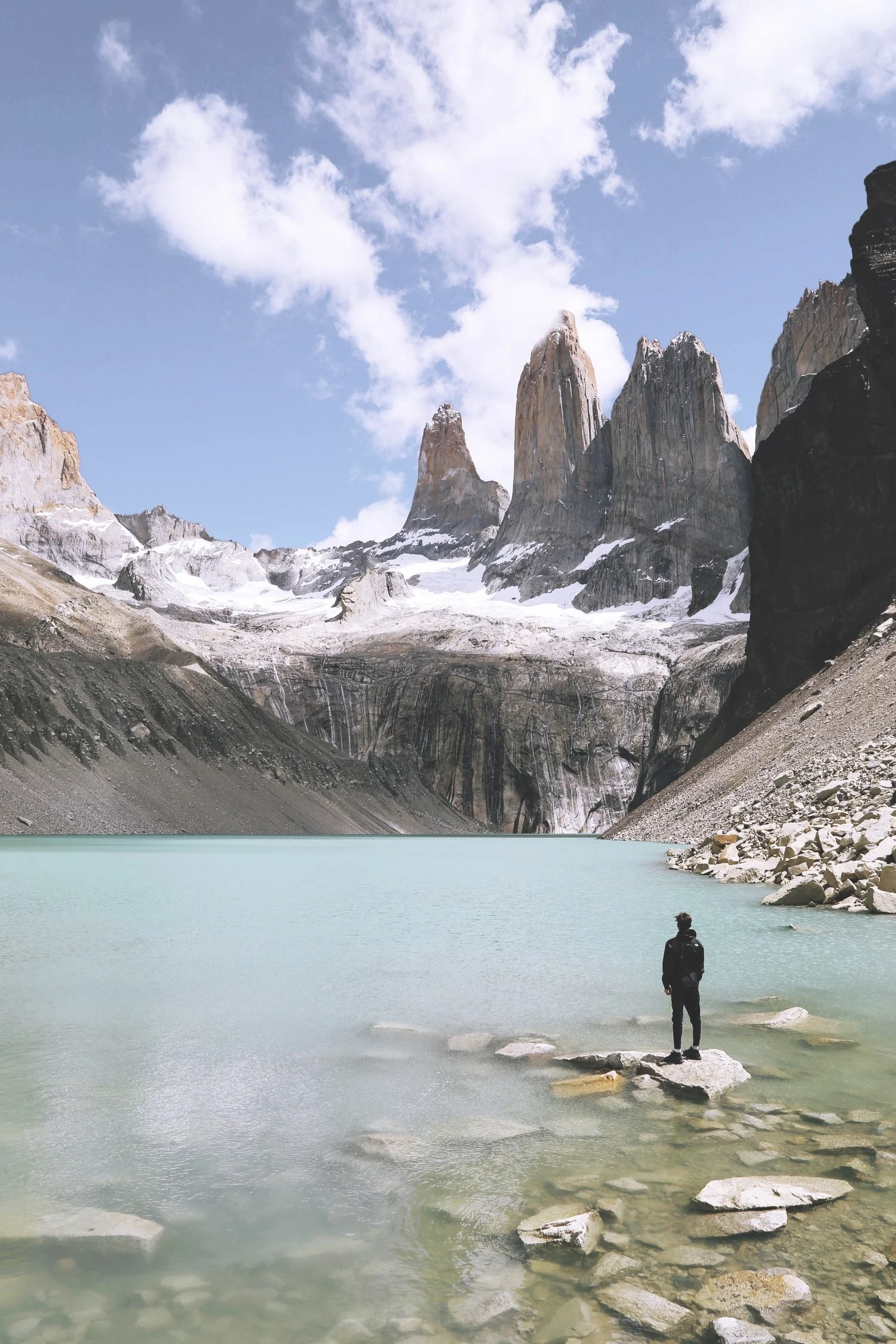 Patagonia is tucked away in the southernmost area of South America. Its vast landscapes and barren seascapes are like something out of your imagination. Except this is definitely real life and you can go there.
Once, Patagonia was only inhabited by glaciers and wildlife – something that's difficult to forget when you look out at empty sceneries and wide-open views.
You could reasonably spend a lot longer in Patagonia but we've created the perfect Patagonia 2 week itinerary to showcase the region's highlights.
Day 1: El Chaltén
Kick off your South America two week itinerary in Patagonia in the small but thriving backpacking town of El Chaltén, Argentina.
This tiny hamlet has expanded over recent years and now boasts some good hotels and cool restaurants and bars – make sure to check out La Tapera and Mathilda.
Travel to El Chalten and recover from your journey: you'll need your energy for tomorrow.
Suggested stay: Don Los Cerros Boutique Hotel & Spa.
Days 2 + 3: Mount Fitz Roy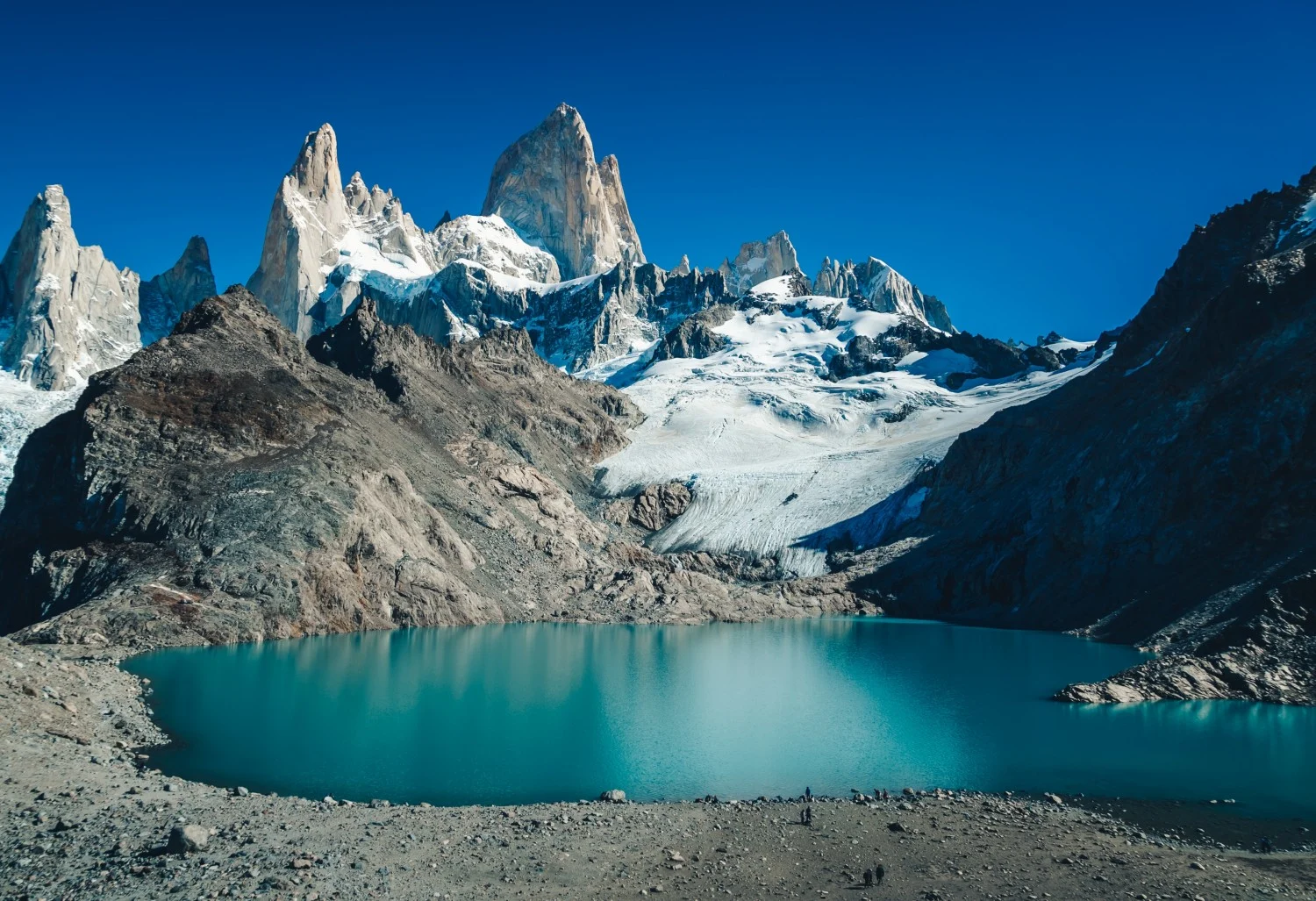 Head on a two-day trip to Mount Fitz Roy, which takes about 4 hours hiking each way, setting camp at Campamento Poincenot overnight.
After your camp, you'll head back to El Chaltén for another night before you move on.
Suggested stay: Campamento Poincenot
Days 4 + 5: Lago Argentino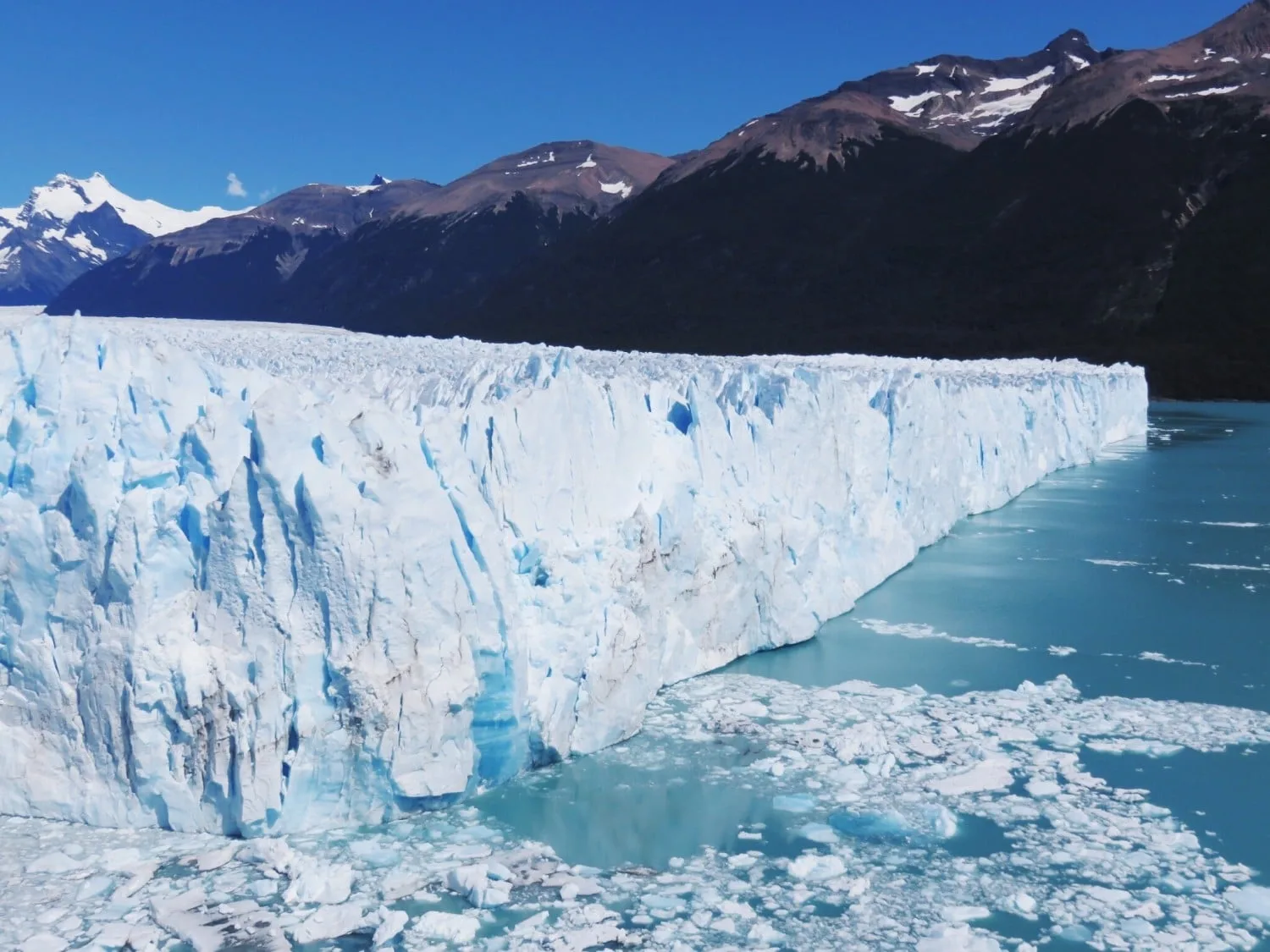 Transfer to Lago Argentino, partly via Ruta 40, Argentina's most famous highway. Once there, keep driving to the Lago Roca campsite (in the Parque Nacional Glaciares) on Route 15 for the night.
The next day you will then hike to the breathtaking Perito Moreno Glacier, one of the most beautiful glaciers in the world, before heading to Puerto Bandera for a boat ride to the glacier's edge.
Day 6: El Calafate
Take a road trip to El Calafate, 51km east of Puerto Bandera. El Calafate is well connected – making it the perfect overnight stop.
The town also has a range of accommodation, from luxury hotels such as Esplendor El Calafate, to more budget hostels and campsites depending on your budget (Hostel America Del Sur is a fabulous choice and puts on an incredible Asado feast once every few days).
While you're in town, take some time to walk out to the spectacular Reserva Natural Laguna Nimez – it's a great place for spotting flamingos and other birdlife.
Suggested stay: Esplendor El Calafate or Hostel America Del Sur
Day 7: Puerto Natales
Take a minibus across to the Chile border at Rio Turbio and stop in the lively port city of Puerto Natales, where you will stay overnight.
Hostel-wise The Singing Lamb gets our vote – if you're looking for something a little more upmarket, go to Hotel Indigo.
There's not a huge amount to do in Puerto Natales – it's a relatively quiet city with a nice atmosphere. If you get there early enough, the talk at Erratic Rock about the W Trek is worth attending.
Otherwise, attractions such as the Municipal Historical Museum lie in the city, which display artefacts from the region's indigenous population.
Suggested stay: The Singular Patagonia Hotel
Days 8-13: W Trek, Torres del Paine National Park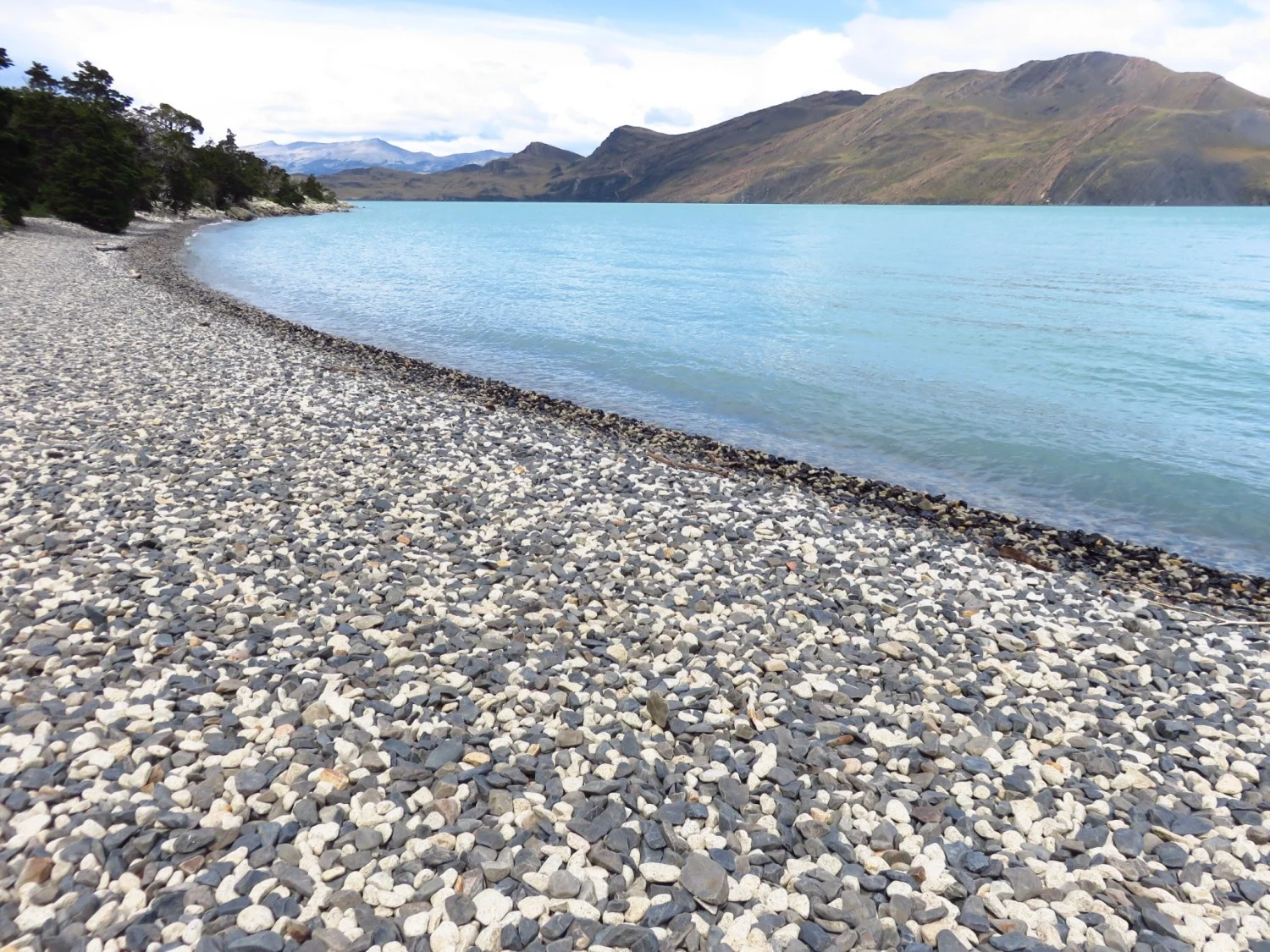 Take a transfer to Torres del Paine National Park, where you will then take on the 5 day hike on the W Circuit.
The hike is often quoted as one of South America's best, thanks to a range of mountain, glacier and lake views, ending with the spectacular Torres del Paine themselves.
If you have a little more than two weeks in South America, you can do the 8-day O Trek, which extends the route to a quieter section of the park.
You can camp or book the basic but pleasant refugios on the W Trek, if you opt for the O, you'll have to camp.
Either way, you'll want to check out this Torres del Paine packing list.
Day 14: El Calafate
On the last day of your two weeks in Patagonia, head back to El Calafate to have a rest and perhaps a night in a luxury hotel to unwind and relax (with some steak, of course) before going back to reality.
Suggested stay: Esplendor El Calafate or Hostel America Del Sur
---
2 Weeks in South America: Exploring the Incan Empire and Lake Titicaca
Destinations: La Paz, Copacabana, Lake Titicaca, Puno, Cuzco, Inca Trail, Machu Picchu
Countries: Peru and Bolivia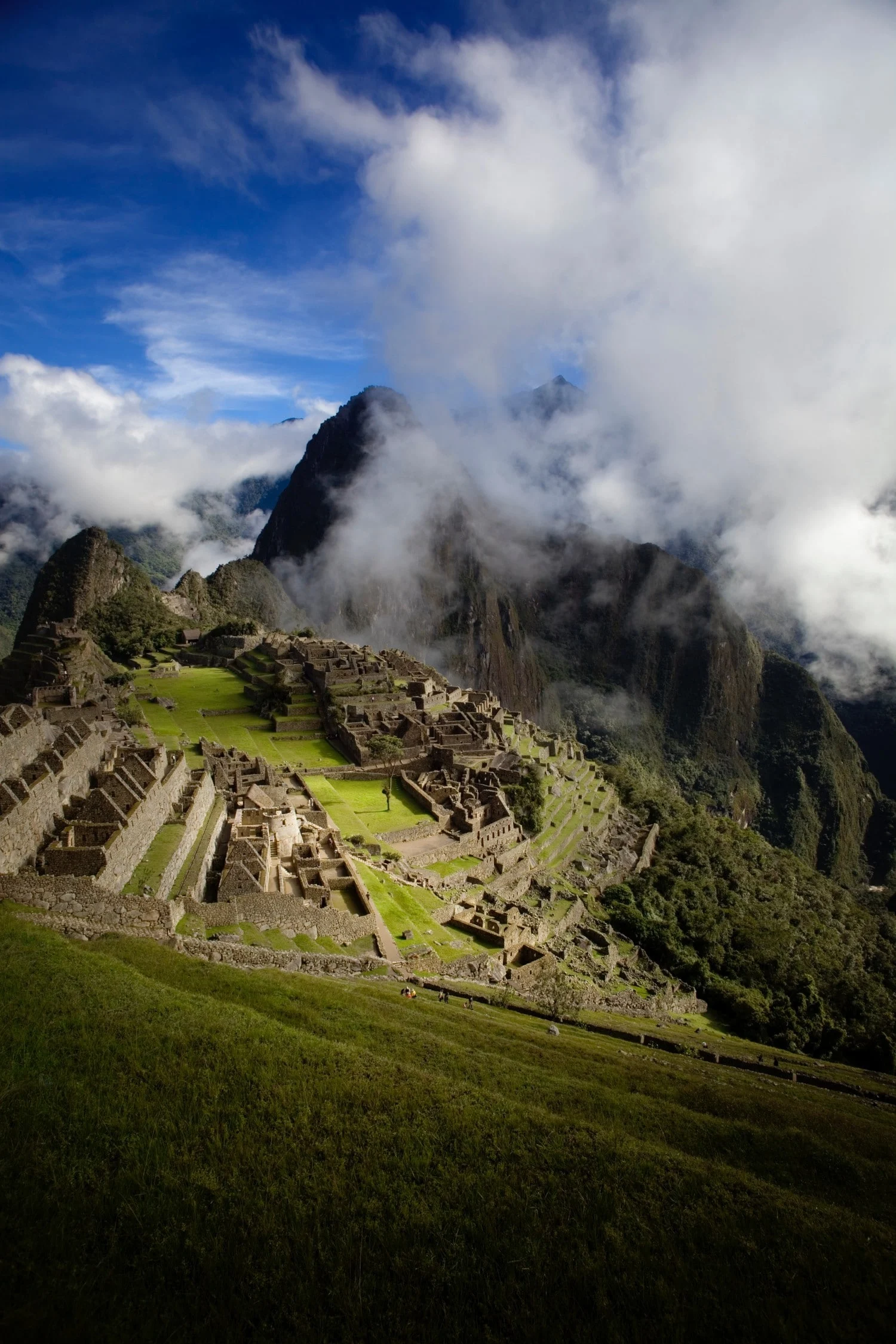 Our second itinerary for two weeks in South America takes you through the inner parts of the Incan Empire, witnessing the relics of the Quechua and Aymara nations of Bolivia and Peru.
This route not only gives you an insight into the culture of the Incan peoples, but also some incredible landscapes including Machu Picchu and Lake Titicaca, neither of which should be missed.
Days 1 + 2: La Paz
Arrive in La Paz, your base for the next 2 nights of your South America trip itinerary. La Paz sits on top of the Andes' Altiplano plateau, more than 3,500m above sea level, and boasts Mount Illimani as its dramatic backdrop.
It is also home to the world's longest and highest cable car system, named the 'Subway in the Sky', as well as the impressive salt flats nearby.
With fabulous local cuisine, Andean music, and a range of accommodation, La Paz is a great place to stop before you begin your big adventure.
Suggested Stay: Casa Grande
Day 3: Copacabana, Lake Titicaca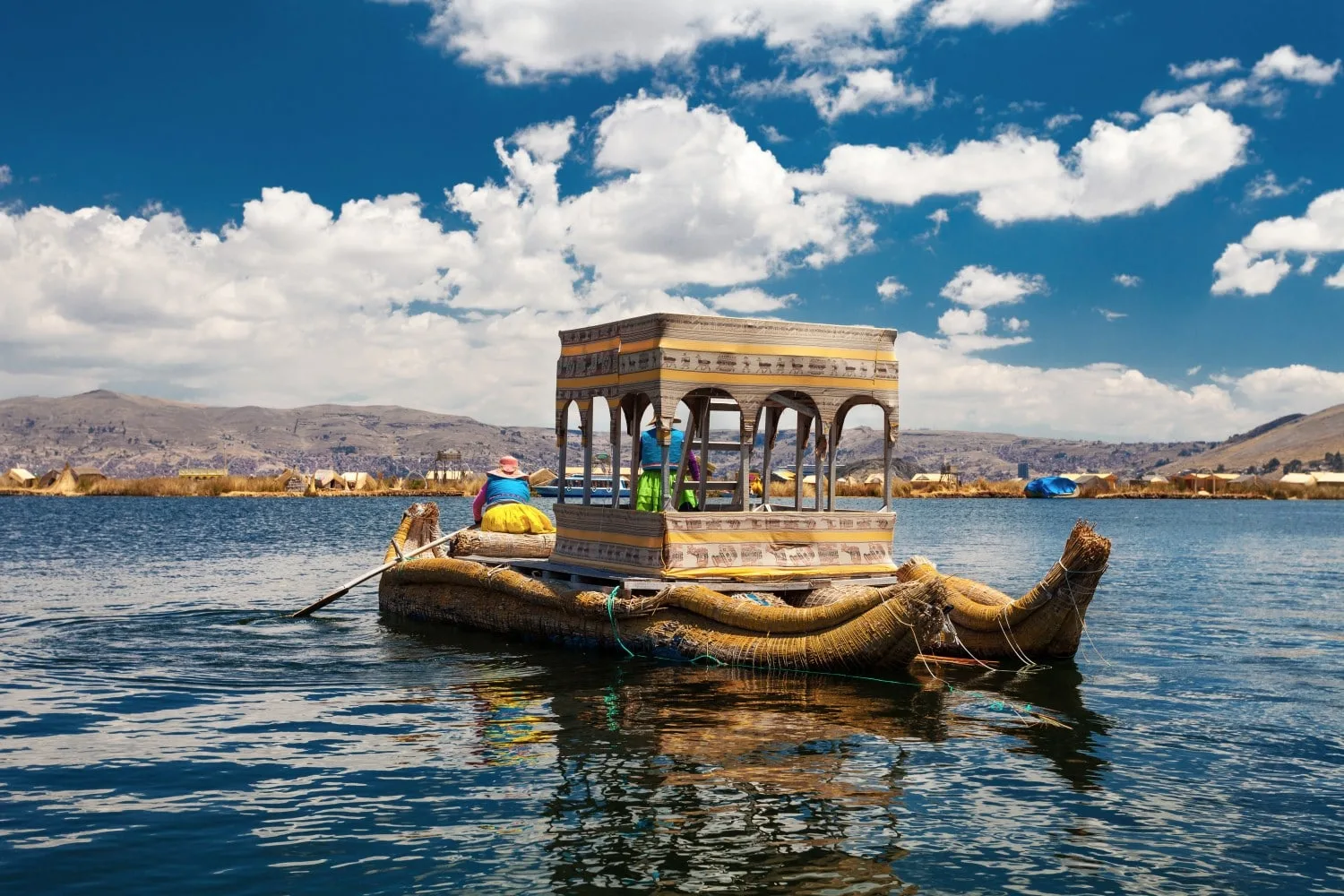 Take a bus trip to Lake Titicaca, which passes through Copacabana, a lakeside resort where you will stay for the night.
Take a day trip out on the lake, which also happens to be the highest navigable body of water recorded on Earth, to the Isla del Sol, which inhabits many pre-Columbian ruins.
Suggested Stay: Hotel Onkel Torres
Day 4: Puno, Lake Titicaca
Take a boat ride to Puno. From here, you can take boat trips to the totora-reed islands, man-made islands built by the indigenous Uros using totora reeds.
Then head back to Puno to see the sights; we recommend the beautiful Cathedral Basilica of St. Charles Borromeo.
Suggested Stay: Hotel Lago Titicaca
Days 5 + 6: Cusco
Puno to Cusco! Known for its architecture and history, and named Inca's 'navel of the world', Cusco is home to the region's best hotels, along with exciting bars, restaurants and museums.
We think that staying here for two nights is best, as there's a lot to see. Check out our pick of the best things to do in Cusco.
Suggested Stay: Antigua Casona San Blas
Days 7-10: The Inca Trail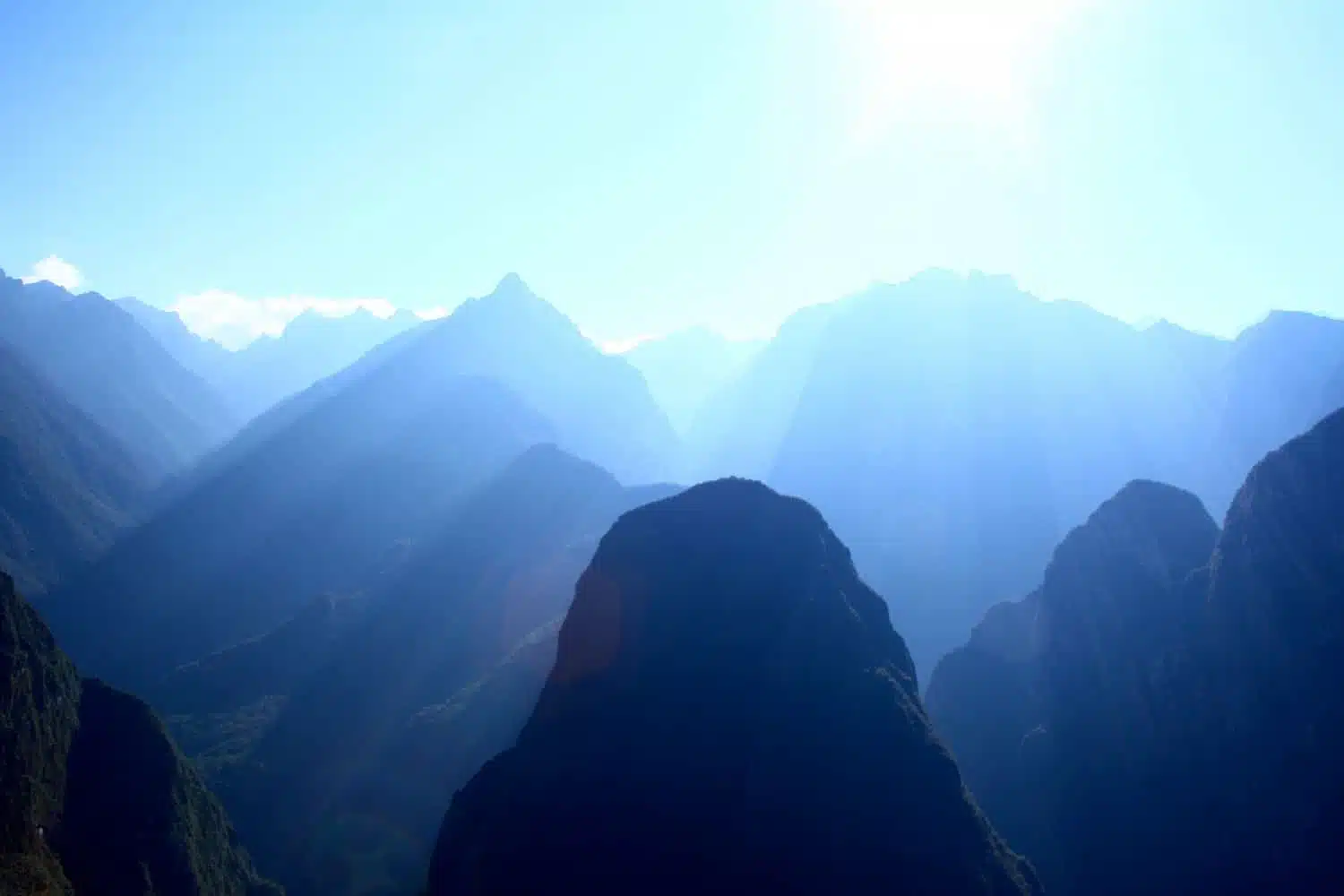 You will be picked up from your hotel early in the morning, and taken on a 3 hour trip to Kilometre 82, the start of the 4-day Inca Trail to Machu Picchu. Rated one of the 5 best treks in the world, this is a 100% must for your bucket list.
The Inca Trail trek has to be booked well in advance – if you don't nab a space, alternative treks such as Salkantay and Lares are worth looking into.
If you don't fancy those, explore more of Cusco and its surrounds before heading to Machu Picchu Pueblo (also called Aguas Calientes) to go directly to Machu Picchu.
Book Your Inca Trail Trek With Intrepid Travels
Day 10: Aguas Calientes/ Machu Picchu Pueblo
After having explored Machu Picchu, hike down to Aguas Calientes, where there are a number of hotels to wind down at for the night.
Aguas Calientes isn't the most relaxing of towns, so unless you have a burning desire to head out, take some time to decompress and relax after your strenuous hike.
Suggested Stay: Inkaterra Machu Picchu Pueblo
Day 11: Poroy to Lima
Take a train from Aguas Calientes to Poroy, marvelling at the Sacred Valley on the Vistadome Train or the more luxurious Hiram Bingham train. After a 25 minute transfer, you're back in Cuzco. Fly to Lima.
Suggested Stay: The Lot Boutique Hotel
Days 12-14: Lima + Home
Take a whirlwind tour around Lima, the Peruvian capital. Stroll along the Malecon, visit the old town with its majestic cathedral and the striking Monasterio de San Francisco.
Street art lovers should head to Barranco – the centrepoint of Lima's street art scene.
Don't forget to try a few pisco sours and hunt out the best ceviche in Lima along the way.
Read more: 13 Awesome Places to Visit in Bolivia
2 Weeks in South America: South America's Crazy Landscapes
Destinations: Santiago, Atacama Desert, Bolivian Altiplano, Salar de Uyuni.
Countries: Bolivia and Chile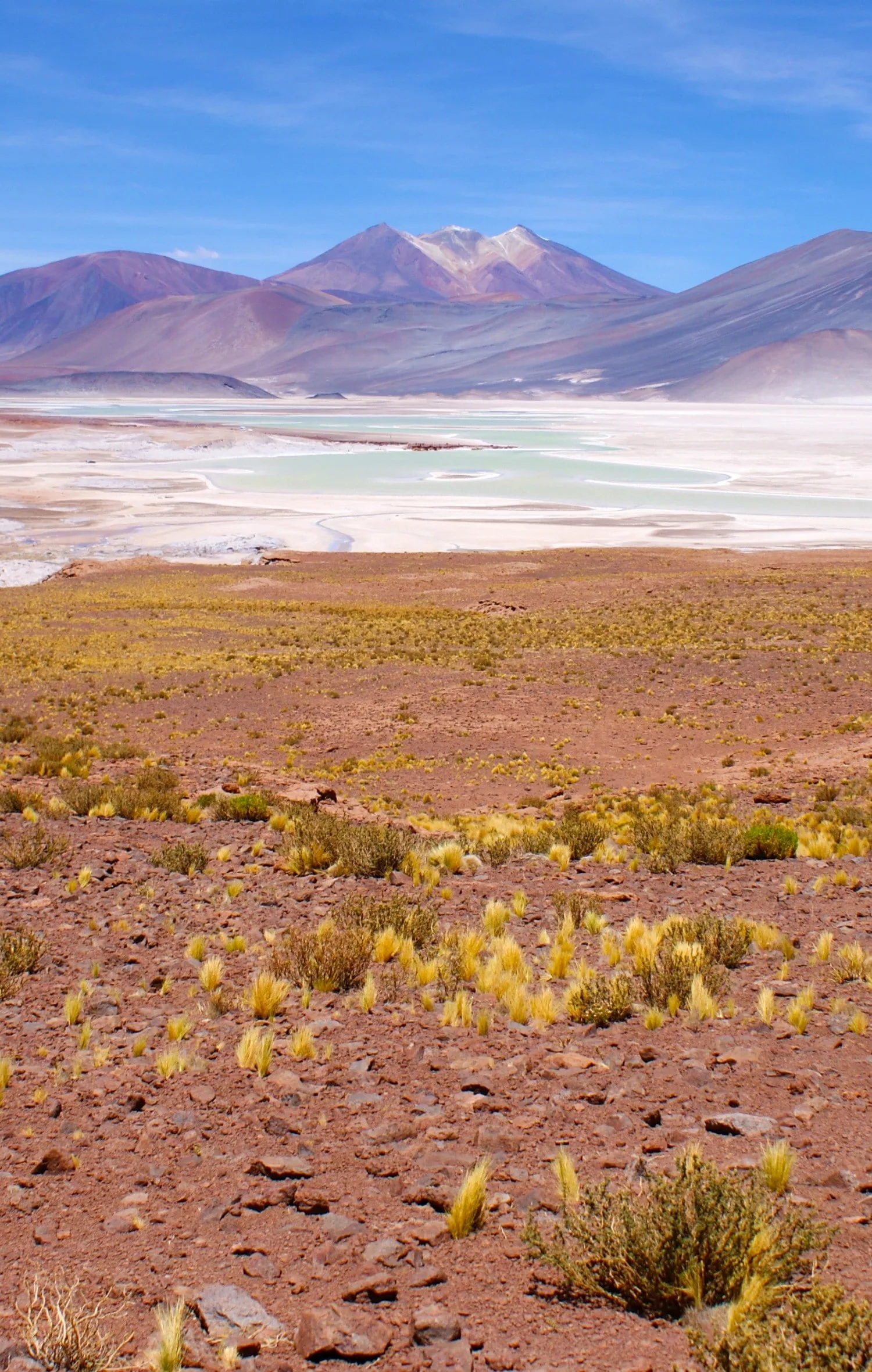 Two weeks in South America is not enough time to see everything that the continent has to offer.
This trip will take you to the very best of the continent's incredible landscapes so you can decide on your own personal favourite.
Make sure you have a trusty travel camera for this one… you're going to need it.
Day 1: Santiago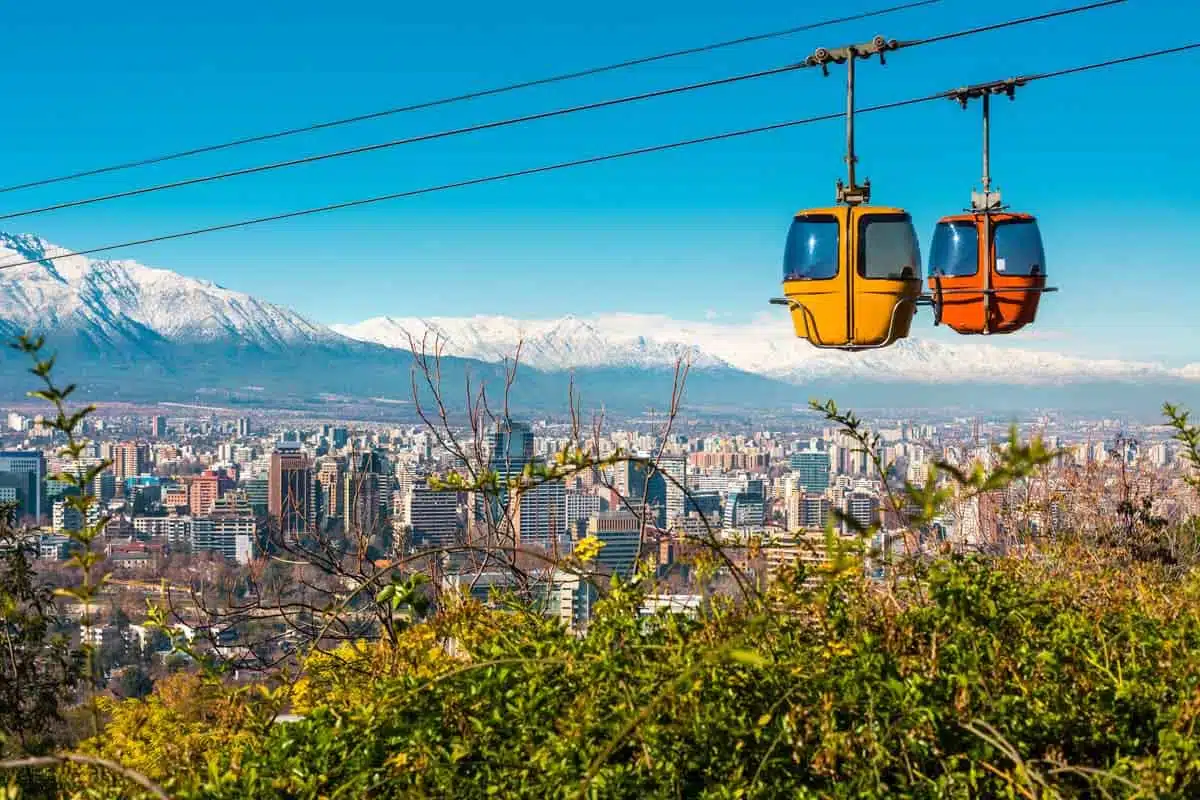 Arrive in Santiago, Chile's capital city. Santiago rivals La Paz for its dramatic setting: it sits in a valley surrounded by mountains.
It's a cool city, with lots of options for sightseeing, restaurants, nightlife and lots of accommodation. If you have a bit more time, spend a couple of days exploring Santiago.
I recommend hiking to the top of Cerro San Cristobel for epic views over the city, as well as visiting the impressive Templo Bahai and spending a morning wandering around Bicentenary Park.
You also cannot visit Santiago without admiring the old colonial architecture – Cerro Santa Lucia, in particular, is stunning.
Suggested Stay: Hotel Cumbres Vitacura
Day 2: San Pedro de Atacama
Fly to Calama, and journey to San Pedro de Atacama, where you will lodge for the night. San Pedro is pretty tiny and congested (to be honest, it's not our favourite place) but it makes a good base for exploring the Atacama Desert by taking tours.
If you want a completely unique experience, hire a campervan from Wicked Campers Chile to explore the Atacama at your own pace.
If you have the money, another (much pricier but also fabulous) alternative to staying in San Pedro is basing yourself in one of the high-end lodges dotted around the area such as Explora Atacama.
Perfect if you're looking for a touch of luxe for the trip.
Suggested Stay: Explora Atacama
Days 3-7: The Atacama Desert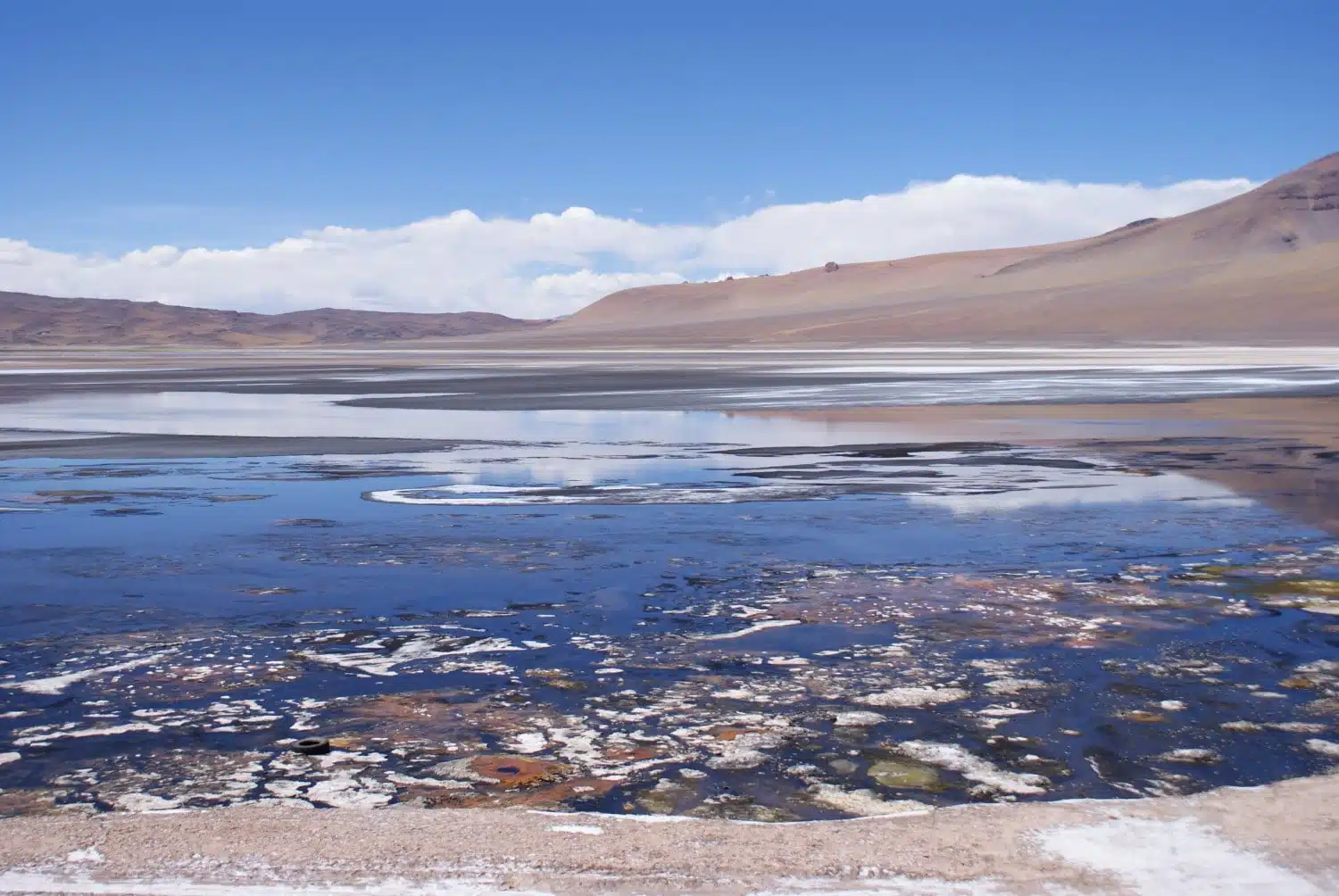 Spend a few days taking tours or driving yourself around the Atacama Desert.
Be sure to see the highlights such as El Tatio Geyser Field and the Valle de la Luna. The Laguna Cejar, where you can float in the salt water, is another must-see.
Get off the beaten track in the Atacama Desert and you'll be well rewarded… High altitude lakes such as the Salar de Quisquiro and Salar de Capur look like they're straight off of another planet.
Don't forget to bring your binoculars – the Atacama has some of the clearest night skies in the world and the stargazing is unrivalled.
Book a Tour to the Atacama Desert
Days 8-12: The Bolivian Altiplano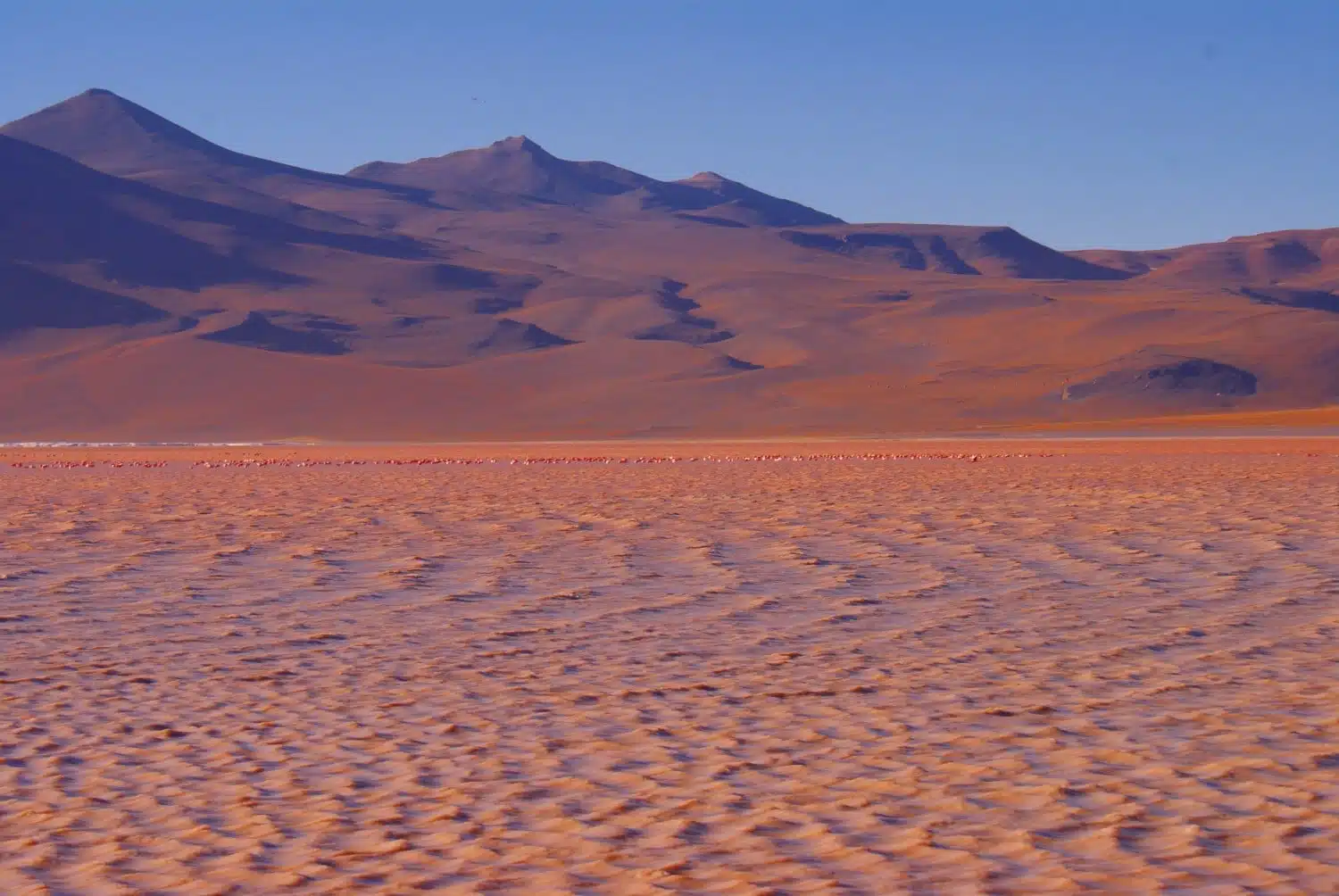 Hop over the border to Bolivia to the small Bolivian town of Tupiza to start a four-day adventure across the Bolivian Altiplano.
Visitors tend to take tours along this route, though it is possible to drive a rental vehicle (this will need to be a 4×4 – the terrain is pretty rough).
Either way, you'll see thrilling Bolivian landscapes such as the Laguna Verde (Green Lake), the Quebrada de Palala and the surreal Laguna Colorada (Red Lake).
Day 13: The Salar de Uyuni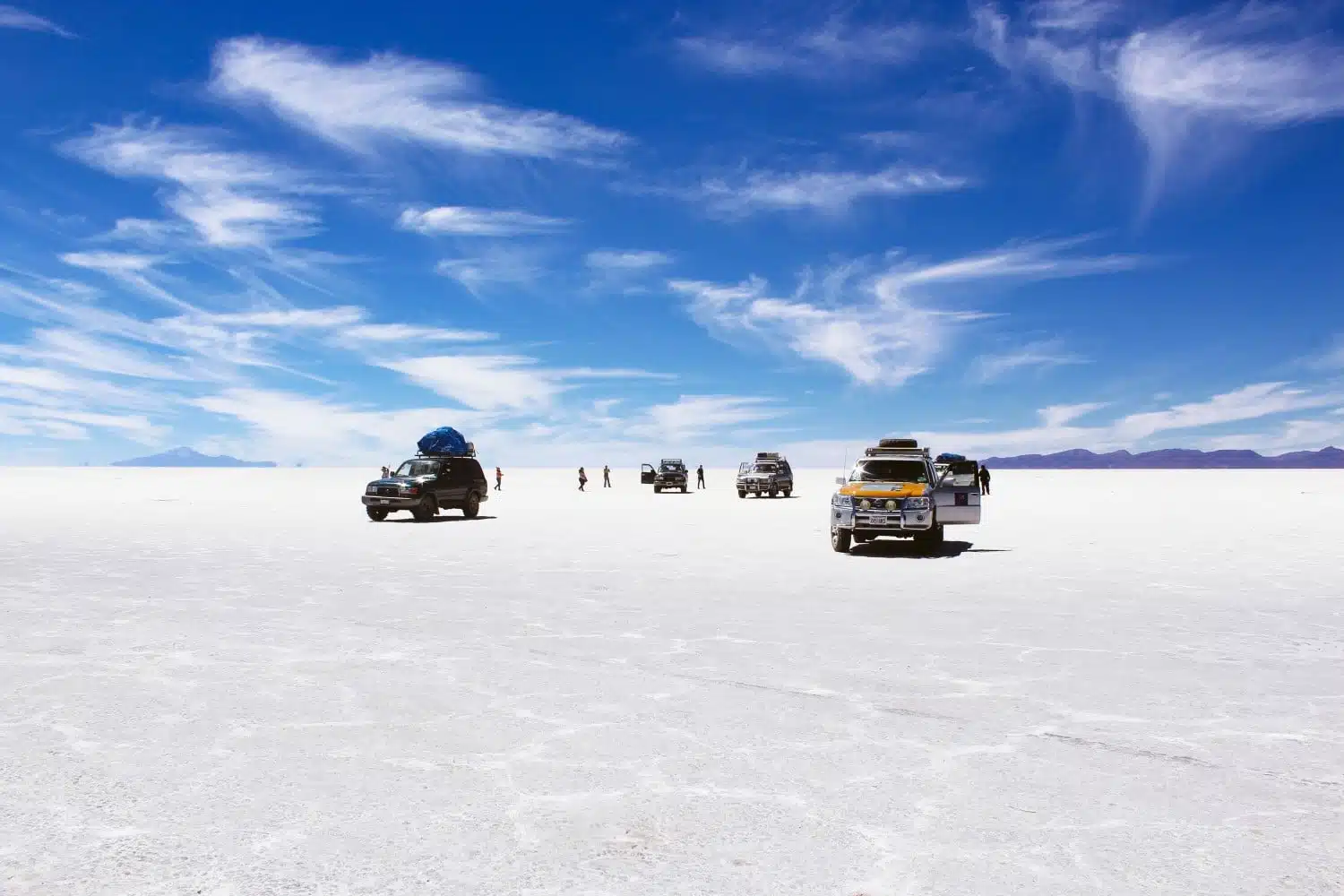 Carry on to explore the Salar to Uyuni (Bolivian Salt Flats), the world's largest salt flat (a place we love so much, we've written a whole guide on it: how and when to visit the Bolivian salt flats).
Having met with the locals at the village of San Cristobal, walk up the Valle de las Rocas, and see unparalleled views of the Ollagües Stratovolcano and the flamingo-lined Hedionda shores.
Spend the night at the luxurious Salt Palace, the world's first salt hotel.
Suggested Stay: Palacio del Sal
Day 14: Calama and Home
Your two weeks in South America are almost over.
The last day of this South America itinerary consists of walking along the never-ending salt-flats, and stopping at Incahuasi Island to see the remains of the once-submerged volcano.
You'll return to Calama and then take a flight to Santiago for your journey home.
---
Two Weeks in South America: An Amazon Adventure
Destinations: Manaus, Tabatinga, Leticia, Iquitos
Countries: Brazil, Colombia, Peru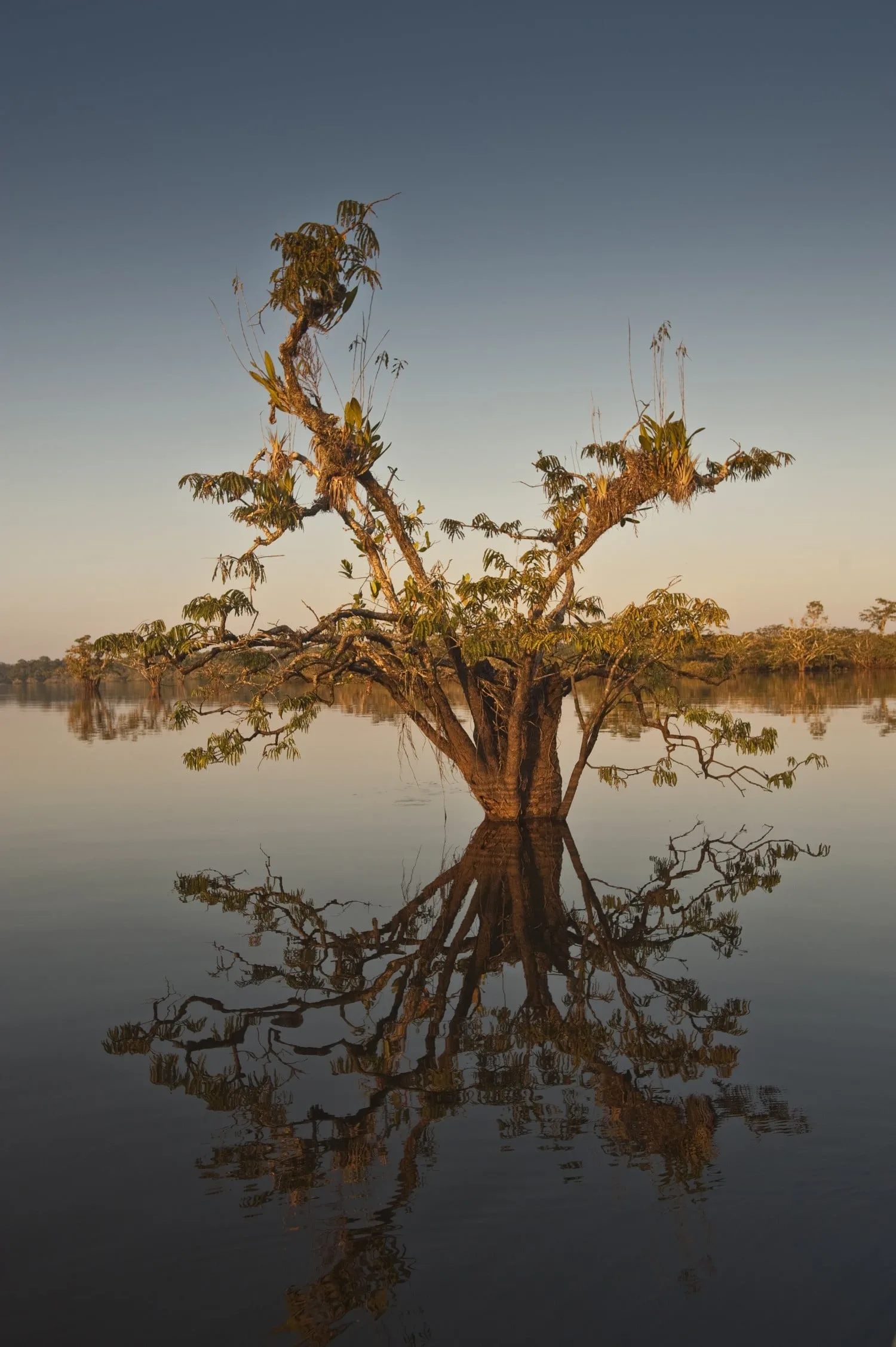 In my humble opinion, this is the best South America itinerary. People visit the Amazon for the mosaic of different plants and wildlife that can't be seen anywhere else.
This two week South America itinerary gives you time to explore the world's most famous rainforest and plenty of time to relax on slow boats as the time and the views pass by.
Bring plenty of insect repellent, you'll regret it if you don't.
Days 1-2 Manaus
Start in the opulent city of Manaus, the capital of the Amazonas state.
The city was built at the height of the rubber boom at the end of the 19th century and is a testament to the riches the industry brought to the region at that time.
Broad roads, spacious piazzas and the famous Teatro Amazonas opera house are just a few of the relics dating back to that time. We highly recommend taking a one day river trip to spot some wildlife and the meeting of the waters.
Other brilliant things to do in Manaus include learning about the history of the region at the Palácio Rio Negro, visiting the CIG Zoo to spot Harpy Eagles and Jaguars, and picking up traditional, hand-crafted souvenirs in Taberna do Chef Procópio market.
Suggested Stay: Hotel Adrianopolis
Days 3-7 Boat journey from Manaus to Tabatinga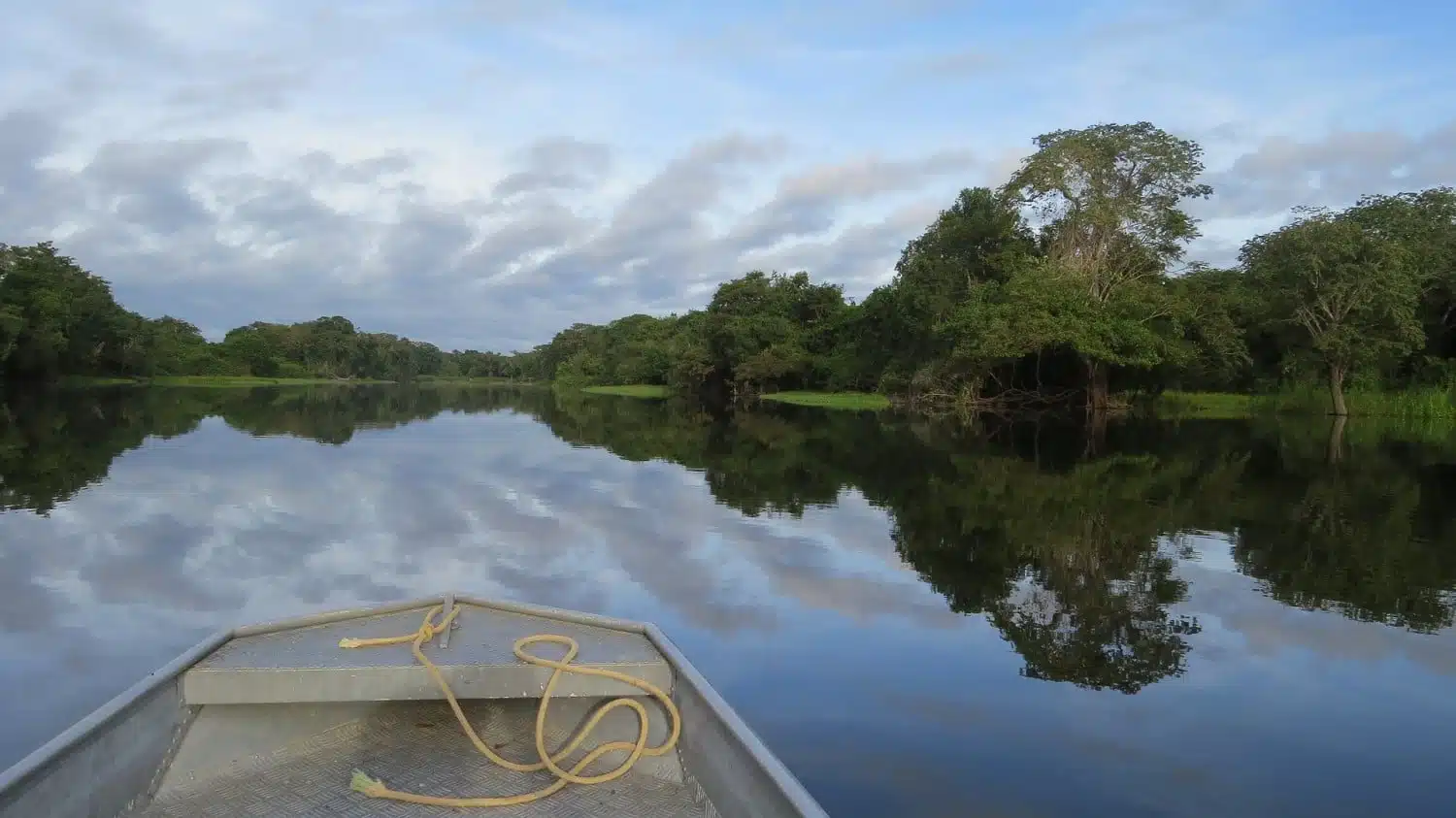 Book yourself onto the mammoth seven day journey up the Amazon river to Tabatinga at the Brazilian/ Colombian/ Peruvian border. You can either book to sleep in a hammock on deck, or reserve a private cabin.
Take some time to relax, catch up on your travel reading and generally marvel as you float through the jungle.
Days 7-9 Leticia and surrounds
Boats from Manaus generally terminate at Tabatinga, a slightly shabby border town. Leticia is just over on the Colombian side and a better choice of base for the next few days.
Take a jungle tour to the Parque Nacional Amacayacu where you can spy pink river dolphins and over 500 species of bird among many other things.
We'd recommend spending the night in a hammock in the parque before returning to Leticia for your onward journey.
Suggested Stay: Decameron Decalodge
Days 10-13 Slow boat from Leticia to Iquitos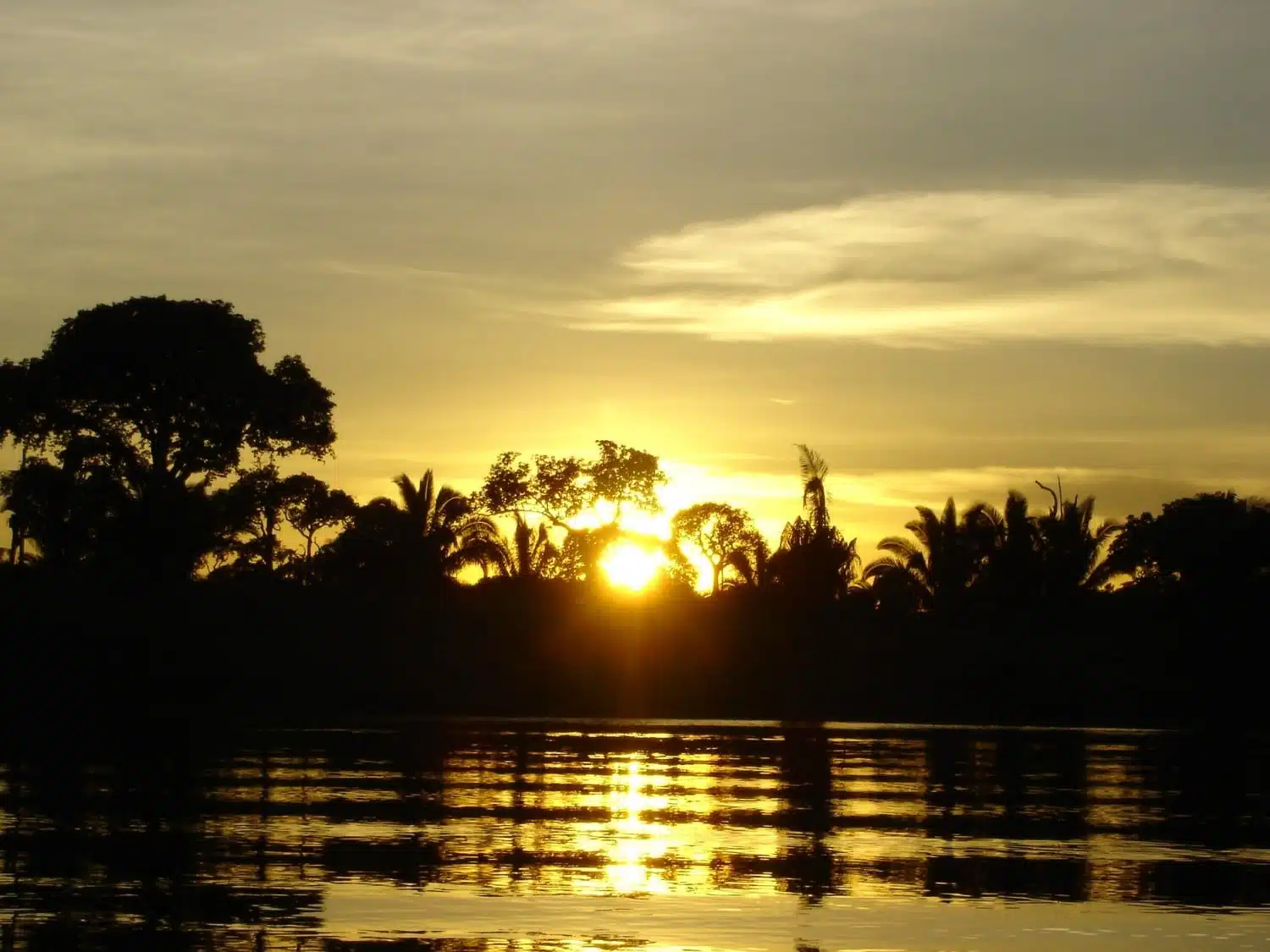 Time for the second slow boat, this time from Leticia to Iquitos in Peru.
You could take a speedboat, which will do the journey in 12 hours – but where's the fun in that? Instead, book a space on one of the barges that crawl their way along the Peruvian Amazon to the large city of Iquitos.
Day 14 Iquitos and Home
Disembark at Iquitos, another city that benefited hugely from the late 19th century rubber boom.
Check out the elegant architecture and intricate decor in buildings such as The Casa de Fierro, Iglesia Matriz and Casa Khan.
Decompress in one of the laid-back bars and savour the excellent local cuisine before heading home.
Suggested Stay: Época Iquitos
You can also explore the Ecuadorian Amazon – read one traveller's account of his Ecuador Amazon tour.
---
2 Weeks in South America: Beach Lovers
Destinations – Santos, Guarujá, Ilhabela, Ubatuba, Catuçuba, Paraty, Ilha Grande, Rio de Janeiro, Salvador, Fernando de Noronha, Recife
Countries: Brazil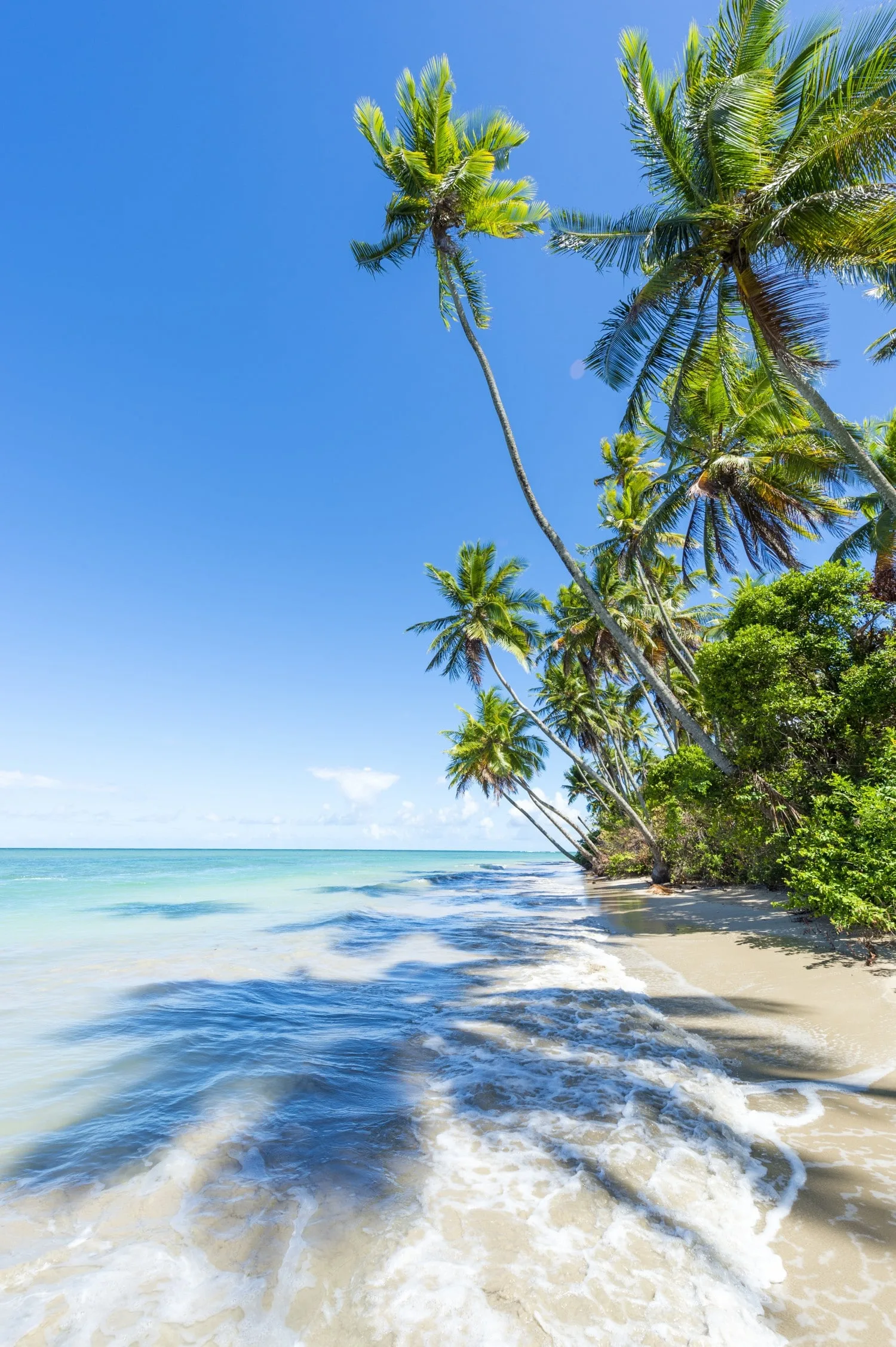 Calling all beach lovers! You think you've seen it all? Well, you're in for a big shock. Just wait until you see the beautiful beaches of Brazil.
You'll spend two weeks in South America, exploring the best beaches in a country that certainly isn't lacking in sandy spots to flop and drop.
Day 1: Santos
Arrive in Santos, Southern Brazil, home to Brazil's biggest port. Spend your first night in Guarujá, a coastal town near São Paolo. Best beach: Iporanga Beach, 25km from the city centre. If you want to extend your trip, there are plenty of things to do in Sao Paolo.
Suggested Stay: Casa Grande Hotel & Spa
Day 2: Ilhabela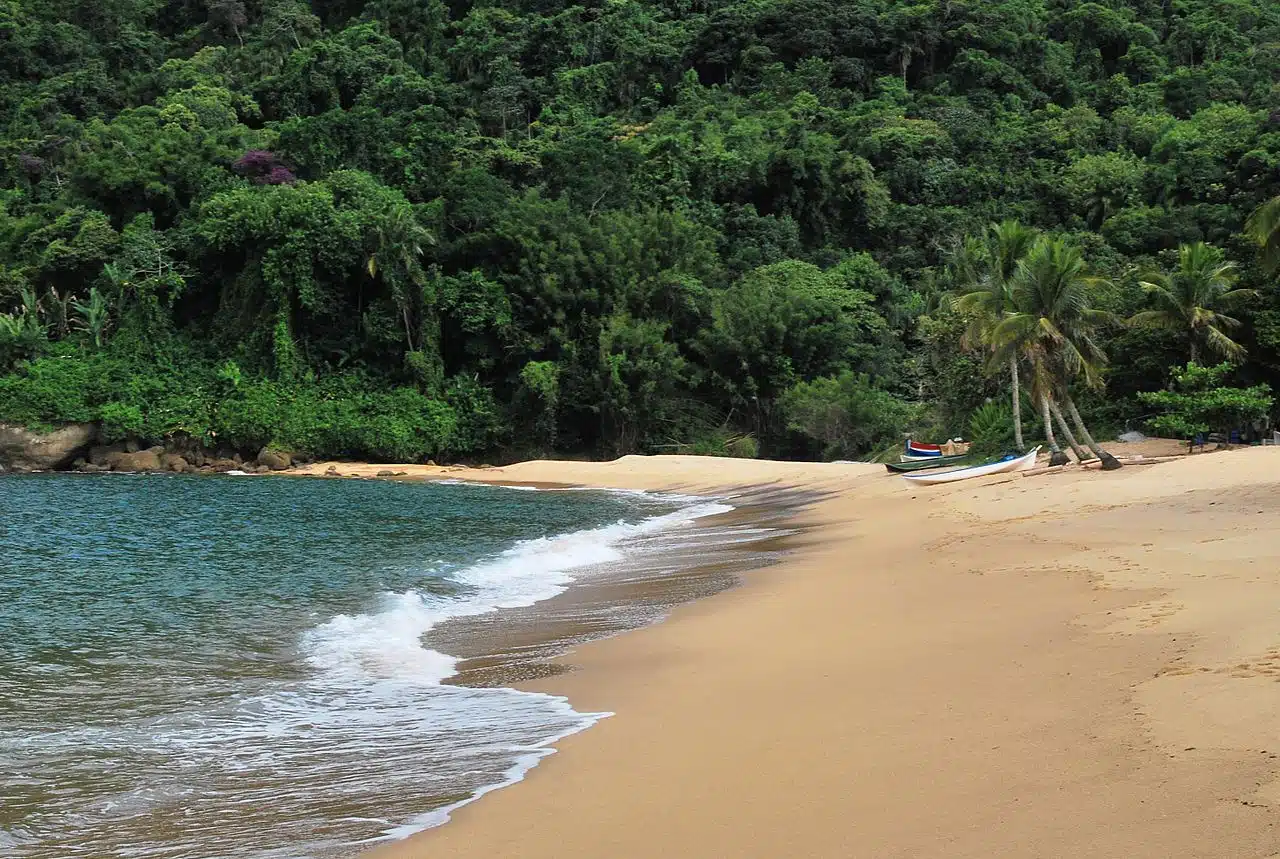 Travel up to the BR101 by car, and take a ferry to the island of Ilhabela, where you'll spend the night. Portuguese for 'beautiful island', Ilhabela is a city 4km off the coast.
It boasts the perfect combination of untouched tropical jungle (protected by UNESCO) and pristine beaches where the young and beautiful are known to party. Best beach: Bonete.
Suggested Stay: Hotel Mercedes
Days 3 + 4: Paraty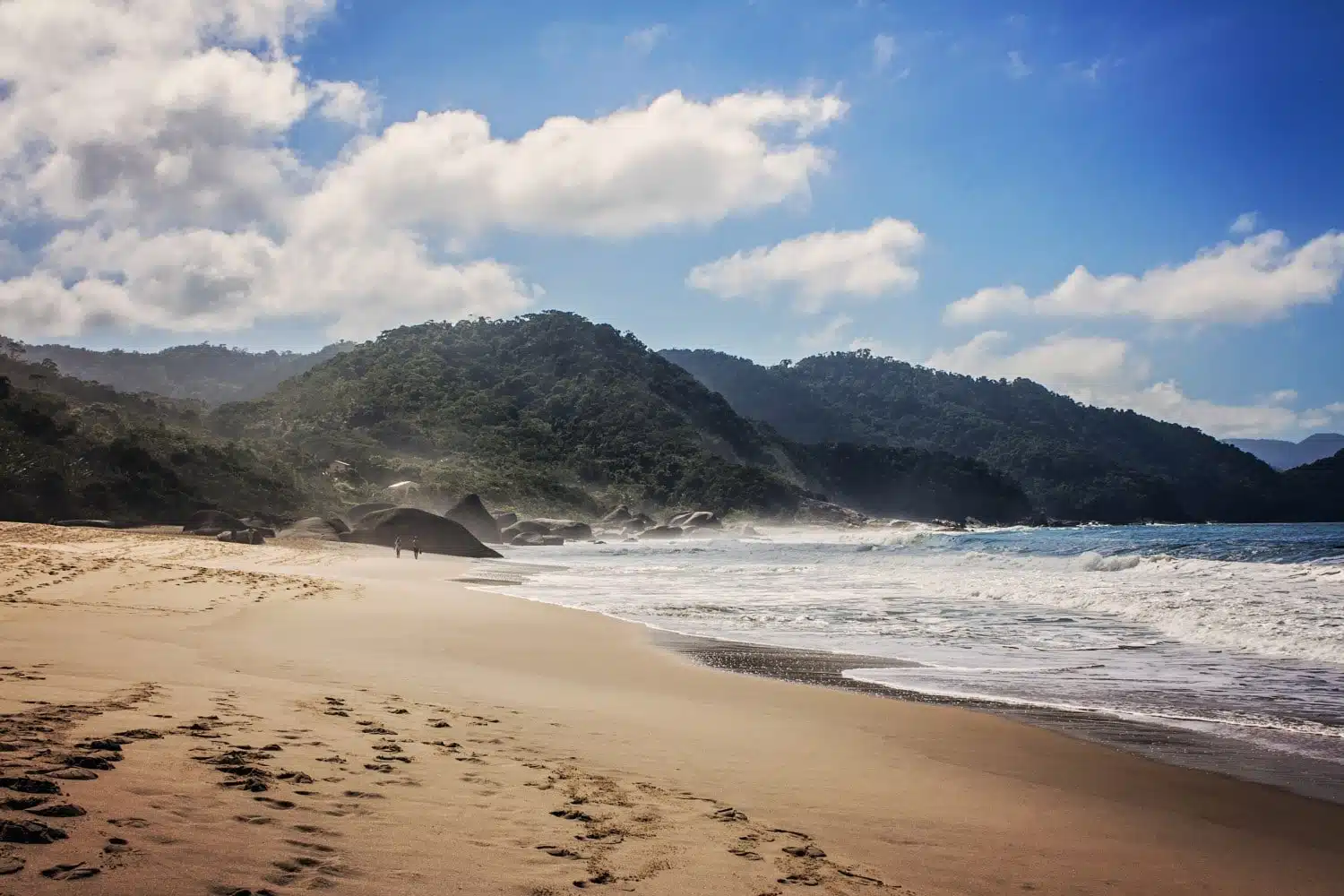 Take the ferry back, and drive up to Ubatuba, where the road climbs up through the mountains of the Serra do Mar to Catuçuba.
Relax at the local ranch, and even horse-ride in the hills if you fancy. Before it gets dark, carry on your drive to Paraty, where you'll stay 2 nights.
Paraty is Southern Brazil's most picturesque city, with a quaint colonial centre combined with beautiful beaches. The hotels and dining are also terrific. Best beaches: Lula beach and Vermelha beach.
Suggested Stay: Pousada do Ouro
Day 5: Ilha Grande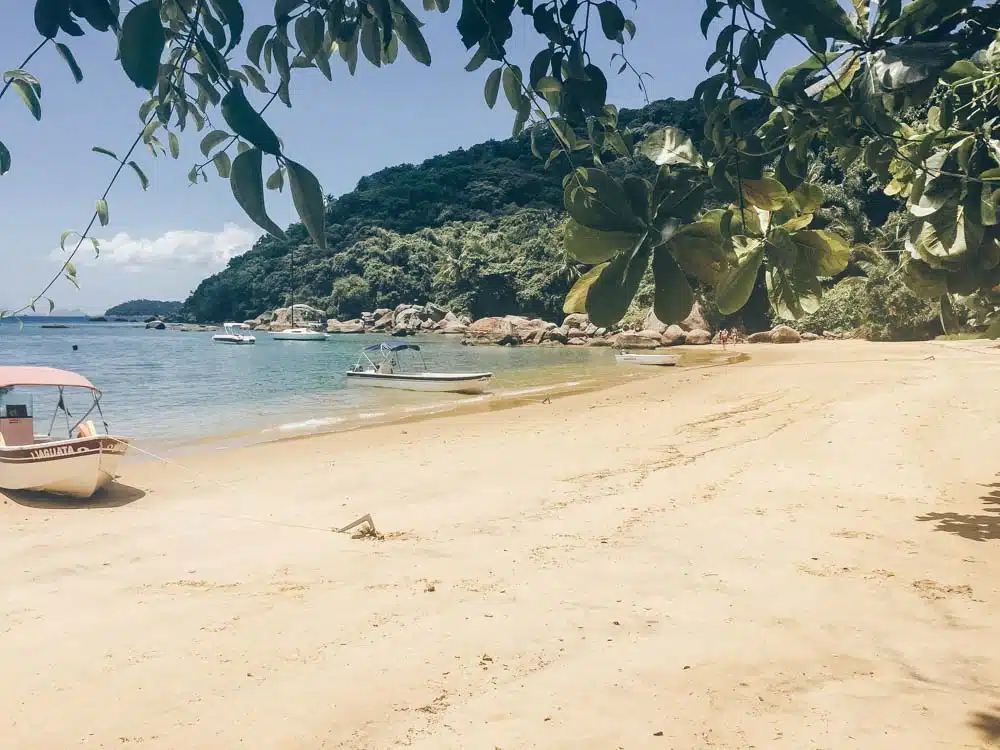 Drive to Angra dos Reis, and catch a ferry to Ilha Grande, a lush green island full of beautiful beaches and forests.
Beach hop or hike around the island; we love Parrot Peak, a hike in the forest that leads to the top of a parrot-shaped rock formation – it's tough but well worth it for the views.
Best beach: Lopes Mendes.
Suggested Stay: Hotel Riacho dos Cambucas
Days 6 + 7: Rio de Janeiro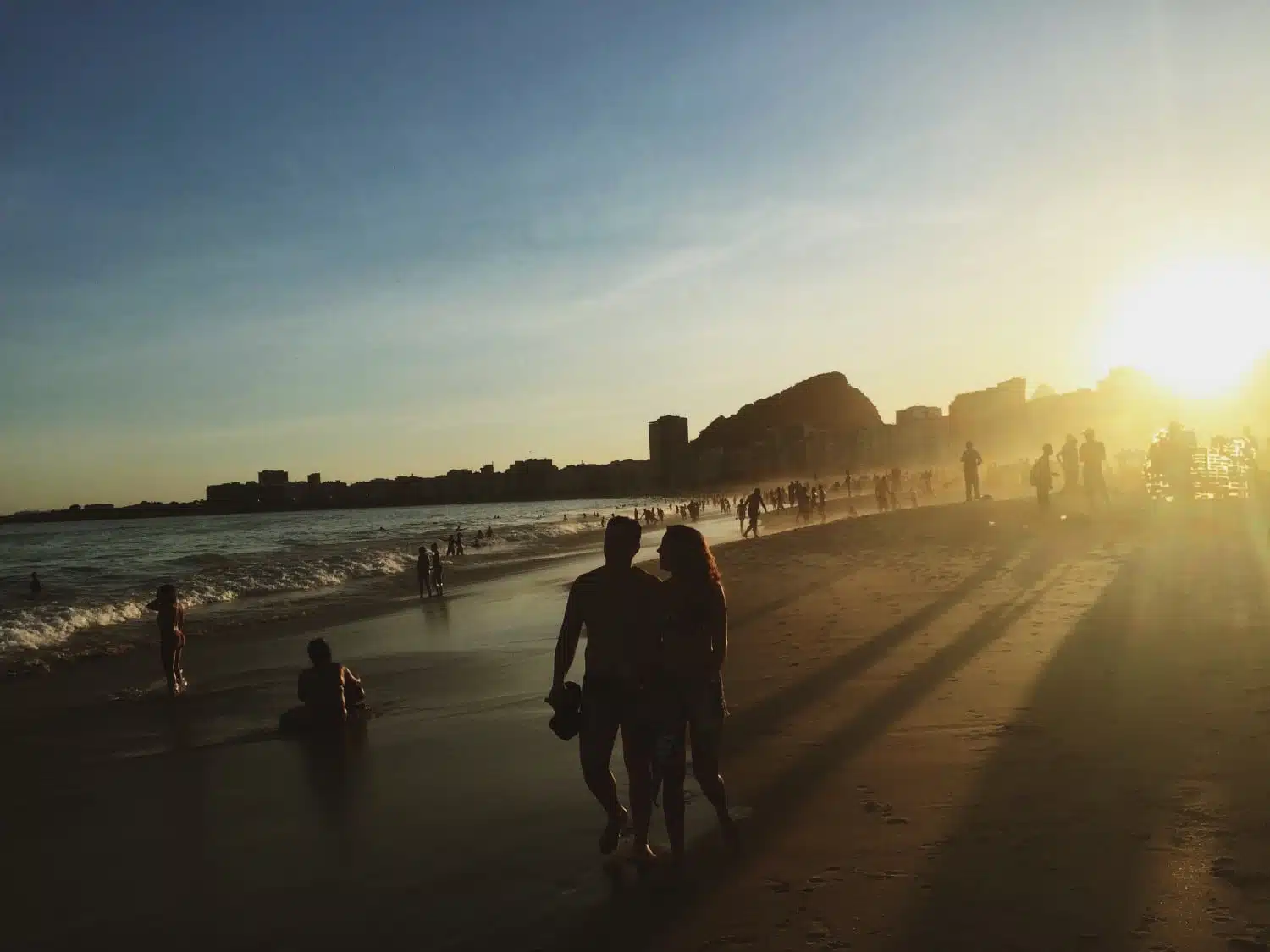 Make your way to Rio de Janeiro. Having arrived in Rio, head to the stunning beaches on its coast. Our favourites are Copacabana, the true city beach, and Ipanema.
We recommend spending 2 nights in Rio to visit both of these beaches and explore the rest of the city.
For something a little different, the stunning beaches of the Barra da Tijuca neighbourhood wind their way along miles and miles of coastline, fringed with some of the city's most upmarket bars and restaurants.
If you want to get out of the city, head to Buzios, a Riviera-esque beach only a day trip from Rio, which has been famed for its St Tropez chic ever since a bikini-clad Brigitte Bardot visited here in 1964.
Suggested Stay: Vila Santa Teresa Hotel & Spa
Days 8 + 9: Salvador
Catch a flight to Salvador, and spend a day exploring Bahia's vibrant and exciting capital.
While Salvador's beaches aren't the best in Bahia, take the two hour boat ride to the island of Morro de São Paulo for a slice of the beach life.
There are so many things to do in Salvador, from exploring the Museum of Modern Art which highlights Salvadors history through modern artwork to scoffing pupusas in the main bustling market in town (delicious fried pancakes filled with meat, cheese, or beans and served with cabbage).
The island's enchanting beaches and laid back attitude captures the heart of many a traveller – we wouldn't blame you if you spent an extra few days here.
Suggested Stay: Zank Boutique Hotel
Days 10 – 13 Fernando de Noronha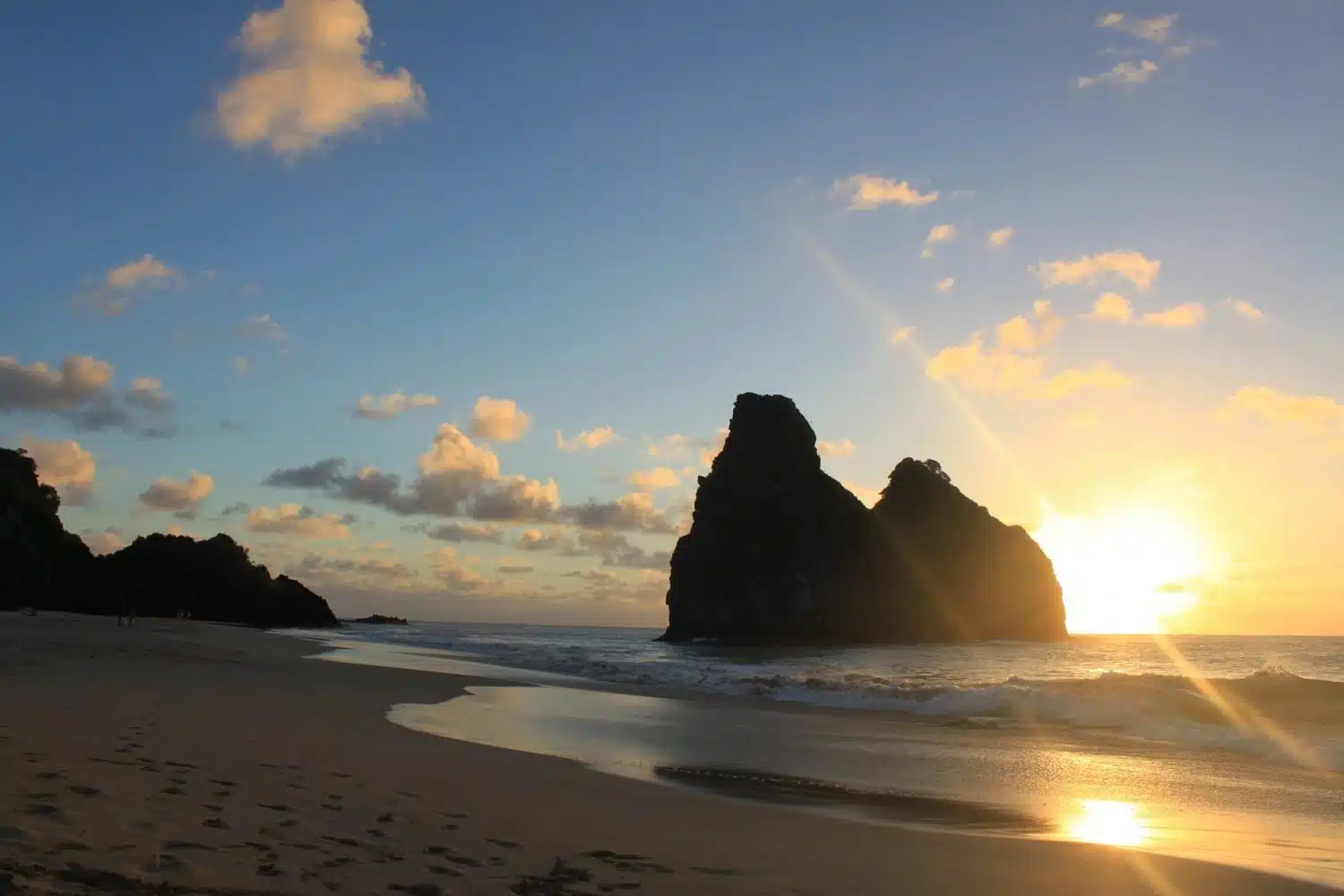 Return to Salvador and fly up to Recife, further north. From Recife, take a flight to Fernando de Noronha, a small island archipelago that's often named as home to Brazil's best beaches.
If you're feeling active, take some time to explore the rich underwater life surrounding the islands – the diving is first class.
Suggested Stay: Dolphin Hotel
Day 14: Recife and Home
Return to Recife. If you have a few extra days, make your way to the UNESCO Heritage town of Olinda, one of the prettiest in the country.
Olinda is known as an artist's town, and so it's no surprise it boasts plenty of tiny art galleries and gorgeous buildings. Make sure to check out the Saint Benedict Church and its magnificent (that's truly the only word to describe it) main altar.
Otherwise, it's time to go home.
---
Which is your favourite 2 week South America itinerary?
Love this? Save and Share on Pinterest!