Planning on backpacking South America? It can be tough to know what to try and see and do during your trip. Don't miss the ultimate South America bucket list – 90 of the best things to do in South America to inspire your travels.
I've been to South America a lot. A lot. I first visited when I was a fresh-faced 18 year-old ready to party in Rio. Several (and I mean several) years later, I've travelled in South America more than anywhere else.
While there's a lot of information about things to do in South America, it's a universal truth that nothing beats a good bucket list for firing your imagination.
So, if you're planning on backpacking South America, or even if you are going for a shorter trip, here are 90 things to do in South America to inspire your travels.
1. Hike the W Trail in the Torres del Paine, Chile
The Torres del Paine National Park is a show-stopper. It's like nature decided to go all out, decided it wasn't enough and then decided to add a bit more drama for good measure.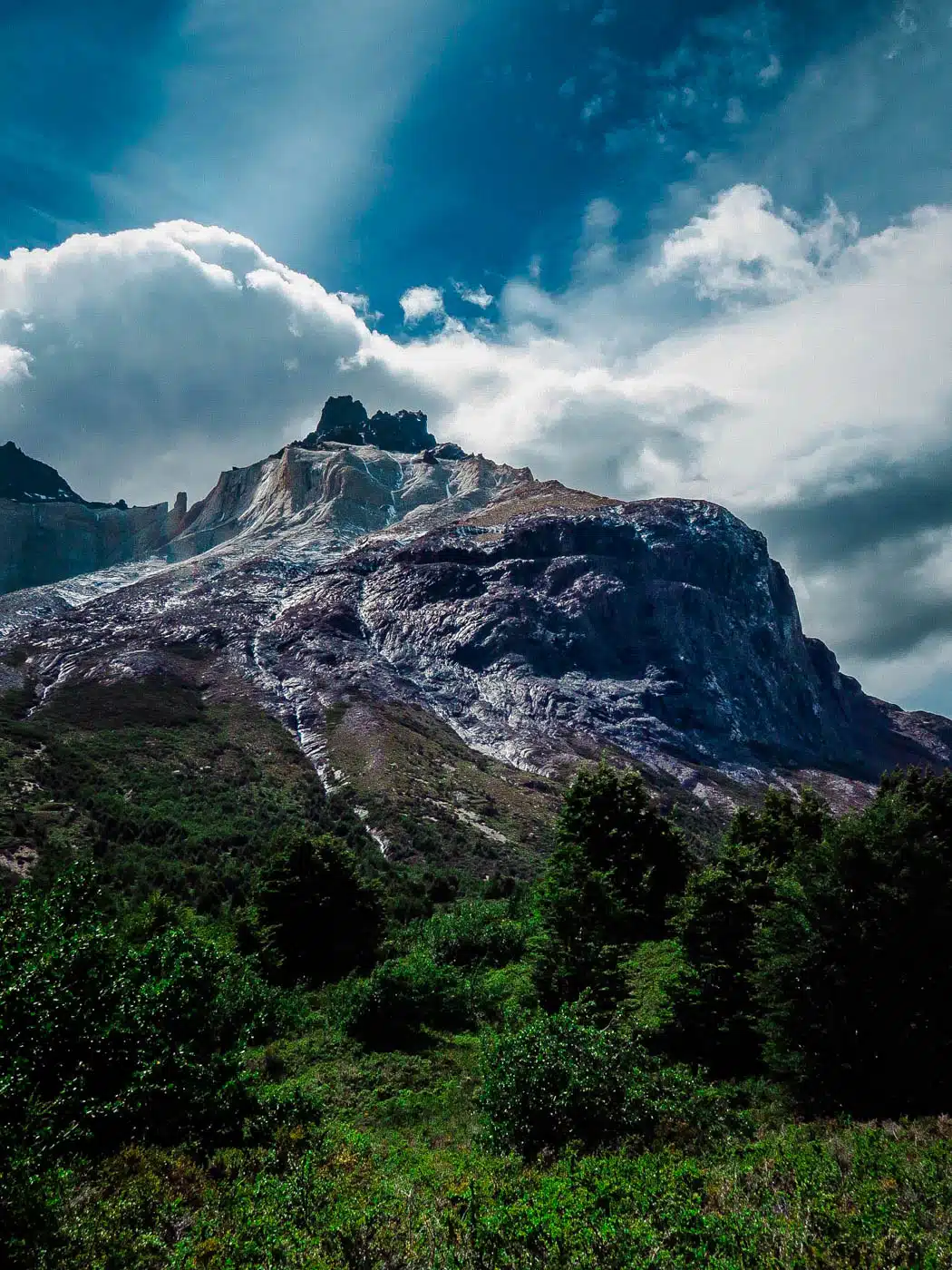 You have several choices when it comes to hiking in the Torres del Paine National Park while you are backpacking in South America – you can do the four to five day W trek, or if you have more time, you can do the longer O trek.
Either way, you're guaranteed to see more mountains, glaciers and jewel-coloured lakes than you thought possible.
Want to know more? Read my full piece on Hiking the W Trek.
2. Ride with the Gauchos in Argentina
Whether you are a skilled horsewoman (or man) or have never sat atop a horse before, you can make your cowboy dreams come true and make like a gaucho in Argentina.
Gauchos are an important part of Argentine history and culture and the tradition is kept alive today in many parts of the country.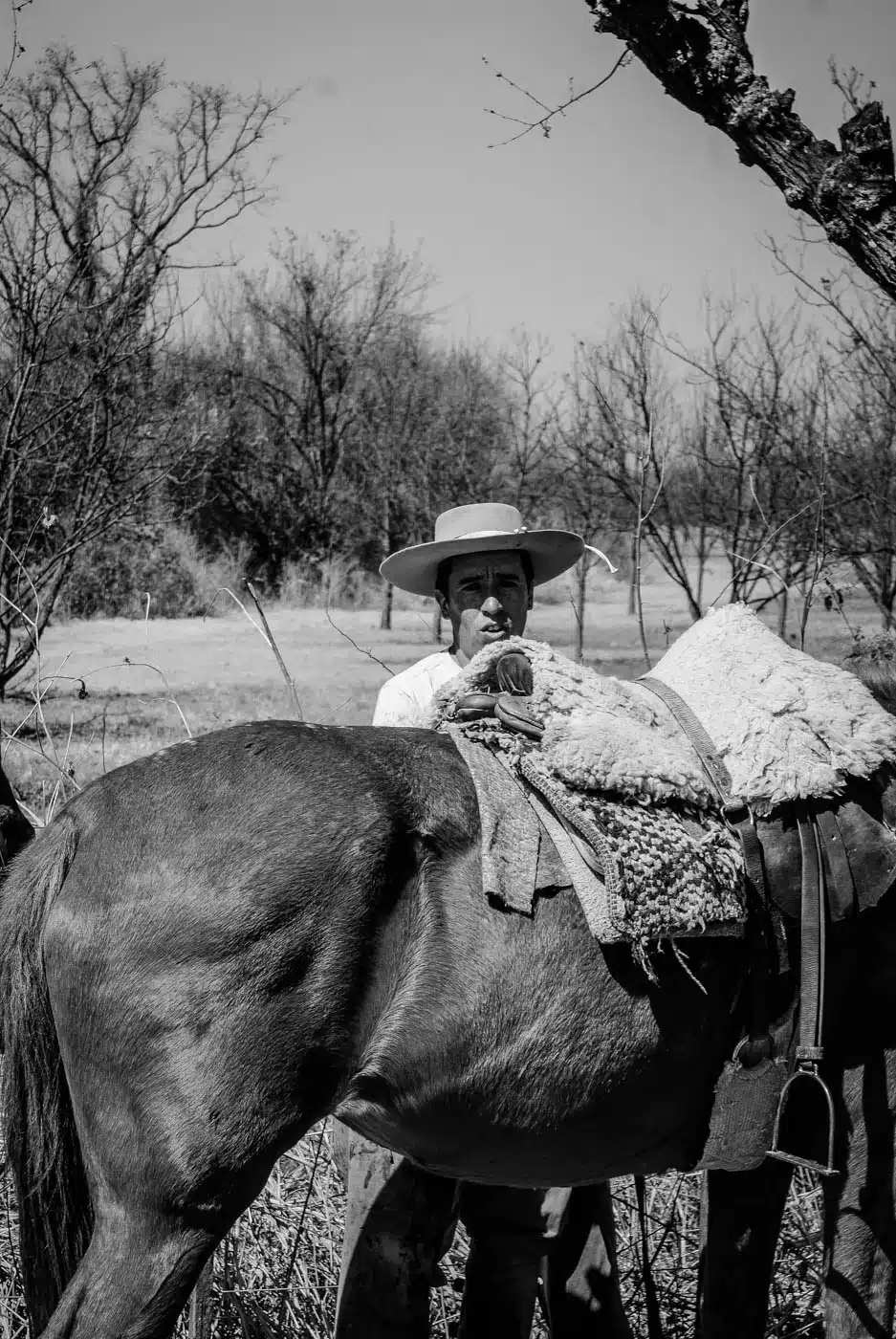 While I've ridden in quite a few parts of Argentina while I've been travelling in South America, my favourite is hands down in Sayta Ranch, a few miles outside of the northern Argentine city of Salta.
Not only do you get to ride up a storm along dirt tracks and into the hills like a true badass, you finish it all off with one of the best asados (Argentine barbecues) that you are ever going to taste.
Check out my piece on riding with Sayta in Argentina
3. A Cycling Wine Tour in Mendoza, Argentina
Good wine in South America isn't a rare thing.
With half of the world gulping down Argentine Malbec like it's going out of fashion, it shouldn't come as a surprise that you can find some very tasty tipples in South America (and even better news, unlike in some areas of the world, it won't cost you the earth to try them either).
Mendoza is at the epicentre of winemaking in Argentina and for good reason. You can't stumble out of town without coming across yet another award-winning winery.
Sure, you can take a bus tour and be ferried between them, but here at The Discoveries Of, I believe in singing for your supper (particularly when that supper is wine), so hop on a bike and cycle your way between the vineyards.
Just don't drink too much on the trip or you are going to struggle on the journey home.
4. Carnival in Rio de Janeiro, Brazil
Rio de Janeiro is a pretty crazy city at the best of the times (and I mean that in the best possible way) but it's like someone flicks a switch when it comes to carnival. The city explodes in a riot of colour, parades and more elaborate costumes than you ever thought possible.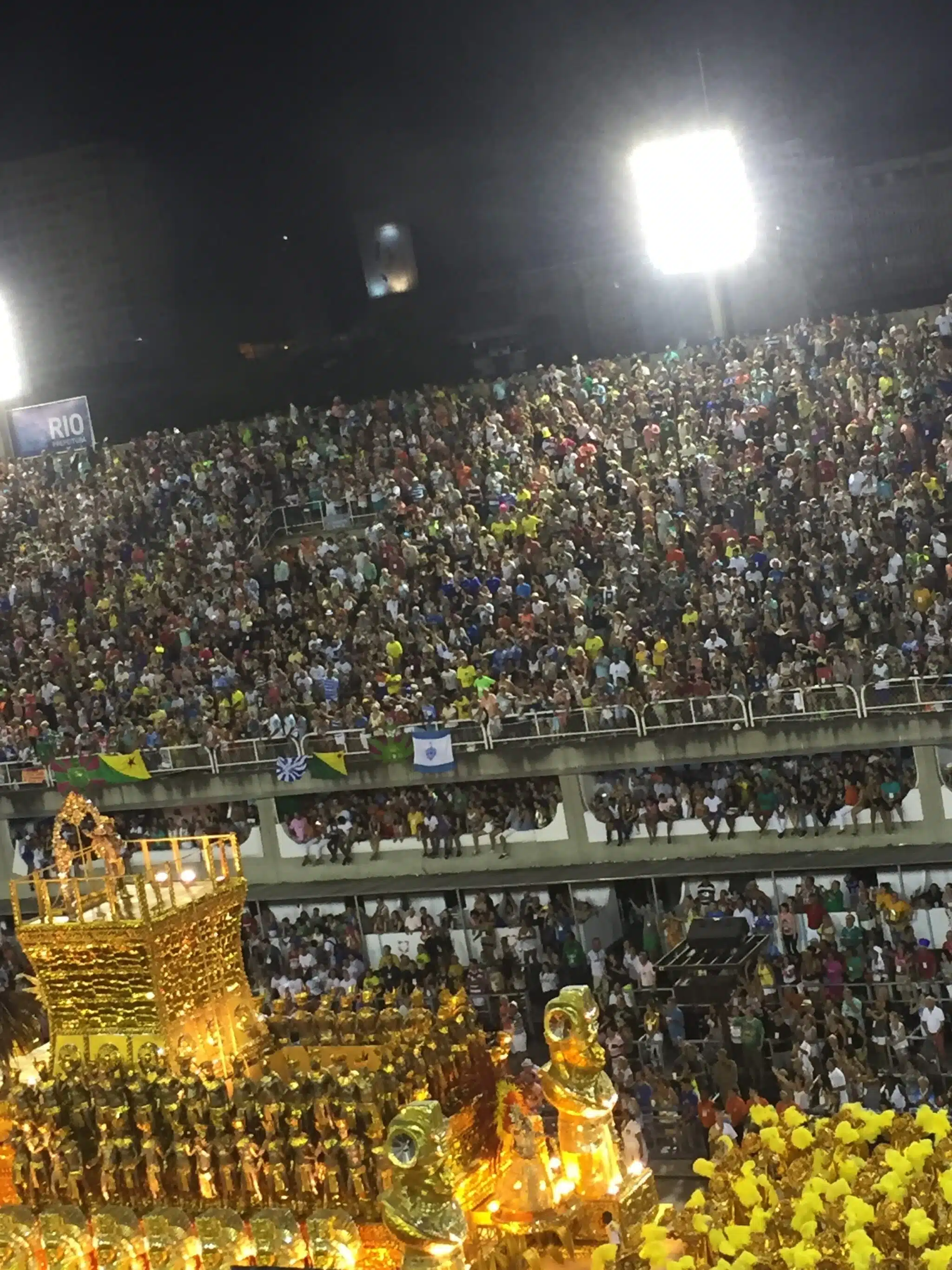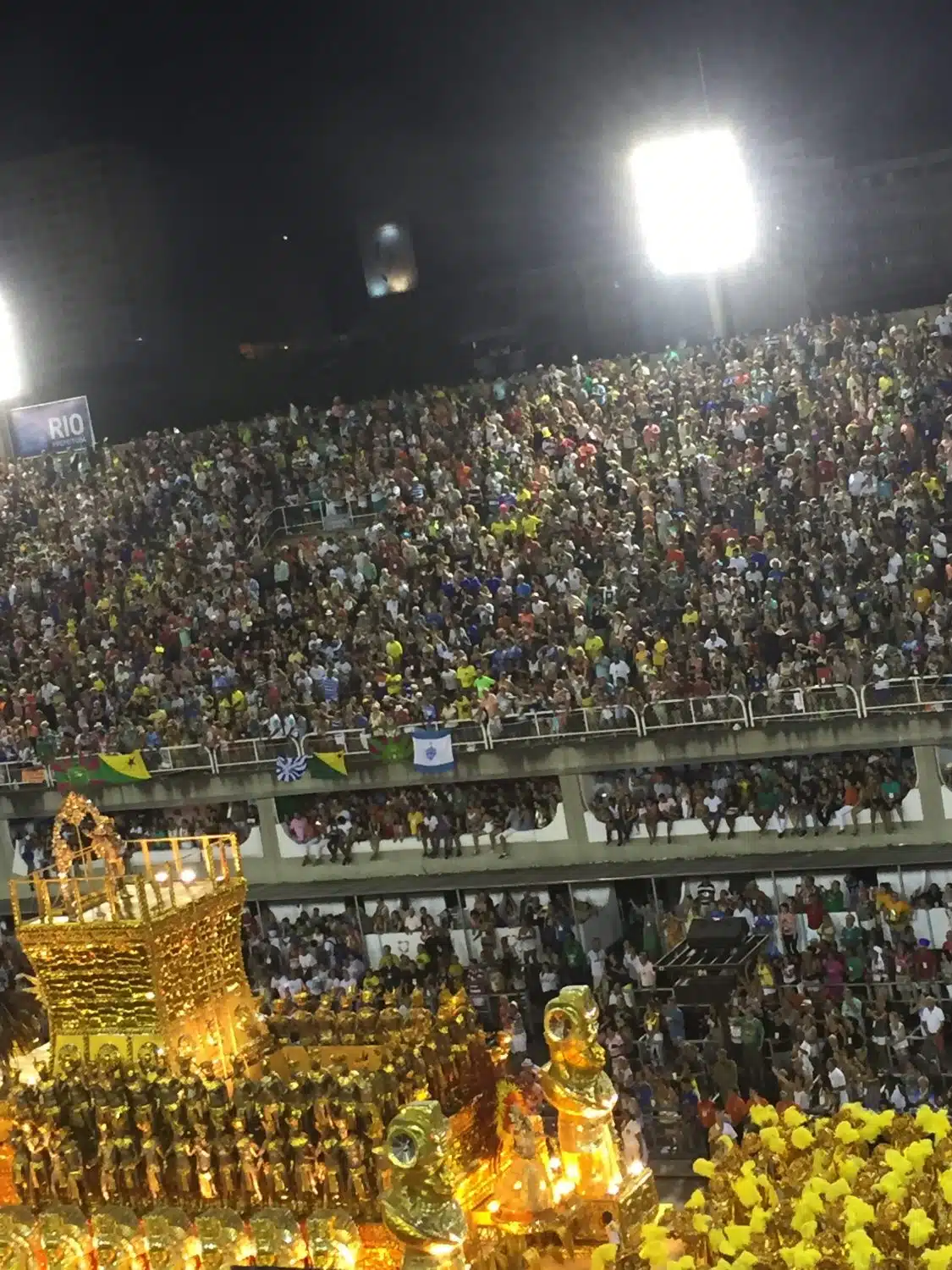 So what does a typical day at Rio's carnival look like?
You get up in the morning and go to join a street party (bloco) where you party until your feet hurt, then you go over to another bloco… and maybe another bloco after that, by which point it's dark and you go to the sambadrome (buy tickets well in advance) and watch the parades of the city's finest samba schools do their thing until 7am.
Then you go to bed and you start it all over again.
Expect to have a lot of fun, don't expect to get a lot of sleep. If you have enough energy, you should tackle the other awesome sights in Rio.
Read Next: Cool Things to do in Rio de Janeiro
5. See the End of the World at Ushuaia, Argentina
The southernmost city in the world is definitely one to tick off your South America bucket list.
Ushuaia is a cute (but sometimes heaving) city on the tip of Argentina. It's a great place to base yourself for adventure activities and there are wildlife spotting opportunities galore.
Looking to go that tiny bit further when you are backpacking South America? Ushuaia is also the jumping off point for cruises to Antarctica.
6. See Fitzroy up Close and Personal in El Chalten, Argentina
El Chalten is something of a hiking mecca in Argentina.
Surrounded by the stunning Los Glaciares National Park, there's a hike to suit pretty much every level from (relatively) casual day hikes to week-long expeditions onto the glaciers of Mount Fitzroy.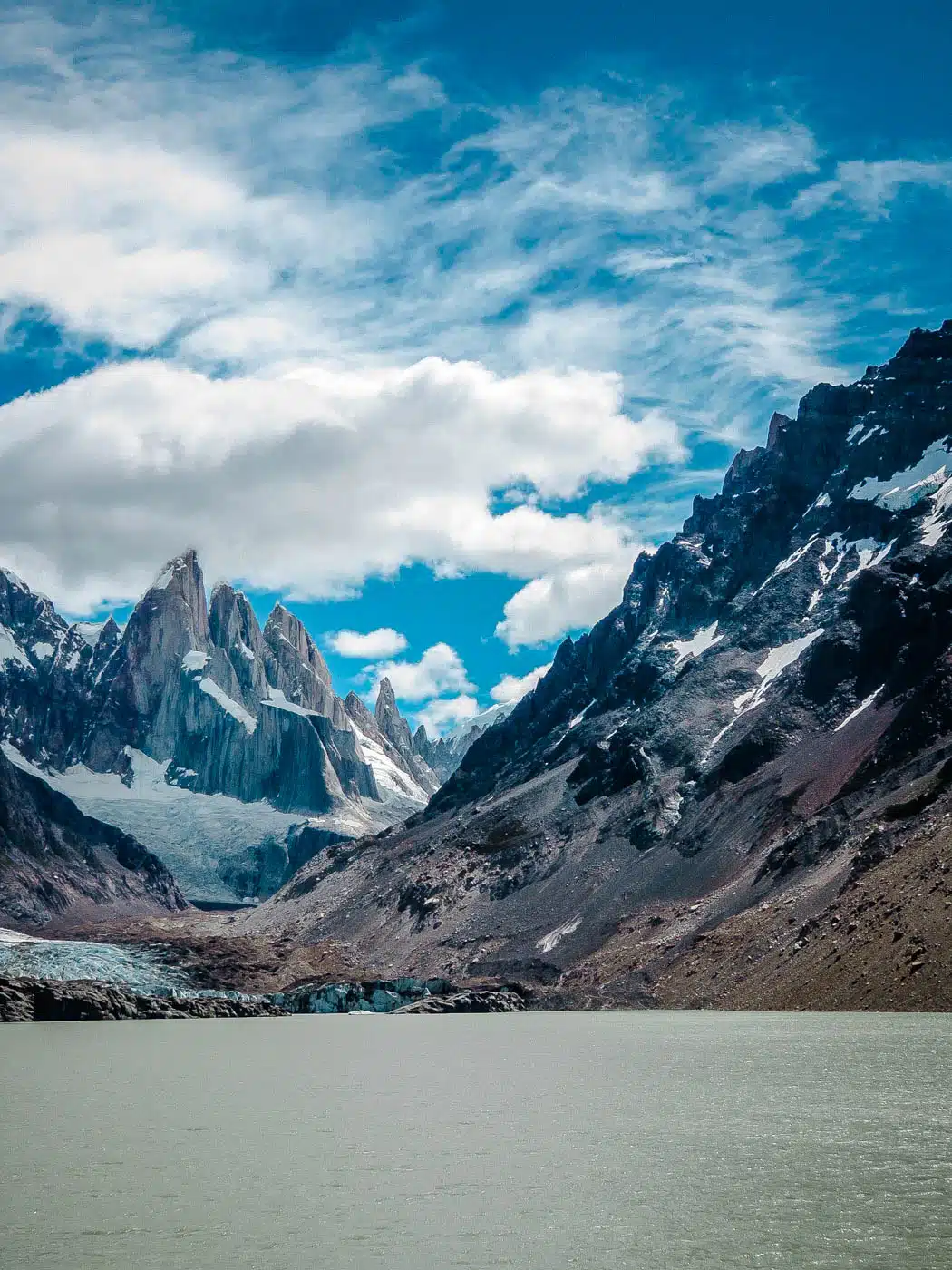 Even the day hikes come with up-close-and-personal mountain views well worth making the effort for. Book onto a tour or just grab a map and set off on your own (only recommended for experienced map readers and hikers).
7. See the Wildlife in The Pantanal on a Slow Boat, Paraguay
OK, so a large proportion of The Pantanal is in Brazil (and another small portion is in Bolivia) but if you make the extra effort to get to the Paraguayan section of the region, you'll be rewarded with fewer crowds. This generally translates to more wildlife spotting too. It's a win win situation all round.
8. Hike the Inca Trail, Peru
The classic way to make your way to Machu Picchu, the Inca trail is a four-day traverse in the footsteps of the Incas. You'll pass through cloud forests, skirt mountains and descend into valleys and, at the end of it all, end up at Machu Picchu at sunrise.
Be warned, the Inca Trail is an incredibly popular option for people backpacking in South America (and even for those just passing through), so you will need to book FAR ahead in order to nab your spot. Don't get a place? Consider alternative hikes such as Lares and Salkantay instead.
9. Sunrise at Machu Picchu, Peru
Seeing the sunrise at Machu Picchu is such a classic item on any South America bucket list that I almost feel embarrassed to include it on this one. Still, include it I will.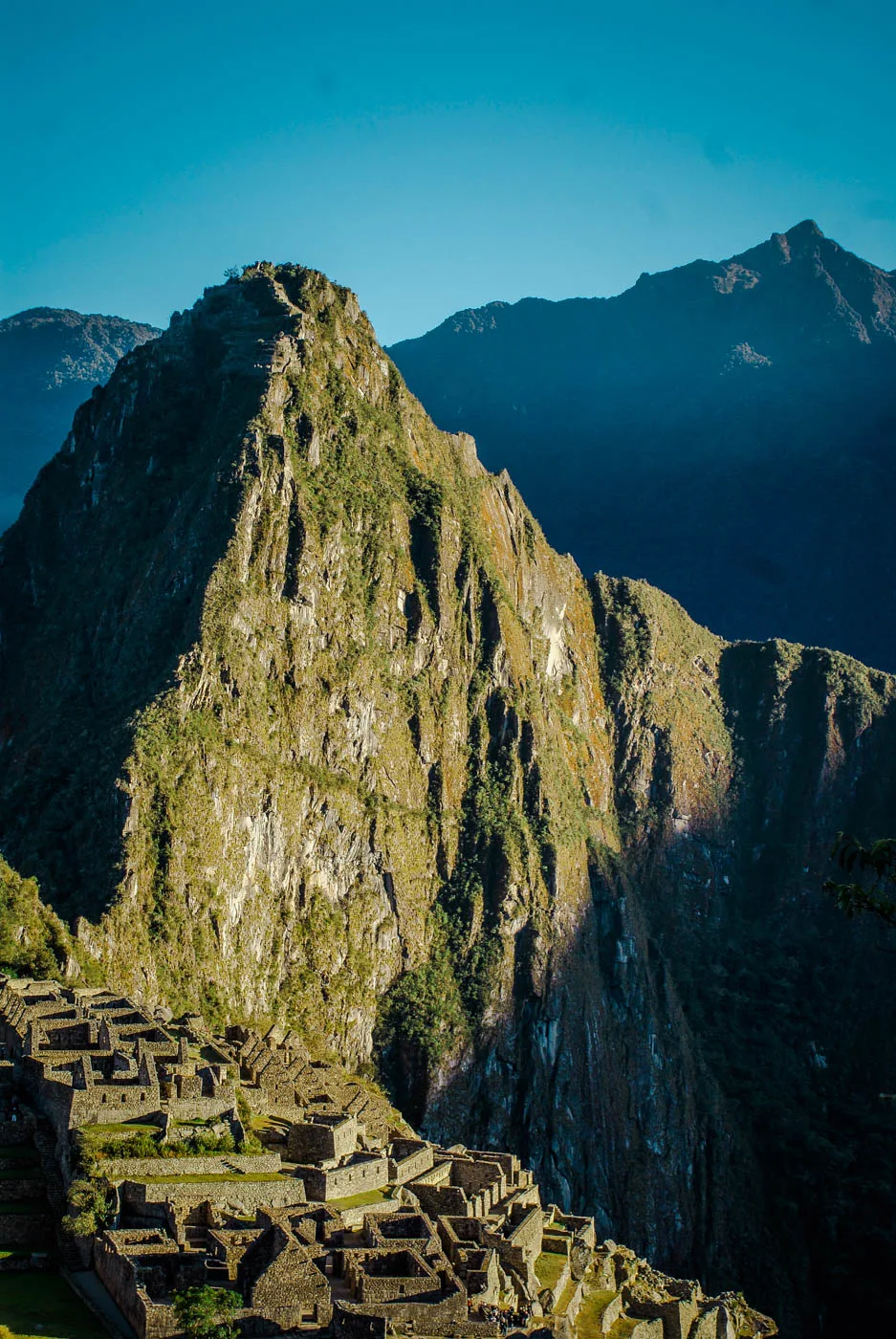 Yes, yes, there will be crowds. Yes, some people will have done the hike and then be horrified at the people that rock up on the bus, fresh of smell and unwearied of foot. You know what though, none of that matters as you take a few moments to marvel at one of the wonders of the world.
Read my guide to planning the perfect trip to Machu Picchu
10. Eat Ceviche in Lima, Peru
Not one for the vegetarians, or for those that quail at the thought of raw fish. For everyone else, there's ceviche aka Peru's gift to cuisine.
This relatively simple dish has been turned into an art form, a careful balance of flavours that almost always leaves you wanting just that tiny bit more. There's no better place to eat ceviche than in Lima, Peru's capital.
You are spoilt for choice when it comes to picking which cevicheria(s) to try – luckily for you, I've rounded up the best spots for ceviche in Lima here.
11.Eat Guinea Pig (Cuy) in Cusco, Peru
I must admit, roasted cuy looks a bit grim. It's surprisingly tasty, high in protein and low in cholesterol. Guinea pigs actually originated in Peru and traditionally they were always eaten, not kept as pets.
It can be quite difficult to find cuy in some parts of Peru, but there are a lot of places in Cusco with cuy on the menu – the best of these is La Cusquenita.
12. Go Sandboarding in Huacachina, Peru
Snowboarding is so noughties. These days you should be chasing your thrills bombing down sand dunes and trying your hardest to stay upright.
You'll almost certainly fail at the latter (unless you are one of those people with a great sense of balance, in which case, I envy you) but it's an unmissable experience to try while you are backpacking South America.
13. Fly over the Nazca Lines, Peru
Who made the Nazca Lines? Where did they come from?
WAS IT THE ALIENS? Who knows.
The Nazca Lines give rise to so many unanswered questions. One thing is for sure though, seeing them is really something else.
You basically have two options when it comes to seeing the Nazca lines – jump on a light aircraft, which will fly you over them or climb the viewing platform. The viewing platform only gives you a restricted view but is obviously a lot cheaper than the plane. Totally up to you.
14. See the Wildlife in the Ballestas Islands, Peru
I'll be the first person to admit that before I travelled to Peru I'd never heard of the Ballestas Islands. Going by the less-than-appealing nickname of the "Poor Man's Galapagos", the Ballestas offer a chance to see some rare wildlife without the cost associated with their more famous counterparts.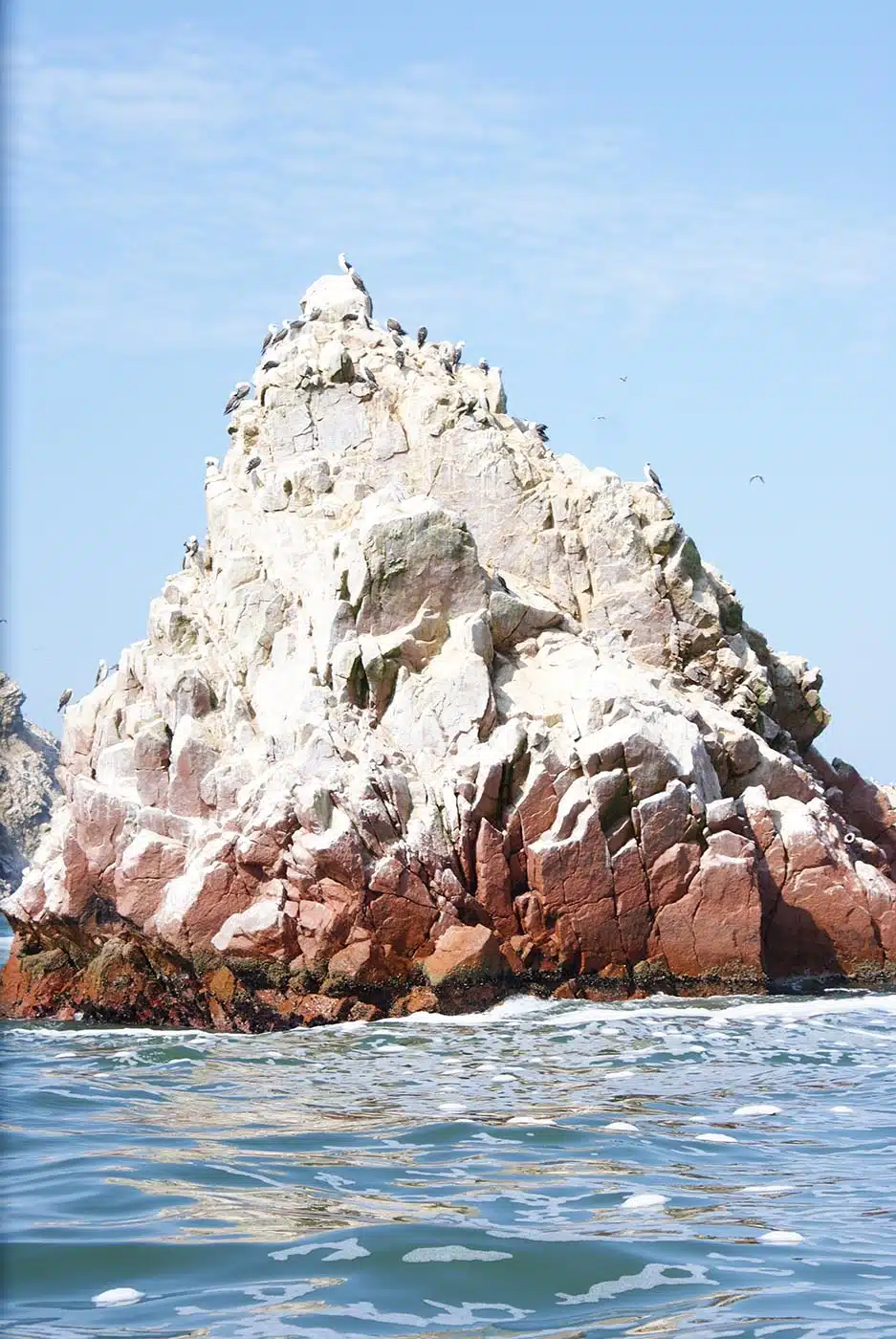 Visitors can expect to see seals, sea lions, Humboldt penguins and lots and lots of seabirds. The islands became particularly prominent in Peru thanks to the wealth of valuable guano (bird poop) accumulated on them over the centuries. Most of that's gone now, but you should definitely wear a hat as the pooping birds have not.
Check out my account of visiting the Ballestas Islands.
15. Follow in the Footsteps of Charles Darwin in the Galapagos Islands, Ecuador
There are few places that offer the chance to see so many unique wildlife species than a trip to the Galapagos Islands – which is why so many people put them at the top of their of things to do in South America.
The Galapagos are actually 19 islands (and many more islets) dotted around over 600 miles off of the coast of Ecuador. You'll need to book a tour, and it can get pretty expensive but it's totally worth it.
16. Marvel at the Mysterious Statues on Easter Island, Chile
Rapa Nui (Easter Island) sits over 2,000 miles from mainland Chile. Of all of the island's attractions, the striking Moai are undoubtedly its most famous.
These monolithic statues dominate the island's skyline and history – and are one of the main reasons for people to add Rapa Nui to their South America bucket list.
Away from the Moai, Easter Island offers diving, hiking and cycling to satisfy even the most adventurous traveller. There's so much to do the only question is what you don't want to pack into your Easter Island itinerary.
17. Find Paradise in Fernando de Noronha, Brazil
Think of Fernando de Noronha as Brazil's version of The Beach: a near-mythical paradise that takes no small amount of skulduggery to get to but more than lives up to its promise once you do.
Crystal-clear waters, powdery white sands are framed by lush vegetation and a way of life that's so laid back that it's virtually horizontal. Sounds too good to be true? It isn't.
18. Hear (and see) the Roar of Iguazu Falls, Brazil/ Argentina
Iguazu / Iguacu Falls is one of the world's most famous waterfalls and a must-see if you are travelling in South America.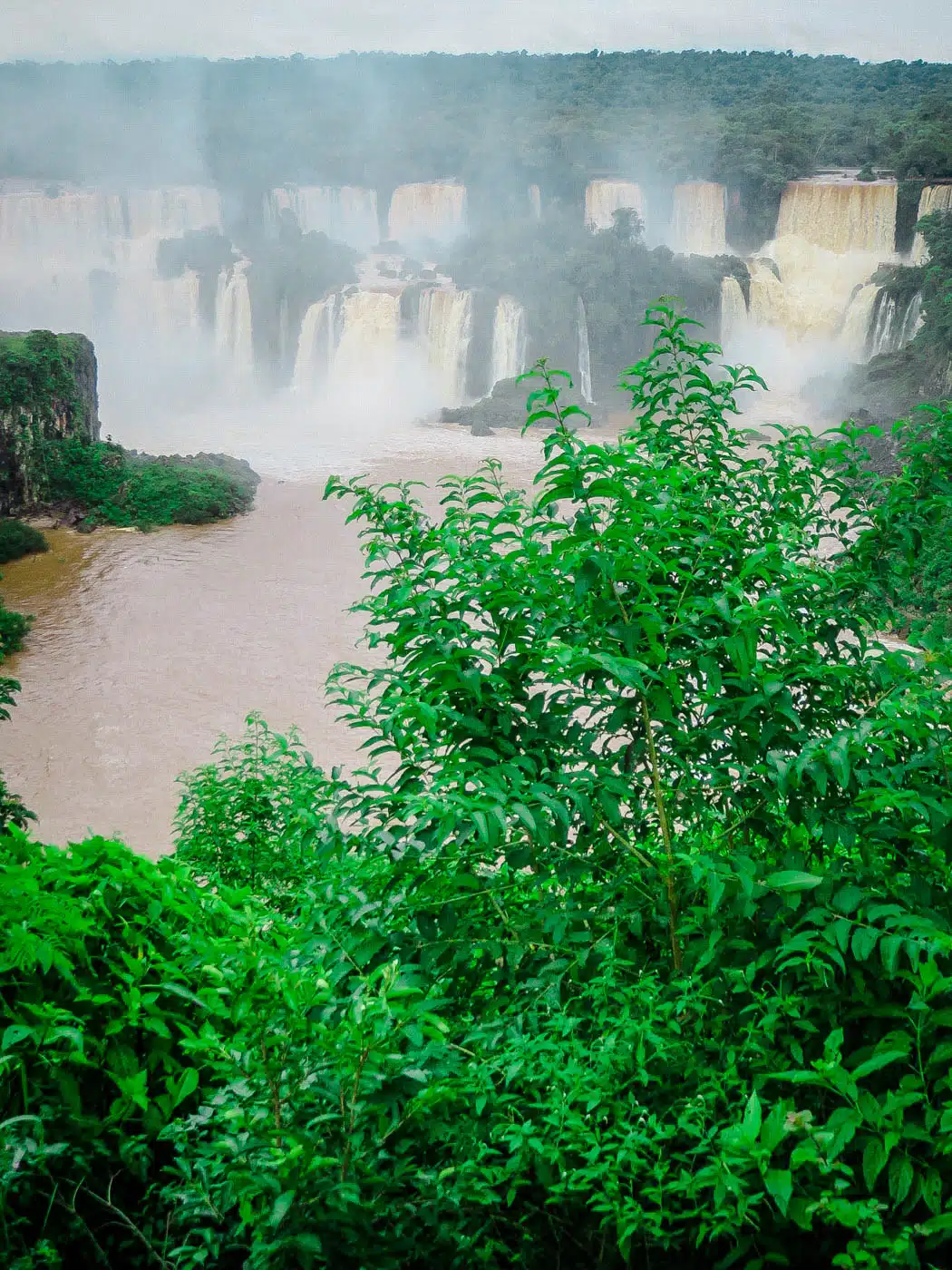 Thundering water ploughs its way down the falls to create one of South America's most spectacular sights. People argue about whether it's better to see the falls from the Brazilian or the Argentinean side (you can't actually see the falls from the Paraguayan side).
Personally, I think that the Brazilian side is more spectacular but really, it's very easy to travel between the border and see both! Winning, winning and tacos all round.
19. Watch the World's Tallest Waterfall in Angel Falls, Venezuela
Speaking of waterfalls, Angel Falls in Venezuela are the tallest waterfalls in the world. Plummeting over 970 metres, Angel Falls are one of the few big-ticket sights in South America that you can get almost to yourself.
I'm not going to tell you whether you should or shouldn't travel to Venezuela at the moment, because I'm not the Foreign Office, but if you do, Angel Falls should be at the top of your list.
20. Swim With the Pink Dolphins in the Amazon
Am I the only one that gets ridiculously excited about seeing dolphins. Well, my mind was pretty much blown when I found out that the dolphins in certain parts of the Amazon are pink.
These dolphins are the stuff of legend (anyone who has ever read Louis de Bernieres' Latin American trilogy will totally get this) – in fact, they're reputed to take on human form and impregnate local women when the fancy takes them.
I digress. You can swim with these cheeky little things in many parts of the Amazon, but Manaus is one of the easiest places to organise a trip from.
21. Venture to Antarctica (while it's still there)
It's the ultimate bucket list destination right? While an increasing number of people are visiting Antarctica, if you can scrape together the cash to go, you're still going to be in the small minority of people who have visited the world's southernmost continent.
So why should you visit Antarctica if you are backpacking South America? Well, for one, the south of South America is the closest that you are ever going to get to the continent.
Secondly, it's a spectacle like no other on the planet. Thirdly, the wildlife – whales, penguins, birdlife – you name it, Antarctica has it.
22. Watch the Sun Rise Over the Bolivia Salt Flats, Bolivia
You rock up to the Salar de Uyuni in the pitch black.
You're driving (probably at the end of a tour – if you're smart you'll do the four day tour from Tupiza – I guarantee you, the sights you see along the way are almost (mind you, I said almost) as good as the salar itself) in what feels like the middle of the night. You're waiting until your 4×4 makes it to the salt flats.
Gradually, the sun starts to come up and a faint light illuminates your surroundings and… you realise you're already on the salar.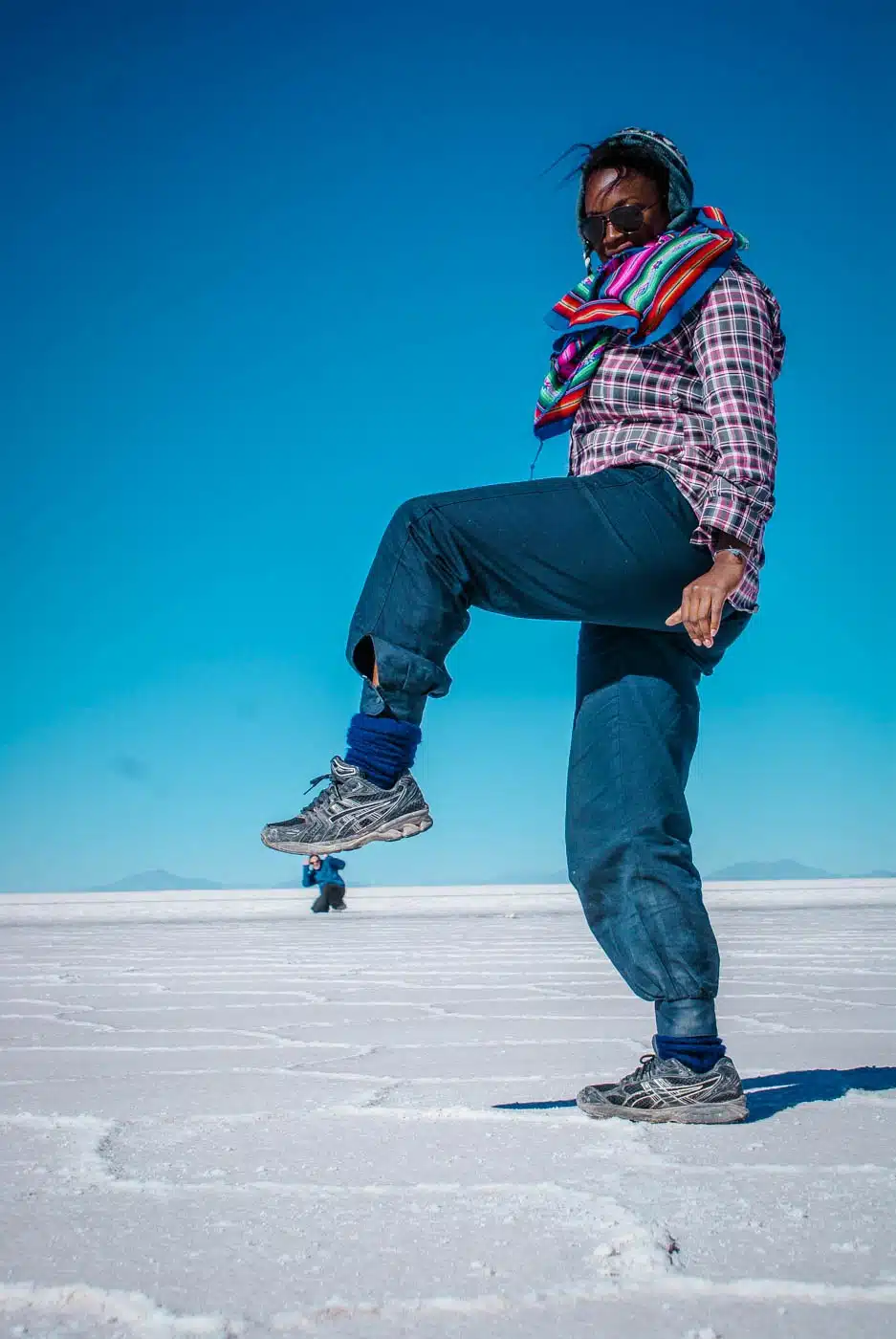 Time to put your sunnies on, because the stark white of the salt flats reflect the sun to such a degree that you can end up with "snow" blindness.
The largest salt flats in the world, the Salar de Uyuni is understandably one of Bolivia's biggest attractions. Plus, if you get your timing right, a thin layer of water covers the flats, turning it into a near-perfect mirror.
Planning on visiting the Bolivian salt flats? You'll want to read this guide first.
23. Take a Road Trip to see the Insane Sceneries in the Bolivian Altiplano
So you know where I said that you should take the four day tour from Tupiza to the Salar de Uyuni while you are travelling in South America? You really should.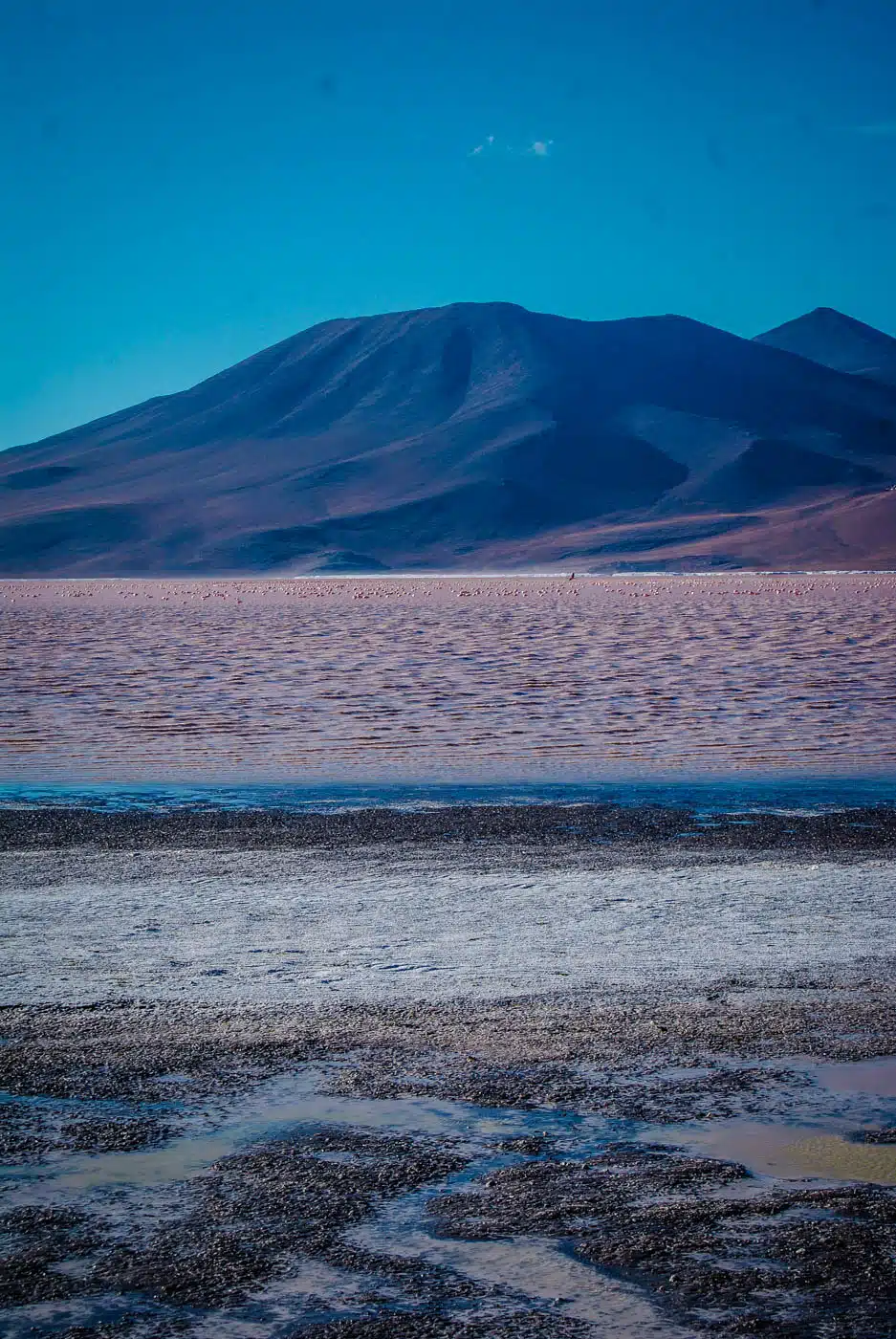 The tour wends its ways through a never-ending stream of spectacles in the Bolivian altiplano, from the blood red Laguna Colorada, to the sparkling green Laguna Verde.
Add to that weird hoodoos, rockscapes straight from Mars and the flamingos that featured on Planet Earth II and you'll understand why this should be a priority for anyone backpacking in South America.
Read more about crazy Bolivian landscapes you shouldn't miss while you're in the country.
24. Soak Up History, Culture And Architecture In Salta, Argentina
Salta's a little underrated as a destination, which is a shame because it's a beautiful and lively city with a lot going for it.
So what should you expect? Striking colonial architecture, charming museums and a city that retains a distinctly northern Argentine identity. Don't forget to sample the empanadas – I have searched high and low and haven't found better in Argentina.
Once you're finished up in the city, spend at least a few days exploring the surrounding area. Wine lovers shouldn't miss the little-known Calchaqui Valley – trust me, it's some of the best wine you'll find on the continent.
25. Peek At The Flamingos On Laguna Colorada, Bolivia
I mentioned them above but seeing the flocks of flamingos feeding from the striking red waters of the Laguna Colorada is like stepping straight into the scenes of a David Attenborough set. Get your camera ready.
26. Feast On Feijoada In Brazil
Meat, meat, more meat and beans. Oh and some ground cassava. When you describe feijoada, it doesn't actually sound that appealing but it really is. This Brazilian dish is hearty, tasty and will keep you going for hours. Just make sure that you go with an empty stomach… and try this brilliant feijoada recipe when you get home.
27. See The Sunset Over Rio From The Pao D'Azucar, Brazil
There are two ways to get to the top of the Pao D'Azucar (Sugar Loaf Mountain) in Rio – you can hike up to the top (the hard way) or you can take the cable car (the easy way). I'll freely admit, I've only ever taken the cable car as I heard that the hike is really hard and I'm a semi-wuss.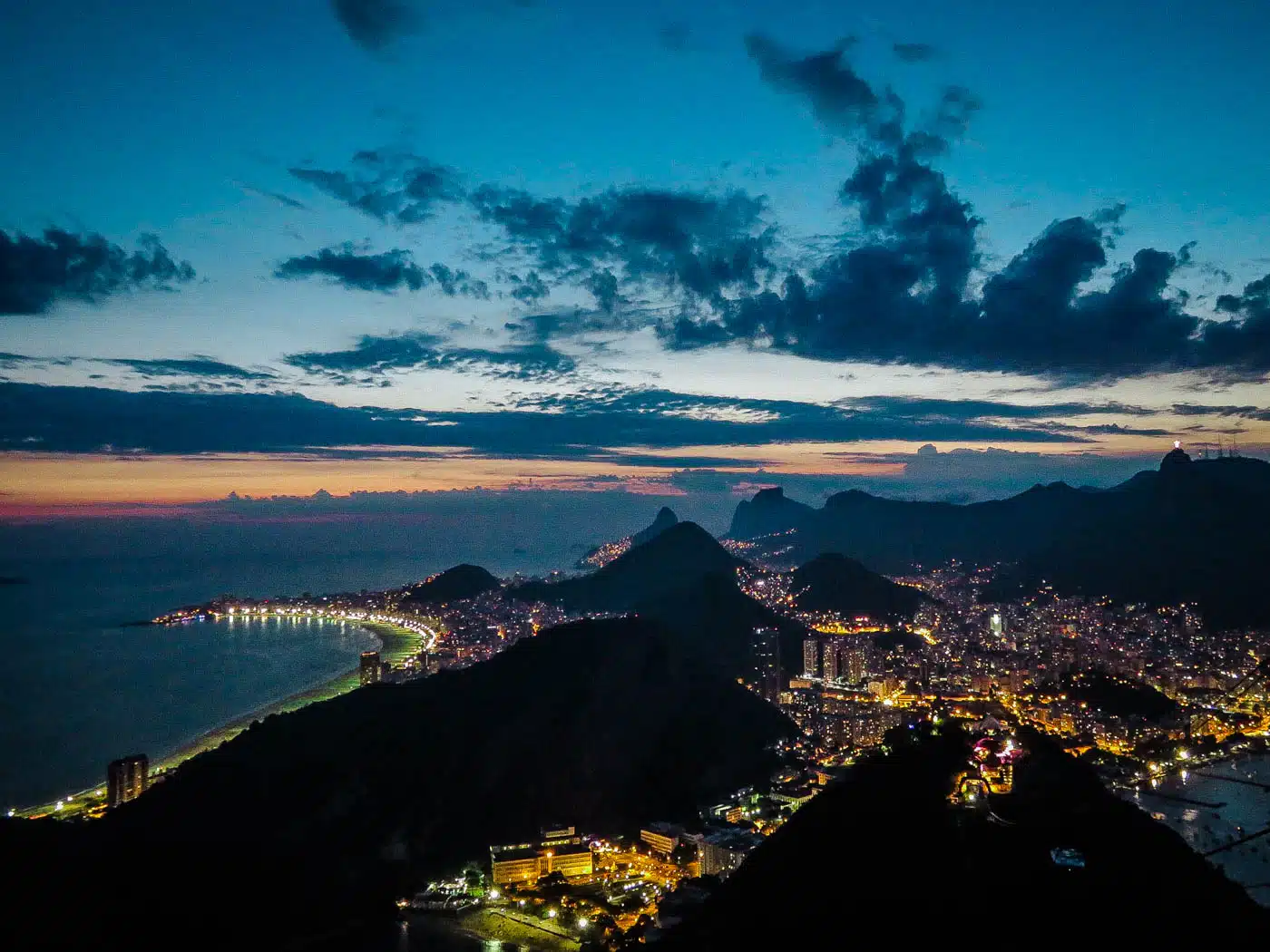 Once you reach the top, you're rewarded with views over the rest of Rio de Janeiro that explain why it's often named as the most beautiful city on the planet.
The views are pretty wonderful at any time of day, but if you can time your visit for sunset, watching the ebbing daylight as one by one, the lights come on, is a picture opportunity you really shouldn't miss. It's one of Rio's most spectacular experiences.
28. Hike to Christ the Redeemer in Rio, Brazil
Rio is surrounded by tropical rainforest and you can hike through some of this to one of its most famous landmarks, the Christ the Redeemer statue.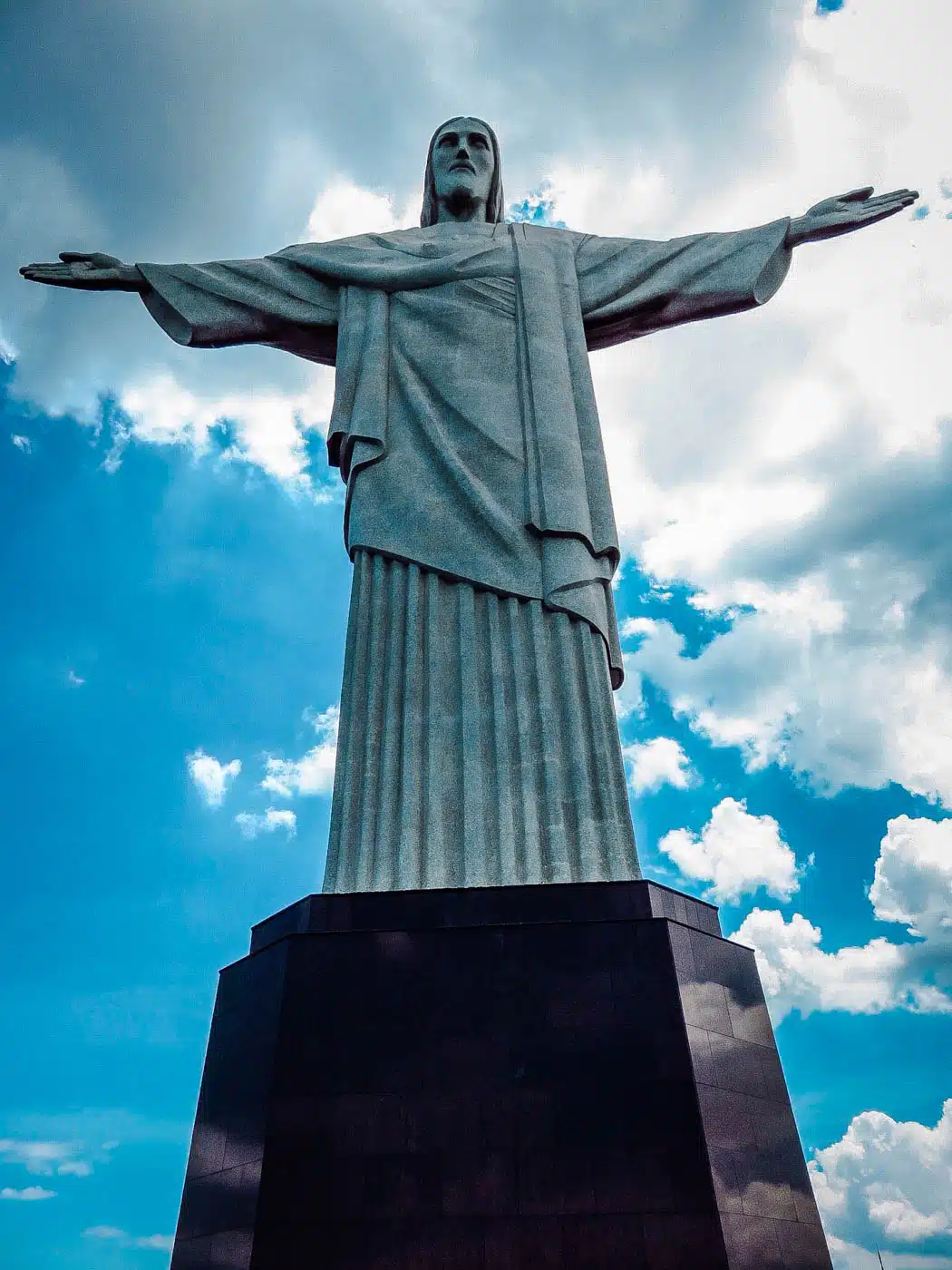 Be warned, this is not for the faint-hearted: the hike gets very steep at times but it is well-marked, so it's unlikely that you will get lost.
Christ the Redeemer, perched atop Corcovado Mountain, is not only a sight in itself, it is also a great vantage point to see Rio from above. You can then hike your way back down, take the train or grab one of the minivan collectivos, depending on how energetic you are feeling.
29. Go To A Street Party In Lapa, Rio De Janeiro, Brazil
Lapa is Rio de Janeiro's party district. Yes, you heard me right – in a city that's famed for partying hard, one particular area is famed for partying hardest.
There are almost always street parties in Lapa at the weekends – check with the people in your hostel or hotel for information, or just rock up and follow the crowds. Whether you find a street party or not, the samba club Hot Clube de Portugal is always a good night out.
30. Work On Your Tan In Punta Del Este, Uruguay
A stylish resort town on the Uruguayan coast, Punta del Este is a great destination for beach lovers who have a bit of money to spend (it's not nicknamed the Monaco of the south for no reason).
The beaches are gorgeous and the nightlife is wonderful and there's always the chance of a celebrity sighting if you're into that kind of thing.
A lot of people backpacking in South America give Punta del Este a miss because of the prices – but there are budget hostels and hotels if you know where to look.
31. Step Back In Time In Colonia De Sacramento, Uruguay
The quaint little town of Colonia de Sacramento is an easy day trip from Buenos Aires. Hop off the ferry (don't forget your passport) and explore the centro historico – a UNESCO Heritage-designated cluster of cobbled streets and well-preserved buildings. You might want to book in for a night or two to explore Colonia at your leisure.
32. Pisco Sours In Ica, Peru
I'll be straight up honest, most of Ica isn't that nice. I feel like it could win an award for being the hottest and dustiest town in the history of ever. There's a main square, some restaurants and that's about it… apart from one other thing.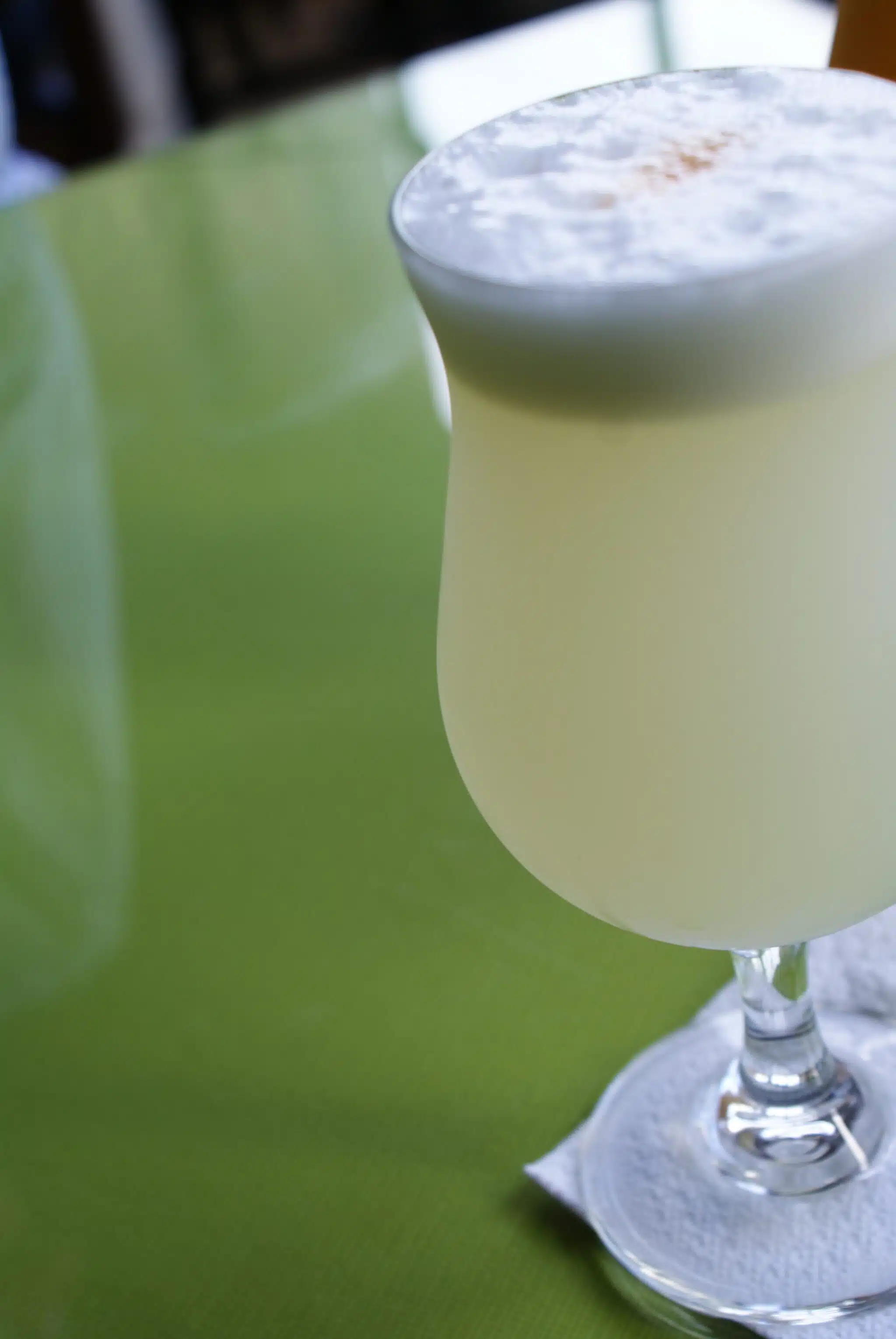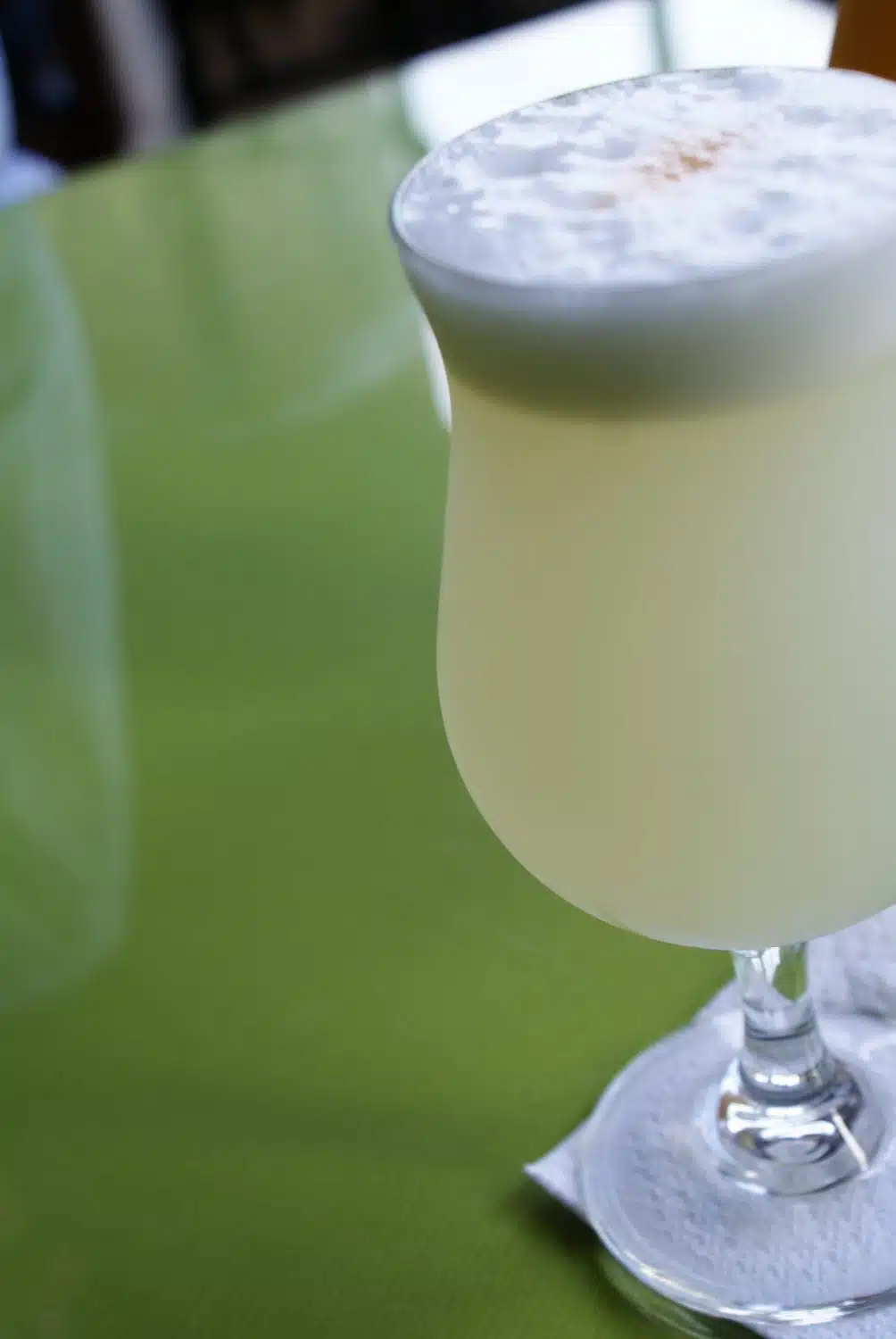 Ica just so happens to be the epicentre of Peru's pisco production. Visiting the vineyards is a great experience – book onto one of the tours and learn about the pisco-making process – then finish it off with a pisco sour or two.
33. Surfing in Iquique, Chile
Chile's not the country that immediately springs to mind when you think of good surfing spots but that's starting to change.
Iquique has breaks suitable for most levels of surfer, with some spots reserved for the most skilled of surfers.
Once you're done with the surf in the town itself, the surrounding coastline is brimming with opportunity – but you'll need a four wheel drive to get to most of them.
34. Stargazing in the Elqui Valley, Chile
Chile has some of the clearest night skies in the world, making it THE destination for a spot of stargazing as you are travelling through South America. The Elqui Valley (along with the Atacama Desert) is considered to be one of the best places in the country to do a spot of stargazing. Book onto a formal tour or simply find a spot away from artificial lights, download a star-spotting app on your phone and lie back to chart the constellations and the Milky Way.
35. Climbing Volcan Villarrica, Chile
Villarrica is one of Chile's most active volcanoes. No small title in a country filled with them.
You might be thrilled (or terrified) to learn that you can climb to the top of the volcano.
It's a tough slog to the top – and shouldn't be attempted without a guide – but if you think you are up for a difficult challenge, few things match the views that you get of Patagonia from the top and you'll have climbed a volcano to boot.
36. Church Hopping in Chiloe, Chile
One of the largest islands in South America, Chiloe is an enticing mix of UNESCO designated wooden churches, shoreline houses on stilts and national parks just waiting to be explored.
Add to that a fascinating folklore heritage and unique and delicious cuisine, you should start to get an idea of why this should be on your South America bucket list.
37. Road Trip the Carretera Austral, Chile
South America is a continent made for road tripping. Even if you're backpacking South America, you should take the time to do a road trip on the Carretera Austral if you can.
The Carretera runs 770 miles through the wilds of Northern Patagonia, through misty mountains, small hamlets and villages and a near-endless roster of breathtaking scenes.
38. Watch the Sunrise at El Tatio Geysers, Chile
High above the Atacama Desert, El Tatio Geysers are the largest geyser field in the Southern Hemisphere and a must-do for anyone travelling around South America, particularly to the Chilean altiplano.
The geysers are a few hours' drive from the regional hub of San Pedro de Atacama – they're best seen at sunrise, meaning an early, early start.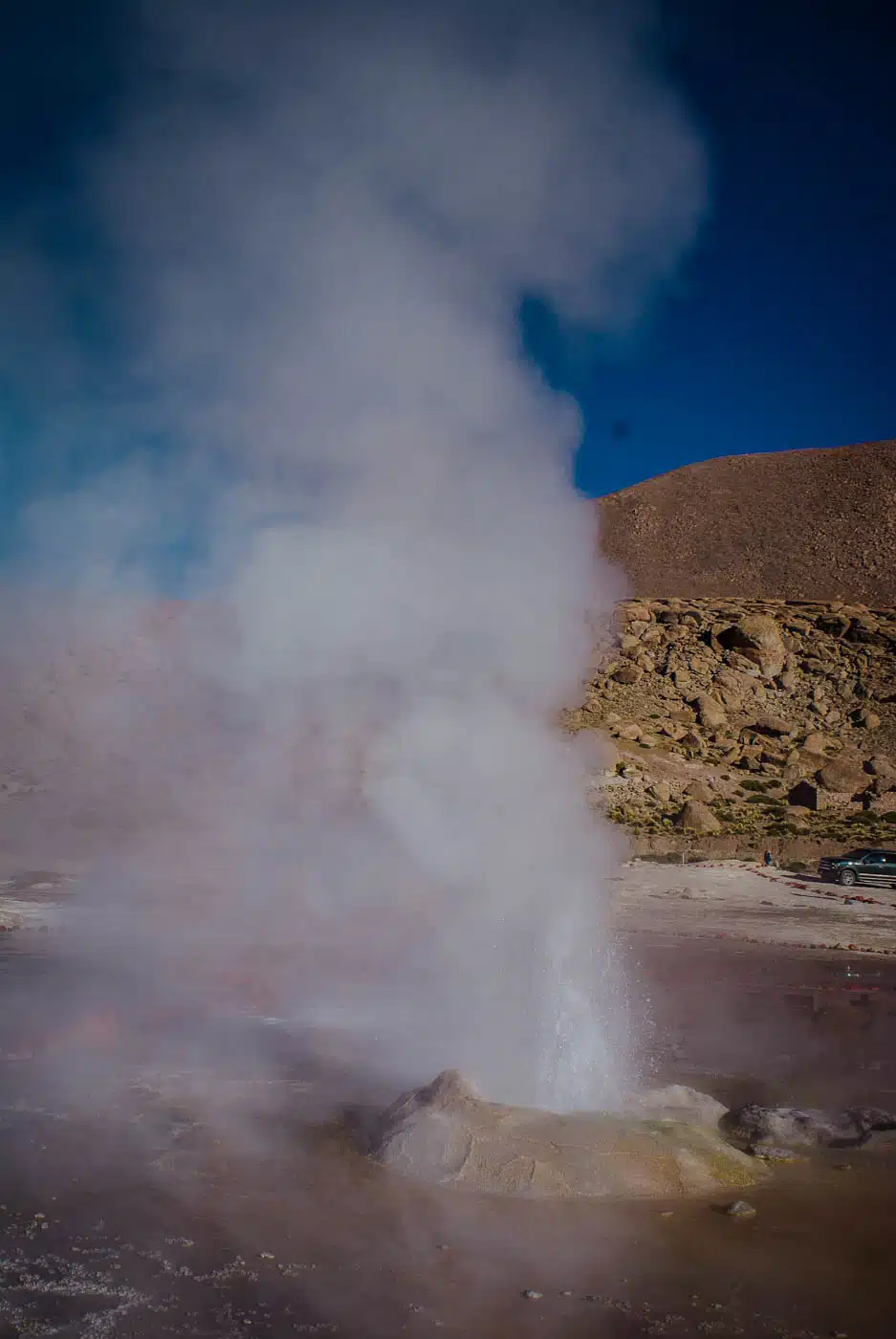 As the sun starts to rise, the changing temperature prompts the fumaroles to spurt and erupt from the ground in a spectacle like no other. Wrap up warm – the geysers might be hot, but the temperatures most certainly are not before the sun rises. Once you're finished seeing the geysers, be sure to take a dip in the hot springs too.
Here are ten incredible landscapes in the Atacama Desert to inspire your travels
39. Celebrate Inti Raymi in Cusco, Peru
Inti Raymi, the Incan Festival of the Sun, takes place on the winter solstice (June 24th – I was so confused by this until I remembered it's the Southern Hemisphere), when thousands of people descend onto Cusco to celebrate one of the most important events in the Incan calendar.
You can buy tickets to some parts of the festival but even if you don't get one, you can always find a good vantage point to see some of the action.
40. Witness Semana Santa in Colombia
Semana Santa (the Holy Week around Easter) is kind of a big deal around South America and certainly in Colombia. Though there are processions and events around the whole country, many people descend on the beautiful town of Popoyan, which takes its Semana Santa processions very seriously.
41. Head to the Feria de Mataderos in Argentina
The Feria de Mataderos is the time of year when the Argentine countryside comes to Buenos Aires. The fair is the perfect place to pick up some traditional Argentine craftwork, ranging from ponchos, mates and leatherwork. Go with a hungry stomach and feast on local specialities such as empanadas and tamales.
42. Pick up a Relic in the Witches' Market, La Paz, Bolivia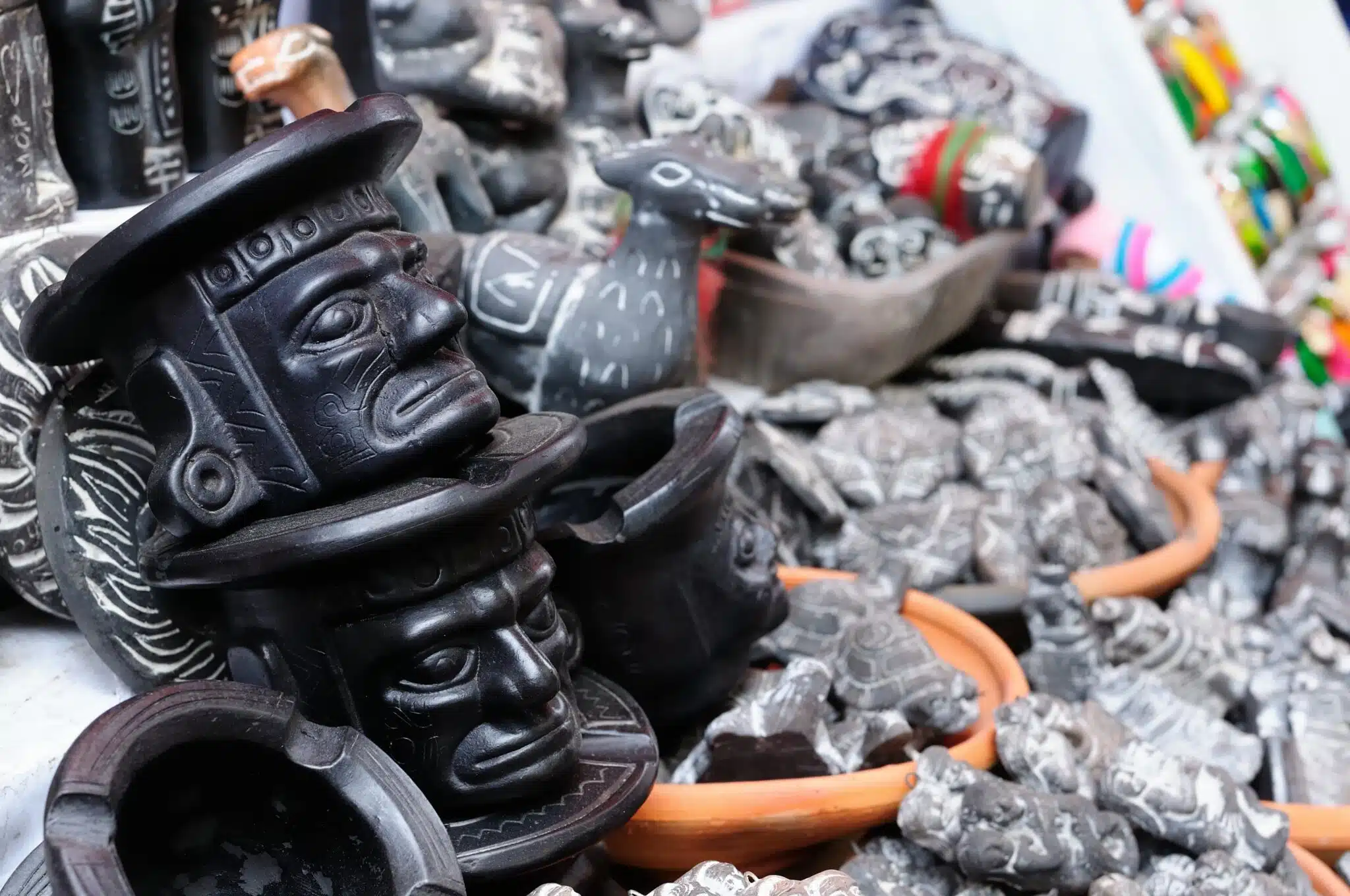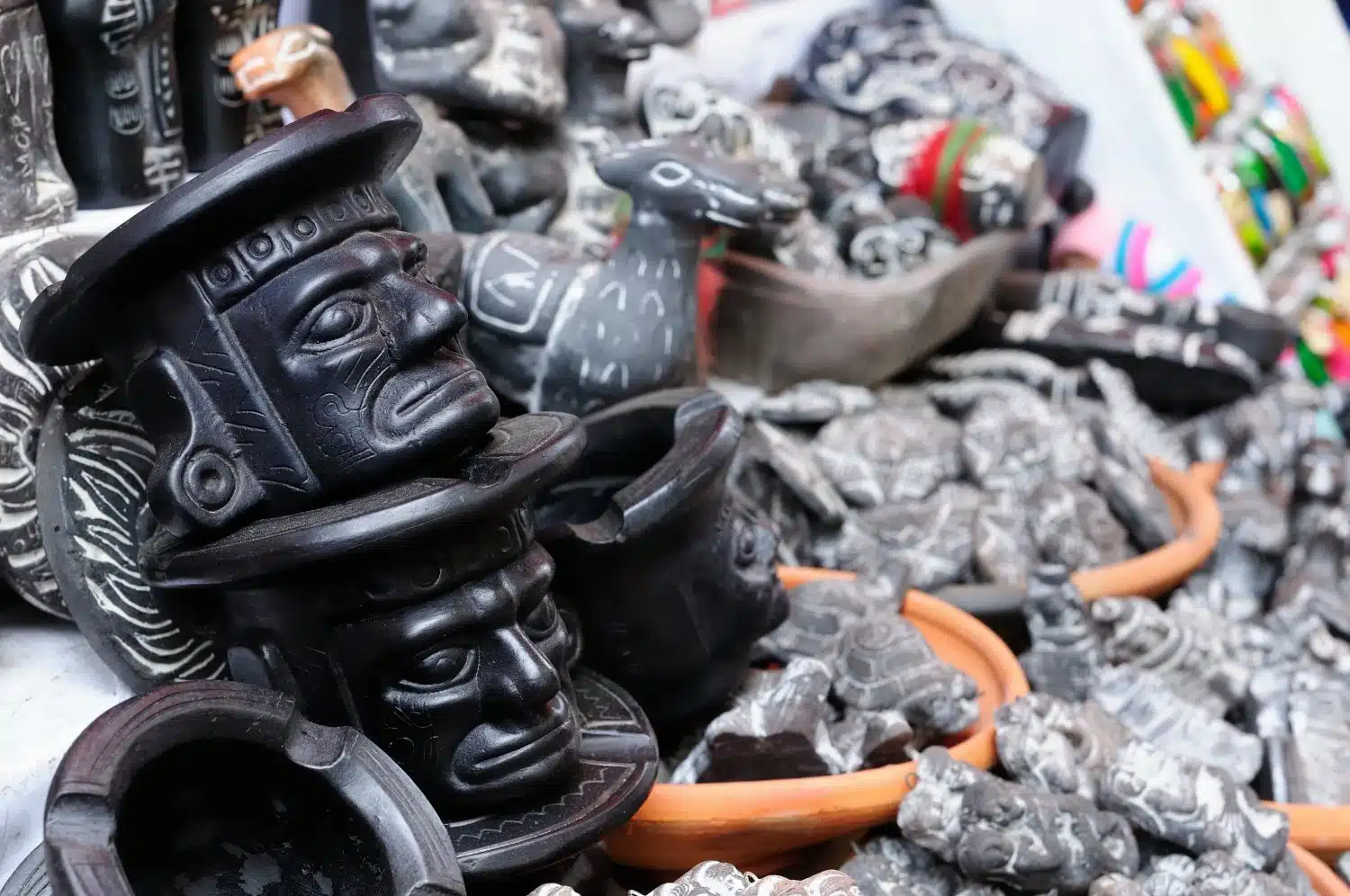 La Paz is an assault on the senses – and nowhere is this more true than in the Witches' Market. Depending on your inclination, you can shop for dried llama foetuses, dried frogs or herbal remedies. Or you can just browse around and take a few pictures. Either way, it's worth a trip.
43. Go Craft Shopping in the Otavalo Market, Ecuador
Ecuador's craft scene is alive and kicking – you're practically surrounded with brightly-coloured, intricately-woven textiles everywhere you turn.
Though you can pick up a souvenir or two anywhere in the country, the Otavalo Market is a backpacker's haven.
It's the biggest market in South America and choc-a-block full of artisanal textiles (and some not so artisanal ones, so watch out). Go with an empty bag and prepare to come away with a treat or two.
44. Make Like Lara Croft in the Ciudad Perdida, Colombia
It sounds like something out of Tomb Raider right? The Lost City was indeed consumed by the jungle for centuries and only rediscovered in the seventies.
Only accessible by foot, it's often named as one of the best hikes in South America thanks to a challenging route through the wilds of the Colombian jungle. A must-try South American adventure or for your time backpacking in Colombia – wear a sturdy pair of boots.
45. Samba Dance in Rio de Janeiro, Brazil
You can't go to Brazil without trying your hand (or, more practically, your feet and hips) at samba.
This wildly infectious dance style is accompanied by pulsing music – it's nearly impossible to sit down. There are lots of samba clubs around Rio – take your pick, grab a caiprinha and dance the night away.
46. Discover The Beautiful Buildings Of Ouro Preto, Brazil
The cute colonial town of Ouro Preto is a must see if you are backpacking in South America.
Set on a series of (very) steep roads many of which are pedestrianised, the town is most famed for its colonial-era churches and its mineiro art. Spend at least a few days and soak up the art and culture for which Ouro Preto is known.
47. Look At A Vision Of The Future In Brasilia, Brazil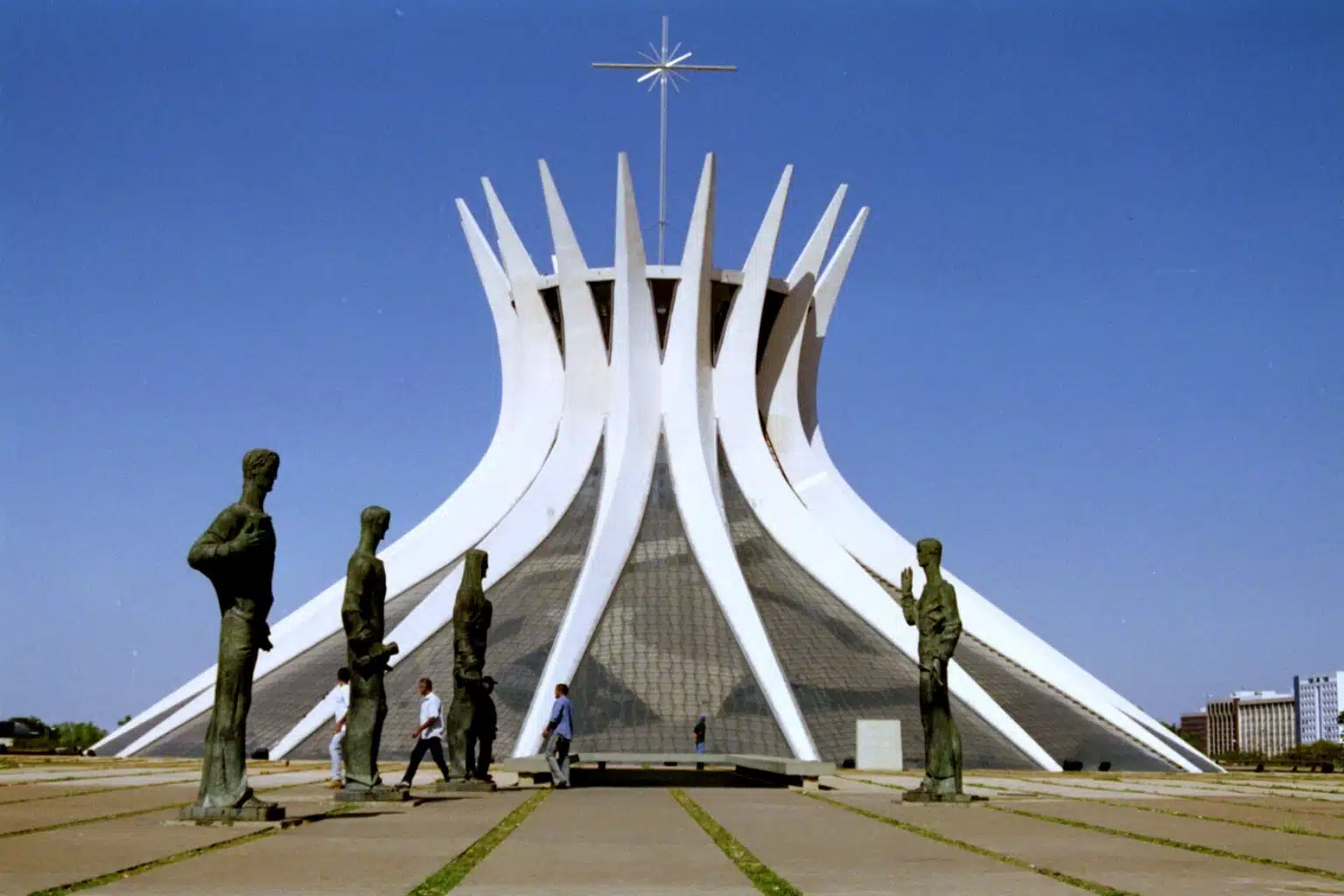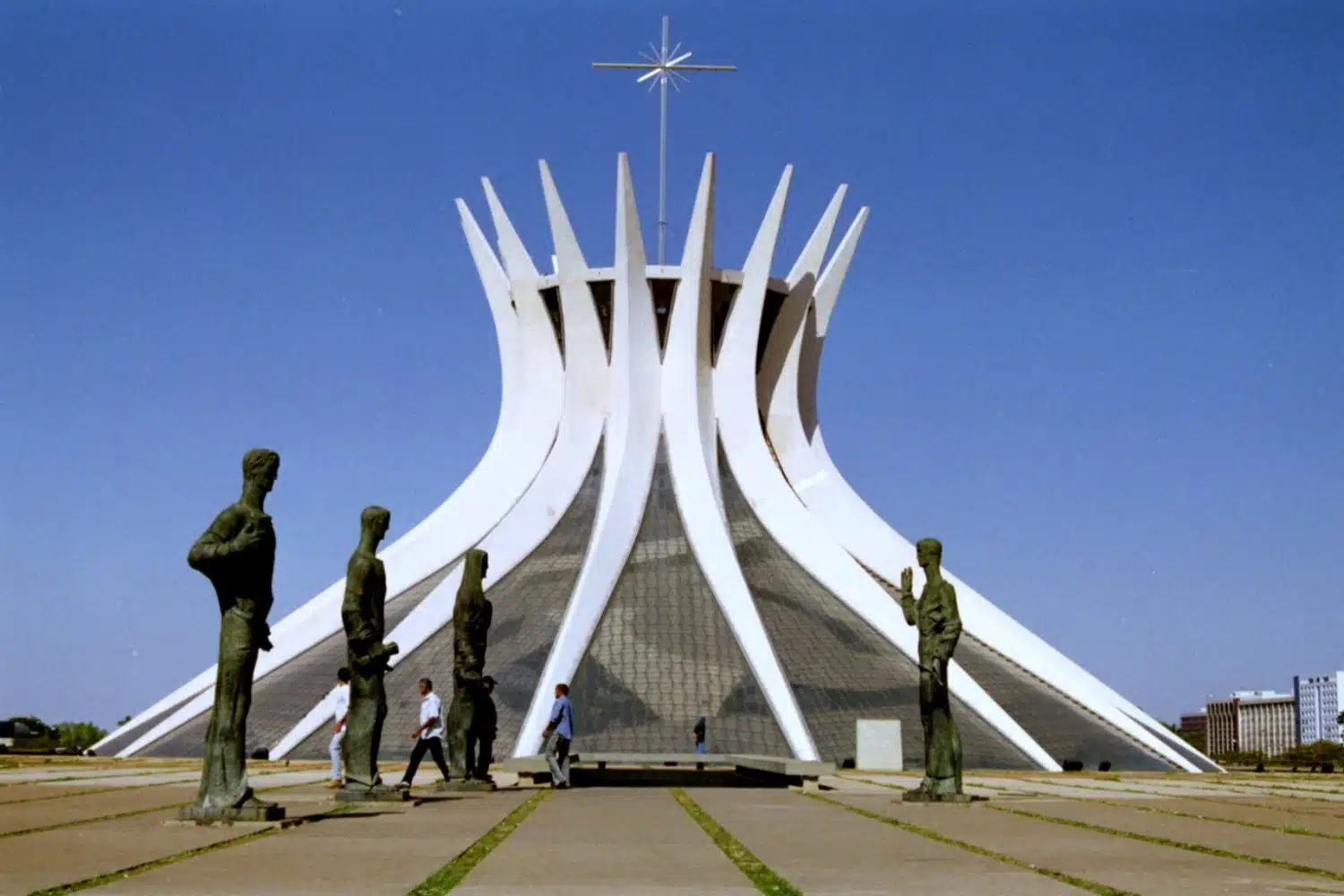 If you were to use one word to describe Brasilia, it would be striking. This city, the capital of Brazil (another surprising one as most people assume it's Rio or Sao Paulo) was largely designed by the iconic architect Oscar Niemeyer.
The result is a city that wouldn't look out of place on the set of Blade Runner. Of all the buildings, Brasilia's soaring cathedral is a real sight to behold – with sixteen curved columns rising up to the heavens. Definitely one not to miss.
48. See The Colonial Architecture In Cordoba, Argentina
The Spanish certainly left their mark on the city of Cordoba, which is home to some of the finest colonial architecture in the Americas. Founded in 1573, the city boasts a near unbelievable number of churches, which has led to its nickname, the city of bells.
Cordoba is also Argentina's second-largest city, so when you're done marvelling at the architecture, you can enjoy the lively dining and nightlife scenes for which it's well known.
49. Scale The Tallest Mountain In The Western Hemisphere With Cerro Aconcagua, Argentina
Cerro Aconcagua is the tallest mountain in the Western Hemisphere – as such it's the perfect challenge to add to your South America bucket list if you have the skills and fitness levels required.
Summiting the mountain is no small feat, with the average summit taking 18-21 days.
You don't need to have previous mountaineering experience, but need to be fit enough to deal with the dual demands of the physical activity and the altitude. But then how often are you going to get the chance to scale the largest mountain outside of Asia?
50. See The Flora And Fauna In The Parque Nacional El Rey, Argentina
80 kilometres outside of Salta, Parque Nacional El Rey is often missed by people backpacking South America, which is a shame, as it's a great place to spot an abundance of wildlife and birdlife.
There are lots of good hiking paths and a very basic campsite – it's not the easiest place to get to so once you're there, I'd recommend spending at least a few days.
51. Ski Down The Slopes In Bariloche, Argentina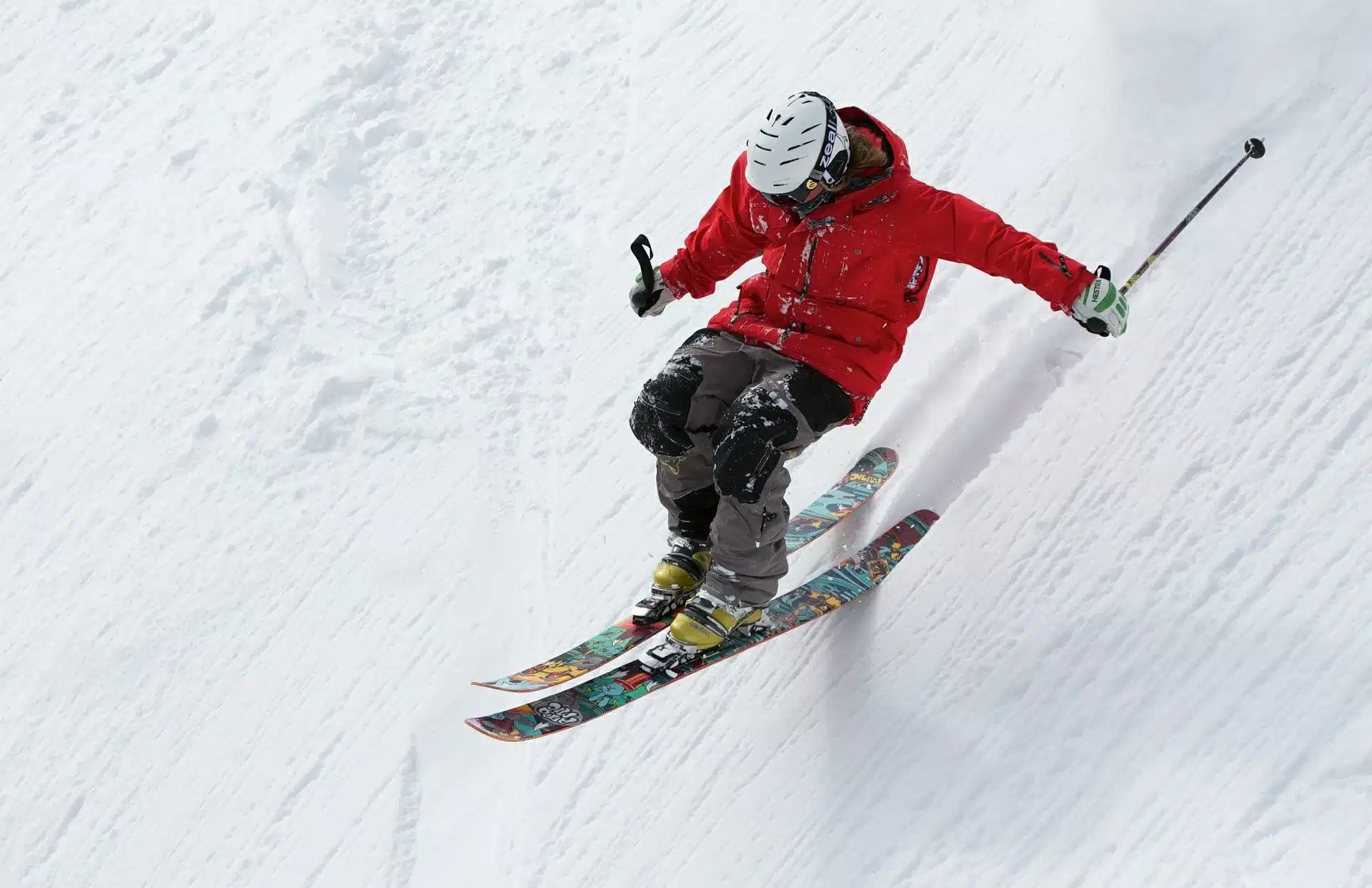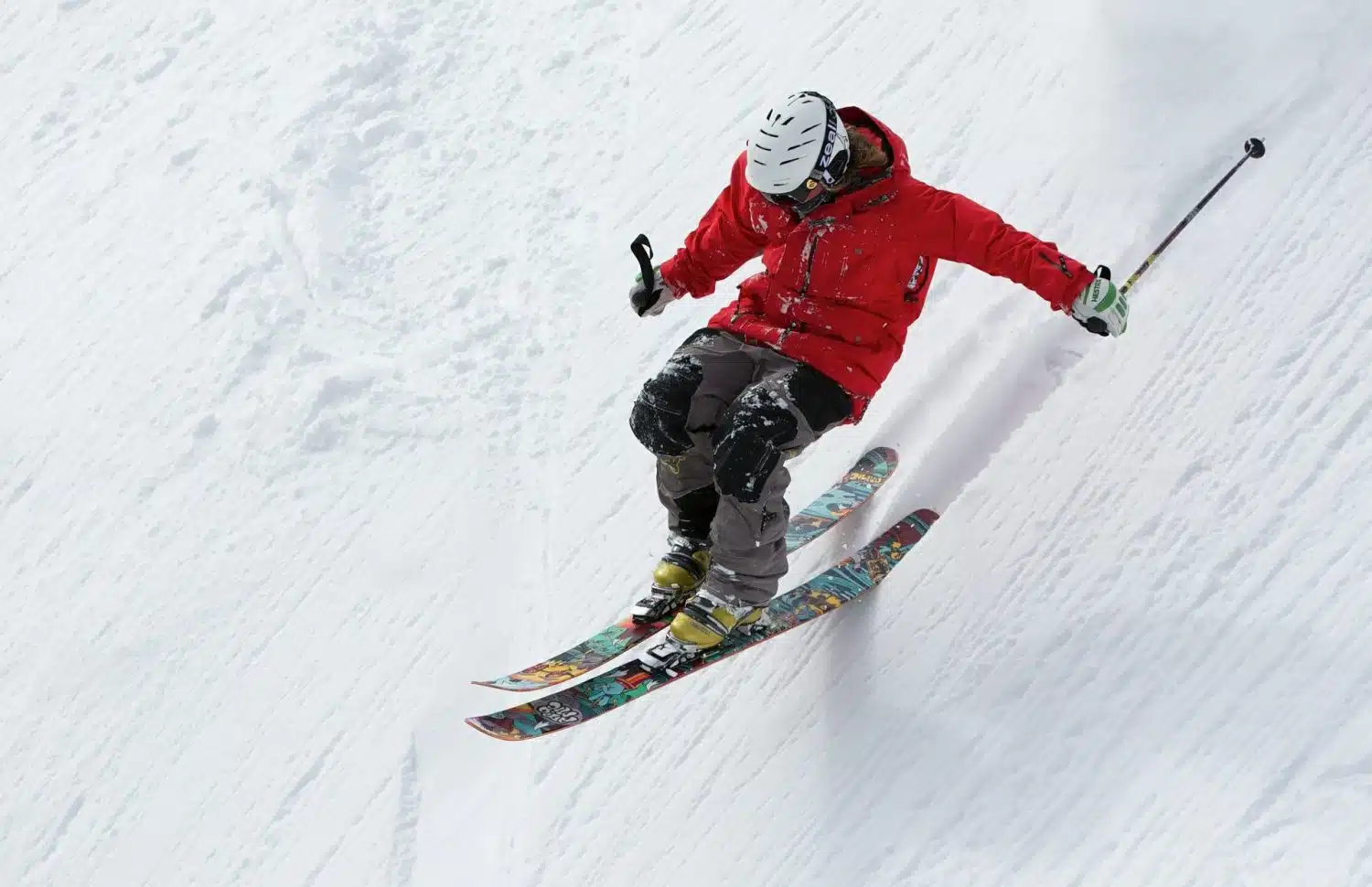 In the summer, the cute little town of Bariloche is all about hiking in the surrounding hills and mountains, but skiing is the big attraction in the winter. There are runs to suit all levels of skier (and snowboarder), and the apres ski can get pretty lively too.
52. Go Off-Grid in the Guianas
Few but the most adventurous travellers backpacking in South America make it to the Guianas. These three countries (Guyana, French Guiana and Suriname) sit in the north-east of the continent, perched above Brazil.
English-speaking Guyana, a former British colony, has a distinctly Caribbean feel about it, while former Dutch Suriname and former French French Guiana have unique identities of their own.
All three house large swathes of rainforest that are ripe for exploration, and a real chance to get off the beaten path on your South America trip.
53. Explore The Patagonian Wilds In Parque Nacional Nahuel Huapi, Argentina
The oldest national park in Argentina is also one of its most alluring and a worthy stop while you are travelling in South America. Over 2 million acres of landscapes await – a combination of Patagonian steppe, Alto Andino and Andino-Patagónico.
54. See (And Hear) The Sea Lions And Whales At Peninsula Valdes, Argentina
During the months of June to December, Puerto Madryn, on the edge of the Peninsula Valdes, becomes a haven for travellers intent on spotting the whales, penguins and seals that frequent the seas nearby.
Though the wales can sometimes be spotted from the shore, you're best off booking a whale-spotting tour to get the best chance of seeing them up, close and personal.
55. Listen To The Roar Of A Glacier Calving At Glacier Perito Moreno, Argentina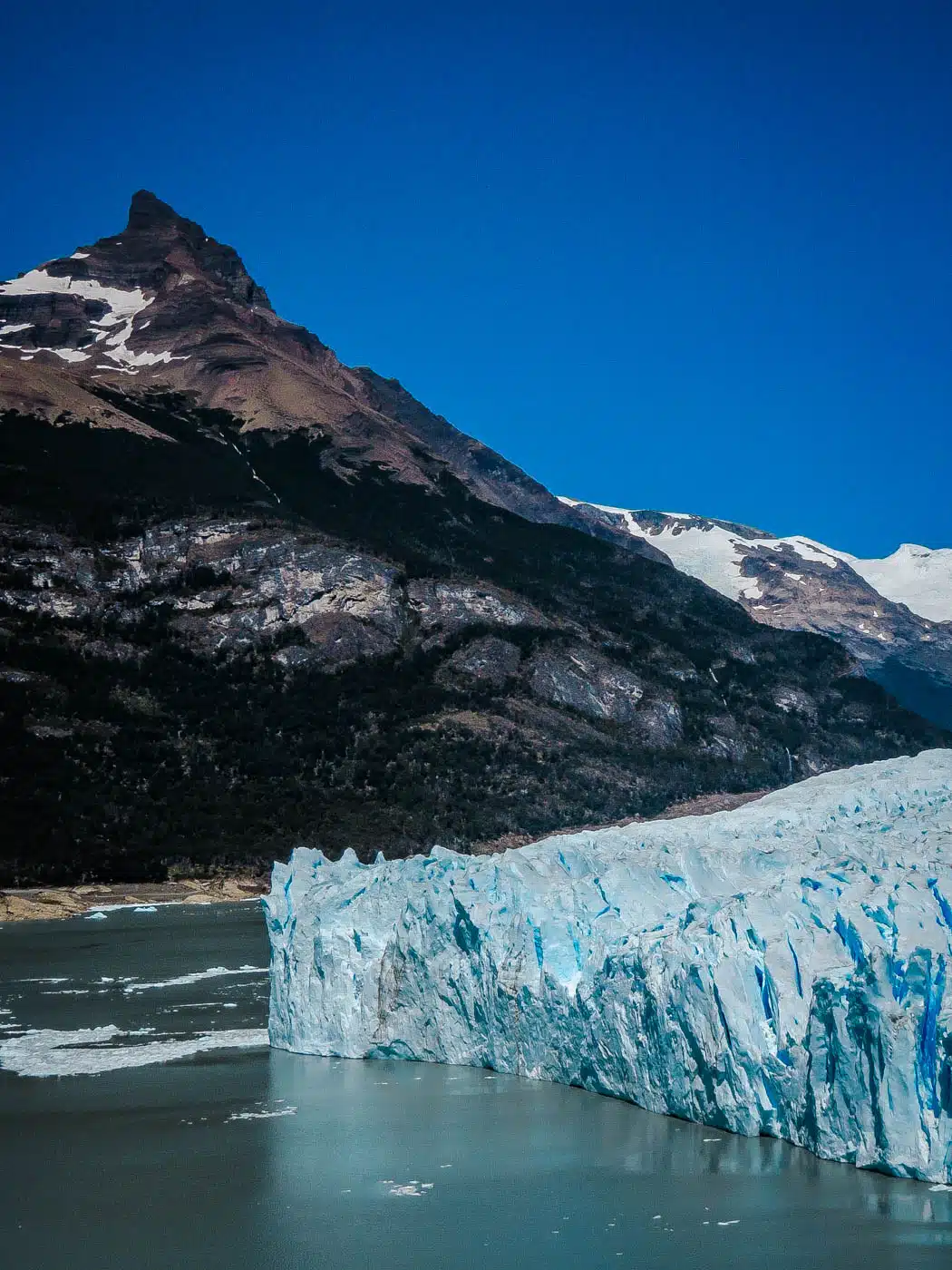 Of all the breathtaking sights in Patagonia (and believe me, there are more than a few), there's nothing quite like watching (and hearing) tonnes of ice calving from Glacier Perito Moreno and splashing into the water.
The glacier itself, one of the few in the world that is still advancing, is a monolithic blog of jagged peaks ranging from brilliant white to icy blue.
56. Take The Train From Cusco To Machu Picchu Pueblo, Peru
If you're heading to Machu Picchu without doing a trek, getting the train from Cusco to Machu Picchu Pueblo is pretty much your only option. Luckily, it's a scenic train ride – helped along by the increasing thrill of anticipation as you draw nearer to Machu Picchu itself.
57. See The Silver Mines In Potosi, Bolivia
Potosi's silver mines tell a sad story. For many years, the silver from these mines partially-funded the wealth and riches of the Spanish colonial empire – but at great cost.
Thousands, if not millions of indigenous and African slaves died working in the mines, many from mercury poisoning – others from the sheer brutality of the lives that they led. Seeing the town, a shell of its former self, is a stark reminder of the cost of the Spanish colonial rule.
58. Get Spooked At The Catacombs Of The Monasterio De San Francisco In Lima, Peru
Underneath the spectacular decor and architecture of the Monasterio de San Francisco lies a slightly creepier attraction – the city's old catacombs.
You descend into the tunnels of the catacombs, where the bones of over 30,000 people have been meticulously sorted and arranged into patterns. It's a macabre, yet fascinating sight – standing in stark contrast to the monastery and church above it.
Read my full guide to visiting the Monasterio de San Francisco now.
59. Go Hiking In The Cordillera Blanca, Peru
Travelling in South America and an avid hiker? Sure, Patagonia is going to blow your socks off, but you should also spend some time hiking in the Cordillera Blanca in Peru.
Peru's leading hiking destination, the Cordillera Blanca offers treks ranging from day hikes, to strenuous multi-day operations.
The popular Santa Cruz trek is often named as the finest in Peru and should be at the top of your list of things to do in South America.
60. Go Trekking In The Cordillera Huayhuash, Peru
Slightly less well-known than the Cordillera Blanca, the Cordillera Huayhuash is a spectacular destination for hiking in South America. The standard hike in the Huayhuash is a ten-day circuit that moves between different regions of the Cordillera.
It's very difficult to hike the circuit in a bad rainy season, so you're generally advised to do it during the South American dry season (between May and September in this area).
61. Sail Across Lake Titicaca, Bolivia / Peru
Fun facts about South America: Lake Titicaca is the highest navigable lake in the world, the largest (in terms of volume of water and size) in South America and sits at an altitude of over 3,800 metres.
What does that mean for anyone travelling in South America? A lot of opportunities for exploration and adventure.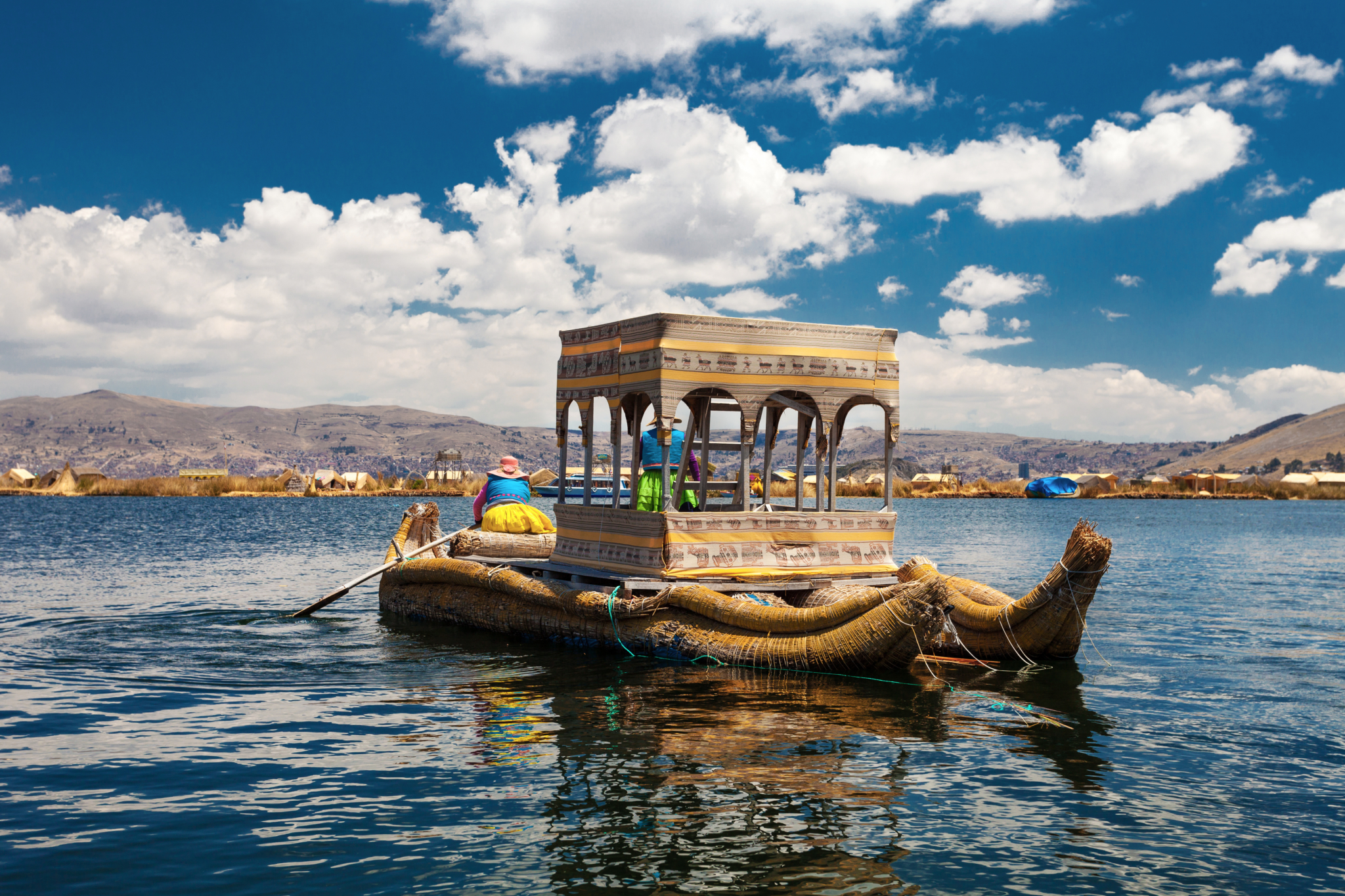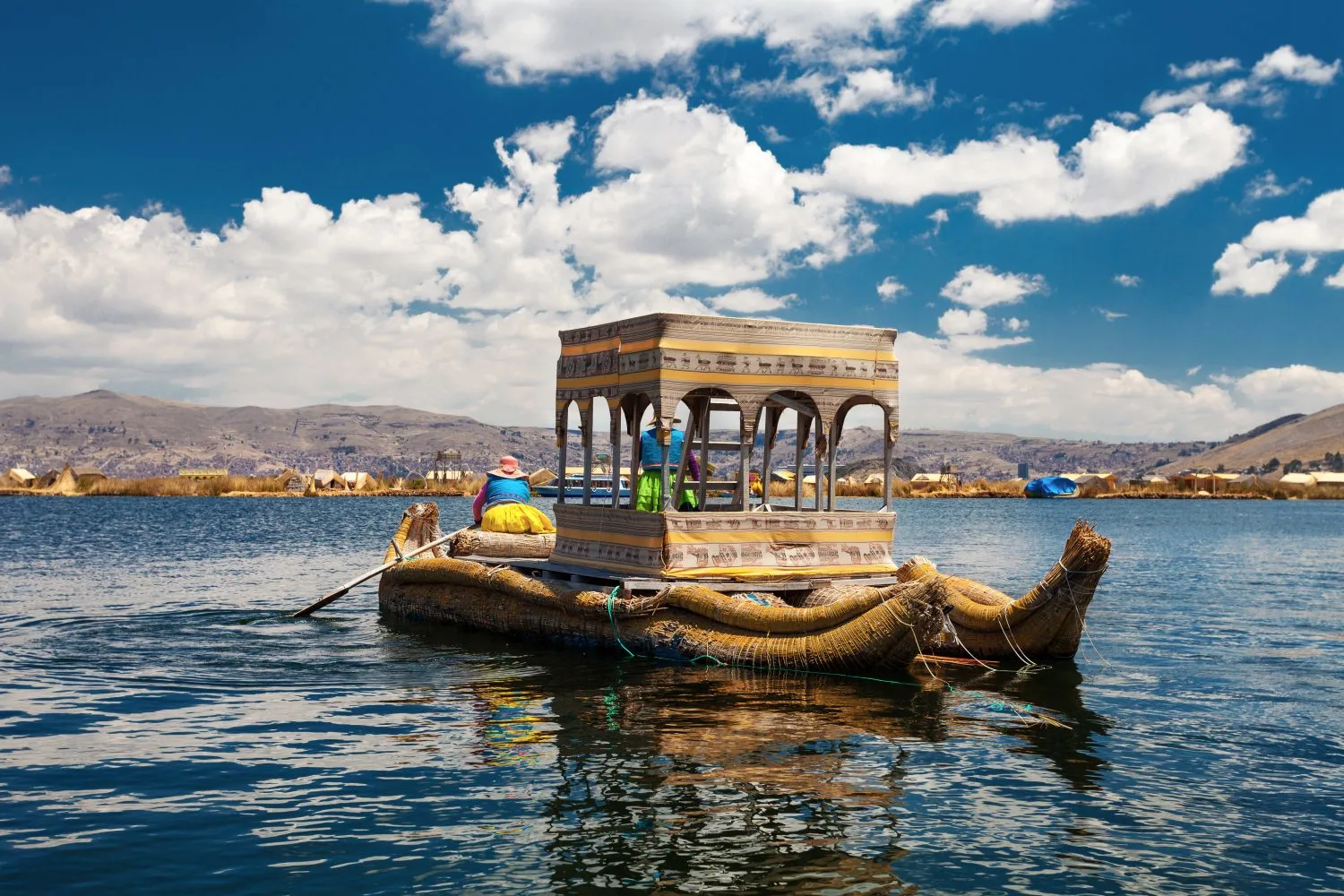 Titicaca highlights include taking a boat trip to one of the lake's many inhabited islands. You should also swing by the unusual Uros Islands near to Puno.
A permanent collection of floating islands constructed from reeds, they're the home of the Uru people, who have been living on these man-made islands for over 3,000 years.
62. Lose Your Breath Walking Around La Paz, Bolivia
La Paz is one of the highest cities in the world, a fact that you're very aware of when you're trudging up its seemingly endless steep and hilly streets. La Paz is a city without a large number of formal "sites" and one of the real pleasures is in just wandering around its bustling environs. Just be warned – wear comfortable shoes.
63. Test Yourself Against The Quilotoa Loop, Ecuador
Ecuador has a wealth of experiences to offer those travelling in South America, but many backpackers name hiking the Quilotoa Loop as their favourite of them all.
You can easily tackle this five day hike, which wends its way from stunning scene to stunning scene punctuated by small Quechua towns, without a guide – so it also offers a great value experience if you're backpacking in South America.
64. Explore Quito, Ecuador
Nestled in the midst of the Andes, Quito, Ecuador's capital is an agreeable mix of colonial buildings, artisan markets, great restaurants and stunning views.
At 2,850m, the height can take some getting used to but what better way to acclimatise than spending a few days in the city on a relaxed itinerary?
65. Lose Your Head In The Clouds At The Mindo Cloud Forest, Ecuador
A short distance away from Quito, the Mindo Cloud Forest is a 100 square mile area of verdant cloud forest.
Base yourself in the small town of Mindo and then spend your time hiking in the cloud forest, where you can expect to see an array of flora and fauna – the cloud forest has one of the highest concentrations of biodiversity in the world.
66. Stay Up All Night To Salsa In Cali, Colombia
Dance aficionados (and even those of you with two left feet) shouldn't miss the opportunity to spend the night getting your salsa on in the vibrant Colombian city of Cali.
Cali is the world capital of salsa, so there's no better place to work on your moves or watch the pros show everyone how it's done.
67. Chill Out In The Centre Of Villa De Leyva, Colombia
Villa de Leyva is something straight out of a postcard – squat whitewashed houses frame cobbled streets, which all lead to its large central plaza. While away your evenings people watching in the square.
If that all sounds a little too relaxed, there are several cool hikes you can start directly in the town itself, or head to one of the nearby national parks to explore further.
68. Beach Hop And Relax At Parque Nacional Tayrona, Colombia
As a rule of thumb, Colombia's best beaches are scattered along the country's Caribbean coastline and islands. Of these, the idyllic Parque Nacional Tayrona is frequently named as boasting some of the country's best beaches.
Crystal clear waters and white sandy beaches, framed by dense tropical jungle awaits those who make the trip from nearby Cartegena and Santa Marta.
Read more about planning the perfect trip to the Parque Nacional Tayrona.
69. Go See The Opera In The Middle Of The Jungle In Manaus, Brazil
Manaus is something of an anomaly – you wouldn't exactly expect to find an ornate city buried in the heart of the Amazon.
The city thrived thanks to its central role in Brazil's rubber industry – nowhere is this more apparent than in the bizarrely opulent opera house.
Coloured pink and standing tall in the centre of town, it's a great place to see an opera – but if that's not your bag, you can settle for taking a few snaps instead.
70. See Boca Juniors Play In Buenos Aires, Argentina
Argentina has something of a thing about football and a trip to the home of it's most famous team, the Boca Juniors is pretty much a must while you are in Buenos Aires. Catch a match for the full effect of the fervour and passion of the locals for the beautiful game.
Make sure you leave time to explore the colourful area of La Boca anyway – this once working-class city district is one of Buenos Aires' must-see spots.
71. Take a Road Trip Across the Atacama Desert, Chile
When people ask me where my favourite place that I've ever travelled I almost invariably answer the Atacama Desert.
Not only is this one of the most unbeleivable collection of landscapes I"ve seen in one region, it comes with with some of the clearest night skies and best stargazing in the world to boot.
Do away with the cookie-cutter tours and hire a campervan before trucking across the desert on two wheels. You won't regret it.
Read More: The Best Things to do in the Atacama Desert
72. See Death In All Its Glory In La Recoleta Cemetery, Argentina
It sounds a bit creepy right, listing a cemetery as one of the things that you should add to your South America bucket list – but La Recoleta isn't like any other cemetery. The cemetery has long been the burial place for Argentina's nobility and politicians and has the mausoleums to match.
The country's much beloved first lady Eva Peron is buried here as are numerous former presidents and Nobel Prize winners. Take a few hours to wander around, or book yourself in for one of their tours.
Read More: Three Days in Buenos Aires
73. Soak Up The Atmosphere In La Boca, Buenos Aires, Argentina
La Boca is one of Buenos Aires' liveliest neighbourhoods and a real must if you're travelling in South America. Colourful, frenetic and high-paced, it's home to the Boca Juniors (mentioned above) and also to brightly painted houses you can't help but snap a picture or two of.
Tango lovers shouldn't miss one of the area's live tango performances, many of which are held on the street – and there's a whole host of tango memorabilia for those that want to bring something home with them too.
74. Eat A Gigantic (And Very Tasty) Steak In Argentina
There are few places in the world where you can get a steak as good as the ones in Argentina. This is a country that has taken the art of cooking and serving steak and turned it into something of an artform.
Cooked on a sizzling asado, using high-quality beef – you eat a steak in Argentina and all of a sudden, you wonder what you've been doing with your life.
Backpacking in South America can get quite expensive but if you're in Buenos Aires, you should try Parilla Don Julio. The steak isn't cheap, but it will be a big contender for some of the best steak you'll ever eat, so is well worth the money.
75. Indulge Your Sweet Tooth With Dulce De Leche In Argentina
Look, I'm going to warn you. Dulche de Leche is highly addictive and, once you've had it, you'll find yourself hunting it out time and time again. But what is it exactly.
Well, it's similar to caramel – made by warming condensed milk slowly until it is an unctious and utterly moreish jam-like goo. You can have it slathered on ice cream, in alfajores (small biscuits you can buy in packs), on waffles, on churros – basically on anything and everything.
76. See Photographer Mario Testino's Most Famous Works In Mate, Peru
Lima-born world-famous photographer Mario Testino has a small but wonderful gallery of some of his best known works in the hip neighbourhood of Barranco in Lima.
There's no celebrity and no style that Testino hasn't photographed – together, they create one of the city's best galleries.
77. Go Street Art Hunting in Lima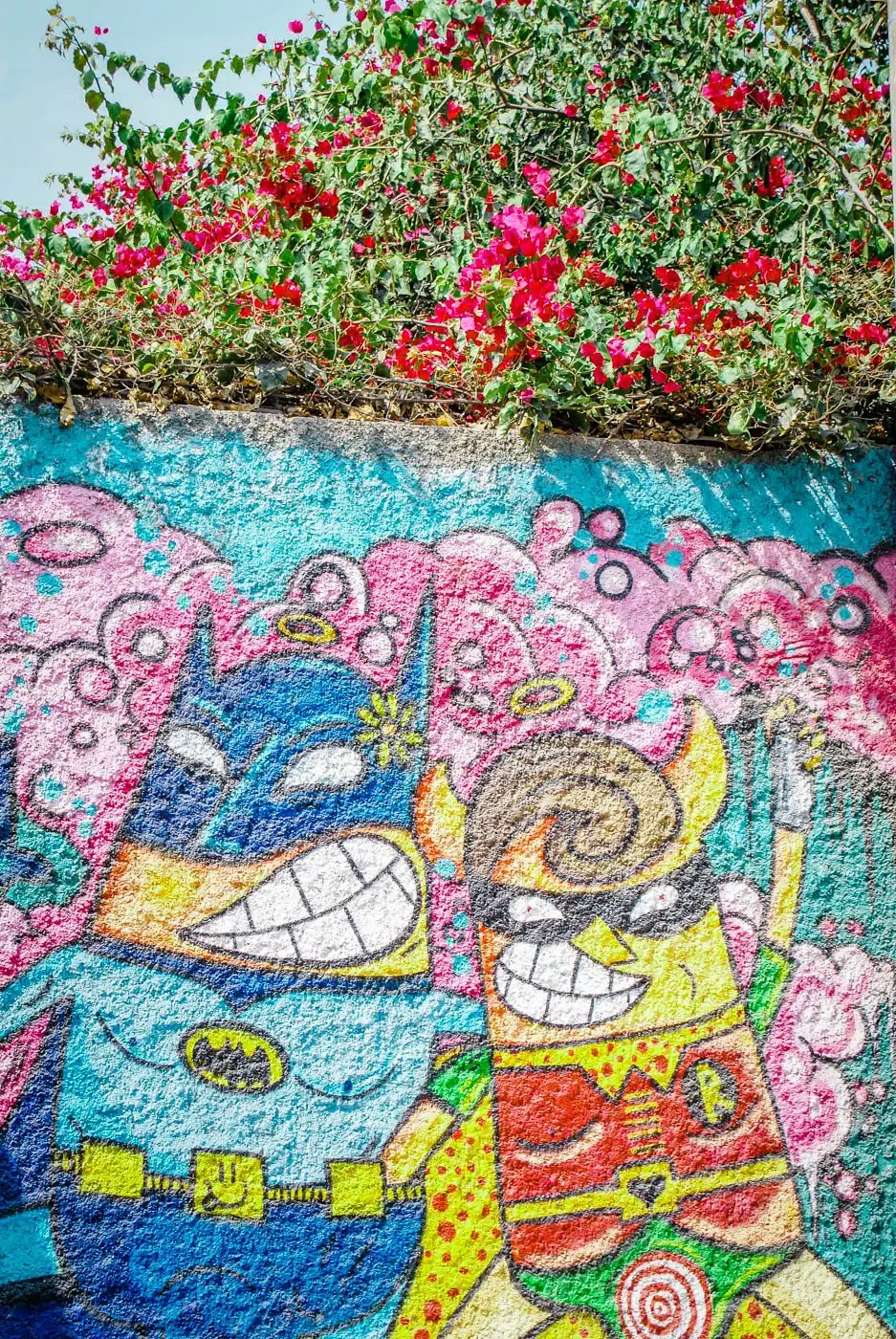 You'll see a lot of street art when you are travelling in South America, but Lima stands a cut above many other cities in terms of the quality, variety and ease of finding the pieces. Not sure where to start? The hip neighbourhood of Barranco has the largest number of pieces, all of which are set within easy walking distance of each other.
Read my guide to street art hunting in Barranco for more details.
78. Soak Up The Vibes On Ipanema Beach, Brazil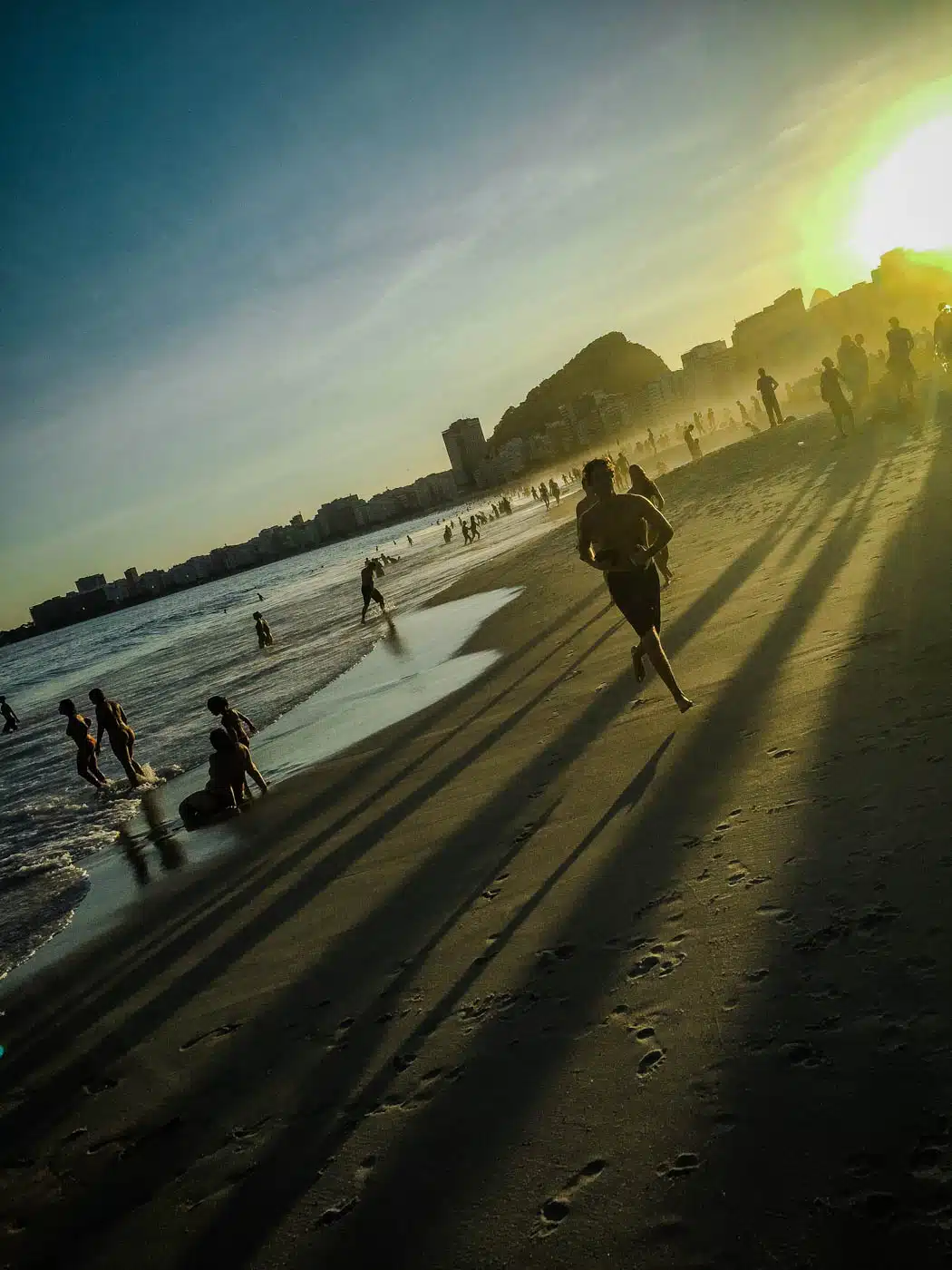 Not only the namesake of a famous song, Ipanema beach is one of Rio's most stunning places to spend the day. Framed into a cove, with two large mountains at the end, you can't ask for a more stunning location in the city to soak up some rays.
The beach is divided into several stations, each of which has its own particular character and vibe. Try a few out, find your favourite and then relax for the rest of the day with a caipirinha in hand.
Read More: Cool Landmarks in Brazil
79. Escape Away From It All On Ilha Grande, Brazil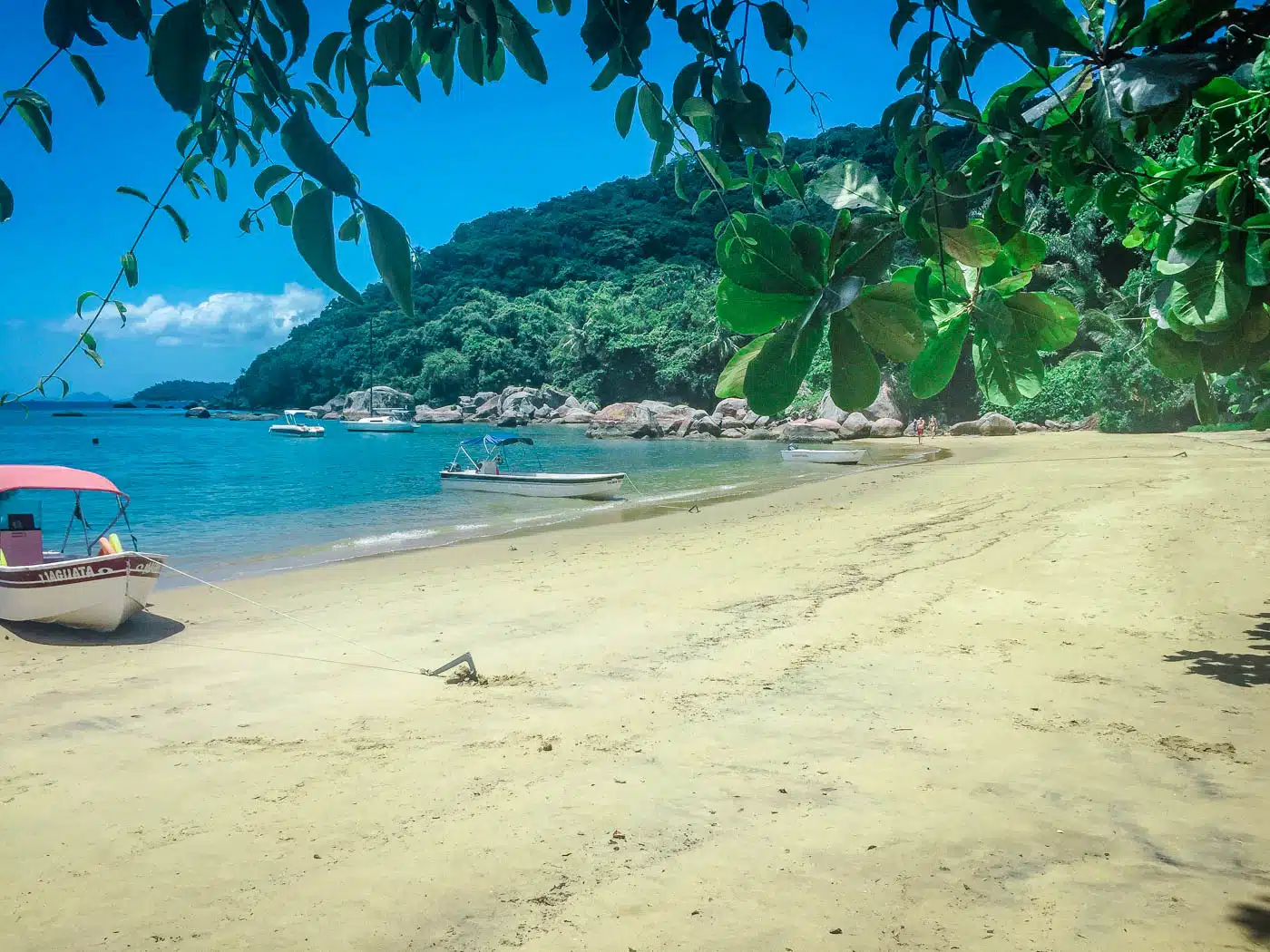 Just a few hours drive and a relatively short ferry away from Rio de Janeiro, Ilha Grande is world's away from the big metropolis. Boasting some of the best beaches in the country, and an infectious laid-back attitude – the only problem you'll have is leaving.
80. Or Challenge Yourself By Hiking Parrot Peak, Brazil
If the thought of spending day after day on the beach fills you with dread, no worries. Take on the challenge of hiking Parrot Peak. It's only about 7km and with 1,000m elevation gain, but if you make the effort, you'll be rewarded with breathtaking views of Ilha Grande and the surrounding ocean, all the way over to the mainland.
81. Catch A Ride On South America's Most Luxurious Train – The Andean Explorer, Peru
The Andean Explorer only opened last year but already it's making waves as one of the must-try South America experiences.
Unfortunately, the cost means it's going to be a bit tough if you are backpacking South America, but, if you do have the funds to spare, this luxury train ride whisks you from Cusco to Lake Titicaca and Arequipa via a series of arresting sceneries and Insta-worthy views.
82. Catch The Desert Island Vibes On Providencia, Colombia
Tucked away in the midst of the Caribbean, Providencia is often compared to paradise – on the presumption that paradise comes complete with colourful houses, beautiful beaches and world-class diving.
Island vibes rule OK here – no stress, no panic, just lots of chill time with excellent views.
83. See Some Capoeira In Salvador, Brazil
A legacy of Brazil's slave trade, capoeira is one of the country's long-standing traditions and a unique South America experience you shouldn't miss if you are visiting El Salvador.
This non-contact martial art hearkens back to the traditional tribal dances of Angola, and developed as a way of settling conflicts without violence in the slave barracks. However it developed, it remains one of the most fascinating martial art forms, and is almost always performed to the sounds of Berimbau and Atabaque rhythms.
84. Soak Up The Culture In Sucre, Bolivia
Relaxed Sucre is like the antidote to the hustle and bustle of La Paz. A colonial historical centre, great year-round weather and some of the finest chocolate you'll find on the continent it's more than deserving of a place on your South America bucket list.
85. See the Cano Cristales (River of Five Colours) in Colombia
Cano Cristales' nickname, the liquid rainbow, gives you a hint of what to expect when from this natural wonder. From July to November, the river takes on red, yellow, green, blue and black hues.
It's a bit of a trek to get there, requiring a flight to the national park in which the river is based, but the sight alone is well worth the effort.
86. Sail Along The Beagle Channel, Chile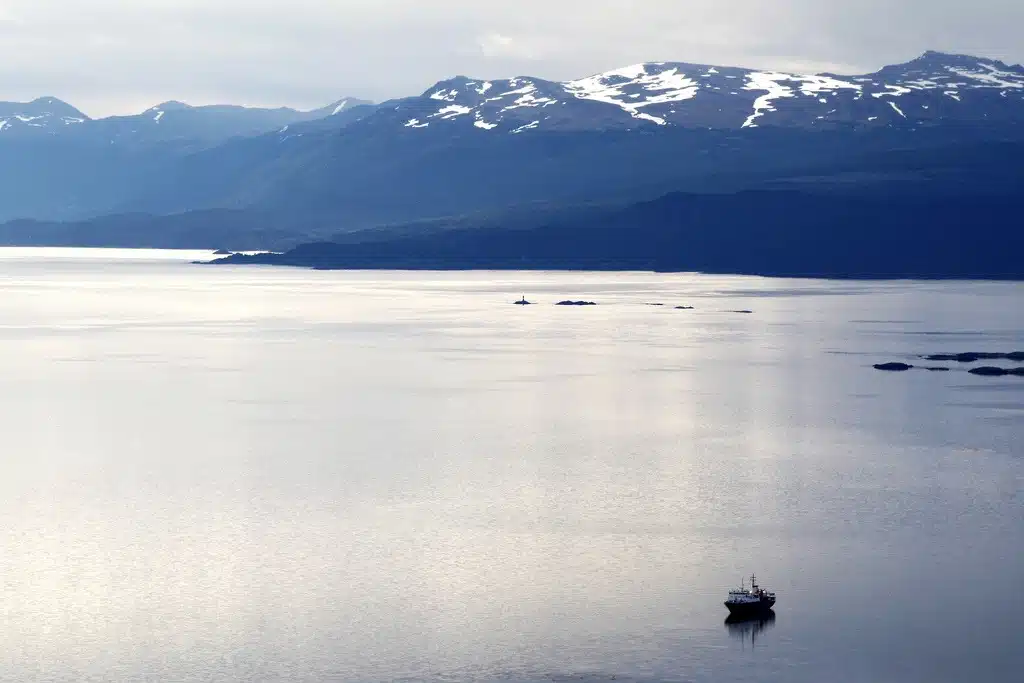 Cutting its way through the tip of South America, the Beagle Channel flows from the Atlantic to the Pacific, its course taking it through Chile and Argentina.
The channel is awash with dolphin and whale watching opportunities. Head to the channel's islands for a remote experience and untamed beauty.
87. Kayak Through The Unbelievable Marble Caves In General Carrera Lake, Chile
With cool, bright blue waters, thick, tangled fauna, and the Andes mountains on the horizon, the General Carrera Lake is a must see for your time in Chile.
The lake, which is shared with Argentina is the biggest lake in the country.
The unbelievably blue waters of the General Carrera Lake are framed by one of South America's most intriguing natural phenomena: the Marble Chapels.
The chapels, a curving natural cathedral of weirdly-shaped caves are one of the best things to do in South America. You'll need to book a kayaking tour to appreciate the full scale of their beauty.
Read More: The Best Things to do in Chile
88. Hike, Climb And Trek In The Maipo Canyon, Chile
The Maipo Canyon surrounds the Maipo River basin and is crossed by several other streams including El Volcán River and Yeso River.
The steep, jagged walls and rocky peaks of the Maipo Canyon make it the ideal place for hiking, climbing, and trekking. It's not far from Santiago, so makes an easy detour for anyone backpacking South America and planning on visiting Chile's capital city.
89. Tasting Some Of The Wines From The World's Highest Winery, Argentina
Chile's Mendoza gets a lot of attention, but Argentina's wine industry is booming. Nowhere is this more evident than in the Calchaqui Valley.
The award-winning winery Colome is well worth a trip (be warned, it's a bit of a hair raising drive from Salta) – if only to sample wine from the world's highest vineyard. I dare you to resist bringing a bottle or two away with you.
Read More: Amazing Things to do in Argentina
90. See The Stunning Dunes And Lakes In Lençóis Maranhenses National Park, Brazil
Last but certainly not least, the Lençóis Maranhenses National Park is one of Brazil's most incredible landscapes.
This arid plain (not a desert as it gets too much rain each year to be classified as such) is an intriguing sight – with white sand dunes stretching as far as the eye can see.
Visit during the wet season and it gets better – torrential rain storms form a series of blue lakes in the hollows of the dunes – perfectly contrasting with the brilliant white of the surrounding sands.
There we are, 90 places that should be on any South America bucket list, Looking for more South America travel inspiration?
You should also check out these South America travel itineraries.
Love this? Save and share on Pinterest