The Salar de Uyuni is a natural wonder that should be at the top of your bucket list. But it can be hard to know when the best time to visit the Bolivia salt flats is. I've put together this handy guide to help you plan your trip.
Why Should I Visit the Salar de Uyuni at all?
Well, if the photos alone aren't enough to get you reaching for your passport, listen to this.
At 4,086 square miles, Salar de Uyuni is the largest salt flat on the planet and as you can see, it's fairly spectacular.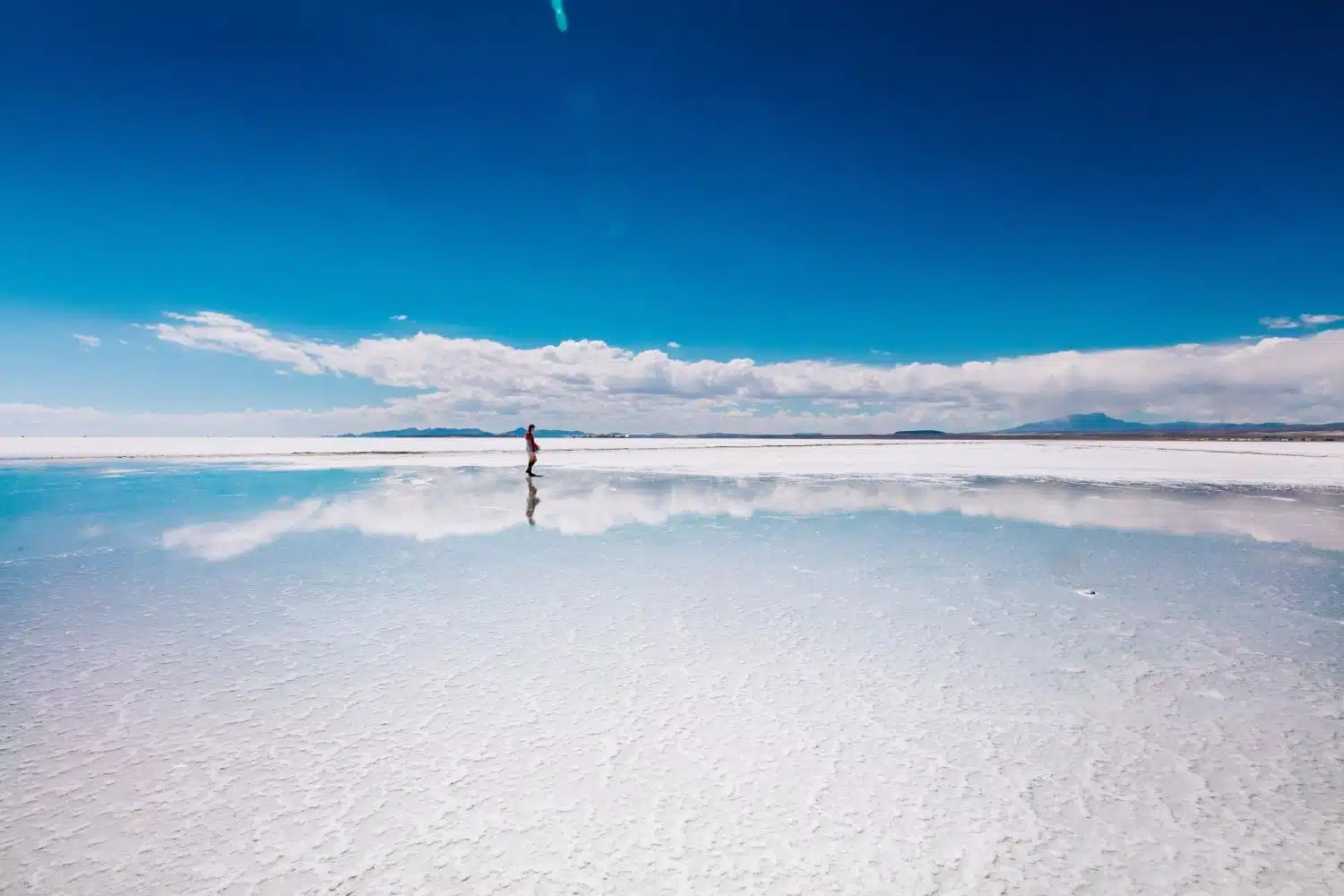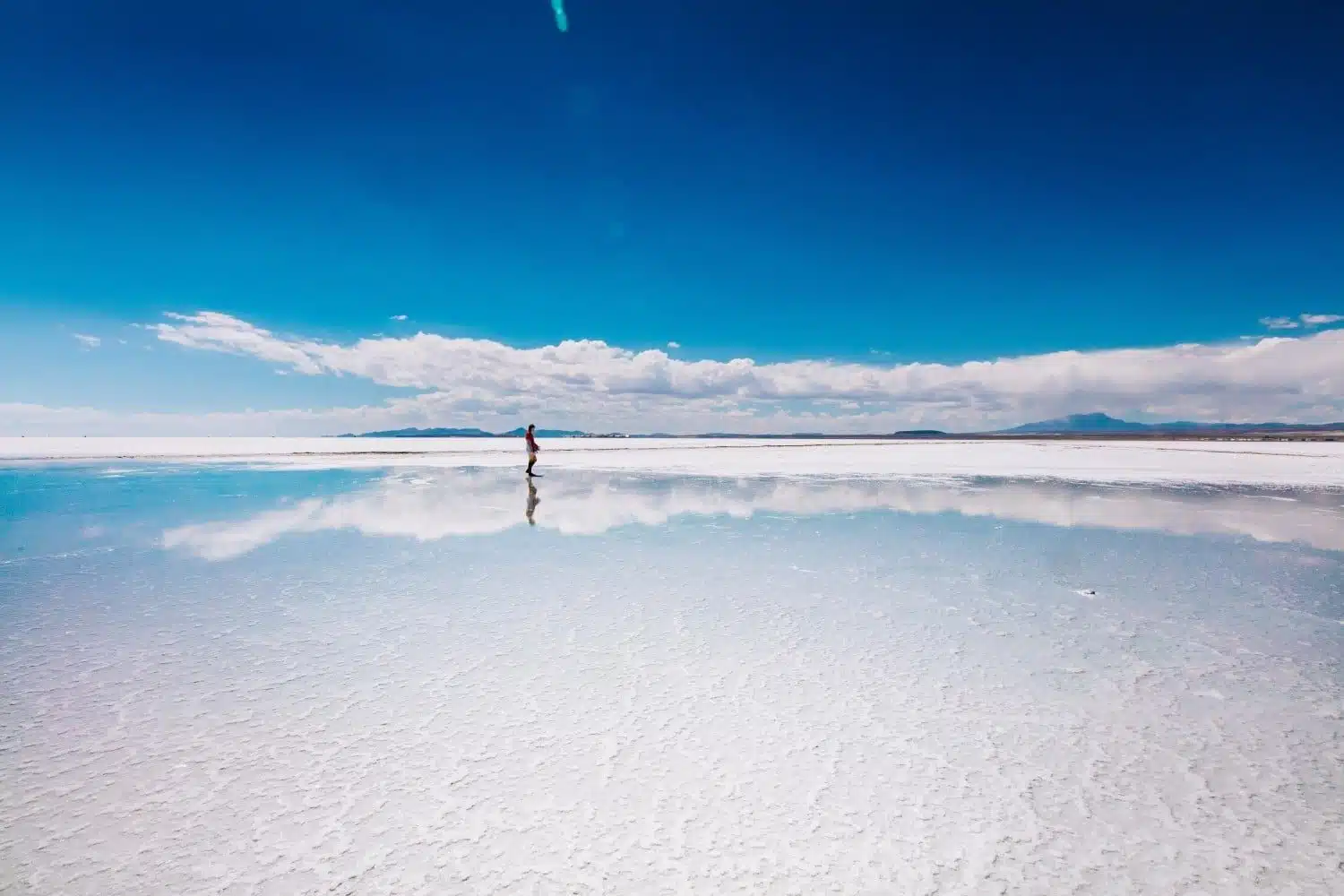 Situated in southwestern Bolivia not far from the crest of the Andes, the mountains that surround the salt flat provide truly staggering beauty.
You needn't worry about sweltering in the South American sun either, as Salar de Uyuni is actually over 3,600 metres above sea level, meaning the air temperature peaks at around 21°C between November and January and doesn't often get any lower than 13°C in June.
Always be aware that altitude sickness at this height can be an issue, so you'd be wise to spend a few days acclimatising in the surrounding area beforehand.
Plus, there are a whole range of natural treats to be discovered such as towering volcanoes, lakes, scalding geysers, relaxing hot-springs, giant cacti.
Although the salt flat may not be teeming with animals there is some unique wildlife to be found including the Andean fox and around 80 different species of bird.
Wow, I'm Sold! So When is the Best Time to Visit the Bolivia Salt Flats?
That's a very good question, and the answer depends entirely on what kind of trip you're looking for.
The rainy season falls between January and April and the salt flat floods during this period.
However, with the water comes beauty. The kind of beauty that makes you wonder if what you're looking at is even real. The flooding produces a natural phenomena – the largest mirror on earth and your chances of seeing it increase drastically if you go at this time of year.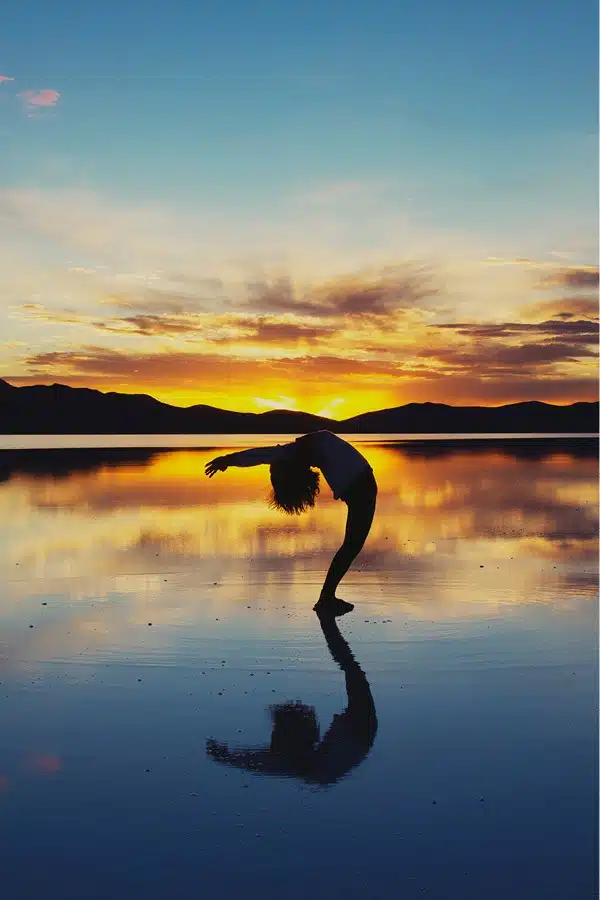 Many people would say that this is the best time to visit the Bolivia salt flats because the mirror effect is so striking.
A possible downside of visiting in the wet season is that the conditions may mean it's impossible to visit Isla Incahuasi or Fish Island as it has become known to some.
Don't be fooled, there aren't any fish. Its name comes from its fish-like shape and it isn't actually even an island. It's the top of the remains of an ancient volcano which was submerged by a huge prehistoric lake some 40,000 years ago.
The 61 acres of rocky outcrop is home to giant cacti and a tourist centre, and Rhea, an Ostrich-like bird that roams the island.
Not a fan of the wet? Then head to the Salar de Uyuni between July and October when you'll experience wall to wall sunshine.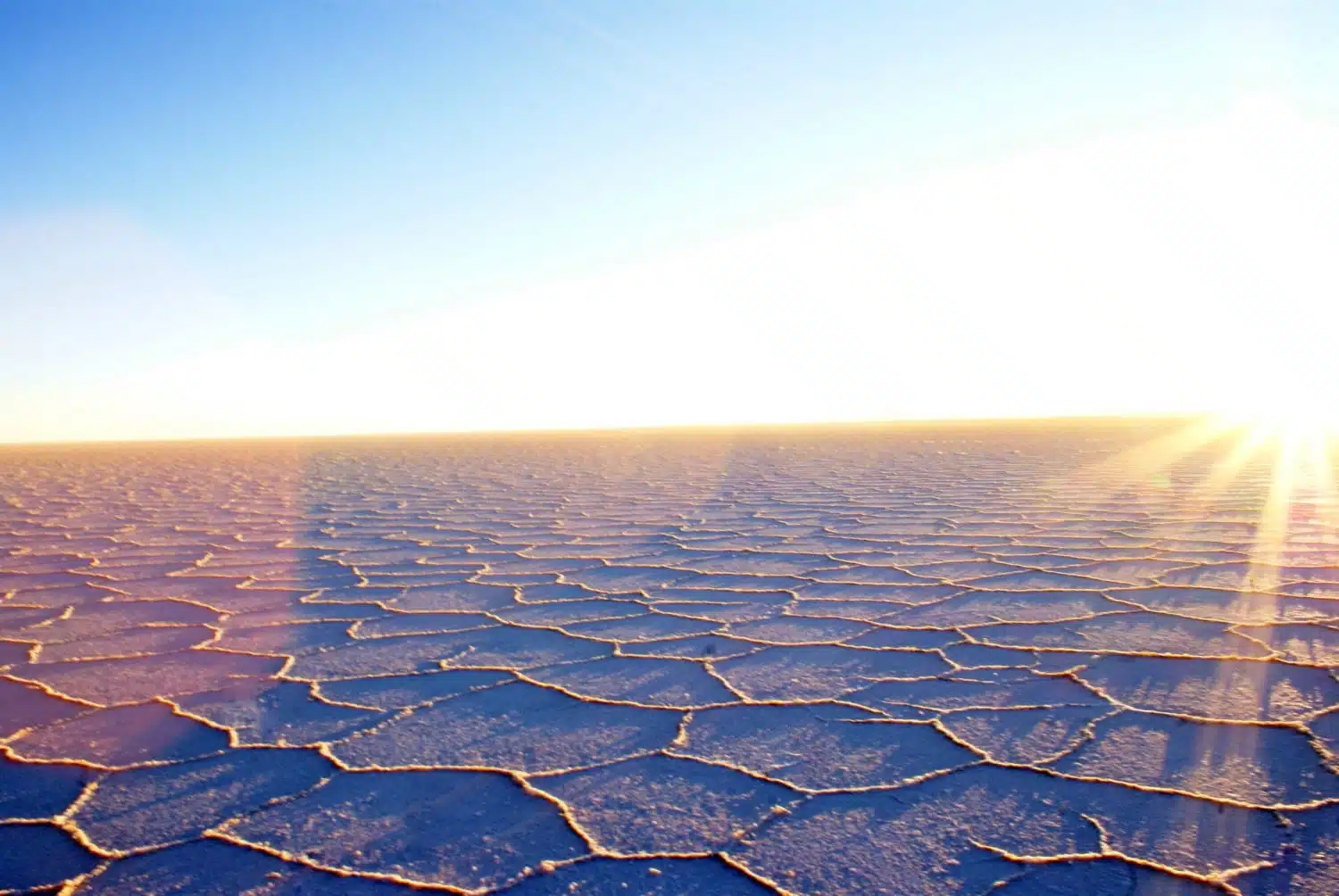 With rainfall averaging just 1mm per month in this period, you'd have to be mightily unlucky to experience any pesky showers. Be prepared to wrap up at night though, as temperatures can plunge to a bone-chilling -9°C. Brrrr!
So really the best time to visit the Bolivia salt flats will depend on whether you want to see the flats during the rainy season or in their uncovered state during the dry season.
Without the Mirror Effect, is the Salar de Uyuni Still Worth the Trip?
Ultimately, with or without the famed mirror effect, there are very few places on earth like it. An enormous white mass of salt as far as the eye can see really is something to behold.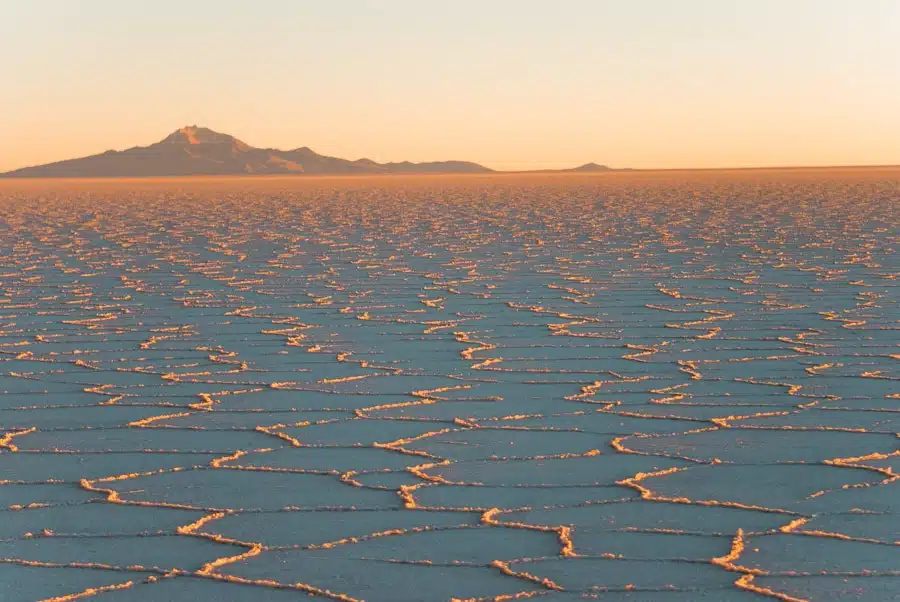 A big part of its beauty is simply the vast emptiness of it, so it is still definitely worth a visit even in the dry season.
Where Can I Stay During my Visit to the Bolivian Salt Flats?
May we introduce the first salt hotel in the world: Palacio de Sal. Translation = Palace of Salt.
Predictably this unique structure has become a tourist attraction in itself. Located on the banks of Salar de Uyuni, it is built entirely from salt blocks. From the walls and the floors to the ceilings and even the beds!
With nightly rates of around £100 it's not the cheapest, but worth a look if you're nearby. Don't even think about licking the walls though, there's an official rule preventing it. Check Prices and Availability
There are of course more inviting options for those on a budget, including many hostels where you can stay in a mixed dorm for under £10 per night. You're looking at anywhere between £20-£35 if you'd rather relax in a private room.
Where you stay will depend entirely on the tour you decide to go with. Although the sleepy town of Uyuni is the most popular starting point, you can also start in Tupiza or for those in Chile heading North, you can catch the salt flat tours leaving from San Pedro de Atacama.
If you decide on the latter, bear in mind you'll be paying more money for the same experience as those beginning closer to Salar de Uyuni.
What Are the Different Salar de Uyuni Tours Available?
Here's a brief overview of the different Salar de Uyuni tours available. I've gone into more detail about them in the Alternative Salar de Uyuni Tours section towards the end of the guide.
One day salt flats tour from Uyuni
Two day salt flats tour from Uyuni
Three day Bolivian altiplano tours from Uyuni
Four day Bolivian salt flats tours from Tupiza (recommended)
Three day salar de uyuni tours from San Pedro de Atacama in Chile
Four day salar de uyuni tours from San Pedro de Atacama
Why Do I Recommend the Bolivia Salt Flats Tour from Tupiza?
Although arranging a Bolivian salt flats tour is easily done from Uyuni itself, someone had tipped me off that the trip from Tupiza to Uyuni was much better.
Why? Mainly because you get to see more of the area's natural scenery and attractions.
So many people visiting the Bolivian salt flats do the same old tour. The landscapes are incredible enough that you're pretty much guaranteed to be blown away whichever one you choose.
But if there's an option where you get to see more amazing stuff, quite frankly I don't know why you wouldn't choose it.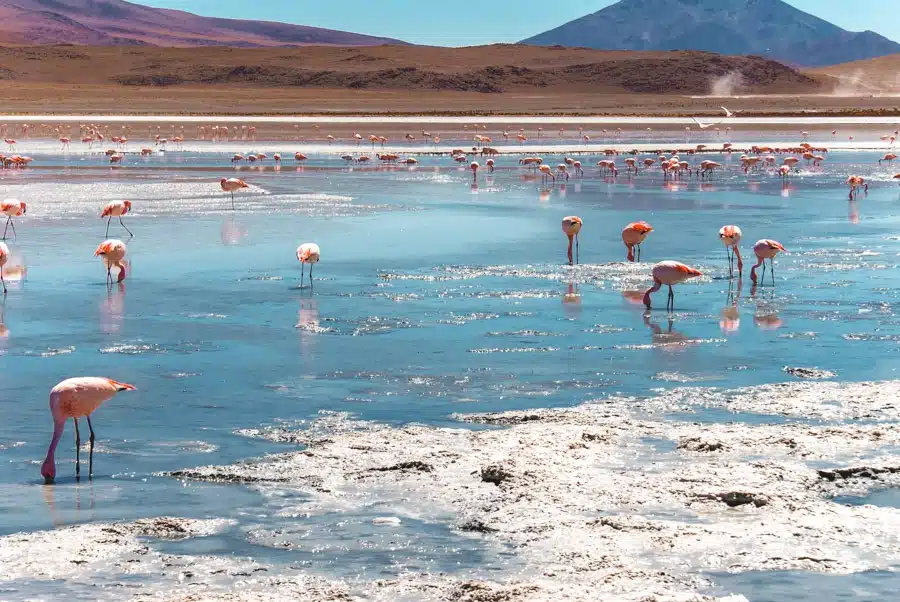 Sometimes a journey is as much of an experience as the destination and much as you're in a hurry to see the Salar de Uyuni, it would be a shame to miss the other striking landscapes of the Bolivian altiplano.
Check availability for the four day tour from Tupiza
Salar de Uyuni Tour Itinerary
Awesome sceneries abound in Bolivia. Perhaps none more so than on this Bolivian altiplano tour from Tupiza to Uyuni salt flats in the country's wild west.
Here's my trip report from the Tupiza to Uyuni salt flats tour I took to help you to understand what to expect.
Uyuni Salt Flats Tour: Day 1
The adventure on our Tupiza to Uyuni tour began as soon as we left the town. Within a few minutes, we were climbing up a steep road with a sheer drop, and a stunning landscape on one side.
The first stop was at a wide gorge dotted with unnatural-looking precipices. Jagged triangular cliffs soared up at awkward angles below.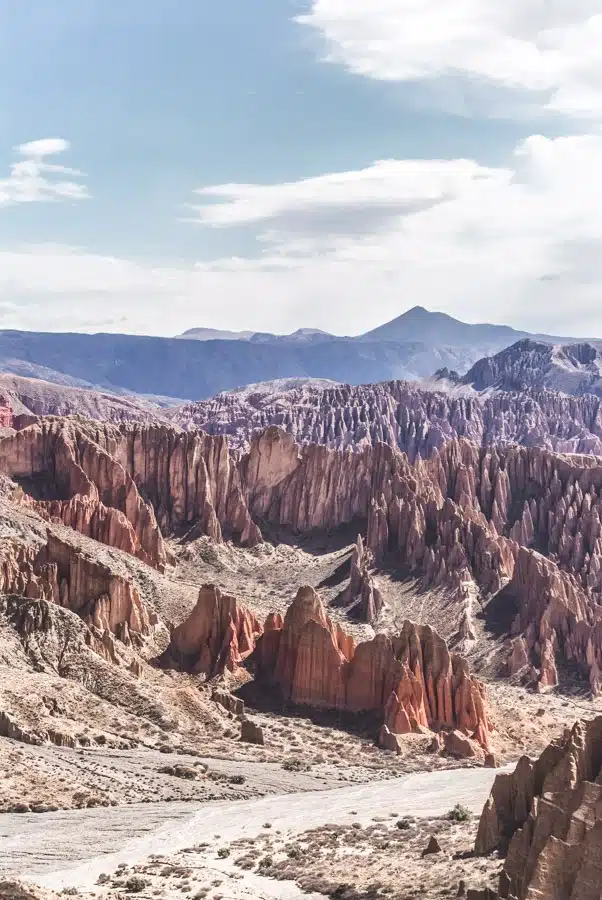 "This is the Quebrada de Palala," said our driver, Jose.
On the other side of the road lay an equally impressive valley, where the mountains and hills varied in hues from blue to bright orange. "The area is very rich in minerals," he continued. "Each mineral makes the earth a different colour, which is why you have so many different colours in that valley."
The rest of the day passed quickly: a maze of impressive landscapes as we gradually gained altitude.
Accommodation that night was basic, as were the nights to come but the meals were hearty and the beds comfortable – the best you're going to find unless you pay a significant premium.
Uyuni Salt Flats Tour: Day 2
On the second day, we drove to the Laguna Verde, a green lake, and Laguna Blanca, a white lake, both of which were surrounded by a thick crust of salt, just a taste of what we were to see at the Salar de Uyuni on the final day of the Tupiza to Uyuni tour.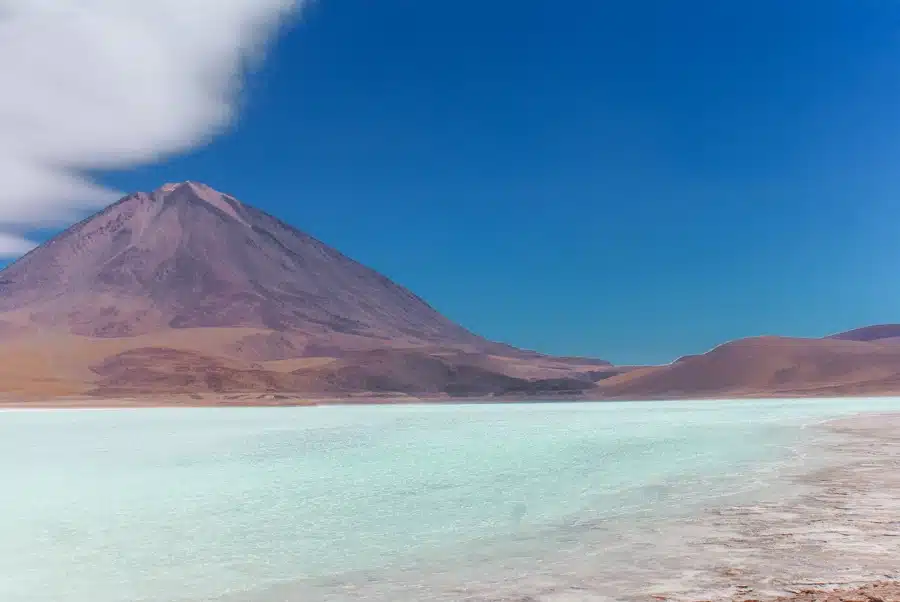 Driving along the roads, we saw locals warmly wrapped up in fleeces and clothes made out of precious llama wool.
As the day passed and we reached higher altitudes, the temperature continually dropped.
It wasn't all about the jumpers, scarves and the elaborately patterned woolly hats favoured by locals and 'gringos' alike.
We also pulled up at one of the much-welcomed highlights; the natural hot springs. Quickly donning our swimwear, we plunged into the pools and were welcomed by the warm water and a view of the adjoining lake.
Uyuni Salt Flats Tour: Day 3
Minerals have played a major part in Bolivia's history and present, but they are most immediately tangible in the landscapes.
On the third day of our Bolivian salt flats tour, we visited the Laguna Colorada, a lake of a bright red colour; caused by the high concentration of microorganisms in its waters.
Dotted by thousands of pink flamingos, the effect is a rare one — the red of the lake and the pink of the birds stretching out for miles.
---
Read more: The Red Lake also features in the best Bolivian landscapes that aren't the Salar de Uyuni. Check it out.
---
One of the beauties of the trip from Tupiza to Uyuni is the sheer variety of things to see. Bumping along the rather rough road, we'd turn a corner and be confronted by a desert plain dotted with weird rock formations, including the so-called stone tree, named for its tree-like appearance.
Peeping around another corner revealed a large lake bubbling with grey sulphuric mud springs. Salt plays such an important part in the landscape and could be seen almost everywhere.
We stopped in each place and take time to explore, climbing the rocks and run around to keep warm in the chilly wind.
Uyuni Salt Flats Tour: Day 4
On the final day, there's no doubt that we all grumbled as our 4am wake-up call sounded.
Piling into into the Jeep, we peered anxiously for a glimpse of the Salar de Uyuni — the reason for the whole salt flat tour.
As the sun began to rise, we realised that we were already driving along it!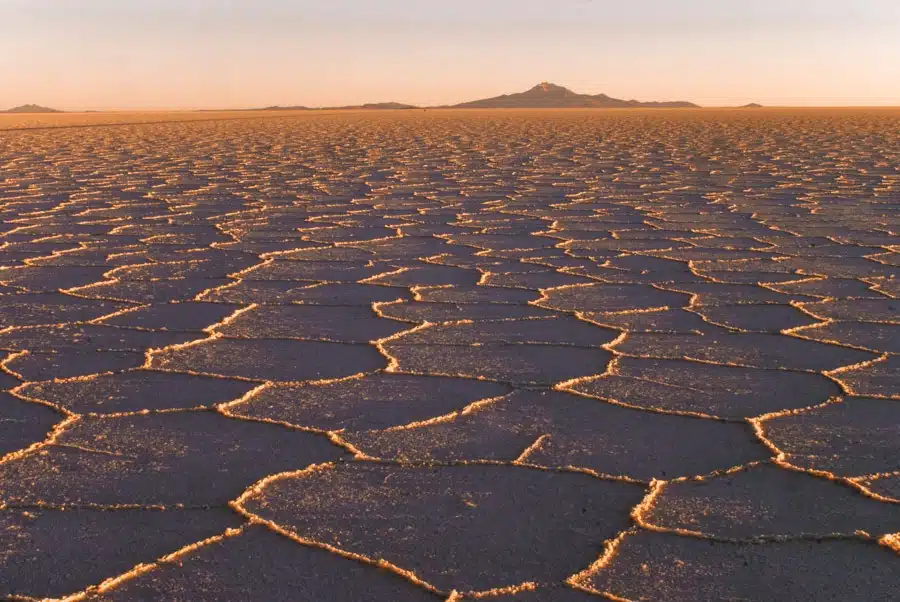 The Salar's crust is thick enough to support the weight of a car and is up to eight metres deep in places.
I thought I had seen it all until I gazed out on the never-ending panorama of Uyuni's salt flats. Miles and miles of thick salt crust crisscrossed with a jagged pattern of intersections. If you looked hard enough, you could see the faint tyre marks of the 4×4 that had brought us out to the middle of the plains.
I visited during the dry season, so the mirror reflections caused by a layer of water on the salt flats was not present.
Over the past four days, I had seen red lakes, green lakes, white lakes, jagged valleys, sulphuric springs, small Andean communities and llamas and alpacas galore.
Still, nothing had prepared me for this.
As the sun rose, the intersections between the interconnecting pieces of salt glowed orange. Gradually the light brightened, until our guide, Jose, warned us to put on our sunglasses to avoid snow blindness.
It was the perfect end to a four-day tour that had taken us from Tupiza to our final destination of the Salar de Uyuni.
We'd all faced the gruelling demands of the altitude (at the highest point in the trip, we reached 5,200 metres), along with which came the freezing nights that made you hurry for your sleeping bag as soon as the sun set.
We entertained ourselves for a few hours taking silly pictures and generally celebrating reaching our destination.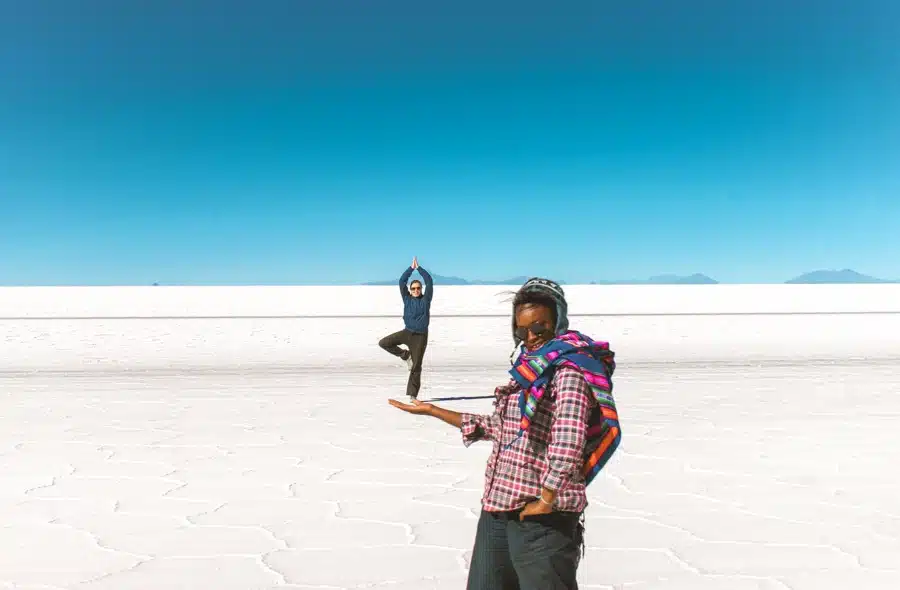 Finally, exhausted, we piled into the car and drove to the rather worn town of Uyuni, which was our final destination of the four days — many pictures and unforgettable memories later.
Sound good? Book your tour from Tupiza to Uyuni.
Would You Recommend Doing the Uyuni to Tupiza Tour?
I personally would say that it's better to start in Tupiza and go to Uyuni as that way you leave the best till last. I think that doing it from Uyuni to Tupiza would be fine, just not quite as fun.
Alternative Salar de Uyuni Tours
One Day Salt Flats Tour from Uyuni
These usually start off with a visit to the train cemetery, then spends most of the day on the Salar de Uyuni with a trip to the "Fish Island" in the middle of the salt flats. Returns to Uyuni on the same day. Book here.
You can also book a private one-day tour to the salt flats. Check prices for the private tour.
Three Day Bolivian Altiplano Tours From Uyuni
Same first day as the one day tour (without the returning to Uyuni). These tours head further into the Bolivian Altiplano so you see more on the tour. You visit deserts, the Laguna Colorada, Laguna Verde and Laguna Blanca and the crater of the Sol de Manana volcano.
Four Day Bolivian Salt Flats Tours from Tupiza (recommended)
I've already covered the itinerary in detail above. This tour is the only one that covers the Quebrada de Palala and the landscapes nearer to Tupiza.
Three Day Salar de Uyuni Tours from San Pedro de Atacama in Chile
On day one this tour visits Licancurbur volcano, Laguna Verde and Laguna Colorada plus the Polques hot springs and Sol de Manana. Day two covers a variety of lagoons for some flamingo spotting and Thunupa volcano. The third and final day heads to the Salar de Uyuni itself.
---
How to Choose Your Bolivian Salt Flats Tour Company?
There are a lot of tour operators offering very similar tours to the Bolivia salt flats so it can be difficult to choose between them. Although it is tempting to go for the cheapest tour, it's a decision that can come to bite you in the ass.
Spending the extra $ can make the difference between doing the tour in a vehicle that breaks down all the time with a guide who doesn't speak your language and spending nights in super-basic accommodation and… not having to suffer any of those things. I exaggerate not.
As a guideline, you should find out:
Does the driver speak your language? Many drivers do speak English but some don't – make sure you check ahead.
Will they pick you up from your accommodation?
How many people are there per vehicle?
How new are the vehicles?
Where does the tour start and end?
What food and drink is covered?
Does the tour include entrance to the national park? Heads up: the answer to this is usually no.
Once I've Visited the Salt Flats, What Else Should I See in Bolivia?
Okay, so you've spent four days touring Salar de Uyuni and now you want to move on? Well, you're definitely in an amazing part of the world, surrounded by all sorts of natural beauties and historic towns and cities.
I've chosen the top things to do in Bolivia to get you started.
You can't visit Bolivia without checking out La Paz, about 330 miles North of Uyuni.
Contrary to popular belief, it is not Bolivia's capital but it still has the hustle and bustle of a modern city, while also full of tradition and South American culture.
Feel free to drive the near eight hours, but you might want to choose the more comfortable 45-minute flight from Joya Andina Airport to El Alto International Airport.
The Altiplano region covers sections of Bolivia, Chile and Argentina. Spend some time in all three exploring the otherworldly sights and amazing landscapes.
The Atacama Desert is not far from the Salar de Uyuni and we'd recommend making this your next stop.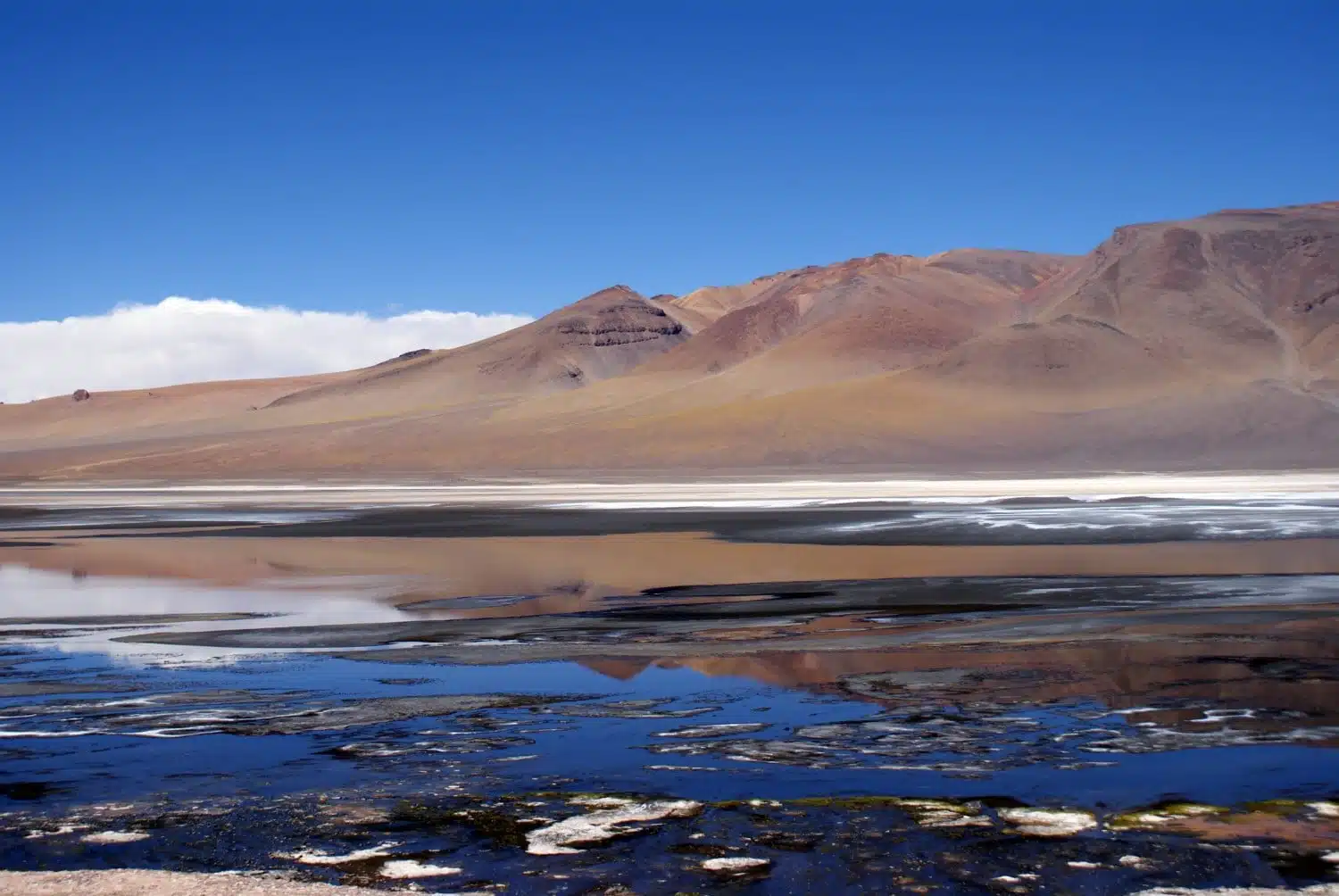 ---
Read my guide to the best things to do in the Atacama and why you really should do a DIY road trip around the desert.
---
---
How to Get to the Salar de Uyuni?
For the Tupiza to Uyuni Tour
Now, I'm not going to lie. Getting to Tupiza is a little more difficult than going direct to Uyuni, and generally involves an uncomfortable bus journey from one of the major cities.
The bus I took seemingly sought out potholes to bump over just for the sh*ts and thrills but it got me there and I came out in one piece so no stress. Just a bruised ass. Totally worth it though.
Fly to the Bolivian capital, La Paz, and catch a bus to Oruro and then a train to Tupiza.
Alternatively, fly to Salta in Argentina (via Buenos Aires), get a bus to the Bolivian Border at La Quiaca/ Villazon (six hours) and then catch a bus to Tupiza (three hours).
From La Paz to Uyuni for Tours from Uyuni
From La Paz you can get an overnight bus to Uyuni. It gets a bad rep but I did it in the other direction (from Uyuni to La Paz) and it wasn't a big deal. The bus station in La Paz is a bit rough, just watch your bags as pickpockets are pretty rife.
Alternatively you can fly direct from La Paz to Uyuni.
For Tours from San Pedro de Atacama
If you are getting to San Pedro de Atacama from Santiago, Chile's capital, you are best flying to Calama airport and then either booking a transfer or catching a bus to San Pedro de Atacama.
What to Pack for Your Bolivian Salt Flats Tour
So, the altiplano is that difficult combination of having super-strong sun and very cold temperatures at night. Wrap up warm and wear layers as the temperature is incredibly changeable.
Warm clothes. Lots of layers. I'd suggest a thermal base layer top tand bottom, a mid layer, a jumper and a softshell to help keep you snug against the wind.
Hat
Scarf or buff
Gloves
Woolly socks
Warm hiking boots or very comfortable boots.
Quick dry towel
Swimwear
Chapstick
Sunglasses
Head torch
Waterproof jacket (if you're visiting in the rainy season)
Steripen water purifier
Sunscreen
Key Things to Remember When Visiting the Bolivian Salt Flats
So that pretty much covers everything, and you should be all set for an unforgettable experience in one of the most naturally beautiful places on the planet. We've given you a lot of information though, so let's just remind ourselves of the most important things you should keep in mind.
Salar de Uyuni: Best Time to Visit
Salar de Uyuni is spectacular all year round, but if you want any chance of seeing the famous mirror phenomena, where heaven meets earth, then go between January and April when the salt flat will flood. Even then there is no guarantee you'll see it, but you're giving yourself the best chance.
Salar de Uyuni: How to Get There
It's really important to spend a bit of time planning and researching, especially when it comes to choosing your tour guide. Shop around, don't jump on the first one you see, and use common sense.
Choosing your Bolivia salt flats tour can make or break your trip.
In this guide I'm going to walk you through the practical information you need to know before choosing your tour… and make the case for why you really should do the four-day tour from Tupiza (hint: because it's straight up amazing).
PS: Travelling in South America? Check out my other South America travel guides.
Love this? Save and share on Pinterest!