Discover the Salkantay Trek to Machu Picchu with this handy guide. Everything you need to know about this epic hike.
Every year, hikers from around the world flock to Peru to embark on one of the world-famous treks to Machu Picchu. While the most well-known trek is the Inca Trail, a handful of other treks are beginning to burgeon in popularity.
Among the Inca Trail alternative treks, the Salkantay Trek to Machu Picchu is one of the most visually stunning and physically demanding. But, if you're up for the challenge, it can also be one of the most rewarding.
With its varied altitude and rural pathways, the trek spans several types of terrain in some rugged areas of the Andes.
If you're considering a multi-day trek to Machu Picchu, read on to learn everything you'll need to know about the Salkantay Trek to Machu Picchu.
Everything You Need to Know About the Salkantay Trek
How Long is the Salkantay Trek Distance?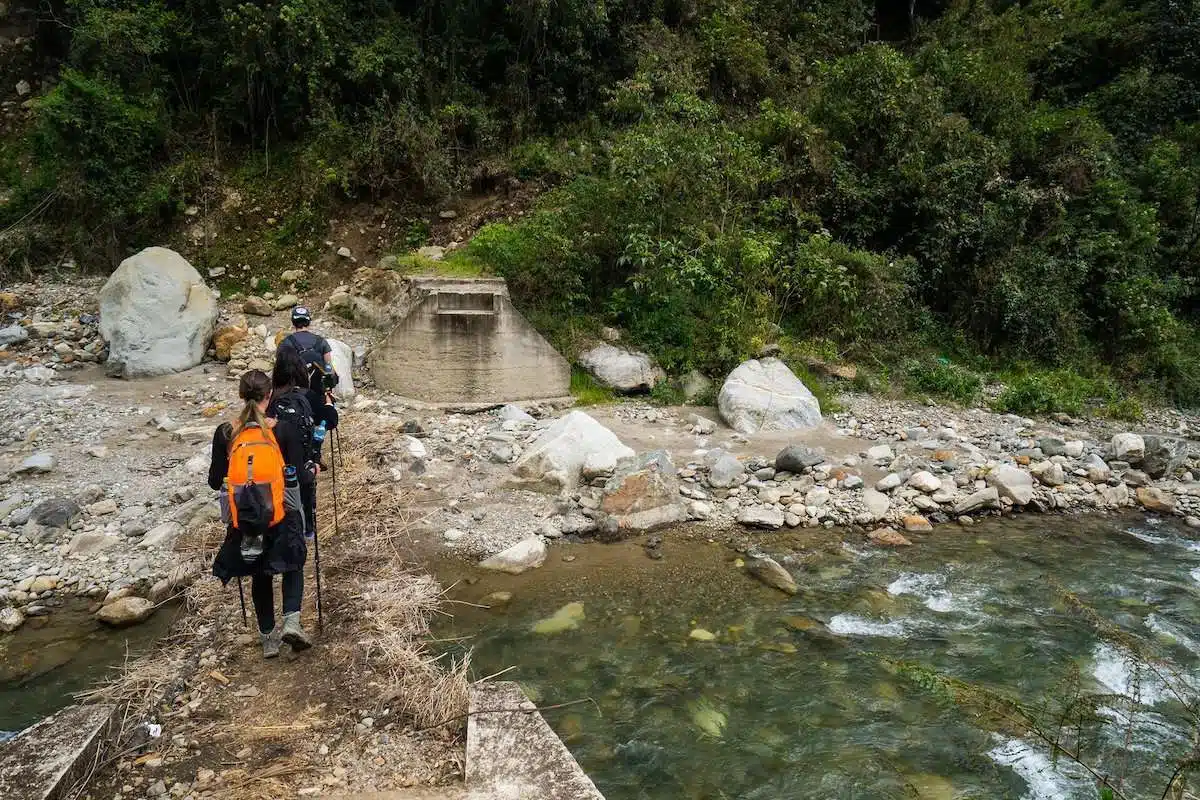 The Salkantay Trek distance ranges from 48-70 km (30-43 miles), spread out accordingly over 3-5 days. However, not all days are created equal. While the first day is generally shorter, at ~8-14 kilometers (depending on whether you go up to Humantay Lake or not), the longer days can range from 24-26 km of hiking.
That said, there are different options to decrease the Salkantay Trek distance for those who do not want to hike the whole thing, including horse rentals or taking a train from Hydroelectric Station to Aguas Calientes.
What is the Salkantay Trek Elevation?
With its wide variety of terrains, the Salkantay Trek elevation ranges from 1,600 to 4,650 meters (~5,250-15,255 feet). Although the elevation varies significantly, you'll start up higher and gradually work your way downhill.
Before the trek, I highly recommend taking 1-2 days at a minimum to acclimatize in Cusco, as the maximum Salkantay Trek elevation is significantly higher than in the city.
What is the Salkantay Trek Difficulty?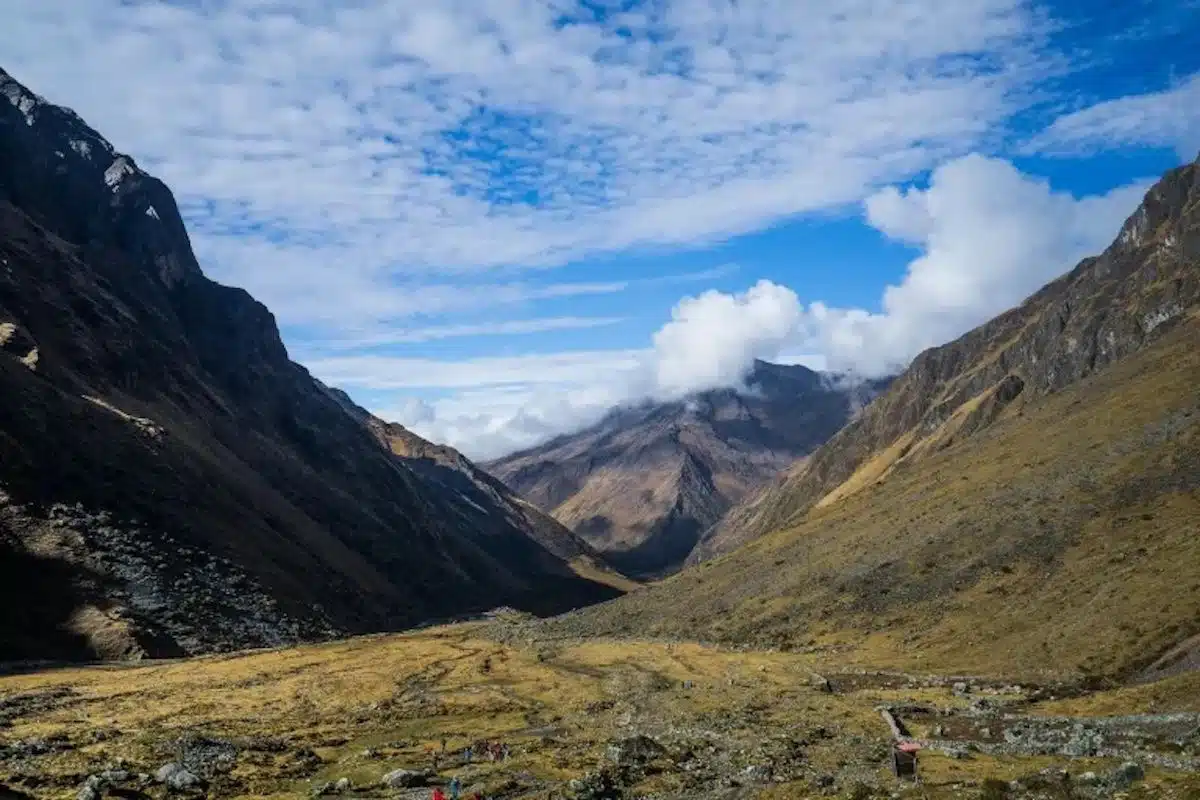 The Salkantay Trek difficulty is moderate to difficult, but is attainable for most people with some hiking experience.
Although it is accessible to most levels of hikers with good fitness levels, the altitude, length of trekking each day, and tough uphill/downhill stretches definitely increase the difficulty of this hike. We recommend being fully acclimatized to the altitude before embarking on the Salkantay Trek.
What is the Typical Salkantay Trek Price?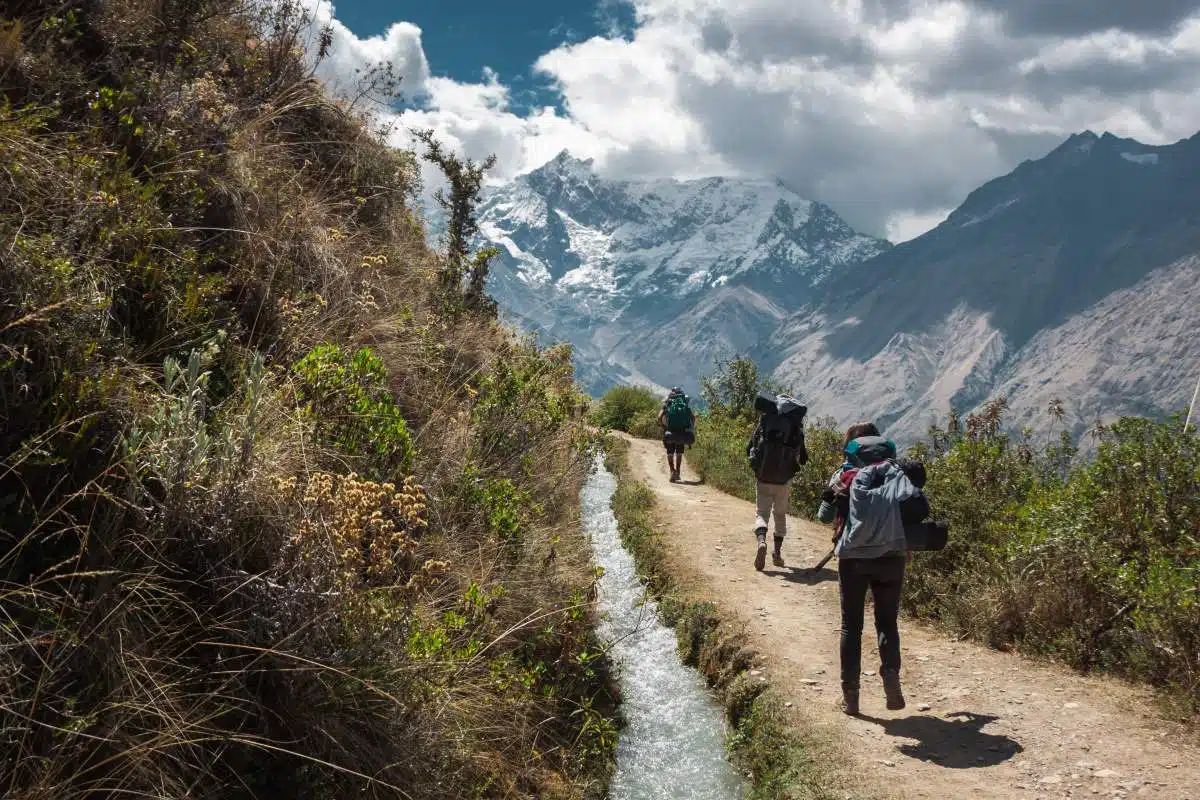 On average, the Salkantay Trek price typically runs from $250-450, depending on the number of days of the trek, and whether you book online or in person.
This price usually includes lodging, accommodation, and luggage storage/transport for the duration of the tour. As you probably gathered from the wide range of pricing, the accommodations on the trails range from bare-bones to fairly luxurious. If you'd like extras like renting a sleeping bag or trekking poles, it will cost you a little bit more.
When I was researching the Salkantay Trek price, I learned that it can be much cheaper if you book in Cusco. If you're on a strict budget, this might be your best bet.
However, despite knowing that it would be cheaper to book once I arrived, I decided to book online to secure my spot and go with a trustworthy, reputable trekking company.
In the end, I found that it was worth paying a higher price for the Salkantay Trek for the security an guaranteed good experience I had, especially as a solo traveler.
What Should I Pack? A Salkantay Trek Packing List
Much like any other multi-day trek, you'll want to pack as lightly as possible for the Salkantay Trek.
Usually, the tour operators will let you pack a small duffel with some extra clothes and toiletries. These get transported by mule from campsite to campsite. In addition, you'll want to carry your own day pack with essentials like water, sunscreen, and clothing layers.
We put together a complete Peru packing guide that has everything you'll need for the trip, but here's what I'd suggest as a Salkantay Trek packing list:
Waterproof hiking boots – I have these Columbia hiking boots and I adore them.
3-4 pairs of thick hiking socks – REI has a fantastic selection of hiking socks, but if you prefer to order online, Smartwool has some great options for men and women.
2-3 sweat-wicking t-shirts or tank tops
1-2 long-sleeve shirts (including a synthetic or Merino wool baselayer if you have one)
1-2 pairs of long pants
A thermal jacket
A rain shell – I have owned and used a North Face rain jacket (mens option here) for several years and love it
A reusable water bottle – Although they're pricey, I really love my Hydro Flask water bottle, which keeps my water super cold all day
A head lamp – I have this one
A hat or visor
Bug spray and sunscreen
Toiletries
Sleeping bag (optional)
Trekking poles (optional)
Which is the Best Salkantay Trekking Company?
Although there are several options for tour operators that offer Salkantay treks, I used Salkantay Trekking and had a fantastic experience. The trek I did was a little bit more expensive than if I had booked in person, but it was worth it.
Our guide, Odi, was fabulous, the food was locally-prepared and delicious, and our accommodations were really interesting and beautiful.
A Sample Itinerary of the Salkantay Trek to Machu Picchu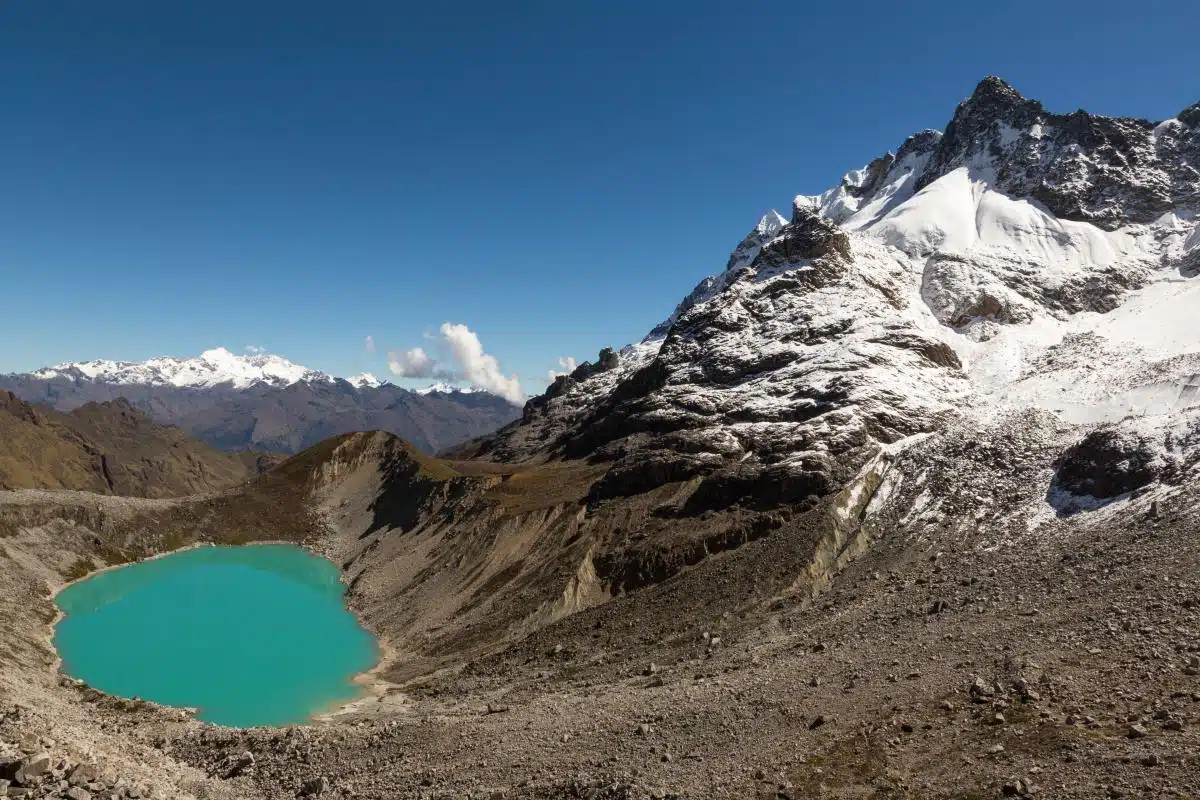 Although the itinerary varies by tour operator and length of time, the Salkantay typically looks something like this.
Salkantay Trek to Machu Picchu: Day 1
After a very early morning pickup, your driver and guide will take you a few hours to being your trek. After some gradual inclines and slopes, you'll arrive at Soraypampa, the area of your first campsite.
From here, some tour operators will take you on an out-and-back hike up to Humantay Lake, a beautiful turquoise alpine lake higher in the mountains. You'll descend down to Soraypampa and spend the first night here.
Salkantay Trek to Machu Picchu: Day 2
The next day is one of the most beautiful. You'll rise with the sun, first hiking up to the alpine terrain of the Salkantay Pass.
Then, you'll descend down into the cloud forests, where you'll spend the night in a small town on the side of the mountain, and awake with the sounds of the birds.
Salkantay Trek to Machu Picchu: Day 3 Onwards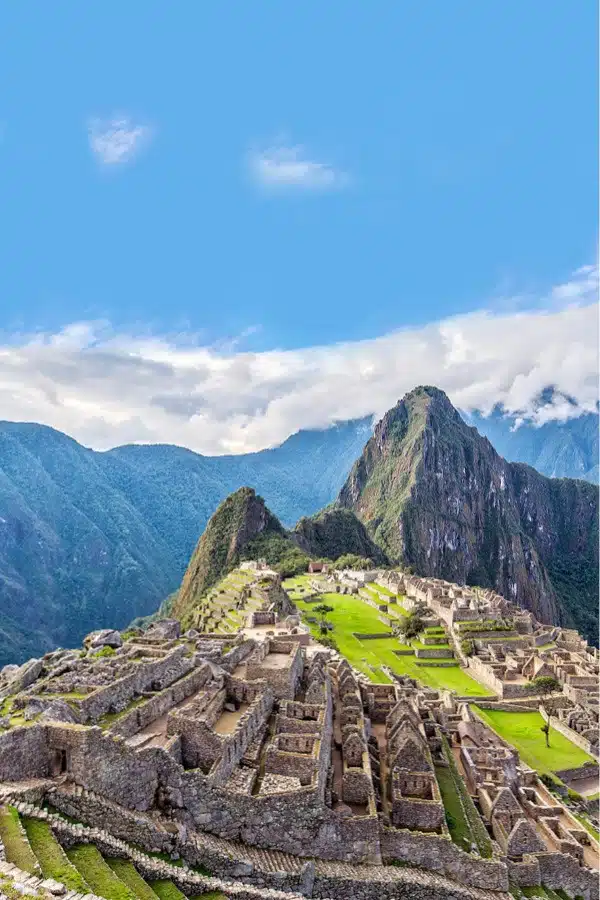 The next few days vary a bit depending on the length of your trek. You'll likely explore the cloud forest, enjoy a coffee plantation, pass by the Hidroelectrica station, and make your way to Aguas Calientes.
Your last day is fully dedicated to exploring Machu Picchu. Get up early and hike or take the bus to the entrance, where you'll be able to explore the ruins. Afterward, you'll spend some time hanging out in Aguas Calientes. Finally, you'll take the evening train back to Ollantaytambo, where you'll make your way back to Cusco.
Overall, the Salkantay Trek is a memorable, challenging, and jaw-dropping hike that any outdoor or adventure enthusiast would love. If you're looking for an experience you'll never forget, and landscapes like none other, the Salkantay Trek definitely won't disappoint.
Salkantay Trek to Machu Picchu: Practical Information