Planning your trip and not sure what to pack for Peru? This Peru packing list walks you through everything you need to consider and pack for your Peru trip!
Ah, Peru… what a beautiful, rugged country located on the west coast of South America. Peru has a little bit of everything, from the rainforests of the Amazon to the craggy mountains of Machu Picchu, the sparkling coastline of Lima to the snowy mountains of Huaraz.
That all sounds great but the very things that make Peru such an enticing country to travel in are the very things that make it quite difficult to pack for – namely its varied terrains and climates!
Wondering what to pack for Peru. Don't fret – all will be revealed in my step-by-step Peru packing guide.
What to Pack for Peru: The Basics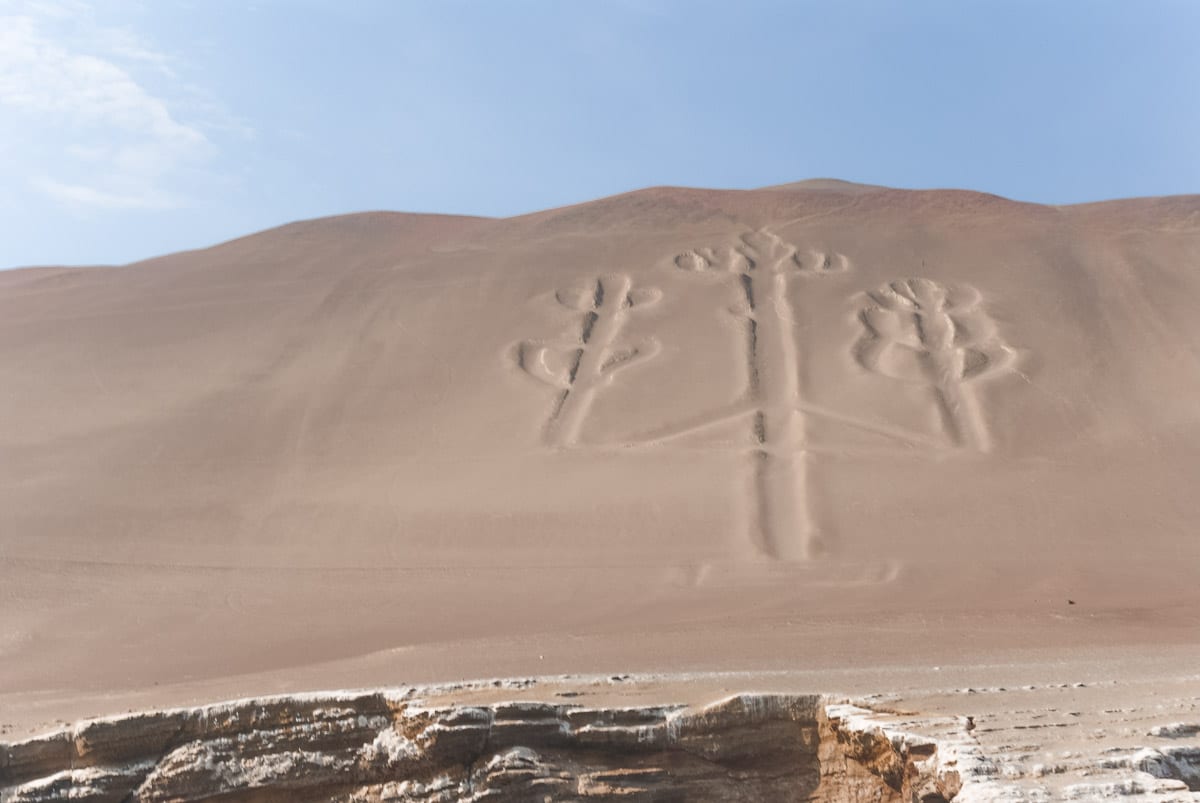 Because it is full of so many different terrains, packing for Peru can be tricky. You'll want to pack light (as always), so being very intentional about what you bring will go a long way. From the sea to the snow-capped mountains, I've got you covered with my recommendations for what to pack for Peru.
Peru Packing List Essentials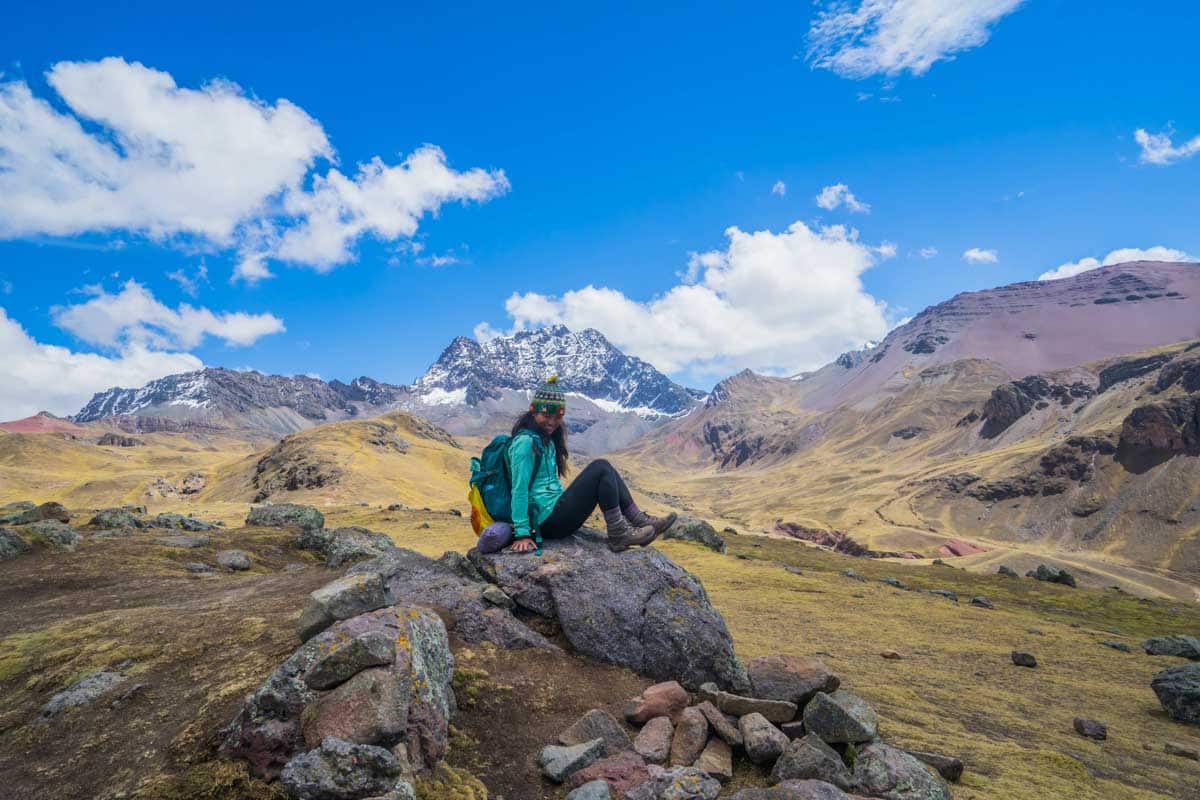 Lightweight, sweat-resistant tops and pants: This is a must. While traveling in Peru, you'll be on the go a lot of the time. Because of this, you'll want breathable clothes to keep you comfortable throughout the day. I'd avoid cotton because you'll end up with heavy, not-quite-dry clothes a lot of the time due to the humidity. Stick to synthetics or wool instead. Bring a few short sleeve/sleeveless tops and a few long sleeve tops for the variety in locations.
Jacket/sweater layers on layers: In Peru, there will be some times when you're sweating bullets and some times when you're shivering in the cold. For this reason, I recommend packing 2-3 sweater/jacket layers. I have the Columbia down sweater and it's the perfect companion as a standalone jacket or underneath a rain shell.
A waterproof shell: You won't regret bringing a rain jacket – the weather is just so unpredictable! I have a rain jacket from The North Face that I really adore.
Comfortable walking shoes: This is a given. In Peru you'll be on your feet almost all of the time, so be sure to pack the most comfy pair of walking shoes you have.
Hiking or athletic socks: Be sure you bring appropriate socks to keep your feet dry and comfortable!
Open-toed lounging shoes: There will be days when you'll be taking it a little bit easier. For these days, I recommend bringing some Birkenstocks or Chacos or other comfortable sandals to walk around in. I don't recommend rubber flip flops as they'll likely break from the rugged terrain.
A comfortable day pack or tote bag: You'll want something to carry your stuff around during the day! I use the Osprey Daylite as it's relatively small but has more than enough space for the things you need, plus a pouch for a water bladder and lots of pockets / straps to attach your water bottle to.
Cameras, tripods, phones, etc.: If you love your photography, don't forget these! Peru is full of amazing landscapes you won't want to miss.
Electronics adapter: If you're coming from abroad, it's likely that either the voltage or the outlets will not fit your electronics. Bring a universal electronics adapter to be safe.
A reusable water bottle: Be environmentally conscious and pack a reusable water bottle for your travels! I have a Hydro Flask water bottle, and I couldn't recommend it more. It keeps my water super cold and refreshing for whenever I need it.
Sunscreen and bug spray: You'll be spending a lot of time outdoors, and you'll want to make sure you protect your skin from the elements. Especially at the high altitudes of Cusco and Machu Picchu, sunscreen will be incredibly important.
Sunglasses and a hat with a drawstring: You'll want to keep your eyes and face out of the long days of sunshine ahead. Be sure your hat has a drawstring too; the mountains can get really windy!
Travel insurance: Don't leave home without it!
Packing for Peru: Additional "Nice to Have" Items
Hiking boots: If you're going to be spending any time outside, hiking boots are a must. I recommend Scarpa Hiking Boots – I've been using mine for the better part of 4 years and I love them to death.
A merino wool (or synthetic) base layer: Not a must, but highly recommended for staying warm during those freezing-cold nights and early mornings, especially if you're planning on visiting Cusco and Machu Picchu. I have a Meriwool merino wool base layer and highly recommend them.
Swimsuit: If you love the water, this might be a given for you, but for others possibly not. Although you probably won't be doing a TON of swimming in many parts of Peru, you'll want it for some activities on the coastline, the mountain hot springs, and Lake Titicaca.
(For women) Sports bras: If you love the outdoors, you'll want to do some hiking and other outdoor activities. Having some sports bras for the ladies can help.
Altitude sickness medication: You'll have to go to a doctor to get this one, but the altitude in many Peru hotspots can be really tough to acclimatize to, especially if you've never been up that high before.
What Luggage Should I Use for Peru?
Because of the dirt roads, buses, and copious amounts of walking you'll be doing, I highly recommend bringing a backpack to Peru.
Trust me, you won't want to be lugging around a roller suitcase on some rural trails or cobblestoned streets! For travels ranging from cities to rugged outdoors, I LOVE my Osprey backpack and couldn't live without it.
I highly recommend the Osprey Aura 65L Backpack for women and the Osprey Atmos 65L Backpack for men. If you prefer an over-the-shoulder option, travel duffel bags can be a fantastic choice for Peru, too.
What to Pack for Trekking in Peru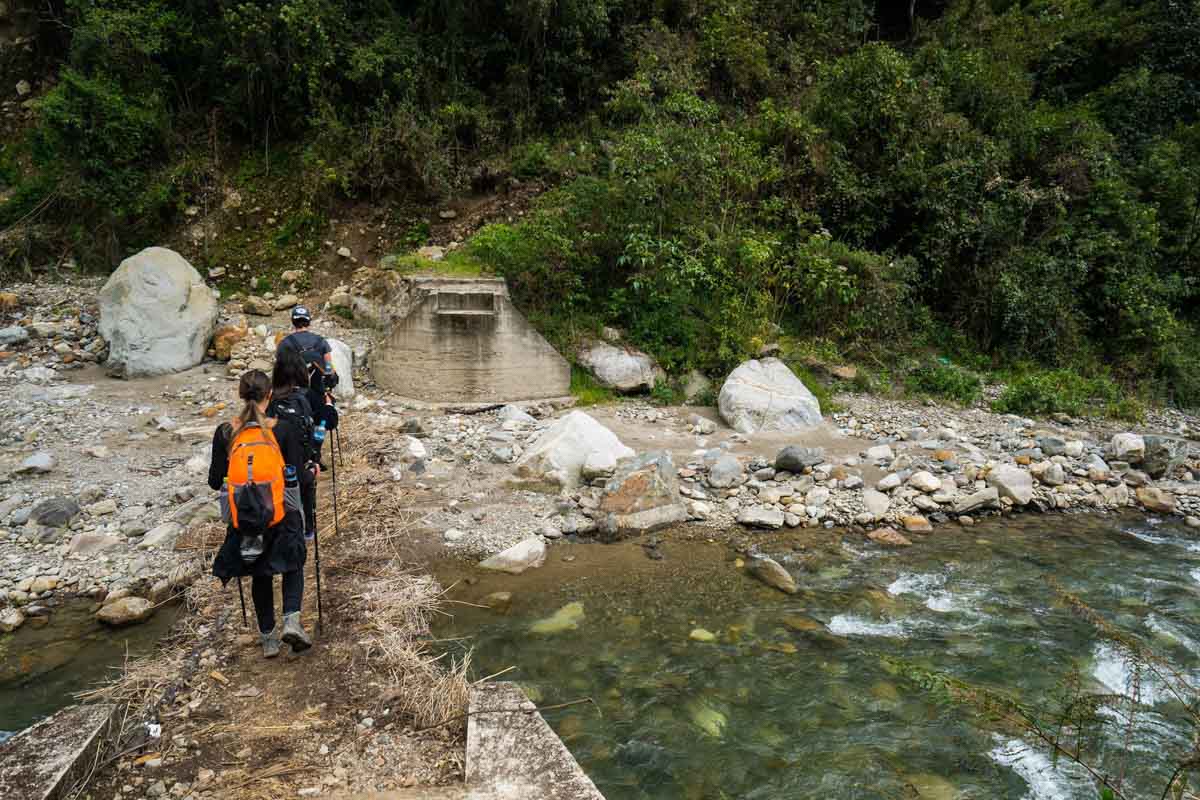 Hiking and trekking in Peru are experiences you shouldn't miss while traveling here. Whether you're doing the Salkantay or the Inca Trail, trekking in Huaraz or simply going on some strenuous day hikes, here's a Peru packing list for the outdoor enthusiast.
All of the Peru essentials above, plus…
Trekking poles: If you have a pair (or want to invest in one because you love hiking!), bring it. If you're in the market for a pair, here's a folding set of poles by Black Diamond that I really like. Companies usually charge to rent these during your trek.
Hand sanitizer/wet wipes: During your trek, you'll probably get dirty. These will help you sponge bathe/stay semi-clean during your hike.
A headlamp: Definitely bring a headlamp – in the evenings the area gets really dark and can be hard to navigate without some source of light. I've had this one for several years and really love it.
A solar-powered battery charger: You might not have access to outlets during your trek, so bringing a solar-powered battery pack can help you keep cameras and phones alive.
A comfortable day pack: Most companies will offer to hold or store your luggage for you during your trek. If you decide to use this option, you'll need a comfortable day pack to bring along your trekking essentials.
A poncho: You'll already have a rain shell, but you might want to get a poncho too so that you can cover your legs and your backpack from the rain.
What to Pack for the Peruvian Amazon Rainforest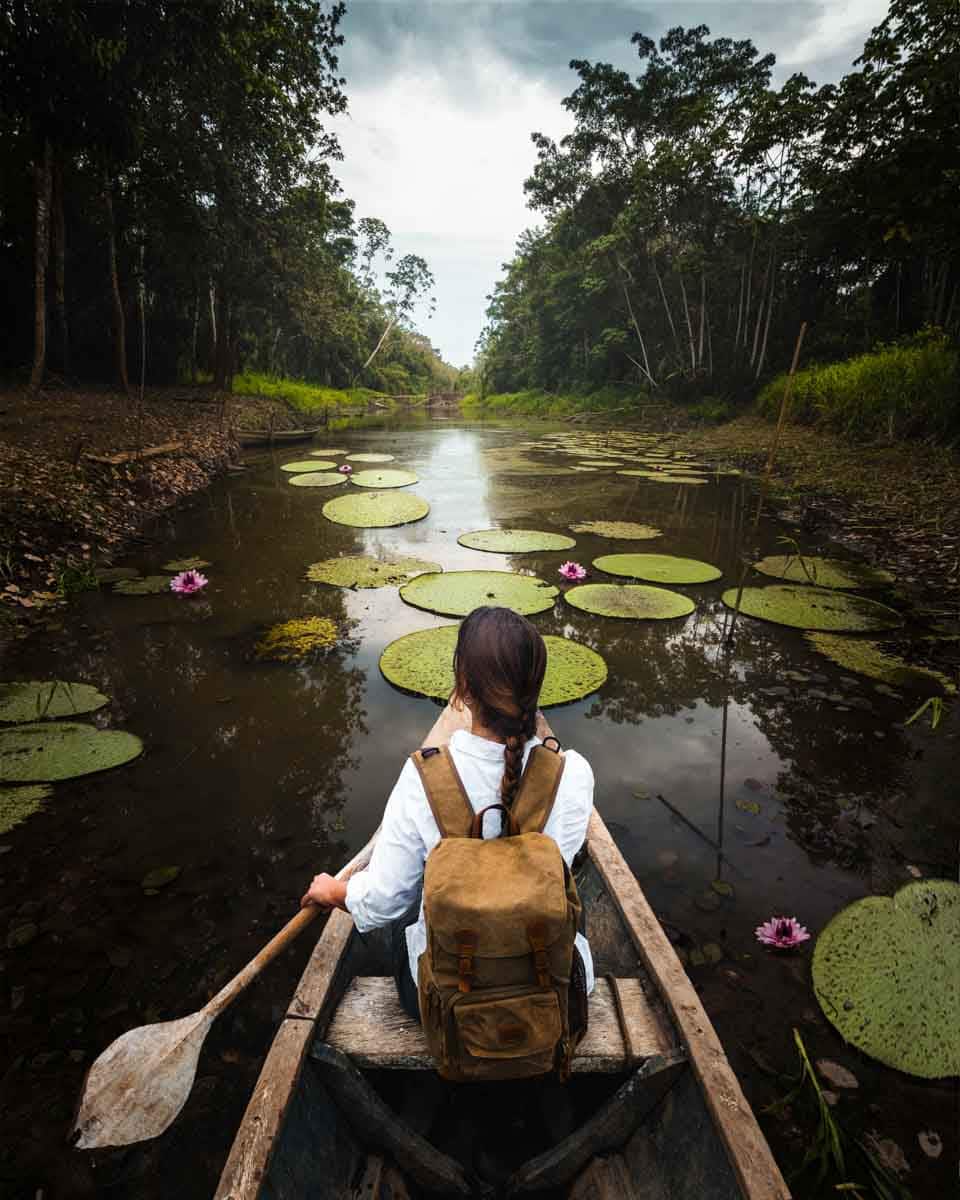 The Amazon Rainforest is a completely different beast from the mountainous areas of the Andes. If you're planning on visiting the jungle, be sure to bring these items.
All of the Peru essentials above, plus…
BUG SPRAY: I posted it in the original list but I can't say it enough. Be 100% sure you've packed bug spray before heading to the Amazon.
Bug bite anti-itch cream: You'll probably get bitten by something, and if so, it'll be nice to have some relief.
Lightweight long sleeves and pants: You might be hot, but I promise that warding off bugs is more important.
Waterproof boots: You might not need these if you're going with a tour that provides them, but keep it on your radar. I recommend renting these there if at all possible.
Peru Packing List: The Bottom Line
When planning a trip to Peru, you'll want to make sure you've packed lightweight items with the altitude and varied temperatures in mind. Because it has such a wide spectrum of potential climates, bringing lots of layers and being ready for rain will ensure you're prepared.
Hopefully, this guide has given you everything you need to know on what to pack for Peru.