Fascinated by the Rainbow Mountains of Peru? You're not alone – get ready for a deep dive into this beautiful natural wonder.
The Rainbow Mountains of Peru, known locally as Vinicunca, offer more than just an excellent hike or adventure. This multi-coloured mountain range is a feast for the eyes and food for the soul.
Situated in the Andes Mountains, about 100km from the former capital city of the ancient Incan Empire, Cuzco, you'll find the collection of mountain peaks that form Rainbow Mountain. And, boy, are they worth exploring.
I had plenty of questions before I visited. Mainly, how were these kaleidoscopic beauties formed? And, how tricky is the hike to the top?
Don't fret, I've put together this practical guide on everything you need to know when planning your trip to the mesmerising Vinicunca Mountains. Let's explore.
Tip: Are you planning a trip to Lima, Peru? Check out this handy one-day guide the top things to do in Peru.
The Curious History of Peru's Rainbow Mountain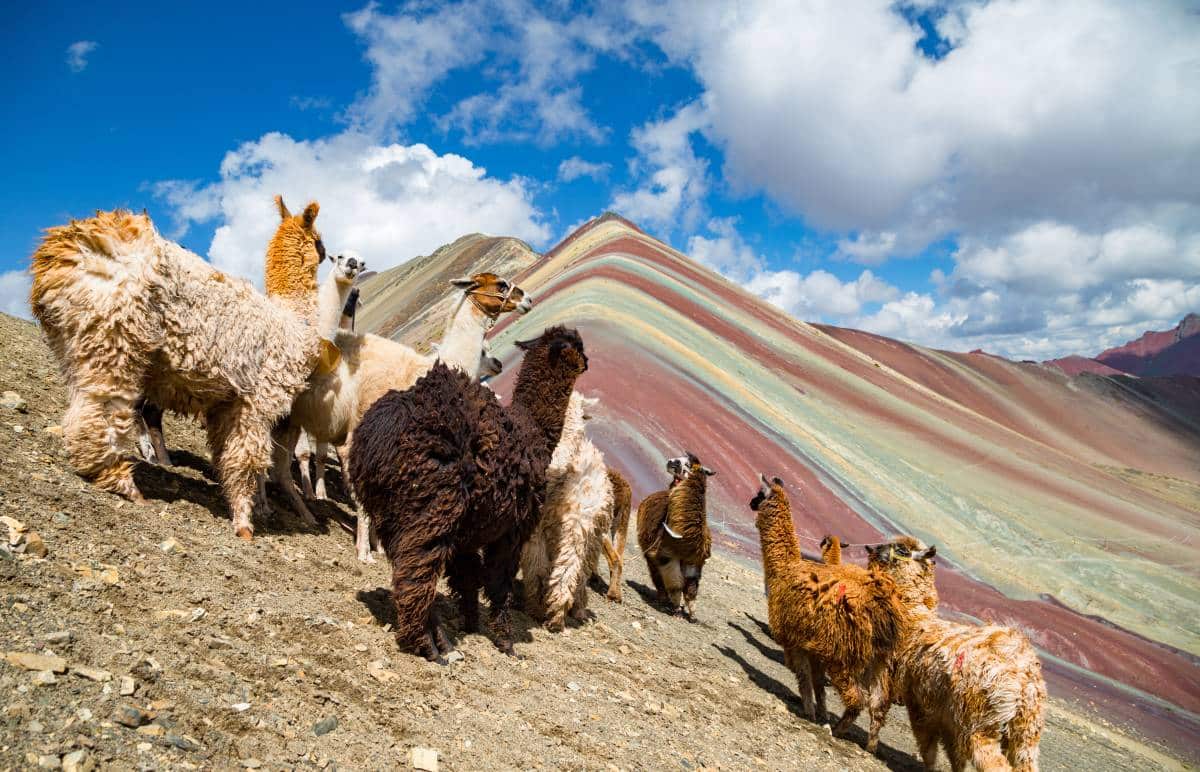 At first glance, their stunning beauty and the rising number of tourists visiting Peru's Rainbow Mountains might seem like a run-of-the-mill tourist destination.
But, you would be a fool to write them off – the Rainbow Mountains of Peru will surprise you more than you know. Although they appear in thousands of Instagram stories every single day, the mountains we know today looked a lot different only a few short years ago.
Roughly seven years ago, the mountains 'shed their skin' so to speak, when an immense amount of ice and snow, which covered the mountain range, disappeared.
I say "disappeared" loosely, as rises in temperature (most likely the cause of global climate change) melted the ice covering the mountains. This snow and ice kept the picturesque Rainbow Mountain hidden for ages. A terrible, terrible event with a beautiful outcome.
How to Visit Rainbow Mountain Peru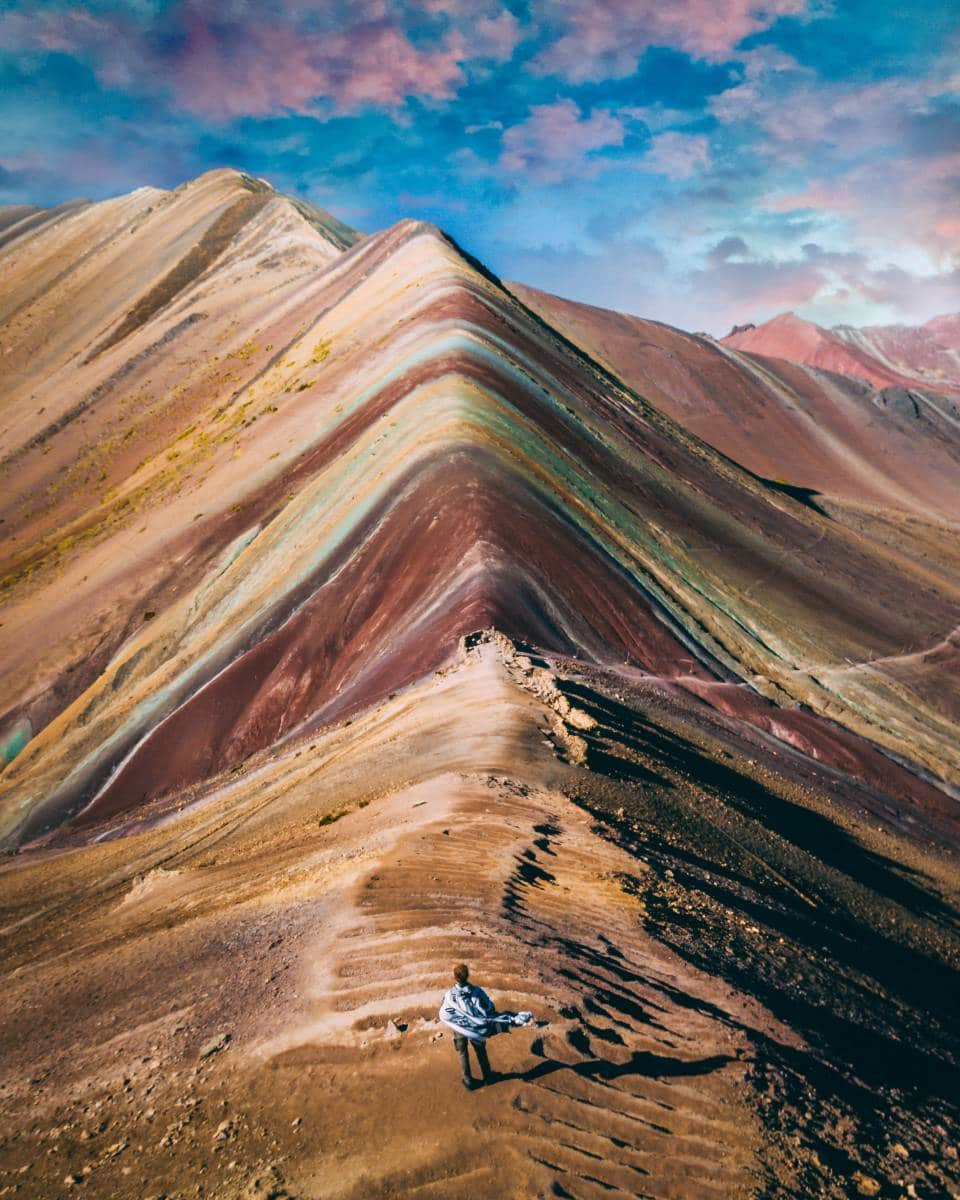 Okay, you're sold, I know. But, how exactly do you go about visiting this idyllic mountainscape?
There are a few options available to you, so get your hiking boots ready and let's dive in.
Going in Solo
First up is the option of making an independent trip to the mountain. While this is a valid and rather exciting option, visiting the mountains solo can be challenging if you're an inexperienced hiker or uninformed about the region.
However, if you're a seasoned hiker, go ahead. In all honesty, it's not a very tricky mountain to ascend, and requires very basic gear – more on what you need to pack later.
Guided Tours
Take it from me – if you want to experience the best that Rainbow Mountain has to offer, choose a guided tour.
Group or private tours deliver guaranteed fun and exciting adventures; there are even tours done on mountain bikes or horseback if you fancy an extra challenge (I'll stick to my feet for this one, thanks).
Which tours are worth your hard-earned cash? Let's delve in…
One-day Tours from Cusco
These tours are ideal for spending the day immersed in Peruvian culture and memorable moments at the site. Tours can range from 10 to 17 hours and include pickup from your accommodation in Cusco.
Check out these full-day trips:
Multi-day Trips from Cusco
For a more extensive and indulgent trip to Peru and the Andes, multi-day trips are exactly what you're looking for.
These trips often include visits to numerous different sites, including a trip or hike to Rainbow Mountain. If you've got time to spare in your itinerary (though, I recommend making time), these are some brilliant options:
The Rainbow Mountain Peru Hike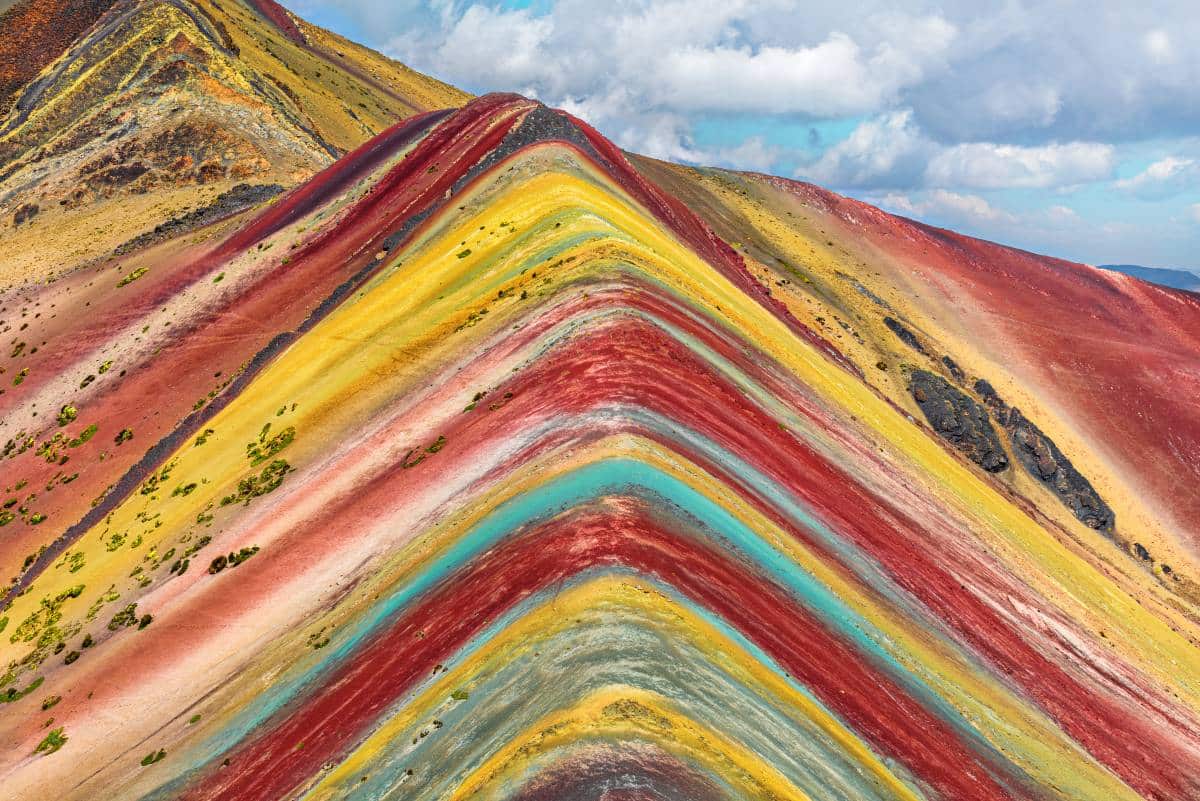 The Rainbow Mountain hike itself is many things: adventurous, thrilling, rewarding, and challenging. There's no beating around the bush here; hiking the trail on Rainbow Mountain is not easy for newbies.
But that doesn't mean that you shouldn't do it. One of the most endearing aspects of Rainbow Mountain is the immense sense of accomplishment upon completing this world-famous trek.
What makes hiking the Rainbow Mountain of Peru a challenge isn't the actual hike as much as the environmental elements you'll need to be aware of. As the hike is relatively short at a roughly 7km round-trip, it only takes around three and a half hours to complete.
The fast-paced increase in altitude while hiking makes it a challenge, where your fitness will be tested. Due to this altitude, the hike is not recommended for those with heart conditions.
Don't be put off though – for those in full health, the hike is more than manageable with very little training needed.
Starting Your Rainbow Mountain Hike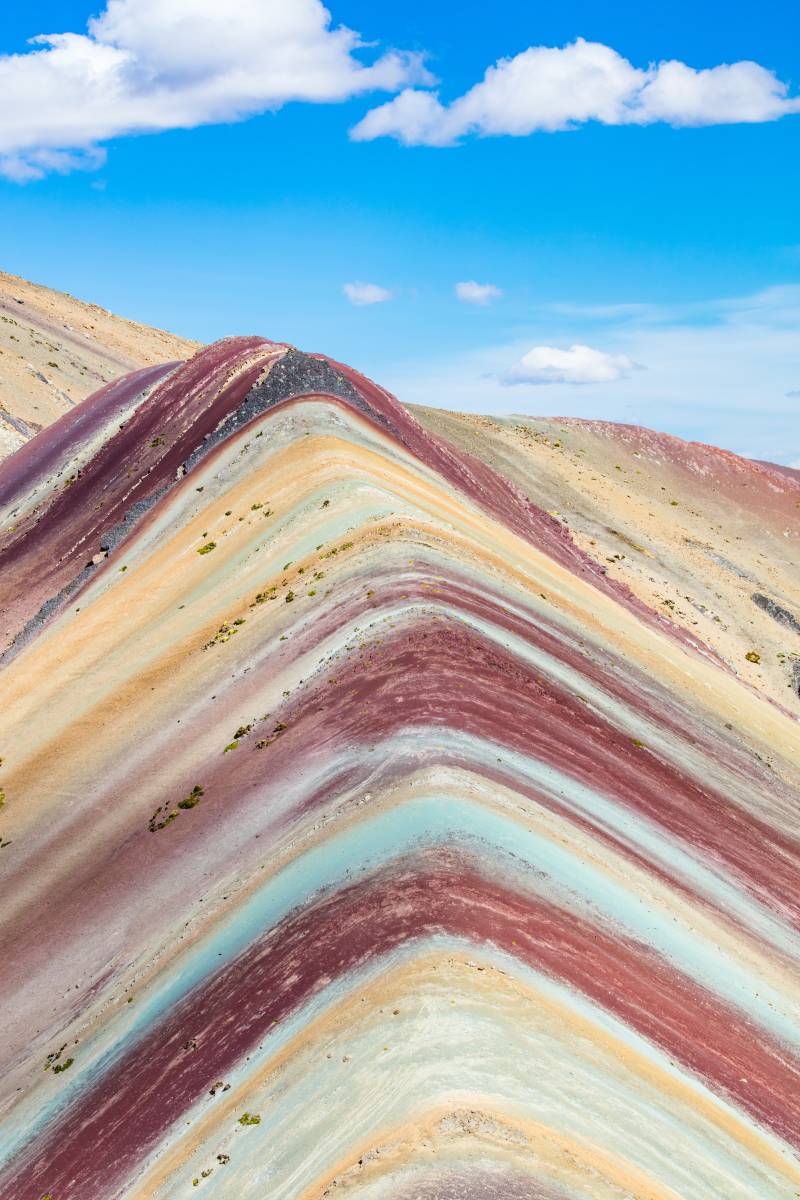 Getting to the start of the trail is a slightly more lengthy process seeing as most tours to Rainbow Mountain start at the break of dawn.
Expect tour buses to pick you up anytime from 4:00 am, with some ending pickup times at around 6:00 am. From your pick-up point, the bus trip to a breakfast stop is approximately two hours, depending on where the planned quick visit is.
A further hour and a half bus drive once you're finished with breakfast is on the agenda, dropping you at the car park of Rainbow Mountain.
The Hike
Once here, the trail starts with a gradual and continuous ascent. Beyond the first ridge is where you'll notice the rockface beginning to change colours.
As you continue, the trail turns west leading up to the final ascent of the hike. I'd recommend taking your time with this part because taking in the immaculate scenery is necessary (as well as snapping copious amounts of Instagram shots). You'll view the Andes in all their glory and the snow-capped peak of Ausangate Mountain in the distance.
The final ascent is a zig-zag uphill hike. During this part, the altitude of Rainbow Mountain comes heavily into play. Pushing through this will bring you right up to the summit.
After taking in the views of the panoramic lookout point, it's a backtrack to the car park. The drive back is a two-part journey, with a lunch stop after about an hour and a half. The trip concludes with your drop-off in Cuzco.
Practical Tips for Planning Your Visit to Rainbow Mountain
Here are some practical tips to help you prepare for your visit to Rainbow Mountain.
Best Time to Visit the Peru Rainbow Mountains
The weather surrounding Rainbow Mountain can be unpredictable. Ideally, plan your trip to fall outside of the rainy season, from November to April.
Although the hikes and tours continue even during rainy weather, hiking the trail is unpleasant and muddy. So my best tip would be to keep careful watch on the weather forecast.
The months of September, October, and May are your best bet for when to visit the Rainbow Mountains in Peru.
Need to Know Before Your Trip
Sitting at over 5,200 meters above sea level, the elevation of Rainbow Mountain in Peru is not your best friend.
Acclimatise by spending at least a few days in Cusco before your planned trip, as the city sits at about 4,000 metres above sea level. With plenty of unmissable things to do in Cusco, a few days in the city are perfect for your trip.
What to Pack for Your Rainbow Mountain Hike
Polarised sunglasses are a requirement for any tour to Rainbow Mountain. Sunscreen and a sun hat are also must-haves.
Other than that, remember to pack suitable hiking gear and rain gear just in case.
Rainbow Mountain in Peru – Facts
Before you plan your trip, here are some super interesting facts about Rainbow Mountain in Peru:
It is known by several names, including – Rainbow Mountain, Vinicuna, Winikunka, Montana de Colores, and Mountain of Seven Colours.
Peru's colourful mountains have gold, lavender, red, and turquoise layers. The changing mineralogy of sedimentary deposits over decades of environmental change has caused this.
The mountain is now the second-most visited tourist destination in the Cusco region of Peru. In fact, an estimated 1,500 people per day visit the mountains.
Rainbow Mountain Peru: Map