Having trouble deciding between the Salkantay Trek and the Inca Trail? Here's what you need to know.
If you're planning a trek to Machu Picchu, you've probably heard lots of different options thrown around. In fact, there are a few different treks you can choose from that vary widely in difficulty and terrain.
Of these hikes, two of the most popular are the Inca Trail and the up-and-coming Salkantay Trek. To help you decide on the Salkantay Trek vs Inca Trail, we'll dive into a comparison of these two treks to Machu Picchu.
Inca Trail vs Salkantay Trek: The Facts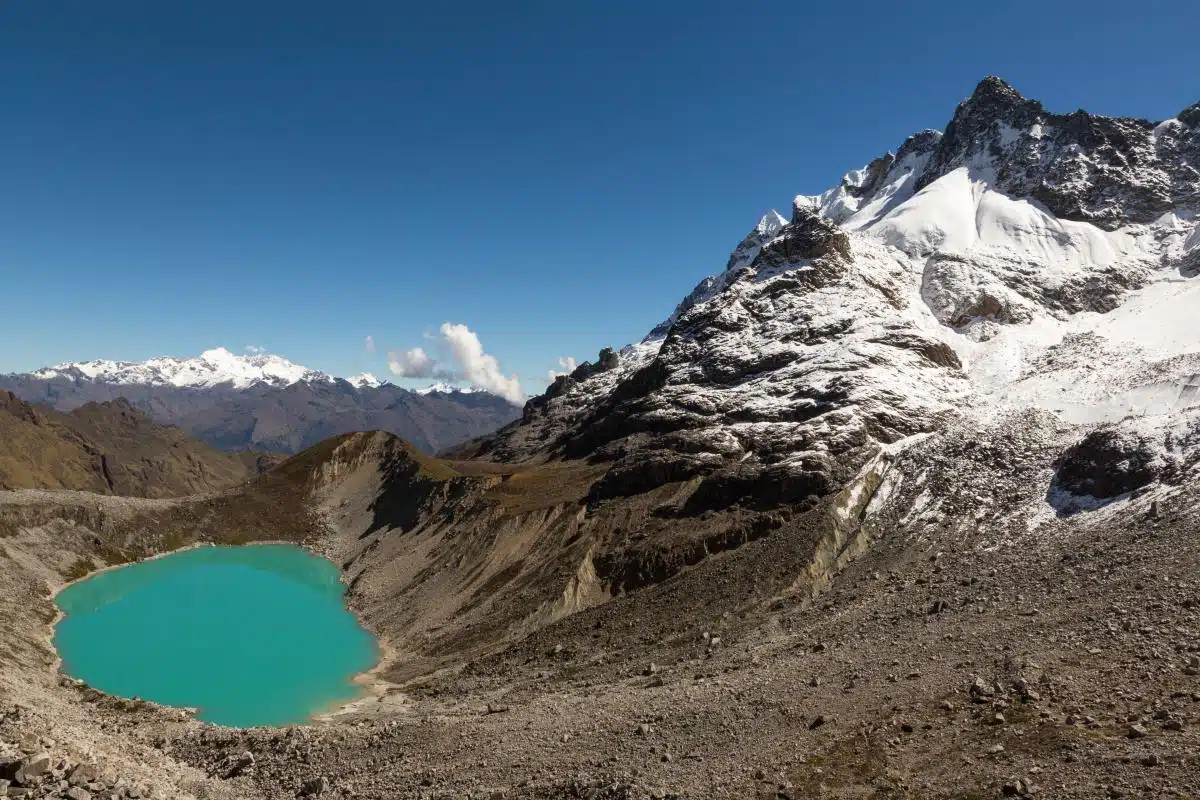 When deciding on a trek to Machu Picchu, it can be difficult to choose.
Both the Inca Trail and the Salkantay Trek are beautiful trails, and both have their merits and detractors. To help you out, we've nailed down the facts on each so you can make an informed decision.
Below, you'll find our side-by-side comparison of the Inca Trail vs Salkantay Trek, including highlights and limitations. Happy planning!
Inca Trail Overview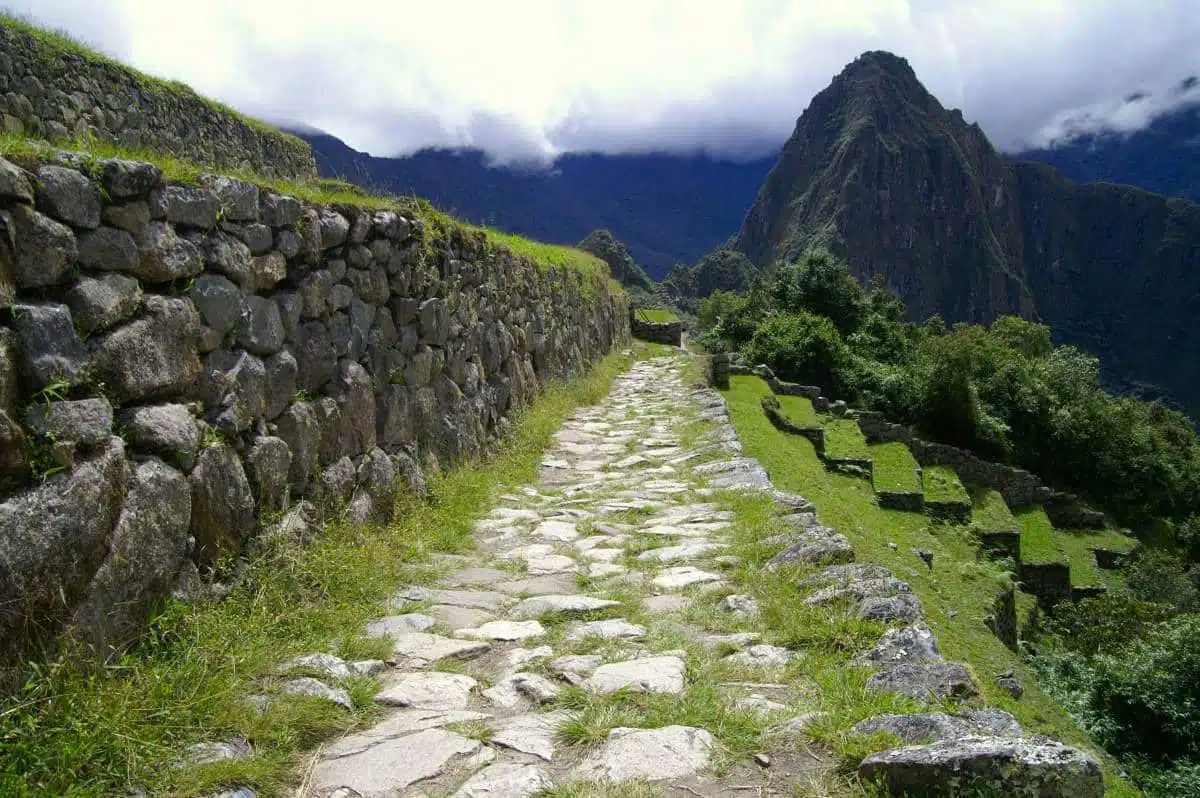 The Inca Trail is one of the most iconic treks in the entire world, and it's an absolutely amazing experience. Typically, the trek spans 4-5 days and hikes along the historic Inca Trail.
Because it is so culturally significant and visually beautiful, it makes for a fascinating adventure through many different terrains and pathways that the Quechua people (and their Incan rulers) once walked.
If you're willing to book your trip far in advance, the Inca Trail is absolutely worth the effort.
Inca Trail Highlights
CULTURALLY SIGNIFICANT SIGHTS AND LANDMARKS: If you love learning about Peruvian history and culture, this is a great trek to take. The trail also passes through Runqurakay, Intipata, and Wiñay Wayna, as well as many more ruin sites from Incan civilizations.
BRAGGING RIGHTS: Most people who have heard of Peru or Machu Picchu have heard of the Inca Trail. It's pretty cool to be able to say that you've done it!
EARLY MACHU PICCHU ACCESS: Hiking on the Inca Trail also affords you a distinct luxury that not many others get to experience – the chance to arrive at Machu Picchu before the entrance gates open, via the famed Sun Gate. If you've ever seen those incredible photographs of Machu Picchu without a soul in sight, this is one of the absolute best ways to experience it for those few fleeting moments.
Inca Trail Limitations
PERMIT AVAILABILITY: In order to trek the Inca Trail, you must get a permit first. There are only 500 permits available per day, including tour guides and staff. Consequently, these permits typically sell out several months in advance, often 6 months or more, so you'll have to plan very far ahead if you want to do this trail. In order to secure a permit, you typically have to put in a deposit with a registered tour operator and ensure that the dates you'd like to trek are still available.
NARROW PATHWAYS: Additionally, if you have a strong fear of heights, the Inca Trail may not be the best choice for you. Many parts of the trail are narrow and border the edge of a steep dropoff, making it difficult to navigate with a fear of heights. As the trails are narrow and most people follow the same route, they can feel very crowded.
Who Should Trek the Inca Trail?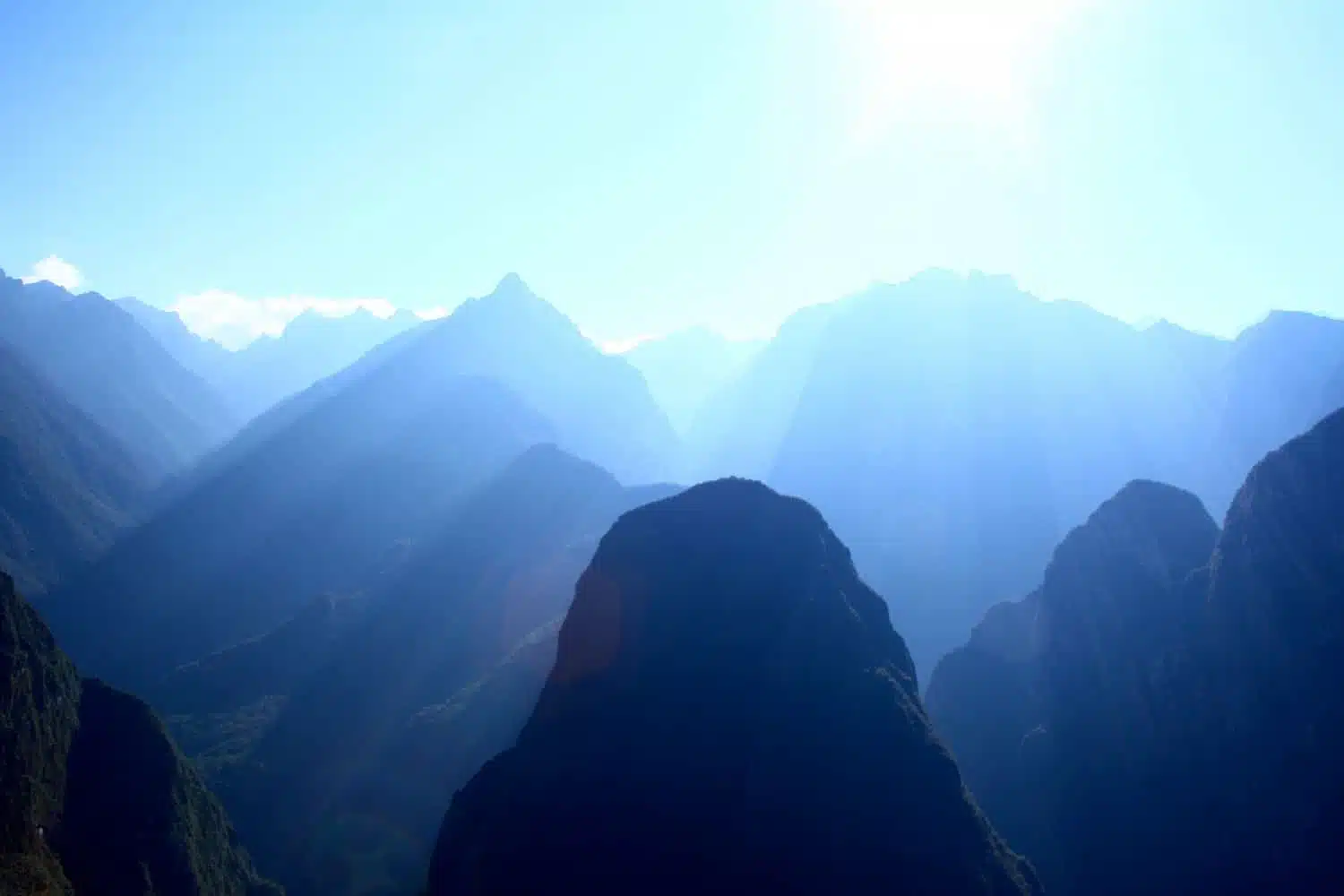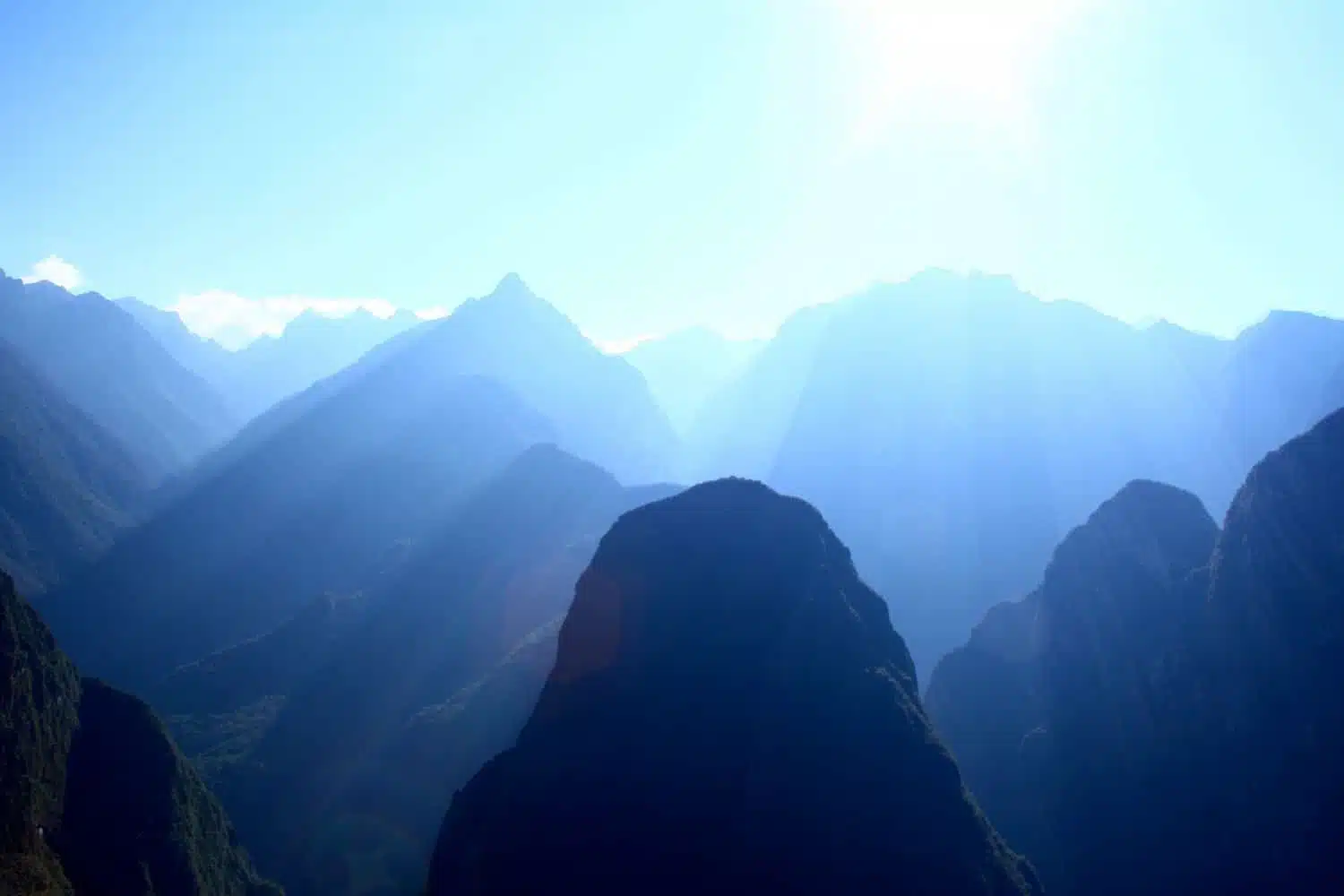 History buffs, avid hikers, and bucket listers should consider hiking the Inca Trail. In general, it's a fantastic moderately difficult trek that takes you to many incredible Incan constructions and ruins. It will also give you an exclusive glimpse of Machu Picchu before the rest of the crowds arrive.
Sounds pretty cool, right? Although it requires a lot of advance planning, the original Inca Trail experience is certainly worth it if you're up for the challenge.
Booking the Inca Trail
Although I personally have not been on the entirety of the Inca Trail, travelers consistently recommend Peru Treks as a wonderful and professional tour operator for the Inca Trail. They'll help you get your necessary permits and tickets as well.
Salkantay Trek Overview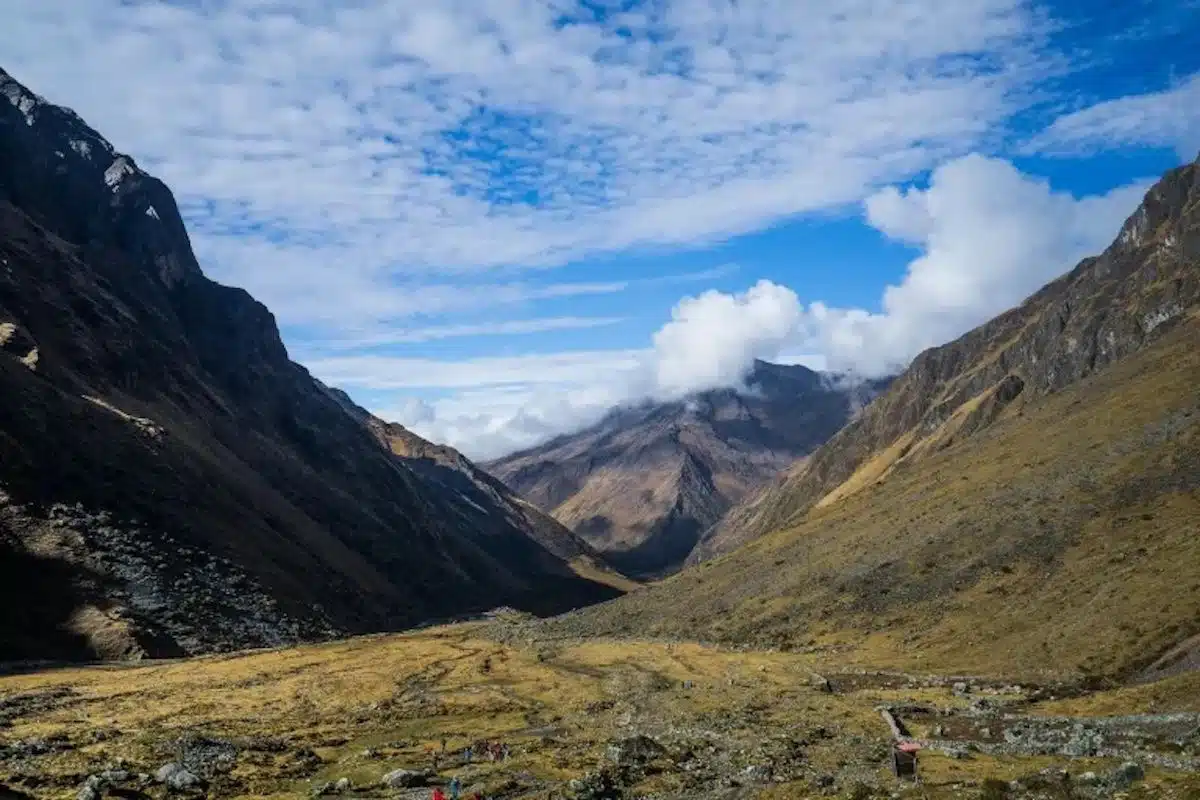 For the landscape lover, the Salkantay Trek is a well-known alternative to the Inca Trail. Filled with some challenging passes and high altitudes, it's not for the faint of heart.
However, if you're up for the challenge, you will be really glad you did the Salkantay. Depending on your preferences, it might actually be preferable to do the Salkantay Trek vs the Inca Trail.
The trek takes you first through an arid path around a mountain and up to Humantay Lake, a tranquil turquoise alpine lake hidden high in the mountains.
Next, you'll head even higher into the mountains up to the Salkantay Pass, where you're surrounded by 360 degree views of the snow-capped Andes. After that, you'll descend into the cloud forest and potentially visit some hot springs.
Finally, you'll head in to Aguas Calientes to prep for your final morning in Machu Picchu.
Salkantay Trek Highlights
VARIETY OF TERRAIN: You'll be dazzled by the stark, snow-capped mountains, Lake Humantay, the sweeping valleys, the verdant forests, and the babbling creeks. You'll spend one night in an alpine area and the next in a cloud forest – it's pretty awesome.
INCREDIBLE LANDSCAPE PHOTO OPPS: Because of the variety of terrain, the landscape of the Salkantay Trek is undoubtedly one of the most beautiful in Peru. What does that mean? Amazing photo opportunities galore at all hours of the day!
BUDGET & PROCRASTINATION FRIENDLY: Because you don't need a special permit to trek the Salkantay (just a day ticket to Machu Picchu), it tends to be less expensive than the Inca Trail, and you don't need to book so far in advance. If you book online, it typicaly runs~$300-400 for a 4-5 day trek. Booking in Cusco is significantly cheaper – and yes, you can book your trek when you arrive in Cusco.
Salkantay Trek Limitations
FEW HISTORICAL SITES: On the Salkantay trek to Machu Picchu, you won't run into any Incan ruins or fortresses. Instead, you'll enjoy stunning views and incredible landscapes the entire way there. Many tours also stop at the hot springs and/or a coffee farm, depending on the guide and the company.
NO EARLY ACCESS TO MACHU PICCHU: Because you're entering through the front entrance to Machu Picchu, you won't get early access to the citadel. If you plan to be there early, though, you can still experience it for a few fleeting moments with not very many people around.
Who Should Trek the Salkantay?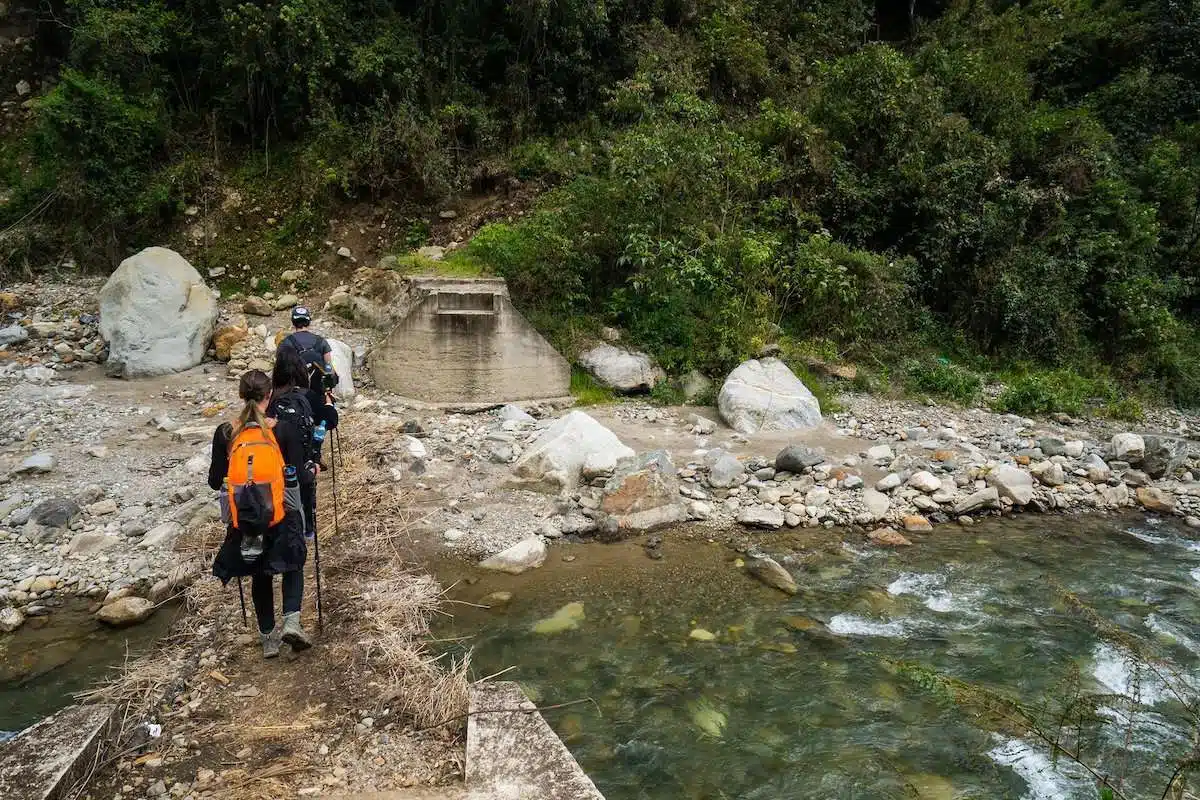 Avid budget-conscious hikers, outdoor enthusiasts and landscape photographers should consider the Salkantay Trek.
This trail boasts some seriously stunning landscapes, interesting biospheres, and some gorgeous photo opportunities with the snow-capped Andes mountains.
According to many experts, it also feels more rugged and "trail-like" than the Inca trail, which is mostly paved. You don't have to plan this one 6 months in advance, either!
Booking the Salkantay
For those of you looking to do the Salkantay Trek, I can't recommend Salkantay Trekking more as a tour operator to use. If you can't tell by their name, they are pros at the Salkantay.
All of their guides are professional and courteous (I had Odi and he was awesome!), and they'll ensure you have a fun and safe adventure. The Salkantay Trekking packages offer small group treks for 3, 4, or 5 days on the Salkantay trail.
Salkantay Trek vs Inca Trail: The Bottom Line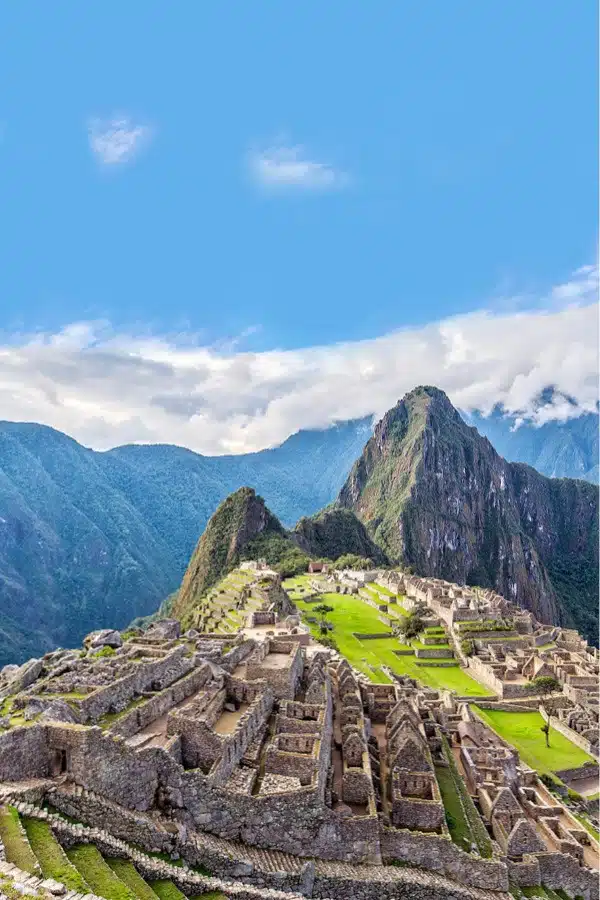 Both treks will take you to Machu Picchu, and both boast amazing views (of different things).
Which one should you choose? Personally, I went with the Salkantay Trek because snowy mountains or pretty glacial lakes basically make my heart skip a beat every time I think about them (I also didn't plan my trek more than 6 months in advance…oops!). Other friends have done the Inca Trail and absolutely loved it.
When choosing between the Inca Trail vs Salkantay Trek, I think the bottom line comes down to this: do you want a hike full of amazing nature and landscapes, or do you want a hike full of historical and cultural significance?
If you're looking for landscapes, choose the Salkantay. For history or iconic-ness, choose the Inca Trail. If you have less than six months until your trip, you'll have to choose the Salkantay (or another Inca Trail alternative).
Either way, you really can't go wrong – the Andes region is one jaw-dropping place, regardless of how you explore it.
Love This? Save and Share on Pinterest