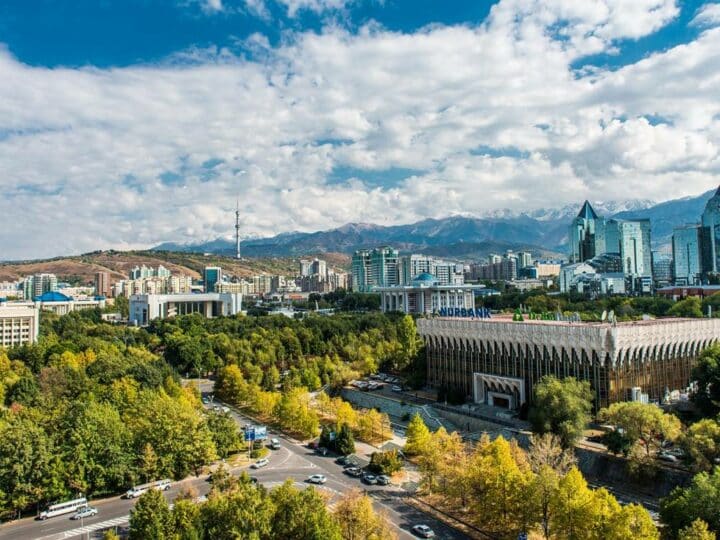 Get ready to discover the best things to do in Almaty. Add these landmarks and attractions to your Kazakhstan itinerary.
As Kazakhstan's former capital and its largest city, Almaty (also known as the "City of Apple Trees" is one of the most fantastic destinations to base yourself in while traveling in Central Asia.
Home to over 1.5 million people, Almaty boasts the urban vibes of a large city with the charm of a Central Asian cultural hub. Although the Kazakh capital has since been moved to Astana, Almaty's influence on Kazakh history makes it a key culture center of the entire country.
For visitors to the region, there are an abundance of sights to visit, restaurants to try, and things to do in Almaty.
Whether you have a few days or an entire week to explore, Almaty is definitely worth a stop on your Kazakhstan itinerary. Read on to hear our top suggestions for fun activities, day trips, and things to do in Almaty.
Top Things to Do in Almaty, Kazakhstan
Things to do in Almaty: City Sightseeing
Explore the Colorful Ascension Cathedral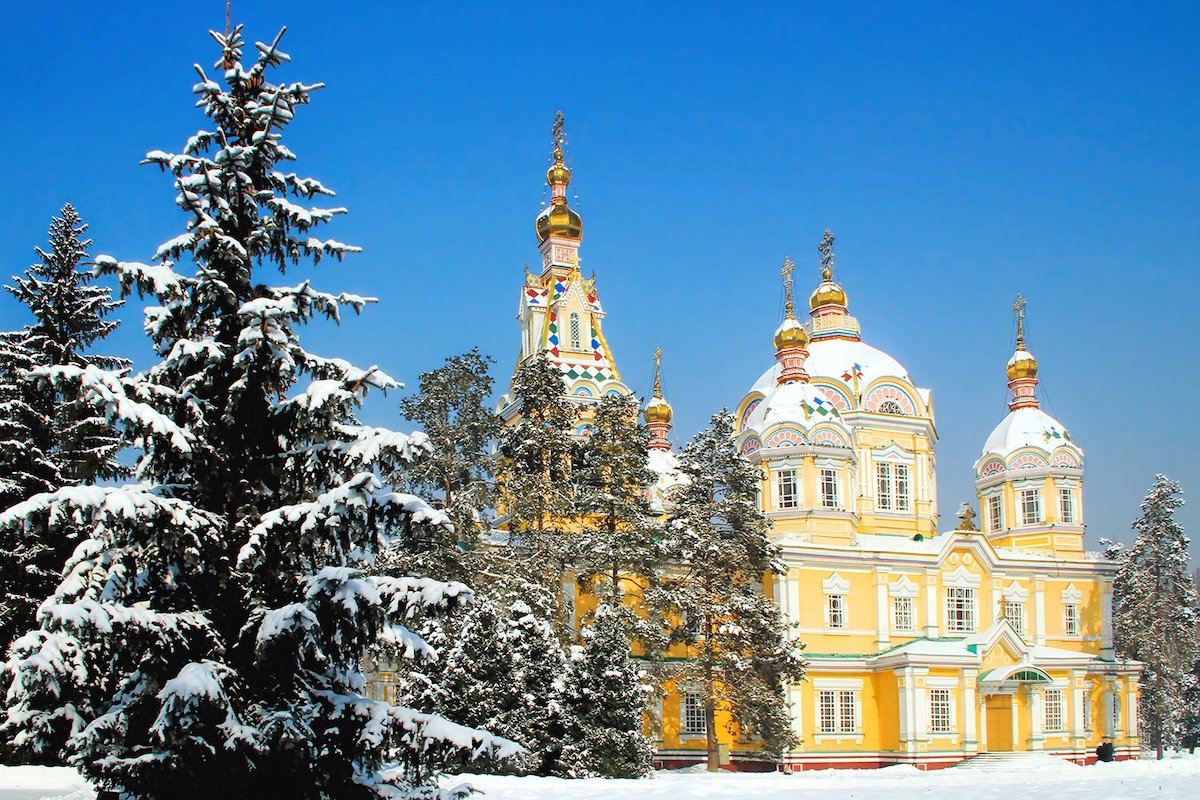 When I was researching things to do in Almaty prior to my trip, photos of a beautiful, psychedelically-colored Russian Orthodox cathedral kept popping up all over the Internet. Turns out that this cathedral, known both as the Ascension Cathedral or Zenkov Cathedral, is one of the main attractions in Almaty.
You know me, I loooove bright colors, and so I decided that I had to seek out this church and see it for myself. I mean, look at this place! Doesn't it look like something out of a storybook?!
Unfortunately, while I was visiting Almaty, the cathedral was under renovation and I was warned that I wouldn't really be able to see any of it. I went anyway because I was both curious and stubborn at the same time. My informant (AKA another hostel mate) was right – the ENTIRE building was completely covered in scaffolding. So much for my dream colorful cathedral.
However, according to their website, the renovations should be complete sometime in 2019. So, if you're visiting Almaty after that, you'll get to see the Ascension Cathedral in all its glory. And I'll have to live vicariously through your beautiful photos.
Stroll Through Panfilov Park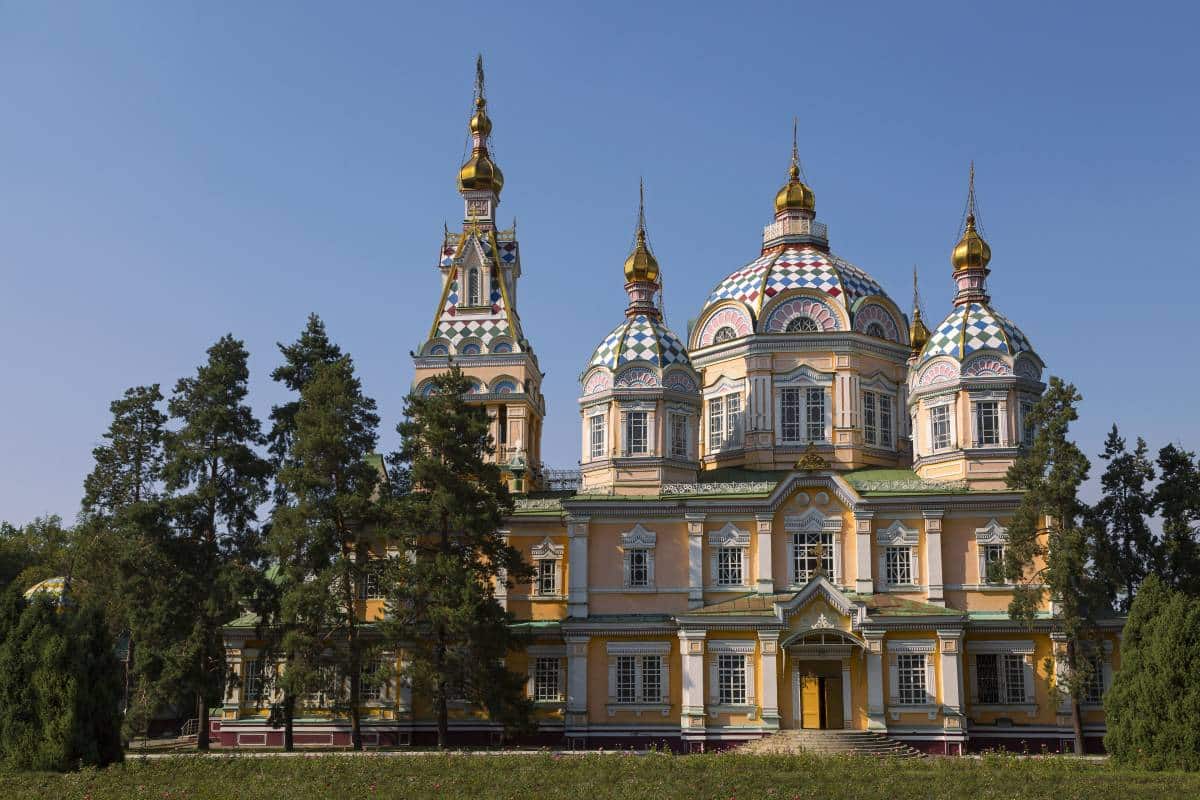 Surrounding the Ascension Cathedral is a charming urban park, one of the most beautiful in the city of Almaty. Here, you can find benches placed along wide walkways filled with food vendors, families, and gossiping teenagers.
As the park is so centrally located, it's a great place to grab an ice cream and hang out under the shade of the trees on a hot summer's day. Or, just use it as a place to immerse yourself in Almaty's buzzing local energy.
If you look touristy enough, someone will probably eventually approach you, trying to practice their English or ask where you've come from.
Learn About Kazakh History and Art at a Local Museum
There are a handful of fantastic museums on a range of topics located in Almaty's city center, not far from Panfilov Park. Especially in the summer when the heat can get quite unbearable, exploring Almaty's museums can be a great way to escape the heat and learn more about Kazakh history and traditions.
As a former musician, my favorite museum in Almaty was the Kazakh Museum of Folk Musical Instruments, located in a red building near Panfilov Park.
Here, I saw several traditional instruments that I've never seen before in my life, including the dombra, which is the national instrument. You can also hear several examples of what the instruments sound like. Depending on the time and day, they have live demonstrations there as well.
Some other museums you can explore in Almaty include:
The Central State Museum of Kazakhstan – Huge museum with lots of old artifacts and historical information. Most of the exhibits are in Russian.
A. Kasteyev State Museum of Arts – The largest art museum in Kazakhstan; houses a substantial collection of Kazakh artwork and hosts occasional events.
Kunaev House Museum – This is a museum dedicated to the famed Kazakh Soviet politician, serving as the First Secretary of the Communist Party in Kazakhstan. Located in his former home, it's an inside look at this well-known figure during Soviet Kazakhstan.
Sample Local Kazakh Food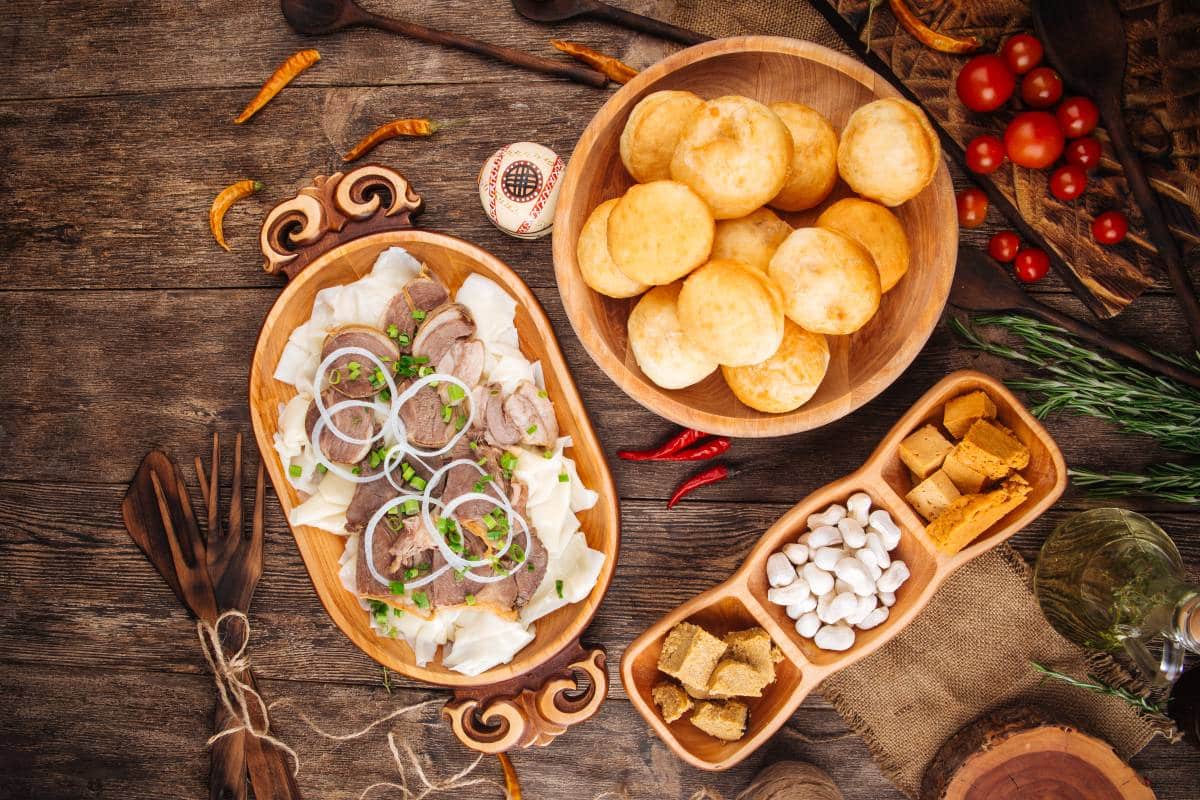 While I wasn't a huge fan of the food I ate in Central Asia, I recommend trying the traditional dishes everywhere to get a feel for the cuisine here. Kazakhstan is no different.
You can try local dishes like beshbarmak (noodles with horse meat) and manty (dumplings filled with spices and meat or veggies), or more regional dishes like plov (an Uzbek dish made of fried rice, veggies and meat) or boorsok (fried bread).
You can try some of the best local and regional foods in Almaty in several restaurants. For a beautiful atmosphere and a sit-down environment, head to Alasha or Kishlak. For cheaper traditional eats, try Navat or Kaganat. (None of them have websites, classic, so just type them into your 2GIS app or Google Maps).
Take the Cable Car to Kok-Tobe
If you're looking for fabulous views right in the city center, look no further than Kok-Tobe, a hilltop entertainment district connected to the city by a modern cable car.
It can get pretty crowded up here, especially on the weekends, but it's a worthwhile adventure to get panoramic views of the city and the surrounding mountains.
Atop the hill there are some high-end restaurants and bars, a ferris wheel, and other "theme park"-like attractions that visitors can enjoy. Personally, I enjoyed grabbing a plov at one of the cheap stalls by the ferris wheel and sitting out by the parking lot, admiring the view of the setting sun atop the dusty city of Almaty.
Kick back in the Arasan Baths
If you know anything about Soviet history/society, you'll probably know that they were obsessed with their spa and wellness institutions. The Arasan Baths are a result of that.
Located near Panfilov Park, a visit to the baths after a day of sightseeing is a luxurious and relaxing way to kick back. In style.
Once you head inside this historic building, you'll be treated by light-colored decor and spacious interiors. Here, there are several heated pools separated by gender. You can either bathe in the nude or use a swimsuit – they don't judge.
Visit the Central Mosque
Islam is the most popular religion in Central Asia and plays a huge role in the culture and society of the region. In Almaty, you can visit one of the beautiful mosques used for worship by locals – the Almaty Central Mosque.
Visitors are free to enter this mosque with the appropriate attire (long pants for men, headscarf covering for women – you can usually rent this at the door).
People Watch at the First President Park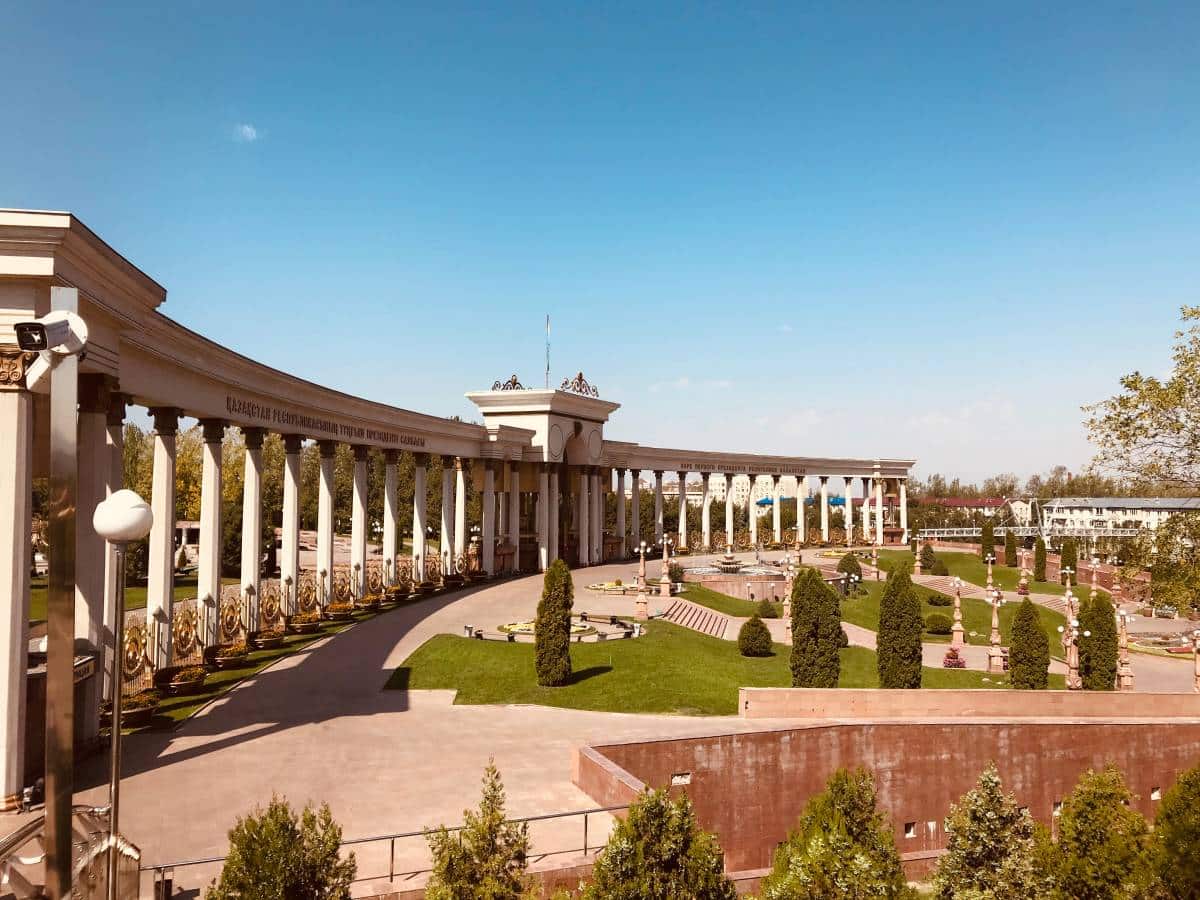 The First President Park is a massive park located about a 15-20 minute bus ride from the city center. Inside the park, you can see beautifully landscaped wooded areas and wide sidewalks. It's a super peaceful and pretty place to enjoy the later hours of the day when the sun is beginning to sink lower in the sky.
One thing I noticed at the First President Park is that there are weddings. literally. everywhere. You can't get away from them. In just a few hours spent in this park, I probably saw at least 5 wedding parties pass by. Some were going on right next to each other.
I later learned that weddings are a HUGE deal in Kazakhstan and in most of Central Asia. While I didn't get invited to one during my time in Kazakhstan, getting to creep on observe the weddings in the park was a fun alternative.
Walk Around on Zhibek Zholy Pedestrian Street
By the time you've done #1-8 on this list, you're probably ready for a cup of coffee and a place to sit. Zhibek Zholy is one of the best places to find this kind of laid-back environment.
A walking street located near the city center, it's full of cozy cafes and cheap eats. For the tired traveler, Zhibek Zholy is the kind of place you can just stroll along, watching street performers or admiring a few artisan shops and stands.
It's really chill, and is a great way to escape the more frequented attractions of the city.
Take a Walking Tour of the city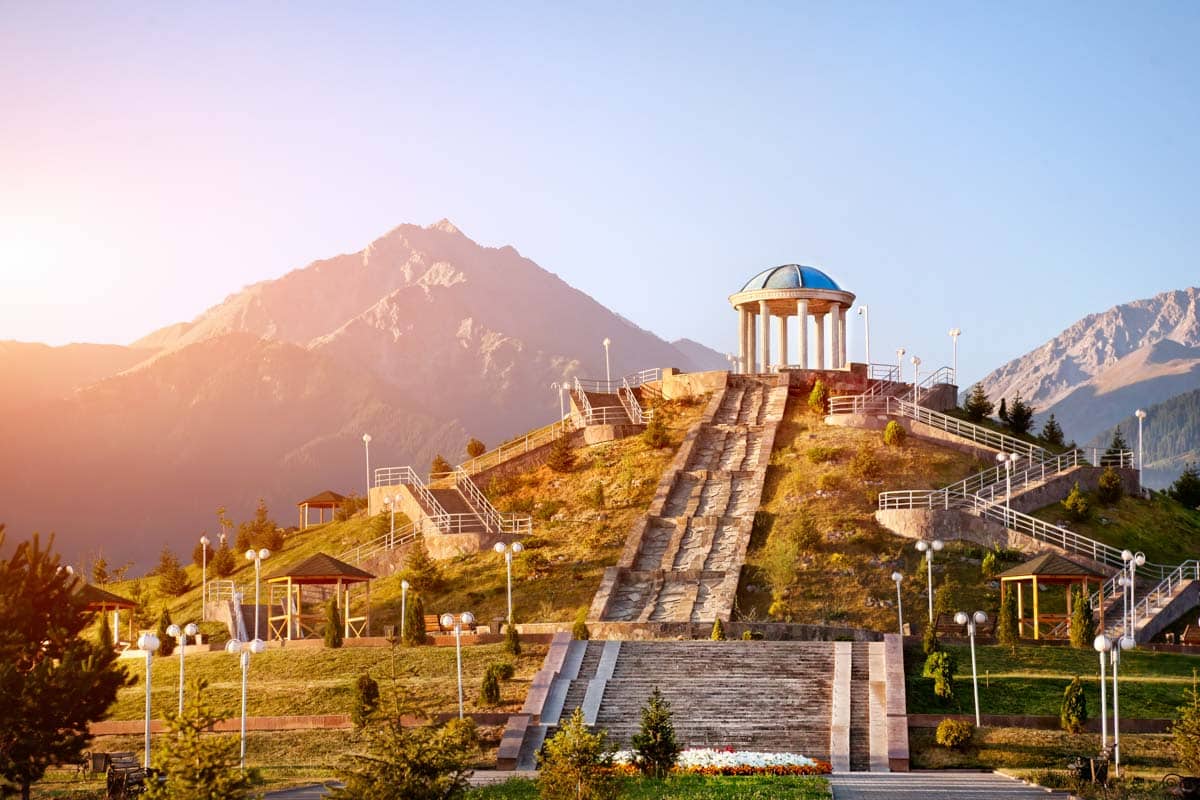 As Kazakhstan is still developing its tourism initiatives, there isn't a ton of information on tours available in Almaty. However, with some research, I found one that looks really promising.
The tour company, Walking Almaty, is owned by Dennis, a California native who has lived in Almaty for over a decade. He offers English tours for visitors who want to get moving and learn a bit more about some of Almaty's history and culture.
Unfortunately, I wasn't able to sign up for one of his tours, but they look really fascinating and I'll definitely be taking one (or more!) the next time I'm in the area.
There are 4 different tours you can register for, all of which take you to interesting corners of Almaty. Tours cost $30 USD per person and you can book them on the Walking Almaty website.
Things to do in Almaty: Outdoors & Surrounding Areas
Go Ice Skating at Medeu
During the colder months of the year, one of the most fun things to do in Almaty is to go ice skating at the city's outdoor rink, called Medeu. Located in the mountains (1,600+ meters above sea level), it's a bit outside of the city center.
Visiting Medeu for a day of skating is a fun break from the traffic and chaos of the city center. During the summer, you can still visit Medeu and admire the spectacular views of the surrounding area.
Getting to Medeu
You can take bus #12 from the city center (download and check the 2GIS app for exact bus station locations) to Medeu. It leaves every 30 minutes and takes you directly to the skating rink.
Shred the slopes at Shymbulak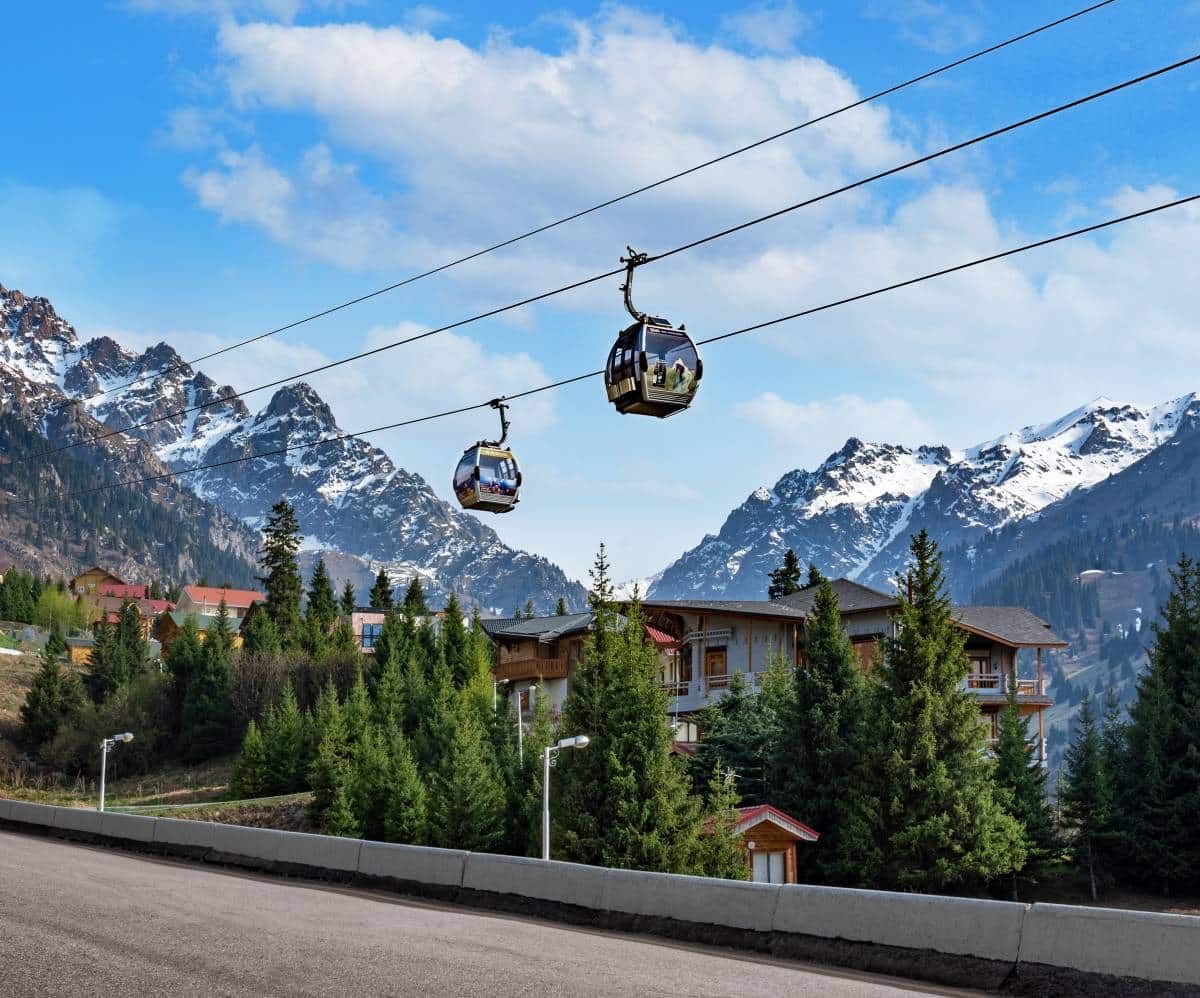 Shymbulak (also known as Chimbulak, or Чимбулак) is a ski resort located on the outskirts of Almaty. People from all over Kazakhstan (and the world) come to ski the slopes here.
Upon arriving at Shymbulak, you can easily trick yourself into thinking you are in Austria or Switzerland – a gorgeous ski resort area, beautiful mountain views, and well-maintained slopes will greet you.
If you're a skier, you can rent gear and buy ski passes here. However, it's worth taking a trip up here during any time of year for the incredible views and the fresh mountain air.
Getting to Shymbulak
Follow the instructions above to get to Medeu, then take the chair lift (2500 KZT round trip) up to Shymbulak from there. During the summer, you can also hike from Medeu to Shymbulak.
In the Summer, Hike Almaty's Many Paths & Trails
While the two previous outdoor options aren't available in the summertime, what you can do in the warmer months is head up to the Medeu/Shymbulak area and hike along the trails, which are normally covered in snow during the winter months.
On these hiking paths, you'll pass through snowy, rocky mountains, beautiful streams and lakes, and sweeping views of the city and the nearby countryside. Not to mention you'll get a pretty good workout in the process!
Some fantastic hikes in the Medeu/Shymbulak area include:
The Four Peaks Trail to Peaks Furmanov and Shymbulak – A challenging but absolutely epic day hike that starts in Medeu. I didn't do this one but you can read more about what to expect here on this great post by The Sandy Feet.
Mamshuk Mametova – If you're looking for stunning glacier views on a slightly shorter hike from Shymbulak, this one is fantastic. You can find a full write up on Caravanistan.
Take a Day Trip to Big Almaty Lake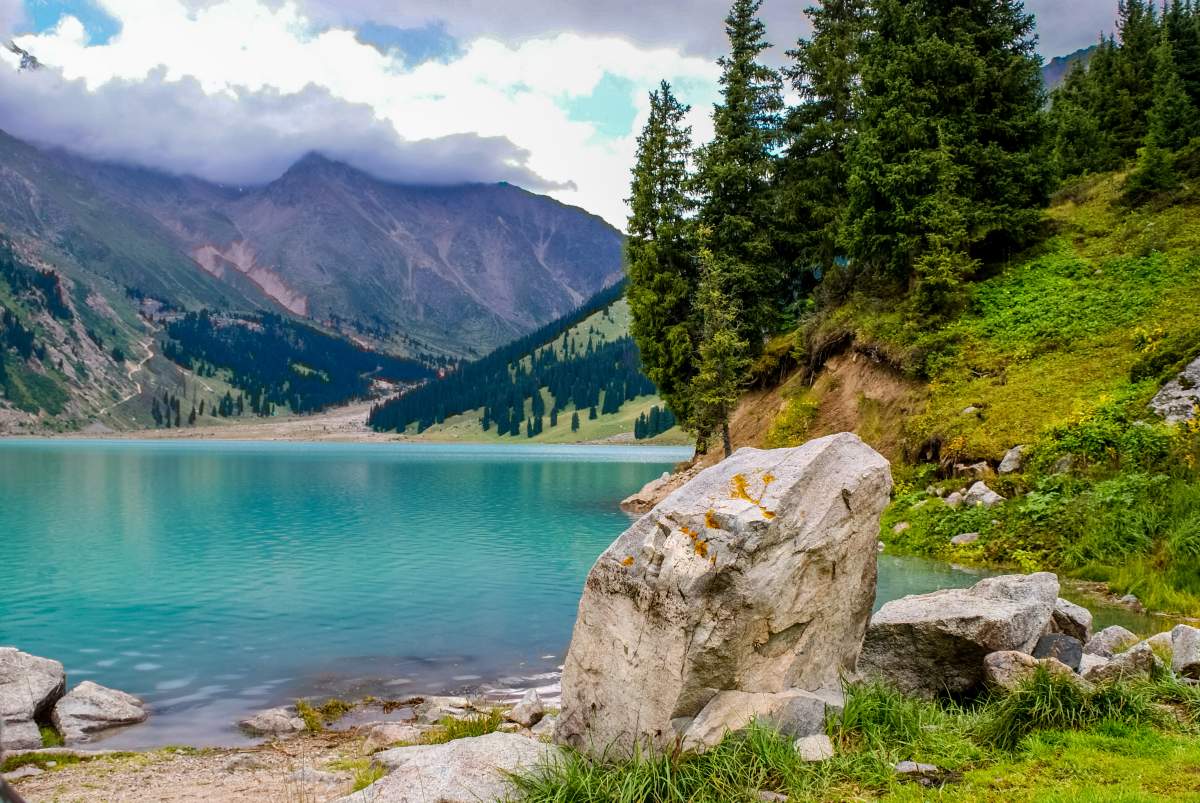 A prime picnicking and hangout spot for locals, Big Almaty Lake (known simply as "Bao" to locals) is a gorgeous retreat high up in the Tien Shan mountains.
Used as a drinking water reservoir for much of Almaty's population, you can't actually swim here. However, you can pick a cozy spot on the rocks by the lake, bask in the sun, and watch the world go by.
If you'd like to avoid the crowds at Big Almaty Lake, I'd recommend going on a weekday or earlier in the morning. This way, you'll get there before the large groups flock there for the afternoon sunshine.
Note: Do not go anywhere near the water. There are armed guards in the area that are watching at all times. Seriously, you can get in a lot of trouble if you get caught in the water, so please don't try.
Getting to Big Almaty Lake
It takes anywhere from 45 minutes to over 1 hour to arrive in Big Almaty Lake from Almaty's city center. You can get there a couple of different ways: by taxi, by bus, or with an organized tour.
The easiest way to get there is to hire a taxi, but I STRONGLY recommend organizing a ride both ways if you do this, as there aren't really any taxis that wait up there to bring visitors back down.
*Theoretically*, you can also hitch hike with other groups heading back to the city, but while I was there with a few friends from my hostel, it was literally impossible to find a ride back, as all the cars were either full, didn't speak English, or simply refused to stop.
There's also a bus (#28) that goes up to the entrance of the park where Big Almaty Lake is located – it's the very last stop.
From the bus stop you can hike up the road an additional 11 km to get to the lake itself, or you can attempt to hitch hike or find a mini bus who will take you up (usually 500-1,000 KZT per person). Not the most convenient option, but if you're on a budget, it's a good way to get some fresh air and save some tenge.
For more information, my friend Megan wrote a fantastic piece (with some beautiful photos!) about taking a day trip to Big Almaty Lake from the city center.
Go For a Weekend Expedition To One of the Nearby National Parks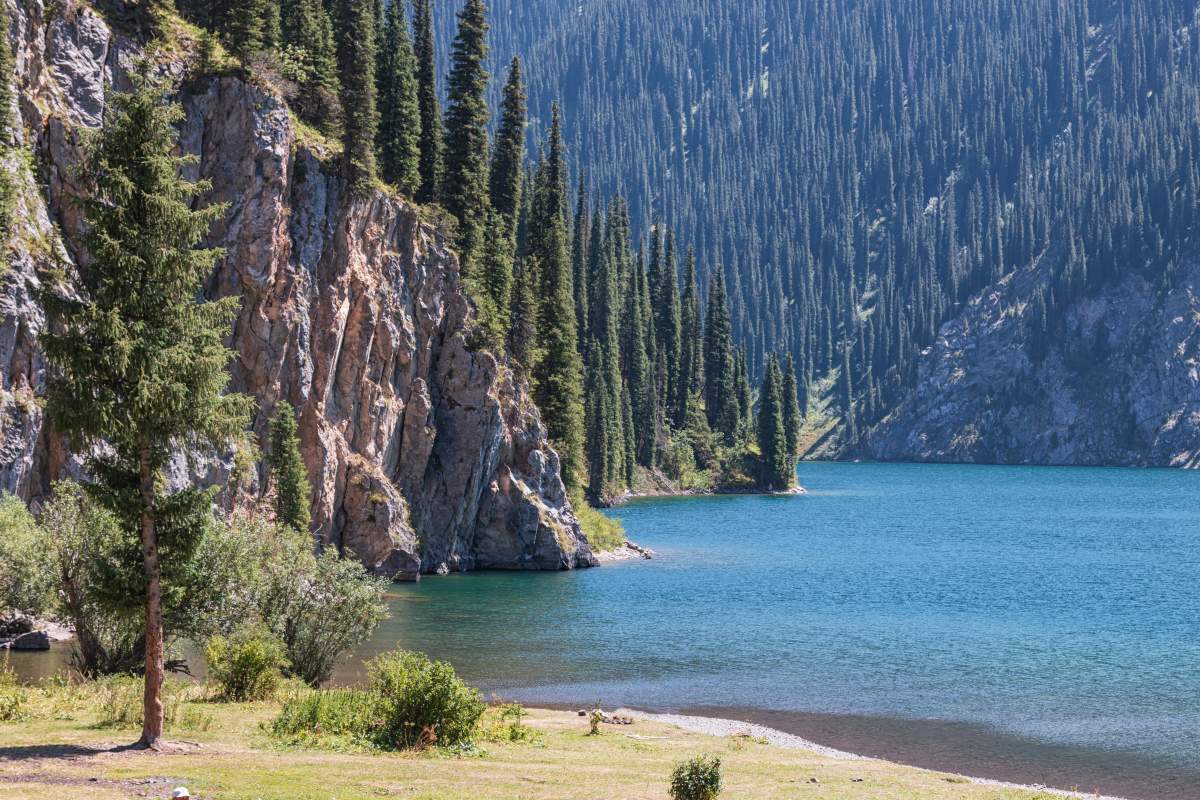 If you've had enough of Almaty and want to get some fresh air, there are a variety of National Parks nearby that are worth visiting. From craggy canyons to glacial lakes, golden sand dunes and ancient petroglyphs, there are SO many weekend trips you can take within just a few hours' drive from downtown Almaty.
However, where you choose to go will depend on what kinds of activities you'd like to try. Some of these places are better for hiking, while others are fantastic for swimming. Here are a handful of weekend trips near Almaty that I'd recommend:
Kolsai Lakes National Park – Gorgeous park with 3 glacial lakes (some that you can swim in) surrounded by waterfalls and evergreen forests.
Kaindy Lake – Unique, colorful, and serene, Kaindy Lake is by far my favorite natural attraction in Kazakhstan. It's a turquoise lake surrounded by evergreen trees with a unique set of old tree trunks sticking out of the lake.
Charyn Canyon – A stunning red canyon with a river running through it, akin to the Grand Canyon or the Southwest USA. You can hike and swim here.
Altyn-Emel National Park – An expansive park with large, golden sand dunes located in the middle of the flat steppe. It's incredible remote and picturesque, as not that many visitors come here.
Tamgaly Tas – A rocky park that's home to some ancient petroglyphs, with a scenic river running past.
For the most hassle-free option, you can typically organize trips to one or more of these places through your hotel or hostel. If you're strapped for cash, it's also possible to hitchhike to some of them (Charyn Canyon and Kolsai Lakes, primarily).
However, as always, it's never guaranteed you'll find a ride, as these attractions are pretty far off the main roads.
Things to do in Almaty:
Almaty Travel Tips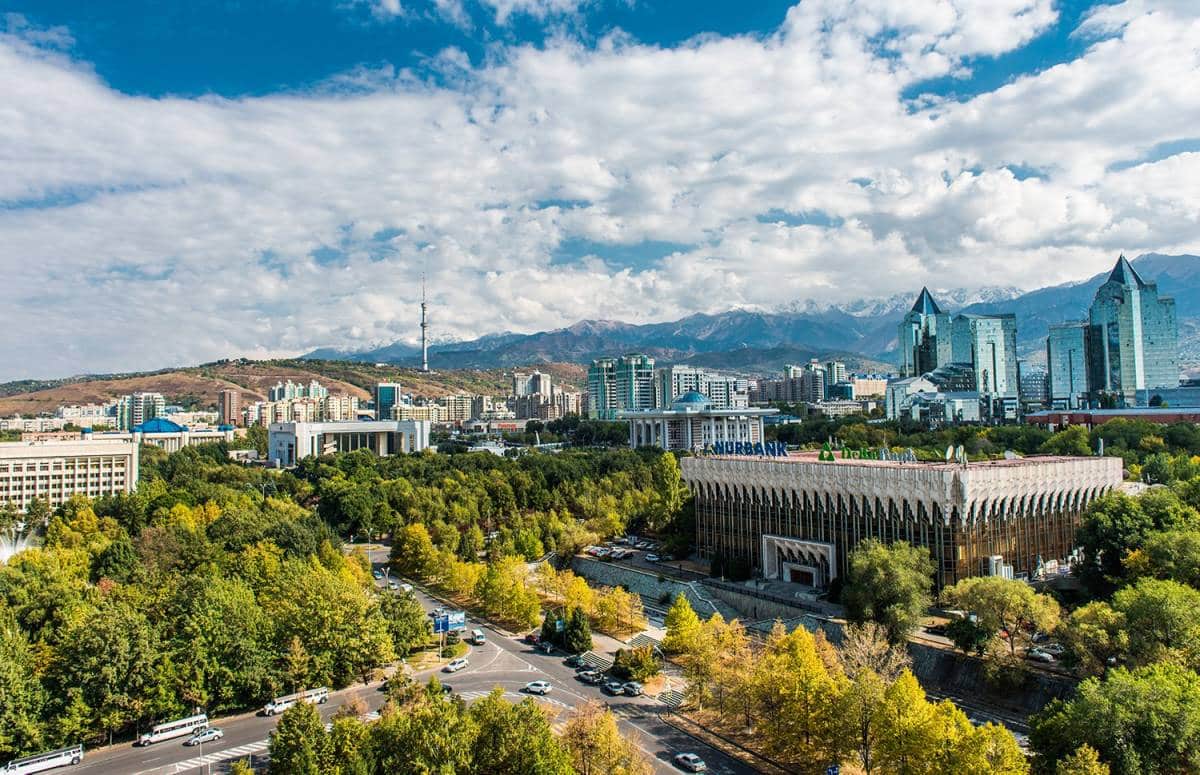 How to Get to Almaty
Lucky for you, Almaty is one of the easiest places in Central Asia to get to from almost anywhere in the world (yes, even the United States).
For international travelers, Almaty has a sizeable international airport that you can fly into from many places in Asia and Europe, serviced by several major airlines. To find the best deals on flights, we recommend shopping around and comparing prices on Skyscanner.
If you're coming by land, Bishkek is the nearest large city and, as a tourist, you can cross the land border between the two cities with ease. It takes about 4 hours to get to Almaty from Bishkek by marshrutka and costs ~$10 USD one way.
How to Get Around in Almaty
Within Almaty, there are two main transportation systems: the metro and the buses. Between these two transportation systems, you can basically get anywhere in the entire city.
Since the metro only has one line, it can be a bit difficult to use. Personally, I didn't use the metro once while in Almaty.
A more reliable form of transportation, in my opinion, are the buses, which literally go everywhere in the city and cost a mere 150 KZT ($0.50 USD) per ride. This is how I got around the entire time I was in Almaty, using the 2GIS app to help me navigate which lines to use to get to which destinations.
I highly recommend downloading the app if you are planning on visiting Almaty, as it provides offline directions on anywhere you may want to go in the city.
Where to Stay in Almaty
Since Almaty is one of the larger cities in the region, it receives a good amount of international tourism and therefore has a wide variety of accommodation options for any budget.
While I was there, I stayed in a hostel, but unfortunately I didn't have a great experience there. It stank, there was only one bathroom, and it was dark and musty.
So, to spare you from making the mistake I did (you're welcome), I asked around my travel networks and did some research online to find some (potentially) good options for you to consider.
Here they are:
For Budget Travelers
Like I mentioned, I stayed in a hostel that I, unfortunately, cannot recommend. However, if I were to go again, I'd probably try the Soul Hostel (it looks SO cute in the pictures!).
For Mid-Range/Luxury Travelers
Mid-range travelers in Almaty will be happy to know that most hotels offer comfortable accommodations, fantastic value, and a central location close to most of the things to do in Almaty I've listed here.
The Rahat Palace Hotel is well-liked among mid-range and business travelers, and is pretty reasonably priced. Rooms here are spacious with standard hotel amenities in a central location.
Or, if you're looking for a high-end 5-star option, the Ritz-Carlton Almaty offers the luxurious digs of this well-renowned international chain.
Things to do in Almaty: The Bottom Line
Because of its size and importance in Kazakh history, Almaty is a fantastic city that, unlike many of the cities in Central Asia, really packs a punch in terms of activities and things to do.
You could probably spend a week or more here and still have places to explore. While there are SO many other activities that the City of Apple Trees has to offer tourists, we hope that our list of things to do in Almaty has helped you plan your trip and create some fabulous memories in this big and beautiful city.
Almaty Travel Guide: Read Next