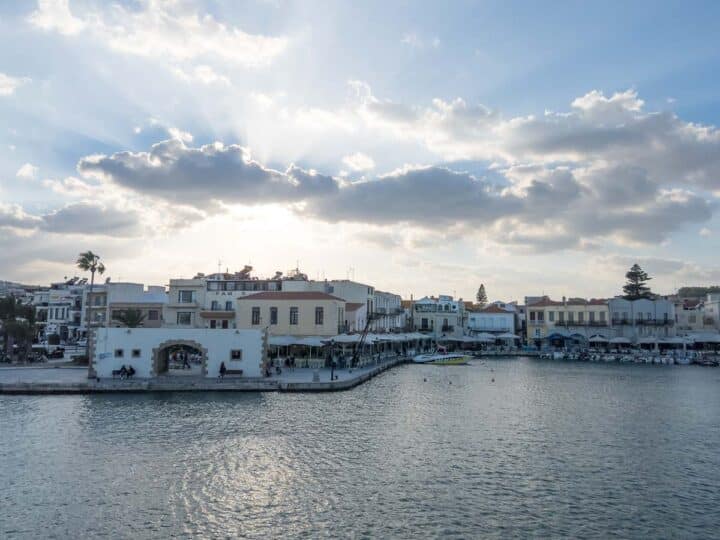 Planning a trip to Crete? This handy 1 week in Crete itinerary has got you covered – what to do and where to stay on this beautiful Greek island.
The island of Crete is as magical as they come. Steeped in myth and immortalised in legends, figuring out how to spend your time here may seem daunting.
From hanging out on the serene beaches to hunting out historic ruins and charming old towns, the list of things to do in Crete can seem overwhelming.
To make the most of your time here, you'll need Athena's wisdom and Hermes' travelling skills. Or just a perfectly planned itinerary (like this one).
Crete beckons, and I'm ready to go. Are you?
Handy Tips for Planning Your Crete Itinerary
Group Tour or Independent Travel?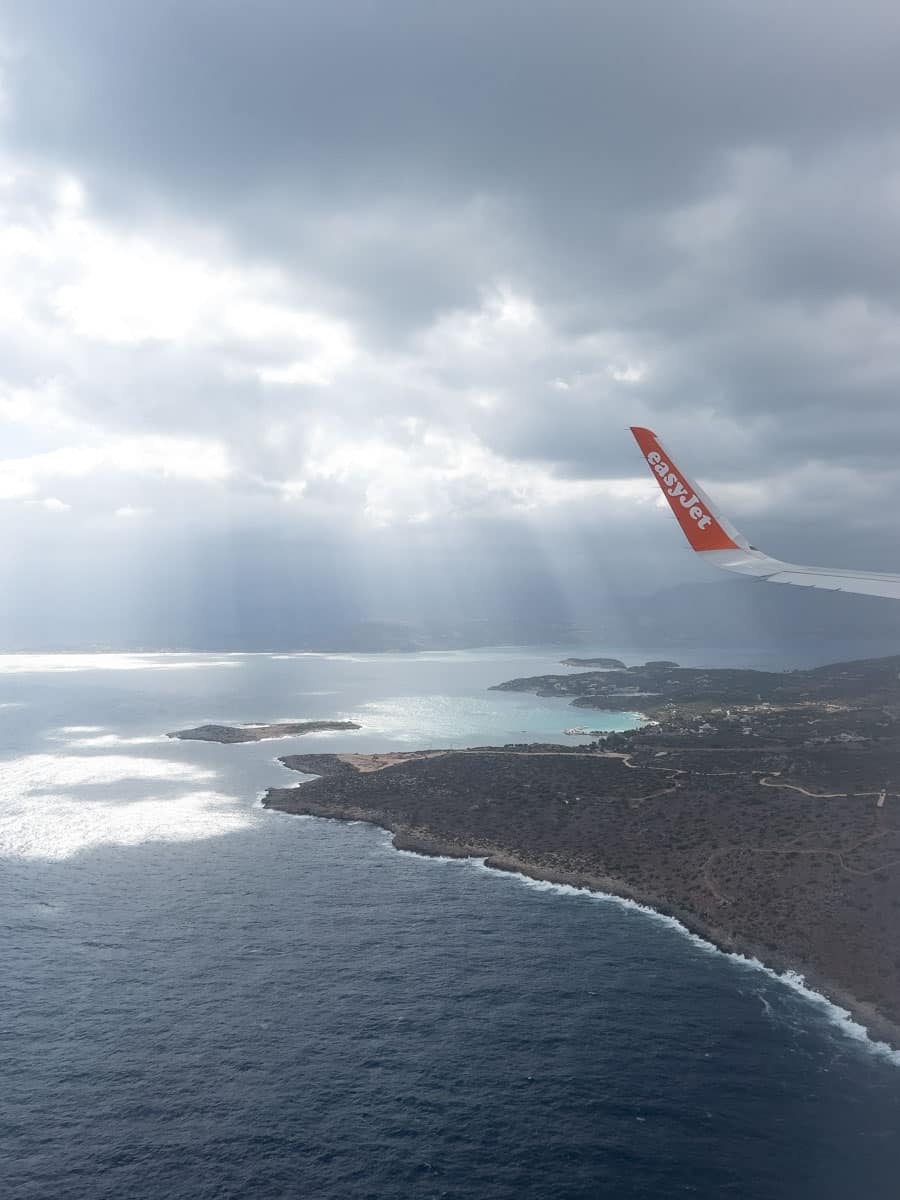 This is a tricky question. But let me try to give you a concise answer.
If you ask me, the island is a fantastic place to explore on a solo adventure because you have more freedom and time to play. And when you use a curated itinerary, touring the ancient island is a breeze at your own pace.
But that's not to say that heading out on a guided tour is the wrong way to explore Crete. There are stellar options when it comes to pre-planned tours and excursions.
You can book a land rover tour along the Minoan route, a day trip to Elafonisi from Chania, or a sunset sailing tour from Heraklion. Each of which has its own perks.
Clearly, there are many ways to experience one week in Crete; it's your oyster, and that's the beauty of this destination.
What to Pack for Your Crete Itinerary
The Grecian sun is as welcoming as ever no matter where you are in Crete, so you'll need a few essentials. I don't want to sound like your nagging mum, but remember sunscreen, a wide-brim hat, and a bathing suit (or swim trunks) when heading to the beach.
Crete has a vibrant nightlife, and it's always a good idea to live it up on the island. Bring a couple of evening options, and pack a light sweater for cool nights.
And finally, days spent exploring the many villages and monuments of Crete means you'll need to pack comfortable walking shoes, a lightweight backpack, and a water bottle. Oh, and don't forget your camera (trust me on this one).
Useful Resources
No itinerary would be complete without useful travel resources – here are some of the most valuable tools for your trip.
Getting Around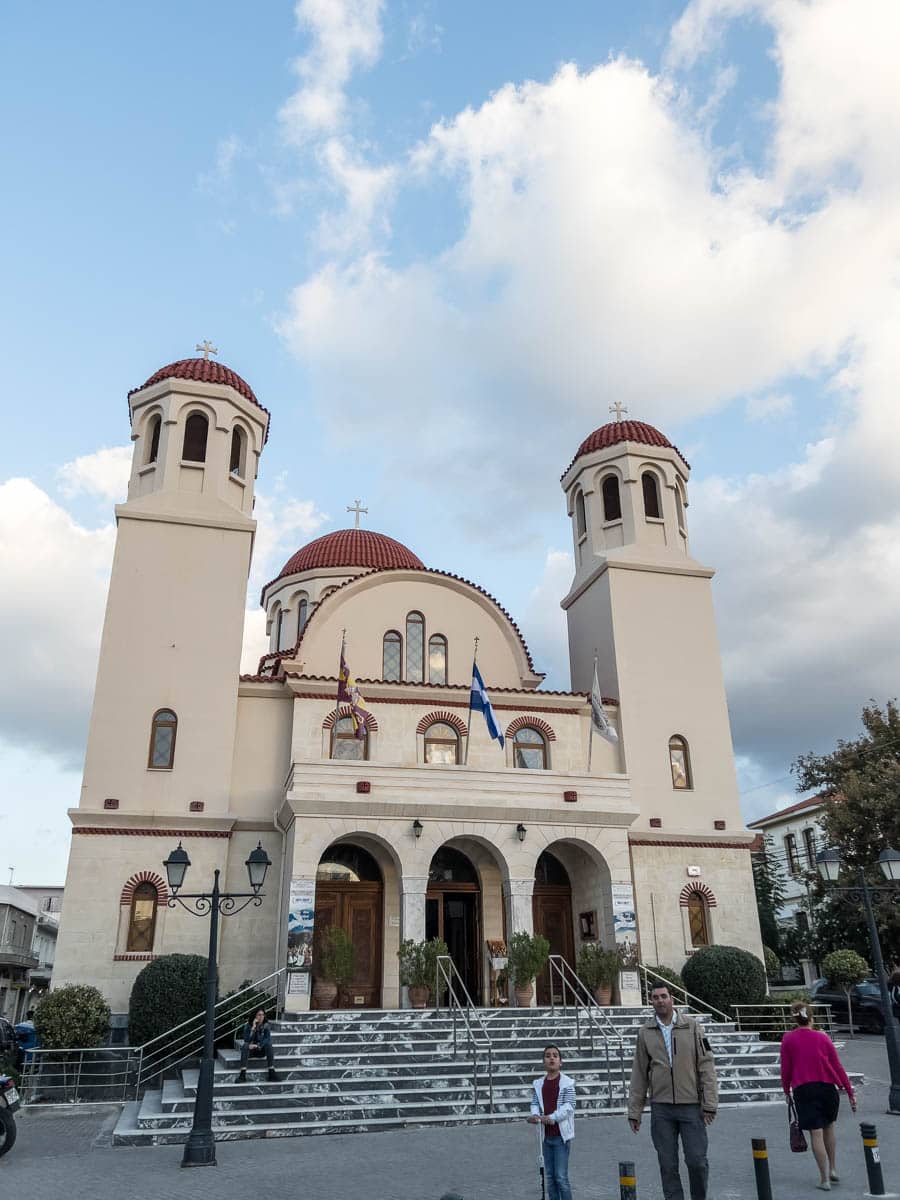 Spending a week in Crete means you'll likely travel around quite a bit. And, while most attractions are close to each other, knowing how to get around is crucial. Of course, there are public transport services on the island in the form of buses, but the easiest way to traverse is by car.
I suggest either booking a rental vehicle before you arrive via RentalCars.com or you can opt for using the popular Rental Center Crete once on the island.
Crete Itinerary
Day 1 – 3: Chania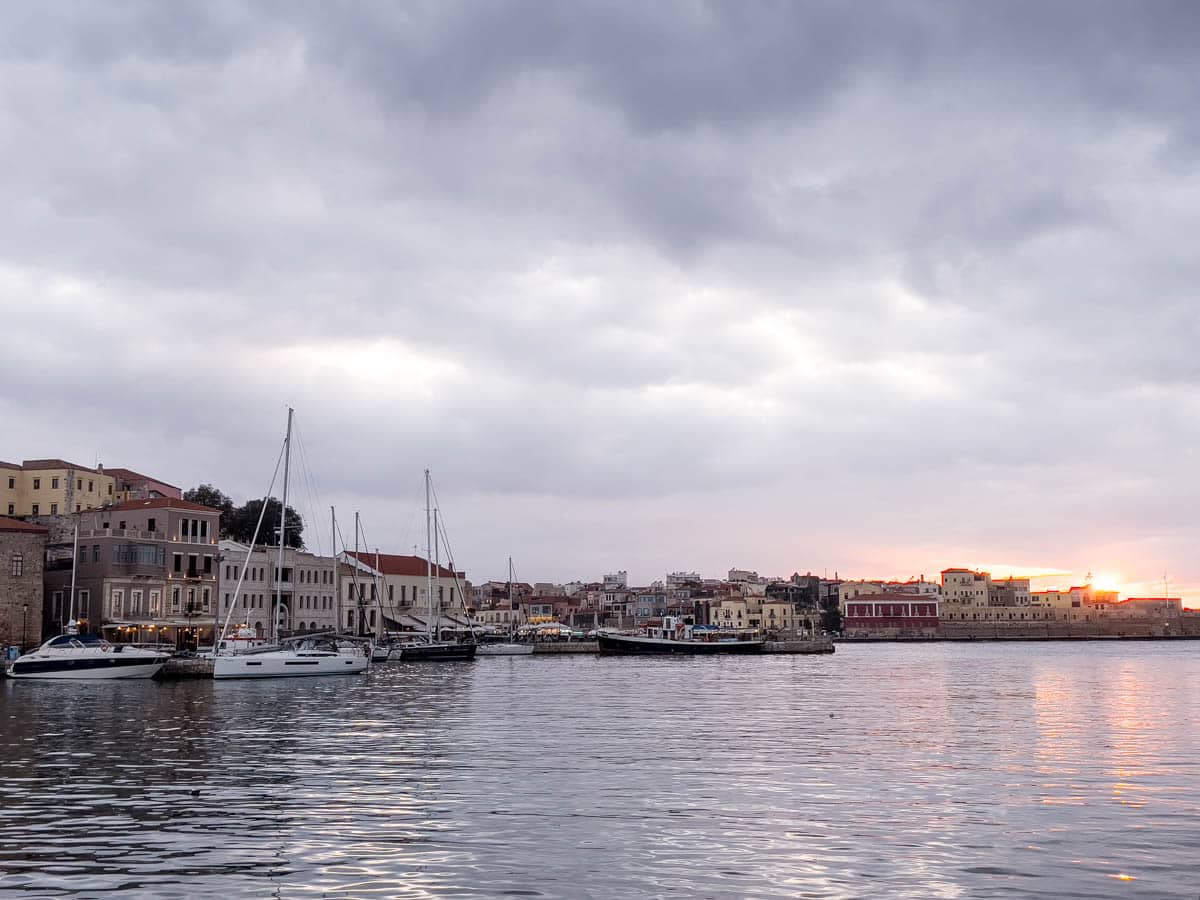 Let's kick off your one week in Crete itinerary in Chania. As the capital of the Chania region, the city is a suitable spot to kick things off due to its well-serviced airport.
But, beyond practicality, it's also a city brimming with history, stunning architecture, a vibrant commerce hub, and delectable cuisine. Not to mention the classic and gorgeous monuments and landmarks.
So let's dive into Chania, Crete, shall we?
Things to Do in Chania
Explore Chania Old Town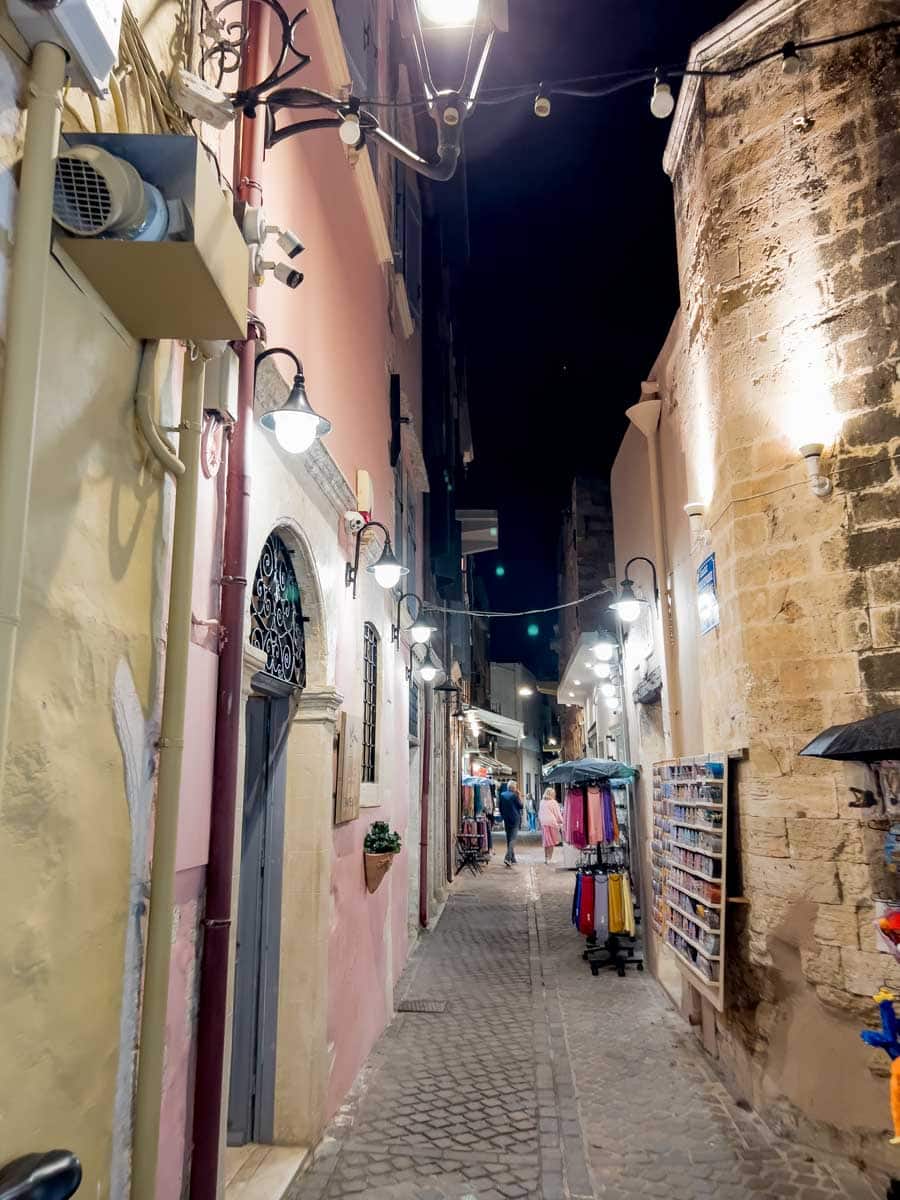 If you're wondering what to do in Crete for a week, starting your first day exploring the stunning Old Town of Chania is an excellent idea. Considering the travailed past of Crete, you'll get to see architectural influences from nearly every great ancient civilisation.
Take your time and delve into its winding streets and alleys lined with cafés, boutique stores, and restaurants.
Discover Chania's Districts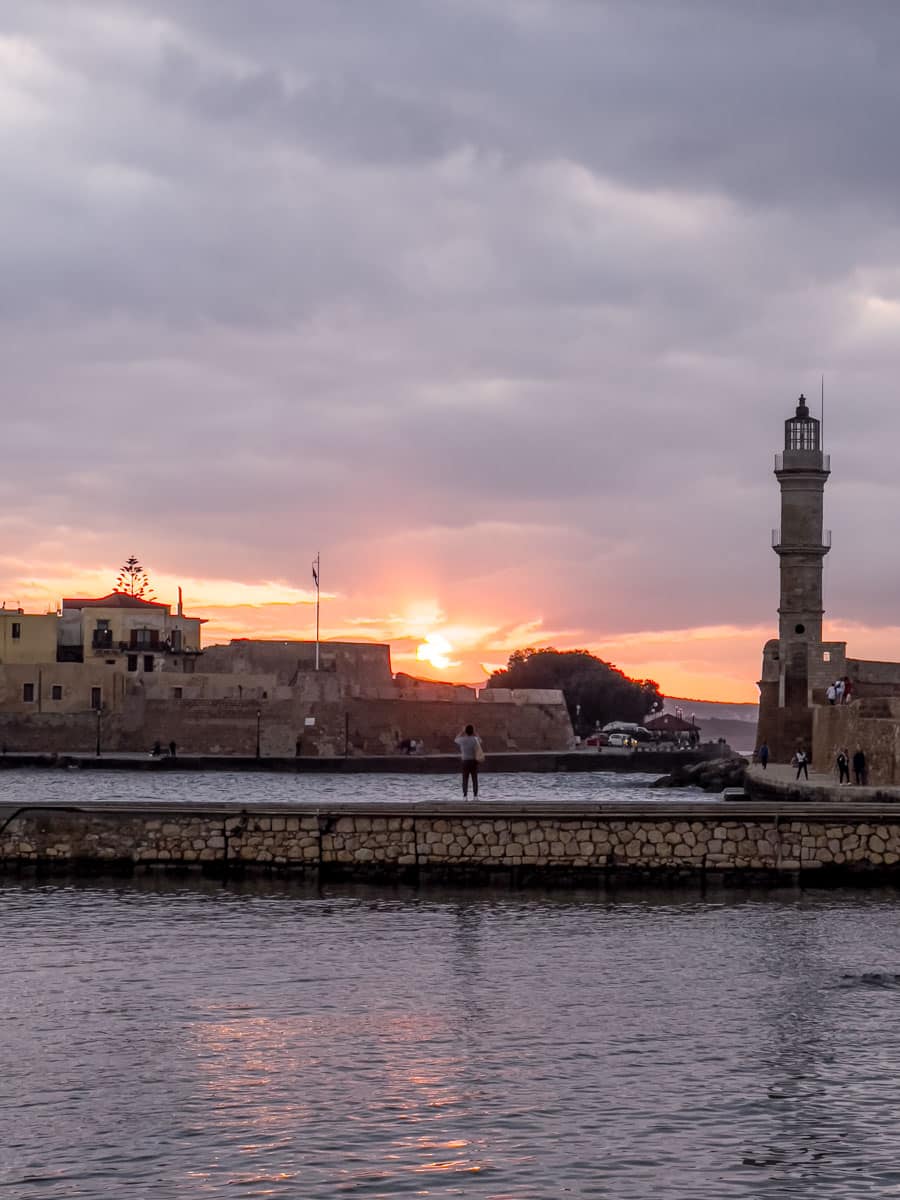 From the iconic Venetian Harbour to the Egyptian Lighthouse, and the illustrious Turkish quarter which sits nearby the Jewish neighbourhood, this part of Crete is like a mini world showcase.
First up is the Venetian area, with its highlight being Topanas. Its cobblestoned alleys and colourful passageways now hold some of the most opulent hotels in the city.
Making your way through Topanas, you'll reach Judecca, often considered a remote part of the city. Here sits the oldest and only synagogue on the island, Etz Hayyim, which is open to the public. After a visit here, head to the Mosque of Janissaries, which rests on the seafront of Chania.
Finally, make your way to Splantzia, the Turkish Quarter. It's one of the most authentic areas of the city and has a maze of tiny alleys and patios to explore. There's more than enough to see and take snapshots for your Instagram posts here.
Wine and Dine in Chania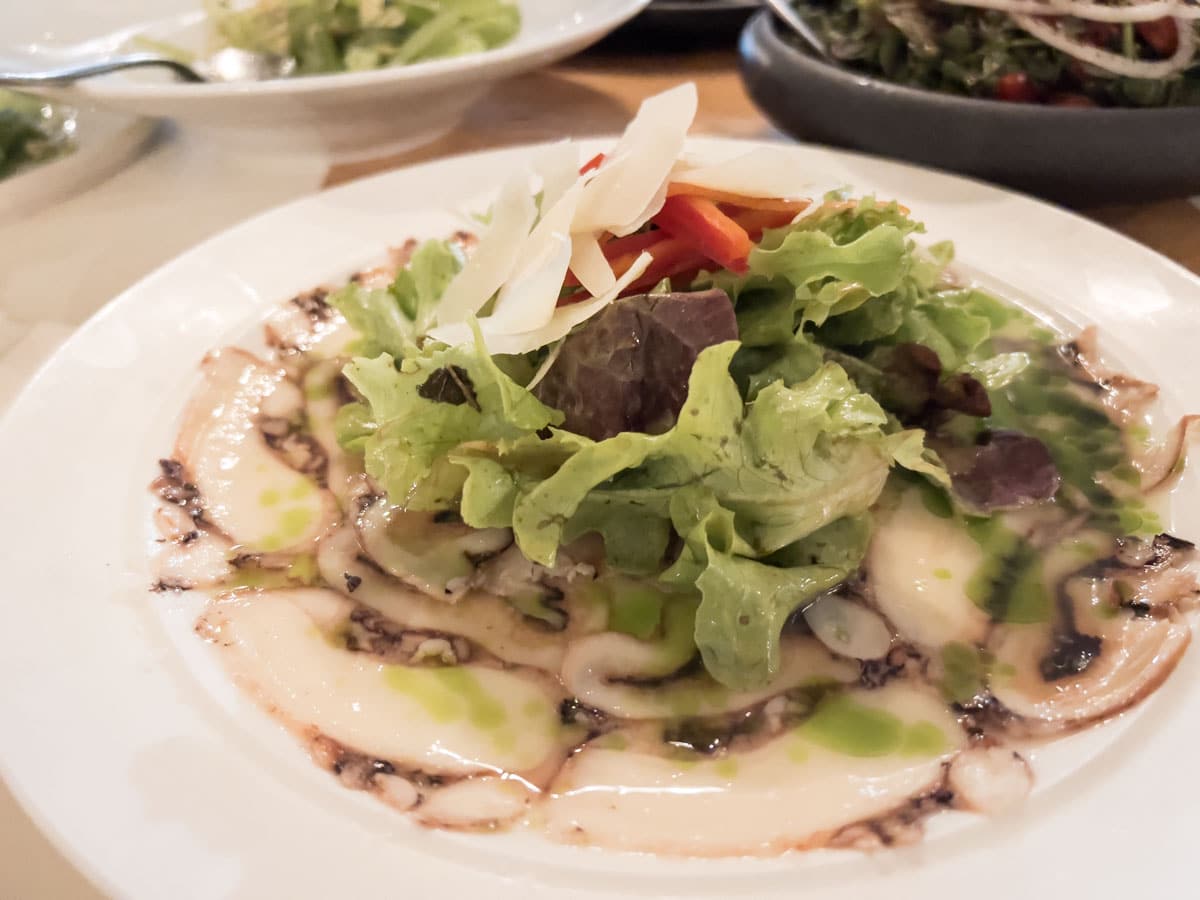 During your stay, you need to pay a visit to the area of Neoria, which features some of the best restaurants in Chania. What's great is that it's opposite the sea, where you can gaze out onto docking yachts and the ocean while indulging in some great food.
Or perhaps you're in the mood to visit the Agora, Chania's public market, where you can taste and get your fill of traditional Cretan cuisine. Grab a seat at a home-style eaterie for a tour-de-force of tastes and treats.
Head to Elafonissi Beach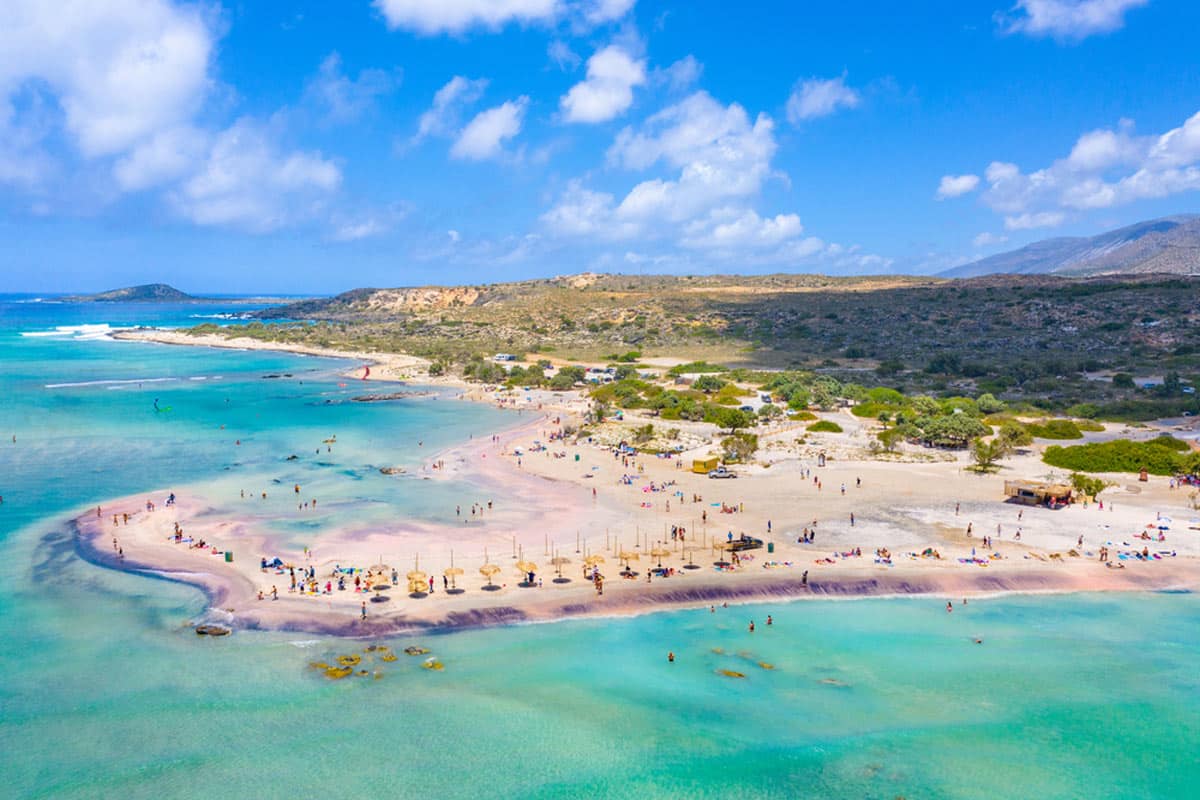 One of the more unique beaches in the Chania region, Elafonissi showcases a stunning blend of pink and white sand that meets turquoise waters. Driving from Chania, you'll head through the imposing Topolia Gorge, a spectacular white mountain range.
Once you reach the beach, rent a sun lounger and umbrella and unwind on its sand. While admiring the ocean views from the shoreline, you'll quickly see why this is an essential part of a trip to Crete in a week.
Visit Balos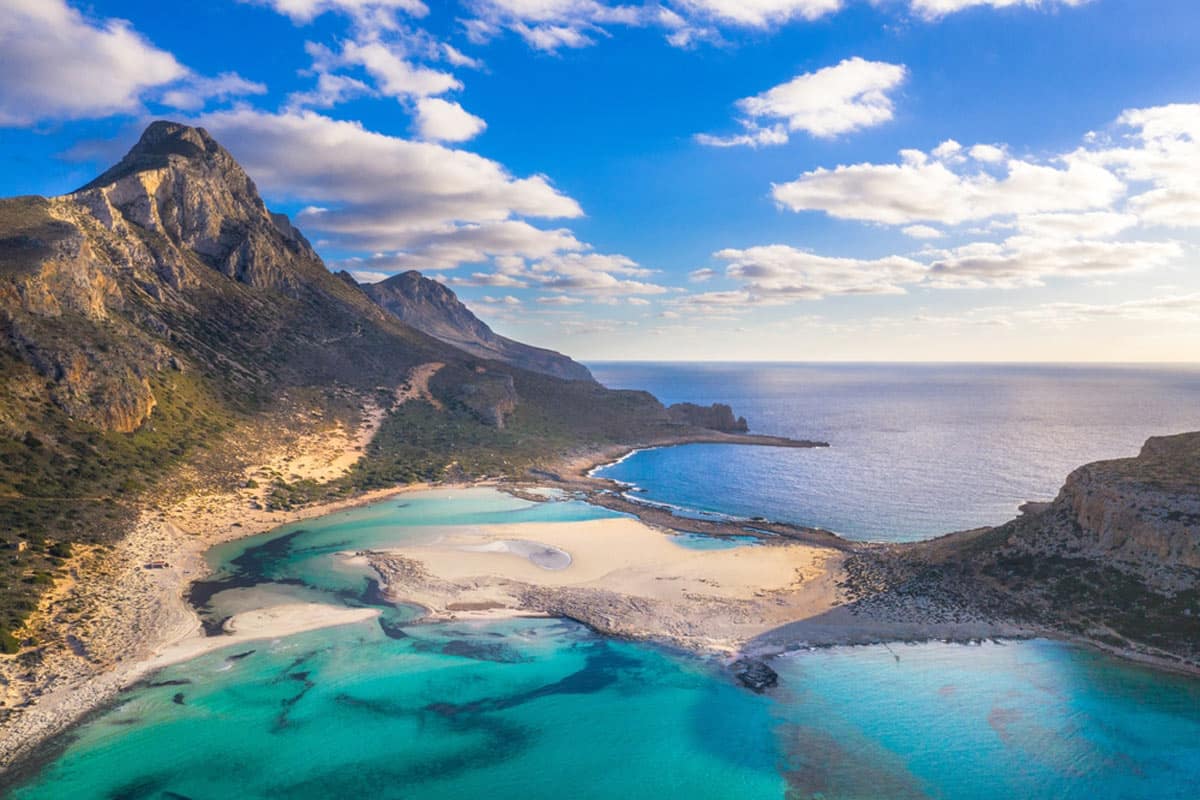 Before departing from Chania, it's time for a journey to its wild western coast. And no better destination exists than Balos Beach. Sitting at the end of the Gramvousa Peninsula, it's a unique scene of exotic colours, harsh mountains, and a stunning coastline.
You'll need to hike down a mountain trail that lasts about 20 minutes and doesn't demand much skill. This is worth it once you see its two lagoons separated by a sandy footpath leading to an offshore island. I promise.
Getting to Chania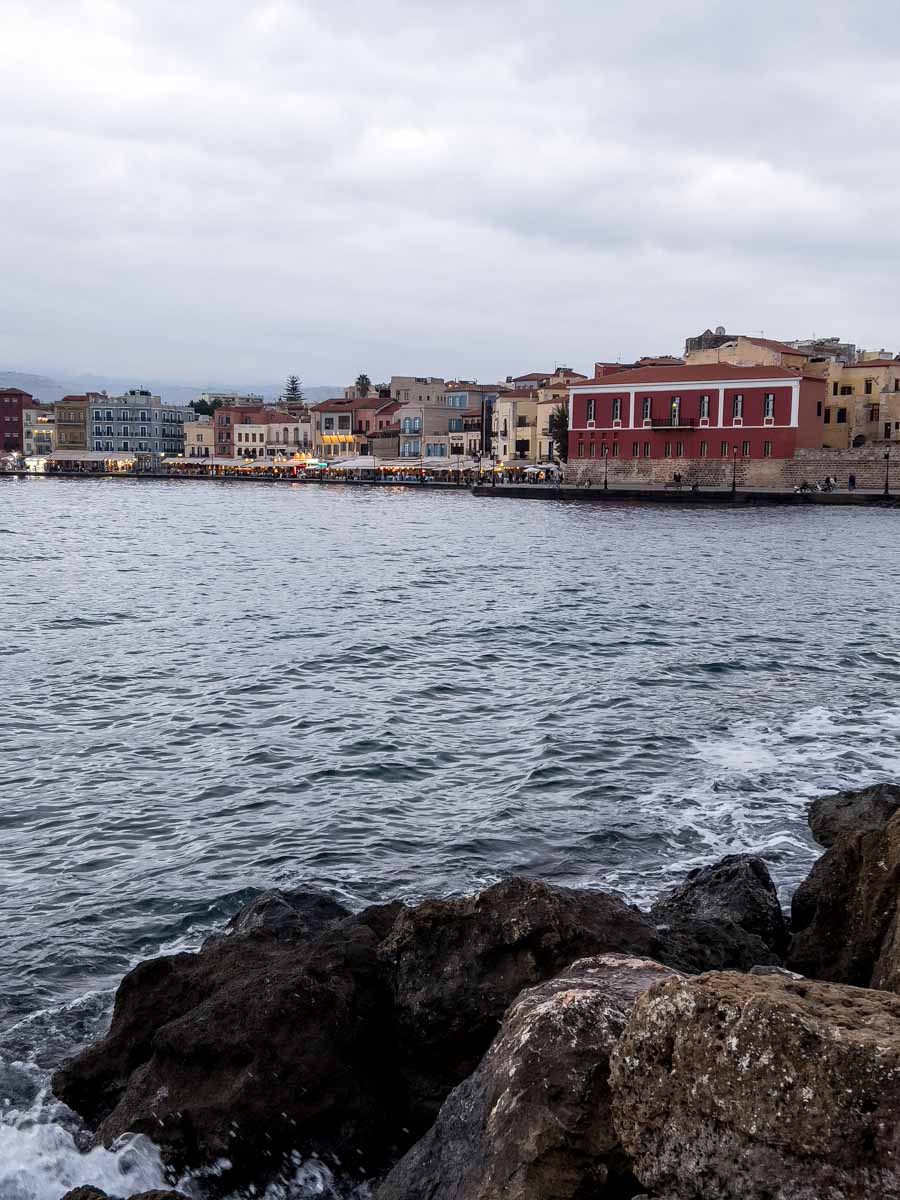 Well, thankfully, you'll arrive in Chania for your 7 days in Crete, so travelling to it only requires a flight to Chania International Airport – Ioannis Daskalogiannis (CHQ). From here, a rental car is a perfect option to get around the city and region.
Suggested Stay for Chania on Your Crete Itinerary
Porto Veneziano
A great option, Porto Veneziano is budget-friendly and offers comfort and luxury in a superb location. It sits right on the waterfront of the Venetian Harbour and has numerous room types, including suites, all of which benefit from picturesque sea views.
Check Rates and Availability
Alternatively, Check all Accommodations in Chania
Day 4 – 5: Rethymno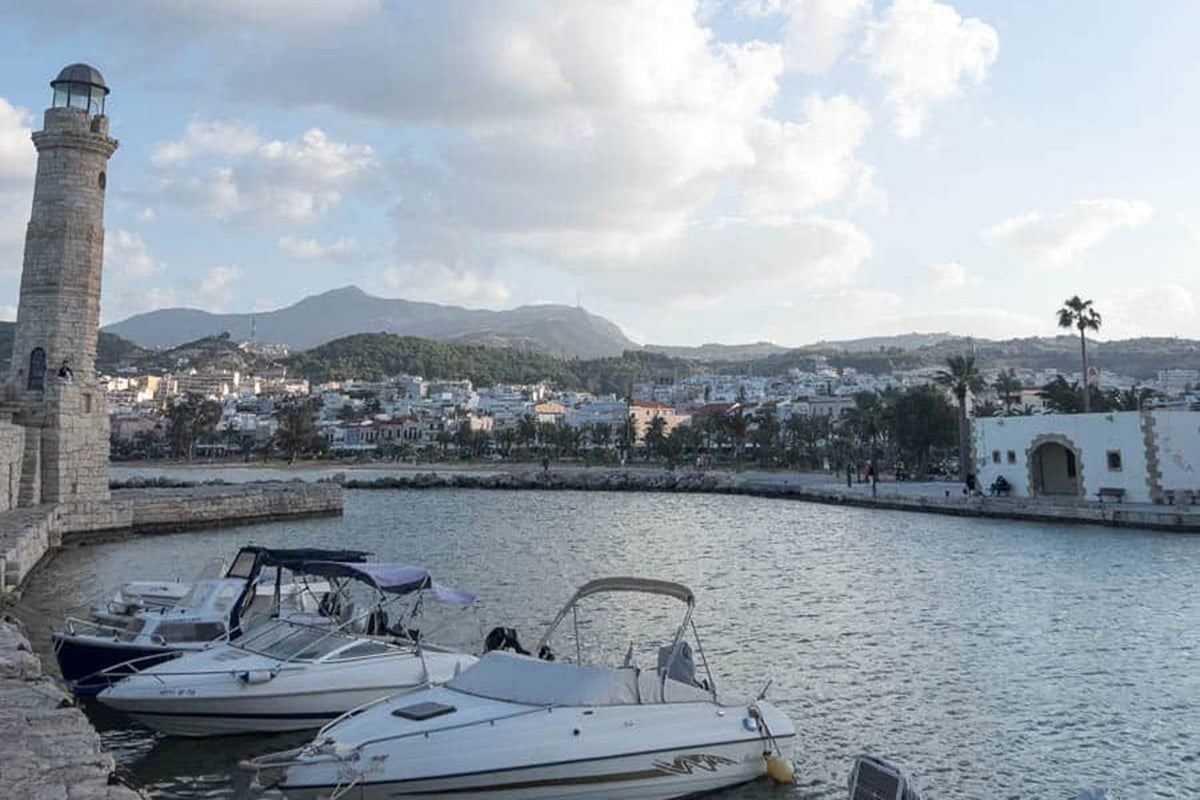 Next up is a short drive along the coast to Rethymno for the next couple of days of your trip.
If you're looking for Crete's more laidback and quiet side, the city of Rethymno is a surefire hit. It blends elements of the island's history in various settings, from museums to landmarks and attractions.
When you're in Rethymno, Crete, there are quite a few spots worthy of a visit. Locally known as the cultural pole of Crete, it's also a famous university town where students from around the world study philosophy, social sciences, and education.
When it comes to museums, you have a few to choose from. You can visit the Archaeological Museum, the Palaeontology Museum, and the Museum of Contemporary Art in Crete. Choosing one might be difficult, so make a day of it and explore all three.
Things to Do in Rethymno
Stroll Around the Old Town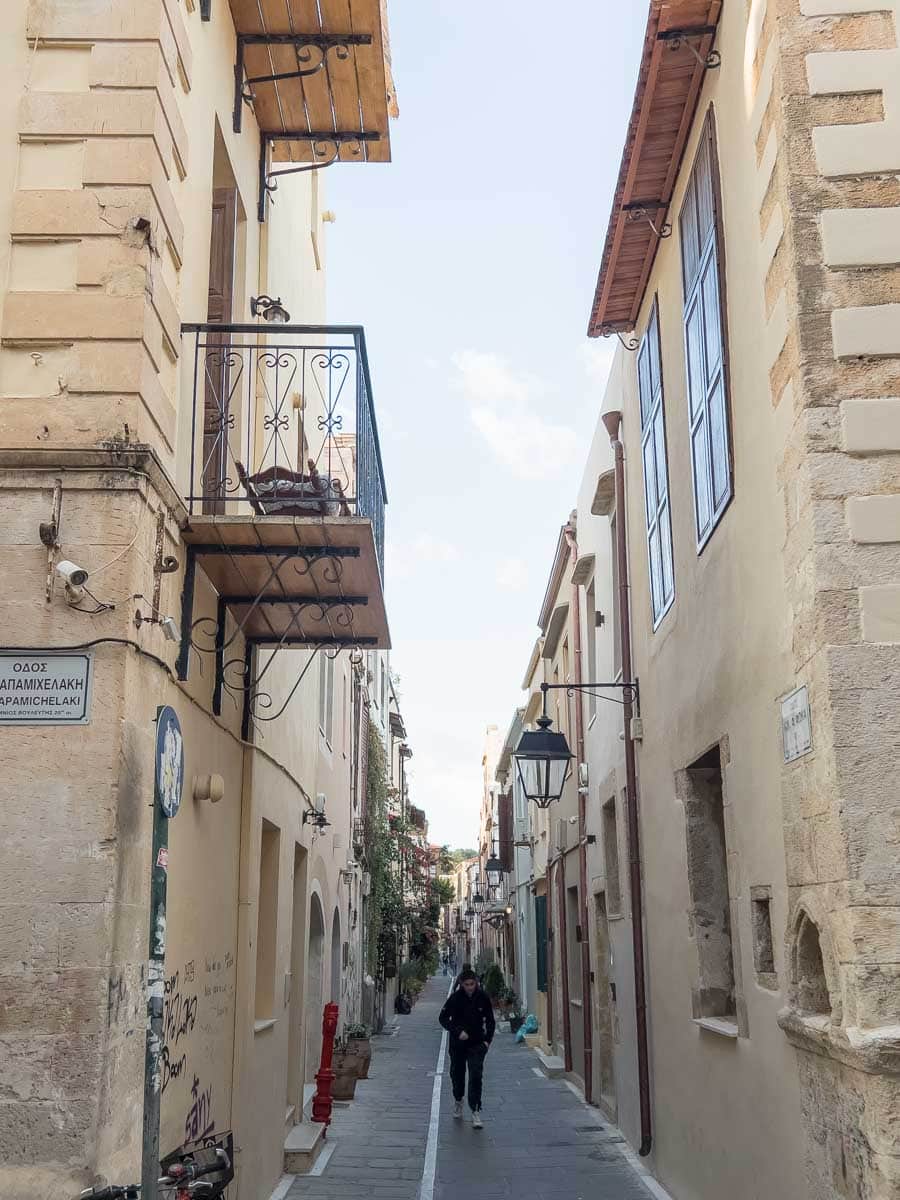 While you're in the city, spending some time exploring the streets of Old Town is a must.
The historical centre is a maze that you certainly won't mind getting lost in, brought to life with colourful buildings and plenty of restaurants.
Here's also where you can find some of the best-preserved mosques, churches, and landmarks on the island.
Head to Neratze Mosque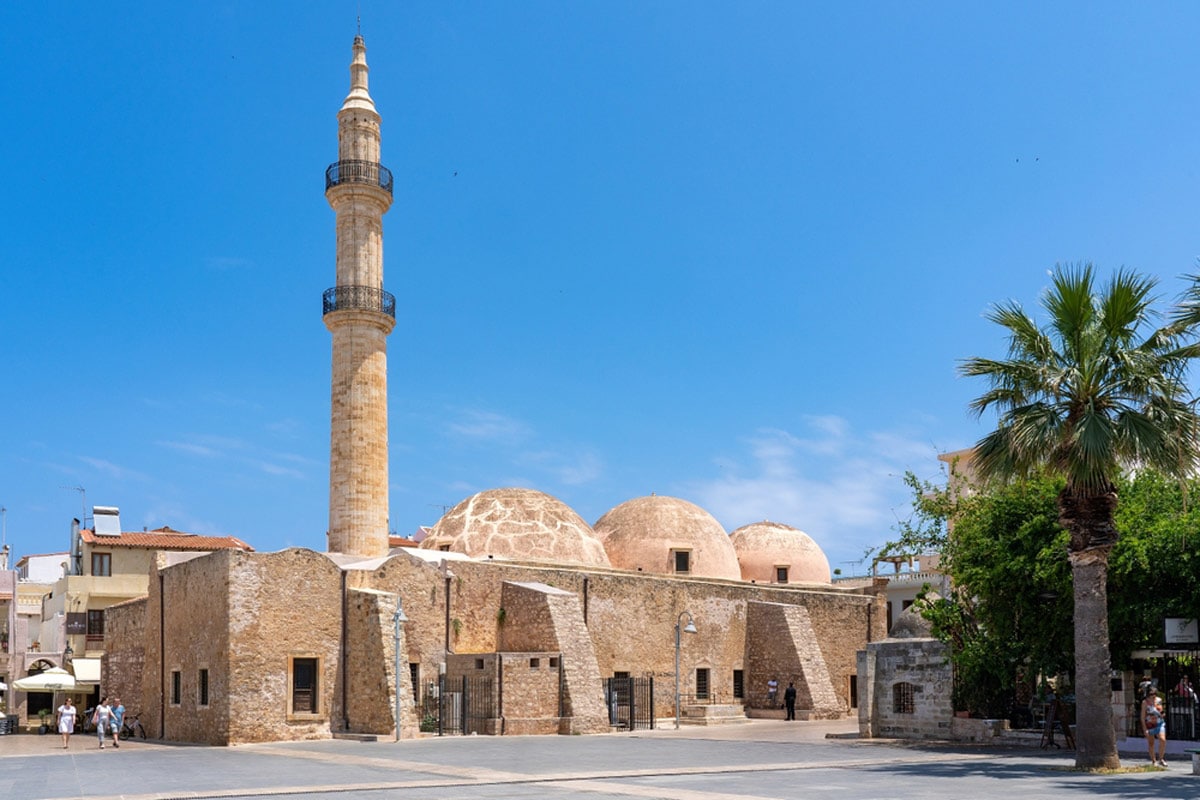 One of the most impressive buildings in Rethymno is the old Neratze Mosque.
Though, it hasn't always looked like this – it was originally a Venetian church before turning into an Augustinian Monastery. And finally the present-day mosque.
Though that is a little bit of a red herring as it is no longer used for worship. Instead, the three domes now get used for music lessons and live concerts. If you can, try to catch a show here.
Explore the Venetian Fortezza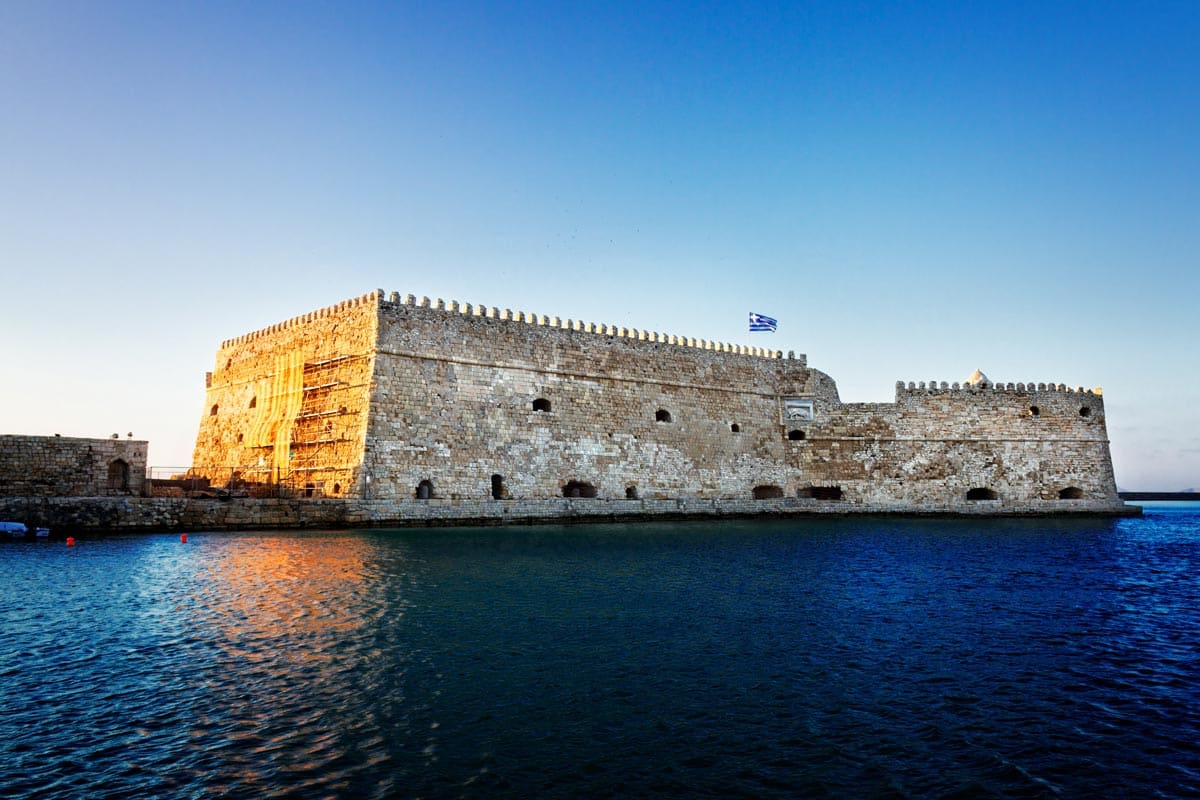 The island of Crete has been left with its fair share of Venetian architecture, but nothing quite beats Rethymno's Venetian Fortezza.
This structure was originally built in the 16th century as a defence against the Turks. But, while most buildings got destroyed in the 1960s, there are plenty that still remain.
It costs 4 euros to enter, though this allows you to marvel inside the fortress, the House of the Councillors, and where soldiers used to keep watch. You can also treat yourself to panoramic views of the town over the high walls, which I highly recommend.
Getting to Rethymno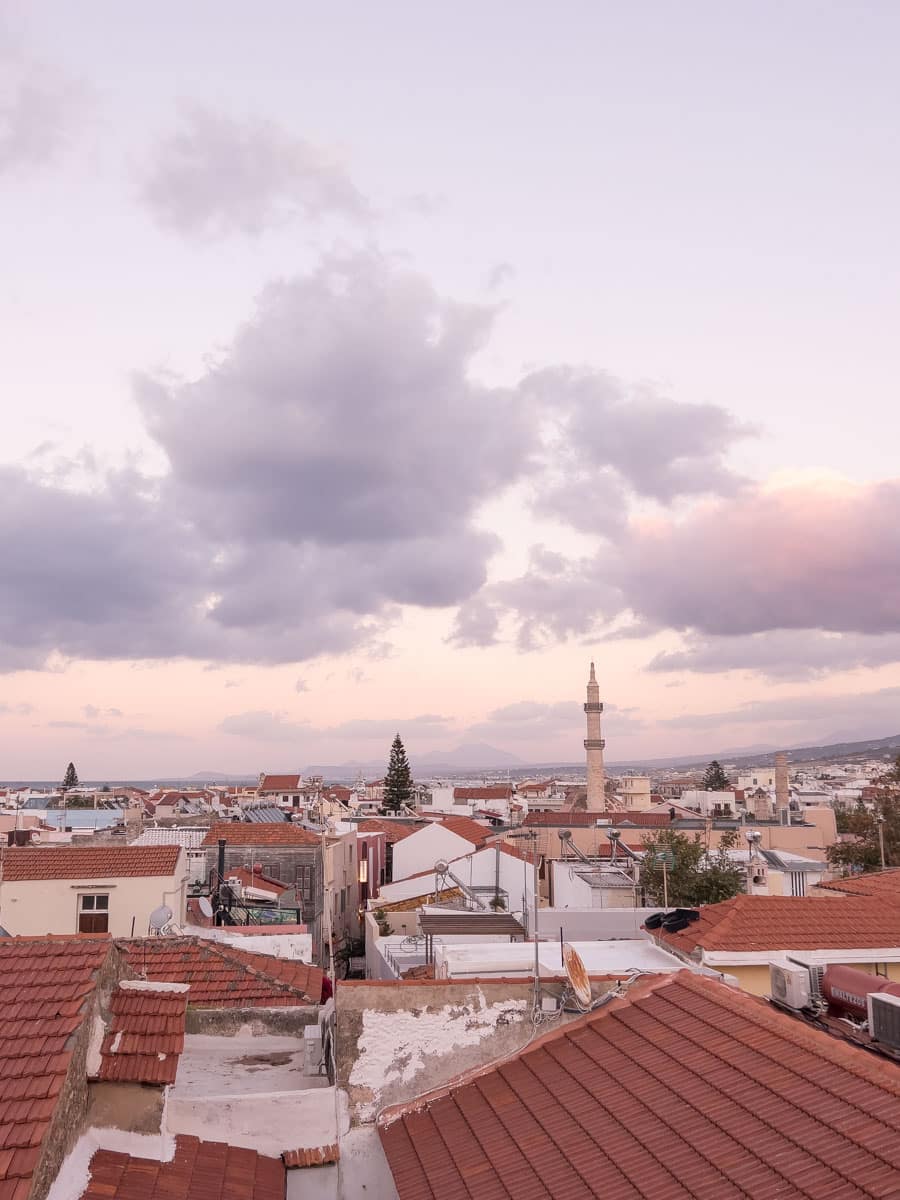 It couldn't be easier to travel between Chania and Rethymno. Simply take the KTEL S.A and you'll be there in under two hours.
That said, if you've rented a car, the journey time is more like an hour.
Suggested Stay for Rethymno on Your Crete Itinerary
Aquila Porto Rethymno
Aquila Porto is a rather swish hotel that makes for a gorgeous base in Rethymno. Set on a dreamy beach, you're just five minutes walk from the Old Town.
Check Rates and Availability
Alternatively, Check all Accommodation in Rethymno
Day 6 – 7: Heraklion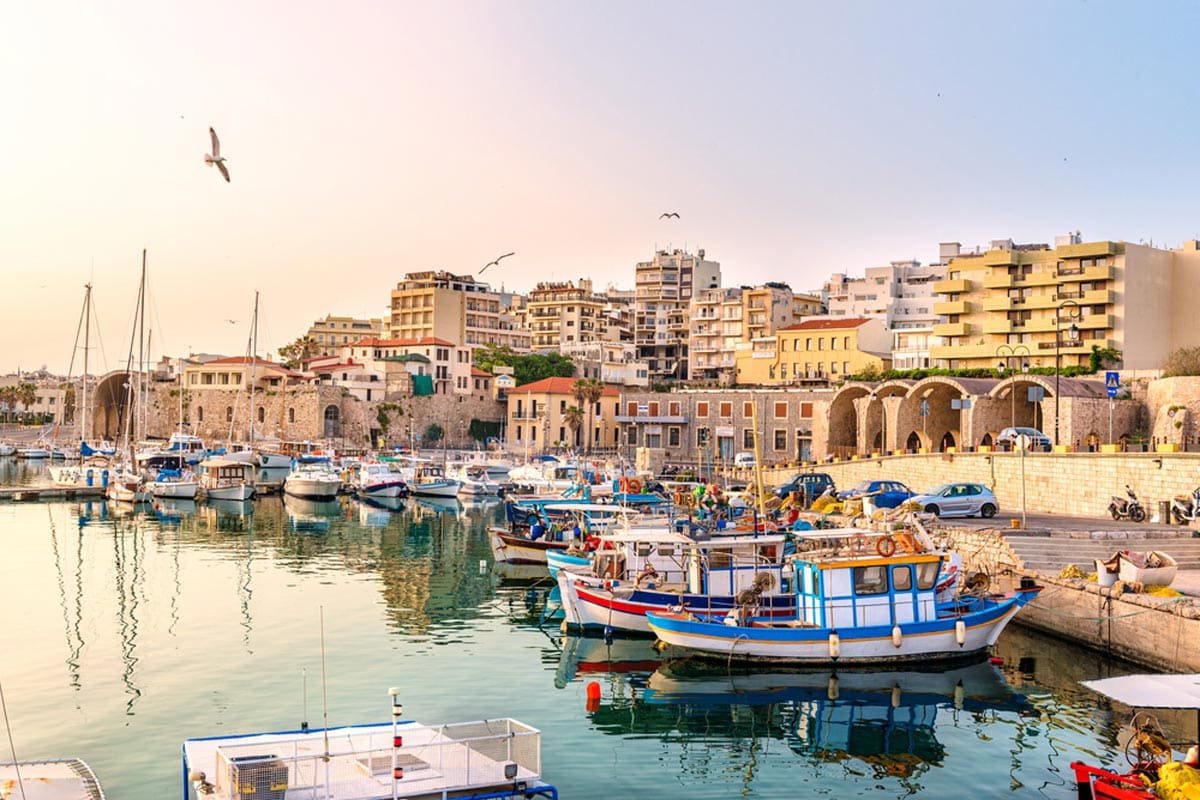 The port city of Heraklion is your second major destination for your 7 days in Crete itinerary. While beaches and nightlife are fun, it's most famously known as a critical player in the archaeological landscape of Crete. Here it's all about exploration.
From breathtaking sites like the Palace of Knossos to ancient sites of the Minoan civilisation, get ready for a blast from the past. Literally.
Things to Do in Heraklion
Discover the Palace of Knossos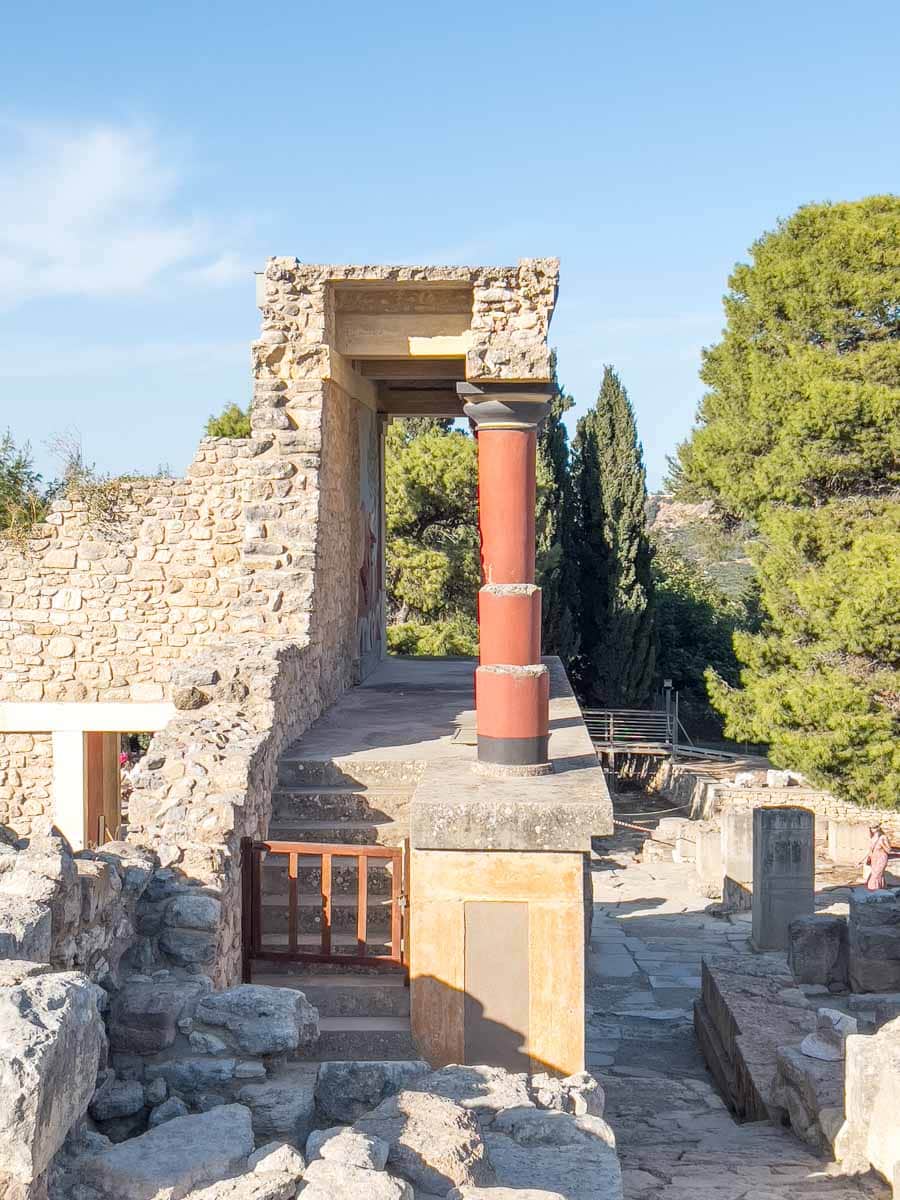 It's easily one of Greece's most impressive archaeological sites, second only to the Acropolis in Athens. Sitting only six miles from Heraklion, it's the perfect spot for a day trip by booking this guided tour.
Alternatively, grab a seat on bus number 2 at the old bus station, which will cost you €2. The ride is about 10 minutes, and once there, pay the €13 entrance fee. I suggest enlisting the services of a private guide, for which prices vary.
Tour the Archaeological Museum of Heraklion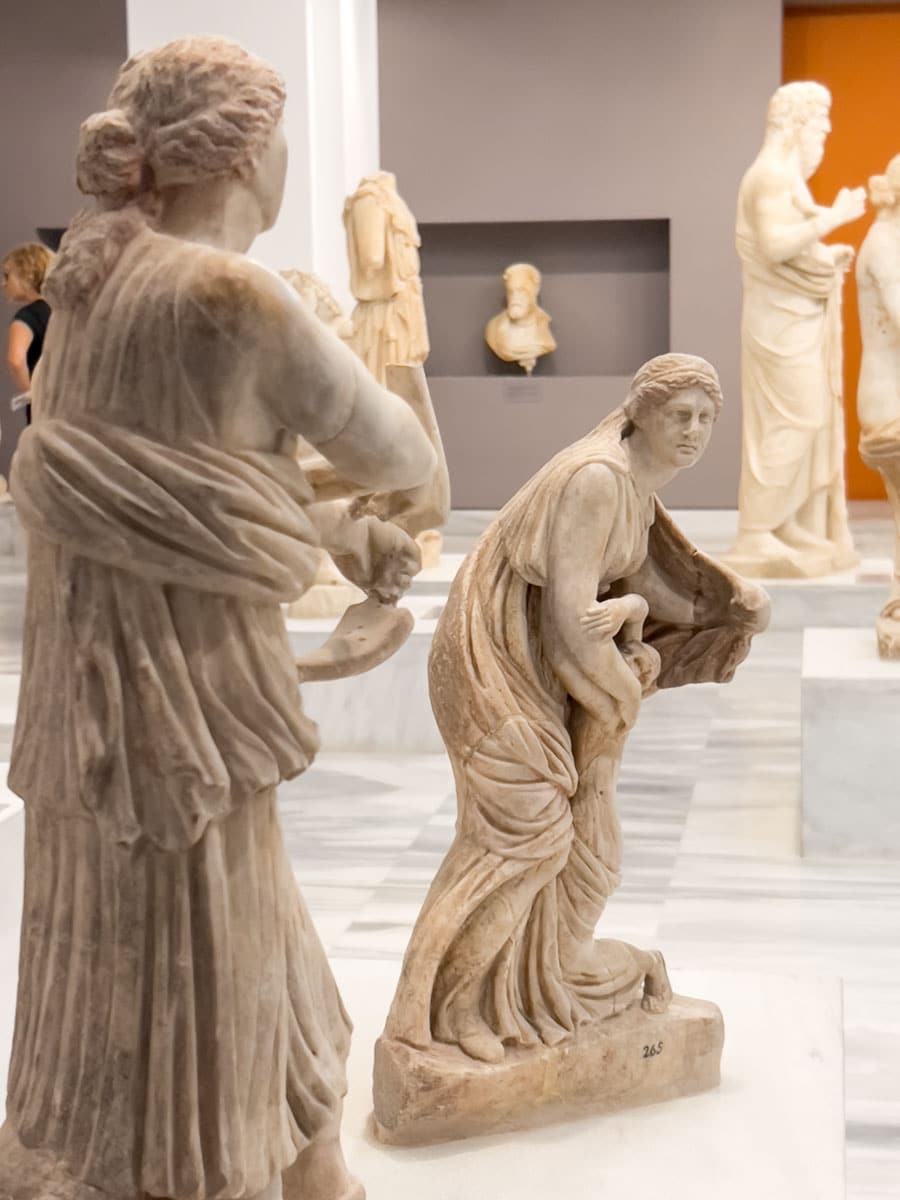 Once back in the city, head to the Archaeological Museum of Heraklion, where you'll get a better and more in-depth idea of ancient Minoan life. Exhibits showcase their complex yet advanced lifestyle in an exquisite way.
Here you'll also get a fantastic look at the magnificent objects and artefacts found at digging sites from around the island. These include perfectly maintained and displayed delicate jewellery, vases, sculptures, and weapons.
Tip: Book this combined audio tour to access the Palace of Knossos and the Archaeological Museum of Heraklion.
Explore the City of Heraklion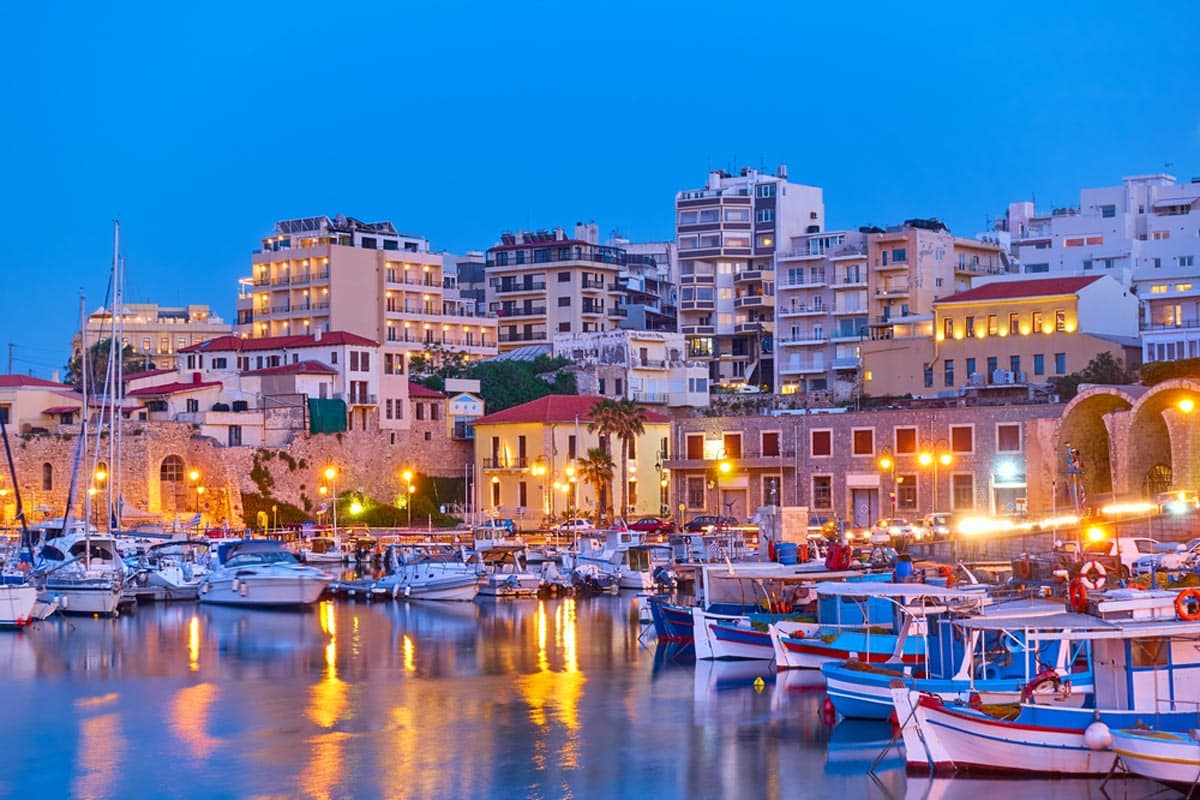 Your second day in Heraklion is more about finding and immersing yourself in elements of the city centre. Start your day with a visit to the Church of Agios Titos, after which you can indulge in a traditional iced coffee at Liontaria.
Admiring landmarks is a must when you're in Heraklion, and one of the most historic of these is the Morosini Fountain. Built in 1628 by the Venetians, it provided drinking water to the city and is an example of ancient underground aqueduct engineering.
For a tasty treat, head to Kirkor, which sits in the centre of the square and snack on a Cretan classic — bougatsa. Serving mouthwatering treats since 1921, this staple of Heraklion's culinary world is a must-visit.
Go Wine Tasting around Heraklion
One of Greece's most important wine-producing regions sits surrounding the city of Heraklion. Home to more than fifteen wineries, some are open to the public, and who can say no to a glass (or two) when in Crete for 7 days?
If you're going it independently, I recommend the village of Archanes, where you'll get the best of Cretan cuisine and wine in a stunning mountain village.
Getting to Heraklion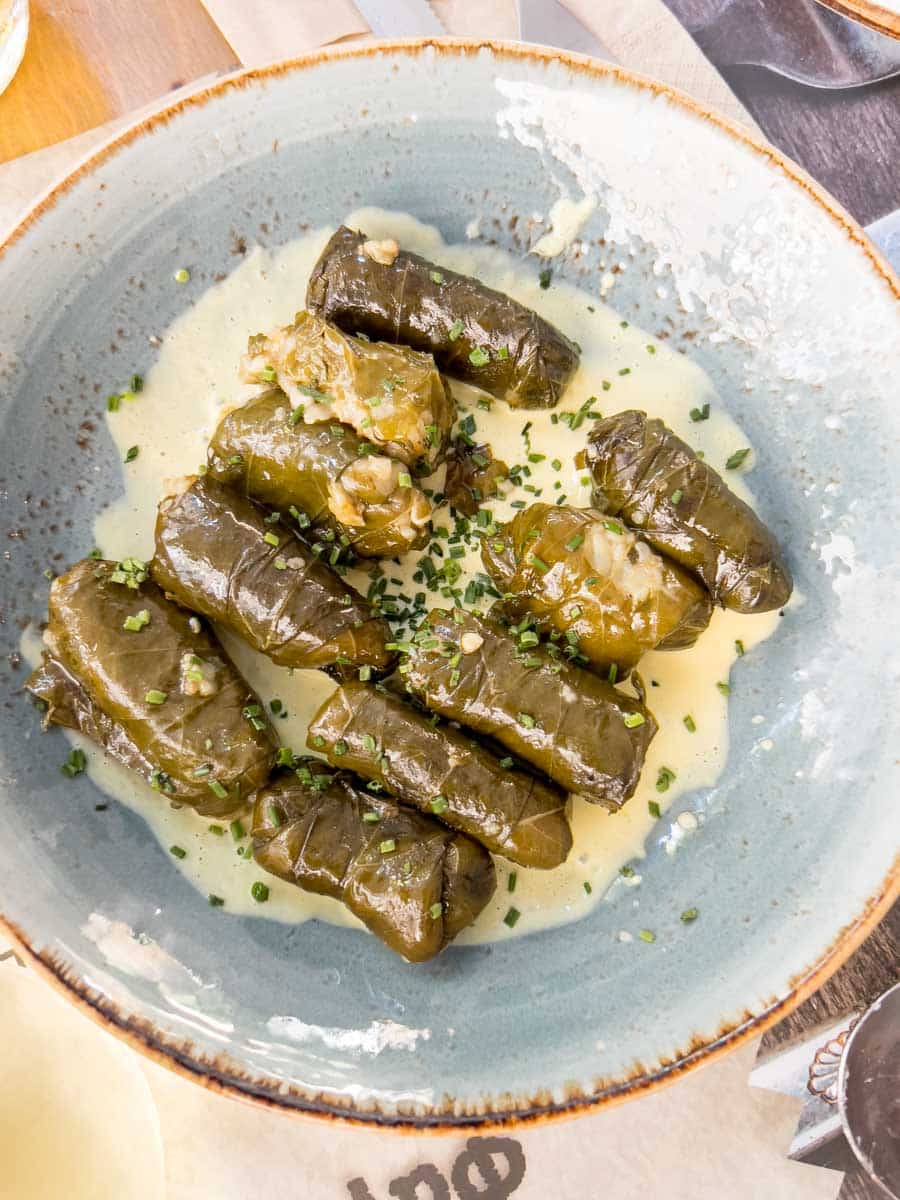 Reaching Heraklion from Rethymno is fairly simple – the easiest way is to hop on a KTEL bus. Or, grab a rental car and head along the main highway, which will take about 45 minutes.
Finally, you can use a private shuttle, but prices might be high, and times vary.
Suggested Stay for Heraklion on Your Crete Itinerary
Infinity City Boutique Hotel
Book a stay at the Infinity City Boutique Hotel in the heart of Heraklion. It's a modern and minimalist-styled property with a wide variety of room types. Its standout feature is its location with easy access to major attractions.
Check Rates and Availability
Alternatively, check all accommodations in Heraklion
Have More Time? Other Destinations for Your Crete Itinerary
Planning a 10-day Crete itinerary, here are a couple of excellent destinations to add for an amazing additional few days in paradise.
Lasithi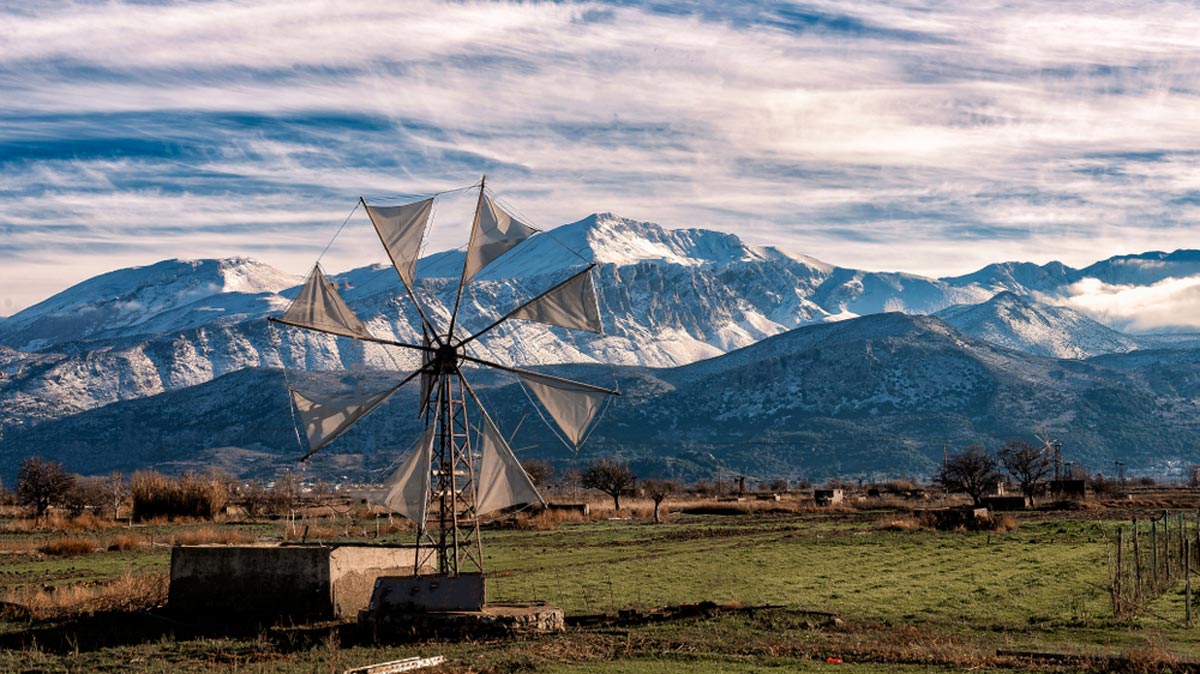 Another stellar part of Crete to visit is Lasithi. Here you'll find charming towns such as Agios Nikolaos, which faces the pristine waters of Mirabello Bay. Visit the small Lake Voulismeni that connects directly to the ocean from the town's centre.
Or head into the Dikti Mountains that sit in the Lasithi Plateau. It's a tranquil region where you can immerse yourself in a magnificent mountainous landscape.
Around and throughout the Dikti Mountains lie eighteen small villages that populate the plateau. Each is worth a short visit. There's a 14-mile circuit road that connects them perfectly for an epic road trip.
Spinalonga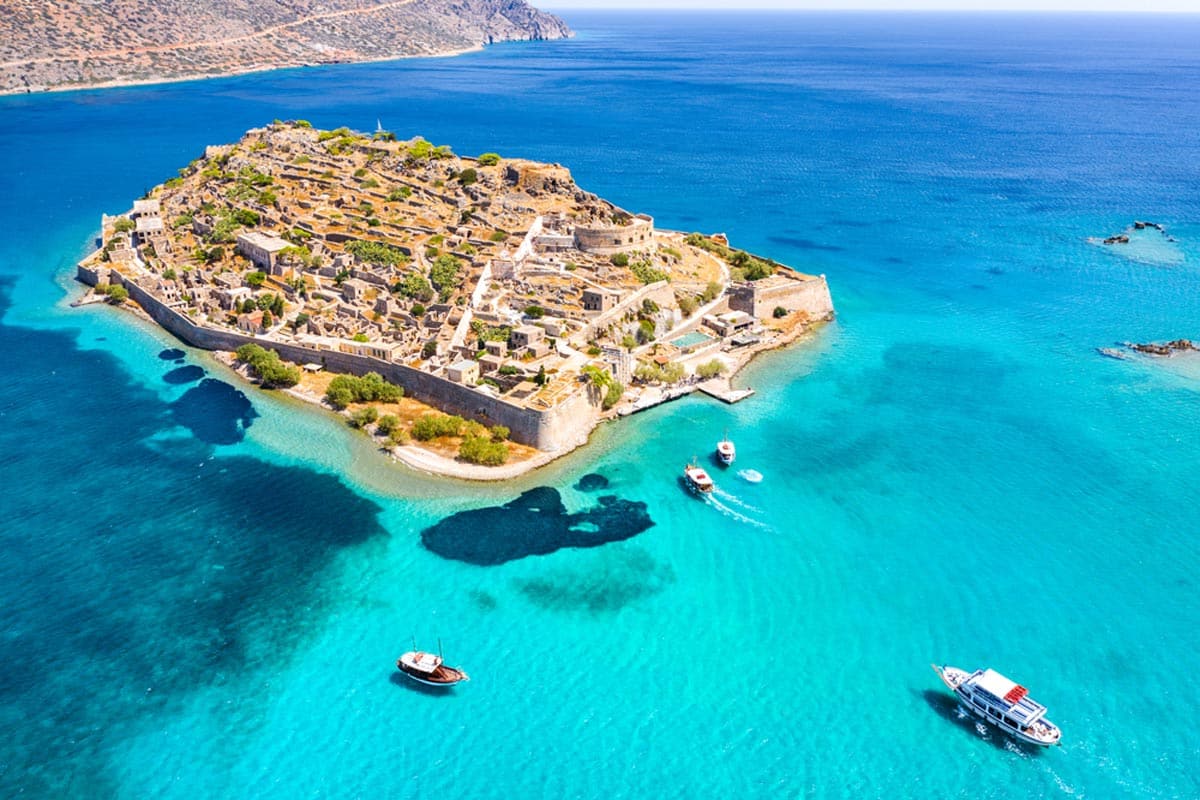 If you're after some more history, visit the island of Spinalonga, situated in the Bay of Elounda. It's close to Agios Nikolaos and best explored via a guided boat tour from the port.
I'll warn you: There's not too much to do on this island and you'll only need a day trip here (maximum). But it's covered in the ruins of a Leper colony and is one of the most fascinating places to visit in Crete.
Crete Itinerary – Map