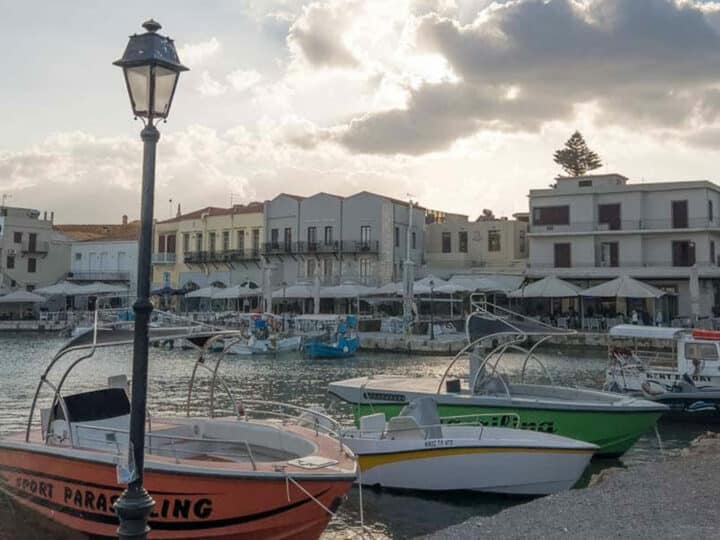 Wondering where to stay in Crete? This handy guide breaks down the best places to bed down, area by area.
Pals, if you haven't yet visited Crete – then why not? It's a gorgeous Greek island (the biggest, in fact) that offers an abundance of vacation options, from jam-packed culture seeking to total R&R.
But with so many things to do across the entirety of the island, figuring out where to stay is where things get a little bit tricky.
Don't worry, I've done all the donkey work for you and compiled this killer guide that covers where to stay in Crete.
So, whether you're dreaming of soaking up the historical sights that pepper the island, want to eat as much Greek food as possible, or fancy lazing on the beach for days on end (or a little bit of everything), this guide has got you covered.
Read on to discover where to stay in Crete, area by area.
Best Places to Stay in Crete: At a Glance
Where to Stay in Crete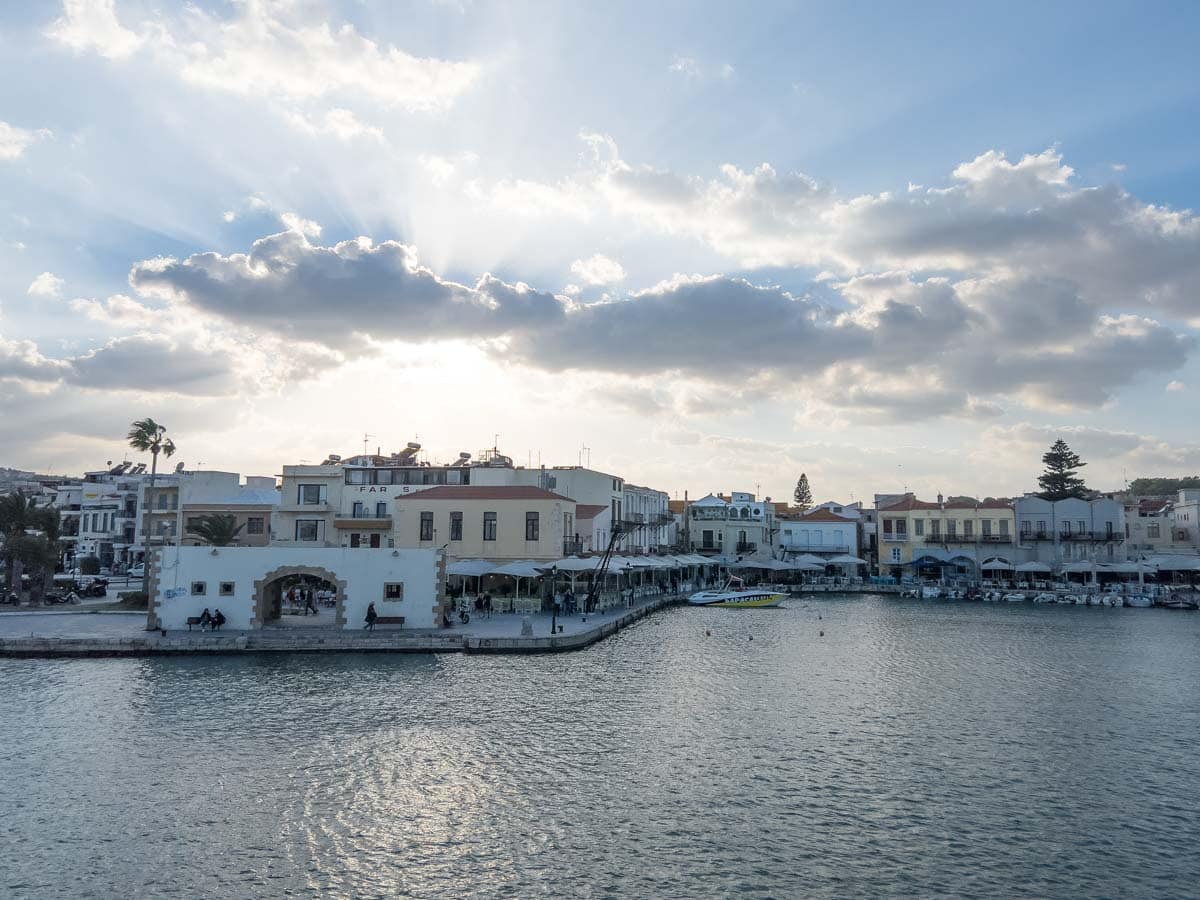 It's no secret that I'm a huge fan of Crete – it's an island full of vibrant towns and cities, each with a unique offering for travellers.
And you'll be happy to hear that, whether you're looking to immerse yourself in ancient Greek culture or enjoy a more relaxed stay in a beachside villa, there are many options for accommodation.
Crete boasts gorgeous cities like Heraklion, Chania, and Rethymno, which is a definite advantage of staying here. Though that doesn't mean you can't find a more rural option, such as Agios Nikolaos, if you want a less urban stay.
Heraklion: Where to Stay in Crete for Nightlife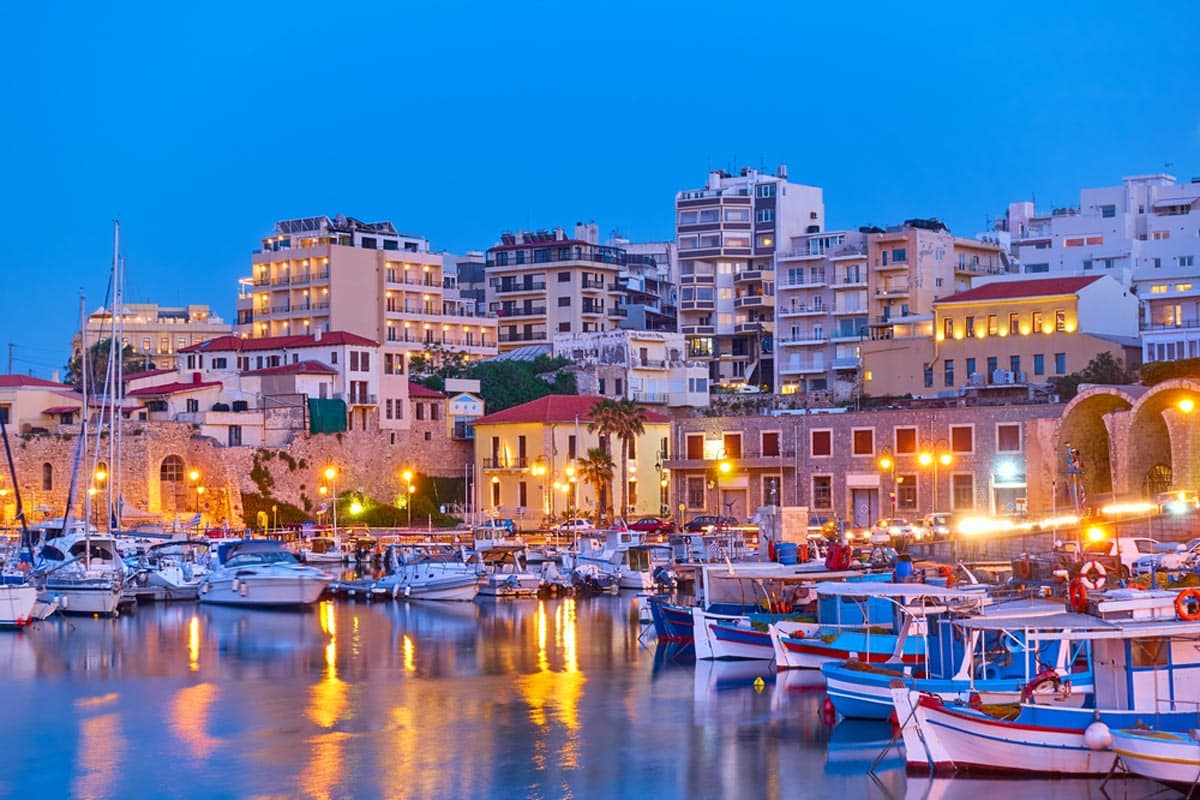 On the island's eastern side, you'll find the capital of Crete, Heraklion. This city is full of brilliant things to do, including some of the best beaches in Crete, incredible archaeological monuments, and a pumped-up nightlife scene.
Heraklion is also significant as it boasts vast cultural heritage and influences – from Venetian architecture to prehistoric Minoan art.
Another thing I love so much about Heraklion is the abundance of fantastic cafés and restaurants dotted around the city, providing easy access to delicious food.
Heraklion Highlights
Suggested Crete Hotels in Heraklion
Chania: Best Place to Stay for First Timers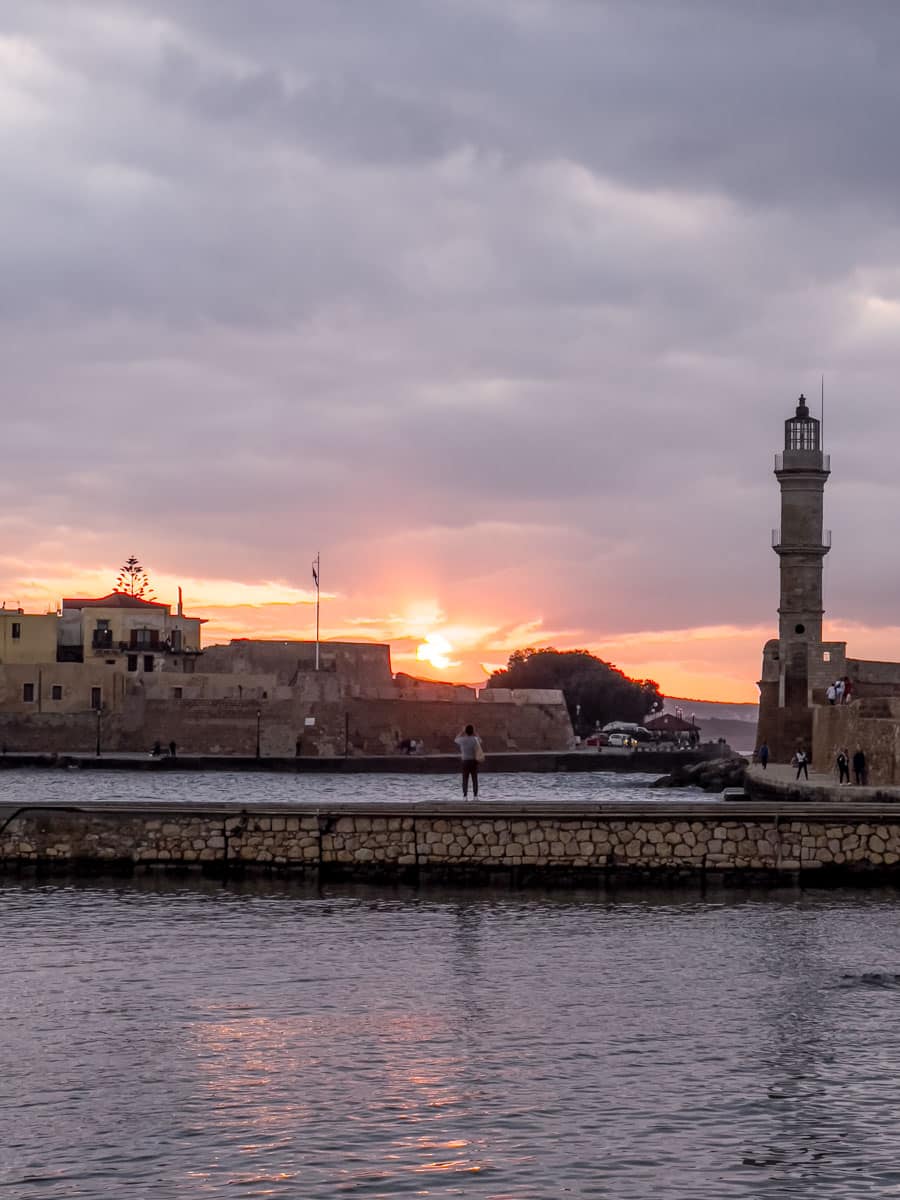 If you're not quite sure where to stay, I say head to Chania – a great choice of city for where to stay in west Crete.
It's also the ideal spot for first-timers on the island, as it's a city full of sights and is close to renowned natural attractions, such as Samariá Gorge and Balos Beach. What's more, it's only a 50-minute flight from Athens.
Chania has a long history of being under foreign control, from the Romans and Venetians from the North to the Byzantines and Ottomans from the East.
These influences have resulted in a multicultural city, which you'll notice in its famous landmarks, such as the Venetian Lighthouse or the Küçük Hasan mosque.
Chania Highlights
Suggested Crete Hotels in Chania
Elounda: Best Place in Crete to Stay for Beach Lovers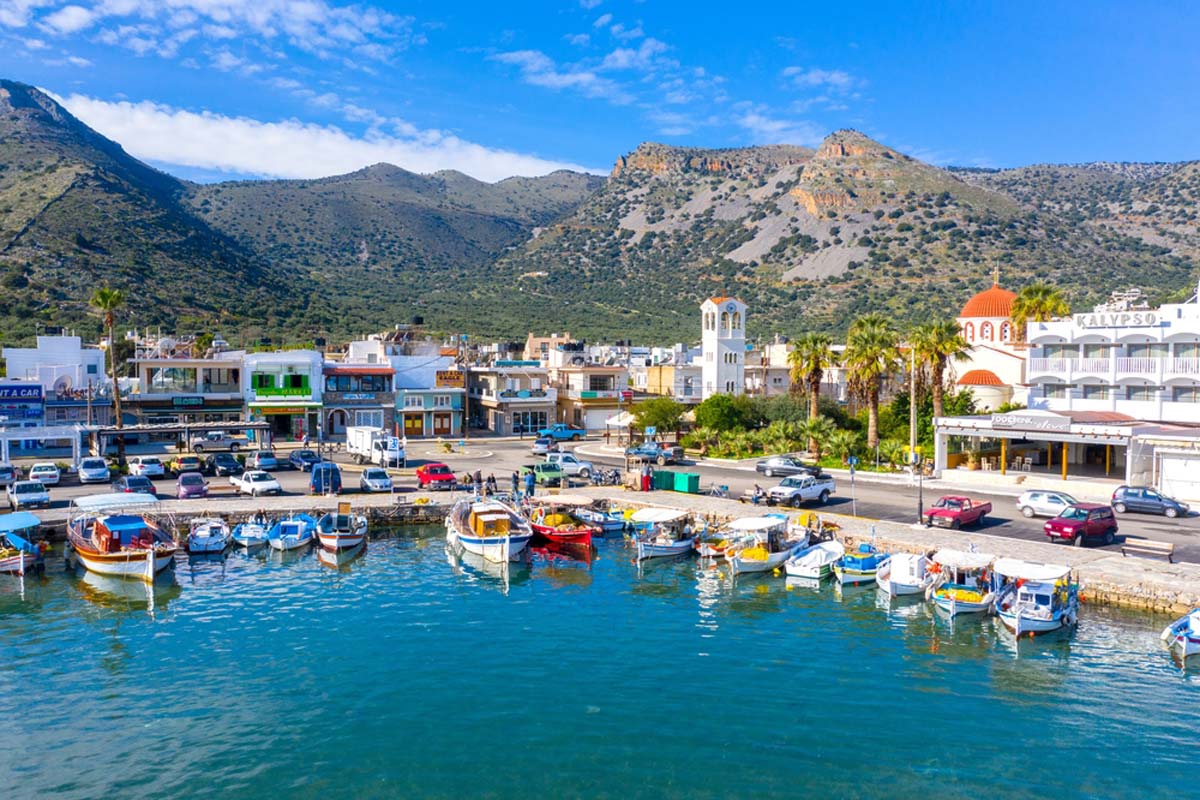 On Crete's eastern coast is the charming village of Elounda. It is the perfect spot to stay on Crete if you prefer a more relaxed experience of the island. By no means do I mean that the rest of Crete is overwhelming, but you'll love the calm atmosphere of this stunning town.
People have lived in Elounda since Minoan times, which classic literature lovers might recognise from Homer's writing. Nowadays, it's a getaway for celebs and politicians, which I can understand as it's optimal for peace and quiet.
It's the best spot to stay in Crete for beach lovers, as it has clear waters and coastal paths with gorgeous sea views.
Elounda Highlights
Suggested Crete Hotels in Elounda
Agios Nikolaos: Where to Stay in Crete without a Car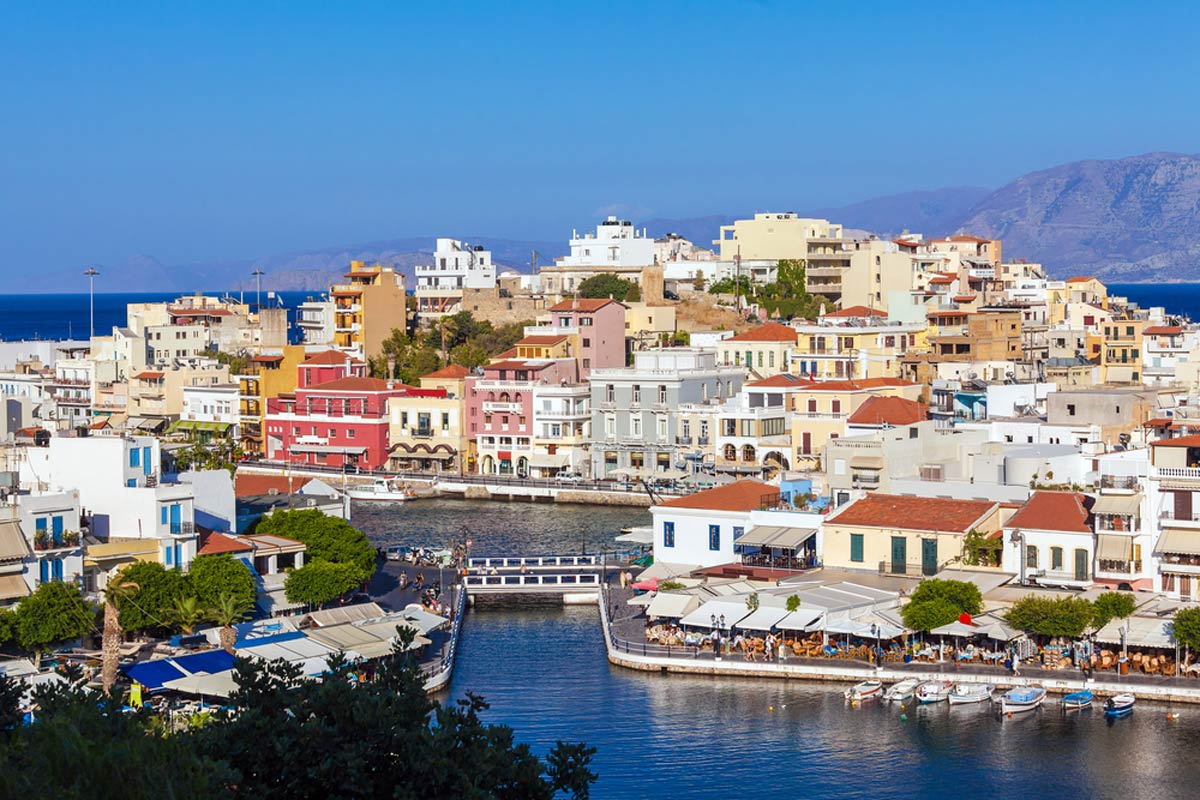 Coming to Agios Nikolaos (or "Ag Nik" to locals), you'll feel like you are stepping into a postcard.
It's the ideal Cretan town if you don't have a car, as there's a great public transport system and the town is pretty walkable. Large bodies of water surround Ag Nik, whether it's Lake Voulismeni or Mirabello Bay.
You'll adore this town for its warm hospitality and relaxed way of life. But just because it's quiet does not mean it's void of things to do or places to eat. Quite the opposite – you'll find quite a few tavernas and restaurants around the area, where you might even share a drink with a local.
Agios Nikolaos Highlights
Suggested Crete Hotels in Agios Nikolaos
Rethymno: Where to Stay in Crete for Couples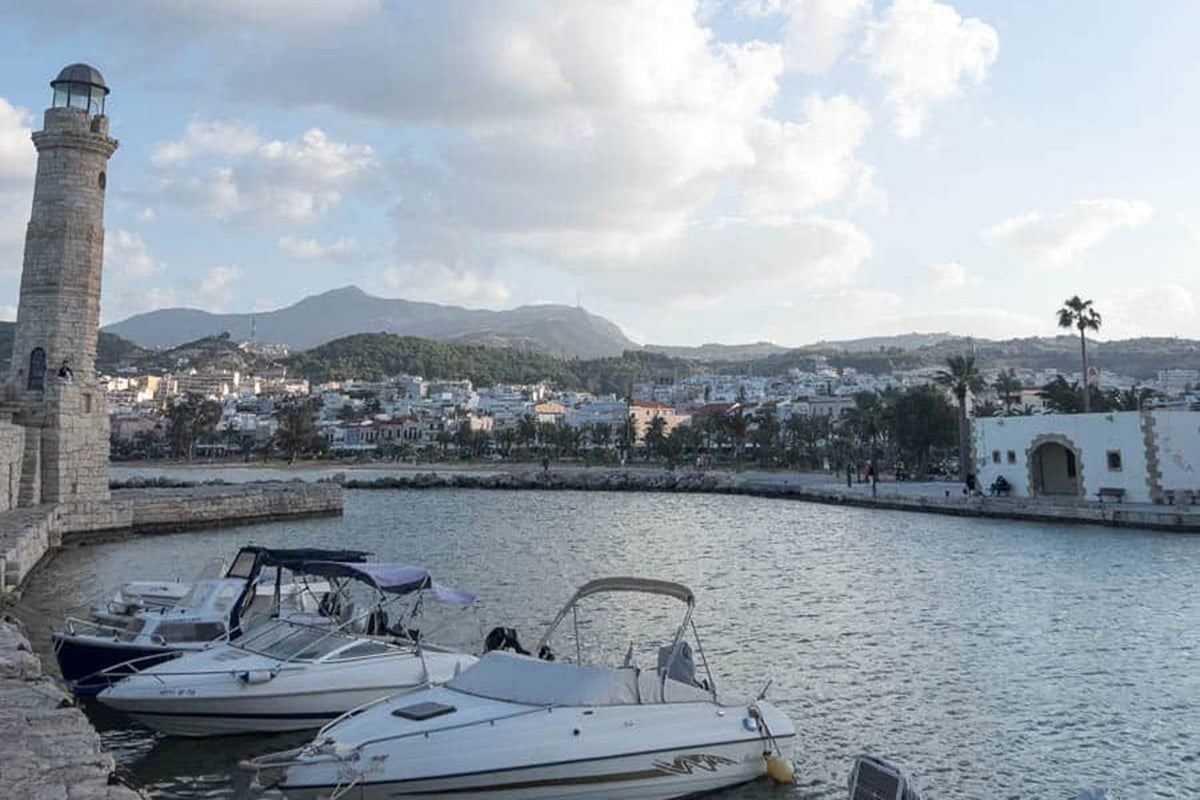 On the island's north coast, central to Chania and Heraklion, you'll find the city of Rethymno, Crete. Typically it's overlooked as a holiday destination, with tourists coming to the previously mentioned larger cities.
However, the city is excellent in its own right. It's the perfect spot for an intimate stay with a partner, whether as a honeymoon destination or just for a weekend. Its Old Town is as characterful as they come, with tavernas and landmarks reminding us of Rethymno's multicultural past.
Rethymno Highlights
Suggested Crete Hotels in Rethymno
Where to Stay in Crete: Frequently Asked Questions
Practical Tips to Consider Before Booking Your Crete Accommodation