Wondering where to stay in Crete? From cosy seaside apartments to huge villas, this handy guide has got you covered when it comes to stylish Airbnbs in Crete, Greece.
Crete is one of my favourite Greek islands – and one I believe everyone should visit. Not only because it's the biggest but also because it features some seriously stunning architecture and cities that rival Athens in their history.
But before you go all gung-ho and book your flights, you'll need to find somewhere to stay.
I'll warn you – I'm ruthless when it comes to finding vacation rentals. I believe that you deserve to spend your hard-earned cash on only the coolest Crete Airbnbs.
Read on to discover the spots that make the cut.
Oh, and while I've featured great Airbnbs here, I have to admit that I prefer using Plum Guide. I find that they showcase individually-vetted properties of a higher quality.
Best Airbnbs in Crete: At a Glance
Best Airbnbs in Crete
Ocean's Pearls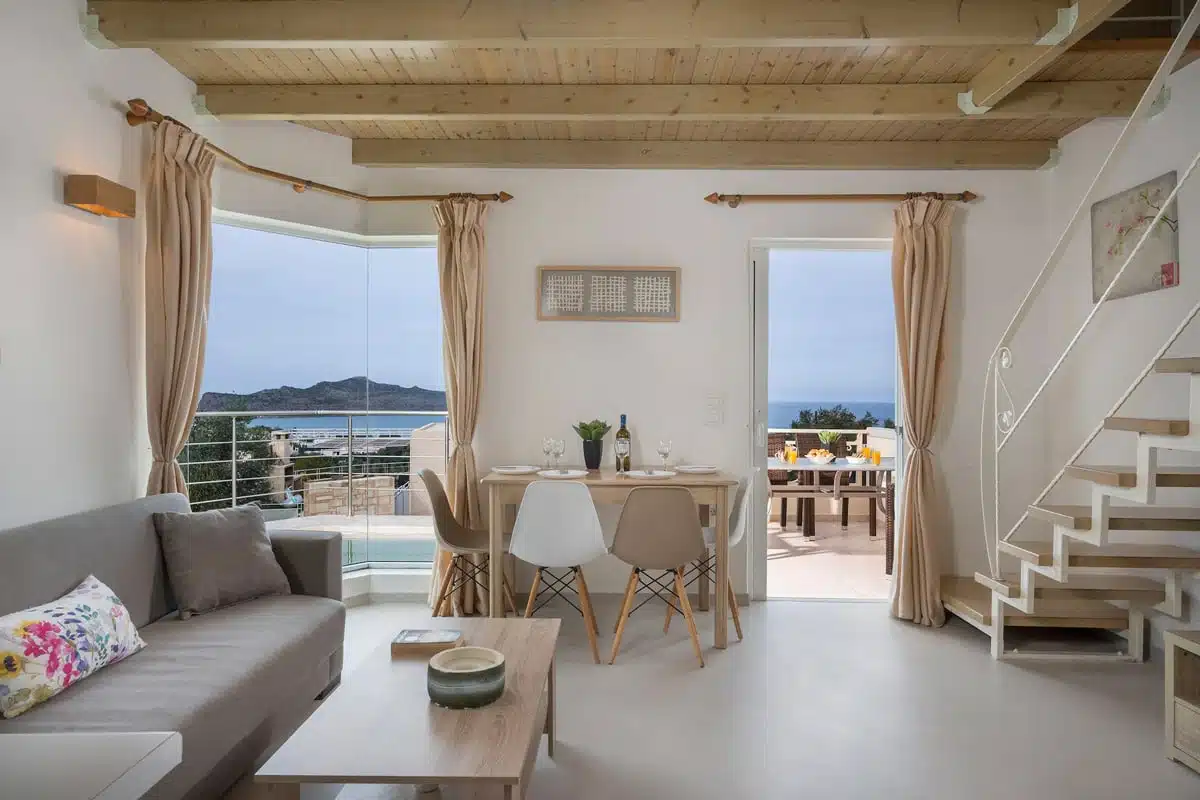 This home's a short walk from Stalos beach and a 15-minute drive from Chania, making it accessible to amenities nearby.
You'll enjoy breathtaking views from the terrace of this gorgeous one-bedroom and two-bathroom stay. Sports lovers, unfortunately, must settle for swimming in the pool as there aren't alternatives. But its beautiful garden and outdoor barbeque should make up for it.
Location: Chania
This Airbnb in Chania sits in northwestern Crete and is one of my favourite locations. With impressive cultural landmarks, this city's teeming with activities.
TreeTop Villa II in Loutra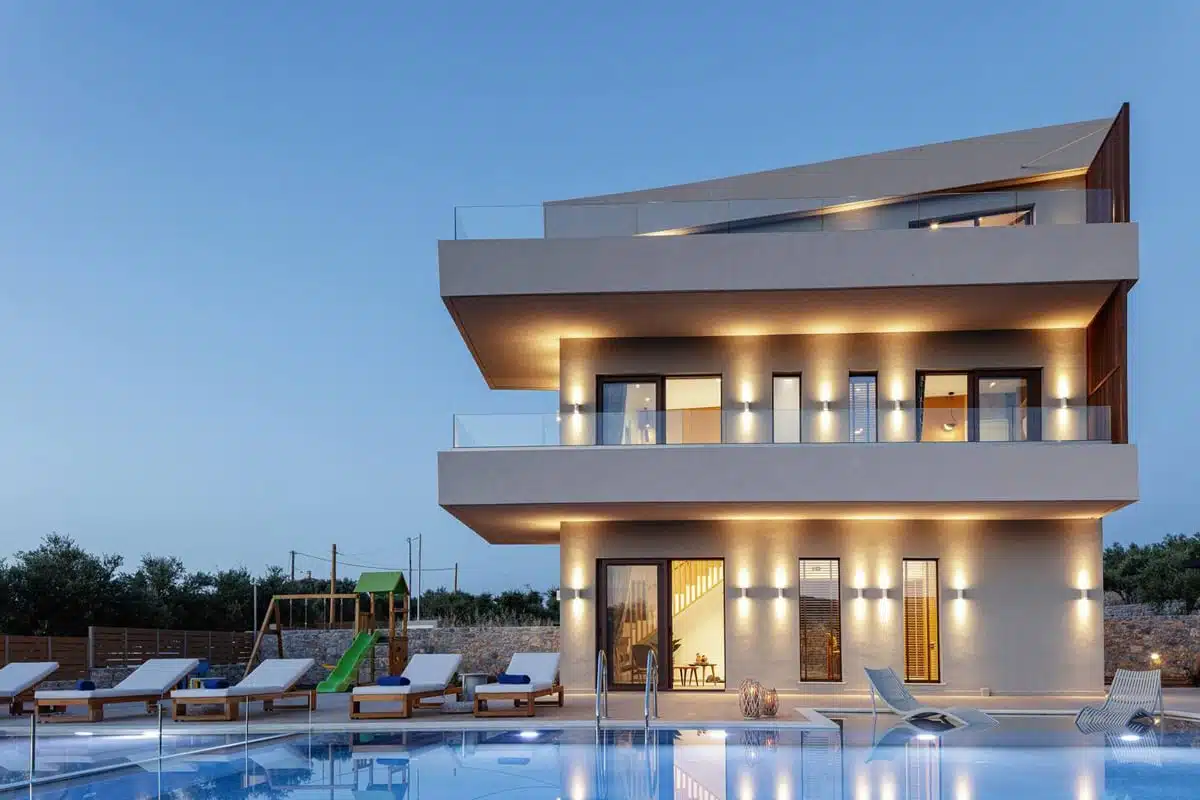 If you're searching for one of the best villas in Crete, Airbnb has you covered with TreeTop Villa II. This impeccably designed villa is nestled in Loutra, a captivating central Cretan village.
I stayed here and loved it — the villa has a great outdoor space. But I must warn you: the pool's unheated. So, while Crete's climate is moderate, prepare yourself for a cold shock when dipping in.
But I digress. Superhost Valia has ample experience and is highly rated by guests, which offers great assurance.
Location: Loutra
Loutra's still turquoise waters contrast beautifully with the jagged mountains surrounding it. If it's total serenity you're after, you'll find it here.
Coules Fortress in Heraklion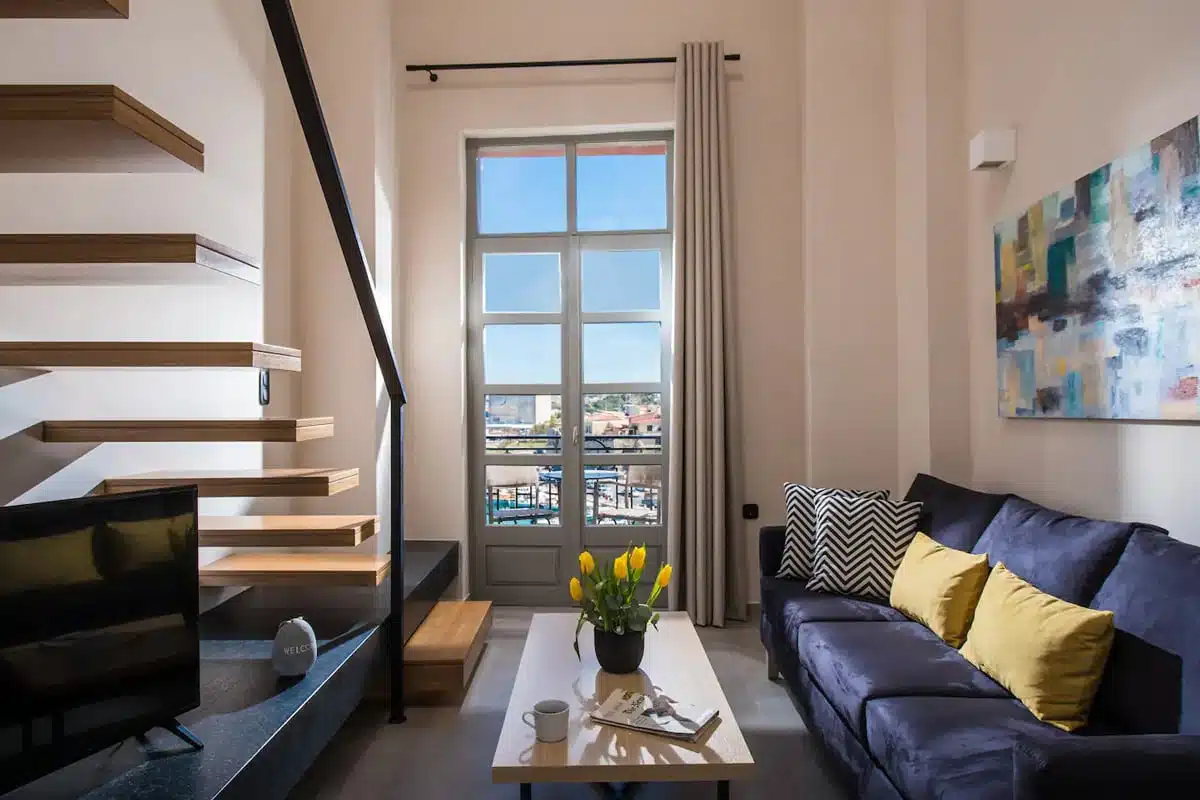 This chic Airbnb in Heraklion offers stunning views of the harbour. And, apart from the salty, balmy ocean breeze, you'll also enjoy crisp air-conditioning.
The fully renovated apartment features two minimally decorated (but spacious) bedrooms with double beds comfortably accommodating four guests. Plus, the hosts are friendly and responsive.
Sadly, there is no parking on the premises, so you won't be able to park your rental car here.
Location: Heraklion
Heraklion is swarming with brilliant things to do. Plus, getting around's easy with scooters and walkable streets.
Horizon of Helios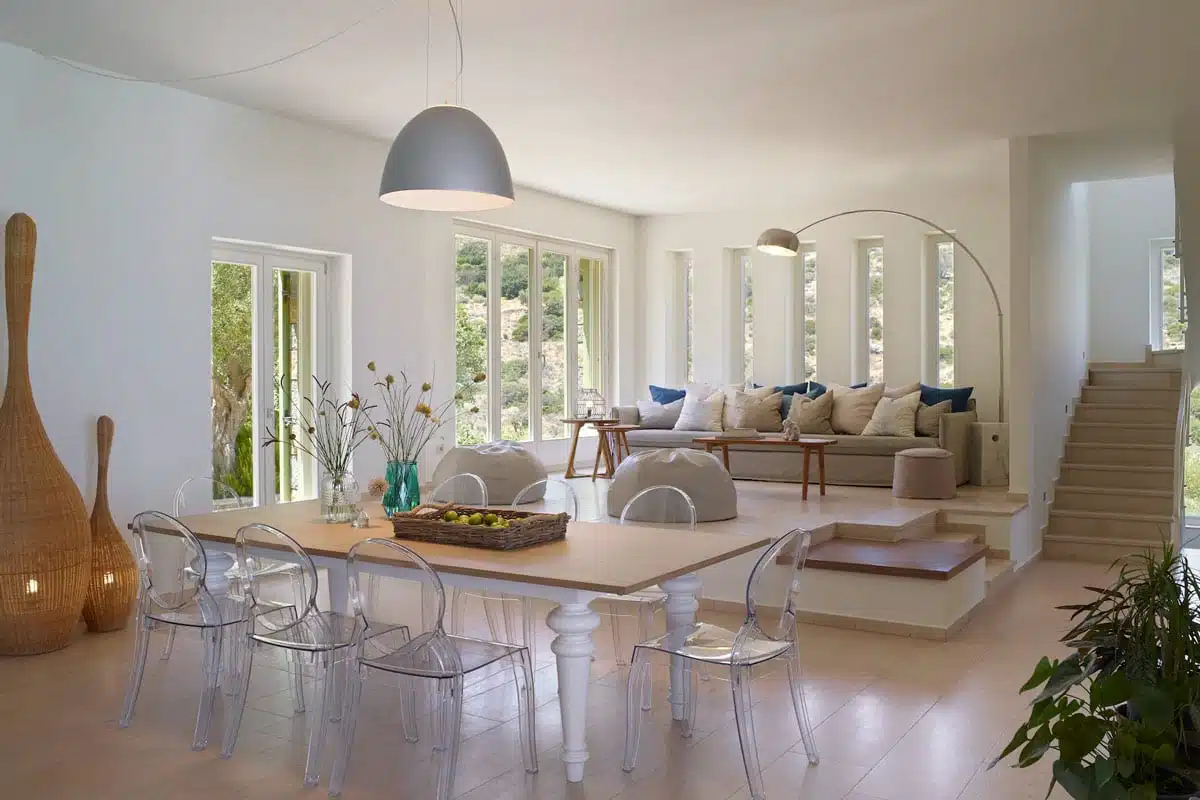 This luxurious villa sits on its own estate with lush vegetation. Indoors is a fully equipped kitchen for gathering and hosting with friends and stunning furnishings like a desk for working.
You'll find all the amenities you could hope for and then some. Hosts allow pets here, and you'll receive a welcome hamper upon arrival.
Because this villa accommodates sixteen guests in eight spacious bedrooms and nine spa-like bathrooms, it's hard to find fault with it.
Location: Elounda
Elounda's perfect for relaxing among friendly locals and breathtaking scenery.
Villa Casa Atitamo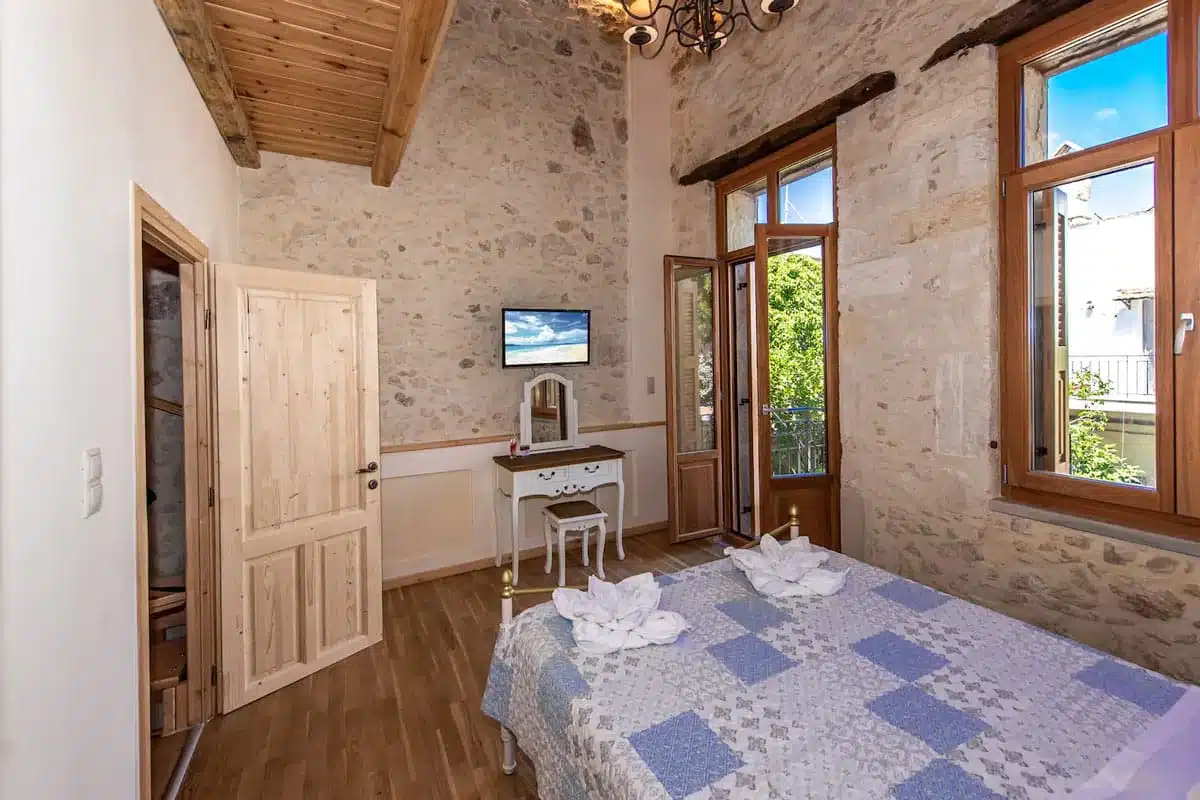 This stunning Venetian-period villa boasts air-conditioned rooms with minimalistic bathrooms and a rustic, stone exterior.
I'll be totally honest, the villa could do with a major interior redesign. But there's a private outdoor pool and private hot tub that more than makes up for the old-fashioned decor.
That said, this Airbnb in Rethymno, Crete, offers a more intimate feel that others may lack and is one of the top places to stay on the island of Crete..
Location: Rethymno
Rethymno is one of my favourite places in Crete – the mix of Venetian architecture makes it one of the most picturesque places to stay on the island.
Mediterranean Diet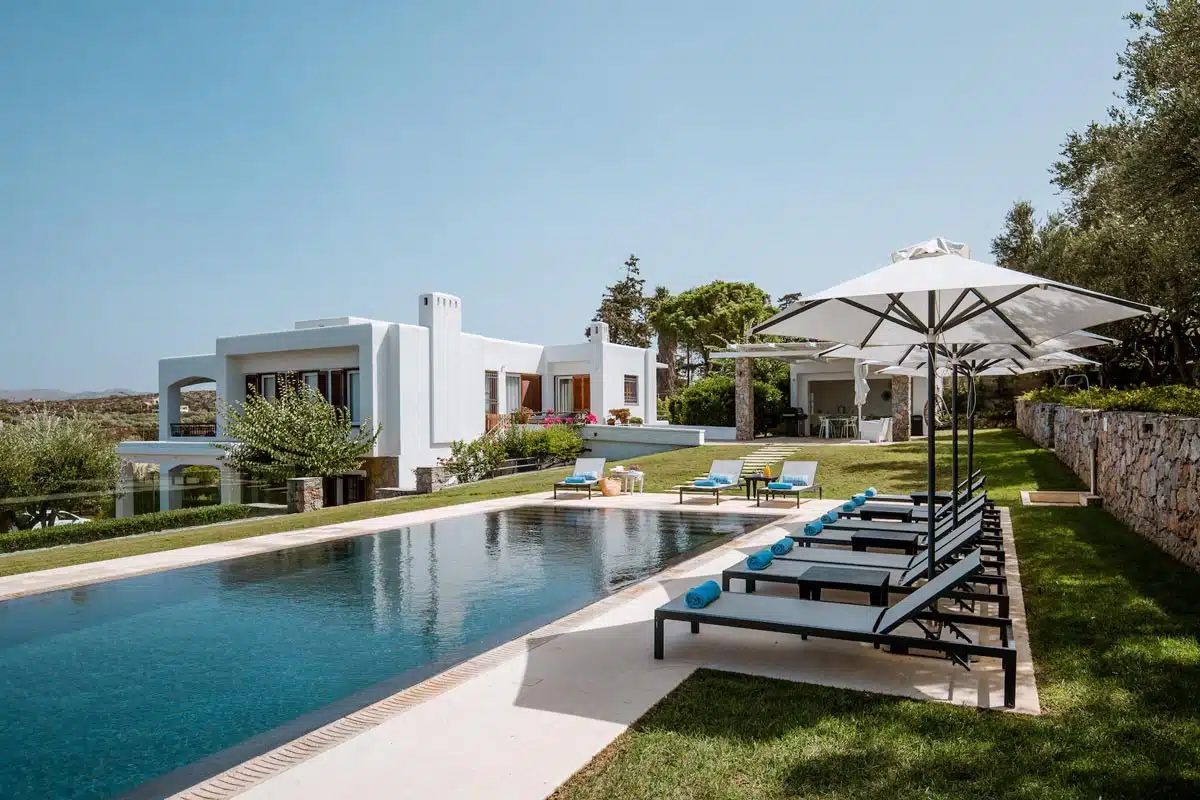 This luxurious stay offers ample space on this 538 sq/ft property with seven stylish bedrooms and four stunning bathrooms. You needn't look too far for rest and relaxation, as the saltwater pool has all the Mediterranean ocean vibes you could possibly need.
The outdoor dining space is the perfect place to sip cocktails as the sun sets, too.
Location: Chania
Lush greenery with olive trees adorn this area – it's truly one of the most beautiful areas of Chania. And Crete in general. It's also close to beaches like Agios Onoufrios.
Stylish New Urban Apartment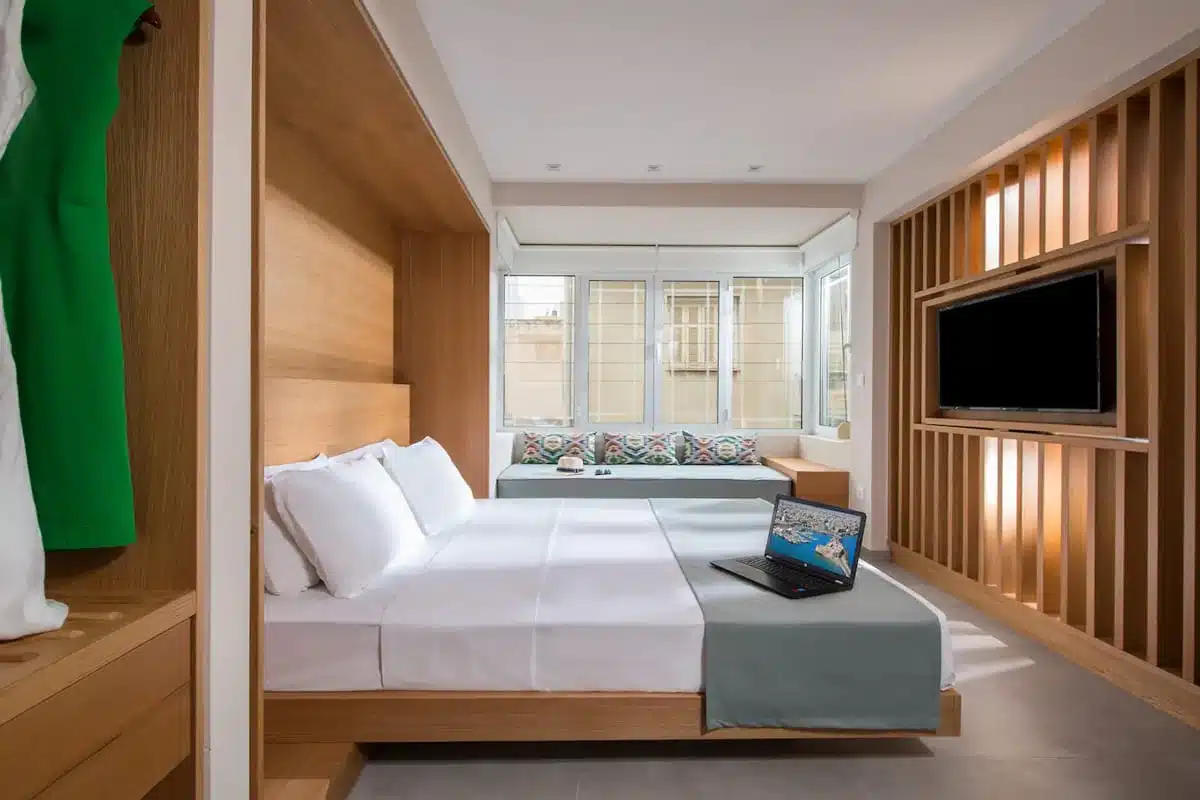 This apartment offers an affordable stay with contemporary interiors, and city slickers will appreciate having easy access to lively bars and cafés.
The huge fluffy bed is surrounded by ample storage space and a flat screen TV. Not that you'll want to spend too much time indoors, with an abundance of restaurants and bars on your doorstep.
Location: Heraklion
Foodies, welcome! This part of Heraklion is close to chic restaurants like Kanatelias Lunch Restaurant.
Villa Glaucus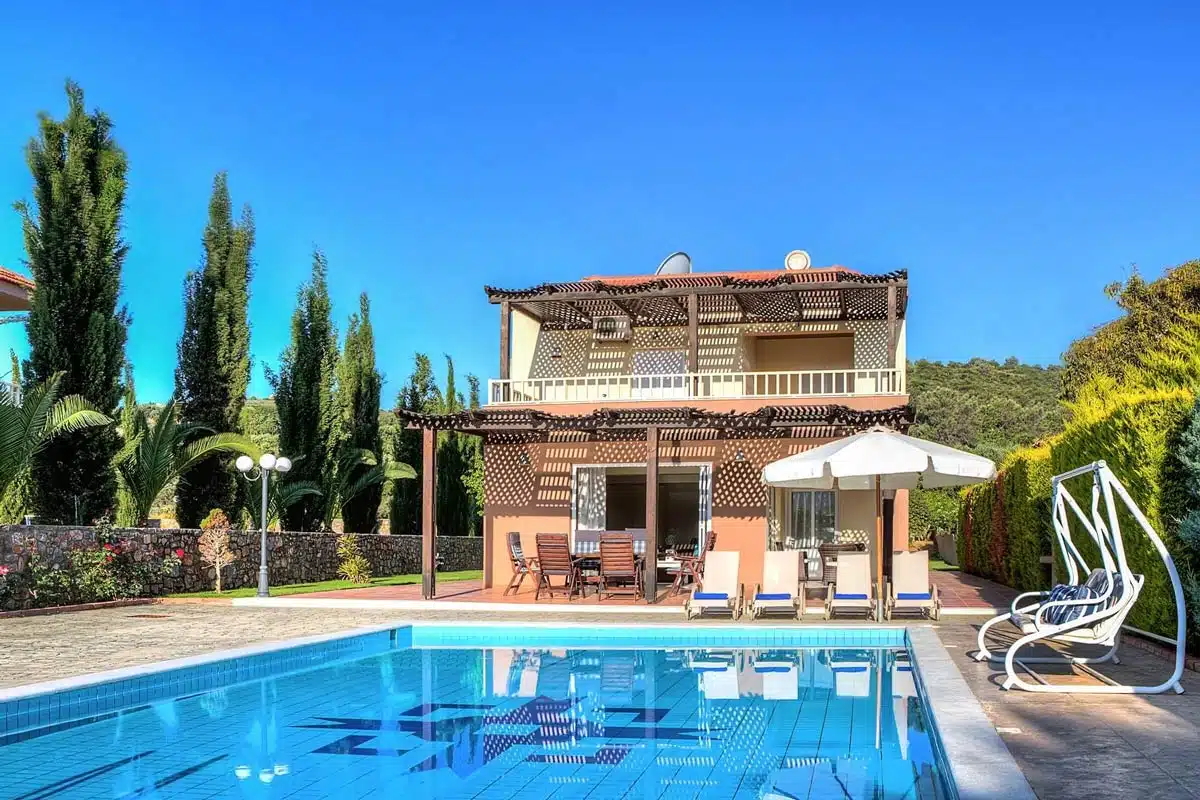 This home-away-from-home features a simple and well-decorated space that accommodates six people in its three bedrooms. Sissi Beach is also a mere five minutes away.
Better yet, this villa boasts a large sundeck with a verandah and a swimming pool – the perfect place to entertain and while away hours underneath the Greek sun. Especially when you wack out the BBQ tools and rustle up something tasty.
While homey, some may consider its styling and décor plain. Myself included.
Location: Lasithi
When staying in Lasithi, you can enjoy stunning views of the mountains and easy access to restaurants and bars.
East Seafront Suite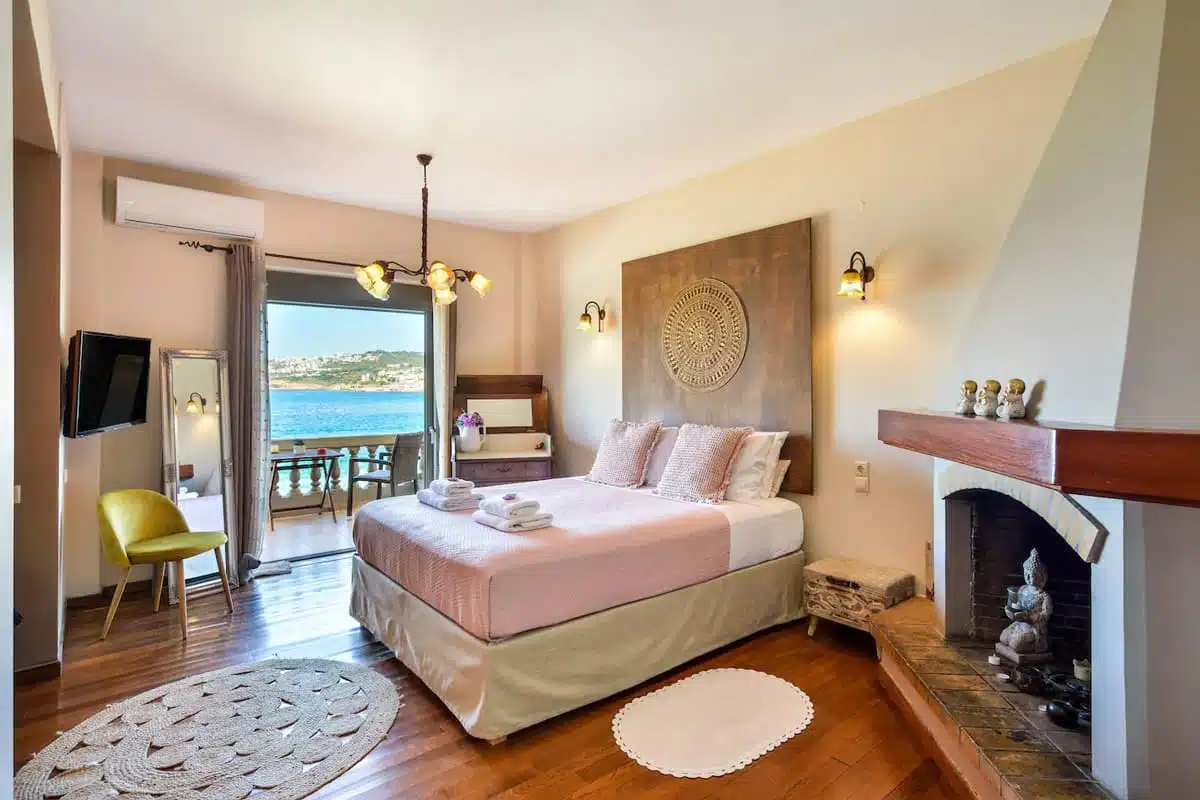 This cosy property offers breathtaking 360-degree views of the ocean from its majestic balcony that sits above Kum Kapi. Sundowners on the terrace, anyone?
Even better news: The host allows access to all areas, delighting you in the apartment's splendour. Its elevated style yet warm ambience makes for a dreamy stay for couples.
Location: Chania
Another epic Chania apartment that sits closeby to all major attractions like the Old Venetian Harbour.
Erato's Romance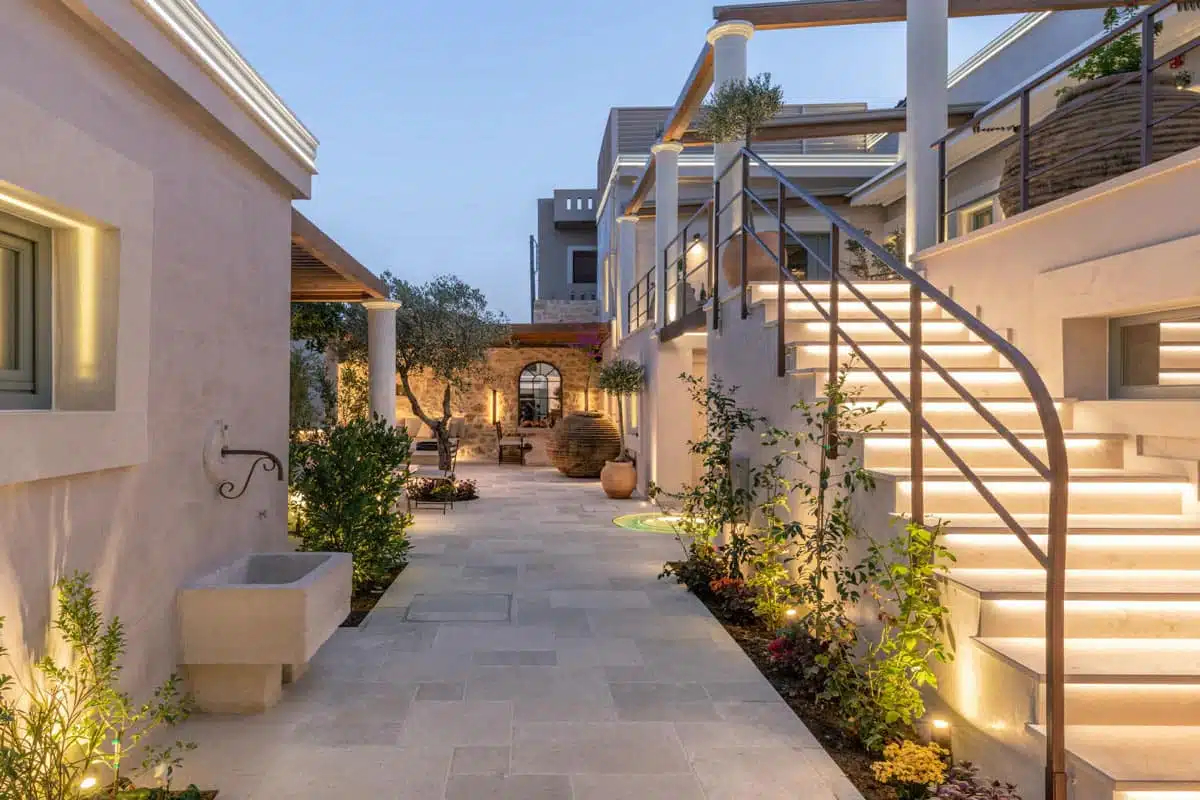 With stone architecture and simple, clean lines, this is the perfect enclave for lovers. You can sit and enjoy an ibrik coffee in the morning on its stunning garden terrace.
While Erato's Romance is perfect for "hiding out," there isn't any Wi-Fi, so ensure you've got a Greek SIM card with ample minutes, SMS, airtime, and data if you want to connect with the outside world.
Otherwise, turn off your phone and spend some time indulging in each other and the beautiful surroundings.
Location: Heraklion
For the ultimate romantic escape, there's a variety of grapes and wines to explore and taste in this region of Crete.
Practical Tips to Consider Before Booking Your Airbnb in Crete
Most Airbnbs in Crete will be located in Chania or Heraklion, so bear this in mind when planning your trip.
There are some things to think about in advance to ensure your trip is smooth sailing – identify available transportation before booking and ensure your preferred accommodation has enough space and amenities for the entire party.
Airbnb Crete, Greece: Map