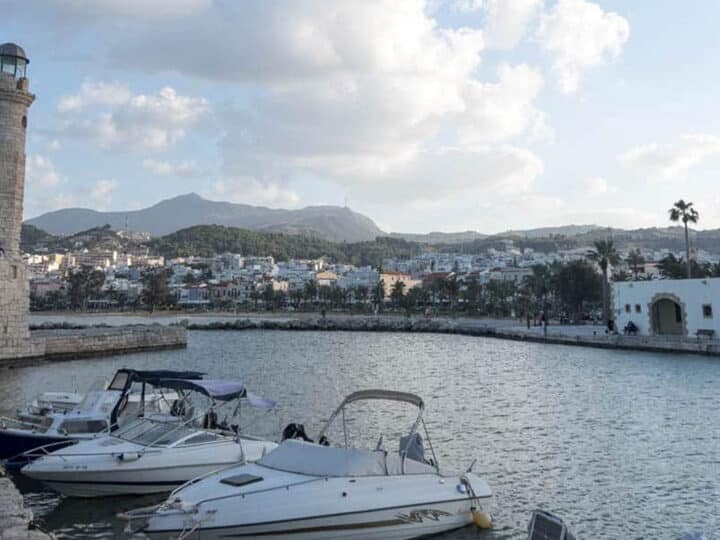 Get ready to discover the ultimate Rethymno, Crete travel guide. Where to stay, what to do and, more importantly, where to eat.
Heard of this gorgeous town on the north coast of Greece? You haven't? Well, let me introduce you to your next coastal getaway spot.
Rethymno, Crete, pronounced ruh-thim-now, goes by many names (Rethimno, Rethymnon, Rhíthymnos), so you'll see a few variations of the name.
But whatever you call it, this charming little beach town is chock-a-block with fabulous gems and things to do. And I guarantee you'll fall head over heels for its laidback pace and beautiful surroundings.
Ready to explore? Read on for the ultimate guide to Rethymno…
Looking for somewhere to stay in Rethymno? I recommend the gorgeous Menta City Boutique Hotel.
Top 5 Things to Do in Rethymno, Crete
Visit Rethymnon Old Town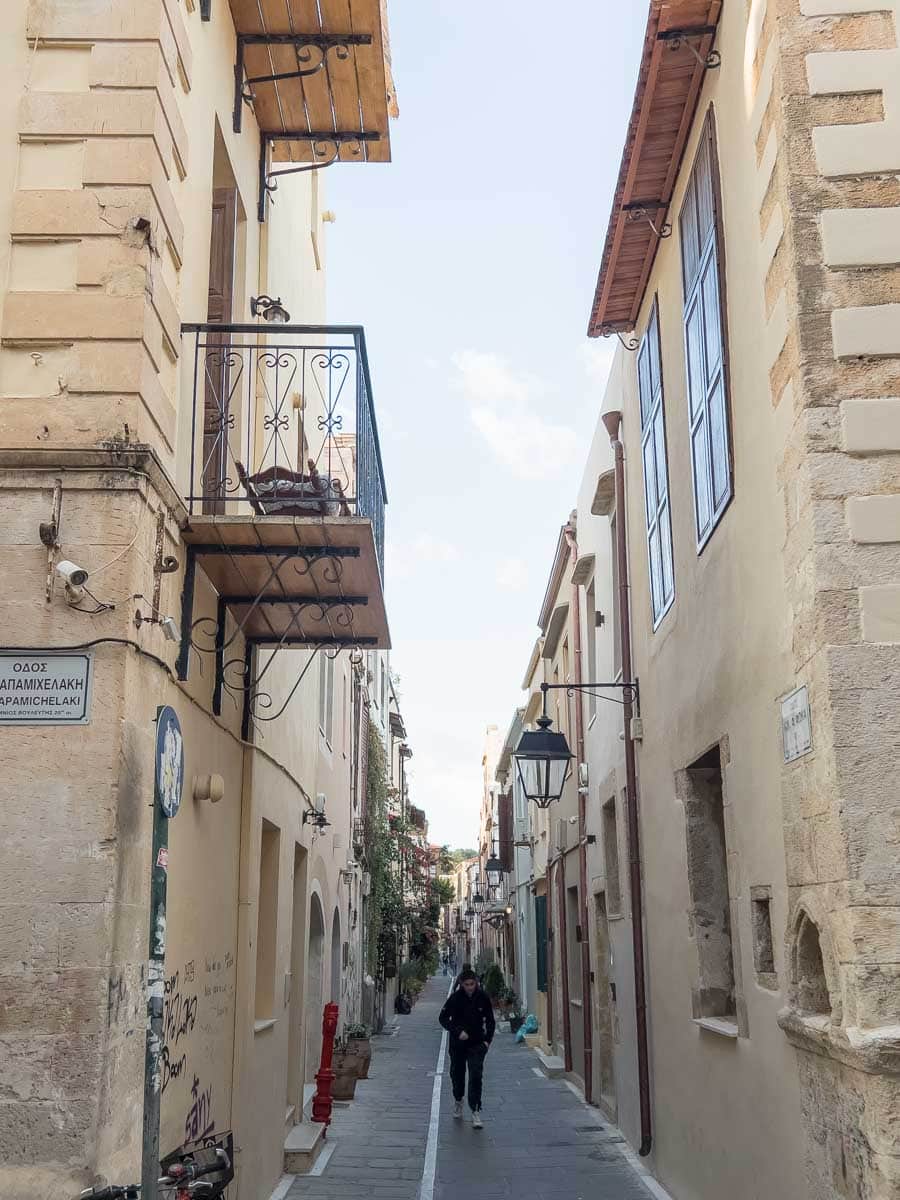 When visiting places in Greece, the older parts of the town are usually my favourite. And Rethymno is no different.
The Old Town of Rethymno is the heart of the city. The historical centre is a maze of alleyways and Ottoman architecture. It's alive with colourful buildings, delicious aromas, and friendly people.
Here, you'll find some of the best-preserved mosques, churches, and landmarks on the island.
Want my advice? Head to Souliou street, just a stone's throw from Neratze Mosque, to pick up a few souvenirs. You can pick up anything from beach dresses to special Cretan herbs.
Step Back in Time at the Historical and Folk Art Museum
If you want to take an in-depth look at this medieval town, you'll find no better depiction than at the Historical and Folk Art Museum. It sits in a 17th-century mansion on Vernardou Street in Old Town overlooking its home.
It shows traditional Cretan handicraft and folklore art over five exhibition halls. This collection includes textiles, ceramics, and handmade baskets. Outside, beyond the doorway arches, you'll find a large courtyard you can stroll through decorated with orange trees and a cistern. It makes for a quiet end to an educational tour.
Marvel at Neratze Mosque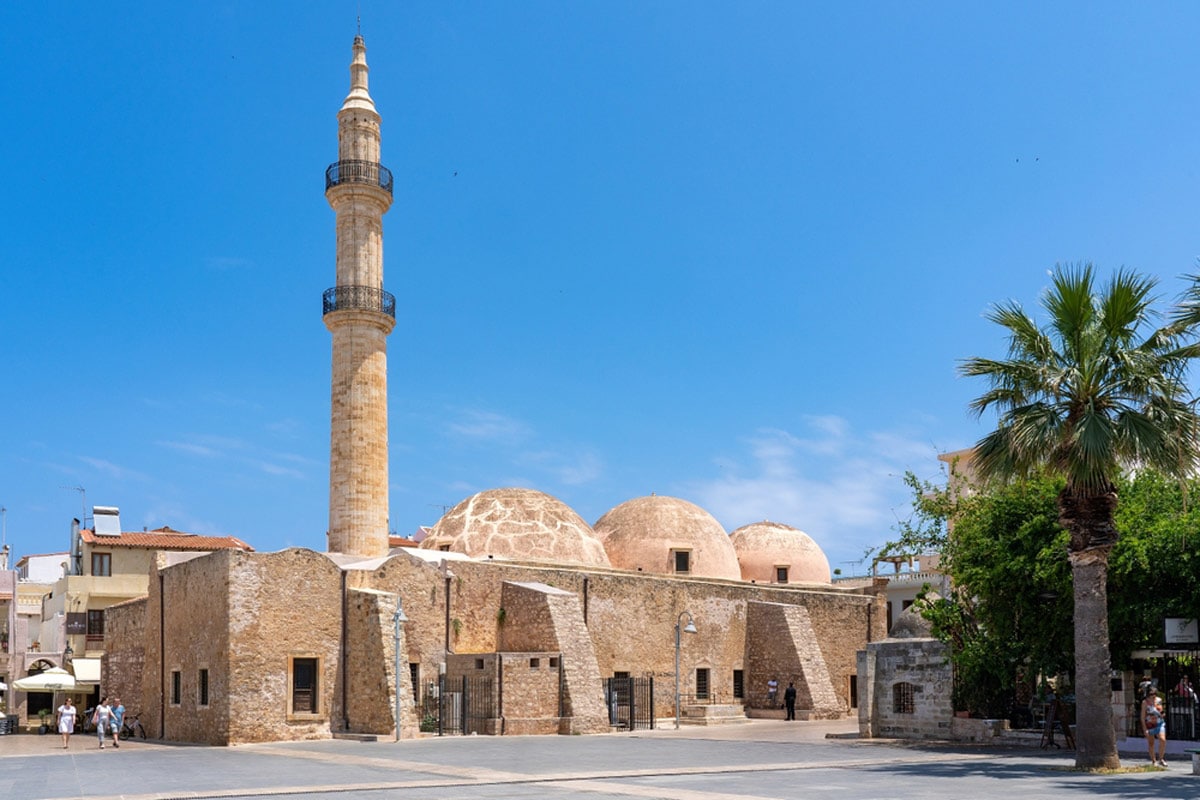 Not too far from the museum, you'll find this impressive mosque in Petichaki square. The structure has gone through a few changes over the years – which only adds to its charm, I think.
It was initially a Venetian church before turning into an Augustinian Monastery and finally turning into the present-day mosque.
The minaret used for prayer towers over the structure and is the highest point in town. While initially intended for worship, it no longer serves as a mosque. Instead, the three domes now get used for music lessons and live concerts.
Visit The Venetian Fortezza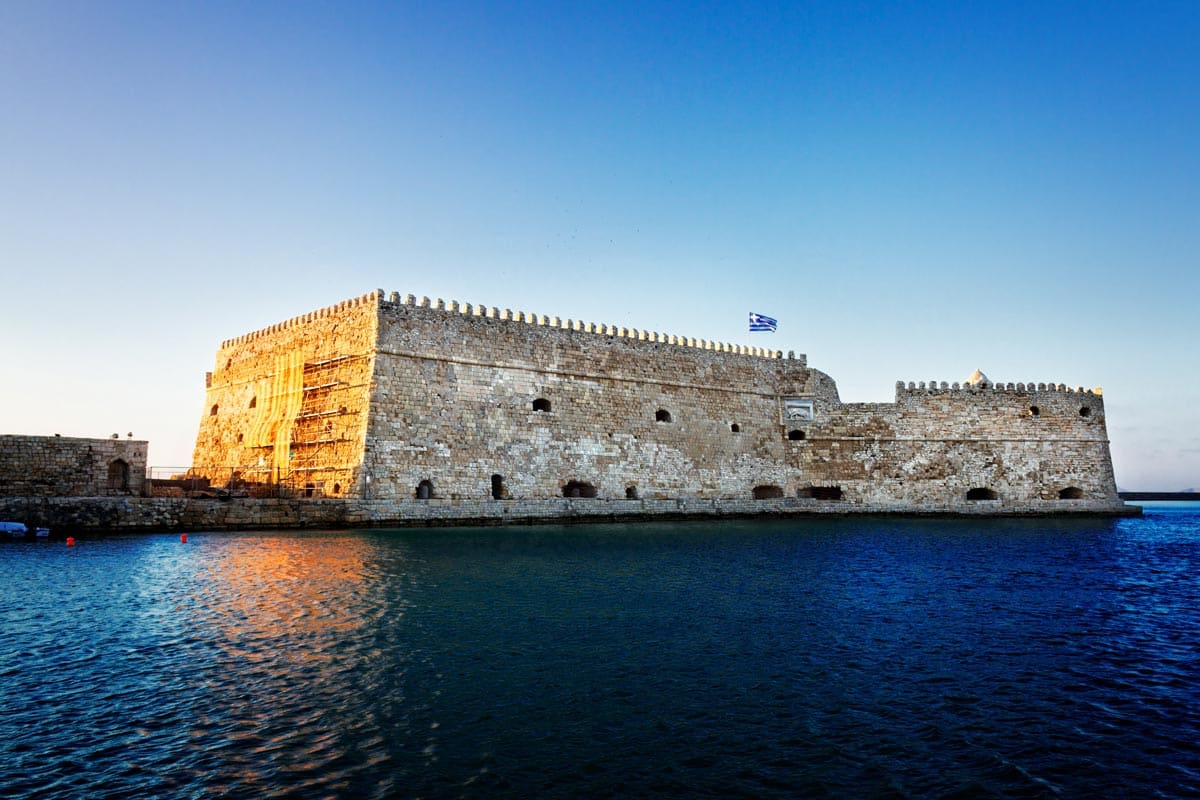 This city comes with more than a dash of Venetian and Ottoman influence. While the mosque is Ottoman inspired, this Venetian Fortezza has a (surprise, surprise) Venetian architectural style.
The Venetians built this structure in the 16th century to defend themselves against the Turks. Spoiler: it didn't go so well. And, while most buildings got destroyed in the 1960s, there are still a few ruins to see.
Entrance is only 4 euros, but it allows you to see inside the fortress, the House of the Councillors, and where soldiers used to keep watch. The high walls give you panoramic views of the sea and town, which you can't miss.
Relax on Rethymno's Beaches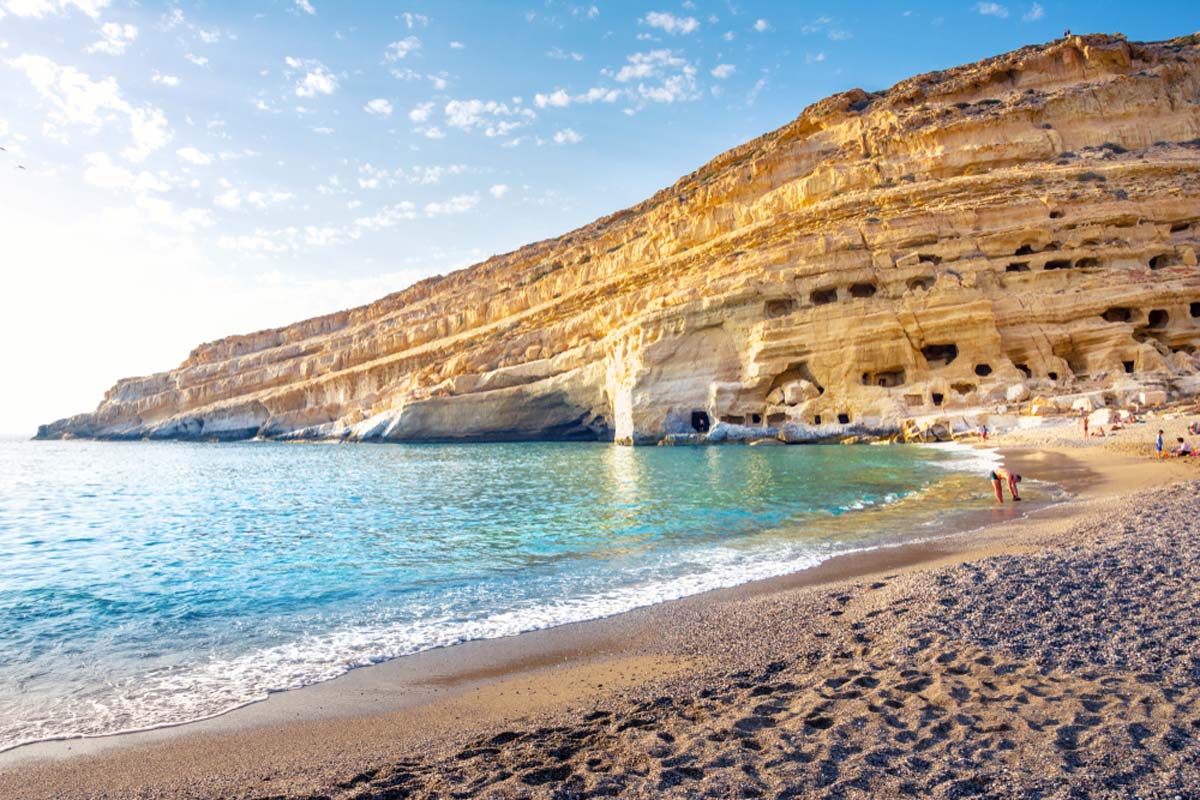 As a coastal town, it should come as no surprise that a beach trip would appear in this guide.
There are a few shores to choose from, but each promises white sand, bright blue waters, and rugged mountain views. And, if you want my advice, Teo beach is my go-to.
Most beaches here have umbrellas to shade their many visitors against the harsh sun. They're also usually within walking distance from town so that you can sneak off for a sweet treat, meal, or ice-cold drink between swims.
Brilliant Things to See & Do in Rethymno, Crete
Slow Down at the Venetian Harbour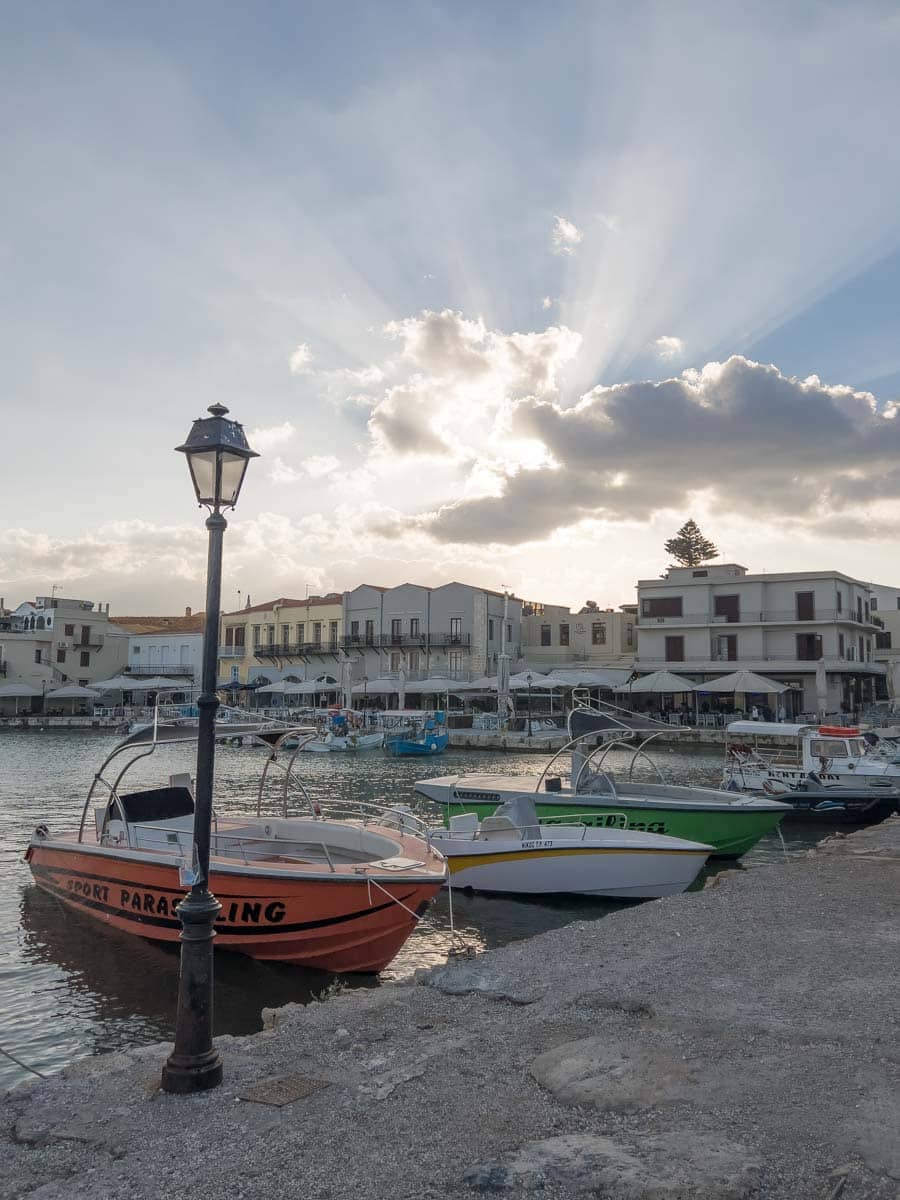 It would be criminal not to tell you to explore the waters on the coast. While there are a few white sand beaches here to splash in, the harbour is where everything slows down along the waters.
Enjoy a drink or snack along the small enclave dotted with fishing boats and yachts. Of course, you can't go wrong with seafood as it's the freshest on your plate.
As the sun sets in the background, the Egyptian Lighthouse in the foreground offers a beautiful sight. Then, the harbour comes alive at night with lights and provides a sparkling backdrop for late-night drinks.
Fill up at Rimondi Fountain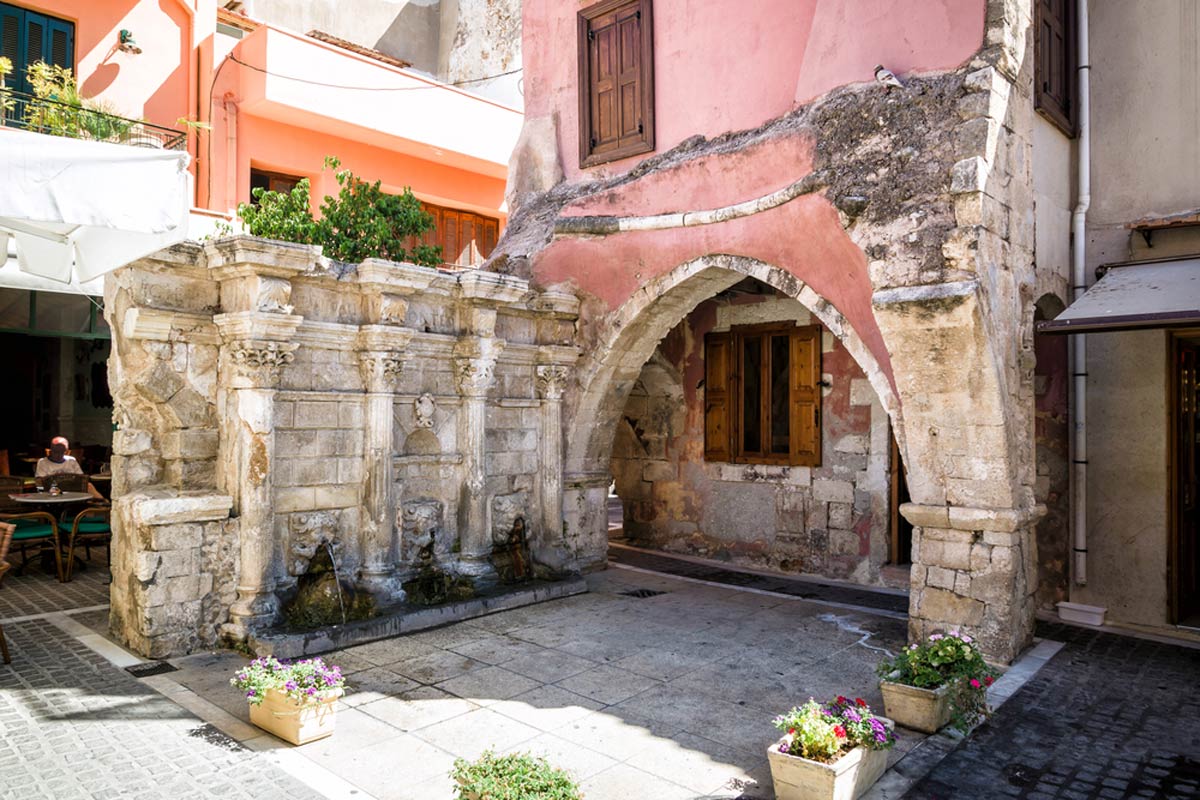 Many of the things to do in Rethymnon involve water — it is a coastal town, after all.
So, filling up your water bottle at this beautiful fountain seems fitting, doesn't it? It sits in Petychaki Square and has been there since 1626.
You can't miss it as it has three mighty lion heads and a steady flow from each mouth. It is a great spot to relax and refresh before continuing your sightseeing journey. Snapping a few cool pictures is totally obligatory, too.
Take a Day Trip to Arkadi Monastery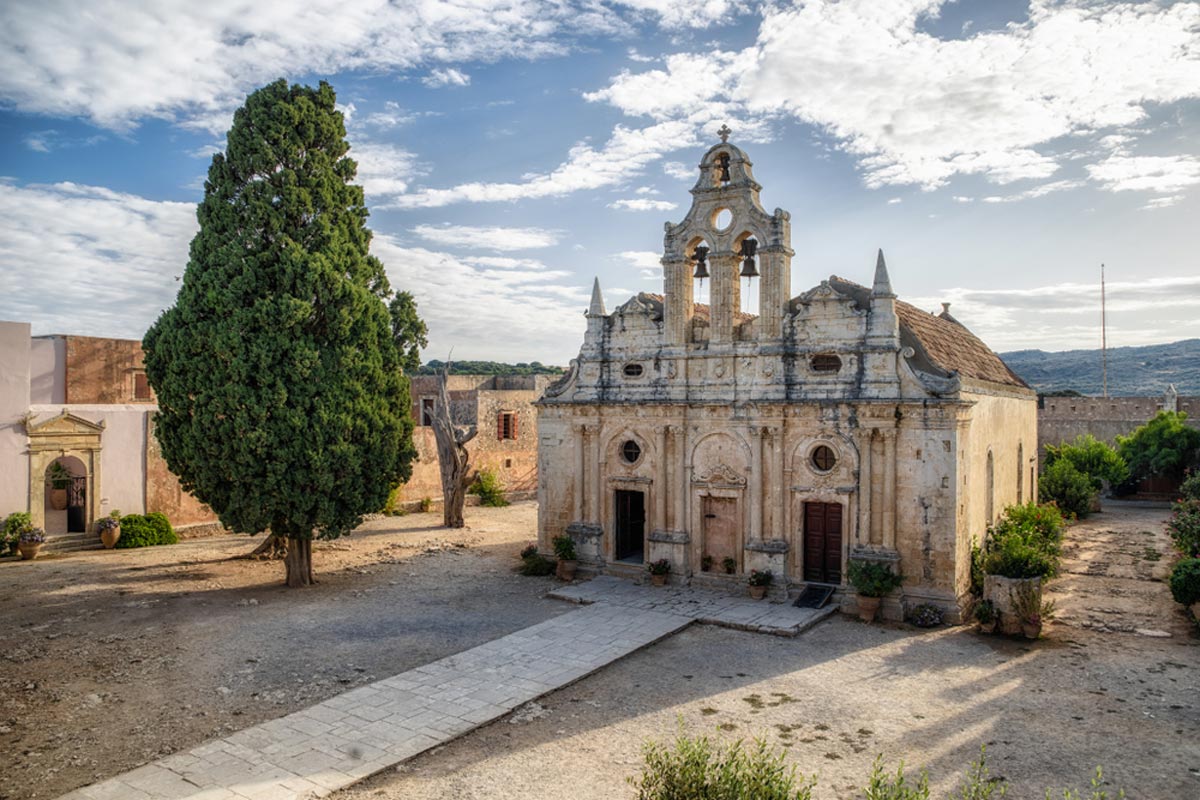 About 12 miles in the southeast direction from the town centre, this 16th-century baroque monastery offers some of the best views. It is a historical sign of Cretan resistance to the Ottomans, which you can still see today.
Absorb the sights of the nearby olive trees and vineyards, or take a closer look at the structures. It boasts a church, museum, and monk's residence waiting for exploration by keen history buffs.
Must-Try Bars & Restaurants in Rethymno, Greece
Have a Drink at Archontiko Cafe's Rooftop Bar
After all the relaxation and culture seeking, I guarantee you'll have worked up quite an appetite. And there's nowhere better than Crete's Archontiko Cafe for rooftop snacks and drinks.
While the café is in a cave, the rooftop bar offers better views for sundowners. In fact, there's an extended selection of drinks, including coffee, wines, and cocktails. But whatever you decide to sip, the vibes will always be immaculate when you have panoramic views of the city.
Avli Restaurant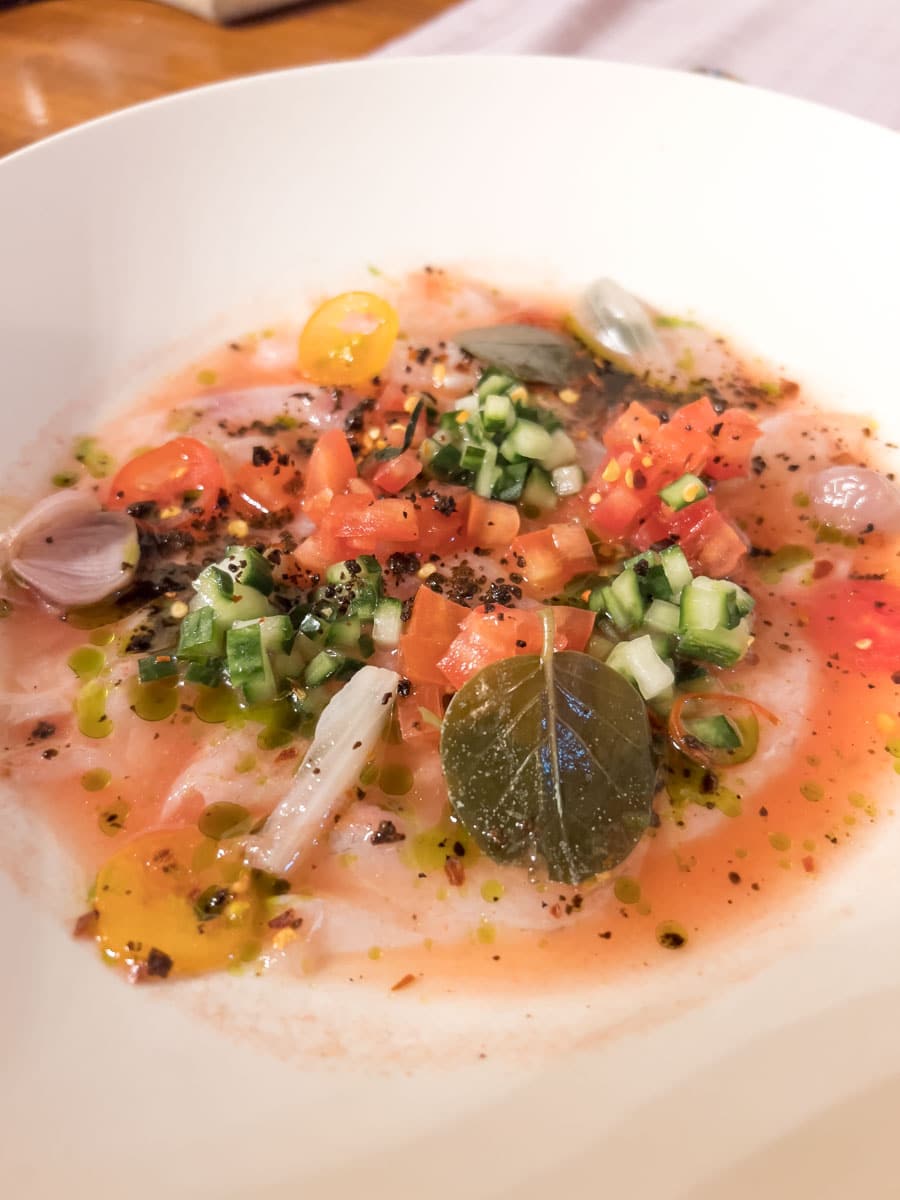 The Avli Restaurant experience includes modern yet traditional dishes in a colourful courtyard. I have to say, the breakfast is particularly delicious, though the ever-changing evening menu seriously impresses.
Better yet, the blue-hued wine cellar has wines from over 460 producers, meaning you'll always get the perfect pairing no matter your dining choice.
Prima Plora Restaurant and Winebar
While not as buzzing as Santorini and Mykonos, Rethymno's nightlife is nothing to scoff at. At Prima Plora, you can have an international gourmet meal paired with a lengthy selection of local wines.
Their speciality is their seafood options which even include a sushi selection. The menu has a Mediterranean influence with lots of fresh salmon, muscles, and a healthy drizzle of olive oil on almost every plate.
Best Hotels in Rethimno, Crete
Menta City Boutique Hotel
The Menta City Boutique Hotel allows affordable luxury in the Old Town. Rooms are spacious with a balcony or terrace that allows you to overlook the city.
While it's close to many restaurants, your suite has a kitchenette fitted with everything you need. The hotel also has a gym and wellness centre to help you relax after a long day of sightseeing.
Nautilux Rethymno by Mage Hotels
Nautilux Rethymno by Mage Hotels is a 5-star hotel on the town's coast. The hotel has three swimming pools, but selected rooms have a private hot tub overlooking the sea. You can relax on-site upon the sun loungers or at the buffet restaurant or fitness centre.
Petalo Suites
If you're looking for a more private stay, consider Petalo Suites' aparthotel, a stone's throw away from Kombes Beach. Each suite has a balcony overlooking the charming Old Town, while every room has a kitchen, private bathroom, and seating area.
Rethymno, Crete, Greece: Practical Tips for Your Trip
How Long to Visit in Rethymno?
Rethymno is relatively small, so a short trip of about two to three days should give you more than enough time to explore everything.
Best Time to Visit Rethymno
Much like the best time to Visit Greece, Rethymno shines from summer to early autumn, between June and September. With averages of about 30°C, these few months are the best time to swim along the island's coast.
Where Should I Stay in Rethymno?
Old Town remains the best place to stay if you're new to the area. It's close to many restaurants, bars and hotels.
How to get to Rethymno?
The easiest way to get to this old town is to fly into Chania, the nearest airport. From there, you can take a short KTEL public bus to Rethymno.
An alternative route is to take a ferry from one of the bigger islands like Santorini, Naxos, and Mykonos. Depending on your departure location, this ride can take anywhere from four to 14 hours.
Recommended Tours in Rethymno
Things to Do in Rethymno, Crete: Map