Yearning for the exotic beaches of the Greek islands, but without the overwhelming hordes of tourists? Your solution: Naxos island.
Sure, Mykonos is filled with things to do and Santorini is known for being picturesque, but this archipelago also boasts Naxos, a little gem that often gets overlooked.
This is the biggest island in the Cyclades group and is brimming with breathtaking beaches, historic landmarks, and charming villages — with a fraction of the tourists.
Top Tip: Stay at the fabulous Hotel Grotta for great value for money at a central location.
Top 5 Things to Do in Naxos
Watch the Sunset from the Temple of Apollo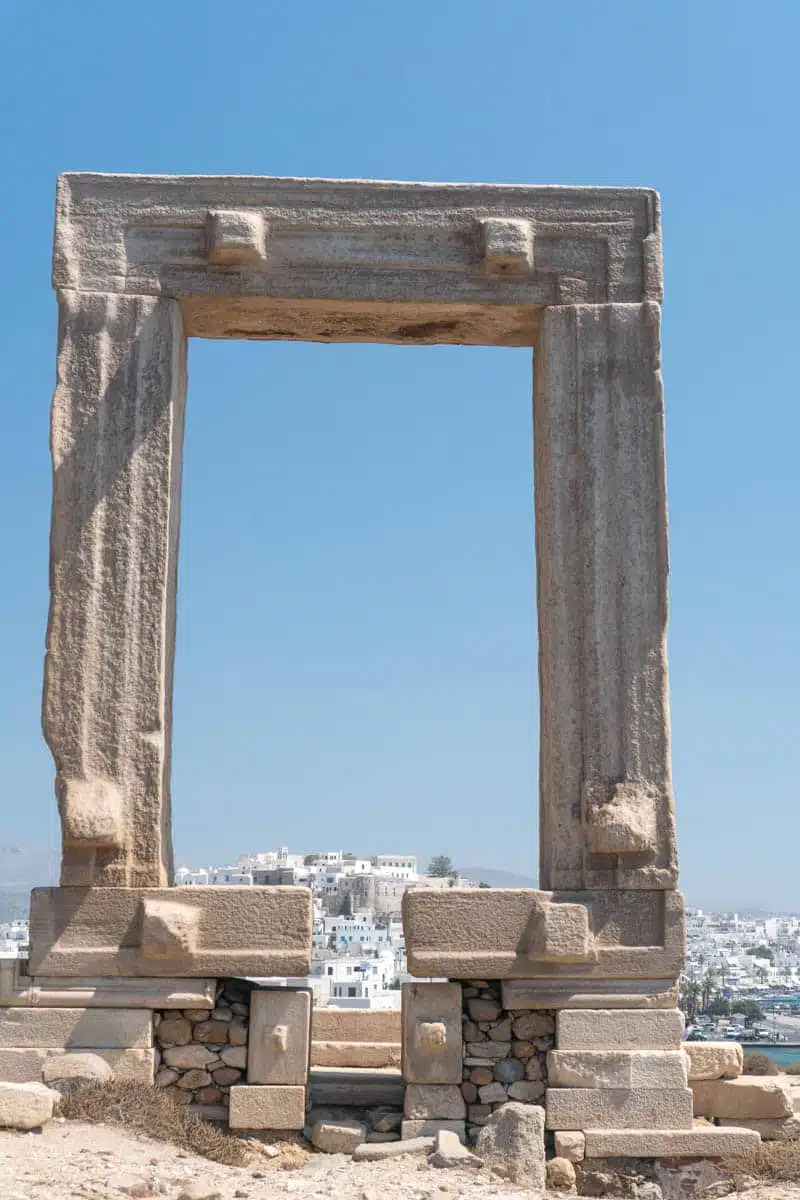 The Temple of Apollo, also called the Portara, looks like an ancient open door frame – this is quite fitting as it's the first thing to greet you as you enter the city by ferry. It sits on the islet of Palatia, right next to Naxos' harbour.
It was built in the 6th-century BC by the tyrant Lygdamis and measures a whopping 59 meters in length. The Greek myth of Ariadne recalls that this exact islet was where Ariadne, the Minoan princess, was abandoned by Theseus after he killed the Minotaur on Crete.
The huge gate joins the mainland via a beautiful cobbled pathway, so it's pretty easy to get to. This ancient structure stands as what's left of an unfinished temple and an amazing site to ogle as the sky changes from sky blue to dark red.
Stroll Around the Marble Streets of Apeiranthos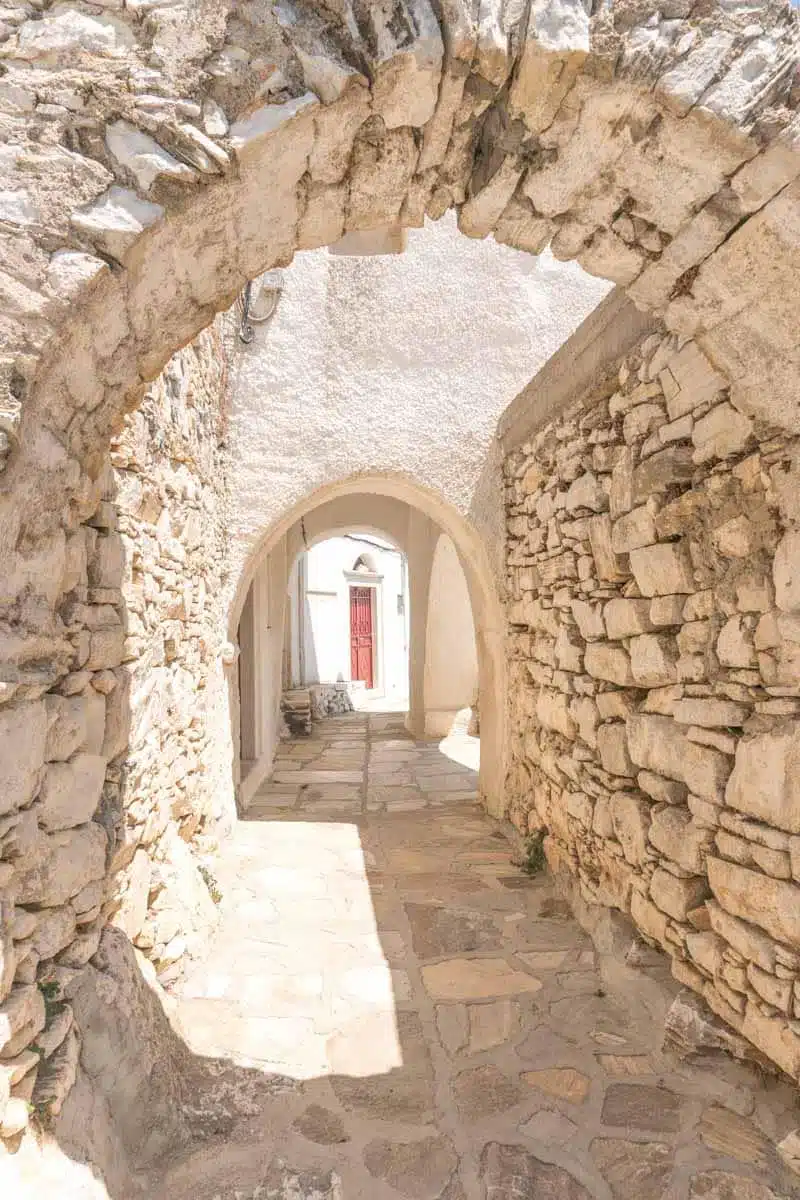 Naxos has many villages on the island, though one of the most well-known is Apeiranthos – which was built at the foot of Mount Fanari. Its marble streets are full of reminders of yesteryear – mainly the craftsmanship that went into building this tiny town from the ground up.
You can see it in everything from its inhabitants speaking their own Cretan dialect to its authentic Grecian architecture. Five museums also tell the tale of the island of Naxos and the village's history.
Despite its size, there are so many things to do in Apeiranthos that it almost warrants its own trip – trekking to the old castle and Tower of Zevgolis is a must. As is nipping into the quirky To Yperoon to pick up a souvenir of your trip.
When it comes to food, you could spend an entire day hopping from tavern to tavern, but my favourite restaurants in this little village are Stou Koutoupa and Amorginos Tavern (those views are hella dreamy). Pop in for a bite of traditional Greek food.
Hang Out at One of Naxos' Fabulous Beach Clubs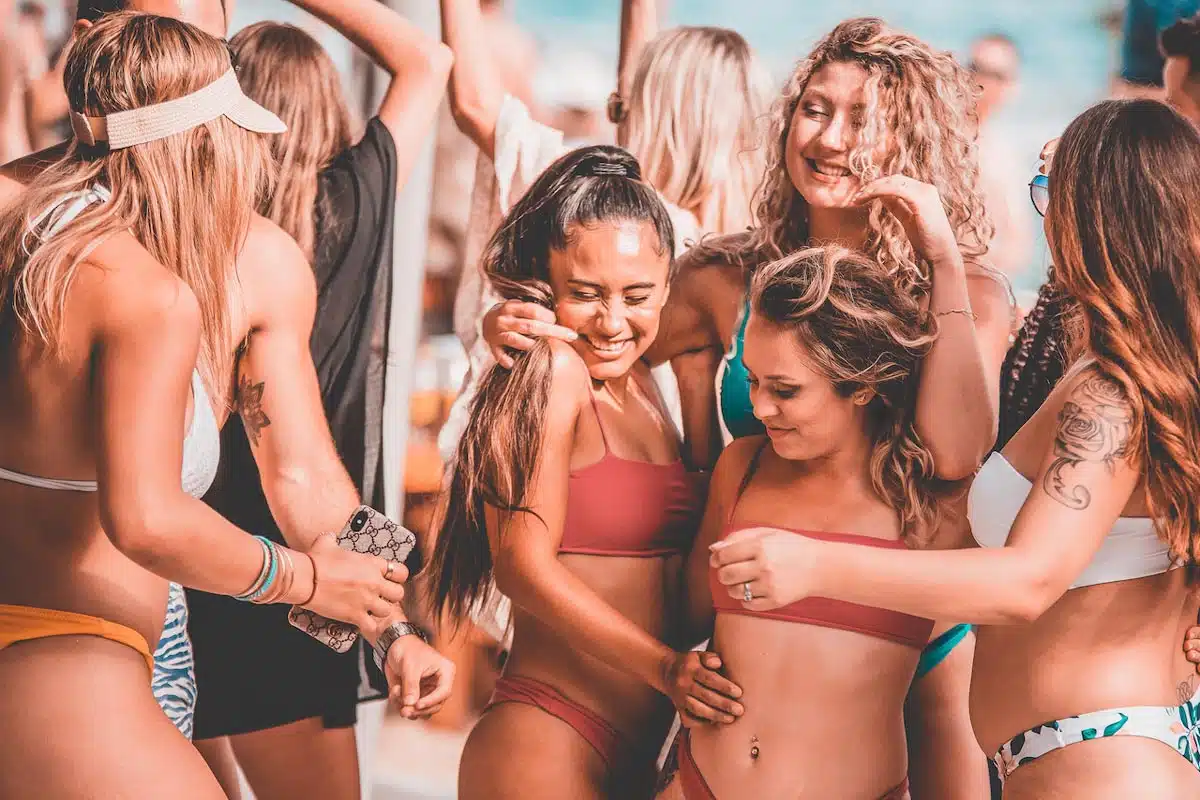 While Naxos may not have as lively nightlife as some of the other Greek islands, that doesn't mean they don't know how to get down at the beach club.
I really enjoyed Nomad Beach Bar and highly recommend it (more on this later). Other beach clubs include Yazoo Summer Bliss and The Ocean Club. Both offer inviting atmospheres, great Greek cuisine, and even better cocktails.
Compared to Mykonos' beach clubs (which are excellent, by the way), Naxos' offerings are far more laidback. Which, in my opinion, is not a bad thing – it's nice to chill out with a book without the thud thud thud of bass as a backdrop.
See the Street Art and Nab a Private Cove at Alyko Beach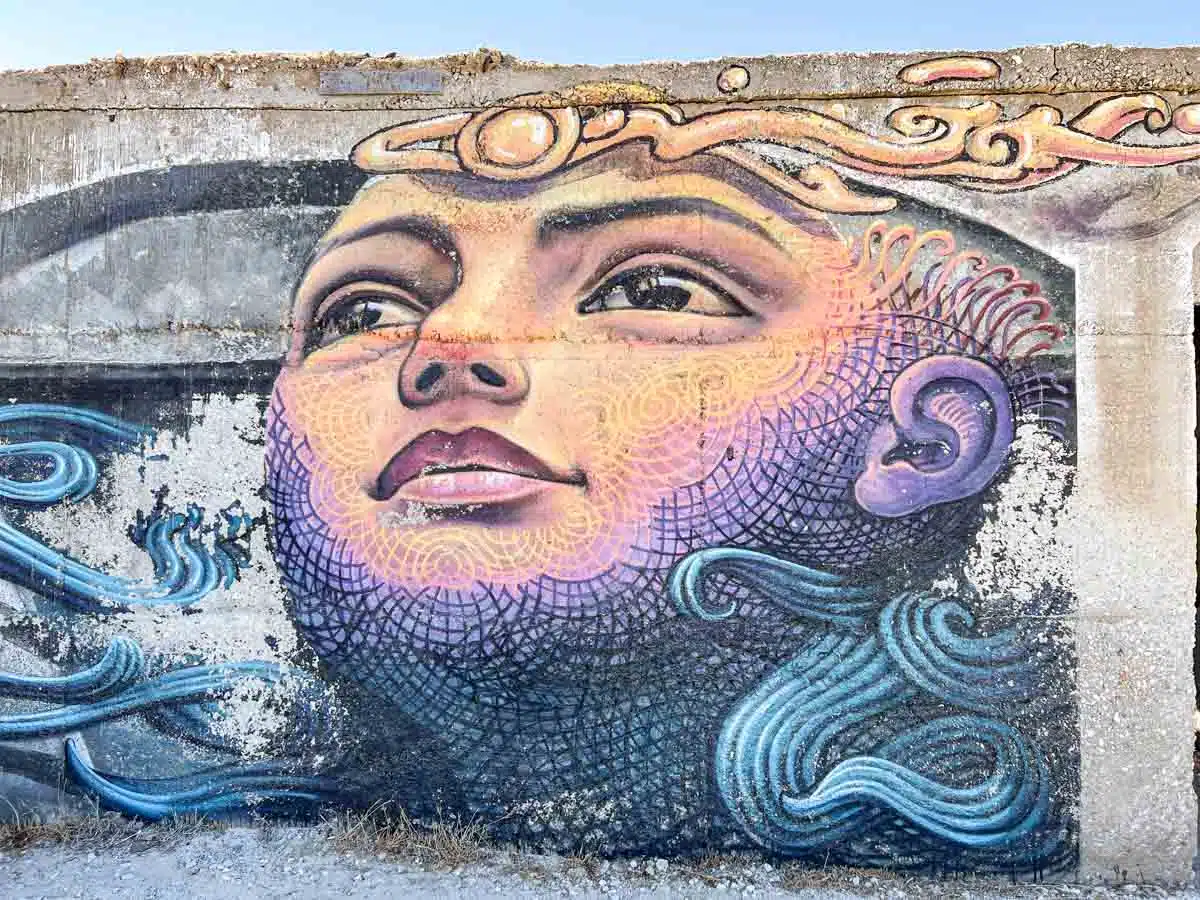 If you're talking about Naxos things to do, you cannot leave out the hidden jewel that is Alyko Beach. This area is in a natural reserve with secluded bays and coves for ultimate privacy.
A virtually untouched cedar forest and abandoned hotel-turned gallery are just a few feet away. Pop in to see the fabulous street artist WD's artworks covering the walls.
Spend a Day in Chora (Naxos City)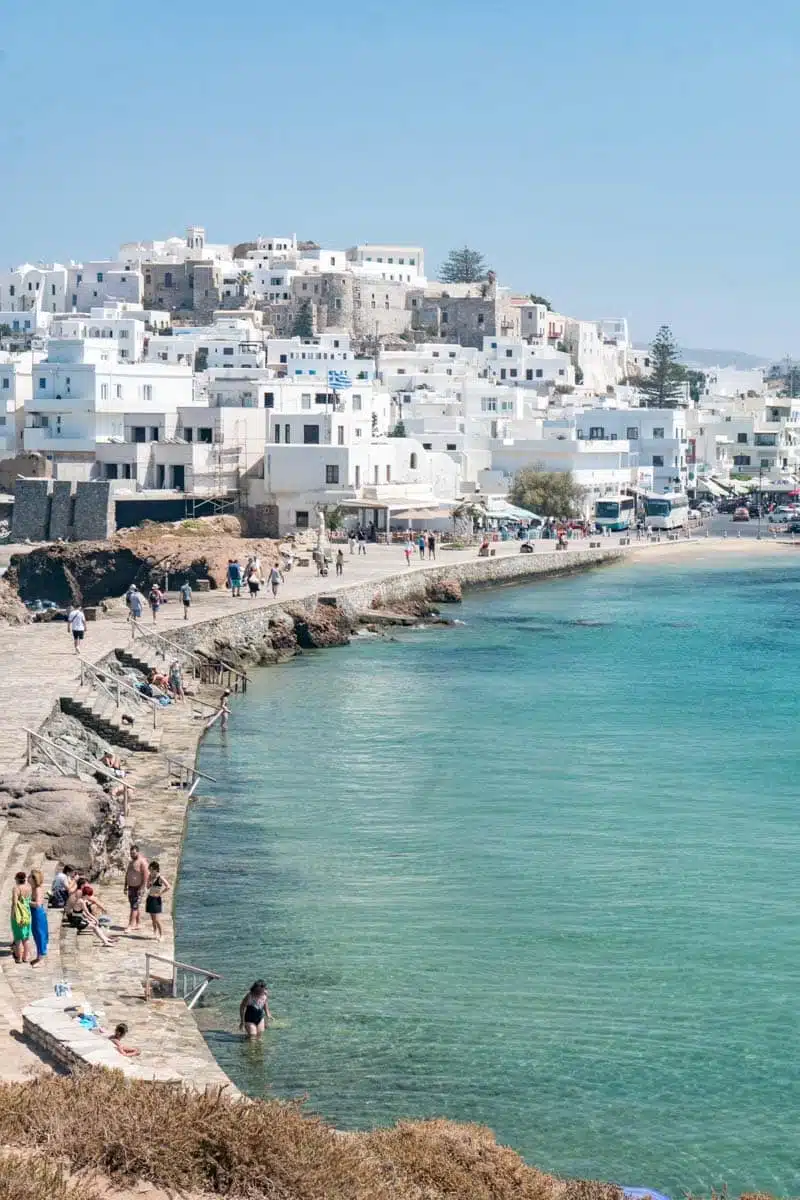 Chora is the capital town of the Naxos islands and most likely the first place you'll land when ferrying over. So, it's worth checking out while there.
This is one of the best places to visit if you're looking to escape the busy hoardes of tourists – this town feels like real Greece, with plenty of restaurants (Sarris Tavern is a huge hit) and things to do.
Wander around the narrow streets to experience the island like a local. Better yet, you can enter museums, old markets, and the Kastro, for only €2.
Oh, and ending the day at the ultra-cool 520 Cocktail Bar and Restaurant with a cocktail or two is non-negotiable – you'll thank me when you're watching the sunset, Margarita in hand.
Brilliant Things to See & Do in Naxos
Trek to the Temple of Demeter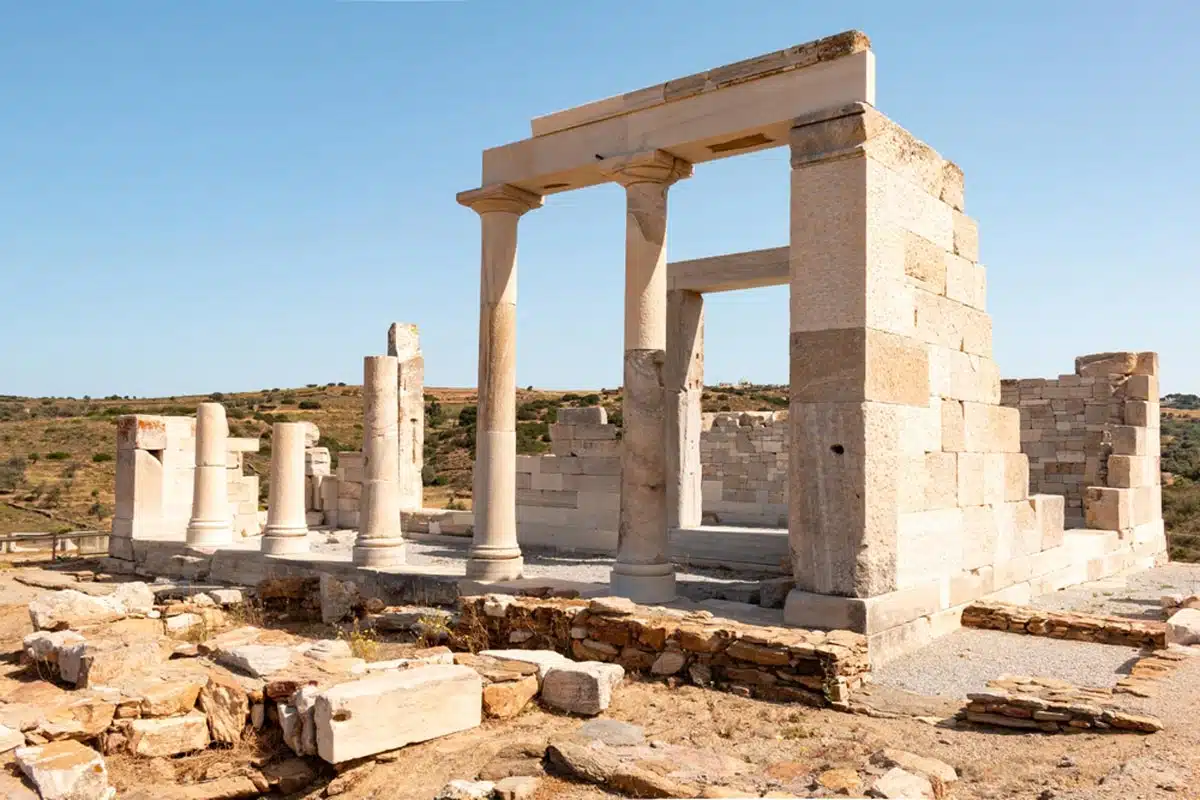 The Temple of Demeter is a 6BC temple, about 10 km outside of town in Sangri, and a dedication to the god of harvest and fertility. It was built on fertile land, as the ancient Greeks believed that this would bring them plenty of luck with their crops.
Visually, it's one of the most impressive places I visited during my time in Naxos – made up of a variety of marble columns and walls that still stand. In fact, the Doric architectural style was believed to eventually influence the Parthenon of Athens. No wonder it's so swoonworthy.
You can see the ruins of this temple made of real Naxion marble up close with this full-day tour around the island.
Top Tip: Book Your Guided Tour of Naxos Here.
Visit the Byzantine Church of Taxiarhis Rahis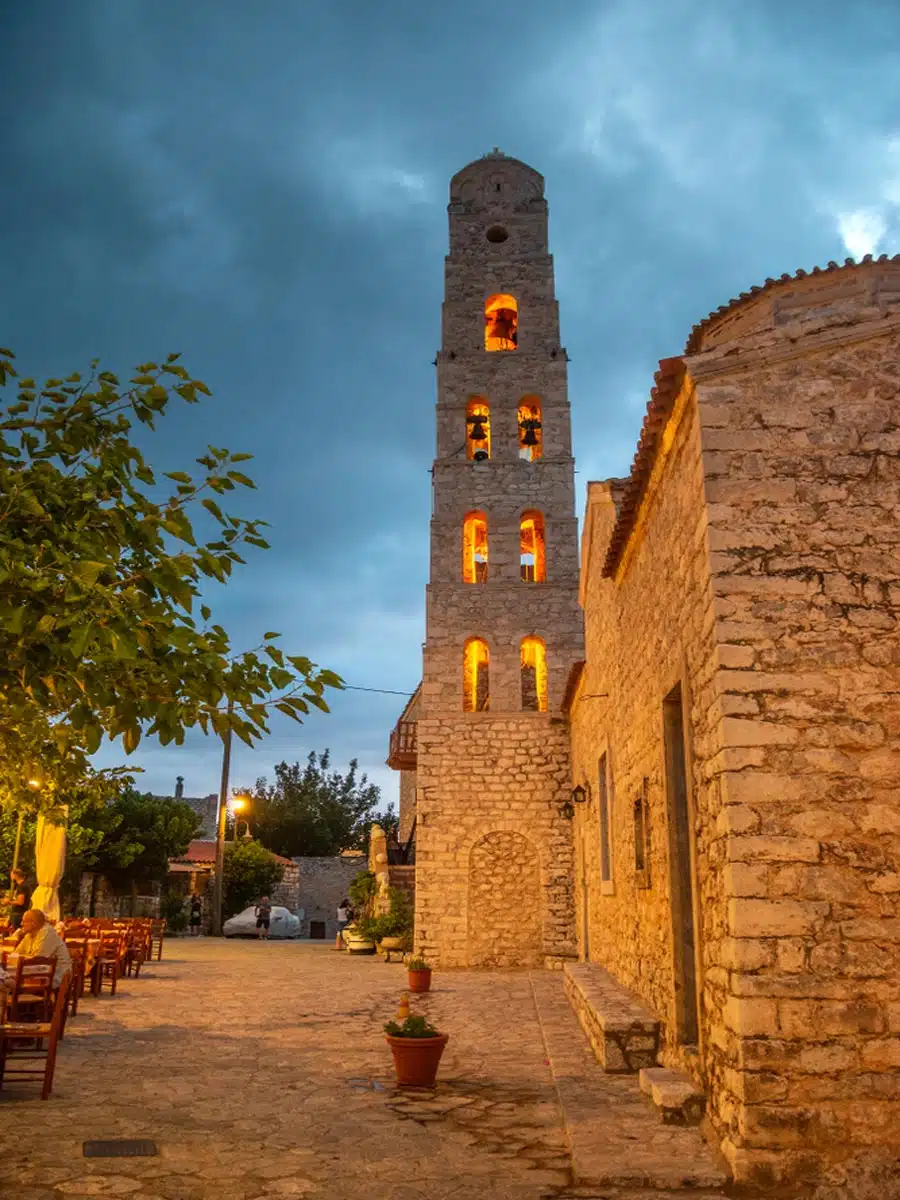 While there is no shortage of quaint villages in Greece, Naxos seems to have the most charming ones. This church is Halki, about a 30-minute drive from Chora.
There are many Byzantine churches in the village, but this one stands out, with all the original frescoes still intact. Word of warning – it's absolutely tiny and not one for anyone with claustrophobia.
See the Kouros of Faragi and Flerio Melanes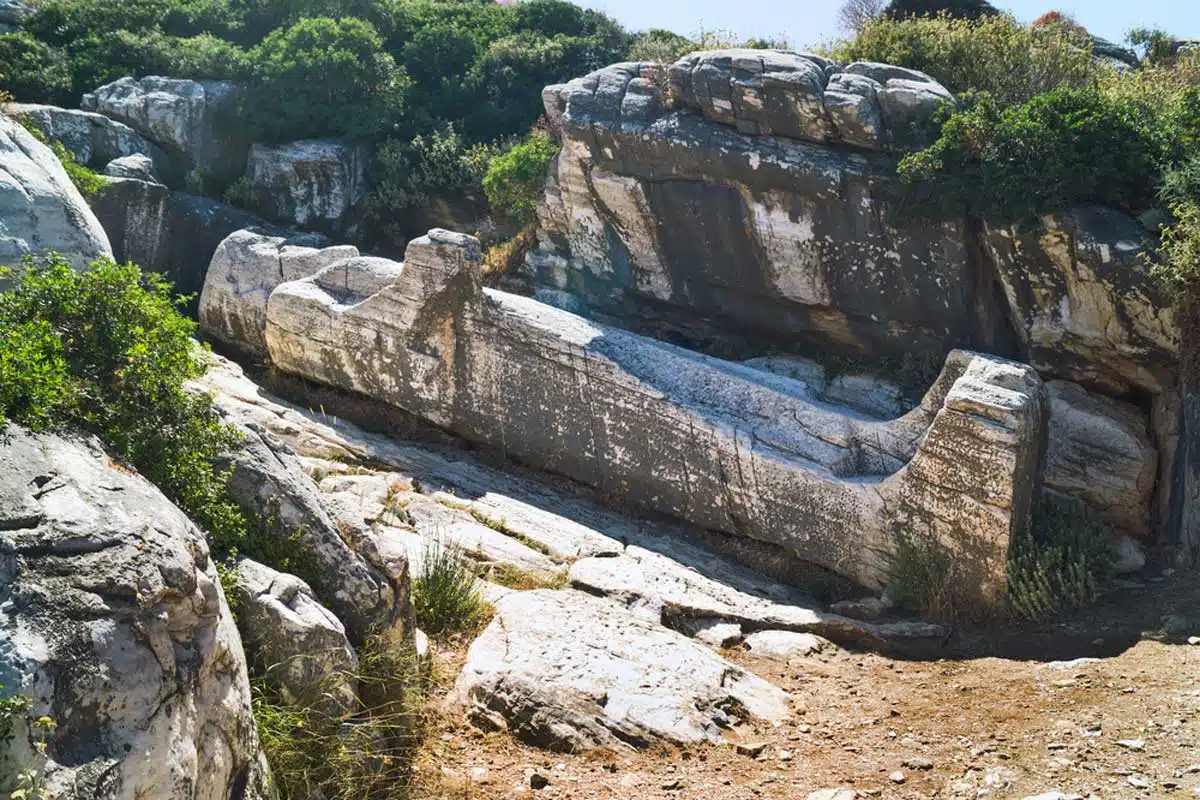 If you're an avid hiker, you'll love this challenge in the village of Melanes.
A Kouros refers to a statue of a standing young man — which Melanes has two of. The unfinished and abandoned statues have since fallen but remain a splendid sight of ancient Grecian craftsmanship on this almost three-hour hike.
It's moderately challenging but pretty busy, so expect plenty of tourists and locals alike making the journey on foot. And, because I am the very best, here's a handy map that makes hiking this route a breeze.
Tan on Agios Prokopios Beach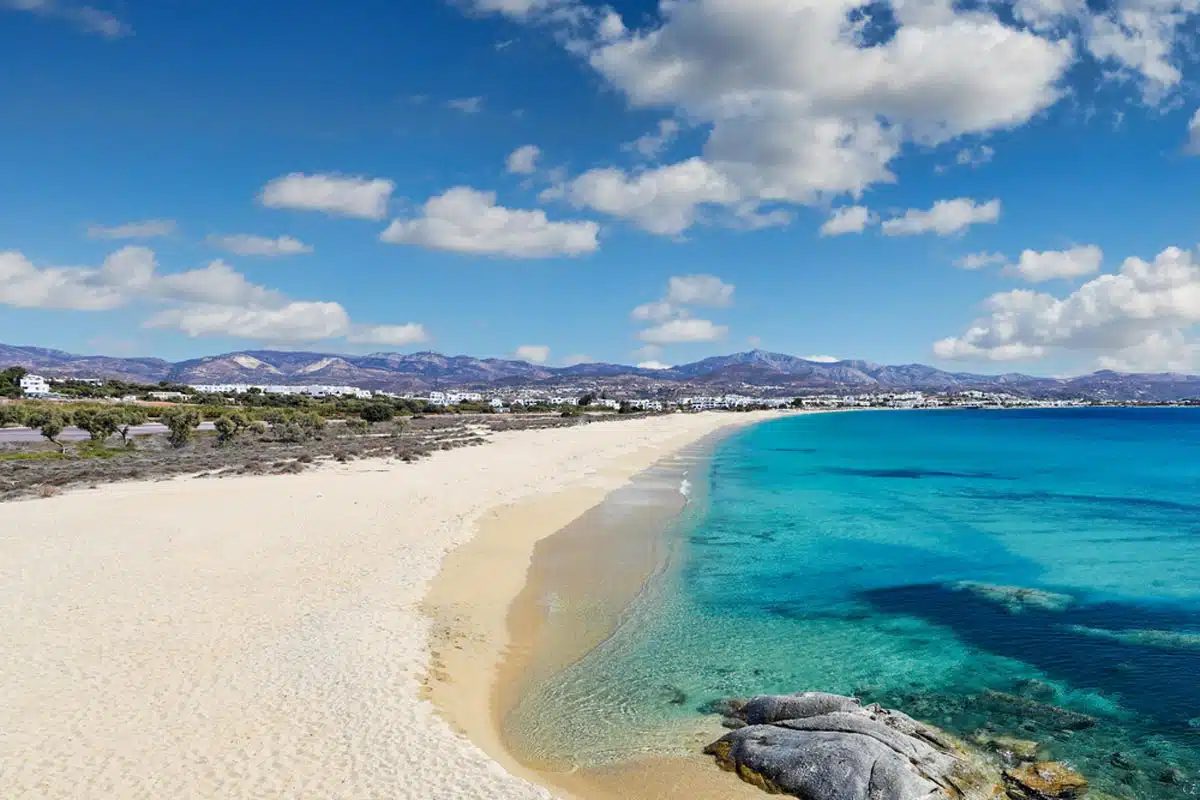 One thing Naxos doesn't exactly have a shortage of is white sandy beaches. Though Agios Prokopios Beach is one of my favourites. This azure water beach is perfect for a tan without the big crowds hogging the sunlight.
In fact, it's a little bit of a hidden gem – it has been voted Greece's third best beach, but due to the hassle of getting there from the main islands it tends to be fairly quiet.
Stroll on Plaka Beach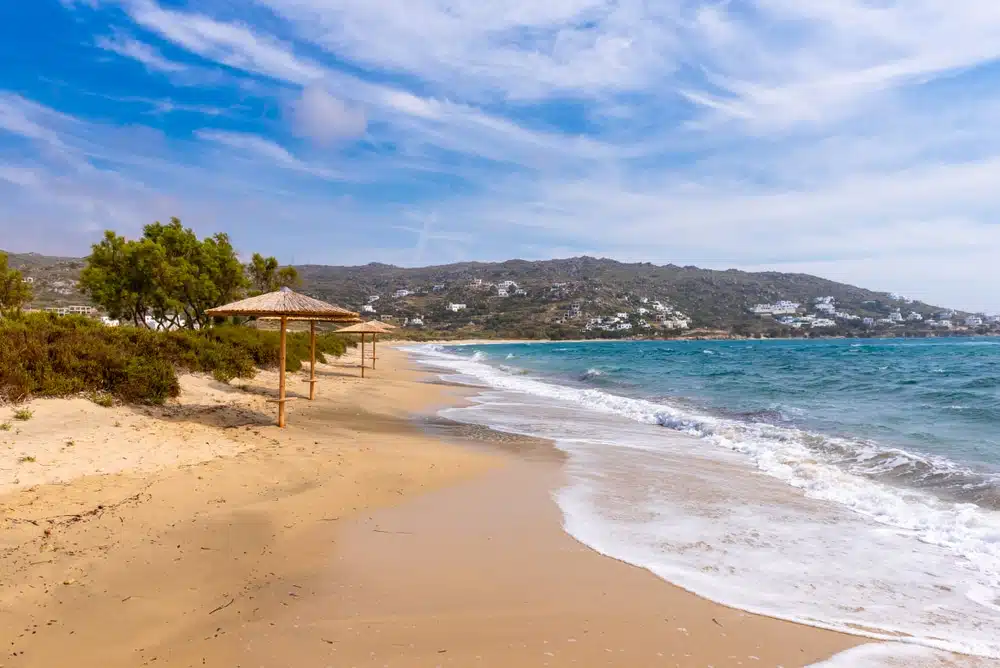 What was once a nudist beach (and is still occasionally frequented by naturists – to the south, if that's your thing) is now a picturesque coastline perfect for long walks. It is a tranquil stretch of sand with uninterrupted sun, beach bars, and waves.
This beach can get pretty busy during high season, though not quite as rammed as Saint George beach. You'll find clusters of beds and umbrellas, though there are large stretches of Plaka that allow for you to lay down your towel and spend an afternoon under the sun.
Must-Try Bars & Restaurants in Naxos
Nomad Bar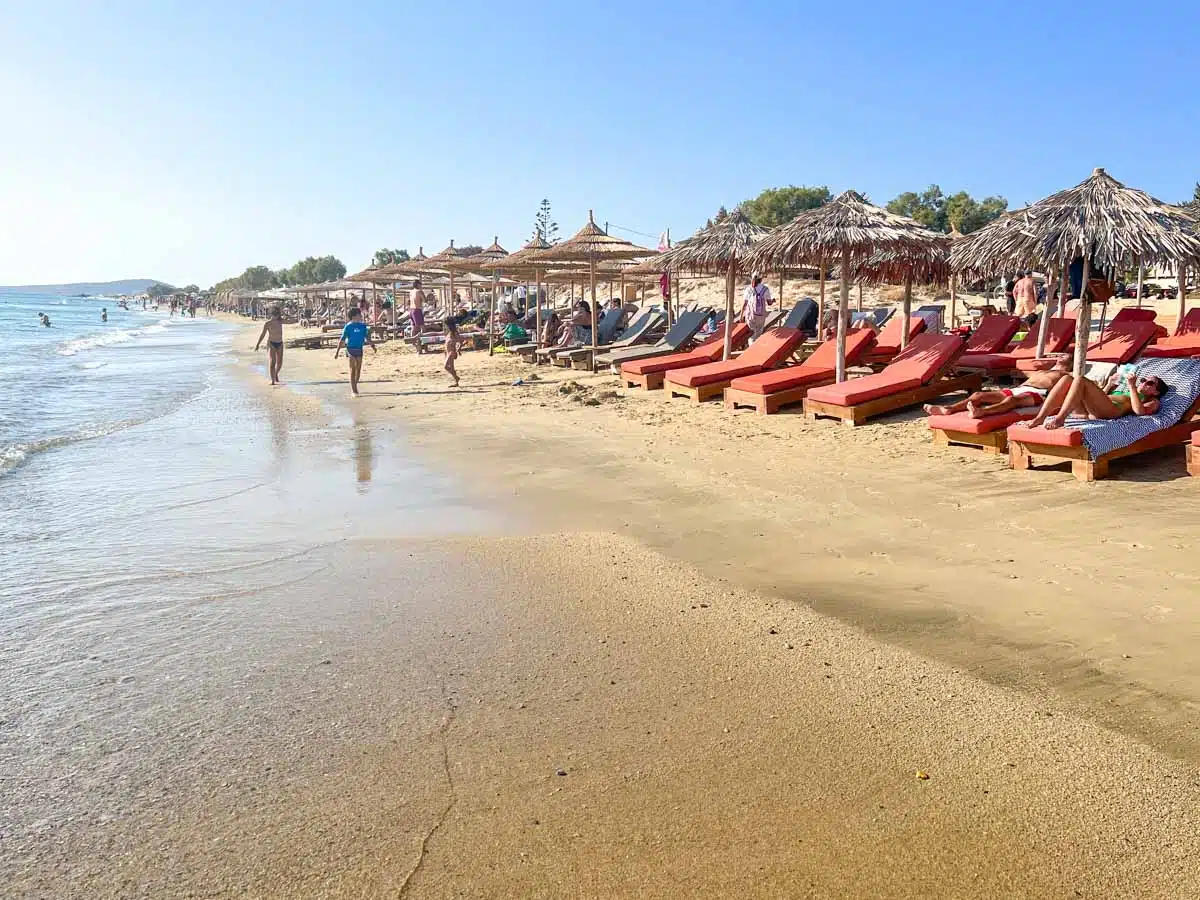 There is no other way to describe the atmosphere and decor of Nomad Bar as anything less than stunning. It;s a world away from the chaotic beach bars in Mykonos — with a small fee of €20 and affordable treats and drinks.
This was my favourite place to chill out during my visit to the island. Excellent cocktails + lively (but not too crazy) atmosphere = the ultimate relaxation experience. If you take once piece of advice from myself, make it that you need to visit Nomad.
The Naxos Apothecary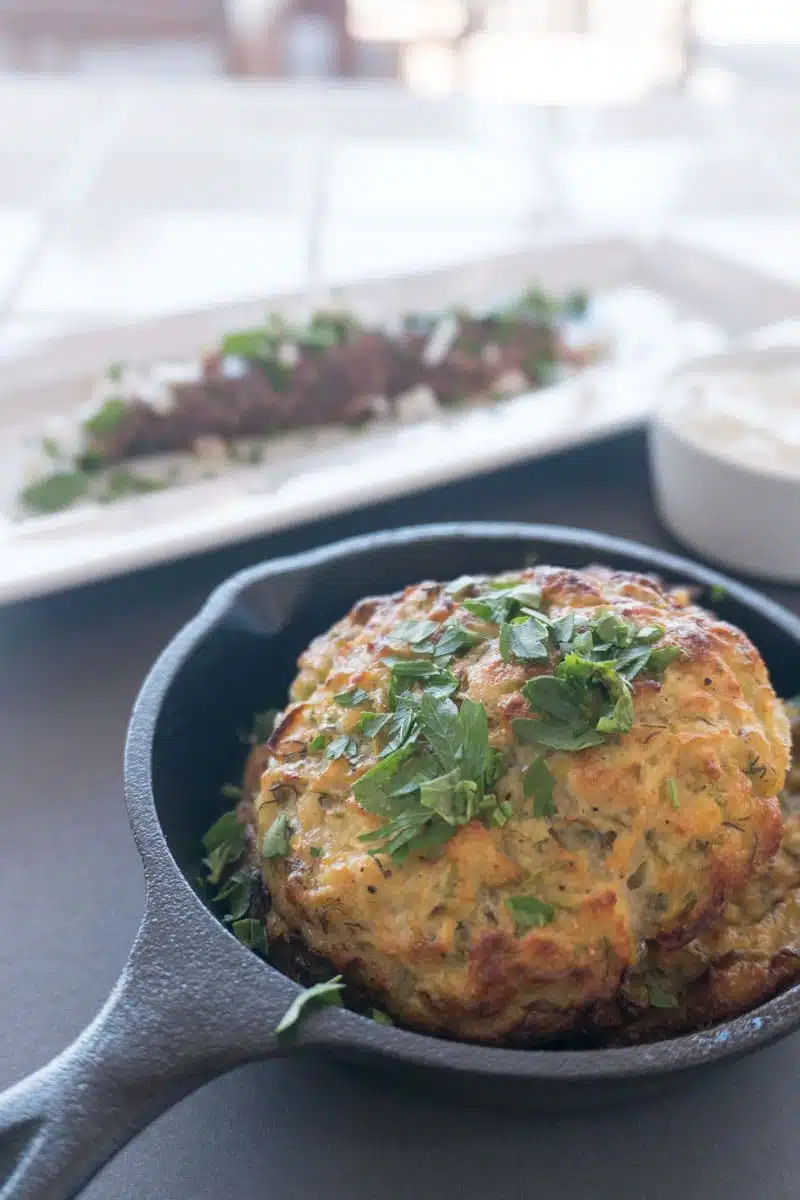 As the name suggests, The Naxos Apothecary is a stylish restaurant and cafe that sells great coffee, wine, and food made from delicious local Naxos ingredients.
And an even bigger plus? It offers uninterrupted views of the waterfront, looking out to the Temple of Apollo — talk about amazing.
Scirocco Café Restaurant
This authentic Aegean restaurant has served Naxos with its dishes for almost 30 years – it's situated on a main square and gets pretty lively once the sun sets.
Stop by for amazing al fresco family feasts of seafood, wines, and all things that make you go opa.
44 Miles
This low-key café is off the beaten track in the mountain village of Filoti. 44 Miles is where you go for uninterrupted afternoons with delicious traditional greek food.
It's a little bit hidden, but the moment you step foot into the leafy garden terrace, you'll agree that the struggle to find it has been so worth it.
Best Hotels in Naxos
Hotel Grotta (Mid-Range)
Hotel Grotta is a 3-star hotel in Chora that is ideal for any tourist who wants to be close to the cultural and nightlife hotspots of Naxos.
That said, you're not being spared any luxury here – the hotel is a stunning vision of whitewashed walls and Mediterranean accents, whilst each room boasts a private balcony or terrace (many of which have sea view).
Naxos Illusion Nikos Verikokos (Mid-Range)
This is a cosy apartment close to many restaurants, cafés, and beaches in Chora – so there's no chance of being bored. Rooms at Naxos Illusion Nikos are equipped with all you could need for a comfy stay, including a small kitchenette and roomy shower room.
Nissaki Beach Hotel (Luxury)
A luxury escape has never looked as good as at this 5-star boutique hotel in Chora. Surrounded by Palm Trees, Nissaki Beach Hotel is decorated in a tranquil Cycladic style (expect plenty of white that teeters just on the right side of matronly).
I have to say, the bar is pretty great – a mix of exotic cocktails, local beers, and wine.
Naxos, Greece: Practical Tips for Your Trip
Is Naxos a Good Greek Island to Visit?
In short, yes. Whether you're an adventure traveller, a culture sightseer, or a laid-back holidaymaker, you'll find something to do on this island.
Recommended Tours in Naxos
Things to Do in Naxos: Map