Discover the best things to do in Mykonos. From gorgeous beaches to sprawling ancient sites, here are the attractions and activities you shouldn't miss.
Mykonos needs no introduction. The already popular island has mushroomed in popularity over the past few years – sun-drenched parties in swanky beach clubs, jaw-dropping hotels with beautiful sunsets, there's a lot to love.
Some love it, some hate it. Locals grumble that it's nothing like the dozy island of days gone by – others attracted by exactly that.
I wasn't sure what to expect on my most recent trip – a few balmy summer days to kick off a sailing trip around the Cyclades. Has Mykonos finally gone too far?
No.
Sure there's the glitz and the glam, but there's a lot more to Mykonos than high-end spots and all-night parties. This eclectic island may be one of the best-known in the Cyclades but there's plenty to discover if you know where to look.
Ready to discover the best things to do in Mykonos? Let's go!
Tip: Mykonos town is the perfect place to stay if you're looking for somewhere to relax. Adel Private Suites is one of my favourite hotels in the area.
Top 5 Things to do in Mykonos
Stroll Around Mykonos Town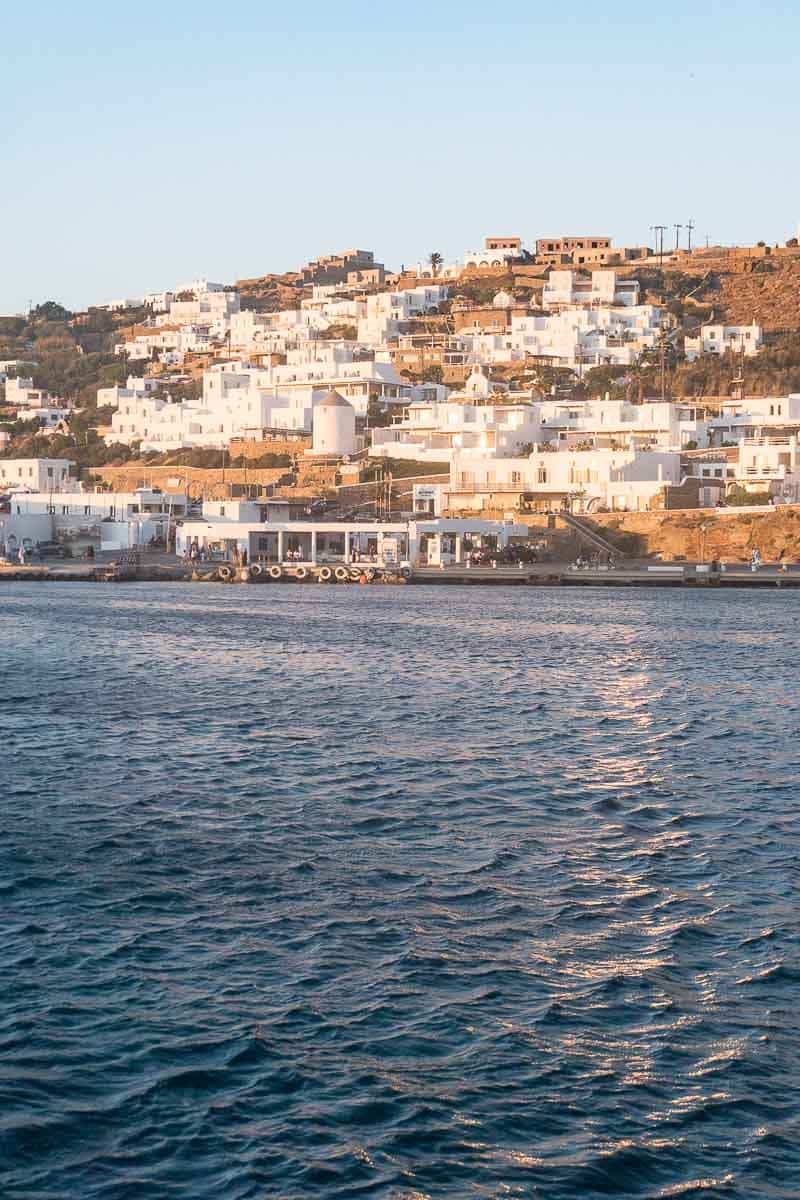 Also known as Chora, Mykonos' main area is one of the best-preserved towns in Greece.
This picturesque part of Mykonos features white-washed houses with brightly coloured bougainvillaea, vibrant wooden doors, and cobblestone alleyways – it's little wonder that it exerts its charms over everyone that visits… even if it can get horrendously busy at times.
Chora is one of the best places to visit in Mykonos. Around every corner, there's something exciting to discover, whether it be a restaurant, shop, bar, or gallery (don't worry, I've picked out some of my faves in this guide).
You can take a guided walking tour with one of the locals (highly recommended for the little nuggets of knowledge you'll pick up) or explore this area at your own pace and time.
Explore Little Venice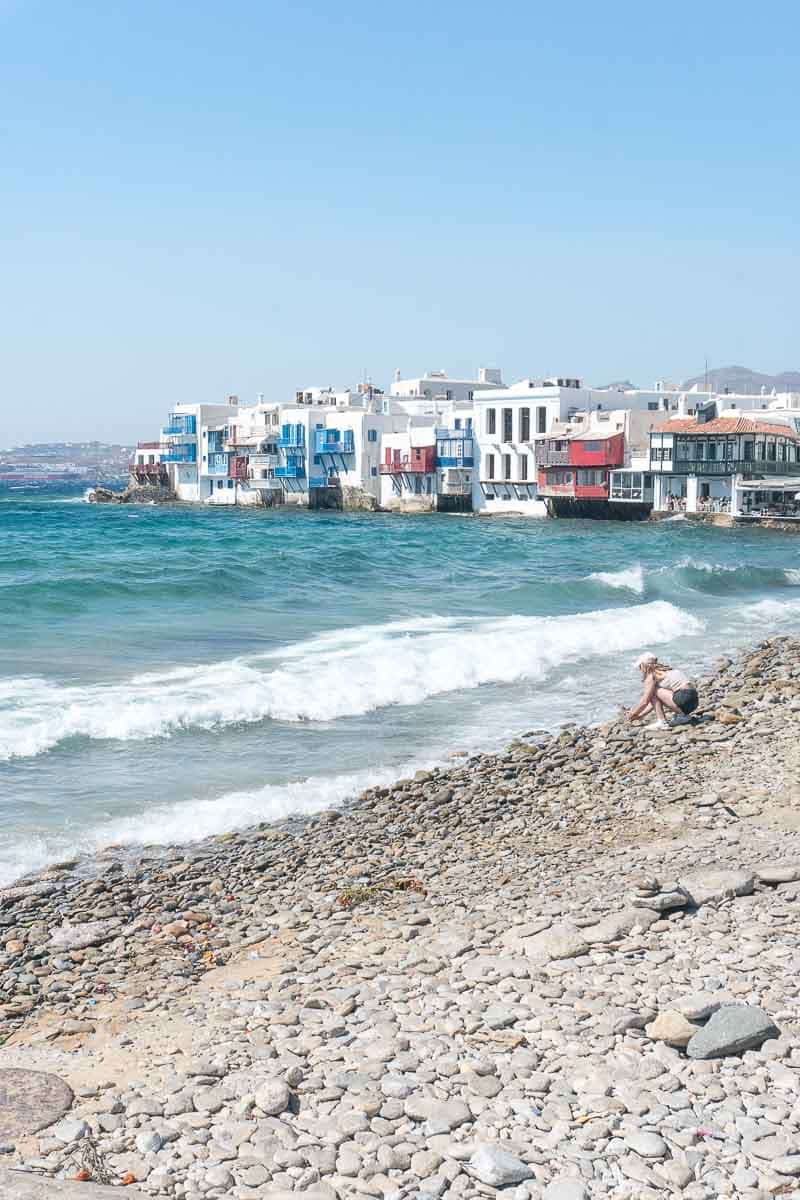 Another one of Mykonos' top attractions that you've likely seen on social media or popped up when you've searched Mykonos is Little Venice.
Sitting at the western tip of the Old Harbour, Little Venice is undoubtedly one of the most attractive areas in Mykonos. Lined with white-washed buildings that house restaurants and shops, all overlooking the stunning Aegean Sea.
One of the most romantic things to do in Mykonos is to hang around Little Venice and wait for the sunset. This is one of the best spots to catch iconic Greek sunsets, after which you can grab a delicious dinner at one of the nearby restaurants in the area.
Visit the Mykonos Windmills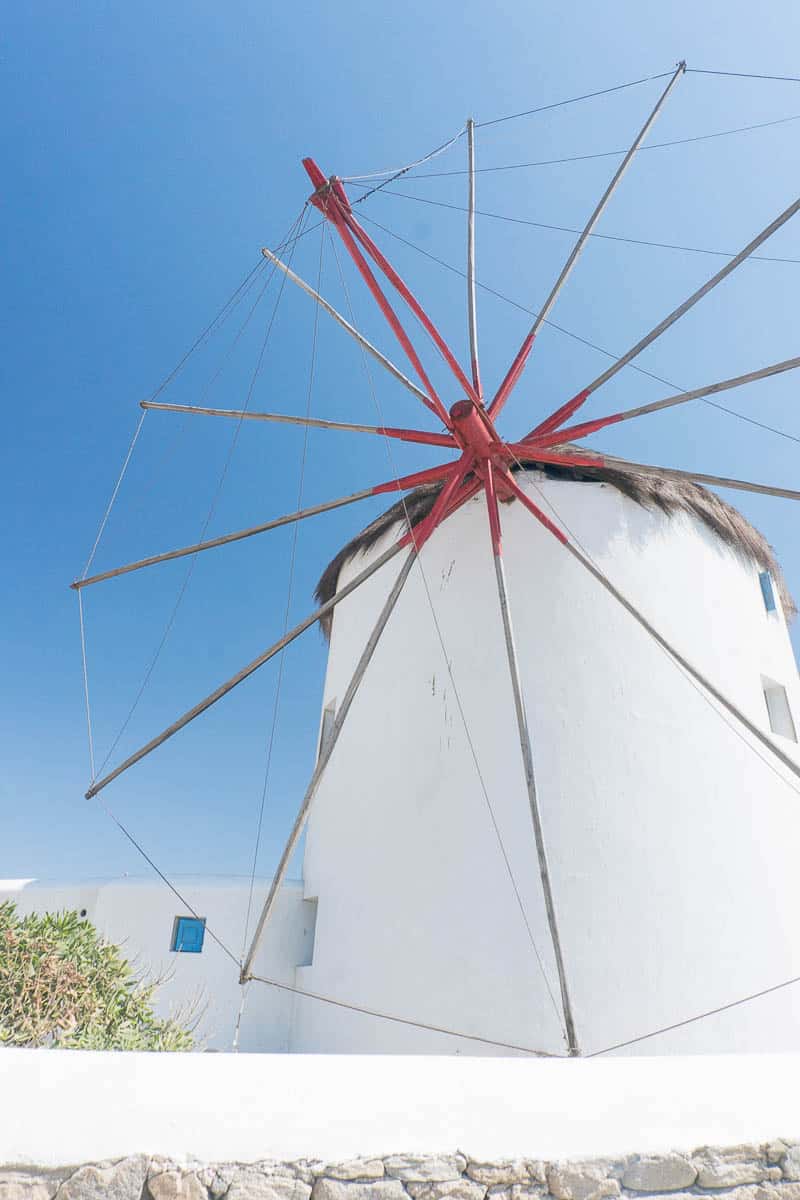 If you've searched for Mykonos on the internet, there's no doubt that one of the first things you'd see is pictures of the island's famous windmills. They're one of the best things to see in Mykonos and are quite idyllic.
These white and brown windmills sit just a short distance away from the neighbourhood of Little Venice. Mykonos is famous for being one of the biggest wheat-producing places in Greece, having around 20 windmills spread around the island.
Today only seven remain, and they are a good reminder of the town's humble beginnings before it became the booming tourist destination it is today.
They give a great insight into the town's history, and their location is simply stunning. Plus, this is a good place to visit if you're looking for free things to do in Mykonos.
Hangout at One of Mykonos' Famous Beach Clubs
Mykonos enjoys the title of the "Ibiza of Greece", and has loads of stunning beaches, so it's no surprise that there are many beach clubs to hang around.
From Boho-chic inspired to ultra-luxe, there's a beach club for every kind of party-goer. You can easily spend the day lazing around on a sunbed, working on your tan, and sipping drinks. Then as night falls, you can join in on the fun and party until the early morning hours.
Nammos, Cavo Paradiso, and Paradise Beach Club should be at the very top of your list if you're looking for a good time.
Read More: My Favourite Mykonos Beach Clubs
Party at Some of Mykonos' Best Clubs
If there's one thing that this legendary island is famous for, it is the nightlife scene. Mykonos attracts big international DJs to its shores all year round, so if you're looking for a party, this is the right island for you.
You could easily spend every night partying away, as there are just so many clubs for you to check out. But my favourites happen to be the Classic Jackie O's, the swish Skandinavian Bar, and the luxurious SantAnna.
Brilliant Things to See & Do in Mykonos
Take a Day Trip to The Ancient Island of Delos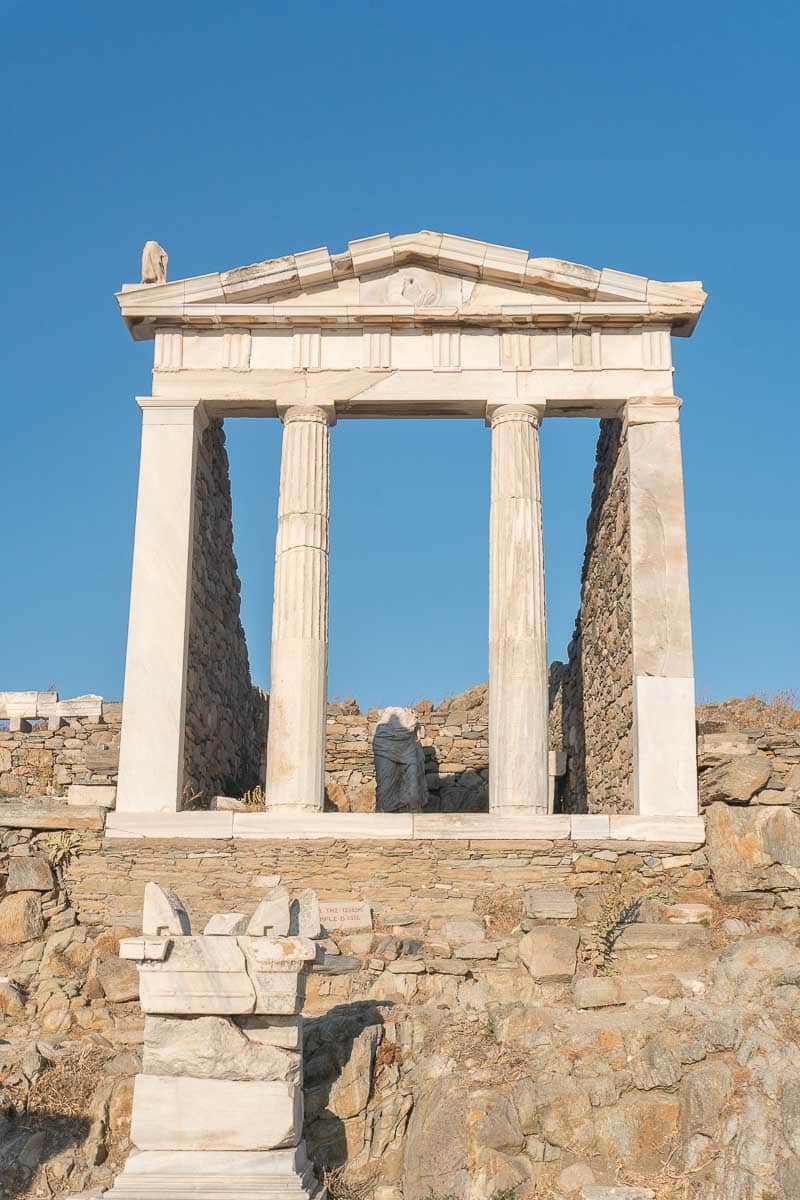 Delos might be a tiny island, but it packs a punch  when it comes to history – what else would you expect from an island that's packed with the ruins of an ancient city?
Just 30 minutes away from Mykonos by ferry, Delos is an ancient archaeological site that enjoys UNESCO World Heritage status.
Delos is an important site in Greek history as it is the birthplace of Greek mythological gods Apollo and Artemis. It's been around for a while, serving as a holy sanctuary at least 1000 years before the birth of the gods.
There's a lot to discover on the island. It's home to the Delos Archaeological Museum (currently closed), where you'll find ancient ceramics, statues, jewellery, and household items.
Here you'll find the Terrace of Lions, similar to the Avenue of Sphinxes in Luxor, Egypt. There's also the Theatre Quarter, a market square and various temples and monuments.
I recommend taking a guided tour of Delos to best use your day on the island.
Visit One of Mykonos' Stunning Beaches
It would be criminal to visit Mykonos but not any of its incredible beaches. 
What's great is there's a beach for everyone. For party-goers and socialites, there are several beaches lined with beach clubs, bars and restaurants for a wild time.
For others looking for quieter surroundings and a peaceful place to swim, there's plenty of beaches that fit the bill, too.
Here are some of the top beaches in Mykonos:
Psarou Beach: Trendy beach lined with the top beach clubs and restaurants.
Ftelia Beach: A secluded beach popular for its privacy and picturesque location. This is my favourite.
Paradise Beach: Hip beach filled with restaurants and cool bars.
Elias Beach: This is the longest beach in Mykonos and the least crowded – perfect if you're visiting in peak season but still want to escape hordes of tourists.
Ornos Beach: This is the best beach for swimming.
Book a Day trip to Paros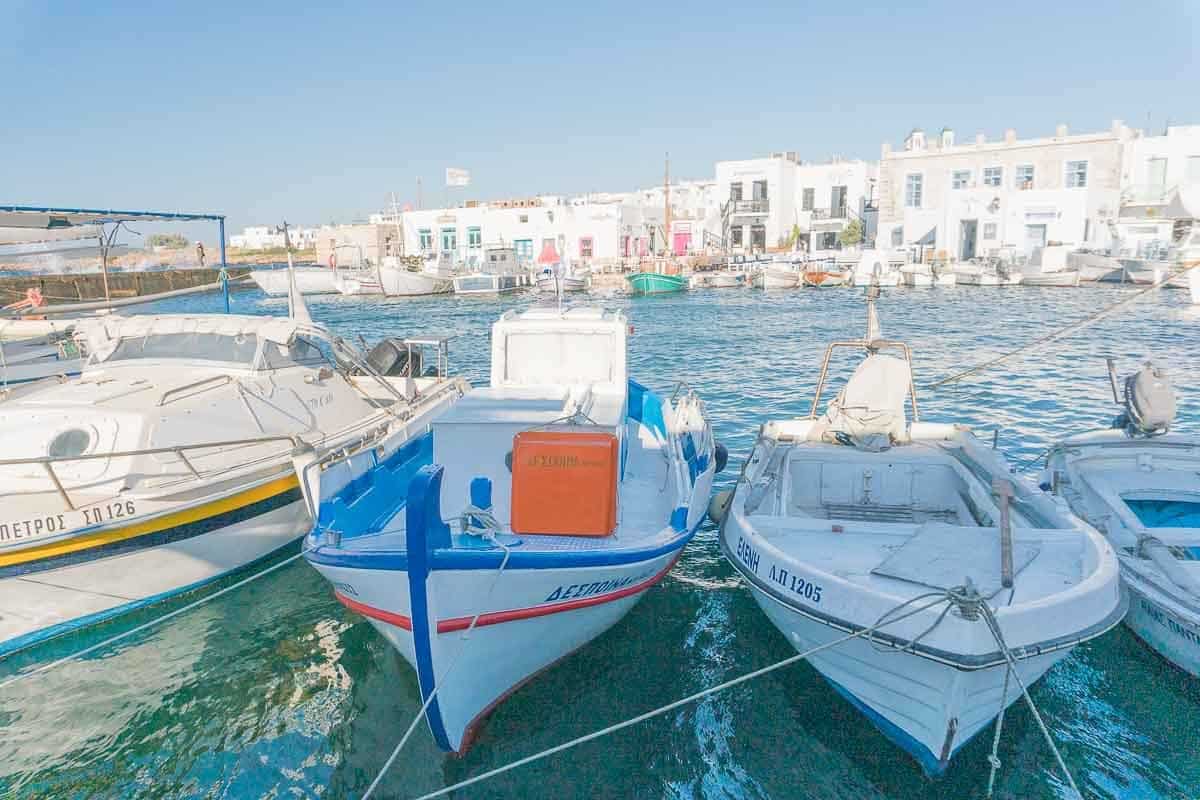 Paros is a small island that makes up a teeny part of the over 200 Cyclades Island chain. It's a stunning island famous for its lovely beaches and villages. It's about 3 hours away from Mykonos by ferry and is great for getting away for some peace and quiet. 
I have to be honest, I didn't get to spend a tonne of time on Paros on this trip, but the day I was there was an eye-opener.
Yes, it's busier than quieter islands like Iraklia and Sifnos but it's nowhere near as busy as Mykonos or Santorini but has some really cool towns and a thriving bar and restaurant scene. 
You can enjoy swimming at its beautiful beaches and coves or taking a boat trip around the island. I highly recommend spending a couple of hours exploring its various picturesque neighbourhoods, discovering the local cuisine and getting to know its history.
Scoff Local Cuisine
I strongly believe that an excellent way to learn about a place is through its food and, in Mykonos, there are plenty of places where you can have a delicious Greek meal.
Nice n Easy and Kramas are popular places to dine, though one of my favourite places is Kastro's – it's chilled out and serves up humble but delicious dishes.
Don't leave without trying some classics like Moussaka, Kopanisiti, Louza and the delicately delicious, honey-drenched Baklava.
Head Out on a Day Trip to Santorini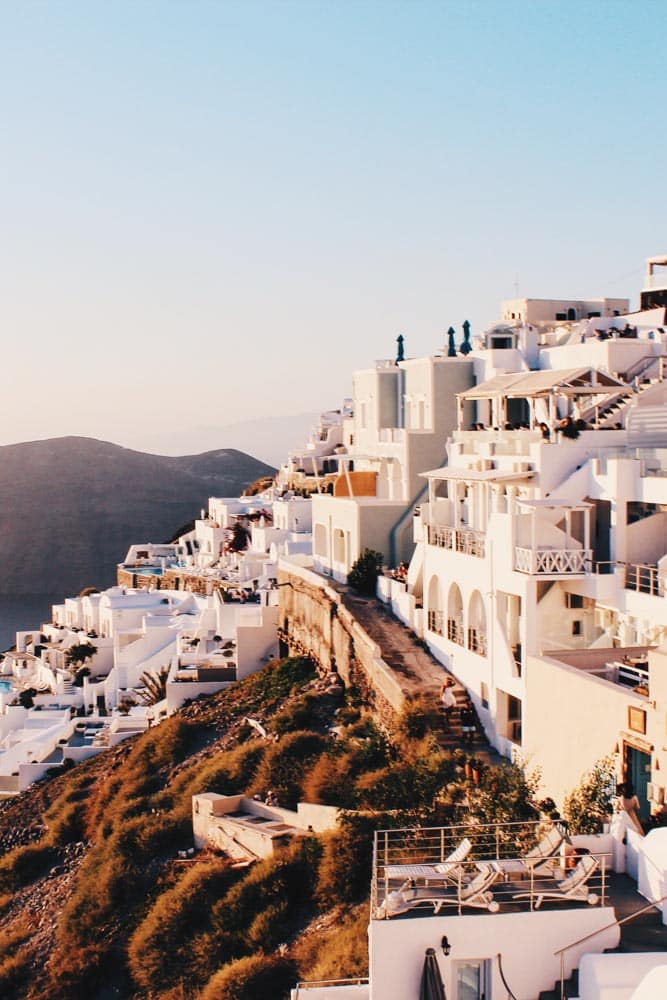 The best way to make the most of your trip to Greece is to go island hopping, since most of the Cyclades Islands are close to each other. Santorini is a stunning island that needs minimal introduction.
What's more, it's a mere two-hour ferry ride from Mykonos, making it perfect for a day trip.
The best part? It's filled with an abundance of fun things to do.
Whether it be a donkey ride up to the top of the island, visiting a winery, sampling local cuisine or hiking to the top of the Santorini Caldera – there's something for everyone to look forward to.
Sunset Drinks at Oniro Sunset Bar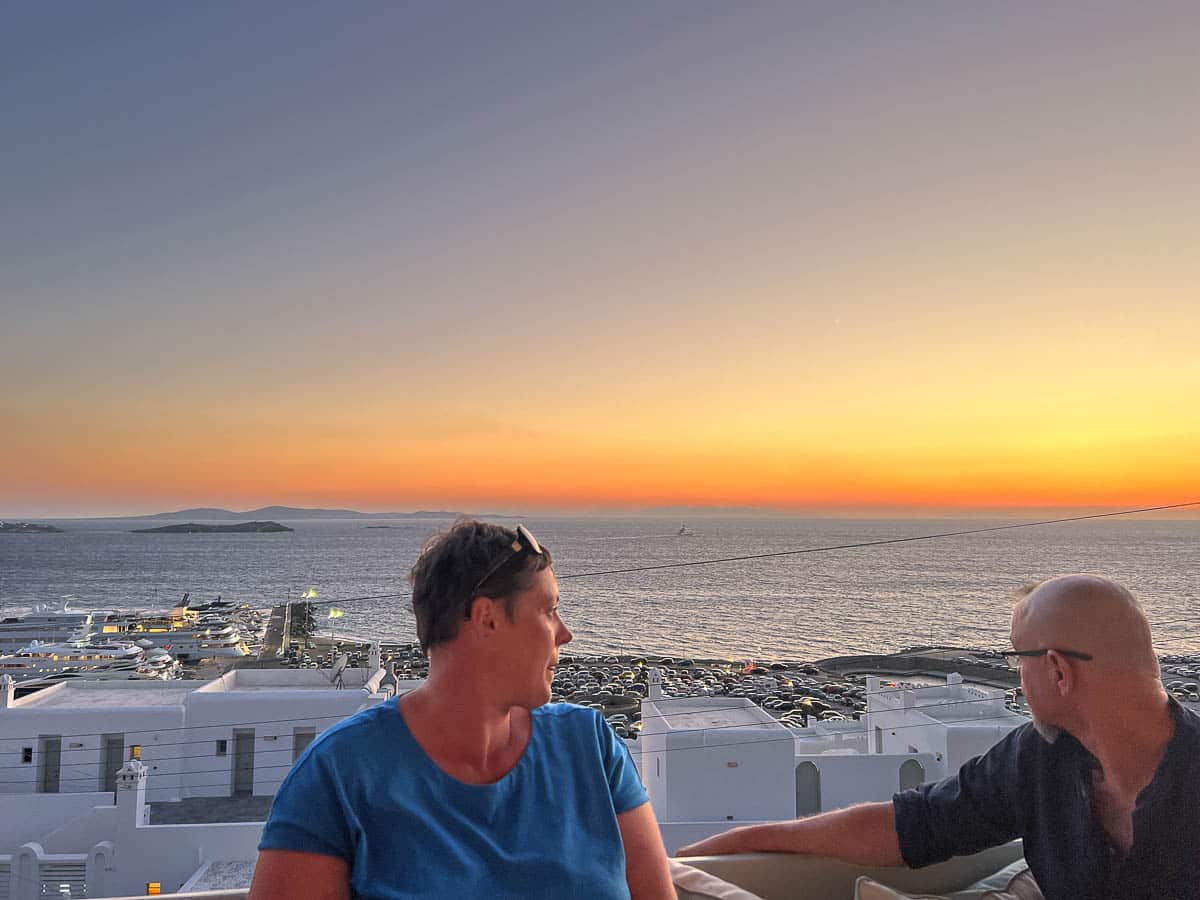 Oniro Bar is one of the most popular bars in Mykonos – and it's not hard to see why. Earning itself the title of "The Restaurant Sunset Bar," it offers the best unobstructed panoramic views of Mykonos town, the Aegean Sea and the neighbouring island of Syros.
It's popular with locals and visitors looking to unwind after a day of activities – I have spent many an evening here sipping Sundowners. The food and drinks are delicious and provide great value for money, so be sure to check it out.
Stroll Around the Old Harbour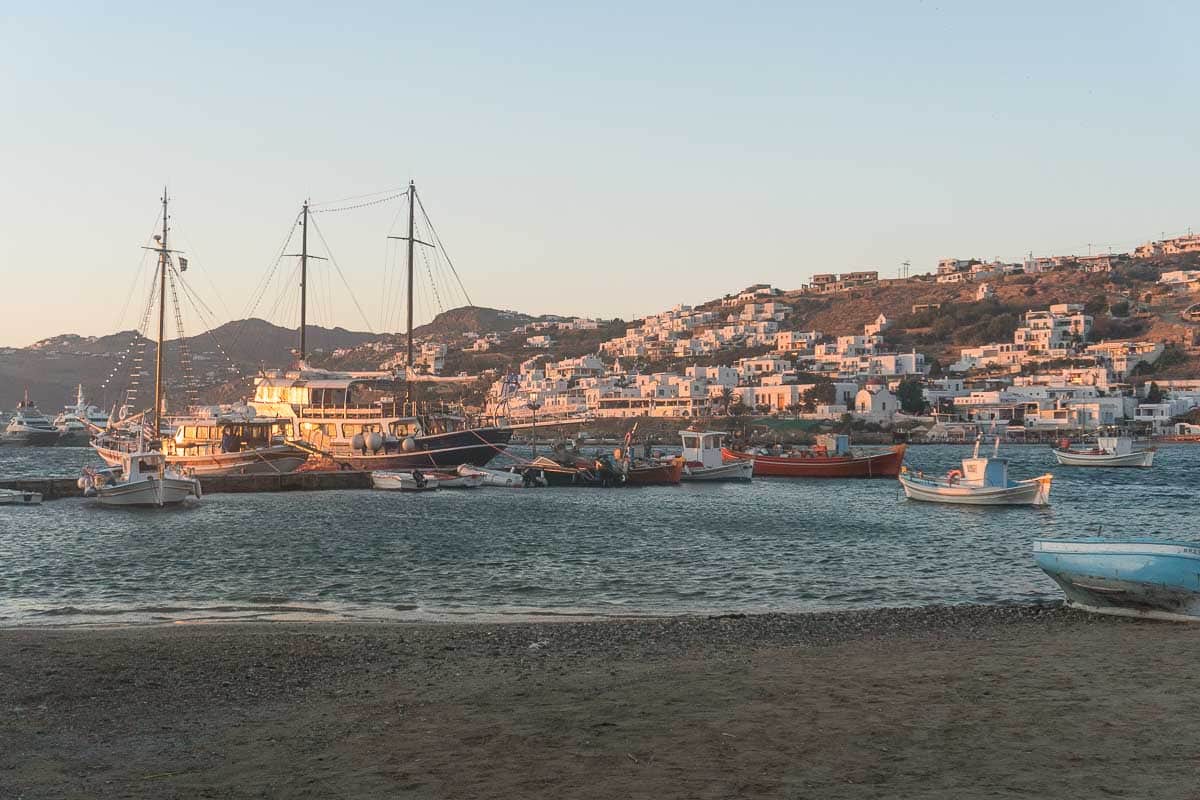 One best thing to do in Mykonos town is to take a stroll around the Old Harbour. This scenic part of the town is near Little Venice and it's perfect for exploring during the day or late afternoon as the sun sets.
Here you'll find the small blue-domed Agios Nikolaos church, boutique shops, and restaurants along the cobblestone streets of the Old Harbour.
Visit the Archaeological Museum of Mykonos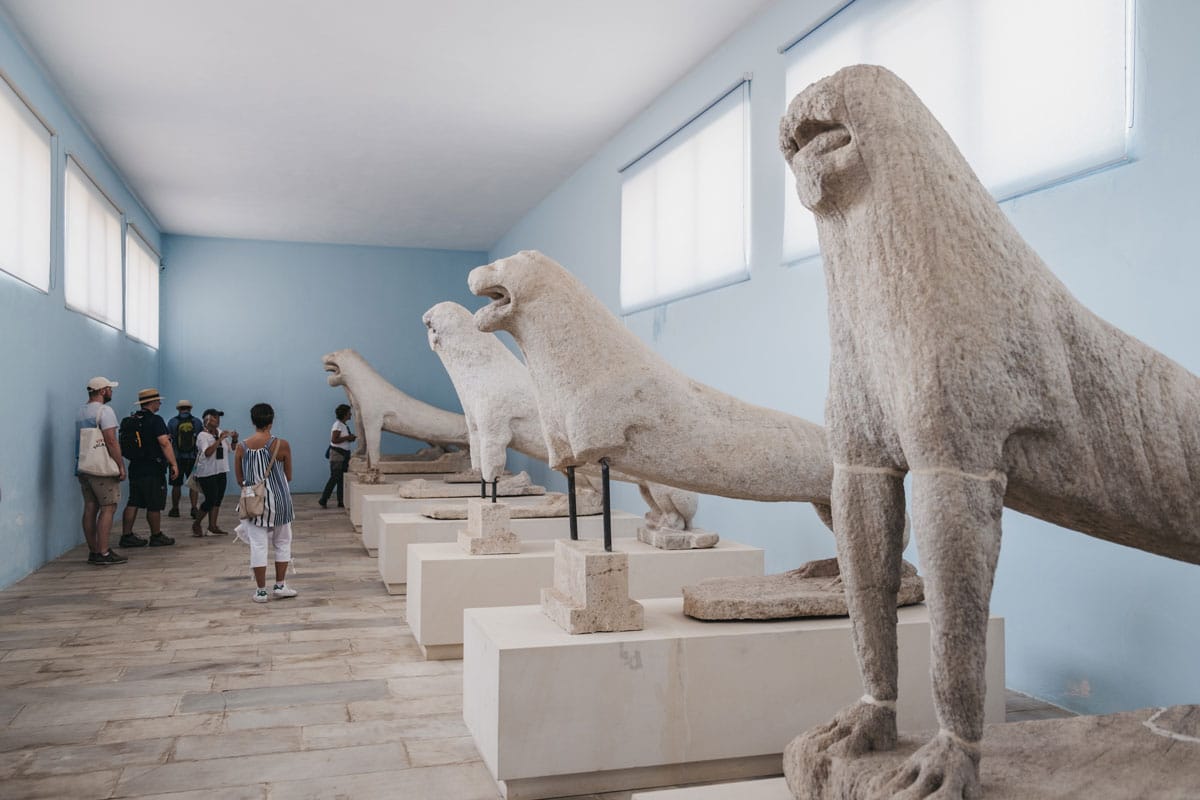 If you're a history buff, visiting the Archaeological Museum of Mykonos might interest you. It sits in the middle of the town and is a great place to learn more about the island's history.
Here you'll find various artefacts found through different periods of history. Afterwards, you can visit the Aegean Maritime Museum, not far from this museum, that tells the story of seafaring in this region.
Admire Paraportiani Church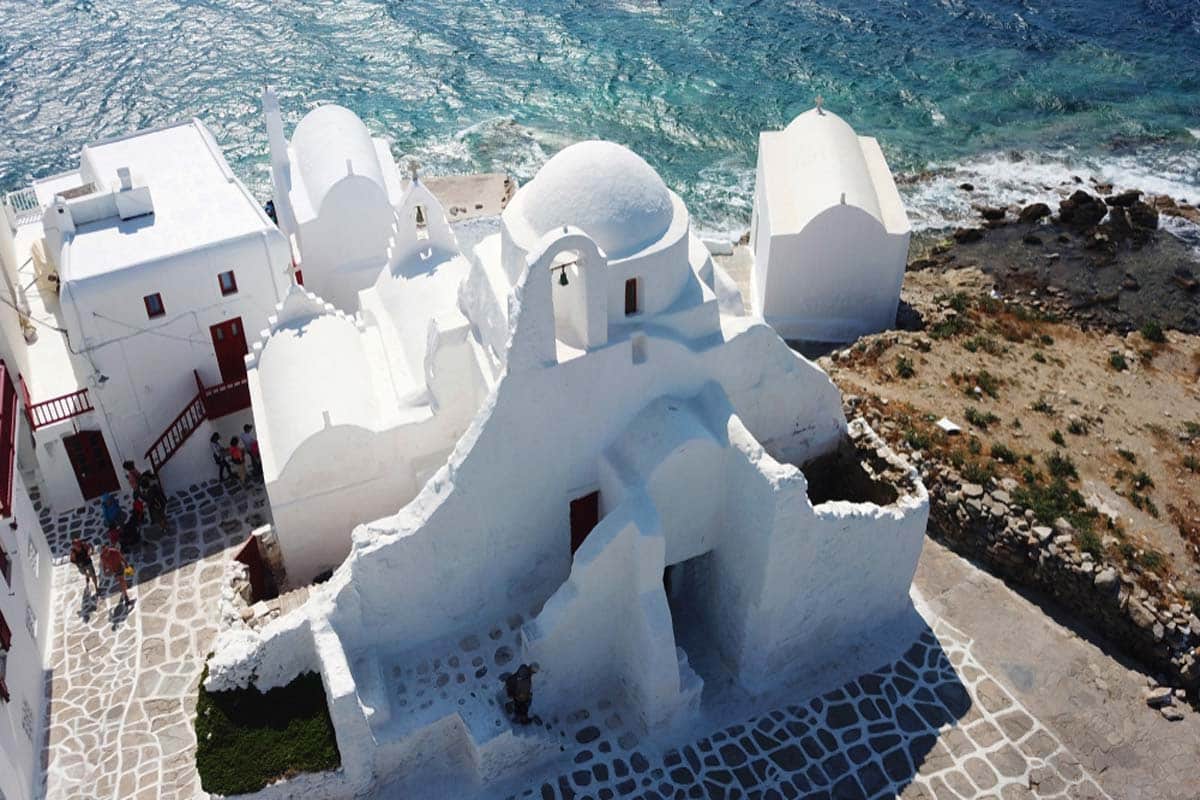 There are many churches in Mykonos, but the most famous is the Paraportiani Church. It dates back to the 14th century and is one of the most photographed churches in the world.
Paraportiani has five small churches built at different points in history. It's quite a striking structure that has stood the test of time. Its chalk-white walls adorned with brightly coloured doors are hard to miss.
It just so happens to sit on a hill that overlooks the azure waters of the surrounding Aegean Sea – sunset views anyone?
Take a Wine Tasting Tour
Mykonos is a popular wine-making region in Greece. So, naturally, one of the best things to do around Mykonos is to go on a wine tasting tour, visit some of its top wineries, and sample the local wine.
You'll taste Greek wines such as Malagousia and Mandilaria in a stunning setting, paired with the tastiest food.
Book Your Wine Tasting Tour Here!
Enjoy Watersports on Mykonos' Beautiful Beaches
Having various great beaches and coves that are blessed with sunny weather all year round, Mykonos is a great place to enjoy various water-based activities. You can learn to surf, rent a jetski, kitesurf, snorkel and even try stand-up paddleboarding.
Alternatively, you can just stick to swimming, go fishing or enjoy sea kayaking. Though, you'll find me chilling on the beach with a book in hand.
Unique Things to See & Do in Mykonos: Hidden Gems That are Off the Beaten Track
Armenistis Lighthouse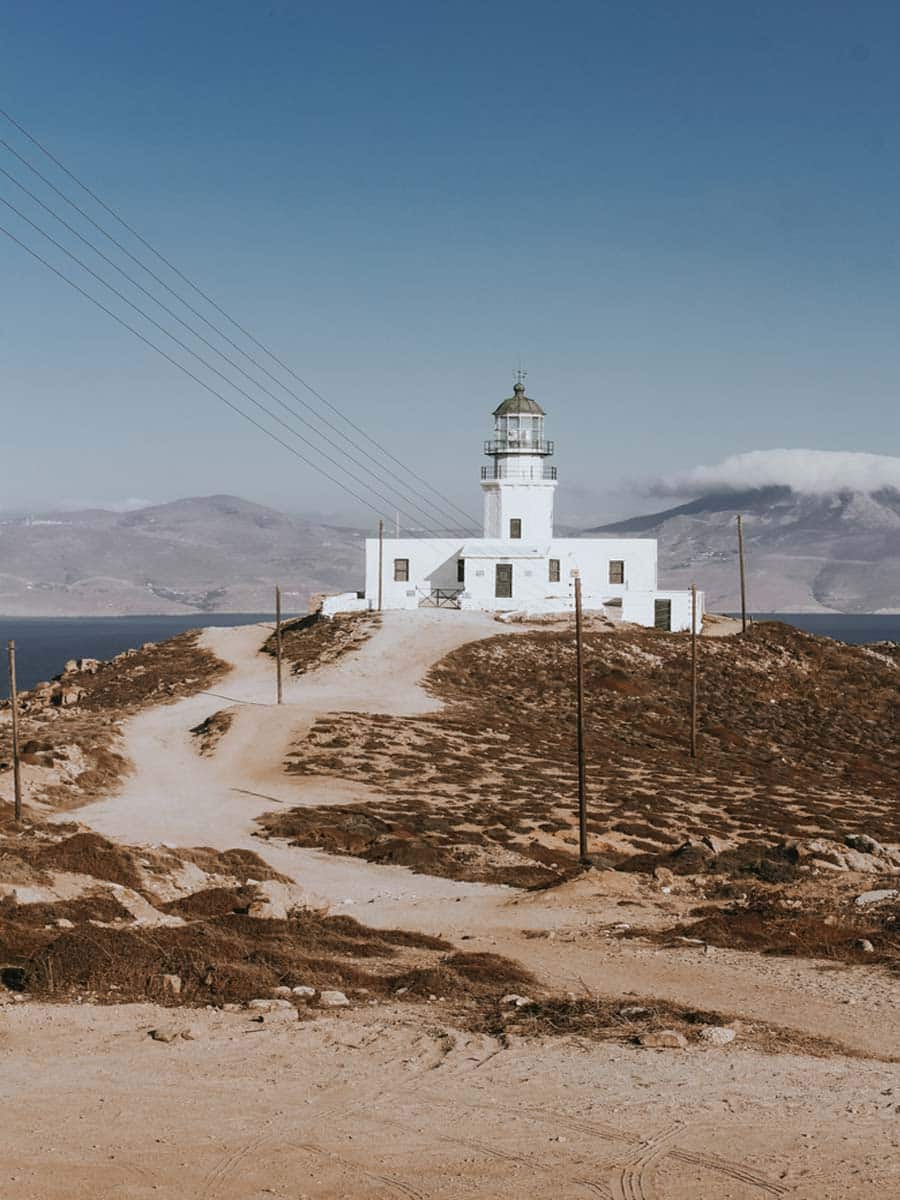 Around six kilometres away from Chora sits the Armenistis Lighthouse in the Cape Armenistis area. Standing 19 metres tall, it is one of the oldest lighthouses in Greece, perched on top of a hill that overlooks the sea.
It's still in operation today, guiding boats along the strait between Mykonos and the island of Tinos. You can enjoy incredible views of the surrounding area, especially at sunset.
Admire Mykonos' Sea Life on a Scuba Dive
If you're a thrill seeker, I highly recommend scuba diving at the reef off Paradise Beach or Lia Beach. It's one of the coolest things to do in Mykonos because it allows you to see the island from a different perspective.
You can head underwater and explore the wide array of sea life. Expect to see barracuda, octopus, starfish and a variety of sea plants.
Book Your Scuba Diving Experience Here
Take a Bike Tour
Looking for fun things to do in Mykonos? Then consider taking a bike tour around the island. There are different tours available that will take you to various lookout points, beaches and lesser-known attractions.
A bike tour is also one of the best things to do in Mykonos for couples, as you can tailor it to your needs and enjoy a beach picnic. I recommend Yummy Pedals – they have a great selection of bikes and tours available.
Explore Matogianni Street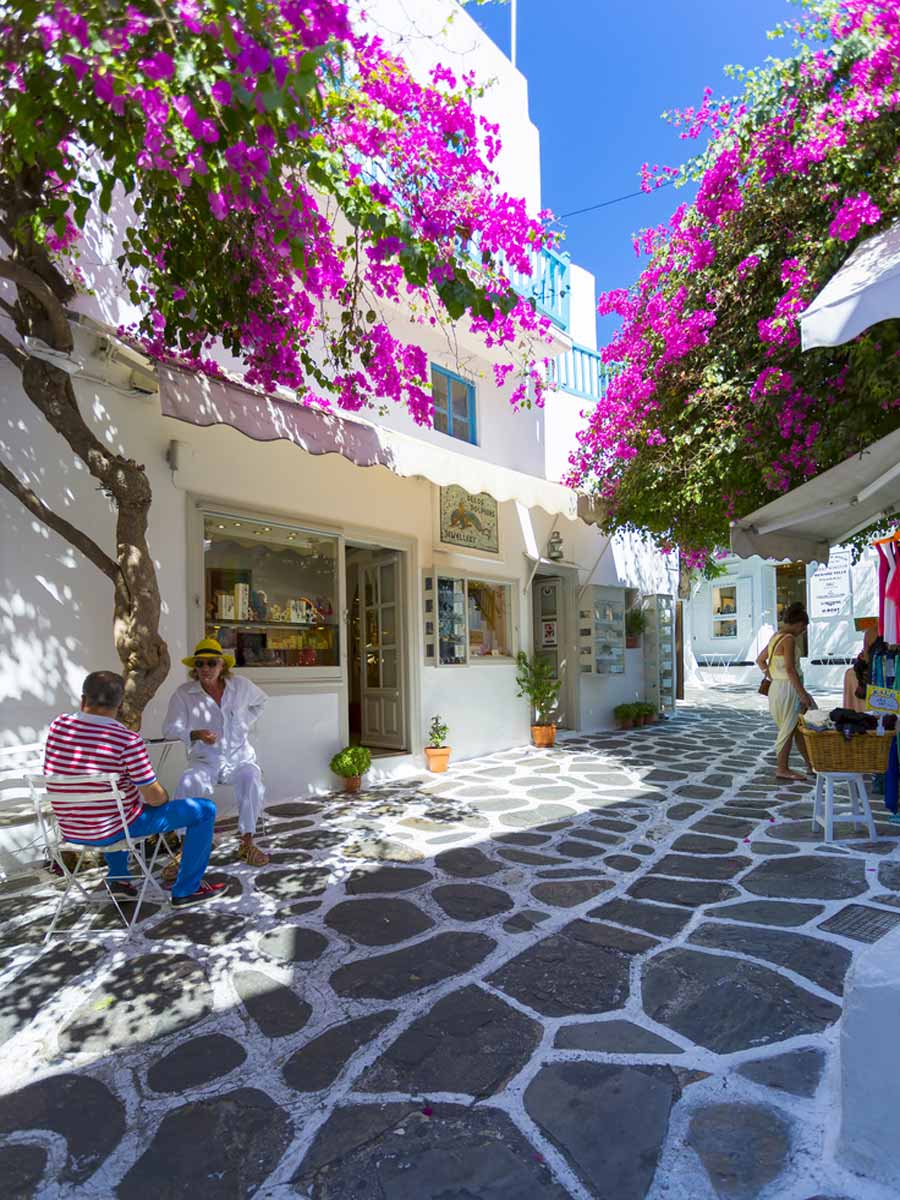 Matogianni Street is truly a hidden gem that runs through the town and my favourite place to explore in Mykonos.
This cobblestone street houses boutiques, souvenir shops and cute cafes and restaurants. Food is cheaper here than in Little Venice, so it's an excellent place for sightseeing and a bite to eat afterwards.
Visit the Rarity Gallery
A visit to the Rarity Gallery is one of the most unique things to do in Mykonos. Opened in 1995, it's one of the many hidden treasures on the island.
This small gallery features a variety of art pieces, sculptures and photographs – it features local artists' work and has also housed pieces from famous artists like Carole Freuerman and Julian Opie.
Things to do in Mykonos: Practical Tips for Your Trip
How Long Should I Stay in Mykonos?
I would suggest staying in Mykonos for about four to five days. This will allow you enough time to enjoy all the wonderful things to do on Mykonos.
Best Time to Visit Mykonos
The best time to visit Mykonos is in September and October. The weather is still lovely and warm, but the island is relatively free from the large crowds that gather in July and August.
Where Should I Stay in Mykonos?
Mykonos View Hotel (Mid-range)
The Mykonos View Hotel is a simple accommodation with impressive views over Mykonos Town and the Aegean Sea. It features a mix of spacious modern and stone rooms. It's also home to the Oniro Sunset Bar, where you can enjoy fabulous views and delicious food.
Alissachni Mykonos (Luxury)
This ultra-luxurious hotel is 12 minutes away from the lovely Psarou Beach and offers guests the choice of rooms with garden or sea views with private pools. The rooms are exceptional and offer cool, modern interiors.
Adel Private Suites (Luxury)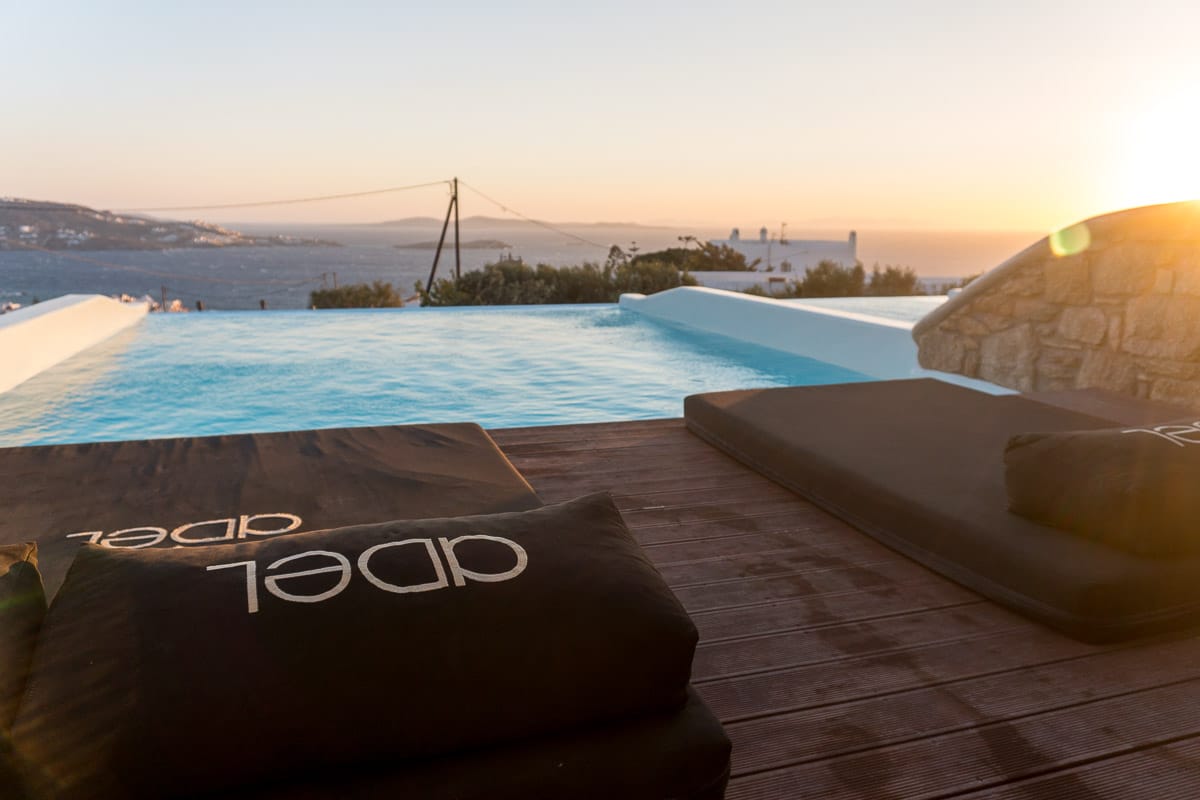 If it's pampering you're after, Adel Private Suites is my top recommendation when it comes to where to stay in Mykonos. Book yourself a cave room with a private pool and enjoy gorgeous views from the comfort of your own terrace.
Recommended Tours in Mykonos
Things to do in Mykonos: Map