Wondering where to stay on your sun-filled vacation to Mykonos? Here you have it, my guide to the best holiday lettings, Mykonos edition.
Mykonos, the party capital of the Aegean Sea, is the place to be during summer. And because this island gets so busy, especially at peak travel times, it can be tricky to find accommodation in Mykonos.
But, fear not, I've done all the research so you can spend less time planning and more time dreaming about Mykonos' beaches.
Let's dive in…
I love using Plum Guide as an alternative to Airbnb – each home is vetted by PG's staff and the quality is generally a lot higher. If you're looking for truly beautiful holiday rentals, then check out Plum Guide.
Best Mykonos Airbnbs: At a Glance
Best Airbnbs in Mykonos
No need to fret – there are plenty of places to stay in Mykonos. You're sure to find something you love among these stunning Airbnbs in Mykonos.
Driftwood & Olives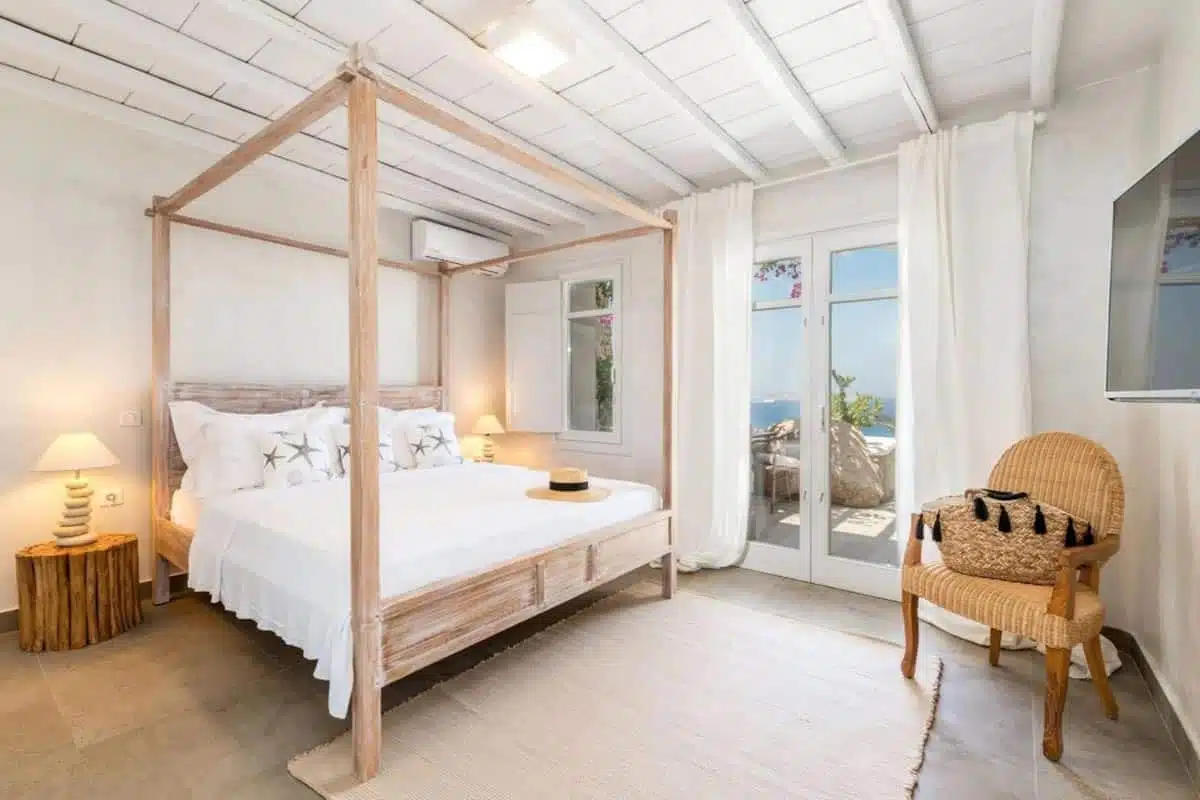 If you've got a crowd in tow, Driftwood & Olive is a bright, modern, and spacious home with all the bells and whistles to ensure you have a delightful stay. This home hosts up to twelve guests comfortably within five bedrooms. And, don't worry; it has five bathrooms too.
The home features an ultra-modern, fully equipped kitchen, as well as a fantastic outdoor space with daybeds and a private pool.
This Mykonos Airbnb with a pool is centrally located, though it's important to note that check-in is only at 4 pm – pretty annoying but worth it for how stunning this home is.
Location: Mikonos
Located in the Mikonos area, you'll find plenty to do and places to try out authentic Cycladian food near this villa.
Mykonian Mirage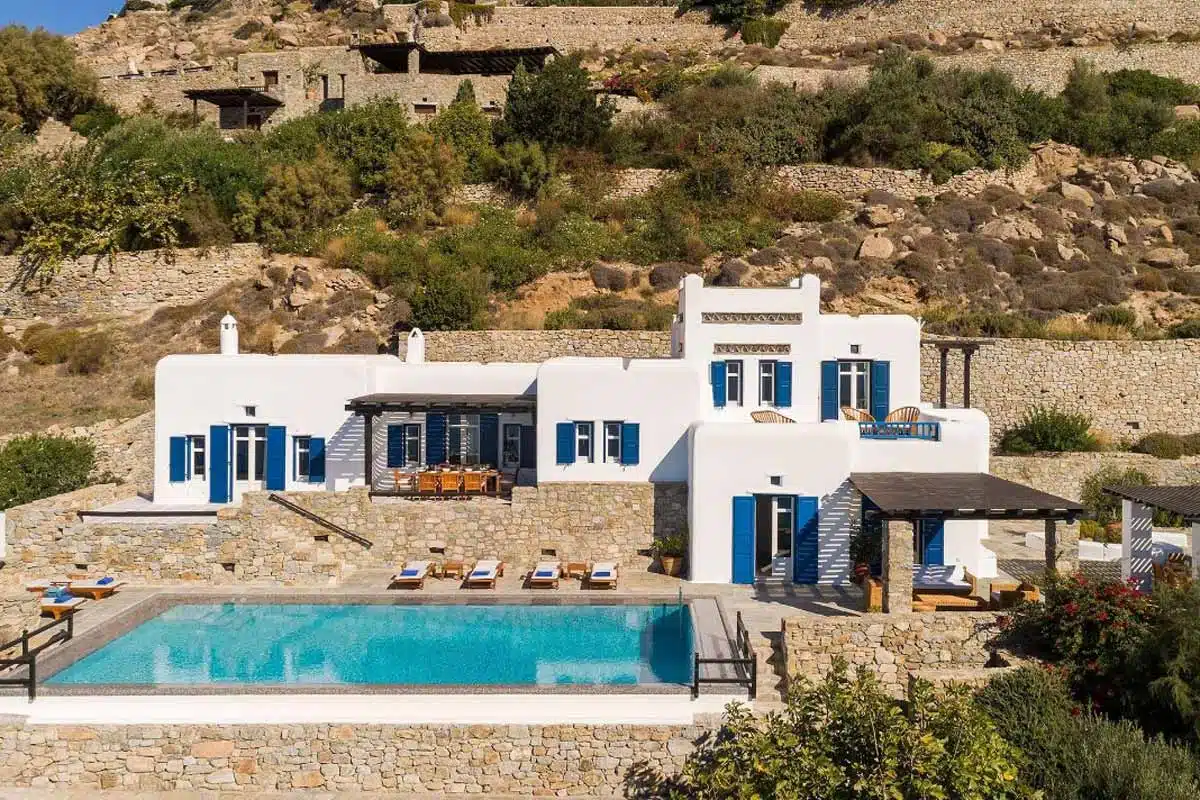 Searching for the perfect place to relax with a drink in hand to enjoy the sun and sea? Mykonian Mirage is the ideal stay for up to ten guests. This home, with its classic Cycladic design, offers more than just accommodation.
Here, you'll find five luxuriously decorated bedrooms with en-suite bathrooms, a fireplace, and a lounge with Netflix on the TV. I love that this home has direct access to the sea and a spacious outdoor area.
Location: Mikonos
Another fantastic Mikonos property. This home is really close to Old Port and Mikonos Town.
Midsummer Mirage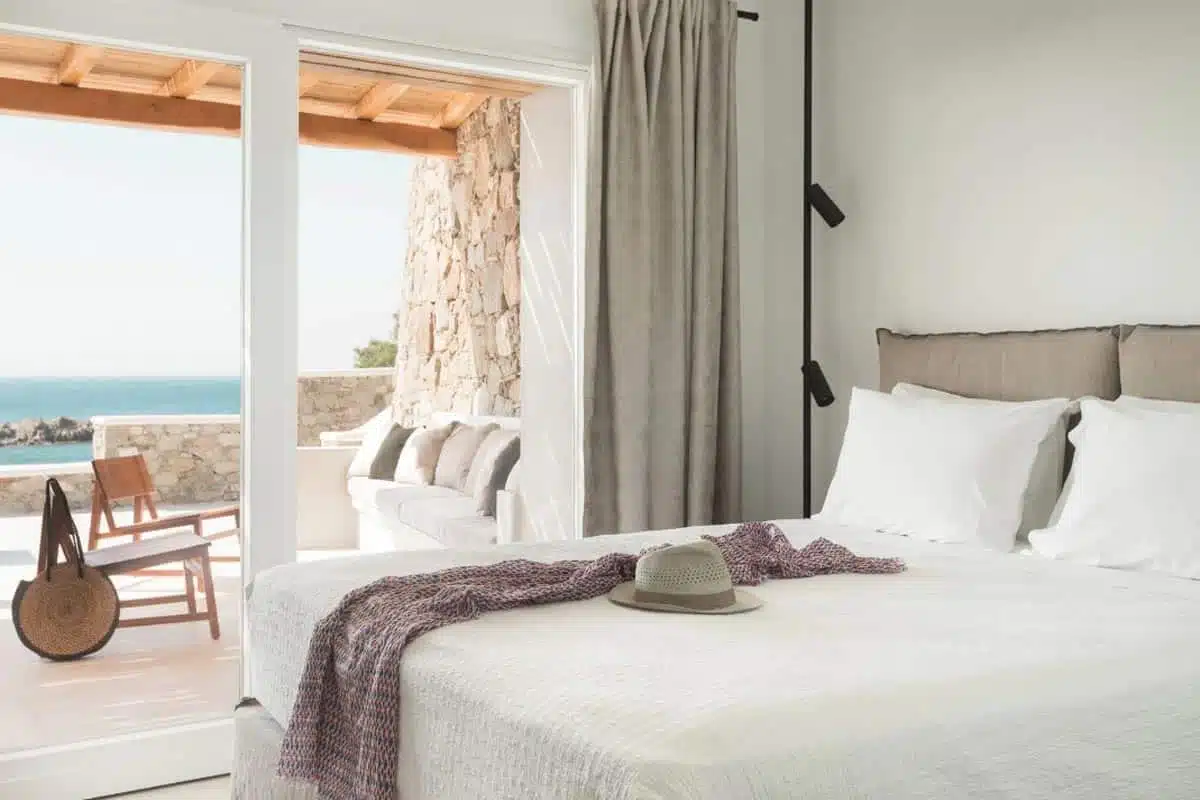 Looking for a more intimate island escape? This Airbnb in Mykonos, Greece, offers two bedrooms and two bathrooms in an exclusive seaside resort. You'll have access to amenities like the gym and spa at the resort.
Head up to the resort's restaurant and cocktail bar for a delicious dinner. Otherwise, you can prepare meals in the kitchen. While Midsummer Mirage isn't within walking distance to central points, the hosts happily arrange drivers or activities for an additional fee. A nice touch, I'm sure you'll agree.
Location: Mikonos
This property is only a 10-minute drive from Mykonos Town, so you can enjoy the peace and quiet or venture into the town as you please.
An Ode to Amphitrite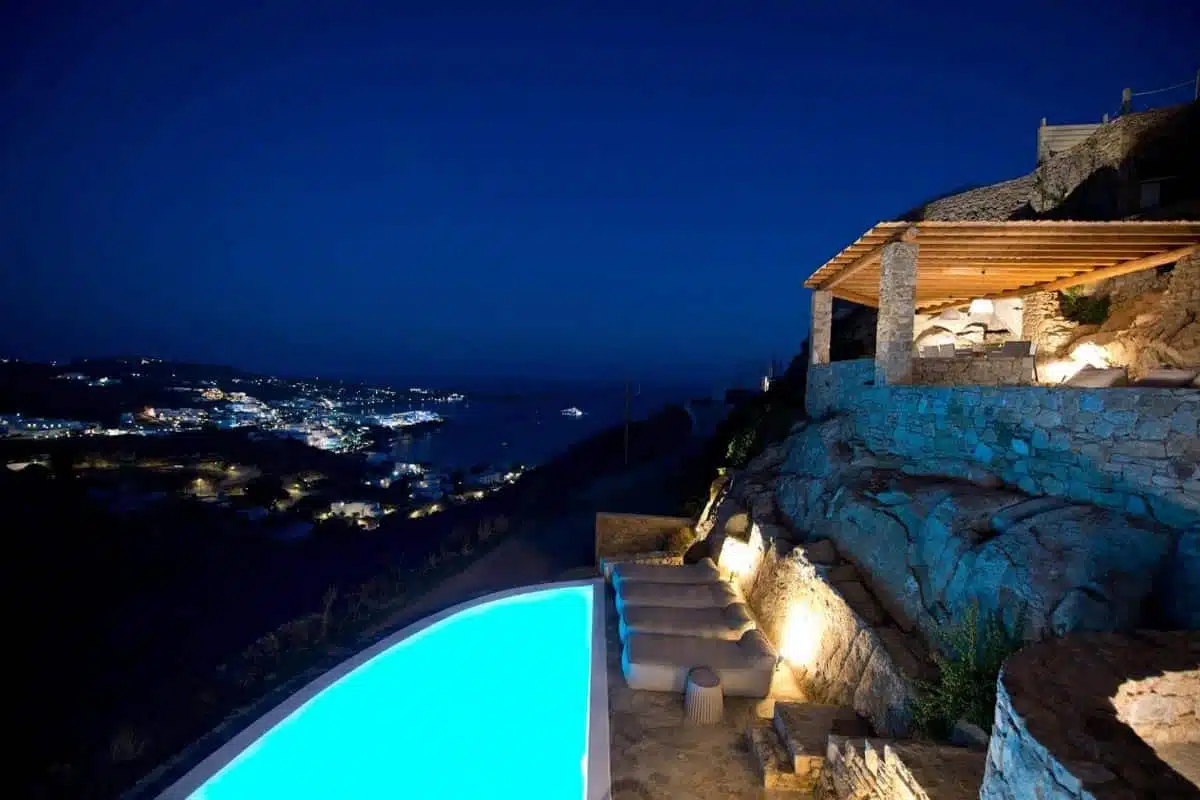 I'm going to make a bold claim – I've found the best airbnb Mykonos offers. One word: Views.
This simple villa in Platis Gialos hosts up to seven guests in four bedrooms. Located in Mykonos' watersport hotspot, you'll never run out of things to do nearby. Not to mention the sweeping views of the area you can admire whilst enjoying the pool.
When you're not out adventuring, you can relax under the pergola while admiring the views of Psarou Bay or cook up a hearty meal in the kitchen or on the barbeque. If you're looking for an Airbnb near Mykonos' Paradise Beach, this villa is only ten minutes away.
Location: Platis Gialos
Platis Gialos is a beautiful beach area, and it's just a stone's throw away from party-central Paradise Beach.
The Sitari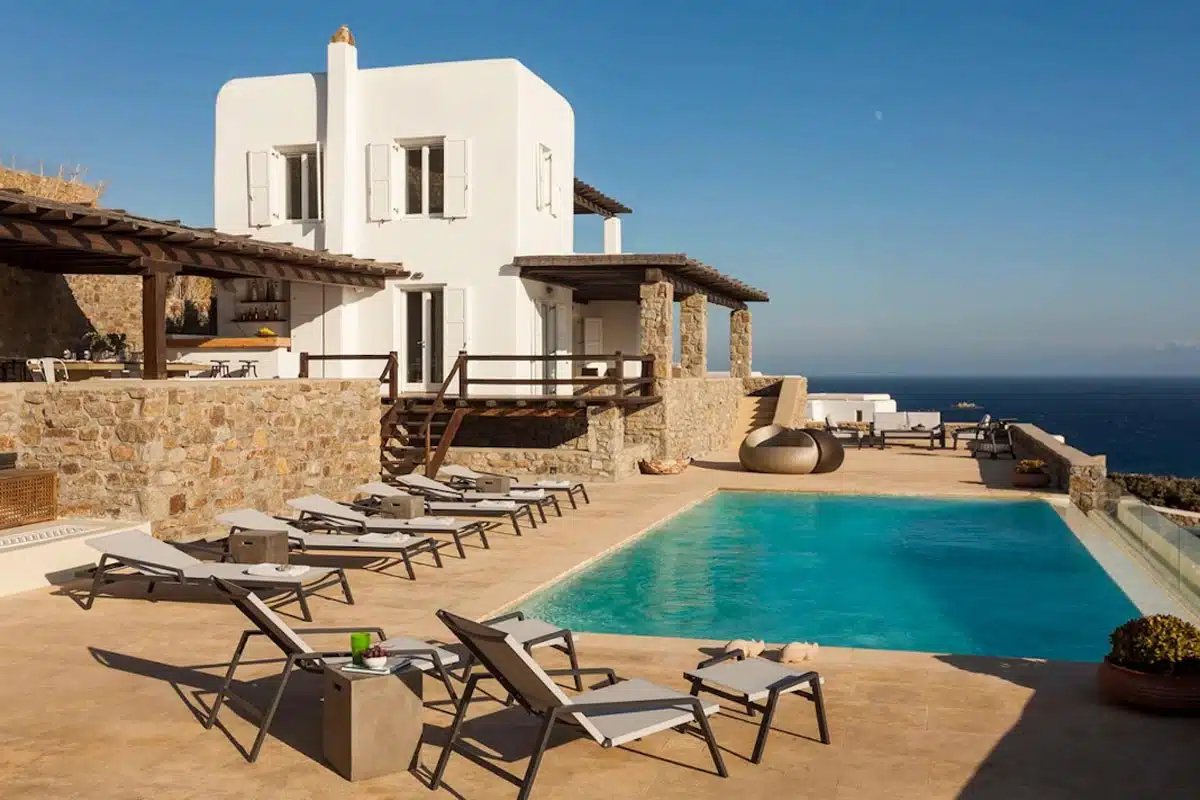 Big groups will love staying at The Sitari.
This spacious villa with gorgeous views of the Aegean Sea comfortably sleeps up to sixteen guests. With eight bedrooms and just as many bathrooms, as well as multiple large living areas, there is more than enough room for everyone.
For some quality time with your housemates, you can congregate on the lawn, the terrace, or the patio. Pre-dinner drinks, anyone?
Location: Agios Ioannis Diakoftis
Agios Ioannis Diakoftis is a small town and beach on the west coast of Mykonos. It's the place to be for relaxation and superb weather.
Turquoise & Stone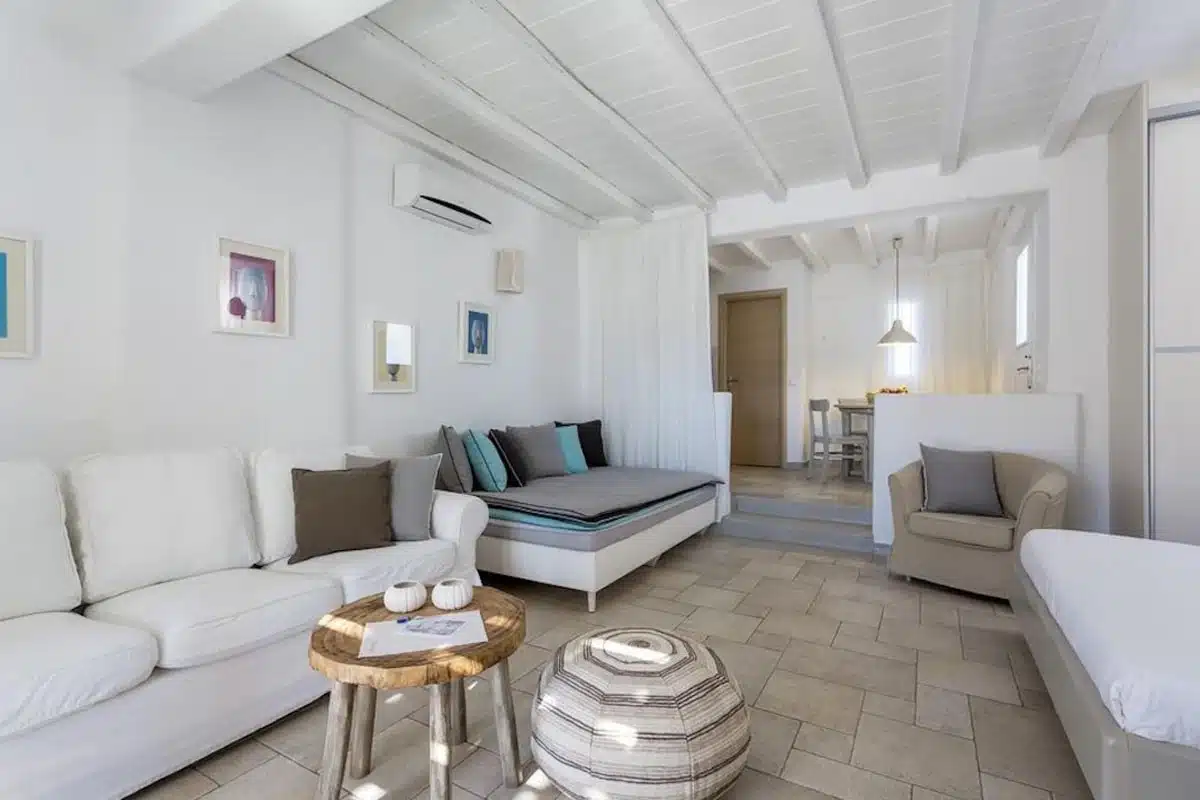 This Airbnb in Ornos, Mykonos, offers the perfect romantic escape for a couple. Although it's a quaint spot for two, it's fully equipped with everything you'll need for your Mykonos vacation.
Turquoise & Stone has one bedroom and one bathroom, a kitchen, a lounge, and a dining area. And, while it's best suited for two, an extra guest can sleep on the day bed. That is, if you don't mind sharing the studio apartment.
Location: Ornos
The streets of Ornos are full of restaurants, hotels, and taverns. This is a popular location for kitesurfing, exploring the ruins, and relaxing on the beach.
Ioannis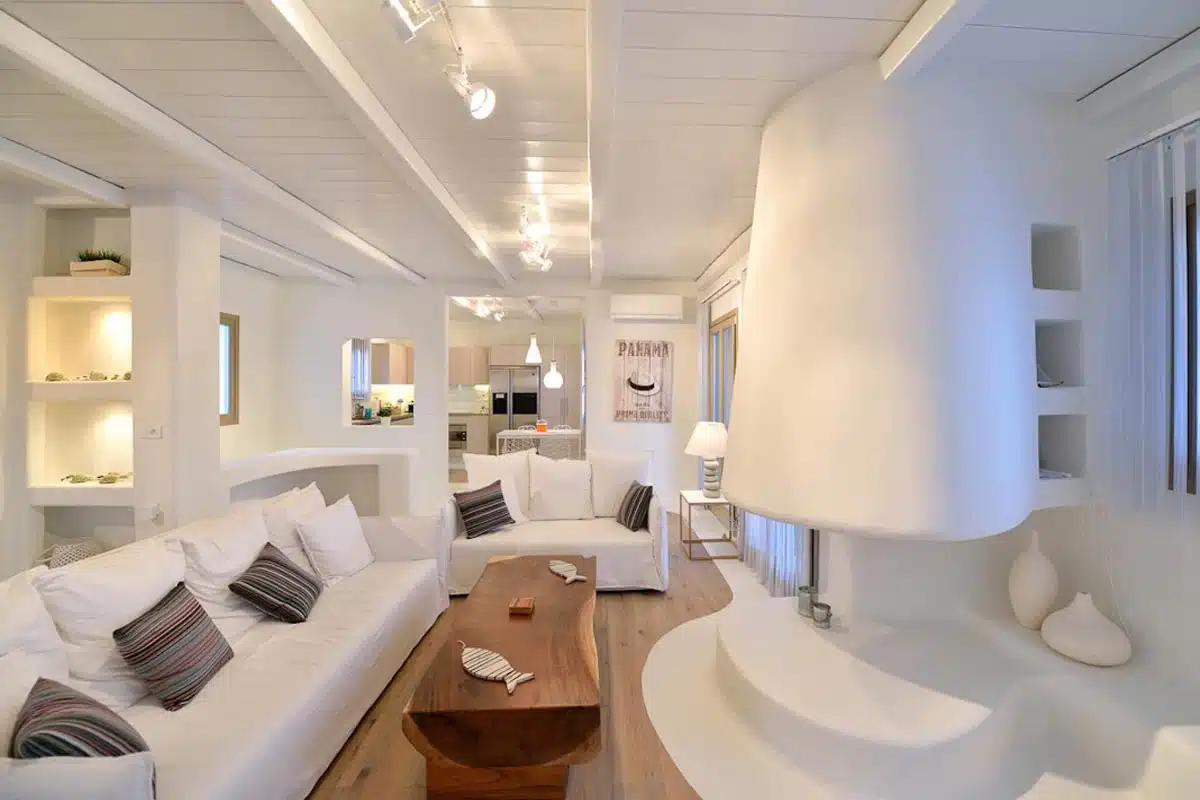 Ioannis comfortably sleeps eight guests in four bedrooms. This property also has four bathrooms, a large kitchen, indoor and alfresco dining, unforgettable views, and classic Greek interior design.
If you're after that home-away-from-home feel, you can't go wrong staying at Ioannis. This property is a little on the outskirts of the island, so I'd recommend getting a car to move around.
Location: Elia
Elia is the best spot on the coast to relax in the sunshine. It's quieter here and the beach's day beds are reasonably priced.
Aegean Dreams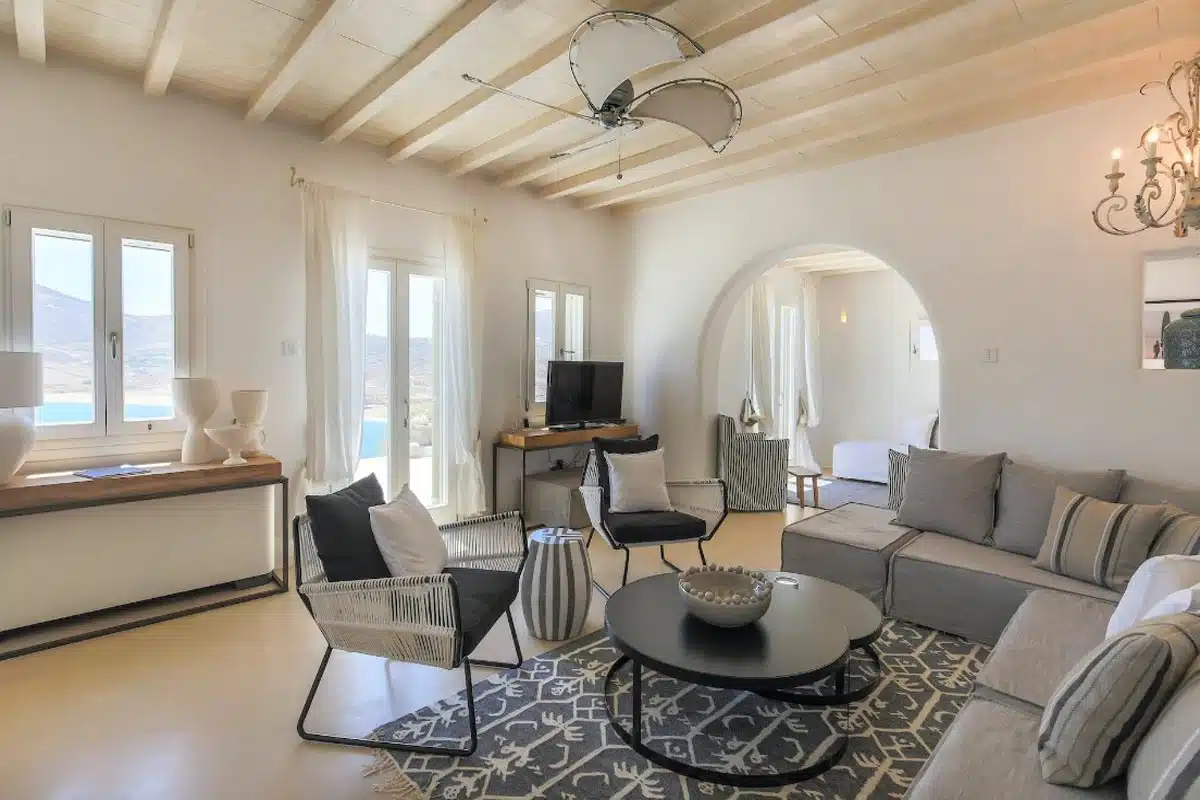 It can be tricky to find an Airbnb in Mykonos Town, but Aegean Dreams is only one mile away. And this dreamy home comes with direct access to Ftelia Bay from the lower terrace, a fantastic outdoor dining and relaxing area, and a spacious interior.
This ten-sleeper villa in Mikonos is a summertime paradise. Have fun trying to drag yourself away from the idyllic pool.
Location: Mikonos
There are many excellent properties in Mikonos, but few have direct access to the Bay. Aegean Dreams is also very close to Old Port.
Guide to The Galaxy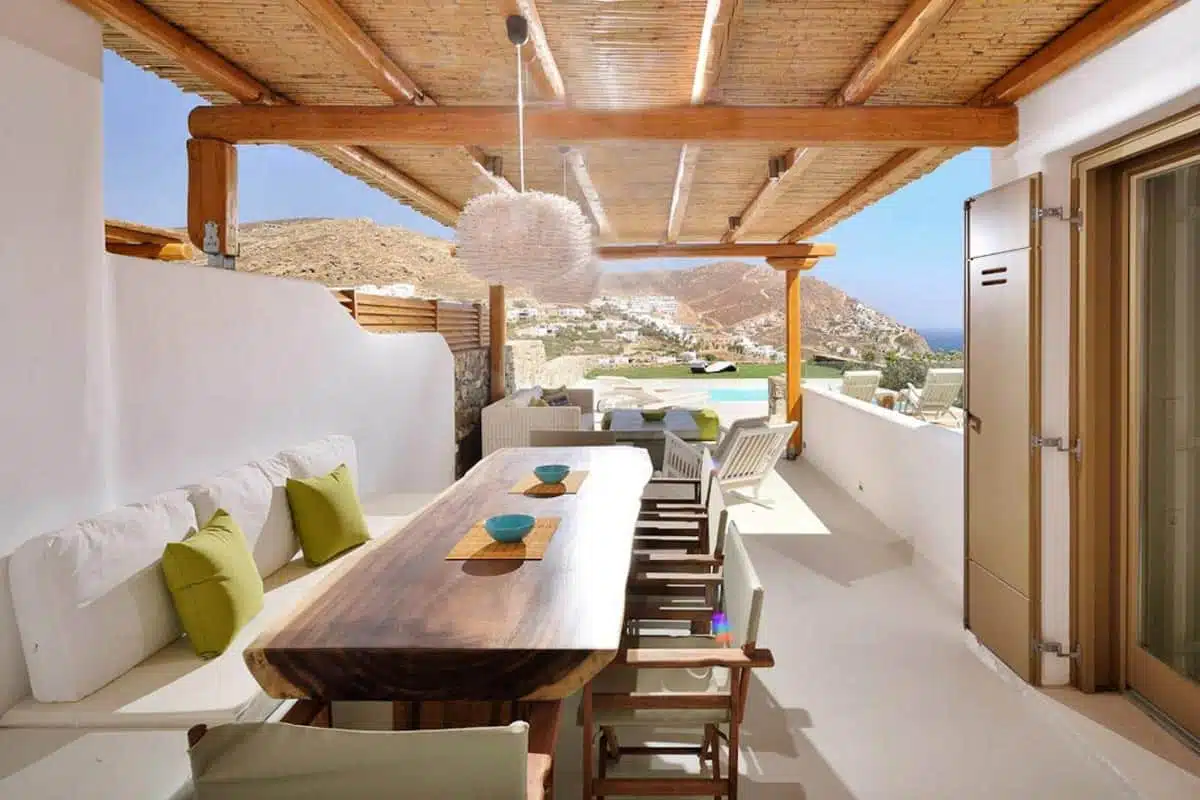 If you like the sound of stargazing from the hot tub (it's a big fat yes from me), Guide to The Galaxy is the best Mykonos Airbnb you can find.
This villa sleeps four guests in two ensuite bedrooms, but it has a third bedroom reserved for staff – you can arrange a live-in chef, babysitting, and massage services.
The kitchen at Guide to the Galaxy is modern and well-equipped. It even has an espresso machine to fuel you for Mykonos adventures.
Location: Elia
This location is superb because it's only a short walk to Kalafatis, Elia and Kao Livadi beaches, and Ano Mera town. It's also four miles from Old Port.
Azure Aegean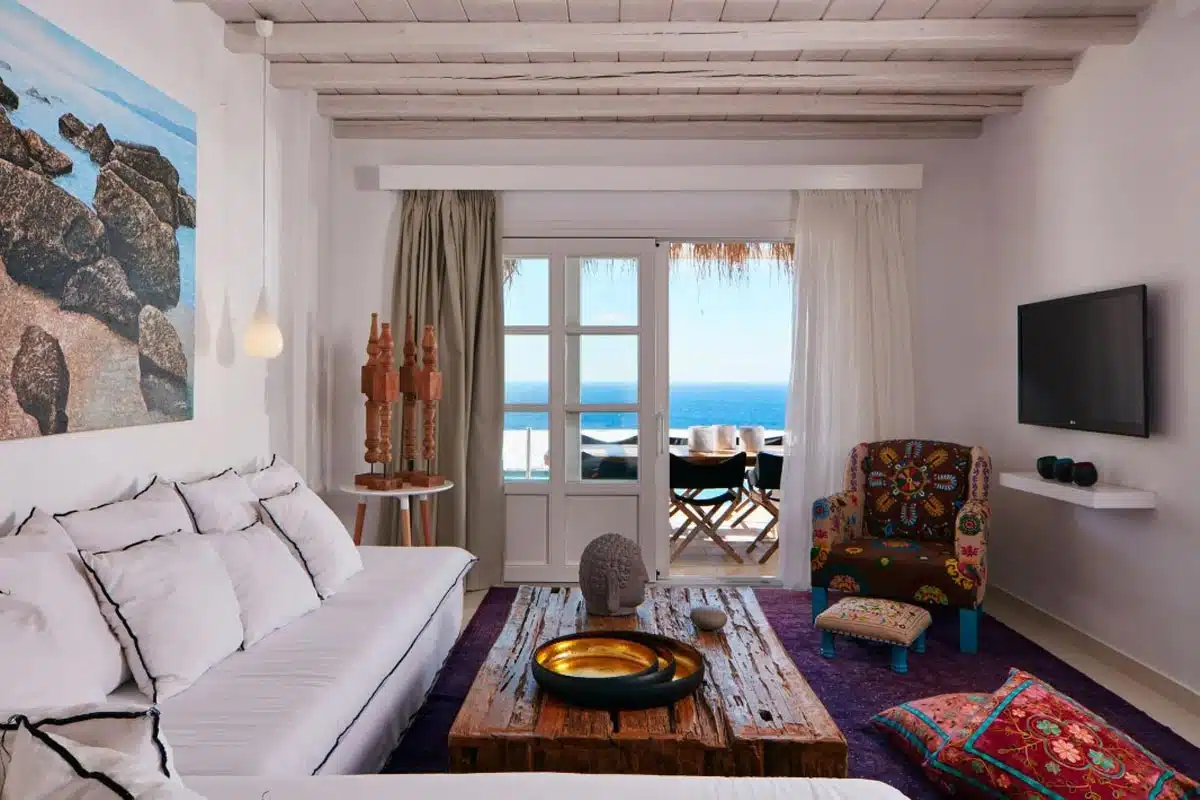 Azure Aegean is an island paradise allowing up to seven guests. But be warned, there are only two bedrooms, so three guests must camp out on the sofa beds. This Mykonos Airbnb with an infinity pool has beautiful scenic surroundings.
Because this villa is part of a resort, you'll have access to the resort's facilities like the fitness centre, spa, restaurant, and private beach, with all the perks of staying in a secluded villa.
Location: Mikonos
Very few places to stay in Mikonos offer views like this. This villa is near Mykonos Town.
Practical Tips to Consider Before Booking Your Airbnb in Mykonos
As I've mentioned, I tend to use Plum Guide over Airbnb as the quality of homes is a lot higher. While the rentals are usually more expensive, it really is worth the splurge for the quality.
Go over the house rules with your host to avoid any issues on arrival. Make sure you note the check-in and out times, too.
Airbnb Mykonos: Map