Planning a trip to Paros? Equipped with this ultimate Paros travel guide, you're about to embark on the ultimate vacation.
Paros might not be as famous as Santorini or Mykonos, but that doesn't mean it's not worth visiting. If you ask me, this Cyclades island rivals the more popular two with its stunning architecture, pristine beaches, and fun activities.
Paros Island is well known for its fine white marble, thanks to capital town Parikia's rich history of Parian marble mining. While today the town's quarries lie abandoned, the whitewashed buildings pay a nod to the good old days.
When it comes to exploring the Greek islands, Paros is always worth a visit – in a region filled with fascinating history, Paros brings something unique to the marbled table.
Let's dive into why a visit to Paros needs to be on your travel bucket list.
Top Tip: Looking for a place to stay while exploring Paros? I recommend the gorgeous Paros Bay Hotel.
Top 5 Things to Do in Paros
See the Venetian Castle at Naoussa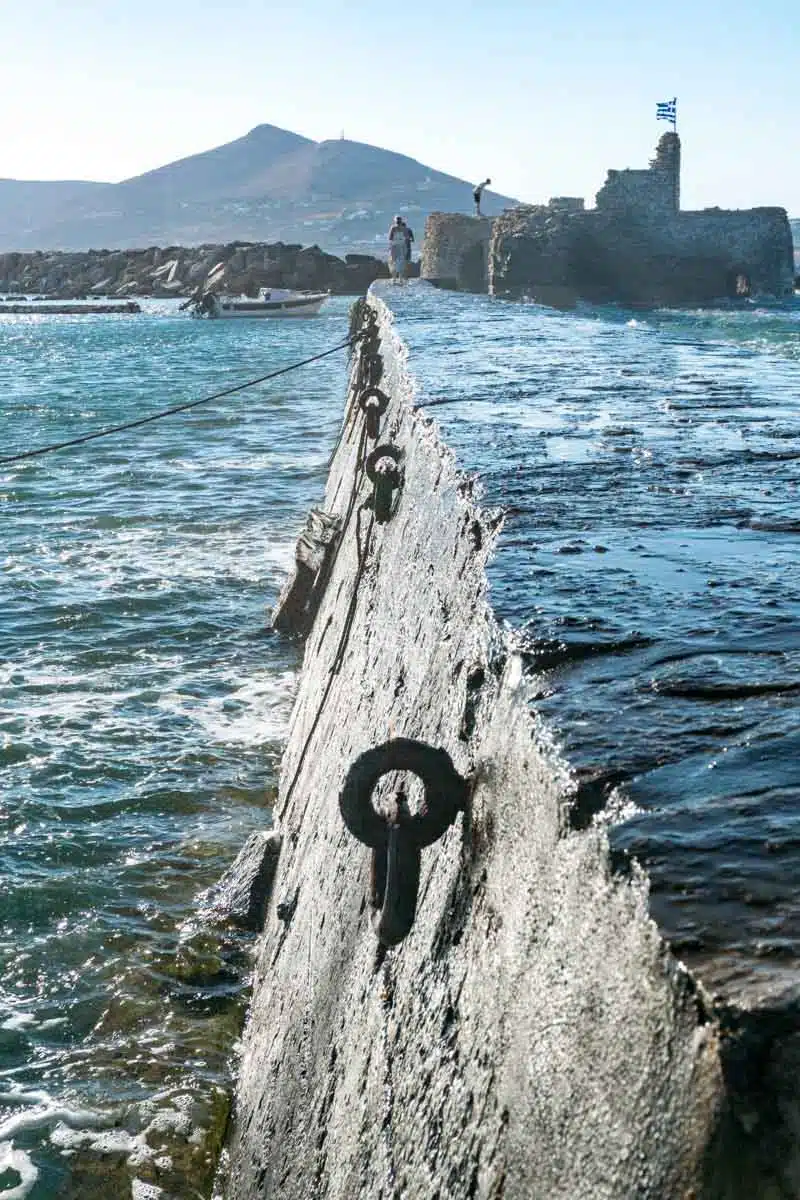 Let me kick off with one of the most visited spots in Paros, The Venetian Fortress of Naoussa.
Built in the 15th century, the fortress was a watchtower for surveillance against pirate and enemy attacks. The structure previously boasted two towers and while half the tower is underwater, its second counterpart no longer survives.
The two towers stood with an iron gate suspended between them, which did well to keep pirates out of the harbour. You can access the surviving part of the fort through a narrow causeway, where you can venture inside the castle and peek through the gun holes.
Just opposite the fort of Naoussa, former Venetian storehouses stand today as charming pubs, tavernas, and restaurants – pop inside one for a traditional meal and you'll notice that fresh fish is always a good idea (more on that in a second).
Top Tip: If you're on a strict time constraint (or just fancy the comfort of being ferried around town) this Paros island tour is an excellent way to see all the sights in a short amount of time.
Stroll Around Naoussa's Picture-Perfect Streets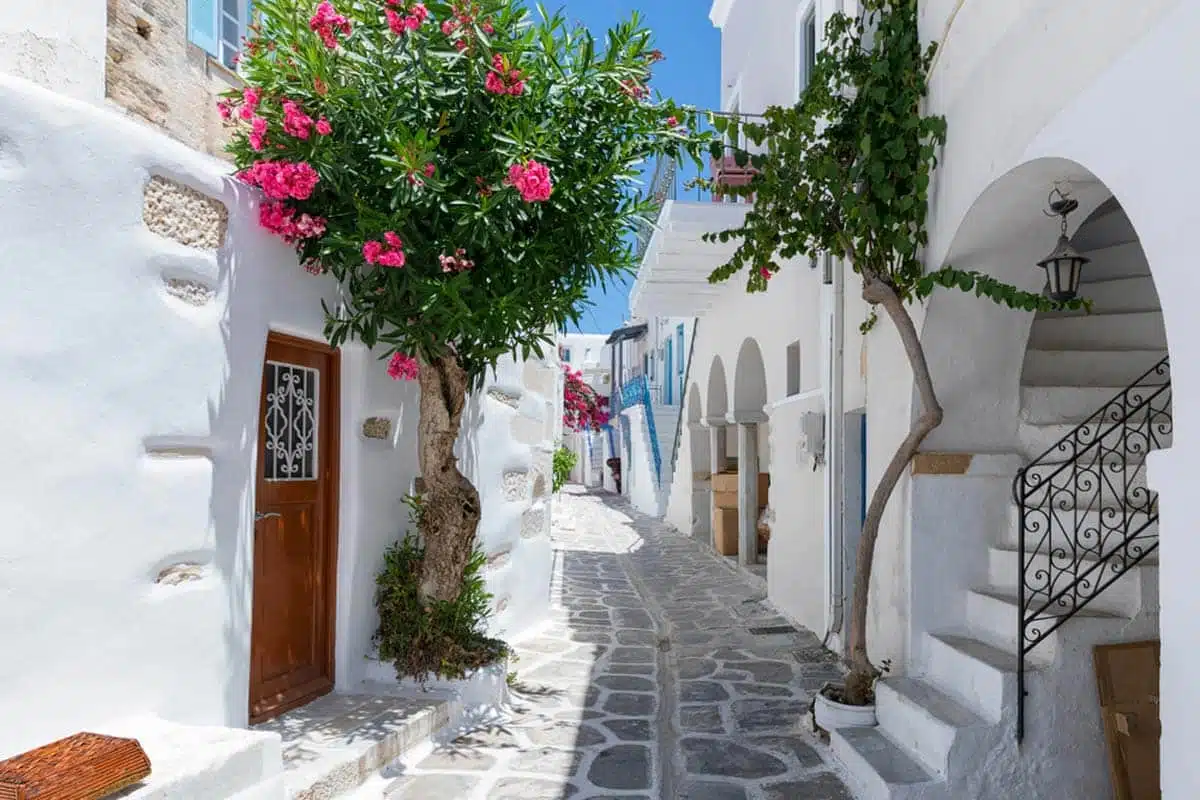 Naoussa is one of my favourite areas in Paros – a seaside settlement home to cobblestoned, narrow streets filled with flowery whitewashed houses and quaint restaurants.
Take a stroll down the old port and spot lines of fishermen marketing the freshest catch. And, after taking in the intriguing sight of the Venetian Castle, grab a seat at any of the tavernas or ouzeries for a tasty Greek delight.
Continue your walk by exploring a few souvenir shops and notable churches like the blue-domed Agios Nikolaos, located at the village's highest point.
Explore the Monastery of Panagia Ekatontapiliani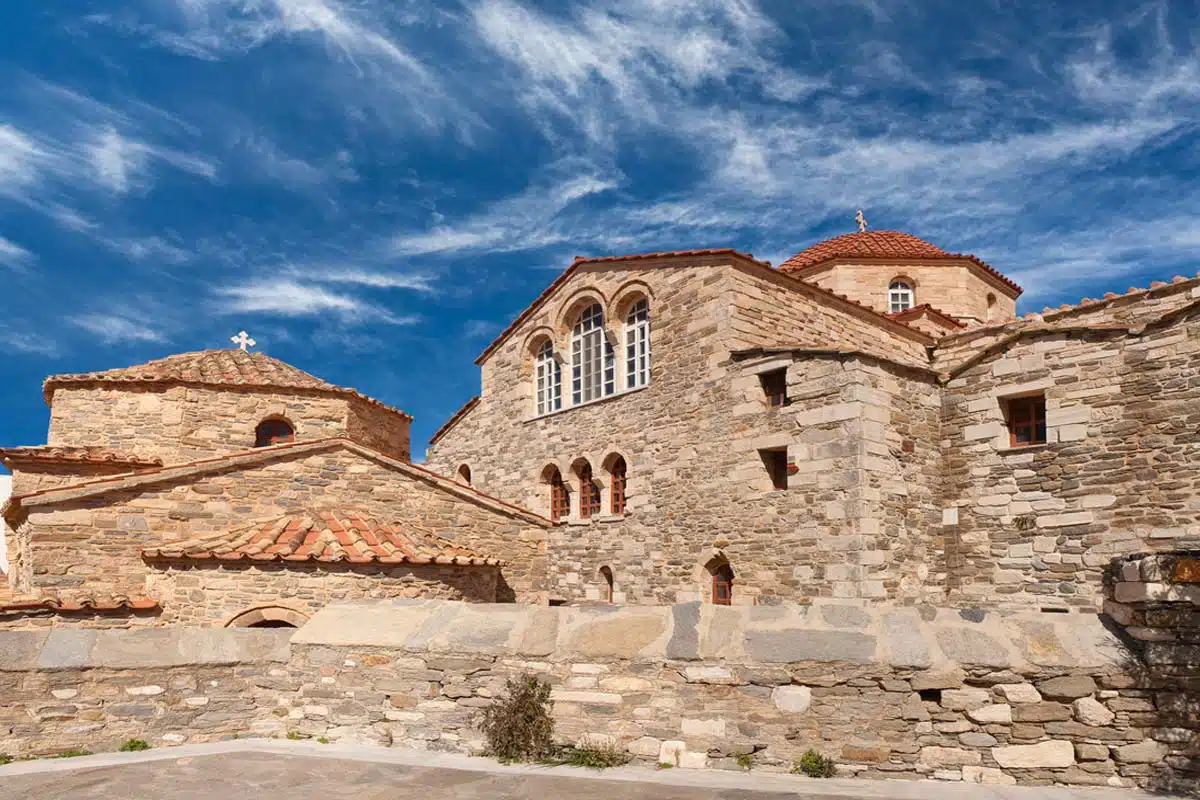 The Monastery of Panagia Ekatontapiliani is a Greek Orthodox church constructed in the 4th century A.D. – it was initially a three-aisled basilica, with Ekatontapiliani translating to "the Church with the Hundred Doors."
Legend says the church has 99 doors and a secret door that will open when the church of Hagia Sophia in Constantinople (now Istanbul) is Orthodox again. The church is well-preserved, boasting its characteristic stone facade and housing thousands of rare artefacts in its Byzantine Museum.
Spend a Day at Kolymbithres Beach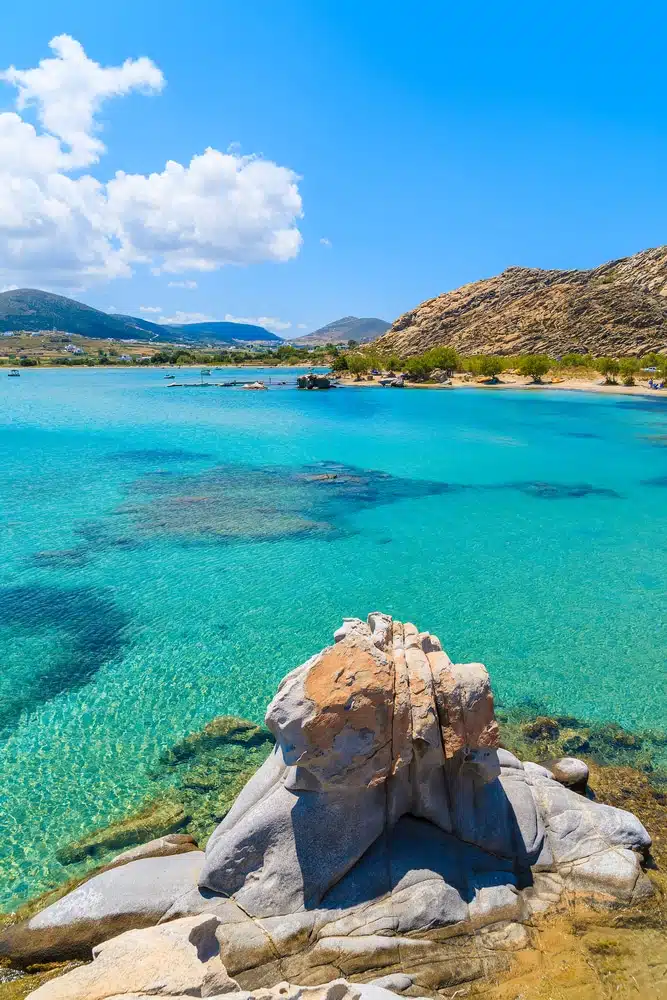 Famous for its strange (and seemingly carved) granite formations and crystal clear waters, Kolymbithres beach is a solid match for the beaches over in nearby Mykonos. It's abundant with golden sands and shallow waters extending far into the bay.
Kolymbithres is also home to plenty of unique sea life, so expect to spot plenty of flora and fauna, including sea cucumbers, colourful fish, sea urchins, corals, and crabs.
And if you're up for a thrill, the bay has some of the best things to do in Paros. These include watersports schools for windsurfing, water skiing, and paddle boarding.
Top Tip: If you're looking to take to the water, I recommend renting a boat and spending the afternoon on the crystal-clear sea.
Wander Around Parikia Village
I was totally in awe during my visit to Parikia – it's a quintessential Cyclades village. The authentic town boasts cobblestoned alleyways overflowing with lively nightclubs and cafes that spill out onto the streets.
Parikia sits amphitheatrically around the port. At its entrance, a remarkable whitewashed windmill welcomes visitors into the village — a trademark of Paros.
Take a short walk from the port and you'll stumble upon the hill complex of Kastro. This cluster of neoclassical mansions, ancient monasteries, fountains, Cycladic houses, and a labyrinth of narrow streets is the beating heart of Parikia.
Brilliant Things to See & Do in Paros
Explore the Butterflies Valley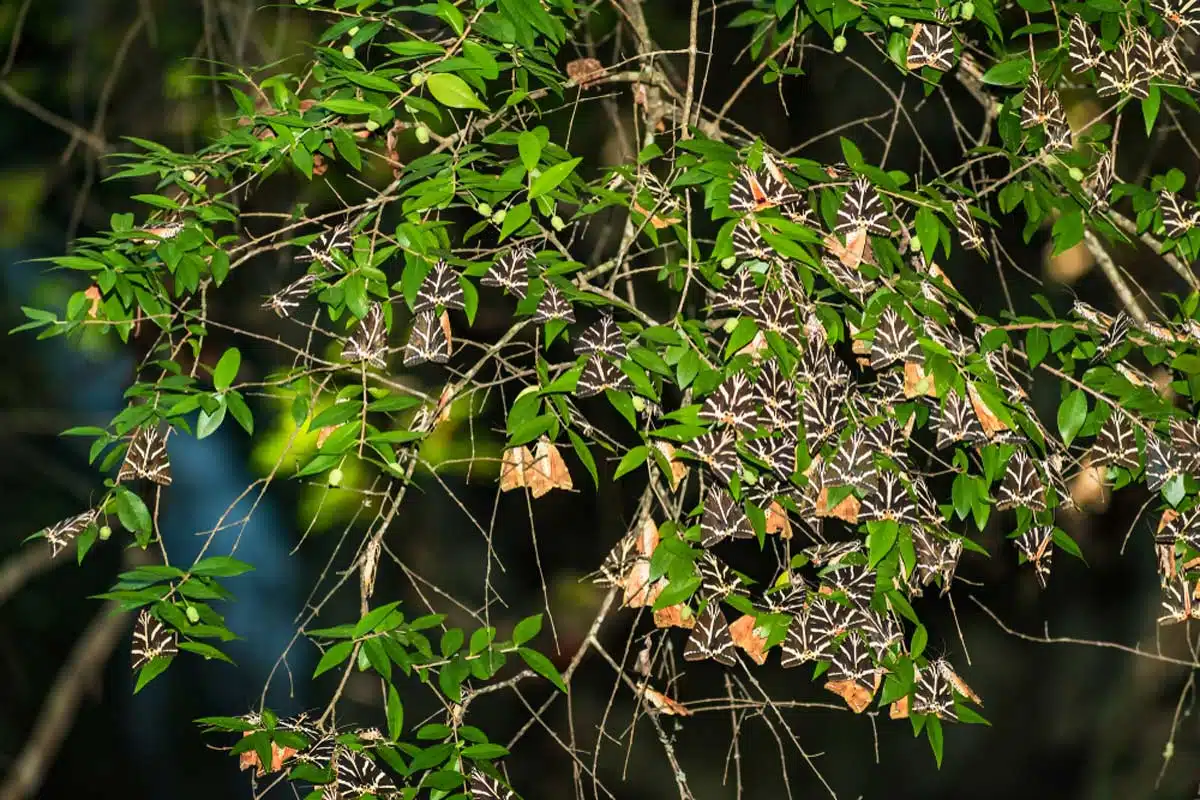 Located just 7 km from Parikia, the verdant Butterflies Valleys are teeming with spring water and dazzling natural beauty. During the summer, this small area attracts swarms of Panaxia Quadripunctaria (also known as Jersey Tiger Moths).
These butterflies choose the biotope for at least 100 years to spend the last phase of their lifecycle. And it's not hard to see why. The park boasts many pretty cypresses, oleanders, carob trees, and orchards – I'm pretty sure that I would choose here, too.
Visit the Village of Lefkés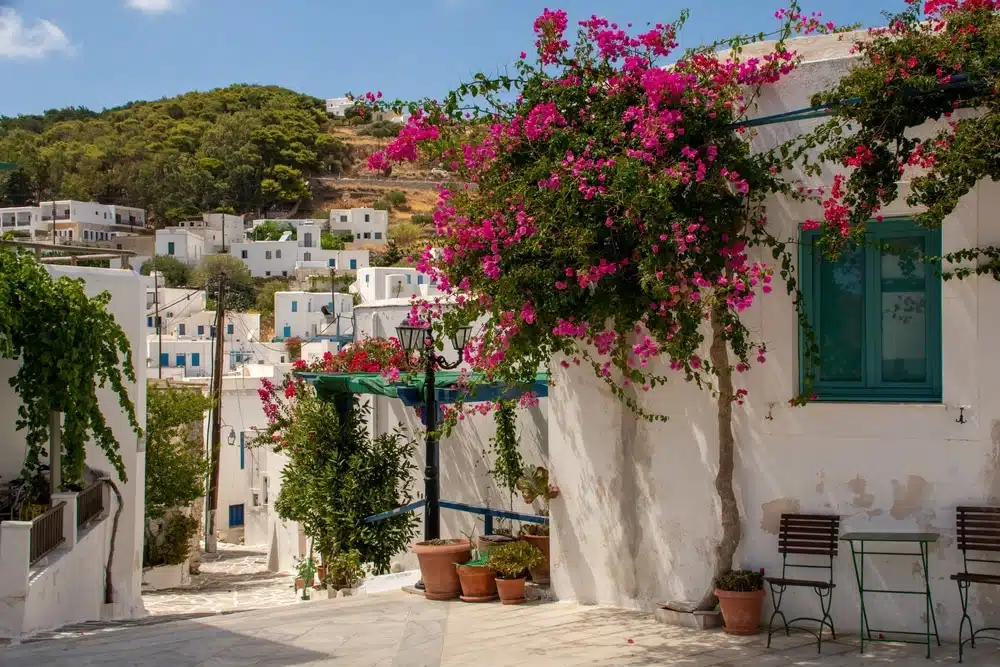 Perched atop a lush hill, 300 metres above sea level, Lefkés and its around 500 inhabitants enjoy the quieter side of the Cyclades lifestyle. The village is abundant with olive and pine trees and offers stunning views of nearby Naxos Island – which is also worth visiting.
Once the capital of Paros, you can still see its splendour in the grand (almost dilapidated) buildings, dovecotes, and churches. Strolling along Lefkés' bougainvillaea-lined squares and picturesque alleys is a must among Paros' things to do.
Must-Try Bars & Restaurants in Paros
Mario Restaurant
Situated in Naoussa port, Mario restaurant offers creative Mediterranean cuisine made with locally sourced ingredients.
The ambience is an eclectic mix of both lively and chilled — helped along by al fresco dining, delicious wine, and colourful boats moored along the port.
Axinos Seafood Restaurant
Feel like having sushi on the sea? Axinos restaurant boasts an expansive seafood and fish menu of carefully crafted modern renditions with Asian accents.
Grab a platter of amazingly fresh seafood paired with a chilled glass of Greek white, and bask in the epitome of island life.
Magaya Restaurant
Magaya restaurant is a laid-back beach bar with a casual atmosphere, multiethnic cuisine, and verdant exotic plants. Stop by Magaya for breakfast or brunch and enjoy a range of Chinese, Thai, and Mediterranean fare.
Best Hotels in Paros
Paros Bay
Paros Bay hotel offers a quintessential Greek stay. The tastefully decorated rooms offer spectacular sea, pool, and garden views.
Enjoy a buffet breakfast featuring light meals before taking a dip in the seawater pool and wrapping up the day with a cocktail from the bar.
Stella Hotel
Stella Hotel is on Livadia Beach, Parikia, just minutes away from Panagia Ekatontapiliani. The hotel boasts an expansive garden with delightful water views.
You'll find plenty of seating and Wi-Fi throughout the property, while the traditional-styled suites feature a balcony overlooking the sandy beach.
Hotel Dina
Hotel Dina offers guests a budget-friendly stay in the heart of Parikia. The hotel is aptly decorated with classic blue and white hues and dark wood furniture.
Enjoy views over the blossomed courtyard, walk along Market Street, and explore the quaint restaurants, bars, and mini-markets.
Alternatively, check out my guide to the best hotels in Paros.
Paros: Practical Tips for Your Trip
Is Paros a Nice Greek Island?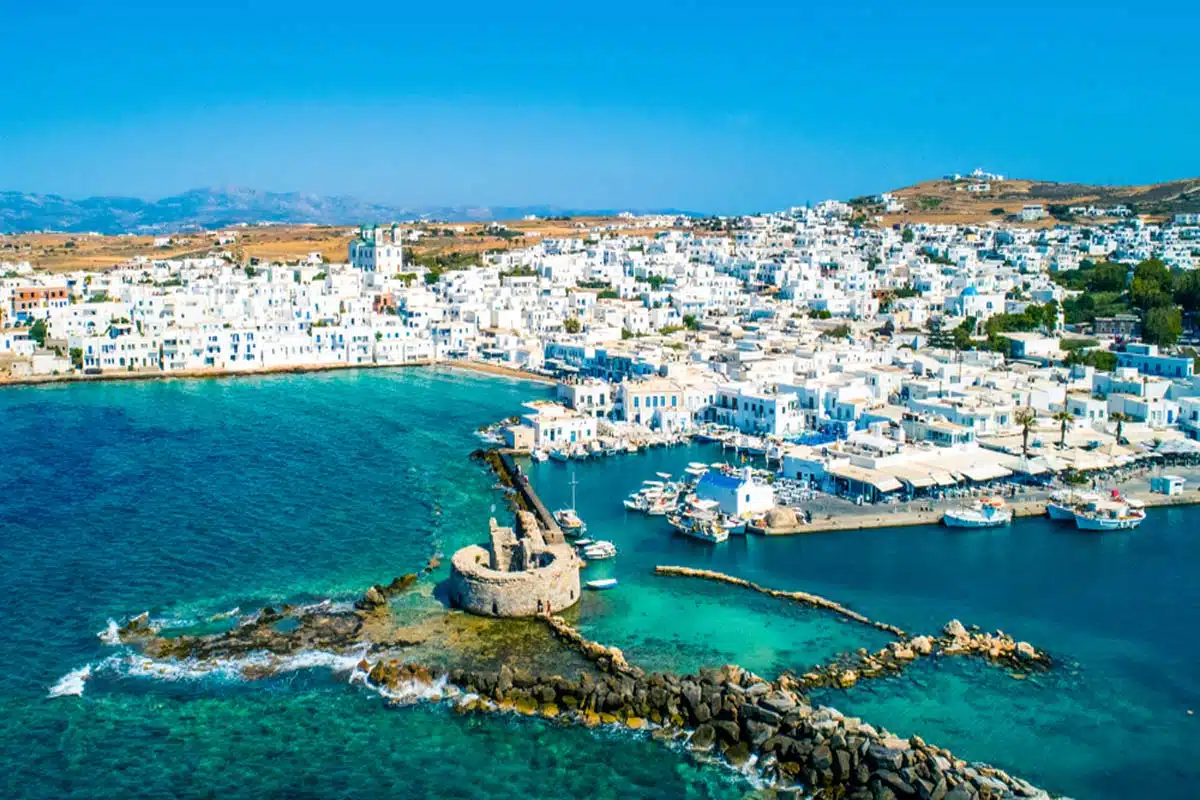 In my (not so humble) opinion, Paros is one of the prettiest islands in the Cyclades. You'll find no shortage of golden sandy beaches, trendy cafes, and luxury villas. The island also has a unique mix of cultural and historical sights.
Is Paros Very Touristy?
The centre of Paros, Parikia, is generally considered the most touristy part of the island. Other parts of the island are more laid back, teeming with a casual atmosphere and not many crowds.
What Is Paros Greece Known for?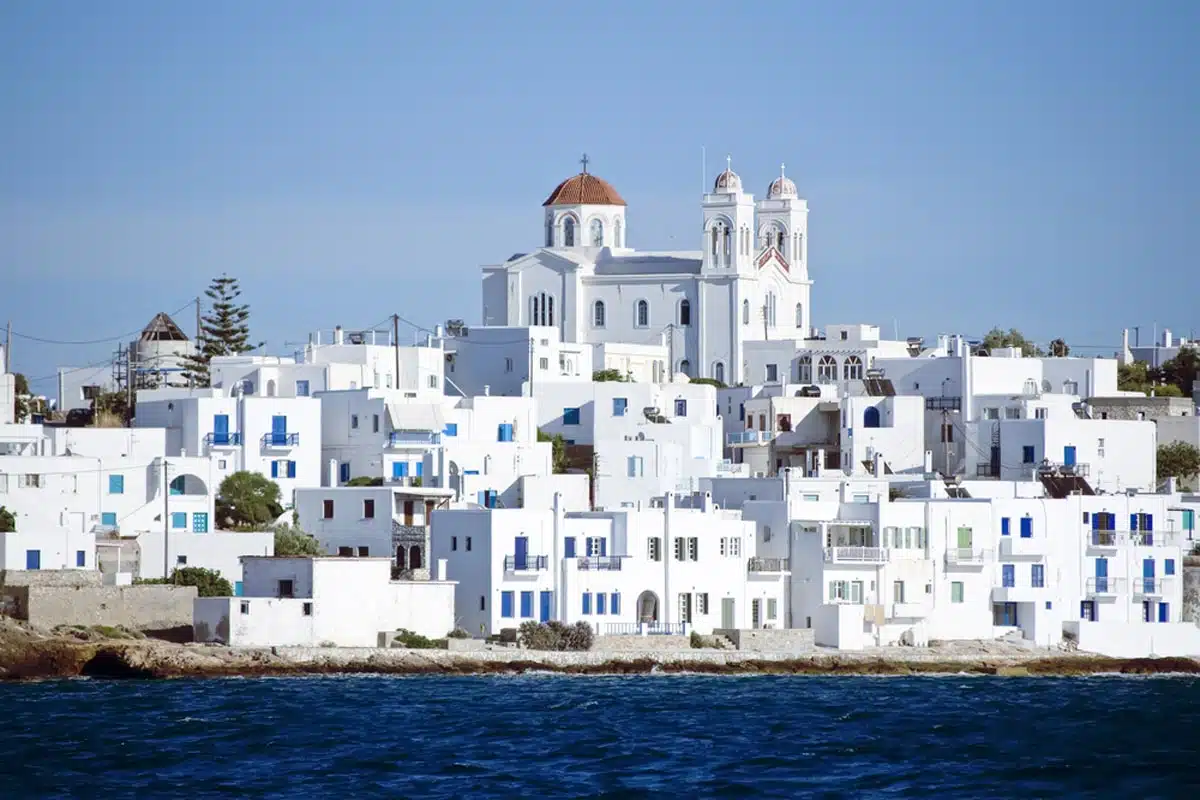 Paros is historically famous for its abundance of fine white marble. The term "Parian" describes china and other qualities made of the marble mined here. But today, Paros has made its mark as a tourist hub.
Is Paros a Party Island?
After Mykonos and Los, Paros is the third Cyclades island famous for its vibrant nightlife. You will find plenty of beach bars and lively restaurants dotted along the shores. Still, it's not so party-centric that you should be put off visiting.
How Long to Visit in Paros?
Two days is enough to see and explore many of Paros' attractions, especially if you've rented a car. But, for a more relaxed holiday, I recommend spending about five days on the island.
Best Time to Visit Paros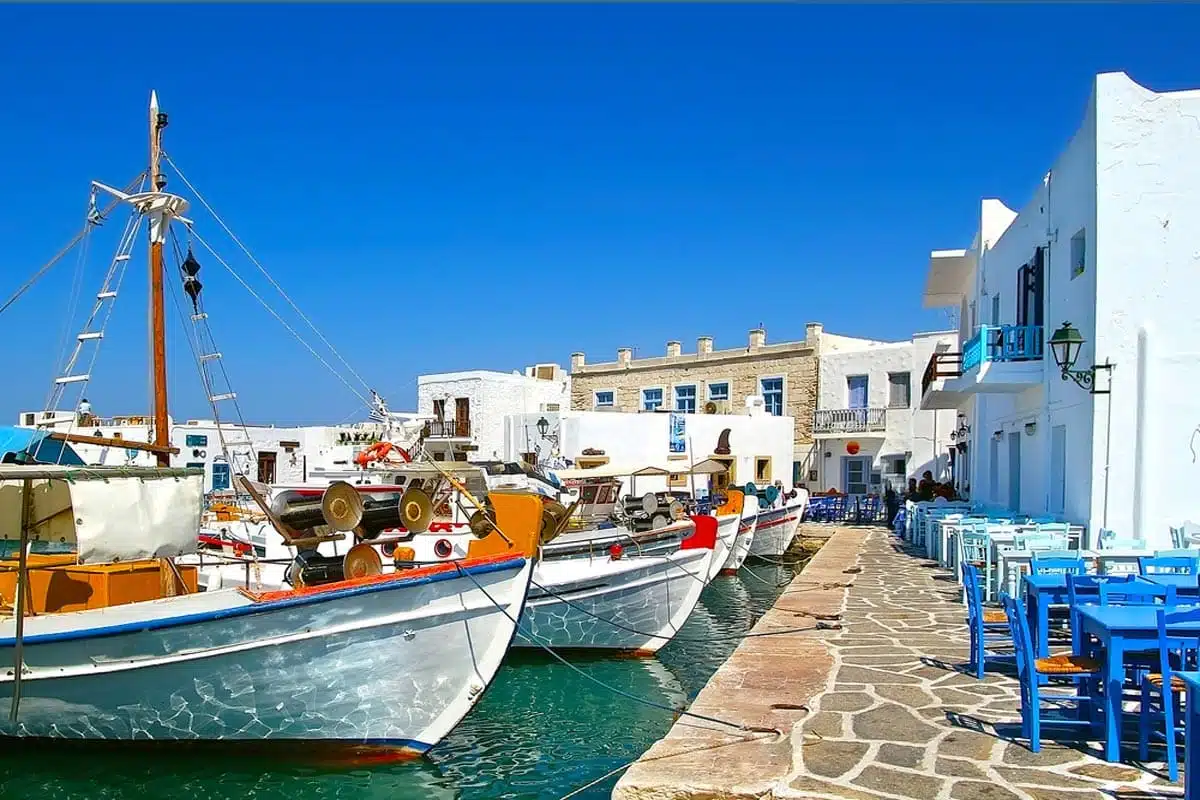 Sunseekers will have a great time in Paros between June and September. July is the hottest month of the year, with temperatures reaching a maximum of 29 degrees Celsius.
That said, you should consider visiting on the shoulder ends of these months if you're looking for less crowds.
Recommended Tours in Paros
Things to do in Paros: Map